For its activities, the Alliance Française d'Ahmedabad benefits from the support of the French Embassy in India and the Alliance Française Foundation.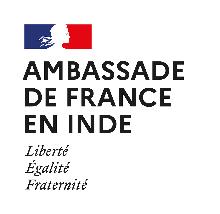 Your logo here? contact us
Connect with us
Alliance Française d'Ahmedabad
B/S Food Corporation of India, Himali Tower Lane, Manekbaug-Shyamal Road, Satellite, Ahmedabad - 380 015 Gujarat M: +91 79907 69111
Tel :+91 79 26733 800, 26733 900
Site : ahmedabad.afindia.org
Email : ahmedabad@afindia.org
FB : alliancefrancaiseahmedabad Insta : @afahmedabad
CampusFrance Ahmedabad
(at Alliance Française d'Ahmedabad)
M: +91 98214 93971
Tel :+91 79 26733801
FB : cfindia
Site : www.campusfrance.org
Email: ahmedabad@india-campusfrance.org
Alliance Française - Baroda Branch
Alliance Française, Baroda Branch, FP. No/ 154, Nr. Shyam
Villa Flats, Natraj Society, Opp. Parag Vatika Garden, Deluxe Char Rasta, Nizampura, Baroda – 390024 M: +91 87583 01066
Tel : 0265 2777988
Email : baroda@afindia.org
FB : af de Baroda Insta: @af_de_baroda
Executive Committee President
Pavan Bakeri
Abhijit Sen
Chiranjiv Patel
Emmanuel Bottiau
Vice-President Secretary Treasurer Members Director Assistant
Priyanshi Patel
Sharad Shah
Vishal Mehta
Samir More
Anne Balaram Aarohi Dave Dhaiwat Shukla Jayesh Patel
Jignasa Shukla Harsh Shah
Kavya Mehta Mauli Modi
Mruga Thakkar Nisha Vyas
Nishith Shah
Pavani Gowravaram Payal Chokshi Rajeshwari Desai Sapna Garg Tejal Vyas Baroda
Falguni Desai
Mala de Fenoyl
Payal Jadia
Satyen Gulabrai Sudha Rammohan
Anuja Manohar Rahma Charki
Sana Lokhandwala
Paresh Punjani Raj Vakil
Rajeshwari Desai
Priyal Kothari (Courses)
Deep Soni (Culture)
(Courses) (Ahmedabad)
Hiranmayee Bhatt
(Culture & Comm) (Baroda)
Bobby Christie Sujit Nair
Soha Gandhi
Teachers Coordinator Administrator Accountant Library Campus France Reception
Aditya Panchal
Aastha Modi
Technical Staff
Ganpat Vaghela (Technical Head) Kalpesh Vaghela
Babu Solanki
To become a member of the ALLIANCE FRANCAISE of Ahmedabad, you would need to fill the "membership form" available at our reception or by email ahmedabad@afindia.org. A photo identity should be provided along with the application.
Designed by Rajeshwari Desai/Deep Soni
Credit : Kid Kreol & Boogie
Cover Art