Expires 1/31/23 ®
Two major storms sailed through Carpinteria in early January, causing evacuations, high surf, highway closures, shelter in place orders and flooding throughout both the city and the surrounding county. King tides were seen off the coast of Locals Beach, pictured, during high tide following a rough Thursday storm; another storm is expected to hit the county this weekend, Sheriff Bill Brown said at a press conference this week. See a recap of CVN storm coverage on page 5, and more surf and storm effects on pages 14 and 15.
12 SPORTS CVN
Top
25
up
11
9 Solórzano
Dodging
counting birds Coastal
News CARPINTERIA Vol.
Lizbeth Alpizar has strong on-ball defense. coastalview.com
Scarlett Torres drives to the right.
Girls basketball picks
win
Local
boy dubbed hero after car accident
takes her council seat
storms,
View
29, No. 17 January 12 - 18, 2023
Storm surge
DAVID POWDRELL
ARB meeting canceled
Carpinteria's Architectural Review Board meeting, scheduled for Jan. 12, has been canceled. Agendas and meetings for all Carpinteria city boards can be seen at carpinteriaca.gov/city-hall/agendas-meetings/; meetings typically take place at Carpinteria City Hall, 5775 Carpinteria Ave.
ABOP collection event called off
The city's ABOP – Antifreeze, Batteries, Oil and Paint – collection event is canceled due to the upcoming storm. "It is critical that the City's Public Works staff is available for any incidents that arise due to additional rainfall in areas with saturated soils," the city said Wednesday.
The next ABOP collection event is scheduled for Jan. 28, 9 a.m. – 1 p.m. at Carpinteria City Hall, 5775 Carpinteria Ave.
County animal services expands operations
Last week the Santa Barbara County Animal Shelters expanded operations in Lompoc, opening up community services for residents. Residents can use the location for license sales and renewals, help with lost pets, volunteering, adoption counseling and more.
"It's hard to believe that nearly three years after Covid-19 began, our community is still reeling from the economic impacts. Now more than ever, they need access to animal services outside traditional hours," Director Sarah Aguilar said.
"We have created kiosks so pet owners, and those who want to bring pets into their family, can use our computers to access the Animal Services website. Team members will be available to assist with finding a new fur friend, finding lost pets, and learning about foster and volunteer opportunities. We know that not everyone has regular access to the internet, and we don't want that to be a barrier to bringing a pet into your home."
The shelter is open Fridays through Mondays, 10 a.m. to 7 p.m. The shelter will also host adoption events in the near future, according to a press release from the county. Shelters in Santa Maria and Santa Barbara are open Monday through Saturday, 11 a.m. to 4:30 p.m.
Covid-19 reported cases and deaths as of Jan. 4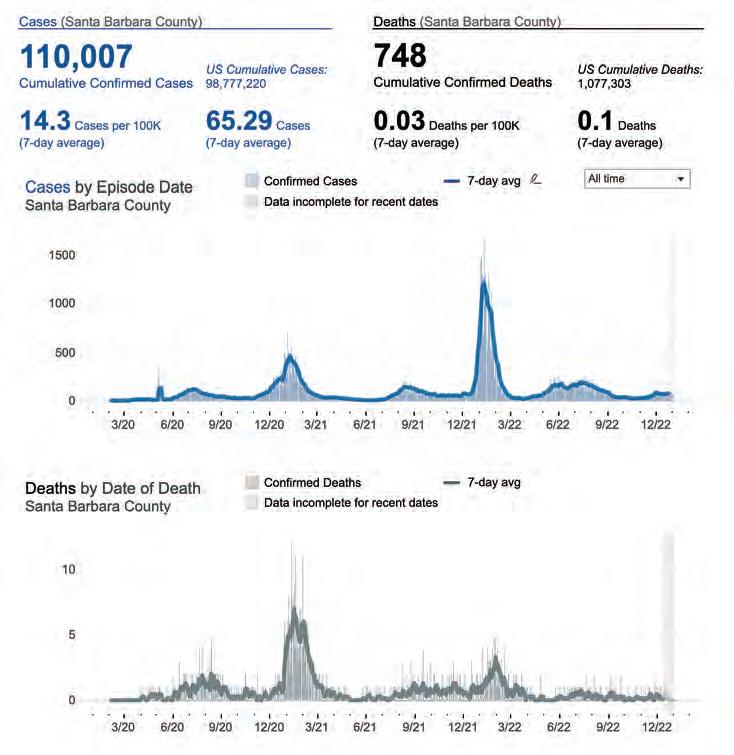 Slight uptick in Covid-19 cases reported across county
The Santa Barbara County Public Health Department reported a slight uptick in Covid-19 cases last week, with an increase of 6.4%. The dominant strain reported on the southern West Coast is BQ.1.1, with XBB.1.5 "increasing rapidly," the county said. Even with the increase, Covid-19 transmission remains low across the community. No new deaths were reported between Dec. 30, 2022 and Jan. 5, 2023. Covid-19 cases across the county are underreported due to the rise in at-home testing. See more at sbcdashboard.info.
BRIEFLY CVN COMPILED BY EVELYN SPENCE 2  Thursday, January 12, 2023 Coastal View News • Carpinteria, California TheirJourney. OurMission. Application& FinancialAid HelpNight Thursday,January12th 6-8p.m. Dropinforhelpcompleting theBishopDiegoHigh Schoolapplicationsfor admissionandfinancialaid. Computers&Spanish translationwillbeavailable. RigorousAcademics SmallClasses CaringCommunity PersonalizedTuition Applicationsforadmissionand personalizedtuitionaredue January31st 4000LaColinaRoadSantaBarbara805-967-1266www.bishopdiego.org Fried Chicken &Waffles, with Hominy Grits Buttermilk battered chicken breast on grits with two waffles. Served with Vermont Maple Syrup. Bison Burger Organic ground bison burger with pepperjack cheese. Served with sweet potato fries. Lettuce, tomato, and pickles on side. Fried Chicken Burger Buttermilk battered chicken breast on bun, with dill pickle chips, alfalfa sprouts, tomato, and house made special sauce. Served with onion rings, french fries, or sweet potato fries. Gluten Free Avocado Sandwich Avocado, alfalfa sprouts, cucumber, pepperjack cheese, red onions, on gluten free bread. Served with coleslaw or fruit. Taylor's Salad Local spring mix, tossed with dried cranberries & figs, chopped green apple, buttermilk battered chicken breast. Served with honey mustard dressing. Spinach
Organic baby spinach, tossed with chopped bacon, cherry tomatoes, dried cranberries, sliced almonds, and goat cheese. Served with house made balsamic vinaigrette. LUNCHSPECIALS Fried Chicken &Waffles, with Hominy Grits Buttermilk battered chicken breast on grits with two waffles. Served with Vermont Maple Syrup. Bison Burger Organic ground bison burger with pepperjack cheese. Served with sweet potato fries. Lettuce, tomato, and pickles on side. Fried Chicken Burger Buttermilk battered chicken breast on bun, with dill pickle chips, alfalfa sprouts, tomato, and house made special sauce. Served with onion rings, french fries, or sweet potato fries. Gluten Free Avocado Sandwich Avocado, alfalfa sprouts, cucumber, pepperjack cheese, red onions, on gluten free bread. Served with coleslaw or fruit. Taylor's Salad Local spring mix, tossed with dried cranberries & figs, chopped green apple, buttermilk battered chicken breast. Served with honey mustard dressing. Spinach Salad Organic baby spinach, tossed with chopped bacon, cherry tomatoes, dried cranberries, sliced almonds, and goat cheese. Served with house made balsamic vinaigrette. LUNCHSPECIALS 805-684-1070 507 Linden Ave. • Carpinteria 7:30am-2pm Closed Wednesday To-Go Orders Also! ESAU'S Cafe HOLIDAY SPECIAL… SOUTHERN FRIED CHICKEN, WAFFLES & GRITS! Adult Strawberry Lemonade Lemonade, fresh strawberries and a shot of Asian Vodka $12.25 Ice cold Corona or Pacifico in bottles. $8.25 Mimosas or Poinsettias by the glass or bottomless $10.25/$25 Jeremy's Bloody Mary Traditional bloody Mary with a hit of pickle juice & rasher of bacon $12.25 Michelada Mexico's best exportCorona or Pacifico $12.25 BOOZY BEVERAGES Chicken Pozole/Turkey Chile Bean Cup $7.25 • Bowl $8.95 • Sourdough bread bowl $11.25 1/2 Sandwich & Cup of Soup $13.95 1/2 sandwich choices: Turkey Cranberry on Sourdough Special Grilled Cheese with Avocado & Grilled Tomato Turkey Reuben Avocado, Turkey, Organic Goat Cheese, Alfalfa sprouts, on Gluten Free Bread Soup and Organic Side Salad with Organic Goat Cheese and Avocado $13.95 SOUP SEASON! DON'T FORGET! HOUSE MADE 8oz JARS OF BOYSENBERRY OR STRAWBERRY JAM AND OUR FRESHLY BAKED BLUEBERRY OR CORN BREAD MUFFINS, BUTTERMILK BISCUITS & CREAM CHEESE TOPPED CINNAMON ROLLS…YUM!
Salad
MONTECITO LAW GROUP
PHOTO COURTESY OF HEAL THE OCEAN
A team from the California State Lands Commission is investigating the source of an oil spill nearly two miles off the coast of Summerland, to determine if it is the result of natural seepage or a leak in a legacy well.
Locals in the area began reporting the oil sheen on Friday, Jan. 6, and around the same time, Heal the Ocean Santa Barbara began receiving reports of oil slicks on the sands of Summerland Beach and near Lookout Park.
Heal the Ocean notified the State Lands Commission, and shortly after a unified command team was established to investigate the leak, according to the commission's Media Chief and Legislative Liaison Sheri Pemperton.
The California Office of Spill Prevention and Response has taken samples from the slick to be reviewed by a lab, to determine the source of the leak; results
are not yet available.
Heal the Ocean and the commission have been working together since 2017 to cap several leaking wells that had been abandoned off the coast of Summerland. The area is known to have active natural seeps, as well as seeps from the various abandoned wells.
––Jun Starkey
CoastalView.com
After talking to two other law groups about our estate planning and having reservations using either service, Stefanie Herrington was recommended to us by a friend. After talking with her, we were confident that she was not only pleasant and easy to understand, but also knows estate law and how to handle our needs. We are more than happy with the results of our trust. I must also add that Boulder, the dog, was a wonderful bonus. I wanted to take him home with me.
559 SAN YSIDRO ROAD, SUITE J MONTECITO, CA 93108
(805) 293-6363 WWW.MONTECITOLAWGROUP.COM
STEFANIE HERRINGTON ATTORNEY
— Bob and Jacqueline La Prad
STEFANIE HERRINGTON
ATTORNEY
STEFANIE HERRINGTON
STEFANIE HERRINGTON
ATTORNEY
ATTORNEY
559 SAN YSIDRO ROAD, SUITE J MONTECITO, CA 93108 (805) 293-6363 stefanie@montecitolawgroup.com MONTECITOLAWGROUP.COM
559 SAN YSIDRO ROAD, SUITE J MONTECITO, CA 93108 (805) 293-6363 stefanie@montecitolawgroup.com MONTECITOLAWGROUP.COM
559 SAN YSIDRO ROAD, SUITE J MONTECITO, CA 93108 (805) 293-6363 stefanie@montecitolawgroup.com MONTECITOLAWGROUP.COM
559 SAN YSIDRO ROAD, SUITE J MONTECITO, CA 93108
Join the conversation. online. community. news.
(805) 293-6363 stefanie@montecitolawgroup.com MONTECITOLAWGROUP.COM
CoastalView.com Coastal View News • Tel: (805) 684-4428 Thursday, January 12, 2023  3
An oil sheen first appeared off Summerland Beach on Friday, Jan. 6.
Officials investigate source of Summerland oil slick
Closures continue along highway for bike path, roundabout construction
Construction will continue for the Santa Claus Lane bike path and the Olive Mill Road roundabout following the recent storm, although SBRoads has stated some dates may shift due to ongoing rain.
On the northbound side, one lane between Santa Claus Lane and Sheffield Drive will be closed Mondays through Thursdays from 8 p.m. to 5 a.m. and Sundays from 9 p.m. to 5 a.m.
From Jan. 10 to Jan. 12, and Jan. 17 to Jan. 19, the northbound on- and off-ramps at South Padaro and Santa Claus lanes will also be closed from 8 p.m. to 5 a.m.
The off-ramp at Olive Mill Road will be closed from Jan. 9 to Jan. 12, 9 a.m. to 3 p.m., though drivers may use the northbound off-ramp at San Ysidro Road. The off-ramp will close completely on Jan. 17 at 8 p.m. due to construction on the Olive Mill Roundabout, and is anticipated to remain closed for seven months.
The off-ramp at Evans and Lillie Avenue will remain closed until Jan. 26, 2023, and the on-ramp at Ortega Hill Road will be closed until Feb. 14, 2023.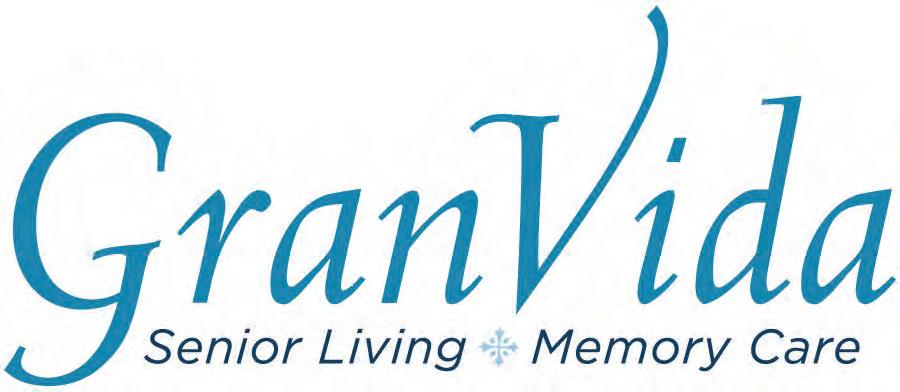 On the southbound side, one lane between Sheffield Drive and Carpinteria Avenue will be closed from 9 p.m. to 7:30 a.m. Monday through Thursday, and 10 p.m. to 7 a.m. on Sunday.
The off-ramp at Carpinteria Avenue will be closed from 9 a.m. to 3 p.m. on Jan. 11, 12 and 17, though drivers may use the off-ramp at Reynolds Avenue. The southern on-ramp at Santa Claus Lane will be closed until Jan. 29, 2023, and the off-ramp at North Padaro Lane will be closed until Feb. 28, 2023.
The southern on-ramp at Olive Mill Road will be closed from Jan. 9 to Jan. 12, from 9 a.m. to 3 p.m. The on-ramp will also close completely on Jan. 17 at 8 p.m. for about one and a half months, due to construction on the Olive Mill Roundabout, and is anticipated to reopen in February.
During the day, construction crews will begin work on the Olive Mill Roundabout, and will work between 7 a.m. and 4:30 p.m. depending on weather
conditions.
To begin the project, crews will place signs, install temporary fencing, remove palm trees from the median at Coast Village and Olive Mill roads, fill potholes and clear vegetation and trees from the project site.
There will also be construction on Tuesday, Jan. 17, between 8 p.m. and 6 a.m., to close the northbound off-ramp and southbound on-ramp at Olive Mill Road, remove old lane striping and restripe temporary roadway lanes. Crews have alerted residents that there will be some noise during this phase of construction.
––Jun Starkey
CVN
No on T doesn't mean "yes" to Surfliner Inn
The people have spoken on Measure T. What have they said? The 49.18% who voted yes clearly do not want the construction of the Surfliner Inn on city property. Of the 50.82% who voted no, it is unclear how many voters actually support the hotel's construction. We don't know how many "no" voters were concerned about the potential "unintended consequences" of the measure or were against the initiative process itself. The election results tell us only that a slim majority defeated the measure, not that a majority of voters support the hotel.
The fate of the Surfliner Inn remains undetermined and the narrow vote margin testifies to significant opposition
to – rather than a ringing endorsement of – its construction. What happens next is the process of review by the Carpinteria City Council, the Architectural Review Board and the Planning Commission. Let's hope that in their deliberations, these decision-making bodies recognize the rejection of the proposed Surfliner Inn expressed by 49.18% of the voters and that they do not mistake the results of the election as approval of the project. For those of us who do not want a high priced, oversized hotel to dominate the south end of Carpinteria's downtown, our task is to continue to voice our opposition through participation in the review process.
Michael Sipiora Carpinteria
LETTERS
4  Thursday, January 12, 2023 Coastal View News • Carpinteria, California
Rebar is installed along the southbound portion of Highway 101 near North Padaro and Santa Claus lanes.
Concrete cures for the new off-ramp at Evans and Lillie avenues.
NOW HIRING Caregivers Housekeeper Medication Technicians Apply in person or call 805-566-0017 5464 Carpinteria Ave • Carpinteria, CA 93013 granvidaseniorliving.com Referral Bonus for Friends $1000 HIRING BONUS $500 - $1500
"...our task is to continue to voice our opposition through participation in the review process."
––Michael Sipiora
Carpinteria sails through storm with minimal damage County now
BY EVELYN SPENCE
The early January storms took a toll across Santa Barbara County, and Carpinteria – facing stay in place orders, evacuations and flooding – came out the other end with some flooding, but little overall damage, the city said.
Carpinteria Public Information Officer Olivia Uribe-Mutal said Carpinteria received over four inches of rain between Monday, Jan. 9 and Tuesday, Jan. 10, bringing the total rain received this year to 12.49 inches.
"Significantly more rain has fallen in our nearby foothills and mountains, which of course contribute significantly to creek flows," Uribe-Mutal said.
In a press conference held Tuesday afternoon, Santa Barbara County Sheriff Bill Brown said some restricted areas remain throughout the county to allow the flood waters to drain, and to allow crews to clear some debris.
"The storm that we just experienced was a significant and powerful weather event, one in a series of storms that have and will continue to hit Santa Barbara County. It looks like we will have a break in the weather until this weekend, when another of these atmospheric river storms is forecasted to come into our area," Brown said Tuesday.
Brown called Monday's storm "heavier than anticipated," and said the South County area was particularly impacted.
"(This was) unprecedented and historic rainfall," he said. "We know that evacuations are inconvenient hardships in many ways. We do not make the decision to evacuate lightly. Rather, we want to ensure the safety of our community members during this difficult and challenging, and (…) rapidly changing,
in recovery; no deaths, major injuries reported
disastrous events."
The county lifted all evacuation orders Tuesday afternoon and by Tuesday evening, both lanes of the Highway 101 – closed due to intense flooding – were open, once more connecting the Santa Barbara and Ventura counties.
The Carpinteria Veterans Hall housed 28 evacuees Monday night; it is no longer operating as an emergency shelter. Residents who still need emergency shelter should call the County Office of Emergency Management at (833) 688-5551.
State beach campgrounds between Rincon and Gaviota were closed and evacuated Monday, and the Carpinteria State Beach Park Campground remains closed due to flooding and debris cleanup.
Uribe-Mutal warned residents to stay off Carpinteria's winter berm due to severe erosion. As of Tuesday evening, city officials are working to rebuild the berm. She added that the Carpinteria Creek Bike Path is full of debris and will remain closed.
While Carpinteria Unified School District schools closed campuses on Tuesday, campuses and classes across the county reopened Wednesday. Carpinteria's pool is closed, but the Carpinteria Community Library remains open.
Santa Barbara Airport reopened Tuesday afternoon; it had closed Monday due to flooding. As of Wednesday, bus schedules in the area are also operating on modified Sunday schedules.
The Pacific Surfliner trains announced late Tuesday that tracks north of Goleta will be closed for 10 to 16 days, starting Jan. 12, to allow crews to repair the area. Limited service will still be available between Los Angeles and Goleta during this time.
Coastal View News • Tel: (805) 684-4428 Thursday, January 12, 2023  5
KARLSSON
Last week's storm brought surf sailing over the tracks; Amtrak announced Tuesday that tracks between Goleta and San Louis Obispo will be closed for at least 10 days to repair the area from Monday's storm. Trains between Goleta and Los Angeles will operate on modified schedules.
"The storm that we just experienced was a significant and powerful weather event, one in a series of storms that have and will continue to hit Santa Barbara County."
–Sheriff Bill Brown
KARLSSON
All of Carpinteria's waterways were hit with high levels of rain, including Franklin Creek.
LEA BOYD
Carpinteria Creek filled during the significant rainfall.
CITY BEAT
City meeting moved to Zoom format, some items postponed due to storm
BY EVELYN SPENCE
Just hours before the Jan. 9 meeting of the Carpinteria City Council was set to begin, the meeting was switched to a virtual format due to the powerful storm hitting the county. Concerned that Carpinteria residents dealing with the storm would not have the chance to comment, the council elected to move several items to its Jan. 23 meeting.
These items included: The continuance of the off-lease dog park program at El Carro Park; the selection of city representatives for its Regional Agencies and Committees, City Council Joint and Standing Committees and Ad Hoc Committees; and the selection of interview questions for vacant spots on the city's boards, committees and commissions.
"We don't want to stifle any potential public comment," Mayor Al Clark said Monday.
These items will be reviewed at the Jan. 23 meeting of the Carpinteria City Council.
Providing local news and information for the Carpinteria Valley
Coastal View News is locally owned and operated by RMG Ventures, LLC, 4180 Via Real Suite F, Carpinteria, CA 93013, and is published every Thursday. Coastal View News has been adjudged a newspaper of general circulation by the Superior Court of Santa Barbara County, Case No. 210046. Coastal View News assumes no responsibility for unsolicited material.
Few water rescues reported in Carpinteria, no storm drownings
There were "a couple" of water rescues in Carpinteria as of Monday night, Chief Greg Fish from the Carpinteria-Summerland Fire Protection District said at Monday's council meeting, with no reported drownings.
"The thunderstorms that you may have been familiar with from 1/9, 2018, are those same types that wreak havoc on our communities," he warned Monday.
Fish said every firefighter and emergency responder was on deck Monday.
Public Works Director John Ilasin added that the Public Works Department operated under a storm watch, meaning that after hours, staff monitor "acute" points of concern around the city. The city has also repeatedly fortified the winter berm.
Council designates e-bike safety awareness day, human trafficking awareness month
The Carpinteria City Council approved two proclamations at its Monday night meeting. The first proclamation designated January 2023 as human trafficking awareness month; Elsa Granados, executive director of Standing Together to End Sexual Assault, spoke on behalf of the proclamation.
The second designated Thursday, Jan. 19, as e-bike safety awareness day within the city of Carpinteria, due to a "rapid increase" in less experienced, high-speed bicyclists within the city, the proclamation said – causing the potential for further collisions. Kent Epperson spoke on behalf of the Santa Barbara County Association of Governments on the matter, urging residents to learn more about e-bike safety.
View News
Coastal
CARPINTERIA
Assistant
Sports
Graphic
Association of Community Publishers ADVERTISING DISTRIBUTION SERVICES CIRCULATION VERIFIED BY 6  Thursday, January 12, 2023 Coastal View News • Carpinteria, California
Managing Editor Evelyn Spence
Editor Jun Starkey
Editor Ryan P. Cruz
Designer Kristyn Whittenton
Photographer
Robin Karlsson
Advertising
Manager Karina Villarreal
Publishers
Gary L. Dobbins, Michael VanStry
"We don't want to stifle any potential public comment."
–Mayor Al Clark, on moving items to the council's next meeting due to the storm
Monday night's city council meeting was moved online just before it began due to the powerful storm that hit the county earlier this week.
ABOP DISPOSAL PROGRAM Weather permitting we will return Saturday Jan. 28, 2023 CARPINTERIA CITY HALL • 5775 Carpinteria Avenue CANCELED SATURDAY DUE TO RAIN Coastal View News welcomes your letters Letters must include your name, address and phone number. Letters are subject to editing. Letters over 300 words will be edited in length. Submit online at coastalview.com
Code Compliance numbers from Quarter 4 include stats from October, November and December.
Code Compliance reports 4th quarter contact
David Hernandez, from the city's Code Compliance, told the council Code Compliance officers made 96 homeless contacts during Quarter 4, which includes October, November and December of 2022.
Officers also reported 37 zoning issues; 17 public nuisance contacts; and 33 contacts related to issues with parks, benches and open space.
Other code compliance violations noted for the year included violations of the 72-hour parking rule; parking in "no parking" areas; parking without current registration; failure to follow signs and parking in handicapped spaces or markings without handicap plaques.
Obituaries
Anna Geraldine Doell Lea 01/11/1926 – 12/29/2022
Gerry Doell Lea died on Dec. 29, 2022, following a short period of declining health. She lived a long, full life, and touched many people with her gentle, generous spirit.
Born on Jan. 11, 1926, in Electra, Texas, to Charlie and Lola Coffer, she lived her early years on various farms in Oklahoma and Texas, raised alongside her three siblings, Helen, J.E. and Floye. In 1940, the family moved to Carpinteria, following Gerry's uncle, who was a high goal polo player. Gerry graduated from Carpinteria High School in 1944 and received a full scholarship to study English at UC Santa Barbara. During her junior year, she and Robert (Bob) Doell, also a junior at UC Santa Barbara, fell in love and married in June 1947. Following their college graduations, Bob and Gerry designed and built their first home in 1949-1950 in the new Concha Loma neighborhood in Carpinteria.
In 1951, the first of their three girls, Robin, was born, followed by Ann in 1953 and Cindy in 1957. In 1956, Gerry and Bob moved to their home on Foothill Road in Carpinteria where they raised their girls, and where Gerry lived for over 66 years. Sadly, Bob died in 1975, leaving a significant void in the family. In 1994, Gerry married Richard Lea and together, they enjoyed working on her house and traveling until his death in 2011.
Thomas Hartley McAlexander 04/26/1941 – 01/06/2023
It is with great sadness that we share the passing of Thomas Hartley McAlexander on Jan. 6, 2023, in Santa Barbara, California.
Tom was born in Los Angeles, California on April 26, 1941 to Marian Rebecca McLean and Lilburn Chandler McAlexander. He graduated from Freemont High School in 1959. From 1958 to 1964 he served in the Navy and Naval Reserve and while on active duty, he served on the USS Pritchett as a Gunner's Mate (GMG3). Upon completion of honorable military service, Tom worked his way to a supervisory position at a company in Los Angeles known for making soap products.
In 1979, Tom married Cynthia Hola and moved to Carpinteria, where he worked as a painter and handyman. He had two daughters, Rebecca (born 1975) and Katy (born 1980). In addition to his work and family life, he was very active with his local church.
In 2001, Tom remarried Chris Cirillo and gained a stepdaughter, Kristy. As a jack-of-all-trades, he worked for many local homeowners, businesses and a family-run rental property business, impacting many people from Santa Barbara to the Los Angeles area for over 40 years. He was very involved with Carpinteria Valley Baptist Church, where, among other things, he led the worship services and served as a deacon.
Code Compliance responded to several violations, including many noted violations of the 72-hour parking rule.
In other council news…
Library holds up amid storms
On Monday, Carpinteria Community Librarian Jody Thomas said the library is "holding up" amid the strong storms.
Teleconferencing provisions extended
The council unanimously approved an extension of teleconferencing provisions that allows the council to operate remotely.
Closed session canceled
The city council canceled the closed session portion of the Monday night meeting due to the remote format and the ongoing storm. The council had originally been set to discuss City Manager Dave Durflinger's contract.
Annual work plan meeting tentatively slated for Jan. 30
The council will tentatively move the city's annual work plan to the afternoon of Jan. 30. This decision will be formally voted on at the council's Jan. 23 meeting.
Throughout her life, Gerry particularly enjoyed helping others, most often in small, quiet ways. When her girls were in elementary school, she was a room mother for their classrooms, and she was instrumental in creating the first library at Aliso School. Gerry was an avid tennis player for many years, and a voracious reader since childhood. A big part of her life was her faith and the many friends she made through Carpinteria Community Church. Gerry had a kind, caring disposition and always a listening ear, making countless friends of all ages throughout her long life. In her words, her greatest legacy is the deep love she held for her family, and she will be missed greatly.
Gerry is survived by her daughters, Robin (Jack) Sawaske and Cindy (Alan) Doell; son-in-law, Rus Arnold; grandchildren, Spencer (Adrienne) and Connor Sawaske, and Naomi (Jack), Zachary and Madison (Gabrielle) Arnold; great-grandchildren, Henry and Quincy Sawaske and Sofia Arnold; and many loving nieces and nephews. Gerry was preceded in death by her siblings, husbands and her daughter, Ann.
Services will be held on Saturday, Jan. 28, 2023, at 11 a.m. at Carpinteria Community Church, 1111 Vallecito Road, Carpinteria.
Donations may be made in her memory to Carpinteria Library, Carpinteria Community Church or your favorite charity.
Tom worked until 2020, when he started having health issues. A procedure in July 2022 led to a series of complications and a massive stroke. He was lovingly cared for at home by his wife after his release from hospitalization in September. He passed away in Santa Barbara on Jan. 6, 2023.
Tom was known for his strong faith, wisdom, honesty, integrity, hard work, love of family, kindness, compassion, wonderful singing voice, love of scripture, patience, understanding and strong ethics. He was handy, hardworking and "could fix or do anything." He was known as "Tom the Toolman," and "Mr. McMayonnaise." He would put mayo on anything, including spaghetti. His favorite way to start the day was over coffee and reading the bible with his wife Chris.
Tom is survived by his wife Chris McAlexander, sisters Mary Kerr and Sharon McAlexander, brother Norman McAlexander, daughters Rebecca Gottlieb and Katy Olivas, stepdaughter Kristy Trujillo and seven grandchildren.
A memorial service will be held at Carpinteria Valley Baptist Church located at 800 Maple Ave. on Friday, Jan. 13 at 2 pm. In lieu of flowers, please make donations to the United Service Organizations (USO), a nonprofit-charitable organization that supports our military, or donate to a fundraiser that was created to cover the medical costs for Tom's home care via GiveSendGo at givesendgo.com/G9DSY.
Previously published obituaries may be read online at coastalview.com Coastal View News • Tel: (805) 684-4428 Thursday, January 12, 2023  7
When it rains, it pours
CVN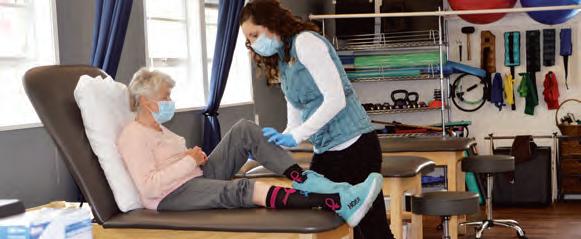 RENTALS-FURNISHED
3 bedroom, 2 bath • House near Linden. Shared laundry. Available March - May. $3900/ month.
Stunning 2 bedroom, 2 bath ocean front fully furnished condo. Gated parking, washer-dryer in unit. Available January - March. $5000/ month.
2 bedroom, 2 bath lovely condo near Cravens Lane • Beautifully decorated Seahouse condo with gourmet kitchen. Available February 15May 15• $4500/month
COFFEE, CAREER AND KIDDOS
TERESA ALVAREZ
Like most Californians, I was excited to see we were getting rain – so were my rainboots, which are kept in storage most of the year. Cachuma Lake needed the extra water, and so did our valleys. We can now say we got more than we bargained for. I write this piece in between answering phone calls about whether our site will close, supporting families who have been evacuated and have nowhere to go, and replying to emails from parents and staff with questions. To say it feels hectic is an understatement.
During times like these, we are also made aware of the disparities. Families that are evacuated have been left with limited options. Hotels are booked and expensive; there were no emergency shelters in Carpinteria for several hours. The only options were in Santa Barbara, but some families didn't have transportation, and if they did, they couldn't get to those shelters due to road closures. I'm glad that there were two places for families to go in town by the end of the day.
Additionally, while some of us could leave work early, many of our families are hourly workers and knew that their paychecks would suffer if they asked to leave early. With some worksites closed, those workers may be left with no pay. We will feel the effects of this storm for weeks, if not months.
For many families who were in the area in 2018, this may bring back feelings of anxiousness, fear and sadness on the fifth anniversary of the Montecito mudslides. I'm mindful of my feelings when speaking with the kids and searching the news for updates. I know they can sense that there's worry in the air. I'm trying to limit the exposure to the news,
reassure them that we're safe and try to keep our routine as normal as possible. We hope the Carpinteria Children's Project can support those who need help and resources. We have communicated as needed, posting updated information on our social media and sending updates to parents via text and email. It feels like we have our internal disaster response center. This is becoming all too familiar. We've been operating from this place of reactivity and uncertainty for too long.
Although the situation may feel dire, I leave you with positivity and hope. Our community is one of a kind. I've heard of people helping neighbors dig to prevent flood damage, opening their homes to friends and providing support in Spanish to those with limited tech-
We can now say we got more than we bargained for. I write this piece in between answering phone calls about whether our site will close, supporting families who have been evacuated and have nowhere to go, and replying to emails from parents and staff with questions.
nology or access. As always, I'm proud to live in Carpinteria and am amazed by the way we all help each other. If you or anyone you know needs food, clothing or additional resources, please contact our office at info@carpchildren. org. We will be monitoring our emails. Be safe, neighbors!
Teresa Alvarez is the Executive Director of the Carpinteria Children's Project. She has over a decade of experience in the nonprofit field and a passion for helping children and families. Teresa was born in Guanajuato, Mexico, and moved to the U.S. with her parents at age two.
Growing up as an undocumented student, she learned the importance of having mentors, a strong work ethic, and the value of education. Teresa holds a bachelor's degree in Sociology from UCSB and a master's degree in Psychology from Antioch Santa Barbara. She currently serves on the Future Leaders of America board and is a founding member of the Santa Barbara Latino Giving Circle. Teresa loves to travel, read and chase after her two boys.
805.845.1231
8  Thursday, January 12, 2023 Coastal View News • Carpinteria, California
The author's husband and their son checked out First Beach on Tuesday, following Monday's storm.
KARLSSON
NOW OPEN IN CARPINTERIA WWW.MULWEBPT.COM Offering Home Health, Outpatient and Aquatic Physical Therapy in Santa Barbara for 40+ years MULLER & WEBER Santa Barbara 2324 Bath Street, Suite A Santa Barbara, 93105 805.682.3870 MULLER & WEBER Carpinteria 1110 Eugenia Place, Suite A Carpinteria, 93013 805.318.9393 MULLER AQUATIC CENTER
22
St.
93101
Linden Field flooded during Monday's storm.
Santa Barbara
Anacapa
Santa Barbara,
Real Estate Sales•Rental Housing•Property Management Vacation Rentals•Notary Services Leah Wagner, Realtor • Kim Fly, Realtor Debbie Murphy, Broker • Rebecca Griffin, Realtor Heidi & Jim Michener, Vacation Hosts 805-684-4101 murphykingrealestate.com
Solórzano takes her council seat
BY EVELYN SPENCE
Carpinteria's newest councilmember, Mónica Solórzano, was already heavily involved in the Carpinteria community before she decided to run for the Carpinteria City Council district one seat. Between her full-time job at UC Santa Barbara as a policy analyst, her roles on the Aliso Elementary School and Carpinteria Middle School parent teacher associations and spending time with her family, she had a full and thriving plate.
But when the opportunity to serve on the Carpinteria City Council came up, she answered the call – prompted not only by her desire to better her community, but also to see more representation on the council. Before Solórzano was sworn in, the council only had one woman, and one Latina councilmember, on the five-person board: Councilmember Natalia Alarcon, who was chosen as the city's vice mayor in December.
"There is such a clear need to fill," Solórzano told CVN. "That gave me confidence even running, because I thought, 'I want the council to look more like people in Carp.' That can mean a lot of things – Latinas, females, working parents, first-time homeowners who rented for a longtime, dual-income families who have to commute out of Carp in order to live. My family and I are checking a lot of boxes that need to be represented."
But what ultimately cinched her decision? Her love for Carpinteria and community.
"(Community) is a living, supportive thing," she emphasized. "It's so important to me, because I feel with the community, people need to invest their time and energy into it. It's exciting to me – the sharing of information, the engagement of people in the community. To me, that is so powerful."
Solórzano's background in government stems from her first job after graduating from Princeton University, working for a congressman in DC. It was there, she said, that an idea formed: She wanted to be able to be give resources back to the area she lives in, to make sure families have their voices heard and their needs met.
"I want to be able to give whatever sort of resources or enthusiasm that I can to the area that I live in," she explained.
Solórzano and her husband have lived in Carpinteria for around 15 years; Solórzano recently hit 17 years working at UC Santa Barbara. A particular point of pride for Solórzano is that her two daughters, 11 and nine, were born and raised in Carpinteria – bragging rights few can claim.
"It's crazy to think that our girls are
growing up as Carp natives," she said, adding that she's often dragging her kids out to Carpinteria events, and to visit one of her favorite places in Carpinteria: the salt marsh. "We've been here a long enough time now that we have a good handle on the community." Solórzano's parents also live in town – her father is the lead of the Youngsters band – and her husband works for the Santa Barbara South Coast Chamber of Commerce visitor center.
Her two kids came door-to-door with
her when she was canvassing prior to the election. The three caught up with residents of district one, making personal connections, Solórzano said. She was surprised to see how responsive people were – "so many people said, 'Thank you for coming by, we appreciate you coming by.' That was educational."
Solórzano's third council meeting was held Monday, where she and her fellow councilmembers operated over Zoom due to the ongoing storm. Over the next four years, she told CVN she hopes to focus on environmental issues, as well as housing concerns, relationships between the school district and the council, and senior services – at her first meeting, she volunteered to serve on the city's Ad Hoc Senior Services Committee.
Carpinteria City Council meetings are typically held twice a month, at Carpinteria City Hall, 5775 Carpinteria Ave. Agendas are available at: carpinteriaca. gov/city-hall/agendas-meetings.
Coastal View News • Tel: (805) 684-4428 Thursday, January 12, 2023  9 YOUR LOCAL LICENSED MEDICARE AGENTS PROVIDING SAFETY AND SECURITY IN LIFE, HEALTH AND RETIREMENT Contact us at (805) 515-4265 for your complimentary review T We can help you with your Medicare needs: T 1056 Eugenia • Building B • Carpinteria, CA 93013 • The Medicare Enrollment Process • Medicare Plan Review/Changes • Prescription Drug Coverage • Additional Benefits • Low Income Subsidies • Dental and Vision Kathy Ornelas #CA0G93619 Kathy4asb@gmail.com Bryan Ornelas #CA4068943 bornelas@alegacys.com
supportive thing":
"Community is a living,
DEBRA HERRICK FILE PHOTO
Mónica Solórzano, pictured in 2019 with her daughter, said one of the main reasons she ran for Carpinteria City Council was her love and passion for community.
"There is such a clear need to fill (…) I thought, 'I want the council to look more like people in Carp.'"
–Councilmember Mónica Solórzano
Mónica Solórzano was sworn in as the council's newest member in December 2022.
FDI-1867L-A © 2022 EDWARD D. JONES & CO., L.P. ALL RIGHTS RESERVED. AECSPAD > edwardjones.com | Member SIPC Call or visit your local financial advisor today. Compare our CD Rates Bank-issued, FDIC-insured % APY* % APY* % APY* * Annual Percentage Yield (APY) effective 10/25/2022. CDs offered by Edward Jones are bank-issued and FDIC-insured up to $250,000 (principal and interest accrued but not yet paid) per depositor, per insured depository institution, for each account ownership category. Please visit www.fdic.gov or contact your financial advisor for additional information. Subject to availability and price change. CD values are subject to interest rate risk such that when interest rates rise, the prices of CDs can decrease. If CDs are sold prior to maturity, the investor can lose principal value. FDIC insurance does not cover losses in market value. Early withdrawal may not be permitted. Yields quoted are net of all commissions. CDs require the distribution of interest and do not allow interest to compound. CDs offered through Edward Jones are issued by banks and thrifts nationwide. All CDs sold by Edward Jones are registered with the Depository Trust Corp. (DTC). Aaron P Crocker Financial Advisor 5320 Carpinteria Ave Suite J Carpinteria, CA 93013 805-684-8470 6-month 1-year 4.35 4.60 2-year 4.50 COURTESY OF SOLÓRZANO Get social with us!
Carpinteria kid hailed as hero following car accident
BY EVELYN SPENCE
Eleven-year-old Linus Undurraga is being hailed as hero by his family after the brave Carpinterian and Canalino Elementary School student sprang into action during a terrifying car accident.
In late December, Linus and his mother's boyfriend, Corey Evans, were traveling up the Highway 101. The pair were going to visit a bike shop Evans works at in Solvang, and decided to take Highway 101, rather than Highway 154 – for safety, Evans said. "I commute to work, and sometimes on the weekend," Evans said. "If (school is out) Linus comes with me to help out."
But the two hydroplaned after hitting a puddle of water, spinning out and crashing just above Gaviota, said the Carpinteria family, who sat down with CVN in early January. Evans hit his head and was knocked out; the car then crashed into the side of a hill, Linus recalled.
Linus was a hero, his mother Aurora Meadows said – he pulled Evans' foot off the accelerator, and once the car came to a stop, he grabbed a cell phone and called 911. "I pulled Corey's foot off the pedal," Linus said. "Then a Highway Patrol (officer) came by, then 911 finally arrived, and Corey got wheeled into the ambulance. I called my mom." California Highway Patrol confirmed to CVN that officers responded to the call.
Linus saved both their lives, Evans emphasized.
"Linus saved my life," he told CVN. "We're all happy that Linus was such a hero and had such sharp thinking."
Evans cannot work for a few months, Meadows said, adding he has some am-
nesia and a concussion stemming from the incident. Linus told CVN he is ready to be back in school, and Meadows said her son hasn't had any nightmares about the accident.
"You prepared me for, like, every possible situation," Linus told his mom.
His mom told CVN that it was a scary call to get and emphasized that all parents should teach their kids when to
call 911. "Parents, let your kids know to call 911," she said. "I've had a number of parents say, 'I haven't talked to my kid about that.' I'm relieved (Linus) knew what to do."
Coastal View News • Tel: (805) 684-4428 Thursday, January 12, 2023  11
Carpinteria family Corey Evans, Aurora Meadows, Linus Undurraga and BoJees the cat, alongside their friend Jesse Cavada, dealt with a scary incident in December after Linus and Corey were in a car accident.
Dodging storms, counting birds on Santa Cruz Island
CVN
IN THE NATUREHOOD
NANCY BARON
Nothing was certain. Could we make it to Santa Cruz Island between the waves of storms? Yet on Tuesday, Jan. 3 we set off from Ventura Harbor in rollicking seas aboard the aptly named "Island Adventure" for the annual Christmas Bird Count (CBC) – one of the thousands of Audubon Christmas Bird Counts that take place each year across the continent between Dec. 14 and Jan. 5.
The CBCs provide a snapshot of what species are increasing or decreasing and moving over time. While most CBCs are a 24-hour affair, on Santa Cruz Island it is typically a three-day extravaganza because of the challenges to get there. Day one involves the sea passage with the help of Island Packers, and the initial scouting for birds. Day two is the 24-hour count, with a predawn start from the rustic UC Santa Cruz Island Natural Reserve field station, fanning out across the island – as much as the rugged terrain allows. Some folks search well after dark for nightbirds before the rendezvous back at the research station to tally the bird sightings and adventures. Then day three: the boat trip home.
This year, the weather had other plans for us.
The storms begrudgingly allowed only a one-day window, with warnings of rough seas from Island Packers. This whittled our numbers from 28 to 12, with several professional biologists, a professional adventurer and three keen students on board – all of whom know their birds. Lucy London is the high school representative on Santa Barbara Audubon Society's board of directors.
Conor McMahon is a UC Santa Barbara graduate student studying bird breeding in our local watersheds. Lukas Le Grice, 14, is in Grade 8, and has become a phenomenon in the Ojai birding community.
Jessie Altstatt, who has worked on the island and is a Santa Barbara Audubon board member, has ably organized the bird count for the past seven years. "I love Santa Cruz Island," she said, explaining
12  Thursday, January 12, 2023 Coastal View News • Carpinteria, California
From left, counterclockwise, Jessie Altstatt, Rick Ridgeway, Sangeet Khalsa, Peter Larramendy, Mia Fabbri, Nancy Baron, Nick Todd, Lukas Le Grice, Jeremy Carroll, Conor McMahon, Lucy London and Ken Weiss take a boat to Santa Cruz Island, prepared for the day's bird count.
JESSIE ALTSTATT
Lukas Le Grice
JAY CARLSON
Island Scrub Jay JESSIE ALTSTATT
NATUREHOOD continued on page 13
Virginia Rail
how the love affair began in 1988 with a UC Santa Barbara field course. The organizational challenges are outweighed, she said, "by bringing together people from a variety of backgrounds who share my love of the island and the sheer exhilaration of searching for birds."
This year we had only a few hours, so given our short time we concentrated on walking through Canada del Puerto from Prisoners Harbor to an historic ranch owned by the Nature Conservancy.
Santa Cruz Island Reserve Director Emeritus Dr. Lyndal Laughrin, who perhaps knows the island better than anyone, conferred with Jessie then struck off on his own.
One group headed to the restored wetlands in the bay in search of Virginia Rails. Jessie drove five of us, including my husband Ken Weiss and I, in the back of an open air "safari style" truck slip-sliding on the muddy twisty road to the TNC ranch about three miles away. Biologist Nick Todd hopped out en route and disappeared alone into the bush carrying a large pack that could have sustained him several days if necessary. Back in 2000, Nick helped trap and remove Golden Eagles that were obliterating the native fox population and had replaced native fish-eating Bald Eagles. Nick has studied Peregrine Falcons, Loggerhead Shrikes and migratory land birds too, so we weren't too worried that he would get lost. Jessie dropped Conor and Lucy near the ranch.
Ken and I continued walking beyond the old chapel enjoying the solitude of this beautiful place. The misty low light day subdued the birds, but we spied a Merlin perched atop a snag. I tried to imagine this small crow-sized falcon flying from its breeding grounds in Wyoming or Washington across the stormy seas to Santa Cruz Island. Merlins prey upon small songbirds and shorebirds but will occasionally take down pigeons. Six Mourning Doves flew by – safety in
numbers?
As we walked back along the trail to Prisoners Harbor, we listened intently for bird songs, but more frogs were calling than anything else. Using my Merlin song-id app from Cornell University I recorded a sparrow "tsip" note, which the app identified as a White-throated Sparrow – an Eastern bird and thus a rarity. I played it to Lukas Le Grice, who is a "savant" with bird songs. "It could be," he said, "but it could also be a Golden Crowned Sparrow – so we better not count it." I was mightily impressed.
Back at Prisoners, we heard that Peter Larramendy had seen a Burrowing Owl flying through the forest, which was unusual as they are birds of open space. Two groups heard Virginia Rails, a secretive bird of wetlands. Lyndal had discovered 100 robins feasting on scarlet toyon berries – looking like Christmas ornaments. I spied a huge raft of over 500 Western Grebes in the harbor, which was uplifting as their populations have declined worldwide. Lukas had spotted an American Wigeon – a puddle duck – in the restored wetlands near Prisoner's Bay, a first for Santa Cruz Island. "A testament to restoration!" said Jessie, pleased.
"The best thing is when you pick out a rare bird! I want to see more of the island, and more of the birds," Lukas said.
Back on the boat, we braced for the rough passage home. I kept my eyes glued on the horizon. Nick sat face down on a table, "trying to hold it together." Lukas and Rick Ridgeway stood on the prow, facing into the waves and sea spray. Jessie distributed homemade cookies and good will.
All said, with Lyndal's list – which included the sought-after Loggerhead Shrike, and a Saw-whet Owl – we tallied 64 species. "This compares to last year's count of 70 species but with a 24-hour effort and more people. Not bad!" Jessie said.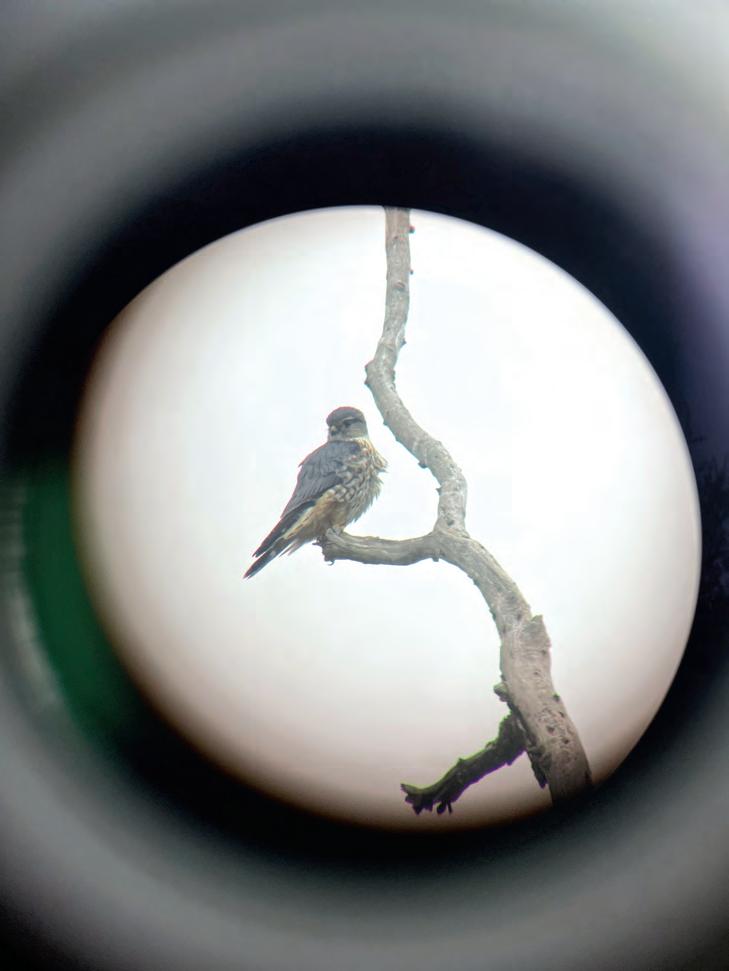 Coastal View News • Tel: (805) 684-4428 Thursday, January 12, 2023  13
This year, the weather had other plans for us. The storms begrudgingly allowed only a oneday window, with warnings of rough seas from Island Packers.
CONOR MCMAHON PHOTO
From left, Nancy Baron and Ken Weiss ride safari style, looking for birds.
KEN WEISS
A Merlin is seen through the scope.
ADRIAN O'LOGHLEN
Burrowing Owl
NATUREHOOD: continued from page 12 Looking for other columns by Nancy Baron? Search the CVN archives! CoastalView.com CoastalView.com
Nancy Baron is a communications coach, writer, and senior research associate at the National Center for Ecological Analysis and Synthesis (NCEAS) at UC Santa Barbara. She lives in Carpinteria on a small organic avocado farm with her husband Ken Weiss and their beloved terrier Henry. Contact her at baron@nceas.ucsb.edu.
Rolling
Carpinteria weathers through intense storm, flooding
BY JUN STARKEY
Carpinteria has seen a historic amount of rainfall in the past week, with heavy winds and rain on Thursday, Jan. 5, followed by a massive two-day storm starting Monday, Jan. 9 that caused flooding and triggered evacuation and shelter in place orders throughout the county.
All orders were lifted on Tuesday, and soon after, county officials and locals ventured out to assess the damage. The winter berm at Carpinteria City Beach sustained some damage from the high tides and floodwaters, but efforts to rebuild have already begun, according
14  Thursday, January 12, 2023 Coastal View News • Carpinteria, California
to Olivia Uribe-Mutal, Carpinteria's public information officer and emergency program services manager.
waves can be seen from the parking lot of Carpinteria State Beach, after a storm caused a large swell on Thursday, Jan. 5.
DUBOCK.COM
DUBOCK.COM
Carpinteria debris
LEFT, Locals stand on the shores of Rincon Point, watching surfers ride massive waves created by the storm.
Waves lash against the Venoco Pier in Carpinteria after an intense storm on Thursday, Jan. 5.
DAVID POWDRELL
ROBIN KARLSSON
Debris covers the Amtrak railways on Friday, Jan. 6, swept onto the tracks during the Thursday storm.
TOM ARELLANO
ABOVE, Carpinteria's beaches are littered with debris following the Monday and Tuesday storms.
NICOLE
From Martinson, and winter Beach became storm
Coastal View News • Tel: (805) 684-4428 Thursday, Jnuary 12, 2023  15
DUBOCK.COM
KEITH WERNER
Carpinteria Creek behind Singing Springs overflows with floodwater, mud and debris after a storm caused serious flooding in the area on Monday, Jan. 9.
NICOLE GARAY
From left, Gabryl Velasquez, Evelina Martinson, Lila Garay, Sophia Garay and Lulu Martinson climb over the winter berm at Carpinteria City Beach on Tuesday, Jan. 10. The berm became eroded following the two-day storm that began Monday.
Locals look out at the waves at Rincon Point Beach, which saw a massive swell following a storm on Friday, Jan. 6.
1228 hrs / Warrant / 4900 block Via Real
A man was contacted when he was observed sleeping in his vehicle. A records check showed he had a misdemeanor warrant; he was cited and released for it.
1332
hrs / Incident / 1000 block
Toro Canyon
Police responded to a fire department command post that was set up due to two large oil reservoir tanks leaking into the Toro Canyon Creek. Per Fire, oil had possibly already flowed to the Pacific Ocean. Fire advised they would contact the sheriff's office if any assistance was needed.
1347
hrs / Theft / Seventh Street
The reporting party reported the rear license plate from her vehicle was stolen sometime overnight.
1408 hrs / Incident Report / Casitas Pass Road
The reporting party called to report a large tree had fallen on two vehicles, causing front end/windshield damage to both vehicles. Fire responded to as-
COMMANDER'S RECAP
COASTAL BUREAU OPERATIONS • JAN 1 – 7
sess the scene and determined the tree did not pose a further threat to buildings or people. The property manager of the apartments was contacted and advised since it was on private property, they had to make arrangements to have the tree removed. An incident report was taken.
Wednesday,
Jan. 4
0955 hrs / Possible DUI / Linden Avenue
Deputies responded for the report of a person driving under the influence. The vehicle and driver were located on Linden Avenue. The vehicle had fresh front end damage, and it was found the driver had hit the median and street sign at the intersection of Linden Avenue and
Issue
Available now in over 100 businesses in Carpinteria, Summerland, Montecito & Santa Barbara
carpinteriamagazine.com
1121 hrs / Vehicle Theft / 1000 block Holly Avenue
A vehicle was stolen between 12/15/2022 and 01/05/23. The vehicle was entered into the Stolen Vehicle System.
Friday, Jan. 6
Malibu Drive. The driver was not under the influence. Based on the driver's poor driving, a priority re-test was written, and the driver was picked up by family.
1111 hrs / Public Intoxication / 1000 block Casitas Pass Road
He said, she said History doesn't have to be boring. Readers sent in their funniest captions for the photo above, and we selected our favorites (in no particular order). Enjoy.
1334 hrs / Public Intoxication / Toro Canyon Road
A homeowner on Toro Canyon Road requested the check the welfare of a male laying in his driveway. When deputies arrived, the subject was found on the ground and displaying signs of intoxication. When a deputy attempted to detain the subject, the subject attempted to flee and resisted. The subject was arrested.
"Get ready for my famous 'Grandpa's Surprise.' What's the 'surprise'? I'm not your grandpa!" --Anonymous
Deputies responded to a local store to assist fire and medics with an individual down in the parking. When Fire woke her up, the subject became combative. The woman had a strong odor of an alcoholic beverage and there was an open bottle of vodka next to her. She was unable to answer basic questions and was unable to stand without assistance. She was arrested and booked.
1449 hrs / Theft / 5900 block Birch Street
Thursday, Jan. 5
0647 hrs / Traffic Collision / 900 block Concha Loma Drive
"This is retirement, folks. Can't you see that I'm elated?" --Chas. Jerep
The reporting party reported her small safe with $1,600 and medication had been stolen from her apartment. The reporting party believed her caretaker took the safe sometime on 01/05/2023. The caretaker was contacted and denied taking the safe. A follow-up will be conducted by patrol.
Saturday, Jan. 7
"Our pressure cooker's busted, so I have to keep the lid on real tight until the chili is done." --Jan Beck
The reporting party's vehicle was hit by a truck parked near the alley.
0942 hrs / Auto Incident / 5600 block Carpinteria Avenue The reporting party's vehicle was broken into sometime during the night while parked in an inn parking lot. The
"My pot runneth over." --Nancy VanAntwerp
"If you call me Chef Boy-ar-dee one more time, you'll be wearing this pot of beans." --Marty Panizzon
1328 hrs / Vandalism / 5400 block El Carro Lane
The reporting party said his vehicle was vandalized overnight. The letters "ESF" were sprayed painted with clear coat on the driver side, windshield and side mirror.
"Who's ready for some bald eagle, elephant-tusk, shark-fin soup?" --Anonymous
"I hope nobody's allergic to shellfish. Or nuts. Or dust, pollen, cats, dogs or poison oak." --Anonymous
"That weird ammonia smell? That's just me." --Anonymous
"Hey, Chef, that roast in the pot isn't nine days old is it?" --Chas. Jerep
"Actually, we're going out for dinner. I'm just washing my socks." --Anonymous "No, I haven't seen Fluffy. Why?" --Robert Miller
"I knew I wanted to be a chef ever since my parents abandoned me on a squash farm as a toddler." --Anonymous
"What am I cooking? Why liver of course. It goes so well with fava beans and a nice Chianti." --Bill Hepp
"Um…why, no, I haven't seen the neighbor's yappy Chihuahua. Is it, um, missing? Dinner's ready." ––Anonymous
"I know it says 'Barbecuer,' Leroy, but I like my chicken boiled!" ––Anonymous
"Hey, hurry up with the shot already! I just burnt the bejeebers out of my hand! Take 35. We need hot pads on the set." ––The Brunners
"I hope you don't mind; your front door was wide open and I needed a place to cook." ––Anonymous
"Would you like a taste of my new recipe, high fiber, gluten free, organic, low sodium, non-GMO, low carb, sugar free, no hydrogenated oils, no high fructose syrup, easily digestible, healthy, tasteless soup?" ––Health Nut-JB
"I make the soup while Granny gets to rest." ––Esther Rose Mueller To learn more about Carpinteria's unique and interesting past, visit the Carpinteria Valley Museum of History, open Tuesday through Saturday from 1 to 4 p.m. at 956 Maple Ave.
Winter 2023
Reports from the Santa Barbara County Sheriff's Office
24  Thursday,February26,2015 Coastal View News • Carpinteria, California Submit Halos & Pitchforks online at coastalview.com. All submissions are subject to editing. hindsight ACROSS 1 Painful sound 6 Daytime TV show 10 Former televangelist Roberts 14 Main artery 15 "Waterloo" singers 16 Choir attire 17 Like a novel character 19 Fellow 20 Sunshine State, briefly 21 Male servant 22 Moon state 23 Type of sandwich 24 Seattle slugger 26 Fairytale villain 29 Unmoved 31 Napping dwarf 33 Once more 34 Future HS grads 2 Stir up 35 Gift for a 49 Airport in the 37 Streisand film, 3 Killer whalesweetheartWindy City "____, Dolly!" 4 Cell phone 36 Crockpot food 50 Group of jurors 38 Play part provider 38 Legal eagle 52 Fisherman's net 39 Apportion 5 Ingenuous 40 Flagellate 55 Way over 41 In ___ case 6 Shellback 43 "Positively yonder 42 Essential part 7 Double-reed Entertaining" 56 Big name in 44 Cook slowlyinstrument network plastic 45 Log of arrests 8 Bridge part 44 Pinky's pal 57 Track shape 47 Gush forth 9 Dance step 45 Type of shower 58 Whipping mark 48 Highest singing 10 Corsage flower 46 White weasel 60 "Well, ___ be!" voice 11 Tolkien's 48 Leftover food 61 Kind of shelter 51 Talc targetRiddermark 53 Council honcho 12 Degrade 54 Flaxlike fiber 13 Social outcast 56 Solemn promise 18 Late for class 59 "The Fountain- 22 Before WWII, eg. head" author 23 Part of the foot 60 Verb form 25 Sailor's 62 Word before response, code or rugwhen doubled 63 Rawboned 26 Workplace 64 Kind of cavitywatchdog org. 65 College grant 27 Valley 66 Stringed instru- 28 Trust ment of old 30 Regatta 67 Praise participant 32 Fast-growing DOWN tree 1 Hook for fish 34 Docking place The Weekly Crossword by Margie E. Burke Answer to Last Week's Crossword: Copyright 2015 by The Puzzle Syndicate 12345678910111213 141516 171819 202122 232425 2627282930 313233343536 37383940 41424344 454647 4849505152 535455565758 596061 626364 656667 CLAD STOOD BLAH HAZE TORSO LIMO ANTI ONAIR IRIS ICECAP LEMONADE RECEIPT REND RARE RUSSIA SPRAYGUNS SPASM AEON ESTER OGLE ROOTS SEVENTEEN INDICT REDO PAID ROOFTOP DERANGED UNRIPE OPUS HBOMB OMIT LISTTIDALSENT ECHO STONE TREY CARpINTERIA VALLEy MUSEUM OF HISTORy Last week's answers: 9 4 3 1 8 6 2 5 7 8 6 7 2 3 5 1 4 9 2 1 5 7 9 4 6 8 3 3 5 1 9 2 8 4 7 6 4 2 6 5 7 3 9 1 8 7 9 8 4 6 1 5 3 2 1 7 9 8 4 2 3 6 5 5 3 2 6 1 7 8 9 4 6 8 4 3 5 9 7 2 1 Puzzle by websudoku.com 5 7 6 8 3 4 9 2 1 1 8 2 6 5 9 3 4 7 3 4 9 7 1 2 6 5 8 7 5 1 9 2 6 8 3 4 4 2 3 1 7 8 5 6 9 6 9 8 3 4 5 1 7 2 8 3 7 2 6 1 4 9 5 2 1 5 4 9 3 7 8 6 9 6 4 5 8 7 2 1 3 Puzzle by websudoku.com Sudoku Puzzle by websudoku.com Each Sudoku has a unique solution that can be reached logically without guessing. Enter digits from 1 to 9 into the blank spaces. Every row must contain one of
Level: Easy
Hard 5 8 6 2 4 5 9 7 6 1 3 8 3 2 2 8 3 1 6 1 7 9 6 7 5 8 7 8 9 2 5 3 7 Puzzle by websudoku.com 4 2 1 9 8 6 3 3 8 4 5 5 9 3 1 8 6 5 9 2 5 4 9 7 5 6 3 Puzzle by websudoku.com 16  Thursday, January 12, 2023 Coastal View News • Carpinteria, California
each digit. So must every column, as must every 3x3 square.
Level:
Sunday, Jan. 1
50 Airplane 9 Treeless plain maneuver 10 Kind of witness 52 What a train 11 Exploits follows 12 Bicycle part 55 Flowering vine 13 Seat anagram 59 Having a short 19 Lionel Richie hit fuse 21 Halawa hello 61 Tiniest bit 24 Bone brace 62 Orchestral reed 25 Summon, as a 63 Think (over)cab 64 Keyboard key 26 Actor Elba 65 Mail letters? 28 Chuck of action 66 Whirling currentfilms 67 Strapped 29 Movie shots 30 Try the patience DOWN of 1 Coveted role 31 Staircase part ACROSS 1 Kind of wool 6 Listening devices 10 Remote button 14 Praise highly 15 Stuff to the gills 16 "Heat of the Moment" band 17 Sacrifice site 18 Ambitious ones 20 Downturn 22 Car radio button 23 Make better 24 Boot attachment 25 Cheer starter 27 New England capital 32 "Without further ___..." 33 Nautical hazard 34 Geometric line 36 Colored eye part 38 "Argo" actor Alan 40 Place for 2 Wheel turner 35 Open carriage 54 Mounted on mascara 3 Tense tennis 37 Quick drawings 55 Actress 41 Sausage unitsmoment 39 Has to haveTuesday 43 Take up again 4 Play loudly 42 Railroad nail 56 One way to 45 Sargasso, for 5 Watches on 44 On paper stand by one Netflix, say 47 Elmo's street 57 Type of tea 46 "Cinderella" 6 Baker's dozen? 51 Captain Nemo's 58 High nest (var.) meanie 7 Moisturizer creator 60 Fizzled 48 Be a busybodyadditive 52 Archaic pronounfirecracker 49 Gets even with? 8 Woven product 53 Pulls a heist on Week of 1/9/23 - 1/15/23 The Weekly Crossword by Margie E. Burke Copyright 2023 by The Puzzle Syndicate Answers to Previous Crossword: 12345 6789 10111213 14 15 16 17 18 19 20 21 22 23 24 2526 272829 3031 32 33 34 35 36 37 38 39 40 41 42 43 44 45 46 47 48 49 5051 525354 5556 5758 59 60 61 62 63 64 65 66 67 CORK CHIP LACY OVER HAIRS ECHO DELEGATION SCAR ANYMORE FISSURE LOGS IDIOM DEMISE STERNUM EXONERATE ISLET BUT SPEED ALE TROTH PERIMETER BREAKER SATEEN CAROL PINE ABYSMAL ENGRAVE LOCH LAWNTENNIS POLO ATONE ATOP STEP EWER LILY
credit cards were stolen
victim's
and used at a gas station.
Coastal View News • Tel: (805) 684-4428 Thursday, January 12, 2023  17 944 Linden Ave. • Carpinteria • pacifichealthfoods.com • 805-684-2115 YOUR LOCAL, ORGANIC MARKET Juices • Smoothies • Açaí Bowls • Sandwiches Coffee & Tea • Baked Goods • Fresh Salads Follow us on Instagram @pacifichealthfoods and check out our menu online at www.pacifichealthfoods.com Monday-Saturday 8 a.m.-6:30 p.m. INGRID BOSTROM PHOTOS JOIN US FOR WELLNESS MONTH! 15% OFF all Vitamins on Wednesdays 20% OFF all Body Care all of January!
MATT
"Puss in Boots: The Last
CVN
DUNCAN'S REEL DEAL
DUNCAN
"Puss in Boots" took me by surprise. First of all, it's a "Shrek" spin-off. Actually, scratch that – "Shrek 2." It features a Spanish cat, in a hat, and a cape, like Zorro. He wields a sword. And, yes, he wears boots. Huh? Okay, sure, it sounds cute, but: A whole movie?
But then the first movie came out, and it was good. Pretty darn good. It was funny and charming and action packed. So, then Puss in Boots became its own thing. Still, there was room for skepticism – surely this was a one-hit wonder. Surely a cartoon outlaw kitty cat has way fewer than nine lives.
Enter "Puss in Boots: The Last Wish." Fittingly, this sequel is all about how many lives Puss in Boots (Antonio Banderas) has. He had nine, but he doesn't have that many anymore. Despite his astonishing acrobatic abilities and prodigious fighting skills – which are on full display in the opening scenes of the movie – Puss has had some slip ups.
Okay, so he's died a few times. When a doctor asks him to count up his fatalities, they discover that he's down to his last life. So, just like a doctor tells an athlete with too many concussions to hang it up, the doctor tells Puss his swashbuckling days are over.
How could that be? This is Puss' identity! At first, he resists. However, after a scary fight with a big bad wolf, Puss throws in the towel. He goes to a cat lady's house and becomes a mere pet. Naturally, he's depressed. He grows a beard and mopes. A nice contrast for his angsty shell of a self is another "cat" – called "Perrito" (Harvey Guillen) – at cat lady's house. This cat isn't actually a cat; he's an oft-rejected, misshapen little dog in a cat costume. He has a pathetically buoyant spirit and just wants a friend. Poor guy.
Perrito is the movie's tagalong. Then come Goldilocks and the Three Bears Crime Family (Florence Pugh, Ray Winstone, Olivia Colman and Samson Kayo, respectively) who show up and let slip that there's a "wishing star" out there that will grant one wish to the person who finds it and that "Big" Jack Horner (John Mulaney) is going to have the map. Puss in Boots is like, "Hey, I can get my nine lives back!"
Whilst looking for the map, Puss runs into Kitty Softpaws (Salma Hayek), who was once Puss' companion but is now mad at him for some reason. A melee ensues, after which Puss, Softpaws and Per-
Wish"
rito have the map and a fragile alliance.
All parties fling headlong into the Dark Forest and after the wish. Along the way they encounter each other and all sorts of other strange challenges in search of what they want, what they don't have, and something more.
That's what Puss is after. He's lost eight out of nine lives, and along with them his bravado and purpose in life. He wants his lives back, desperately. Others have other desires, hopes and needs. But, as they all maintain their singular focus on the to-behad, some of them learn that sometimes such pursuits imperil other things, and other people, already in their lives – and they must decide whether gaining what they want is worth losing what they have.
Whether or not this movie's title character gets his wish, "Puss in Boots" has done it again. This is a pretty darn good movie. The composition is there: the unique animation – like a storybook come to life – the fast pace, the choreography (animated, of course), the voicings, the music and more. The plot is simple, but interesting. Puss is missing something. So are others. They each want to fill that void, so they reach for a bit of magic, not realizing, at least not at first, that the biggest voids can't be filled by magic.
It's simple. But also, good. And it's done well in "Puss in Boots," with a light touch. Whether you're old or young, mature or not, sometimes a message as simple and obvious as, "Friends show up for each other," ends up hitting home and, like this movie and its predecessor, pleasantly surprising you.
"Puss in Boots: The Last Wish" is rated PG for action/violence, rude humor/ language, and some scary moments.
Matt Duncan, a former Coastal View News editor, has taken physical but not emotional leave from Carpinteria to be a philosophy professor at Rhode Island College. In his free time from philosophizing, Duncan enjoys chasing his kids around, watching movies and updating his movie review blog, duncansreeldeal.blogspot.com.
18  Thursday, January 12, 2023 Coastal View News • Carpinteria, California P Medicare Supplements P Medicare Advantage P Medicare Part D + License #0773817 Call Today: (805) 683-3636 www.stevensinsurance.com 3412 State St. Santa Barbara, CA 93105 Medicare Annual Election Period 10/15 to 12/7 FREEVIP Concierge Customer Service
Puss is missing something. So are others. They each want to fill that void, so they reach for a bit of magic, not realizing, at least not at first, that the biggest voids can't be filled by magic.
CoastalView.com 805-684-4428 news@coastalview.com Wedding Guide G CARPINTERIA'S FIRST & ONLY DEDICATED WEDDING PUBLICATION WILL BE OUT Thursday, March 2 Advertising Deadline Thursday February 23rd Contact Coastal View News to Advertise! Coastal Carpinteria Serving the Valley since 1994 coastalview.com View News Photo by Wonder Tribe Do you have a photo from Carpinteria's past? Contact news@coastalview.com to share it with other readers!
Tortellini Spinach Mushroom Skillet for Two
CVN
CHEF RANDY
RANDY GRAHAM
A simple pan sauce, pasta and fresh vegetables are just what you need on a cold winter day. This nutritious recipe barely heats up the kitchen and is easy to prepare. What could be better for a midweek dinner for you and your family?
Serve with a fresh loaf of French bread, and this makes a complete meal for four people. Double the recipe if you are really hungry!
Ingredients:
9 ounces refrigerated three-cheese tortellini
6 tablespoons butter (divided)
6 ounces fresh mushrooms (sliced)
2 cloves garlic (minced)
¾ cup dry white wine
1/3 cup oil-packed dried tomatoes (chopped)
1 teaspoon dried basil (crushed)
½ teaspoon salt
¼ teaspoon red pepper flakes
6 cups fresh baby spinach (chopped coarse)
Directions:
Prepare tortellini according to package directions. Drain, reserving ¼ cup of the cooking water. Set aside.
Meanwhile, in a large skillet, melt one tablespoon of butter over medium heat. Add mushrooms and garlic. Cook for about five minutes or until the mushrooms are tender, stirring occasionally. Stir in wine, tomatoes, basil, salt, red pepper flakes and reserved pasta water.
Reduce heat to medium-low and simmer for about six to seven minutes or until liquid is reduced by half. Stir in the remaining butter, two tablespoons at a time, until melted.
Remove from heat. Stir in tortellini and spinach until spinach is just wilted. Serve immediately.
Randy Graham is a noted chef and writer and has been a lacto-ovo vegetarian for over 38 years. Chef Randy has written and published a series of seven cookbooks with original recipes developed over the period 1975 through 2020. He writes for the Ojai Quarterly, the Ojai Discover Monthly, and the California 101 Travelers Guide. His vegetarian recipes are published in newspapers throughout Central California under the header, Chef Randy. He and his wife, Robin, live in Ojai, California, with their dog Cooper. Robin and Cooper are not vegetarians.
Storm & Disaster
Coastal View News • Tel: (805) 684-4428 Thursday, January 12, 2023  19
RESERVE COURT CVN FOOD 5:30 AM DAILY FRESH TO GO Breakast Burritos Donuts & Pastries Premium Coffees LUNCH TO GO 684-4981 LINDEN AVE AT 9TH ST BEST BAGELS SINCE 1996 5050 Carpinteria Avenue • 805.566.1558 ext. 1 PATIO OPEN ! PRE-ORDER YOUR BAGELS 8 05-319-0155 INSIDE DINING Carpinteria Mon.-Fri. 6:30am-2pm •Sat.-Sun. 6:30am-3pm Bagelnet.com for Restaurant menu Delivery & Take Out 1025 CASITAS PASS RD 566-3334 Uncle Chen c a r p i n t e r i a, c a l i f o r n i a 我 愛 吃 飯 SZECHUAN & MANDARINE CUISINE VEGETARIAN SPECIALTIES unclechen • carpinteria.com OFFER VALID THROUGH 6/30/21 ONLY AT 4610 CARPINTERIA AVE, CARPINTERIA, CA. Coupon not available with 3rd party vendors or delivery (or delivery partners). Delivery prices may be higher than in restaurant. Tax not included. One coupon per customer per visit. Limit one discount per coupon. Original coupon must be presented and surrendered at time of order. Not valid with any other o er, discount, or combo. Price may vary. Cash value 1/100 of cent. Not for resale. © 2021 Carl's Jr. Restaurants LLC. All rights reserved. SINGLE WESTERN BACON CHEESEBURGER® 9883 BUY 1 GET 1 FREE FIND DELIVERY AVAILABLE NEAR YOU ON CARLSJR.COM 6/30/22 CORNER OF CARPINTERIA & LINDEN NOT VALID WITH DELIVERY OPEN 11AM DAILY 684-8288 EVERY TUES. & WED. SPAGHETTI DAYS $6 $2 PER SAUSAGE OR MEATBALL $2 FOR GARDEN SALAD CHICKEN PARMA • EGGPLANT PARMA $1 FOR BEEF OR PASTRAMI SANDWICH 684-8288 FREE DELIVERY CORNER OF CARPINTERIA & LINDEN FREE PIZZA DELIVERY CORNER OF CARPINTERIA & LINDEN 684-8288 PIZZA DEAL WITH THIS AD $2 OFF ANY PIZZA & SIZE GLUTEN FREE 12" PIZZA $14.95 SLICE & SALAD SPECIAL $6.25 MEAT SAUCE OR MARINARA GET OUR HOMEMADE TIRAMISU GET OUR HOMEMADE TIRAMISU GET OUR HOMEMADE TIRAMISU FOOD… FRI: DISFRUTA 3-8 SAT: SHRIMP vs CHEF 3PM- SOLD OUT MUSIC… SAT: MOONDAWGS 6-9 PM SUN: MIKE GUITAR WITT 2-5 PM 805-745-8272 IslandBrewing Company.com 18 Beers on Tap! Cold Beer, Good Friends and Great Times! 4795 CARPINTERIA AVE. CLOSED FOR THE HOLIDAYS • OPENING JAN. 18 WINTER SOUPS ARE HERE! Champurrado • Pozole • Meatball • Chicken Beef • Shrimp • Birria…with homemade corn tortillas Also…Chile Rellenos • Molé • Tortas • Burritos • Groceries Breakfast • Lunch • Dinner Order to go 1-805-684-2212 ShrimpCEVICHE!cocktail fish & tacos!Shrimp LUNCH & DINNER MENU ALL DAY FULL BAR • BIG SCREEN TVS TUESDAY THRU SUNDAY 11:30—9 PM HAPPY HOUR 2:30—5:30 PM Family Friendly Locally Owned TUESDAY THRU SUNDAY 11:30—9 PM HAPPY HOUR 2:30—5:30 PM LUNCH & DINNER MENU ALL DAY FULL BAR • BIG SCREEN TVS Family Friendly TUESDAY THRU SUNDAY 11:30—9 PM HAPPY HOUR 2:30—5:30 PM LUNCH & DINNER MENU ALL DAY FULL BAR • BIG SCREEN TVS Locally Owned Family Friendly Locally Owned
CLUB SCENE
Nomura, Rotary discuss Rose Bowl Dinner
The
Carpinteria students help decorate winning Rose Parade float
Students from Carpinteria High School assisted in decorating the Rotary Rose Parade Float for the New Year's Rose Parade in Pasadena on Jan. 2. The float won the "Princess Award" in the parade for most outstanding floral presentation.
Rotary Rose Parade Float Committee representative Wade Nomura coordinated with Lorraine McIntire to invite a group of CHS students to help with decoration. One of the students, Marvin Lujano said in a press release, "after the day was over, I didn't want to leave. It was such a fun experience. I hope I can return soon and help out next year."
The group named their float, "Serving With Imagination And Hope," and designed it to resemble a carousel horse from the early 1900s. Rotary International President Jennifer Jones and her husband Nick Krayacich sat on the float, dressed in period costumes.
"This year's float was a big hit among the many spectators along the Parade route and highlighted Rotary's theme of serving others," Nomura said in a press release.
From
20  Thursday, January 12, 2023 Coastal View News • Carpinteria, California THURS. FRI. SAT. SUN. MON. TUES. WED. SUNDAY Sunrise: 7:04 am • Sunset: 5:11 pm SURF DIRECTION WIND 2-3 ft 4-6 ft 3-5 ft 3-5 ft 2-4 ft 3-5 ft WSW WSW WSW WSW WSW WSW 9mph/SE 9mph/ESE 7mph/ESE 22mph/W 17mph/E 2mph/WNW THURS FRI SAT SUN MON TUE SURF & TIDES HIGH: 64 LOW: 54 HIGH: 58 LOW: 51 HIGH: 57 LOW: 48 HIGH: 64 LOW: 52 HIGH: 59 LOW: 50 HIGH: 59 LOW: 47 HIGH: 60 LOW: 48
Marvin Lujano, above on the scaffolding, applies Pampas Grass flowers while Diego Arce, below, glues seeds onto the carousel.
COMPILED BY JUN STARKEY
The Rotary Club of Carpinteria Morning heard from member Wade Nomura at its last meeting, about the Rose Bowl Dinner he attended with his wife, Debbie, as well as Rotary International President Jennifer Jones and Rotarian Mary Layman, on Dec. 30 of last year.
group also welcomed new member Stacie Zubiate, and accepted a check from Eric Olson, presenting on behalf of the Rotary Foundation.
Rotary Rose Parade Float goes down Colorado Boulevard in Pasadena, with Rotary International President Jennifer Jones, right, and husband Nick Krayacich, left, seated in front.
Newest club member Stacie Zubiate, second from left, is welcomed by members Debbie Murphy, Carie Smith and President Rebecca Griffin.
Submit your club news at CoastalView.com CoastalView
left, Rotarian Wade Nomura, his wife Debbie, Rotary International President Jennifer Jones and Rotarian Mary Layman attended the Rose Bowl Dinner in Pasadena on Dec. 30, 2022.
CVN
The better part of valor
CHRISTIAN BEAMISH
A buddy of mine, a lifelong Carpinteria surfer and shaper raising his family in town, called the 500 Maple Ave. shop Monday afternoon and said I should get on the road home to Ventura if I didn't want to get stuck. The creeks were all rising, and the storm had hours of rain yet to drop. Taking his advice, I drove straight into gridlock at La Conchita – the ocean a charcoal-hued mess to the right, emergency vehicles pre-positioned on the mountain side of the highway, and a very annoying driver in front of me (who'd swung around on the right shoulder) with dark tinted windows on a beater BMW and Nebraska plates. They were presumably looking at a phone since the lane would open for 50 feet ahead while the vehicle sat unmoving. (I would've honked and gestured angrily, but something in the whole set up suggested unlicensed firearms).
When I got to Ventura an hour later, the road up to our place was partially closed as a search and rescue helicopter team pulled some folks out of a river bottom encampment. Finally home, I was relieved to see my wife and kids dry, safe and warm. My daughter and I nevertheless donned rain gear and an umbrella to walk down and watch the Cañada Larga creek do its best tsunami impression. The power of all that water rushing down from the mountains in compounding volumes, concentrated in the creeks and river systems, was something to behold, and we stayed well back from the riverbank. Back at the house, the two strips we'd cut to mark the grade last summer served to divert the water. We'd planted the steep hillside in the August heat; the plants are growing in well and help hold the slope.
This morning (Tuesday, Jan. 10) the beaches are massive debris fields of logs and sediment, the highway is closed off and more rain is falling. Of course, this "atmospheric river" event comes on the heels of last week's storm and the surf of Jan. 5 that is as big as anyone in the area has ever seen. I went down to Rincon in the afternoon and gauged the feasibility of paddling out. The couple of surfers I saw attempt it were swept away in the current, rolled over by large swaths of whitewater, and only one of them finally got a slope-faced ride in near dark. Still, there were some good ones amongst all the chaos.
An outer reef, or perhaps a high spot of ancient river deposits – located about three-quarters of a mile offshore of the Rincon Rivermouth that I'd heard of breaking but had never seen myself –showed occasionally in giant waves rolling shoreward. A particularly huge set of waves broke out there at approximately 4:15 in the afternoon, and a group of the Carpinteria boys watching the ocean saw it from Jelly Bowl. From the beach at Rincon the waves looked like something one sees on the outer reefs of the North Shore – just incomprehensible surf, far offshore, seeming to move in slow motion.
Carpinteria Reef had that same deceptive, slow-motion look to the surf. As a surfer, one sees possibilities in all kinds of waves big or small. But one learns
over decades of sometimes harrowing escapades to differentiate between novelty, premium and foolhardy go outs. But adventure lies in blurring the lines: the foolhardy becomes sublime, mere novelty turns extraordinary with the quality of light, or the texture of the water. Still, the tree trunks in the line-up at Rincon, and the savage shorepound in town made surfing the point or the reef seem potentially life threatening. I was on the fence. With my gear in the car, and either an 8'8" or 9'1" at my disposal, I had only to suit up and attempt to paddle out. There was a seam, it seemed to me, at the top of the point at Rincon, where one could potentially wade into waist-deep water, just on the edge of churning whitewater but "above" or "upstream" from the main focal point of the waves. With luck, a slight break in the surf charging in would give a paddler enough time to gain the line up outside the normal Indicator/ Rivermouth line up.
An old friend was down from Santa Cruz on business, and he's made it so that his work supports his surfing, but he was uninterested in trying these conditions. The other local crew here, who I respect and bounce ideas with, were seemingly content to simply watch the rare nature magic of the offshore buoys reporting 23-feet of swell in the normally more-sheltered waters of the Santa Barbara Channel. So I let it go, too. I didn't paddle out. It's true, there were some really big, and actually good waves grinding through at the Rivermouth, then collapsing in an avalanche of foam at what would normally be the Cove section. But there was perhaps a 10-percent chance of lining up with one of those good ones, and a 90-percent likelihood of either getting washed to La Conchita, losing one's board to a broken leash, or just getting flushed with runoff-infused ocean water and suffering a season-long sinus infection as another longtime local said to me (and he wasn't making excuses, either… if you know Dana McCorkle).
The next day, Friday, was a great day of "normal big" Rincon (I rode the board that was the outlined blank in my photo from my last column in December and it feels very good). I don't know, I think I'm scaling back, finding joy in just tucking into the waves I can ride between the
Ventura Harbor and the city limits of Carpinteria. After all, if you had to choose a 30-mile stretch of coast to be a surfer, have a career and raise a family on, this one wouldn't be too paltry a selection.
Christian Beamish took leave of his position at Coastal View News in October 2020, to pursue his surfboard business, "Surfboards California," full time. He continues his monthly column, and shapes at the surfboard factory showroom at 500 Maple Ave., in Carpinteria. The former Associate Editor of The Surfer's Journal, Beamish is also the author of "Voyage of the Cormorant," (Patagonia Books, 2012) about his single-handed expedition down the coast of Baja California by sail and oar in his self-built Shetland Isle beach boat. He now lives with his wife and two children in Ventura.
CVN travels to Teotihuacan
Local Eric Castro, the community engagement librarian at Carpinteria Community Library, took his copy of CVN to San Juan Teotihuacan, Mexico, during November 2022. Castro stood in the foreground of the "incredible, ancient Mesoamerican city," he said, which can be seen in the background.
Going on the road?
Coastal View News • Tel: (805) 684-4428 Thursday, January 12, 2023  21
DUBOCK.COM
Waves on Thursday, Jan. 5 hit the beach near the Tar Pits in Carpinteria – and the surrounding coastline – hard.
The power of all that water rushing down from the mountains in compounding volumes, concentrated in the creeks and river systems, was something to behold, and we stayed well back from the riverbank.
Snap a photo
your
and
to
Tell us
your trip!
CVN
with
Coastal View News in hand
email it
news@coastalview.com.
about
ON THE ROAD
IT'S ALL SURFING CVN
Coastal View News • Tel: (805) 684-4428 Thursday, January 12, 2023  23 How has your storm experience been? I haven't been able to go to work in Santa Barbara & it's fine. - Marlena Tadeo It's nice to see rain after all this time. - Marlou Everson It made us slow down and stay in Carp. - Nanette & Leslie I was stranded in Carp and we were put up by kind Carpinterians. - Alice Alldredg We had to evacuate as camp hosts from the State Park. - Carol Fetzer LARRY NIMMER MAN ON THE STREET CVN PASSPORT PHOTOS PASSPORT PHOTOS IMMIGRATION PHOTOS Walk-In • 5 Minutes • Monday – Friday 8-5 4850A Carpinteria Ave (behind Rockwell Cleaners) Get your business started here! Contact Kris at kris@coastalview.com Pacific Porcelain refinishing Porcelain & Fiberglass Refinishing & Repair Backed by 60 years of experience 805-562-9292 Showerstalls • Countertops Bathtubs Sinks/Tile Fiberglass Units We Reglaze ~ any ColoR PORCELIAN REFINISHING MOVING COMPANY AffordAble Mover PUC- LIC & INS DP Mover Since 1986 805-618-1896 805-698-2978 No Job too big or small! FREE Estimates CLASSIC CARS CA$H ON THE SPOT 702-210-7725 • WE COME TO YOU! CLASSIC CARS RV'S • CARS SUV • TRUCKS HAULING HEATING & AIR Lic. #984763 Service Heaters and Fireplaces New Install or Repairs Friendly Local Professional Decade of Experience FREE ESTIMATES PLUMBING Remodel - Repipe Water, Gas & Drain Servicing 24 hr. Emer. Service - Res./Comm. Lic# 517094 805-684-4919 PROPERTY MANAGER PROPERTY CARE NEEDS? Expert ManagerPropertyAvailable 50 years experience with buildings Grounds & Gardens Available to live on-site. View résumé at: skills.ojaidigital.net or call 805-646-0772 CLASSIC CARS STEWART'S DE-ROOTING & PLUMBING Full Service Plumber Locally PLUMBING ORGANIZATION ORGANiZING CLUTTER FREE IN 2023 8O5-302-2756 Call or Text Today! For a Free Consultation Sewing By Sandra 661-717-7414 Local Alterations sewingbysandraoo@gmail.com SEWING & ALTERATIONS MUSIC RENTALS FUN in music!" 684-7883 SERVICE The UPS Store Casitas Plaza M-F 8:30-6:30pm • Sat 9-4pm Notary oN Premises PassPort Photos Color aNd B&W CoPies Next day shiPPiNg 805-566-9921 NOTARY/SHIPPING PRINTER SERVICE Service • Sales • Supplies HP Brother Laser Printer Service 805-566-5996 A-Z Tec SOLUTIONS PLUMBING Plumbing Heaters Service Lic. # 735657 Technicians FULL SERVICE PLUMBING Water Heaters Sewer & Drain Service SPECIAL 10% OFF WITH THIS AD and Courteous Technicians Carpinteria - 684-2277 FULL SERVICE PLUMBING Water Heaters • Sewer & Drain Service SPECIAL 10% OFF Clean & Courteous Technicians 18 yrs. in Carpinteria - 684-2277 WITH AD Lic. # 735657 FULL SERVICE PLUMBING SPECIAL 10% OFF Clean & Courteous Technicians 24 yrs. in Carpinteria - 805-684-2277 WITH AD Lic. # 735657 Water Heaters Sewer & Drain Service Larry: It brings back memories of past floods and debris flows. HANDYMAN BLOCK • BRICK • TILE • sTuCCO sandsTOnE • FIREPLaCEs dRYWaLL • FLagsTOnE CEmEnT • PaVERs • FEnCEs HOmE REPaIRs & mORE! 27 Years Experience ELIsEO HandYman sERVICEs 805-895-7261 • 805-252-4403 COMPUTER REPAIR PAINTING Interior & Exterior Quality Work Reasonable Rates Lic. #975089 & Insured • Free Estimates John Bylund 805-886-8482 3950 Via Real #153 • Carpinteria SMOG
THROWBACK
Strangers on native soil: Fighting for Rancho
El Rincon
BY STEPHEN BATES
In the 1830s, the Mexican government of Alta California deeded more than 4,000 acres of the Carpinteria Valley to a former soldier named Teodoro Arellanes. In the 1850s, the United States government tried to take it away from him.
Under Mexican law, a citizen in good standing could petition the governor of Alta California for land. If the tract was unused and the petitioner was deserving, the governor would make a gift of the land. In the presence of a local judge, the grantee would complete the transfer by throwing grass, breaking twigs, and shouting, "Viva el Presidente y la Nación Mexicana!"
Teodoro Arellanes was baptized in Mission Santa Clara in 1782, according to mission records. (Spelling of the family name varies. It was originally Arellano.) He served as a soldier. In 1833, he asked the governor for "the place named 'Rincon'" for his 500 cattle, 120 horses and "more than nine children" (he apparently expected additional ones). A Santa Barbara official attested to Arellanes' good character. The governor let him use the property in 1834 and gave him title in 1835.
Rancho El Rincon ran from Carpinteria Creek (Arroyo de la Brea) southeast to Los Sauces Creek, which is between Mussel Shoals and Faria Beach, and from Casitas Creek south to the Pacific. It was approximately one square Spanish league in size: 4,428 acres. It was one of the smaller land grants in Alta California. Arellanes also co-owned Rancho de Guadalupe, which was 43,682 acres. Some other ranchos exceeded 100,000 acres.
Contemporaries describe Arellanes as about six feet tall and 220 pounds, with ramrod posture and impeccable manners – "a kind of ranchero prince," in the words of historian Hubert Howe Bancroft. Ranching made him one of the richest men in the area. Santa Barbara historian Walker A. Tompkins ranks him second only to William Welles Hollister.
As a little girl, one of Arellanes' daughters supposedly would show playmates a trunk full of gold coins. "You can have one," she would say. "Papa has lots of them." (Maria del Carmen Gutierrez Hill, born in Santa Barbara in 1859, heard that story and passed it along to R. W. Bates in the 1930s).
Like many other Californios (Spanish speakers born in California when it was under Spanish or Mexican rule), Arellanes never learned to read and write. Even so, he was respected for his wisdom and experience. California pioneer William Heath Davis once asked how he had accumulated more than 20,000 head of cattle. The tough part, Arellanes replied, is to acquire the first 2,000. "After that," he said, "they increase very fast."
In 1848, the United States won the Mexican-American War and took over what's now California. In the peace treaty, the United States pledged to respect property rights established under Mexican rule.
In the best of circumstances, it would have been difficult for U.S. officials to evaluate titles issued under an entirely different legal system, where ad hoc notions of fairness often prevailed over strict application of precedents. Now, there was also pressure from new arrivals. With the Gold Rush, California's population (excluding Native Americans) exploded from roughly 14,000 in 1848 to 93,000 in 1850. Settlers resented the Californios who held title to millions of acres, includ-
THURSDAY
A portion of a map from about 1870 shows some of the land-grant ranchos along the Central Coast. One of the smaller ones is Rancho El Rincon, approximately one square Spanish league: 4,428 acres.
Teodoro Arellanes, left, owned Rancho El Rincon, a Mexican land grant in the Carpinteria Valley. He became one of the wealthiest ranchers in the region. After the United States took control of California, the Spanish-speaking natives felt like "strangers on the very soil on which we were native," said Pablo de la Guerra of Santa Barbara, pictured at right. He testified about Rancho El Rincon before the U.S. Land Commission.
of the Rincon and Guadalupe ranchos would ruin him.
At that point, his fortunes shifted. The Land Commission confirmed Rancho Guadalupe to him and his co-owner later in 1853. Meanwhile, he appealed the Rincon ruling to federal court.
ing some of the most fertile land in the state – much of it unused.
For their part, Californios resented the hostile and often racist newcomers who were trying to steal their property. Pablo de la Guerra, one of the leading citizens of Santa Barbara, said that Californios had become "strangers on the very soil on which we were native."
Against this backdrop, the United States established a tribunal called the Land Commission to assess rancho claims. Claimants had to hire lawyers and unearth documents. They were opposed by federal attorneys who treated every map as a forgery and every claimant as a con artist. According to the Santa Barbara Weekly Press, a zealous federal attorney litigated a 27-acre tract in Santa Barbara County, worth less than $25, to the U.S. Supreme Court.
The federal attorney in the Rancho El Rincon case threw in every argument he could muster: the maps were unclear, the interim governor who signed the
grant lacked the authority, the deed bore the wrong stamps and Arellanes hadn't perfected his title by throwing sticks and grass. (He belatedly performed that ceremony in 1850, by which time California was under American rule). De la Guerra and other witnesses testified for Arellanes.
In 1853, Arellanes learned of the Land Commission's ruling by letter, which de la Guerra read to him. The commission rejected the Rancho El Rincon claim on the ground that the boundaries were "so entirely uncertain and indefinite that it is impossible to identify the tract granted."
In essence, the commission held that Arellanes owned a large parcel of land, but because he couldn't identify the edges with precision, he was entitled to nothing. Arellanes told his lawyer that the loss
In 1855, Judge Isaac S. K. Ogier reversed the Land Commission and confirmed the validity of the Rincon land grant. Judge Ogier held that the description of property lines was clear enough. He added that although Arellanes hadn't followed the letter of the law to finalize his title, he had occupied and cultivated the property for more than 20 years and it would be unjust to take it away. Intentionally or not, the judge was following the approach of Mexican courts by valuing fairness over strict adherence to rules.
By then, Rancho El Rincon had a new owner: Arellanes' son-in-law, Mateo Henry Biggs, a self-taught physician practicing in Santa Barbara. I'll tell his story in a later installment.
Stephen Bates is coauthor (with Vince Burns) of the book "Rincon Point," an illustrated history, which is available at the Carpinteria Valley Museum of History and elsewhere. Bates and Burns will present photos and stories from the book at the Carpinteria Community Library at 3 p.m. Sunday, Jan. 15.
CVN
Read more Throwbacks at CoastalView.com 24  Thursday, January 12, 2023 Coastal View News • Carpinteria, California
In the 1830s, the Mexican government of Alta California deeded more than 4,000 acres of the Carpinteria Valley to a former soldier named Teodoro Arellanes. In the 1850s, the United States government tried to take it away from him.
IMAGE COURTESY OF HUNTINGTON LIBRARY
PHOTOS COURTESY OF GLEDHILL LIBRARY, SANTA BARBARA HISTORICAL MUSEUM
Carpinteria girls hoops picks up league win
BY RYAN P. CRUZ • PHOTOS BY ROSANA SWING
In the first week of the new year, Carpinteria girls basketball was back in action with two league games at home after more than three weeks off for the winter break.
The Warriors team last played on Dec. 8, picking up its first Citrus Coast League win of the year with a 42-28 win over the league's newest team, Channel Islands.
On Jan. 3, Carpinteria hosted Santa Paula, but the Warriors were slow in shaking off the holiday rust and fell behind 17-8 after the first quarter.
Carpinteria bounced back in the second quarter, locking in on defense and holding Santa Paula to just five points in the period and heading into halftime down five points, 22-17.
In the second half, Carpinteria looked like it would run away in the third quarter, with the freshman duo of Jamaica Cook and Charlotte Cooney scoring a combined 14 points in the quarter and the Warriors taking a 35-32 lead into the fourth.
The final period was a back-and-forth battle between the Warriors and Flashes, but Carpinteria slipped up on some important scoring opportunities late in the game and ultimately lost by one point, 44-43.
Carpinteria coach Henry Gonzales said that despite the loss, he was happy to see his team outplay and outscore visiting Cardinals in the three quarters after falling behind.
"I was very happy with our grit, our never-say-die attitude and our willingness to compete to the end," he said.
The two freshmen Cooney and Cook continue to impress in their first season with the Warriors; Cooney led the team with 18 points and Cook finished with 11 points and nine rebounds.
Two days later, the Warriors hosted the Fillmore Flashes for another league matchup that was just as close as the previous one.
Carpinteria took the lead early in the first half, but the scrappy Fillmore team stuck around and never let the Warriors run away with the lead. At the end of halftime, Carpinteria was up by just four points.
The Warriors built the lead slowly, at one point leading by 14 points in the fourth quarter before Flimore roared back with a run to cut the lead to three points.
Carpinteria was able to seal the game 42-39 with some clutch free throw shooting from senior standout Amarisse Camargo, who finished with a team-high 29 points and 11 rebounds in the win.
With the win, Carpinteria is now 8-8 overall and 2-2 in league play heading into a tough schedule next week with games against Citrus Coast League leaders Malibu and Nordhoff.
"It was not our best effort of the year, but we found a way to stay ahead and win the game," Gonzales said after the Fillmore win. "We completed our goal for the night of winning another league contest. So we move on to next week with Malibu and Nordhoff – who are currently undefeated in the league – with a positive and confident attitude."
SPORTS January 12, 2023 CVN STEWART'S DE-ROOTING & PLUMBING Full Service Plumber 805-684-0681 10% DISCOUNT We Are Proud Supporters of Warrior Athletics search the sports archives
Carpinteria's Amarisse Camargo dribbles around a Santa Paula defender.
Top left, Freshman Jamaica Cook fights for possession against two defenders.
Lizbeth Alpizar has strong on-ball defense.
Scarlett Torres drives to the right.
SHORT STOPS
BY RYAN P. CRUZ
Warrior
boys basketball
drops three in a row
Carpinteria boys basketball picked up its first Citrus Coast League win of the year before the winter break – but the new year hasn't been friendly to the Warriors, who have since dropped three straight league games in January.
The Warriors opened up the new year with a matchup at home against Santa Paula, but the Cardinals continued their league success with a 55-42 win over Carpinteria. To this point, Santa Paula has only lost one league match this year, and is in second place in the Citrus Coast League.
Carpinteria senior Kainoa Glasgow led the team with 25 points in the loss, while junior Mario Serrano finished with seven.
The Warriors then hosted the third place Fillmore Flashes, who were the only team in the Citrus Coast League to beat Santa Paula this season.
Fillmore came out strong and never looked back, beating Carpinteria 61-21. Sophomore Sawyer Kelly led the Warriors with 12 points in the game.
The Warriors' league gauntlet continued with Citrus Coast League leader Nordhoff, which stayed perfect in conference play with a convincing 60-19 win over Carpinteria. Warriors' sophomore Sebastian Campuzano led the team with 11 points.
Nordhoff is now 4-0 in Citrus Coast play, and Carpinteria moves to 3-12 overall and 1-4 in league play. The Warriors continue league play this week against Malibu, and will host Nordhoff for a rematch on Friday, Jan. 13.
Carpinteria water polo wins two of four at tournament
After a three-week winter break, the Warriors girls water polo squad hopped back in the pool for a competitive two-day tournament at Buena in Oxnard.
In four games over the two days, Carpinteria played strong defense, holding opponents to just 5.3 goals per game while goalie Erin Otsuki snagged 61 saves over four games – averaging just over 15 blocks per match.
In game one, the Warriors handled Muir 7-3, led by three goals by Giulia Piccoletti and a pair of goals from Francis Bennett. Taylor Classen and Lillie Nemetz each scored a goal, and Otsuki finished with 16 blocks.
Against Westlake, Carpinteria started with great defense but couldn't keep up on the offensive end, and Westlake took the win 10-3.
On day two, Carpinteria got back in rhythm against Cajon, with Classen and Piccoletti both scoring three goals each and Nemetz adding another goal on the way to a 7-3 victory for the Warriors. Otsuki had another 16 blocks and two steals in the win.
The final game of the tournament was a close battle with Mayfield from Pasadena. Otsuki held strong in the net with 15 blocks, holding Mayfield to four goals in regulation.
Carpinteria sent the game into sudden death overtime with a last-minute gametying goal from Nemetz – her third of the game – but Mayfield responded with a goal on their first possession of overtime and took the win 5-4.
"It was a fantastic tournament with evenly ranked teams creating close, challenging matches," said Carpinteria head coach Jon Otsuki. Carpinteria is now 6-4 overall, and 1-0 in league play heading into a busy week with three Citrus Coast League matches.
Warriors boys soccer loses two league matches
Carpinteria boys soccer battled bad weather and tough league opponents this week, dropping back-to-back games against Santa Paula and Fillmore.
At Santa Paula, the Warriors fell behind early before tying up the game 1-1 in the 21st minute with a goal from Ulises Segura. Unfortunately, that goal would be the only bright spot for Carpinteria, and the home team Cardinals took over for the rest of the game for a 4-1 win.
Against Fillmore, Carpinteria fell behind early once again when the Flashes scored in the seventh minute. After scoring another goal before halftime, Fillmore would find the back of the net two more times for a 4-0 shutout over the Warriors.
"We just didn't have control of the ball and tonight our passing was a little off and Fillmore saw that and always ended up taking the ball away," said Carpinteria coach Gerry Rodriguez. "We fought hard but we couldn't manage to create scoring opportunities to get us back in the game."
Carpinteria is now 2-4 overall and 1-3 in league play, and will return to action next week against Malibu.
Cate Rams Roundup
Cate's winter sports teams were also back in action after returning from the holiday break, with the boys basketball team losing a close rivalry game against Bishop Diego and the boys soccer team winning its first league game of the year over Foothill Tech.
In the hoops rivalry against the visiting Bishop Diego Cardinals, Cate senior Jengus Ercil and sophomore Jacob Gabbay jumped out to a quick start and gave the Rams a 17-13 lead after the first quarter.
Bishop's Ryder Torres took over in the second quarter, and both teams headed into halftime knotted up at 24-24. In the second half, the Cardinals were able to come up with a lot of loose balls, rebounds and second-chance points, and held off Carpinteria for the 48-41 win.
"I loved our effort and heart we showed today," said Cate coach Andrew Gil. "We did a great job in the first half getting the ball out in transition and getting layups."
Cate is now 6-4 overall and 1-1 in the Tri-Valley league.
In boys soccer, the Cate Rams played their first game of the new year with a TriValley League matchup against the Foothill Tech Dragons in Ventura.
After a scoreless first half, Cate came out aggressively in the second half and broke the game loose when sophomore Samuel Anum fired a shot that was blocked then picked up by junior Ari Seal for the second-chance goal.
Ten minutes later, Cate freshman Suhuyini Abdul Nafeo connected with fellow freshman Alex Gallegos for the second and final goal of the game. The Rams would hold on for a 2-0 victory to secure their first league win of the year.
"We were a little concerned with what kind of shape our team would be in after the two-week break and only one practice," said Cate coach Jorge Reynoso. "We've been playing great soccer on the defensive and mid thirds of the field but struggling to get our offense going, so it was great to finally wake up and convert some of those chances."
Cate is now 2-1-2 overall and 1-0-2 in the Tri-Valley League heading into next week's matchup against St. Bonaventure.
CVN
ON DECK
Thursday, January 12
*Carpinteria Girls Water Polo vs Santa Paula, 3:45 p.m.
*Carpinteria Girls Basketball vs Nordhoff, 7 p.m.
Friday, January 13
Carpinteria Girls Water Polo at Oxnard (Tournament), TBD
Carpinteria Boys Soccer at Nordhoff, 6 p.m.
*Carpinteria Girls Soccer vs Nordhoff, 6 p.m.
*Carpinteria Boys Basketball vs Nordhoff, 7:30 p.m.
Saturday, January 14
Carpinteria Girls Water Polo at Buena (Tournament), TBD
*Carpinteria Girls Basketball vs Hueneme, 2:30 p.m.
*Denotes Home Game
26  Thursday, January 12, 2023 Coastal View News • Carpinteria, California CARPINTERIA'S ONLY PRINT SHOP JUST DOWN THE DRIVEWAY! 4850A CARPINTERIA AVE. Behind Rockwell Cleaners 805.684.0013 ROCKPRINT.COM On time as promised!
CVN
Sophomore Sawyer Kelley breaks through the Fillmore defense.
684-4428
MUSIC SCHOLARSHIPS
OCT. 6 -12 JAN 12 - 18
SUNDAY, JAN 15
THE ALCAZAR THEATRE: "THE SANDLOT"
The Carpinteria Valley Little League is offering in-person registration for the league on Jan. 15 from 1:30–4 p.m., as well as a screening of "The Sandlot" (rated PG) which begins at 2:30 p.m. The movie is open to the public, but 2023 registered baseball players can get in for free. Sunday, Jan. 15. 1:30–4 p.m. 4916 Carpinteria Ave. Tickets: $5 general public, free for 2023 registered players.

Carpinteria Writers' Group Carpinteria Community Library, 5141 Carpinteria Ave. carpinterialibrary.org. Tuesdays, 10 a.m. – noon
WEDNESDAYS
Knitting Group. Veterans' Memorial Building, 941 Walnut Ave. Call (805) 8864382 for more information. Wednesdays, 1–3 p.m.
Mind Games Carpinteria Community Library, 5141 Carpinteria Ave. carpinterialibrary.org. Wednesdays, 2:30–3:30 p.m.
Good News Club Meeting Canalino Elementary School Library, 1480 Linden Ave. Permission slips available at cefsantabarbara.org/locations/. Wednesdays, 1–2:30 p.m.
All CUSD students welcome to apply
3 MONTHS - PRIVATE MUSIC LESSONS – FULL TUITION
Apply at: CarpinteriaRotary.org or Rotary Club of Carpinteria, P.O. Box 536, Carpinteria CA 93014
Funding from proceeds of
2022
THURSDAYS
Carpinteria Community Library chess club For school-aged players and beginners. carpinterialibrary.org. Carpinteria Community Library, 5141 Carpinteria Ave. Thursdays, 3–4 p.m.
FRIDAYS
Friday Fun Day Carpinteria Community
Library, 5141 Carpinteria Ave. Fridays, 10 a.m. – noon.
SATURDAYS
Docent Tours of the Carpinteria Salt Marsh Nature Park. Meet on the corner of Sandyland and Ash avenues. Call (805) 886-4382 for more information. Saturdays, 10 a.m.
CARPINTERIA COMMUNITY LIBRARY: MEET THE AUTHORS OF "RINCON POINT"
Authors Vince Burns and Stephen Bates, of the recently released "Rincon Point," will be at the Carpinteria Community Library on Sunday, Jan. 15, to present photos and discuss stories from their book, which examines the history of the famed Rincon Point. Copies of their book will also be for sale. Sunday, Jan. 15. 3 p.m. 5141 Carpinteria Ave. FREE
WED., JAN 18
CARPINTERIA MIDDLE SCHOOL: "LISTEN TO ME"

This 10-week drama class, designed to help CMS students identify and articulate their feelings through a creative outlet, will begin Wednesday, Jan. 18 in the Multi-Purpose Room of the middle school. Classes will culminate in a performance at The Alcazar Theatre, led by instructor Asa Olsson. Registration available at the CMS office or during the first day of class. Wednesday, Jan. 18. 1:30–3:30 p.m.
MONDAYS
Preschool Story Time Carpinteria Community Library, 5141 Carpinteria Ave., carpinterialibrary.org. Mondays, 10–10:30 a.m.
Mah Jongg Madness Silver Sands Mobile Home Park, 349 Ash Ave. Contact Roz at (805) 729-1310 for more details. Mondays, 1–4 p.m.
TUESDAYS
Carpinteria Improv The Alcazar Theatre, 4916 Carpinteria Ave. $10 at the door. Tuesdays, 7–9 p.m.
CVN
IN CARPINTERIA THIS WEEK
ONGOING EVENTS Coastal View News • Tel: (805)
Thursday, January 12, 2023  27 Carpinteria Valley Little eague Carpinteria Valley Little eague FREEADMISSION TOREGISTEREDPLAYERS C V L L i s o f f e r i n g a n I N - P E R S O N r e g i s t r a t i o n o n CVLLisofferinganIN-PERSONregistrationon J a n u a r y 1 5 t h f r o m 1 : 3 0 p m t o 4 : 0 0 p m a t t h e T h e a t r e January15thfrom1:30pmto4:00pmattheTheatre.. B e s u r e t o c o m e b y a n d r e g i s t e r y o u r b a s e b a l Besuretocomebyandregisteryourbaseballl p l a y e r ( s ) a n d w a t c h a n " A L L T I M E F A V O R I T E " f l i c k player(s)andwatchan"ALLTIMEFAVORITE"flick.. T h e f e a t u r e d m o v i e w i l l b e g i n a t 2 : 3 0 P . M Thefeaturedmoviewillbeginat2:30P.M.. T I C K E T P R I C E S TICKETPRICES:: M o v i e i s o p e n t o t h e p u b l i c - $ 5 . 0 0 / p e r s o n Movieisopentothepublic-$5.00/person 2 0 2 3 R e g i s t e r e d P l a y e r s - G E T I N F R E E 2023RegisteredPlayers-GETINFREE T H E S A N D L O T " T H E S A N D L O T " "" F e a t u r e d M o v i e FeaturedMovie:: R a t e d P a r e n t a l G u i d a n c e ( P G RatedParentalGuidance(PG)) SUNDAY MATINEE SUNDAYMATINEE J a n u a r y 1 5 / 2 : 3 0 P M January15/2:30PM at The Alcazar Theatre atTheAlcazarTheatre Pleasejoin A AY Y MA
ENJOY
perfect unit to enjoy full-time, or as a vacation retreat that can be rented weekly or monthly. Great on-site management.
OFFERED AT $1,150,000
Please call Shirley Kimberlin at 805-886-0228
flooring and carpeting throughout. There is lots of exterior storage and a private patio area to enjoy the outdoors. The covered carport has convenient side-by-side parking. Hiking trails, Carpinteria Bluffs Nature Preserve, and downtown Carpinteria are nearby.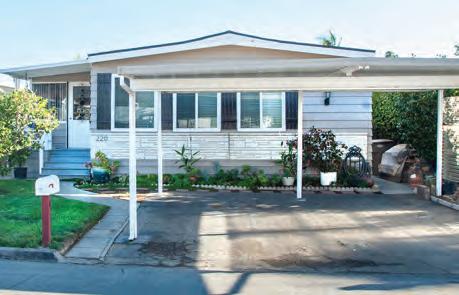 OFFERRED AT $525,000
Please call Shirley Kimberlin at 805-886-0228
SALE PENDING
LOVELY TWO BEDROOM, TWO BATH HOME LOCATED IN SANDPIPER VILLAGE... A beautifully maintained family community. The entry deck opens to the spacious open floor plan with living room, dining area, kitchen, and breakfast area. All extensively updated. Beautiful laminate flooring throughout. There is a garden area on one side and fenced yard with an open patio in back. Park amenities include: Pool, tennis courts, dog park, playground, clubhouse, gym, and more. Home is located on Sunset Drive which is the last street on the north side of the park.
OFFERED AT $475,000
Please call Shirley Kimberlin at 805-886-0228
RENTAL
RENTAL CONDO AT CARPINTERIA BEACH! One bed one bath unfurnished loft townhouse just one block to the beach at Ash Ave, across the street from the Salt Marsh Nature Park. Beautifully upgraded and maintained. Available now. No pets.
ONE YEAR LEASE $2,750/MO + DEPOSIT. Email: Seascape.Mgmt@gmail.com for more information or visit our website.
CONDOMINIUM... Three bedrooms, two and onehalf baths. Living room with cozy fireplace and private patio. New laminate flooring downstairs and carpet upstairs. Living room features a cozy fireplace and an attached private patio. The primary bedroom has vaulted ceilings, large walk-in closet and a small balcony. There is a wonderful on-site pool. Fantastic view of the Salt Marsh Nature Preserve from the guest bedrooms. An attached one car garage with laundry area. Assigned exterior parking and direct beach access across the salt marsh. A short stroll will take you to charming downtown Carpinteria with unique shops, restaurants and more.
OFFERRED AT $1,249,000
Please call Shirley Kimberlin at 805-886-0228
28  Thursday, January 12, 2023 Coastal View News • Carpinteria, California YES! I want to support my free community newspaper. Attached is ___$25 ___$50 ___$100 ___Other Check Visa/MC #___________________________ exp_____ sec_____ NAME__________________________________ PHONE __________________ ADDRESS________________________________________________________ HONOR ROLL LISTING _____________________________________________ Let us thank you for your support by email (optional)    Please mail to 4180 Via Real, Suite F, Carpinteria, CA 93013 • (805) 684-4428 CARPINTERIA MAGAZINE WINTER 2023 Thinking of Selling Your Property? FREE MARKET EVALUATION CALL SHIRLEY KIMBERLIN TODAY! 805-886-0228 THIS SPACE RESERVED FOR YOUR HOME! Buying or selling a home with us is like a walk on the beach! Seascape Realty View our properties for sale at Look4SeascapeRealty.com Shirley Kimberlin Seascape Realty Sylvia Miller (805) 448-8882 BRE Lic#: 00558548 Is Proud To Welcome Sylvia's vast experience and innovative marketing strategies help Sellers get the highest possible price in the shortest possible time. And, her complete representation for Buyers can help you realize the perfect home to meet your needs. Sylvia's reputation for outstanding customer service makes herTHE RIGHT REALTOR® FOR YOU TM www.santabarbaraconnection.com - sylvia@sanbarb.com Sylvia Miller Terry Stain Nancy Branigan Betty Lloyd George Manuras Diana Porter 4915-C Carpinteria Ave. • 805.684.4161 BRE Lic. #01484280 BEAUTIFULLY UPDATED, UPGRADED, AND WELL MAINTAINED HOME… Located in a quiet, cul-de-sac, in Rancho Granada, a wonderful senior community.Two bedrooms, two bathrooms plus a large enclosed sun-room which adds versatile living space. Beautiful mountain views from the spacious living room. Great laminate
THE BEACH LIFESTYLE... Delightful condo located just steps across the street from the "WORLD'S SAFEST BEACH" and NATURE PARK PRESERVE. Two bedrooms, two bathrooms, private deck with estuary and mountain views. Amenities include two swimming pools, spa, laundry room and gated parking. A
BEAUTIFUL CAPE COD STYLE BEACH GROVE