CENTRAL ISLAND LIFE AT ITS FINEST
rejuvenate
COOKIE CHRONICLES EARTH, AIR, WATER, FIRE
Winter's sweet treats, past and present
COUNTRY VIBES IN THE CITY
Maximizing efficiency in a sleek, net-zero-ready home
Revel in the elements at these eight retreats
WINTER 2022
SCANDESIGNS.COM | SCANDESIGNSFURNITURESCANDESIGNS_FURNITURE f i Langley 20429 Langley Bypass 604.530.8248 Kelowna 1912 Spall Rd 250.860.7603 Nanaimo 1711 Bowen Rd 250.753.6361 Richmond 12551 Bridgeport Rd 604.273.2971 Coquitlam 1400 United Blvd 604.524.3444 Victoria 661 McCallum Rd 250.475.2233 EMILY SECTIONAL WITH LEATHER POWER RECLINERS ADMIRAL SIGNATURE RECLINER STARTING AT $2899 STARTING AT $2199 ADMIRAL CLASSIC RECLINER PRICES SUBJECT TO CHANGE.
World Class Couture Brands for Men 138 West Second Ave., Qualicum Beach In the QB Downtown Shopping District 250.594-9997 info@opencollar.ca Fashion for Guys on the Move, Qualicum Beach
Photo by Luke Hubner
rediscover downtown For details see www.downtownnanaimo.ca Rediscover Downtown Nanaimo for the Holidays
Sip, Shop & Savour downtown this holiday season with your favourite shops, services, pubs and restaurants
Visit Santa, then cross every wish off your holiday list at our very unique set of shops and services.
Saturdays: Noon
pm
Sundays
Noon
Santa's Gingerbread Village: Nov. 26 – Dec. 19 Conference Centre – Gordon Street entrance Santa's Arrival – November 26 via Harbour Air
- 4
- Pictures with Santa
:
- 4 pm - Pictures with Santa Register to visit Santa: meetsanta-downtownnanaimo.eventbrite.ca
Image by Dirk Heydemann of HA photography
"You Want It! We've Got It! Come Get It!" WE'VE GOT INVENTORY! Thank You for voting Dodd's Furniture & Mattress
4900 Uplands Drive, Nanaimo It's worth the Drive to Dodd's! www.doddsfurniture.com CELEBRATING 45 ON VANCOUVER ISLAND "Thank you Nanaimo, for Shopping Local!" YEARS IN BUSINESS Family-Owned Furniture & Mattress Store Furniture & Mattress Destination Sleep Gallery Voted Nanaimo's #1 BEST FURNITURE STORE 2018 – 2019 – 2020 – 2021 – 2022 Nanaimo's ' FURNITURE & MATTRESS ' FURNITURE & MATTRESS NANAIMONEWSBULLETIN THEBEST OF THECITY THEBEST OF THECITY # 2022 1
Gordy Dodd, Founder
6 boulevardmagazines.com | WINTER 2022 FEATURES 34 COUNTRY VIBES IN TH E CITY Maximizing efficiencies in sleek, net-zero-ready home B y Sandra Jones 46 REJUVENATE Hot, cold, rest, repeat. F ind your wellness-resortwear style B y Sarah D'Arcey 52 EARTH, WATER, AIR A ND FIRE Revel in the elements at t hese eight retreats By Jane Zatylny 58 COOKIE CHRONICLES W inter's sweet treats past and present B y Ellie Shortt 72 WHERE CULTURE AND A DVENTURE COLLIDE Chiapas, Mexico B y Suzanne Morphet CONTENTS
58 FASHION 46 46
On the Cover Photo by Lia Crowe Model Cecilia Hughes photographed on location at Ritual Nordic Spa Styling by Sarah D'Arcey; makeup and hair by Jen Clark.
7 boulevardmagazines.com | WINTER 2022 DEPARTMENTS 8 CONTRIBUTORS 10 EDITOR'S LETTER Emerge and retreat B y Susan Lundy 12 LIFE.STYLE.ETC. Kar i McLay B y Lia Crowe 14 DESIGN NOTES Dream in green B y Janice Jefferson 16 WELL AND GOOD Joy of food B y Kaisha Scofield 20 WEEKENDER Enchanted valley B y Suzanne Morphet 24 GOOD TASTE Sweet, savoury and made f rom scratch B y Laura Langston 30 IN STUDIO Jared Vandermeer B y Devon Paige Smith 42 BUSINESS CLASS T he future is modular B y Sean McIntyre 34 76 SECRETS AND LIVES Hay ley Picard B y Angela Cowan 78 NARRATIVE Christmas cookies, pups and a little boy B y Sharon Easton 82 BEHIND THE STORY Photo by Lia Crowe 42 52
WRITER
"The sheer joy of spending time with five-year-old Dylan just days before Christmas inspired me to write. My goal was to have the story published as a gift for his parents the following Christmas. Time would have turned any consequences for Dylan into laughter." Sharon comes from Nova Scotia; however, she is spending her retirement living on Vancouver Island with her husband and two dogs. She loves to write short stories about ordinary life events—her favorite is humour. Sharon also enjoys history, and has taken a long journey into her family's past while writing her first book due to be launched in 2023, Beach Moose & Amber: Claiming My Jewish History.
CENTRAL ISLAND LIFE AT ITS FINEST
WINTER 2022
BOULEVARD GROUP Mario Gedicke PUBLISHER 250.891.5627 info@blvdmag.ca
MANAGING EDITOR Susan Lundy
ASSOCIATE EDITOR Lia Crowe
CREATIVE DIRECTOR Lily Chan
DESIGN Michelle Gjerde Tammy Robinson Kelsey Boorman
"Self-care is productive and now, more than ever, people are seeking experiences and embodiment practices that help them feel more alive. In fact, according to the most famous colddipper Wim Hoff, plunging into cold water builds resilience, inner strength and boosts our immune system. For this fashion story, I took the plunge and curated the fashion pieces through shape, texture and style to express both the feelings and rituals one practices when retreating to the spa." Sarah is a celebrity fashion stylist and style curator and is known for her exceptional creativity and attention to detail.
DEVON SMITH WRITER CREATING CONTENT FOR CONTENT CREATORS
"For this issue of Boulevard, I got to sit down and chat with a VancouverIsland-based social media master who is dedicated to helping others learn new and innovative ways of creating video and photo content. Jared Vandermeer has well over a million followers between TikTok and Instagram, and I had the privilege of finding out more about what makes him tick." Devon is a professional communicator and writer, with a passion for home design and décor, food, and wine. Montreal-born and Vancouver Island-raised, she continues to enjoy exploring all the island has to offer with her husband, Robert, and their rescue dog, Daisy.
ADVERTISING Mario Gedicke Vicki Clark Andrea Rosato-Taylor
CONTRIBUTING Angela Cowan WRITERS Lia Crowe Sarah D'Arcey Sharon Easton Janice Jefferson Sandra Jones Lauren Kramer Laura Langston Sean McIntyre Suzanne Morphet Kaisha Scofield Ellie Shortt Jane Zatyln y
CONTRIBUTING Lia Crowe PHOTOGRAPHERS Don Denton Dirk Heydemann
ILLUSTRATION Sierra Lundy
CIRCULATION & Marilou Pasion DISTRIBUTION 604.542.7411
Victoria Boulevard ® is a registered trademark of Black Press Group Ltd. All rights reserved. No part of this magazine may be reproduced without the publisher's written permission. Ideas and opinions expressed in this publication do not necessarily reflect the views of Black Press Group Ltd. or its affiliates; no official endorsement should be inferred. The publisher does not assume any responsibility for the contents, both implied or assumed, of any advertisement in this publication. Printed in Canada. Canada Publications Mail Product Sales Agreement #42109519.
Tel: 250.381.3484 Fax: 250.386.2624 info@blvdmag.ca boulevardmagazines.com
8 boulevardmagazines.com | WINTER 2022 contributors
SARAH D'ARCEY STYLIST REJUVENATE
PAGE 46
SHARON EASTON
CHRISTMAS COOKIES, PUPS AND A LITTLE BOY
PAGE 78
PAGE 30
Welcome the newest entry to our growing SUVW family, the all-new 2023 Volkswagen Taos. Our smallest compact SUV is more than big enough for all your adventures, with precise Germanengineered performance and a wide range of distinctive features. Like you, no matter what life brings, Taos is always game. Now in stock at Harbourview VW! New Cars arriving weekly.

#BE THE CHANGE VANISLE! Reserve your 2023 ID.4 at Harbourview Volkswagen Now!
BY LIA CROWE
Emerge and retreat
As my colleague Lia Crowe and I discussed potential themes for this edition of Boulevard, we took a moment to laugh at our former selves. In the summer of 2020, we chose the theme "emerge" for Boulevard's sister publication Tweed. Lockdown was over and surely we'd be emerging from our homes and returning to our normal lives.
But now, as I considered all the travel-related "emerging" we'd done this past summer—culminating in more than a dozen overnight guests at our home—I mused, "We should call this one 'retreat.'"
Because, as lovely as it was to visit with all our guests, when our home was finally empty, I jumped onto my pillow fortress on the couch and said, "Here's where you'll find me, eating popcorn and watching hockey, if you need me this winter."
I was ready to retreat.
After two-plus years of no overnight guests, it was a shock to suddenly have a regular stream of people landing at our doorstep, suitcases in hand. There was the couple who'd only ever visited once before; the in-laws we hadn't seen in close to three years; the never-met-before university buddy of Bruce's; two sets of friends from Alberta. And it all culminated in early September with a family wedding party for 175 in the front yard. On that night, we had 23 people stay with us.
(How, you might wonder? Well, two slept in each of three bedrooms in the house, one on the living room couch. Two crashed in a cabin on the property. Three in a tent. Three set up beds in their cars. Two slept in our VW van, two in our Delica. Two hunkered down in a bed in the back of our friend's pickup, while he and his wife slept in their tent trailer. And, to be honest, the "sleep" portion of the night wasn't very long, anyway.)
At the first mention of overnight guests, I envision two things: first, I see myself at my work desk, following a too-late night, where I've consumed one-toomany glasses of wine. Second, I see the big tangle of sheets, pillowcases and duvet covers that will need to traverse the long journey from guest bedroom to washing machine, dryer or clothesline and back.
What's a little laundry between friends? Well, we also run a B&B in our cabin, meaning that every few days the bedding from two beds and a sofa couch lands in a massive mound beside the washing machine. The pile of bedding is surpassed only by the mountain of bath towels, hand towels, dish towels, dishcloths and facecloths sitting next to it. And, sadly, those piles don't get themselves in and out of the washing machine by themselves.
So, my desire to retreat this winter also stems from an onslaught of summer B&B guests all "emerging" this year. Ninety-nine per cent of our B&B guests are wonderful: respectful, appreciative and tidy. But there is always the exception. There was the couple who called us at 5 am, wondering if we had black-out curtains that we could come and install on the cabin windows. (I resisted the urge to direct them to the aisle at Pharmasave where they'd find sleep masks.)
There was the California-weird guy who pestered me to help him write a memoir about soulmates; and the couple who pranked us by sliding a book on tantric sex into the bookshelf next to a book on hiking trails. It took over a week for us to discover it, no doubt raising the eyebrows of our in-the-meantime guests (among them, two elderly sisters from Saskatchewan). There was the group who one night peppered us with weird requests, and upon their departure the next morning, left a half-consumed bag of magic mushrooms.
So as delightful as most of our guests are, the last day of the B&B season in October brought with it a big, beautiful exhale. Our house, now blessedly quiet, has become a place of retreat. I'm done with emerging. My couch beckons.
Susan Lundy Managing Editor
Susan Lundy is a former journalist who now works as an editor, author and freelance writer. Her latest book, Home on the Strange, was published in 2021 via Heritage House Publishing.
10 boulevardmagazines.com | WINTER 2022
PHOTO
Coming Soon. chester-fields.com 4906 Wellington Rd. Between KMS Tools and Fawcett Mattress Modern Furniture. Island Owned.
life.style.etc.
KARI MCLAY, OWNER, TULIPE NOIRE WORDS + PHOTOGRAPHY LIA CROWE
Kind, supportive and light-hearted are a few ways you could describe Kari McLay, as they are apparent on first meeting her. But, deeper than that, Kari is a socially conscious entrepreneur, who strives to make good use of her time on this earth by making a positive difference in people's lives, both personally and with her business.
Kari's background includes a master's degree in psychiatric social work and parenting education, and she is now a businesswoman with a passion for managing a creative, inclusive and philanthropic business.
"I love a creative project that gives others the opportunity to participate for a greater cause. I love supporting and nurturing others and making a difference along the way. I appreciate art, music, literature, dance, theatre and good food. Above all, I appreciate life and the opportunity to spread goodwill wherever I can," says Kari.
Asked what the best life lesson she's recently learned is, Kari says, "I have learned to not take my health for granted. Now in my 60s, I am more aware than ever that life is not a dress rehearsal and we are not here forever. I learned something very important in my first year at McGill University: visiting professor and former BC NDP premier Dave Barrett shared with my
12 boulevardmagazines.com | WINTER 2022
class that we are dead much longer than we are alive. We need to make the most of every day, and at the end we should have few or no regrets. Live life now and squeeze in as much as possible."
Kari describes her personal style as a combination of classic with a little bit of whimsy. "I love British fashion. Classic with a cheeky, romantic twist. I believe laughter is healing and infectious. I love to laugh and have fun, but never at the expense of someone else."
STYLE INSPIRATION & LIFE
Style icon: Eileen Fisher. Favourite artist: Irma Soltonovich.
Piece of art: Gabriel's Dream by Phyllis Serota.
Favourite fashion designer: Eliza Faulkner.
Favourite musician: Beth Hart. Era of time that inspires your style: 1950s–60s.
FESTIVE FASHION
FASHION & BEAUTY
All-time favourite piece: Eliza Faulkner gold floral brocade dress (photo on cover of Tweed).
Currently coveting: Black linen Eliza Faulkner jumpsuit.
Favourite shoes: Eileen Fisher suede slingbacks. Favourite handbag: Brave cross-body bag.
Favourite jewelry piece: Indigenous silver cuff by Norman Seaweed.
Necessary indulgences for beauty: Beautycounter citrus grapefruit body lotion.
Favourite album: Sweet Baby James by James Taylor. Favourite flower: Peony. Favourite city: Montreal. One thing that lifts my spirits: French pastry with cappuccino.
READING MATERIAL
Coffee table book: The Life Eclectic: Highly Unique Interior Designs from Around the World by Alexander Breeze. Last great read: Wicked Ninnish by Michael Scott Curnes. Currently reading: The Finkler Question by Howard Jacobson.
Favourite book of all time: A Fine Balance by Rohinton Mistry.
13 boulevardmagazines.com | WINTER 2022
WINTER 2018
INSIDE › PEOPLE › HOMES › FASHION › ARTS
OAK BAY LIVING
TWEED
A special
tradition WINTER
Serving up holiday cheer
CRAZY FOR CHRISTMAS
holiday
WARMERS
with style Beauty BOHEMIAN
design notes
Green dream in
By Janice Jefferson | Modhaus Designs
Simply put, hibernation means the ability to conserve energy to survive adverse weather. Green and its various shades are in and out of vogue, but currently it's on fire. The best thing about greens is their ability to look fabulous together—just as they do in nature. Here are my top suggestions to hibernate in style and dream in green.
14 boulevardmagazines.com | WINTER 2022
1. 2. 3. 4. 5. 6. 7.
15 boulevardmagazines.com | WINTER 2022 8. 1. The Aether Suspended Fireplace Heat Savers Home Comfort Ltd. *contact for price estimate 2. Deco Hex Tile in Pattern or Solid Decora Tile $13/square foot 3. Ray Portable Table Lamp in Dusty Green Hoxton Home, $290 4. Far Afield Georgie Cardigan in Altitude Still Life for Him, $288 5. Tyche Looper High Top in Khaki Cardino Shoes, $175 6. Oak Quilt Smoking Lily $590 to $625 7. Le Creuset Round French Oven in Artichoke Penna & Co. Kitchen and Giftwares *prices vary with size 8. Emerald Peacock Wallpaper by Rifle Paper Co. Design District *contact for pricing 9. Dualit Toaster Pots & Paraphernalia $450 10. Saga Cast Iron Tea Pot in Honeydew Public Mercantile $80 11. Movie Colony by Andrea Soos Gallery Merrick, $1,200 12. Wilkes Armchair by Herman Miller Gabriel Ross, $2,119 11. 12. 10.
Joy of food Healing a broken relationship
WORDS KAISHA SCOFIELD
16 boulevardmagazines.com | WINTER 2022 well +
good
413 Fitzwilliam St, Nanaimo Located in the Old Quarter 250-754-7913 • damselsfashions.com
it's that time again—the end of year holiday mania!
It starts with Thanksgiving, then Halloween, Hanukkah, Christmas, New Year's and so many more big cultural celebrations. Each holiday is more exciting than the next and packed full of elaborate celebrations, beautiful traditions and a veritable parade of stunning food.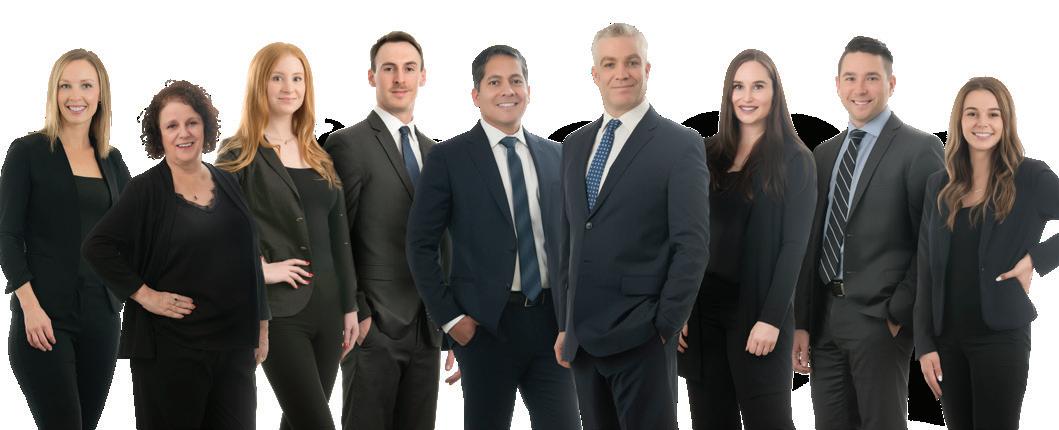 This is also, however, the time of year where our social media feed fills up with guilt memes offering calculations on how many burpees equal a mini KitKat bar, how to "burn off" your Thanksgiving turkey feast by running a half marathon, or even how to "hack" your way to the "perfect" fat-free gravy.
Yuck! Don't get me wrong, I love a turkey-day marathon as much as the next person, but doesn't the idea of having to burn off mini candy bars or feeling shame for enjoying aunt Betty's mashed potatoes take all of the fun out of everything? And while we're at it, I have questions for the mathematician who calculated the KitKat to burpee ratios.
Do the holidays always have to be fraught with guilt and punishment? The food-guilt-exercise trifecta isn't new, but it is likely to continue as long as we keep falling for it. To be fair, it
Andre Sullivan, BBA Wealth Manager andre.sullivan@integralwealth.com INTEGRAL
Vancouver Island's
1977 *Offered through Integral Wealth Insurance Agents Limited. 450 Wentworth St., Nanaimo 250.753.1124 (direct) 800.982.7761 (toll free) • Objective Advice • Investment Transparency • • Innovative Products • CONTACT US TODAY! Daniel Martinez, MBA, CFP® CIM® FCSI® Wealth Manager daniel.martinez@integralwealth.com Alena Rankin, BBA, CFP® Associate Investment Advisor alena.rankin@integralwealth.com Mike Hrabowych, MBA, MScIB Insurance Advisor * mike.hrabowych@integralwealth.com 17 boulevardmagazines.com | WINTER 2022
WEALTH SECURITIES LIMITED
premier independent wealth management team since
It is possible to break away from these challenging patterns and heal our relationship with food, liberating our digestion and mental health. All it takes is ignoring the damaging messaging from the diet industry and actually connecting to and appreciating your food.
Are you ready for this holiday season…
is a brilliant marketing tactic that ensures we are in a constant state of fear when it comes to food consumption. By the numbers, it makes perfect sense: as long as eating is demonized and categorized, we will continue to consume diet advice and products from the "experts," as well as the companies who are doing the demonizing and categorizing.
I dare say, this billion-dollar industry has us figured out. By falling for this marketing, we are creating a two-fold problem. The guilt from "indulging" causes us, the consumer, to feel guilty about eating anything, which often leads to undernourishment, and then leads to binging. The resulting post-binge guilt drives us immediately to diet products, cleanses and supplements. This activity can disrupt our digestive processes, causing bloating, indigestion, reflux, et cetera.
We often attribute digestive problems to the fact that we have just had a large, indulgent, "sinful" meal, which leads back to diet products, cleanses and supplements.
It's a vicious cycle. Thanks to our twisted marketing system, eating has become controversial. Certain foods are "clean" and others are "junk." Enjoying your food too much is gluttony, but not eating enough is also a red flag. Cultural food is okay but only if it fits into a certain macronutrient profile or can be remade in a "skinny" version.
If you are a woman, the rules are even more rigid. Basically, if you're not eating an açai smoothie bowl perched on a yoga mat at the edge of a pristine sandy beach, you're doing it all wrong.
The digestive process is complex to the point of being an almost magical bodily system. It involves a symphony of welltimed actions and a masterful mix of bodily chemistry. Even the simple act of thinking about or smelling food signals glands in our mouths to release salivary amylase, also known as saliva. This is the first step in the digestive process and it ensures that, as soon as food hits your tongue, it starts to digest. However, when a meal is consumed in a state of stress, anxiety, distraction or fear, the whole process is disrupted.
Because the digestive process is such a delicate and complex system, a dysfunction in one area can quickly set off a cascade
of problems down the chain. For example, the insufficient saliva due to stress can mean that food is improperly broken down before it reaches the stomach. When you chew your food it is mashed into what is called a bolus (not the sexiest name, I admit). If this bolus enters the stomach without being sufficiently mixed with the saliva during the chewing process, the acid in the stomach is unable to fully penetrate the particles of food before they are sent to the small intestine. This upsets the next phase of delicately balanced digestive chemistry, when it is passed on through the large intestine, and the nutrients in the food are supposed to be absorbed and filtered through to the bloodstream.
This food, having been unsuccessfully broken down throughout the previous digestive stages, resists the body's attempts to fully extract the nutrients. Finally, whatever is left over is considered indigestible and sent to the end of the line. I think we'll skip that part and just say, this too can be problematic.
So a seemingly small salivary disruption at the beginning of the process creates a chain reaction that, if repeated over time, can lead to a whole host of digestive issues, such dysbiosis as in the small intestine, leaky gut in the large intestine, nutrient depletion from lack of absorption and even irritable bowel syndrome.
It is possible to break away from these challenging patterns and heal our relationship with food, liberating our digestion and mental health. All it takes is ignoring the damaging messaging from the diet industry and actually connecting to and appreciating your food. This practice takes time and attention but eventually, by slowing down and respecting your food, the body is better able to respond to satiety signals, often leading to more appropriate meal sizes, better digestion and longer-lasting satisfaction.
Consider taking yourself out for a beautiful meal. Take your time to find exactly what you want instead of what you think you "should" have. Enjoy the aromas and colours of your food. Truly taste and savour each bite. Or, set yourself up at home with a beautiful plate of food that you have thoughtfully prepared. Light a candle, put on some music, connect with your meal and thank yourself for nourishing your body. Find joy in food again.
18 boulevardmagazines.com | WINTER 2022
TILES | TOOLS | MATERIALS | PAVERS | INSPIRATION Bring Life to Your Home Nanaimo I 4337 Boban Drive I 250-729-9766 I citytile.ca Courtenay I Unit #2 - 2989 Kilpatrick Avenue I 250-871-3122 TRAVERTINE PORCELAIN CERAMIC MARBLE SLATE PORCELAIN CERAMIC TRAVERTINE We Have 2 Showrooms to Serve You Family Owned and Locally Operated
Enchanted valley
weekender
Staying with the Xeni Gwet'in at Nemiah Valley Lodge WORDS SUZANNE MORPHET
The earthy scent of sage fills my nostrils as smoke swirls around me. Closing my eyes, I hear the rhythmic beat of a drum and the guttural voice of the man beating it. I feel heat from the fire and the brush of eagle feathers over my legs and back.
I'm taking part in a smudging ceremony by two cultural ambassadors from the Xeni Gwet'in community near the Central Mountain Air destination of Williams Lake in BC's Chilcotin region.
Practising this cleansing ritual is one of the ways the Xeni (pronounced like "honey") Gwet'in are reclaiming the parts of their culture lost during colonization. It's primarily for their own benefit, but sharing their traditions with outsiders provides employment opportunities for people who have said "no" to logging, mining and a hydro dam.
With that in mind, the Xeni Gwet'in made their first foray into tourism in 2019 with the purchase of a lodge and seven log cabins in the Nemiah Valley. With a lake at one end and glacier-capped Mt. Tsi'l?os (also known as Mt. Tatlow) in the distant other end, the setting is resplendent.
We arrive late one mid-September afternoon when the freshly cut hay field in front of the lodge glows in the rays of the setting sun. Originally a horse ranch and fishing lodge, the property maintains its wild west charm with wooden railings that separate the cabins from the former paddock.
The Xeni Gwet'in, who belong to the Tŝilhqot'in First Nation, spent $1.5 million fixing it up: replacing roofs, windows, doors; installing a solar field with battery bank that provides 100 per cent renewable energy; and buying all new furniture and linens. The lodge re-opened in spring of 2022 for its first season.
On our way there, we stop at Tl'esqox—another one of six
Tŝilhqot'in communities—and enjoy a lunch of salmon, moose and bison, before travelling through Farwell Canyon. Wind and rain have carved hoodoos from the sandstone, while the Chilcotin River surges through the sage-covered hills.
Peyal Laceese, a 24-year-old cultural liasion at Nemiah Valley, tells us it's been a good year for salmon. We watch as an Indigenous man swings a long-handled net, scoops up a salmon, then flings it onto the rocks above.
"You have to be quick," explains Peyal, adding that it's a physically tough job.
That evening we enjoy more salmon at dinner with the former chief of the Xeni Gwet'in, Roger Williams. Roger is highly regarded for successfully leading the Tŝilhqot'in in their claim for Aboriginal title in a case that went all the way to the Supreme Court of Canada.
"There's still a lot of work ahead of us," he says, smiling, "but it's all exciting, there's so many things to do."
There's lots for us to do too, but it's all play, no work. The next morning a few of us hike up nearby Cardiff Mountain, while others stay back at the lodge and learn the craft of beading by decorating tiny moccasins and making decorative dreamcatchers.
Cardiff Mountain is the remnant of an ancient volcano with striking vertical columns of basalt that have an orange sheen from lichen. We pick our way over leafy kinnikinnick and rosy pussytoes until we come to the edge with a grand view over the whole valley, including Veden Lake, where a sweat house will offer guests another Indigenous experience starting in 2023. When it starts to snow, we're only a little surprised. The Chilcotin Plateau is more than 1,000 metres above sea level and winter arrives early here.
The Tŝilhqot'in traditionally lived in pit houses in winter;
21 boulevardmagazines.com | WINTER 2022
Cardiff Mountain is the remnant of an ancient volcano with striking vertical columns of basalt that have an orange sheen from lichen. We pick our way over leafy kinnikinnick and rosy pussytoes until we come to the edge with a grand view over the whole valley, including Veden Lake, where a sweat house will offer guests another Indigenous experience starting in 2023.
these are simple structures dug into the ground and mounded on top with an opening for smoke to escape. Our hiking guide, Bruce Lulua, tells us depressions from hundreds of pit houses have been found from pre-contact times when the Tŝilhqot'in numbered about 2,000 people.
"But the smallpox wiped out 60 per cent of our population," he adds.
These are happier days for the Tŝilhqot'in. At dinner that night we're joined by chief Jimmy Lulua, who enjoys backcountry skiing
in winter and says he wants to build another lodge, this one closer to the Coast Mountains. It would cater to heli-skiiers and provide more prosperity for the Xeni Gwet'in.
We head in that direction the next day on our way to Chilko Lake in Tsi'l?os Provincial Park, which the Xeni Gwet'in co-manage with BC Parks. Chilko is the largest natural, high-elevation freshwater lake in Canada. Fed by glaciers, the water looks pure and crystalline. The sky, however, is threatening, so instead of taking a boat ride, we walk along the shoreline, delighting in the contrast of dark clouds,
22 boulevardmagazines.com | WINTER 2022
oldcityquarter.com CLOTHING, DESIGN SHOPS, SPECIALTY COFFEE, FARM-FRESH EATERIES, SERVICES AND MORE BOOK NOW | 250-743-7546 | renulaserandskin.com LOVE YOUR SKIN! #1 Non surgical fat reduction treatment Skin treatments for every type of skin • Botox relaxes lines and wrinkles • Fillers - adds volume • BBL reduces brown pigment, red vessels, rosacea • Cool sculpting - fat reduction • Halo - tone and texture • Sylfirn RF - skin tightening • Clear Silk helps redness/pore size reduction • Laser hair removal • Hydrafacial - exfoliate and hydrate • Clear V - vein treatment
turquoise water and snowy peaks.
Before we leave this enchanted valley there's one more thing I want to see—wild horses. Believed to be descendants of horses brought to North America by the Spanish conquistadors, hundreds of them abound, to the point that the land is being overgrazed.
A couple years ago, horseback riders from the Xeni Gwet'in community rounded up as many wild stallions as they could and castrated them.
"But I've seen some foals, so they must have missed a few," chuck-
les Bernice Koepke, as we drive along gravel roads back to Williams Lake.
When she spots a group of horses grazing on a hillside, she stops and we admire their strong bodies and healthy coats. They're at home here, just like the Xeni Gwet'in. For us, it's been one sweet stay—as sweet as honey, you might just say.
Nemiah Valley Lodge is open June 15 to September 27, 2023. Three-night packages start at $2,175 per person.
23 boulevardmagazines.com | WINTER 2022
SARTORIALBOUTIQUE.CA
SHOPTHISANDTHAT.CA
418 FITZWILLIAM STREET, DOWNTOWN NANAIMO in the OLD CITY QUARTER
24 boulevardmagazines.com | WINTER 2022 Sweet, savoury & made from scratch Crepe sensei and Ironworks owner Dina Stuehler has you covered
good taste
WORDS LAURA LANGSTON X PHOTOGRAPHY DON DENTON
ina Stuehler is proof that casual conversations with friends over coffee can lead to successful and satisfying careers. Providing, that is, you have Dina's dedication and drive.
"As a teen, I loved cafés," Dina says. "I'd spend a lot of time in them drinking coffee with friends, and I'd always say, wouldn't it be great to own a place like this."
After eight years of working on cruise ships and travelling the world, Dina was ready to return to the island and turn her teenage dream into reality. So, in March 2018, she opened Ironworks Café and Crêperie in Ladysmith. That was quickly followed by her Duncan location in November of 2019, the Nanaimo Ironworks Café and Crêperie location in December 2020, and in January 2022, the Ironworks Café and Crêperie in Port Alberni.
Named in honour of the iron griddles on the crepe pan, all four Ironworks locations offer locally roasted, high-quality coffee and sweet or savoury crepes made from scratch, many of which can be tweaked to suit a variety of dietary preferences. Dina's goal in opening her cafes was clear: to create a warm and welcoming atmosphere where people could come any time to enjoy coffee and crepes.
It was important to her that people feel as relaxed in her cafés as they would feel at home. This is key because Dina believes that offering delicious food and fantastic coffee is only part of creating a friendly and hospitable ambiance. She also recognizes quality ingredients prepared with care are important too. And as a lover of both coffee and crepes, she wanted to offer the best of both.
"During my travels, I visited coffee plantations in Indonesia, Peru, Colombia and Mexico, and that deepened my appreciation for the work involved in producing a good cup of coffee," she says. "But it was travelling through Italy that fine-tuned things for me because the Italians really know how to make a good cup of coffee."
That influence led Dina to exclusively offer Caffé Umbria artisan coffee at all Ironworks locations.
"It's an Italian medium roast, although we offer dark roast as an option," she says. "We get a lot of compliments on our coffee."
Because Dina grew up in a Dutch household where crepes were a weekend tradition, pairing crepes with coffee was a natural choice. "As a kid, after my mother taught me how to make crepes, I took over the crepe-making tradition at home," she explains. "I'd get crazy with a pile of different combinations, but almost always a fruit filling and maple syrup or something with Nutella."
She laughs, "I was addicted to banana Nutella crepes."
Even today, when asked to pick her favourite sweet crepe on the menu, Dina opts for the decadent Caribbean Dream—sliced bananas with Nutella topped with cream cheese icing and toasted coconut.
Ironically, it was only when Dina decided to open her creperie that she tasted a savoury crepe for the first time, subsequently developing an appreciation for them as well. Her current favourite on the savoury side is the spinach, artichoke and Brie crepe.
"It's such a complement of flavours: the earthiness of the artichoke combined with the saltiness of the Brie and the fresh green of
Treat yourself to a stay at our elegant resort and enjoy a world-class spa, three on-site dining options, water activities, nearby beaches and rain forests, and more, only 45 minutes from Victoria. Our Pacific Penthouse also offers an unparalleled experience for the most discerning guests.
250-642-0805 prestigehotelsandresorts.com  prestigepenthouse.com
25 boulevardmagazines.com | WINTER 2022
D
3392 Norwell Drive, Nanaimo 250 585 1648
Oceanfront Resort Sooke
the spinach, topped with a maple sauce and Parmesan cheese. It's a real culinary experience of flavours."
Having a culinary experience at Ironworks is easy, even for those with specific dietary needs or restrictions, because Dina strives to be inclusive.
"I'll make as many different changes as necessary to accommodate as many people as possible," she says. "I see it as an opportunity."
For instance, when one of her team members started a keto diet, Dina created menu options for her, and took the opportunity to offer the same keto options to her customers. Today, patrons
26 boulevardmagazines.com | WINTER 2022
"As a kid, after my mother taught me how to make crepes, I took over the crepemaking tradition at home. I'd get crazy with a pile of different combinations, but almost always a fruit filling and maple syrup or something with Nutella."
can choose from a variety of crepe batters (original Belgian; gluten-free buckwheat; whole wheat vegan; or coconut almond keto) and many filling options too.
Many of the 13 sweet crepes on the menu can be made vegan with everything from a house-made vegan chocolate sauce to coconut whipping cream. The eight savoury crepes benefit from the same flexibility with various vegan cheese, yogurt and milk options.
Regardless of how Ironworks customers choose to tweak their crepes (or not!), the consistent top sellers across all four locations are the breakfast crepe, the Mexican breakfast crepe and the four-berry crepe. The monthly feature crepes are also popular, ranging from
sweet pumpkin spice crepe and savoury turkey dinner crepe in the fall to spring offerings like the savoury smoked salmon, shrimp and Swiss cheese crepe and the sweet fresh strawberry and tart lemon curd crepe.
While Dina is considering the possibility of franchising down the road, her primary goals centre on her existing locations.
"I'm working on a renovation in Ladysmith to increase the patio and overall size," she says. "And most of all, I'm focusing on making each of my four locations the best they can be for our team members and for our customers. Above all, we want to create memorable experiences for everyone."
27 boulevardmagazines.com | WINTER 2022
PRESCHOOL–GRADE 12 admissions@qms.bc.ca www.qms.bc.ca Trailblazers Wanted!
Our winter weather has finally arrived after a long and strange "Aug-tober", and along with the crisp and cool breeze an atmospheric river of holiday cheer has rolled in! Downtown Duncan has always been a hub for all things festive, with the long-running event "Christmas Kick-off" serving as the signifier that "Santa is on his way". Historically, the event takes place on the last Friday of November and opens the floodgates into December's frenzy of shopping, parties, and family gatherings. Sadly, over the last two years, Kick-off has fallen victim to the cancellations brought on by the pandemic – and has been sorely missed! This year the DDBIA is fully committed to bringing it back in all its former glory - with new editions!
If you love fireworks, light shows, live music, and shopping local, Christmas kick-off is the perfect opportunity to fill your cup! The Cowichan Valley is home to many vibrant and diverse micro-communities, if you live here, you know that we have something special going on. If you're not a local – there's something for you too, and you'll feel like "one of us" in no time. What can you expect at Christmas Kickoff 2022? At the forefront, you'll find a small town with BIG Christmas spirit. There will be an incredible firework show, pictures with Santa, face painting stations, musical and dance performances on two separate stages and non-profit vendors sharing treats and cheer. The BIA "Santa Squad" has been hard at work to bring you a memorable and super fun event for the whole family. We are aiming for an event that is practically exploding with good vibes. Colourful, inclusive, and memorable – we want to bring back that warm yuletide feeling that Downtown Duncan is known for. From Cowichan lifers to people brand new to the Valley, we invite you to come see what all the fuss is about! Join us at 5:30 pm on Friday November 25th 2022, in Downtown Duncan. Visit www.downtownduncan.ca/events for up-to-date details, or follow us on social media.
or @downtown.duncan on Instagram
LITTLE BIRD GIFT SHOP
Shop
163 + 165 Station Street, Downtown Duncan Open Mon - Sat 10 - 5 | 250-748-6861
REFRESH COWICHAN MARKETPLACE
Small grocery store offering zero waste pantry staples, fresh produce, organic dairy, local meat and other grocery essentials, as well as a line of homemade frozen meals, soups and desserts.
Mon-Fri 10am-5pm & Sat 10am-3pm
360 Duncan Street, Duncan | 250 748 8506 www.refreshcowichan.ca
POTS & PARAPHERNALIA
The
BELONGINGS
Carefully selects one of a kind vintage pieces and quality used furnishings throughout the shop. If you're searching for a statement piece for your home, you'll likely find it here.
Open Mon - Sat 10am-5pm & Sun 12pm-4pm 250-746-3631 55 Lois Lane, Duncan
863 Canada Ave, Duncan | 250-748-4614 www.potsandparaphernalia.ca
exquisite craftsmanship of Japanese blades is admired world wide.
our candle department & bring the warm light & scent of B.C. beeswax to our dark winter days. Tapers, pillars, tea lights & more!
Creating content for content creators
Jared Vandermeer has amassed over a million followers in the past year
WORDS DEVON PAIGE SMITH PHOTOGRAPHY LIA CROWE
30 boulevardmagazines.com | WINTER 2022
in studio
"F
ull-time professional content creator" it's a title Jared Vandermeer is still getting used to. But it's one that's quite fitting after he spent the last year fully immersed in creating content for his social channels.
"It's definitely been a whirlwind," says Jared, who in the last year has gained over a million followers, posted over 700 videos and has a combined billion views across social media platforms—with much of that content filmed right here on Vancouver Island.
"Moving to the island was the best decision I made, I've never looked back," Jared says. "Being here has been such a huge part of me getting to where I am today."
Jared, who grew up in Edmonton and started a marketing agency there, had no plans on leaving Alberta—until the pandemic hit.
"COVID-19 was really the catalyst," he explains. "Before the pandemic I spent most of my time working with clients at the agency and I had my day-to-day routine. When the pandemic hit, and a lot of my restaurant clients, in particular, really pulled back on a lot of their projects, I had time and space to refocus my creativity."
After he made the move to southern Vancouver Island,
and while COVID-19 was keeping most people close to home, Jared started exploring more content creation locally.
"At the beginning, more than anything, creating content for my social channels got me out walking, got me out of the house," he laughs, adding that exploring local nooks and crannies is what really got his creative juices flowing.
"I had the inspiration of the island right here in front of me. The water, the ocean, the forest. Just being able to go for walks every day and not having snow on the ground for five or six months, it was all new. There's no interruption to the inspiration here."
And Jared has many favourite spots on the island to dial in his creativity.
"The inner harbour in downtown Victoria is great—it's just so vibrant and there are so many different people down there, different types of architecture, great scenery. I also love getting out on trails, and down to beaches all over the island."
And asked if he misses the snow, he laughs, as most islanders would: "Absolutely not."
With a background and wealth of experience in mar-
31 boulevardmagazines.com | WINTER 2022
"I had the inspiration of the island right here in front of me. The water, the ocean, the forest. Just being able to go for walks every day and not having snow on the ground for five or six months, it was all new. There's no interruption to the inspiration here."
keting, it was no surprise that Jared's content began to hone in on a specific subject matter and audience in the last year.
"My passion has become teaching people how to create content and create a brand without any major investment. My mission is to show other creators and businesses that they can be successful by creating content with only a phone or camera, some dedication and some creativity," Jared explains. "I was tired of all the shortcuts and latest trends, and I wanted to focus on the things I knew really worked for me, and this is where I ended up."
On his channels, much of his content relates to photography, and showing his followers tips and tricks for better and more creative picture-making on both digital SLR cameras and iPhones. He also shows his followers how to edit creative video content for Instagram and TikTok, and he gives his followers ideas for compelling product photography.
More than anything, Jared says, it's the type of content he enjoys creating most.
"Showing people how to take cool photos and make neat videos is fun for me. And I know if I'm having fun, the content I'm creating does well."
Jared believes that's where a lot of burgeoning creators go wrong: "They feel like they have to jump on the latest trends or try to film content that's popular but maybe isn't of interest to them. And the audience can always tell if your heart isn't in it. As long as you're having fun creating, your niche and your audience will eventually evolve. It's a natural process."
Along with having fun, Jared attributes his growth over the last
year to seriously committing to content creation—to filming it, editing it and posting it.
"I make sure I'm posting every day, at least once a day. That was a shift for me. I realized I really had to commit to it. I also film and edit content almost every day. It's more than a full-time job."
So, what lies ahead for someone who is now a full-time professional content creator?
"I'm going to stay true to the audience that's gotten me to where I am today—that's important to me. I want to bring my content to a new level while I continue to show people that content creation is accessible to everyone and that you can do some incredible things with just the phone in your hand."
You can find Jared on Instagram @jared_vandermeer, on TikTok @jared.vandermeer and on YouTube: JaredVanderMeer.
JARED'S SIMPLE TIPS FOR CONTENT CREATION SUCCESS:
• Commit—make time for content creation and take it seriously.
• Plan for quantity—post at least once a day, twice if you can.
• Take risks—post everything, even if you don't think it will do well (often, that's the content that ends up surprising you).
• Don't overthink it—planning too much is a content killer, because the content starts to feel unauthentic. Hone in on an idea and run with it.
• Most of all, have fun with the content you're creating. Your followers can tell.
32 boulevardmagazines.com | WINTER 2022
Eileen Fisher White + Warren Elk Australia Lisette Cut Loose Naïf Montreal A–G Denim Velvet 7 For All Mankind Beautycounter Eileen Fisher Indie & Cold LINE the Label Rails DL 1961 Cambio White + Warren Jungmaven Jenny Bird Three Locations 102 Craig St. - Downtown Duncan 1887 Oak Bay Ave. - Victoria 2227 Oak Bay Ave. - Oak Bay Follow us on Instagram @tulipenoireclothing Casual Luxury Clothing Photo @ellihartcreative
34 boulevardmagazines.com | WINTER 2022 hot properties QUICK FACTS 3,200 square feet One-acre lot 4 bedrooms 2.5 bathrooms Mudroom
Country Vibes in
WORDS SANDRA JONES
PHOTOGRAPHY DIRK HEYDEMANN
Acreek burbles beyond a split-rail fence and sunlight dapples through the magnolias and towering Douglas firs. The new two-storey home that's nestled on this one-acre property isn't visible from the main road, courtesy of a long set-back and an equally long stretch of driveway. With plenty of elbow room and privacy, the lot feels like the epitome of country living. Except, this new build is not on a quiet rural road but on a busy city street in the Departure Bay neighbourhood of Nanaimo.
When homeowners Peter and Rebecca Woytiuk first came upon this property it was this split personality that drew them in.
"The idea of country meeting city is ideal for us," says Rebecca. "Peter grew up on
35 boulevardmagazines.com | WINTER 2022
efficiency in a sleek, net-zero-ready home
the CITY Maximizing
36 boulevardmagazines.com | WINTER 2022 5144 Metral Drive, Nanaimo 164 West Island Hwy, Parksville 250-585-5059 classickitchensbc.com Designing Kitchens for your Lifestyle
"The idea of country meeting city is ideal for us. Peter grew up on an acreage and I grew up in the city. We wanted our kids to have the benefits of both of those environments."
an acreage and I grew up in the city. We wanted our kids to have the benefits of both of those environments."
The property required a bit of imagination; the couple laughingly describes its original state as a "diamond in the rough."
"The lot was overgrown and there was only a one-bedroom cottage from the 1950s that we ultimately deconstructed. But there was so much potential with the creek and the rhododendron groves and dogwoods. We bought it and began working with Dan Connolly at Saturna Studios to create the plans for the home we wanted to build. When it was time to look for a builder, he recommended Pheasant Hill Homes."
Jamie Kuhn, project consultant at Pheasant Hill Homes, recalls the owners' overall vision for the house, saying, "In the beginning, they wanted to build a passive house, based on using the most rigorous energy-efficient building standards. We have built a few of those and it's something our company really gets excited about. In the end, we decided not to go fully passive but we did build an incredibly efficient home that is net-zero ready."
For Peter, the focus was not only on the environmental impact but on how to make the most of technology to achieve efficiencies.
"I've always been fascinated by how to build something better. In Edmonton, where we used to live, we'd see houses go up quickly and then in the winter we'd see steam coming from them as the heat escaped. When it came to building this house, we weren't interested in the latest gimmicks but in sustainable solutions."
Those solutions appear throughout the 3,200-square-foot two-storey home.
"The Woytiuks chose triple-pane windows that are passive-house rated so they're better sealed with thermal breaks within the frame," notes Jamie. "The exterior walls are super insulated with rockwool and batt insulation, so it's a very airtight home. The bottom line is that this home has one air change per hour as opposed to a typical home which changes the air three and a half to five times per hour—so less air is leaking
37 boulevardmagazines.com | WINTER 2022
· Victoria · Courtenay
la-z-boyvi.com Nanaimo
naturally out of the home."
Comfort and liveability were also key considerations when selecting the house's operational systems.
"There is a heat recovery ventilator, a heat pump and an on-demand hot water system, which are increasingly common in new builds," adds Jamie.
But the Woytiuks took an additional step and installed a hot water waste heat recovery system in the shower.
"It's a coil around the drain stack and it heats the water that is going through to the taps. By pre-heating the water that is fed to the hot water tank, it doesn't have to work as hard and you save a tremendous amount of energy. It's not an expensive add-on but it will save money in the long run."
The layout of the house was also something that the couple took into consideration as they maximized efficiencies.
"The passive house formula tends to be really open-concept, but I happen to like walls so we reached a compromise in that it is somewhat open-concept for air flow, while still providing us with the division and privacy for the variety of activities our family does at the same time," says Rebecca.
The couple worked with a Pheasant Hill Homes interior design consultant to select the finishes.
"They led us through a series of questions so that it didn't end up feeling overwhelming. But we knew we wanted a beachy feeling and had a pretty good idea of the overall look," notes Rebecca.
The oceanside influence comes through in the blue kitchen cabinetry, boldly veined quartz that has a sand-like quality, and seven-inch white oak plank flooring. A 15-foot glass sliding door connects the kitchen to the outdoor deck, providing the seamless indoor/outdoor vibe the couple was looking for.
"Adding this glass door was one of the reasons we can't qualify as a passive house, but it was the right move for us," says Peter.
38 boulevardmagazines.com | WINTER 2022 THE LARGEST SELECTION OF WINDOW COVERINGS IN CANADA -Blinds -Drapery -Shades -Window Film -Shutters -Motorization LOCALLY OWNED AND OPERATED -Free Quotes -Professional Measuring -Expert Installation -Best warranty in the industry Book your FREE in-home consultation today 250-924-0249 budgetblinds.com/cowichan-valley-bc OR budgetblinds.com/nanaimo
DON DENTON PHOTO
The main floor features a concealed mudroom near the front entrance and a formal living room with expansive glass windows that frame out views of the forested lot beyond. A more casual media room for family is situated at the back of the home close to the kitchen.
With Peter working from home it was essential to include a quiet, professional space for his office.
"I picked darker moodier colours here because I'm on my computer all day and I don't want it to be bright."
The private spaces reside upstairs and include three bedrooms, a family bathroom, a laundry room and the principal bedroom plus en suite.
When it came to designing the couple's own bedroom, they struggled with how to incorporate a walk-in closet with their en suite, while sticking to the overall square footage.
"We had a lot of depth but not a lot of width," recalls Rebecca. "We tried a variety of layouts and in the end I came up with an idea to position the bed against a floating wall and put the built-in closet
39 boulevardmagazines.com | WINTER 2022 Fabricating quality stone kitchens and bathrooms since 1980. 2890 Allenby Road Duncan 250.746.7257 1-877-746-7257 matrixmarble.com vancouverislandmarble.com CHOOSE YOUR NATURAL STONE SLAB FROM VANCOUVER ISLAND'S LARGEST INVENTORY AND SELECTION OF MARBLE, GRANITE & QUARTZITES No staining, fading, toxic resins or maintenance 100% NATURAL UNIQUE BY NATURE Come and visit our showroom and speak to one of our stone experts Visit matrixmarble on Instagram
behind that floating wall. We were then able to capture enough space for our en suite."
Outside, the exterior finishes occurred as a collaborative process between the homeowners and Saturna Studios.
"Dan showed us three exterior options and we chose the one we liked the best, which is fairly neutral," says Rebecca.
Indeed, it is a play of materials and textures that gives this home its personality, using a combination of slate gray board and batten, ledgestone, corrugated metal and accents of wood.
Indoors and out, the decisions that were made have created a livable and functional home for this family of four. And although the original vision had been to build a passive house, there are no regrets in the choices that were made.
"Sometimes when you're building a better home you make decisions for comfort and a sense of wellbeing," says Jamie. "In this project, decisions were made to create not only a beautiful home but also a very efficient home and we're all thrilled with the result."
SUPPLIER LIST:
Design: Saturna Studios
Builder: Pheasant Hill Homes Electrical: Osprey Electric Tile: Cornerstone Tile Energy Advisor: Capital Home Energy
Masonry: Glenn Houle Custom Masonry Ltd.
Siding Installer: Stint Construction
Windows: Euroline Windows
Large Sliding Door: Fenstür Windows and Doors
40 boulevardmagazines.com | WINTER 2022 kitchen & bath fixtures bgshowrooms.com Gerber Launches Over 50 New Items in Satin Black
Ave 250.727.9976
VICTORIA, BC 4248 Glanford
Ave 250.334.0645
COURTENAY, BC 3-2989 Kilpatrick
250.758.1771
NANAIMO, BC 2067 Boxwood Road
DON DENTON PHOTO
business class
WORDS SEAN MCINTYRE X PHOTOGRAPHY DON DENTON
42 boulevardmagazines.com | WINTER 2022
The future is modular Vancouver Island company in place to meet housing shift
Sky-high home prices, rising interest rates and runaway inflation have forced a full-scale rethink of the housing market. Gone in many areas of the country, it seems, is the dream of owning a single-family detached house; and Southern Vancouver Island is no exception.
In an October article published in The Globe and Mail, personal finance columnist Rob Carrick doesn't mince words about the momentous shift: "The affordability of housing as we knew it is done," he writes.
A recent report by RBC Economics noted that "buying a home in Canada has never been so unaffordable."
Making home ownership work from here on out will clearly require many of us to change where we live, what we live in and who we live with. It's a world in which houses will occupy a smaller footprint and co-housing, multi-family units as well as homes with adjacent garden suites will increasingly become the norm.
Al Jackson, co-founder and president of Cobble Hill-based Nexus Modular, couldn't possibly have predicted the speed at which these changes would hit society, but he most definitely chose the right time to launch a company that's managing to check all the right boxes in the new housing reality.
"The problem of housing affordability is not just in the big cities, we are seeing it all across the province and across the country for that matter," he says. "It requires creative solutions, [including] the realization that we need to live in smaller spaces and, therefore, those spaces need to be very smartly designed and intelligently laid out to make the most use of the space available."
He adds: "We need to look through a different lens and that's what we are trying to do here at Nexus as are many others in the housing sector. We absolutely have turned a corner where it is no
43 boulevardmagazines.com | WINTER 2022
"Nexus is what's called a volumetric modular manufacturer. This means we build finished housing with the appliances in place, tiles on the wall, flooring in and cabinetry all done… just place the home, connect it to services and move your furniture in."
longer a desire to change, but it is a requirement to change the lens through which we look at housing."
Prior to launching Nexus Modular in 2017, Al was already well established among the Cowichan Valley's entrepreneurial titans. Al made his name by starting Jackson Grills, a brand of quality barbecues that quickly expanded across North America from its humble roots in the Duncan area. After selling the company to a Lower Mainland-based buyer in 2011, Al pivoted to the booming housing sector, where he got started developing traditional "stick-built" single-detached homes. Nexus Modular represents the culmination of his experience to date, merging the efficiencies of warehouse manufacturing with the need to meet a changing housing market.
"I came from a process-based manufacturing background and have kept that factory methodology in the back of my mind this whole time," he says. "Nexus is what's called a volumetric modular manufacturer. This means we build finished housing with the appliances in place, tiles on the wall, flooring in and cabinetry all done. So, it's basically just place the home, connect it to services and move your furniture in. The idea behind doing this is to keep all the trades under one roof and help us improve efficiencies of cost and timing."
This year marks Nexus Modular's expansion from its original location in Chemainus to a 16,000-square-foot manufacturing facility in Cobble Hill. The new headquarters enables each of the tradespeople, craftsmen and designers to work on multiple projects simultaneously under a single roof. The convenience minimizes travel time, eliminates weather-related holdups, and reduces waste associated with the building process. It also makes good business sense as it allows Nexus Modular's projects to go from inception to completion in a mere 120 days, with only a few days of actual on-site time for delivery of the finished product. For houses built within what he calls the company's sweet spot—between roughly 400 and 1,700 square feet—Al confidently boasts that a factory-built home can be 10 to 20 per cent less expensive than a conventional home.
44 boulevardmagazines.com | WINTER 2022
_....,\}NSWORTJiv1NEYARos 2915 CAMERON TAGGART RD #l MILL BAY, BC 250.929.2292 UNSWORTHVINEYARDS.COM Chef Maartyn Hoogeveen and team are again working with local farmers to prepare extra-special dinners for Community Supported Restaurant. Members can enjoy 5 x 3-course meals, reedemable from November - April 2, 2023 Reservations are always appreciated but no longer mandatory. Cost: $275*, includes all five dinners Additional wine pairings, including 3 x 3oz glasses available for $125 THE 2022/2023 SEASON IS ON ON SALE NOW!
The past few months have seen Nexus Modular working alongside the Cowichan Housing Association to provide local housing options for those who need it the most. The company has also worked with Cowichan Tribes to build upwards of 34 units of housing in a multi-family setting.
Although Nexus can provide suitable and affordable options for a variety of commercial and industrial projects, Al says, the company is housing-focussed. Whether a property owner is looking for a principal residence or looking to add an accessory dwelling unit (ADU) to an established site, Nexus Modular has the flexibility to accommodate a wide range of requests.
"There's lots of options, absolutely," Al says. "We do a lot of home offices, yoga studios, farm stands—all of those types of applications. We are also involved in multi-family projects, laneway houses and farm-worker housing. We've got the ability to look at projects outside of housing and see how the modular approach can fit those situations, but our growth moving forward is housing-focussed. The single- and multi-family units are absolutely our core business."
And don't let talk of manufactured homes stir up images of drab, utilitarian prefabricated clones. A quick look at some of the company's completed projects around Southern Vancouver Island or on the Nexus Modular website reveals a stylish and contemporary look that features efficiently designed layouts to make that smaller footprint feel larger.
"One of the cool things about having our in-house design team is that we can control the project," Al says. "This allows us to create a very traditional product or a very contemporary product. We can really tailor the look and feel of the product to the homeowner's needs.
45 boulevardmagazines.com | WINTER 2022
LIVING BETTER STARTS HERE CUSTOM HOMES RENOVATIONS ALAIRHOMES.CA/COWICHAN-VALLEY •Renovator of the Year •Best Single Family Renovation over $300,000 •Best Single Family Kitchen Renovation over $75,000 2022 VIBE WINNERS .
rejuvenate
A ritual to refresh, to relax and to revive a state of wellness. Find a place to retreat this winter wearing resort fashion and reminding yourself what it feels like to be fully in your body. Boulevard visits Ritual Nordic Spa, where wellness is practiced in the age-old tradition of moving between heat, cold, rest—and repeat. With dreamydraping and terracotta-coloured swimsuits, the season's fashion emerges with a fresh perspective.
STYLING SARAH D'ARCEY PHOTOGRAPHY LIA CROWE
Quilted
cape by Simone Rocha ($3,035) from Nordstrom Canada.
Oversize
47 boulevardmagazines.com | WINTER 2022
scrunchie by Vaquera ($658) from Nordstrom Canada.
Wide shoulder cutout corseted wrap jacket by MUGLER ($3,210) and underwire recycled nylon one-piece swimsuit by Totême ($275), both from Nordstrom Canada.
48 boulevardmagazines.com | WINTER 2022
Giamili, Leg of Mutton Sleeve Peplum Bouclé Top by Isabel Marant ($905) from Nordstrom Canada.
Crystal beaded statement collar necklace by Dries Van Noten ($1,465) from Nordstrom Canada. Bikini by Left on Friday ($200) from Ritual Nordic Spa shop.
Model: Cecilia Hughes represented by Mode Models. Makeup and hair: Jen Clark Photographed on location at Ritual Nordic Spa—a huge thank you to their team for hosting us for the day. Special thanks also to Djuna Nagasaki for your participation.
Tiered minidress by Merlette Soliman ($430) from Nordstrom Canada.
Earth,
water,
air
+
fire
Revel in the elements at these nearby and faraway retreats
WORDS JANE ZATYLNY
52 boulevardmagazines.com | WINTER 2022
PHOTO COURTESY BUBBLE HOTEL.
Scrolling through my friends' travel photos on Instagram, I can't help but notice the throngs of tourists in the background. They're there with them waiting for a gondo la ride in Venice, in an unobstructed view of the Eiffel Tower or a on walking tour of the Colosseum.
"We loved Rome," my friends all said. "But the crowds were terrible."
The fact is, post-pandemic travel is up—way up. According to Statistics Canada, more than seven times as many Canadians travelled to the US and Europe in June 2022 over June 2021.
Looking to avoid the crowds on your next trip? Here are eight retreat locations—both close by and far away—that are off the beaten track and inspired by the four elements: earth, water, air and fire..
EARTH
NEAR:
Nk'Mip Cellars, Nk'Mip Desert Cultural Centre and Spirit Ridge Lake Resort, Osoyoos, BC
For tens of thousands of years, the desert lands near Osoyoos Lake have been the traditional territory of the Osoyoos peoples. Today, they are also home to Nk'Mip Cellars, an Indigenous-owned-and-operated winery and restaurant; Spirit Ridge Lake Resort, a Hyatt property; and Nk'Mip Desert Cultural Centre.
In addition to teaching guests about the lands, legends and people of this unique ecosystem, the cultural centre promotes conservation efforts for desert wildlife within an eco-friendly semi-underground rammed-earth building. Immerse yourself
53 boulevardmagazines.com | WINTER 2022
Our cozy cafe offering fresh locally roasted Italian coffee & delicious 'made from scratch' crepes. Visit us at one of our British Columbia locations:
and
ironworkscafe.18@gmail.com #ironworkscafeandcreperie Made from scratch every day since 2018 Follow us! Like and follow us on social media to learn about our free giveaways, special events and so much more! all the best tools for your kitchen 1-6332 Metral Drive, Nanaimo maisoncookware.com
Looking to avoid the crowds on your next trip? Here are eight retreat locations— both close by and far away—that are off the beaten track
Nanaimo, Duncan, Ladysmith,
Pt. Alberni
in the "Living Lands" outdoor exhibit and sculpture gallery, stop to smell the wild sage along the network of walking trails on the 50-acre site or explore the living culture of the Osoyoos Indian Band at a reconstructed village. nkmipdesert.com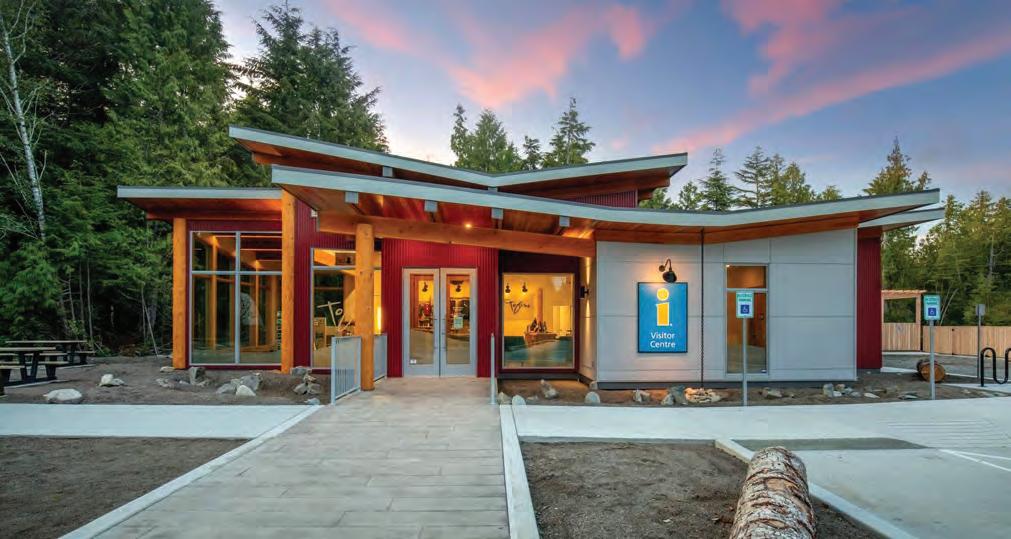 FAR: Ka'awa Loa Plantation Bed and Breakfast, Kona, Hawaii
Few flavours are earthier than coffee grown in the rich volcanic soil of the Kona region on the Big Island of Hawaii. At the Ka'awa Loa Plantation bed and breakfast, located in the heart of the Kona Coffee Belt, you can absorb all the big-bean vibes.
The five-acre property is a start-up coffee and tropical fruit farm at the temperate elevation of 366 metres above sea level, perched directly above Kealakekua Bay. Base your activities here, choosing from ocean-view rooms, a cottage or a luxury suite. Daily break-
fast includes coffee and seasonal fruits from the plantation and local market. The plantation also cares for Mother Earth: 100 per cent of its operations are driven by solar power. kaawaloaplantation.com
54 boulevardmagazines.com | WINTER 2022
QUALITY | STYLE | PERFORMANCE 250.248.5959 | 1.888.842.5959 1-452 Island Highway East, Parksville www.completewindows.ca
WATER
NEAR: Kingfisher Oceanside Resort and Spa, Royston, Vancouver Island
As ubiquitous as water is to Vancouver Island, Kingfisher Oceanside Resort and Spa's Pacific Mist Hydropath takes the benefits of hydrotherapy one step further. With this unique spa feature, you'll follow an attendant through a re-created West Coast shoreline, complete with sandstone sculpted caves and pools. There you'll experience eight unique elements, from a steam cave and a tidal bath—with the spa's signature salt scrub—to a glacial waterfall that offer remineralization, detoxification, relaxation and more.
Afterwards, cool down, rehydrate and reflect in the spa's relaxation lounge, which overlooks the ocean, mountains and nearby islands. Total time to complete the experience is one hour, plus relaxation time in the spa lounge. kingfisherspa.com
FAR: Buubble Golden Circle Tour, Reykjavik, Iceland
Iceland is, of course, also surrounded by water, and this tour perfectly fits our watery theme. For the overnight Golden Circle Tour, you'll be picked up from a chosen location in the capital city of Reykjavik, and then taken to several scenic stops, including the Strokkur geyser hot spring, the spectacular Gullfoss waterfall and the Secret Lagoon natural hot spring at Fludir. Here, guests are invited to relax in a unique natural hot spring that is also Iceland's oldest swimming pool, built in 1891.
The tour's final stop is the Bubble Hotel, where up to nine guests will spend the night under the stars (and perhaps even view the Northern Lights) in transparent, igloo-like bubbles. Just turn out the lights for complete privacy. Checkout is the following morning at 8:30 with a transfer back to Reykjavik by 10:30 am. buubble.com
55 boulevardmagazines.com | WINTER 2022
53 Station Street, Duncan 250-597-2848 Outlooksmenswearduncan.com The BEST in Style Business to Casual
PHOTO COURTESY BUBBLE HOTEL.
NEAR: Tyax Lodge and Heliskiing, Gold Bridge, BC
Soaring high into the sky by helicopter is an exhilarating way to travel—even more so when the destination is the peak of an untouched mountain range and the activity is heliskiing. Tyax Heliskiing near Gold Bridge (west of Lillooet, BC) offers about one million acres of terrain to explore, with more than 275 runs and elevations from 1,524 to 2,895 feet.
After a day on the slopes in this transition zone between the Coast Mountains and the Fraser Plateau in the South Chilcotin Mountains, come back down to earth at the Tyax Lodge, a recently renovated log cabin structure, or splurge on one of the company's three fully catered private lodges. tyax.com
FAR: Mashpi Lodge Cloud Resort, Quito, Ecuador
Not so sure about heliskiing, but still great looking for a great lofty adventure? At 950 metres above sea level, Mashpi Lodge Cloud Resort in Ecuador has you covered. The rainforest nature lodge, which is situated on a picturesque plateau, offers panoramic views of the surrounding forested mountains through floor-to-ceiling glass windows.
Situated on a reserve that ranges in altitude from 500 to 1,200 metres, Mashpi promises luxury in a very special natural environment. Here amid thundering waterfalls and breathtaking flora, you may encounter 400 species of birds, trees, frogs and species found nowhere else in the world. Take a nighttime hike or observe the forest canopy from the Dragonfly Gondola, "Sky Bike" or Observation Tower. mashpilodge.com
56 boulevardmagazines.com | WINTER 2022
AIR
110 - 2720 Mill Bay Shopping Centre 250-743-8914 info@wearitsat.ca Shop in store, by appointment or online wearitsatboutique.com Wear It's At BOUTIQUE to Cozy up Winter
FIRE
NEAR: Kananaskis Nordic Spa, Turner Valley, Alberta
Kananaskis Nordic Spa opened in 2018 as Alberta's first Scandinavian wellness spa. Designed to offer 50,000 square feet of indoor-outdoor space, this Canadian version of the Scandi-spa experience was inspired by the elements of the great outdoors. Here, you can warm yourself in the eucalyptus steam room, cedar barrel sauna cabin or Finnish sauna, or just relax in a hammock before an outdoor fire pit.
The spa's hydrotherapy pass includes access to all the indoor/ outdoor amenities. Operators recommend following a hydrotherapy cycle for three to four circuits using a combination of its hot and cold features for optimal wellness. knordicspa.com
FAR: Hacienda del Sol Guest Ranch Resort, Tucson, Arizona
With more than 350 days of sunshine per year, Tucson really delivers when it comes to warmth. Above the bustle of the city, Hacienda del Sol Guest Ranch Resort offers breathtaking mountain, desert and city views, beautiful Moorish architecture and a storied history.
Built in 1929 as a ranch school for daughters of elite American families, this Sonoran Desert retreat was converted to a guest ranch in 1944, and it attracted stars like Spencer Tracy, Katharine Hepburn and Clark Gable.
You can unwind in one of the resort's historic or new rooms and suites, meander through the lush botanical desert gardens, take a dip in the outdoor pool or enjoy the resort's award-winning menu in one of its two outstanding restaurants. haciendadelsol.com
57 boulevardmagazines.com | WINTER 2022
Specializing In High Performance Homes 250-618-6880 21
Cookie chronicles
Winter's sweet treats past and present
WORDS ELLIE SHORTT X PHOTOGRAPHY DON DENTON
food and feast
t was a cold and blustery day. The beating rain quickly turned into slushy snow as a weary traveller fought his way through the looming darkness. The sun set so early now—both the nightfall and the storm caught him off guard. Protected by a thick cape, the traveller pulled the hood over his head, and wrapped the woolen fabric around him to cover a simple wooden box he carried under his arm.
The cobblestone streets were abuzz with activity. Other townsfolk seeking shelter scurried excitedly in a similar fashion, all carrying boxes, satchels and parcels containing precious goods.
The traveller arrived at his destination, a house of grey stone, and knocked on the heavy wooden door. The familiar smiles of loved ones welcomed him inside. He removed his cloak and children's faces lit up as they saw the wooden box. They knew what was inside. It was the same treat their uncle brought every year: an assortment of cookies he had collected from some of the village's best bakers. He set this prized package on a long table decorated with candles, wine, meats, cheeses, nuts and even some fruits from the late fall harvest.
The traveller and his kinsmen all sat down to feast, and toasted to life, death, natural cycles and the sun, which showed for the shortest amount of time of the year on this auspicious and important day.
Scenes like this would have been common during the 10th and 11th centuries, as folks from all over the world gathered to celebrate the winter solstice. Whether honoured with large village-wide festivities or in smaller circles of families and neighbours, it was a day to acknowledge the changing of seasons.
Most of the rituals revolved around food—gathering, sorting, storing and feasting—as people prepared for what was considered a time of famine. The wintry weather wasn't ideal to grow crops or hunt, so people gathered to prepare their larders while sharing the last of the harvest throughout their communities.
Solstice often meant the arrival of the first frost, so livestock were killed and their meat tenderized for the winter, while fermented beverages like beer and wine, which had been brewed in the spring, were finally ready to drink.
By the Middle Ages, with the spread of Christianity, the Christmas holiday took over traditional solstice rituals throughout much of Europe, but some of the older feasting traditions still remained, including the exchange of cookies, which were easily stored and transported, and then offered as gifts during various winter holidays.
It is thought that cookies as we recognize them today originated in ancient Persia, where, in the 7th century, sugar became relatively common. Cookies spread to Europe through the Umayyad conquest of Hispania, and soon thereafter were common in
60 boulevardmagazines.com | WINTER 2022
i
all levels of society throughout Europe, from royal cuisine to street vendors.
Refined wheat flour would have been reserved for more prestigious households, as it was time-consuming and costly to generate, so more accessible regional flours, such as those made from ground beans and nuts as well as rustic grains like oat and rye, were likely common ingredients, even if combined with finer wheat flour for special occasions. Other ingredients like honey were mixed in as well, to cut the cost of the then still scarce and pricey sugar.
Additional flavourings would have been localized and often included aromatic botanicals, berries, seeds, barks and roots of woodlands and fields, until seasonings like cinnamon, nutmeg, cardamom and clove became more prevalent due to exploration, expansion, colonization and trade.
In medieval Russia, for example, spiced honey cookies were given as good luck charms and fertility tokens, and during winter festivities and feasts they were gifted to family and friends, even the animals. These pryanik (stemming from the Old Russian word "pryany," meaning "spicy") were likely made with rye flour mixed with honey, herbs, dried berries or berry juice, and were possibly a forebearer to gingerbread men, which became popular in the following centuries, particularly in the Elizabethan court, where they were made to emulate visiting nobles.
Similar cookies to pryanik can be found throughout Europe,
61 boulevardmagazines.com | WINTER 2022
such as pernik in Czechia and Slovakia, pierniczki in Poland, and pfeffernüsse in Germany, which by the 17th century were linked to the Feast of Sinterklaas, celebrated every December 5 in the Netherlands and December 6 in Germany and Belgium.
In medieval Scotland, farmers celebrated the winter solstice with blazing bonfires and made a simple cake of ground oats, butter and honey, in the shape of a sun with notches to represent the rays. Evolving to include refined wheat flour and sugar, we now recognize this beloved biscuit as modern-day shortbread, which, of course, can be found in almost every Christmas cookie exchange and festive treat box.
Another Yuletide staple is that of the Linzerkekse, which was first enjoyed as a larger tart with a lattice crust, and then later developed into a cookie made of a rich buttery dough accentuated by almond flour, lemon zest and spices, and traditionally filled with blackcurrant preserves, like its Linzertorte predecessor, which was first noted in 17th-century Austria.
Whether celebrating solstice, the Feast of Sinterklaas or Christmas as we know it now, the sharing of cookies has been a long-cherished tradition of wintry gift-giving across many cultures, religions and regions. With favourite recipes passed down through generations like treasured heirlooms, cookies—especially those enjoyed during the winter months—are so much more than a dessert. They're a mouthful of meaningful memories, a cosy comfort on a cold day, and a sweet treat to accompany a good book by a blazing fire, many flavours carrying stories and folklore of their own.
As you hunker down on these darker, colder days, gathering, sorting, storing and feasting, keep in your thoughts the image of the weary cloaked traveller, honour the long and worldly journey that cookies have taken to find a place so solidified in our contemporary traditions, and know that there are few greater gifts than that of a loving treat, made with kind hands and a generous heart.
62 boulevardmagazines.com | WINTER 2022 variations vancouverislandsymphony.com COMMUNITY INVESTMENT SEASON SPONSOR SERIES SPONSORS Experience Inspiring Concerts with the Musicians of the Vancouver Island Symphony.
NANAIMO • COURTENAY • CAMPBELL RIVER
"The sharing of cookies has been a long-cherished tradition of wintry gift-giving across many cultures, religions and regions. With favourite recipes passed down through generations like treasured heirlooms, cookies—especially those enjoyed during the winter months—are so much more than a dessert."
Orange Clove Shortbread
Ingredients
200 g (about ¾ cup) unsalted butter, softened ⅓ cup granulated sugar
¼ cup honey
1 tsp pure vanilla extract
Zest of 1 large orange
1 ⅓ cups unbleached all-purpose flour
1 cup fine oat flour
1 tsp sea salt
¼ tsp ground clove
Directions
Preheat the oven to 325 F. Lightly grease a 9-inch springform pan and line the bottom with a piece of parchment paper.
Using an electric mixer (either handheld or stand), beat the butter, sugar, honey, vanilla and orange zest until light and fluffy (about 3 minutes), scraping the bowl as needed.
In a separate bowl, combine the flours with the salt and clove, and slowly stir into the wet mixture until the dough starts to clump together.
Press the dough into the prepared springform pan so that the top is as smooth and even as possible. Using a fork, poke holes all around it, and then cut the dough into 12 segments.
Place in the oven and bake for 35 minutes, or until slightly brown and crispy on the edges. Halfway through baking, you may also
want to redo your cuts and redefine your wedges (it will make for an easier cut/separation later).
Remove from the oven, and allow to cool slightly before carefully removing from the springform pan onto a cutting board or clean surface. Cut through the slices again while the shortbread is still a bit warm, and transfer the wedges to a rack to cool. Store for up to a week in an airtight container, or freeze for longer storage (the flavour improves as the shortbread ages).
63 boulevardmagazines.com | WINTER 2022 Waterfront Dining at Cowichan Bay 1681 Cowichan Bay Rd. 250.597.4353 thecookandbutcher.ca OPEN Tuesday - Sunday FRESH LOCAL EATS, HAND CRAFTED COCKTAILS & AWARD WINNING CAESARS. 120-2720 Mill Bay Road Mill Bay Centre, Mill Bay | 250.929.2739 Local Coffee | Breakfast | Lunch Freshly Baked Goods V + GF Options | Lifestyle & Gifts
Butter Rum Glazed Pryanik
Ingredients
COOKIES:
1 ½ cups unbleached all-purpose flour
1 ½ cups rye flour
3 tsp baking powder
2 tsp ground ginger
1 tsp ground cinnamon
½ tsp ground cardamom
½ tsp freshly grated nutmeg
¼ tsp ground allspice
1⁄8 tsp salt
1 large egg
2 large egg yolks
½ cup butter, melted
1 tsp pure vanilla extract
½ cup honey
Directions
GLAZE:
⅔ cup confectioners' sugar, sifted
1 Tbsp unsalted butter, melted
1 Tbsp dark rum
1 tsp water
Allspice, cinnamon or freshly grated nutmeg, for garnish
In a medium bowl, combine the flours, baking powder, spices and salt, and set aside.
In a separate bowl, either using an electric mixer or by hand, beat together 1 whole egg, 2 egg yolks, melted butter, vanilla and honey.
Slowly add the flour mixture to the wet mixture, and stir until a smooth and solid mass of dough forms. Place the dough in the refrigerator to cool for about 30 minutes.
Meanwhile, heat your oven to 350 F and line one or two baking sheets (depending on how big your baking sheets/oven are) with parchment paper.
Using a small cookie scoop, portion out mounds of dough and roll them in your hands until they are completely smooth balls (there will be about 30 total). Place on the prepared baking sheets, leaving 2 inches between each cookie. They will flatten out somewhat during baking, but still retain a domed shape.
Bake for 10 to 15 minutes, or until just golden, rotating the baking sheets halfway through for even baking. Remove from the oven and allow to sit on the baking sheet for a few minutes while you make the glaze (it needs to be brushed on while the cookies are still warm).
In a small bowl, whisk together the sugar, butter and rum until smooth. The glaze will thicken slightly if it sits, so stir through a little warm water if you need to—it should be the consistency of runny honey.
Transfer the slightly cooled (but still warm) cookies to a wire rack, then brush the glaze all over the cookies with a pastry brush and allow to cool completely. Sprinkle with fresh ground nutmeg, or a spice of your choosing, to garnish. The cookies should keep for up to five days in an airtight container.
64 boulevardmagazines.com | WINTER 2022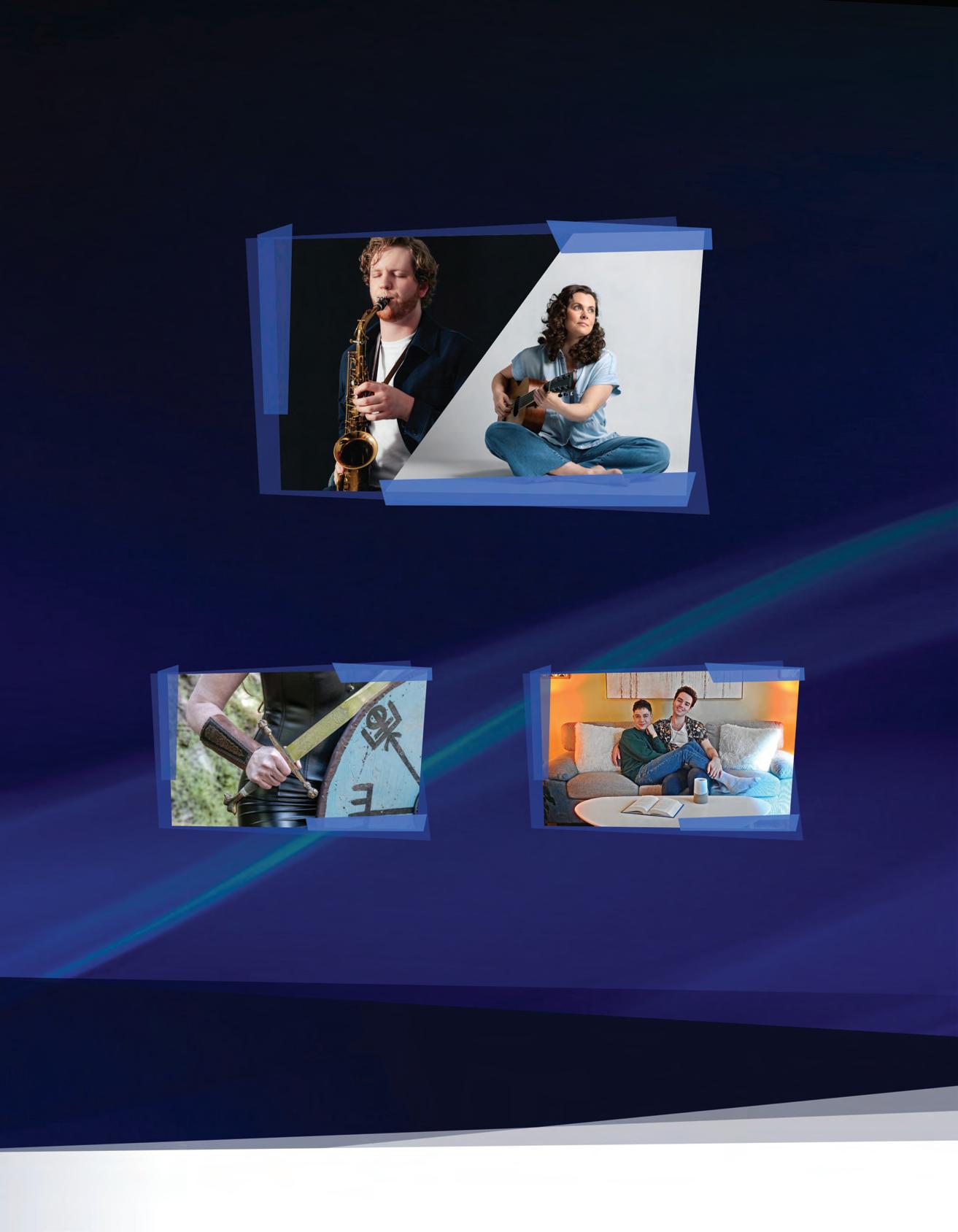 Lemon Blackcurrant Linzerkekse
Ingredients
250 g (about 1 cup) unsalted butter, softened and cubed
½ cup granulated sugar
1 tsp pure vanilla extract
Zest of 1 lemon
1 large egg yolk
1 ⅓ cups unbleached all-purpose flour
¾ cup fine almond flour
1 tsp ground cinnamon
¼ tsp sea salt
Confectioners' sugar, for dusting Blackcurrant jam, for filling
Directions
Using an electric mixer (either handheld or stand), beat the butter, sugar, vanilla and lemon zest until light and fluffy (about 3 minutes), scraping the bowl as needed. Add the yolk and lightly beat until combined.
In a separate bowl, combine the flours, cinnamon and salt. Add the dry mixture to the wet mixture until combined and smooth.
Divide the dough in half, and pat each half into a disc. Wrap discs individually and refrigerate until firm (about 1 hour).
Once cold, yet still malleable, remove one dough disc from the refrigerator. On a floured surface, roll it out to about one-eighth-inch thick. Using a tw0-and-a-half-inchround cookie cutter, cut out cookies. Transfer rounds to a
66 boulevardmagazines.com | WINTER 2022 For more information call: (778) 762-0025 Learn About our Unique Approach to Memory Care 4989 Wills Road • Nanaimo, BC www.AvenirSeniorLiving.com 100% Gluten free 539/541 1ST AVENUE, LADYSMITH, BC 250.924.8696 wildpoppymarket.ca
parchment-lined baking sheet. Gather the scrap dough, roll it back into a disc and repeat. If at any time during this process the dough becomes sticky and hard to work with, simply refrigerate it for about 20 minutes, until firm.
Place the cut cookies (you should have 15) in the refrigerator for 30 minutes and preheat the oven to 350 F.
While the first half of the cookies chills, repeat the above process with the remaining dough disc to make 15 more rounds. Transfer to a parchment-lined baking sheet and use your smallest cookie cutter to make a peekaboo cut-out in the centre of each. Place these cookies in the refrigerator for 30 minutes to chill.
Once ready, bake all of the cookies for about 10 to 12 minutes, or until the edges are just beginning to brown. Let them cool for 5 minutes on the sheets, then transfer to a rack to cool completely.
To fill the cookies, place the cookies with cut-out holes in them on a cookie sheet and sift confectioners' sugar over the top. Turn the remaining cookies flat side up and spoon one half of a teaspoon of blackcurrant jam into the centre of each, spreading it slightly. Top with the sugar-dusted cut-out cookies. You can store the filled cookies in an airtight container for up to a week.
Residential & Commercial Development made Simple
• A beautiful, affordable alternative to typical construction. The average home only takes 4-5 months to complete.
• Nexus is an island-based, CSA certified modular manufacturer that is changing the perception of modular construction.
• Applications in Garden Suites, Laneway Housing, Backyard Offices and Studios, Park Models, Cottages, Single-Family Homes, and Multi-Family Developments.
• We build to the same quality you would expect in a custom, site-built home. Factory-controlled processes provide reduced timelines and cost certainty.
67 boulevardmagazines.com | WINTER 2022
1317 Fairfield Road, Cobble Hill NexusModular.ca
Where culture and adventure collide
Exploring the rich and wonderful Chiapas, Mexico WORDS + PHOTOGRAPHY SUZANNE MORPHET
travel
LAS 3 TZIMOLERAS
PHOTO COURTESY
"Close your eyes," says Ángel, our guide, "and then walk forward until I say stop."
Half a dozen of us stand mid-stream in the most picturesque river you can imagine.
In Mexico's southernmost state of Chiapas, the Rio San Vicente flows like a winding green ribbon out of the mountains and down a forested slope of stately Sabino trees to fields of sugarcane below.
We've made our way along the river by jumping off ledges and letting the current carry us from one rocky outcropping to the
69 boulevardmagazines.com | WINTER 2022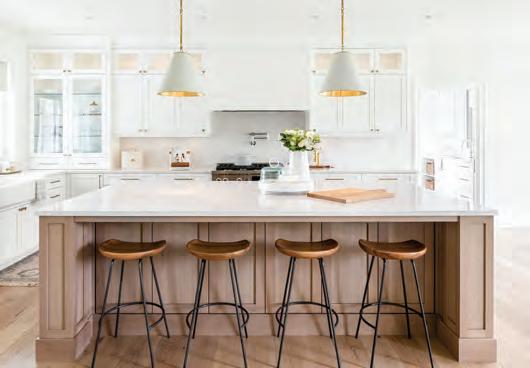 70 boulevardmagazines.com | WINTER 2022 Instead of basking on beaches, listening to canned music and hearing mostly English spoken at a resort favoured by foreigners, I'll be exploring rivers, listening to live music and practising my minimal Spanish with locals in some of the oldest towns in Mexico.
VISIT NANAIMO ART GALLERY GALLERY STORE, WEEKLY LUNCHTIME TOURS, ART LAB SUNDAYS CURRENT EXHIBITION: Tides & Moons: Herring Capital Cindy Mochizuki October 22, 2022 – January 8, 2023 150 Commercial St Nanaimo, British Columbia 250.754.1750 NanaimoArtGallery.ca HIGH QUALITY, EXCEPTIONAL LIVING SPACES 250.597.4701 E4 – 4970 Polkey Road, Duncan | heronwoodcabinetry.ca
PHOTO COURTESY LAS 3 TZIMOLERAS
next, where we climb out and joyfully jump in again.
The more daring among us jump or dive from the tops of waterfalls as high as seven metres into the frothy water below.
Now, we follow Ángel's instructions and hold hands to keep our balance as the current pushes against our legs. When Ángel tells us to open our eyes, we let out a collective gasp.
We're standing near the brink of a spectacular waterfall. Just metres away, water surges over a wide limestone lip and plunges 60 metres, replenishing the natural turquoise pools below.
This tour with Las 3 Tzimoleras takes place on just the second day of our week-long adventure in Chiapas, but I'm already enthralled with a state that's so different from the picture of Mexico I carry in my head.
Instead of basking on beaches, listening to canned music and hearing mostly English spoken at a resort favoured by foreigners, I'll be exploring rivers, listening to live music and practising my minimal Spanish with locals in some of the oldest towns in Mexico.
And because we're here in December, we also get to see how Mexicans in Chiapas celebrate Christmas.
Our first evening we're in Comitán, a pueblo magico close to Mexico's border with Guatemala. The town square is ablaze with colour. People arrive on foot, walking under an archway of stars and pausing to have their photos taken next to rearing reindeer or from inside enormous baubles.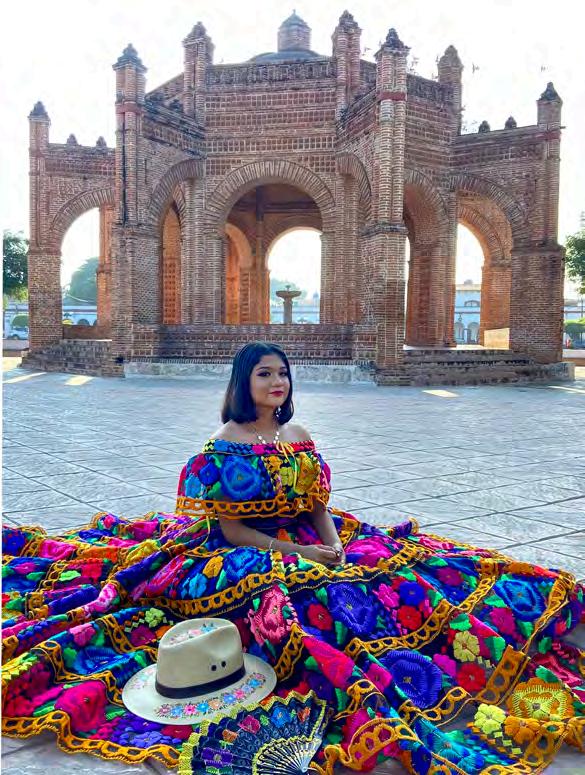 A large Christmas tree wrapped in red ribbons dominates one corner of the square while the Spanish colonial town hall sparkles with columns of light. A marimba orchestra—with trumpets, drums and, of course, a marimba (a type of xylophone) —plays Cumbia-style music, a genre quintessential to Mexico.
The marimba is thought to have been brought to the new world from Africa by slaves. Today, it's heard throughout southern Mexico, but Chiapas is known for its ensembles that combine two or three
71 boulevardmagazines.com | WINTER 2022
Choose the MEWS this holiday when visiting the Old City Quarter • La Stella Trattoria • Electric Umbrella • Bistro Taiyo • Real Foods • Old City Quarter Law • B. Clotheswise Uniforms • Aura Arcana Well Being Co. • Mad about Ewe 321 Wesley Street FOUNTAIN PENS • INKS • PENS & PENCILS • GREETING CARDS • NOTEBOOKS • WRITING PAPER • STICKERS WWW.COMMONFOUNDRY.COM 295 WALLACE STREET, NANAIMO
marimbas with other instruments.
We stop to watch as couples dance to "Cómo te voy a olvidar" (How can I forget you?), a peppy piece that makes me want to join them.
And so our week unfolds, as we explore a different landscape each day, enjoying distinctive Chiapan culture each night.
Because the geography is so varied, our adventures range from a relaxing boat ride through the Sumidero Canyon—where vertical walls soar a thousand metres overhead—to a walk that takes us to Zinacantán, a Tzotzil Mayan village in the highlands, where we lunch with a family and watch women weave at traditional looms.
One day, we ride horseback to the town of San Juan Chamula, another Tzotzil community, where the church of St. John the Baptist resembles a Mayan temple. Inside, thousands of candles flicker in the dark and incense perfumes the air. People sit on the floor—there are no pews—and perform various rituals, including animal sacrifice.
We watch in astonishment as a young woman silently strangles a chicken, its legs twitching from the top of a bag she's holding it in, while her children sit beside her drinking from a bottle of Coca-Cola.
"They come to the temple when they have a problem," our guide, Ramses Borraz Balinas, explained later. "It could be someone is sick, your sheep are sick, maybe you have a bad neighbour."
Drinking coke, which causes burping, facilitates the release of evil spirits, he added.
If San Juan Chamula feels a little dark and oppressive, the town of Chiapa de Corzo is bright and joyful. Christmas celebrations begin the evening we arrive with the lighting of the tree in the main square. Afterwards, the crowd gathers around an orchestra including a couple of marimbas, each played by four men using long-handled mallets.
72 boulevardmagazines.com | WINTER 2022
and Visit and Visit Shop,VisitDine Shop, Dine Shop, Dine and Visit and Visit and Downtown Downtown Ladysmith Ladysmith Ladysmith A beautiful experience any time of the year. Come and see us. www.ladysmithdowntown.com 250.748.1100 4705 TRANS CANADA HWY THEWICKERTREE.COM INDOOR & OUTDOOR Living
We offer consignment and new at excellent price points!!
Open 7 days a week Mon. to Sat. 10am-5pm Sunday 12-4 pm.
Delighted to announce we are moving to our new location at 162 Station Street
We will remain in our current location until Dec. 31. Follow us on Instagram at redefined 97 for updates on our opening dates in Jan. and Celebration.
Two special guests stand head and shoulders above everyone else in the crowd. They're mojigangas—giant puppets with expressive faces on heads made from papier-mâché. One is a buxom brunette in a skirt, the other a man wearing a red checked shirt and black pants. They bounce to the beat of the music, their cloth arms swinging freely. Mojigangas were brought from Spain by colonizers in the 17th century or earlier.
Back at our hotel, La Ceiba, more entertainment awaits. The owner wants to give us a taste of the Great Feast, a festival held every year from January 4 to 23. It recalls the legend of a wealthy Spanish woman who arrived in the 17th century in search of a cure for her sick son. Local men dressed up as pale-faced Spaniards and danced "para el chico" (for the boy). Miraculously, the boy was healed.
Today, male dancers—parachicos—wear wooden masks with blue or green eyes and bristly blonde wigs along with striped ponchos. Accompanied by musicians, they shake chinchines (maracas) and dance in honour of three Roman Catholic saints. Women are even more colourfully dressed, wearing full, flouncy skirts and blouses made from satin and embroidered with flowers.
Over dinner, which includes soup flavoured with chipilin, a wild herb that's popular in Chiapas, we're treated to an authentic musical performance. In 2010, UNESCO recognized the dance of the parachicos as an Intangible Cultural Heritage of Humanity. Even though you can see men dressed as parachicos elsewhere in Chiapas, the Great Feast is held only here.
And that's the thing about traveling off the beaten track. You never know what you're going to find, but whatever it is, it'll be like nowhere else.
For more information, go to visitchiapas.com/en
74 boulevardmagazines.com | WINTER 2022
Courtenay • Ladysmith • Nanaimo • Campbell River 250-591-6644 | telfordtoneffboyd.ca | 595 Townsite Rd, Nanaimo Division of Lonsdale Funeral Group Inc. Start preparing it iS eaSier than you think Let 's Talk
55 Lois Lane, Duncan BC Located in the lower level of Belongings 250-710-2122 | redefinedclothing@shaw.ca
Theatre Getaway Packages From $206 per person, based on double occupancy Standard Room Includes Taxes and Fees chemainustheatre.ca 250-246-9820 |-800-565-7738 Visit The Gallery Gift Shop For Beautiful Holiday Gifts LIVE THEATRE | PLAYBILL DINING ROOM | GALLERY GIFT SHOP
secrets and lives — AND THE 7 SINS WITH HAYLEY PICARD
WORDS ANGELA COWAN PHOTOGRAPHY DON DENTON
Hayley Picard has spent her life working hard to embody a strong set of values, living as honestly and authentically as she can. But closest to her heart has always been offering service to others.
"Volunteerism is something that's really important to me," she says, explaining it's critical in creating empathy and giving perspective into other lived experiences, and that commitment to giving of herself has woven through her personal and professional lives for decades.
Hayley is the director of communications and marketing for Queen Margaret's School in Duncan. She has been with the school for nearly 13 years, and had an interesting start to her QMS career in January of 2010.
76 boulevardmagazines.com | WINTER 2022
"I had already been given a spot as a volunteer in the [Vancouver] Winter Olympics," she says. "But the school believes in service to others, so when I took the job, I explained the situation and I worked for two weeks before I left to stay with my sister-in-law in Pemberton for two weeks. It really set the tone for my time with QMS. For service to others and giving back, you have to live it in order to share it with the kids."
Hayley, who's also volunteered with the Commonwealth Games, coaches her daughter's school field hockey team and definitely serves as an example.
"I'm working full time, but I'm still doing the extras, and it's important for the kids to see that, and for my kids to understand that the extra effort really goes a long way in creating a community."
Coming from a background that ranges from radio broadcasting to hospitality and event management, Hayley went back to school for her degree in communications with a minor in publishing from Simon Fraser University, and came into QMS as its communications coordinator, tasked with creating a recognizable and inspiring brand for the school.
"We had no social media presence. It was a completely clean slate," Hayley explains. "Through the years it's been a gradual build, and we're in a really good place now."
She's also helped the school to build and nurture relationships with local families and organizations.
"I believe in connecting with our community. We want to be part of it. To connect with our local families and our local service organizations. QMS really believes in being courageous, being authentic, being ourselves and being kind. That's when I feel like we're at our best, when we're living those values," she says.
Having spent years in the Lower Mainland, Hayley and her husband moved back to the Cowichan Valley in 2007, keen to re-establish a strong family support system.
"I was born and raised here, and it was important for us to come back to the community," she says. "It was the best decision we ever made as a family."
The 7 Sins
ENVY:
Whose shoes would you like to walk in?
As many people's shoes as possible. Empathy and understanding are built through perspective, and something I always strive towards is to treat people with kindness, even when I may not understand their situation. For our society to have positive interactions, free of defensiveness, fear or stigma, it's critical that we each take a breath and provide each other a little grace.
GLUTTONY:
What is the food you could eat over and over again?
Thai curry. After my trip to Thailand years ago, I fell in love with the diverse flavours and textures of that region's cuisine. Sushi is a close second!
GREED:
You're given $1 million that you have to spend selfishly. What would you spend it on?
I would take time off from work and go on trips with my family around the world. I am passionate about my children seeing that their lovely lives here in the Cowichan Valley aren't the way everyone lives. The world is rich with cultures, languages, beliefs, colours, smells and flavours, all there to be explored, experienced and appreciated first hand.
WRATH: Pet peeves?
Hate speech. I believe in fair, honest and open debate on contentious issues, but not messages where people are belittled, attacked or made to feel badly about themselves simply because of a difference of opinion.
SLOTH:
Where would you spend a long time doing nothing?
French Beach and Tofino. I find the west coast of our beautiful island so restful and restorative. My stress melts away and I return a much happier person after a stay there.
PRIDE:
What is the one thing you're secretly proud of? After 13 years building the communications department at Queen Margaret's School, I am extremely proud of where we are today. My team's work has assisted the school in building its market presence through multiple mediums, especially in the digital realm. I love it when parents, students or staff reach out saying how much they enjoy following us on Instagram, or how they enjoyed the most recent Connections Magazine. It provides me with immense joy.
LUST:
What makes your heart beat faster?
Beauty. Whether in nature (sunsets in Tofino or hiking Mount Tzouhalem), within a human interaction (a kind word with someone having a rough day), in art (paintings, photography or movies), or in the incredible diversity of our human and animal kingdom...beauty surrounds us everywhere. When I take a moment to recognize and appreciate it, my heart speeds up a little.
77 boulevardmagazines.com | WINTER 2022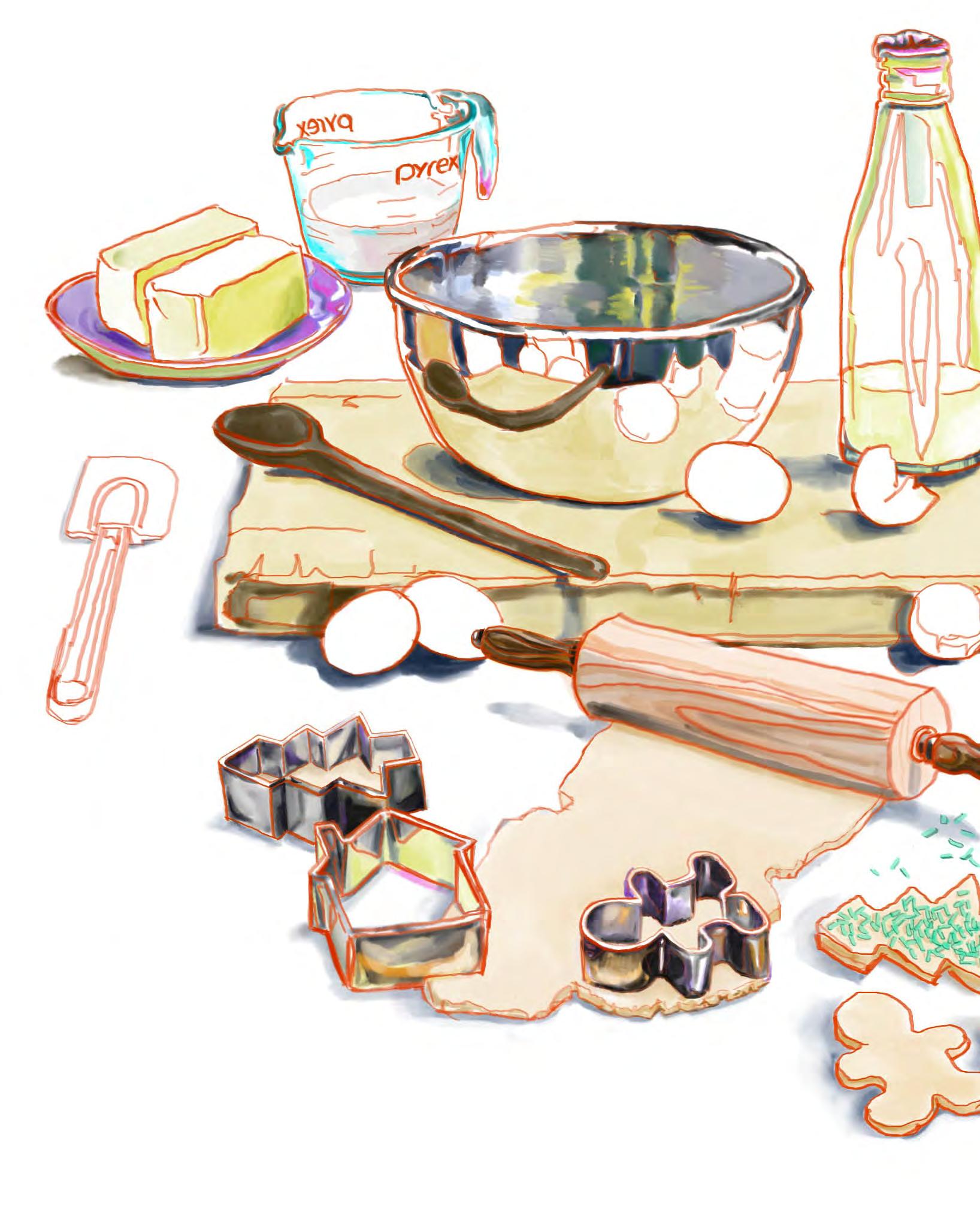 78 boulevardmagazines.com | WINTER 2022
CHRISTMAS
narrative WORDS SHARON EASTON X ILLUSTRATION SIERRA LUNDY
COOKIES, PUPS AND A LITTLE BOY
The day before Christmas Eve, I invited four-year-old Dylan, from up the street, over to bake Christmas cookies.
Cookie dough was made, rolling pin ready, a variety of Christmas cookie cutters set out, an assortment of trimmings to sprinkle, and a spick-and-span counter ready for action. My husband, Chuck, was in his workshop, planning a wood project for Dylan, as well.
As Dylan arrived, our two puppies, Hazel and Gracie, looked confused. Wasn't Dylan a backyard friend? Why is he in the kitchen? They hovered.
I forgot what a four-year-old is like the day before Santa arrives. As I unwrapped the cookie dough, Dylan circled the living room, dining room and then back to the kitchen, chattering constantly. He touched everything. The puppies followed him.
Dylan saw the Santa candy dish. He grabbed the dish, turning it this way and that.
"Be careful," I said quietly, not wanting to frighten him. "I bought that for my grandson when he was about your age! He's 25 now."
"I love it!" Dylan cried. Holding it tight, he ran for the stool at the counter and grabbed the sprinkles. "Can I put the sprinkles in the Santa bowl, pleeeease?"
I nodded at Dylan's cute little face staring up at me. As quick as a wink, the boy had all the containers opened; he poured sprinkles into the bowl and mixed the concoction with his finger. Sprinkles fell to the floor, but the puppies didn't rush in; they stood back, hovering and sniffing the air.
Dylan cut out a few cookies. I'd forgotten that little boys have almost no attention span, especially so close to Christmas. He spotted the basket of dog toys. Dylan jumped off the stool and ran for the basket.
"Here, Hazel! Here, Gracie! Play with me!"
Soft dog toys hurled past the puppies' noses. They just sat there. The pups looked left as the toys flew by, and then turned their heads right, back to Dylan—again and again.
I cried out, "Dylan, no throwing toys at the dogs!"
He stopped and rushed back to the counter. Hazel, the larger of the two dogs, pushed herself between me and the counter, flat to the floor with her whole weight pressing on my feet. Gracie, the younger pup, rushed behind my legs. Both dogs peeked out and didn't take their eyes off Dylan.
He pressed out a few more cookies. Talking so fast, he drooled a little, but it only fell on the counter and not on the cookies. Dylan jumped off the stool again and started to open kitchen cupboards and drawers, peeking in, looking around and moving on to the next. The dogs stared from their safe place—furry bodies on high alert.
"What's Chuck doing?" Dylan asked.
"Go see," I told him, as I slid the cookies into the oven.
Dylan sprinted away and then returned. The dogs squeezed into me tighter, one on each side, staring out at the boy. He held out a wooden race car that Chuck had made.
"Chuck's making me wheels right now, but I want to paint it! Can I paint it?"
79 boulevardmagazines.com | WINTER 2022
"You can, but Chuck has the paint. Go ask him."
"I did—he told me he didn't have any!"
"Liar!" I thought of my own husband. I put on a sad face. "I don't have paint!"
"That's okay," he said, rushing to a kitchen cupboard, opening the door and grabbing a package of markers. "I'll use these!"
Dylan quickly informed me that this was no longer a race car: it was Santa's sled painted red, white and black.
On the move again, Dylan circled around the dining room. He discovered a pewter pig holding a bottle of wine.
"Why is the pig holding a bottle of wine with his legs?" he asked.
"Because it's his job!"
"If the pig has the wine, what do you drink?"
"Why, water of course!"
As I leaned over the counter to check the cooling cookies, Dylan looked up and said, "Boy, you look bad!" Then—"Hey, are you a grandmother?"
"Yes, I am."
"You lied to me," Dylan cried. "You told me you were a mother, but you look like a grandmother!"
I laughed and, saved, I saw Chuck was ready with the wheels. With the job completed, Dylan proudly showed off his Santa sled with wheels.
Back to the cookies, I spread the icing and Dylan sprinkled his decorations. The sprinkles made a pinging sound as they hit the hardwood floor, but the dogs remained frozen at my side.
The cookies were beautiful. We were almost done. Chuck came in from the workshop and I went into the pantry, dogs at my heels. I was only gone for a minute—maybe less—but when I returned, Chuck was on his hands and knees behind the dining room table and Dylan was pacing back and forth.
"It was an accident," he cried out. "Humph," said Chuck. "What happened?" I walked around the table.
The large Christmas snow-globe mounted on an antique travel-trailer was shattered all over the floor, the water with glitter-snow spreading and pooling under the table. I saw the tag still taped to the broken trailer: "Christmas, 2017, To my husband, thanks for the wonderful RVing adventures. With all my love. xxx"
Dylan looked up with those beautiful eyes, arms out, palms extended. "I'm sorry. I just wanted to make it snow!"
"I yelled at him to put it down," Chuck grumbled. Ahh—I got the picture.
I smiled. "I know, buddy. Let's get these cookies packed, it's time to go home."
As I helped Dylan pack up his cookies, I noticed his hand was bleeding. Panicking, I rushed him to the sink and washed his hands. Luckily, it was a small cut. Chuck carefully wrapped an adult-sized bandage on Dylan's tiny finger. Man and boy stared at each other and smiled.
While we got ready to leave, I asked Dylan what he'd tell his mother about the bandage.
"I'll tell her, 'I forget,'" he said, and I fought back a laugh.
Dylan carried two Christmas gifts. I had the plate of cookies and Chuck carried the homemade wooden sled in one hand, with the pups on a leash in the other. Dylan's father greeted us at the door.
As Chuck and I walked away, I realized I had just needed to say, "No touching," and Dylan wouldn't have touched anything.
I heard a ping—it was a text from Dylan's mother: "Thanks so much and the cookies are delicious."
I smile and text back.
"It was our pleasure and we'll do it again next year."
Deep down you want to be together.
Ask about double depth burial.
There is a new cost effective and environmentally responsible way to pre-plan funeral arrangements as a couple or family. Double depth burial plots allow for family members to be buried in a single deep plot, rather than individual plots, side by side. Further, our new double depth burial area is in one of the nicest areas of the park in a serene setting. Find out more today.
80 boulevardmagazines.com | WINTER 2022
C M Y CM MY CY
CMY K ROBP_Double_Depth_Boulevard_Ad_X1a.pdf 1 2020-02-28 2:48 PM
250.658.5621 |
robp.ca
250-743-5500 | 2720 Mill Bay Road, Mill Bay | millbaycentre.com MILL BAY SHOPPING CENTRE
behind the story
Model Cecilia Hughes, photographed at Ritual Nordic Spa for the fashion story in this edition of Boulevard, gets the full spa experience, including a bucket of cold water dumped on her head. It's easy to imagine the jolt to the system it creates, but the use of thermal therapy (healing with heat), hydrotherapy (healing through water) and contrast therapy (healing through hot and cold contrast) goes back centuries. Cold therapy can help with everything from anxiety and weight loss to boosting mood and strengthening the immune system. "When the body is exposed to cold, the sympathetic nervous system is activated," said Chelsea Gronick, a Kelownabased naturopathic doctor, who was quoted in a 2021 Boulevard story on cold-water therapy. "That's the fight-or-flight response. Hormones like adrenaline are released, the heart rate increases and blood vessels constrict, forcing blood to your core. Once the body regulates it switches to a rest/relax/restore or parasympathetic nervous system. This training of your nervous system is a way to teach your body how to regulate when faced with various stressors, not just cold water but things that come up in daily life."
82 boulevardmagazines.com | WINTER 2022
PHOTO BY LIA CROWE
With the Lincoln Way App, you can access a personal concierge, find parking, see local fuel prices and operate your vehicle remotely all from the palm of your hand. Stay connected with us using features like arranging for Lincoln Pickup & Delivery, viewing maintenance schedules and service history. Experience the Lincoln Way, a range of services designed to make Lincoln Ownership effortless.
3851 Shenton Road, Nanaimo I 250-824-0816 I www.NanaimoLincoln.com HOURS OF OPERATION: MON-THURS: 9:00 AM - 7:00 PM FRI-SAT: 9:00 AM - 6:00 PM DEALER # 10401 LINCOLN OWNERSHIP PRIVILEGES YOUR EXPERIENCE AWAITS
Call us today to share your vision for the perfect home. We can bring your dreams to life. sartoricustomhomes.ca 250.984.7983 Finding a newperspective is closer than you think. It starts with a vision. * *Your vision.