Bishop McNamara High School
DISC VER You BELONG Here
Dr. John Barnhardt
Welcome to Bishop McNamara!
I am honored that you are considering our community of innovators, believers, peace-keepers, disruptors, and leaders. The world today demands much of our young people. Inner peace, a pursuit of equity, and the ability to engineer an innovative solution are all skills that our graduates are called on to demonstrate in college and career. Here at our beloved Bishop McNamara, your child will grow into an adult, capable of knowing themselves in the context of a complicated world and equipped to thrive in a global community.
Bishop McNamara High School was founded in the tradition of the Brothers of Holy Cross who also founded the University of Notre Dame, King's College, St. Edward's University, and Stonehill College. Fifty-eight years of history and over 12,000 alumni is evidence enough that our belief in the unique, God-given talents of every young person walking our halls equips our students to take on the world. Our alumni community includes internationally acclaimed authors, philanthropists, elected representatives, professional athletes, collegiate educators, change makers, and religious leaders.
Our innovative college-preparatory curriculum is delivered by an award winning faculty team and supported by a topof-class Performing and Fine Arts program along with a nationally competitive Athletics program. It's often shared that when you walk through the doors of McNamara, you feel an overwhelming sense of belonging. Our approach to education is different. Our core mission and values are anchored in Christ and the educators who teach, coach, council, and mentor our students, do so with love and a commitment to the unique identities and dreams of each student.
Whether in the classroom or concert hall, on the stage or the athletic field, in a lab or in a rehearsal room, Bishop McNamara High School stands for excellence. Experience Bishop McNamara, where we inspire the hearts and minds of our students to innovate, transform, and thrive!
Dr. John Barnhardt President/CEO @barnhardt
FROM THE PRESIDENT/CEO
2
"We are Bishop McNamara. We are Holy Cross. We choose through our words and actions to build family, show respect, educate our hearts and minds, and bring hope. We choose to think with Christ"
School Code, Bishop McNamara High School
Our Vision and Mission
THE 4 PILLARS OF HOLY CROSS:
• Building Family • Educating Minds and Hearts
Our Vision:
Empowered leaders, inspired by the Gospel, transforming the world.
Our Mission:
To educate hearts and minds in a dynamic, inclusive Catholic school community rooted in the Holy Cross tradition.
I always remind students that we all have dreams and aspirations to be something great, but if we embrace the words in James 1:19 and, 'are quick to listen, slow to speak and always slow to become angry', God will speak to us in marvelous ways. He accepts us on our best days an gloves us all the same on our worst days - his love is unconditional.
Dian A. Carter
Principal, Bishop McNamara High School
• Showing Respect
• Bringing Hope
Blessed Basil Moreau founded the Congregation of Holy Cross as a religious teaching order. The cornerstone of a Holy Cross education is the belief that minds and hearts should be educated as one; the mind is never prioritized over the heart. In order to accomplish this goal, over the course of their history, Holy Cross schools have focused on teaching Gospel values alongside the core academic curriculum. A Holy Cross education is respectful and inclusive of all faiths. The order embraces the idea of a global community and, above all, is committed to providing students with a quality education exemplified by the highest standards.
OUR GUIDING PRINCIPLES:
• Bishop McNamara is committed to developing in all students a sense of self-worth and accomplishment.
• By welcoming students from diverse backgrounds, the School exposes its students to a variety of traditions beyond their own, instilling a respect for the cultures and values of others.
• Bishop McNamara serves those within our community without prejudice, accepting all persons as they have been created in God's infinite goodness.
• Through spiritual and academic guidance and service to others, the School provides an opportunity to participate in the practice of the Catholic faith in an atmosphere supportive of religious values.
• This faith message is taught not in isolation but is integrated with learning and living by relating the Gospel message to content areas, by the living example of faculty and staff, by partnership with families, and by service to the outside community.
• Students learn a sense of responsibility for one's actions and for the well-being of the local and global community through a range of evolving curricular, co-curricular and institutional programs.
• Bishop McNamara provides a strong, challenging and diverse curriculum that allows each student to achieve success commensurate with ability and effort.
• Bishop McNamara helps the student develop the power to reason independently and think creatively.
3
Campus Expansion at Bishop McNamara
In the last 20 years, we have dedicated more than $20 million to renovating, upgrading, and expanding our facilities to better serve our students.
Often referred to as "The Campus That Never Sleeps,"
McNamara High School is a truly unique and special campus. Our students consider their school to be a second home. Over the last decade, Bishop McNamara has continued to grow and change with time. We have transformed our academic and athletic facilities to encourage growth and inspire our community.
5 4 3 1 2 4 1 2 3 4 5 6
High School
Bishop
Next Generation Classrooms Andy Mona '82 Student Center CITE Lab Fine Arts & Athletic Center Holy Cross Hall Mammano Softball Field Tyoka Jackson '89 Athletic Field St. Joseph Library & Resource Center Science Labs Moreau Chapel Terrell Edelen '14 Memorial Garden La Reine Science & Innovation Center (future site) Alumni Hall / Mount Calvary Expansion 1 2 3 4 5 6 7 6 7
The La Reine Science & Innovation Center
With the vision to 'Innovate, Transform, Thrive,' the La Reine Science & Innovation Center, scheduled to open in the fall of 2022, will be a hub for technology, collaboration, and discovery by offering new academic programs in science, technology, cybersecurity, engineering, entrepreneurship, and multimedia. By providing students with next generation, hands-on learning experiences, Bishop McNamara High School hopes to develop the innovators of tomorrow.
The La Reine Science & Innovation Center is a 20,000 square-foot building that will provide deep, hands-on learning experiences for the student community to explore, create, discover, collaborate, and innovate. The Center will offer seven classrooms, five of them as customary science labs,
featuring two chemistry labs, two physics labs, and a health science lab. It will also include a cybersecurity lab, multimedia studio, and entrepreneurship workspace, and the state-ofthe-art innovation lab will be the centerpiece to the building, complete with industry-leading hardware such as 3D printers, vinyl cutters, drill presses, and computer components that can make a machine run and affect its performance.
As Prince George's County Executive Angela Alsobrooks says, "The La Reine Science & Innovation Center will be a game changer, not only for Bishop McNamara students, but for the Prince George's County community as a whole. We know that STEM education is critical to ensuring our young people can compete professionally after high school."
Opening Fall 2022 5
Academic Profile
Bishop McNamara High School opened its doors in 1964 and has been providing an extraordinary Holy Cross education for our students ever since. With a co-educational advantage, students - regardless of genderlearn to collaborate on academic and extracurricular endeavors side by side with one another.
The School graduates more than 200 students each year, and we know that they go on to become forces for good. Through our tradition of academic excellence and our commitment to faith and service, our students become counter-cultural contributors to society with the confidence to lead, the competence to see, and the courage to act.
Our students are empowered leaders inspired by the Gospel. They are purposeful and intentional in their devotion to bringing hope and change to the world by helping those in need on the local, national and international levels. Their deviation and passion continues long after their high school year. Thanks to the rigorous curriculum we provide at Bishop McNamara, our students think creatively, and crucially; they embody strong morals and exhibit their own self-awareness and understanding of faith; they gain an appreciation for a broad range of disciplines and subjects; they come to embrace differences in culture - in short, our students become informed, formed and transformed throughout their Bishop McNamara education.
6
Our students will: • Achieve academic excellence • Develop strong faith and morals • Commit to formation of self • Actively seek transformation of society • Pursue service and justice 873 STUDENTS 2021-22 SCHOOL YEAR 218 FRESHMEN 215 SENIORS "I truly believe that McNamara has something for everyone, and there is a true sense of belonging that resides here. Students and families can count on this being a nurturing environment that meets students where they are while also preparing them for a life full of choice." Ms. Isadore, Director of Enrollment Management COUNTIES REPRESENTED in the11 DMV District of Columbia / Maryland / Virginia •••••••••••••••••
Academic Excellence
our rigorous, college-preparatory curriculum,
McNamara High School educates the minds and hearts of each and every student in a thriving, inclusive
community.
make sure to provide engaging, hands-on, inquiry-based
opportunities for our students beyond the classroom, including internships, online learning opportunities, guest speakers, field trips and even chances for students to travel abroad and experience other cultures first-hand.
What is
however,
and that's
the
McNamara
a way that is not similar to
want to succeed,
different —
When
propel you. The word that best
you
the same
fall,
a
With
Bishop
Catholic
We
learning
7 The growth and changes that happen in high school are essentially
for
teenager.
different,
is
environment in which the teenager experiences high school,
where
is
here
are cared for and educated in
other high schools.
you
we catch you. When you
we
describes our vibe is simply, love.
Emily Koenick English Teacher, Bishop McNamara High School
MORE THAN 190 COURSES OFFERED 47 Honors Courses 15 Advanced Placement Courses 5 Modern & Classical Languages DID YOU KNOW? The distinguished faculty and staff of Bishop McNamara average 14 years of professional experience in their respective fields, with 64% holding advanced degrees. 10:9:1 STUDENT-TEACHER -CLASSROOM RATIO S.T.E.A.M. PROGRAMS 1:1 EDUCATIONAL DEVICE PROGRAM & TECHNOLOGY INTEGRATION Providing a modern, innovative and inspirational next generation education
Faith & Service
Bishop McNamara is proud of its Catholic identity and Holy Cross heritage. We are committed to providing opportunities for our students to live out the Gospel message and put into action the Catholic Social Teachings. As a part of that commitment, our students complete hours of community service to a variety of people in need. These service experiences are designed to help our students go beyond the required hours and build a habit of serving their communities.
Prayer is woven into the fabric of the Bishop McNamara experience. We begin everyday together - taking a moment to pause, center ourselves, and offer our day to God. Additionally,
our students participate in monthly, schoolwide liturgies and participate in an annual retreat that is reflective of our core values. Our Campus Ministry department strives to create meaningful experiences for our students in order "to make God known, loved, and served."
Our goal is to create spaces where students can reflect on and process their everyday lives through the lens of spirituality. We do this through the formal programming mentioned above, but we also do this by being available to our students informally between classes or before or after school.
CLASS RETREATS
Each BMHS student attends a retreat every year. Freshman year it is apart of the orientation, sophomore year students focus on respect and bravery, junior year student attend a 3-day Kairos retreat, and senior year focuses on bringing hope in the next chapter. These opportunities are designed to provide time for spiritual formation, class fellowship, and greater understanding of themselves.
HOLY CROSS SERVICE PROGRAM
Guided by love of neighbor and the work of social justice, students are encouraged to move out of their comfort zones as they seek to help those in need.
M.E.L.T. —
McNAMARA EMERGING LEADERSHIP TRAINING
MELT stands for McNamara Emerging Leadership Training. It is a leadership training program for rising juniors and seniors during the summer that exists to aid in the formation of leaders who will serve the school and their communities. Participating students also help to plan and conduct the Freshman Experience in August, and are expected to help the school community by infusing their various activities with the leadership skills they have gained.
PEER MINISTRY
Students who are selected for the Peer Ministry program and choose to enter it spend their entire Senior year in a course primarily focused on their personal growth as communicators, leaders, and persons of faith and justice. Although the course is the central focus of the Peer Ministry program, students also attend a Peer Ministry Retreat in August, mentor the freshman class through visits to their Theology classes, set up and usher for several of the school Liturgies, and serve as student leaders at the Junior Kairos Retreat.
SERVICE TRIPS
Once a year, Campus Ministry takes a small group of students to the Romero Center in Camden, New Jersey. The 4-day, 3-night Urban Challenge program leads students through a variety of reflective and educational activities while also providing an opportunity to volunteer in Camden and the surrounding area.
"With eyes of faith consider the greatness of your mission and the wonderful amount of good which you can accomplish."
Fr. Basile Moreau, Christian Education, 1856
8
Technology & Innovation
Through our expansion of our science curriculum and of our spaces such as the CITE (Creativity, Imagination, Technology, Education) Lab, Bishop McNamara High School is working towards a new era of S.T.E.A.M. education for our students. We were proud to launch a Foundations of Engineering class to give students hands-on opportunities to learn about the basics of programming and engineering. Students interested in working with technology and computers are able to attend class and spend free periods in our CITE Lab. Under the instruction of four knowledgeable faculty and staff, students are able to design pieces they want to create with our stateof-the-art 3D printer, or learn how to program Raspberry Pi handheld computers. We have found that if students are able to do the hands-on work themselves, their interest in the subject matter skyrockets!
To help students learn different applications and uses of technology, we have implemented a 1:1 educational device program at the School – teachers utilize online assignments and classroom activities, while students store presentations and assignments that are more easily accessible. This has encouraged more group-based work and cooperation between students when handling projects.
The classroom of the past featured lecture-based learning where the teacher was the primary focus of the room. As we have seen from student interaction and our classrooms and teaching style development, the classroom of the future will focus on the student. Studies have shown that each child learns differently, and re-arranging the workspaces in the classroom encourages students to learn through group discussions with their peers and sharing experiences and reflections based on shorter lectures provided by the teacher. Through this new method of teaching, students are able to provide more input in the lessons they want to learn – and thus feel more empowered to contribute during class – while simultaneously absorbing the information necessary to succeed in our college-preparatory education.
INNOVATION and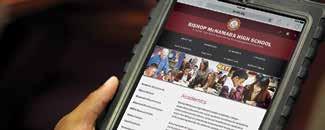 9 S.T.E.A.M.
Athletic Pride
Bishop McNamara High School maintains a proud tradition in athletics. We expect our athletes, coaches and fans to represent the student body and the Bishop McNamara community by displaying the highest standards of sportsmanship and self-discipline. The Athletics Department at Bishop McNamara educates the whole person, not just the athlete. As an extension of the classroom, athletics at Bishop McNamara instill Christian values on the playing fields, in the classroom and in the community. Bishop McNamara High School provides a variety of sports and athletic programs for our students. Our student-athletes are driven by core values of faith, dignity, determination, sportsmanship and teamwork. While
many student-athletes continue their athletic
the collegiate level, and some even at the professional level, the times they cherish most are the times they spent here at Bishop McNamara. The bonds they form here remain with them long after graduation, making them Mustangs for L.I.F.E. - Leadership, Integrity, Faith and Excellence.
BMHS Athletic Programs
FALL
Cheerleading - Co-ed JV, Varsity Cross Country - Co-ed Varsity Dance Team - Girls Varsity Football - Boys Freshmen, Varsity Soccer - Girls JV, Varsity Soccer - Boys JV, Varsity Tennis - Girls Varsity Volleyball - Girls JV, Varsity
WINTER
Archery - Co-ed Varsity Basketball - Girls JV, Varsity Basketball - Boys Freshmen, JV, Varsity Cheerleading - Co-ed JV, Varsity Dance Team - Girls Varsity Indoor Track & Field - Co-ed Varsity Swimming & Diving - Co-ed Varsity Wrestling - Co-ed Varsity
SPRING
Baseball - Boys JV, Varsity Golf - Co-ed Varsity Lacrosse - Girls JV, Varsity Lacrosse - Boys JV, Varsity Outdoor Track & Field - Co-ed Varsity Softball - Girls JV, Varsity Tennis - Boys Varsity
Class of 2022 Athletic Commitments
Jordan
Favour
Brock
Nickolas Butler-Simpson '22 (Track) - University of Michigan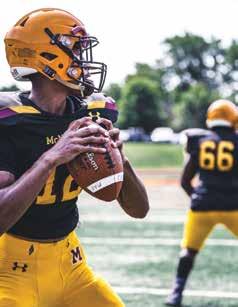 Gia Cooke '22 (Girls Basketball) - University of Maryland
Marcus Goodley '22 (Boys Soccer) - St. Joseph's University
Cameron Jones '22 (Baseball) - University of Maryland
Natalia Kebange '22 (Softball) - Gettysburg College
Mya Lee '22 - Elon University
MaKayla Marbury '22 (Softball) - North Carolina
State University
Francesca Smith '22 (Girls Lacrosse) - Shorter University
Bryce Thompson '22 (Baseball)
- Christopher Newport University
Yonta Vaughn '22 (Girls Basketball)
- West Virginia University
Cody Webb '22 (Football)
- Tennessee State University
Quincy Williams '22 (Football)
- Wake Forest University
Isaiah Woodley '22 (Football)
- Bowie State University
10
pursuits at
Adams '22 (Football) - Stevenson University
Aire '22 (Boys Basketball) - University of Miami
Butler '22 (Football) - Stonehill College
51% 22 of the student body are student-athletes participate in more than one sport34% WITH boys and girls varsity sports and athletic programs to offer, BISHOP McNAMARA is a proud participant in the highly-competitive Washington Catholic Athletic Conference
The Fine Arts Department at Bishop McNamara offers one of the most comprehensive arts programs within a college preparatory curriculum in the Washington, DC region. Our large musical ensembles, intimate dance classes, theatrical productions, and art studios offer comfortable, rewarding, and fun, yet challenging environments for all participating students. Creativity, discipline, and self-expression are essential components to a Bishop McNamara Fine Arts education. Our Fine Arts Programs are uniquely placed in both the academic and co-curriculuar life of the school. We offer courses and performance opportunities in dance, music, theatre, and visual arts. The Fine Arts Department faculty are practicing artists and professional teachers who share a love, passion, and vocation to teach. Talent in the Arts 11 BISHOP MCNAMARA HIGH SCHOOL BISHOP MCNAMARA HIGH SCHOOL BAND AND ORCHESTRA Concert Band Symphonic Band Wind Ensemble String Orchestra Jazz Ensemble Percussion Ensemble Honors Musical Pit Orchestra Athletic Pep Band CHOIR Concert Choir Chorale Chamber Choir Vocal Jazz Ensemble Show Choir CLASSICAL DANCE Classical Dance I, II, III, & IV Tap I, II, III, & IV STUDENTS PARTICIPATE IN FINE ARTS Dance TheatreMusic Visual Arts 450 170 75190 180 •••••••••••••••••••••••••••• TRADITIONAL AFRICAN MUSIC AND DANCE Traditional African Music & Dance I, II, III, & IV Sankofa Ensemble THEATRE Introduction to Theatre Theatre Technology Acting Advanced Acting Musical Theatre Repertoire Honors Great Stages of Drama Fall Musical Production Spring Play Production VISUAL ART Drawing Color Advanced Drawing Digital Art Advanced Digital Art AP Studio Art: 2D Photography *Honors credit option is available for advanced students in all genres. Honor Society Music - Tri-M Music Honor Society Dance - National Honor Society for Dance Arts Theatre - International Thespian Society The Fine Arts Diploma Endorsement (F.A.D.E) program is unique to the Bishop McNamara High School Community. This program serves to refine students' talent and skills, cultivate a community of respect, appreciation, and understanding of the arts, and acknowledge students' dedication to the FIne Arts throughout their high school career.
Through our Holy Cross, college-preparatory
Bishop McNamara High School
challenged
think creatively and critically, ask thought-provoking
and solve problems concerning local, national and international issues. Our students are instilled with the confidence to see and the courage to act; they collaborate with others to put their academic, personal and academic skills to use in facing these challenges. Through service learning and campus ministry opportunities, students explore and reflect on their personal faith. Through this foundation, our students go on to embody strong morals to face difficult decisions and act in a manner which reflects an understanding of the dignity God affords all people. They feel a commitment and social responsibility to help those in need, and learn to appreciate cultures and backgrounds different from their own.
These teachings remain with them long after graduation. Bishop McNamara High School students don't just learn skills and study habits that are only useful in the classroom, they also learn how to be good people; servant-leaders committed to solving problems and embracing others - regardless of cultural differences.
McNamara
Paul O'Brien, Theology
4-YEAR COLLEGES & UNIVERSITIES 92% Public: 70% Independent: 22% Catholic: 8% 2-YEAR COLLEGES 3% OTHER 5% 12 "I love how our students truly develop a thirst for justice. Our kids often become very active in causes that promote a greater society. In a world torn apart in so many ways, our kids truly become active, bringers of hope."
Teacher
curriculum,
students are
to
questions
Our Graduate Profile Bishop
High School Class of 2022 Profile: COLLEGE ACCEPTANCE 95% RATECLASS OF '22 ACADEMIC STATISTICS BMHS $22+ MILLION GARNERED IN SCHOLARSHIPS AND FINANCIAL AID 77% 46.7%••••••with a GPA of 3.0 or higher On average our SENIOR CLASSES EARN more than 21,000 COMMUNITY SERVICE HOURS enrolled in one or more AP course
CARPOOLS:
Bishop McNamara High School partners with CarpooltoSchool, an online carpool service that's fast, easy, and secure. For more information and registration, visit CarpoolToSchool.com.
BUS TRANSPORTATION
INFORMATION:
Bishop McNamara partners with the following companies to help our families find the best transportation options that work for your convenience.
• JMM Transportation - 301-906-0147 jmm.distributors21@gmail.com
• Street Transportation Services - 301-254-4160 streetconstructiongroup@yahoo.com
• Capital Area Transportation - 301-437-1031 CATEShaythe@gmail.com
• Student Transportation Logistics (formerly the Student Shuttle) - 240-736-8276 studenttransportationlogistics@gmail.com For more information, please contact admissions@bmhs.org
METRORAIL AND METRO BUS
Please contact WMATA for exact routes, times, and fees. Possible routes may take you to the Suitland Metro Station (where you may take the K12 bus) or the Addison Road Metro Station (where you may take the J12 bus to the stop across the street from our school).
Routes and stops may change from time to time, so we recommend visiting www.wmata.com or the WMATA app for the latest information.
LIST OF CITIES OF CURRENT STUDENTS
Accokeek Alexandria, VA Annapolis Arlington, VA Baltimore Beltsville Bladensburg Bowie Brandywine Bryans Road Capitol Heights Cheltenham
Chesapeake Beach Cheverly Churchton Clinton College Park Columbia Crofton District Heights
Dunkirk Forestville Fort Washington Gambrills Germantown Glen Burnie Glenarden Glenn Dale Greenbelt Hughesville Huntingtown Hyattsville
Indian Head
Joint Base Andrews Landover Lanham Largo Laurel Lothian
London, England (UK)
Mitchellville
New Carrollton Oxon Hill Pomfret
Port Republic Saint Leonard Seabrook Seat Pleasant Silver Spring Springdale Suitland
Temple Hills
Upper Marlboro Valley Lee Waldorf Washington, DC White Plains
13
Transportation
The Admissions Process
CREATE YOUR MACCESS ACCOUNT
Whether you are adding your name to our mailing list, scheduling a visit, or submitting an application, you must first create a MACCESS account. Your MACCESS account is the portal that will house all documents related to the admissions process. From your account you will be able to:
• Submit an application
• Download forms and upload documents
• Register for all admissions events
• See your admissions progress and decision
• Access important information
LOG INTO YOUR ACCOUNT
Once you submit an inquiry, you will receive an autogenerated email inviting you to activate your account and set up your password (please check your spam folder). Your username will be the email address you used to set up the account.
Once your account has been created, our staff will assign a checklist based on the information you provided. If for some reason you do not receive an email with login instructions, please contact us at admissions@bmhs.org.
ACCESS YOUR CHECKLIST
When you log in to MACCESS, you will see an Admissions Progress Page with a checklist of items to complete so the Admissions Team can evaluate your student.
Details and documents to download are available and accessed by clicking on each checklist step. The checklist does not have to be completed in the order listed.
In order to mitigate any delay with processing your student's application and issuing an admissions decision, please be sure to review your checklist frequently to ensure that all of the required steps are completed and all documents have been provided in the designated format.
We invite you to visit our Admissions page to get your journey started! www.bmhs.org/admissions
14
Should you have any admissions questions, please email us at admissions@bmhs.org.
Start Your Journey Today!
15
Bishop McNamara High School 6800 Marlboro Pike, Forestville, MD 20747-3270 PH: 301-735-8401 | FAX:301-735-0934 Questions? | Contact Us Stay connected with Bishop McNamara! Visit our website: www.bmhs.org You BELONG Here Educating the whole personspiritually, intellectually, artistically, physically and socially. Kendall N. Isadore Director of Enrollment Management Deanna Warnock Assistant Director of Admissions Rashad Wilkerson Assistant Director of Admissions Contact Us! admissions@bmhs.org