Design Anthology UG7
Architecture BSc (ARB/RIBA Part 1)
Compiled from Bartlett Summer Show Books
Our Design DNA
At The Bartlett School of Architecture, we have been publishing annual exhibition catalogues for each of our design-based programmes for more than a decade. These catalogues, amounting to thousands of pages, illustrate the best of our students' extraordinary work. Our Design Anthology series brings together the annual catalogue pages for each of our renowned units, clusters, and labs, to give an overview of how their practice and research has evolved.
Throughout this time some teaching partnerships have remained constant, others have changed. Students have also progressed from one programme to another. Nevertheless, the way in which design is taught and explored at The Bartlett School of Architecture is in our DNA. Now with almost 50 units, clusters and labs in the school across our programmes, the Design Anthology series shows how we define, progress and reinvent our agendas and themes from year to year.
2022 Taking Stock
Joseph Augustin, Christopher Burman, Luke Jones
2021 A New Brave World
Pascal Bronner, Thomas Hillier
2020 Voyages Extraordinaires
Pascal Bronner, Thomas Hillier
2019 Surrender to the Seasons
Pascal Bronner, Thomas Hillier
2018 Wasn't the Future Wonderful?
Pascal Bronner, Thomas Hillier
2017 The Drowning Crescent
Pascal Bronner, Thomas Hillier
2016 Time goes, you say? Ah no, alas, time stays, we go
Pascal Bronner, Thomas Hillier
2015 Neighbourhoods of Infinity: Pre- and Post-Quake San Francisco
Pascal Bronner, Thomas Hillier
2014 Short Stay
Ming Chung, Nick Tyson
2013 Workshop Cultures Ming Chung, Nick Tyson
2012 Making the City Ming Chung, Nick Tyson
2011 Manufactured Landscapes
Scott Grady, Tomas Stokke
2010 Threat = Adaptation Agnieszka Glowacka, Tomas Stokke
2009 The Empire of Architecture: Obsession and Obstruction Dan Brady, Jan Kattein
2008 East
Dan
Brady, Jan Kattein
2007
Welcome to Slowtown
Dan Brady, Jan Kattein
2006
Welcome to Slowtown
Dan Brady, Jan Kattein
2004 Architecture and Urban Agriculture Chris Groothuizen, Stephen Tierney
Taking Stock
Joseph Augustin, Christopher Burman, Luke Jones
2022
7.1
Taking Stock
Joseph Augustin, Christopher Burman, Luke Jones
This year UG7 explored the production of building materials and its role in architectural form-making. The unit understands that this relationship exists across incompatible scales. Commodity supply chains and sites of production form planetary-scale networks of logistics, trade and finance. 'Architecture', at the scale of building, space and inhabitation, is innately local, anthropometric and part of everyday life. The relationship between one scale and another is itself a design problem.
We began the year working with a set of design methods, mapping scenarios of material flows and future material cultures alongside tectonic studies of building elements and spaces, to create an immediate connection between global environmental impacts and architectural fundamentals. Each student selected a material and mapped its supply chain and environmental impacts, then developed an agenda for a specific 'tectonic' form of construction, based around its innate capacities.
In term two the unit moved its focus to Peterborough. Situated on the northern fringe of London's commuter rail network, it is home to about 200,000 people and is the UK's fastest growing city, despite simultaneously being regularly voted as the 'worst place to live'.
A medieval town transformed by its nodal position in transport networks, Peterborough is a former centre of brick production with abundant local stone resources. Set on the edge of a Fenland landscape – waterlogged, flat and vulnerable to flooding – it is also prosperous, connected and historic. Our field trip to the city included visits to several local material producers, limestone quarries and stone businesses. Its centre exhibits all the deficiencies of 20th-century UK urban planning; a ring road, endless car parks, a huge shopping centre, suburbs and multiple supermarkets. It has significant social issues, as well as enormous energy, diversity and potential.
As such, the city provides a model for thinking through how architecture might reconstruct itself as an agent of environmental transition. The year culminated in projects exploring the notion of the 'basic building', challenging students to develop an architecture that renegotiates the technical complexity and impact of the contemporary construction industry, reprioritising materiality and reconsidering the civic identity that might emerge.
Year 2
Sarah Bibby, Shing (Bertha) Ho, Fatim Kamara, Hui-Shan Low, Esma Onur, Alexandria Pattison, Gabriela Sawicka, Emily To, Jade Wong, Zaynah Younus
Year 3
Nasser Al-Khereiji, Monika Buranasetkul, Anna Dixon, Alannah Fowler, Marten Hall, Natthasha (Ying) Jintarasamee, Yan (Johnson) Lam
Technical tutors and consultants: Simon Beames, Oliver Houchell
Critics: Alina Kvirkvelia, James Green, Tom Ushakov
Special thanks to Daniel Wilson and the team at Stamford Stone and Alexandre Bertrand at The Stone Masonry Company
109
UG7
7.1–7.2 Sarah Bibby, Y2 'A Round Town'. The project presents an urban strategy to be implemented in the city of Peterborough by 2066. To reconnect the city to natural material cycles, a masterplan is created through a system of round-wood components which redefine civic space. The design favours small personal infrastructures that can be quickly assembled and deployed to promote the continuous circulation of civic life at different levels within the city.
7.3–7.4 Nasser Al-Khereiji, Y3 'Solar Mosque of Peterborough'. In consideration of the 2066 demographic projections for Peterborough and the UK as a whole, the project proposes the introduction of a new civic building of religious significance in the form of a mosque. Like the nearby cathedral, the new central mosque is constructed predominantly of stone from the surrounding quarries, exploring contemporary production methods.
7.5, 7.12 Monika Buranasetkul, Y3 'Architecture of Waste'. A culinary school provides the site for investigations into how different types of local food waste could influence the spatial design of a building. Experimenting with the production of bio-based materials using different binders, a series of building components such as wall panels, tiles or windows sit alongside temporary pavilions, demonstrating the reuse of seasonal waste.
7.6, 7.13 Anna Dixon, Y3 'Technopera 2066'. In the year 2066, Peterborough is dominated by the industrial coalition. The coalition, led by the self-titled 12 Monks, grew the industrial outskirts from barren edges to an overwhelming sprawl towards Peterborough's medieval heart. This unceasing growth disaggregated the community and culture of the city, and now threatens its last vestige of history and heritage, Peterborough Cathedral.
7.7, 7.9 Alannah Fowler, Y3 'Artichokey Yard'. The yard is a social housing programme for the more vulnerable inhabitants of Peterborough, to help tackle the issue of homelessness and heal the community after the effects of the closure of the Warming Rooms homeless shelter and the Covid-19 pandemic. Integral to the project is its application of clay and ceramic features throughout the building's design and structure. Extruded clay blocks are used as the main building component, with additional features that demonstrate the possibilities of extrusion as a primary method of fabrication.
7.8, 7.17 Yan (Johnson) Lam, Y3 'Recycling Tyres into Architecture'. Every year large volumes of rubber tyres are wasted without being recycled, polluting and damaging our environment. This project uses recycled rubber crumb from rubber tyres as an architectural material. Proposals seek to address issues of energy use which are intensified by the UK's poorly insulated building stock, by proposing an alternative rubber wall build-up with structural and thermal qualities.
7.10, 7.24–7.25 Alexandria Pattison, Y2 'The Eco-Hub'. A community resource centre provides a place for hands-on agricultural education, grow spaces, greenhouses, workshops and a tool library. Panelised and volumetric hempcrete modules are designed to be produced off-site and quickly assembled in place. Since the Covid-19 pandemic, many people have realised that access to clean air and the ability to socialise are important factors of life that had previously been taken for granted.
7.11 Shing (Bertha) Ho, Y2 'Nene Railway Museum'. Located along the south bank of the River Nene, the scheme is situated between the East Coast Mainline and the Nene Valley Railway, a steam-hobbyist line. The project adds onto the current museum and terminus and utilises engineered timber, drawing inspiration from neighbouring half-timbered buildings and historical steel structures.
7.14 Gabriela Sawicka, Y2 'International Language Cinema'. A new cultural site is proposed at the heart of Peterborough, showcasing international cinema as a starting point for language and cultural exchange. A timber frame construction with locally sourced stone and large mycelium infill panels provides an acoustic environment optimised for speech and performance.
7.15 Natthasha (Ying) Jintarasamee, Y3 'The Olfactory Sensory Experience of the Making of Gin'. Through the creation of a gin distillery and infusion bar, the project commits to the development of 'vibrant Peterborough' as in the 2016–2036 development plan. A programme of microdistilleries and infusion labs is created in addition to private accommodation and facilities to provide a complete weekend learning experience for gin lovers.
7.16 Fatim Kamara, Y2 'Three Saints Village'. The project provides refuge to flood victims in Peterborough. In 2066, the east of the city is seasonally flooded due to its proximity to the River Nene. The cathedral grounds are predicted to escape regular flooding, as its land level is slightly higher and natural vegetation reduces surface run-off. The grid is responsive to needs and provides supportive communal areas for both short and longer-term residents to gather and live comfortably within the safety of the cathedral walls.
7.18–17.21 Marten Hall, Y3 'The Total Spoliation of Whitworth Mill, 2022–2066'. This project approaches existing disused buildings as valuable building stock. The entirety of the building's fabric is treated as spolia, with total reuse enforced. This is an opportunity for a carbon-neutral design and construction, with a closed cycle of deconstruction and construction. The site is positioned as an urban quarry, with the extraction of segments of building approached as though they were quarry blocks. The choice of a decommissioned flour mill in Peterborough as both site and stock enables a proposal that labours over how a building is replaced, as well as how a new building is designed.
7.22 Esma Onur, Y2 'River Nene Inhabited Bridge'. The inhabited bridge across the River Nene creates a new kind of civic space within the city. The site is located at a distance from supermarkets and restaurants. The inhabitable bridge provides a mixture of food kiosks and dining areas as an alternative space for workers and residents, while its architecture explores composite clay construction methods.
7.23 Hui-Shan Low, Y2 'The Bamboo Bathhouse'. Thermal bathing rituals and modern hydrotherapy are understood to help cure and relieve physical and mental distress. In line with traditional therapies, the bathhouse creates a space for relaxation of the soul, the body and the mind. The design of the bathhouse showcases contemporary and traditional construction techniques associated with an emerging bamboo supply chain.
7.26 Emily To, Y2 'Boats of a Feather Flock Together'. The Boston to Peterborough wetland corridor will create greater connections between the North and South of the Fen District. Anticipating the completion of the new connection by 2066, the boaters' station accommodates an influx of leisure boats coming into Peterborough. The station acts as a rest stop and space for boaters to connect, offering key facilities, including a boat maintenance area that is central to the building. Integrated birdhouses provide a site for the cultivation of existing ecologies.
110
111 7.4
7.3
7.2
112 7.8 7.5 7.6 7.7
113 7.10 7.9 7.11
114 7.13
7.12
115 7.17 7.14 7.15 7.16
7.18
117 7.21 7.19 7.20
118 7.23 7.22
119 7.25 7.26 7.24
A New Brave World Pascal Bronner, Thomas Hillier
2021
7.1
A New Brave World
Pascal Bronner, Thomas Hillier
As we technologically advance at a blistering pace, we leave in our wake a devastating and ever-growing trail of destruction that scars our landscapes and destroys our fragile ecologies. From enormous rubbish gyres in the Atlantic Ocean to mountains of radioactive mining waste in Florida, and Amazon's imposing global fulfilment centres, nowhere is left untouched by human impact.
While achieving this wonderful life of comfort and luxury, our ability to create such monstrous objects is only outdone by our skill in covering up these collective sins. We sweep them under Earth's carpet, leaving large parts of our planet virtually uninhabitable. But what if there is a second life for these scars? What if they can be reconfigured for a new world? Could they become new sites? Could their histories and obsolete technologies help develop a new architectural language?
These continue to be unprecedented times, where lockdowns and travel restrictions affect us all; however, this should not stop discovery. For UG7's field trip, the world was the student's oyster. They could travel far and wide, to the ends of the Earth and back, just not in person but, rather, in mind and spirit. While on this virtual field trip, they constructed and assembled a new world around them, creating semi-fictional diaries that regaled us of their travels to sublime and alien landscapes of human ruin.
While their field trip was used as a launchpad to develop a unique mode of thought and new forms of representation, their second project was as much about methods as it was the result. The students explored how the agency of drawing can be used to communicate ideas and tell stories. We asked the students to envisage and create a new architecture of joy, built from a world of ruin. The stories, sites and outcomes from the field trip became the prologue to the main building project. Architectures were propelled into a new realm that fed on the technological advances (or mistakes) of the past and were extrapolated into a brave new building typology for the future. As always, the work aimed to embody the unit's agenda of craft, experimentation, wonder and delight, with drawings becoming real places in an effort to explore and construct architectures entirely within the confines of the student's workplace.
Year 2 Nana Boffah, Oi Lam (Tiffany) Chin, Christian Coackley, Daniel Collier, Glory Kuk, George Neyroud, Joe Russell, Jiahui Zhang
Year 3
John Clayson, Alvin Lam, Michela Morreale, Yasmin North, Sevgi Yaman, Kelvin Zhang
Thank you to our technical tutor Martin Reynolds and computing tutor Sean Allen
Critics: Simon Beames, Amy Croft, Katerina Dionysopoulou, Nick Elias, Tom Greenall, Oliver Houchell, Neil Hubbard, Billy Mavropoulos, Alex Smith
99
UG7
7.1 John Clayson, Y3 'A(lice) I(n) www.onderland'. This project charts the tale of Alice, the White Rabbit and the adventures of the Queen of Hearts in www.onderland. Using Lewis Carroll's Alice's Adventures in Wonderland (1865) as a basis, the architecture explores how the relationship between the physical and the virtual can manifest, building on the idea that humans and machines are beginning to inhabit the world in a similar way. The building is a privatised data bank in which material stored on servers can be organised and experienced, and symbolically protected through VR by the bank's wealthy clients, in a virtual landscape known as www.onderland.
7.2 George Neyroud, Y2 'Shadow Chorography'. Betrayed by the state, feeling neglected and lost, sculptor Hennie Smit absconds from Johannesburg. He stumbles across Laanglate, a former goldmine left abandoned and in ruin. Inspired by his surroundings, Hennie begins to inscribe into this scarred landscape a new language of notation. In a barren terrain of dust and decay, each building fragment becomes a new landmark for Hennie to decipher and reconfigure. He follows the lines he has carved into the surface, placing clay-coated skeletons formed from the ground beneath his feet to provide a dark, shadowed refuge from the relentless sun beating down on him.
7.3–7.5 Oi Lam (Tiffany) Chin, Y2 'The Column of Farnsworth'. Located on the site of Mies Van der Rohe's Farnsworth House (1951), 'The Column of Farnsworth' is an archive of (re)collection that stores objects, smells, sounds and tastes to evoke long lost memories for those who visit. The engrained narratives built into the historic columns, alongside modernism's rejection of ornament, are intentionally aligned to provoke and create a new tectonic in the form of a 250-metre-tall column comprised of 25 columns. Each one is delicately carved to create a series of surreal and immersive internal spaces.
7.6 Joe Russell, Y2 'The Great Recognition'. The project explores the negative long-term effects of the Covid-19 pandemic on public mental health and proposes a need for a mental health revolution. Inspired by the Great Exhibition of 1851 – a celebration of industry emblematic of the economic and technological advancements of the 19th century – the project celebrates openness and kindness around issues of mental health to help combat a mental health crisis in the 21st century.
7.7 Daniel Collier, Y2 'The Aral Cathedral'. The project takes place in the year 4021, 1,500 years after the fall of the last great Aral Giant, a lost civilisation that designed their architecture to move and retreat with the rapidly rising sea levels surrounding the Aral Sea. After the unearthing of new and largely intact archaeological remains of a fallen Giant, a new group of sectarian religious scientists have attempted to revive the worship of the Aral people by reanimating the newly discovered relic, in order to reconnect us with its functionality and true meaning.
7.8 Glory Kuk, Y2 'The Whale Monastery'. Nestled within L'Esperance in the South Pacific, and cast from the whale bones scattered across the site, 'The Whale Monastery' lies at the heart of this graveyard landscape within the island's central volcanic crater. A building created for silence, the denizens of this place walk silently and softly across the sand-covered ground to heighten the sound of the surrounding ocean. Sound tunnels weave through the island and into the building, capturing the sombre songs of the whales that swim nearby.
7.9 Jiahui Zhang, Y2 'The Craft Chronicles of Shaxi'. Located in Southwest China, on the Ancient Tea Horse Road, sits the village of Shaxi, famed for its rich tradition in ceramic-crafting techniques, seen by many as a symbol of escapism from the surrounding cities.
At the centre of a circular cornfield on the edge of the village lies 'The Craft Chronicles of Shaxi', a new building that takes visitors through time, reinterpreting and reinvigorating these crafts for a new generation.
7.10 Yasmin North, Y3 'A Shrine to a Priori'. To represent the idea of a greater transience this non-denominational shrine to faith captures the sublime – power and greatness beyond measure and calculation. It is through a philosophical enquiry into the sublime and the beautiful that their parameters are understood and explored. Concepts of the obscure, the uncanny, the power of nature, suddenness and light are used to overwhelm the occupant's emotions and provoke the greatness of the divine.
7.11 Nana Boffah, Y2 'At the New Road'. Vancouver Island is situated on the West Coast of British Columbia. Like most of British Columbia, Vancouver Island was once covered by rainforest. Over the past 50 years 96% of these rainforests have been heavily logged. This project contributes to the transition from old-growth to secondgrowth logging by providing a reforestation facility where trees are cultivated to reforest clear-cut areas. This helps to preserve the ancient forests and satisfy environmental groups, while providing enough trees for controlled logging in the future.
7.12 Sevgi Yaman, Y3 'Cappadocia's Overground City'. Located above the UNESCO World Heritage site in Cappadocia lies the 'Overground City', a new floating world dedicated to the environmental protection of the natural wonders below. The project provides a cloud-like protective blanket that increases the area tourists can visit and protects the unique icons of the underground city formations and fairy chimneys that lie beneath.
7.13 Kelvin Zhang, Y3 '2021_A Nemo Odyssey'. Located at Point Nemo in the South Pacific Ocean, the Nemo Space Archive – a floating island four times the size of the UK – sits in the most remote location on Earth. Also known as the Oceanic Pole of Inaccessibility, the building is more than 3,000km away from the nearest coastline. The project responds to the environmental impact of the modern day space race by proposing an architecture that retrieves, recycles and archives the excessive amounts of space debris left in the Earth's orbit over the last 60 years.
7.14–7.16 Alvin Lam, Y3 'The Quiet Corner'. A film set inspired by The Truman Show (1998) that explores the poetry of longing for home through architecture. Sited in Hong Kong's Mong Kok district, which translates as 'busy corner', a single street is enveloped with a cagelike structure and is converted into a series of film sets. In a touching yet delusional frenzy, the architect (the protagonist) places themselves within the film in the hope of finding comfort in the virtual world they have created.
7.17 Christian Coackley, Y2 'Second Chance'. The project speculates on the revival of the revolutionary ideals embodied by the late John F. Kennedy (1917–63), 35th president of the United States. JFK is associated with the space race, technological power, the Cold War, unification and integration, idealism, romance, prospect, false hope, failure and his death, leaving his legacy in mystic and allegorical ruin. The ruins of a failed lunar colony base serve as the foundations for a newly constructed Earth Embassy on the Moon. An outpost at an urban scale, where the nations of Earth can send diplomats and scientists to engage in a united effort towards undoing the scars of the anthropogenic. It serves as a reminder to this generation and the next that Earth does not belong to man: man belongs to Earth.
100
7.2
102 7.6 7.3 7.5 7.4
103 7.7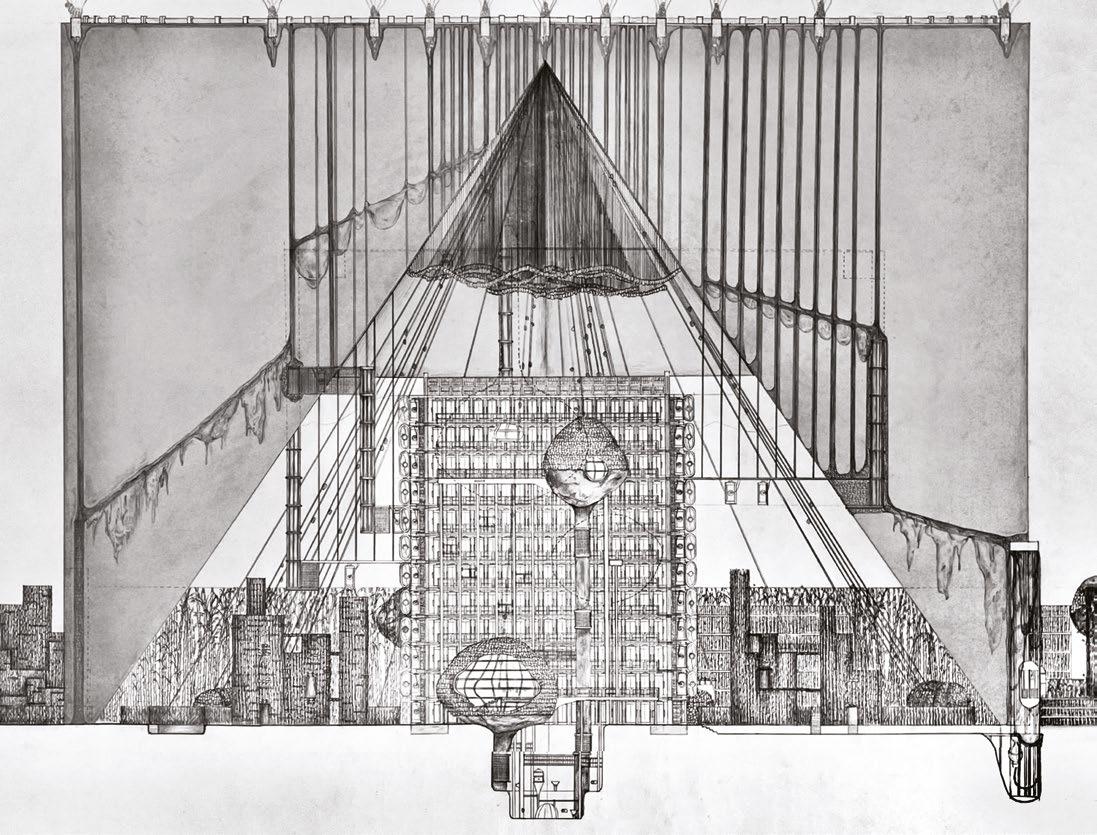 104 7.9 7.8
7.10
106 7.12 7.11
7.13
108 7.16 7.14 7.15
7.17
Voyages Extraordinaires
Pascal Bronner, Thomas Hillier
2020
7.1
Voyages Extraordinaires
Pascal Bronner, Thomas Hillier
2020 marked the 150th anniversary of Jules Verne's seminal novel 20,000 Leagues Under The Sea. To celebrate this, UG7 sought inspiration from the writings of Verne, writings that had a profound influence on the trajectory of science fiction as we know it. Known as the second-most-translated author in the world, Verne's work influenced writers from Jean Cocteau to Arthur C. Clarke, with his work foreseeing the arrival of submersibles, flying machines, skyscrapers and the moon landing.
As architects, we have a responsibility to dream and imagine a future unknown to us all. Buildings last for years, decades and even centuries. Without the imagination, and a curious impulse to discover the way we might live in the future, the buildings that we design and build today will be vacuous tomorrow.
To explore these new architectural futures, the unit travelled to the 'Space Coast' – Cape Canaveral, Florida. NASA's immense space launch campus was host to the first Apollo flights, with Apollo 11 paving the way for the first moon landing. Littered with over 40 largely inactive launchpads, alongside NASA's Vehicle Assembly Building – the largest single-story building in the world – this site of human space flight truly is a Vernean paradise.
Before this journey, and in preparation for it, the students adopted one of Verne's 54 timeless stories from the series of Extraordinary Voyages. With book in hand, they were asked to explore, draw, map and classify the elements within and examine, extrapolate and reinterpret its events, characteristics and technologies to start creating a new world of their own making. Through rigorous research and simultaneous speculation they each wrote their own narrative and developed Vernean-inspired architectural interventions that focused on applying crafted drawing techniques in order to deliver a highly articulate architectural vision.
This vision was used as a launchpad for students to develop a unique mode of thought and new forms of representation, allowing them to explore how the agency of drawing could be used to communicate ideas and tell stories. It became a key tool in aiding their spatial narratives and speculations on their future building typologies. Their architectures could be wholly fantastical or a distortion of what is real or has the potential to be so. Like Jules Verne's visions, we wanted their buildings to be propelled into a new realm that feeds on the technological advances of the future.
As always, the work aimed to embody the unit's agenda of craft, experimentation, wonder and delight whilst being equally as visionary, brave, eccentric and grand as the stories that inspired them.
Year 2
Anna Arzumanyan, Grace Baker, Wai (Winki) Chan, Betty Liang Peng, Maria Garrido Regalado, Katherine Ralston, Alexandra Sapte, Xinze (Sean) Seah, Leyun (Kitty) Zhu
Year 3
Dominic Benzecry, Giorgos Christofi, Charlotte Cole, Sofya Daniltseva, Heba Mohsen, Freya Parkinson, Sarfaraz Salim, Bill Xu
Thanks to our technical tutor Martin Reynolds and computing tutor Sean Allen
Thank you to our critics
Duncan Blackmore, Kyle Buchanan, Oliver Houchell, Huma Mohyuddin, James Purkiss, Rahesh Ram, Stamatis Zografos
109
UG7
7.1 Giorgos Christofi, Y3 'Dear Moon'. The project explores the Ancient Greeks' obsession with the Moon and its goddesses, representing our human desire for immortality. Suspended by a geostationary satellite, the building becomes a threshold between the celestial and ethereal realms. This temple of immortality holds a crematorium where the ashes of the dearly departed can be launched to the Moon, granting entry to the celestial realm. Above this lies a crater, recreated on Earth, that acts as a lunar shrine to allow loved ones to visit those lost and sent to the stars.
7.2 Heba Mohsen, Y3 'Florida Peak'. The project interrogates the emergence of an architecture through the principles of chaos theory, exploring the relationship between space and time through the construction of a hotel. Situated upon the highest point in Florida, a 114-metre stack of radioactive mining waste, from which the architecture is exclusively constructed. The nature of radioactivity is inherently time sensitive, and this allows the building to proclaim a temporal state, not exclusively a physical one.
7.3 Charlotte Cole, Y3 'Bobbing for Love'. "Unable to perceive the shape of you, I find you all around me. Your presence fills my eyes with your love. It humbles my heart, for you are everywhere." This project is inspired by the Nautilus in 20,000 Leagues Under the Sea. The physical embodiment of love bobs across the ocean, collecting lovers. At sunset, the universe confirms their souls are one and the heart of the Nautilus blooms.
7.4 Dominic Benzecry, Y3 'The Observatory at the End of the Universe'. This building is a celebration of the relationship between humanity and space that has persevered throughout human history; a relationship that began by simply gazing at the stars. This is done through referencing the technologies and experiences born from our astronomical past with the aesthetic optimism of the science-fiction books of yesteryear. At the heart of the building sits a highly experiential space that seeks to both frame and track views of the night sky.
7.5 Wai (Winki) Chan, Y2 'Black Spring Vomitorium'. Anchored on the ancient healing ground of White Springs, the Vomitorium proposes a unique treatment centre that specialises in cleansing a visitor's digestive system through regurgitation. Inspired by the declining Green Corn Ceremony of the Seminole Tribe of Florida, black tea is drunk until it is regurgitated. This cleansing allows for the consumption of the sacred first harvest of corn.
7.6 Anna Arzumanyan, Y2 'Preserved to Ashes'. Located within the molten landscape of an active volcano, the building acts as an archive and library of treasured first-edition Jules Verne books. The artificial magmatic interior encapsulates the conflicting nature of fragile objects being nestled in unpredictable danger. The continual buildup of lava is eventually directed through the building's entrance and central core, gradually filling and burying the spaces from within.
7.7 Maria Garrido Regalado, Y2 'The Space Opera House'. Located on top of Bone Valley's largest abandoned phosphate factory, the Space Opera House celebrates the world of science fiction, while preserving the site's industrial heritage and regenerating the local mining community. An auditorium, rehearsal spaces and a bar are hung within a fine gauze-like structure. Inspired by the site's existing analogue technologies and structural characteristics, these spaces are accessed through a tunnel that punches directly through the existing factory, creating a strange and theatrical journey from past to present to future.
7.8 Freya Parkinson, Y3 'The Arc'. Sited at Cape Canaveral, which along with most of Florida could be submerged in 50 years, sits the Arc. The building acts as a barometer for rising sea levels and as an ever-growing record of life on
Earth, preserved for a future made unpredictable by climate change. At the building's core is a time capsule that allows Floridians to archive their history, whilst weather-data collection devices scratch information into the capsule's skin. The project aims to create a picture of how the world will change before the building itself collapses, releasing the capsule into the sea like a technological message in a bottle.
7.9 Leyun (Kitty) Zhu, Y2 'Inhabiting the Cosmic Ocean'. Shipwrecks are often considered one of the most underappreciated riches of the sea. These historic treasures will be brought to life once more through a museum and archive that locates, excavates, displays and preserves shipwreck fragments to educate us on their historical value. This cage-like building, situated in the swampy marshlands of the Big Cypress National Preserve, will hold the memories of these artifacts. Atmospheric tectonics allow the viewer to engage with the shipwrecks as if still submerged, while a grand central staircase takes them up into the the centre of the cosmic ocean.
7.10 Sarfaraz Salim, Y3 'The Bridge of Unity'. This building embodies the lives of two individuals bridging their differences to come together in celebration of their love. Inspired by the native Seminole tribe of Florida, who can only marry outside their own people, the chapel is for those who are in love with their opposite.
7.11 Grace Baker, Y2 'Corporeality vs. Hyper-Reality'. Located in the Miami Everglades, this building is a commercial human pharmacy, exploiting the antibiotic properties of the White Mangrove, integrated into an artificial mass-propagation centre for genetically enhanced Mangrove species. Acting as a catalyst for continued growth, Mangroves are reintroduced into the destroyed surrounding landscape with the aim of rejuvenation.
7.12 Betty Liang Peng, Y2 'Epcot Forever'. Sited on a lake at the heart of Disneyworld's futurist kingdom, Epcot Forever is a hotel that endeavours to recreate a fragment of Walt Disney's original dream and vision for Epcot. Prevalent in our society are issues such as individual and communal alienation brought about by the digital age and an overly fast-paced, stressful lifestyle. In response, the programme is a hotel and spa that encourages people to re-engage with communal activities, such as public bathing, to reconnect and rediscover a more intimate form of interaction with one another.
7.13–7.14 Bill Xu, Y3 'The Space Debris Cemetery'. Located at missile silo 31B at Cape Canaveral, the building pays homage to the 1986 wreckage of the Space Shuttle Challenger, alongside becoming an archive and museum to the ever-increasing collection of space debris floating in Earth's orbit. Part-building, part technological experience, the architecture is built around the 'grave' of Challenger, celebrating those lost in our intangible desire to explore the boundaries of space and beyond.
7.15–7.16 Xinze (Sean) Seah, Y2 'The Sanctuary of Disney's Unloved'. Disney has shaped the world of animation with films such as Snow White, Pinocchio, and Cinderella. These films have achieved global acclaim with generations growing up influenced by the 'magic' of Disney. But all may not be what it seems. Disney has faced allegations of abuse and mistreatment of its staff and park animals. Located on Disney's abandoned Discovery Island, this project is an exploration into the 'dark side' of Disney through the creation of an architecture of redemption for forgotten victims. Inspired by Cinderella's dress, this new soft architecture now houses an industrious community, who, like Cinderella's furry companions, build from the unwanted fabrics and beads deemed to be 'trash'. With this dress, the forgotten will attempt to outshine the 'tyrant'.
110
111 7.2
112 7.3 7.5
7.4
113
114 7.6
115 7.8
7.7
116 7.10
7.9
117 7.12 7.11
118 7.15 7.13 7.16 7.14
119
Surrender to the Seasons Pascal Bronner, Thomas Hillier
2019
7.1
Surrender to the Seasons
Pascal Bronner, Thomas Hillier
Our relationship with the weather has always been a fascinating one. Weather continually shapes civilisations, sculpts cities and inspires writers, artists and, especially, architects. It is arguably the single biggest influence on the evolution of architecture today.
Traditionally, we have attempted to design buildings and shelters to free us from the weather that surrounds us, but what if it rains inside? What if a snow blizzard dwells in our lounge? What if our kitchen is submerged in water or our bedroom is exposed to an ageing oak tree? Can the weather tell us the time? Can we choreograph decay to hide and reveal new worlds? Would this be wrong or just unusual? Or maybe even fantastical?
To explore these notions, the unit travelled to New York, a city of extremes that most certainly include its climate. New York's coastal proximity to the Atlantic Ocean creates excessive days of rain and long stretches of sun. The city experiences, on average, ten tornadoes per year. In 2012, Hurricane Sandy battered the city, during which the surf at New York harbour reached a record level; whilst in 2016, the city's largest snowstorm was recorded.
Before we set foot in New York, each of the students spent the first term exploring, researching and interpreting a specific weather condition that effects, or could effect, this great city, in an attempt to understand the city's history, masterplan, neighbourhoods and, importantly, its inhabitants and their connection to the changing conditions that surround them. Extrapolating their findings, students created a drawn, modelled or collaged weather narrative that culminated in a calibrated architectural or infrastructural innovation. These speculations were taken to New York and employed as a strategic compass (or weather vane) to help them discover their programme and site for the main building project.
We asked the students to respond to both the pleasures and discomforts caused by weather. Could their projects be designed to withstand and thrive in all weather conditions, or were they designed to crumble and deteriorate over time? Would they consider and engage with the subtlest of climatic shifts? Could their architecture explore the joy of the spring sun as it kisses one's skin or the trepidation of the cold breeze that hails the winter to come? How would these architectures 'feel' in the weather? Could they be calibrated to the New York climate so that they could shiver or sweat, spread themselves in the sun or curl up and hibernate during the winter months? As always, the work aimed to embody the unit's agenda of narrative, craft, speculation, experimentation, wonder and delight –with the only limit being the imagination.
Year 2
Inez Acquah-Aikins, Long Au, Hazel Balogun, Heather Black, Yeree Kim, Monika Kolarz, Sabrina Li, Ben Murphie, Carmen (Ligia) Poara, Hanna (John) Said, Matthew Semiao Carmo Simpson
Year 3
Theodosia (Ted) Bosy Maury, Sarah Jones, Rusna Kohli, Hau (Tini) Tang, Chuzhengnan (Bill) Xu
We would also like to thank our technical tutor, Martin Reynolds, and computing tutor, Sean Allen
Special thanks to our critics throughout the year: Sabina Andron, Peter Bishop, Alpa Depani, Stephen Gage, Kostas Grigoriadis, Soomeen Hahm, Will Jefferies, Maren Klasing, Holly Lewis, CJ Lim, Rahesh Ram, David Storring, Oliver Wilton and Stamatis Zografos
113
UG7
7.1 Rusna Kohli, Y3 'Sunsets and Scientists'. With New York State suing President Trump's Environmental Protection Agency for reversing the Clean Air Act, the building in this project filters the pollution of Manhattan, and stores the collected dust particles within its walls, to create a series of evolving spaces. Prominently situated in Times Square, the building acts as a barometer for the people of New York City. If the quality of the air remains the same, the building will be 'full' in 11.2 years, illustrating how little time there is left to address this problem.
7.2–7.4 Theodosia (Ted) Bosy Maury, Y3 'The Cast Courts of the Unlisted'. Situated on 42nd Street, close to Times Square and Broadway, 'The Cast Courts of the Unlisted' are designed as both a performative archive and a school for preservation techniques and building-relic maintenance. The project proposes a system of casting and performative maintenance to remember the many buildings that just miss 'Landmark' status, and questions 'How long should memories last?'
7.5 Carmen (Ligia) Poara, Y2 'The Fog House'. Fog can create an unearthly feeling; it can also confuse and obscure or create a sense of protection and safety. This project is situated in the Po Valley in Italy, which is known as one of the foggiest places on earth. The house manipulates fog to create a series of spaces, both tangible and intangible, where the architecture can be manoeuvred to alter the course of the incoming fog, exploring varying spatial relationships.
7.6 Long Au, Y2 'The Launderette of Sin'. Situated in Hell's Kitchen on the Upper West Side of Manhattan, this new laundrette strives to cleanse the sins of the city's hotel industry, both literally and metaphorically. The laundrette strives to purify the city through environmental means, serving as a symbol for green and sustainable industry by recycling and repairing old washing machines, drying laundry passively and using recycled rainwater.
7.7 Long Au, Y2 'The House of Houses'. Located on the coast of Staten Island, this proposal serves as a response to the aftermath of Hurricane Sandy in New York City. The building utilises fragments of the surrounding hurricane debris, knitting together broken remains to form a new assemblage: architecture that acts as both community storm shelter and as a symbol of resilience against future natural disasters.
7.8 Monika Kolarz, Y2 'The Lighting Strike Observatory'. The proposed observatory is sited on the Hudson River Palisades, opposite the Manhattan skyline. A series of interconnected pathways and viewpoints have been designed around the locations of famous lighting strikes across New York City, which carve up the architecture into a series of vertical planes. New views are constantly discovered as the inhabitants traverse this maze-like structure, in the hope of capturing the fleeting moment of a strike.
7.9 Hazel Balogun, Y2 'The Final Curtain Tree Nursery'. Located on the site of one of Manhattan's most catastrophic industrial fires, this project aims to counterbalance its history by using nature to bring life back to the neighbourhood. The nursery supports the production, exhibition and distribution of tree-grafted burial pods. Contained in biodegradable urns, the ashes from the departed aid in the growth of a living tree, transforming the ritual of death into an act of regeneration.
7.10 Sabrina Li, Y2 'The Water Tower Steam House'. Inspired by New York City's vast, invisible underground steam pipe system, the 'Steam House' posits a speculative approach to a new way of sustainable living. The 'steam keeper' inhabits one of the many rooftop water tanks of the city, where it is transformed into a new machine for living that harnesses the power of steam to fuel appliances and facilities.
7.11–7.12 Inez Acquah-Aikins, Y2 'The Rime Ice Refuge'. Rime ice forms when super-cooled water droplets found in fog freeze onto solid objects. 'The Rime Ice Refuge' explores the use of this weather phenomenon as a construction method. Temporary structures fabricated from timber and steel are placed on sites where rime ice commonly forms. During the right weather conditions these structures get coated in rime ice, creating a series of frozen enclosures. By their very nature, the structures and spaces are ever-changing, continuously evolving and reforming with the seasons.
7.13 Yeree Kim, Y2 'The New York Curling Club'. Nestled in Lower Manhattan, like a Japanese Zen garden, is a polished landscape of concrete and ice. Building on New York City's surprisingly long history with curling, this building aims to introduce the sport to a new generation. A courtyard of curling sheets is hugged by a continuous, inhabitable concrete ramp that slowly moves the public towards the cantilevered heart of the building, where the landscape of ice can be viewed.
7.14 Hau (Tini) Tang, Y3 'Manhattan's Exquisite Corpse'. This speculative masterplan maps the unique weather conditions that occur across Manhattan, creating a series of islands within islands, each with their own micro-climates. Site-specific weather strategies are employed across these islands, including inhabitable shading, ventilation devices and evaporative cooling systems.
7.15 Sarah Jones, Y3 'Exploring The Liquid City'. New York City is a city of constant historical, social and economic flux. Exploring historical journeys that have taken place across the city, this flux is mapped across time, creating a series of overlays in order to highlight its instability.
7.16 Ben Murphie, Y2 'Enter The Void'. Situated on the edge of Chinatown in Lower Manhattan, this new bathhouse is designed entirely around the concept of negative space, whereby the architecture seeps in between every crack of an existing courtyard surrounded by buildings. The medium of water, in its liquid and vaporous states, creates new tangible partitions and spaces that fill the negative voids and form a liberating communal hub of nudity within the privacy of clouds of mist.
7.17 Heather Black, Y2 'Occupiable Meteorology'. Using a combination of digital and analogue tools, this project experiments with various liquid viscosities to create a series of occupiable smoke clouds that, through scaled manipulation, take on a new life within New York City.
7.18–7.21 Matthew Semiao Carmo Simpson, Y2 '16 – 35 – 70'. Set in Dumbo in Brooklyn – the riverside backdrop of many iconic moments immortalised on the silver screen – the primary mission of this new film institute is to promote the conservation, restoration and use of celluloid film. The building is a temple for a perennially 'at risk' cultural resource, which borrows from, and adapts, the principles, theories and qualities which have come to define the analogue medium and filmmaking process. In a bid to generate an architecture as rich and captivating as the culture it was formulated to serve, the building was conceived in screenplay form. In it, a series of interconnected scenes depict archetypal characters, spaces, sounds, moments and routines that animate the facility and immediate vicinity. A shot list was then devised, communicating the narrative essence of '16-35-70' through the juxtaposition of uninflected images.
114
115 7.3
7.2
116 7.4 7.5
117 7.6 7.7
118 7.8 7.9 7.10
119
7.12
7.11
120 7.13 7.14
121 7.15 7.16 7.17
122 7.18 7.19 7.20
7.21
Wasn't the Future Wonderful? Pascal Bronner, Thomas Hillier
2018
Year 2
Charlotte Evans, Yu-Wen (Yvonne) Huang, Megan King, Ting (Sharon) Lee, Chinwe (Siobhan) Obi, Benjamin Webster, Vanessa Yau
Year 3
Teresa Carmelita, Yoojin Chung, Caitlin Davies, Sarah Jones, Kyuri Kim, Annette Choi de Leon, James Robinson
We would like to thank our technical tutor, David Storring and computing tutor, Sean Allen. Special thanks goes to our critics throughout the year: Edwina Attlee, Iain Borden, Bill Hodgson, Megha Chand Inglis, CJ Lim, Shaun Murray, Manolis Stavrakakis, Andrew Whiting, Stamatis Zografos
Wasn't the Future Wonderful?
Pascal Bronner, Thomas Hillier
As we travel deeper into the digital age, are we losing the ability to look at the future in a fantastical way? Past visions of the future were teeming with distinct qualities and weird and wonderful worlds. From Jules Verne's novels to Jean-Marc Côté's illustrations, they had an eccentricity that was endearing to the eye and delightful to the mind. Now we look back at them with nostalgia. In 200 years will people look back at our visions in the same enchanted way?
The internet has concentrated our perception of what's new and given us countless ways to revisit what's old. Perhaps we already know too much about the future because we have seen so much of the past? We certainly live in a futuristic and ever-changing time, with driverless cars, Amazon Go and self-lacing trainers all on the verge of becoming commonplace, but arguably the biggest change is the visual disappearance of technology. We can no longer see it: it blends seamlessly into the world that surrounds us.
To explore this, the unit travelled to Bangkok, a city both old and new that has in places moved slowly in terms of technological integration, but is arguably none the worse for it. From age-old markets to historic Grand Palaces and Buddhist temples, to food recipes passed down through the generations, this city became the perfect testbed for the students' brave new world.
RetroPast
If we want to create a better tomorrow then perhaps we should start by searching for a better today. Students were asked to 'peel away' the layers of yesterday and critically and creatively examine the past or 'a' past of Bangkok. They analysed an area, building, artefact or tradition of Bangkok through the ages to understand how it has changed, why it has changed and its socio-political consequences for the city. They speculated on what could have been done differently and how, leading to a parallel masterplan of their chosen subject. This speculative reality was used to explore and question how the students would construct their work, and with what tools: analogue, digital, both or neither?
RetroFuture
These speculative realities were then used alongside students' field trip investigations to develop a programme and site for the main building project. Inspired by Retrofuturism and Science Fiction, we wanted their buildings to be propelled into a new realm that feeds on the technological advances of the future and to be extrapolated to the imaginable extremes. The work produced aims to embody the unit's agenda of craft, speculation, experimentation, wonder and delight, alongside being filled with an overriding sense of joy and optimism for this new future.
96
The Bartlett School of Architecture 2018
UG7
7.1
Figs. 7.1 – 7.2 Kyuri Kim Y3, 'The Baan Krua Weavers'. Sited within and above the now lost weaving community of Baan Krua, a new hub aims to bring back the lost art of silk weaving that once thrived here. Silkworm production takes place within the adapted existing dwellings on the site which, once converted to yarn, is processed on a new weaving landscape that sits on the rooftops above. This yarn is then woven to create a delicate and patterned skin that over time grows to create a new roof structure enveloping the entire site. Fig. 7.3 Megan King Y2, 'The Mobilisation of Khlong Toey'. Located along Bangkok's elevated 'Skytrain' system sits this new infrastructure that aims to highlight and explore the connections and contrasts between the slums of Bangkok and their more affluent counterparts set only three stops away.
A series of spatial devices are grown and hung from the elevated structures to create a new set of living conditions allowing for upward mobility for those condemned to live in poverty. Fig. 7.4 Charlotte Evans Y2, 'A Veiled Women'. Building into the ruins of the Grand Palace in Bangkok, historically a site of female enslavement, the project aims to reverse history and rehouse and rehabilitate the modern day sex workers of Bangkok. Fig. 7.5 Charlotte Evans Y2, 'Sirikit's Legacy'. Bulging concrete-fabric forms and new spatial organisations drape and disguise Nana Plaza as a weaving house in the heart of Bangkok's Red Light District. The project reimagines what today's sex industry could look like if Queen Sirikit's proposal to teach the sex workers of Bangkok arts and handicrafts was realised.
98 Architecture
BSc UG7 The Bartlett School of Architecture 2018
7.4
7.3 7.2
7.5
Fig. 7.6 Teresa Carmelita Y3, 'Community Kiln Cathedral'. Sited and built around a redundant kiln on Pottery Island, this new resource aims to revitalise the lost tradition of Thai earthenware. The building will be the central hub for the island's potters, where the process of making, glazing and firing pots will become a celebrated event that plays out across this terracotta landscape. Fig. 7.7 Yoojin Chung Y3, 'Mound Meru'. Inspired by Mount Meru, the sacred five-peaked mountain of Buddhist cosmology, this hidden Buddhist retreat situated in a firefly forest acts as a meditation space for spiritual practice and enlightenment. Fig. 7.8 Yu-Wen (Yvonne) Huang Y2, 'Archaeological Institute of Thai Film'. During the 1980s, Western film dominated the market in Thailand leading to the near abandonment of both Thai film and traditional Thai
7.6 7.7
cinemas. This new institute acts as a binding agent to metaphorically and physically hold up Thailand's oldest cinema, and support the Thai film industry. Fig. 7.9 Ting (Sharon) Lee Y2, 'Coconut Sugar Farm'. Set within the abundant coconut forests of Bangkok sits a refinery for coconut sugar. The coconut palm weaves its way through the architecture creating new and organic spaces that aid in the production of this, the sweetest of substances. Fig. 7.10 Caitlin Davies Y3, 'A Monk's First Journey'. Located deep in the heart of a mysterious bamboo forest on the fringes of Bangkok lie a series of structures draped in saffron. Constructed from manipulated bamboo, these eight architectural insertions are designed to aid a newly ordered monk's transition to the strict lifestyle where they spend their life with only eight belongings. 7.8 7.9
100 Architecture BSc UG7
The Bartlett School of Architecture 2018
7.10
Fig. 7.11 Annette Choi de Leon Y3, 'The Dog Sanctuary of Lumphini'. Dog lovers John and Jill from Dorset have retired to the District of Lumphini in Bangkok. Together with the Soi Dog Foundation, they are creating a new sanctuary that aims to provide a safe haven for the hundreds of stray dogs that roam the streets of Bangkok, aiming to improve the welfare of both dogs and the local community through careful rehabilitation. The building embeds a choreography of specific smells into the fabric and materiality of the building and surrounding manicured landscape, producing an architecture that stimulates the dogs' recovery from life on the streets.
Figs. 7.12 – 7.13 Benjamin Webster Y2, 'The Hat-Makers of Bang Pahan'. A community of hat-makers have migrated from the northern districts of Thailand into the heart of the capital,
Bangkok. With a desire to preserve their craft, which has been passed down through the generations, they use their skills to design and build a hat-makers atelier in which they can weave the traditional Thai farmer's hats and display their craft in the bespoke showroom. Taking inspiration from the intricate woven palm leaf and bamboo hats, the translucent skin of the building filters the light, creating an animated space of dappled sunlight that mimics the rippling riverscape surrounding the workshop, which the building floats upon.
102
Architecture BSc UG7
The Bartlett School of Architecture 2018
THE DOG LOVERS HUB Bangkok, Thailand Section & Plan 1:200
Skylight Detail: The glass is formed as a dome at the top of the conical roofs to provide lighting into the internal spaces. The window is oriented facing upwards and slightly to the north to prevent over heating. 7.12 7.11
N
7.13
Figs. 7.14 – 7.17 James Robinson Y3, 'The House of Thai Heritage'. Situated along the wall of the historic Fort Mahakan under the watchful eye of the famous Golden Mountain Temple sits the new House of Thai Heritage. For the past 25 years the local residents and craftspeople of Fort Mahakan have been embroiled in a lengthy uphill legal battle with the government who have successfully evicted all but ten of the remaining residents of this once thriving creative community. The proposal posits a positive relationship between these conflicting parties, allowing for cohabitation of the land, ensuring the local community can continue living and working on the site whilst the government gets the tourist park it so greatly desires. For this to occur the residents must agree that this new architecture follows a set of stringent visual rules
7.14
that have been applied to many of the historic buildings across the city of Bangkok. To do this, this subversive piece of architecture plays a variety of optical games, creating spatial illusions, such as veiling and employing two and three-dimensional camouflage techniques, that allow the inhabitants to work, uninhibited across the day, in a secret craftsmen's guild whilst externally appeasing the government. 7.15
104 Architecture BSc UG7
The Bartlett School of Architecture 2018
7.16
7.17
The Drowning Crescent Pascal Bronner, Thomas Hillier
2017
The Drowning Crescent
Pascal Bronner, Thomas Hillier
Year 2
Oliver Ansell, Grant Beaumont, Lauren Childs, James Cook, Mengzi Fu, Margarita Marsheva, Cherie Wong, Arthur Wong
Year 3
Alexandra Campbell, Glen Heng, Hanna Idziak, Harry Johnson, Hannah Lewis, Harry Pizzey, Fei Yen Waller, Lisa Fan Wu
Thank you to our technical tutor David Storring and computing tutor Sean Allen
Thank you to our critics: Jenna Al-Ali, Peter Bishop, Matthew Butcher, David Edwards, Stephen Gage, Soomeen Hahm, CJ Lim, Shaun Murray, Justin Nicholls, Alan Penn, Aleksandrina Rizova, Joshua Scott, Alistair Shaw
Humankind's relationship with water has always been a fascinating one, one that has shaped civilisations, sculpted cities, inspired writers, artists, and captivated architects. But today the fundamental relationship between water and human habitation is being transformed in the wake of an escalating global crisis. To explore this, the unit travelled to New Orleans, a city virtually surrounded by water. Built on thousands of feet of soft sand, silt and clay on the banks of the Mississippi, the city actually sits within a bowl, surrounded by protection levees and floodwalls, with half of the city located eight feet below sea level.
Paradoxically, these man-made levees reduced the threat of the great Mississippi River's seasonal flooding, allowing New Orleanians to expand their metropolis over generations. But that same infrastructure also set in motion environmental shifts that made the city more vulnerable to storms. Today, the Mississippi Delta is sinking a centimetre a year, whilst sea levels are rising at an accelerating rate, and are predicted to be two metres higher by the year 2100, submerging most of New Orleans. Over the next 15 years scientists believe that, if nothing is done, over 300 square miles of Louisiana will disappear, with many fearing New Orleans might become one of the first cities of the modern age to face extinction, creating a modern-day Atlantis, lost to the sea.
It is this ever-changing relationship between water and human habitation that we wanted our students to investigate, but before we set foot in the Crescent City, they were tasked with exploring, researching and (re)interpreting the specific effects of water on New Orleans in an attempt to understand its history, masterplan, neighbourhoods and most importantly, inhabitants. By extrapolating these findings they began to design their own drawn, modelled or collaged urban water narrative that culminated in an architectural or infrastructural innovation, allegorical or real in nature.
These macro-scale interventions were, in some form, taken to New Orleans where they were applied as a strategic compass to discover their future programme and site for the main building project, the only requisite being that the building in some form dealt with water. New Orleans is a unique city and the students' architecture had to be equally as bespoke, specific and tailor-made. As always, their work embodied the unit's agenda of craft, speculation, experimentation, wonder and delight – with the only limit being their imaginations.
96
The Bartlett School of Architecture 2017
UG7
7.1
Fig. 7.1 Hannah Lewis Y3, '20 Leagues Under the Sea'. This proposed underwater settlement posits a world where sea levels have risen above the protection levees of New Orleans, forcing American suburbia to retreat into the ocean, creating a new form of wet living. Fig. 7.2 Oliver Ansell Y2, 'The Prolonging of Pilottown'. With a population of zero, Pilottown, located at the mouth of the Mississippi River, has become a ghost town lost to the floods. This proposed retreat, for six elderly and original residents of the town, aims to prolong –through a communal form of architecture – the lifespan of Pilottown before it is altogether consumed by rising waters. Figs. 7.3 – 7.4 Cherie Wong Y2, 'St. Louis Voodoo Temple'. This new home for the voodoo practitioners of New Orleans sits within the famed St. Louis Cemetery, where Marie Laveau,
the first voodoo queen of Louisiana, is buried. Controlled by sunlight and moonlight, the building is activated incrementally at particular times across the day to allow its inhabitants to follow the very specific voodoo calendar of rituals. Fig. 7.5 Alexandra Campbell Y3, 'The Ninth Ward Floodwall'. Based on the festival Anba Dlo ('beneath the waters'), the building is both scientific and spiritual in nature, with the pragmatism of science setting with the sun, and the ethereality of spirit taking over with the appearance of the moon. Situated along, and being intrinsically linked to, a new floodwall along the Lower Ninth Ward, this institute for flood research and spiritual enlightenment inhabits the boundary between sanctuary and threat. The architecture aims to create a new sacrificial symbol of safety for New Orleans.
98 BSc Architecture UG7 The
Architecture 2017
Bartlett School of
7.2 7.3
7.4
7.5
Fig. 7.6 Lauren Childs Y2, 'The Iron Lace Ladies'. New Orleans is characterised by its ornate ironwork that decorates otherwise sober building façades. Located on the famed Royal Street, the building is an ironwork foundry that restores and replaces ironwork in disrepair. Alongside this, the building is a refuge for woman during and after a flood, containing enough water, food and beds to ensure a safe haven for anyone who enters. Fig. 7.7 Grant Beaumont Y2, 'Imaging Usonia'. This investigation creates, measures and occupies unseen spaces. A series of concocted material samples underwent an overlaid scanning process through a bespoke device to develop visible and invisible data points. Each of these points became a peak or trough marker creating a visual, spatial map that is both macro and micro in scale. Fig. 7.8 Mengzi Fu Y2, 'The Thin House'.
Inspired by Italo Calvino's 'Invisible Cities', the Thin House explores the notion of living in a building where piped services are not hidden within walls or under floorboards, but exposed and reconfigured to create a complex, interlaced world of inhabitable space. Fig. 7.9 Harry Johnson Y3, 'The Folk Craft Guild of New Orleans'. In its 50th year, The Smithsonian Institution has commissioned a Guild to present and preserve the indigenous crafts of Louisiana. Located on Royal Street, alongside a succession of craft and antique outlets, folk craft practitioners work side by side, exploring local traditions such as steam bending and Bousillage. Crafted entirely from the bald cypress tree, the official state tree of Louisiana, the Guild aims to promote both local traditions and the use of locally sourced materials.
100 BSc Architecture UG7
2017
The Bartlett School of Architecture
7.6 7.8 7.7
7.9
Fig. 7.10 Glen Heng Y3, 'The Dixon Street Mercedes –Columbarium'. Sitting at the heart of New Orleans' Business District, adjacent to the famous Mercedes Superdome, floats a stone landscape that becomes the next in a long line of famous cemeteries to drape this city. The columbarium, set above the existing concrete landscape, is built to lift the curse (believed to have begun when the Girod Street Cemetery was demolished to make way for the Superdome) that created the longest losing streak the New Orleans Saints have ever seen. Fig. 7.11 Lisa Fan Wu Y3, 'The Breakwater Yacht Club'. During Hurricane Katrina, New Orleans' only yacht club, the famous Breakwater Park yacht club, was completely destroyed. This project proposes the creation of a new yacht club that is also a specialised water film studio, bringing a new industry to
New Orleans, capitalising on what famously surrounds this city – water. The new yacht club sits within a carved landscape that forms a giant, open air water tank for filming. When full, and being used for a film, the club itself is completely submerged in water and it is not until the tank is drained that the architecture is revealed. Fig. 7.12 Hanna Idziak Y3, 'New Isle de Jean Charles'. For over 170 years, the Isle de Jean Charles to the southwest of New Orleans has been the historical homeland and burial ground of the Native American BiloxiChitimacha-Choctaw tribe. Coastal erosion and rising sea levels have forced the tribe to move. This government-funded proposal creates a new permanent homeland for the tribe that is self-sustainable, flood-resistant and revives lost traditions, allowing the people to live off the land once again.
102 BSc Architecture UG7 The
Architecture 2017
Bartlett School of
7.11 7.10
7.12
Fig. 7.13 Arthur Wong Y2, 'The Water Keeper's House'. Inspired by a fascination with water and its ability to create surreal conditions, alongside the unique geography of New Orleans, the Water Keeper's House becomes the all-seeing eye at the edge of a water recharge and retention reservoir. Sited in an area destroyed by Hurricane Katrina, domestic rooms are scattered around this liquid landscape, each embracing a characteristic and phenomenon of water. Fig. 7.14 James Cook Y2, 'The Hoffman Triangle Melodic Assembly Building'. In the Hoffman Neighbourhood at the centre of the Seventh Ward, an area severely hit during the catastrophic events of Katrina, lies this new gospel performance building. Funded by local entrepreneur and long-time resident of the Triangle, Troy Jackson, this new communal building – dedicated to
re-housing the African American gospel community –is constructed using remnants of the former Saint Francis de Sales Church that it now replaces. Fig. 7.15 Harry Pizzey Y3, 'The Ninth Ward Safe Houses'. This new street square in the heart of the Ninth Ward aims to protect the traditional vernacular and way of life of the residents hardest hit by Hurricane Katrina. This sculpted concrete and tile landscape, inspired by the ghostly foundations of the building lost to the flood, accepts that future floods will occur so prepares its inhabitants through an architecture of disassembly. In the event of a flood, the shotgun house, a common typology of New Orleans, can be dismantled in a matter of hours and stored in a concrete appendage located within the square, which also acts as a retreat for the residents for the duration of the flood.
104 BSc Architecture UG7 The
of Architecture 2017 7.14
Bartlett School
7.13
7.15
2016
Time goes, you say? Ah no, alas, time stays, we go Pascal Bronner, Thomas Hillier
Year 2
Ella Adu, Se (Elva) Choi, Lap (Justin) Chow, Joanna Hobbs, Ka Law, Alvin Lim, Margarita Marsheva, Ella Wragg, Douglas Yang
Year 3
Iman Raisa Datoo, Stefan Florescu, Klaudia Kapinska, Liam Merrigan, Iman Mohd Hadzhalie, Panagiotis Tzannetakis, Michelle Wang
We would like to thank our technical tutor Nick Westby and our critics throughout the year: Julia Backhaus, Scott Batty, Matthew Butcher, Ed Clark, Mollie Claypool, Tina Di Carlo, Pedro Font-Alba, James Hampton, Bill Hodgson, Sofia Krimizi, Dionysia Kypraiou, CJ Lim, Tim Lucas, Adriana Massidda, Regner Ramos, Bob Sheil
Time goes, you say?
Ah no, alas, time stays, we go
Pascal Bronner, Thomas Hillier
During the Age of Enlightenment, French philosopher Denis Diderot co-founded, edited and compiled the first volume of his Universal Dictionary of Arts and Sciences, cataloguing the cutting edge of contemporary technologies and 'mechanical arts' of the time. In his wildest dreams he could not have foreseen that, 250 years later, mankind would be living out a large part of its collective life inside virtual machines and electronic devices. As we enter the third generation of the Digital Revolution, we must ask ourselves if we are losing our affinity with the analogue, the physical, the crafted and the tangible.
These questions were explored through the typology of the 'archive' in order to examine the value of our physical existence in an increasingly digital world. The notion of the archive is incredibly diverse and ever-evolving, be it the Svalbard Global Seed Vault in Norway, often called the 'Doomsday Vault' or the mass art reproduction factories of Dafen Village in Shenzhen, China, where thousands of classic western paintings are reproduced on a daily basis. The artist Joseph Cornell, who rarely ventured beyond his home in New York State, created an archive in his basement comprising thousands of objects he called his dossiers of paper ephemera 'explorations', which took him, his imagination and his work around the world – a route to armchair travelling.
Disassemble
The unit travelled to and through Russia, visiting Moscow and Saint Petersburg, both famed for their cultural history and deep tradition in technological innovation. Before this journey, and in preparation for it, the students were asked to research, discover and disassemble a historical object from Russia's past, present or (hypothesised) future and archive it in an inventive way. Taking inspiration from Diderot's Dictionary of Arts and Sciences, they classified, catalogued, drew and described everything about this artifact, creating a new architectural assemblage that was used as a research tool to help them discover their programme, site and brief for the rest of the year.
Assemble
Informed by their disassembled archive-architectures and field trip investigations in Russia, the students proposed buildings that aimed to question the meaning of the archive in the digital age, challenge the conventions of drawn architecture and speculate on the relationships between old and new technologies and their cause-and-effect on the built environment. They did this whilst utilising Russia's dialogue between historical tradition and its thirst for technological advancement.
96
The Bartlett School of Architecture 2016
UG7
7.1
Fig. 7.1 Joanna Hobbs Y2, 'The Choreographer's Home'. Caught between two love affairs, Vaslav Nijinsky, often claimed to be the greatest male dancer of the early 20th century, is banished from the Ballet Russe and forbidden to dance. Forced to pursue his passion in complete secrecy, his home, located in close proximity to the Mariinsky Theatre, becomes a finely tuned map of moments allowing his family to conceal his movements to the watchful world outside. Fig. 7.2 Iman Mohd Hadzhalie Y3, 'The Archive of Lost Russian Treasures'. Sunken within the Alexander Nevsky Monastery of St. Petersburg lies a choreographed landscape of water, myth and buried treasure. These moat-protected archives, research and exhibition spaces wait in anticipation for the famous 10 lost treasures of Russia to fill their halls. As each treasure is found and
exhibited, the architecture and surrounding landscape evolves in celebration through a series of water-powered devices, but all is not what it seems as below this undulating landscape lies the real treasures which are secretly removed, replaced and replicated creating a secret underground archive for the Russian elite. Fig. 7.3 Stefan Florescu Y3, 'The 1961 Space Race Egg'. With a profound and poetic Russian soul, Fabergé's works of art, like the stories they tell, continue to exert a powerful fascination as hypnotic today as it ever was. As with all of Faberge's eggs this one aims to archive one of the most astonishing events in human history, the first human space flight. This miniature world aims to encapsulate and express architectonically what people felt when they found out that man had entered the unknown.
98 BSc Architecture UG7
The Bartlett School of Architecture 2016
7.3
7.2
99 BSc Architecture UG7
7.4
The Bartlett School of Architecture 2016
Fig. 7.4 Michelle Wang Y3, 'The Mirny Buttery'. Influenced by Russia's controversial import embargo on food in relation to the Ukraine crisis. The project speculates on the future of Russian food production by reintroducing the once thriving butter industry into a disused diamond mine in Eastern Siberia. Utilising the extreme weather and environmental conditions of this – the second-largest excavated hole in the world – to create an underground buttery of gigantic proportions. This alien landscape creates a new datum line within this abandoned environment which is filled with a series of methane-powered floating islands that include grazing land for dairy cows and dairy production and storage facilities. The project acts as a piece of architectural propaganda illustrating Russian self-reliance.
Fig. 7.5 Klaudia Kapinska Y3, 'The Amber Extraction Instrument'. This device proposes the reconstruction of the now lost Amber Room of Catherine's Palace in Tsarskoye Selo near St Petersburg, which until its disappearance during World War II was considered the 'Eighth Wonder of the World'. Tree resin, used as a substitute for pure amber, is slowly and meticulously collected via a series of resin extraction machines that are mechanically attached to a set of pine trees in the grounds of the Palace. Across one year exactly 270 litres of resin is extracted, heated using a constant flow of warm water and constantly set in motion across the instrument, turning the mechanism itself into one of the lost panels of this world famous chamber.
100 BSc Architecture
UG7
The Bartlett School of Architecture 2016
7.6 7.5
Fig. 7.6 Douglas Yang Y2, 'Ekateringof Science Fiction Writers Commune'. Established by the Russian government in the year 2142, an ancient theatre, a relic from the past, is used as a portal to another world. Located within an abandoned theme park in the historic Ekateringof Park in St Petersburg, this concrete monolith, inspired by Arthur C. Clarke's 'Space Odyssey', is designed to look as though it 'landed' within this abandoned and barren landscape. Inside and hung from its ceiling are a series of bespoke writing modules, all of which give the writer a unique view of both the surrounding landscape and the infinite underground library of science fiction that continues to grow with every new writer that enters this brave new world.
101 BSc Architecture UG7
The
Bartlett
School of Architecture 2016
Fig. 7.7 Alvin Lim Y2, 'The Mariinsky Monastery'. Set on the abandoned marine fortress of Kronsholt, 30 kilometers due west from St Petersburg's preeminent ballet company, the Mariinsky Theatre, lies this ballet dance academy which is inspired by the intense symmetry and repetition of Russian ballet. The building is composed of monastical accommodation and ballet rehearsal spaces, each individually tailored to different elements of ballet and a reconstruction of the actual Mariinsky stage that is constantly watched over by the 'clapping' tectonic audience. The dancers who dwell here are devoted to the recreation of the original 1876 Tchaikovsky score of Swan Lake, which was deemed too difficult and agonising to accomplish, with the aim to better their bitter rival, the Bolshoi Theatre in Moscow.
Fig. 7.8 Lap (Justin) Chow Y2, 'Living on Mars: A Catalogue of Everyday Items'. The project posits a fictional timeline where England colonises Mars, in the 1970s. To this end, a series of bespoke and eccentric domestic mechanisms were designed for use inside the 'Arcadia Holiday Resort', a popular holiday destination located within Mars Arcadia Planitia. Tourists visiting the resort would relish unproductive forms of entertainment and luxury that back on earth people would find normal.
102 BSc Architecture UG7
The Bartlett School of Architecture 2016
7.7
103 BSc Architecture UG7
7.8
The
Bartlett
School of Architecture 2016
Fig. 7.9 Ka Law Y2, 'Snail Island'. Inspired by the mysterious Buyan Island of Russian folklore, Snail Island is a water quality monitoring facility inhabited and operated solely by African Giant Snails whose unique shells are used as a barometer of water cleanliness. Surrouded by lettuce fields and a fibre optic copper-tipped boundary, used as a snail defense mechanism, this artificial island floats across the severely polluted Neva Bay in St. Petersburg, leaving in its wake a trail of clean water.
Fig. 7.10 Liam Merrigan Y3, 'COPM-4'. 2020: The Russian Federation's COPM protocol (System for Operative Investigative Activities) extends beyond monitoring digital media. COPM-4 intrudes upon Moscow. A fleet of airborne probes indiscriminately survey citizens from above, functioning more as a tool of propaganda than law
enforcement. Infrastructure underpinning the scheme is deliberately monumental. An array of aerostatic platforms cover the city, surveillance data being therefore assimilated by a new typology of supercomputer housed within an imposing steel edifice. Fig. 7.11 Elva Choi Y2, 'The Chairmakers Guild'. In response to Plato's theory of forms on 'what makes a chair a chair' and society's recommendation of a perfect sitting position, the Chairmakers Guild provides students an opportunity to design and make chairs free from ideology. As each chair is made, it is immediately archived in the surrounding gridded landscape, ensuring no one inside the building can see them, to encourage designs to be forever original and experimental.
104 BSc Architecture UG7
The
Bartlett
School of Architecture 2016
7.10 7.9
7.11
Neighbourhoods of Infinity: Pre- and Post-Quake San Francisco Pascal Bronner, Thomas Hillier
2015
Year 2
Amelia Black, Hoi (Christy) Chan, Peter Feehily, Emma Jurczynski, Justin Li, Szi Wing (Viola) Poon, Andrew Riddell, Rachel Yemitan, Michelle Yiu
Year 3
Pui Quan Choi, Cheng Guo, Niki-Marie Jansson, Wenya Liu, Douglas Miller, Rosa Prichard, Sarah Stone
We would like to thank our technical tutor, Martin Reynolds, and our critics throughout the year: Julia Backhaus, Matthew Butcher, Ben Campkin, Mollie Claypool, Max Dewdney, Pedro Font-Alba, Christine Hawley, Colin Herperger, Jonathan Hill, Carlos Jiménez Cenamor, CJ Lim, Tim Lucas, Luke Olsen, Christopher Pierce, Frosso Pimenides, Bob Sheil, Paolo Zaide, Stamatis Zografos
Neighbourhoods of Infinity: Pre- and Post-Quake San Francisco
Pascal Bronner, Thomas Hillier
UG7 continues to explore the theme of 'Super-Specific' architectures that are discovered through rigorously crafting drawings to a point at which the drawing itself is brought to life and seen as an actual architecture. The unit treats drawings, models and collages as real places that are used to explore spatial narratives and speculate on future building typologies.
This year, using San Francisco as our base, we investigated how architecture could react and adapt to our unpredictable and volatile natural environment. According to the US Geological Department, it is predicted that between now and the year 2034 there is a 63% probability of a high magnitude earthquake striking San Francisco. As a city, San Francisco's infrastructure is inadequately prepared to deal with an earthquake of this measure. This is soon set to change. In partnership with Silicon Valley, San Francisco's famed technology district, the city is launching an initiative called 'Neighbourhoods of Infinity' to create a series of new structures that will be built to provide temporary accommodation and community spaces during the aftermath of a natural disaster. This initiative takes inspiration from engineer and 24th Mayor of San Francisco, Adolph Sutro, who designed and built a series of grand and wonderful structures across the Bay Area. One such building was the remarkable Sutro Baths, the world's largest indoor swimming pool, which opened in 1896 and was serviced by its own rail line and the Cliff House Railroad. Sutro transformed his own estate into elaborate public gardens that were filled with statues, forests and breathtaking vistas.
Gateway to a Neighbourhood Before we set foot on San Franciscan soil, the unit's journey began, like Sutro's, with a gateway. What this meant was entirely open for speculation. Using a researched character from San Francisco's past, present or future, the students spent the first part of the year designing this gateway as a portal into a much larger public building which they would continue to develop across the year, helping form a new neighbourhood of infinity.
Neighbourhood of Infinity
Had Sutro known of an imminent threat to the city that he loved and governed he would have not looked on idly. He would have masterminded, designed and built an infrastructure that would have helped combat any impending natural disaster. By anticipating and planning for an imminent catastrophe, the students explored a series of architectures, designed with a dual programme in mind. The first is for a new building of public interest and exaltation; the second allows the building to be reconfigured or transformed into temporary neighbourhoods for a post-disaster San Francisco. We put it upon the students to become 21th century Sutros: visionary, eccentric and above all, brave!
110
The Bartlett School of Architecture 2015
UG7
7.1
Fig. 7.1 Niki-Marie Jansson Y3, 'The Archive of the Long Now'. Embracing fragility and entropy within building construction, this 300 metre-high time capsule curates, restores and preserves information in its most analogue form: printed media. In constant use for 150 years and then left as a monument, the building is conditioned to deteriorate over the course of 5000 years, until its content is revealed in the year 7045. Fig. 7.2 Andrew Riddell Y2, 'The Cast Courts of Alcatraz'. Had the Treaty of Fort Laramie been upheld, Alcatraz Island would be under the custody of the Native American community. The project posits an architecture that exists through the destruction of the existing prison infrastructure. The building becomes an archive of demolished fragments which physically form the new architecture, preserving the now-lost prisons.
Fig. 7.3 Emma Jurczynski Y2, 'The Hunters Point Project'. Hunters Point, known as the radioactive basement of San Francisco is transformed into an architecture that aims to create a renewed sense of community and healthy wellbeing. The building and surrounding landscape grows healthy food for local citizens and propagates plants in preparation to phytoremediate the toxic landscape. Fig. 7.4 Rosa Prichard Y3, 'The Golden Gate Flood Fort'. An inhabited flood defence wall surrounds Treasure Island, housing those displaced by the rising sea levels in San Francisco Bay. The island becomes a self-sustaining system, where the process of natural water purification is articulated through the architecture, creating a spectacle that encourages the flood refugees to develop a new, positive relationship with water.
112 BSc Architecture UG7
The Bartlett School of Architecture 2015
7.3 7.2
7.4
Fig. 7.5 Michelle Yiu Y2, 'The Thanksgiving Palace'. Embodying one of America's favourite holidays, the Thanksgiving Palace is a self-sustaining free-range turkey farm and restaurant. This feather-clad monument is drenched in the smell of roasted turkeys and maple syrup. Fig. 7.6 Wenya Liu Y3, 'The Angel Island Safe House'. Angel Island, sited north of San Francisco, has been uniquely insusceptible to all previous earthquakes in California. This dual-programme building houses an earthquake response training centre and cannery which produces emergency food rations in preparation for San Francisco's next earthquake. Fig. 7.7 Justin Li Y2, 'The Crissy Field Oyster Retreat'. This hybrid-building programme exploits both the culinary and medicinal properties of stake-grown oysters. The architecture forms a symbiotic relationship with
the timber stakes used to grow oysters creating a series of pavilion-like structures hung in the air. Fig. 7.8 Szi Wing (Viola) Poon Y2, 'The Broadway Tunnel Float Workshop'. Over the course of a year, an ever-changing group of artists and makers design and construct a new float paying homage to the famous Burning Man Festival, whose origins began in San Francisco. Fig. 7.9 Pui Quan Choi Y3, 'The Terracotta Guild of San Francisco'. The Guild exists to ensure the continued preservation of San Francisco's unique architectural identity through the testing and production of architectural terracotta. The building investigates the relationship between technology and craft, providing a platform for material testing and experimentation, turning the building itself into a crafted landscape of terracotta.
114 BSc Architecture UG7
The Bartlett School of Architecture 2015
7.7 7.5 7.6 7.8
7.9
Fig. 7.10 Amelia Black Y2, 'The Ministry of Information'. Set in the heart of San Francisco's Civic Center, The Ministry of Information manipulates strange devices to collate, examine and analyse the surrounding city pollutants. The Ministry stores this information in the hope that over time it will collect enough data to create a case of environmental degradation against the citizens of San Francisco. Fig. 7.11 Peter Feehily Y2, 'The Thousand Man Hackers Commune'. Sat within the decaying remains of a post-war barrack lies a covert hacking community and fibreoptic cable manufacturer. Feeding off its sandy geology, hackers produce fibre optic cables to help them conduct their illegal activities. These cables are spun around the building and surrounding landscape creating a mirage of glass-like tendrils which help camouflage the building.
Fig. 7.12 Hoi (Christy) Chan Y2, 'Ten Ren's New Tea Palace'. Situated across the length of an entire block within the heart of San Francisco's Chinatown, this new tea palace hangs, like Chinese lanterns, from the surrounding buildings. A series of tea pavilions create an undulating canopy that celebrates the act of tea drinking. Fig. 7.13 Rachel Yemitan Y2, 'The Mid-Autumn Temple'. Carved into the streets of Chinatown and surrounded by a series of Potemkin façades, the building uses the mid-Autumn festival as a symbol of celebration to marry the neighbouring communities. The temple is centered around the production of the mooncake, whose ingredients are grown within the surrounding stepped landscape, whilst water sits on top of the temple, reflecting the moon down across all who enter.
116 BSc Architecture UG7 The
Architecture 2015
Bartlett School of
7.13 7.11 7.10 7.12
7.14
Fig. 7.14 Sarah Stone Y3, 'The Incremental Construction of the New Sutro Baths'. Sited on the ruins of a Victorian bath house, traditionally a place to lavish in vast quantities of water, the project proposes a new typology of bath house serving to highlight the importance of water in the midst of California's drought. Using the sporadic remnants of water from a local spring, the building gradually evolves constantly tracing the ebb and flow of this temperamental resource. Figs. 7.15 – 7.16 Cheng Guo Y3, 'The Bohemian Grove Retreat'. Each year, the towering redwood forests north of San Francisco play host to some of the most powerful men in the world, collectively known as the Bohemian Club. The project offers an architecture shrouded in mystery where metal corsets and other adaptations physically manipulate the surrounding trees.
Figs. 7.17 – 7.18 Douglas Miller Y3, 'The San Francisco Columbarium'. The project posits a compromise between the preservation of architectural heritage and the inevitable growth and expansion of one of America's fastest-growing cities. Located on the fringe of San Francisco's proposed future wave of expansion, Alamo Square Park, characterised by its American-Victorian architecture, is transformed into a columbarium of architectural restoration. The existing parkland is preserved but reconfigured to hold subterranean museum halls that are slowly filled with houses of historic merit, saved from the city's growing expansion. Vacated plots plucked from this expanding Ecumenopolis form invaluable low-rise community squares, creating small green spaces that infiltrate what will soon become a vast and grey metropolis.
118 BSc Architecture UG7
The Bartlett School of Architecture 2015
7.15 7.16 7.17
7.18
Short Stay
Ming Chung, Nick Tyson
2014
Short Stay
Ming Chung, Nick Tyson
Year 2
Katherine Feltwell, Lucca Ferrarese, Wang Chun (Vincent) Fung, William Kirkby, Daniel Little, Kin Lam (Glynnis) Lui
Year 3
Daryll Brown, Muzhi Chen, Shirley Lee Mei Ying, Wenhao (Perry) Li, Smiti Mittal, Huynh Nguyen, Carina Tran, Panagiotis Tzannetakis, Zhanshi Xiao
Special thanks to our critics, guests and friends: Abi Abdolwahabi, Adam Atraktzi, Bim Burton, Matthew Butcher, David Briggs, Mollie Claypool, Kate Davies, Inigo Dodd, Nick Dunn, David Miller, Luis Fernandez, Richard Grimes, Edgardo De Lara, Chris Matthews, Wes Rosen, Bob Sheil, Lauren Shevills, Paul Smoothy, Timmy Tae-In Yoon, Emmanuel Vercruysse, Nick Westby
Unit 7 continues to embrace the workshop as a place to learn, experiment and cultivate new ideas in order to develop a practice that relies upon a tactile understanding of materials as a fundamental part of the design process. We are interested in making as an approach that is experimental and open-ended, leading to new and unexpected architectural possibilities.
This year we explored proposals for an anticipatory architecture that combined material modularity with programmes for transitional inhabitation. We are inspired by the utopian vision of the Metabolists who pioneered the concepts of adaptive architectural infrastructures combined with a meticulous organisation of component parts. Spatial prototypes were developed through direct engagement with real materials and associated processes of fabrication in The Bartlett workshops. These material prototypes became a springboard to test ideas of modularisation and sought to offer alternative ways to embed a new architecture within the Manhattan grid.
Project 1: Capsule
Capsule is a micro-space for urban environments and explores material characteristics at human scale. Minimal dwelling typologies were explored that balanced material economies with qualities of inhabitation. This initial design project was principally developed through large-scale models and experimental one-to-one scale prototypes that simultaneously addressed material detail and the ergonomics of capsule design.
Our field trip to New York offered a rich cultural platform to support design activities for our second project, Short Stay. We visited the vertical galleries of the New Museum by SANAA, the linear elevated landscapes of the High Line by Diller Scofidio, the 'permanent installation' home studio at 101 Spring Street by Donald Judd and the fabrication workshop of Situ Studio. The Bowery, one of the oldest thoroughfares on the Lower East Side of Manhattan was the focus of our research. In the late 1800's it was a neglected area filled with heap hotels, theatres and bars. The removal of the elevated train track in the 1950's transformed the neighbourhood into a frenetic mix of commercial establishments, and high-end cultural institutions.
Project 2: Short Stay
Short Stay invited students to define transitional urban programmes, to investigate new ideas for inhabitation alongside time-based public activities in the Bowery. Where Capsule investigated the single unit at human scale, Short Stay introduced collective inhabitation and infrastructural interventions that mediated with urban infill sites within the city grain of Manhattan. Proposals ranged from adaptable micro-architecture for seasonal cultural events to adaptive macro-vertical systems for migratory populations.
The projects aim to capture design intent: somewhere between ideas and material processes, for an architecture that can remain nimble and responsive to the continually evolving fabric of the city.
110
The Bartlett School of Architecture 2014
Unit 7
7.1
Fig. 7.1 Muzhi Chen Y3, 'Prototype Flat Pack Shelter'. Laser perforated stressed skin plywood. Fig. 7.2 – 7.3 Kin Lam (Glynnis) Lui Y2, 'Reading Capsule'. Ergonomic activity composite and assembly sequence for deployable reinforced fabric shell. Fig. 7.4 Daniel Little Y2, 'Temporary Urban Shelter'. Rib jointed recycled paper segments forming monocoque shell. Fig. 7.5 Muzhi Chen Y3, Tailor Shop House, New York. Universal prefabricated cross laminated timber units are wrapped in a perforated user adapted façade which mediates local daylight conditions with rituals of living and working. Fig. 7.6 Shirley Lee Mei Ying Y3, 'Poetry Capsule'. Laser cut tessellated interlocking plywood skin. Fig. 7.7 Katherine Feltwell Y2, 'Capsule Coat'. Velcro fastened waxed fabric insulated kernels.
112 BSc Architecture Unit
7
The Bartlett School of Architecture 2014
7.4
7.2 7.3
113 BSc Architecture Unit 7
7.6 7.5 7.7
The Bartlett School of Architecture 2014
Figs. 7.8 – 7.9 Daryll Brown Y3, 'Vertical Market', New York. Orchard Street market is encouraged to expand vertically into small-scale loft space galleries. Section through composite steel and fabric cast superstructure. Study models, brass rod and phenol coated plywood. Figs. 7.10 – 7.12 Wenhao (Perry) Li Y3, 'Seafood Market and Restaurant'. Schematic for prefabricated components and vertical transportation rooms. View from New York yellow cab. Section of streetlevel live seafood market, hotel accommodation capsules and rooftop restaurant connected by transit dining rooms.
114 BSc Architecture Unit 7 The
Bartlett School of Architecture 2014
7.10 7.11 7.9 7.8
7.12
Fig. 7.13 & 7.15 Huynh Nguyen Y3, 'Workshop for Transitional Living', New York. Schematic of component assembly – street level workshop, communal, social and educational facilities with adaptable dwelling clusters. Capsules located in the upper levels of the block interior share a system of gantries with the self build production line sequences. Capsule Prototype with interlocking CNC milled plywood structure Fig. 7.14 & 7.16 Smiti Mittal Y3, 'Yoga Capsule.' 3D printed study models exploring hexagonal ground matrix, dodecahedron structure and hybrid systems. Diamond Guild, New York. Light basket structures are designed to filter daylight through the residential school and workshops and intensify light conditions through a series of lenses to the street level public space.
116 BSc Architecture Unit 7
The Bartlett School of Architecture
2014
7.13 7.14
117 BSc Architecture Unit 7
7.16 7.15
The Bartlett School of Architecture
2014
Fig. 7.17 – 7.20 Carina Tran Y3, 'Prototype Bivouac and Seasonal Performance Rig, New York'. Sequence of adaptive suspended reinforced fabric cells. Study model and test rig for prototype system. Section drawing through existing gap site, courtyard and rooftop with space frame performance rig. The Rig facilitates a changing timetable of events ranging from roof top music performances, poetry readings to cinema club, enveloped by a series of adaptive fabric membranes that moderate light, temperature and acoustics.
Figs. 7.1, 7.4, 7.6, 7.8, 7.10, 7.13, 7.14, 7.16 photographed by Paul Smoothy.
118 BSc Architecture Unit 7
The Bartlett School of Architecture 2014
7.20 7.18 7.19
7.17
119 BSc Architecture Unit 7
The Bartlett School of Architecture 2014
2013
Workshop Cultures
Ming Chung, Nick Tyson
Workshop Cultures
Ming Chung, Nick Tyson
'At a point when I was stuck in my work, he asked me, "What is your guiding intuition?" I replied on the spur of the moment, "Making is thinking".'
Richard Sennett, The Craftsman
Unit 7 continues to investigate architecture as a material practice whereby making is intrinsic to a way of working and thinking about design. With this in mind, students are encouraged to cultivate a material discipline over the course of the year, developing material prototypes to stimulate strategic design propositions. Working from detail to strategy challenges the conventional design process and offers speculative opportunities for material invention.
Our aim is to directly connect the design studio to the places where work is made. We regard the fabrication workshop as the best environment for design ideas to be nurtured, where students can develop familiarity with both manual tools and digitally controlled machines and have contact with specialist makers. Thinking through making allows tacit decisions to be evidenced and seized upon in an open cycle of experimentation, an activity that aims to reposition materials at the centre of architectural production.
Carapace
The year began with material research and hands-on investigations for the design of a Carapace (an exoskeleton or shell) at 1:1 scale. The structure required a response to the human scale and hosted a light programme entitled 'People Meet'. Carapace was developed through detailed prototypes and hand-assembled systems that were characterised by inherent properties of the individually selected material.
An understanding of workshop culture was introduced with intensive design and make sessions, machine and software inductions and visits to unique fabrication facilities such as Grymsdyke Farm. To make visible the tacit decisions of a
material-led design process, the project was documented in the form of flowcharts and instructional manuals.
The interpretation of Carapace was materially diverse and included deployable structures such as Kate Slattery's kerfed oak tensegrity framework, Tracy Xiao's woven cedar and steel gridshell and Frances Lu's cellular paper furniture. Soft systems that were generated from interlocking components or looped stitches such as Suhee Kim's non-woven body textile, Phoebe Nickols's reinforced laminated cork screens and Sonia Ho's copper and rope crochet nets. Tessellating component systems such as Julian Siravo's CNC milled, cast and 3D printed bricks and Xin Zhan's laser-cut, heat-formed acrylic trays.
Field Trip: Copenhagen
In November the Unit travelled to Copenhagen, a place with a rich tradition of design, craft and manufacture. As well as visits to seminal and contemporary Danish architecture, guided visits were made to Fritz Hansen's furniture production facilities, GXN Studio at 3XN Architects and the innovative research environment at CITA, the Center for Information Technology and Architecture. The Unit also presented projects at the School of Architecture at the Royal Danish Academy of Fine Arts.
The former Burmeister & Wain shipyard in Refshaleoen is a harbour island close to the city centre of Copenhagen and is the site location for the second design project entitled Open Guild. With the shipyard decommissioned in 1996, Refshaleoen Holding has been tasked with managing the island's future and has implemented a range of temporary strategies until redevelopment as part of the wider city plan in 2023. Regarded as a testbed for temporary uses, Refshaleoen hosts a series of creative programmes from open-air festivals to the provision of affordable work space and open source workshops. It is within this live context that Unit 7
112
The Bartlett School of Architecture 2013
7
Unit
has introduced their projects to coexist within this post-industrial landscape.
Open Guild
In pre-industrial cities, craftsmen tended to form associations based on a particular trade; confraternities of textile workers, masons, carpenters, carvers, glass workers, each of whom controlled the secrets of traditionally imparted craft skills. Open Guild suggests a re-evaluation of the traditional Guild system within the context of a contemporary material culture that includes both remote manufacture connected by open-source software and fabrication labs.
The principal field of research focused on 'Workshop Cultures' investigating hybrids of living and manufacturing, speculative models of common dwelling and the exploitation of opportunities for shared resources and energy systems. Building upon the material practices initiated in Carapace, prototypes and large-scale models were made to investigate both spatial possibilities and tectonic solutions within the context of Refshaleoen.
Inspired by the self-build assembly of a RepRap machine, Julian Siravo proposes the inhabitation of a building that makes itself, an open source factory and test rig for 3D-printed ceramic components. Phoebe Nickols' proposal for a vice-like adaptable dock for retrieved shipwrecks is informed by layered building envelopes that control environmental conditions for preservation. Kate Slattery's music hall is derived from carefully crafted studies into CNC milling and kerfed timber panels to adjust acoustic conditions. The interlocking acrylic components of Xin Zhan's light canopy facilitate optimum growing conditions by the filtering of both natural and artificial light to encourage a productive urban landscape. Frances Lu's proposal for a system of workshops and courtyard dwellings employs shipbuilding techniques to form the cellular matrix of continuous rolled steel walls.
Special thanks to our critics, guests and friends: Laura Allen, Abigail Ashton, Adam Atraktzi, Rhys Cannon, Nick Dunn, Justin Goodyer, Guan Lee, Eva Sopeoglou, Emmanuel Vercruysse, Christopher Matthews and Luis Fernandez at Atelier One Engineers, Bim Burton and Abi Abdolwahabi at the Bartlett Workshop, Jan Vejsholt and Martha McNaughton at Fritz Hansen, Kasper Guldager Jorgensen and Kim Hernforth Nielsen at 3XN, Claudia Munkeboe and Claus Gensen at Refshaleoen Holding, Paul Nicholas, Martin Tamke, Phil Ayres and Mette Ramsgard Thomsen at CITA, Victor Julebaek at the Royal Danish Academy of Fine Arts and David Briggs at Advanced Technical Panels.
Year 2 Suhee Kim, Lingzhe (Frances) Lu
Year 3
Yuen Hin (Sonia) Ho, Phoebe Nickols, Julian Siravo, Kate Slattery, Zhanshi (Tracy) Xiao, Xin Zhan
113 BSc Architecture Unit 7 The
Architecture 2013
Bartlett School of
Fig. 7.1 – 7.2 Zhanshi (Tracy) Xiao, Y3, Carapace. Properties of bi-materials are explored in the design of a woven cedar and steel gridshell. The overall form is controlled by rolled steel floor templates removing the requirement for fixings at each intersection. Fig. 7.3 Zhanshi (Tracy) Xiao, Y3, Marine City, Copenhagen. Dwelling unit model with cedar and steel grid shell, plywood perimeter beam and CNC milled cellular pontoon. The hollow cells of the pontoon are designed to flood to control buoyancy and determine a close relationship to the water. Fig. 7.4 Yuen Hin (Sonia) Ho, Y3, Island Terminal. Copenhagen harbour model showing transportation networks that conclude in a terminus for material and cultural exchange. Fig. 7.6 Yuen Hin (Sonia) Ho, Y3, Carapace. Crochet nets formed from single continuous looped copper thread.
Fig. 7.5, Fig. 7.7 Suhee Kim, Y2, Carapace. A replicable component made from laser-cut, non-woven fabric and synthetic leather forms an adjustable garment. 7.1 7.2
114 BSc Architecture Unit
7
The Bartlett School of Architecture 2013
7.3
115 BSc Architecture Unit 7
7.5 7.6 7.7 7.4
The Bartlett School of Architecture 2013
Fig. 7.8 – 7.10 Kate Slattery, Y3, Carapace. Kerfing of solid oak battens is explored to establish bending parameters and develop tensioning details in the design of tensegrity structure. Instructional diagrams set out the sequence of assembly showing deployment from a flatpack kit of parts. Fig. 7.11, Fig. 7.13 Lingzhe (Frances) Lu, Y2, Courtyard Dwellings and Workshops, Copenhagen. Cellular units are located in relation to a matrix of continuous rolled steel walls that mediate qualities of light and connections between private and public realms. Fig. 7.12 Lingzhe (Frances) Lu, Y2, Paper Furniture Module. Structural properties of paperboard are explored in the making of a bespoke cellular system formed from laser-cut segments.
116 BSc Architecture Unit 7
The Bartlett School of Architecture 2013
7.9 7.10
7.8
117 BSc Architecture Unit 7
7.12 7.13 7.11
The Bartlett School of Architecture
2013
Fig. 7.14 Phoebe Nickols, Y3, Shipwreck Preservation Dock and Archive, Copenhagen. Layered building envelopes create a series of specific working platforms and controlled environmental conditions for preservation. A public interface offers a new understanding of historical artifacts through observation of the restorative process or via a more direct experience provided by the dive school. Fig. 7.15 Phoebe Nickols, Y3, Carapace. Cork sheet is reinforced with non-woven fabric in the design of a system of interlocking laminated components that are assembled to form an acoustic screen. Fig. 7.16 – 7.17 Xin Zhan, Y3, Proto-Agricultural Infrastructure, Copenhagen. The project proposes a restaurant, market, food labs, production buildings and landscape, to intensify growing conditions as well as host seasonal food-culture events.
The adaptable interlocking acrylic components of the canopy facilitate optimum growing conditions by the filtering of both natural and artificial light, through red and pink LED lighting establishing a temporary productive landscape. Fig. 7.18 Xin Zhan, Y3, Light Flow. Replicable system of laser-cut, heat formed interlocking live edge acrylic trays.
118 BSc Architecture Unit 7
The Bartlett School of Architecture 2013
7.15 7.14 7.16
119 BSc Architecture Unit 7
7.18
The Bartlett School of Architecture 2013
7.17
Fig. 7.19 Suhee Kim, Y2, Workshop Common Room, Copenhagen. A laser-cut Tyvek envelope encloses event space and workshop facilities and filters light in relation to seasonal activities and events. Fig. 7.20 – 7.21 Julian Siravo, Y3, Open Source Factory and Research Lab, Copenhagen. A building system of 3D-printed ceramic components are utilised to form a series of elemental interventions within disused ship assembly shed. Workshop facilities, gantry crane with clay extruder, tunnel kiln and assembly platforms are intertwined with common spaces for social interaction and feedback. A prototypical assembly system distributed through the abandoned infrastructure promotes a self-build development of Refshaleøen Island. Fig. 7.22 – 7.24 Julian Siravo, Y3, CNC Milled Moulds, Concrete Casts and 3-D Component Prints.
Prototypes for a tessellating brick that form a stacking topographic system.
120 BSc Architecture Unit 7
The Bartlett School of Architecture 2013
7.21
7.19 7.20
121 BSc Architecture Unit
7.22 7.24 7.23
7
The Bartlett School of Architecture 2013
Making the City
Ming Chung, Nick Tyson
2012
MAKING THE CITY
Ming Chung, Nick Tyson
Unit 7 investigates architecture as a material practice whereby making is intrinsic to a way of working and thinking about design.
In the 1968 seminal publication 'The Nature and Art of Workmanship', David Pye provides a definition of craftsmanship and thus sets out the role of the maker in relation to the process of production. Pye distinguishes manufacturing from craftsmanship by defining manufacturing as the 'workmanship of certainty' and craftsmanship as the 'workmanship of risk'.
Making is used as a tactic to mediate between these two modes of operation to establish a process of working that intertwines 'risk' and 'certainty'. The use of handwork as well digitally controlled tools is treated with equal importance and become mutually supportive activities within an open cycle of experimentation.
Students are encouraged to move freely between the studio and the fabrication workshop, which is regarded as an experimental laboratory and a place where design ideas are nurtured. A discipline is cultivated through the tactile contact with material and tools alongside a dialogue with specialist makers. This activity has the potential to reinvigorate a practice that employs direct material engagement to initiate alternative modes of production for making architecture.
Prototype – A Replicable Component
Term 1 began with the investigation of a single primary material, manipulated through the use of hand tools in specialist workshops and included materials such as timber, metal, plastics, ceramics, fabric and paper. Initial handwork methods involved the learning of traditional making techniques such as joinery, folding, casting, heat forming, sewing and felting.
A 1:1 scale component formed a working prototype that was determined by rudimentary jigs, templates and formwork. Digitally linked manufacturing tools were then introduced allowing the hand-made components to be reproduced as machine made or manufactured replicable components. These components were tested as physical prototypes and digitally manipulated spatial systems, which were defined by inherent material properties, logics of production and experiential qualities.
These prototypes formed an archive of material pedagogy that provided a point of departure for Project 2. The design process was recorded in the form of instruction manuals and flow charts as a way navigating the complexity of the tacit decision making process.
— page 112 BSc Arch Unit 7 BARTLETT 2012
Unit 7
In November the unit made a field trip across Germany from Hannover to Berlin with building visits that included the TECTA Furniture Campus, Bauhaus Dessau, Aalvar Aalto Kulturhaus and Baupiloten Studio at Berlin Technical University.
City Jig – A Workshop Facility for Participatory Making Practices
In Term 2 the unit explored the connection between individual making practices and the fabrication of the city. Students were asked to consider hybrid building programmes to engage the public in the participatory act of making (Year 2) and to provide a manufacturing facility for the open source manipulation of machine tools (Year 3).
Post-industrial sites within Fish Island, Hackney Wick were selected to locate new prototypical architectural propositions. Host infrastructures were identified that included: Distribution & Transport, Manufacturing Facilities, Depots & Yards, Utilities, Energy & Services, Temporary Events, Public & Common Territories and Social Networks.
The idea of the jig was further explored as both a physical and conceptual tool to provide an interface with the maker as well as determining the outcomes of material production. Each student continued to investigate material detail in parallel with model making at a strategic scale.
Unit 7 would like to thank: Luis Fernandez and Christopher Matthews at Atelier One Engineers for their invaluable technical support and our guest critics Laura Allen, Abigail Ashton, Felicity Atekpe, Adam Atraktzi, Guan Lee, Anna Parker and Emmanuel Vercruysse
Year 2: Hannah Mollie Bowers, Jessica Clements, Kate Slattery, James Tang, (Vincent) Tung Ning Yeung, (Timmy) Tae-In Yoon
Year 3: Taimar Birthistle-Cooke, Theclalin Cheung, Carmen Lee, Allanah Hope Morrill, Lauren Shevills
— page 113 BSc Arch Unit 7 BARTLETT 2012
Fig. 7.1 Allanah Hope Morrill, Print transfer on acrylic cast profiled concrete. Fig. 7.2 Kate Slattery, CNC milled jigs for heat formed acrylic component. Fig. 7.3 Jessica Clements, Cold formed mild steel flat bar lattice. Fig. 7.4 Hannah Mollie Bowers, Wool felt non woven textile lining. Fig. 7.5 James Tang, Papercrete cast with fibre reinforcement. Fig. 7.6 Allanah Hope Morrill, Digital print on folded fabric-paper screen. 7.2 7.3
— page 114 BSc Arch Unit 7 BARTLETT 2012
7.5 7.1 7.4 7.6
Fig. 7.7 Theclalin Cheung, CNC milled moulds and paper pulp components. Fig. 7.8 James Tang, Cut and fold cellular cardboard units and structure. Fig. 7.9 Carmen Lee, Slip cast interlocking ceramic envelope. Fig. 7.10 Timmy Tae-In Yoon, Laser cut dry laminated plywood structure and detail. Fig. 7.11 Vincent Tung Ning Yeung, Vacuum formed components for acrylic textile. Fig. 7.12 Taimar Birthistle-Cooke, Laser cut folded aluminium skin. 7.8 7.9 7.11
7.7 7.10 7.12
— page 115 BSc Arch Unit 7 BARTLETT 2012
7.15
Fig. 7.13 - 7.14 Kate Slattery, Acrylic screen: CNC milled forma with heat formed laser cut acrylic component and replicable system. Fig. 7.15 - 7.16 Lauren Shevills. Formwork jig, concrete component and rubber skin with casting residue. Fig. 7.17 - 7.18 Vincent Tung Yeung. Glass Recycling Facility with Public Onsen, 3D printed models: Section through public baths and under-ground recycling facility. 7.14 7.18
— page 116 BSc Arch Unit 7 BARTLETT 2012
7.17 7.13 7.16
Fig. 7.19 Lauren Shevills, Furniture Manufacturing Campus. Fabric cast elements are added over time in relation to the expanding campus and the decommissioning of the existing cement works. Section through open-source workshop. Fig. 7.20 Kate Slattery, Seed Bank and intensive growing fields. CNC milled topography with laser etched heat formed acrylic canopy. Fig. 7.21 James Tang, Recycling Depot with Upcycling Workshop. Laser cut laminated cellular cardboard model.
7.19
7.20
7.21
— page 117 BSc Arch Unit 7 BARTLETT 2012
Fig. 7.22 Timmy Tae-In Yoon, Prototypes for dry laminated plywood system. CNC cut plywood strips with steel compression ties and straps. Fig. 7.23 Timmy Tae-In Yoon, Parasite Manufacturing Facility with Public Deck. An overhead track system is explored to intensify manufacturing processes within an existing storage yard. Machine-cut study models of track system and public deck. 7.22
— page 118 BSc Arch Unit 7 BARTLETT 2012
7.23
7.24
7.25
Fig. 7.24 Timmy Tae-In Yoon, Spatial studies for dry laminated plywood system. Fig. 7.25 Allanah Hope Morrill, Open Source Print Facility. Cement board study models for suspended cast machine plinths. Fig. 7.26 Theclalin Cheung, Speculative studies for seed embedded deployable paper pulp component. 7.26
— page 119 BSc Arch Unit 7 BARTLETT 2012
Fig. 7.27 — 7.28 Timmy Tae-In Yoon, Parasite Manufacturing Facility with Public Deck. An existing builders merchant is utilised as a host infrastructure for a timber lamination facility. Spatial studies: A continuous track provides a jig for the organisation of storage yards and implementation of sequential production processes. Open source workshops negotiate the interface between the manufacturing facility and public deck. Cold formed laminated plywood deck using CNC milled forma. Fig. 7.29 Theclalin Cheung, Paper Recycling Facility and Public Garden. The canopy and filter pools, related to processing facility, provide the opportunity for a public garden where open access workshops for participatory activities are located. Schematic infrastructure: Canopy with bamboo
grid-shell, filter pools for rainwater collection, seed embedded platforms, recycling facility, workshops and publishing house.
— page 120 BSc Arch Unit 7 BARTLETT 2012
7.28
7.27
— page 121 BSc Arch Unit 7 BARTLETT 2012 7.29
Manufactured Landscapes Scott Grady, Tomas Stokke
2011
M A N U FAC T U R E D L A N DS C A P E S
'We are drawn by desire a chance at good living, yet we are consciously or unconsciously aware that the world is suffering for our success. Our dependence on nature to provide the materials for our consumption and our concern for the health of our planet sets us into an uneasy contradiction.'
Edward Burtynsky
Unit 7's work explores the artificial landscapes that exist in modern civilisations, their relationships to urban communities and the natural environment. Often paradoxical in nature, they fulfil human need but have substantial impact on the land From shipyards to stone quarries, oil fields to super-highways, these are the world's manufactured landscapes. The processes and spaces are often epic in scale, but rich in detail layering, colour, texture, stains, scars, smells, light and shade This detail, scale and un-natural environment raises questions about culture, context, beauty, reuse, waste, ecology, inter-dependency, architecture …
The theme of manufactured landscapes was explored in two, very different contexts; the Lea Valley area of London, and in Mumbai, India, one of the most populated urban regions in the world, home to Bollywood and Slumdog Millionaire.
With Mumbai's rich cultural, architectural and historical context, each project had to relate to a complex set of physical and nonphysical issues Sites and briefs were
developed in tandem, where projects tackled real-life issues: educational projects next to Mumbai's largest slum (Angela Lo), a spice garden and floating market in Southern Mumbai to reinvigorate the spice trade (Yin Hui Chung), and a speculation on the remanifestation of the world-famous Dbobi Ghat (Augustine Ong Wing), to name but a few
Year 2: Yin Chung, Ivie Egonmwan, Emma Kitley, Tsz Lau, Carmen Lee, Jamie Lilley, Anna Mcsweeney, Rachel Pickford, Sophie Richards, Kate Slattery
Year 3:Yuan Gao, Stanley Siu Lun Ho, Angela Lo, Augustine Ong Wing, Samson Simberg, Alexander Sutton, Jaymar Vitangcol, Glenn Wooldridge
p . 6 0 B S c A r c h U n i t 7
S c o t t G r a d y & T o m a s S t o k k e [ H a p t i c A r c h i t e c t s ]
Fig 7 1 Sophie Richards, Jainist residence and temple, Mumbai, Ground floor plan Fig. 7.2 Lisa McSweeney, Bollywood cinema and film festival site, Bandra Mumbai, Model Fig. 7.3 Ivie Egonmwan, Asthma treatment centre and Attar distillery, Bandra, Mumbai, Model Fig. 7.4 Jamie Lilley, Vangasakra Cricket Academy, Mumbai, Roof Model/ Drawing Fig. 7.5 Glenn Wooldridge, Marine life preservation centre & restaurant, Mumbai 7.6 Emma Kitley, Pigeon & keepers rest & Olympic surveillance facility, Lea Valley, London, cross-section 7 2 7 4
p 6 1 B S c A r c h U n i t 7
7 6
7 5
7 1 7 3
Fig 7 7 Augustine Ong Wing, Reimagining the Dhobi Ghat; an augmented landscape of laundry, Dhobi's washing place visualisation Fig. 7.8 Augustine Ong Wing, Reimagining the Dhobi Ghat; an augmented landscape of laundry, aerial visualisation Fig. 7.9 Janice Lau, Rickshaw transportation hub, Mumbai, Model Fig 7 10 Stanley Ho, Fish bone porcelain making and fish restaurant, Sassoon Docks, Mumbai, Model Fig. 7.11 Alex Sutton, Western Railway Film Studios, Mumbai, Long section Fig. 7.12 Kate Slattery, Fish market installation Fig. 7.13 Samson Simberg, Mumbai Shopping Promenade, Model Fig 7 14 Sandy Lee, Coral preservation facility and pier, Mumbai, Long section [part] Fig. 7.15 Rachel Pickford, Hindu wedding venue and marigold-growing fields, sectional model exploring key moments within building
p . 6 2
8 7 10 7 9 7 11 B S c A r c h U n i t 7 7 7
7
p 6 3 7 14 7 15 7 13 B S c A r c h U n i t 7 7 12
Fig. 7.16 Angela Lo, Dhavari Primary School, Mumbai, Long section exploring water collection and recycling strategy Fig. 7.17 Yin Hui Chung, Spice Garden and floating spice market, visualisation of spice gardens Fig. 7.18 Angela Lo, Dhavari Primary School, Mumbai, Ground Floor Plan +4m
p . 6 4
B S c A r c h U n i t 7 7 18 > 7 17 7 16
Threat = Adaptation Agnieszka
Glowacka, Tomas Stokke
2010
Threat = Adaptation
Adaptation is the evolutionary process whereby an organism becomes better able to live in its habitat or habitats. Adaptedness is the state of being adapted: the degree to which an organism is able to live and reproduce in a given set of habitats. An adaptive trait is an aspect of the developmental pattern of the organism which enables or enhances the probability of that organism surviving and reproducing.
Threat demands adaptation. Strange and wonderful things happen when plants and animals evolve to adapt to the threats presented by their particular situation: spikes, colourful warnings, camouflage, mimicry, decoys, sacrificial limbs, flocking behaviour. They adapt to their environments changing suddenly or slowly, predictably or unpredictably: moving, closing, hibernating, storing, hiding. Failure to adapt, or ill-fated adaptation, can result in extinction.
People adapt to threat – environmental, financial, mythical – and create objects, spaces, environments, buildings that allow them to cope, improve and survive, sometimes even turning the threat into valuable opportunity.
We considered threat and adaptation for two very different situations, environments, landscapes and urban settings – London and Oman.
BSc Unit 7
Yr 2: Emma Carter, Sophia Kelleher, Rachel King, Samson Lao, Aaron Lee, Rushda Morshed, Zhang Wen Yr 3: Yuan Gao, Maria Goustas, Keiichi Iwamoto, Bethan Knights, Imogen Webb, Kirsty Williams
Agnieszka Glowacka & Tomas Stokke
Clockwise from top left: Emma Carter, Reconfigurable Chandelier and Diving Retreat; Samson Lau, Hotel and Smugglers Retreat.
Top left to right: Rushda Morshed, Fish Market and Restaurant; Sophia Kelleher, Desert Folklore and Symphonic Music Centre. Middle: Aaron Lee, Illuminated Laundrette and Social Space. Bottom left to right: Allen Wen, Camelflage: Robotic Camel and Robotic Child Factory; Rachel King, Date Festival Retreat.
Top: Keiichi Iwamoto, Whisky Distillery in King's Cross. Bottom left to right: Imogen Webb, Omani Wedding Chapel and Frankincense Farm; Yuan Gao, Collapsible Narrowboat.
Bethan Knights, Omani Cooking School and Accommodation in Khasab.
Top left: Kirsty Williams, 500-year Seed Vault Top right and bottom: Kirsty Williams, Pangolin Intruder Alarm.
Kirsty Williams, Greasy Spoon Submarine.
The Empire of Architecture: Obsession and Obstruction
Dan Brady, Jan Kattein
2009
The Empire of Architecture: Obsession and Obstruction
Empires are not formed by whimsical desire, nor are they easily achievedthey are driven by obsession bearing adversity over obstruction. Unlike political empires whose states governed through military command and political coercion, the Empire of Architecture governs by aesthetic or literary coercion. Be it the British empire (political) which stretched to the far East, or the Modernist empire (architecture) which has global repercussions to this day, both forms of empire have shown their common desires and can proliferate beyond the cultural and ethnic centres of their origin.
What makes an Empire of Architecture distinct from the multitude of prolific aesthetic styles is the rigorous resolution at every level: from the masterplan, through the philosophy, the execution of drawings to the final details - an architectural empire speaks of a wider growth; an extension of ideas beyond the boundaries of the site that can spread its language globally and with longevity over time. To this day the Modernist empire governs many an architectural practice, even if its foundations are somewhat forgotten...
This year in Unit 7, we encouraged students to discover the beginnings of their empire; embracing their obsessions to overcome the obstructions of their challenge.
BSc Unit 7
Yr 2: Gladys Ching, Frances Heslop, Stanley Ho, Bethan Knights, Simone Persadie, Isabelle Priest, Joshua Stevenson-Green. Yr 3: Jane Brodie, Yu-Wei Chang, Banksie Critchley, Tom Kendall, Dos Nilkhamhaeng, Lucy Ottewell, Dimple Rana, Eryk Ulanowski
Dan Brady and Jan Kattein
Above: Eryck Ulanowski.
Clockwise from top left: Isabelle Priest, Joshua Green-Stevenson, Lucy Ottewell, Eryck Ulanowski, Yu-Wei Chang.
Clockwise from top left: Jane Brodie, Gladys Ching, Stanley Ho, Frances Heslop, Banksie Critchley.
Clockwise from top left: Stanley Ho, Dimple Rana, Bethan Knights.
This page: Banksie Critchley
This page: Tom Kendall
East Dan Brady, Jan Kattein
2008
Yr2: Jacob Attwood-Harris, Ceti Carapuli, Kenzo Ejiri, Chiara Montgomerie, Isabelle Priest, Richard Sprogis, (Rain) Ya-Chu Wu, Congjing (Angela) Yao. Yr3: Craig Allen, Jan Balbaligo, Christopher Burman, Benjamin Harriman, Na Li, Caroline Mok, Catrina Stewart, Emilia-Dimitra Tsaoussi, Ruofan Yao.
East
A city is not built in a day; urban growth in the East occurs in 3 stages:
1. Madness: The Architecture Marathon
Good design can be the result of slow and careful reflection but it can also occur when a mad idea is executed with conviction and integrity. To commence the year we ran an Architectural Marathon where 180 buildings were designed in two weeks, resulting in the group building of the city.
2. Paradise: Show Home
The Show Home will provide much needed accommodation for the city, however, its responsibilities will extend beyond its walls. It must not be shy in showing off its architectural features that are manifest in its attitude to the environment. In this context the Show Home takes on the role of an architectural director, taking on responsibilities for the growth of the rest of the city.
3. Perfection: Festival of Architecture Festivals have left behind some of the most innovative structures that mankind has built. Nationally and locally, the Festival acts as a catalyst transferring its spirit far beyond the boundaries of its site, inspiring regeneration in the surrounding city and the entire nation. The festival of architecture will see real things built where the rules are suspended.
BSc Unit 7
Dan Brady and Jan Kattein
Clockwise from top right: Isabelle Priest, Whitechapel High Street; Craig Allen, Oxford Circus of Tea; Catrina Stewart, Walking roof, Carrie Mok, Citizen's Advice Bureau; Chiara Montgomerie, Browsing Library, Whitechapel
clockwise from top left: Ben Harriman, Bedtime Story Hotel, Brick Lane, model of room; Alex Sprogis, Angel of the South, collage; Christopher Burman, Pirate Radio Station, MK; Chiara Montgomerie, Browsing Helmet; Rain Wu, Dream Hotel, London
; Emilia Tsaousi, Jaded hotel, London; Jacob Attwood-Harris, Shorinji Kempo Retreat,Teaching Space; Christopher Burman, Simulation Centre, London; Chiara Montgomerie, Browsing Library; Craig Allen, Tram Station, Left Luggage Detail; Catrina Stewart, City of East; Kei Carapuli, Home Office, London; Jacob Attwood-Harris, Shorinji Kempo Retreat.
Clockwise from top: Na Li, Nanjing Gallery for Contemporary Arts; Jan Balbaligo, Weather Station; Jan Balbaligo, Weather Station; Ruofan Yao, Underground Station, Artificial Rainbow; Na Li, Nanjing Gallery for Contemporary Arts.
Catrina Stewart, NHS Bathhouse.
Welcome to Slowtown Dan Brady, Jan Kattein
2007
Yr 2: Jacob Attwood-Harris, Charmian Beedie, Luke Jones, Kate Marrinan, Anna Mill, Negin Moghaddam, Justin Randle, Aymee Thorne Clarke, Gabriel Warsharfsky.
Yr 3: Peter Alexander, Matthew Blaiklock, James Crick, Lois Farningham, Klementyna Klocek, Rosanna Kwok, Emily Norman, Elizabeth Shaw, Simon Walker.
Welcome to Slowtown
Last year, Slowtown matured from a one horse town to a city priding itself with some major civic buildings like The Glass Cathedral and CASH, the Commission for Architecture and Slowtown Heritage. This year, Slowtown requires major investment in its taste industry.
Architecture is commonly perceived visually. It can sometimes be perceived acoustically and at close range it can be perceived sensually. Underlying its every facade is an inherent taste that is at once its ideology and on the other hand the public face subject to scrutiny and critique by visual appearance. We will look carefully at the significance of taste in architecture. What would a salty letter plate be like and how would a spicy roof gable be built? What would a juicy bathroom be made from and what a fruity garden shed?
Understanding what taste is to be delivered in architecture, not for the pleasure of the cook, but for the pleasure of the consumer draws apart the architecture of the esoteric from that of the seminal. A good cook, like a good architect needs to first understand his ingredients; their honesty, integrity and particularity of taste if he is to avoid dressing mutton up as lamb. Before cooking your first course, you will start off by preparing and understanding the ingredients of your architecture: discarding, boning, marinating, peeling and straining each built element until you are left with a palette of ingredients to fulfil your hungry consumer with the desired taste.
Please visit www.slowtown.org
BSc Unit 7
Dan Brady and Jan Kattein
Top: Gabriel Warshafsky, House of Intoxication, rainwater outlet. Middle: Anna Mill, Ideas Auction. Bottom: Gabriel Warshafsky, House of Intoxication, sunset room
Top, left to right: Luke Jones, Heathrow Terminal 6, detail of Passport Control; Elizabeth Shaw, Steam Opera, elevation; Negin Moghaddam, Dinner at the Soanes'. Middle, left to right: Jacob Attwood Harris, The Crowning of the Lord Mayor; Elizabeth Shaw, Steam Opera, plan; Negin Moghaddam, Down and Out in Paris and London, hotel room. Bottom left: Anna Mill, Ideas Auction; right: Negin Moghaddam, Down and Out in Paris and London, brothel
Clockwise from top: James Crick, Boxing Club, section; Kate Marrinan, The Distorted House, façade detail and The Distorted House, view of stairwell; Klementyna Kloceck, The Royal Institute of Paper Architects, Annual Members' Dinner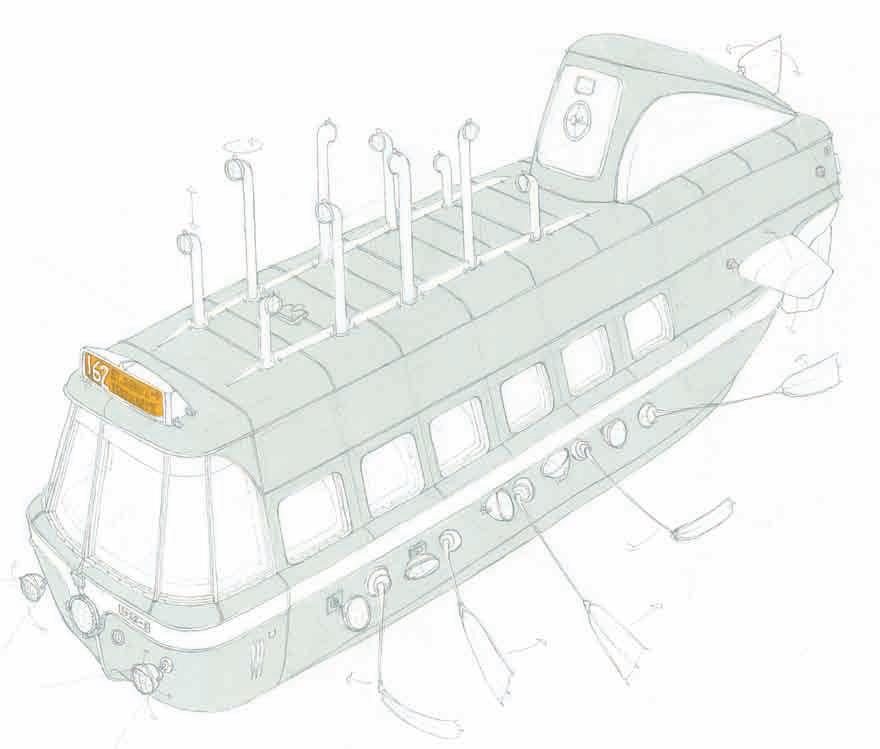 Clockwise from top left: Charmian Beedie; Anna Mill, Ideas Auction; Rosanna Kwok, Door Factory, view of foundary; Lois Farningham, Veal Restaurant , structural skeleton; Justin Randle, Planning Office, elevation
This page, top: Anna Mill, Ideas Auction; bottom: Simon Walker, Film Institute, elevation at night. Facing page: Emily Norman, Housing Association Headquarters
Welcome to Slowtown Dan Brady, Jan Kattein
2006
2:
Welcome to Slowtown
Slowtown is currently nothing more than a one-horse-town, somewhere in the urban growth areas between London and the sea. First impressions may lead you to believe this ear-marked piece of land is nothing more than green fields and wasteland. On closer inspection you will see that Slowtown has an immediate history: a tempo; a certain Englishness; weathers that dupe and coerce; a resilience and self sufficiency that begets its territory. There are architectural memories that promote the town's values of craftsmanship and confident form. Some areas are beautiful and some are ugly, some are industrial and some are residential, some are in constant use and in some the use is fluctuant.
1a Slowtown Chronicle
As well as drawn, collaged, made or built, architecture can also be written.
1b Slowtown Streetfurniture
Taking the Chronicle to the Bartlett workshop we made 1:1 prototypes of a piece of street furniture for Slowtown.
2 Slowtown Councilhouse
Apart from housing every day domestic activities, the councilhouse also has a wider public responsibility. The house provides services to its neighbours encouraging local urban growth. It operates as a representative carrying out business in the interest of the neighbourhood.
3 Slowtown Homeoffice
Slowtown like any other town requires some major architectural infra structure that directs, limits and encourages its growth. The first major piece of infrastructure for Slowtown is a Homeoffice. www.slowtown.org
This page: Nicholas Wood.
BSc Unit 7
Dan Brady and Jan Kattein
Yr
Charmian Beedie, Matt Blaiklock, Alpa Depani, Mark Goddard, Tom Heltzel, Libby Mitchel, Luke Rowett, Tony Staples, Andrew Walker, Liz Watts, Abbie Whitehead. Yr 3: Josephine Callaghan, James Church, Christina Gerada, Jack Gregory, Geraldine Holland, Lucas Westcott, Nicholas Wood.
Top: Tony Staples. Middle: Luke Rowett, Lucas Westcott. Bottom: Matt Blaiklock, Al Padepani.
This page clockwise from top: Cristina Gerada, Tom Heltzel, Charmaine Beedie. Facing page top: Abbie Whitehead; bottom: Jack Gr egory.
Above clockwise from top left: Geraldine Holland, Mark Goddard, James Church. Facing page: Josephine Callaghan.
Architecture and Urban Agriculture
Chris Groothuizen, Stephen Tierney
2004
Yr 2: William Aitken, Becky Ka Ki Chan, Jason Chan, Samuel Chong, Tom Elliott, Hsiao-Wei Lee, Cheukmay Leung, Tetsuro Nagata, Sara Tobin, Nicholas Williams Yr 3: Zehra Abidi, Alan Chuang, Andrew Docherty, Hannah Lambert, Alleen Siu, Chi Chum So, Chiharu Tanaka, Bo Min Tang
Architecture & Urban Agriculture
'A city is a living thing It has a complex metabolism, a voracious appetite and very poor eyesight Improvements in transportation and communication mean that its feeding ground is now global and the consequences of its consumption distant and forgettable How can we turn cities into self-regulating, sustainable creatures and prevent them from eating themselves out of existence?' Herbert Girardet
The footprint of a city is defined as the amount of land required to sustain its metabolism; that is, to provide the raw materials on which it feeds and process the waste products that it excretes London is the original megacity: how much land does it really take to keep it going? Britain's productive land adds up to about 21,000,000 ha Its total surface area is 24,400,000 ha London's footprint is only marginally less than the size of the whole UK
Project 1 Horticulture and Habitation
Brief: Develop a design strategy that employs sustainable design criteria and the emergent technologies of renewable energy generation to design a dwelling for a single person This dwelling should make as small an impact on the environment as reasonably possible, including the attempt to achieve zero emissions The dwelling should also provide all the facilities and creature comforts one could reasonably expect in an urban environment
Project 2 Re-marketing
Brief: Drawing on the concepts and ideas established in the first project we re-locate Borough Market on to the site of the old London Bridge The market design makes apparent the connection between the food, the landscapes and people from which it has come
Chris Groothuizen and Stephen Tierney
BSc Unit 7
Top to bottom: Andrew Docherty, Chi Chum So, Andrew Docherty, Chi Chum So
Top to bottom: Andrew Docherty, Alan Chuang, Alleen Siu, Hannah Lambert
ucl.ac.uk/architecture