Design Anthology UG5
Architecture BSc (ARB/RIBA Part 1)
Compiled from Bartlett Summer Show Books
Our Design DNA
At The Bartlett School of Architecture, we have been publishing annual exhibition catalogues for each of our design-based programmes for more than a decade. These catalogues, amounting to thousands of pages, illustrate the best of our students' extraordinary work. Our Design Anthology series brings together the annual catalogue pages for each of our renowned units, clusters, and labs, to give an overview of how their practice and research has evolved.
Throughout this time some teaching partnerships have remained constant, others have changed. Students have also progressed from one programme to another. Nevertheless, the way in which design is taught and explored at The Bartlett School of Architecture is in our DNA. Now with almost 50 units, clusters and labs in the school across our programmes, the Design Anthology series shows how we define, progress and reinvent our agendas and themes from year to year.
2022 Feedback Loops
Julia Backhaus, Ben Hayes
2021 Goodbye Anthropocene, Hello Symbiocene
Julia Backhaus, Ben Hayes
2020 Generation Anthropocene: Risking Everything
Julia Backhaus, Ben Hayes
2019 Hinterland: Beyond the Borders
Julia Backhaus, Ben Hayes
2018 Dreamland Alps
Julia Backhaus, Pedro Pitarch
2017 Local Quarantines
Julia Backhaus, Martin Tang
2016 Restless Ground
Julia Backhaus, Pedro Font Alba, Martin Tang
2015 Speculative Landscapes
Julia Backhaus, Pedro Font Alba, Martin Tang
2014 The Super-Specific: Las Vegas, Las Vegan
Pascal Bronner, Thomas Hillier
2013 Supernature
Julia Backhaus, Pedro Font Alba, Bruce Irwin
2012 Fault Lines
Julia Backhaus, Pedro Font Alba
2011 Vanishing Point
Julia Backhaus, Pedro Font Alba
2010 'Genius Loci'
Julia Backhaus, Pedro Font Alba, Bruce Irwin
2009 Nothing is Neutral
Julia Backhaus, Pedro Font Alba
2008 mi·cro·cosm (m?'kr?-k?z'?m)
Julia Backhaus, Pedro Font Alba
2007
Ephemera
Julia Backhaus, Pedro Font Alba
2006 'In-Between'
Julia Backhaus, Pedro Font Alba
2005 RE-
Isabel Brebbia, Niall Maxwell
2004 Urban Stress
Isabel Brebbia, Niall Maxwell
Feedback Loops
Julia Backhaus, Ben Hayes
2022
5.1
Feedback Loops
Julia Backhaus, Ben Hayes
Circular design is about creating an architecture that no longer has a life cycle with a beginning, middle or end. As the architecture collective Rotor states, a circular economy promises an endless cycle of reusable resources. With regards to the construction industry, the concept often centres around the metaphor of the urban mine, which understands the city as an accumulation of valuable materials and reusable elements. If the circular economy is more about a mindset than complex technical solutions, however, it is likely that many African countries, such as Rwanda, with indigenous and ingenious approaches to keeping scarce materials in circulation, are already more circular than the industrialised North.
This year we worked as archipreneurs, collaborators, integrators and spatial activists to develop a creative understanding of feedback loops, both as a design strategy and as a working practice. The focus of the unit's investigation was Rwanda, 'the land of the thousand hills', a tropical landlocked country in East Central Africa. Rwanda has taken a proactive approach and put climate resilience at the heart of its policies. It was one of the first countries to ban single-use plastic bags, has the largest Green Fund in Africa and is often a testbed for pioneering and innovative approaches in sustainability. As one of the most densely populated countries in Africa, Rwanda has created model villages across the country, providing housing to people in rural areas and relocating others from areas prone to flooding and landslides. We used the term 'village' as a tool to find alternative architectural strategies and started the year by exploring the terminology of 'local' through the prism of technology and with circularity in mind.
In collaboration with the University of Rwanda, local communities and expert African and Western consultants, we shared lived experiences and ideas and studied Rwanda's village models as a testbed for productive experimentation. We explored the artistic potential of circularity as a point of departure for meaningful, imaginative and site-specific architecture. Our areas of interrogation reached from micro-mining to edible homes, from social cohesion to local narratives, from ancient traditions to cutting-edge technologies.
Year 2
Maria Bystronska, Ana-Maria Cazan, Fasai Chainuvati, Marike Jungk, Ioana Oprescu, Teshan Seneviratne, Yingqi (Izzy) Shen, Ilinca-Maria Stanescu, Shiyan Zhu
Year 3
Samuel Field, Holly Griffiths, Adam Lynes, Kun (Anna) Pang, Tharadol (Robin) Sangmitr, Hanlin (Finn) Shi
Technical tutors: Anja Kempa, Jack Newton, Jack Spence
Thank you to our critics: Pedro Font, Theo Games, Kaowen Ho, Bruce Irwin, Anja Kempa, CJ Lim, Ana Monrabal-Cook, Josephine Mwongeli, Jack Newton, Luke Pearson, Vincent Rwigamba, Kit Lee-Smith, Jack Spence and the students from the School of Architecture and Built Environment (SABE), University of Rwanda
85
UG5
5.1 Samuel Field, Y3 'Uncertain Ground'. This project addresses the future of hostile landscapes, speculating on the safety of vulnerable sites and looking holistically at strategies for landslide resilience. A recent fatal landslide location is rehabilitated. Emerging within a phased masterplan, a disaster-mitigating village typology connects to a village hub and safe-houses, responding to a set risk framework. Resisting and retreating spaces are proposed. These combine to create a resilient landscape – one which resists, retreats and adapts to the uncertain ground.
5.2 Adam Lynes, Y3 'Unearthing Rwanda's Expression through Excavation'. The project is a symphony of performance, carving and construction, exploring the relationship between stone and wood. It articulates a micro-quarrying strategy which highlights the art of traditional excavation, transportation and construction techniques. Across Rwanda, the performing arts are valued practices of entertainment and expression. The theatre expands the facilities of Komera and integrates their current practices, such as weaving, into the building's function and materiality.
5.3 Teshan Seneviratne, Y2 'Well-Grounded'. An agricultural training centre for workers on Rwandan coffee plantations which allows them to enjoy the product of their hard work. The building rethinks current typologies of agricultural production. By reflecting the cascading landscape of the site through its form, spaces such as the rooftop are reappropriated into productive surfaces. The project supports the workers throughout the year by creating centralised and productive spaces where teaching and production can coexist.
5.4–5.5, 5.7 Hanlin (Finn) Shi, Y3 'Earth Institute'. This project explores how the use of local soil can be innovatively used as a construction material to aid displaced communities in Kigali. It investigates the circularity of soil construction, utilising traditional methods in parallel with high-tech manufacturing technologies. The proposal is a critique of the current policies towards informal housing and forced relocation. The project acts as a catalyst and educational tool for developing new, accessible and low-cost village house typologies.
5.6 Marike Jungk, Y2 'Kubu-Gutegura'. Drawing inspiration from Kinyarwanda words for playing and planning, the project utilises the board of the popular game Igisoro to develop a collaborative planning approach for a new village square. While socialising over a round of Igisoro, players negotiate a layout of activities and spatial qualities to strengthen the inhabitants' agency in their built environments.
5.8 Ilinca-Maria Stanescu, Y2 'The CommuniTEA Museum'. With a key research topic focusing on the closely linked issues of tea production and water availability, the project creates a gathering space for the people of Gihombo where they can grow, process, consume and celebrate tea, while at the same time learning about efficient water strategies.
5.9–5.10 Holly Griffiths, Y3 'Soft School'. This project takes an approach to education that considers environmental conditions at the heart of child development following the 1994 Rwandan genocide. Sited just outside the capital Kigali, the school uses the materiality of light to create positive and enriching learning environments. Through investigating light, colour and emotion, lighting systems that support students struggling with their mental health are implemented in the school, highlighting the need for specific learning typologies to aid the next generation.
5.11 Fasai Chainuvati, Y2 'The Water Balance'. Rwanda faces a water crisis where 31% of the population has no clean water access and approximately 3,000 children
pass away annually from a lack of water sanitation. Sitting on the water's edge and floating on Lake Kivu, the proposal creates an internal water-dependent environment. By welcoming local fishing communities and commemorating and filtering the water source, an equilibrium between water and life is created.
5.12–5.13 Ana-Maria Cazan, Y2 'Wild House'. What if our settlements were designed to allow a greater diversity of species to live alongside humans? This project addresses the idea of synanthropic cohabitation through the creation of a community centre designed for all its surrounding residents, human and non-human. The house invites these species to take part in mundane day-to-day activities in order to examine the comfort and suitability of its different occupants.
5.14–5.16 Yingqi (Izzy) Shen, Y2 'The Clayground'. Based in Gihombo, the proposal is a clay sanctuary where locals pass on their cultural heritage through methods of making, maintaining and most importantly playing within fragmented spaces. Through the building's circulation, issues of scarcity in social spaces and drinking water are addressed. The building acts as a test ground for clay experiments, exhibiting methods of construction to reinforce the creative potential, leading locals to reimagine innovative possibilities within a vernacular context.
5.17–5.18 Tharadol (Robin) Sangmitr, Y3 'The Maker's Yard'. This project is a material exploration scheme whereby the architecture of the yard acts as a 1:1 testbed for the fragments and components innovated and analysed on-site. The yard also acts as a catalyst and node of departure for future settlement developments in rural western Rwanda.
5.19 Shiyan Zhu, Y2 'Kivu Fulfilment Centre'. This project is part of a proposed decentralised social infrastructure situated on the shore of Lake Kivu. Local drone technologies are used to deliver fish parcels and emergency medicines and enhance food security in the region. The project challenges the Western distribution model under which enormous homogeneous buildings solely designed for industrial activities sterilise their immediate surroundings.
5.20 Ioana Oprescu, Y2 'The Edible House'. Climate change, drought and natural disasters are damaging food production in Rwanda. Around 90% of the country depends solely on agriculture, exposing Rwanda's vulnerability to food insecurity. This project functions as an emergency kit. In the event of isolated crop damage, the house can nutritionally sustain three families throughout the year. During other times, it provides a community garden and a safe water source for the village.
5.21–5.22 Kun (Anna) Pang, Y3 'Ghosts of Atomgrad 9'. The world today is littered with a new typology of site: the nuclear wastelands of the Anthropocene. These sites are often left abandoned and forgotten, along with the mistakes which were made to create them and the people that suffered. In this project, Pripyat, the atomgrad designed to serve Chernobyl, is explored as a site of the Symbiocene. The design acknowledges the tragic events of 1986 and, through the process of casting mycelium ghosts, grows a palimpsest of memories.
86
87 5.2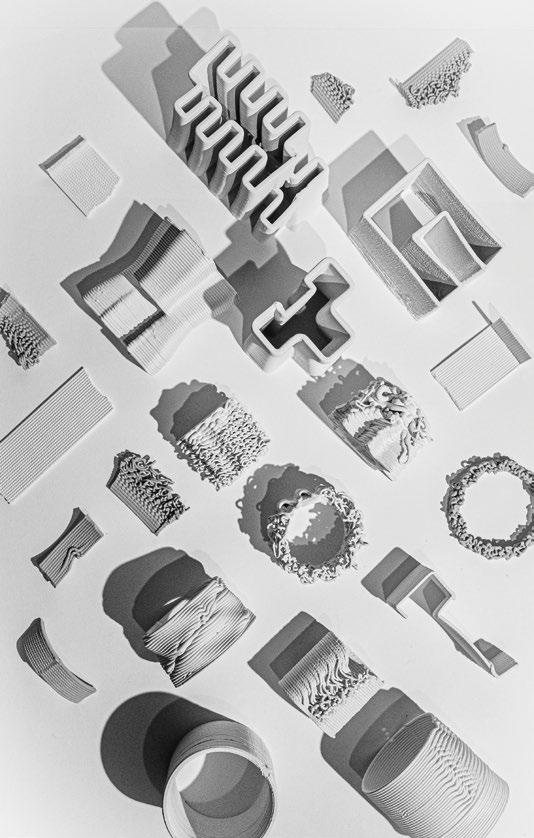 88 5.5
5.4
5.3
89 5.8
5.6 5.7
90 5.10 5.9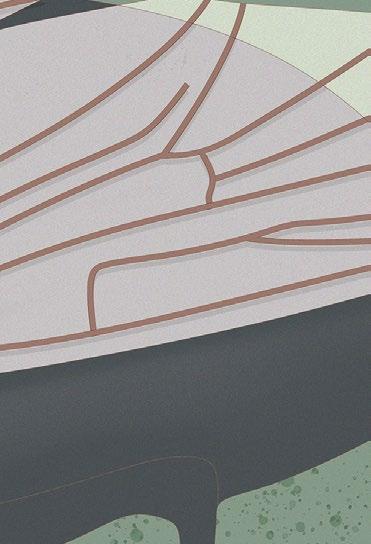 91 5.13 5.12 5.11
92 5.16
5.15 5.14
93 5.17 5.18
94 5.21 5.19 5.20
5.22
Goodbye Anthropocene, Hello Symbiocene Julia Backhaus, Ben Hayes
2021
5.1
Goodbye Anthropocene, Hello Symbiocene
Julia Backhaus, Ben Hayes
As the Earth's climate changes, so must our architecture. The architectural profession is deeply invested in the logic of economic growth and, as a consequence, the built environment accounts for almost 47% of greenhouse gas emissions in the UK. Are architects unavoidably complicit?
Last year we challenged what it means to live and design in the Anthropocene. This year we focussed on how we, as future architects, can break this destructive cycle and shift our creative efforts towards a new epoch: the Symbiocene. We explored how the concept of symbiotic alliances can be applied to the practice of architecture and in this our research focussed on ecology's driving principle of adaptation. A powerful and central idea of the past century, symbiotic alliances transform the study of natural and social sciences, guide the engineering principles of computing and continue to offer a mechanism to mediate between the natural, synthetic and digital.
Guided by research and instinct, we speculated about buildings that behave like generous neighbours in like-minded communities, accommodating the cohabitation of natural and manmade organisms, moderating the microclimate, cleaning the air, offering tomorrow's food and much more. We explored how tools of care, storytelling, play and activism might guide us towards a generative, less destructive and alternative future.
Driven by geographical curiosity, we became eco visionaries and took each other on virtual journeys across the globe to find sites that became the testbed of our explorations. Confined to our bedrooms and kitchen tables, our research took us across different time zones, from London to Tokyo. We cared for construction workers on building sites, rediscovered vernacular bamboo-weaving techniques, explored architectures of activism, cleaned up toxic ground conditions and studied circular economies and productive demolition processes. Together, we imagined a multi-sensory world where we can hear, smell, taste and feel our environments. In the spirit of collaborative survival, we engaged in multi-species thinking, explored entangled existences and studied how dependencies and exploitation could be translated into a beneficial and intimate co-existence.
Year 2
Benson Chan, Park Jin Chan, Keane Chua, Esme Dowle, Oska Smith, Adam Stoddart
Year 3
Sophia Brummendorf Malsch, Jasmine Lam, Rebecca Radu, Xin Ze Seah, Lion Tautz, Jeffrey Wen, Xiaotan (Alexander) Yang
Thank you to our consultants: Damian Eley, Anja Kempe and Jack Newton
Thank you to our critics: Pedro Font-Alba, Murray Fraser, Elie Gamburg, Kaowen Ho, Donn Holohan, Bruce Irwin, Ana Monrabal-Cook, Luke Pearson, Theo Games Petrohilos, Stuart Piercy, Ben Stringer, Michiko Sumi, Mika Zacharias
A special thank you to our guest speakers: Ernest Ching, Donn Holohan, Jono Howard, Kit LeeSmith, Jack Newton, Ewa Roztocka, Gwilym Still, Superposition, Martin Tang, Sharil Tengku, Ron Tse
87
UG5
5.1, 5.12 Xin Ze Seah, Y3 'Remembering Hanami'. The Hanami viewing festival in Japan celebrates life and the coming of spring. Friends and family gather under cherry blossom trees to enjoy the fleeting occasion of their flowering. This project memorialises and preserves the ephemeral nature of cherry blossoms. The building programme is a public memory archive that furthers the community's memory of Hanami and seeks to expand the demographic of its visitors to include dementia patients.
5.2, 5.10 Xiaotan (Alexander) Yang, Y3 'Reconstructing Unseen Industrial Narratives (R.U.I.N)'. The project proposes a set of reconfigurations to a derelict Capital Steel complex in Beijing, China, specifically the residential quarters and bunker warehouse. In response to the global trend towards a circular economy, the programme celebrates every existing corner of the site and considers them not as redundant wasteland but as a bank of recyclable materials.
5.3 Oska Smith, Y2 'The Industrial Allotment'. How can we derive new life from something once thought redundant? The project attempts to find a life that is both uniquely forward thinking for a Symbiocene future, but is also in symbiosis with the industrial past of Teesside in the North East of England. An allotment is manipulated and explored through its connotations of collective growing and its constant state of flux. Characteristics of industrial architecture explore where ambition for a future driven architecture is seen as a shared collective intention.
5.4–5.5 Jeffrey Wen, Y3 'Permanently Temporary'. The project is a construction school and mock-up park set in London's Royal Victoria Dock, surrounded by multiple redevelopments. The architecture comprises specific areas for working and relaxation, seeking to facilitate both the workers' physical and mental health while encouraging the enhancement of new and improved skills. The playful interaction of fabrics and colours inspires both the workers and the public.
5.6–5.7 Rebecca Radu, Y3 'The Last Pristine Biome Laboratory'. The island of Surtsey, Iceland, serves as an unexplored territory with great scientific value due to recently formed ecosystems and discoveries in the inception of life. The laboratory hangs on the island's cliff-side and serves as a habitat for six researchers to live for the duration of their research. The proposal creates a temporary modular architecture that can be removed from the island at the end of its lifetime.
5.8 Benson Chan, Y2 'The Great Andaman Fishery'. The project is inspired by the Sentinelese tribe and the delicate equilibrium through which they maintain their habitat. It takes fishing, a fundamental practice for the tribe that combines religion, craftsmanship and culture, and turns it into a space for community. The building is a paradigm shift for the Andamanese, returning to this tradition through the repeated learning and practising of a sustainable culture and serving as a beacon of a new Symbiocene.
5.9 Adam Stoddart, Y2 '(Ex)traction: A new productive landscape'. Situated in the scars of a disused quarry, the project critically explores the future of our landscape within the Symbiocene. Taking a speculative approach, the project interrogates the importance of an architecture that is intrinsically linked to its environment and how this can lead to the re-mediation of a forgotten land. The proposal for a community research facility acts as a mediator between the forgotten landscape and its surrounding context.
5.11 Esme Dowle, Y2 'Nomad'. A proposal for a travelling surveyor of large-scale construction migrating to industrial projects, the most current being one of the excavation sites of HS2 located in the Colne Valley. 'Nomad' is an allegorical project that occupies space for as long as possible, scavenging materials for its own
fabrication. When the building leaves, a rammed chalk wall remains as a monument to its existence. A protective barrier prevents dust, sound and light pollution from penetrating the local woodland.
5.13 Keane Chua, Y2 'Power-Down Pasir Panjang'. Rapid expansion and the transformation of Singapore's landmass and economy has placed Pasir Panjang's coastline in great risk. Today, Pasir Panjang remains the only natural rocky shore habitat on mainland Singapore. The project responds to recent developments on the site with a counterproposal that can 'power-down' the district by raising awareness of this dwindling habitat.
5.14–5.16 Jasmine Lam, Y3 'Igniting Hornsby Quarry'. The project proposes a bakery and storytelling centre for the Guringai people, the traditional landowners of the site in bushfire-prone Hornsby in Sydney, Australia. Set against a backdrop of native grass fields cultivated using traditional fire regiments, this project investigates how people and architecture can engage with fire through traditional aboriginal practices. While the project focusses on the impact of fire on the landscape, the building proposal focusses on fire in a domestic setting as a tool to bring community together.
5.17 Lion Tautz, Y3 'Design for the People: Rethinking the city'. The automobile has shaped urban thinking for the better part of a century. As we transition away from cars towards more sustainable and active means of travel, a host of redundant typologies will be left behind. Using a soon-to-be-abandoned gas station in Bremen, Germany, as a case study, the project imagines a hopeful future in which the remnants of the car age are re-purposed and utilised to form close-knit communities in our cities. The project also proposes to install a semi-permanent framework into private garages, revitalising our streets and laying the groundwork for more people-friendly cities.
5.18 Park Jin Chan, Y2 'Grande Reverence'. The project is inspired by Jennifer Homans' book Apollo's Angels: A History of Ballet (2010), which argues that contemporary artforms are replacing, or have already replaced, classical forms of ballet. The death of ballet becomes a real possibility as repertoire fades into distant memory. Situated on a performance stage in Richmond Park, London, the architecture adapts and responds to the seasons and the surrounding landscape, and is in constant motion: shifting, changing and calibrating for the next performance.
88
5.2
5.3
91 5.5
5.4
92 5.7
5.6
93 5.9
5.8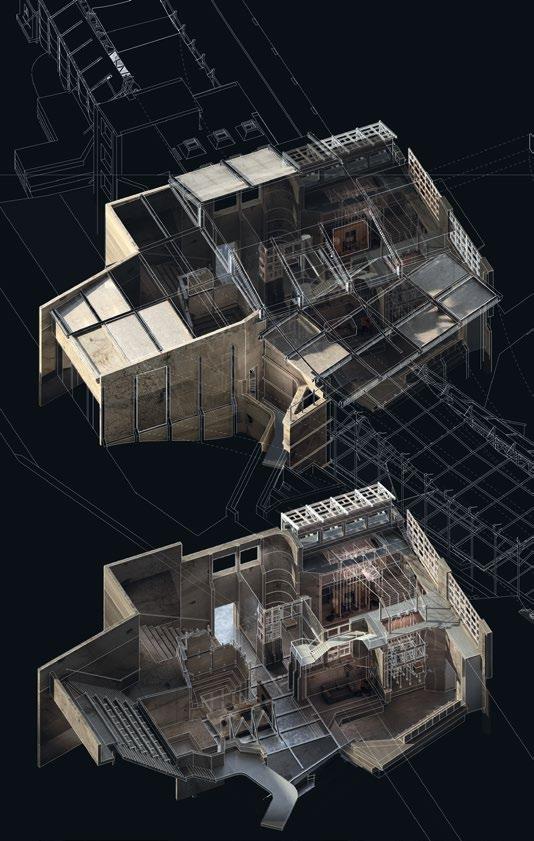 94 5.12 5.10 5.13 5.11
95
96 5.15 5.16 5.14
97 5.18
5.17
Generation Anthropocene: Risking Everything
Julia Backhaus, Ben Hayes
2020
5.1
Generation Anthropocene: Risking Everything
Julia Backhaus, Ben Hayes
We are living in a new geological epoch, the Anthropocene, in which humans are the dominant force shaping the planet and our own acts of design have forever changed the composition of the atmosphere. Though the Anthropocene appears to mark the moment humans have overpowered nature, it is also an opportunity for radical speculation and innovation. Our transformations of urban, natural, and (post) human landscapes are changing culture and daily life. Soon, we will be surrounded by architectural spaces that are entirely empty of people, such as unmanned ports, data banks and server farms. Temporally, this requires that we imagine ourselves as inhabitants not just of a human lifetime, but also of 'deep time' – the profound eras of Earth's history that extend both behind and ahead of the present. Currently, our globalised consumer society is risking rendering the planet's surface beyond repair. What risks must we as architects take to facilitate an environment that supports a symbiotic coexistence between our buildings and ecology, and between technology and human beings? What types of shared spaces and landscapes will emerge?
This year, UG5 pursued a creative understanding of risk and the unknown as a critical instrument and new form of design practice. Risk-taking requires determination and persistence, but most of all optimism, trust and curiosity. Through the synthesis of making, drawing, animation and testing, we investigated the role of risk in architecture as a process and experience of design.
The Nordic Archipelago was our source of inspiration: we crisscrossed its islands, remote islets and skerries, exploring extreme seasonal and climatic shifts, from the proliferation of algae blooms, to rising sea levels, dead zones and frozen coastlines. The Nordic spirit of experiment and risk-taking is partly made possible due to isolation. These countries cluster at the top of league tables of everything from economic competitiveness to social health to happiness, social models prioritising the concept of 'Jantelagen': a culture that emphasises the virtues of achieving things collectively over the individual, of shared risk. Welfare is not just an aid to those who are in need of it, but a central part of society. Its safety net offers freedom to innovate, experiment and cultivates an appetite for risk-taking.
Our research and architectural response situated between nature and technology, culture and instinct. Buildings exploring mixed-reality futures for biennales sit alongside living architectures that house sustainable slow-food production. Industrial landscapes are decommissioned to create bereavement and archival facilities for the new age of the Anthropocene. Stone quarries are repurposed to challenge tangible and intangible national heritage or transformed to harness ice passively in cities; bioluminescent plants explore humancentric lighting; and new forms of woodland architecture celebrate didactic methods of timber construction.
Year 2 Thomas Bloomfield, Rory Browne, David Byrne, Silvan-Mihai Cimpoesu, Benjamin Foulkes, Ioana Petre, Anastasiia Stoliarova, Jiayi Wang
Year 3 Jean Bell, Tengku (Sharil) Bin Tengku Abdul Kadir, Weiting (Terry) Chen, Ernest Chin, Ewa Roztocka, Hanlin Shi, Long (Ron) Tse, Kar (Tiffanie) Tseng
Thanks to our consultants Anja Kempa and Jack Newton
Thank you to our critics
Laura Allen, Abi Ashton, Johan Berglund, Joshua Bolchover, Barbara-Ann Campbell-Lange, Megha Chand Inglis, Pedro Font, Stephen Gage, Theo Games Petrohilos, Ruairi Glynn, Kaowen Ho, Steve Johnson, Bruce Irwin, Markus Lahteenmaki, John Lin, Ana MonrabalCook, Kyrstyn Oberholster, Luke Olsen, Luke Pearson, David Roberts, Mark Smout, Emmanouil Stavrakakis, Sabine Storp, Tim Waterman
85
UG5
5.1,
5.3 Tengku (Sharil) Bin Tengku Abdul Kadir, Y3
'One Tree Manual: Towards a Better Timber Architecture'. A timber institute is situated as an extension of a forested area in suburban Stockholm. Its architecture critically revisits timber construction through the lens of a single tree to counteract inefficiencies of logging. By deriving specific parameters from a local pine tree's properties, the processes of harnessing it as an architectural element are tactically rechoreographed. The project seeks a paradigm shift in attitudes and methodology towards the employment of timber and trees in architecture.
5.2 Ewa Roztocka, Y3 'Retreat into The Rock'. A microquarry is proposed for Källskär Island, which harnesses locally available pink granite as a building material to create a renewed local cottage typology. The strategy engages a sustainable double exploitation of the local granite as material and a new manicured landscape for better cottage living. A post-quarry period is speculated, through recycling quarry byproducts and implementing new stone manufacturing technologies. Ultimately, enabling cross-seasonal occupation of the island to revive the local community of Kökar Archipelago.
5.4 David Byrne, Y2 'Rewilding: A Feral Testbed'. The project aims to address what it means to become 'rewilded', a large-scale conservation movement aimed at restoring and protecting natural processes. Centred around a wearable rewilding device that incites a feral nature in humans, notions of what it means to be human are subverted. New, feral beings are produced, inhabiting the building and rewilding occupants. By refraining from governing nature, a rewilded space is produced: an artificial construct grounded in nature.
5.5 Kar (Tiffanie) Tseng, Y3 'Burying the Digital and the Physical'. An unused coal depository in Helsinki is transformed into a new-age crematorium and cemetery. The landscape of death extends into the digital realm, where our identities exist via the Internet. A digital archival crypt remains, reducing burial land area. The scheme uses coal from a decommissioning coal power plant to form a malleable landscape, absorb heat from the crematorium and cradle the sunken archival and bereavement facility. Warm, tranquil interiors circumvent the chilly Scandinavian climate.
5.6 Jiayi Wang, Y2 'Cohabitating the Archipelago'. Inspired by Shinrin Yoku (Japanese natural therapy), the project aims to use the forgotten allure of forest living to mitigate stresses in an urbanised world. Hidden within a dense coniferous forest on Stormälö island, the project proposes a co-housing scheme that promotes coexistence between community and ecology, by challenging conventional notions of rural cohabitation amongst locals, tourists, forest workers and fishermen.
5.7 Rory Browne, Y2 'Helsinki Institute of Biodiversity'. The project proposes a storage facility to house and preserve seeds across Scandinavia, to future-proof unique archipelago ecosystems as we enter the Anthropocene. The scheme educates and engages visitors in the biodiversity of the site and the issues faced in a new geological epoch. The project proposes a coexistence between the environment, where one is grounded within the landscape and nature becomes the central focus.
5.8–5.9 Ernest Chin, Y3 'Save the Ice'. In the age of the Anthropocene, the answer for a new, sustainable building material could lie in different states of the material that constitutes 71% of our planet. A community hub for Hornstull is proposed on the boundaries of inner-city and suburban Stockholm, that transforms through the collection of winter precipitation. By harnessing winter precipitation in Stockholm as a viable building material for the future, the proposition aims to use these seasonal materials as a beacon to bring people across all walks of life together, bridging an increasingly divided city.
5.10 Weiting (Terry) Chen, Y3 'The Future of Lighting: Biolights Research Centre'. A research centre for biolights is proposed for Stormälö. A pioneering light source that requires zero energy and produces no waste, biolight is produced by inserting bioluminescent genetic coding into non-toxic bacteria. The centre comprises research and testing facilities beneath a public observation deck, which allows visitors to peer into the prototypal lights beneath. Through extensive light testing, the glow of the biolights is amplified and redirected onto the building, creating an illuminated landscape.
5.11 Jean Bell, Y3 'New Nordic Notoriety'. This proposal embraces 'slow food', in contrast to the fast food production context of the site, through spaces that facilitate testing and research into sustainable foodscapes and craft. Hosting an annual New Nordic Food Festival that celebrates Nordic Food, the building expands through a network of skins made of food. These skins concurrently highlight the intimate relationship between our food cycle, waste and craft. By promoting food councils and the communities surrounding them, the building seeks to simultaneously preserve and speculate upon the New Nordic foodscape.
5.12 Ioana Petre, Y2 'The Baltic Sea Safety Centre'. Located in southwest Finland, a popular summer destination for water activities, the project proposes a tripartite communal facility comprising a sea-safety training centre, a library with climate change media, and a seaside café. The building encompasses a series of algae pools for low-visibility diving and salt-water enclosures that reflect the increasing eutrophication and salinity of the Baltic Sea, respectively. In light of climate change, the project aims to raise awareness about the impact of the Anthropocene on the Baltic Sea.
5.13 Silvan-Mihai Cimpoesu, Y2 'The Stacked Timber Workshop'. The project proposes an educational timber workshop, open to both students and skilled craftsmen. In the face of increased mechanisation within the modern Finnish timber industry, the scheme promotes upgrading of skills through workshops centered around new technology in woodworking. Knowledge about analogue woodworking is infused into these workshops, using the strengths of both analogue and modern methods to stretch the possibilities of timber architecture.
5.14 Benjamin Foulkes, Y2 'A Red House in a Potato Field'. The Finnish expression 'a red house in a potato field' encapsulates picturesque Finnish rurality, referencing the ubiquitous Finnish countryside red cottages. Taking the form of an artist's studio and public gallery, the scheme aims to challenge Finnish ideals of rurality by visually deconstructing the surrounding landscape. This is facilitated through manoeuvrable reflective surfaces that alter perception of the landscape, allowing the painter to calibrate and reconfigure the site according to their artistic interpretations.
5.15 Long (Ron) Tse, Y3 'Vallisaari island: A Biennale of Projected Ephemeralities'. A visitor centre on Vallisaari is proposed for the Helsinki Art Biennial. During off-season, the centre's bare framework is invaded by surrounding vegetation. During Biennial season, the centre uses the different states of water to create an intangible enclosure, augmented through projection mapping. Through holograms of forgotten history, fog screens recreating abandoned tunnels, and water velariums as memorials to forbidden lakes, various historical moments of Vallisaari are recollected. By relying on virtual realisation, we build less, and return to nature.
86
5.2
88 5.4
5.3
5.5
5.9
5.10
5.11
94 5.14 5.13
5.12
5.15
Hinterland: Beyond the Borders Julia Backhaus, Ben Hayes
2019
5.1
Hinterland: Beyond the Borders
Julia Backhaus, Ben Hayes
Cities get a lot of attention. Following decades of urban triumphalism much of architectural production has focused on metropolitan territories; yet, cities only account for approximately 2% of the Earth's surface. Rem Koolhaas's current research on the future of the countryside argues that by looking at the remaining 98%, we are looking at the future of the world.
This year, UG5 explored the hidden dimensions of the city's hinterland: a territory lying beyond the visible and the known. Historically, cities have functioned as the epicentres of political and economic power. They controlled and managed the agricultural and resource-rich rural countryside, and its hinterland, and this dual relationship was the breeding ground for local culture. Today, new technologies, infrastructure and open trade render this relationship as remarkably complex. As we travel deeper into the digital age, cities seem to rely less and less on their neighbouring countryside to feed, maintain and entertain them. They have been emancipated from the constraints of geography. Now, we have global cities with global hinterlands, where distances, dependencies and boundaries between sites of production and consumption are radically redefined and in constant flux.
The city of Shenzhen in Hong Kong, and its uncharted border zone, became the testbed for our explorations. In term 1, we speculated about this residual landscape as a new metropolitan playground. Could this hinterland become a new experimental foreground? For the main building project, our areas of interrogation reached from abandoned Hakka villages to trade, traditions and craftsmanship; from the small house policy to the aquatic maze of water flows; from ancient traditions to cutting-edge technology and from the dynamics of cross-border education to China's consumer electronics, games and robotics, where the virtual collides with the physical world.
Our field trip took us through multiple thresholds, from the super-urban to the super-rural. We started the trip in Hong Kong, an island of skyscrapers, mountains, tropical forests and beaches, and explored the city's outer limits, extreme topography, concretereinforced mountain slopes and reclaimed grounds. From here, we crossed the border zone, a residual landscape locked between two megacities: Shenzhen, a fast-moving city and a mecca for makers – with fabrication laboratories, robotics, electronic markets, drone factories and architecture by I.M.Pei, OMA, Coop Himmelb(l)au and Urbanus – and Guilin, with its majestic rural landscape, reminding us that days could also pass in slow motion.
Year 2
Niamh Cahill, Daniel Eytan Grubner, Anahita Hosseini Ardehali, Edmund King, Cheuk Yan (Felix) Lau, Mabel McCabe, Nandinzul Munkhbayar, Barbara Sawko, Alice Shanahan, Yujie Wu
Year 3
Maria Patricia Castelo, Eleanor Harding, Amy Kempa, Emily Mak, Marcus Yang Mohan, Szymon Padlewski, Zifeng Ye
We would like to thank our technical tutors, Jack Newton and Anja Kempa, as well as Damian Eley and Kartikeya Rajput for their generous time and superb technical support. Special thanks to Thomas Parker, Joanne Chen and Theo Games for honing the students' computational skills
Thank you also to our critics: Laura Allen, Peter Cook, Pedro Font, Stephen Gage, Theo Games, Kaown Ho, Bruce Irwin, Anja Kempa, CJ Lim, Luke Olsen, Jack Newton, Thomas Parker, Luke Pearson, Sara Shafiei, Mark Smout, Sabine Storp
89
UG5
5.1 Amy Kempa, Y3 'Manufacturing Living'. In this project, rural Hong Kong – a landscape of abandonment –becomes a speculative model of countryside living, revitalising the rural through the implementation of industry. Embedded within a rapidly declining environment, it imagines a symbiotic exchange between the heavily polluting underbelly of TaoBao LED manufacturing and its parasitic camouflage of idyllic rural living above. Light forms the architectural driver, where the unique nature of production provides a landscape of constant illumination.
5.2 Zifeng Ye, Y3 'The Blue Frontier'. A proposal for an experimental community located on the Plover Cove Reservoir in Hong Kong. This project responds to the city's recurring proposals to reclaim land from the reservoir and proposes that Plover Cove be its first floating town. The project utilises water entering into the reservoir to create animated public and domestic spaces for the enjoyment of visitors and residents.
5.3 Emily Mak, Y3 'Dust Matter(s)'. Set in the context of the thriving industrial city of Shenzhen, this speculative project proposes an experiential facility that aims to educate the public on the dust in the air that is often unnoticed. The building itself functions as an air filter and makes visible the impact, weight and mass of dust. The immersive journey is a live cautionary tale on the effects of air pollution in the city.
5.4, 5.7 Marcus Yang Mohan, Y3 'Rooftop Escapades'. Informed by Hong Kong's history of informal rooftop classrooms, 'Rooftop Escapades' proposes a rooftop educational facility that drapes over the existing urban landscape, forming alcoves that serve as spaces for play and learning. Concrete – the ubiquitous material of the city – is re-examined as a soft tactile language that can protect, nurture and embrace.
5.5 Barbara Sawko, Y2 'Robotic Toy Workshop'. This project proposes a building that educates children from both sides of the border zone between mainland China and Hong Kong. They will learn programming and robotics, but also creative thinking and looking at things from different points of view. Taking inspiration from Chinese Yin Yang ideology, the centre will focus on balanced development of both the mind and the body.
5.6 Szymon Padlewski, Y3 'Hidden in Plain Sight'. Proposing a building that acts as an architectural decoy, confusing and tricking outside observers to create a surveillance-free space, this 'church of freedom' offers a democratic space where the people of Shenzhen can express their thoughts and opinions and share ideas. A prototype testing ambiguous architecture based on optical illusions and camouflage, the building obscures and confuses external and internal visual surveillance.
5.8 Anahita Hosseini Ardehali, Y2 'The First Frontier'. It is the near future and, with their expanding space programme, China are looking to colonise Mars and the Moon. The building proposes a space travel agency that aims to capture the cosmic sublime. It is a place for visitors to experience recreations of certain phenomena from these astronomical bodies in hope of promoting the excitement of space travel.
5.9 Nandinzul Munkhbayar, Y2 'Thinkers' Hotel-cumLandscape'. Narrating traditional Chinese philosophies, this project raises awareness of stress levels at work and attempts to offer spatial opportunities to help nourish mental health. Adopting an interwoven spatial language, it intersperses live/work spaces with gardens and waterscapes where guests are met with social encounters and sensory experiences.
5.10 Alice Shanahan, Y2 'Small Farm Policy'. Responding to controversial governmental policies, this project proposes a new village typology that facilitates rural growth in the hinterlands post-2047. The building brings the visitor on a journey through the landscape before entering the housing system above, based on a modular system centring around a singularly designed column.
5.11 Niamh Cahill, Y2 'Casting Xingping'. In response to the need for more sustainable tourism along the Li River, this project proposes a theatre that provides a platform for the revival of Chinese shadow theatre. As night falls, the landscape becomes the backdrop for projections of light, creating an immersive experience amongst the dramatic karst landscape. A community centre by day, the building is designed as a shadow theatre with the roof filtering light into the various spaces.
5.12 Yujie Wu, Y2 'Celebration as Preservation'. A post-demolition urban village community centre becomes democratic place for both past and future residents. By respecting the spacial format of the demolished urban village, people are provided opportunities to experience the scale of the past living space. The community library and the market underneath keep the legacy of the demolished urban village, and give the original function back to its space.
5.13 Cheuk Yan (Felix) Lau, Y2 'The New Tourist Rafts Terminal'. The terminal strives to respond to the contrast in tourism in the area during different seasons, and to resolve the poor management of the tourist sightseeing rafts along the Li River in XingPingZhen, China. The flexible intervention adapts to and embraces the seasonal changes, expanding and contracting according to the demand for space in different seasons.
5.14–5.16 Maria Patricia Castelo, Y3 'Vertical Landscapes'. A proposal for a vertical urban park that focuses on bringing the sublime quality of nature to a dense city context, providing Hong Kong city dwellers with access to scenic natural landscapes. The park provides plants that filter air users may take a vertical, winding hike up the building.
5.17 Mabel McCabe, Y2 'Institute for Food Innovation'. This project explores sustainable future foods: fake meat and insects. With buildings on opposite sides of the water, circulation is key to making sure the visitor explores every area, from food kitchens to a lecture theatre. All senses are experienced in eating a wealth of new foods, whilst travelling on a journey to discover how it is made and ending at the sunset restaurant.
5.18 Daniel Eytan Grubner, Y2 'Rebranding and Reviving Chinese Oysters'. Located in a region with a rich history of aquaculture, this building proposal is comprised of an oyster supplement factory and experimental medicine clinic. The theatricality of the industry is accentuated by encouraging public entry to manufacturing spaces and offering wellness treatments within the factory's operation.
5.19 Eleanor Harding, Y3 'Embassy of the Unseen'. This alternative embassy uses a responsive architecture to communicate its occupation and needs to the overlooking luxury tower blocks, whilst shifting scales to maximise approachability on the ground. The 'unseen' (people with no visibility within the city) are exemplified as the 'live-in maids' and the 'working poor'. The embassy exploits legal loopholes around land ownership in favour of those with no space of their own.
90
5.2
5.3
93 5.5 5.4
94 5.6
95 5.8
5.9
5.7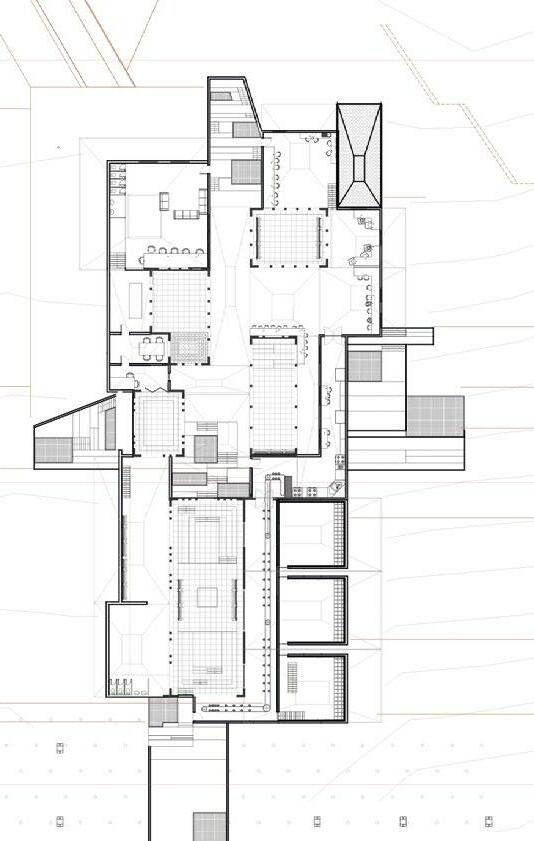 96
5.12
5.13
5.10
5.11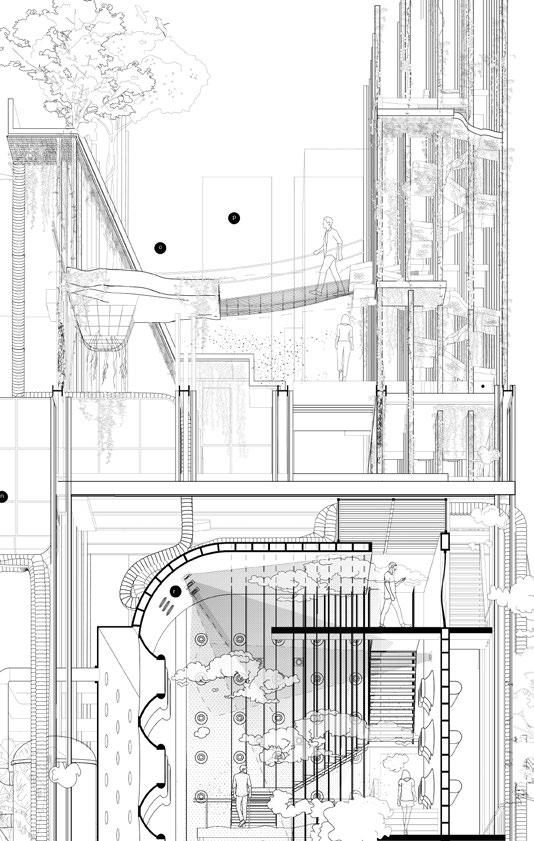 97 5.16
5.14 5.15
98 5.17 5.18
5.19
Dreamland Alps
Julia Backhaus, Pedro Pitarch
2018
Dreamland Alps
Julia Backhaus, Pedro Pitarch
The Bartlett School of Architecture 2018
Year 2
Vitika Agarwal, Danheng Bai, Migena Hadziu, Kit Lee-Smith, Harriet Orr, Maria Petalidou, Thomas Roylance, James Van Caloen
Year 3
James Carden, Yung Chan, James Cook, Yee (Enoch) Liang, Samuel Martin, Zhi Tam, Chloe Woodhead
Many thanks to Mike Davies, Anja Kempe and Jack Newton, for their superb technical support and a special thanks to Martin Tang for his generous computer workshops. Thank you to Damien Eley and Daniel Wright for attending some of our technical seminars.
Thank you to our critics: Abigail Ashton, Mike Davies, Pedro Font, Stephen Gage, Penelope Haralambidou, Bruce Irwin, Carlos Jiménez Cenamor, CJ Lim, Thandi Loewenson, Anja Kempe, Jack Newton, David Roberts, Sabine Storp, Martin Tang
Only three centuries ago, the act of climbing Alpine peaks would have been considered an act of lunacy. Until the late 18th century the Alps were a source of fear to travellers and a mystery to scientists – an uncharted wilderness at the heart of the world's most crowded continent. Yet, within a remarkably short space of time, they became one of the earliest tourist destinations, with the crossing of the Alps seen as a sublime experience for the European elite. Soon, the Alpine peaks became the source of wonder and inspiration and attracted mountaineers, pioneers, writers, engineers, architects and scientists alike. All of them came for adventure and epic panoramas, for fresh air and milk, escaping tuberculosis and smog in the cities. The Alps, and Switzerland in particular, became a destination for health enthusiasts, luxury retreats, desire and an elevated rush of adrenaline.
As the initial respect and admiration for the epic grandeur of the Alpine panorama have gradually made way for the unrestrained exploitation of Alpine mass-tourism, scientists warn that global warming is accelerating glacial melt. What architectures can we propose for these scarred landscapes? In a land where tradition is as important as innovation, can we find a new Alpine typology? How can new ways of collaborating between habitat, tourism, production and innovation preserve or create new and unexpected environments?
This year, our unit explored the future of the Swiss Alpine landscape and its complex relationship with technology, nature, tourism and its cultural identity. Whilst term 1 was research-based, with a speculative and experimental investigation into Alpine ground conditions, the main projects aimed to synthesise some of the complex relationships between the natural and the man-made, landscape and the built form, preservation and progress, innovation and tradition on a real site. Our interrogations ranged from weather control and artificial snow cannons to cow power, from health retreats to disguised Swiss military infrastructure, from high-altitude research stations to the reflective space of an Alpine echo.
In January we travelled the Alpine Arc by bus, foot and cable car, starting our journey in Switzerland, the country that produced Le Corbusier and precision measurement. On our journey we visited remote villages, ski resorts and architecture by Zumthor, OMA, Oligati, Scarpa and SANAA as well as the model archive of Herzog de Meuron. We also spent time at one of the most complex experimental facilities ever built, the Large Hadron Collider at CERN. From here we crisscrossed the Alpine scenery by train and bus to Milan, relieved to find a more affordable final group meal in warmer climates.
76
UG5
5.1
Fig. 5.1 James Carden Y3, 'World Culture Collection'. Taking the economic (pharmaceuticals) and political status (neutrality) of Switzerland and creating a world bio back-up. Based in a remote location in the vicinity of the Aletsch Glacier, drawing upon the naturally cold climate as a way of cooling the spaces. The architecture focuses on building methods that allow for an unpredictable future, reacting to potential fluctuations both in environment and demand. Figs. 5.2 & 5.4 James Van Caloen Y2, 'The Unplugged Collective'. Exploring the Swiss traditions of medical tourism and high-tech innovation, this project is a reinterpretation of the Alpine sanatorium. A collection of floating pods form technology retreats on an isolated, high-altitude lake. Fig. 5.3 Kit Lee-Smith Y2. This alpine conservation retreat houses the final stand against the rising
treeline and shrinking upper montane. The building expands annually with the summer influx of volunteers and over the century decomposes as hope of preserving the slopes declines becoming the final grove of native species.
Fig. 5.5 Vitika Agarwal Y2. This scheme sits on an avalancheprone site, where labs trigger seasonal avalanches, thereby making it a spectacle for visitors. The water collected is celebrated throughout the building, where visitors have the opportunity to bathe and bottle the water from pools.
Fig. 5.6 Yee (Enoch) Liang Y3. An alternative conference centre for the publicly open and inclusive discussion of the Alps' wellbeing. Using inflatable structures, the ephemeral centre inflates to celebrate the importance of Swiss transhumance and direct democracy. 5.3
78 Architecture BSc UG5 The
2018
Bartlett School of Architecture
5.2
5.4
5.5
5.6
Fig. 5.7 Migena Hadziu Y2, 'Sublime Re-written'. A writing retreat that focuses on opening up an opportunity for people to seek refuge amongst the sublime of Lac de Moiry and be at liberty to write with no restrictions. Manipulating and distorting the views captured by the reflective and mobile façade of the writing pods allows the landscape to be recorded in a variety of different ways. Fig. 5.8 James Carden Y3, 'World Culture Collection'. Taking the economic (pharmaceuticals) and political status (neutrality) of Switzerland and creating a world bio back-up. Fig. 5.9 Harriet Orr Y2, 'The Alpine Lightning Spectacle'. A new Landform architecture based on a dystopian narrative where global warming has resulted in powerful storms replacing snow in the Swiss Alps, encompassing a sustainable future through lightening harvesting and spectacle
tourism. Fig. 5.10 Samuel Martin Y3. Situated above a melting Alpine glacier and adapting popular Alpine technology, a tensile structure is suspended above the Rhône glacier into which research capsules are plugged on a seasonal basis. The project further proposes a system through which the act of glacial research can become the basis for a new mode of Alpine tourism. Fig. 5.11 Yung Chan Y3. This project exposes the underlayer of Brutalism existing beneath the alpine façade. Powered by Swiss stereotypes of precision and by borrowing from themes of religion, the architecture forms a labyrinth with pockets of intensity which set up a pilgrimage in hope of finding the Swiss nationals' Helvetic identity.
80 Architecture
BSc UG5 The Bartlett School of Architecture 2018
5.7 5.8 5.9 5.10
5.11
Fig.5.12 Tom Roylance Y2. The decline in traditional Swiss meat farming is inevitable, but emerging biotechnology has the potential to shape a new relationship between species. This project explores engaging customers with a harmless meat production market. Fig. 5.13 Zoe Tam Y3, 'Glacier Rescue'. The building is a spa and ice resort located on the Swiss-Italian border next to the Theodul Glacier in the Alps. As a result of global warming and shrinking glaciers, a considerable shift in the watershed line has resulted in shifting borders and Switzerland gaining territory. The building collects and changes water in its various state of snow and ice in the winter and rainwater in the summer to maintain the Theodul Glacier. The radiant ice fridges produce ice bricks within the resort which are laid on the glacier, forming a layer
of sacrificial ice, keeping it cool. This maintains small portion of the Swiss-Italian border and local Swiss tourism. Fig.5.14 Maria Petalidou Y2. A swimming and training centre composed of a series of interior and exterior pools filled by the water obtained from the melting Rhône Glacier. These ice structures symbolise and revive the experience of the Glacier that is constantly retreating. Fig. 5.15 Chloe Woodhead Y3. An open-air performance space which marries the idyllic natural landscape of the Swiss Alps with the dynamic and fluid nature of Lake Brienz. The performance continues onto the lake, where the Stage Boats follow a system of choreographed underwater pulleys to centre the picturesque backdrop to the Auditorium Pontoons.
82 Architecture BSc UG5
The Bartlett School of Architecture 2018 0.0
5.13 5.14
5.12
5.15
Fig. 5.16 Kit Lee-Smith Y2. This alpine conservation retreat houses the final stand against the rising tree line and shrinking upper montane. Working on two timeframes, the building expands annually with the summer influx of volunteers and over the century decomposes as hope of preserving the slopes declines, becoming the final grove of native species. Fig. 5.17 Yee (Enoch) Liang Y3. An alternative conference centre for the publicly open and inclusive discussion of the Alps' wellbeing. Using inflatable structures, the ephemeral centre inflates to celebrate the importance of Swiss transhumance and direct democracy. Fig. 5.18 James Cook Y3. Opus Two is a Winery and Swiss-themed Leisure Resort located inside a volcanic crater in the Mojave Desert, California. The volcanic site utilises its rich nutrients in vine
growth for wine production. The project is informed by the village of Corippo; a small, remote village in Switzerland where the CEO of Opus Wineries descends from. Swiss technologies are integrated in the design to tackle the extreme climate and provide optimal conditions for grape vine growth.
84 Architecture BSc UG5
The Bartlett School of Architecture 2018
5.17
5.16
5.18
Local Quarantines Julia Backhaus, Martin Tang
2017
Local Quarantines
Julia Backhaus, Martin Tang
Year 2
Annette Choy de Leon, Zachariah Harper le Roux, Victor (Tsz) Leung, Nur Mohamad Adzlee, Chandni Patel, Katherine Ramchand, Chun (Derek)Wong
Year 3
Aya Ataya, Nur (Sabrina) Azman, Lap (Justin) Chow, Nicholas Chrysostomou, Joanna Hobbs, Ka Chi Law, Alvin Lim, Ziyuan (Oliver) Zhu
Thank you to:
Barbara-Ann Campbell-Lange, Pedro Font Alba, Bruce Irwin, Frosso Piminedes, Stephen Gage, CJ Lim, Sabine Storp, Carlos Jiménez Cenamor, Matthew Butcher, Sarah Shafiei, Thandie Loewenson, Daniel Koo, Lucas Alperi, Bob Sheil, Matt Springett, Johan Hybschmann, Sofia Krimizi, James Hampton, Kaowen Ho, David Roberts
This year our unit started with an experimental investigation into the practice of quarantine as a strategic spatial tool. In medical terms, quarantine is described as a state of isolation imposed to prevent the spread of disease. However, we didn't limit our exploration to disease control. We explored quarantines in a much broader sense: as a strategy of containment, encapsulation or preservation; a spatial separation for the purpose of protecting one thing from exposure to the other; a self-contained micro-cosmos that sustains a delicate balance with its surroundings.
China became the test bed for our investigations. China today seems omnipresent – in the news, in our workplaces and in every trip to the shops. Its growth seems unprecedented and unending. Economic expansion and relocation to China's cities are radically altering China's urban and rural infrastructure and built environment, rapidly taking on a Western veneer. Our appetite for consumption and our concern for the health of our planet creates an uneasy contradiction: it feeds the tension between the pure and the polluted, the local and the foreign, the healthy and the sick, the fake and the original. What architectures can we propose for those uncertain and fragile relationships?
Term one was research-based and propositional at the same time, studying China's culture and Shanghai from afar. We explored various scales of quarantines and our investigations reached from everyday spatial interventions to the great firewall of China. From smog, dust and pollution control to isolated Santa Claus production villages; from 'Chinawood', the world's largest film studio and camera-ready version of Chinese history to hermetically sealed greenhouses.
In early January, we travelled to Shanghai and Hangzhou. In our search for sites, we found a fast-moving and muscular city. With over 4,000 high-rise buildings having sprouted out of its ground since the mid-1980s, Shanghai's skyline has become a strangely exuberant version of a Blade Runner aesthetic, with simple geometries and sharp lines cutting into the sky. Its architecture contains a permanent tension between the past and the future. In contrast, Hangzhou's dreamy West Lake panoramas and hilly backdrop lured us into believing it was almost a classical Chinese watercolour.
The main brief challenged the unit to site the research from their project within a real context.
Briefs ranged from an urban clay quarry to a G20 summit guesthouse, from a wildlife research center in the strangely illuminated forest of Hangzhou to a bone china pet cemetery. The propositions that emerged this year were firmly set in China's future – where they explored their own definitions of quarantines in the context of China and an architecture that is fictional yet possible, ironic yet critical, and affirmative yet progressive.
76
The Bartlett School of Architecture 2017
UG5
5.1
Fig. 5.1 Nicholas Chrysostomou Y3, 'Ex-Farmer's Clubhouse'. The current legislation of the Hukou system limits internal migration and only provides healthcare and education to nationals if they remain within the constraints of their Hukou passport. The Shanghai Ex-Farmers' Clubhouse is based on the philanthropy of those ex-farmers who 'made it' in the city, and triggers memories of a lost rural landscape within its context, as well as offering services such as healthcare and education.
Figs. 5.2 – 5.4 Lap (Justin) Chow Y3, 'The G20 Village'. Sited in Hangzhou's West Lake, the sustainable fishing village hosts a number of G20 meetings throughout the year. A modular diaphragm roof hybridises vernacular construction with high-tech, serving as a barometer and litmus test for the city whilst recording and displaying pollution levels. Floating plug-in
modules allow for the complex dual occupancy of the building. Fig. 5.5 Ziyuan (Oliver) Zhu Y3, 'Archiving Live Views'. Situated on the Su Causeway on the West Lake, the project is based on the proposal for an urban planning and broadcasting centre that has the ability to alter the backdrop of the recording studios and the 'chameleon skin' on its façade. It aims to create virtual scenarios that speculate about the future and the past of the city of Hangzhou and its natural surroundings.
5.2
78 BSc Architecture UG5 The
5.5
Bartlett School of Architecture 2017
79 BSc Architecture UG5
5.3
The Bartlett School of Architecture
2017
5.4
Figs. 5.6 – 5.7 Nur (Sabrina) Azman Y3, 'The Yangtze Dolphin Sanctuary'. The building acts as a safe haven for injured and sick dolphins along the Yangtze River. Dolphins that require extra care and attention will be temporarily relocated to the sanctuary, where they recover, and gradually helped to return to the wild. The building negotiates the unpredictable behaviours of flood water, which is celebrated and welcomed into the building in order to optimise the use of the facility and recalibrates the shifting boundary between water and land. Fig. 5.8 Nur Mohamad Adzlee Y2, 'Elderly Community Centre and Antique Marketplace'. The scheme proposes a new dating spot for the elderly, where modular buildings contains unfolding market stalls that maximise productivity and provide a socialising platform. Fig. 5.9 Chandni Patel Y2, 'Made in China:
Shanghai Arbitration Institute'. Proposed from the phenomenon of Shanzhai, the project creates an arbitration institute in the Free Trade Zone of Shanghai to protect the legal rights of abused factory workers in China. Using a typology of the anti-monumental to entice migrant workers to a usually intimidating legal environment, owners of factories are coaxed into legal conversations and covert transactions with their factory workers. Figs. 5.10 – 5.11 Zachariah Harper Le Roux Y2, 'Airpocalypse Archive'. Set in Shanghai's 2010 Expo Park, the project reflects critical opinions about the environmental legacy of the event. It was portrayed in the media as a symbol of China's commitment to sustainable development, where technology enables the imagined harmonious reconciliation of urban and rural development. The project serves as the
80 BSc Architecture UG5 The
2017
5.7
Bartlett School of Architecture
5.6
'mothership' for the collection of environmental data and takes samples from monitoring stations throughout the city, acting as an archive and lab for testing these samples, highlighting the problem and challenges of air pollution.
81 BSc Architecture UG5
The Bartlett School of Architecture 2017 5.9 5.8 5.11 5.10
82 BSc Architecture UG5
2017 5.13 5.11 5.12 5.14
The Bartlett School of Architecture
Figs. 5.17 – 5.18 Joanna Hobbs Y3, 'Orchestra of Crickets'. An arena dedicated to the sport of cricket fighting. Located at the centre of the ghost city of Rushan, the arena amplifies the crickets' activities and regenerates the surrounding city. Fighter crickets require specific diets, exercise and environments which are incorporated into both the human and cricket spaces within the building, creating a constant fluctuation between cricket and human scales. Fig. 5.19 Aya Ataya Y3, 'Carving Conversation'. The project is a deconstruction of a censored government building to provide democratic space for the exchange of uncensored information and freedom of speech. The target is the National Museum of China in Beijing, where a new landscape is being carved and designed. The nature of the architecture is to be open and
accessible, which is essential in order to enable and enrich free speech within the structure, with enclosed spaces forming a study-focused Cultural Centre. Figs. 5.20 – 5.21 Ka Chi Law Y3, 'The Shanghai Urban Quarry' proposes an excavation strategy to refurbish the endangered Shanghai lane houses, whilst creating an experimental urban housing scheme situated in the environmental microcosm of the carved-out space. The 'down-rise' architecture consists of prefabricated living pods bolted to the trenches of the clay pit, and clad with terracotta tiles fired in-situ. The clusters of pods and lower-ground spaces is reminiscent of Shanghainese communal living culture, and opposes the mass construction of residential high-rises.
84 BSc Architecture UG5 The
Bartlett School of Architecture 2017 5.17 5.18 5.20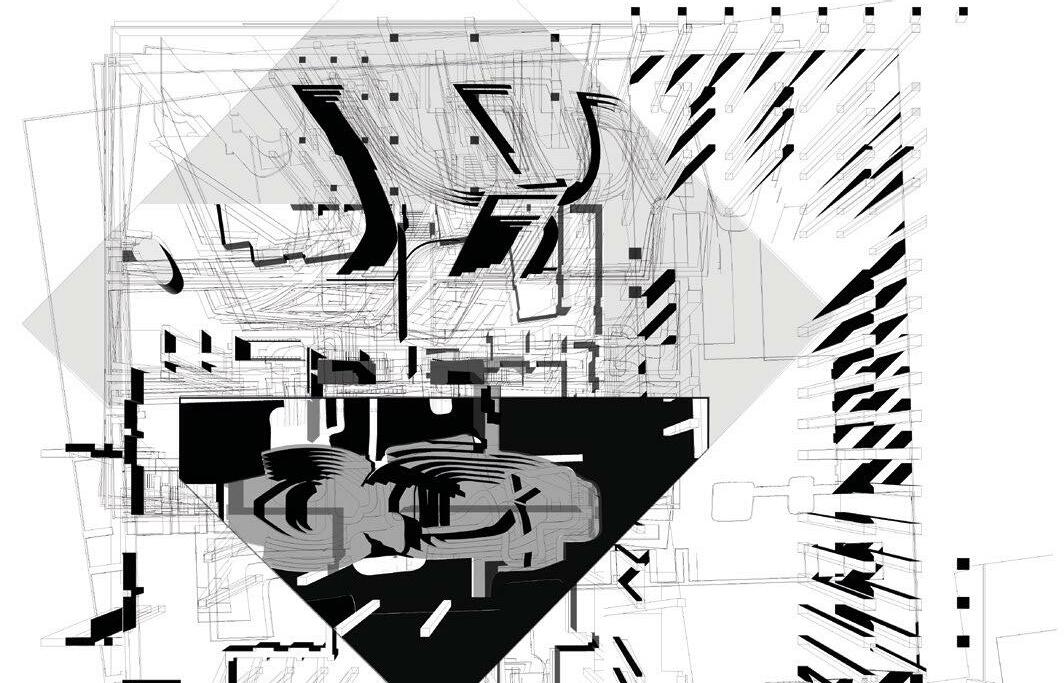 85 BSc Architecture UG5
5.21 5.19
The
Bartlett
School of Architecture 2017
Restless Ground
Julia Backhaus, Pedro Font Alba, Martin Tang
2016
Restless Ground
Julia Backhaus, Pedro Font Alba & Martin Tang
Year 2
Kelly Au, Gabriel Beard, Christina Garbi, Kaizer Hud, Hannah Lewis, Yidong (Isabel) Li, Minghan (Tom) Lin, Jack Spence, William Stephens
Year 3
Yangzi (Cherry) Guo, Niema Jafari, Karolina Kielb, Benjamin Mehigan, Rachael Taylor, Olufunto Thompson, Kate Woodcock-Fowles, Yehan Zheng
Many thanks to our technical tutors Dimitris Argyros and Mick Brundle
Special thanks to our critics: Luísa Alpalhão, Abigail Ashton, Laura Allen, Pascal Bronner, Tina di Carlo, Salvador Cejudo, Carlos Jiménez Cenamor, Mollie Claypool, Diego Delas, Max Dewdney, Murray Fraser, Stephen Gage, Thomas Hillier Justin C.K Lau, Adriana Laura Massidda, Tania Sengupta, Sarah Shafiei, Bob Sheil, Sabine Storp, Michiko Sumi and Patrick Weber
Our unit continues to explore the relationship between land use, technology and science and the synthesis of inherent cultural identity. This year Tokyo became the test bed for our investigations.
In the 60's a group of apprentice Japanese architects dreamed of an alternative future for cities and defined a new architectural vocabulary, giving birth to an architectural movement called 'Metabolism'. The name, taken from the biological concept, derived from the idea that architecture and cities, like living organisms, share the ability to grow, reproduce, transform and respond to their specific environment. Their ideas were grand and surprising. They combined philosophical references with new discoveries in science; for example, interweaving ideas about the structure of DNA with elements of Buddhist thinking on change and growth, resulting in profoundly poetic and radical visions. Now, at a time when Japan is experiencing the aftermath of the 2011 earthquake, a stagnant economy and a significant shift in demographics, and where over 70% of the area is mountainous and notoriously difficult to inhabit, what are the lessons we can learn from the Metabolists today?
Cities, generally considered resilient to rapidly transient conditions, are in constant flux, exposed to their own geo-dynamics, shifting patterns of behaviour and demographics. As a unit, we are interested in exploring an architecture that is open-ended and not a finished product; architectural propositions that can adapt, mutate and respond to the dynamic nature of the restless urban landscape; a socially benevolent edict, where creativity and daring leads to fantastical but perfectly possible futures.
We started the year in the workshop: 'Dreamland' was a model-based project that became a miniature surrogate of the city, super-specific yet a siteless urban landscape in constant flux, encapsulating its past and present as a foundation for its future. We approached the unit's work as an 'Expo', an experimental assembly of the individual works into a whole that depicted an intensified and forward-thinking version of the city of today. Our main building project started with the field trip to Tokyo and Kyoto. Here, we experienced a city that Bognat describes as an endless agglomeration of many cities and villages – a hundred different cities smashed into one, remaining a 'dream machine', where the parts are more in focus than the whole. Both Tokyo and Kyoto offered an opportunity and fertile ground to critically rethink the concepts of permanence, impermanence and genius loci.
76
The Bartlett School of Architecture 2016
UG5
5.1
Fig. 5.1 Group Project Y2&3, 'Dreamland'. An experimental assembly of the individual works depicting an intensified and forward-thinking version of Japan. Fig. 5.2 Hannah Lewis Y2, 'Loneliness, Otaku and Rehabilitation in Contemporary Kyoto'. The Otaku Centre offers a place for people to reform their obsessive behaviour. Located on the outskirts of Kyoto, the resort provides a solution to improve the lives of the nation's social outcasts. Fig. 5.3 Benjamin Mehigan Y3, 'The Nakasendo Villages: A Pre- and Post- Earthquake Proposal'. Located on the outskirts of Kyoto with direct train links to Tokyo, the Nakasendo village investigates adaptive architecture. Predominantly existing as a rural retreat, the village is designed to transform into a place of refuge for Tokyo's inhabitants. Fig. 5.4 Jack Spence Y2, 'Shinobazu
Open Theatre'. Situated on Shinobazu Pond, the theatre stages illusionary performances against the backdrop of Ueno Park and the Tokyo Skyline. Floating modular stages and seating provide a versatile set for a range of performances that can take place across the vast expanse of the pond.
78 BSc Architecture UG5
2016
The Bartlett School of Architecture
5.2 5.3
79 BSc Architecture UG5
5.4
The
Bartlett
School of Architecture 2016
Fig. 5.5 Kate Woodcock-Fowles Y3, 'The Thomasson House and Archive'. A Japanese artist coined the name 'Thomasson' to describe the many obsolete pieces of infrastructure he found around Tokyo. By putting Thomassons back into use and manipulating some of the city's building laws, this project comments on the problems facing modern-day Tokyo. Fig. 5.6 Kelly Au Y2, 'Urban Offerings'. The 'flying dwellings' attached to the electrical poles are designed to provide shelter, warmth, food and water for the homeless in Ueno, Tokyo. They plug into the existing infrastructure of Ameyoko Street and the Tokudaiji Temple (flying temple), providing offerings and comforts. Fig. 5.7 Christina Garbi Y2, 'Utakai Hajime Poem Competition Writing Pods' This project proposes a collection of writing pods inspired by the thresholds that exist within the Forbidden
Gardens of Tokyo. Located around the city, the pods broadcast images of the Gardens as a source of inspiration for writers entering the annual Utakai Hajime. Each pod corresponds to one of the four seasons and reflects the Japanese art of Ikebana (flower arranging). 5.5
80 BSc Architecture UG5
0.0
The Bartlett School of Architecture 2016
5.7
Fig. 5.8 Karolina Kielb Y3, 'Kyoto Paper Matsuri'. In response to Kyoto's over-consumption of paper, the building recycles and reproduces traditional Japanese paper which is turned into large-scale paper structures that are released into the air and river as a form of celebration and appreciation for paper.
Fig. 5.9 Olufunto Thompson Y3, 'Replanting the Shinto Forest'. Situated on the holiest site in Japan, the Ise Grand Shrine is religiously reconstructed every 20 years. This sacred tradition is extremely wasteful, with 14,000 cypress trees used for construction and material from the previous shrine going to waste. This project proposes symbolically re-planting the Shinto forest by creating a spiritual architecture from reclaimed timber. 5.8
81 BSc Architecture UG5
The
Bartlett
School of Architecture 2016
5.9
Fig. 5.10 Kaizer Hud Y2, 'Food for Thought: Ritualizing Information'. An informational landscape investigating Japan's unsustainable food production practices. The model is interactive, requiring the user to perform a sushi eating ritual to understand. Each step becomes a learning ritual in which the user's action reflects a piece of information. Fig. 5.11 Tom Lin Y2, 'Tokyo Bay Urban Battery'.Fig. 5.12 Will Stephens Y2, 'SONY Exhibition Centre Façade'. The façade creates an image of a 'greener' SONY, encouraging people to recycle electronic items. Fig. 5.13 Yangzi (Cherry) Guo Y3, 'Third Harvest Market Place'. Food sold in Japanese supermarkets has the shortest shelf life in the world, based on a regulation called the 1/3 rule. The project proposes a new typology of marketplace that would collect fruit/veg from nearby restaurants and
supermarkets in Tokyo, and preserve it in order to extend shelf life for re-consumption. Fig. 5.14 Rachael Taylor Y3, 'Architectural Salvage Centre'. Architectural heritage is of little significance in Tokyo. The salvage centre collects fragments of iconic buildings for resale in order to preserve parts of the lost city. Fig. 5.15 Gabriel Beard Y2, 'Tokyo Bay Traffic Cone Storage and Leisure Facility'. Fig. 5.16 Isabel Li Y2, 'Porous Engawa – Fabric Reseach Center'. A catwalk provides circulation around the fabric research centre where visitors are encouraged to create their own clothes and style. The façade plays with the visual interaction between interior and exterior by controlling what people can see; which contributes to the marketing effect of the whole building.
82 BSc Architecture UG5 The Bartlett School of Architecture
2016 5.10 5.11 5.12 5.13
83 BSc Architecture UG5
5.16
The
Bartlett
School of Architecture 2016 5.14 5.15
Fig. 5.17 Jack Spence Y2, 'Apartment Of Deception'. Creating virtual extensions of the apartment in order to create illusions both of and within the inhabitable space through day-to-day life. Fig. 5.18 Gabriel Beard Y2, 'Tokyo Bay Traffic Cone Storage and Leisure Facility'. Fig. 5.19 Zheng Yehan Y3, 'Kyoto Dementia Respite Centre'. The Kyoto Dementia Respite Centre provides short term care for mid-stage patients who are coming to grips with the rapid decline of present cognitive ability, but who are still physically able. By celebrating memory and reality, the programme takes a fresh approach to dementia care.
84 BSc Architecture UG5
The Bartlett School of Architecture 2016 5.17 5.18
5.19
Speculative Landscapes
Julia Backhaus, Pedro Font Alba, Martin Tang
2015
Speculative Landscapes
Julia Backhaus, Pedro Font-Alba, Martin Tang
Year 2
James Bradford, Jack Cox, Alexander Findley, Samuel Napleton, Bethan Ring, Ken Sheppard, York Tsing (Nerissa) Yeung, Yuanchu Yi
Year 3
Florence Bassa, Oliver Colman, Ren Zhi Goh, Niema Jafari, Jonah Luswata, Alan Ma, Masahiro Nakamura, Sylwia Półtorak
Thank you to our technical tutors Dimitris Argyros and Mick Brundle. Thanks to our critics: Lucas Alperi, Kyle Buchanan, Mathew Butcher, Barry Cho, Mollie Claypool, Marcos Cruz, Hwei Fan Liang, Lydia Firminger, Bruce Irwin, Carlos Jiménez Cenamor, CJ Lim, Tom Partridge, Peg Rawes, Bob Sheil, James Soane
UG5 is interested in the contemporary landscape. The term 'landscape' emerged around the turn of the sixteenth century to denote a painting whose primary subject matter was natural scenery, natural forms (hills, lakes), occupied by flora and fauna. A landscape is therefore an idealised depiction of the natural world, flattened from a single perspective and produced for consumption. It is by definition a human construct, a cultural fabrication. We have particularly focused our research on the landscape as a speculative terrain. We refer to speculation in its double connotation: as exploited for profit but also as a place for experimentation and innovation.
On one hand, the natural environment is increasingly the subject of exploitation for food, goods and resources, driven by speculation and profit. Intensive agriculture, mining, farming, waste processing and other industrial activities have eroded these natural settings into manufactured landscapes: highly processed terrains, often of surreal and striking beauty. On the other hand, these remote natural sites are often testing grounds, fuelling technological progress. From the simulation of space travel, to nuclear weapon testing or the calibration of fighter planes and satellites, these activities leave a mark on the surface of the earth sometimes as important and lasting as geological shifts. They also enable technological progress, problematising preconceptions of the distinction between natural and artificial. From this standpoint, we associate the landscape with the place of future vision, forecast and imagination. 'Speculation' implies risk, conjecture and imagination, which we adopted as key notions for this year's tasks.
In this context, we considered how these sites could become springboards for visionary and exciting architectural interventions and programmes. We asked ourselves: what is the future of the contemporary landscape? We travelled to the American Southwest in search of these mutated landscapes and constructed terrains and considered their possible futures. We visited Utah, Nevada and Arizona, where we witnessed intense case studies of these speculative landscapes exemplifying the complex dynamics between super-artificial environments and untouched natural habitats. We studied sites such as Cinder Lake, a simulated moon landscape on earth; the Bonneville salt flats, where ground speed records are consistently broken; the Yucca flats, testing site of the first nuclear bombs; and the Great Salt Lake, where infrastructure and industry have transformed ecology and physical qualities.
The unit is run as a laboratory, a testing ground for experimental thinking, encouraging creative and intellectual risks in developing personal architectural agendas for the projects. We speculated on how a small architectural intervention has the potential, like a seed, to precipitate a sequential transformation of the site's environment, reversing, accelerating or simply evolving its entropy, its genetic code. The technological blossoming of these seeds prepared the terrains for new possible activities and programmes, for building structures that redefine their genius loci.
90
The Bartlett School of Architecture 2015
UG5
5.1
Fig. 5.1 Alan Ma Y3, 'A Bitter Sweetness'. The project looks into the future of Las Vegas, investigating its imminent water crisis. With the water on site, it forms the basis of an oasis for living organisms, a new Stardust where genetic modification and biological research can happen. Experiences inside the facility will offer the people a glimpse into our genetically modified future. Fig. 5.2 Oliver Colman Y3, 'Neverland'. A new typology of retirement home, exploring the possibilities of retaining youthfulness in old age through both a playful and practical architecture. The retirement community is based on a floating island that would sail around the surreal landscape of the Great Salt Lake in Utah. Figs. 5.3 – 5.4 Bethan Ring Y2, 'Gila River Water Conservation Park'. An intervention on the Gila River in Arizona. As opposed to large dams creating huge
reservoirs on the rivers in Arizona, the project proposes a building which adapts to and embraces the seasonal changes of the landscape and provides fun and recreation using the least amount of water. Fig. 5.5 James Bradford Y2, 'Farmington Bay Fishery'. The building stretches out from the reed beds at the southern tip of the Great Salt Lake, farming and harvesting the fish for its restaurant and market. Providing fresh food in an area known as a 'food desert', its ceilings and rooftops are used as a productive surface to hang and dry the salted fish, between which its rickety smoking chimneys rise up above the horizon.
92 BSc Architecture UG5
2015
The Bartlett School of Architecture
5.2 5.5 5.3 5.4
Fig. 5.6 Bethan Ring Y2, 'Gila River Water Conservation Park'. Overall view of the building in the landscape. Fig. 5.7 Florence Bassa Y3, 'Future Forest Experimental Lab'. The oldest living organism, Pando Forest, is dying. The structure of the building raises the forest as a monument to Pando and a statement of environmental awareness, while the laboratory accommodates research into environmental technology and synthetic biology. The building synthetically recreates the experience of forests for research and for visitors.
93 BSc Architecture UG5 The
of Architecture 2015
Bartlett School
5.6
5.7
Figs. 5.8 – 5.10 Sylwia Półtorak Y3, 'The Great Lunar Embassy'. The building creates a dreamlike atmosphere, using the surrounding natural landscape of the lunar terrestrial analogue, Cinder Lake. With spa and fitness facilities, the building becomes a spiritual retreat. In spaced-out atmospheres, people can not only admire the moon from afar, they can almost reach it. Fig. 5.11 Ken Sheppard Y2, 'Center for Navajo Textiles'. The sunflower fields of Project One have remediated the landscape from radiation. The fields are left growing as a legacy. The project proposes a centre for Navajo textiles, where traditional techniques of weaving, spinning and dyeing are taught by elders of the local community and the sunflowers are used to produce dyes for yarn. Fig. 5.12 York Tsing (Nerissa) Yeung Y2, 'Super-market Landscape'.
A reinvention of the typology of a supermarket. A hybrid meeting point where food is produced, processed, stored, and where people exchange and consume food, and participate in food related events and recreational activities. Figs. 5.13 – 5.14 Masahiro Nakamura Y3, 'Solar Expo 2015'. A building that illustrates and advertises the latest in solar technologies. Each individually pieced PV element is created from the compound Arsenic Gallium, a product of Project One, ROSA. These elements are displayed on a Roof Garden atop an ever-expanding spaceframe structure. The technologies are put through performance tests. Hopefully this intensive site of experimentation will push PV cell technology until a better alternative for a cleaner future is found.
94 BSc Architecture UG5
The
Bartlett School of Architecture
2015
5.11 0.0 5.8 5.10
95 BSc Architecture UG5
2015 5.14
The Bartlett School of Architecture
5.13 5.12
Fig. 5.15 Alexander Findley Y2, 'Montezuma Well-Temple of Water'. The building forms a dialogue between the dry desert landscape at the rear and the wet, humid landscape that it creates at the front of the building down the cliff of the sacred sinkhole. The flooded chambers that visitors and the natives can stay in create a unique form of meditation where a stepping stone room has a constant, relaxing flow of water through it giving the impression of floating when sleeping.
Fig. 5.16 Samuel Napleton Y2, 'PITSTOP! Reformed restaurant for the American Motorist'. In a bid to break from the longstanding architectural language of US fast food outlets, signage and architecture are joined. 'Living billboards', spaced to match the deceleration of approaching automobiles, line the highway. Fig. 5.17 Yuanchu Yi Y2, 'Retreat of Light at Lake
Powell'. A hotel located in the middle of the sublime Arizona desert. The architecture manipulates the sunlight during the daytime and accentuates the starlight at night. Visitors experience a series of therapeutic and contrasting lighting atmospheres throughout their stays. Fig. 5.18 Jack Cox Y2, 'Salt Lake City School'. The building is an attempt to deconstruct the distinct separation between the school and its urban and environmental context, to normalise the relationship between the adult and the child and their very separate worlds. The design is based around openness, to act as a generator, a door to the social and physical landscape. Fig. 5.19 Ren Zi Goh Y3, 'The Volcanic Sanctuary & Spa'. Plan. Fig. 5.20 York Tsing (Nerissa) Yeung Y2, 'Super-Market Landscape'. View of the supermarket from a sububan home.
96 BSc Architecture UG5
The Bartlett School of Architecture 2015
5.17
5.18
5.16 5.15
97 BSc Architecture UG5
2015 5.20
The Bartlett School of Architecture
5.19
Fig. 5.21 Oliver Colman Y3, 'Neverland'. Perspectival section of the floating island. Fig. 5.22 Ren Zi Goh Y3, 'The Volcanic Sanctuary & Spa'. A landmark dedicated to evoking the sacred essence, power and characteristics of a volcanic site. The sanctuary invites residents of Fillmore and Salt Lake City to escape from the everyday and embrace the energy, materiality, geology and history that is embedded within the natural landscape and imposed architectural elements and ornaments. Meditative spaces, moss/lichen/rock gardens, basalt formations and thermal baths embedded within the manipulated natural landscape allow for introspection and relaxation. Campfire sites become the site of celebration of the power and energy of the landscape.
98 BSc Architecture
UG5
The Bartlett School of Architecture 2015
5.22 5.21
99 BSc Architecture UG5
The Bartlett School of Architecture 2015
2014 The Super-Specific: Las Vegas, Las Vegan Pascal Bronner, Thomas Hillier
The Super-Specific: Las Vegas, Las Vegan
Pascal Bronner, Thomas Hillier
Year 2
Kamola Askarova, Boon Yik Chung, Grace Fletcher, Patrick Horne, Jonah Luswata, Francesca Savvides, Valerie Vyvial, Allegra Willder, Max Worrell
Year 3
Matthew Bovingdon-Downe, Clare Dallimore, Isobel Parnell, Rose Shaw, Chris Straessle, Carolyn Tam, Hei Man (Belle) Tung, Simon Wimble
We would like to thank our technical tutor, Giles Bruce, and our critics throughout the year: Yota Adilenidou, Matthew Butcher, Barry Cho, Ming Chung, Max Dewdney, Pedro Font Alba, Stephen Gage, Polly Gould, Christine Hawley, CJ Lim, Shaun Murray, Frosso Pimenides, Nicholas Szczepaniak, Tania Sengupta, Martin Tang, Nick Tyson, Paolo Zaide
In this time of modern globalisation it is crucial to remember the importance of the bespoke, specific and the tailor-made in architecture. Each reflect upon the customs and culture of a given place, time and programme. Unit 5 believe that it has never been so important to push for a place-specific approach to design. The Unit is an imaginarium for built futures where narrative is used to explore, discover and invent unique realities within which these super-specific architectures are sited.
This specificity is explored through rigorously crafting drawings to a point at which the drawing itself may come to life and be thought of as an actual architecture. A drawing can become an extreme force, a manmade wonder, and a spectacular fantasy of human imagination. Like real buildings, drawings need to be maintained, if required they need to be revised and extended, refurbished and restored, customised and modified, demolished and redrawn. Similarly to the way a house or a city gets adapted and modified over time, a drawing needs to grow and develop into something that goes beyond mere representation. We are 'drawing-board travellers' who treat drawings, models and collages as real places that are used to explore spatial narratives and speculate on future building typologies.
Las Vegas
This year, the major project was sited in Las Vegas. Before we ventured onto the compacted desert sand of Nevada State the Unit spent the first part of the year investigating Las Vegas from afar in an attempt to understand its history, its masterplan, its neighbourhoods and most importantly its inhabitants. Through this research the students created their own visual manifestos in preparation for the field trip. Inspired by real tales and Las Vegan fables these speculations aided them in developing specific programmes and sites that were then explored across the year.
Las Vegan
Undoubtedly a one-off city, Las Vegas is built out of super-specific circumstances, its desert climate, economy, 24-hour lifecycle, reliance on tourism, constant exchange of people, relaxed laws, salacious nightlife, urban sprawl and heroic self-aggrandising monuments all affect how Las Vegans live in or around this unique metropolis. It appears the domestic architecture currently available to Las Vegans hasn't kept up with the pace of the city. With dreary and dull suburban neighbourhoods having been the answer for the century gone, we see a need for an alternative, super-specific architecture for future Las Vegans. We posed the question: How will a Las Vegan live, and more importantly how will he or she live in the future in a city that is little over a century old?
90
The Bartlett School of Architecture 2014
Unit 5
5.1
93 BSc Architecture
5.5
Unit 5
The Bartlett School of Architecture 2014
Fig. 5.6 Grace Fletcher Y2, 'Las Vegas, Las Vegas, Las Vegas'. Every hotel casino along the Strip assimilates a different, distinct part of the world creating a unique theme matched by no other. The pyramids of Egypt become the Luxor Hotel whilst the Paris hotel has it own, half-scale Eiffel Tower. Sunk into the desert sand, Las Vegas, Las Vegas, Las Vegas is a hotel casino that imitates Las Vegas itself, creating a copy of a copy. Fig. 5.7 Kamola Askarova Y2, 'Temple of Secrets'. As the saying goes "What happens in Vegas, stays in Vegas." But what do you do with the physical secrets from the night before? The Temple of Secrets offers a secure haven where one can deposit fresh secrets, remove existing secrets, destroy secrets or even purchase strangers secrets at the Temple Auction House. Fig. 5.8 Isabelle Tung Y3, 'The Las Vegas Sand Retreat'.
In the very near future, Las Vegas' water supply is going to run desperately low. Located in a derelict sand quarry, the Las Vegas Sand Retreat uses solidified sand to create a unique landscape of perfume infused hot sand baths, providing a lavish experience for tourists whilst creating an alternative to water based spa treatments. Fig. 5.9 Patrick Horne Y2, 'Las Vegas Storm Drain Maintenance HQ'. A considerable proportion of Las Vegas' homeless population has sought refuge in its extensive network of underground storm drain tunnels. This government-funded initiative is a recycling facility which utilises the tunnel occupants' navigational expertise, spatial adaptations and collective ingenuity to keep the drains clean and therefore protect the ecosystem around Lake Mead, the floodwater's final destination.
94 BSc Architecture Unit 5 The Bartlett School of Architecture 2014
5.7
5.6
5.8
5.9
Fig. 5.10 Matthew Bovingdon-Downe Y3, 'International Dark Sky Association HQ'. The IDAHQ is a scotopic architecture that seeks to reacquaint people with darkness. The building has no artificial light of its own, instead it taps off the haze from the many hotel casinos that surround it. During the day the building attenuates incident atmospheric light, providing amateur astronomers with the requisite conditions for optimum dark adaptation, preparing them for appraising the night sky.
Fig. 5.11 Clare Dallimore Y3, 'Demolition Landscape'. The proposal translates the 12 steps of gambling addiction recovery into a series of spaces for rehabilitation. Using the rubble from exploded casinos as a construction aggregate the building and surrounding landscape is sculpted by a series of water-based interventions that create a haven away from the
addictions of Las Vegas. Fig. 5.12 Chris Straessle Y3, 'Signs of Growth HQ and Nursery.' Famous casino signage is re-interpreted and manufactured as arable signs. These signs are planted with a combination of plants, flowers and vegetables, all of which are grown aeroponically on the buildings rooftop before being installed across the Strip.
Fig. 5.13 Jonah Luswata Y2, 'The Las Vegas Gun Amnesty and Peace Retreat'. Situated within a shooting range, the Gun Amnesty seeks to deconstruct this heterotopic space though a reversal of its previous program, to one where the gun is demystified, degraded and disassembled. The Peace Retreat offers redemption through the tactile reworking of the resultant recycled material and a reacquaintance with the surrounding landscape.
96 BSc Architecture Unit 5 The
2014
Bartlett School of Architecture
5.12 5.10 5.11
97 BSc Architecture Unit 5
5.13
The Bartlett School of Architecture 2014
Fig. 5.14 Carolyn Tam Y3, 'The Hoover Dam Cactus Cooperative'. Research suggests that, as early as 2035, the water level feeding the Hoover Dam will be too low to sustain Las Vegas' thirst for hydroelectric power. Speculating on both future energy creation and the future redundant infrastructure of the Hoover Dam the HDCC investigates the use of cacti as a credible power source. Accommodation, laboratories and fields of cacti transform this concrete monolith into a reservoir of organic electricity production. Fig. 5.15 – 5.17 Rose Shaw Y3, 'Dashboard Confectionery'. Las Vegas has the highest rate of road accidents caused by drink driving in the US. Sited alongside a motorway ramp exiting the city, the proposal is a drive-thru service station that exports healthy bodies and minds. Influenced by American consumer culture and
designed completely around the car, the building consists of a series of architectural interventions intended to sober up drivers before leaving Las Vegas. Fig. 5.18 Simon Wimble Y3, 'The Golden Wedding Chapel'. Hovering above a derelict gold mine that contains five million pounds worth of unrefined gold dust, the Golden Wedding Chapel offers an alternative ceremony to the impulsive, superficial and synthetic culture of the shotgun wedding. Influenced by the notion that the wedding ring is a symbol of eternity, the resident goldsmith extracts raw material from the deposits below to craft wedding bands for each couple that arrive. This process defines the architecture; excess rock from the extracted gold is used to create the building blocks that make up the chapel walls, creating a building ingrained with a sense of time.
98 BSc Architecture Unit 5 The Bartlett School of Architecture 2014 5.17 5.16 5.15
5.14
99 BSc Architecture Unit 5
5.18
The Bartlett School of Architecture 2014
2013
Supernature
Julia Backhaus, Pedro Font Alba, Bruce Irwin
Supernature
Julia Backhaus, Pedro Font Alba, Bruce Irwin
As urban populations increase in density and number, and the scope and geometry of agriculture grows correspondingly, human contact with the natural world is rapidly superseded and remade. This was our starting point: An observation that in the metropolis 'nature' is visibly overwritten by human systems and can only be apprehended as a prior state, an enhanced replacement, a hybrid condition, or at times a resurgent rebellious wildness. This is the 'Supernature' we proposed to examine and within which we found space to work.
Our case study was New York City, which we visited at the end of November. New York City is often described as the paradigm of 20th century metropolis, the ultimate demonstration of human domination of nature, a Cartesian triumph of commerce and aspiration over and on top of geography and geology, flora and fauna.
In the 20th century New York City represented polar positions of modernity and obsolescence, progress and rampant and destructive capital systems. It has swung from periodic abundance and excess during the 1920s and 1980s, to fiscal and political stalemate and population flight, as in the 1930s and 1970s. These positions can be read in the artefacts of our time: from the cinema, song, and poetry of the Roaring Twenties, or the fantasies of Urban Jungle, isolation, and a mega-prison island of dystopian films of the late 70s and early 80s. And yet the very same systems of transport and distribution, property grid and money, cultural production and consumption that made New York City the main hub and principal port of North America continue, funnelling food and energy and circulating and clearing away water, waste, steam, power.
Within New York there exists scope for examinations of our topic both micro and macro, from labyrinthine water and waste and transport systems down to the subtle and the shifting foraging strategies of bees and foxes within the built environment. Potential areas of investigation would range from food
production and systems of cooling, preservation and distribution, to the technological and architectural strategies for managing crises of weather and fire in vertical neighbourhoods. In a built system, the management of risk may be an unavoidable topic. The city is also a place of intense cultural production, and the representation (and thus our beliefs) of nature is correspondingly a palimpsest of celluloid and digital fragments.
City parks have a prized history in human culture and would inevitably form a part of an investigation into our idea. The urban park may represent an idea of a previous state, of 'pure' nature, or it may self-consciously conflate ecologies, combining for an enhanced super-experience, a 'better-than', idealised moment of natural history. In the near future, gene research promises enhanced tree species that might light our city streets with an arboreal glow, or suck carbon emissions more rapidly from the air, becoming more actual 'green lungs'. In a game of spatial compensation and transferral, we dot our cities with green voids, to indicate 'breathing room'. Central Park represents an idealised nature, highly constructed, though with the specific design intent of re-imaging an absent or historical natural condition. Construction photos of the installation of Central Park reveal the degree of manipulation and artistry at work in this apparent wild space within the grid.
New York offers a rich catalogue of the phenomena we are referring to as 'supernature'. A built grid surface covers almost the entire island of Manhattan, replicating (in vertical section) the ground, and taking its place functionally and apparently. In places this layering of built grounds is revealed or can be seen; in places, nature reasserts itself, and this reassertion has sometimes become the basis for new public space.
Project 1 invited research and speculation from afar in advance of our study journey. Students were asked to select an instance of Supernature within
92
The Bartlett School of Architecture 2013
Unit 5
the boundaries of New York and to construct a three dimensional investigation of their findings. They were given one dimensional constraint, X = 30cm Y = 60cm, and asked to construct a supporting metal frame. The completed models were then assembled into a propositional city grid.
At the start of Project 2 we visited New York, the object of our speculations. Along the rivers and rail lines, underground, and along it we sought instances of our topic. We identified the changing waterfront as an ideal place for our proposals. Until recently New York Harbor was the site of intense industrial processing and shipping, and is now undergoing rapid transformation, from industry to fallow post-industrial abandonment, and finally to a kind of productionless rejuvenation as upmarket housing. Hurricane Sandy had recently struck the city, and we focused or investigations on some of the areas of the city directly affected by the storm, particularly the East River, Red Hook and Coney Island waterfronts. Our project proposals focused on these areas, both for their ongoing programmatic transformations and as a place of interface with larger climatic conditions. Our proposals embrace and anticipate a wide range of possibility for production and distribution, urban agriculture, cultural creation, health and housing, botany and commerce within the changing city.
We would like to acknowledge and thank our jurors through the year for their generosity of time and dedication towards our students: Laura Allen, Nuria Alvarez, Mark Breeze, Margaret Bursa, Izaskun Chinchilla, Isaac Cobo, Francisco Gonzalez de Canales, Johan Hybschmann, Carlos Jimenez, Clara Kraft, Paul Legon, Wei Fan Liang, David Roberts, Lola Ruiz, all provided very valuable insight into the work widening our vision on the subject and exciting suggestions for design opportunities. Many thanks also to Andrew Best and his colleagues at Buro Happold for technical tutoring.
Year 2
Susan (Supichaya) Chaisiriroj, Muzhi Chen, George Courtauld, Jaemin Kim, Kar Tung (Karen) Ko, Maggie Lan, Huynh Nguyen, Hoi Yiu (Carolyn) Wong, Jessica Wang, Yiren (Aviva) Wang, Anqi (Angel) Yu
Year 3
Tahora Azizy, Hannah Bowers, Katie Cunningham, Oi-Yee (Helen) Siu, Alexia Souvalioti
unit5bartlett.wordpress.com
93 BSc Architecture Unit 5 The
of Architecture 2013
Bartlett School
Fig. 5.1 Jessica Wang, Y2, Banana Ripening Taxi Stand. Situated throughout the gridiron, the stands make use of existing utilities to ripen the fruits whilst offering shelter to taxis and passersby Fig. 5.2 Hoi Yiu (Carolyn) Wong, Y2, Glowing Firefly Pavilion, Battery Park. A shelter for locals during emergency blackouts in Manhattan, the design consists of panels that replicate the skylines of New York City, and is lit by bioluminescent trees. When not in use as a shelter, firefly gardens and a bioluminescent tree nursery is offered to visitors who can take home small jars of fireflies and sipplings. Fig. 5.3 Anqi (Angel) Yu, Y2, Snakehead Fish-o-Mat. The Chinese snakehead fish is invading local ponds and waterways, eradicating native species of fish. The Fish-o-Mat proposes a live-fish delivery system into the city's
food deserts, a solution to the problems of ecology and gastronomy. Fig. 5.4 Katie Cunningham, Y3, Mussel underwater park proposes to exploit marine invasive species with in the waters of the East River and the New York Bay for productive purposes. See also Fig 5.23. Surrogate Landscapes invited researched speculation into moments of symbiosis between human-made and natural systems, both the benign and the toxic, within specific sites in New York. The resulting proposals fitted into a miniature Manhattan Gridiron, creating an alternate New York (Fig.5.5)
94 BSc Architecture Unit 5
The Bartlett School of Architecture 2013
5.1 5.2 5.3 5.4
5.5
Fig. 5.6 Anqi (Angel) Yu, Y2, East River Fish Farm and Market, Brooklyn Navy Yard. An occupy-able folded canopy of ribbed fish ladders delivers live fish in channels to the market stalls from the surrounding lilypond-like fish farm. Customers enjoy Manhattan views and a sushi restaurant. Fig. 5.7 Jessica Wang, Y2, Green Point Juicery. Artificial fruit-ripening trees form a canopy over a proposed fresh juice-making facility. The undulating roof is enclosed with staggered glass rods, fixed between the metal treetops. Visitors wander the forest floor, sipping juices. Fig. 5.8 Huhyn Nguyen, Y2, Green Point Oil Spill Soil Reclamation Park. A Temporary elevated ground is proposed as a sky park while detoxifing the contaminated earth via phytoremediation in shallow steel planters. Fig. 5.9 Susan (Supichaya) Chaisiriroj, Y2, Sunrise/set Pavilion in Times
Square. Jetlagged travellers reset their internal clock in a skyscraper-top artificial sunrise and sunset. Fig. 5.10 Tahora Azizy, Y3, Russian retirement Community Housing, Coney Island. Today Coney Island is famous for its Russian immigrant community, now aging and often widowed. Using light control and shadow to reproduce experiences from the users native landscape. The proposal reintroduces the natural sandscape from the beach to blanket and protects housing for the community and their pets. Fig. 5.11 – 5.12 Yiren (Aviva) Wang, Y2, Red Hook Community Ceramics Workshop. The local community builds its own clay pit, workshop and kilns to create this art and skills training centre. Over time the facility will expand, and each expansion is an opportunity for learning new manufacturing and building skills.
96 BSc Architecture Unit 5
The Bartlett School of Architecture 2013
5.9
5.8
5.6
5.7
97 BSc Architecture Unit 5
5.12
The Bartlett School of Architecture 2013
5.10 5.11
Fig. 5.13 – 5.15 Kar Tung (Karen) Ko, Y2, Coney Island USA. Sited adjacent to the storied Boardwalk, the proposal rehouses a local community centre, freakshow and trapeze training facility within paired spiralling circus canopies. Beneath the Boardwalk are support facilities and workshops, above, over, and around, are spaces and routes of aerial manoeuvre. Sunlight and shadow alternately conceal and reveal elements of structure, inhabitation and movement. Fig. 5.16 Maggie Lan, Y2, East River Secret Cinema Studio. Shipping containers house props and sets for the production of a Secret Cinema on this former industrial waterfront site. The containers are modified to fold open for use, slipped into and out of soundstages on an industrial armature. Visitors arrive via an extended red-carpet experience, re-costume and makeup,
and are drawn into the filming itself, before finally being floated around Manhattan on a cinema barge. Fig. 5.17 George Courtauld, Y2, Brunswick Inlet Seed Bank and Arboretum, Brooklyn. Rising sea levels pose a threat to the survival of plant species. A proposed seed market shields a research facility and seed bank pod on the shore of the East River. The pod will detach itself from its shell-market, rise, and float away as in a future flood. Fig. 5.18 – 5.19 Hannah Bowers, Y3, Bushwick Inlet Mulberry Forrest, Brooklyn. A former industrial site is replaced with a mulberry forest and a silkworm workshop. Avenues of trees frame views to Manhattan, and branches and leaves are harvested for wormfood and composted in a bulgy skin for heat. The visitor is invited to tour the worm-homes, view weaving and dying, and enjoy the new urban forest.
98 BSc Architecture Unit 5
2013
The Bartlett School of Architecture
0.0 5.16
5.14 5.15
5.13
99 BSc Architecture Unit 5
2013 5.18 5.17 5.19
The
Bartlett School of Architecture
Fig. 5.20, 5.24 Alexia Souvalioti, Y3, CityHarvest Foodbank, Williamsburg. Food waste in a time of want and increasing wealth disparity is an urban travesty. This project aims to organise and spatially resolve the collection and distribution of excess food from shops, stores and restaurants. Incoming supplies arrive across the East River on box-car barges, are sorted, preserved, pickled, and repackaged for distribution via a 'supermarket', a restaurant, and via mobile food groups like Meals-on-Wheels. Fig. 5.21 – 5.22 Oi-Yee (Helen) Siu, Y3, Mycelium Foam Formwork-Casting Facility. Mushrooms grow in concrete tubs beneath the surface of Pier K in the Brooklyn Navy Yard. The mycelium is farmed as alternative rigid foam, creating biodegradable concrete formwork. Drying towers puncture the pier surface, beckoning visitors to a mushroom
restaurant. The process proposes a symbiotic relation with its industrial neighbours, using wood pulp and coffee grounds to feed the farm, and making the formwork for future industrial structures. Fig. 5.23 Katie Cunningham, Y3, Gowanus Mussel Farm. Zebra Mussels, an invasive species brought to New York's waters on Shipping boats hulls'. Locates In Gowanus Bay, a heavily polluted site off the Upper Bay of New York Harbour, a series of mussel silos clarify water quality, creating localised zones of crystal diving conditions. The mussel shells grow over articulated structures, forming grotesque building elements in an underwater picturesque landscape . The resulting mussel-shell encrustations develop into a new architecture of underwater grotto-esquery.
100 BSc Architecture Unit 5
The Bartlett School of Architecture 2013
5.21 5.20 5.22
101 BSc Architecture Unit 5
5.24
The Bartlett School of Architecture
2013 5.23
Fault Lines Julia Backhaus, Pedro Font Alba
2012
FAULT LINES
Julia Backhaus, Pedro Font Alba
"Crises are ultimately productive. They force invention. Breakdowns incubate breakthroughs. Radical destruction gives way to new forms of production… Architectural design is the child of crisis"
Mark Wigley, 'Space in Crisis' Volume Magazine Issue 19 (2009)
Our world has become spectacularly unpredictable. Another year has passed where we are continuously flooded by extraordinary stories of the unforeseen. It is not just our social and financial models that show signs of exhaustion but the very ground we walk on is in a state of upheaval. Between the virtual collapse of the banking network worldwide - entire countries on the verge of bankruptcy - social unrest not seen for decades, environmental changes like extreme rainfalls and crippling droughts, earthquakes and tsunamis: the state of uncertainty and change seems to be the new global paradigm. In times of upheaval comes an opportunity to leave the familiar behind and challenge conventions with alternative propositions and novel ideas. How can we as architects respond to environments that face challenges of an unpredictable scale and frequency? How can Architecture become a critical tool to remedy political, cultural or environmental conditions that are straining our defences? How can our sophisticated production methods provide solutions to the ever-growing social demands?
Our unit briefs set out to investigate sudden change and slow shifts as a potential catalyst for innovation, speculation and adaption. We are interested in finding 'ad hoc' responses to the rapid pace of our times but are equally interested how to choreograph the slow and minute shifts in our surroundings that can lead to large and unexpected consequences. As a unit we place emphasis on the unique relationship between the building and its unique immediate and wider environments and encourage our students to speculate towards architectures that are both lyrical and relevant in their response to our changing natural, cultural and social environments.
This year Unit 5 went on an architectural adventure beyond the familiar in search of novel architectural tools for an increasingly uncertain world. Our unit explored present conditions through speculation about possible futures, considered relevance over indulgence and identified opportunities for tactical intervention. 'What if' became the mantra for the year.
The first project was sited in London. Students were asked to identify a fault line and explore an architectural response to the phenomenon of sudden change. From the streets of the recent riots, extra-ordinary pressures onto the already congested city during the Olympic games, to the bleak forecast that
— page 92 BSc Arch Unit 5 BARTLETT 2012
Unit 5
London might be flooded by river water or by an overwhelmed Victorian drainage network: Project 1 was a short and intense exercise, where students were asked to speculate about present or possible future scenarios and identify sites and situations that are in demand of an immediate response. Places where rules have to be changed in order to survive. We looked at immediate and spontaneous architecture that proves that 'necessity is the mother of invention'. The approach to this project was experimental and the architectural propositions ranged from 1:1 built interventions to strategic master planning.
Our trip to Istanbul became a test bed in our search for an original and innovative architecture. Istanbul, a multifaceted and fluid city, has experienced rapid and dramatic global and local pressures. Not only is it located close to the North Anatolian fault line making it a earthquake sensitive area, it is also a city of many dualities. From its geographic location between Asia and Europe, the Golden Horn and the Bosporus, the Marmara and Black Sea to its economic divide between great wealth and poverty. The city is struggling between modernity and tradition, secularism and Islamism, democracy and repression –often in unlikely and contradictory combinations. As the city is reaching out to compete as a new global capital it faces new challenges, specifically finding ways for (re)development on the dense fabric of the historical peninsula. In the 2nd project students were asked to identify sites, spaces or economies of mounting pressures that are in need of reinvention and adaption to ensure their survival. It was our intention not to slip into nostalgia but to consider the opportunities that the current developments present for the city and to freely and fearlessly engage in conversations about the city. How can the fault lines and intersections that draw the city shape the contours of new imaginings for Istanbul? Some projects were placed between desire and knowledge; others were allegorical but perfectly meaningful.
We want to express our gratitude to our technical tutor and critic Dr Rachel Cruise. Also we want to acknowledge our guest jurors this year for their priceless advice and generosity with their time: Abigail Ashton, Bruce Irwin, Christian Parreno, Juanjo and Lola Ruiz, Sara Shafiei, Murray Fraser, Geraldine Denning, Gavin Hutchison, Francisco Gonzalez de Canales, Mark Breeze, Sam Causer, Nick Hockley, Katy Beinart, Lucy Leonard, Iain Borden, Guan Lee, Patrick Weber, Tania Sengupta and Carlos Jimenez.
Year 2: Robin Ashurst, Tik Chun Zion Chan, Joanne Chen, Him Wai Lai, Arthur Kay, Camilla Wright, Peter Simpson, Jack Sargent
Year 3: Amy Begg, Kun Bi, Samuel Dodsworth, Christopher Worsfold, Wei Zeng (Lucas) Ler, Simran Sidhu, Hui NgZhen
— page 93 BSc Arch Unit 5 BARTLETT 2012
Fig. 5.1 Arthur Kay, Paranoia House. Series of architectural interventions to Terrence Fyed's Victorian house. Addressing and providing architectural solutions to specific fears derived from perceived local and global threats through the media. Fig. 5.2 Zion Chan, Rehabilitation centre for visually impaired people in Istanbul. The road network of Istanbul itself is the evidence of the dramatic historical change of the city, which result in a complex and organic form. The mobility training for blind people requires a safe training route, which imitates the streets of Istanbul. Fig. 5.3 Joanne Chen, Pop Up artist commune in Shoreditch. The program is a metaphor of reviving a forgotten space, providing the artists with affordable studio complexes with a strong community infrastructure as a way of self-promotion and revitalisation of the area. Fig. 5.4 Chris Worsfold, City of London Grain reserve. Urban myth through government assurance and
rumour suggest the grain reserve held on site in Canary Wharf is enough to sustain London's current population for 90 days (the figure recommended by the UN) Fig. 5.5 Peter Simpson, Armenian Mime and Shadow Puppet Theatre. Scenery is moved into the auditorium on tracks and acrobats descend from the roof, this is all played out in front of the historic skyline of Istanbul. Fig. 5.6 Jack Sargent, Canary Wharf due collectors. Fig. 5.7 Robin Ashurst, Olympic Water Pavilion, an opportunity to re-instate Tower Hamlets' role in the Games, creating a theatrical event. Fig. 5.8 — 5.9 Joanne Chen, Perfume factory, a symbol of fusing landscape and industry. The fragrance leaks out of the building through a number of chimneys, which release the steam of boiling fragrant water as a pleasant atmospheric filter. Fig 5.10 Robin Ashurst, Golden Horn Hospital. Ambulance boats offer a pick up from the nearby Galata Bridge.
— page 94 BSc Arch Unit 5 BARTLETT 2012
5.2 5.3 5.5 5.1 5.4 5.6
— page 95 BSc Arch Unit 5 BARTLETT 2012
5.10
5.9 5.8 5.7
Fig. 5.11 Kun Bi, Istanbul water studios. Located on an abandoned shipyard next to the Golden Horn, this building is a combination of water related film studios and public playground. As a film shooting location, it provides water studios, diving pools, jumping pools for different types of film shooting. It also has space to simulate deep sea by using illusions. Fig. 5.12 Lucas Ler Zeng, Feminist Coffeehouse. A recycling platform for coffee that offers a forum for discussion. At the same time exploring a robust landscape strategy for the fragile nature of the island close to Eyup. 5.11 5.12
— page 96 BSc Arch Unit 5 BARTLETT 2012
Fig. 5.13 Simran Sidhu, Timber housing village. The project investigates traditional Ottoman timber structures close to Fener and Balat, the historic home of a large Greek and Jewish population where houses are about to be eliminated in a big governmental sweep-out. Fig 5.14 Huizhen Ng, The smoke walls walk through. Blurring the boundaries between indoor and outdoor spaces, the proposed building creates spaces in which smokers are able to smoke shisha within the comforts of interiors spaces, while complying with the Turkish Tobacco Law.
— page 97 BSc Arch Unit 5 BARTLETT 2012
5.14 5.13
Fig. 5.15 — 5.16 Amy Begg, Stroke rehabilitation centre. The project starts by looking at the site and the therapeutic possibilities that the island can offer. The proposal attempts to return an industrial area to its original function as original pleasure gardens and addresses aspects of flooding and erosion. The centre will use music therapy in order to structure the patient's day. The public parts of the building are centred to the South West of the island so that, depending on their strength and level of recovery, patients can control how much they wish to be involved with the more public aspects of the building. Towards the East and North the building filters out into the landscape forming a tranquil setting for the patients living spaces and garden/ wildlife areas. Fig. 5.17 — 5.19 Sam Dodsworth, traditional Turkish wedding retreat in Ortakoy. The design is a response to traditional
wedding rituals and in keeping with Istanbul's history; water is used extensively via passive means of water circulation and purification. Fig. 5.20 (Overleaf) Chris Worsfold. Locust restaurant, Schistocerca Gregaria. The project addresses food security and sustainability. Global issues with meat consumption in relation to climate change leave our diet in flux. The project seeks to investigate how the protein rich locust can both, become a sustainable food source and a product of desire.
— page 98 BSc Arch Unit 5 BARTLETT 2012
5.16 5.15
— page 99 BSc Arch Unit 5 BARTLETT 2012 1.19
1.18
1.17
— page 100 BSc Arch Unit 5 BARTLETT 2012 5.20
— page 101 BSc Arch Unit 5 BARTLETT 2012
Vanishing Point Julia Backhaus, Pedro Font Alba
2011
VA N I S H I N G P O I N T
'The past itself, as historical change continues to accelerate, has become the most surreal of subjects making it possible … to see a new beauty in what is vanishing.'
Susan Sontag
Places, cities, buildings and landscapes are in constant flux. Climate, culture and politics force them to shift, grow, emerge or even vanish. Often places are dissolved by globalisation, the local vernacular replaced by international conformity Are we not losing sites of distinction and incomparable atmospheres? This year, the unique situation of Cuba has been the unit's point of departure Isolated and cut off from the capitalist world until the end of the cold war, and hit hard by the economic crisis that followed in the collapse of the Soviet Union, this frozen utopia is on the verge of radical change With the US Embargo likely to be lifted in the near future and recent plans to lay off huge numbers of state employees to revive its struggling economy, the Cuba we have come to know will soon vanish. Intrigued by this climate of uncertainty, the unit focused on that magic moment of transition in a bid to fire the imagination for future development and celebrate the triumph of Cuba's culture over its politics.
Havana is a city brimming with a zest for life and displays a chaotic yet touching vitality In the first project we studied this city from a distance
with the help of literature, film and art to formulate an architecture of survival that battles the dilemma between progress and preservation, the focus of the work being a contemporary application of Cuba's heritage We aimed to create a sustainable solution to help those cultural markers to survive without becoming a caricature. Scarcity of goods together with low monthly wages has spawned a nation of hustlers and micro-capitalists As the situation further deteriorates a majority of Cubans will be forced to form their own businesses. The investigation resulted in the design of a small enterprise or an individual architectural strategy that is immediate and blows vitality into Cuba's numbed economy
Following on from a field trip in Cuba that explored Havana as well as the lush tobacco valleys to the north, the main building project speculated about the country post-embargo Again the focus was on manifesting Cuban cultural identity in the design whilst providing new developments that seek to help enhance Cuba's future trade prospects in the global market
Year 2: Fergus Knox, Harriet MiddletonBaker, Asha Pooran, Andrew Slack, Deniz Varol, Angeline Wee, Alec Scragg, Gary Edwards Year 3: Natalia Eddy, Aaron Shun Wing Ho, Rachel King, Maryna Kuchak, Tess Martin, Sirisan Nivatvongs, Aimee Salata, Sandra Youkhana, Kun Bi
p . 4 8 B S c A r c h U n i t 5
J u l i a B a c k h a u s & P e d r o F o n t A l b a
Fig 5 6 Rachel King, Tropicana Car Wash and Casting Workshop, Havana The memories of classic 50s cars are preserved in this labour-intensive car wash facility, casts of redundant car body parts nestle beneath the arcades to become street furniture Fig. 5.7 Sirisan Nivatvongs, Agricultural Research Facility, Pinar Del Rio Conducting a range of research on modern farming techniques, including organic, hydroponic, floating and vertical agriculture
The building generates a self-sustaining environment for its occupants by both growing its own food on site whilst generating its own energy and introducing a new agriculture to the surrounding areas Fig. 5.8 Marina Kuchak, La Regla Fish Market, Havana Regla Taking into consideration the Master Plan Congress of the XXI century on Havana's redevelopment, the building aims to respond to the ideas of this congress and the general infrastructure of the city The proposal is for a fish market that aids
regeneration of the local area by attempting to link it to Old Havana Due to the climatic conditions of the area, the project introduces a self-cleansing system that responds to the daily waste of a fish market Fig. 5.9 Natalia Eddy, Hurricane Boatel, Havana The design proposal reinvents the notion of a motel Catering for sailors, the site becomes a series of plug-in islands enabling the boats to integrate and become part of the architecture The hotel structure provides the additional facilities that boats are limited in offering The scheme takes advantage of its coastal position by integrating a series of devices, which not only protect the architecture but extract energy from the waves Elements such as a pivoting harbour wall are used to dampen wave height and extract energy The scheme has enabled the design of harbours to be challenged and reexamined Fig 5 10 Aaron Ho, In-between House, Havana Responding to the Cuban government's restriction
p . 5 0
5 6 5 7 B S c A r c h U n i t 5
on the buying and selling of houses, the proposal provides an agency for the swapping of properties and includes configurable temporary living units for 'swappers' in transit between accommodations Fig. 5.11 Aimee Salata, Light Pavilion, the Plazas of Old Havana Acting as a stage set, the structure transforms and adapts to different times of the day, manipulating light, drawing it into the camera obscura during the day and illuminating the square at night On an urban scale the pavilions serve as an orientation device for tourists lost in the old part of the city, creating a network of light above the rooftops
p 5 1
5 9 5 11 5 8 B S c A r c h U n i t 5 5 10
5 12
Fig 5 12 & 5 13 Tess Martin, The New US Embassy in Havana In the future world of post-embargo Havana, the US and Cuba are allies While the new Embassy presents itself as a gift to the city and a gesture of friendship, the history of conflict casts an inescapable shadow on the newly reinstated relationship the Embassy is prepared for an attack The project explores the tension between the need for security and a US message of transparency and diplomacy The Embassy holds a comprehensive catalogue of security devices subtle takes on traditional defence mechanisms; from the moat and drawbridge, to escape pods and water cannons, which take advantage of its position on the Bay of Havana Fig. 5.14 Sandra Youkhana, Pelican Palace Havana's damaged ecosystem has made survival of marine wildlife impossible Resting upon the cheek of the bay on safer waters, the site stands as a green belt – an untouched stretch of coastline on
the brink of becoming Hiltonised in the emergence of the post-embargo situation The proposed scheme is Pelican Palace, a pelican sanctuary and resort, preserving the land and protecting pelicans by diverting them towards the site through the release of fish, with interactive lodgings dotted amongst these constructed habitats in a resort setup A series of water scenarios within the excavation of the undulating landscape create an interface between man, bird and fish The aesthetic intentions rely heavily on an ongoing theme within my work of composite architectures displacing functions through the intervention of technical components concealed within seaside follies
p . 5 2 B S c A r c h U n i t 5 5 14 >
5 13
'Genius Loci' Julia Backhaus, Pedro Font Alba, Bruce Irwin
2010
'Genius Loci'
'In Roman mythology a 'genius loci' was described as the protective spirit of a place. It was ancient belief that each place was possessed by an 'earth spirit' and, if the ground was to be disturbed and built on, that spirit needed to be placated to grant good fortune to its new habitants. From extraordinary myths about workmen being immured within the walls of cathedrals and castles to sinister legends of wives being built into bridges with their breasts exposed to nurture their babies, sacrifice was deeply embedded in building culture.' FT.com
Today, we use the term genius loci to describe the essence of a place that has an unmistakable atmosphere – a palpable character that permeates the site and manifests an unforgettable presence.
With our environment becoming jaded by international and cultural homogeneity and conformism, the concept of the genius loci is in need of critical reinvention. This year our unit investigated the genius loci as the point of departure for meaningful, unique, imaginative but site-specific architecture. We looked beyond the visible substance, form and surface of places and investigated sites that have been repossessed and transformed, where extraordinary events, myths or anecdotes have re-appropriated places.
We uncovered lost chapters of history and everyday fiction, traced the passages of explorers that have imprinted their stamp on different landscapes, and looked at places that have been traversed as much by narratives as by footsteps. We encouraged students to reinvestigate conventional model making, drawing techniques and other forms of spatial representation.
BSc Unit 5
Yr 2: Charlie Blanchard, Max Dowd, Joe Paxton, Asha Pooran, Alex Sutton, Nada Tayed, Su Jin Kwon Yr 3: Khalid Al Sugair, William Armstrong, Chris Leung, Hugh Moncrieff, Sabina Nobi, Frankie Pringle, John Wu, Yan Yan
Julia Backhaus, Pedro Font Alba & Bruce Irwin
Top: Joseph Paxton, London Lost Rivers and Timanfaya Centre for Earth Studies. Middle: Asha Pooran, Dorset Street Sugar Device; Alex Sutton, Modern Times. Bottom: Nada Tayed, Table for One; William Amstrong, Speakers' Corner Theater.
Top: Joseph Paxton, Timanfaya Centre for Earth Studies; Nada Tayed, Table for One; Max Dowd, Residencia de Menores, Las Palmas. Middle: Francesca Pringle, Brick Lane 'Bollywood'. Bottom: William Amstrong, Speakers' Corner Theater; Alex Sutton, Murgas' Club; Su Jin Kwon, Tea Auction Dephvice
Left: William Armstrong, El Salar Fireworks Factory Right: Charlie Blanchard, Mas Palomas Sea Turtle Rescue Centre; John Wu, El Golfo Geological Research & Interpretation Centre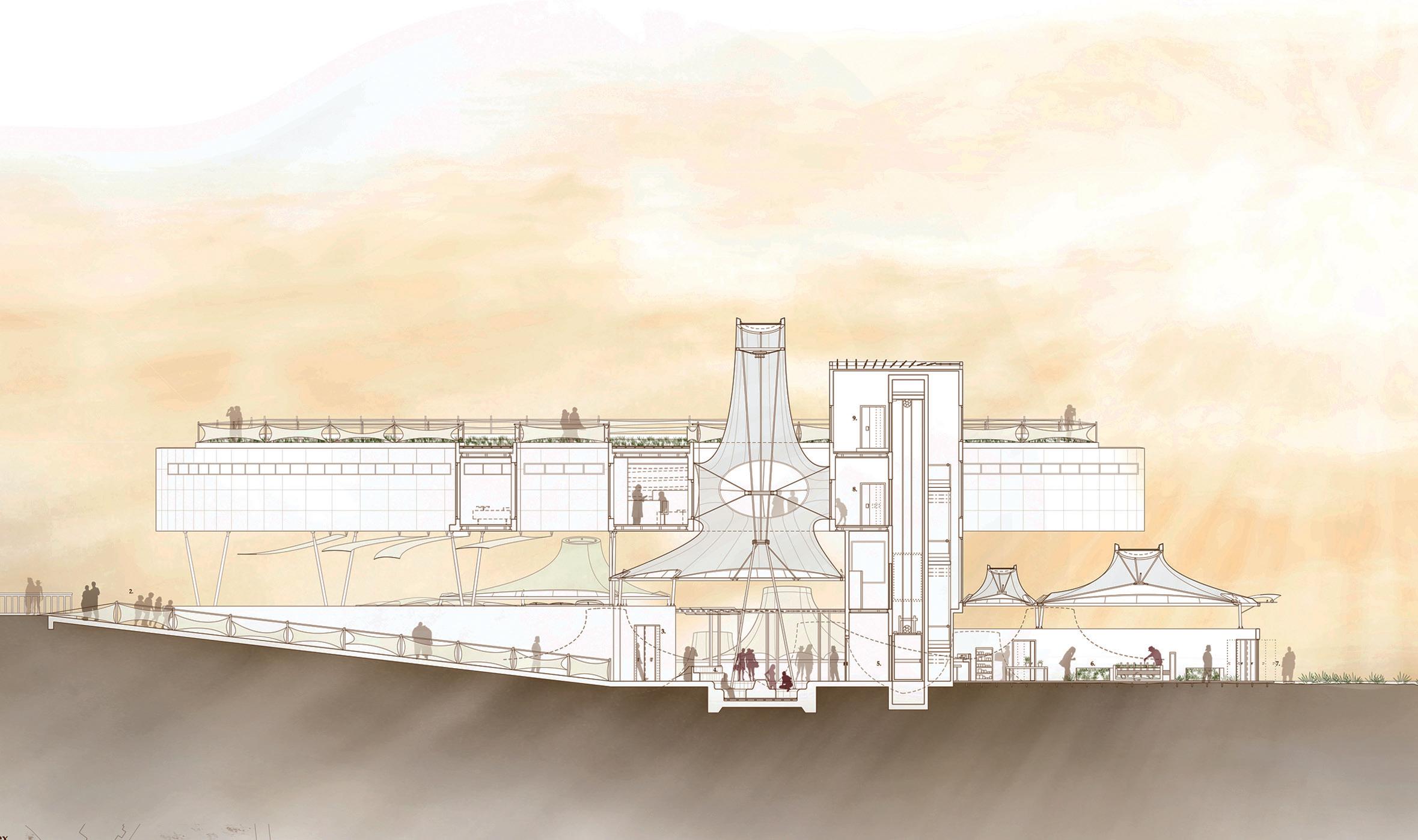 Top: Chris Leung, Mas Palomas Skin Clinic Middle and bottom left: Khalid Al-Sugair, Mas Palomas Brinewater Spa Bottom right: Yan Yan, El Confital Surfing and Flora Reintroduction Station
Top and left: Sabina Nobi, Lanzarote Cetacean Research Centre. Right: Hugh Scott Moncrieff, Arrecife Sailing Academy Opposite: Hugh Scott Moncrief, Arrecife Sailing Academy.
Nothing is Neutral
Julia Backhaus, Pedro Font Alba
2009
Yr 2: Karen Au, Robert Burrows, Anton Chernikov, Haesung Choi, Eleonora Hadjigeorgiou, Grace Mark, Lucy Rothwell.
Yr 3: Jonathan DeWind, Tamsin Hanke, Yong Lik Lee, Young Woo Lee, Nicola Perrett, Marcos Polydorou, Felicity PriceSmith, Harriet Redman, Suyang Xu.
Nothing is Neutral
pi·o·neer
1. First person to explore territory: a person who is one of the first from another country or region to explore or settle a new area
2. Inventor or innovator: a person or group that is the first to do something or that leads in developing something new
Within many cultures there has often been the desire to pioneer and travel to unknown territory in search for a new beginning. It was the pioneer trails and settlements that discovered unexplored worlds and distinguished the known from the unknown. Pioneering was associated with risk taking, determination and persistence but most of all curiosity. The French philosopher Michel Foucault states that 'curiosity' evokes an acute interest in and concern for everything that exists, a sharpened sense of reality, a readiness to find what surrounds us strange and odd; a certain determination to throw off familiar ways of thought and to look at the same things in a new and different way; a passion for seizing what is happening now and what is disappearing; a lack of respect for the traditional hierarchies of what is important and fundamental. This year the unit went on a journey to venture out to hidden territories, new realities, strange and overlooked spaces. We investigated landscapes that inhabit the ambiguous zone between human and natural environment and wonder about the existence of yet undiscovered universes.
In true pioneer spirit, we took risks and speculated about inventive, experimental and innovative architectural propositions.
Unit
Julia Backhaus and Pedro Font Alba
BSc
5
Clockwise from top left. Martin Tang, Pioneering Weather; Joseph Desjardin, Hook's Portrait; Megan Townsend, The Warren; Max Walmsley, No-Mansland; Yuchen Wang.
Clockwise from top left. Martin Tang, Pioneering Weather; Vinicius Cipriano, Homage to Donald Judd; Janinder Bhatti, Salt Spa; Amalia Hunter, Hollywood horses; Janindfer Bhatti, Moss Garden.
Top and middle: Martin Tang; Gliders Club – The Wind Puppet. Bottom: Jin Hong Leow, Mobile Market in Marfa.
Above left: Philip Poon; Bird's Pavillion in Regents Park. Above Right: Philip Poon, Marfa Lights.
Top: Tasmin Hanke; Spaceport near Guadalupe Mountains. Above: Victor Hadjikyriaki; Tex-Mex Blood Bank
This page:. Victor Hadjikyriaki; Tex-Mex Blood Bank
mi·cro·cosm (m?'kr?-k?z'?m)
Julia Backhaus, Pedro Font Alba
2008
mi·cro·cosm (m?'kr?-k?z'?m)
A small, representative system regarded as encapsulating in miniature the characteristics of something much larger. Amongst a diffuse and complex urban landscape some very specific spaces, microcosms or individual refuges often succeed in asserting themselves. Although sometimes barely perceptible, it is the little things, small accretions, micro movements, minute disequilibriums that silently undermine our environment and often lead to large and unexpected consequences. The thought that the patterns of existence resemble and influence each other from the smallest (micro) to the biggest (macro) unit can be traced throughout history; it shaped the contours of philosophy, mysticism, alchemy, aesthetics and the arts. But at which point does the seemingly selfenclosed system of the microcosm become permeable? Where does it interface with the outside? Which is the influencing and which the influenced component? Over two projects we speculated on scale, order, pattern and systems inherent to microcosms to understand and be surprised by their gigantic programmatic possibilities. We investigated the magic of 'the small' to discover what influences a microcosm might have on a large scale.
BSc Unit 5
Yr2: Leander Adrian, Olivia Crawford, Theodore Games Petrohilos, Ben Hayes, Paul Leader-Williams, Keong Lim, Jailun Mao, Jack Spencer Ashworth. Yr3: Zahra Azizi, Ross Leo Fernandes, Wanyu Guo, Alexander Kalli, Kate Marrinan, Afra Van't Land, Gabriel Warshafsky, Elizabeth Watts, Christopher Wong.
Julia Backhaus and Pedro Font Alba
Clockwise from top left: Wanyu Guo, Chris Wong, Leander Adrian, Theodore Games Petrohilos, James Spencer.
Top: Gabriel Warshafsky, Bottom: Kate Marrinan. Facing Page: Chris Wong.
Ephemera Julia Backhaus, Pedro Font Alba
2007
Ephemera
By close-ups of the things around us, by focusing on hidden details of familiar objects, by exploring commonplace milieus under the ingenious guidance of the camera, the film, on the one hand, extends our comprehension of the necessities which rule our lives; on the other hand, it manages to assure us of an immense and unexpected field of action. Our taverns and metropolitan streets, our offices and furnished rooms, our railroads stations and factories appeared to have us locked up hopelessly. Then came the film and burst this prison- world asunder by the dynamite of the tenth of a second, so that now, in the midst of this far-flung ruins and debris, we calmly and adventurously go travelling. With the close ups, space expands, with the slow motion, movement is extended (…).
This year our unit will look into the ambiguous zone between film making and architecture. Perhaps our fascination with film and architecture is that there are no other two arts that are so unlike each other: the film, intangible and fleeting, an image on a wall; and architecture, the most tangible and eternal. However, like architecture, film is dynamically perceived, obsessed with the immersion in its own created world. And, like architecture, film is able to transform the world, albeit through isolated moments. Over time movies have become a catalyst, an El Dorado of what architecture could be about: freed from everyday constraints, building codes and financial realities it has created an ideal medium to test the fantastic, ideal visions and new approaches to architectural design.
BSc Unit 5
Yr 2: Emma Bailey, Weng Sam Iu, Marina Karamali, Rina Kukaj, Na Li, Nathaniel Mosley, Gordon O'Connor Read, James Purkiss, Edward Scott, Catrina Stewart, Ruofan Yao. Yr 3: Zahra Ahmad Akhoundi, Victoria Bateman, Sheila Clarkson Valdivia, Amanda Ho, Alexis Kalli, Thomas Kay, Janice Lee.
Walter Benjamin
Julia Backhaus and Pedro Font Alba
Top: Zahra Ahmad Akhoundi, Animated Landscape. Middle: James Purkiss, Bottle Architecture. Bottom left: Catrina Stewart, Stunt School; right: Thomas Kay. Facing page, top and bottom: Janice Lee, Toy Theatre. Middle: Gordon O'Connor Read, Sushi Bar
Top left: Thomas Kay, Cornfield Community; right, top to bottom: Rina Kukaj; Victoria Bateman, Green Embassy; Thomas Kay, Cornfield Community. Bottom: Catrina Stewart, Stunt School. Facing page, top left: Victoria Bateman; right: Rina Kukaj, Aroma Spa. Middle: Nathaniel Mosley, Lipstick Farm. Bottom: Catrina Stewart, Stunt School
This page: Zahra Ahmad Akhound, Fashion Institute. Facing page: Janice Lee, Light Institute
'In-Between' Julia Backhaus, Pedro Font Alba
2006
Yr 2: Amanda Bate, Philip Cottrell, Brian Hoy, Momo Hoshijima, Lois Farningham, Saman Ziaie, Bridget Johnsonm, Peter Webb, Rosanna Kwok. Yr 3: Damian Groves, Richard Hardy, Desmond Hung, Zac Keene, Nancy O'Brien, Gen Otsubo, William Trossell.
'In-Between'
The 'in-between' is an ambiguous but dense zone, folded and tucked away, neither here nor there, more implicit than obvious, residual but multilayered. Through three interlinking projects Unit 5 explored the spatial, temporal and programmatic aspects of this condition.
Project 1, Unveiling the 'poche', a training ground: experimental
The students' home underwent a detailed investigation into accidental interstices, forgotten cracks and hidden poches. This precise study of detecting, slow seeing and revealing resulted in a full scale device.
Project 2, Mind the gap, a test site: room for speculation
Whilst the former investigations were based on the notion of occupation and enclosure in the domestic environment, the second project explored the 'in between' as a threshold, a connective device in an urban context in the form of a small building.
Our field trip brought us to Arizona, a state that is itself full of poches and gaps. It is a landscape of hidden drama, its soil is scarred and cracked by merciless desert sun and eroded by the fast flowing Colorado River. We visited Frank Lloyd Wright's Taliesin West, Paolo Soleri's Arco Santi, Arizona's Ghost towns, the cemetery of American War planes and buildings by Rick Joy and Will Bruder. From the Grand Canyon we took route 66 to Las Vegas.
Project 3, ' breach'.
The major building was sited in the sublime vastness of the desert floor. It explored the flux of boundaries and occupation, time and weather, culture and history. It created an immediate response to the understanding and reading of the site, framing the landscape in an architectural context.
Julia Backhaus and Pedro Font Alba
Clockwise from top: William Trossel, Surveyor's School; Amand Bate; Rosanna Kwok, Grand Canyon Site Model; William Trossel.
BSc Unit 5
Clockwise from top left: Brian Hoy, Poche; Peter Webb, Geological Survey Station/Grand Canyon; Philp Cotters, Sleeping Centre; Zac Keene, Harvesting Light
Top: Damian Groves, Paper Architecture. Clockwise from middle left: Damian Groves, Painting The Desert; William Trossel, Roof Studies; Gen Otsobu, Casino
Clockwise from top left: Desmond Hung, Molding Landscape; Damian Groves, Inflatable Installation; Nancy O'Brien. ?; Damian Groves, Paper Architecture
This and facing page: Richard Hardy, Desert Community With Whisky Distillery
REIsabel Brebbia, Niall Maxwell
2005
Yr 2: Pascal Bronner, Robert Brown, Charles Catto, Ronald Cheape, Sulawan Isvarphornchai, Klementyna Klocek, Keiichi Matsuda, Rebecca Tappin, Yr 3: Anna Deacon, Gregory Froggatt, Emily Lewith, Tetsuro Nagata, Itai Palti, Clare Richards, Nicholas Williams
RE-
Is there a future for the 'icon' building? With buildings accounting for 40% of the nation's energy consumption, can we really afford to go on designing one-off buildings? Most façades are designed to last just 15 years, while office interiors are designed for just 5 years Is icon architecture the ultimate 'purchase' in our consumerist age? Is this architectural approach appropriate given our current environmental crisis?
Maybe the future of architecture lies in the ingenious development of not just a beautiful object but the design of a flexible, adaptable architecture that allows for re-use, re-design, and re-invention.
Unit 5 re-considered the everyday, finding ways to use the seemingly redundant or forgotten If it's broken do you fix it, ditch it or make something new from it? Why is the new model better than the old? Newer better faster obsolete Do we dispose of, or reinvent for? In the pursuit of progress, are we blind to the possibilities of that which surrounds us?
Isabel Brebbia and Niall Maxwell
Unit
Top: Tetsuro Nagata, others: Emily Lewith
BSc
5
Clockwise from top: Anna Deacon, Gregory Froggatt, Tetsuro Nagata, Clare Richards, Nicholas Williams Overleaf, left: Itai Palti, right: Pascal Bronner
Urban Stress
Isabel Brebbia, Niall Maxwell
2004
Yr 2: Sarah Brighton, James Davies, David Di Duca, Joel Geoghegan, Andrew Marshall, Amreen Phul, Benjamin Ridley, Vanessa Salambassi, Soraya Somarathne
Yr 3: Jonathan Cory Wright, Thomas Dunn, Jonathan Hagos, Lisa Iszatt, Nadia Kloster, Iain Smales
Urban Stress
Unit 5 have been investigating 'urban stress' and exploring the in between, forgotten and seemingly inconsequential spaces left over by large-scale infrastructure What is the impact of this type of urban stress on the individual and the community? Studies were undertaken both in London and Wales before moving to Genoa, Italy – this year's City of Culture, a city transformed by the imposition of large scale infrastructure – to discover sites and spaces suitable for new interventions
Tom Wood passed away in May this year after a long illness A student with immense talent, potential and charm, he will be greatly missed by his many friends at the Bartlett
Isabel Brebbia and Niall Maxwell
Clockwise from top: Jonathan Hagos, Jonathan Hagos, Ian Smales, Lisa Iszatt, Tom Wood
BSc Unit 5
Clockwise from top left: Thomas Dunn, Jonathan Cory Wright, Nadia Kloster, Lisa Iszatt, Nadia Kloster
ucl.ac.uk/architecture