METR
A publication of the Greater Bakersfield Chamber | January 2023
Brought to you by
Model Home Tours by
The Time is Now
To See Highgate at Seven Oaks
HIGHGATE PLACE
A community specifically designed to o er first-time home buyers and growing families the rare opportunity to live in a gated, master planned community in Seven Oaks. Call 661-412-4857
HIGHGATE PARK
With five stunning floor plans, home buyers have a wide range of architectural styles, layouts and options to choose from in this gated, Seven Oaks community. Call 661-412-4857
HIGHGATE ESTATES
A separately gated, exclusive community within Highgate at Seven Oaks. 47 spacious homesites from 15,000 to 32,000+ sq. ft. Luxury homes from six of Bakersfield's finest custom builders. Call 661-664-6533
HIGHGATE REGENTS
Stress-free, active adult living and low maintenance Castle & Cooke homes. Regency Club private swim and fitness center. Call 661-829-1775
HIGHGATE SWIM & FITNESS CLUBHOUSE
Sparkling swimming pool, spa, fitness center, gourmet kitchen, children's water spray park, tot lot playground, park, amphitheater and basketball courts.
Resort-style pool with lap lanes, beach entry and spa, pickleball courts, large fire pit, children's playground,
HIGHGATE REGENCY CLUB
Resort-style pool and spa, pickleball courts, putting green, shaded patio with BBQ facilities, fitness center.
Professionally Managed, Gated Community From the Original Creator of Seven Oaks HighgateSevenOaks.com
Appointment Ming Ave. and Allen Rd
Monday – Saturday 10 AM – 5 PM Sunday 11 AM – 5 PM
Metro is the official publication of the Greater Bakersfield Chamber. This publication is produced and digitally distributed to the Chamber's membership at the beginning of each month. Every effort has been made to ensure the information in this publication is correct and accurate as of the publication date. Metro does not warrant the accuracy or claims of its advertisers. The Chamber President/CEO has the sole right to refuse any advertisement. Please send any comments, questions, article suggestions or advertising inquiries to info @bakochamber.com
Copyright 2023. All rights reserved. Reproduction by any means of the entire contents portion of this
METRO | PAGE 3
MESSAGE 4
CEO
©
publication
COVER PHOTO Highlights from 2022. Photos courtesy of April & Co. 1725 Eye St. • PO Box 1947 Bakersfield, CA 93303 661.327.4421 bakochamber.com CONTACT US See how the Chamber is working on behalf of you - our members BEAUTIFUL BAKERSFIELD AWARDS SHOP LOCAL, SHOP NOW 2022 Winner of Small Business of the Year - Telehealthdocs Learn more about a new local coffee shop - 502 Café 6 10 13 14 NEW MEMBERS MEMBER NEWS Welcome our new Chamber members Discover the latest news and happenings with other members 6 14 10 RIBBON CUTTINGS Celebrate the grand openings of local businesses 14 INSIDE on the
without written permission is prohibited.
Message from the CEO
Happy New Year!
The team at the Greater Bakersfield Chamber is excited to welcome 2023, and we look forward to working with the amazing people who shape our community and graciously volunteer their time at the Chamber.
As member investors, this organization belongs to YOU, and we're always grateful and energized by the professionals who lead our committees and councils, serve on our Board of Directors, and ensure that Chamber programs meet your expectations. This year, we'll continue to focus on being champions for our community, connecting our members with opportunities, convening our region's leaders, and being a catalyst for business growth and positive change.
From launching innovative new programs, celebrating the largest Beautiful Bakersfield Awards Gala ever, and bringing the California Economic Summit to our city, 2022 was an incredible year. The Chamber was once again at the forefront of civic life and business support.
We have big plans in store for 2023, and we are lucky to have the support of so many extraordinary leaders, like our 2023 Chairman of the Board of Directors Ken Keller, President/CEO of Bakersfield Memorial Hospital – Dignity Health.
A huge thank you to the amazing business leader he succeeds, Owner/CDO Countryside Corp. Rick Jhaj. He had an impactful year as chairman and has set the standard for what true community stewardship looks like.
The year ahead will offer the Chamber and our members incredible opportunities for growth and prosperity; thank you for your commitment to the Chamber, Bakersfield and Kern County!
Nick Ortiz President & CEO Greater Bakersfield Chamber
METRO | PAGE 4
METRO | PAGE 5 LABOR LAW & HR FORUM Co-Sponsored by NEW YEAR Presented by Daniel Klingenberger Compliance challenges are here to ring in the new year, with no exceptions. California legislation has aggressively expanded employee rights in many areas. All legal changes will be covered so that employers will comply in 2023. Event details: DATE: Thursday, Jan. 26 TIME: 7:30 a.m. Check-In/Networking; 8-10 a.m. Forum LOCATION: Chamber O ce, 1725 Eye St. COST: $50 Members; $75 Nonmembers (2023 labor law poster included!) REGISTER: info@bakochamber.com or call 661-327-4421 Topics will include: PROTECTED TIME OFF: New Bereavement Leave Requirement Changes to CFRA Leaves of Absence Changes to Mandatory Paid Sick Leave Law Non-Retaliation COVID – 19: Exposure Notifications Status of Cal/OSHA Emergency Temporary Standards Status of Supplemental Paid Sick Leave Law Workplace Posters PAY SCALE REQUIREMENTS: Job Recruitment Materials Reporting Mandates for Large Employers New Marijuana Drug Testing
2022 Small Business of the Year RecipientTelehealthdocs
It was the time of year again when Bakersfield enjoyed their version of The Oscars. The Telehealthdocs staff was dressed in style, all decked out for the dinner and awards ceremony. We were grateful to be nominated, but with so many wonderful competitors, we didn't really expect to win. When sponsor Bank of America presenter Christina Fields came up to speak and announced us as the Small Business of the Year winner, expressions of disbelief and excitement took over our table. Cameras were flashing, people were clapping and the spotlight was on us. All I thought about at that moment was, "What am I going to say?" Going through my mind were all the years of hard work, trying to make a difference in people's lives and believing in this relatively new delivery of care called telemedicine. A decade ago, hardly anyone understood what the word telemedicine was, let alone thought this would work out. Then it hit me, "Wow! We did it!"
Telehealthdocs Medical Group was formed 12 years ago. In the early years, we came across multiple challenges. Physicians did not believe this process could work because they were unable to touch the patient. Patients did not want to seek medical care through a monitor as it felt like a lower quality of care to them. Insurance companies stated that we were too futuristic. There were many times when I wanted to give up. But by believing in the potential of this industry, providing quality care and a commitment to the health of our community, Telehealthdocs became one of the largest multi-specialty telehealth groups in California and we've continued to serve all of Kern County since then.
Coming from humble beginnings, I still wonder at times if this is just a dream. There is a Chinese proverb that states, "The person that says it cannot be done, should not interrupt the person doing it." Since our founding, what has driven us is our passion to provide this important health care access by leveraging technology. With the outbreak of COVID-19 and the global pandemic, telehealth proved to be a pivotal channel for physicians and patients to connect while still receiving the same
quality of care. Today, telehealth is everywhere. As we continue to expand, we have partnered with Kern Family to provide a mobile clinic to further serve our community in the future, to make specialty care more accessible, especially in our rural areas.
We would not be able to accomplish all we did without being in this community and for that, I am forever grateful. This was a team effort. I have the most amazing staff and they are the foundation of Telehealthdocs. In addition, I would like to thank my family, the Bakersfield community and especially, the Greater Bakersfield Chamber, for this opportunity. It has been quite a journey and an experience that I will never forget.
Quon Louey Executive Director, Telehealthdocs
METRO | PAGE 6
CATEGORIES:
A Better Bakersfield
An annual event or project that enhances the quality of life in the community.
Architecture & Design
The completion of a brand new interior and/or exterior building design integrating the environment with space and materials.
Arts & Culture
E orts by a group or individual to improve and/or enhance the arts and culture within our community
Business Person of the Year
A local business owner/manager whose e orts truly impact and enhance the quality of life in the community
Education
E orts by an educator, project or school/college that promotes or benefits education in our city at all levels.
Harvey L. Hall Lifetime Achievement
A local long-time community leader, age 55 and over, who has made a lasting impact to Bakersfield and its residents.
Health
An individual, group or organization impacting healthy living - above and beyond their normal scope of activities - through education, prevention or medical services.
Humanitarian Group
A group whose personal volunteer e orts have made a significant impact in the community.
Humanitarian Individual
An individual whose personal volunteer e orts have made a significant impact in the community
Large Business/Corporation of the Year
The recognition of a large business (26 employees or more) whose volunteer hours and/or financial donations have made a meaningful di erence.
Next Gen
An individual or group in grades K-12 that, through personal involvement and endeavors, has answered the challenge of good citizenship
Nonprofit of the Year
E orts of a 501(c)3 nonprofit organization that impacts the community
Renovation & Tenant Improvement
The completion of a renovated design that upgrades an existing structure and/or incorporates the use of landscaping to enhance the aesthetic value of the property
Small Business of the Year
A small business (25 employees or less) whose contributions and/or products and services instill community pride.
Urban Revitalization
An individual, business or organization that has made a meaningful contribution in the past year to placemaking, reimagining how we live, work and play.
Young Professional
An Individual, age 18-40, whose e orts truly impact and enhance the quality of life in the community
PLEASE NOTE:
Nominations must be for work completed in 2022 to be eligible for consideration. No more than two nominations per individual, business or organization will be considered.
Nomination Deadline: Friday, February 3, 2023
METRO | PAGE 7 Submit your nominations today at beautiful.bakochamber.com!
Presented by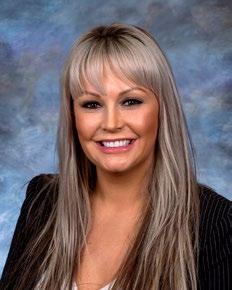 Local 502 Café brings Guatemalan coffee blends to Bakersfield
In the heart of Downtown Bakersfield, there lies a sweet escape to Guatemala. 502 Café is a local coffee shop that offers fair trade certified Guatemalan coffee. At 502 Café, owners and spouses Nancy and Marco Aguirre, offer artisanal coffee that is native to their culture.
METRO | PAGE 10
Fill your cup with hand-crafted Guatemalan coffee
In 2019, the couple migrated to the United States from Guatemala. Their coffee shop started with Marco's pursuit of the American dream, Nancy's love for coffee and their hope to bring recognition to premium Guatemalan coffee.
"Guatemala is known for producing high-quality coffee. We really wanted to showcase that," said Nancy. "Especially because with Central American countries we always tend to only see or hear the bad side."
The couple travels three times a year to hand-pick, taste and select coffee from four different regions in Guatemala for 502 Café. They only purchase three batches a year to preserve the freshness of the coffee. Bakersfield residents can buy a specialty coffee beverage to go, K-cups or a Guatemalan whole bean coffee blend to brew at home.
Unlike most coffee shop owners, who buy their coffee from large wholesale suppliers for a lower price, the Aguirre's buy their coffee directly from farmers and coffee producers in Guatemala. Buying direct allows Guatemalan coffee farmers to earn the profit they deserve for their labor and products – making 502 coffee fairtrade certified.
"We want our customers to feel that they are a part of something bigger. By supporting us, we can keep supporting the people of Guatemala," said Nancy.
502 Café offers the best quality coffee to their shoppers and every purchase makes a positive impact on the communities of Bakersfield and Guatemala. Their coffee brings the authentic and natural flavors of Guatemalan coffee beans to Bakersfield.
Initially, 502 Café started as a pop-up coffee stand at local farmers' markets and community events. With strong support from the community and fellow small business owners, the Aguirre's were able to expand into a local brick-and-mortar store – currently located inside the Haberfelde Building.
They found something in Bakersfield once they became business owners: a community.
"Our favorite thing is being able to share with people, you know being able to feel that community. We can actually have an interaction with people, you know there's this type of relationship in a way," she said.
Together the duo has built connections and friendships with customers and fellow business owners who help sustain and grow our community.
While their business journey has had its challenges and sacrifices, the Aguirre's are grateful to the community of Bakersfield for its support. Fellow business owners offered their advice, support and encouragement throughout their journey and customers have shown their loyalty and support to 502 Café by electing to support their coffee shop over larger retailers.
"It's nice to feel appreciated when someone you know prefers to go to your local business instead of something like a Starbucks, where things are not done with the same love or thought," said Nancy.
Investing in Bakersfield and building a better Bakersfield starts when we invest and support local businesses. You can visit their location at 1706 Chester Ave # 460 and find a full selection of Guatemalan coffee blends.
Follow them on Instagram and Facebook @502coffeecompany to view their signature coffee drinks and keep up with their upcoming events and specials.
To read the full feature story and to learn and find more local businesses you can support, visit shoplocalshopnow.com
ShopLocalShopNow is ponsored by Kern Women's Business Center
METRO | PAGE 11
METRO Thursday, January 19, 2023 LUNCHEON RESERVE YOUR SEAT 2023 BOARD INSTALLATION & AWARDS Platinum Sponsor Please RSVP by Friday, January 13. To RSVP, please email info@bakochamber.com or call 661-327-4421.
Welcome New Chamber Members
We'd like to extend a warm welcome to the companies that have joined the Greater Bakersfield Chamber. Thank you for investing in our mission to Build a Better Bakersfield.
American Tire Depot 4860 Stine Rd. Bakersfield, CA 93313 661-837-0387 americantiredepot.com
"We are your one-stop-shop for all your tire and automotive needs."
Autism Spectrum Therapies (AST) 3105 Latte Ln. Bakersfield, CA 93312 866-727-8274 autismtherapies.com
"We are an autism service provider that specializes in contemporary applied behavior analysis (ABA) therapy, serving children, teens and adults."
Brimhall Pharmacy, Inc. DBA Brimhall Pharmacy 8305 Brimhall Rd., Ste. 1603 Bakersfield, CA 93312 661-588-5555 brimhallpharmacy.com
"We are a retail and independently owned pharmacy. We provide prescription services, medical supplies, compounding and free delivery services."
Brimhall Pharmacy, Inc. DBA Panama Pharmacy 6348 Ashe Rd., Ste. 400 Bakersfield, CA 93304 661-527-0000 panamapharmacy.net
"We are a retail and independently owned pharmacy. We provide prescription services, medical supplies, compounding and free delivery services."
Gameday Sports Academy 3101 Gilmore Ave. Bakersfield, CA 93308 661-302-2985 dignityhealthsportscomplex.com
"We are the managing entity for the Dignity Health Sports Complex, which is a 50,000-square-foot sports complex."
No Sister Left Behind Nonprofit Organization 661- 378-7783 nosisterleftbehind2.org
"We promote well-being education for women in seven areas: social, mental, emotional, physical, financial, career and community."
Posh Properties of California 661-703-6386 poshpropertiesca.com
"We are a boutique real estate brokerage specializing in residential and investment sales and purchases."
The Pickleball NAG 1803 Elzworth St. Bakersfield, CA 93312 253-350-4836 thepickleballnag.com
"We are a pickleball store that sells pickleball gear, paddles and accessories. We support all first responders and offer them a discount."
The Ryan Dobbs Real Estate Team 4560 California Ave. Bakersfield, CA 93309 661-473-0385 ryandobbsteam.com
"We are a nationally ranked & residential real estate brokerage serving all of Kern County."
Urban Onyx, LLC. 2701 Ming Ave. Bakersfield, CA 93304 661-558-9762 urban-onyx.business.site
"We are a novelty gift shop, located inside the Valley Plaza Mall. We cater to children and adults of all genders."
Wilson Brothers Roofing 10024 Rosedale Hwy. Bakersfield, CA 93312 661-589-4297 wilsonbrosroofing.com
"We are a family owned and operated roofing company that has been in business in Bakersfield since 1977."
For more information about joining the Chamber or renewing your membership dues, please email cwillingham@bakochamber.com.
METRO | PAGE 13
CUTTINGS RIBBON CUTTINGS
LAST MONTH'S RIBBON CUTTING
UPCOMING RIBBON CUTTINGS
9500 Brimhall Rd., Ste. 306 sipandstylesalon.com
Member News
The Bakersfield Condors are offering Star Wars Night Packs that are on sale now! Each pack includes four lower-level vouchers to use for the Saturday, Jan. 28 Star Wars night game, or any games of your choice! You'll receive a Star Wars themed bobblehead of Condors D-man Vinny Desharnais as well, all for just $99. For tickets, call 661-324-PUCK (7825) or email tickets@ bakersfieldcondors.com
Dignity Health Sports Complex managed by Gameday Sports Academy (3101 Gilmore Ave., Ste. 100) will be holding their Biz Ball tournaments in 2023, so don't miss out! The Biz Ball event will be held throughout January and February. There will be sports, networking, food & live music. Biz Ball-Basketball is on Feb. 11-12, with the price to register a team at $350. Biz Ball-Volleyball will be the final tournament and will be held on Feb. 25-26, the price to register a team is $350. If you are looking to reserve a vendor table, the price is $100. To RSVP for the tournament or a vendor table, please call 661-535-2233. For more information, click HERE
The Bakersfield-Kern Regional Homeless Collaborative (BKRHC) has launched a county-wide effort to recruit 500 volunteers for the 2023 Point in Time Count, to be held from 4:30-9 a.m. on Wednesday, Jan. 25. The annual PIT Count provides a snapshot view of homelessness in Kern County. Results from the PIT Count are used to know the needs of our community, allocate resources to address homelessness, and apply for federal and state grant funding. "BKRHC relies on hundreds of volunteers to canvas communities across Kern County so that every person experiencing homelessness is counted,"
said Anna Laven, Ed.D., BKRHC executive director.
PIT Count volunteers' primary task is to identify and count the number of unsheltered people experiencing homelessness. Unsheltered people include those sleeping on the streets, alleys, parks, encampments, in their cars or other places not meant for human habitation.
PIT Count volunteers are organized into teams of three to four people and dispatched to specific areas throughout Kern County. Volunteers engage with individuals experiencing homelessness to complete an in-depth questionnaire and gather demographic information. Volunteers will be required to complete training regardless of past PIT Count experience. Individuals can sign-up to volunteer online at www.bkrhc.org/2023-pitcount/. For more information, click HERE
Attention graduating high school seniors throughout Kern County! Be sure to apply for #KernFutures Scholarship from Kern Community Foundation. The application season goes through Mar. 7. Graduating Kern County high school seniors who have a 2.0 GPA or higher and are planning to attend a two-year college, four-year university, or accredited technical school, are welcome to apply for a scholarship from Kern Community Foundation. Go to kernfoundation.org/scholarships to get started. While on our website, also visit the College Resources and Frequently Asked Questions pages. We want to help you succeed! Questions? Write to us at info@ kernfoundation.org. For the 2023-24 academic year, our scholarships range from $500 to $3,000. Please visit the Scholarships page of our website for more information and to apply.
One-Year Anniversary Sip + Style Salon
RIBBON
For more information or to schedule a ribbon cutting, please contact Hillary Haenes at hhaenes@bakochamber.com. SCHEDULE YOUR NEXT EVENT
METRO | PAGE 14
Renewing Members
Thank you to our members who have reinvested in the Greater Bakersfield Chamber. Your continued investment helps the Chamber continue its mission to Build a Better Bakersfield.
1C13 Medical - 2018
Advance Auto Parts - 2021
Aspire Behavioral Health - 2018
Aspire Counseling Services - 2016
Assistance League of Bakersfield - 2004 Aunt Mae's Sweet Tooth - 2020
Bolthouse Farms, Inc. - 1995
California Aeronautical University - 2016
California Living Museum Foundation - 2000
California MENTOR - 2002
California Resources Corporation - 1970 Common Sense Consulting - 2010
Culligan Water - 2017
Dirty Bird Guns and Ammo - 2021
Emporium Western Store - 1987 Everlight Care - 2021
Hardwood Floor Company - 2001
Iron Nikkel Construction, Inc. - 2021
Jeanne Seal Bookkeeping & Accounting Inc. - 1972
Keathley, Maxwell & Antongiovanni, LLP - 1990
Kern Community Foundation - 1999 Kern Council of Governments - 1990 Kern County Airports - 2011 Kern Energy - 2019
Mercedes Benz of Bakersfield - 1987
Mission Bank - 1998
Mom's House Chicken & Waffles and More - 2021
Morgan Corporation - 1997
MP Environmental Services, Inc. - 1993
Nights Watch Private Security - 2021
Outlets at Tejon - 2014
Pacific Western Bank - 2017
Positive Results Unlimited - 2019
Premier Lighting - 1995
Rain for Rent - 1992
Spoiled Rotten Boutique - 2021
Skarphol Frank Associates - 1995 Spectrum Reach - 1966
TERRIO Physical Therapy & Fitness, Inc. - 1998
The Gombos Company LLC - 2019
The Mission at Kern County - 1989 The Villas at Scenic River - 2008
United States Cold Storage of California - 1993
Vallarta Supermarkets, Inc. - 2021
Vantage Property Management - 2010 Victory Family Services - 2018
Upcoming Events January 2023 1.16.23 Martin Luther King, Jr. Day Chamber Closed 1.19.23 Annual Board Installation & Awards Luncheon 11 a.m. | Seven Oaks Country Club 1.31.23 Ambassador Committee Meeting Noon | Chamber METRO | PAGE 15
2023 EXECUTIVE BOARD OF DIRECTORS
Chairman of the Board
Ken Keller
Bakersfield Memorial Hospital - Dignity Health
Incoming Chairman Rob Duchow Southern California Gas Company
Immediate Past Chairman Rick Jahj Countryside Corporation
Kamal Gill – Brimhall Pharmacy/Panama Pharmacy
Dr. Mary Barlow – Kern County Superintendent of Schools
Mark Bateman – Young Wooldridge LLP
Deanna Blaise – Valley Strong Credit Union
Bruce Davis – Bolthouse Properties
Octavio Escobedo – Tejon Indian Tribe
Maybelle Liquigan – Kaiser Permanente
Denise Newton – PG&E
Veronica Placencia – KERO-TV
G Riar – Riar, Inc.
Willie Rivera – Aera Energy
CHAMBER STAFF
Nick Ortiz President/CEO
Hillary Haenes
Vice President, Member Engagement
Concepcion "Cepi" Willingham
Member & Business Development Manager
Kami Gonzalez Director, Administration & Operations
Savanah Adams Manager, Stakeholder Engagement
Cynthia Gonzalez Operations Administrator
Get Social
Stay engaged and connected with what's happening at the Chamber by following us on these social media platforms.
CHAIRMAN'S CIRCLE FOCUS
LeBeau Thelen LLP
Founded in 1985, LeBeau Thelen LLP is a preeminent full-service law firm with a reputation for efficient, creative and practical legal advice and strong advocacy. Because our firm's transactional and business attorneys understand how business works, we can offer strategies and solutions that maximize the client's objectives and benefits. Our experienced team of litigators provides aggressive and effective representation in cases spanning business disputes, professional malpractice defense, personal injury and employment matters.
MAJOR INVESTORS BYNUM INC.
CHAIRMAN'S CIRCLE MEMBERS
@bakochamber