CANADIAN MODEL
JIMMY IZZARD
ISSUE #06 | 06.29.23
DISPLAY UNTIL 07.26.23
OUR COMMUNITY: THE R HOUSE LOVE STORY OUT & ABOUT: MUMMIES OF THE WORLD
LIVING: KEEPING PETS SAFE IN THE GARDEN
PHOTOS: TWIST 30TH ANNIVERSARY
Get Screened for Risks of Stroke and Cardiovascular Disease Are you at risk? Special Screening Package for $149 Call 888-467-3482
TABLE OF CONTENTS:
5. OUT & ABOUT: MUMMIES OF THE WORLD: THE EXHIBITION
Mummies of the World lets you view and learn about the mummified remains of 40 real humans and animals.
10. COVER STORY: CANADIAN MODEL JIMMY IZZARD
Meet Canadian model and firefighter Jimmy Izzard with beautiful photos by brilliant photographer David Vance.
16. OUR COMMUNITY: THE LOVE STORY OF R HOUSE WYNWOOD OWNERS ROCCO AND OWEN
We bring you the love story of R House Wynwood owners Rocco Carulli and Owen Bale.
19. LIVING: KEEPING PETS SAFE IN YOUR YARD
Learn how to keep your pets safe from several hazards they can encounter in your yard.
20. IN PHOTOS: TWIST 30-YEAR ANNIVERSARY
Enjoy the photos from the TWIST 30-Year Anniversary.
ENJOY
wiremag.com to read all our past issues of Wire Magazine with beautiful men and interesting lifestyle content for the LGBTQ community. PHOTO BY DAVID VANCE. DAVIDVANCEPRINTS.COM
WIREMAG.COM:
OUR MAGAZINE LIFESTYLE CONTENT Visit
Prepare for power outages today WITH A HOME STANDBY GENERATOR $0 MONEY DOWN + LOW MONTHLY PAYMENT OPTIONS Contact a Generac dealer for full terms and conditions *To qualify, consumers must request a quote, purchase, install and activate the generator with a participating dealer. Call for a full list of terms and conditions. REQUEST A FREE QUOTE CALL NOW BEFORE THE NEXT POWER OUTAGE (888) 665-4109 FREE 7-Year Extended Warranty* – A $695 Value!
Publisher/Editor in Chief/Design Director
Rafa Carvajal
Columnists
Alfredo Barrios
Alyn Darnay
Writers
Albert Bravo
Official Photography Studio
Photo Studio Miami
Staff Photographer J.R. Davis
Local Advertising advertising@wiremag.com
National Advertising Rep. Rivendell | 212.242.6863
Contact Information Tel: 305-520-WIRE
Email: info@wiremag.com
1541 Brickell Avenue, #2004, Miami, FL 33129
Wire Magazine is published, produced, and owned by Wire Media Group L.L.C. All Rights Reserved. Distributed in print in Miami, The Beaches, and Fort Lauderdale, and digitally worldwide through wiremag.com
The views, opinions or positions expressed by contributors to and interview subjects of Wire Magazine are theirs alone and do not necessarily reflect the views, opinions or positions of Wire Magazine, its staff or publisher.
Cover photo by David Vance davidvanceprints.com
Model: Jimmy Lavigne Izzard
ENJOY A FREE SUBSCRIPTION wiremag.com/free
By Rafa Carvajal
MUMMIES OF THE WORLD: THE EXHIBITION
subjects' personal stories. It also features several state-ofthe-art multimedia stations spanning 4,500 years that teach you the histories and origins of the mummified remains and how they were made.
If you are looking for something interesting to do with friends and family, go check out Mummies of the World: The Exhibition currently on exhibit at the Phillip and Patricia Frost Museum of Science in Miami. While you are there, be sure to enjoy all the other engaging exhibits the Museum has to offer, plus the Planetarium. Most of what the Frost Science Museum has to offer is also air conditioned, so it's a very enjoyable and enriching experience during these very hot summer months. I recently visited the Museum with Timothy, a nine-year old boy who loves going there whenever he has a chance. It was a nice way to celebrate his birthday and teach him about the Mummies of the World.
This new Museum exhibition is the largest touring collection of mummified remains and associated artifacts ever put together. You will learn about the lives of ancient persons the world over, including Europe, South America, and Ancient Egypt. Mummies of the World lets you view and learn about the mummified remains of 40 real humans and animals, plus 80 rare artifacts that educate everyone about past cultures and civilizations, and the
According to Dr. Cassie Freund, director of science communication at the Museum, "this exhibition has proven to be one of the most popular exhibitions traveling the world. It has an engaging way of providing insight into the lives and cultures of these ancient people, which is important because these were real individuals with unique stories. We like to say, 'Inside every mummy is a story waiting to be told.' Mummies of the World tells thousands of years of captivating stories. Through modern science and technology, their secrets are now revealed." After visiting The Exhibition with Timothy, I agree with Dr. Freund.
Mummies of the World shows you how mummification can happen both naturally and by willful practices from ancient times. The Exhibition also spotlights the scientific methods utilized to study mummified remains of people and animals. These methods include Computed Tomography (CT), DNA analysis and radiocarbon dating, which researchers and scientists use to learn about the cultures, history, and personal lives of the ancient people and animals currently on display at the Museum.
All Frost Science Museum tickets include admission to Mummies of the World: The Exhibition. Please go to frostscience.org/mummies for additional information and to purchase tickets. Also, remember that this 250,000square-foot museum has a lot to explore beyond Mummies of the World.
#6 2023 WIREMAG.COM 5 OUT & ABOUT
Photos Provided by
of Science
Frost Museum
IMPORTANT FACTS FOR BIKTARVY®
This is only a brief summary of important information about BIKTARVY® and does not replace talking to your healthcare provider about your condition and your treatment.
MOST IMPORTANT INFORMATION ABOUT BIKTARVY
BIKTARVY may cause serious side e ects, including: Worsening of hepatitis B (HBV) infection. Your healthcare provider will test you for HBV. If you have both HIV-1 and HBV, your HBV may suddenly get worse if you stop taking BIKTARVY. Do not stop taking BIKTARVY without first talking to your healthcare provider, as they will need to check your health regularly for several months, and may give you HBV medicine.
ABOUT BIKTARVY
BIKTARVY is a complete, 1-pill, once-a-day prescription medicine used to treat HIV-1 in adults and children who weigh at least 55 pounds. It can either be used in people who have never taken HIV-1 medicines before, or people who are replacing their current HIV-1 medicines and whose healthcare provider determines they meet certain requirements.
BIKTARVY does not cure HIV-1 or AIDS. HIV-1 is the virus that causes AIDS.
Do NOT take BIKTARVY if you also take a medicine that contains:
dofetilide
rifampin
any other medicines to treat HIV-1
BEFORE TAKING BIKTARVY
Tell your healthcare provider if you: Have or have had any kidney or liver problems, including hepatitis infection. Have any other health problems.
Are pregnant or plan to become pregnant. It is not known if BIKTARVY can harm your unborn baby. Tell your healthcare provider if you become pregnant while taking BIKTARVY.
Are breastfeeding (nursing) or plan to breastfeed. Do not breastfeed. HIV-1 can be passed to the baby in breast milk.
Tell your healthcare provider about all the medicines you take:
Keep a list that includes all prescription and over-thecounter medicines, antacids, laxatives, vitamins, and herbal supplements, and show it to your healthcare provider and pharmacist.
BIKTARVY and other medicines may a ect each other.
Ask your healthcare provider and pharmacist about medicines that interact with BIKTARVY, and ask if it is safe to take BIKTARVY with all your other medicines.
POSSIBLE SIDE EFFECTS OF BIKTARVY
BIKTARVY may cause serious side e ects, including: Those in the "Most Important Information About BIKTARVY" section.
Changes in your immune system. Your immune system may get stronger and begin to fight infections that may have been hidden in your body. Tell your healthcare provider if you have any new symptoms after you start taking BIKTARVY.
Kidney problems, including kidney failure. Your healthcare provider should do blood and urine tests to check your kidneys. If you develop new or worse kidney problems, they may tell you to stop taking BIKTARVY. Too much lactic acid in your blood (lactic acidosis), which is a serious but rare medical emergency that can lead to death. Tell your healthcare provider right away if you get these symptoms: weakness or being more tired than usual, unusual muscle pain, being short of breath or fast breathing, stomach pain with nausea and vomiting, cold or blue hands and feet, feel dizzy or lightheaded, or a fast or abnormal heartbeat.
Severe liver problems, which in rare cases can lead to death. Tell your healthcare provider right away if you get these symptoms: skin or the white part of your eyes turns yellow, dark "tea-colored" urine, light-colored stools, loss of appetite for several days or longer, nausea, or stomach-area pain.
The most common side e ects of BIKTARVY in clinical studies were diarrhea (6%), nausea (6%), and headache (5%).
These are not all the possible side e ects of BIKTARVY. Tell your healthcare provider right away if you have any new symptoms while taking BIKTARVY. You are encouraged to report negative side e ects of prescription drugs to the FDA. Visit www.FDA.gov/medwatch or call 1-800-FDA-1088. Your healthcare provider will need to do tests to monitor your health before and during treatment with BIKTARVY.
HOW TO TAKE BIKTARVY
Take BIKTARVY 1 time each day with or without food.
GET MORE INFORMATION
This is only a brief summary of important information about BIKTARVY. Talk to your healthcare provider or pharmacist to learn more. Go to BIKTARVY.com or call 1-800-GILEAD-5.
If you need help paying for your medicine, visit BIKTARVY.com for program information.
(bik-TAR-vee)
All rights reserved. US-BVYC-0250 04/23
BIKTARVY, the BIKTARVY Logo, GILEAD, the GILEAD Logo, and KEEP BEING YOU are trademarks of Gilead Sciences, Inc., or its related companies. © 2023 Gilead Sciences,
Inc.
#1 PRESCRIBED HIV TREATMENT*
No matter where life takes you,
ELIAS SWITCHED TO BIKTARVY
Because HIV doesn't change who you are.
BIKTARVY® is a complete, 1-pill, once-a-day prescription medicine used to treat HIV-1 in certain adults. BIKTARVY does not cure HIV-1 or AIDS.
Ask your healthcare provider if BIKTARVY is right for you.
Person featured takes BIKTARVY and is compensated by Gilead.
Please see Important Facts about BIKTARVY, including important warnings, on the previous page and at BIKTARVY.com.
*Source: IQVIA NPA Weekly, 04/19/2019 through 01/20/2023.
Listen to REAL STORIES being told by REAL VOICES.
PUBLISHER'S CORNER STAY INVOLVED & LOUD!
In this week's issue of Wire Magazine, we feature model Jimmy Izzard, who works as a firefighter in the city of Montréal, Canada with beautiful photos taken by brilliant photographer David Vance. In Our Community, we bring you the love story of R House Wynwood owners Rocco Carulli and Owen Bale, who have been together for 12 years and married for ten. Rocco and Owen are a loving couple who has succeeded in the food and beverage industry through very hard work. They created and operate R House, a restaurant and bar with delightful food, tasty craft cocktails and fabulous drag shows.
In Out & About, we preview the new Mummies of the World: The Exhibition currently on exhibit at the Phillip and Patricia Frost Museum of Science. The Frost Museum is a great place for a visit with family and friends because there is a lot to see, and most of the exhibits are in air-conditioned areas. Our Living column is about keeping your pets safe from several hazards they can encounter in your yard, which you may not be aware of. We also bring you photos from the TWIST 30th Anniversary celebration that took place Wednesday of last week.
This week, I also want to motivate all our readers to continue celebrating Pride after the month of June. We must show up in numbers and ensure we are always counted because love and acceptance should rise above all discrimination against any members of our community. Although some politicians and bigots in our society want to take some of our rights away and prevent us from being proud about who we are, they are wrong and must be told so anytime we have a chance to say so. No one has a right to discriminate against LGBTQ people or to impose their religion on anybody. We are a country of laws with a Constitution and Bill of Rights that protect all citizens.
Part of staying involved is to closely watch what local, state, and national politicians preach, and what laws they are trying to codify to discriminate against our LGBTQ community. Those local officials and politicians need to be voted out. Any of their legislation or local ordinances designed to discriminate or violate our rights must be challenged in court. Remember that elections matter a lot, so make sure to vote in every election and to encourage anyone who loves and supports you to do the same. Our country's history is full of examples where elections have made a difference in people's lives for better or for worse. There have been other times in our nation's history where the LGBTQ community had to stand up and fight for our rights. We must continue to do so now and into the future!
Cheers,
Rafa Carvajal Publisher & Editor in Chief rafa@wiremag.com
"WE WILL NOT WIN OUR RIGHTS BY STAYING QUIETLY IN OUR CLOSETS." - HARVEY MILK
8 WIREMAG.COM #6 2023
ONE
We work with you to set up a monthly payment that fits within your budget.
Do you owe more than $10,000 in credit card bills, medical bills or other unsecured debt? National Debt Relief can help! Our Certified Debt Advocates have helped over 500,000 people nationwide resolve their debt for a fraction of what they owe.
GUARANTEE
RESOLVE
We'll resolve your debt as quickly as possible so you can finally start living the life you want.
" " SEE HOW MUCH YOU COULD SAVE +1 (866) 404-4633
I am so happy with National Debt Relief. They just resolved one account and saved me over $11,000. They keep me in the loop and work with me to get the most savings.
BECOME DEBT FREE IN AS LITTLE AS
24-48 MONTHS
PROGRAM
AFFORDABLE MONTHLY PAYMENT
UPFRONT FEES
NO
You won't pay a penny until your debt is resolved. YOUR DEBT IN 24–48 MONTHS
—Cheryl (Trustpilot review)
We guarantee your satisfaction 100%. Cancel anytime without penalties or fees.
JIMMYIZZARD
By Rafa Carvajal
10 WIREMAG.COM #6 2023
Photos by David Vance davidvanceprints.com
Rafa Carvajal: Where are you from and where do you live now?
Jimmy Lavigne Izzard: I am from Montréal, Canada. I live on the south shore of Montréal in a city call Longueuil.
RC: What do you do for a living?
JLI: I am a fireman for the city of Montréal.
RC: How do you maintain your fit body?
JLI: I try to eat well every day. I also try to train twice a day when I can. I travel a lot, so sometimes it's hard to maintain a fit body all year. My weight ranges from 188 to 205 pounds depending on if I have time to stick to my routine.
#6 2023 WIREMAG.COM 11
RC: What do you eat to stay in shape?
JLI: I eat veggies and good protein, such as fish, chicken, turkey and chickpeas
12 WIREMAG.COM #6 2023
RC: What are the three exercises that you prefer the most?
JLI: Incline chest, leg press and all types of abs exercises.
#6 2023 WIREMAG.COM 13
RC: What do you enjoy the most about modeling for photography?
JLI: When you are working with nice people and the vibe is relaxed, with good music and everybody is just having fun while working and joking around.
RC: What is the biggest dream you would like to achieve?
JLI: To have a family and enjoy a good time with them and my friends.
RC: What is your favorite hobby?
JLI: To travel the world with my best friends. I also like riding a motorcycle, music concerts, going to the gym and video games.
RC: What are your handles for Instagram, Facebook and Twitter?
JLI: I don't like social media. I do it only for modeling, otherwise it's a waste of time. My handle on Instagram is jimmyizzard.
RC: Is there anything else you would like to share with Wire Magazine readers?
JLI: I appreciate your time and your interest in me. I wish you guys success and a happy time with your friends and family. Be safe :)
14 WIREMAG.COM #6 2023
By Rafa Carvajal
THE LOVE STORY OF R HOUSE WYNWOOD OWNERS ROCCO AND OWEN
that was the primary characteristic of Wynwood at that time. It reminded me of the art galleries in Provincetown. At the beginning, before we ever conceived of running drag shows at R House, we created R House as part restaurant, part art gallery. In the early days we sold many paintings to collectors over dinner on a Saturday night.
OB: For me, Wynwood reminded me of the hipster warehouse districts in East London where I used to live. When we started out, we were the fourth food and beverage establishment to open in the neighborhood. Since then, hundreds of venues have come and gone, but apart from Joey's Italian, we are the longest-standing venue in all of Wynwood.
RC: What does 'love is love' mean to you?
In this issue of Wire Magazine , we celebrate Rocco Carulli and Owen Bale, the unique and loving couple who has succeeded in the food and beverage industry with R House Wynwood through very hard work and dedication to our community.
Rafa Carvajal: Tell our readers how you met and how long you have been together.
Owen Bale: We met while I was taking a mini-sabbatical from work in the UK and spending some well-deserved vacation time in Miami in 2011. We clicked instantly and were pretty much inseparable from then on despite living on separate continents at the time.
Rocco Carulli: As soon as I met Owen, I knew I wanted this guy to stick around for the long term. We've been together for 12 years now and married for ten. I never get bored of that British accent!
RC: How did your love story get started?
ROC: After we met in 2011, I closed up my summertime restaurant business in Provincetown, Massachusetts to embark on my new journey of opening my dream restaurant concept in Miami. In March 2013, while Owen was continuing to practice law in London, we broke ground with construction at the R House location and Owen expressed an interest in coming to Miami to help out with the project for a couple of months.
OB: In May 2013, I took another break from law and headed to Miami to help Rocco get his dream restaurant R House off the ground. Three months later, we traveled to NYC to tie the knot at New York City Hall as gay marriage was not yet legal in Florida. We both knew we were embarking on a very exciting adventure together!
RC: Why did you decide to open R House Wynwood in Miami?
ROC: I was drawn to Wynwood for the art gallery culture
OB: This is America, right? Land of the free? That's certainly the America that I bought into when I became a citizen last year. So, for us, 'love is love' is about the American value of freedom, the freedom to love whomever you choose without fear of judgment or persecution, something which we are still fighting for in 2023.
RC: What is your secret to working successfully together as a couple in the restaurant industry?
ROC: Our synergy is definitely our superpower! We have very different personalities and skill sets. I am the more creative character, I focus on our menu and beverage program, and guest experience. Owen has the legal and financial background, so he focuses on business planning, strategy and how to turn all of our ideas into a roadmap for a thriving business.
RC: What is the best part of operating R House together as a couple?
OB: No matter what, we always have each other's backs. We are so lucky to have each other to talk over ideas, issues, plans with complete openness and transparency. Then we are always there to cheer each other on as we each
16 WIREMAG.COM #6 2023
OUR COMMUNITY
Photos Provided by R House Wynwood

Keeps Out All Debris Completely sealed system protects your gutters — and entire home — from damaging debris. 1-855-648-2728 CALL US TODAY FOR A FREE ESTIMATE THE NA TION' S GUTTER GUARD1 2 "LeafFilter was a great investment for our home." –Bill & Jan. uPVC Frame Micromesh Existing Gutter Hanger 4 3 2 1 CLOG-FREE GUTTERS FOREVER **Wells Fargo Home Projects credit card is issued by Wells Fargo Bank, N.A., an Equal Housing Lender. Special terms for 24 mo. apply to qualifying purchases of $1,000 or more with approved credit. Minimum consumer reporting agency conducted a 16 month outdoor test of gutter guards in 2010 and recognized LeafFilter as the "#1 rated professionally installed gutter guard system in America." *For those who Mon-Thurs: 8am-11pm, Fri-Sat: 8am-5pm, Sun: 2pm-8pm EST BEFORELeafFilter AFTERLeafFilter EXCLUSIVE LIMITED TIME OFFER! Promo Code: 285 FREE GUTTER ALIGNMENT + FREE GUTTER CLEANING* LIFETIME WARRANTY INSTALLS ON NEW & EXISTING GUTTERS APR FOR 24 MONTHS** SENIORS & MILITARY! YOUR ENTIRE PURCHASE * + + 0 10 15% % % OFF OFF PROTECT YOUR HOME 365 DAYS A YEAR
execute our plans in the different areas of the business. I can hardly believe it sometimes when I look back and see how much my life has changed going from working on the 27th floor of a corporate law firm skyscraper to being an owner of one of the most prominent restaurant businesses in Miami. It was definitely a steep learning curve to change industries like this, and I could have never done it without Rocco.
RC: What has been your biggest challenge operating R House?
ROC: Opening a restaurant in Miami wasn't always smooth sailing. We have definitely faced our fair dose of challenges over the years from the Zika virus epidemic that attacked Wynwood in 2016, Hurricane Irma in 2017, and the Covid-19 pandemic in 2020. Despite the hardships and interruptions to the business, we always persevered, understanding that R House had become more than just a restaurant to its community.
OB: R House is now renowned for our epic drag brunches. What most people don't know is that Drag Brunch was the key factor that got us through our most challenging days during the Covid-19 pandemic. With our outdoor patio, we were able to offer a safe environment to customers. The brunches brought joy and positivity to the community at a time when it needed it the most. It was a defining moment as R House was officially crowned as home to one of the premier Drag Brunches in the whole USA and led to the launch of our new evening drag show experiences.
food, glamorous and chic surroundings, and groundbreaking drag entertainment that is sought after by both local die-hard fans and travelers from near and far. I could never have envisioned the effect R House's drag brunch would have. People have come from all over the country and thanked us for providing this safe space and giving them the time of their life. Some of them were from places like the middle of Iowa and they'd never experienced a place like this, and that's when we realized we were touching people's hearts and spirits in a special way. That was also when we realized, this is something more than just running a restaurant.
RC: What do you enjoy doing when you take time off?
ROC: Time off? What's that?! Jokes aside, we love to travel to see family in the UK, New Jersey and California, plus we always try to make it over to Mykonos in the summer to see Athena perform for her summer residency there.
OB: Believe it or not, despite having run over 1,000 drag shows, we love going to see other drag shows when we are off work. It's nice to kick back and enjoy a fierce show as a guest, instead of always working the shows!
RC: Why is R House such a successful restaurant and entertainment venue?
OB: Our event producer and business partner Athena Dion calls it the 'R House trifecta.' Together, Athena, Rocco and I have worked day in day out to make R House the success it is today. Without any one of us, it would not be what it is today. We are all extremely hands-on, we live and breathe the R House brand and pour our hearts into creating a truly unique experience that goes beyond a simple brunch service. It's an experience that people never forget. We are truly fortunate to have each other as business partners and also as great friends.
RC: What do your patrons love the most about R House?
ROC: That would have to be our weekend brunches! We have curated an electrifying experience that offers great
RC: Is there anything else you would like to share with Wire Magazine readers about R House?
OB: R House is still dealing with the lawsuit initiated against it by the State of Florida in 2022 as part of the State's recent actions to put limits on drag entertainment in Florida. Now more than ever, it's important to visit us at R House and other drag venues to show your support. ROC: Watch this space for our refreshed nighttime experiences at R House launching soon, and even new R House locations on the horizon!
18 WIREMAG.COM #6 2023
By Family Features
KEEPING PETS SAFE IN YOUR YARD
If you have pets that enjoy spending time outdoors, it's important to make sure your yard is a safe place for them to be. Consider these hazards that can negatively impact the well-being of your furry friends.
Poisonous Plants: Some common plants can be dangerous for animals, causing anything from mild oral irritations and upset stomachs to cardiovascular damage and even death. For example, these are some of the toxic plants the American Society for the Prevention of Cruelty to Animals (ASPCA) has identified as harmful for either cats or dogs: 1) Aloe can cause vomiting, diarrhea, tremors, anorexia and depression. 2) Azalea can cause vomiting, diarrhea, hypersalivation, weakness, coma, cardiovascular collapse and death. 3) Burning bush can cause vomiting, diarrhea, abdominal pain and weakness, as well as heart rhythm abnormalities with large doses. 4) Caladium can cause burning and irritation of the mouth, tongue and lips, excessive drooling, vomiting and difficulty swallowing. 5) Daylilies can cause kidney failure in cats. 6) Hibiscus can cause vomiting, diarrhea, nausea and anorexia.
Mulch and Compost: The decomposing elements that make compost good can be bad for pets, according to the National Garden Society. Keep compost in a secure container or fenced off area so pets can't get to it. Cocoa mulch can be a particular problem for dogs. A byproduct of chocolate production, cocoa mulch can cause digestive problems and even seizures in dogs. Shredded pine or cedar mulch is a safer choice.
Fertilizer and Insecticides: The chemicals used to get rid of pests or make your lawn lush can be toxic to pets. Some of the most dangerous pesticides include snail bait with metaldehyde, fly bait with methomyl, systemic insecticides with disyston or disulfoton, mole or gopher bait with zinc phosphide and most forms of rat poison, according to the ASPCA. Follow all instructions carefully, and store pesticides and fertilizers in a secure area out of the reach of animals.
You can find more tips for keeping pets safe in your yard at eLivingtoday.com.
#6 2023 WIREMAG.COM 19
LIVING
Photo by Mia Anderson on Unsplash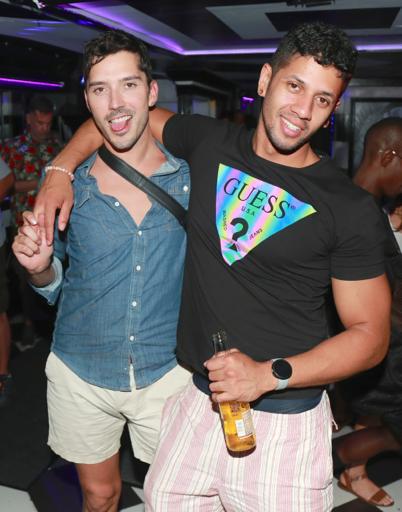 TWIST 30TH ANNIVERSARY CELEBRATION
PHOTOS BY J.R. DAVIS | WIREMAG.COM/PHOTOS