Distinctive 55+ Living In the Heart of Lancaster City
BY WILLOW VALLEY COMMUNITIES
BY WILLOW VALLEY
In a word, refined
Welcome to Mosaic. And just maybe, your life's most interesting turn yet. Curated to everything that moves you. Sharing your taste for the extraordinary — from architecture to service to globally inspired cuisine.
COMMUNITIES 02
03
04
BY WILLOW VALLEY COMMUNITIES
Mosaic is a place for curiosity and discovery. Here, your daily walk might take you to a historic market or food hall. A concert, gallery opening or baseball game. And happily home again. Because Mosaic shares Lancaster City's vibrant sense of anything-is-possible. Giving you exceptional hospitality and amenities to craft each day just as you wish.
It's a good life. And a well-considered one. Willow Valley Communities' innovative Lifecare program provides you with a seamless continuum of care, if needed, at no increase to your monthly service fees.
05
BY WILLOW VALLEY
Eat, drink and be together
Sharing a meal creates community. Now, imagine sharing great meals, day after delicious day. Foodies who love the renowned culinary craft of Lancaster can expect no less from Mosaic. Locally sourced and globally inspired fare is always on the menu. From tastings at our wine room, to the casual bites and cocktails of our rooftop bar to unforgettable dinners at our first-floor restaurant. And Mosaic's dining venues come garnished with al fresco spaces. Perfect for enjoying beautiful city views — and our brilliant change of seasons.
COMMUNITIES 06
Inkwell Rooftop Bar & Terrace
What's your pleasure? A sunrise latte or dessert under the stars? Inkwell welcomes you from morning to night, and from bar to fire-warmed terrace.
BY
GAME ROOM
Inkwell Bar
08
WILLOW VALLEY
COMMUNITIES
Introducing the simple pleasures of a day at home. Simple, as in easy access to activities you love. But hard, perhaps, in choosing which to do first. Gather with friends in elegant spaces for movie screenings. Billiards and other games. Concerts and lectures in the ballroom. Book clubs at the club lounge. Or wrapping up home office details at our business center.
Red Rose Ballroom
09
17TH FLOOR CLUB LOUNGE
10
BY WILLOW VALLEY
COMMUNITIES
The only thing better than a night out is a night in. Mingle with fellow culinary adventurers right here at our first-floor restaurant, open to the public.
BY
WELLNESS & SPA
FITNESS CENTER & CYCLE STUDIO
Community Garden & Dog Park
12
WILLOW VALLEY
COMMUNITIES
Wellness comes naturally
Breathe in, breathe out. We all thrive with regular doses of fresh air and natural beauty. Mosaic embraces outdoor living with a lush urban oasis. And lovely mini-getaways in our community garden and dog park. Movement can be a part of every day too, at the pool and fitness center. So can a little pampering, with stone massages and manicures at the spa and salon.
13
POOL
14
BY WILLOW VALLEY
COMMUNITIES
The pursuit of all things wonderful
If an exquisite home is non-negotiable, you've come to the right place. At Mosaic, we're equally uncompromising when it comes to craftsmanship, beauty and attention to detail.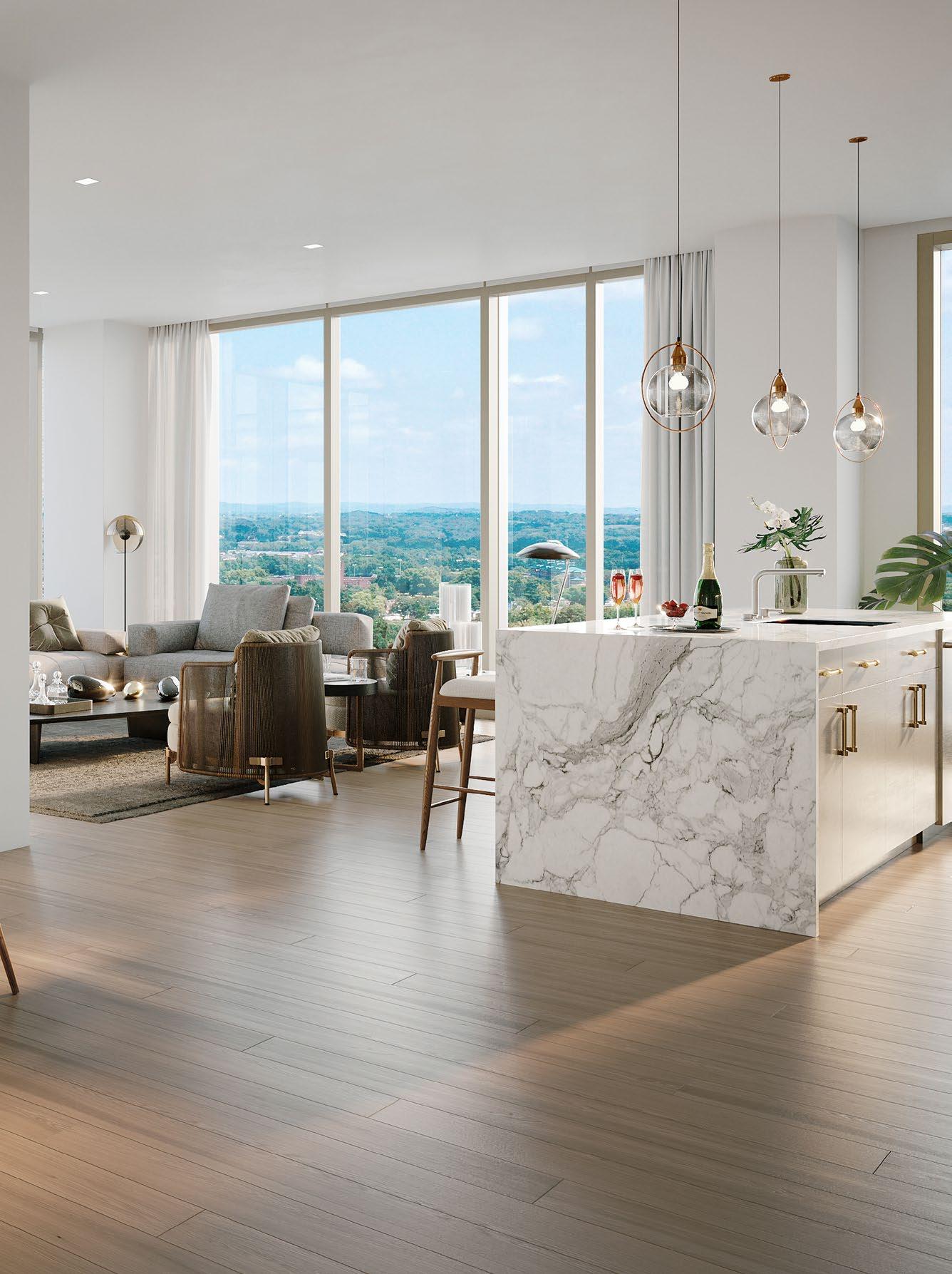 15
COMMUNITIES 16
BY WILLOW VALLEY
Rising 20 stories above the city, Mosaic's 146 single-level residences are the inspired work of renowned architects and interior designers. Each apartment maximizes one-of-a-kind Lancaster City views with windows stretching from floor to ceiling. And with open floorplans that let the sunshine — and good times — flow.
Choose among 16 two- and three-bedroom plans that range from 1,592 to 3,338 square feet. Then, collaborate with our design team on premium interior selections. Hardwood floors that showcase your favorite rugs. A kitchen range and elegant countertops sure to inspire your dinner parties. Bring us your wish list and we'll create something that feels right for your life.
17
18
BY WILLOW VALLEY
COMMUNITIES
Where
charm
Life in the heart of Lancaster City is far more than red-brick picturesque. Just across the street, the revitalized Southern Market food hall is a daily celebration of emerging and established chefs. Walk five minutes and you can explore Central Market, the nation's longest-running farmers market. And a theater, performing arts centers and museums. With 300+ places to eat, drink, shop and be entertained — all within four square miles — Lancaster City lives up to its title as a "Top 5 Coolest City" by Forbes.
THE NEW
TIMES The new Brooklyn, teeming with art galleries, indie boutiques and restaurants THE NEW YORK POST 19
1700s
meets 2020s buzz A hive of culinary diversity
YORK
BY
Hello, neighbors
To walk this city is to love it. Established in 1730, Central Market is your Saturday morning go-to for farm-fresh produce, meat and cheese. Locals gather at Penn Square too, for fireworks and jazz concerts. And you won't want to miss First Friday special exhibitions and performances at our nationally recognized arts center, Gallery Row. With so many great destinations to choose from, you'll want to keep some comfortable shoes by your front door.
Fulton Theatre
COMMUNITIES 20
WILLOW VALLEY
Thaddeus Stevens House
Mosaic
Southern Market
Penn Square
Central Market Lancaster County Convention Center
Trust Performing Arts Center
Gallery Row
21
c
22
BY WILLOW VALLEY COMMUNITIES
From Mosaic, the East Coast's marquee cities are easily driveable. Their international airports are too, so really, the world is yours. Closer-to-home getaways include the Pocono and Catskill Mountains. The beaches of Ocean City and Cape May. And of course, our very own Lancaster County — the heart of Amish country, where rural roads invite tranquil exploration.
America's #1 Place to Retire: Lancaster, PA US NEWS & WORLD REPORT
LANCASTER CITY NEW YORK CITY PHILADELPHIA ATLANTIC CITY OCEAN CITY CAPE MAY WILMINGTON WASHINGTON DC PITTSBURGH POCONOS CATSKILLS BALTIMORE 23
Live here, go there (and everywhere)
BY WILLOW VALLEY
Just a few miles south in Lancaster County, Willow Valley Communities' suburban campuses offer additional special events, clubs and amenities. Transportation is available each day.
COMMUNITIES 24
A culture of hospitality
There's an art to making someone's day. Rooted in Willow Valley Communities' heritage of hospitality, Mosaic's associates represent the best in service — impeccably trained, creative and genuinely caring. A full-time lifestyle director provides countless ways to engage, just as much as you like. Choose from an inspired calendar of community events, from holiday parties to art shows, as well as clubs, volunteering, travel and more. Your service team also includes home maintenance, housekeeping and emergency assistance.
Decide with confidence
Mosaic is the next generation of residences by Willow Valley Communities, whose other two campuses are home to nearly 2,500 residents from 40 states and multiple countries. Mosaic offers the same level of award-winning service and amenities, and the exceptional value of Lifecare. Mosaic's Type A Lifecare contract entitles you to short- or long-term care at our main campuses, if ever needed, at no increase to your monthly fee. Non-profit Willow Valley Communities has been providing premier 55+ senior living for nearly 40 years, earning many awards and an "A" financial rating from Fitch Ratings, the predominant credit rating agency for senior living.
25
More, not less
Here's the beauty of being this side of 55. You know what you love. And now, you're free to build your life around more of those very things. An elegant home in the heart of a vibrant city. Superb hospitality. Activities that engage your mind, body and spirit. And the comfort of knowing your future is secure. What's not to love about that?
For more information please contact us at 888.459.0580 or info@mosaiclancaster.com
Or visit our Welcome Center at 450 Willow Valley Lakes Drive, Willow Street, PA 17584
Mosaic by Willow Valley Communities is committed to compliance with all federal, state, and local fair housing laws. All renderings and images herein are for illustrative purposes only and design, features, and finishes are subject to change without notice or obligation. 11/22
VALLEY COMMUNITIES 26
BY WILLOW
LANCASTER CITY | PA
MOSAICLANCASTER.COM