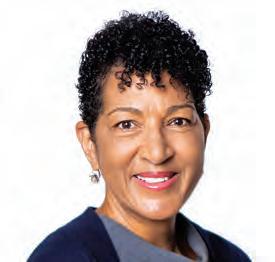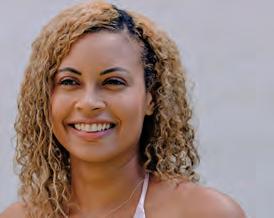 FALL 2022
Zuleka Ru-Glo Henderson '98 is one of the 50 honorees in our feature about alumnae defining the future
PHOTOGRAPHS
SPECIAL SECTION 32 | WOMEN DEFINING THE FUTURE Insights from 50 alumnae trailblazers, entrepreneurs, advocates, leaders, iconoclasts, artists, athletes, heroes, visionaries, public servants, and pioneers
BY JAMI SAUNDERS, CHATTMAN PHOTOGRAPHY, AND KAYANA SZYMCZAK
CONTENTS | VOLUME 108, NUMBER 2
9 |
12
16 |
20 |
10
ALUMNI
23 |
24 |
26 |
28 |
30 |
Insights
49 | ALUMNI EVENTS Reunion
56 | REUNION AWARDS Meet
IN EVERY ISSUE 2 | HEAD'S LETTER 3 | 5 THINGS 65 | CLASS NOTES 86 | IN MEMORY 28
50 Much
AROUND THE QUAD 5 | CAMPUS NEWS It has been a busy fall! Take a peek at some of the many exciting things happening on campus.
A SENSE OF BELONGING Important new ways that Williston is fostering inclusion
| SUPPORTING STUDENTS Director of Counseling Meg Colenback shares her approach to mental wellness with teens
CAMPAIGN UPDATES More than 5,000 alumni, parents, and friends have already supported the Williston Builds campaign. See the difference those gifts are making on campus.
THE BIG QUESTION
of Williston's teachers share what inspires them in the classroom
NEWS
WILDCAT ROUNDUP Alums are achieving great things. Here's a roundup of the latest news.
MAKING HER MARK Digital artist Alyssa Stevens '16 is a rising star in the world of NFTs
PREP SCHOOL, THE PLAY Jack Spagnola '10 and Henry Lombino '14 join forces on a new drama set at an independent school
WHEN WOOD BECOMES ART Furniture maker Kristina Madsen '73 is honored with a $100,000 Award in Craft
FROM OUR FILES
from the letters of illustrator and author P.D. Eastman '30
2022, plus a roundup of Wildcat events from around the country
the winners of the 2022 alumni and Athletic Hall of Fame awards
The remarkable artistry of furniture maker Kristina Madsen '73
fun was had when hundreds of Wildcats came back to campus in June for our mega-reunion
Head of School
ROBERT W. HILL III P'15, '19
Chief Advancement Officer
ERIC YATES P'17, '21
Director of Alumni Engagement
STEVE HOYT '95, P'25, '25
Director of Communications ANN HALLOCK P'20, '22
Design Director