Workplace
Workplace
Contents Introduction 1 Chapter 1 5 Humanising the workplace Citi Tower 9 10 Brock Street 11 Deutsche Bank Headquarters 16 8 Finsbury Circus 19 Workplace and the community Battersea Power Station, the new London HQ for Apple 27 CIBC Square 32 International Finance Center and Four Seasons Hotel 35 8 Bishopsgate 37 Aldgate Masterplan & Tower 41 One Braham 43 Chapter 3 45 Greening and wellbeing Fenchurch Street Tower 49 Gresham St Paul's 51 63 Madison Avenue 53 Citi Winter Gardens 55 Chapter 4 57 Spaces for concentration and contemplation Weston Library 61 Chapter 5 65 Nurturing talent and innovation The Forum 69 Dyson Headquarters 71 Dyson Hullavington Campus 76 Dyson Institute of Engineering and Technology 77
Between the door and the desk, the changing landscape of work design
WilkinsonEyre have designed and built workplaces for over 30 years. We have realised different types of working environment at every increment of scale, from campus masterplans for Dyson, Facebook and Apple, to a bespoke chair for the University of Oxford's Bodleian Library. On the spectrum in between we have designed tall headquarters for major multinationals, infill office schemes on complex urban sites, and major refurbishments that upgrade corporate estates.
As well as the physical design of workspace, we also act as consultants in the streamlining of commercial firms and their operational processes. Our analysis goes beyond the physical and spatial aspects of an office to interrogate organizational structure and processes. We help clients rethink resource allocation, knowledge and distribution networks, consider staff wellbeing and wider industrial, environmental, and societal drivers.
The office after 2020
Office design conventions are now challenged as never before, the rapid adoption of home working measures during the global COVID crisis now driving permanent changes in future employment patterns.
The commercial property market, particularly in urban centres, is squaring up to change, and respond to more flexible working lives.
Even before COVID 19, the need to attract and retain the next generation of global talent had started to overturn long held assumptions about office planning and design. Changing patterns of employment, including the proliferation of digital platforms and more nimble, entrepreneurial business behaviours have now combined with a global health crisis to disrupt outmoded real estate models around the world. As traditional developers in the market catch up with these changing expectations, as architects we are well placed to research, analyse and advocate the freshest ideas in a workspace revolution that puts much more emphasis on the space between the door and the desk.
While some more obvious elements of the first generation shared workspace formula have now become "start up" clichés, there is a clear appetite for taking a more organic curatorial approach to working environments, incorporating a human centred approach to design. Shaping spaces that bring colleagues into natural, unforced, and spontaneous engagement is now the norm, and a value generator. We now recognise that chance encounters and informal creative dialogue are intrinsic to a successful workplace.
1 Introduction
2
Breaking up the pattern
The workspace needs to be considered as an ecosystem, where communication and informal exchange promote an organic and healthy working culture, and social infrastructure fires ideas and imagination. This may involve creating circulation spaces where people want to linger, with shared resources from cafés to event spaces and breakout zones. The right mix can blur the boundaries between earning a living, leisure, lifestyle, self-identity and wellbeing of workers. Service, catering and tech support styled on the hospitality sector will be an integral part of successful operation.
First generation co-working models have now moved rapidly into the mainstream of working experience. Flexibility is key, especially the modulation of space to align with tenant requirements - both corporates and start-ups can gain from co-existence if lines can be drawn in the appropriate places. Discreet occupation of an entire floor will meet the needs of one group, while elsewhere space may need to be divisible between multiple occupiers. Large singular occupier groups will interact with the wider building dynamic – this means encouraging interaction between floors and across diverse organisational and office cultures sharing the same address. The key to this is attractive amenities.
Ultimately, the ideal workplace will promote joy, through inventive play of light, space, air and colour. It will have variety and a sense of movement. Rather than being required to go to work, we will want to be there.
3
The new working day
The optimum workplace will have a sense of arrival, a place for your bike, a welcoming area for orientation and casual meetings, a place to grab a coffee and plan the day or check in with colleagues.
Work happens in a friendly environment with good furniture, lighting, views and acoustics. The space needs to be appropriate to the task in hand – quiet areas for concentration or more buzzy ones to take a call or host a discussion; one size will not fit all, and you move between different areas as required. Flexible technology plays a huge role and lets you move around, no longer tied to your desk.
Meeting face to face will become a special occasion now we are all used to Zoom. Offering the appropriate space for a meeting becomes a point of distinction and USP for your clients – private meeting rooms will be smarter and reflect the values of the organisation, while huddle spaces are more suited to informal meets with colleagues. Successful work environments will offer a choice.
At lunch time, ideally you have refreshment options which allows you to meet up with colleagues in a more relaxed atmosphere, encouraging discussions and friendships.
Your schedule is based on tasks not the clock face – you choose your time to go, or stay around for social activity; Boundaries blur most obviously towards the end of the day, your colleagues become your social circle as you leave your desk for the communal areas and activities oriented to fun, personal development and wellbeing.
4
Humanising the workplace 1
We are learning that working from home and the office convey different benefits. As designers we need to work out the balance between a flexible working life and a viable corporate ecosystem. The world of the multi-national and the institutional employer is not dead, but corporate headquarters and the city centres in which they are located may take on more of the attributes and atmosphere of proven
successful models like the "urban village".
Workplaces should adopt a more varied, flexible approach to the programming of space and aesthetics as well as working hours. In the most positive analysis they will shake off their homogeneity and become truly attractive, especially to employees who value access to mentorship and the rich variety of urban life.
Citi Tower
Canary Wharf, London
We have been working with Citi on the reinvention of its EMEA headquarters by overhauling the way employees can use the building, creating new movement flows that encourage interaction in "urban villages" instead of shelving staff on isolated levels
9
WilkinsonEyre was appointed in 2019 for a 1.5 million sqft fitout of the EMEA headquarters for Citi in Canary Wharf, London. The project comprises destination amenity spaces throughout the 30 storey tower, including a public plaza on the lower levels, staff High Street on the mid-levels and a client suite on the upper levels.
As Master Signature Architect, WilkinsonEyre is developing a cohesive design vision for the overall project, offering a new lease of life to the 1990s tower and enabling new ways of working to its occupants. Central to our approach is creating an identity, together with modern and healthy workspaces. These will give staff different choices of work styles for 10,000-capacity building.
At the heart of the 800,000ft² scheme are vertical neighbourhoods with working "village" centres. A rich mix of amenities such as wellbeing, medical, auditorium and food and beverage are spread through-out the floors encouraging movement the building enhancing saff collaboration and chance encounters. A greening strategy brings the outside into the building and connects villages, terraces and winter gardens.
10
10 Brock Street
London
A multi tenanted development in a prime location, chosen as a London base for Facebook
11
10 Brock Street is a major £116m development for British Land, providing approximately 49,000m² of grade A quality office accommodation along with retail and cultural space at ground floor level.
The distinctive 16-storey landmark development occupies a key site and forms the centre piece of the regeneration of the Regent's Place estate. The building is arranged around three articulated blocks with a crystalline appearance of dramatic angled façades and roofscapes. The elegant form responds to the local building context, making reference to existing levels of adjacent development ensuring the new building sits comfortably within
its surroundings, stepping up to the existing Euston Tower.
A 1,200m² reception space creates an impressive, contemporary environment for the occupiers facing the main plaza, and includes a dramatic full-height atrium space which links through to the rear street. The remodelled public square provides exciting landscaping and space for cultural uses and public performances during warmer months.
The project has been awarded a BREEAM 'Excellent' rating and an Energy Performance Certificate (EPC) rating of less than 40.
12
13
14
Deutsche Bank Headquarters
Moorfields, City of London
The site, above Moorgate Station, presented a number of constraints above and below ground, including proximity to listed buildings and conservation areas with restrictive view corridors, and the London Underground network below limiting space for the new foundations for the development.
WilkinsonEyre's design for the development covers approximately 74,000m²; the design spans over 60m to straddle the live tube station operations below, and incorporates high-quality retail and commercial office space. Pedestrian permeability through the area is improved via a reconfigured Highwalk and a new public square with retail and landscaping.
The development, which will be fully occupied by Deutsche Bank's UK headquarters, is arranged as two volumes, east and west, related but unique in their architectural language and connected by a podium level. The public realm has been carefully considered to ensure permeability through the site from all entry points.
The structural complexities of the site are reflected and celebrated in the east building's façade as large steel trusses. The solution also accomodates the new Crossrail station below, also designed by WilkinsonEyre.
16
One of the City of London's most valuable sites unlocked by an ambitious fusion of architecture and engineering
17
18
8 Finsbury Circus London
Following a design competition in 2011, WilkinsonEyre was appointed for the redevelopment of River Plate House in Finsbury Circus, working to the client's overall vision for an 'exemplary' new office building for this historic City site adjacent to the listed Britannic House by Edwin Lutyens, with access from both Finsbury Circus and South Place.
The new building provides 15,000m² of grade A, flexible office space with ground floor retail. The redevelopment includes the construction of new contemporary Portland Stone façades and the retention of a portion of the north façade dating from the 1920s.
WilkinsonEyre's proposals maximise the full development potential of the extremely constrained site, whilst respecting the surrounding listed buildings. Entrances on both the north and south provide access to a generous lobby that runs through the length of the ground floor anticipating the change in the movement of office workers to the building following the opening of new ticket halls at Liverpool Street and Moorgate for Crossrail in 2021, also designed by WilkinsonEyre.
An art installation by Carpenter Lowings, commissioned for the project, runs the full height of the lightwell.
19
Elegant new design and the retention of heritage features, appropriate to a sensitive and highly constrained planning context
Lowings, a site specific art piece comprising intersecting stainless steel and dichroic glass panels, dramatically articulates the atrium
21
"Folded Light" by Carpenter
Despite the tightly constrained site and planning restrictions, the scheme incorporates landscape elements that enhance the occupier experience
22
Workplace and the community 2
Large scale development in city centres will remain at the forefront of change, addressing the big challenges that haven't gone away –population change, climate, resource depletion – these things will still be drivers when the pandemic has been forgotten.
New build offices will still be needed, but retrofit is becoming a much bigger part of the market, and the relationship between the big office and its surroundings will have to be rethought so that commercial schemes make a bigger contribution to the life of the city. People need to be tempted back by great design and interesting spaces.
Battersea Power Station, the new London HQ for Apple London
WilkinsonEyre was appointed in 2013 for the refurbishment of the iconic Grade II* listed Battersea Power Station. The proposed designs are consistent with and sympathetic to Sir Giles Gilbert Scott's masterpiece, with the chimneys and turbine halls remaining the dominant features of the building.
Retaining the Power Station's sense of scale and visual drama is key to the project and is achieved through design features such as a full-height glass void behind the southern wall, a vast central atrium and open, unobstructed turbine halls. The careful expression of the contrast between old and new is vital to the success of the project, reminding the user of the Power Station's heritage.
The proposed designs retain and respect the integrity of the historic landmark whilst also creating new
27
state-of-the-art spaces, including events, retail, restaurants and cafés; a public viewing platform; a series of villas, apartments and penthouses; and over 58,000m² of office space. Apple will be the largest office tenant occupying more than 43,385m² across six floors.
28
29
London's most prominent ruin is being reinvented, opening up a part of London that has been inaccessible for over 100 years. Office accommodation on multiple levels is flanked by two new shopping arcades in the old Turbine Halls, an arts venue, residential dwellings and generous public realm. Piles of coal and railway sidings have made way for a riverside park and publicly accessible restored features including a floating jetty on the river itself
30
Square Toronto
CIBC Square will provide major new mixed-use development and transport hub in the heart of Toronto's financial district. The scheme provides twin 250m-high office towers positioned on opposite sides of a rail corridor, linked at high level by a sky park. The overall development integrates closely with the public transport system providing a new bus terminal for Metrolinx, as well as new connections into Toronto's Union Station, subway and lightrail (LRT) systems.
The towers will form the new headquarters for CIBC Bank, extending Toronto's financial district towards Lake Ontario creating a 'campus-style' development on Bay Street. Bridges and walkways will link directly into Union Station.
Both towers feature a lightly folded glazed façade, creating a diamond pattern which repeats every ten storeys, adding a vertical scale and modulation contrasting with the surrounding buildings.
The project is being constructed in two phases, the first phase, the 54-storey 81 Bay Street, is currently on site and due for completion in 2020. It comprises approximately 18,580m² of trading floors as well as amenity spaces including restaurants, retail, conference facilities and the new bus terminal.
32
CIBC
A major new scheme that will expand Toronto's financial district while reconnecting a number of downtown amenities and providing a new urban park and bus station
34
International Finance Center and Four Seasons Hotel
Guangzhou
Commercial offices, hotel and conference centre brought together in one of China's tallest buildings
35
Following an international design competition, WilkinsonEyre was selected to design this 440m tower in Guangzhou which is one of China's tallest buildings. With 103 storeys, the tower has a mixture of uses including office space and a luxury Four Seasons hotel with a top floor high end restaurant and bar. At ground level, the tower connects with a substantial podium complex containing a luxury brand retail mall, conference centre and high quality serviced apartments. The tower and podium connect below ground to further retail spaces and a transport hub, with a retail loop encouraging connections underneath to a landscaped central axis.
Conceived as a slender form, the tower acts as a landmark to Guangzhou Zhujiang New Town's main axis, which links the commercial district in the north with the Pearl River to the south. Its triangular plan responds to the need for efficient internal space layouts and excellent environmental performance. The base build was completed in late 2010 in time for Guangzhou hosting the Asia Games and the hotel fit-out was completed in 2012. The building was named 2011 Best Tall Building in Asia / Australasia by the Council on Tall Buildings and Urban Habitat, and won the prestigious RIBA Lubetkin Prize for best international building by a British architect (2012).
36
8 Bishopsgate
London
Completing the City of London's Eastern Cluster of tall buildings, amongst the highest value real estate in the UK
WilkinsonEyre has redeveloped a key site in the heart of the City of London to provide a new high end commercial tower.
The 51-storey tower in the heart of the City now provided an office-led, mixeduse building with flexible retail space at ground and mezzanine floor levels, and a public viewing gallery at level 50. Designed for client Mitsubishi Estate London, the 769,620ft² building is conceived as a series of stacked blocks in response to its urban context.
The building includes high sustainability
and low energy initiatives and achieved a BREEAM "Outstanding" rating at Design Stage. Green terraces, a communal deli cafe, a mezzanine lobby for informal meeting and an event space constitute amenities for tenants and visitors. Having previously received planning consent for a 40-storey tower, the scheme was updated following the approval of a number of other towers in the eastern cluster that impacted on the original proposal and was once again granted planning permission. The new design adds a further ten storeys, totalling 120,000ft² of space to the previous approved plans.
37
38
39
WilkinsonEyre undertook feasibility studies for a number of buildings and sites at this major Eastern gateway to the City of London.
Masterplan proposals identified the opportunity for new commercial development and public space with the closure of an existing gyratory system that encircled the site. Our proposals allow for phased development, across a number of sites, for a number of different developers. Aldgate Tower is the first of the consented schemes to be completed following the closure of the road and completion of the adjacent park in 2010.
Aldgate Tower is a 18-storey office tower, with 2,000m² office floorplates, above a double-height reception area. The cladding takes the form of two, gently curved, folded planes; one wrapping the north and east façades, the other wrapping the south and west. At the upper levels, the south and west façades cut back to create a southwest facing roof terrace that helps to reduce the overall visual mass of the building.
Deep, column free, office floorplates surround a central core, with a 1500mm planning grid allowing for flexibility and the potential for a range of different space planning layouts.
41
Aldgate Masterplan & Tower London
Unlocking value and creating new development opportunities by redefining the groundplain on the neglected fringe of the City
42
One Braham London
Located in Aldgate, in LB Tower Hamlets, One Braham is a new commercial office building, nearby to WilkinsonEyre's Aldgate Tower.
Part of a wider Aldgate masterplan enabled through the practice's initiative to close the existing gyratory and create an urban park as a setting for new development, the scheme provides 298,000ft² of office space and 10,000ft² of retail at ground level, adding 15% more area to a previously consented scheme on the same site. This involved careful analysis of the existing context and emerging schemes in the area, in order to minimise the building's impacts on the skyline. Reflecting the current demands for flexibility and efficiency, the building has already been let to British Telecoms (BT), who will make One Braham their new headquarters upon completion.
The highly efficient floorplates are configured around a single core placed on the southern edge of the building with the vertical circulation exposed. The building rises to a maximum height of 16 office floors in the tallest portion, above a double height ground floor with basements below. The façades to the office accommodation are fully glazed with brise soleil to the east, south and west façades. The ground floor is set back to form a colonnade with the main entrance hall and retail accommodation at ground level. Cycle facilities are provided in the basement.
43
44
Greening and wellbeing 3
45
Around the world, office buildings built during the age of energy abundance (1950-1990) are rapidly becoming obsolete. There is increasing recognition that instead of demolishing these buildings, advantage should be taken of their inherent structure, preserving the embodied carbon and avoiding contribution to landfill, whilst radically overhauling their façades and
services to improve both energy performance and quality of life for those using them.
Second Skin, the winner of an international ideas competition invited design proposals to upgrade an aging, energy-inefficient high-rise office building in New York City.
This design delivers efficient, flexible and future-proof office floor space with good lease spans and access to daylighting from a side core arrangement. Together with top-class amenity provision, this building will be highly sought after and attract the very best tenants.
Its character is strongly informed by green landscaping. This will be taken up the full height of the building together with planted terraces which step down in height to the historic City fabric. This greened building will be a first for the City, providing a unique feature: a timeless and humane response to the harshness of the surrounding urban
Our designs for the tower will aim to exceed the embodied carbon and operational energy targets set by the RIBA 2030 Climate Challenge Recommendations. This addition to the City cluster will be push beyond current sustainability criteria and be ahead of the curve when completed in 2025. This low energy building design is targeting BREEAM Outstanding and WELL Platinum while supporting healthy tenant lifestyle and well-being to attract global talent.
49
environment.
Fenchurch Street Tower London
Working with institutional investment to define the green tower of the future
Gresham St Paul's London
WilkinsonEyre was appointed for the redevelopment of Gresham St Paul's to provide 15,500m² of Grade A office space over nine levels, introducing flexible office environments with a capacity for multi-tenanted office floors. The ground level is activated with a new entry experience and retail space. New amenities include extensive facilities for cyclists and an improved contemporary architectural appearance.
Two existing levels of the 1990s building will be rebuilt and an additional level will be added to the current footprint. The design provides for a stepping form that offers an excellent opportunity to create roof terraces. It is intended that all setbacks and flat roofed areas be landscaped, where excellent working conditions are also met with extensive views of St Paul's and the City of London.
Currently on site, the design makes improvements to the existing external façade with new build elements using natural stone to reaffirm the contemporary architectural identity within the ever changing Gresham Street context.
51
Demonstrating that deep retrofit can prolong building life and deliver measurable whole life carbon reduction
Imagining a low carbon future for buildings reaching the end of their current life cycle
53 63 Madison Avenue New York
WilkinsonEyre, working with Eckersley O'Callaghan and Gartner, were the winners of a global design competition inviting proposals to upgrade an aging, energy-inefficient high-rise office building at 63 Madison Avenue to comply with NYC's Green New Deal goals and create a more desirable space for companies competing for highly skilled employees.
Our scheme, called Second Skin, employed the concept of an 'adaptive net' facade; creating a habitable area within a highly efficient, simple, regular cladding system. The 'adaptive net' allowed us to respond to the specifics of the building's locale; protect against seasonal environmental conditions; optimise views and introduce natural greening; all enhancing occupants'
wellness. A system of external shading/ reflector devices was developed to provide shade, reduce glare, increasing the quality of daylighting and improving the usable area by 20%, whilst preserving views out. The use of thermal modelling proved this concept (combined with an improvement in the efficiency of M&E equipment), would offer a 50% reduction in carbon emissions as well as offer an embodied carbon offset after only four years.
The proposed planting and vegetation will respond to light, heat, humidity and seasonal variations, and the baseline palette will be chosen to increase biodiversity and ecological resilience.
54
Citi Winter Gardens London
As part of the overall scheme WilkinsonEyre introduced the concept of moving the key amenities floors to the centre of the building pulling staff to a central point from both ends of the tower. The F&B area incorporates a triple height winter garden running around the building offering views and space for a lunchtime stroll or meeting colleagues
55
Spaces for concentration and contemplation 4
Neither the conventional office nor – often – home working provide optimal conditions for the deep thought and reflection that is essential to creative thinking. At the same time, the saturation of communications into every aspect of our lives means 24 hour distraction unless we manage the flow of information into our consciousness. We have become slaves to our screens.
We need to rediscover the capacity for focus and design environments that enable this to happen. Demand for quiet, muted spaces guaranteed to relieve us from distraction may become a necessary component of working culture.
The refurbishment of the Bodleian Library building included study environments that blend the best of old and contemporary design that promote comfort and focus. New furniture complements period fittings and specific areas cater for seminars, group working and public exhibitions.
Reimagining a landmark building as the open and welcoming public face for the University of Oxford
61
Library
Weston
Oxford
63
The Weston Library is a vital resource for academic research. In 2006, WilkinsonEyre was appointed to refurbish the Library as a new cultural and intellectual landmark. Part of the University of Oxford's world famous Bodleian Library, the Grade Il listed building was originally designed by Sir Giles Gilbert Scott in the 1930s.
The project has created high-quality storage for the Libraries' valuable special collections; developed the Libraries' space for the support of advanced research; and has expanded public access to its great treasures via the new exhibition galleries.
Other new facilities include a digital media centre, a visiting scholars centre, a lecture theatre, and a suite of seminar rooms to enable teaching and master-classes based on the Library's special collections. These facilitate contemporary research practices and techniques, supporting the library's academic users, as well as enabling public interaction with the Library's collections and treasures. The newly refurbished Library includes a worldclass conservation workshop and facilities.
Careful consideration has been made to the Library's position within the surrounding cityscape, opening up new ground level entrances to encourage public access and knit the building into the wider urban grain.
64
Nurturing talent and innovation 5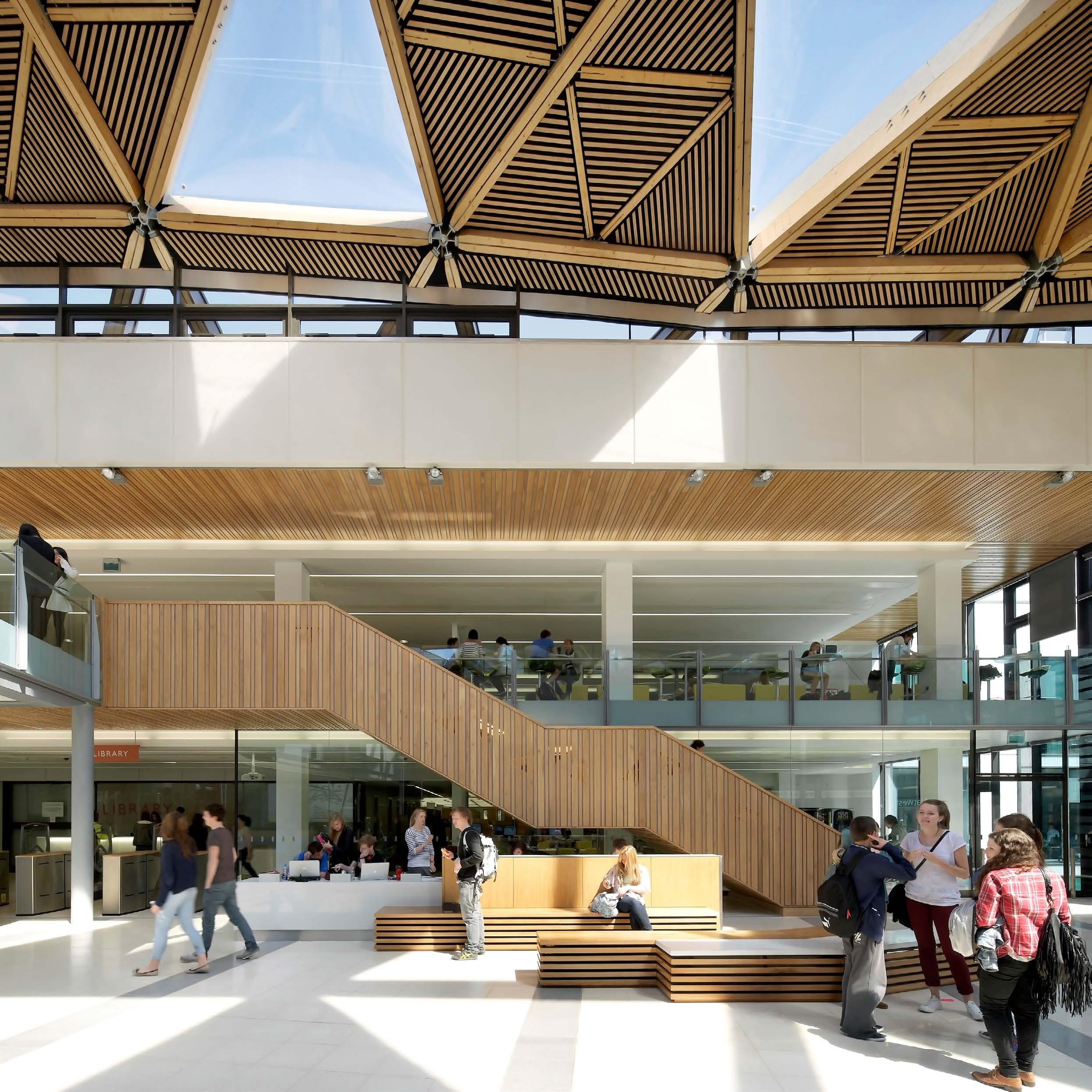 One of the sectors most affected by COVID-19 is higher education, with student life dispersed, online teaching replacing face to face contact and new cohorts questioning the value of the university experience. Universities are looking at ways to forge new alliances with industrial and commercial partners that demonstrate relevance and clear pathways from higher education into employment. Adapted or new
campus environments may fuse living, learning and social functions, imbuing higher education with renewed purpose.
Dyson Campus Expansion.
Giving a disparate campus a new heart and fostering an "urban ecosystem"
69 The Forum Exeter
WilkinsonEyre was appointed in 2008 to design this new centrepiece for the University of Exeter's famously hilly Streatham Campus. Working with the natural features of the site, the scheme creates a 'green corridor' to connect the Forum with the wider landscape.
Central to the scheme is an undulating timber gridshell roof, which shelters and unifies a series of new student-focused spaces within. The fluid form contrasts with the orthogonal brick volumes of the existing buildings on this steeply sloping site, and respects key views across the city to Dartmoor.
The Forum features an extended and refurbished library, new learning spaces, student services, catering and retail outlets, a landscaped plaza and new
University reception as part of a £450 million capital investment programme which has propelled Exeter into the top ten UK universities.
Sustainability was an important driver in the development of the scheme, which has been designed to meet a series of a challenging environmental targets, and in doing so the project achieved a BREEAM Excellent accreditation.
70
Dyson Headquarters
Malmesbury
Following the design of the Dyson headquarters and factory in 1999, and the masterplan completed in 2012, WilkinsonEyre has now completed the first phase of the expansion to the Dyson campus in Malmesbury.
The overall architectural concept for the expansion follows the existing design philosophy of creating lightweight modern pavilions in a landscaped setting. Phase 1 comprises a new research and design development building; a café; energy centre; new car park; sports facility and helipad.
Dyson 9 is the new research design development facility. Conceived as a minimal, reflective glass pavilion within a sheltered rural landscape setting, its primary use is for sensitive research and development activities.
The external surface is a reflective glazed material to obscure views into the building while maintaining outward views and daylighting for inside; it also has the effect of 'disappearing' into the landscape by offering a mirror to the established surroundings. A key driver of the design has been flexibility to ensure the building has a long-term adaptability.
The nearby café and meeting room pavilion is intended as the social heart of the campus. Positioned alongside Dyson 9, it is a smaller pavilion with projecting roof profile and highly transparent glazing system to contrast with larger Dyson 9.
71
Guiding an industrial and innovation campus through 25 years successful growth
73
74
Dyson Hullavington Campus
Following the design of the Dyson headquarters and factory in 1999, and the ongoing expansion of the Malmesbury campus, WilkinsonEyre has also designed a second Cotswold technology campus for Dyson. The 517-acre space, on former Ministry of Defence land, increases Dyson's footprint in the UK tenfold.
Care has been taken to restore the historic buildings on the airfield and respect the aviation heritage, while creating a new hub with office and staff amenity space, together with a stateof-the-art research and development facility. The hangar doors have been replaced with glazing, offering high levels of daylight and interrupted views to enhance wellbeing.
Facilities include bespoke design and research spaces, offices, a prototype production line, café hub and collaboration spaces, for up to 600 staff per hangar. The open plan layout was carefully developed with various stakeholders to enhance positive ways of working and collaboration while considering security and access issues, while internal perimeter mezzanines have increased the usable area of each hangar by 50% to 6,000m²
Future-proofing has been integral part of the design, ensuring both hangars can be easily reconfigured for different uses.
76
Imaginatively reusing wartime heritage as the home for 21st Century innovation and ideas
Dyson Institute of Engineering and Technology
Malmesbury
WilkinsonEyre has completed a new undergraduate village and associated student facilities for the Dyson Institute of Engineering and Technology based on the Dyson Malmesbury Campus. The landscaped village comprises of 62 timber modular housing pods, which were fabricated off site, with communal amenities and a central social and learning hub, the Roundhouse. As well as establishing a new typology in student accommodation, the project breaks new ground in the design, masterplanning and precision engineering of truly modular prefabricated building technologies for rapid on-site construction.
Stacked up to three pods high, the units are innovatively arranged and
angled in the campus' landscape to provide every student with high-quality accommodation. With wellbeing being a prime design consideration, each pod has been designed with natural ventilation and large, triple-glazed windows, individually angled to give each resident an expansive view across the campus, while the communal spaces were developed to promote interaction and social gatherings.
The institute allows for the next generation of students to work alongside Dyson engineers four days a week on the Campus and spend one day in the classroom. The school is a practical initiative of Dyson's to improve engineering education in the UK and bridge the skills gap.
77
The Dyson Institute for Engineering and Technology is a new model for vocational learning that integrates student accommodation with commercial industry, research and development. The campus has been designed to offer the next generation of undergraduate engineers invaluable access to real working conditions, while benefiting from an enlightened atmosphere that promotes wellbeing, social interaction and a healthy lifestyle
78
Wilkinson Eyre Architects 201 Kent Street Sydney PO Box R55, NSW 2000
E australia@wilkinsoneyre.com
T + 61 02 9247 0740
www.wilkinsoneyre.com
Wilkinson Eyre Architects 13/F China Hong Kong Tower 8-12 Hennessy Road Wan Chai, Hong Kong
E asiapacific@wilkinsoneyre.com
T + 852 2110 8055 www.wilkinsoneyre.com
Wilkinson Eyre Architects 33 Bowling Green Lane London, EC1R 0BJ
E info@wilkinsoneyre.com
T + 44 (0) 20 7608 7900
F + 44 (0) 20 7608 7901
www.wilkinsoneyre.com
80
Amenities Texture Colour Art Nature Outdoor Spaces
Dyson Campus
Queen Mary Mathematics Building Magna
The
10 Brock Street Maggie's Centre
Forum
The Future Furniture New Ways of Working Leisure Materials Culture
Dyson Headquarters
Project Saturn WilkinsonEyre VR Studio
Splashpoint Leisure Centre Royal Academy Summer Exhibition Gasholders
84 Technology Art Installations Gathering Outdoor Spaces Interiors Greening
Gasholders
WilkinsonEyre VR Studio Centre for Life Long Learning Bodleian Library
Gresham's School Maggie's Centre
85 Details Creativity Sculpture Lighting Connections Learning
WilkinsonEyre Workshop
Medicine: The Wellcome Galleries
Liverpool Arena & Conference Centre
25 Great Pulteney Street City Law School New Street Square Bridges
86 Welcoming Brainstorming Lectures & Seminars Contemplation Socialising Community 10 Brock Street Wellcome Collection University of Oxford Earth Sciences Dyson Headquarters
Mary Graduate Centre
Queen
Bodleian Library
87
and Informing Informal Study
Filled Spaces Breakout Spaces
Housing
Gathering
Educating
Light
Sociable
Outdoor
Queen Mary Graduate Centre
Anglia Ruskin University
The Crystal
10 Brock Street
The Forum
Dyson IET