2023 INSPIRATION GUIDE
OAKLAND HILLS
A Storied Stay
Opened in 1915 and nestled at the Claremont Canyon Regional Preserve base overlooking scenic San Francisco Bay, the Claremont Club & Spa, a Fairmont Hotel, offers 276 guestrooms and suites, a celebrated wellness program, and an impressive dining portfolio.
Once home to a beautiful estate known locally as the "Castle on the Hill," the Claremont boasts incredible history. Today, event planners have access to 20,000 square feet of meeting space, including the Empire Ballroom that can accommodate up to 450 attendees, and several meeting rooms with Bay views. The resort is also home to the private Club at the Claremont, with members who enjoy hotel amenities, fitness facilities, and lifestyle programming. Come to reconnect with friends, family, and loved ones while enjoying sunset views over the San Francisco skyline.
claremont-hotel.com
Ge @claremonthotel
visitoakland.com 1
Co Nam
In the mix: Modern cuisine and mixology is an artform at Co Nam. From elevated takes on traditional Vietnamese staples to exquisitely crafted cocktails, every dish and libation is a unique adventure. Lunch and dinner menus are crowd-pleasers, but your palate will sing at the Chef Bar Experience. Hosted by Trung Nguyen and Vy Lieou — chefs, owners, and master mixologists — the curated, multicourse menu takes you on a spirited journey of small plates paired with playful libations. The chic and inviting atmosphere will no doubt leave you craving for more nom nom — or in this case, Co Nam. conamrestaurants.com | e @co_nam
TEMESCAL
2
Welcome to The Town
I am thrilled to share Oakland with you through our 2023 Inspiration Guide! As you get to know Oakland through these images and stories, you'll quickly realize that the diversity and warmth of our community is truly the heart and soul of The Town.
In Oakland, we proudly celebrate our inclusive culture, artistic vibe, beautiful scenery, locally owned businesses, and award-winning culinary scene. What will you find here? For starters, our chefs and makers have never shined brighter. Map out your culinary journey on p. 48. Take a restorative hike in the redwoods (find more on p. 30). And no matter your age, you'll delight in Oakland's attractions, from OMCA's exhibits to the Oakland Zoo (see p. 32). Live like a local and hit up an A's or Oakland Roots game to cheer for the home team (p. 28). With more than 125 languages and dialects spoken in The Town, you can bet our robust calendar (p. 80) honors the flavors, cultures, and traditions of the people who call Oakland home.
This place is alive with vibrant energy, authenticity, and a welcoming spirit — and it's all here, waiting to greet you. We invite you to visit Oakland and see all that The Town has to offer. Welcome. We look forward to hosting you.
contents 2023 Oakland Inspiration Guide
Features
WAYS TO PLAY
Whether you like pro sports, the outdoors, or a bit of family fun, it's all here in Oakland.
PAGE 28
ARTS & CULTURE
The Town is a creative hot spot.
PAGE 39
DINING GUIDE
Oakland's culinary scene is like nowhere else.
PAGE 48
THE CANNABIS GUIDE
Are you canna-curious?
PAGE 71
SUSTAINABLE OAKLAND There's strong town pride and ethos here. PAGE 6
NEIGHBORHOOD GUIDE Get to know each city's district.
PAGE 8
BIG STYLE A conversation with Ayesha Curry and Sherri McMullen.
PAGE 22
BLACK PANTHER PARTY of the Party and its cultural impact.
PAGE 46
PETER GAMEZ President & CEO, Visit Oakland e @visitoakland
GETTING HERE
Getting to Oakland is easy. PAGE 76
WHERE TO STAY
Accommodations for whatever you're looking for. PAGE 77
EVENTS There's always something to celebrate in Oakland.
PAGE 80
BEER
Explore the Oakland Ale Trail.
PAGE 56
How to Shop Small in Oakland
Get to know Oakland's brands. Home, fashion, food, and beyond — you'll find it here.
PAGE 22
3 visitoakland.com CLOCKWISE FROM TOP LEFT: COURTESY OF VISIT OAKLAND; SETH SMOOT; COURTESY OF ORIGINAL PATTERN BREWING COMPANY; COURTESY OF KUBÉ inside
"As a creative person, I am in awe of all of the talent in Oakland: food, fashion, art, culture, music — you just can't beat it."
22
–AYESHA CURRY
Visit
PRESIDENT & CEO
Peter Gamez
I love sharing Oakland's culinary scene. We have everything from Michelin Star and James Beard Award-recognized chefs at top restaurants to the best taco trucks in town. (Don't miss Occitania, Hi Felicia, Chop Bar, and Wahpepah's Kitchen!)
DIRECTOR OF SALES
Carole Manning-Kim
A morning visit to Estuary Park … there are miles of waterfront trails for walking and cycling, or you can go kayaking.
ADMINISTRATIVE & FINANCE MANAGER
Jasmin Odion
Lunch at Lake Chalet for a delicious meal and beautiful views of Lake Merritt. Sitting on the dock along the water is a signature Oakland experience.
MARKETING MANAGER
Juan Camero
Oakland Roots home games at Laney College are so much fun. The home crowd really gets into the team spirit, cheering while hyphy music blasts through the speakers.
PUBLIC RELATIONS & COMMUNICATIONS
Renée Roberts
Pick up lunch at Pomella, hike at Reinhardt Redwood Regional Park, and enjoy a picnic afterwards. No one ever expects to find gorgeous redwood forests in The Town!
DIRECTOR OF PARTNERSHIPS
Shirley Manan
I love exploring Oakland with my three-year-old niece! Our favorites: The Oakland Zoo's gondola ride to the California Trail and a treat from Fentons Creamery.
LET'S CONNECT
Follow us on your favorite social channels @visitoakland and tag #OaklandLoveIt for a chance to be featured. For even more things to do, see, eat, and experience, check out our blog at VisitOakland.com for all things Oakland.
PUBLISHERS
CONTEN
ON THE COVER
The aerial image of Lake Merritt was shot from Lake Chalet (thelakechalet.com/ @lakechalet) by David H. Collier. See more of his work at davidcollier.com or @davidhcollier
Martha-Page Althaus + Nicole Bordges marthapage@wanderlustcontentstudio.com / nicole@wanderlustcontentstudio.com
MANAGING EDITOR Lauren Bonney / DESIGN DIRECTOR Deanne O'Connor
CUSTOM CONTENT EDITOR Callie Young Fromson
BUSINESS DEVELOPMENT MANAGER Mary-Clifton Everette
COPY EDITOR Leslie Dinaberg / EDITORIAL ASSISTANT Olivia Olsen
Visit
4 LEFT: COURTESY OF VISIT OAKLAND (7); RIGHT: DAVID H. COLLIER (2) connect
2023
INSPIRATION GUIDE
T STUDIO Reforesting MonthlyThrough
Oakland and Wanderlust Content Studio have made every effort to ensure the accuracy of information presented in the guide, but assume no responsibility for errors, changes, or omissions. Printed in USA. WanderlustContentStudio.com e @WanderlustContentStudio k @Wanderlust-Content-Studio 11812 San Vicente Blvd., Ste. 200 Los Angeles, CA 90049
Oakland Recommends
What's on your Oakland must-do list?
@visitoakland Ge úk visitoakland Lake
2,691 likes
Merritt
Oakland Roots Oakland Soul
More than a game. This is about Oakland first, always. Oakland Roots is a purposedriven men's soccer team that seeks to harness the magic of Oakland and the power of sports as a social force for good.
Premiering in spring 2023, the Oakland Soul women's soccer team will serve as an elite pathway to pro soccer, providing a high-quality training environment while empowering players. One day at a time… one game at a time.
oaklandrootssc.com
Ge @oaklandroots
oaklandsoulsc.com
Ge @oaklandsoulsc
5 visitoakland.com
LAKE MERRITT
Oakland's Green Spaces
For natural settings perfect for wandering, check out these spots.
TEMESCAL REGIONAL RECREATION AREA
An easily accessible urban oasis, this recreation area is popular for swimming, fishing, hiking, and biking.
SIBLEY VOLCANIC REGIONAL PRESERVE
Home to an honest-togoodness volcano (aka Round Top), this is one of the East Bay Regional Park District's original preserves.
MARTIN LUTHER KING JR. REGIONAL SHORELINE
This 740-acre park offers paved walking paths around the San Leandro Bay marshland.
Embrace the Ethos
Oakland redefines what it means to be sustainable. When you view sustainability through the lens
BONSAI GARDEN AT LAKE MERRITT
A park-like setting that's home to some of the most important bonsai in the United States. (Plus, free admission!)
a defining attribute that can be found throughout the city's history. (The Black Panther Party was founded here in 1966; turn to p. 46 for more.) Today, Oakland continues to strive for equity and it is seen all over The Town, from signs in storefronts to its sports teams.
Take the city's professional soccer team. On and off the pitch, the Oakland Roots SC uses its platform for far more than just soccer. The team supports a climate justice mission through its nonprofit, the Justice Fund, and are also part of Common Goal, donating 1% of top player and team salaries to fight inequality. And, they pay homage to the indigenous people who used to inhabit the land where their field is today. But the Roots aren't the only ones. Oakland Soul, the women's soccer team, has a mission focused on social and environmentally minded causes as well.
6 sustainability LEFT:
OF
OAKLAND/GREG
ILLUSTRATION:
COURTESY
VISIT
FISCHER; SHUTTERSTOCK (2);
MARINA DAINEKO
Oakland is a city of activists. The Town's citizens are committed to fighting for social justice and equality,
Lake Merritt's Necklace of Lights illuminate the city
Travel Responsibly
To explore kind hotels in Oakland, visit KindTraveler. com, where your $10 donation to Eat. Learn. Play. unlocks discounted rates and perks, and drives positive local impact.
of Oakland
of community impact, The Town just may be one of the most "sustainable" cities in the United States.
Elsewhere, a majority of Oakland's small businesses are women- and/or minority-owned. (Turn to p. 22 for a proper round-up of some of The Town's most buzz-worthy brands, boutiques, and makers.) These thriving businesses have found support in Oakland, because Oakland is a city that supports local above all else. Where else in the country would you find a vegan ice cream manufacturer with an inspiring social ethos? That's what you'll find in kubé — yes, it's an artisanal, vegan "nice" cream company. But, also: The owner hires formerly incarcerated men and women, and donates coconut shaving by-product to
make mulch for East Oakland's Planting Justice plant nursery and landscaping service. Along with other local makers, kubé distributes its products through Piikup, a socially responsible delivery service whose mission and business model is to educate and elevate a marginalized workforce.
All over Oakland, more stories just like this are being spun. When you visit this city, start a conversation with the person mixing your cocktail, ringing up your purchase, or driving your Lyft. You'll leave inspired, motivated, and with an immense sense of the civic pride that permeates The Town.
IT STARTS WITH YOU
Three tips for a respectful visit to Oakland.
1. Try something new. There are more than 120 languages spoken in Oakland, and nearly as many types of cuisine. (It's easy to avoid chain restaurants and shops in The Town!)
2. Listen well. Curious about the history of a building, movement, or mural? Ask questions and get engaged. For an authentic, culturally conscious look at The Town, book an Ethnic Ties Travel tour.
3. Treat everyone with kindness and respect, from waitstaff to ride-share drivers to hotel concierges.
7 visitoakland.com
"To create longterm positive impact while traveling, choose how you travel, where you stay, and what you do intentionally. Pick experiences that deliver social, environmental and economic benefits for the local community and provide protection for the environment and wildlife."
—Jessica Blotter, CEO of Kind Traveler and Center for Responsible Travel board member
MAP ILLUSTRATION: MIKE ROSSI/@MICRO.GRAFIK 8
The Oakland Mix
To truly appreciate Oakland's diversity, vibe, and culture, spend some time exploring its neighborhoods. But don't settle in one spot for too long — there's a lot of ground to cover. Read on for your cheat sheet to The Town's best.
BY LAUREN BONNEY
HOMEROOM
If you like mac and cheese, head to Homeroom in Temescal for noodle nirvana. From classic flavors to deliciously wacky combos, you won't be disappointed. For more things to do in Temescal, flip to p. 10
GRAND LAKE FARMERS MARKET
With a bounce house, live entertainment, and dozens of vendors, this yearround market in the Grand Lake district is one giant block party. Catch the festivities every Saturday at Splash Pad Park. For more things to do in Grand Lake, go to p. 16
AFRICAN AMERICAN MUSEUM AND LIBRARY AT OAKLAND
With roughly 16,000 pieces, this reference library in Downtown celebrates the historical and cultural experiences of African Americans in California. For more on Downtown, turn to p. 11
Supper Time
Recognized by the Michelin Guide, Bardo Lounge & Supper Club is inspired by the elegance of old school dinner parties. Book a table at this fabulous Grand Lake spot.
Local Style
GO TO PAGE
OLD KAN BEER & CO.
From hoodies to beanies to Ts, rep The Town with apparel from Downtown's Oaklandish, a certified B Corp brand on a mission to spread a whole lot of local love.
9 visitoakland.com
guide
neighborhood
COURTESY
OF OAKLANDISH; ILLUSTRATIONS: MARINA DAINEKO
Rock streetwear from Oaklandish. See more on pages 11 and 26.
Co-founded by brewer Adam Lamoreaux and Michelin-starred chef James Syhabout, Old Kan keeps things simple and delicious with its lineup of classic brews near Jack London Square. 12
Temescal
Stretching along Telegraph Avenue between 40th and 51st streets, Temescal is packed with personality and loads of flavor.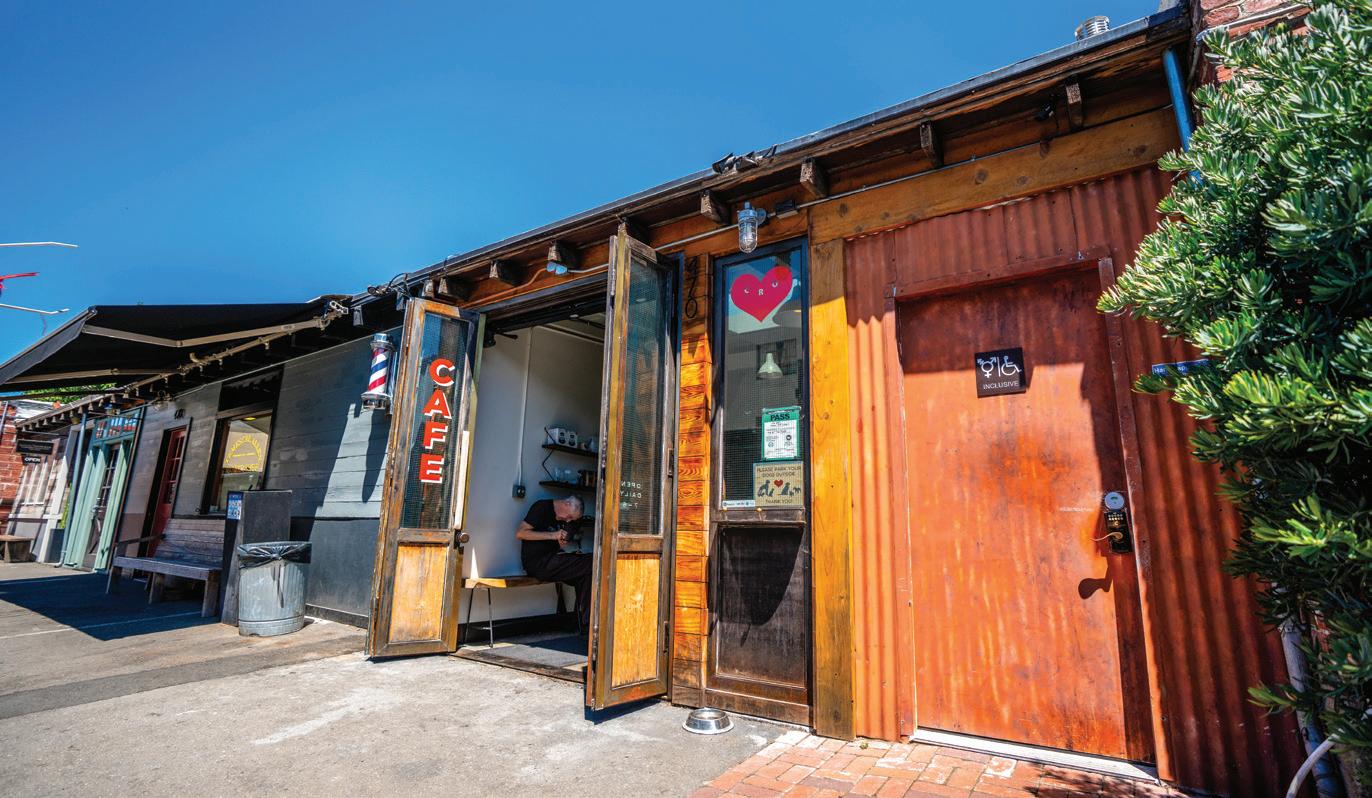 Temescal is an eclectic blend of new and old. It's where you'll see colorful storefronts with an occasional Victorian thrown in; young art students, families, and hipsters roaming the streets; and lots and lots of delicious things to eat.
The best advice for arriving in Temescal is to come hungry. From local faves, like fresh Italian fare at Pizzaiolo and wood-fired tasties at Beauty's Bagel Shop, to iconic mainstays like Ethiopian from Asmara Restaurant and the best fried chicken sandwich from Bakesale Betty, there is no shortage of flavor here. Not to mention great beer, too! (See p. 56 for details.)
But if you're short on time and lacking room in your belly, pop over to Temescal Alley — a unique collection of shops, each selling wares that reflect the boundless creativity of Oakland. Find one-of-a-kind jewelry at Esqueleto and Marisa Mason, delectable ice cream at Curbside Creamery, a fine cup of joe from The CRO Cafe, and rare indoor plants at Crimson Horticultural Rarities
Nom Nom
Book an Edible Excursions Temescal walking food tour to maximize your day of eating.
KONO
Creativity and artistic expression rule in this part of town.
An acronym for Koreatown Northgate, KONO is a thriving, active arts community. It's the ultimate reflection of Oakland's cultural influence in the greater Bay Area. With more than 20 art venues, eye-catching murals and public art displays, and a vibrant nightlife scene, this neighborhood is truly alive. Don't miss Oakland First Fridays, an immersive experience that celebrates The Town's creative energy. On the first Friday of each month, galleries, artist collectives, street artists, performers, musicians, poets, and dancers come together at this free event to explore different themes like Black love, LGBTQ+ pride, Korean heritage, and more.
SELF-GUIDED ART
IT'S NATURAL
Curious about natural, organic, or biodynamic wine? Snail Bar pours unique, low-intervention wines sourced from all around the world. While the reservation-free spot is known to get a bit busy, sip your wine while you wait in the parklet.
Farm Fresh
Buy affordable, locally grown produce from Black and traditionally underserved farmers at Saturdays Freedom Farmers' Market.
If crowds aren't your thing, stroll through KONO's galleries. Creative Growth Art Center, Vessel Gallery, and 25th Street Collective feature talented artists in exhibits and collections.
Fun Fact
Oakland has the second highest per capita of artists in the country.
Bold Flavors
Find wonderfully curated provisions at Old Salt Merchants, featuring high-quality salts, sugars, and teas.
10
Marisa Mason
Bakesale Betty
neighborhood guide
The CRO Cafe
CLOCKWISE FROM TOP LEFT: COURTESY OF VISIT OAKLAND (3); JOHN JOH; ILLUSTRATION: MARINA DAINEKO
Oakland First Fridays
Uptown
THE TRIBUNE TOWER
Built in the early 1900s, this 22-story building was home to the Oakland Tribune newspaper and is arguably Oakland's most iconic building.
HELLO, DECO
The neon lights are indeed bright on Broadway (and Telegraph) thanks to the glowing marquees of Fox and Paramount theaters, two venues that host globally renowned artists. But even if you aren't in town for a show, step inside to see the gilded interiors and art deco achitecture.
Eats & Drinks
You could literally throw a rock in Uptown and hit an amazing restaurant or bar. While rock throwing is frowned upon, there's a little bit of everything to try here: mezcal flights at Calavera, mole at Agave Uptown, a bucket of fried chicken at Hopscotch, paella at Duende, Asian-fusion tacos at Belly, and inventive ice cream flavors at Humphry Slocombe. Shall we keep going?
DOWNTOWN
Architectural gems, techie culture, and East Bay streetwear. Downtown has it all.
Downtown Oakland is a cultural phenomenon: A blend of Victorians (Preservation Park), a National Historic Landmark (Rotunda Building), an award-winning espresso bar (Awaken Cafe & Roasting), a museum dedicated to gamers (The Museum of Art and Digital Entertainment), all kinds of cuisine (Pintoh Thai, Mockingbird, Umami Mart), a streetwear brand (Oaklandish), California art and history (Oakland Museum of California), and more.
Chinatown
SHORT ON TIME?
Grab a baked good at Sweet Bar Bakery; peruse The Hive, a mixed-use space (while you're there, pick up a loaf of wood-fired bread from Firebrand); order the Greyhound Classic cocktail at Cafe Van Kleef for major honky tonk vibes; and head to the 3.5-acre rooftop park at Kaiser Center
LOCAL VOICES
CARL CHAN
President, Oakland Chinatown Chamber of Commerce
"The history of Chinatown is very entwined with Oakland's [and] continues to play a prominent role in the identity of our city."
One of the oldest in the United States, Oakland's Chinatown is a lively area packed with history.
First settled in the 1850s after the Gold Rush, and later evolving after the 1906 San Francisco earthquake as a safe haven for Chinese immigrants, Chinatown is the center of Oakland's Asian culture, food, and community. Here, you won't find flocks of tourists taking pictures outside tchotchke shops. Instead, you'll find family-run stores, phenomenal cuisine, and a hearty celebration of Asian arts and culture.
Taste your way between 8th and 10th streets and Franklin and Webster streets, where you'll find dim sum at Peony Seafood Restaurant, hand-pulled noodles at Shandong Restaurant,
LOCAL VOICES ELISHA GREENWELL
Founder, Black Joy Parade
"Downtown Oakland is ever-evolving, and it's exciting to be part of the change. It seems like each time I'm there, a new thing has arrived, or an old thing has revived!"
and black garlic ramen at Sobo Ramen. Don't skip the Oakland Fortune Factory, the Bay Area's oldest fortune cookie maker.
Lincoln Square and Madison parks are great places to people watch, while the Oakland Asian Cultural Center offers rotating exhibits on Asian arts and culture. Or, brush up on your Asian literature (in eight languages!) at Oakland Public Library Asian Branch
11 visitoakland.com CLOCKWISE FROM TOP LEFT: COURTESY OF VISIT OAKLAND/JORDAN
OF
PARK; COURTESY
VISIT OAKLAND; ELISHA GREENWELL; CARL CHAN; SHUTTERSTOCK(2); ILLUSTRATIONS: MARINA DAINEKO
Buzzing with a palpable energy, this part of town is chock full of sights and bites.
Calavera
The Downtown skyline from Lake Merritt
Ordercustomfortunecookiesat OaklandFortuneFactory!
Get Out On the Water
Rent a kayak, stand-up paddleboard, or canoe from California Canoe & Kayak and cruise the Oakland estuary or bay.
12 COURTESY
Oakland waterfront
VISIT OAKLAND
Jack London District
Try this section of town for bay views, stellar eats, and much more.
One of the more scenic destinations in Oakland, Jack London District's waterfront location and pedestrian-friendly Jack London Square are a huge draw for visitors and locals alike. Thanks to its marina setting and access to Alameda, Jack London is a hub for social gatherings, community events, and business commuters. And it's no wonder why, with its fantastic food (be sure to hit up Farmhouse Kitchen Thai Cuisine for a meal), entertainment venues, and recreational activities. You might say this neighborhood is the whole package. (Don't forget to peep the Port of Oakland cranes across the way.) And if you like beer, then you're in luck. Thanks to the area's warehouse buildingclad blocks, several breweries (like Original Pattern Brewing and Oakland United Beerworks) have set up shop here (see p. 56 for more). And for those who dig drinks with a different kind of buzz, there's no shortage of homegrown coffee shops — Timeless Coffee, Bicycle Coffee, Mr. Espresso — all within walking distance of each other (see p. 53 for more).
HEINOLD'S FIRST AND LAST CHANCE SALOON
Drink or no, this haunt is a must. Once frequented by Oakland resident Jack London, this 1880 saloon sits in the middle of the square and is a time capsule of an era gone by. Look for the clock that broke at the exact time of the 1906 earthquake.
Can't-Miss Events
There is no shortage of things to do at Jack London Square, including movie nights (Waterfront Flicks), weekly makers' and farmers' markets, and October's annual DogFest
Everett & Jones Barbeque
A true Oakland original, this joint is what Bay Area barbecue is all about. Order the pork ribs and links, tuck in your napkin, and dive in.
BROOKLYN BASIN
Another waterfront location adjacent to Jack London District is Brooklyn Basin, a cool, multi-use space in the old Port of Oakland ferry terminal building that hosts food vendors, music events, LGBTQ+ roller skating, yoga, and more.
Plank
Whether you want to brush up on your arcade, bowling, or bocce skills, or just want some pizza with water views, this centrally located spot is a crowd-pleaser.
U.S.S. POTOMAC
Referred to as "the floating White House," this ship once belonged to Franklin Delano Roosevelt and served as his presidential yacht. Book a cruise around the bay or a dockside tour.
The Next Gen
The Golden State Warriors may have moved to San Francisco, but Steph and Ayesha Curry continue to support The Town. In 2019, the Curry's launched their Eat. Learn. Play. Foundation, promoting healthy childhood through nutrition, education, and physical activity.
All that Jazz
WINE TIME
Oakland is less than an hour drive to wine country, but you can get a taste of Golden State wines here on the Urban Wine Trail. See what's pouring at Brooklyn West Winery, Rosenblum Cellars, and minimo wine shop before moseying on. And if you prefer to sip wine while painting, check out Wine & Design Oakland
Word-class jazz meets Japanese fare at Yoshi's. One of the Bay Area's premier jazz venues, this 310-seat space brings a whole new meaning to dinner and a show.
neighborhood guide
13 visitoakland.com Farmhouse Kitchen Thai Cuisine CLOCKWISE FROM TOP LEFT: COURTESY VISIT OAKLAND(2); COURTESY OF PLANK;
COURTESY OF
ALAMY;
VISIT OAKLAND/JORDAN PARK; ILLUSTRATIONS: MARINA DAINEKO
neighborhood guide
Piedmont Avenue
Clocking in at one of Oakland's smallest districts, this cute area is full of shopping, eats, and historical architecture.
Not to be confused with the Berkeley neighborhood with the same name, Piedmont Avenue is a residential district in the northeast part of Oakland with its main thoroughfare named — yep, you guessed it — Piedmont Avenue. But just because this manor house and Craftsman-clad stretch of town has dog-walking couples, families, and grad students, doesn't mean there's nothing to do.
Here you'll find true star power at places like Fentons Creamery, a classic parlor that serves enormous scoops of ice cream (it even had a cameo in Pixar's Up), and the two Michelin-starred restaurant Commis (turn to p. 52 for a glimpse into the creative mind of chef-owner James Syhabout). And don't sleep on Pomet, a seasonal, farm-to-table restaurant. For architectural prowess, schedule a tour of the Julia Morgan-designed funeral home Chapel of the Chimes (really!) or stroll through Fredrick Law Olmsted's (you know, the one who designed Central Park) Mountain View Cemetery.
For a bit of shopping, check out Mercy Vintage for retro wares and find your perfect pair of jeans at Maple Street Denim. For a fun night out, catch an indie film at Landmark's Piedmont Theatre and sip on a tiki drink from Kona Club.
ROCKRIDGE
This tree-lined area is just too quaint to handle.
Packed with adorable bungalows, stellar restaurants, and cute boutiques, this neighborhood will have you thinking: So when can we move?
Order a bomb burger from Wood Tavern, rad wood-fired pizza from A16, ridiculous ramen at Ramen Shop, and yummy small plates from À Côté. Find a new page turner at bookstores (remember those?) like Pegasus Books and East Bay Booksellers. Get a new look at Pretty Penny and Chic Boutique, or something for home at Atomic Garden and Maison d'Etre
Local Hangouts
For a good time,
Market Hall
Grocery shopping might not be high on your list of things to do during your visit, but a trip to Rockridge's Market Hall will change your mind. Designed like a European-style market, this specialty grocer sits on the corner of Shafter and College avenues and has nine hyper-focused stations inside. From fresh produce and baked goods to choice butcher cuts and floral arrangements, Market Hall is a must visit.
Music Time
Every Wednesday and Sunday, Cato's Ale House hosts live music at its Piedmont Avenue
BART Art
See 2,000 hand-painted tiles at the Rockridge BART station remembering the 1991
Secret Garden
in
is
14
CREDIT
JORDAN PARK (4); BOTTOM RIGHT: COURTESY OF VISIT OAKLAND
pub.
Oakland Hills fire.
Hidden
plain sight
Frog Park and Rockridge-Temescal Greenbelt, a green space and grove of redwood trees.
head to The Graduate, a low-key haunt with free popcorn, or George & Walt's to watch the big game and to play some pool.
Landmark's Piedmont Theatre
Market Hall
Pegasus Books
Fentons Creamery
Maple Street Denim
Stellar Views
See the stars and learn about space at the Chabot Space & Science Center. See p. 33 for the full story.
Montclair & Oakland Hills
Wilderness walks and manicured abodes are the sights to see in this area.
As soon as you hit the winding roads, you know you've entered into a whole new realm of Oakland — and it's just a short drive away! With some of the most coveted real estate in the entire Bay Area, the Montclair and Oakland Hills area's storybook homes and oak canopy-covered streets are a departure from the buzz of Downtown.
The main hub is Montclair Village, a little downtown that has all the charm of a European village.
For a slow Sunday morning, savor coffee at local favorite Highwire Coffee Roasters before browsing the year-round Montclair Village Farmers' Market, featuring local growers, purveyors, and makers.
Then, hit up Montclair Egg Shop
for brunch or lunch. A community staple since 1974, this restaurant has all the classics, like house-made corn beef hash and Belgian waffles. Kick back at Crogan's, a friendly neighborhood bar. And for a lovely date night, consider Daughter Thai Kitchen (try the street food) or Perle Wine Bar for caviar and a bottle of Champagne.
Laurel District
A quiet, yet happening, residential area.
Every August, this neighborhood hosts the Laurel StreetFair World Music Festival, a seven-block celebration of music, dance, food, and art from all over the world. Free and fun for the whole family, this festival (which takes place August 12, 2023) is a must when you're in town.
Anytime of year is a good time to stop in for a spooky-themed pint from Ghost Town Brewing. But before beer, fuel up with an exceptional breakfast at Sequoia Diner, which serves seasonal fare and makes most things from scratch, like house-cured bacon, naturally fermented bread, and organic jams.
And before you go, be sure to snap a selfie with A Bear Shaped Hole mural (California grizzly bears decorated with the cosmos) at the back of High Street Pharmacy
CHEESE, PLEASE
If selecting artisan cheeses and fine wines sounds right up your alley, head to Farmstead Cheeses and Wines
This casual shop is anything but stuffy, and the friendly staff can guide you on selecting the perfect picks.
TRAILS, TRAILS, AND MORE TRAILS
By far, the most unexpected thing about Oakland is the acres upon acres of rolling open space, forested trails, and abundant wildlife. Montclair Railroad Trailhead runs right through the middle of town through Shepherd Canyon Park. From the Palos Colorados Trailhead, explore Joaquin Miller Park, or drive up Skyline Boulevard for access to Reinhardt Redwood Regional Park
GO TO PAGE 30
URBAN ESCAPE
Redwoods? In Oakland? Yep! See where.
15 visitoakland.com CLOCKWISE FROM TOP LEFT: COURTESY OF VISIT OAKLAND (2); JORDAN PARK(2); ILLUSTRATIONS: MARINA DAINEKO
Chabot Space & Science Center
Highwire Coffee Roasters
Joaquin Miller Park
Sequoia Diner
Fun Fact
GRAND LAKE
The neighborhood immediately adjacent to Lake Merritt, Grand Lake was made for exploring.
Lake Merritt
This natural saltwater lake is a scenic gathering place right in the middle of town.
Perfect for a picnic, a paddle, or a stroll, Lake Merritt is where people come to just hang out. Encircled by art deco buildings and 1950s flats, this saltwater and freshwater lake, fed by the estuary and bay, is the first official wildlife refuge in the United States. Take a gondola ride with Dolce Vita Gondola around the lake, watch some salsa dancing in Lakeside Park, or stroll part of the more than three-mile path at dusk to see the Necklace of Lights — '20s-era lampposts and thousands of cafe lights — illuminate the water's edge. Or head to Children's Fairyland (see p. 32) or The Gardens at Lake Merritt. For lakeside dining and views, reserve a table at The Lake Chalet Seafood Bar & Grill, Grand Lake Kitchen, or Sidebar
OAKTOWN SPICE SHOP
With unobstructed views of Lake Merritt, this beautifully curated spice shop has an old-school apothecary feel with its jar-filled shelving. After perusing and smelling the exotic spices, salts, and teas, you'll definitely want to take a blend or two home. See p. 25 for more.
Stairway to Heaven
Did You Know?
Grand Lake Theatre
The only thing that could steal Lake Merritt's thunder is the glowing facade and painted art deco interior of the Grand Lake Theatre. Catch a film or walk in to gaze at this architectural beauty.
WALDEN POND BOOKS
Oakland's largest independent bookstore is a perennial "Best of" winner and has been selling used, new, and rare books since 1973. It's known for carrying titles by local authors and, of course, its shop dogs.
LOCAL VOICES
AMY SCHNEIDER
Forty-time Jeopardy champion and Adams Point resident
"I have never been to any other city where I've seen so many people repping it with t-shirts and hats. That's for tourists in other places. Here, people are just really proud of their town and you can feel it. I think part of that is the diversity: Whoever you are, you're going to find your people here in Oakland."
The Gardens at Lake Merritt have a bonsai garden. Plus, free admission!
Opa!
COLONIAL DONUTS
Fancy a doughnut at 3 a.m.? Lucky for you, the family-run Colonial Donuts is open 24/7 and fries up everything from maple bars to mochi and ube-flavored morsels.
MORCOM ROSE GARDEN
If you're here late May through October, don't miss this eight-acre municipal rose garden featuring thousands of rose varieties. Plus, there's a secret set of stairs here.
House-made Greek and Mediterranean dishes are on the menu at Ikaros.
16 CREDIT neighborhood guide
Climb the Cleveland Cascade staircase or the one leading to the rose garden.
Walk or bike around Lake Merritt
Oaktown Spice Shop
Lake Merritt is the first official wildlife refuge in the United States.
CLOCKWISE FROM TOP LEFT: COURTESY OF VISIT OAKLAND (2); SEAN BLACK; MALCOLM WALLACE; ILLUSTRATIONS: MARINA DAINEKO
17 visitoakland.com Sunset over Lake Merritt DAVID
COLLIER
H.
The Cook and Her Farmer SARA REMINGTON 18
Old Oakland
Originally a sleepy little town hidden in the shadow of its neighbor across the bay, Oakland was a major hub after it became the western terminal for the first transcontinental railroad in 1869. And at the heart of it all was Old Oakland.
Here you'll find brick-facade buildings and Victorians dating to the 1870s, an unusual glimpse into the past in an otherwise modern city. One of the most popular places to visit in Old Oakland is Swan's Market, a community multi-use space built in 1917. A combo of boutiques, businesses, and restaurants call this gathering place home.
Try The Cook and Her Farmer for fresh cafe fare (oysters, gourmet grilled cheese, and biodynamic wines), La Guerrera's Kitchen for authentic Mexican cuisine (fresh masa, pozole, barbacoa), Dela Curo for Japanese black curry, or Cupcakin' Bake Shop for classic and seasonal cakes, cookies, and, of course, cupcakes.
Wander the neighborhood and check out E14 Gallery, showcasing visual artists with deep ties and enormous love for The Town. Or for cocktails with art decoinspired aesthetics, head to Binny's (it also hosts Tuesday movie nights and Wednesday trivia nights). And for cool lounge vibes, grab a drink at District.
WEST OAKLAND
Culture, comfort food, and the Black Panther Party: Get to know the "Harlem of the West."
THE BLACK PANTHER PARTY
Eclectic Eats
For handmade buckwheat soba noodles, you've got to try Soba Ichi. For Southern comfort food with a twist, there's 10th & Wood (Tip: Order the Po-Mi sandwich). And for an insane weekend brunch, head to Magnolia Street Wine Lounge & Kitchen.
Located on Peralta Street, the Black Panther Party headquarters is a historical destination where the Panthers dreamt up their resulting contributions to Oakland and the nation. While walking through the neighborhood, stop at the West Oakland Mural Project — a restored Victorian with a beautiful mural featuring the women of the Black Panther Party. Turn to p. 46 to learn more about the group and mural.
GO TO PAGE 53
SLOWCOOKED FOODS
LOCAL VOICES
MARIA ALDERETE
Executive Director and Co-Founder of Community Kitchens, a nonprofit ensuring that everyone in Oakland has access to at least one hot, nutritious meal every day.
"What's special is the soul of Oakland. We are a city of compassion, love, and solidarity. Oaklanders know we are all connected. We cannot thrive as individuals unless we first thrive as a community."
Eco Arts
Meet Matt Horn, pit master and owner of the James Beard Award-nominated Horn Barbecue, a Texas-style barbecue joint.
GO TO PAGE 43
LOCAL ARTIST
Observe long-time Oakland resident and wood sculptor John Abduljaami's unique work at Oakland Museum of California's permanent collection. Flip to learn more about Oakland's arts.
West Oakland's eco-industrial park, O2 Artisans Aggregate is a working collective home to makers who are developing and promoting environmentally progressive projects. You'll find a little bit of everything here, from a plant nursery (Cultural Roots Nursery) and compost business (Common Compost) to a blacksmith (Jay Morgan Handcraft) and sake (Den
19 visitoakland.com neighborhood guide
With its main stretch on Washington and 9th streets, Old Oakland was once the city's main downtown and urban center.
CLOCKWISE FROM LEFT: COURTESY OF VISIT OAKLAND/JORDAN PARK; SHUTTERSTOCK; COURTESY OF MARIE ALDERETE. ILLUSTRATION: MARINA DAINEKO
Sake Brewery).
E14 Gallery
Fruitvale
Murals, pan dulces, and a constant celebration of Mexican culture and heritage abound in this part of town.
Having once been a stretch of land covered in fruit trees, Fruitvale is now the urban center for first and second generation Mexican Americans.
Head to Fruitvale Public Market for a lesson in traditional Mexican ice cream. Order a mangonada, hand-churned ice cream with mango and chamoy (a sweet-savory chili sauce) from Nieves Cinco de Mayo. And you can't go wrong with a taco (or five!). Embark on a self-guided tour to spots like Mi Grullense and Tacos Sinaloa food trucks. Order the pozole at Obelisco Restaurant and snag a sweet treat at the family-run Bakery el Sol, both of which are located in Fruitvale Village
For a dose of local history, check out Peralta Hacienda Historical Park. The six-acre park hosts the Peralta House Museum, where you can take a tour through multimedia exhibits on the history of California and Oakland. Cruise over to neighboring Jingletown to see colorful murals and mosaics along Rue de Merde. And be sure to visit the Indigenous Red Market, a semi-monthly event featuring indigenous artists, food purveyors, designers, and entrepreneurs.
AIRPORT DISTRICT
Departures, arrivals, and a fly ball or two.
It may seem obvious, but this neighborhood is home to Oakland International Airport (OAK). With more than eight million passengers in and out of OAK every year, none have been quite so famous as Amelia Earhart. She used the airport's runway in 1937 in her attempt to circumnavigate the globe. For even more aviation history, check out the Oakland Aviation Museum. Located in a 1939 hangar, the museum offers cockpit tours and flight simulators. Nearby, be a part of town fandom at an Oakland Athletics game at RingCentral Coliseum. See p. 28 for more.
A's Fan Facts
On October 15, 1981, history was made in the stands when pro cheerleader Krazy George Henderson led the Coliseum crowd in the first recorded instance of The Wave.
LOCAL VOICES
CAHERI GUTIERREZ
Sr. Manager of Communications and External Affairs, The Unity Council
"Fruitvale is a culturally rich, vibrant community. We have delicious food, clothing stores, and great street vendors!"
¡Fiesta!
Read about Fruitvale's popular Día de los Muertos Festival celebrations on p. 80.
Fireworks
After a home game, sit on the A's outfield during special fireworks and drone show nights.
East Bay native and Hollywood darling Tom Hanks used to sell hot dogs at the A's stadium!
Though technically named the RingCentral Coliseum, the ballpark is simply called "the Coliseum" by homegrown fans.
Fore!
Hit the driving range, practice your short game, or tee off at the Metropolitan Golf Links.
20 CREDIT
neighborhood guide
The Oakland Athletics at RingCentral Coliseum
Fruitvale Village
Indigenous Red Market
Día de los Muertos Festival
CLOCKWISE FROM TOP LEFT: JAYASIMHA NUGGEHALLI; @INDIGENOUSREDMARKET; COURTESY OF VISIT OAKLAND/JORDAN PARK; CAHERI GUITIERREZ; COURTESY OF VISIT OAKLAND
Dimond District
With German roots, the Dimond District has morphed into an eclectic neighborhood that perfectly reflects Oakland itself.
Nestled at the base of the Oakland Hills, the Dimond District is an extension of Fruitvale — but with German vibes. In the early 1900s, this neighborhood was settled by German immigrants and referred to as "Little Germany." Since then, the area, like most of Oakland, has transformed and was adopted by the Latin community. Today you'll find taquerias and murals intertwined with urban green spaces and parks.
Stop into natural grocer Farmer Joe's Marketplace or local fave La Farine French Bakery to pick up provisions before heading to Dimond Park. Camp out on the grass or grab a picnic table for your meal. After that, let the kiddos burn some energy at the playground or hike along Sausal Creek on the Dimond Canyon Trail for wildlife spotting.
If wandering around town is more your style, go mural hunting in the Dimond. Find Dimond's Hidden Jewels on Farmer Joe's wall, I Love Dimond on the PG&E Boston substation, and Oakland Treehouse and Bird on a Branch at MacArthur and Rhoda streets. Top off your time here with a horchata-flavored Italian water ice or frozen custard at Flavor Brigade
Prost!
Don your lederhosen and head to Dimond's annual Oaktoberfest for a pint and Bavarian festivities.
GLENVIEW
Get to know Dimond's cute neighbor.
It's bungalows galore in Glenview. This small residential neighborhood leads up to the lower Oakland Hills and makes Rockridge seem quiet. To mingle with the locals, head to Blackberry Bistro for buttery vanilla-orange French toast or a roasted mushroom and spinach omelet. Walk the other side of Sausal Creek or wander toward the historic Leimert Bridge (check out the views of the bay here!) to build up an appetite for Bellanico Restaurant and Wine Bar's hearty Italian fare or pão de queijo (Brazilian cheese bread) and sweet or savory empanadas, alongside a cold brew, at Paulista Brazilian Kitchen & Taproom
EAST OAKLAND
Stretching from Lake Merritt all the way to San Leandro, this region covers a lot of ground.
Since 2014, Black Cultural Zone Collaborative Partners has worked with local groups to create opportunities, projects, and events aimed at supporting and empowering East Oakland residents. Most notably, the organization hosts regular gatherings at Liberation Park including Fo'Show Fridays (food event), Akoma Market (artisan market), and roller skating at Umoja Outdoor Roller Rink
Get your skating fix in East Oakland.
Hike
Looking for more trail adventures?
Turn to p. 30
Eats
For the best Anthony Bourdainapproved pupusas in town, go to Tamales Mi Lupita
21 visitoakland.com CREDIT
Paulista Brazilian Kitchen & Taproom
Dimond Canyon Trail
CLOCKWISE FROM LEFT: JORDAN PARK; COURTESY OF PAULISTA BRAZILIAN KITCHEN & TAPROOM; SHUTTERSTOCK
SETH SMOOT 22
Ayesha Curry in her Sweet July flagship store, located in Uptown.
From big name celebrity ventures to the small shop on the corner, Oakland has a style that's unlike any other city. Here, a mighty collective of small businesses and residents fully embrace shopping small and supporting local. Check out a few of these spots for something that's as unique as Oakland.
You both grew up out of state. When did you come to Oakland?
Big Style Oakland Icons
Sherri McMullen: I moved to Oakland two decades ago. I fell in love with the community and the spirit of the city and knew I wanted to have my business and raise my family here.
Ayesha Curry: We lived in Jack London from 2013 to 2014. I loved being able to walk along the pier and take [daughter] Riley over to Children's Fairyland!
Two renowned Oakland business owners on entrepreneurship, style, and supporting Black businesses.
BY LEEANNE JONES
Ayesha Curry and Sherri McMullen met in 2011, when Curry popped into McMullen's eponymous fashion boutique in Oakland. Today, Curry also owns a store just up the block from McMullen, Sweet July, and she and her husband (Golden State Warriors star Stephen Curry) are often styled by McMullen for photoshoots and events. The two women are a force in the Oakland retail scene — supporting other entrepreneurs, championing Black brands, and upping The Town's fashion game.
Ayesha, your Oakland connection goes beyond the Warriors. You launched the Eat. Learn. Play. Foundation and opened Sweet July here. What do you love about the city?
AC: Oakland has such a vibrance and special sense of community. It's difficult to explain. It's more of an energy — people having each other's backs and stepping up for one another. It's similar to how I was brought up so it's always felt like home. As a creative person, I am in awe of all of the talent in Oakland: food, fashion, art, culture, music — you just can't beat it.
Sherri, your boutique, McMullen, opened in 2007 on Piedmont Avenue. Today, it's on Broadway. What has kept you in Oakland?
SM: Piedmont Avenue had businesses that were around for several years, and I thought it would be a great place to start mine. It was a small gem and we later moved to upper Grand Avenue — still very close to the original store but a larger space. I had always dreamt of having a flagship store in the heart of Oakland, and Uptown felt like the perfect place. I love that we have so many Black female-owned businesses all within a few blocks of one another.
How have the people of Oakland supported your businesses?
SM: I felt the love on day one. Our Oakland community has kept McMullen going for 15 years, and many clients have been shopping with us since the beginning. There is a commitment to support small businesses and make sure we are all okay. I felt that more than ever during 2020.
AC: It's not just that the community has each other's backs, but the authenticity of it. It comes from such a genuine place of wanting success for one another.
Both McMullen and Sweet July have an emphasis on Black women-owned brands. What does that kind of support mean to you and the community?
AC: The stats are staggering for how few businesses are owned by Black women in this country, but the good news is we also make up the fastest growing demographic of entrepreneurs. It's really special to be in a position to be able to start my business and hopefully blaze a trail for others, but there is definitely a responsibility for those of us in the business community to support each other. To be able to lean on one another and
23 visitoakland.com
learn from each other's successes and failures means we'll collectively have a higher success rate.
SM: Being a Black woman in the industry for years, I didn't see many of us in positions to make decisions about what people should buy in retail stores. I feel very passionate about making space for Black and brown designers because, as we know, Black designers have less access to retailers, funding, and resources to move ahead. Black females are the fastest growing
group — and yet, the least funded. I'm committed to making sure that changes.
What is a Black-owned brand that is exciting you right now — and sold in your stores?
AC: Clean African beauty brand 54 Thrones created by Christina Funke Tegbe. They create the most luxurious body butters and soaps inspired by their founder's Nigerian heritage. We've been able to watch (and in a small way contribute) to the brand's incredible growth, which has never gotten in the way of their mission or quality — quite a feat.
SM: Christopher John Rogers makes gorgeous dresses with volume and bold color and prints; Diotima makes cool pieces with crochet details; Harwell Godfrey makes fine
jewelry in the most amazing combinations; Stella Jean makes beautiful prints … the list goes on and on.
What's next?
AC: We've got a few very special projects on the horizon — starting off with our Sweet July Skincare launch this year. It's a few years in the making, and I can't wait to share it with everyone.
SM: We are celebrating 15 years in business! We have so much to be thankful for, and I have been taking in every moment — especially this year. We had a pop up in L.A. and Detroit, and we opened a 10,000-square-foot distribution center to expand our e-commerce business. Within that space, we will be launching an incubator program to support young designers.
24
shop
CLOCKWISE FROM LEFT: KATHERINE PEKALA; SETH SMOOT; SAMANTHA TYLER COOPER
"To be able to lean on one another and learn from each other's successes and failures means we'll collectively have a higher success rate." —Ayesha Curry
Sweet July McMullen
Sherri McMullen
CRIMSON HORTICULTURAL RARITIES
A stroll through Crimson's two Oakland boutiques (Temescal Alley and Piedmont Avenue), featuring rare plants and botanicalinspired gifts, can convince anyone that they, too, have a green thumb. crimsonhort.com
Oakland Originals
In true Oakland fashion, shopping in The Town is always an original experience. From Bohemian boutiques to horticultural havens to nationally recognized jewelry designers, you'll find the perfect item you never knew you needed. Discover for yourself what shopping small is all about.
BY MARTHA-PAGE ALTHAUS
Oaktown Spice Shop
A must-visit in the Grand Lake neighborhood. Find a new blend to take home and liven up your dishes. From a Turkish-inspired Eastern Mediterranean blend to the hot and spicy Vietnamese cinnamon (This isn't your grandma's cinnamon!), there are so many new flavors to try. oaktownspiceshop.com
ESQUELETO
Browse the cases of ethically sourced, handcrafted fine jewelry at this Temescal art gallery/ boutique, which focuses on pieces by independent artists. shopesqueleto.com
LOVE IGUEHI
Bold, colorful African Ankara prints are hand-cut and custom made, so no two pieces are exactly alike. Book an appointment at the Downtown location to shop. loveiguehi.com
MAKER'S LOFT BOUTIQUE
For independent makers and local artisan goods, look no further than Piedmont Avenue's
Makers Loft. This shop has a little bit of everything, from ceramics and home wares to personal accessories and self-care products. makersloft.co
1-2-3-4-GO! RECORDS
A brick-and-mortar record store? They still exist! This shop/ record label/live music venue focuses on punk, indie, and obscure labels. Stop in for a listen or to hunt for that hard-to-find vinyl. 1234gorecords.com
25 visitoakland.com FROM LEFT: COURTESY OF VISIT OAKLAND/JORDAN PARK; COURTESY OF CRIMSON HORTICULTURAL RARITIES/AMY THOMPSON. ILLUSTRATION: MARINA DAINEKO
Oaklandish
Since 2000, this B Corp-certified company has been spreading local love and community pride with its iconic tees, hoodies, and hats. (Bonus: Oaklandish donates 2% of revenue to local nonprofits). Stop by the Downtown flagship store, or other locations in Fruitvale, Brooklyn Basin, and Jack London Square.
TAYLOR
Taylor Jay's elevated basics are made with sustainably sourced materials, and a focus on body positivity and inclusive sizing. Discover your best fit at the flagship store on Broadway. taylor jaycollection.com
Exquisite, handcrafted jewelry made with
semiprecious and precious stones, and 18k silver and gold. Visit the Montclair studio (open by appointment only) to view, try on, or discuss a custom piece. dorian webb.com
26 shop
JAY COLLECTION
DORIAN WEBB
Dorian Webb
Blk Girls Green House owners, J'Maica Roxanne and Kalkidan Gebreyohannes
Taylor Jay Collection
Oaklandish
CLOCKWISE FROM TOP LEFT: COURTESY OF DORIAN
COURTESY OF TAYLOR JAY COLLECTION; COURTESY OF
Dorian Webb handcrafted earrings >>
WEBB (3);
OAKLANDLISH;
BLK GIRLS GREEN HOUSE (2)
BLK GIRLS GREEN HOUSE
This Black womenowned shop is a lush oasis in West Oakland. Make an appointment to shop for plants and specialty home goods, and don't miss the live concert series, Grooves from the Greenhouse. bggh.shop
ALKALI RYE
Come thirsty! This beverage shop, owned by two Oakland natives, has a well-curated selection of wine, beer, spirits, coffee, and teas, many of which are made by women, BIPOC, and LGBTQ+ producers. sipalkalirye.com
27 visitoakland.com COURTESY OF ALKALI RYE/CAROLYN FONG 27
All the Ways to Play
Whether you prefer rooting for a professional sports team, trekking through the great outdoors, or spending a day out with the family, Oakland is the ultimate playground.
OAKLAND A'S 29 • GET OUTSIDE 30 • FAMILY FUN 32 • OAKLAND ROOTS 34 Oakland A's Opening Day at the Oakland Coliseum COURTESY OF VISIT OAKLAND
Voice of the A's
Oakland native and A's PA announcer Amelia Schimmel brings the passion to every game as the voice of the team's gameday experience.
Play Ball
The Oakland Athletics are one of Major League Baseball's most storied franchises. Here are a few things you should know about the A's.
BY CASEY CANTRELL
A CASE OF THE SHAKES
The 1989 World Series was a matchup of seismic proportions — literally. The A's swept the San Francisco Giants for the franchise's ninth championship title, but the series is better remembered for the 6.9 magnitude earthquake that struck 21 minutes before the start of Game 3 and sparked announcer Al Michaels' iconic line just before the feed cut off: "I'll tell you what, we're having an earth—"
THE BASH BROTHERS
Powering the A's to three straight World Series appearances from 1988-1990, superstars Jose Canseco and Mark McGwire celebrated their home runs by bashing each other's forearms (instead of the more traditional high five or fist bump), earning them the famous moniker that spawned songs, posters, and even the 2019 Netflix special The Lonely Island Presents: The Unauthorized Bash Brothers Experience.
Score Card
EYE ON THE MONEYBALL
Canseco and McGwire aren't the only ones who've gotten the Hollywood treatment. Based on the eponymous book, Moneyball follows A's general manager Billy Beane as he overcomes a tight budget and old-school attitudes to lead a team of castoffs and unknowns to an unlikely 2002 playoff run. True story!
MUSTACHE MAYHEM
On Opening Day of 1972, several A's players — including future Hall of Famers Reggie Jackson, Rollie Fingers, and Catfish Hunter — showed up sporting mustaches, a break with the decades-old unwritten rule that players should be clean shaven. By June of that year, every member of the team had a mustache. The so-called Mustache Gang would go on to win the championship against the smoothfaced Cincinnati Reds in a World Series dubbed the "Hairs vs. Squares."
Come prepared! Here are a few things to consider before you head to a game.
BRING LAYERS The bay breeze can make things chilly, even in summer. And wear sunscreen at day games, even if the sun isn't out.
AFTERPARTY FUN
Every season, the A's host a fireworks show after select games. Reserve your spot ahead of time, as tickets sell out!
THE BEST BREWS
The A's know how to have a good time and have one of the best selections of local craft beer you'll find in all of baseball.
BART IN
Coliseum Station, or take the Capitol Corridor train for a convenient ride straight to the stadium.
Tell us a few favorite memories from your job with the A's. I have a lot
of "pinch myself" moments, but some go even further to reinforce the notion that this is truly a dream job. Getting to announce ceremonies like the 2002 Streak Team reunion was special for me — when I was 16, I was captivated by that team and the Moneyball era. In one of the best games of the 2022 season, Stephen Vogt hit a game-tying, extra-innings homer against the Yankees, and the Coliseum erupted with excitement. It's games like those that you remember forever.
What's the best part about going to an A's game? It's difficult to name just one best part. Every element — the smell of ballpark food, the excitement, the sounds, the gorgeous weather — all make A's games my favorite activity.
I would say hearing the drummers chant for our players is my favorite part. I can still hear the "T Long" and "Tejada" chants
from my childhood, and when I hear the "I believe in Stephen Vogt" chants today, it makes me feel like generations of future A's fans will get the same great experience I had growing up.
The A's have a rich history of talented and iconic broadcasters — Bill King, Roy Steele, Dick Callahan, to name a few. What does it mean for you to be a part of that legacy now? I got the honor of working and being friends with the late, great Dick Callahan after years of listening to his voice at the Coliseum. Learning from him and seeing the energy, hard work, and kindness he exuded behind the scenes is something I try to emulate. I know I can never fill the shoes of Roy, Dick, and Bill, but my goal isn't to fill their shoes; it's to honor their legacy by walking in my own. I'm proud to be the first woman in this role for the A's, and they all inspired me to work toward this goal.
29 visitoakland.com COURTESY OF VISIT OAKLAND; COURTESY OF OAKLAND ATHLETICS. ILLUSTRATION: MARINA DAINEKO ways to play
Hop aboard BART to
Oakland A's fans
ways to play
OTHER WAYS TO GET OUTSIDE
For even more ways to take in that Oakland sunshine!
Skate It Out
Lace up and get rolling at UMOJA Outdoor Roller
Skating Rink at Liberation Park. It's open every Sunday for two sessions, and guests can borrow skates (while supplies last) or bring their own.
Get Outside
Paddle & Row
Rent a canoe, stand-up paddleboard, or kayak from California Canoe & Kayak for a paddle around the Oakland Estuary or San Francisco Bay, or opt for a pedal boat or rowboat from Lake Merritt Boating Center to cruise around the lake.
Did you know that just a 20-minute drive from downtown puts you in the heart of towering redwoods, sky-high eucalyptus, and gnarled old oaks? Often likened to wandering straight into an enchanted forest (no joke!), the wooded hills of Oakland offer visitors a peaceful respite from The Town's urban energy. And with several thousands of acres to roam, all you have to do is choose your trail and go.
BY LAUREN BONNEY
DR. AURELIA REINHARDT REDWOOD REGIONAL PARK
Redwoods? In Oakland? Yep! Perhaps one of the most wonderfully surprising things about the city is that it's home to forests of coastal redwoods. Nestled in the heart of the 1,833-acre Reinhardt Redwood Regional Park, these peaceful groves make you completely forget about the city just a few miles away. There are several ways to access the park, but the main entrance is Redwood Gate off of Redwood Road. Open daily; pet friendly.
HUCKLEBERRY BOTANIC REGIONAL PRESERVE
You never know what you'll find blooming at Huckleberry Botanic Regional Preserve. Boasting plant species found nowhere else in the East Bay, the preserve is an ecological gem with a microclimate that supports unique rock strata, nutrient-rich soils, and native plants that bloom year round. Open daily; no dogs or bikes allowed; accessed from the Skyline Staging Area.
JOAQUIN MILLER PARK
Say "Om"
Every week, United by Yoga instructors lead a vinyasa flow outside at Brooklyn Basin
Non-members are always welcome, and don't forget to bring your own mat.
LEONA CANYON OPEN SPACE REGIONAL PRESERVE
Explore this wooded canyon tucked within the 290-acres of Leona Canyon. An ideal spot for hiking, biking, and dog walking, this protected open space is located behind Merritt College. Here, you'll find relief under the shade of bay laurel canopy, the technicolors of a fern glade, and the sounds of Sausal Creek (there's even a redwood grove just up the creek). Open daily.
Did You Know?
An enticing mix of sun-exposed hillsides, oak-laden woodlands, quiet redwood groves, and lush creeks and meadows, Joaquin Miller Park is a hidden jewel treasured among locals. Home to more than 200 plant species, including the rare Oakland star tulip, the park offers hikers, bikers, joggers, equestrians, and picnickers several hundred acres to roam. Dogs are welcome too, either on leash or at the fenced off-leash dog park. Open daily; accessible from the Sequoia Arena Gate off Skyline Boulevard.
Oakland is home to the country's oldest continuous women's whaleboat rowing club. Affectionately known as the Ladies of the Lake, the Oakland Women's Rowing Club was founded in 1916 and has a diverse membership of women ranging from 50 to 90 years old.
30
DEANE LITTLE; ILLUSTRATIONS:
Joaquin Miller Park
MARINA DAINEKO
Bring Your Pup!
Most park trails in Oakland are dog-friendly. But read up on your chosen trail prior to visiting as some parks require dogs to remain on the leash.
31 visitoakland.com
JORDAN PARK
Joaquin Miller Park
ways to play
SKY FULL OF STARS CHABOT SPACE & SCIENCE CENTER
The observation deck sits 1,500 feet above the Bay, making it ideal for telescope viewing. The center's three large-scale telescopes, named Rachel, Leah, and Nellie, are open on Friday and Saturday nights for free viewings. Nellie is the most powerful, with a 36-inch reflector housed in a rolling-roof observatory that offers 180-degree views of the sky (plus outstanding views of the cosmos).
Four for Families
These can't-miss Oakland attractions are perfect for all ages. BY
MARTHA-PAGE ALTHAUS
LOCAL VOICES
KYMBERLY MILLER
Executive
Director of Children's Fairyland
"Children's Fairyland is a beloved institution, and the tradition of this place gets handed down from one generation to the next. A grandparent may have come here as a child and really cherished that time … maybe they grew up in Oakland, they brought their kids, and now they're bringing their grandchildren here."
1OAKLAND ZOO
For 100 years, the Oakland Zoo has been committed to animal rescue, welfare, and conservation. Today it remains a national leader in wildlife care through its efforts to rehabilitate and rehome animals in need, and visitors can see everything from South American macaws to Ugandan chimpanzees living in species-considerate habitats. The California Trail exhibit is a must: It begins with an electric gondola ride up and over the Oakland Hills, and features native California plants and animals like grizzly bears, jaguars (yep, jaguars were once indigenous to the Golden State), mountain lions, and condors. (Tip: At the end of the exhibit, stroll to the San Francisco Bay Overlook for panoramic city views and roaming bison grazing directly below.)
Did You Know?
Flamingos actually fly! The Oakland Zoo's new flamingo aviary was built to encourage this natural behavior.
2 CHILDREN'S FAIRYLAND
This whimsical park opened in 1950 — and most everything to this day remains from 1950. Children's Fairyland is a glorious throwback where kids create, imagine, and play the old-fashioned way (no screens!). Wander through the Alice in Wonderland card maze and tunnel, play on the Peter Pan pirate ship, and explore Peter Rabbit's garden. Stop by the gift shop and buy a $3 key to "unlock" classic fairy tales from audio story boxes throughout the park. Don't miss a show at Storybook Puppet Theater, the oldest continuously operating puppetry theater in the U.S. The 10-acre park overlooks Lake Merritt and is framed by the city skyline and mature landscaping.
Inspired!
Walt Disney visited Children's Fairyland before he opened Disneyland in 1955, finding inspiration with things like no straight lines in the park's design and a surprise around every corner.
32 CREDIT
FROM
Children's Fairyland
LEFT: KYMBERLY MILLER; COURTESY OF CHILDREN'S FAIRYLAND/JOSHUA LACUNHA. ILLUSTRATION: MARINA DAINEKO
3 CHABOT SPACE & SCIENCE CENTER
Thanks to a recent partnership with NASA, Chabot's new NASA Experience exhibit showcases some seriously cool artifacts — a full-scale model of the Artemis rover, spacesuits from the Mercury and Gemini missions, plus hands-on displays that study heat shield technology and rover building for space exploration. Chabot's other highlights include a planetarium, authentic descent module (complete with three astronauts strapped in for splash down), and Mission Control. Located in Redwood Regional Park, just a short drive from downtown, Chabot feels, quite literally, worlds away.
4
OAKLAND MUSEUM OF CALIFORNIA
Older kids can explore the Gallery of California Natural Sciences at Oakland Museum of California (OMCA) to learn more about the Golden State's diverse climate, geography, habitats, and ecosystems. For the littles, the exhibit's Nature Playspace offers activities like a walk-through tunnel with sound and light displays, and garden and kitchen play areas.
Gathering Place
Every Friday night, OMCA opens its doors to the community for a free event with live music and food trucks on its terraced gardens. Bring a picnic blanket to relax on the Great Lawn and toast to the weekend, or buy a museum ticket and take an after-hours stroll through the galleries.
33 visitoakland.com
Oakland Zoo
Children's Fairyland
OMCA
CLOCKWISE FROM
Chabot Space & Science Center
TOP RIGHT: COURTESY OF CHILDREN'S FAIRYLAND; OMCA; VISIT OAKLAND; OAKLAND ZOO
Meet the President
Lindsay Barenz, President of the Oakland Roots and the Oakland Soul, is set out to change the world, one "gooooaaaal!" at a time.
What is it about Oakland that makes a purposedriven team like the Roots possible?
It has a lot to do with the history and the people. Oakland is the birthplace of the Black Power movement, home of the Black Panther Party. With that comes a mentality of mutual care and support, and I think those values are deeply woven into Oakland. It's no surprise to me that [the Roots] are the first professional sports club in the U.S. to take this approach. Fans are demanding accountability from team owners in a way we've never seen before. We're aware of how powerful and influential athletes are.
What interested you about the Oakland Roots?
The players are so passionate and are such great advocates for the things they care about. Sports bring people together and allow us to overcome barriers that divide us.
Town Roots
What are some of your favorite things to do in Oakland?
I'm into trail running and mountain biking, so I love going to Joaquin Miller Park and hanging there. I love walking around Lake Merritt and walking along the estuary [in Jack London Square].
Soul Power
A new women's team calls Oakland home.
In spring 2023, the Oakland Roots will introduce its first women's club, Oakland Soul. Part of the USL W League, the pre-professional team is the culmination of several years of community engagement, from Oakland residents voting for the team's name to recruiting local soccer players. With a focus on becoming an elite pathway for women aspiring to join the pros, Oakland Soul seeks to develop and empower players for a career in soccer and beyond.
The Oakland Roots SC are a force on and off the soccer pitch.
BY CASEY CANTRELL
Rappers like Mistah F.A.B. and Murs open their matches. Diehard fans sell out every home game. NBA superstar Damian Lillard wore their swag before a playoff game. Hiphop artist G-Eazy and ex-NFL running back Marshawn Lynch (both are Oakland natives) joined the ownership group in the last two years.
put Oakland first — the families, businesses, the OGs, and the youngins — and that alone will continue to set us apart."
interview with USLChampionship.com. "We are always doing our best to put Oakland first — the families, businesses, the OGs, and the youngins — and that alone will continue to set us apart."
Not bad for a soccer club that didn't exist before 2018.
Part of the United Soccer League (USL) Championship, the Oakland Roots SC are unlike any pro soccer organization you've seen, with premier talent on the field that's matched by the club's commitment to social good — a fact that has resonated with the broader Oakland community.
–Marshawn Lynch, part owner of Oakland Roots SC
"Whenever you sincerely and wholeheartedly tap in with the community, good things are going to happen," said Lynch in a 2022
And set themselves apart they have. The Oakland Roots were the first U.S. soccer team to join Common Goal, a movement where participating players, coaches, and teams pledge at least 1% of their salaries and revenue to high-impact community organizations. The club launched Nurtured Roots, a development program that prepares athletes for life on and off the field, and the Justice Fund, a grants program advancing racial and gender equality. They support local youth sports organizations, sponsor a variety of sustainability efforts, and advocate for the education and preservation of local indigenous cultures.
And none of it is empty talk.
"There's no sunlight between the things that we say and the things that we do," says Lindsay Barenz, president of the Roots. "We put full effort toward being authentic and consistent. If we say we're going to do something, we do it. That's the magic of Oakland."
34
COURTESY OF THE OAKLAND ROOTS SC (2)
ways to play
"We are always doing our best to
Oakland Roots SC
Chabot Space & Science Center
Founded in 1883, Chabot Space & Science Center is Oakland's home for science with three research-grade telescopes, NASA Ames Visitor Center, a 70-foot full dome planetarium, immersive exhibitions, and more. As part of a broader partnership with NASA Ames Research Center, the ever-changing visitor center and exhibitions highlight the latest cutting-edge technology and stories of space exploration. The 86,000-square-foot campus is located within the largest stand of coastal redwoods in the East Bay, making it a perfect day trip.
chabotspace.org
GeÐ @chabotspace
Metropolitan Golf Links
Experience links-style golf at this 18-hole public golf course adjacent to Oakland International Airport. Metro features an all-grass driving range, short game practice area, and some of the finest public greens in the Bay Area. Banquet space is available — book a tour with the friendly and experienced Weddings and Events team at Fairview Metropolitan. Metropolitan Golf Links is an Audubon Certified Cooperative Sanctuary and a leader in environmental stewardship. playmetro.com | Ge @playmetro
35 visitoakland.com
AIRPORT DISTRICT
REDWOOD REGIONAL PARK
ways to play
Bonsai Garden at Lake Merritt
Bonsai Garden at Lake Merritt is home to some of the most distinctive bonsai in the United States. The oldest tree in the collection is a California Juniper, estimated to be 1,600 years old. Also on view: the 500-year-old Japanese Black Pine, featured at the 1915 Panama Pacific International Exposition in San Francisco.
bonsailakemerritt.com
G @bonsaibglm
ú Bonsai Garden at Lake Merritt
Dolce Vita Gondola
Romance on the water. Dolce Vita Gondola brings a bit of Venice to Oakland. Find yourself relaxing in an ultracomfortable gondola on Lake Merritt. Along the way you'll be serenaded by your gondolier while taking in the vibrant sights and atmosphere of the city. Cap off your day with a sunset cruise or make a gondola ride part of your date night. What could be more romantic than a private gondola cruise surrounded by Lake Merritt's necklace of lights? Group tours and event space rentals are also available. Cruises depart from Dolce Vita Gondola's private dock at the Lake Chalet Seafood Bar and Grill.
dolcevitagondola.com | Ge @dolcevitagondola
36
LAKE MERRITT
LAKE MERRITT
Ethnic Ties Travels
Experience the history and culture of Oakland's neighborhoods. Choose from the flagship Fruitvale Taco Tour, the Black Oakland Tour, or the Chinatown Tour and get to know the city as told by locals. Hybrid walking-mobile tours highlight the contributions of past and present movements in and beyond the community.
airbnb.com/experiences/2741168 | ethnictiestravels.com
G @ethnic ties | e @ethnic_ties
Peralta Hacienda
Native Americans and the Peralta family herded 8,000 longhorns and 2,000 horses on the vast Peralta rancho, transforming Ohlone land through Spanish, Mexican, and Gold Rush eras. Tours celebrate these intertwined histories and Fruitvale's diverse contemporary communities. New Native American exhibits decolonize our shared history.
peraltahacienda.org
Ge @peraltahaciendahp
Children's Fairyland
Fairytale weddings. Magical celebrations. Whimsical playtime. There's something for everyone at Children's Fairyland — an experience no one will forget. With more than 40 storybook themed exhibits, 10 acres of beautifully tended gardens, magical fairy lights, and a picturesque setting on the shores of Lake Merritt, Fairyland never fails to inspire and delight.
fairyland.org
G @childrensfairyland
e @fairylandca
37 visitoakland.com
LAKE MERRITT
FRUITVALE
OAKLAND
Where to go
View visual arts at these OAM member venues.
UPTOWN OAKLAND SLATE Contemporary Gallery slatecontemporary.com
Transmission Gallery thetransmissiongallery .com
Mercury 20 Gallery mercurytwenty.com
FM Gallery fmoakland.com
Johannson Projects johanssonprojects.com
Creative Growth Art Center creativegrowth.org
Local Language Exhibitions locallanguageart.com
DOWNTOWN OAKLAND John Natsoulas 519 Uptown Gallery natsoulas.com
Oakland Photo Workshop and Gallery ebpco.org/oaklandphoto-workshop
Art@Archer Gallery
G@archerbicycle
Dream Farm Commons dreamfarmcommons .com
JINGLETOWN Gray Loft Gallery grayloftgallery.com
LAKE MERRITT
Art All Around
Since 2006, Oakland Art Murmur (OAM) has engaged countless visitors in the city's visual arts movement through weekly and monthly community events. It's the only organization in Oakland with this mission as its primary focus. OAM provides online resources such as interactive maps of visual art venues, current exhibits and event information for more than 30 member venues on its website, and an active social media presence. OAM hosts monthly mural and art tours in Oakland's neighborhoods and offers private tours for schools and corporate groups.
oaklandartmurmur.org | Ge @oaklandartmurmur
38
SLATE Contemporary Mercury 20 Gallery
Creative Growth Art Center
Johannson Projects
FM Gallery
Local Language
Transmission Gallery
John Natsoulas 519 Uptown Gallery
arts
culture
Gray Loft Gallery
&
vibes
Experience Oakland's Vibrant Arts Scene
Street dancers. Jazz legends. Hip-hop superstars. Oakland has long been a creative hotspot, birthing top talent and exciting new forms of artistic expression. At the heart of it all is storytelling, and Oakland's creators have myriad tales to tell. Prepare to be inspired.
BY KIMBERLY OLSON
39 visitoakland.com
39 visitoakland.com COURTESY OF VISIT OAKLAND
Black Joy Parade
OMCA
Discover OMCA, the Oakland Museum of California. The museum, garden, and gathering place in the heart of Oakland is where you can lose yourself in the fascinating world of California art, history, and natural sciences.
museumca.org
G @museumca | e @oaklandmuseumca
Oakland Symphony
The Oakland Symphony reflects the East Bay's many cultures. The music made here embraces the people who make it such a vibrant place to live and thrive. It's an energy you feel at every performance. A harmony you hear in the Community Chorus. And the promise you see on the faces of the Youth Orchestra. This is the spirit of the Oakland Symphony. It's all in the music.
oaklandsymphony.org
Ge @oaksym
DOWNTOWN
Paramount Theatre
Oakland's Paramount Theatre is one of the finest remaining examples of art deco design in the United States. Restored to its original splendor, meticulously maintained, and fully upgraded to modern technical standards, today the Paramount Theatre is one of the Bay Area's premiere performing arts facilities.
paramountoakland.org
GeÖ @oakparamount
The Crucible
This 56,000-square-foot industrial arts studio offers classes for all levels and for students as young as eight years old. Try your hand at such disciplines as glass blowing, welding, blacksmithing, ceramics, and woodworking, to name a few. The Crucible is devoted to keeping industrial arts accessible to all through free programming and scholarships.
thecrucible.org | G @thecrucible94607
e @the_crucible | Ö @thecrucible
40 arts & culture
LAKE MERRITT
CHRISTINE CUETO
DOWNTOWN
WEST OAKLAND
MUSICAL BEGINNINGS
For nearly a century, Oakland has been an epicenter of musical innovation. In the 1940s, Seventh Street in West Oakland was a bustling hub of Black culture, earning the nickname "Harlem of the West." Music fans packed clubs like Esther's Orbit Room and Eli's Mile High Club to see blues artists like Sugar Pie DeSanto, Big Mama Thornton, and Jimmy McCracklin, who influenced The Rolling Stones.
City Beats
JAZZ & BLUES
As migrants fled Jim Crow, Oakland gained new musical innovators. Blues musicians put their own spin on the genre to create a swingy West Coast sound. Seventh Street was a jazz lover's dream. Greats like Miles Davis, Duke Ellington, and Sarah Vaughan played at Slim Jenkins Supper Club.
Thanks to its rich history and eclectic sound, Oakland's music scene is still booming today. Whatever your listening pleasure — The Town delivers.
The cool cats head to legendary jazz club Yoshi's, an intimate venue that comes alive with the musical stylings of top-tier artists, in historic Jack London Square. An Oakland institution, Yoshi's has been lit up by many of the giants of jazz, as well as musicians in other genres. The venue hosts artists like Latin jazz great Pete Escovedo, chart-topping R&B singer Mavis Staples, and Oakland's own horn-driven funk masters, Tower of Power. Bonus: Diners get preferred seating in the club after dinner.
If your taste runs to blues or gospel, check out West Coast Blues Society for events like the Legends of 7th Street Festival and the Red, White & Blues Festival.
Oakland Symphony caters to lovers of both classical and inventive works, with orchestra, choral, and chamber ensemble performances at the Paramount Theatre and other venues. For rousing Black gospel, tune in for Oakland Interfaith Gospel Choir performances throughout the year.
Hip-hop fans won't want to miss Hiero Day in Jack London Square, a September festival featuring groundbreaking music from artists like Nef the Pharaoh, Ras Kass, and Talib Kweli.
LOCAL VOICES
RONNIE STEWART
Co-Founder of West Coast Blues Society
"
It's important that Oakland supports its history. New Orleans has Bourbon Street and Memphis has Beale Street. We've been trying to save [sports] but we should capitalize on history we already have."
CELEBRATING HERITAGE
More than 100 languages are spoken around town, and it's represented artistically, too.
Malonga
HIP-HOP HYPE
The Town is home to yet another musical revolution.
In the early '90s, the city's emerging hip-hop scene developed an iconic independent spirit, too. Oakland turned out major artists like En Vogue, MC Hammer, and Digital Underground, who translated hip-hop and R&B their own way. Many local musicians had personal connections to the Black Panther Party. Tupac Shakur's (who moved to the Bay Area in 1988) parents were members, for example, and D'Wayne Wiggins of Tony! Toni! Toné! benefitted from the Black Panther's free breakfast program. The injustices that galvanized the Black Panthers, like police brutality, also fueled these musicians' politically conscious lyrics.
Casquelourd Center for the Arts is a performing arts complex located in a historic downtown building. It includes a 400-seat theater plus class and rehearsal spaces for theater, music, ballet, African, and contemporary dance companies. The Oakland Second Line Project brings free Black cultural arts community experiences to Oakland's Black neighborhoods. The Oakland Asian Cultural Center promotes Asian and Pacific Islander arts and cultural programming with workshops, film screenings, exhibitions, weekly art, dance, music classes, and more.
41 visitoakland.com CLOCKWISE FROM TOP RIGHT: COURTESY OF RONNIE STEWART; COURTESY OF VISIT OAKLAND/JORDAN PARK; COURTESY OF OAKLAND INTERFAITH GOSPEL CHOIR; ALAMY; ILLUSTRATION: MARINA DAINEKO
Oakland Interfaith Gospel Choir
West Coast Blues Society
Living Color
Local muralists
The Illuminaries are beautifying The Town, one massive painting at a time.
As teens in the '90s, Steve Ha and Tim Hon's penchant for tagging freeway barriers led to their arrests. But things have changed. Today, as founders of artist collective The Illuminaries, their spray-painted murals are commissioned by professional sports teams, corporations, schools, and more. Their Oakland works include a child reading on Lakeview Library, a collage of city attractions on the Oakland Marriott City Center, and Warriors star Steph Curry overlooking the 880 freeway. The most notable is Rise and Grind at 19th and Webster streets, a 10-story Stomper (the Oakland A's mascot) in armor carrying the city of Oakland. For Hon, the best part of the work is the community. "You get to interact with the people walking by and put their stories into the art," he says, recalling a woman watching them sketch Stomper's trunk and asking if they were painting a swan. "If you look closely at the skin of the elephant, there's tons of hidden images: the swan and faces and people's names," he says.
COURTESY OF VISIT OAKLAND
42
Rise and Grind by The Illuminaries (Steve Ha left, Tim Hon center)
Hands-On Art
Try something totally new at these Oakland studios.
In West Oakland, The Crucible teaches industrial art classes for all skill levels in a range of mediums, from welding and woodworking to glass blowing and ceramics. This long-running institution is the largest non-profit industrial arts education facility in the U.S.
Ever wanted to run away to the circus? It's easier to just take a class at Kinetic Arts Center, with its wide range of circus art programming and performances like trapeze, air ballet, tumbling, and theatrical clowning. More traditional mediums are taught at Studio One Art Center, which has a variety of digital, visual, and performing arts classes for all ages.
Paint The Town
Oakland's art scene is on point, with compelling works that are often culturally relevant to the local communities.
Explore California's past, present, and future at the Oakland Museum of California (OMCA) which offers thought-provoking exhibits that have explored everything from Burning Man to Dorothea Lange's photography as activism to Afrofuturism. OMCA showcases influential California artists and history, usually with an Oakland take. And on Friday nights, enjoy the museum's Off the Grid event, with live music, food trucks, and unique activities.
Oakland Art Murmur (OAM) is your portal to eclectic artwork by diverse local artists. Join its First Friday Art Walk featuring unique art venues open to the public. Chat with local artists, learn about their work, and take home an original artwork. To visit art galleries on
your own, use OAM's visual arts guides, which map some of the top spots in various Oakland neighborhoods.
For a classic setting, head to Joyce Gordon Gallery, a Black woman-owned fine art gallery that features works by artists of color.
And if you prefer to see your paintings alfresco, go on a mural walk and discover Oakland's colorful street art. The city is emblazoned with more than 1,000 murals. In Chinatown, see golden fire-breathing dragons and other Asian-themed murals by the young artists of Dragon School 99. If you prefer to be guided through the city's colorful streets, Art Murmur hosts free, family-friendly mural tours every second Saturday of the month (you can book private group tours, too).
43 visitoakland.com arts & culture FROM TOP: COURTESY OF OMCA/MATTHEW
OF
(4)
MILLMAN; COURTESY
VISIT OAKLAND
Visit Oakland by The Illuminaries
OMCA The Crucible
Joyce Gordon Gallery
Mural by Paint Jamaica in West Oakland
Showtime
See what's playing at some of Oakland's historic theaters.
FOX THEATER
This architectural gem opened in 1928 as a gilded movie palace. Today, it's a 2,800-seat venue renowned for live music and other performances.
LOCAL VOICES
THOMAS CAVANAGH
Executive Director and Executive Producer, BANDALOOP
"Oakland comes out for BANDALOOP. At our home show before the April 2022 tour, we had over 3,000 people attend each of the three shows. We closed Grand Avenue and filled it with people on picnic blankets and beach chairs — for public art! When we travel the world, we spread the good word that Oakland is the hive where the artist mind can thrive."
PARAMOUNT THEATRE
Home to Oakland Ballet Company and Oakland Symphony, this 1930s-era theater offers tours on the first and third Saturdays each month.
BANDALOOP
Dancing in the Street
Whether performing ballet or bustin' moves, Oakland's dancers leave audiences transfixed. While some of the genres are familiar, these artists prefer to take things up a notch.
GRAND LAKE THEATRE
Catch a movie at one of the country's top-ranked vintage movie palaces, which features Egyptian and Moorish palace-themed auditoriums.
Watch in wonder as aerial dancers from BANDALOOP glide, leap, and flip across walls. As pioneers of vertical dance, these talented artists perform elegant choreography while suspended by nylon climbing ropes. The world renowned group has danced on the sides of Oakland buildings, along the walls of Golconda Fort in India, and upon granite rock faces in Yosemite National Park.
For expressive, thought-provoking dance that explores everything from the meaning of home to veterans' issues, you have to see AXIS Dance Company. The acclaimed troupe of disabled and nondisabled performers is reimagining what dance can be.
Oakland Ballet mesmerizes audiences with innovative ballet performances at Oakland's art deco Paramount Theatre. The company spans genres — from classical ballet to folklorico to street dance — reflecting the East Bay's diversity.
TURF DANCING 101
Stroll the streets of Oakland long enough and you'll spot turf dancing, a style that combines graceful, balletic movements with abrupt, angular gestures like popping, tutting, and breaking. The genre, born in Oakland in the early 2000s, spread to cities across the country. To see this style in action, watch talented young dancers of TURFinc perform in Oakland and beyond.
44 arts & culture LEFT
MIDDLE FROM TOP: COURTESY
TURFINC; COURTESY
FROM TOP: @ENDER_THEDOG; COURTESY OF VISIT OAKLAND; @NODAL__BARRON_;
OF
OF VISIT OAKLAND; RIGHT FROM TOP: JAMES ADAMSON; @BANDALOOPING
TURFinc peformers in front of the Fox Theater.
45 visitoakland.com COURTESY OF OAKLAND BALLET COMPANY/JORDAN PARK
The Oakland Ballet Company performing Luna Mexicana.
LIVING HISTORY
Here are a few ways to experience the Black Panthers for yourself.
• Visit the Black Panther Party's former headquarters. The two-story West Oakland Victorian was once the hub for national party
decisions and housed the party's newspaper staff. Located at 1048 Peralta St.
• Embark on a two-hour Black Panther Party walking tour with Dr. Saturu Ned, an original party member, who guides you to key historic sites in Oakland.
• Check the calendar at OMCA, which has exhibits on Black Power and the Black Panther Party.
Located at 1000 Oak St.
• See West Oakland Mural Project's Women of the Black Panther Party mural and its beautifully curated mini museum that celebrates these women
community leaders (schedule an appointment for a tour). Located at Center Street and Dr. Huey P. Newton Way.
• Visit Marcus Books, the country's oldest Blackowned, independent bookstore, to pick up a volume (or a few) about the Black Panther's history
and enduring impact. Located at 3900 Martin Luther King Jr Way.
• Head to the African American Museum and Library at Oakland to peruse back issues of the party's Commemorator and The Black Panther newspapers. Located at 659 14th St.
Clockwise from left: Huey P. Newton, co-founder of the Black Panther Party; All Power to the People, 1969 by Emory Douglas, MInister of Information of the Black Panther Party; Bobby Seale, co-founder of the Black Panther Party
Finding Black Joy
How Jilchristina Vest turned her home into a place of celebration, hope, and joy.
BY LAUREN BONNEY
Jilchristina Vest has always felt an intrinsic connection to the Black Panther Party. Admittedly, the linkage between this Oakland resident and the Black Power political organization is uncanny.
For starters, Vest, a Chicago native, recounts benefitting from the Panther's Free Breakfast Program as a child. Later, Vest attended San Francisco State University where she was taught by and became friends with party member Angela Davis. In 2000, she purchased her West Oakland home because of the neighborhood's BPP legacy, only to later learn that her new house was located across the street from where Huey P. Newton was murdered in 1989.
Did you know?
"The mural was created to surround myself with images of Black joy. Not to memorialize what's being done to me as a Black person, but to memorialize what Black people do, most specifically, what Black people do in Oakland and the beautiful history of the Black Panther Party."
—Jilchristina Vest
It's as if the universe was calling Vest to launch the West Oakland Mural Project, memorializing the women of the Black Panther Party. Born out of "the quiet and the trauma" of 2020, the Women of the Black Panther Party mural on the exterior of her home, and the corresponding museum, was Vest's response to the pain she and her community were enduring.
"The mural was created to surround myself with images of Black joy, excellence, and humanitarianism," says Vest.
"Not to memorialize what's being done to me as a Black person, but to memorialize what Black people do; most specifically, what Black people do in Oakland and the beautiful history of the Black
Party."
See the mural at Center Street and Dr. Huey P. Newton Way or visit westoaklandmural project.org
47
Panther
From top: Mother and Child by Ruth-Marion Baruch, 1968; Black Panther Party members show their support for leader Huey P. Newton at the Alameda County courthouse in Oakland
Right: Women of The Black Panther Party Mural by Rachel Wolfe-Goldsmith located at Center Street and Dr. Huey P. Newton Way.
The Black Panthers were 70% women. The BPP also developed and ran over 65 Community Survival Programs focused on health, food, children, elders, and education needs.
AwardWinning Dining
Discover Oakland's exceptional dining venues that have received Michelin nods and James Beard Awards.
Oakland is home to more than 20 Michelin Guide recognized restaurants showcasing a diverse range of cuisine. Savor a carnitas taco from Taqueria El Paisa, sample seasonal charcuterie at Wood Tavern, or try knockout vegan dishes at Millennium. Boasting two Michelin stars, Commis is a contemporary dining experience influenced by chef-owner James Syhabout's Chinese and Thai heritage. And then there's Horn Barbecue, which received a 2022 James Beard Award nomination for Best New Restaurant and earned a Bib Gourmand nod. Another 2022 James Beard contender was Wahpepah's Kitchen Chef Crystal Wahpepah, the first Native American chef on Food Network's Chopped, honors the reclamation of Native food ways and its health benefits. In other news, employee-owned Understory won the 2022 James Beard Award for Emerging Leadership. In collaboration with Oakland Bloom, this non-traditional restaurant provides kitchen space and aid for marginalized communities while serving delicious dishes and cocktails. For even more award-winning meals, try renowned spots like Café
Romanat, Teni East Kitchen,
MAMA Oakland, Tacos
Oscar, Jo's Modern Thai, Bird & Buffalo, FOB Kitchen, Hi Felicia, and Soba Ichi –Olivia Olsen
EMMA K. MORRIS/@EMMAKMORRIS 48
Flip to p. 54 for vegan deliciousness from Lion Dance Cafe >>
Oakland
eats
With more than 200 countries represented on a plate, Oakland's food scene is unlike any other. Meet the eateries, bars, and chefs celebrating the flavors of The Town.
visitoakland.com 49
CHEF RECOMMENDS
For fresh, vibrant, global fare, check out a few of chef Talmor's faves.
DAYTRIP
A dynamic cafe and bottle shop specializing in fermented dishes. The basil salad with pear and grapefruit sings.
VIENTIAN CAFE
Laotian specialties are electric, especially the Nam Kao (lettuce wraps with ground pork). Afterward, grab a salted maple cron't (doughnut-croissant hybrid) at Donut
Savant
Mezze Magic
Inspired by ingredients and Oakland itself, Mica Talmor of Pomella brings the energy and flavor to her Middle Eastern restaurant.
BY NICHOLAS BOER
BOMBERA
Mexican fare with irresistible items, like smoked trout tostadas and pork belly tacos inspired by ancestral cooking.
irrepressible as her zestful cuisine, Mica Talmor, chef-owner of Pomella on Piedmont Avenue, is blessed.
"It's great being me," she says, laughing. "I get to do what I want and live in a community that supports me."
Israel is Talmor's homeland and her menu draws freely upon the immigrants from the Middle East (Yemen, in particular), the Mediterranean, and Maghrib, and how ingredients have "traveled" over the centuries. "Obsessed" with ancient medieval cookbooks, "I'll think about an ingredient and how it traveled the world. I'm fascinated by that," Talmor says.
The 45-seat patio and the airy dining room's wall planters create an atmosphere that at once captures Oakland's outdoor beauty and Israel's open-air markets. It's all of a piece.
"To exist and create in this time of history where everything is accessible," she says, trailing off, before jumping back in with, "I love, love, love Oakland's diverse population — that and the park district; the hills are precious. I can be in the redwoods in 15 minutes."
MÄGO
Offering an innovative eight-course prix fixe of Colombian delights — Jonagold apple ceviche and octopus with yuca.
Pomella's hummus incorporates creamy, refined tahini from a woman in Nazareth — and arrives at the table graced with olive oil, paprika, and pine nuts. The 13 spices in her ras el hanout blend come via Oaktown Spice Shop, enlivening Talmor's pristine beet and walnut salad. Her hot mezze of warm pomegranate eggplant and red cabbage and fig salad owe their vibrancy to Dan's Fresh Produce in Alameda. Classics all, but she does go "crazy" sometimes, as with her feta-stuffed falafel balls.
"That dish will be on my tombstone," she says with only mild regret.
50 LEFT: COURTESY OF DAYTRIP/JEREMY CHIU; SHUTTERSTOCK; COURTESY OF M Ä GO. RIGHT: COURTESY OF POMELLA/DOUGLAS DESPRES (4) eat & drink
Chef Mica Talmor Hummus plate with falafel
Lamb kefta
Butternut squash, quinoa, arugula, and manchego salad
Creating the Feeling of Home
Driven by his Afro-Latin roots, chef Nelson German welcomes all to his table — and you better come hungry.
BY JOANNA DELLA PENNA
Whether he's competing on Top Chef, hosting revelers at his two packed venues (alaMar Kitchen & Bar and Sobre Mesa), or explaining his deep love for Oakland, chef Nelson German has been said to exude a "steady calmness." This is 100% accurate.
The impressive Dominican-American chef (his last name is pronounced "herr-mahn") has a welcoming power and presence, a proud warmth that sets everyone at ease, and ups the mood of any gathering over food and drink.
CHEF RECOMMENDS
Chef German shares a few of his favorite Oakland venues.
German gives a bittersweet nod to the many long-loved Oakland lights that went out during the pandemic, but names Calavera, Viridian, Bardo Lounge & Supper Club, Chop Bar, and Shakewell as current frequent haunts. He also points out that iconic restaurant Burma Superstar is another regular pleasure, and "actually gets me to eat salads."
Though his name is now synonymous with Oakland, German is New York City born, bred, and trained, and it's where he began his career as a chef. It's thanks to his wife and partner May, an Oakland native, that the couple resettled here a little over a decade ago, and German braved opening his first solo venture soon after.
German's firstborn, alaMar, opened in 2014. It's a seafood-focused restaurant set in the heart of The Town, where friends gather around oysters, platters of well-seasoned crab, Latin and Caribbean-inflected sides, and fresh seafood boils that are big on festivity and flavor. "It's the epitome of what Oakland's about — diversity, community, feeling at ease," he says. "It's like coming into my home."
In 2020, German doubled down with cocktail bar Sobre Mesa. There, the scene is all tropical smolder, a sultry, grown-up
vibe for Oakland's nightlife lovers that taps intentionally deeper into German's AfroLatino roots, from the music to the lush plants — and even lusher cocktails. With addictive bar bites and upscale sips with flavor notes from West Africa to the Caribbean, the vibe is meant to make guests feel, as German puts it, like they're "on a beach somewhere." The name Sobre Mesa means "across" or "over the table" in Spanish, evoking the good times and conversation struck after repast. Along with alaMar, it has quickly become a new Oakland classic — as has chef German himself.
SWEETS & TREATS
Whether you prefer French patisserie or softball-size scoops of ice cream, make sure you leave room for dessert.
BY MCKENNA HUTTON
Pies, cakes, cobblers, oh my! Gregory's Gourmet Dessert is an underground bakery (you'll head down a flight of stairs to get there) and one of Oakland's best-kept secrets. You never know what owner Gregory Williams will be pulling out of the oven each day.
Since 1894, Fentons Creamery has delighted residents and visitors alike with its famous ice cream sundaes and sauces. Try the Black & Tan, a signature Fentons sundae with toasted almond ice cream layered with homemade caramel and chocolate fudge.
Start your morning the French way with a croissant from La Farine French Bakery. This classic French bakery, with three locations in Oakland, has a mouthwatering display of croissants and brioche, baguettes and levaine, cookies and cakes, fresh fruit tarts and seasonal galettes, and more. Oui, s'il vous plaît!
At the worker-owned Arizmendi Bakery, order breads, scones, muffins, and cookies via the efficient delivery service. (There's also a daily vegetarian pizza special. It's not to be missed!)
You'd be hard pressed not to walk away with at least a few treats from Cupcakin' Bake Shop Owner Lila Owens only uses high-quality and local ingredients in her delectable creations and always has a few seasonal selections (vegan and gluten-free options, too) in the lineup.
51 visitoakland.com LEFT: COURTESY OF VISIT OAKLAND/JORDAN PARK (2); RIGHT: JORDAN PARK
From top: Shaved brussels sprout salad with plantain chips, apple, and pickled shallot; chef Nelson German
Fentons Creamery
DOG-FRIENDLY SPOTS
There are so many options for alfresco dining with your pup. Grab a doggie bowl at these eateries.
Start the day at Blackberry Bistro with a Southern breakfast on the patio. For lunch, savor a mac and cheese meal good enough to write mama home about under the shaded awning at Homeroom. Walk along Jack London Square for a view of the water and stop by Heinold's First & Last Chance Saloon for brews and funky cocktails. Or head over to Brotzeit Lokal for Bavarianinspired fare and a waterfront beer garden. Sample more Oakland brews with man's best friend at Lost & Found Beer Garden, Arthur Mac's Tap and Snack, or Chop Bar. Stroll along Piedmont Avenue and grab a scoop from Fentons Creamery with dog-friendly, outdoor seating. And Nido's Backyard has shareable Mexican cuisine with an agave-driven cocktail menu. Snap pics of your pup on the outdoor patio. (Nido's has an Instagram dedicated to the best dogs in town @dogs ofthebackyard!) –O.O.
A Culinary Journey
Dedicated to family and community, chef James Syhabout shares his personal history through food.
BY JOANNA DELLA PENNA
Chef James Syhabout's destination restaurant
Commis is Oakland's only Michelin-starred restaurant — but it doesn't have just one star. Syhabout's cuisine has garnered and maintained an incredible two Michelin stars, but don't expect the 42-year-old chef, who is also chef-owner of casual Lao-Isaan street food eatery Hawker Fare in San Francisco, to fit the commanding stereotype of his renowned position.
Though exacting and highly disciplined, chef Syhabout (pronounced "si-ha-boot") is also softly mannered, quick to smile, with a demeanor that's all kind, humble confidence. He's also a devoted community and family man, as dedicated to spending time in and around favorite Oakland locales with his wife and two children as he is working to guide his team in the kitchen.
Though he was born in Thailand, Syhabout has called Oakland home since he was two. He is the child of Laotian and Thai refugees who fled the widespread aftermath of the Vietnam War. His childhood was a bit different from other local kids — his mother ran a Thai restaurant, and he spent his free time and weekends helping with the family business.
From an early age, Syhabout knew he wanted to be a chef, first learning the flavors of his heritage, then studying European techniques and staging in some of the world's finest restaurants — Manresa, The Fat Duck, El Bulli, and Coi. Always an Oaklander at heart, he eventually turned his laser focus back home, choosing to bring exceptional fine dining to his hometown with the opening of Commis in 2009. After only four months in operation, the restaurant received its first Michelin star.
CHEF RECOMMENDS
"Fentons Creamery for ice cream. Gum Kuo or Vien Huong for nights out."
Syhabout eventually grew nostalgic. In addition to incorporating delicious flavors from his background into dishes at Commis, he launched both a restaurant and cookbook with the same name: Hawker Fare. Both tell the very personal story of Syhabout and his family's journey with Lao and Thai food through an immigrant's lens. For Syhabout, it's a journey that continues. A story told in all of his introspective cooking — from high-touch to casual — and it's one that feeds and enriches the community right here in Oakland.
52 eat & drink COURTESY OF COMMIS (4). ILLUSTRATION: MARINA DAINEKO
Caviar with taro root and palm sugar
Pork and tapioca dumplings with ginger and walnuts
Jellyfish with apple and dill
In the Pit
Chef Matt Horn proves things are just better slow cooked.
in a few short years, Oakland locals have watched chef Matt Horn's star rise into the stratosphere on an updrift of smoke. The hot-as-fire barbecue chef has a vibe as smoldering as his brisket, and has dominated the Bay Area meat scene since he and his smoker, Lucille, landed in Oakland more than a decade ago.
The chef first learned about barbecue from extended family in Fresno as a boy, then honed his craft in Los Angeles at local farmers' markets before head-
WAKE UP!
The Town knows how to serve up a great cup of coffee. Here are a few standouts.
BY MCKENNA HUTTON
FOR THE OPPOSITE OF STARBUCKS: Blue Bottle Coffee's regionally sourced,
BY JOANNA DELLA PENNA
ing north to open a food stand outside Oakland's Ale Industries. There, lines for his slow-smoked meats soon became legendary.
In late 2020, Horn's first brick-and-mortar, Horn Barbecue, tucked in an industrial corner of West Oakland, was arguably one of the most anticipated Bay Area openings of the year. And in early 2022, Horn upped the local fried chicken sandwich competition with his new restaurant, Kowbird.
CHIN CHIN
Just like its food scene, Oakland offers a variety of bars fit for any cocktail enthusiast. Here's where to get a drink.
Known for its groovy playlists, Low Bar serves a versatile menu of classic cocktails (Tip: Don't miss Margarita Mondays!) For more drinks with a beat, head to Bar Shiru, the Bay Area's first hi-fi vinyl listening bar with an array of Japanese whisky and local beers, wine, and sake. Earning a nod from the James Beard Foundation, Friends and Family has a lush outdoor patio and specialty cocktails, and Viridian pours farm-toglass cocktails. Sip on a refreshing signature beverage at the rooftop bar at Oeste, or settle in with Copper Spoon's extensive mezcal menu. Engage in a casual environment with comic-themed flair at First Edition, and sample more local haunts like Almond & Oak, Penelope, North Light, The Double Standard, The Kon-Tiki, The Port Bar, and Café Van Kleef. –O.O.
organic beans are best sipped in its Old Oakland cafe, paying homage to their Oakland roots.
FOR GRAB-AND-GO: The take-away window at 1888 Coffee Station at Bacheesos is your best bet for fueling on the go, offering a variety of lattes, espressos, pastries, and
other breakfast bites.
FOR EUROPEAN FLAIR:
Caffe 817 is reminiscent of European sidewalk cafes.
(Plus, live music on Saturday afternoons!)
FOR COFFEE WITH PURPOSE: Big House Beans whips up tasty espresso drinks and cafe bites, and provides job
training and mentorship to previously incarcerated individuals.
FOR LOCAL NOTORIETY:
Awaken Cafe & Roasting not only serves really good award-winning coffee drinks, but also has a stellar food menu, a wine and beer bar, and features local artists' works.
53 visitoakland.com COURTESY OF
HORN BARBECUE (3); SHUTTERSTOCK. ILLUSTRATION: MARINA DAINEKO
Barbecue platter
Chef Matt Horn
Rib platter
Veganism Redefined
Meet the Lion Dance Cafe chef-owners who are redefining Oakland's vegan movement. Just off the plane from Singapore, and two years after opening Uptown's Lion Dance Cafe, chefs C-Y Marie Chia and Shane Stanbridge reflect on the synergy between Oakland's diverse community and vegan fare.
"It's invigorating to see so many bubbles," says Chia, a homegrown Singaporean, of Oakland's stream of pop-ups and restaurants. "The face of veganism might be white, but that is not true in the Bay." Whether it's Creole, barbecue, or a panoply of Asian flavors, Oakland's vegan scene has moved from a niche to a thriving ecosystem, powered mostly by people of color and an energized LGBTQ+ community.
At Lion Dance Cafe, whose explosive fare was refined after nearly eight years of pop-ups, comfort fare reigns: innovative sandwiches on sesame focaccia (Stanbridge is Italian-American); coconut-rice plates; spicy noodle soups; and a wealth of small plates inspired by Singapore's famous hawker stall fare.
After meeting at culinary school in New York, and sampling but souring on San Francisco's "massive" tech culture, the couple found a home in Oakland.
"What we found here is a broader sense of community, especially in the food world," says Stanbridge.
Now the chefs have a growing Instagram following, many of whom eagerly await their scores (which inform the menu's specials) from Friday's Old Oakland Farmers' Market.
Plant Based Plates
Vegan food has come into its own. Find your new favorites on the Oakland Vegan Trail.
BY NICHOLAS BOER
Affordable, earth-friendly, and diverse: Vegan cuisine has never been more aligned with Oakland's enlightened ethos. What might surprise some, however, is how tasty and satisfying the city's plant-based snacks and meals have become. Oakland's vegan renaissance can be traced to 2006, when a then-fledgling Souley Vegan entered the scene. But it took another decade, marked by Millennium's move from San Francisco to Oakland, for the city's vegan culinary scene to truly take root. Even if you consider yourself a carnivore at heart, experience this delicious meat-free movement yourself along the Oakland Vegan Trail.
SOULFUL
VEGAN MOB Whether it's sea moss-infused juice, deep-fried grilled cheese, "beefy" barbecue, or vegan-twisted Filipino faves, this community hive is a sweet find. (Hint: save room for sweet potato pie or peach Mobbler.)
SOULEY VEGAN With its full bar and wicked Sunday brunch, Souley's chef-owner Tamearra Dyson channels New Orleans all the way.
Go Creole with spicy gumbo, jambalaya, and crispy seitan and waffles, or get down with a side of dirty Cajun fries.
NOT SO NAUGHTY
MALIBU'S BURGERS The dining room is bare bones but the burgers are stuffed with melty goodness. If that doesn't knock you out, reach for La Lulu, a crackling "chicken" sandwich that doesn't quit.
54 FROM LEFT: EMMA K. MORRIS (2); COURTESY OF VISIT OAKLAND/JORDAN PARK
"The face of veganism might be white, but that is not true in the Bay."—C-Y Marie Chia
Laksa (noodle soup)
Vegan Mob eat & drink
at Lion Dance Cafe
Vegan Trail Stops
1. Bare Knuckle Pizza
2. Cafe Dareye
3. Curbside Creamery
4. Donut Farm
5. Golden Lotus
6. Hella Nuts
7. kubé
8. Lion Dance Cafe
9. Malibu's Burgers
10. Millennium Restaurant
11. Padrón Grill
12. Roasted and Raw
13. Señor Sisig
14. Shangri-La Vegan
15. Shangri-La Vegan
16. Souley Vegan
17. Super Juiced
18. Taqueria La Venganza
19. Timeless Coffee
20. Mr. Dewie's Cashew Creamery
21. Timeless Coffee
22. Timeless Coffee
23. Vegan Mob
24. Vegan Donut Gelato
CURBSIDE CREAMERY We all scream for "nice" cream at Curbside Creamery. Pumpkin pie on shortbread and dark chocolate smooshed between peanut butter cookies are two killer vegan ice cream sandwich combos.
MR. DEWIE'S CASHEW CREAMERY Brothers
Ari and Andrew Cohen's secret starts with rich cashew milk, organic, local ingredients, and neo-classic ice cream flavors. Get your vegan on with banana nut, caramel-almond crunch, or fan-favorite Golden Spice, spiked with cardamom, cinnamon, and ginger.
DONUT FARM If "donut" and "vegan" seem oxymoronic, taste the crisp-and-moist freshness of these dairy-free treats. The maple and Mexican chocolate flavors are just two reasons why this business keeps expanding, with other locations in Berkeley and San Francisco.
CALIFORNIA DREAMS
MILLENNIUM RESTAURANT The casual vibe with an upscale edge is captured by a covered patio and a long curving bar. The venerable institution showcases dishes like crusted oyster mushrooms, tamal, and coconut-glazed tempeh.
TAQUERIA LA VENGANZA Layers of flavor and handmade tortillas reveal the craft cooking at Venganza where skirt steak-like seitan comes alive with guajillo and tomatillo. Tucked inside Emporium Arcade Bar, Venganza's full Mexican menu makes meat seem beside the point.
SEÑOR SISIG With its street-food feel and fare, you might find yourself going two fisted with a tofu taco in one hand and a Filipinoinspired wrap in the other.
Juice Holick
55 visitoakland.com MAP ILLUSTRATION: MIKE ROSSI/@MICRO.GRAFIK
This plant-based spot in Downtown Oakland serves fresh-pressed juices, smoothies, and clean bites.
Ale Trail
BY LAUREN BONNEY
Oakland's beer scene is as unique as Oakland itself. A diverse collective of makers and creatives, the brewers here bring their own spin to their craft. From ghostly elixirs to Old World classics to East Bay-born ingenuity, there's no shortage of things to taste along the Oakland Ale Trail. All you have to ask is, "What's on tap?"
Ale Industries
Vibe: Hella Oakland with a civic and eco-minded focus.
Neighborhood: Fruitvale
Drink: East Bay IPA, a well-balanced West Coast IPA that's big on hops and rich on malt for an easy-drinking experience.
An Apple a Day
Buck Wild Brewing
Vibe: 100% glutenfree beer that actually tastes good.
Neighborhood: Jack London District
Drink: Kölsch, a light-bodied ale, brewed in the Kölsch style, with notes of herbal hop and honey.
Drake's Dealership
Vibe: Stellar vetted lineup that doesn't take itself too seriously in a beer garden setting that'll make you want to stay all day.
Neighborhood: Uptown Drink: Denogginizer, a double IPA that packs a punch, but a strong malty note that keeps the hops at bay.
Federation Brewing
Vibe: Down to earth with a dose of sci-fi fun. Mmm, take us to your (beer) leader.
Neighborhood: Jack London District
Drink: Utopia
Planitia, a red rye ale that's malty, spicy, and crimson in color with a touch of herbaceousness.
Ghost Town Brewing
Vibe: Warehouse chic with just a bit of spooky.
Neighborhood: West Oakland
Drink: Sacrificial Oat, a dry-hopped Hazy IPA loaded with citrus and berry notes and just enough hop.
Line 51 Brewing Company
Vibe: Sporty, family-friendly, and a restored 1072 AC Transit bus. All aboard!
Neighborhood: Jack London District
Drink: Seaport, a Czech-style pilsner that's light and refreshing — perfect for game-day sipping.
Novel Brewing Company
Vibe: Books, beers, and buds make for good stories.
Neighborhood: North Oakland
Drink: Book Thief, a West Coast IPA that's packed with vibrant citrus, soft pine, and a hint of floral notes.
Got Grapes?
Oakland United Beerworks
Vibe: For catching up with friends new and old.
Neighborhood: Jack London District
Drink: East Bay Nights black lager, an ode to the German Schwarzbier, is light but loaded with flavor.
Old Kan Beer & Co.
Vibe: With a pint in hand, everything's gonna be OK.
Neighborhood: West Oakland
Drink: Light, a California cream ale that's super approachable and refreshingly delicious.
Original Pattern Brewing Company
Vibe: Employeeowned pride shines in quality craft.
Neighborhood: Jack London District
Drink: Currant
Capitulation, a fruit-laden sour with notes of currant, blackberry, and cranberry, and the right amount of tart.
Roses' Taproom
Vibe: Cheerful, vibrant, and loads of urban-jungle feels.
Neighborhood: Temescal
Drink: Early Beer, a kölsch-style brew that tastes so good — even in the morning.
Temescal Brewing
Vibe: So hip, so cool, so Oakland.
Neighborhood: Temescal
Drink: Temescal Especial, an easy-drinking Mexican-style lager with floral, fruity notes that blend well with the sweet corn- and honey-like malt tones.
If you're feeling hopped out but still thirsty, head to Crooked City Cider or Redfield Cider Bar & Bottle Shop for diverse takes on the fermented apple-based drink.
Prefer vino to beer? Explore the wine bars and tasting rooms along the Oakland Urban Wine Trail. See more at VisitOakland. com/restaurants/oakland-urban-wine-trail
56
GRAB A PINT ON OAKLAND'S
Flavors, styles, and taproom vibes go beyond ordinary, with a hustle that's rooted in the spirit of The Town.
ALL CANS COURTESY OF OAKLAND
eat & drink
BREWERIES
FRESHLY TAPPED
Oakland's beer scene isn't just limited to breweries. Hit up these taprooms and beer gardens for more suds to sip.
ARTHUR MAC'S TAP & SNACK
This mixed-use space and beer garden features 20 rotating taps (beer, cider, and kombucha) that are complemented by housemade pizzas — because what goes better together than beer and pizza?
DEGREES PLATO TAPROOM AND BOTTLE SHOP
This is your new favorite neighborhood hangout — a communal, convivial spot with rotating taps and fresh, scratch-made Mexican dishes.
SEAWOLF PUBLIC HOUSE
Throw darts, play pool, watch the game, and choose from 16 taps at this bar, located in the heart of Jack London District.
THE GOOD HOP
Can't find what you're craving from Uptown's
The Good Hops' 16 rotating taps (focused on California brews)? You're bound to find it in its 400+ collection of bottles and cans from independent breweries.
Need More Beer Options?
Find more places to grab a pint at OaklandAle Trail.com
57 visitoakland.com MAP ILLUSTRATION: MIKE ROSSI/@MICRO.GRAFIK; ILLUSTRATION: MARINA DAINEKO
Sobo Ramen
Ramen is more than a bowl of noodles — it connects people while bringing comfort through community, conversation, and nourishment. At Sobo Ramen, every dish is crafted with love. Established in 2012, it's the first Japanese-inspired ramen shop in East Bay. Savor noodle dishes like the Black Garlic Mayu, a Sobo specialty, and house-made crunchy and bouncy noodles. Or try the pork bone broth, made with local non-GMO ingredients and cooked for 24 hours to bring out a rich and creamy flavor. A second Sobo Ramen location is opening in Berkeley in January.
soboramen.com
Ge @soboramen
58
CHINATOWN
eat & drink
Calavera
Calavera executive chef Omar Huerta finds inspiration from not only his home state of Jalisco, but from all over Mexico. This reverence is reflected in the menu of traditional, authentic Mexican food that's full of flavors and influences. Calavera also has one of the largest selections of agave spirits in California — more than 300! — including tequilas, mezcals, raicillas, bacanoras, sotols, and an agave spirit made in Northern California. Agave spirits have long been regarded as sacred, and Calavera's agave spirit flight (offered biweekly) showcases the plant's magical expression. Guests also learn how agave is grown and the many ways agave maestros and maestras are giving back to their communities.
calaveraoakland.com | G @calavera | e @calaveraoakland
UPTOWN
59
VISIT OAKLAND/JORDAN PARK
Bardo
Bardo is a neighborhood lounge and restaurant inspired by the revelry and hospitality of a mid-century dinner party. Decked out in lavish furnishings that evoke the 1960s, Bardo is a place for friends and locals to enjoy modern comfort food, inventive cocktails, and exceptional hospitality. Michelin recommended.
bardooakland.com
G @bardooakland
e @bardo_oakland
ROCKRIDGE A16
Some of the best Neapolitan pizza in Oakland is at A16. Named for the Italian expressway that runs from Puglia to Napoli, the restaurant makes authentic pizza napoletana with premium ingredients like San Marzano tomatoes. Inspired pastas, braised meatballs, fresh burrata salads, and elegant desserts also shine, with chef Yosuke Machida at the helm. The James Beard Award-winning wine list features under-the-radar selections and is accompanied by a full bar. While A16 is serious about pizza, the atmosphere here is friendly and relaxed.
a16pizza.com
Ge @a16rockridge
60 eat & drink
GRAND LAKE DISTRICT
COURTESY OF VISIT OAKLAND/ANNA WICK
Crogan's Restaurant & Bar
Hang out at this friendly neighborhood pub and sports bar and enjoy classic American comfort food while watching the Golden State Warriors (or their rivals!). Crogan's Restaurant & Bar also serves weekend brunch on Saturday and Sunday.
crogans.com | G @crogansmontclair
Oeste
Good times, good drinks, and good eats are on the menu at Oeste. Hang out on the rooftop for cocktails with friends and stay for dinner. Everything from mac and cheese to jambalaya is a winner. On the weekends, this is the place to be for music, late-night bites, and brunch.
oesteoakland.com
Ge @oeste.bar.cafe
CHINATOWN
Tay Ho Oakland
Since opening in 2010, this hip, eclectic neighborhood gem has been serving excellent authentic Vietnamese cuisine in a modern setting inspired by family recipes. The menu at Tay Ho Oakland features freshly prepared pho, bánh khot, scrumptious Hue dumplings, bánh cuon, street noodles, and other specialties, along with artfully prepared craft cocktails. Owned by a mother-daughter duo, Tay Ho Oakland proudly partners with Dine for Justice, a local organization that provides meals for residents in need.
tayhooakland.com
Ge @tayhooakland
61 visitoakland.com
MONTCLAIR
OLD OAKLAND
DOWNTOWN Juice Holick
Plan to visit Juice Holick, Oakland's own plant-based oasis offering a wide variety of fresh-pressed juices, superfood smoothies and bowls, and wellness shots. It's also one of the locals' top spots for yummy and inventive avocado toast.
juiceholick.com | Ge @juiceholick
Mägo
Offering Colombian fine dining with a Northern California twist, Mägo makes culinary magic. The tasting menu changes daily and highlights seasonal, local ingredients in fresh ceviche, arepas, and more. Dishes pair nicely with top-shelf spirits and handcrafted cocktails.
magorestaurant.com
G @mago restaurant | e @magorestaurant
LAKE MERRITT
Lake Chalet
Set in a renovated 100-year-old boathouse on Lake Merritt, Lake Chalet Seafood Bar & Grill boasts plentiful indoor and outdoor space for casual dining and special events. The menu features contemporary California cuisine with a raw bar and creative takes on seafood. Sit at the expansive bar overlooking the lake and sip a cocktail or Beach Chalet Ale or enjoy a meal on the dock. Lake Chalet's private dining rooms and picturesque dock serve as the perfect venue for small, casual gatherings or formal events.
thelakechalet.com
Ge @lakechalet
62
PIEDMONT AVENUE
eat & drink
Yoshi's
For live music and Japanese cuisine, it has to be Yoshi's. Celebrating 50 years in the Bay area, this music venue and restaurant is renowned internationally for hosting top jazz acts. The award-winning, 310-seat space in Jack London Square has a state-of-the-art sound system for a premium music experience. Jazz reigns supreme, but Yoshi's also showcases blues, hip-hop, R&B, rock, and comedy, with live music seven nights a week. At the restaurant, dine on traditional and fusion-style Japanese specialties. On weekdays, kick back in the lounge for happy hour.
yoshis.com | G @yoshisoak | e @yoshis_oak
63 visitoakland.com
JACK LONDON SQUARE
Chop Bar
When it comes to neighborhood gathering spots, Chop Bar is as authentic as it gets. Find a place in the warm, welcoming dining room or dine on the patio outside. The menu reflects the best in hyper-local produce, herbs, and meats, as chefs work directly with farmers to showcase the freshest ingredients from Northern California. Equally impressive is Chop Bar's beverage program. From local craft beers to perfectly balanced cocktails and drinks sans spirits, there's something for everyone. Open seven days a week.
oaklandchopbar.com
G @chopbar
e @oaklandchopbar
64
JACK LONDON SQUARE
DOWNTOWN
Mockingbird
Italian-inspired California fare is on the menu at Mockingbird. Start with the semi-famous fried Brussels sprouts with thyme and blue cheese before tucking into a bowl of Grace's slow-cooked meatballs in luscious tomato sauce. Save room for dessert, like bread pudding with vanilla nutmeg custard and salted caramel. The wine list and signature cocktails are just as delightful. Mockingbird is centrally located downtown; the vibe here is cozy, welcoming, and upscale.
mockingbirdoakland.com
G @mockingbird restaurant
e @mockingbirdoakland
TEMESCAL Big House Beans
This specialty roaster is all about coffee with purpose. Along with sourcing and roasting unique coffees to bring out the best flavors, Big House Beans empowers individuals and provides opportunities to those with employment barriers through teaching and mentorship. Buy the smooth, award-winning beans online, or relax with a cup at their café in Temescal.
bighousebeans.com
Ge @bighousebeans
65 visitoakland.com
eat & drink
eat & drink
DOWNTOWN
Pintoh Thai
Family-owned Pintoh Thai Oakland specializes in Thai street food, expertly made with the finest ingredients. Everything is a hit, from Thai noodle and rice favorites to plant-based dishes and Pintoh's take on curry, along with beer, wine, and unique alcoholic drinks. Friendly service makes Pintoh Thai Oakland popular with locals and visitors alike.
pintohthai.com
e @pintohoakland
Ikaros
At Ikaros Greek and Mediterranean restaurant, every dish tells a story. Whether it's oven-baked moussaka, flaky spanakopita, unique and colorful dips, or hand-layered baklava, everything is made in house using the freshest seasonal ingredients for authentic-meets-local flavor. Don't miss the impressive selection of Greek wines, available by the glass, bottle, or wine flights.
ikarosgr.com | Ge @ikarosoak
66
GRAND LAKE
CALI GODLEY
Magnolia Street
Southern cuisine filled with love and soul. Don't miss weekend brunch or dinner at Magnolia Street Wine Lounge & Kitchen. As one of the first Black and Asian woman-owned wine lounge and restaurants in the Bay Area, Chef Leilani has curated an amazing menu paired with a robust wine list featuring vintners of color.
rouxandvine.com
G @rouxandvine | e @magnoliastwinelounge
Côte West
This family-owned urban winery excels at making Old World, Burgundian-style wines with minimal intervention using grapes sourced from Northern California. Visit the bright Côte West tasting room to sample their delicious wines and take home a bottle. Open Saturday and Sunday 1–5 p.m. (winter) and 2–6 p.m. (summer).
cotewestwine.com
e @cotewestwine
Sidebar
An old school neighborhood eatery with timeless appeal, Sidebar is where Oakland's past meets its present. Sit alongside Lake Merritt and enjoy classic cocktails, good food, cold beer, and nice wine. It's the perfect spot for lakeside imbibing and dining.
sidebaroakland.com
G @sidebaroak
e @sidebaroakland
67 visitoakland.com
LAKE MERRITT
WEST OAKLAND
EMBARCADERO COVE
plank
Food and fun. Everything about plank has been designed for a great time, from the menu to entertainment. First, the food. Dine on shared plates or hearth oven-cooked pizza, burgers, or seasonal dishes. Sunday brunch (10 a.m. – 3 p.m.) is outstanding, with creative riffs on breakfast classics along with mimosas or a loaded Bloody Mary. For fun, plank offers 12 bowling lanes with state-of-the-art scoring. Play bocce ball at the outdoor beer garden, then warm up near the firepit with a bourbon or local craft brew. Set just steps from Jack London Square, plank features two indoor bars and one outdoor bar, plenty of HDTVs to catch the game, and ample private event space.
plankoakland.com | GeÖ @plankoakland
68
JACK LONDON SQUARE
eat & drink
JACK LONDON SQUARE
Savor the Moment
Brooklyn West Winery specializes in handcrafted, small-lot winemaking. With production based in Sonoma, winemakers Stew Epstein and Jeffrey Fiegel source grapes from some of the best vineyards in California. Combining Old World artisanal winemaking with New World fruit-forwardness, they follow a philosophy of minimalist intervention to craft wines that are intense and deeply concentrated, yet thoroughly elegant. Experience Brooklyn West's award-winning wines at their welcoming tasting room in Jack London Square.
brooklynwestwinery.com | Ge @brooklynwestwinery
69 visitoakland.com
kubé is a new genre of artisanal, vegan, and full-fat organic coconut ice cream made by cold-pressing mature coconuts without synthetic chemicals, right here in Oakland. This means they crack, shred, and cold-press mature coconuts and blend with plant-based ingredients. Flavors like key lime, salted caramel, and bittersweet chocolate with cacao nibs are velvety, vibrant, and delicious. Find kubé at the Grand Lake Farmers' Market (open Saturdays 9 a.m. – 2 p.m.), or order online for shipping throughout the U.S.
kubenicecream.com
G @nicecreamkube
e @kubenicecream
Rose Mary Jane
Inclusive and welcoming, Rose Mary Jane is committed to social equity, supports freedom for cannabis prisoners, partners with local nonprofits, and offers high-quality, naturally grown products. While you're shopping, hang out in the cannabis beverage bar and garden — the first of its kind in Oakland.
rosemaryjane.com
e @rmjlakemerritt
70
LAKE MERRITT
OAKLAND kubé
THE ULTIMATE GUIDE TO OAKLAND
Cannabis
Think you know weed? Think again! Oakland's cannabis culture is legendary. Meet a few key players and discover how you can partake in some good bud along the Oakland Cannabis Trail.
BY AMELIA WILLIAMS
71 SHUTTERSTOCK visitoakland.com
weed guide
A Brief History of Cannabis
California cannabis dates back to at least the 19th century, when farmers cultivated thousands of pounds of hemp a year for textiles. In Oakland, as in many other places, cannabis was an ingredient in medicinal tinctures, and its oil was sold legally as an over-the-counter medication. The 20th century saw its criminalization, with federal cannabis prohibition in 1937, but the legality of cannabis has never stopped its users and believers from accessing, consuming, and celebrating it.
Oakland's Guru of Ganja
Grower, educator, advocate: Ed Rosenthal knows cannabis.
DON'T FEAR THE REEFER
Today, cannabis is the most-used "illicit" substance in the world. People use it for sleep, pain management, anxiety control, nausea, and a hella fun weekend with friends. And in Oakland, there are numerous ways to consume and enjoy it (as long as you're 21 and older) from a licensed dispensary.
HIGH TIME
Hit the Oakland Cannabis Trail and visit one of nearly a dozen dispensaries in person, where professional staff can guide you through the basics of how cannabis affects individuals according to each product.
Acclaimed horticulturist, High Times co-founder and columnist, and "Guru of Ganja" Ed Rosenthal grew up in New York, but came out west to join the cannabis legalization movement in the early 1970s. The abundance of political fervor and good vibes, as many others can attest to, drew him to Oakland where he became a valued faculty member at Oaksterdam University, America's first cannabis college.
"Cannabis allows you to experience things
from a different viewpoint," says the Oakland resident. "It allows you to look at things in a different way, whether it's food or a political discussion. It just affects your brain in such a way that it makes it more receptive to new ideas. And, it's very pleasant."
He moved to the Bay Area permanently in 1979 for the area's activism, and stayed for the good weather and space — which, according to Rosenthal, makes for ideal cannabis growing conditions, too. He contributed efforts to passing Prop 215, which legalized medical marijuana in California in 1996.
Rosenthal has witnessed how Oakland's fervor for community activism and pushback on the war on drugs led to cannabis reform, and still does to this day.
"There's still a lot of important things happening," Rosenthal says, citing his involvement with Steve DeAngelo's Last Prisoner Project, an effort to release prisoners being held on marijuana-related charges.
"There are still many people in prison for marijuana while other people are becoming rich on it now that it's legal."
SMOKE FREE
LOW AND SLOW
There's no wrong way to consume cannabis, and you should never feel pressured for going at your own pace. The age-old adage of "start low and go slow" endures because it's true! You can always do more, but not less.
If you're not a fan of smoking, look to edibles or vape pens. Both are discreet and don't smell like flower. If you want low doses, consider products with a ratio of THC (the main psychoactive component in cannabis) and CBD, which offers wellness benefits without a high. But always follow the recommended dosage.
MEET MARY JANE
Whether you're a nug novice or cannabis connoisseur, here are a few bud facts.
DIFFERENT TOKES FOR DIFFERENT FOLKS
Cannabis is a biphasic plant, meaning it has two phases. After visiting an Oakland Cannabis Trail dispensary, you'll see that cannabis comes in many strains and many forms, from edibles to joints to topicals to vape pens. Your experience may depend on what form you ingest, but also on
how much. The appropriate dose of cannabis can make the difference between a giggly afternoon and a long siesta.
IT GROWS EVERYWHERE
Cannabis grows on every habitable continent. Originating in Asia, humans began actively cultivating cannabis 6,000 years ago. Since then, it has spread across the world to almost every country, regardless of its legal status.
NO FLY ZONE
Cannabis laws are all over the place. Since the federal government hasn't legalized cannabis in the United States, you can't legally take it across state or national borders, nor can you mail it anywhere.
MADE FOR YOU
The human body is designed for cannabis. Human beings all have endocannabinoid systems, or vast networks of receptors in our brains, organs, and nerves that help us turn the cannabis we inhale or ingest into an experience we enjoy.
72 SHUTTERSTOCK (2); ED ROSENTHAL. ILLUSTRATIONS:
MARINA DAINEKO
Elevated Experiences
Think cannabis can't be sophisticated? Think again!
While cannabis is legal to buy and possess, it's not necessarily legal to consume in public spaces. Luckily there are plenty of ways to enjoy indoors.
The first dispensary to have a licensed consumption and entertainment space, Root'd in the 510 has a decked-out 7,000-square-foot lounge specifically for rolling, packing, eating, and dabbing cannabis. Beyond luxurious seating, the lounge also provides video game consoles, multiple TVs, snacks, and a regular roster of events. For fine dining with mind-blowing deliciousness, try the Enlightened Dinner Series at Claremont Club and Spa. Truly a feast for the senses, this four-course, seasonally-inspired meal pairs music, food, wine, and weed together for a one-of-a-kind dining experience. Another way to consume cannabis is with Aminah
"Chef Mimi" Robinson-Briscoe's Black Food and Wine Experience cannabis-infused meals. Robinson-Briscoe grew up in Oakland with parents who grew their own produce and smoked pot. While she's not a consumer herself (though she does enjoy a topical now and then), she saw from a young age how cannabis contributed to community well-being. She began hosting dank dinners in early 2021.
"Growing up in Oakland and the Bay Area has given me the opportunity to explore food and lifestyle and people in a very unique way," she says. "When you think of Oakland, you think of food and cannabis. Everyone is excited to have those shared experiences."
DID YOU KNOW? Despite California's recreational legalization in 2016, the legal cannabis industry was primarily made up of white-owned businesses (81%, in fact). Oakland entrepreneurs of color pushed the city to fund the Cannabis Equity Program, which lowers financial barriers to entry and provides mentoring for applicants affected by the war on drugs.
STRAIN GAME
Breeders are constantly developing new strains, but they generally fall into one of three categories: indica, sativa, and hybrid. An indica tends to feel like a relaxing body high; a sativa tends to feel more cerebral; and a hybrid has a bit of both.
ENJOY RESPONSIBLY
Many dispensaries have dedicated lounges where you can safely and comfortably toke up and learn more about accessories like vaporizers and bongs. Even OG stoners can appreciate dedicated space to blow clouds.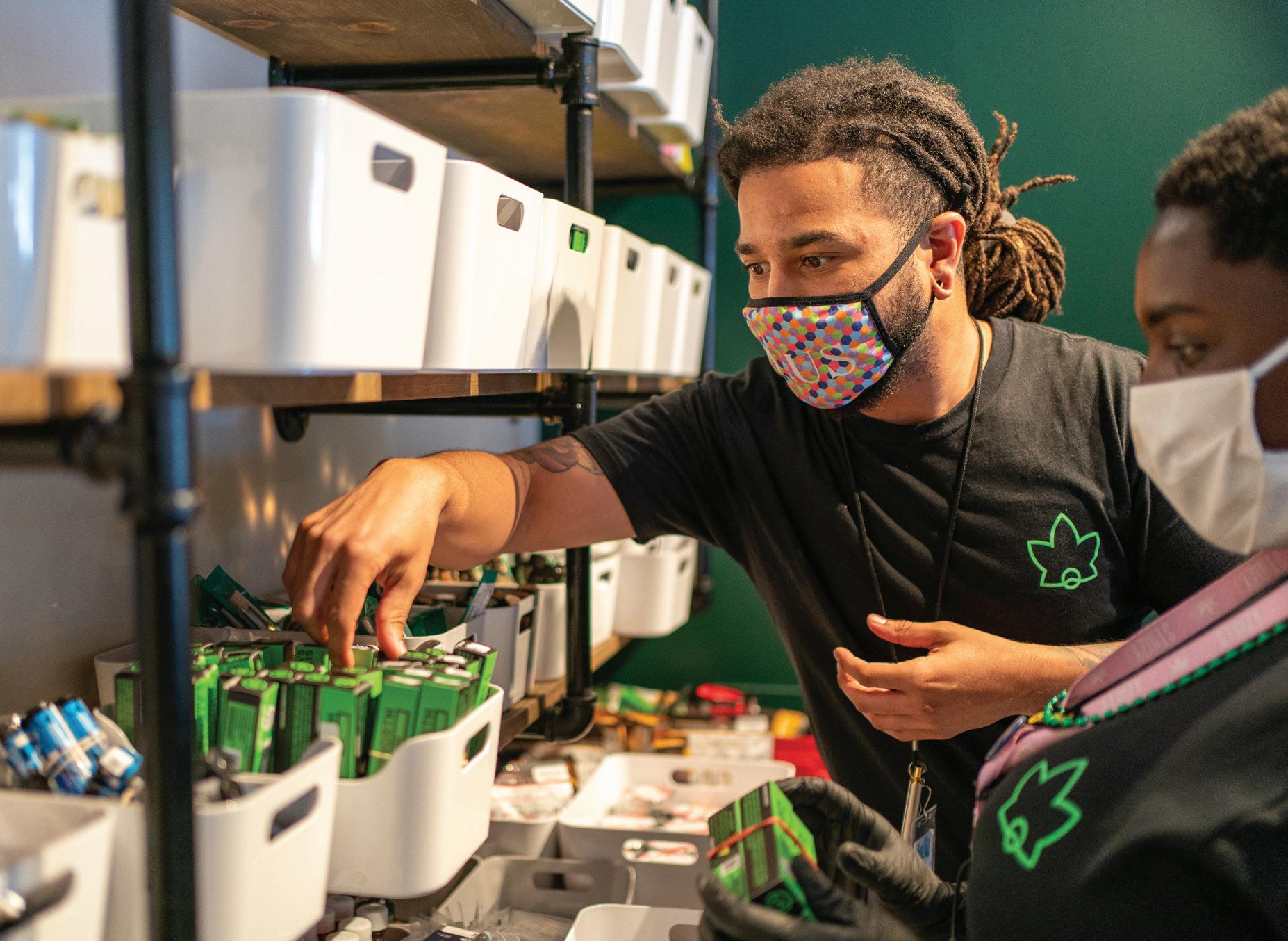 FIRST IN FLIGHT
In the long and eversprouting lore of cannabis, many point to Los Angeles and San Francisco as its cultural and professional nexuses. It's true that activists pushed the first piece of state legislation legalizing medical marijuana in San Francisco. But just as many waves have been made across the bay in The Town. Oakland has just as much history, good green, and culture to offer visitors, as well as experiences all its own.
visitoakland.com
COURTESY OF IVY HILL CANNABIS; AMINAH ROBINSON-BRISCOE. SHUTTERSTOCK. ILLUSTRATIONS: MARINA DAINEKO
Ivy Hill Cannabis
"When you think of Oakland, you think of food and cannabis. Everyone is excited to have those shared experiences."
73
—Aminah "Chef Mimi" Robinson-Briscoe
weed guide
GET TO KNOW "TOKELAND"
Don't miss these standouts on the Oakland Cannabis Trail.
Steve DeAngelo's Harborside, the Oakland location for Berner's Cookies empire, and Black woman-owned Rose
Mary Jane: Not only are these businesses largely founded by locals who've worked through the era of medical marijuana and full criminalization, they also speak to the importance of fostering local businesses. Chef Aminah
Robinson-Briscoe loves Blunts + Moore, while Ed Rosenthal points to Harborside. And the historic old Parkway Theater has found a second life as Ivy Hill Cannabis. Beyond shopping for some green, the Cannabis Trail hosts a number of Oakland's cultural landmarks (people watch at Lake Merritt), delicious eateries (Aburaya Japanese Fried Chicken), and artistic hubs (OMCA). See VisitOakland.com/ things-to-do/ cannabis-trail for more.
Hit the Trail
There are nine dispensaries on the Oakland Cannabis Trail — and most are only a BART ride away.
SHUTTERSTOCK. ILLUSTRATION: MARINA DAINEKO. MAP ILLUSTRATION: MIKE ROSSI/@MICRO.GRAFIK
74
TEMESCAL
Root'd in the 510
Root'd in the 510 is an equity dispensary in the heart of Temescal, bringing quality cannabis products to the local community. Root'd welcomes you to experience a variety of high-quality products and an inviting space, which was recently featured in Architectural Digest as one of the "Country's 12 Most Stylish Cannabis Dispensaries."
rootd510.com | Ge @rootd510
Blunts + Moore
The first equity-owned cannabis dispensary in California, Blunts + Moore offers a curated, high-quality menu of lab-tested products ranging from top shelf to budget conscious. The Happy Lounge is a safe, permissible space to consume (and is the first of its kind in Oakland). Discover local eats with food vendors daily and Smack Burgers offered on Friday and Saturday.
bluntsandmoore.com | e @blunts_and_moore
75 visitoakland.com
EAST OAKLAND
COURTESY OF VISIT OAKLAND/JORDAN PARK
Getting Here
Whether
AIR
Oakland International Airport (OAK) is the second largest airport in the Bay Area. Located less than 10 miles from Downtown Oakland, this easily navigable airport is one of the nation's best for on-time arrivals and departures. OAK is serviced by major car rental brands, Bay Area Rapid Transit (BART), rideshares, taxis, shuttle services, and public transit buses. oaklandairport.com
Traffic 411
WATER
If you're arriving from somewhere more locally, consider hopping aboard the San Francisco Bay Ferry to take in the panoramic view as you cruise across the bay. Depending on where you're coming from, you may even pass under the Bay Bridge. The ferry arrives and departs regularly at Jack London Square, and is a short 30-minute trip to San Francisco. sanfranciscobayferry.com
It's no secret that the Bay Area is home to some pretty gnarly traffic. To maximize your time in Oakland, avoid peak commute hours (7-9:30 a.m. and 3:30-6:30 p.m.) on freeways.
LAND
Driving to Oakland is a cinch with multiple points of access along I-880, I-580, and I-980. Or take the stress out of driving and arrive via Amtrak. If arriving from the Central Valley, The Town is accessible (at Jack London Square) on the San Joaquins train. It's also a stop along the Capitol Corridor line. There's also a Greyhound bus terminal in West Oakland. amtrak.com, greyhound.com
FYI
Getting Around
Once you're here, getting around is just as easy.
BART is the regional rail system that services the East Bay and San Francisco. bart.gov
AC TRANSIT is the bus system that also has trans-bay connections to San Francisco. actransit.org
PREFER TWO WHEELS? Rent a bike from Bay Wheels, the City of Oakland's bike share program (operated by Lyft). lyft.com/bikes/bay-wheels
The Bay Area has a toll system. So if you cross the Bay Bridge or drive in the express lane, the California DMV will run your plates and issue a bill. (Even if you rent a car, they'll find you!)
COURTESY OF VISIT OAKLAND; LLUSTRATIONS: MARINA DAINEKO
76 getting here
GETAROUND & ZIPCAR are car sharing apps available in the Bay area and are great for heading to wine country for an afternoon! getaround.com, zipcar.com it's by land, water, or air, getting to Oakland is easy!
The eastern expanse of the San FranciscoOakland Bay Bridge
Holiday Inn & Suites Oakland Airport ihg.com
Homewood Suites by Hilton OaklandWaterfront hilton.com
Jack London Inn ssyst.net/jack-londoninn
Kissel Uptown Oakland hyatt.com
La Quinta Inn & Suites by Wyndham Oakland Airport Coliseum wyndhamhotels.com
Motel 6 OaklandEmbarcadero motel6.com
Rest Your Head
Oakland offers a range of accommodations for all budgets. For a stay in Downtown, book your room at AC Hotel by Marriott Downtown, Residence Inn by Marriott Downtown, Hampton Inn Oakland Downtown-City Center, or Oakland Marriott City Center. If you prefer to start your day with a waterfront view, consider Waterfront Hotel next to Jack London Square.
For access to Oakland's vibrant arts, culture, and entertainment, a stay at Kissel Uptown Oakland (check out the rooftop bar) or Moxy Oakland Downtown might be more your style. And for a taste of quiet luxury steeped in rich history, book the Claremont Club & Spa, A Fairmont Hotel nestled in the Oakland Hills.
AC Hotel by Marriott Oakland Downtown marriott.com
Americas Best Value Inn Oakland-Lake Merritt redlion.com
Bay Breeze Inn baybreezeinnoakland. com
Bay Bridge Inn Oakland baybridgeinn-oakland. com
Best Western Plus Airport Inn & Suites bestwestern.com
Best Western Plus Bayside Hotel baysidehoteloakland. com
Claremont Club & Spa, A Fairmont Hotel fairmont.com
Courtyard by Marriott Oakland Airport marriott.com
Courtyard by Marriott Oakland Downtown marriott.com
Executive Inn & Suites Embarcadero Cove executiveinnoakland. com
Extended Stay America OaklandEmeryville extendedstayamerica. com
Hampton Inn Oakland Downtown-City Center hilton.com
Highlander Motel highlandermotel oakland.com
Hilton Oakland Airport hilton.com
Holiday Inn Express & Suites OaklandAirport ihg.com
Moxy Oakland Downtown marriott.com
Oakland Airport Executive Hotel oakairporthotel.com
Oakland Marriott City Center marriott.com
Radisson Hotel Oakland Airport radissonhotels americas.com
Ramada by Wyndham Oakland Downtown City Center wyndhamhotels.com
Residence Inn by Marriott Oakland Downtown marriott.com
SpringHill Suites Oakland Airport marriott.com
The Washington Inn thewashingtoninn.com
Waterfront Hotel, JDV by Hyatt jdvhotels.com
Meet You There
Business is just better in Oakland.
Thanks to its proximity to three major airports, it's no wonder why people head to The Town for meetings and events. With more than 5,500 guest rooms at a range of price points, there's plenty of space for your gathering. And when it comes to hosting corporate events, Oakland has what you need. From traditional venues and industrial warehouse spaces to park-like settings and out-of-the-box outdoor options, take your meeting somewhere different. The friendly staff at Visit Oakland are happy to help with the details. Submit an RFP at VisitOakland.com/ meet for more information.
DOGS WELCOME!
There are more than a dozen pet-friendly hotels in Oakland. Go to VisitOakland.com/ stay to find the perfect room for you and your pooch.
77 visitoakland.com accommodations FROM LEFT: CLAREMONT CLUB & SPA, A FAIRMONT HOTEL; COURTESY OF VISIT OAKLAND. ILLUSTRATION: MARINA DAINEKO
Claremont Club & Spa, A Fairmont Hotel
Moxy Oakland Downtown
Whether you're looking for waterfront access, cityscape views, or luxe vibes, here's where to stay in Oakland.
Best Western Plus Bayside Hotel
Located near Brooklyn Basin, No. 1 Best Reviewed TripAdvisor Hotel Best Western Plus Bayside Hotel offers spacious rooms with such comforts as a luxurious soaking tub with separate shower. Enjoy great amenities and water views of San Francisco during your stay.
Executive Inn & Suites
This independent hotel is a hidden gem, thanks to a beautiful waterfront setting overlooking the Oakland Estuary and a No. 2 TripAdvisor rating. Get work done with four dedicated meeting rooms and super-fast Wi-Fi. The walking path along the water and an outdoor seating area invites relaxation. Go for cocktails or an excellent meal at The Lounge.
executiveinnoakland.com | G @executiveinnoakland DOWNTOWN
baysidehoteloakland.com | G @baysidehoteloak
Courtyard Oakland Downtown
Whether you're in Oakland for business or fun, Courtyard Oakland Downtown makes your stay enjoyable. Guest rooms feature luxurious beds and complimentary Wi-Fi. Go for breakfast or cocktails and dinner at the on-site eatery The Bistro. Meet friends or colleagues in the lobby with media pods or host a conference in three meeting rooms.
marriott.com/oakcd
G @courtyardoak
78
EMBARCADERO COVE
BROOKLYN BASIN
accommodations
Residence Inn by Marriott Downtown Oakland
The preferred choice for long-term travel. Spacious suites include separate living and sleeping areas. Don't miss the complimentary breakfast and evening bar. Opening 2023.
marriott.com/oakrd
DOWNTOWN
AC Hotel by Marriott Oakland Downtown
Downtown's newest hotel showcases an emphasis on detail, from chic decor and guest rooms to exceptional service. The LEED Silver AC Hotel by Marriott, Oakland Downtown features amenities like 55-inch TVs and plush bedding in every room and a stylish, Spanish-inspired bar and lounge. Opening 2023.
marriott.com/oakad
Topgolf Swing Suite at Oakland Marriott
Get into the swing of things in downtown! Topgolf Swing Suite, in the Iron & Oak restaurant at Oakland Marriott City Center, is the first of its kind in the city. The interactive golf and gaming simulator features a host of virtual games — golf, zombie dodgeball, and hockey shots are popular — along with lounge seating, HDTVs, and food and beverage service. Ideal for all ages and skill levels, Topgolf Swing Suite is a fun activity for a business or social gathering.
marriott.com/oakdt oaklandmarriottcitycenter. 247activities.com
Ge @oaklandmarriott
79 visitoakland.com
DOWNTOWN
DOWNTOWN
Calendar of Events
Mark your calendars, because there's always something to celebrate in Oakland. For more events, dates, and details, go to VisitOakland.com/events
Art + Soul Oakland
July 2023
artandsouloakland.com
One of the Bay Area's best music festivals takes over downtown Oakland.
Chinatown StreetFest
August 2023
oaklandchinatownchamber.org
Spanning eight blocks of Chinatown, this long-running event features Asian food, arts and crafts, cultural programming, and more.
Pridefest
September 10, 2023
pridefestoakland.com
Oakland shines a spotlight on queer businesses and artists with live music, performances, and a whole lot of love.
Oaktoberfest in the Dimond
September 30-October 1, 2023
oaktoberfest.org
Steins, brats, beer, and lederhosen: It's all here at Oakland's take on a Bavarian classic.
Día de los Muertos Festival
October 2023
diaoakland.com
Lunar New Year Bazaar
January 7-8, 2023
oacc.cc/event
Celebrate Lunar New Year in Oakland's Chinatown, featuring two full days of cultural traditions and art forms.
Black Joy Parade
February 26, 2023
blackjoyparade.com
Thousands gather in downtown Oakland in this joy-filled celebration of Black community and its cultural influences.
Oakland Marathon
March 19, 2023
oaklandmarathon.com
Run through many of the city's distinct neighborhoods, and enjoy a hella awesome finishing party.
Oakland Restaurant Week
Spring 2023
oaklandrestaurantweek.org
Enjoy special offers and custom menus from Oakland's hidden gems, food trucks, Michelin-rated restaurants, and more.
Juneteenth
June 2023
There are several city-wide events and celebrations, including: Black Food & Wine Experience
thechefmimi.com/bfwe
PanAfrican Wellness Fest, afrooak.com
Fam Bam, afrooak.com Go to VisitOakland.com/Juneteenth to discover more.
Don't miss Friday Nights at OMCA with Off the Grid. Every Friday night from 5-9 p.m. OMCA opens its large outdoor space to the community. Throw down a picnic blanket, grab a bite from a food truck, play lawn games, and enjoy museum programming outdoors.
For nearly 30 years, this free, family-friendly event in the Fruitvale neighborhood has celebrated Mexican traditions, artisans, food, music, traditional Aztec dances, and vibrant ofrendas (altars honoring the dead).
80 events CLOCKWISE
FROM LEFT: COURTESY OF VISIT OAKLAND/JORDAN PARK (2); MARC FIORITO. ILLUSTRATION: MARINA DAINEKO
Community Gatherings
Chinatown
Pridefest
All About Animals
There's much to see and do at Oakland Zoo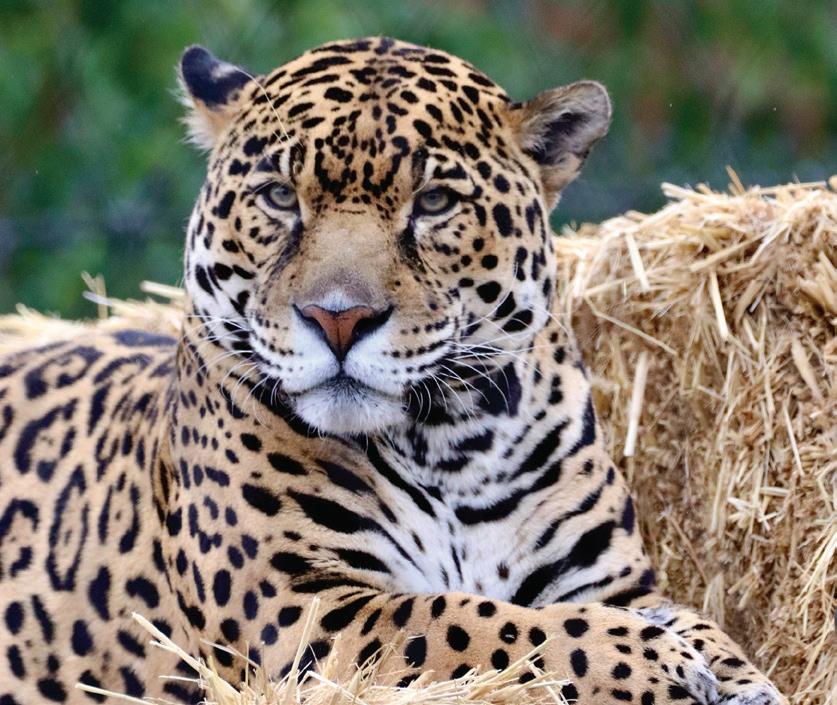 It's home to more than 850 native and exotic animals, from tigers, primates, and African elephants to California natives like grizzly bears, jaguars, and mountain lions. Watch animal feedings, ride the Outback Adventure train, or soar over animal habitats on the Sky Ride, then eat at Landing Café, reachable by aerial gondola. Oakland Zoo is accredited by the Association of Zoos and Aquariums (AZA) and is dedicated to the humane treatment of animals and wildlife conservation, with 50 cents from every admission going to conservation programs worldwide.
oaklandzoo.org
GeÊ @oaklandzoo | Ö @oakzoo
KNOWLAND PARK
Skip the traffic. Let us take you to Oakland.
Next time you visit Oakland, start unwinding before you arrive. Stretch out in spacious, comfortable seating with plenty of legroom, take in the view as you travel through the heart of California on Amtrak San Joaquins, and connect to free Wi-Fi to catch up on work or a show. Skip the traffic and parking hassle, and arrive fully relaxed in Jack London Square — the historic heart of Oakland, within walking distance from some of the city's best restaurants, hotels, and entertainment venues.
CONNECTING YOU TO CALIFORNIA
GeÊ @amtraksanjoaquins | Ö @sanjoaquins amtraksanjoaquins.com | 1-800-USA-RAIL