OCTOBER 2023 Celebrating GLAZE SALON
Don't let inflation cramp your style. Cash in on what's hanging in your closet. And never overpay for the designers you love. Introducing sustainable luxury. The world's best designers offered to you in a way that saves you money while saving the planet. Consign today and receive up to 80% commission on designer handbags. Short Hills - 800 Morris Turnpike, Suite 105 973-564-6464 - dbltkeboutique.com
EXPERIENCE, EXPERTISE, EXCELLENCE. Shop Customized Window Treatments Order Now to Install for the Holidays! $250 OFF Any Purchase of $1000 or More Offer expires on 10/27/2023 38 East Northfield Road, Livingston, NJ www.windowworksnj.com Schedule a FREE Virtual or In-Home Consultation 973-535-5860 FINANCING AVAILABLE Window Treatments— Beautifully Customized to Your Preferences • Integrate state-of-the-art motorization • Beautify your home • Endless custom options available • Have it all: privacy, light control, elevated decor and more!
OCTOBER 2023 VOL. 23 NO. 8
David J. Black
FOUNDER & CEO
Cathleen M. Black
PRESIDENT & COO
Michael J. Reidy
ART DIRECTOR
Vanice Gage Donegan
BUSINESS DEVELOPMENT
Kimberly Blaker
Cynthia Burns
Sue Baldini
Barry Farber
Kathy Gilligan
Janis Hashe
Christine Maxwell
Jackie Schatell
CONTRIBUTING WRITERS
Amy Schwartz
Donna Stanul
REGIONAL SALES DIRECTORS
Dan Epstein
SENIOR PHOTOGRAPHER
David Renna
CONTRIBUTING PHOTOGRAPHER
Mitchell Black
Heidi Dommasch
Robert Leo Murray
GUARDIAN ANGELS
CIRCULATION 32,000
U.S. POSTAL SERVICE MAILED TO SINGLE-FAMILY HOMES IN: Berkeley Heights, The Chathams, Florham Park, Gillette, Harding, Madison, New Vernon, Millburn, New Providence, Short Hills, Stirling, Summit
NEXT ISSUE: November 2023
Advertising Deadline: 10/15/23
In-Homes: 11/01/23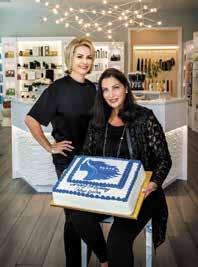 Calendar submissions: calendar@VicinityMail.com
Editorial submissions: editorial@VicinityMail.com
Call for info: 973-276-1688
Vicinity Magazine is published by Vicinity Media Group, 184 S. Livingston Avenue, Suite 9-303, Livingston, NJ 07039. All rights reserved. The contents of this publication can not be reproduced either in whole or in part without the consent of the publisher. Vicinity Magazine assumes no responsibility for unsolicited materials.
TABLE of CONTENTS
2023
OCTOBER
6 In the Vicinity 8 Local Heroes 8 The Fortnightly Club of Summit Gives Back in Many Ways 9 Short Hills Teen Launches Social Change Campaign 16 Mount St. Dominic Academy Starts the School Year Off with Book Club Discussions 18 Spend a Fall Day at a Local Farm 20 COVER STORY Look and Feel Your Best with a Visit to Glaze Salon 24 Real Estate Professionals 24 Realtor Regularly Gets Over Asking Price for Sellers 24 Ellen Gonik: RealtorAssociate® Coldwell Banker 25 Real Estate Clients Get TopNotch Service from Luxury Market Specialist 25 Donna Mattina is with Buyers and Sellers Every Step of the Way 26 Art in the Vicinity Ted Papoulas: When The Mundane Becomes Magical 28 Tip From the Home Pros 28 Bringing Your Vision to Life 29 How to Choose Hardwood Floors for Your Kitchen 29 You Need a Home HVAC Maintenance Plan 30 Why You May Need Flood Insurance Outside a Flood Zone 30 Considering Adding Millwork Before Painting Rooms in Your House 31 Should You Consider Plantation Shutters for Your Home? 31 Enjoying Your Home Outdoors: Fire Pits And Gas Heaters 32 Health and Wellness 32 Cooperman Barnabas Medical Center Places Final Steel Beam for New Cancer Center Building 33 The Science Of Meditation 34 The Benefits of Unplugging 35 Boosting Mental Agility 36 Restaurant Guide 38 Diamond Minds To The Rescue On the Cover: Glaze Salon, Photo by Dan Epstein 4 | Vicinity Magazine | October 2023
908.280.1316 | 560 Central Avenue, New Providence NJ 07974 creativewallcoverings.com | Please call for an appointment. DESIGN•TEXTILES•HOMEWARE CWI DESIGN WING WONG, MEMORIES TTL "Yellow Bird" Space #27 2023 MANSION IN MAY DESIGNER SHOWHOUSE AND GARDENS THREE FIELDS BOROUGH OF MENDHAM, NEW JERSEY
BY JACKIE SCHATELL