TURNING BACK TIME
SEPTEMBER 2023
Don't let inflation cramp your style. Cash in on what's hanging in your closet. And never overpay for the designers you love. Introducing sustainable luxury. The world's best designers offered to you in a way that saves you money while saving the planet. Consign today and receive up to 80% commission on designer handbags. Short Hills - 800 Morris Turnpike, Suite 105 973-564-6464 - dbltkeboutique.com
38 East Northfield Road, Livingston, NJ www.windowworksnj.com Schedule a FREE Virtual or In-Home Consultation 973-535-5860 EXPERIENCE, EXPERTISE, EXCELLENCE. Order Now to Install for the Holidays! Shop Customized Window Treatments $250 OFF Any Purchase of $1000 or More Offer expires on 9/29/2023 FINANCING AVAILABLE Window Treatments— Beautifully Customized to Your Preferences • Integrate state-of-the-art motorization • Beautify your home • Endless custom options available • Have it all: privacy, light control, elevated decor and more!
SEPTEMBER 2023 VOL. 23 NO.
David J. Black
FOUNDER & CEO
Cathleen M. Black PRESIDENT & COO
Michael J. Reidy
ART DIRECTOR
Vanice Gage Donegan BUSINESS DEVELOPMENT
Kimberly Blaker
Cynthia Burns
Sue Baldini
Barry Farber
Kathy Gilligan
Janis Hashe
Christine Maxwell
Jackie Schatell
CONTRIBUTING WRITERS
Amy Schwartz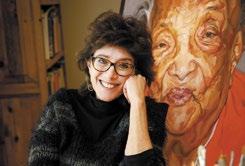 Donna Stanul
REGIONAL SALES DIRECTORS
Dan Epstein
SENIOR PHOTOGRAPHER
David Renna
CONTRIBUTING PHOTOGRAPHER
Mitchell Black
Heidi Dommasch
Robert Leo Murray
GUARDIAN ANGELS
CIRCULATION 32,000 U.S. POSTAL SERVICE MAILED TO SINGLE-FAMILY HOMES IN: Berkeley Heights, The Chathams, Florham Park, Gillette, Harding, Madison, New Vernon, Millburn, New Providence, Short Hills, Stirling, Summit
NEXT ISSUE: October 2023
Advertising Deadline: 09/15/23
In-Homes: 10/01/23
Calendar submissions: calendar@VicinityMail.com
Editorial submissions: editorial@VicinityMail.com
Call for info: 973-276-1688
responsibility for unsolicited materials.
TABLE of CONTENTS SEPTEMBER 2023
7
Vicinity Magazine is published by Vicinity Media Group, 184 S. Livingston Avenue, Suite 9-303, Livingston, NJ 07039. All rights reserved. The contents of this publication can not be reproduced either in whole or in part without the consent of the publisher. Vicinity Magazine assumes no
6 In the Vicinity 8 Local Heroes 8 Chatham Runner Races in South Africa to Fight Poverty 9 The Chatham Be Positive Club Holds 2nd Basketball Tournament 16 Art of Essex Janet Boltax: A Thing for Faces 18 Best of Essex Readers' Choice Awards Nominees 19 Local Gift Guide 12 COVER STORY Barth's Market: Turning Back Time 24 Focus on Education Resource Directory 26 Senior Living 26 Staying Physically Active is Important at Any Age 27 Today is the Day: Sunrise of Livingston Offers Extraordinary Senior Living 28 Plan Today for Tomorrow: Why it's Important to Put Your Wishes in Writing 29 Tips for Mature Women That Can Help Improve Their Sleep 30 Kitchen Renovation with Wine Room 34 Health and Wellness 34 Holistic Nutrition: Foods That Nourish Both Body and Mind 35 Mindful Living in a Busy World 36 Restaurant Guide 38 Diamond Minds Common Threads On the Cover: Barth's Market, Photo by Dan Epstein 16 30 4 Vicinity Magazine September 2023
908.280.1316 | 560 Central Avenue, New Providence NJ 07974 creativewallcoverings.com | Please call for an appointment. DESIGN•TEXTILES•HOMEWARE CWI DESIGN WING WONG, MEMORIES TTL "Yellow Bird" Space #27 2023 MANSION IN MAY DESIGNER SHOWHOUSE AND GARDENS THREE FIELDS BOROUGH OF MENDHAM, NEW JERSEY
By Jackie Schatell
Hometown Heroes Banner Program Launches in Millburn/Short Hills
Working with Millburn's American Legion Post 140 and Son's of American Legion Squadron Post 140, Karen Eastman Bigos, who grew up and has worked in town for 39 years, and CoCommittee Chairman Daniel Cannon, a Millburn resident who is the Commander of the Sons of the American Legion, have launched the Hometown Heroes Banner Program in the township. The initiative is aimed at honoring and recognizing the brave men and women who are either veterans or active military members that live or have previously lived within the township. The plan is to line Millburn Ave. and Main Street, from Memorial Day to Veteran's Day, with 24" by 48" banners displaying the faces, names, and service details of the honorees. She says, "This is a meaningful way to decorate the town, display our patriotism, and to thank our servicemen and women." Those interested in purchasing a banner for the street display or to hang at home, and/or make donations, can do so at hometownheroesmsh.com.
Free ESL Classes Available at The Adult School
The nonprofit Adult School of the Chathams, Madison and Florham Park (The Adult School) will be offering free ESL classes this fall in Madison and Harding, and an American History class for English learners in Chatham. The Adult School is committed to those in the community who are looking for educational opportunities that will help them gain economic self-sufficiency. For this reason, in January 2013, The Adult School piloted a program providing free ESL classes in Madison. The pilot was such a success and demand was so high that they have continued to offer free ESL classes every year in the spring and fall terms. A spring 2023 student said that "she appreciated how comfortable the teacher made her feel when speaking English." The free ESL classes begin in late September or early October. Beginner, Intermediate and Advanced classes are available. To register visit theadultschool.org or call 973-443-9222.
Chatham Resident Publishes Fourth Book
Michelle Cameron, of Chatham, has published her fourth book, with one more forthcoming in 2024. She says that she likes to write about unfamiliar and often-neglected periods of Jewish history. Her newest book, Babylon: A Novel of Jewish Captivity, is a multi-generational biblical saga of captivity, romance, faith, and redemption, set against the Judean exile in Babylon. Michelle, whose first historical novel was about her rabbi ancestor from the 13th Century, says that her novels are "labors of love." A book launch party will take place on October 15, at 2:30 pm, at The Library of the Chathams. Like Michelle's other books, Babylon is available wherever books are sold.
In The Vicinity
Pictured from left are Hometown Heroes Banner Program Co-chair Daniel Cannon, Commander of the sons of the American Legion; his daughter Katie Cannon, who does the artwork for the program; Co-chair of the program Karen Eastman Bigos; and Gary Walz, a former Grand Marshal of the Millburn Memorial Day Parade, and Coast Guard veteran.
6 Vicinity Magazine September 2023
Millburn Natives Offer Free SAT/ACT Tutoring
Millburn natives, twins Sanando and Swagato Kanjilal, are offering free introductory SAT and ACT tutoring. Currently medical students, who have been tutoring for four years, the twins use a unique strategy they developed to help students ace the tests. They put their students into the mindset of the test maker. Sanando used this technique to score 1560 on the SAT, which was improved from 1260. He says, "I was a student not so long ago, and I am really inspired to help up-and-coming students avoid the same mistakes I made when I was studying for these exams. My goal is to steer them towards the most effective methods." Their "motivation is to help others not have to do hours of mindless practice like they did initially, but to instead try to strategically dismantle the SAT and ACT." Sanando adds, "I strongly believe anyone can do well on these exams with the correct strategy." They can be reached at 732-675-2623 or sandando.kanjilal@gmail.com.
Local Mom Publishes Debut Picture Book
While she has written nearly 200 children's books against licensed properties like LEGO and Disney, Meredith Rusu of New Providence is excited to announce the launch of her debut original picture book called, "There's a Yeti in My Tummy." It is the first book in her new Mighty Moods series, published by 4U2B Books and Media.
The mother of two boys, ages 8 and 6, says she used her experiences with her children as inspiration for her new series. Her older son, Matthew, inspired the first story, which is about a boy expressing his big feelings through the use of an imaginary Yeti. "There's a Yeti in My Tummy" is on-sale now and available wherever books are sold. Meredith will be doing a story time event and signing at Indigo Books in the Short Hills Mall on September 23rd. She can be contacted on her website: meredithrusu.com.
Doggie Pageant Held in Chatham
Recently, a family-fun bark-tastic extravaganza, the "Dog Days of Summer Pageant," took place at the Library of the Chathams. Proud pup parents came out to showcase their furry family members in a delightful community event. The pups donned cute costumes and performed wag-worthy acts. Everyone engaged in a variety of dog-inspired activities, music, and fun that kept tails wagging and paws hopping. The event took place on the basketball court behind the library, which was transformed into a canine wonderland. Humans enjoyed the food truck, La Coqueta Mexican Cocina, while treating their furry companions to other delectable treats.
If you or someone you know in Essex/Morris County is doing something interesting, send an email to Jackie.subessex@gmail.com
September 2023 MyVicinityMagazine.com 7