OUTWARD BOUND
Members Take New Skills into the Wild
– page 30
MULTNOMAH ATHLETIC CLUB MAY 2023 WINGED M
Multnomah Athletic Club's mission: Enrich lives, foster friendships, and build upon traditions of excellence in athletic, wellness, and social programs.
FEATURED 24 Mother's Day Messages
MAC's youngest members share thanks and special messages for their moms.
30 Adventure Awaits
From climbing to paddleboarding and everything in between, the club's programs create endless opportunities for outdoor adventure and exploration.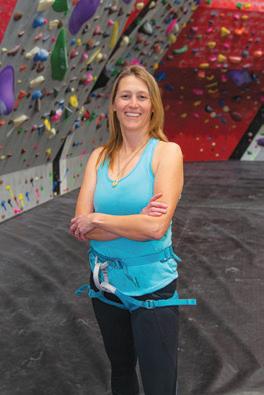 COMMUNICATIONS
TEAM
Project Manager
Molly Brown
Director
Stephanie Cameron
Photographer
Brandon Davis
Graphic Designer
Kari Kohrmann
Digital Content Specialist
Laura Lawrence
Communications Manager
Adam Linnman
Communications Coordinator
Carina Mears Connery
Graphic Designer/
Ad Services Coordinator
Julia Omelchuck
Content Manager
Deanna Pogorelc
Marketing Manager
Jessie Smith
Senior Copywriter
Jake Ten Pas
ON THE COVER
Members explore the natural wonders that surround Portland and beyond with the assistance of MAC's adventurous Outdoor team. Cover design by Kari Kohrmann.
483-210) is published monthly by Multnomah Athletic Club at 1849 SW Salmon Street, Portland, Oregon 97205. Advertising from members and nonmembers is accepted by The Winged M. Advertisers in The Winged M are not endorsed by Multnomah Athletic Club unless otherwise noted. For questions concerning mailings and subscriptions, call 503-517-7280 or email membership@themac.com. Periodicals postage is paid at Portland, Oregon. POSTMASTER: Send change of address to Multnomah Athletic Club Member Services, 1849 SW Salmon Street, Portland, Oregon 97205. ©2023 Multnomah Athletic Club. For advertising information, email advertising@themac.com.
Submit magazine content ideas to wingedm@themac.com. View current and past issues of The Winged M online at thewingedm.com.
MAY 2023 | The Wınged M | 3
Contents 46 MAY 2023 | VOL. 112 No. 5 A PLATINUM CLUB Matthew, Olivia, and Thuy Gordner celebrate St. Patrick's Day at the 2023 Coin Hunt. Turn to Club Scrapbook for more event photos. CLUB NEWS 5 Vice President's Column 7 Director's Column 9 Athletics Column 11 Faces of MAC 13 Artist Profile 14 Al Tauscher Award 17 Foundation 19 MAF Tributes 20 Military Honor Wall 21 House Committee 22 In Memoriam CULINARY 26 Passport to Pinot 27 Culinary Calendar EVENTS 38 Broadway Across America 39 May Event Listings 42 June Event Listings 46 Club Scrapbook FITNESS & WELLNESS 48 Triathlon Training 50 The Murph Challenge 52 Yoga & Hiking Retreat 54 Fitness & Wellness Corner 56 Foam Rolling ATHLETICS 58 Tennis 60 Volleyball 64 Climbing 66 Racquetball 68 Pickleball 69 Walk Across America 70 Basketball 71 Advertiser Index 72 MAC Marketplace 74 From the Archives The Winged M (USPS
Committee Chairs
STANDING
Audit Alison Rosenblum
Athletic Ken Meyer
Budget & Finance Alison Rosenblum
Communications Jake Laban
Diversity Admissions Ann Blume
Diversity, Equity & Inclusion Tanya McGee
House Brad Miller
Member Events Alex Page
Membership Dave Hanna
Property Jenna McPherson
BOARD
Food & Beverage Brian Juckeland
Human Resources Katherine VanZanten
Land Use Greg Specht
Technology Xavier Clark
SPECIALIZED
Arts Susie Younie
Community Involvement Sheri Anderson
Investments Ryan Cotton
SPORT
Artistic Swimming Marni Davis
Basketball Kyle Hypes
Climbing Jeremy Cohen
Cycling Bryan Leslie
Dance Andrea Malloy
Early Birds Rich Director
Fitness & Decathlon Lori Webb
Golf Larry Vanlaningham
Group Exercise Neisa Dokken
Gymnastics Marilyn Litzenberger
Handball Conor Casey
Karate Elizabeth Flores
Outdoor Activities Program
Laura Johnson-Graham
Pickleball Dana Bach-Johnson
Pilates Julia Ju
Racquetball Sanjay Bedi
Ski & Snowboard Audra Galler
Squash Steve Schaller
Swim Brad Fennel
Tennis Gram Leahy
Triathlon & Running Erica Chiotti
Volleyball Melissa Nelson
Walking & Hiking Anna Kanwit
Water Fitness Joanna Bartlo
Water Volleyball Steve Watson
Yoga Miki Chown
SOCIAL
20s/30s Alex Moreland
Balladeers Chris Rasmussen
Culture & Style Shannon Conrad
Family Events Annie Barry
Holiday Decorating Bridget Connolly
MelloMacs Kirsten Leonard
Social Activities Louie Paul