BRANTFORD ♥ HAMILTON ♥ GUELPH ♥ KITCHENER-WATERLOO CAMBRIDGE ♥ LONDON ♥ NIAGARA ♥ NORFOLK ♥ STRATFORD ♥ WOODSTOCK WWW.THEWEDDINGRING.CA $7.99 CDN $7.99 USD EXPERT TIPS LEGALLY PRESERVEWEDYOUR BOUQUET ULTIMATE SONG LIST A CUSTOM SUIT EXPERIENCE & MORE! TOALL-INCLUSIVEWEDDINGSREALWHIMSICALWOODLANDWARMANDCOZYBLING&GLAM&MOREWINANTRIPFOR2DREAMSFLORAINPUNTACANAVENUESFAVOURITE
YOU SAY "I DO", WE DO THE REST GOLFNORTH.CA/WEDDINGS CALERIN GOLF CLUB REBEL CREEK GOLF CLUB CONESTOGA GOLF CLUB EXETER GOLF CLUB GREY SILO GOLF CLUB GolfNorth 2021 Wedding Ring Ad.pdf 1 10/19/21 3:01:45 PM

To find out more about how content marketing, online advertising, or exhibiting at The Ring's Wedding Expo's in your city can change the way you approach wedding marketing: contact team@theweddingring.ca & visit www.theweddingring.ca
SEPTEMBER 2022 PUBLISHED BY Wedding Ring Inc. 5 Martinet Ave. London, ON team@theweddingring.ca The Wedding Ring Magazine is published two times yearly: January and September. This edition is The Wedding Ring's 30th issue of the magazine. www.theweddingring.ca/magazine MAGAZINE TEAM Anne Warren | anne@theweddingring.ca Publisher | Director of Operations Kristen Sullivan | kristen@theweddingring.ca Managing Editor | Layout & Advertisement Design Coordinator Jessica Ferguson | jessica@theweddingring.ca Features LOCATION:COVEREditorSTORYBellamere Winery (www.bellamere.com) London, ON PHOTOGRAPHY: HRM Photography (♥) (www.hrmphotography.com) London, ON Full story p7 The statements, opinions and points of view expressed do not necessarily represent those of the publisher, advertisers or Wedding Ring Inc. Photographs and content are submitted to Wedding Ring Inc. by wedding professionals for the purpose of publishing online and/or in print and are used with permission. All images are provided by the vendor who submitted the article. Our best effort has been made to appropriately credit all images. Any errors or omissions are not the responsibly of Wedding Ring Inc. Images with errors or omissions will be corrected or removed wherever ©possible.2022Wedding Ring Inc. Contents copyrighted. All rights reserved. Reproduction of any article, photograph or artwork without written permission from Wedding Ring Inc. is strictly prohibited. Printed in Canada. ISSN 1920-499X FOREVER IN LOVE AT THE RING At The Wedding Ring, we research, create and curate quality, needto-know wedding content, year-round, alongside our clients, who just happen to be some of Ontario's most talented wedding experts. We then deliver it all in print (THE WEDDING RING MAGAZINE) and online (THEWEDDINGRING.CA) to a geographically targeted bride and groom audience. As a result, our clients book more wed dings and our readers find it easier to plan the ultimate local wedding.
On the odd chance you ever find Anne, Kristen, Jess, and the team at The Wedding Ring more than a few feet away from their WiFi con nections, it's likely because you're at one of THE RING'S WEDDING EXPO events which take place seasonally in 10+ cities across Ontario. These are couture bridal shows filled with over the top exhibits, live design palettes, and many (many, many!) engaged couples.
If you're a wedding professional who offers products that every bride or groom should have, raises the bar on service, or rewrites the defi nition of couture, we'd love to work with you - online, in print, and/ or in person. The Wedding Ring will help you reach your target brides and grooms, share (and show off) your expertise, grow your business and make headlines.
FEATURES Win an All-Inclusive Trip for 2 p55 Favourite Wedding Venues p57-80 REAL WEDDINGS P3-17 Whimsical Woodland p4-5 Bling & Glam p6 Warm & Cozy p7 Meant to Be p8 Love by Candlelight p10-11 Pop of Watercolour p12 Stoneridge After-Party p13 Barefoot, Boho & Moody p14-15 Sage Elegance p16 DESIGN PALETTES P19-25 All About the Details p20 Favourite Unique Fun p22 Our Favourite Veils p23 Modern Boho p24 Love on the Grand p25 EXPERT TIPS P27-45 Don't Throw Away Your Wedding Bou quet, Preserve It p28-29 Day of Officiant p30 Experience Matters p33 What's the Difference? p34-35 Couples Who Brunch p37 Ultimate Wedding Playlists 2023 p39 Sweet Decisions p40 A Custom Suit Experience p42-43 Legally Wed p44 3 Looks to Inspire p45 DESTINATION WEDDINGS P47-53 Destination I Do's p58 Canadian Rocky Mountain Elopement p50 'Going to the Chapel' p51 Grand Aston Cayo Las Brujas Beach Resort & Spa p52-53 Contents p12 p22p37 p78p48 p14-15
Real Wedding Stories feature the love stories, designs, and details of some of our favourite weddings. These gorgeous events are the result of alot of planning by local brides & grooms, and the hard work of some seriously talented wedding experts. Curated by The Ring. Real Wedding Stories PHOTO: Katie Marie Photography (www.katiemariephotography.ca) Hamilton, ON BRIDES: Meghan & Deanna Austin Full story: p14-15 WHERE FABULOUS LOCAL WEDDINGS BEGIN! • 3 (♥) = Reviewed in theweddingring.ca
4 •The Wedding Ring Magazine | www.theweddingring.ca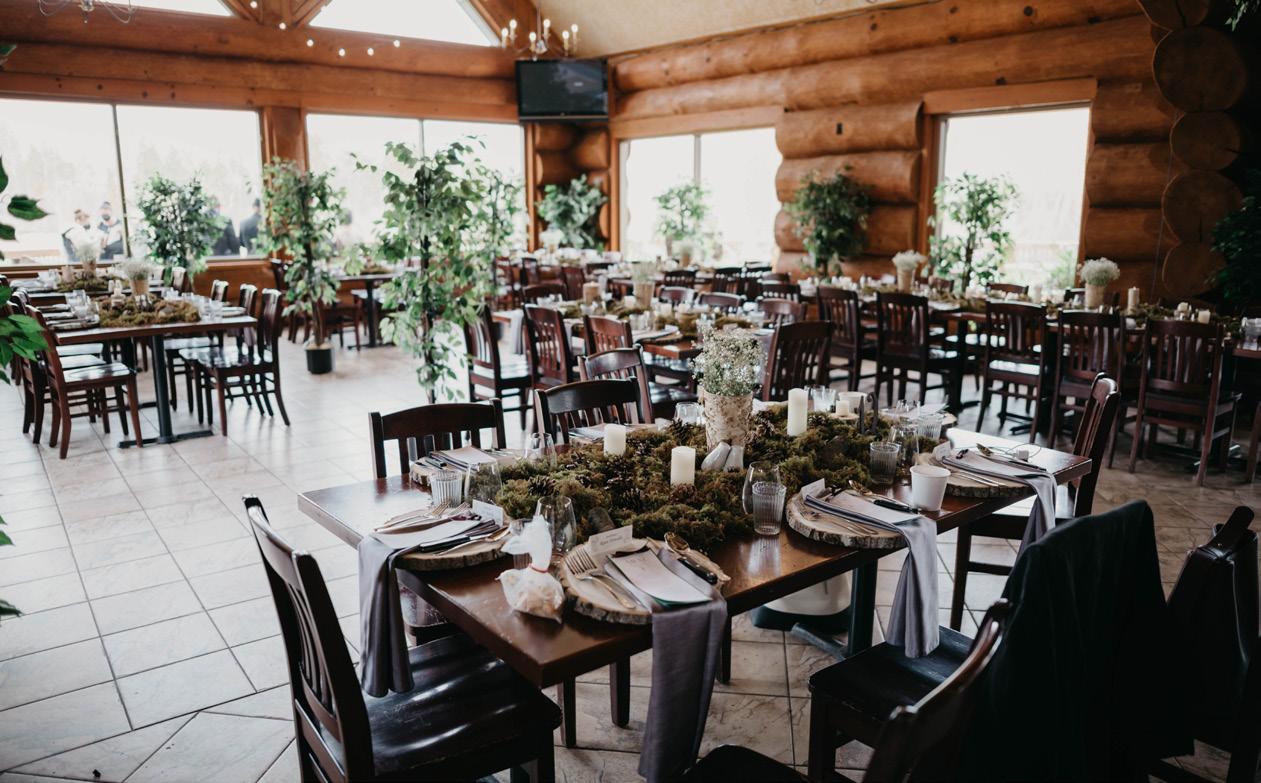 • WHERE FABULOUS LOCAL WEDDINGS BEGIN! • 5
OFFICIANT: Dream Weddings Officiants (www.dreamweddingofficiants.com)
Whimsical Woodland
ADVICE: "Don't compromise on your dreams. Achieving everything that you envision is possible. It was a lot of work, but it was definitely worth it in the long run. And I cannot stress enough, hire a day-of-coordinator.!After the hours and months of planning, the couple should be able to enjoy their day, not worry about the execution of all that planning." K
-
Kait & Mike Schlueter
BRIDE
PHOTOGRAPHY: Timeless Tree Weddings (www.timelesstreeweddings.com) York, ON "Working with Timeless Tree Weddings was flawless. Tommy responded to emails incredibly promptly and was very polite & professional. Jodi was AMAZING. Mike & I had never had our photos taken professionally, so we were super awkward at first. Jodi very quickly eased the tension and soon enough we were acting and moving less like robots and more like ourselves. We had so much fun! Then we met Estelle at the wedding, and she was just as wonderful as Jodi. They both have such an eye for unique & captivating backdrops. We love our photos and feel that they captured every moment." - K GUEST #: 78 COLOUR PALETTE/THEME: "We love the rustic style that seems to be very popular right now. However, we found that more of a farm setting style seemed to be prevalent, whereas we were envisioning more of a forest setting style. Less cowboy, more lumberjack! (lol) In short, we would summarize our theme as "Whimsical Woodland" with lots of greens, browns, & greys. Servers with a Smile used lots of moss, live-edge stumps, and greenery to make our theme come across. Mike & I DIY'd pinecones & acorns as fine details. Also, Hannah Road by Louise supplied rustic signs from repurposed wood and a wooden wishing well for our card box." - K&M ATTIRE: Amanda-Linas (www.amandalinas.com) Woodbridge, ON GROOM + GROOMSMEN ATTIRE: Moores Clothing for Men (♥) (www.moores.com) Kitchener, ON BRIDESMAID ATTIRE: Best For Bride (♥) (www.bestforbride.com) Hamilton, ON HAIR: Smash Hair (www.smashhair.me) Hamilton, ON MAKEUP: Haley McIntosh DÉCOR/DAY OF COORDINATION: Servers with a Smile (♥) (www.serverswithasmile.ca) Kitchener, ON "We cannot sing them enough praises. They did both the décor and the day-of-coordination at our wedding. We chose them based on their proposed design, positive google reviews, and years of experience. Rebecca was able to discern my exact vision from my muddled descriptions & the piecemeal images I collected online. She brought the ideas in my head to reality and all within my budget. She communicated with me regularly, keeping me informed, and actively listened and actioned my comments & concerns. She was a dream to work with. We would not have made it through the day without them. Sarah & Rebecca were on top of everything, and were putting out fires everywhere unbeknownst to us. They were super professional & courteous, but still fun to have around and easy to approach."
WEDDING DATE: April 30th, 2022 LOCATION: Pine Valley Chalet (♥) (www.pinevalleychalet.com) Kitchener, ON "Mike & I chose Pine Valley Chalet for its ambiance, it is absolutely beautiful. Our must haves list for our venue included vaulted ceilings, exposed beams, floor to ceiling windows, rustic wooden tables, and uncarpeted floors. Their regular menu offered so many options but was not what we were looking for. They were willing to work with us to create a custom menu to suit our taste and style." - K&M
- K DJ: DJ Bear - Something Blue Wedding DJ (www.somethingblueweddingdjs.com) Kitchener, BOUQUETS:ON Satellite Gardens (www.satellitegardens.ca) Hamilton, ON DÉCOR RENTAL: Elegant Gardens (www.elegantgarden.ca) Mississauga, ON & Hannah Road by Louise (www.facebook.com/hannahroadbylouise) Toronto, ON
Hamilton, CAKE/CATERING:ON Pine Valley Chalet (♥) (www.pinevalleychalet.com) Kitchener, ON DANCE LESSONS: Fred Astaire Dance Studios (www.fredastaire.ca) Hamilton, ON BEST MEMORY: "I think it's a tie between our vows and our first dance as a married couple. Writing our own vows was a personal touch that really added to the intimacy of the ceremony. For Mike to express himself so openly in front of all our family & friends was so moving; although it did make holding back the tears difficult! Mike and I attended dance lessons for our first dance. So, our first dance was choreographed to our unique style and to our song, "I Love You Baby" by Frank Sinatra. It was really an amazing experience. We had a date night every week for the weeks leading up to the wedding; it really brought us closer as a couple. It was great to showcase what we had learned for all of our family and friends. Everyone was very surprised considering my two left feet and Mike's prior opinions on dancing. Mike admits that he really enjoyed the classes and is willing to continue them." - K
Bling & Glam DATE: April 16th, 2022 LOCATION: Waterloo Regional Police Association (♥) (www.wrpa.org) Cambridge, ON "Jackie was so accommodating and so understanding of our short timeline and was beyond helpful with all of our questions. We picked the Waterloo Regional Police Association because of the space and the price. The space is gorgeous and you can do so much with it!"PHOTOGRAPHY:L Creative Schott Photography (www.creativeschottphotography.ca) Kitchener, ON "Aimee has been doing our family photos for a few years now! She has captured all of our milestones so it was natural that we wanted her to capture this very special moment in our lives!" 80 COLOUR PALETTE/THEME: "Royal Blue, Fuchsia, and Black. The theme was Bling and Glam" - L ATTIRE: Sophie's Gown Shoppe (www.sophiesgownshoppe.com ON GROOM + GROOMSMEN ATTIRE: Collins Clothiers ( ) (www.collinsclothiers.com David's Bridal (www.davidsbridal.ca ON & Azazie (www.azazie.ca Beauty Bar by JT (@ beautybarbyjt Makeover Me (www.prettypleasemakeoverme.com ON DÉCOR: Decorating Dreams ( www.decoratingdreams.ca ON DJ: Digital Vinyl (www.digitalvinyl.ca) ON CAKE: Lenjo Bakes (www.lenjobakes.com) ON and Crema Pastry (www.cremapastry.com) Kitchener, ON VIDEOGRAPHER: Brubacher Films (www.brubacherfilms.com), Hamilton, ON DAY OF COORDINATOR: Do Right & Done (www.dorightdone.com), Kitchener, ON TELL US YOUR STORY: "I was having a girls night out and he was having a boys night out. Neither of us thought that soon after that we'd be living together and then planning our Weforever.met at a nightclub and my girlfriends and I were about to leave when we decided we wanted a bit more time on the dance floor... and that is when we met. We started dancing and exchanged numbers. He actually put the wrong number in his phone but I found him later and told him to text me. From that day on we spent every moment we could either texting or talking on the phone at all hours of the Afternight!amonth of dating the pandemic hit and shut down the world. We had to make the decision if we were going to go forward or call it quits. I had a conversation with my son and we decided to try and move in together. So many people were skeptical of our decision but 2 and a bit years later we are now happily married and have gone through so many things together. It feels like we have been together for 10 years not 2!!
WEDDING
) Waterloo, MAKEUP:ONPretty Please
BIGGEST CHALLENGE: "We were originally supposed to get married in Mexico and had everything planned. We ordered décor and had 45 people already booked to come with us. While in full lockdown, we made the decision to cancel Mexico and do it here. We (I) planned a wedding in 3 months!" - L
The most amazing part of this journey is that my son now has a father who he loves and looks up to, a great father figure he can call dad. Who would have thought a night out would end with this!" - L
♥) (
) Hamilton,
BEST MEMORY: "Everything! How absolutely perfect everything turned out and just how much fun everyone had that day; from the wedding party to all of the wedding guests!" - L
Laura &
) HAIR:
Kitchener,
) Cambridge,
♥
GUESTL#:
ADVICE: "Breath! Enjoy the moment and just know that you can plan every single detail of your day and things will still go wrong (like having the wrong timing for walking down the aisle) but no one will know and everything will still be perfect!" - L •
Joel Merza 6 •The Wedding Ring Magazine | www.theweddingring.ca
) Kitchener, BRIDESMAIDON ATTIRE:
BRIDE
) Kitchener,
Hamilton,
) Kitchener,
ADVICE: "Wedding planning should be a team effort. Don't get too hung up on the small details, remember, what this is all for! Also, do not underestimate the power of all inclusive venues. They truly help make wedding planning easy, relaxing, and fun!"
we
"Performing our first dance and working with our pianist to personalize our music. Also, my husbands outfit and hair. He really wanted to keep everything a surprise until our first look." - E
We
and was a
We
theme
our style. On our wedding
warm, cozy and elegant; an inn
of fun. We
us
Ellie & Nick Brock Warm & Cozy such a pleasure to work with. really understood what wanted and day were so professional and easy to work with. They guided with all of and made it so easy. heard about HRM through Bellamare. After meeting with a couple of photographers and looking through portfolios decided to go with HRM. really liked overall was out of used I met Nick I knew I wanted get know him better. I met him working buck and doe. He was so charming lot spent the whole night together.
they
to
Jordan's style and she was so nice." - E GUEST #: 60 COLOUR PALETTE/THEME: "Colour palette was Navy Blue, Grey, and Gold. Our
WEDDING DATE: January 22nd, 2022 LOCATION: Bellamere Winery (www.bellamere.com) London, ON PHOTOGRAPHY: HRM Photography (♥) (www.hrmphotography.com) London, ON " HRM Photography was
BEST MEMORY:
- E • WHERE FABULOUS LOCAL WEDDINGS BEGIN! • 7
" -
the cold. We
E
Jordan
candles, furs, and greenery to bring our theme to life." - E BRIDE ATTIRE: Sophie's Gown Shoppe (www.sophiesgownshoppe.com) London, ON GROOM + GROOMSMEN ATTIRE: Moores Clothing for Men (♥) (www.moores.com) London, ON BRIDESMAID ATTIRE: Azazie (www.azazie.ca) BRIDE HAIR & MAKEUP: Maria Legria GROOM HAIR: Hair by Steph DÉCOR/FLORAL: Little Leaf Haven (www.littleleafhaven.com) Ingersoll, ON OFFICIANT: London Wedding Officiant - Patti PLANNER:Lofgren Patti Logfren & Karen Legria PIANIST: Jack Wyndham (jackwyndhammusic@gmail.com) TELL US YOUR STORY: "When
to
At that time, I was also working as a bank teller, and a couple of days after the buck and doe, I saw Nick waiting in line to see me. He kept letting people pass him just so he could come to my wicket. He pretended to need some banking done so he could see me. It was cute. We started talking, then I gave him my number. I had a vacation planned the next day, so we had to wait a whole week for our first date. During that week we were texting non-stop. I was so nervous for our date, so much so that Nick convinced me we were going to do a dine and dash. I, of course, wouldn't do that, but I was so confused and nervous at the time! Turns out he was just joking... phew. (It took me a while to know when he was being serious and when he was joking!) We ended up staying until six in the morning talking and staring at the stars. The ground was damp and cold, but it didn't matter to us. We just kept talking. Even in silence, it was easy. From then on, we spent all of our free time together and became inseparable. One year later, Nick rented the entire butterfly conservatory for us to celebrate our first anniversary. Two years after that he proposed while star gazing. Planning our wedding was super easy and relaxing, for the most part. We had a couple of hiccups here and there with COVID, but we worked through them. We postponed our wedding once, so we knew that regardless of the situation, we weren't going to postpone it again. It helped to have lots of support from friends and family. In the end our wedding turned out even better then we imagined.
our poses
a photo booth at a
we
8 •The Wedding Ring Magazine |
John Steve Cauduro www.theweddingring.ca
&
Meant to be WHERE FABULOUS LOCAL WEDDINGS BEGIN! • WEDDING DATE: June 25th, 2022 LOCATION: Concordia Club (♥) (www.concordiaclub.com), Kitchener, ON "While searching for a wedding venue, we knew we wanted an all-in-one experience. Concordia Club offered everything we were looking for in a venue, including on-site ceremony, and reception options that included catering and bar at a very affordable price." - J PHOTOGRAPHY: K Pellerin Photography (www.kpellerinphotography.com) Simcoe, ON "We spent what seemed like days going through photographer profiles/websites online. It was important to us to find someone that was local to the area and who would complement our style."GUESTJ #: 46 COLOUR PALETTE/THEME: Blue & White GROOMS ATTIRE: Tom's Place (www.toms-place.com) Toronto, ON GROOMSMAIDS ATTIRE: David's Bridal (www.davidsbridal.ca) Kitchener, ON FAVOURS: Scrapcat Soap Co. (www.scrapcatsoap.com) Guelph, ON OFFICIANT: Rev. Akrivi Nicolaou
concordia club www.concordiaclub.ca | 519-745P h o t o : P e t e r B P h o t o g r a p h y P h o t o : O n e 2 O n e P h o t o g r a p h y P h o t o : O n e 2 O n e P h o t o g r a p h y
PHOTOGRAPHY: DA Photography (www.daphotostudio.com) Guelph, ON "We found our photographer online in our area with great Google reviews. After our initial meeting in person we could see why he had such great reviews. Our entire family enjoyed working with Dragi on our wedding day, which is evident in our pictures." - N
-
BIGGEST CHALLENGE: "Our biggest challenge was wedding planning during a pandemic and the ever changing restrictions. In the end, we were able to have an amazing wedding day with everything we wanted!" - N
CAKE: SK Confectionery (www.skconfectionery.ca) Caledon, ON TELL US YOUR STORY: "Kurt and I met online three years ago and quickly bonded over our love for The Simpsons. We incorporated this in our wedding cake with a printed image on the back of our cake. After dating for a year and then spending the pandemic isolated together, we were sure we wanted to spend the rest of our lives together. We both grew up in tight knit families and want to continue the same in a family of our own." - N
BRIDE'S ATTIRE: Dreams Bridal (www.dreamsbridal.ca) Cookstown, ON GROOM'S TUX: Harry Rosen (www.harryrosen.com) Toronto, ON GROOM'S INDIAN OUTFIT: Sahiba Fashion (@sahibafashions) Brampton, ON BRIDESMAID ATTIRE: Azazie (www.azazie.ca)
Nadia & KurtisElsner
Love by Candlelight 10 •The Wedding Ring Magazine | www.theweddingring.ca
•
BEST MEMORY: "Our best memory from our wedding day was walking out as Mr. and Mrs. at our reception. It was the moment where all our planning came together and we could begin celebrating our life together with all our family and friends."ADVICE:N"Our advice for couples planning their wedding is to not sweat the small things - everything will happen as its supposed to. Insist on the things that are important to you and your partner and the rest will fall together." N
GROOMSMEN ATTIRE: Moores Clothing for Men (♥) (www.moores.com) Toronto, WESTERNONBOOTS: Herbert's Boots (www.herbertsboots.com) Innisfil, ON HAIR & MAKEUP: DMG DESIGNZ (@ dmgdesignz) Brampton, ON DÉCOR: Diya Decor (www.diyadecor.com) Etobicoke, ON FLORAL: Classy Flowers (www.classyflowers.ca) Vaughan, ON INVITATIONS: LovePaperEvent (www.etsy.com/shop/LovePaperEvent)
WEDDING DATE: February 5th, 2022 LOCATION: Hazelton Manor (www.hazeltonmanor.com) Vaughan, ON GUEST #: 130 COLOUR PALETTE: "Burgundy and Dusty Blue were our colours which were reflected in our invitations, bridal party's outfits, and our floral arrangements. We had a candle wall backdrop for a more romantic look." - N
WHERE FABULOUS LOCAL WEDDINGS BEGIN! •WHERE FABULOUS LOCAL WEDDINGS BEGIN! • 11
Oakville, FAVOURS:ONWildflower Seed bombs by Free Mountain Designs ( FreeMountainDesignswww.etsy.com/ca/shop/ ) Idaho, USA CATERING: Chef Matt Basile (www.chefmattbasile.com) Toronto, ON TELL US YOUR STORY: "We met mid 2020 online... How else did you meet someone in the height of a global pandemic?! I was recently divorced and not entirely ready to get back out there. After a long marriage, the dating world was a completely foreign place to me. My two besties suggested I create an online profile just to scroll and get my feet wet since I was so "out of touch." Reluctantly, I did. A profile popped up. I was genuinely intrigued but planned to swipe it away regardless. I truly thought it would pop up again at another time when I was more "ready." I didn't quite understand the concept of the app. I didn't realize the profile would be gone forever if I swiped it away. So maybe it was fate; the internet gods swooped in and took the wheel. I got my left and right mixed up. The profile's fate dangled under my finger, swinging back and forth as I struggled to figure out which way to toss the profile. Maybe it was the wine. I swiped up... Overwhelmed, I logged off. The next morning I woke up to a message. A basic conversation started, a friendship budded, and a relationship blossomed. I learned that this person I was beginning to fall into alignment with, had been online that fateful night, deleting his profile, fed up with the online dating world. When my profile came up, he liked it and then saw my super like. We began to talk everyday, sometimes two, three times a day. We made dinners together over video calls, and watched movies together that way as well. Eventually we met in person after COVID tests, face masks and lots of sanitizer. We sat in the flatbed of his truck, listening to jazz on the radio, and sharing a poutine while chatting face to face. It was the best date I'd ever been on. Eventually I introduced Patricio to my children. They had already built a strong relationship over the phone and they had invited him over for dinner. We were all a ball of nerves that evening but dinner was magic and the kids didn't want him to leave. He pretty much never did after that and our new family formed. In the summer of 2021, we got married after a short engagement, essentially just enough time to get all our details sorted out. We didn't want to wait too long, we knew this was exactly as it was meant to be." -
Shani & Patricio Belle
S
"The best memory I have is walking into the room, standing at the top of the aisle, and seeing Patricio's face. It was almost like a look of relief, 'Finally! We're here! We made it!' Then seeing the HUGE smiles on my children's faces. It was such a beautiful moment for our little family. We had all chosen each other and it was so perfect." - S & P •
12 •The Wedding Ring Magazine | www.theweddingring.ca
GROOM + GROOMSMEN ATTIRE: Just White Shirts (www.justwhiteshirts.com)
MAKEUP: Makeup by Tramaine CAKE: Mad Hatter Tea Co (www.mhteac.com)
BEST MEMORY:
Pop of Watercolour
WEDDING DATE: July 17th, 2021 LOCATION: The Campbell House Museum (www.campbellhousemuseum.ca) Toronto, ON PHOTOGRAPHY: Gary Evans Photography (♥) (www.gary-evans.ca) Kitchener, ON GUEST #: 23 COLOUR PALETTE: "Our colour palette was Mauve, Eucalyptus, and Gold and all the shades of purple and green in between. We were aiming for a watercolour effect." - S PLANNER: Pop Up Weddings by Lovely Weddings and Events (♥) (www.lovelyweddingsandevents.ca) Kitchener, ON " We booked a double time slot for our wedding. This allowed us a bit more time and a bit more customization for our package. I think the best part about Lovely Weddings is how well they take care of you. They made us feel so special and important. We felt heard! And even though our wedding was a pop up - the theme and venue shared with a handful of other couples - it didn't feel that way. We added in key personal touches, we included family traditions in our ceremony, we had a custom cocktail, and even had meals specific to my dietary needs. Nothing felt forced or rushed. Our wedding felt completely like ours. And that's how amazing Lovely Weddings are!" - S BRIDE + BRIDESMAID ATTIRE: Simi Bridal Dresses (www.simibridaldresses.com)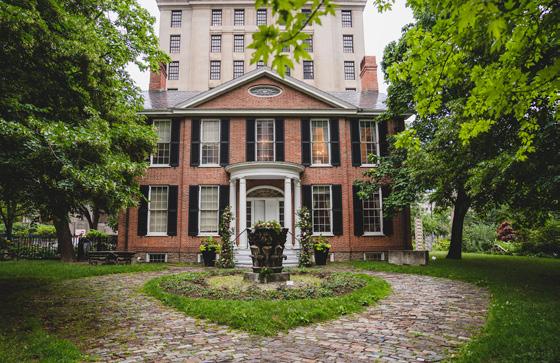 London, STATIONERY:ON
DÉCOR: Tulle Tyme (www.tulletyme.ca) London,
& Brendan Mason Stoneridge After-Party WEDDING DATE: May 7th, 2022 RECEPTION LOCATION: Best Western PLUS Stoneridge Inn & Conference Centre (♥) (www.stoneridgeinn.com) London, ON "We loved working with Natalie and her team. We picked Best Western Plus Stoneridge Inn because it has everything all-in-one! We have alot of family who live out of town and we wanted everything to be at one location (eating, dancing, hotel rooms)." - A PHOTOGRAPHY: Natalie Rose Photography (www.natalierosephotography.ca) London, ON "We met Natalie through friends that used her for their photos. We loved her work and she now does all our family pics." - A GUEST #: 95 COLOUR PALETTE: Plum and Light Grey BRIDE ATTIRE: Opportunity Bridal (www.opportunitybridal.com) London, ON GROOM + GROOMSMEN ATTIRE: Moores Clothing for Men (♥) (www.moores.com) London, BRIDESMAIDON ATTIRE: David's Bridal (www.davidsbridal.ca) London, ON HAIR & MAKEUP: Platinum Salon (www.platinumsalonldn.com) London,
CUPCAKES:
www.djalpha.ca
Amber ON ON DJ: Alpha DJ Company ( ) Amanda Costa, a close friend Theresa Knott, a close friend FAVOURS: Grandma's Oven (www.grandmasoven.ca) Aylmer, ON TELL US YOUR STORY: "Brendan and I actually got married in October of 2020 during a lockdown with just our parents, siblings, and grandparents. It was very small and at my grandmother's church. Brendan's grandma passed away in early 2021 so we are happy she was there for our ceremony. On May 7th, 2022 we had our reception with all our closest friends and family. It was the first real party since COVID, it was the best day ever!!"
- A • WHERE FABULOUS LOCAL WEDDINGS BEGIN! • 13
Hamilton, ON BEST MEMORY:
Barefoot, Boho and Moody
Dundas, ON HAIR & MAKEUP: Look Devine Beauty Studio (www.erinlookdevine. com) Hamilton, ON FLORAL: CijiMarie Blooms (www.cijimarieblooms.com)
CAKE: Crumb and Berry (www.crumbandberry.com) Caledon, ON OFFICIANT: One Soul Awakening (www.onesoulawakening.com)
BRIDES ATTIRE: Herilooms Bridal Shoppe (www.heirloomsbridal.com)
14 •The Wedding Ring Magazine | www.theweddingring.ca
Meghan & Deanna Austin
"The simplicity found in the chaos. There were no bridesmaids throwing fits, no embarrassingly drunk wedding guests, no drama, no last minute disasters, no crisis or madness. It was laughter, the happiest of nerves, the moment we turned around and saw one another in white. The hugs, the kisses, the tears and giggles through each loving moment. It was the authenticity of staring at our person and sharing in the vows as a team. No show, no masks, just love. It was finding love and friendship in unexpected places and creating magic and light in a time of uncertainty and darkness with those people. The memory of swearing ourselves to one another before the universe and no one else, without pretence or show will forever be the most authentic moment of our lives. And we are forever grateful for every moment because in those moments we were us. The us we always want to be and always will be. Barefoot and in love." - M & D •
WEDDING DATE: May 9th, 2021 CEREMONY: Loft on Main PHOTOGRAPHY: Katie Marie Photography (www.katiemariephotography.ca) Hamilton, ON "A friend of ours sent over Katie's Instagram page because her style was exactly what we were looking for. We set up a meeting with her at her studio, and after five minutes of talking knew we absolutely needed her to capture our day. Katie is one of the kindest, more sincere, and loving human beings we have ever met. She goes above and beyond for her clients and friends and always has a plan to make life exciting. Working with her is like working with a best friend. She is supportive and helpful in every way she can be and to top it off, she keeps you smiling through every minute. She has a way of making everyone she works with feel comfortable and beautiful. She truly has a gift when it comes to her art and we could not have had a bigger blessing given to us than the day we met her. She captured who we are, not just how we looked. She gave us a little piece of her soul when she took our photos and she showed that through her work. She showcased our souls alongside hers and you can't ask for better than that." - M & D
COLOUR PALETTE/THEME: "Our whole theme was simply us; Barefoot, boho, and moody. Our team went with warm, neutral colours and lots of different textures. With the help of our photographer, we used dry florals, drapery, Edison lightbulbs, and candles to set the mood. The studio our photographer created for us, (seemingly by magic), was already perfect for our vibe and our floral team met us on that level to tie it all together!" - M&D
WHERE FABULOUS LOCAL WEDDINGS BEGIN! • 15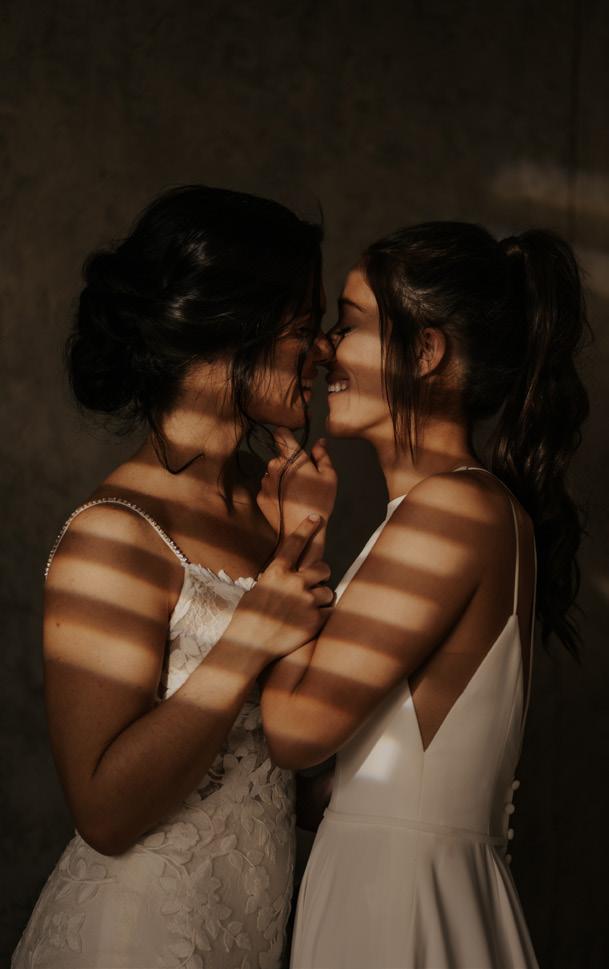 16 •The Wedding Ring Magazine | www.theweddingring.ca
WHERE FABULOUS
WEDDING DATE: August 23rd, 2021 CEREMONY LOCATION: The Duffield Family Property RECEPTION LOCATION: Cellar52 (www.cellar52.ca) St. Jacobs, ON "Selecting to work with Cellar52 was a no brainer in our mind. Gilt Catering is by far the best option for catering in the region for their exceptional food and beverage options and experience. Kristi was always very attentive and helped our vision come to life. We never heard a 'no' throughout the entire planning process." - B PHOTOGRAPHY: Gary Evans Photography (♥) (www.gary-evans. ca) Kitchener, ON "I've known the one and only Gary Evans for 10+ years working together in the wedding industry. There was no other choice in our mind when it came to someone capturing our special day. He is professional, fun, and made us feel comfortable throughout the entire photography journey. Our favourite part of our photos was definitely the quality of the photography and the creativity that was expelled through Gary's directive. He is truly a talent to be beat." - B GUEST #: 35 COLOUR PALETTE/THEME: "Sage Elegance: The theme for our wedding was a play on nature with various wood textures, touches of gold and sage green tones. We wanted the energy of our wedding to match both our venues and the surrounding environment." - B BRIDE ATTIRE: Tilted Veil (www.tiltedveil.com) Guelph, ON GROOM ATTIRE: Gadsby's (www.gadsbys.ca) Cambridge, ON BRIDESMAID + BEST LADY ATTIRE: Azazie (www.azazie.ca) DÉCOR: Kim Evans "Kim used to run and operate The Creative Bride and made my dream come true by doing our florals although she no longer operates her business as it stands" - B BAND: Petty Theft & The Jailbreakers (@ tompettykw_pettytheft) Kitchener, ON HAIR & MAKEUP: 519 Bridal Beauty CATERING: Gilt Catering (www.giltcatering.com) Kitchener, ON OFFICIANT: Always and Forever Life Celebrations (www.alwaysandforeverlifecelebrations.com/martti) Kitchener, ON VIDEOGRAPHER: Seize the Moment Studios (www.seizethemomentstudios.com) Kitchener, ON TELL US YOUR STORY: "My husband and I met 6 years ago through an online dating app. We spoke for a while before we met up for our first date and it was history from there. In December 2020, we found out that my dad was diagnosed with a terminal cancer that gave him a prognosis of a year and a half. My world shattered into a million pieces. My now husband knew that my number one dream was to have my dad walk me down the aisle on my wedding day. We found out about my dad's diagnosis on a Friday and Adam bought my engagement ring 2-days later on the Monday. We quickly got to planning and chose a date in July. As we the wedding day approached, it was being compromised by the restrictions of the pandemic so we made the decision to move the date to August since my dad was in good health and putting up a good fight with his cancer. We got married on the most beautiful day in August on my parents property surrounded by our closest friends and family. It was a dream come true. Being in the events industry for 12+ years, you always have a vision for your big day and this quickly changes along with your priorities when someone you love so dearly might have limited time. We learned to embrace every moment and every step of the process, grateful to have the people we love surrounding us." - B Brandy
LOCAL WEDDINGS BEGIN! • 17
BIGGEST CHALLENGE: "The biggest challenge that we faced in planning our wedding was navigating it with a sick family member. It was our top priority to have my dad at the wedding so the ebb and flow of a health diagnosis that was ever changing played a huge role in things. Thankfully, in order to tackle it, we had selected the most understanding and flexible vendors in the region. They helped make the planning process as stress free as possible." - B
BEST MEMORY: "The best memory from our wedding day was definitely walking down the aisle arm linked with my dad walking towards the love of my life on the property that built me. As the procession with my dad began, he turned to me and whispered, "This is such a dream come true." These are the memories I'll always cherish." - B
ADVICE: "Do your research! Select your vendors based on quality and reviews vs. cost as this certainly made our wedding day that much more special. We felt like each of our vendors was truly a part of our day and we built very strong relationships with each and every one of them." - B •
& Adam Lesperance Sage Elegance
PRESENTING BY: 519-824-5076 | info@thegrandguelph.ca | www.thegrandguelph.ca Under the direction of Platters Catering, no event too large for The Grand Guelph Banquet & Event Centre team! "Our Chefs have prepared wonderful menus for countless wedding receptions, baby and bridal showers, funerals,corporate and charity events, and many other creative parties. Any event can be entirely planned by our professional staff, including; décor, rental equipment and more!!" gotsphotos.comPHOTO:
Design Palettes The following pages filled with design palettes and style shoots are the result of collaborations between wedding industry experts and local brides and grooms. Curated by The Ring. WHERE FABULOUS LOCAL WEDDINGS BEGIN! • 19 DÉCOR, GREENERY & CENTERPIECES: Now and Always Paris (♥) (www.nowandalways.ca) PHOTOGRAPHY: Devon C Photography (www.devoncphotography.com) pg 25(♥) = Reviewed in theweddingring.ca
Sew Stylish Wedding Works has put together a selection of their favourite gown trends to show what all the fuss is about. And this season, it's all about the details! From informal to formal, this collection of gowns has something for any bride.
• Beautiful Boho style gowns are still on the radar. If you are a full lace or chiffon peasant skirt boho bride, these gowns are a new classic.
• Clean and timeless are always great choices. 'We have styled this with a modern twist with our daisy belt.'
• A fluffy fun textured skirt is a great way to show your personality. A sheer lace bodice with a plunging neckline updates this look. WORKS: Sew Stylish Wedding Works www.sewstylishweddingworks.com) in Ingersoll, ON carries an array of beautiful stylish designer collections for brides of every size and budget. Helping every bride to feel comfortable and have an amazing experience searching for that special dress!
ABOUT SEW STYLISH WEDDING
(♥) (
Flowing A-Line gowns with romantic garden lace appliques adorned gracefully throughout.
•
•
All about the details GOWN: Bridalane GP1141 GOWN: Casablanca BL336 GOWN: Bridalane GP1139GOWN: Bridalane 451 GOWN: Jasmine 223005 GOWN: Tania Olsen TC304 PHOTOS, this page and next: rebeccasprauphotography.com 20 •The Wedding Ring Magazine | www.theweddingring.ca
New unique fern style applique lace and embroidery has brides swooning with its modern woodland romantic feel.
• Soft elegance is a trend that has us all wanting flowing off the shoulder details; either a strap adorned with pearls and bead work or soft tulle.
• With 90's all over street fashion, we're now seeing cowl necklines on sexy sleek gowns with lux fabric embellished with large modern lace applique.
Favourite Unique Fun
3.
1.
When it comes to unique wedding ideas, Party Supply Co is here to help. Here are a few of their favourite options to help inspire you… White Wedding Bouncy Castle - Bounce on this trend before you miss it! It's fun for all ages at your reception. Giant Photo Frame - Picture perfect photo frame! Decorate it with florals, leave it plain, or have Party Supply Co. create a balloon décor design. Bar Trailer - "The Tipsy Pony" Bar Trailer is nearing completion!!! Bringing BYOB a whole new meaning to your event!! Giant Games - Have a little friendly competition at your Stag and Doe or Reception with one of their giant games; including 16 foot Inflatable Dartboard, Crown & Anchor Wheel, 60 Foot Tug of War Rope, Dunk Tank, Bubble Soccer, Sumo Suits, and Inflatable Horse
4.
Hops!ABOUT
PHOTOS,
PARTY SUPPLY CO: Party Supply Co. (www.partysupplystratford.com) Stratford, ON provides service to Stratford & surrounding areas with beautiful décor options for any event! www.theweddingring.ca courtesy of: Party Supply Co.
2.
22 •The Wedding Ring Magazine |
shownasexactlynotSize**
ABOUT NOW & ALWAYS: At Now and Always Paris (♥) (www.etsy.com/ca/shop/nowandalwaysparis) Paris, ON "Your wedding details are our passion. Offering veils, hairpieces, hair pins, crystal hair vines and rhinestone combs. Find all your jewelry and wedding accessories at Now and Always Paris." - Cindy, Now & Always Paris
Our a veil into your bridal outfit can complete your look. From a long dramatic cathedral veil to a light and wispy finger tip veil, Accessories by Now and Always has a veil for every bride and every look. Available in 7 lengths in 5 shades of beautiful, here are a few of our favourite veils!
Favourite Veils Incorporating
WHERE FABULOUS LOCAL WEDDINGS BEGIN! • 23
Style Shoot
MACRAME: Little Knotty Farmhouse (www.littleknottyfarmhouse.ca) Newfoundland, NL STATIONARY: Jaye Designs (www.jayedesigns.ca) Brampton, ON VOWBOOKS: Sarah Vertala MODELS: Ashley & Colby INSPIRATION: "This beautiful Boho wedding styled shoot is a mix of romantic whimsical and eclectic styles. Inspiration came from the romantic and vibrant colours of deep forest greens, burnt oranges, dark peaches, neutral browns, and some olive greens. The perfect gown from Memories Bridal added a layer of romance with a touch of sophistication." - Memories Bridal www.theweddingring.ca
WORKSHOP: The Curated Collective (@thecurated_collective_) Barrie, ON LEAD PHOTOGRAPHER & CURATOR: Sarah Martin Photoartistry (www.sarahmartinphotoartistry.com) Barrie, ON LOCATION: The Lovely Tea House (www.thelovelyhouse.ca) OroMedonte, ON GOWNS: Memories Bridal (www.memoriesbridalcanada.ca) Barrie, ON HAIR & MAKEUP: Makeup by McLeod (@makeupbymcleod) Barrie, FLORALS:ON Twine and Tendril (@twineandtendril) Oro-Medonte, ON JEWELERY: Shiny Soul Creations (www.shinysoulcreations.com) Barrie, ON
• Modern Boho 24 •The Wedding Ring Magazine |
OFFICIANT: Grand River Weddings (www.grandriverweddings.ca) Kitchener, ON HAIR & MAKEUP: KW Mobile Hair and Makeup (www.kwmobilemakeupandhair.ca) Kitchener, ON "We found Cindy (Now & Always) through our venue's preferred vendor list. We read some reviews about her work (including on The Wedding Ring!) and decided to reach out to hear more from her. We knew we wanted to hire a decorator to make the day smoother for us, especially since we would have less time to prepare before a noon ceremony. What we didn't know was just how amazing everything would turn out to be! Cindy and her team did such a wonderful job keeping our vision while accentuating the details already present in the venue. She also graciously took care of some day-of details that we didn't think to plan for until the last minute, like putting out our favours and signage. We were so happy with her work, and so pleased that we were able to support a business local to the area as well." - K
BRIDE & GROOM: Kirsten & Nick WEDDING DATE: May 1st, 2022 LOCATION: Arlington Hotel - Dominion Telegraph Event Centre (www.arlingtonhotel.ca) Paris, ON PHOTOGRAPHY: Devon C Photography (www.devoncphotography.com) Kitchener, ON COLOUR/THEME: Clean and elegant with pops of warm tones and contrasting blues BRIDE: David's Bridal (www.davidsbridal.ca) Cambridge, ON GROOM ATTIRE: Suit Supply (www.suitsupply.com) Toronto, ON BRIDESMADE ATTIRE: Azazie (www.azazie.ca) GROOMSMEN ATTIRE: Moores Clothing for Men (♥) (www.moores.com) Brantford, ON DÉCOR, GREENERY & CENTERPIECES: Now and Always Special Event Decor (♥) (www.nowandalways.ca) Paris, ON BOUQUETS: Windflower Florals & Events (www.windflowerxbbf.com) Paris, CAKE:ONCake and Crumb (www.cakeandcrumbparis.com) Paris, ON
• WHERE FABULOUS LOCAL WEDDINGS BEGIN! • 25
Love on the Grand Design Palette
Expert Tips The following pages are filled with wedding planning tips, tricks, and advice, written and contributed by the wedding professionals who know best how to create the ultimate wedding event. Curated by The Ring. WHERE FABULOUS LOCAL WEDDINGS BEGIN! • 27 EXPERT TIP: Tapestry Hall (♥) (www.tapestryhall.ca) pg 37 (♥) = Reviewed in theweddingring.ca
Expert Tip by GRANT WEDDING WISHES (www.grantweddingwishes.com) Kitchener, ON
PHOTO: FLORALS:jennkavanagh.comluvwithflowers.com
Don't throw away your preservebouquet,weddingit.
"It has captured a moment in time from our wedding to forever be displayed in our home. I am so thankful I made the choice to have my bouquet made into this art piece, it's one of my most cherished keepsakes from our wedding day."
At the end of your wedding night, the last thing you want to have to think about is throwing your bouquet in the trash!
Trust this former wedding planner; it happens ALL THE IfTIME!thethought of that makes you cringe, then you should consider investing in preservation services so you can enjoy your wedding bouquet for a lifetime. Grant Wedding Wishes specializes in transforming your bouquet into a unique and timeless work of art.
-Allie Fricker
28 •The Wedding Ring Magazine | www.theweddingring.ca
Professionally preserving bouquets is complicated and requires a lot of skill, materials, and experience. The team at Grant Wedding Wishes have done all the trial and error so you don't have to! Here's everything you need to know if you're considering preserving your bouquet. Creating these hand-made pieces of art is very labour intensive.
WHERE FABULOUS LOCAL WEDDINGS BEGIN! • 29
"When I look at it I think of the magic of that special day: the beauty, the romantic feeling, and the mood you want to feel and remember for a lifetime. I would highly recommend any couple to capture the magic and memory of their wedding bouquet this way."
ABOUT GRANT WEDDING WISHES: Grant Wedding Wishes is owned and operated by Amelia & Evelyn Grant. The motherdaughter duo feel absolutely privileged that they are able to work full-time together. They have so much fun creating beautiful memory pieces for you! • page:thisPHOTOS, WishesWeddingGrant
WHAT IS BOUQUET PRESERVATION?
Grant Wedding Wishes also offers resin preservation which creates usable art for your home. "We take your 3D dried flowers and cure them in high quality resin with UV inhibitors. Resin is the newest trend in preservation, and allows you to keep your flowers whole and showcase them on a bookshelf, coffee table, or mantle."
- Allie Fricker
- Deanna Martynowicz THE PERFECT GIFT: Having your partner's wedding bouquet preserved is an amazing wedding gift idea! Or are you a Bridesmaid? Maid of honour? Parent? Gift your couple a lifetime keepsake of their wedding florals so they can enjoy them for years to come.
Once they've received your bouquet the team will then begin the drying and pressing process. It takes several weeks to ensure each flower is completely dry. The drying process is one of the most important steps as it ensures that flowers don't mold or deteriorate. Now that the flowers are dry, professional grade pigment is added to every petal as well as greenery, to prevent yellowing and fading. The pressed flowers are then glued onto acid-free background paper that will never yellow or change colour. The piece is framed in a high quality, hand crafted wooden frame from a local supplier. Each frame has UV protection glass to prevent deterioration of flowers over time from the sun.
"I cannot recommend enough to other couples to have their wedding bouquets preserved. When my friends and family members saw the piece, so many said, 'I wish I would have done this too'."
The process from start to finish takes about 4 months to complete. To ensure the freshest most vibrant appearance to your bouquet, you'll want to get your flowers to Grant Wedding Wishes within 5 days of your wedding.
Choosing a friend or family member as your 'Day of Officiant' is right on-trend. However, unlike the movies, it's not an easy online application. In Canada, a wedding must be officiated by a member of the clergy, a licensed Officiant, or a marriage commissioner. With Enduring Promises, you will have the flexibility at your fingertips to choose exactly what part of your love story you want your friend or family member to share using our online portal. You can also include a reading, or not, add a special element or incorporate a loving way to honour your parents. A perfectly personalized wedding ceremony—with no surprises or stress. Your friend will be grateful, and YOU will bring the vision and feel of your wedding ceremony to life!
So when it comes to YOUR wedding, having a friend officiate makes a whole lot of sense—and we don't disagree! Friends have long been a part of wedding celebrations in creative and significant ways.
30 •The Wedding Ring Magazine | www.theweddingring.ca
Enduring Promises is here to help and support because… Friends are the family we ABOUTchoose.ENDURING PROMISES: Enduring Promises is a trusted group of a wedding Officiants who have the experience, expertise, resources, and passion to help you create a personal, engaging, and memorable wedding ceremony that you, your family and guests will remember for years to come.
Life is so much sweeter when shared. And we're not just talking about with the one you love… From inside jokes to mischief, venting and advice, and the best kind of knowing—these are our friends. The kind you share everything with—even the excitement when you got engaged!
Weddings are all about heart and including a close friend or family member as your Day of Officiant honours the journey you share as loved ones.
EXPERT TIP BY ENDURING PROMISES (♥) (www.enduringpromises.com) Toronto, ON Day Of Officiant
PHOTOS, this page: redsuitcasephotography.com/
On your special day, your chosen Enduring Promises Officiant will step in to hear your Statement of Intent and declare you legally married (even if it's whispered) as you sign the marriage license.
P H O N E 1 8 4 4 3 7 4 4 7 3 3 / 4 1 6 4 0 2 1 6 6 6 E M A I L I N F O @ E N D U R I N G P R O M I S E S C O M W E B S I T E W W W . E N D U R I N G P R O M I S E S . C O M I N S T A G R A M C O M / E N D U R I N G P R O M I S E S / W E D D I N G O F F I C I A N T S E N D U R I N G P R O M I S E S CONTACT INFO C H A N T A L D A V I D S O N P H O T O G R A P H Y W H I T N E Y H E A R D P H O T O G R A P H Y C O L U M B I A P H O T O A N I K A K I T C H E N @ J A C O B J O H N D E S I G N P H O T O G R A P H Y D A R Y L J A M E S B R A N D O N T A Y L O R B L A C K W O O D S T U D I O S PHOTOGRAPHY CREDITS E n d u r i n g P r o m i s e s i s a n a w a r d w i n n i n g a n d t r u s t e d t e a m o f e x p e r i e n c e d a n d h i g h l y t r a i n e d W e d d i n g O f f i c i a n t s w h o a r e a l l l i c e n s e d t o o f f i c i a t e w e d d i n g s . W e a r e c o m m i t t e d t o h e l p i n g y o u c r e a t e a w e d d i n g c e r e m o n y t h a t i n c o r p o r a t e s y o u r b e l i e f s a n d v a l u e s , c e l e b r a t e s y o u a s a c o u p l e a n d i s a r e f l e c t i o n o f y o u r p e r s o n a l i t i e s . WHO WE ARE Y o u r C e r e m o n y , Y o u r W a y O f f i c i a n t o f t h e D a y M o b i l e C e r e m o n y V o w R e n e w a l T a k i n g C a r e o f B u s i n e s s ( p l e a s e r e f e r t o o u r w e b s i t e f o r d e t a i l s )
CEREMONY OPTIONS
MULTI LANGUAGE/CULTURE O u r W e d d i n g O f f i c i a n t s w i l l h e l p r e d u c e t h e s t r e s s o f y o u r S p e c i a l D a y a n d r e m i n d y o u r g u e s t s t h a t t h e y a r e c e l e b r a t i n g a v e r y s p e c i a l m o m e n t , n o t j u s t a t t e n d i n g " a n o t h e r " w e d d i n g . W e w i l l t e l l y o u r s t o r y j u s t t h e w a y Y O U c r e a t e d i t ! WE ARE HERE TO HELP
W i t h h a v i n g a t e a m o f o v e r 5 0 O f f i c i a n t s , w e h a v e t h e o p p o r t u n i t y t o p r o v i d e O f f i c i a n t s w h o s p e a k E n g l i s h , F r e n c h , S p a n i s h , C a n t o n e s e , a n d G e r m a n . W e a r e a l s o v e r s a t i l e i n m a n y c u l t u r a l c u s t o m s a n d t r a d i t i o n s . ( l a n g u a g e i s d e p e n d a n t o n O f f i c i a n t a v a i l a b i l i t y )
P L A N Y O U R D A Y Y O U R W A Y Making memories since 1983 and we're known for our highquality team, all of whom have helped establish a long resume filled with incredible events. Offering more than DJ services, you can complete your wedding, corporate or special event with our MC'ing, event lighting, photo booth rentals, karaoke and slideshow services. D O N ' T M I S S O U T O N T H E F U N ! musiccentral@musiccentral.ca | www.musiccentral.ca @musiccentralentertainment
An experienced DJ knows all your key vendors: venue staff, coordinators, videographers, photographers. They can work with any team and they can lead that team as needed. Even with all the staff turnover and changes over the last couple of years, your DJ knows and can work with your vendor team. But the magic doesn't stop there. They can corral the wedding party, gently lead the family MC, and guide your guests through the day. When venue coordinators, officiants, and other pros are asked about working with Music Central the most common response is, 'When it's Music Central, I'm in good hands.'
EXPERT TIP BY MUSIC CENTRAL ENTERTAINMENT (♥) (www.musiccentral.ca) London, ON Experience Matters
MUSIC KNOWLEDGE: An experienced DJ has access to all the legal, licenced music you could ask for. They know all the ethnic music, the genres, how to read the crowd and play the next song to keep the party going. From hot new music to old favourites, from club to classic, they know the music to create the soundtrack of your wedding day that's as unique as you are. Music Central DJ's are all experienced. Regardless of age and how long they've been with Music Central, there's no such thing as a first wedding. Music Central DJ's go through an extensive training and mentorship program. Before they DJ alone, they've done dozens of weddings as part of that training. The DJ's on the Music Central team have years of experience and done hundreds of weddings, a few have done more than a thousand. These are the mentors and teachers.
LOCATIONtimes?KNOWLEDGE: An experienced DJ knows your space. They know the layout. They know the optimal way to setup for maximum flow and quality of sound. If they haven't worked at your particular venue, maybe it's a family farm, they either do a site visit or they use google earth. They know the layout for your wedding; where is the aisle, where is the hydro access, what are the walk/traffic lines, where is the dance floor? Not only can they adapt to your space, but they can also make recommendations for design and flow.
TEAM PLAYER AND TEAM LEADER:
UNFLAPPABLE: Your experienced DJ is the unflappable captain of your wedding ship. They've been through everything before. Been there, done that. Seen it and survived it all. They're adaptable to the changing situation and will help you and your other vendors get back on track if needed. Your DJ is like a pilot. Do you really want to be on their first flight? Or would you rather know that they're flown 50 or 500
PHOTO: mariadenommephotography.com
When asked what experience means at Music Central, Rob tells us about second generation weddings he's doing. "I've done the weddings of the parents, now I'm DJing the weddings for their children." Though they're experienced, weddings never get old at Music Central. The team is as excited for their 50th wedding as they are for their 500th.
There's a short but important list of items to consider when hiring a DJ or MC for your wedding. Considerations include budget, availability, reputation, package options, and addons like smoke machines and photo booths.We asked Rob from Music Central what sets them apart from the other DJs and MCs in the industry, 'It's experience.' What does experience mean when hiring Music Central for your wedding? Let us explain.
ABOUT•
MUSIC CENTRAL: Music Central Entertainment is the area's most respected disc jockey service based out of London, ON. Music Central specializes in weddings as well as corporate events, and creating a unique event based on the client's wishes, musicality, and suggestions. As well as their famous DJ services, they can also provide photo booths, lighting, special effects, audio/visual, karaoke, master of cermonies, and much more.
WHERE FABULOUS LOCAL WEDDINGS BEGIN! • 33
PHOTO: photosbyknh.com
I'll try to shed some light on some things you'll want to think about, with the caveat that terminology and roles may differ from market to market and region to region. The best thing you can do if you're seeking help is to book a consultation or discovery call with a local professional so that they can explain their services to you. You can do this face-to-face or virtually. Don't just depend on their website to give you the full scope of their services. The following are some terms you may come across in your search:
♥)
Of course, I'm biased, but I think this is the minimum you'll want for your wedding day. After all you shouldn't be the one fielding phone calls or solving problems on your special day!
EXPERT TIP BY: Unmistakably You ( (www.unmistakablyyou.com) London, ON
34 •The Wedding Ring Magazine | www.theweddingring.ca
VENUE COORDINATOR/CONCIERGE
DAY-OF/MONTH-OF/LOGISTICS COORDINATOR
What's the Difference?
Typically, this is a person or team who enters the planning process closer to the end. You've booked all the wedding vendors, created the pillars of your itinerary, and are looking for someone to help tie up loose ends, tweak the itinerary, and manage your vendors and schedule on the day of the wedding. Actual inclusions vary, but there are usually one or two meetings prior to the wedding, creation of an itinerary, and fewer hours of service on the wedding day than a full planning package might include. Some coordinators provide setup and teardown services, and some only offer these as add-ons to their packages.
Different venues handle this position differently, so if you're contemplating getting married at a hall, hotel, or golf course that provides a coordinator, make sure you ask lots of questions to clarify their role before committing. Often, the venue coordinator is responsible for multiple weddings on your wedding day (if the venue hosts more than one at a time), and will often have other duties, such as hosting tours, writing contracts, and liaising with other departments within the venue.
If you're newly engaged, congratulations! You're probably super excited, but you may also be experiencing the common feelings of stress and being overwhelmed that our clients talk about prior to booking us. If that's the case, you might have looked into hiring a 'wedding planner' or 'coordinator', or you may be looking for a venue that provides one. But what are the differences? What kind of professional or service do you REALLY need to help you deal with the stress you're feeling?
Some venue coordinators will handle setup of your personal décor, and they'll ensure that the venue's services and items are
Most full service planners walk with you along your entire wedding planning journey, managing your budget, providing resources and guidance, attending meetings, keeping notes, and ensuring that you don't miss any deadlines or overlook any details. Some also provide design services, guiding you through creating a cohesive floral, décor, and stationery scheme. Generally, full service planners will provide extended hours of service on the day, and may provide extra teams for setup, teardown, and design execution.
PHOTO: wesleyforbesphotography.com PHOTO: wesleyforbesphotography.com
We often have inquiries from couples who say "I've planned everything, I just need someone to set it up and/or tear it down". First, we give you credit for recognizing that you don't want to be the one doing this; you shouldn't have to WORK on your wedding day! I clearly can't speak for all coordinators/planners out there, but this isn't a service we provide exclusive of our coordination or planning packages. One reason is that we strongly believe that you should be supported throughout the whole of the wedding day, as well as the weeks and months preceding it. The second is that there are just so very many things that could go wrong on the day (sorry… Not trying to scare you!!!), and we wouldn't be equipped to solve those problems without a full understanding of the scope of your plans, the services your vendors are providing, and your overall vision. However, some coordinators DO provide this service exclusive of coordination packages, so it's worth asking the question so that you can be as relaxed as possible on your wedding Theday.
provided on time and as contracted, but more often than not, they'll finish their workday just after your dinner is served. This means that you're on your own to start speeches, first dances, and with any post-dinner events. They also don't provide off-site services, so won't be with you during any pre-wedding events like getting ready, first look, or transportation to the venue. Depending on the coordinator, some gather in-depth information about your other vendors and the services they're providing, but some may not even know the name of your florist or the colours and style of flowers that you've ordered.
My bias is showing again, but from my perspective, a team involving a venue coordinator AND a private coordinator is optimal. That way, you'll have support both on and off-site on the wedding day, and it's a double guarantee that events will happen the way you've planned.
This is a package that is definitely recommended for anyone who doesn't have the time (or energy!) to devote to the research, data collection, and vetting of every vendor and the weight of every decision to be made during the planning process.
moral of the story is that, if it's at all possible for you to include a coordinator or a planner in your wedding process, you should. The stress alleviated and the resources and knowledge provided by a professional, qualified coordinator/planner are worth their weight in gold, and will allow you to actually enjoy the biggest party you're ever going to throw!
• ABOUT UNMISTAKABLY YOU: The Unmistakably You team is obsessed with all things wedding! Their mission is simple: give busy couples the peace of mind they need to truly believe that their wedding will be a unique reflection of them as a couple, and ensure that they will be able to relax and enjoy their wedding day.
A WORD ABOUT SETUP AND TEARDOWN
WHERE FABULOUS LOCAL WEDDINGS BEGIN! • 35
FULL SERVICE PLANNING
Weddings are a chance to celebrate love in all of it's forms. The first and only subscription box that allows you to celebrate love with and without labels Our products are designed and thoughtfully curated, useful items that you'll love before, during and after the wedding. Offering 3 and 6 month subscriptions perfect for gifting. idobox.ca
1. TWO WORDS: ELEVATED MIMOSAS!
WHERE FABULOUS LOCAL WEDDINGS BEGIN! • 37 5 REASONS WHY YOU SHOULD CONSIDER A BRUNCH WEDDING Couples Who Brunch PHOTO: davidandkara.com PHOTOS, this page: taylorjacksonweddings.com unless otherwise stated PHOTO: tapestryhall.ca
From a classic orange juice mimosa to more out-of-the-box freshly pressed juice options, mimosas are a brunch must-have and a great way to get the party started!
If your wedding day starts in the late morning, you'll have the whole day ahead of you to celebrate with friends, family, or maybe just even with each other later in the day!
If you love the sound of the options mentioned, you will also love to know there are more opportunities to keep your budget in line by hosting a beautiful brunch wedding. From discounted room rental rates, versatile food and beverage choices, and more open date possibilities, be a trend-setter. Reach out to our knowledgeable sales team who will work with you to ensure your event is as distinct as you are. • ABOUT TAPESTRY HALL: From intimate to grand, brunch to dinner, the team at Tapestry Hall is here to help you celebrate your forever in style! Our venue is a beautiful canvas designed for you to customize all the details of your big day, from furniture to lighting, music, and menu planning. Get started today!
EXPERT TIP BY: Tapestry Hall (♥) (www.tapestryhall.ca) Cambridge, ON
2. MAYBE SHE'S BORN WITH IT, MAYBE IT'S NATURAL LIGHT!
Any photographer will tell you that they love shooting in natural light—especially for wedding photos. So, it's for that reason alone that we recommend you have a brunch wedding instead of an evening wedding if you're looking for something a little more unique!
3. LAVISH TABLESCAPES, PERFECT PLACE SETTINGS, AND EGGS BENEDICT. YES PLEASE!
We don't know about you, but we've never had a bad day that started with champagne. This is why we love the biggest trend in the wedding industry right now—the brunch wedding! From the incredible menu options to the overall vibe of the day, here are 5 reasons why you should consider hosting a Sunday brunch reception on your special day.
Gorgeous brunch weddings are worthy of delicious menu offerings and entertainment. They are a sophisticated way to express your creativity and style while planning a spectacular event to illustrate a theme of your choice. Imagine a forty-piece Symphony Orchestra performing at your brunch. We can make that happen at Tapestry Hall. A Modern Parisian Brunch would be très, très chic or a Sparkly Gem Brunch wedding with rosé all day. The possibilities are endless!
4. MORE TIME TO CELEBRATE!
5. SUNDAY IS THE NEW LOVE DAY!
• Day Of Coordinator • Wedding Planner • Linen Rentals • Photographers • Videographers • Makeup Artists • Real/Faux Florals • Hair Stylist • Catering • Decor Rentals • Set Up & Teardown Service • Speciality Invitations • Custom T-Shirts and Signage • ...And much more! SPECIALISTS Wedding & Events WE ARE YOUR ONE STOP SHOP FOR ALL YOUR WEDDING AND PLANNINGEVENTNEEDS. events@serverswithasmile.ca519-721-5424 www.serverswithasmile.caSERVICES:
When the team at The Ring set out to create the Ultimate Wedding Playlists, we did so with the goal of creating the best first and last dance songs, wedding ceremony music, father-daughter and motherson dance songs, bouquet and garter toss, and wedding party dance songs lists ever (obviously)! And also because it was just a super fun Whenproject.we decided to update the lists, we did what we always do; we took it to the professionals! We have tasked our favourite local, Ontario Wedding DJ's with the chore of updating these song lists. But we know that there are always new songs being recorded and released… which means we're constantly updating these song lists to make sure that you have the best possible selection. Many of these songs will always be romantic wedding classics. Many will be only popular for a short time. Others will be special just to the select few couples.
•
Songs • Wedding
Songs Do you
Songs • Bouquet
• Father-Daughter
Below you'll find a list (and link) of our wedding song categories.
Songs • Ceremony
Are
Songs • Last
First Dance Dance Music Dance Dance Toss Toss Party Dance Party consider yourself a wedding music aficionado? Do you want us to add your favourite song or songs to any of these lists? we missing a list that you think we need to add? Help us keep the Ultimate Wedding Playlists (www.theweddingring.ca/ultimatewedding-playlists) up-to-date by sending in your own favourite song ideas (name, artist, correct spelling, which dance/ceremony the song list would be good for). Brides, grooms, and wedding professionals alike can send in songs by email to team@theweddingring.ca
Songs • Mother-Son
Songs • Classic
! • UltimatePlaylistsWedding2023 EXPERT TIP BY THE WEDDING RING (WWW.THEWEDDINGRING.CA/ULTIMATE-WEDDING-PLAYLISTS) hrmphotography.comPHOTO: PHOTO: fedoramedia.com PHOTO: PhotographyImagesFetching WHERE FABULOUS LOCAL WEDDINGS BEGIN! • 39
Songs • Garter
The only thing sweeter than a wedding is the wedding cake. From number of layers to different fillings, from types of icing to favourite flavours, you have a lot to consider when planning your wedding cake. You may not know what you want in a wedding cake but you know you want one. Before you dig into the tasty details, Decadently Yours suggests that you have these 3 things confirmed: your wedding date, your venue, and your estimated number of guests.
PHOTO: tialoryssaphotography.com
page:thisPHOTOS, YoursDecadently statedotherwiseunless
Decadently Yours offers 120 different flavours in both cakes and cupcakes. Their custom baked cupcakes, cakes, and baked goods are great for birthdays, showers, weddings, special events, sporting events, corporate functions and more!
40 •The Wedding Ring Magazine | www.theweddingring.ca
"The wedding date is currently the most important item to confirm. With wedding vendors booking up quickly through 2023 you'll want to ensure the bakery has that date available and has the capacity to accept your order — wedding seasons always get hectic, FAST!
ABOUT DECADENTLY YOURS: Decadently Yours prides themselves on creating delicious handcrafted baked goods that will be the centerpiece at any event. They bake from scratch each and every day using locally sourced ingredients the best they can. Preservatives and store-bought mixes have no place in their bakery!
Once these three items are determined, Decadently Yours can work with you to help determine not just your budget but also what styles, flavours, and flourishes suit your wedding. •
Knowing your venue is important too if the bakery will be delivering the cake. We will need to build a schedule around you and whomever else we're making deliveries for on that day. The number of guests will determine the size of the cake you will need and gives the bakery a starting point. However, don't get too hung up on that number as it may fluctuate — most bakeries are fine with your calling to add or subtract a reasonable number of guests two weeks out."
Sweet Decisions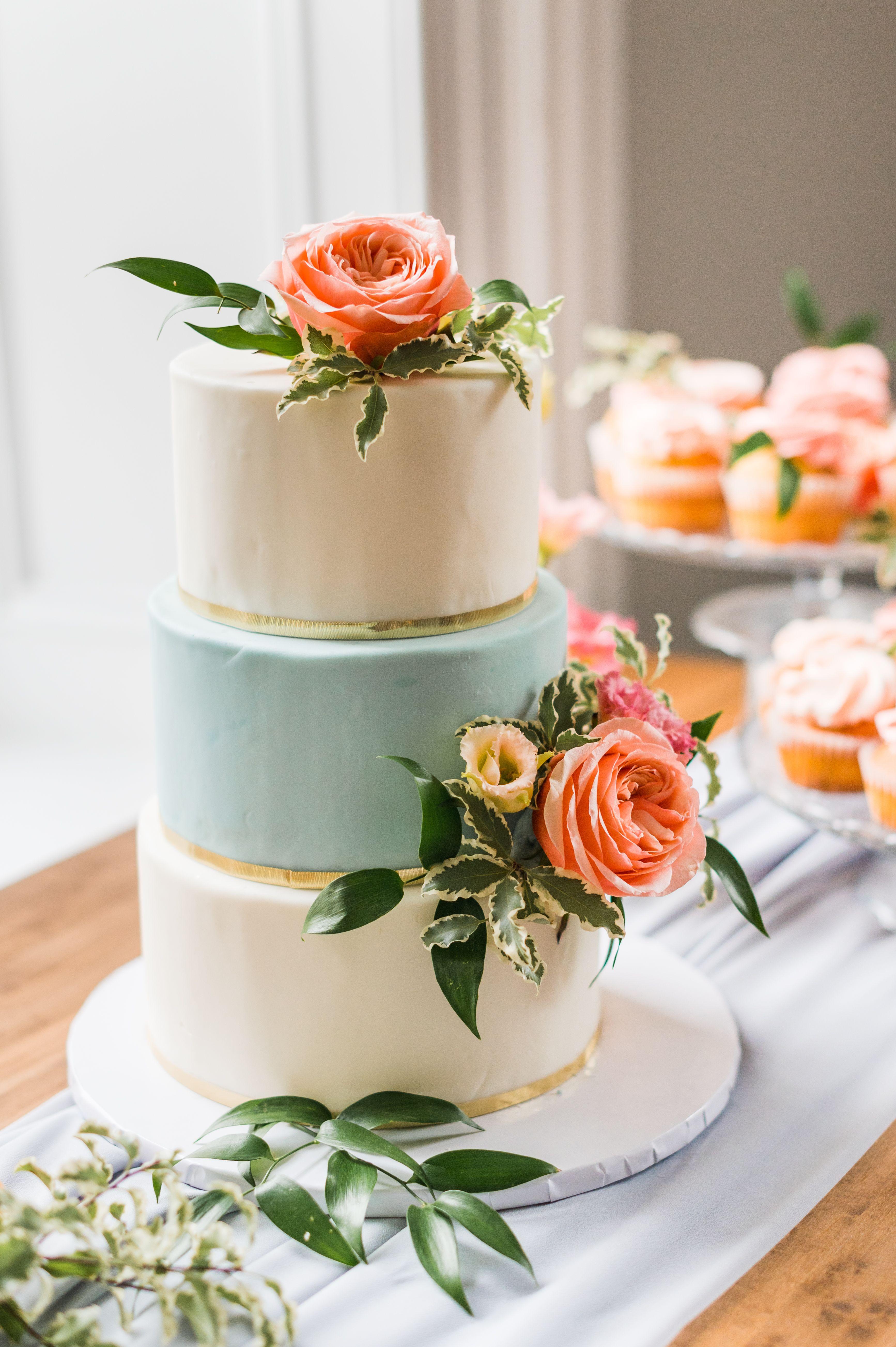 P h o t o : T a p h y Phone: (519) 265 5314 | Email: info@decadentlyyours.ca Web: www.decadentlyyours.ca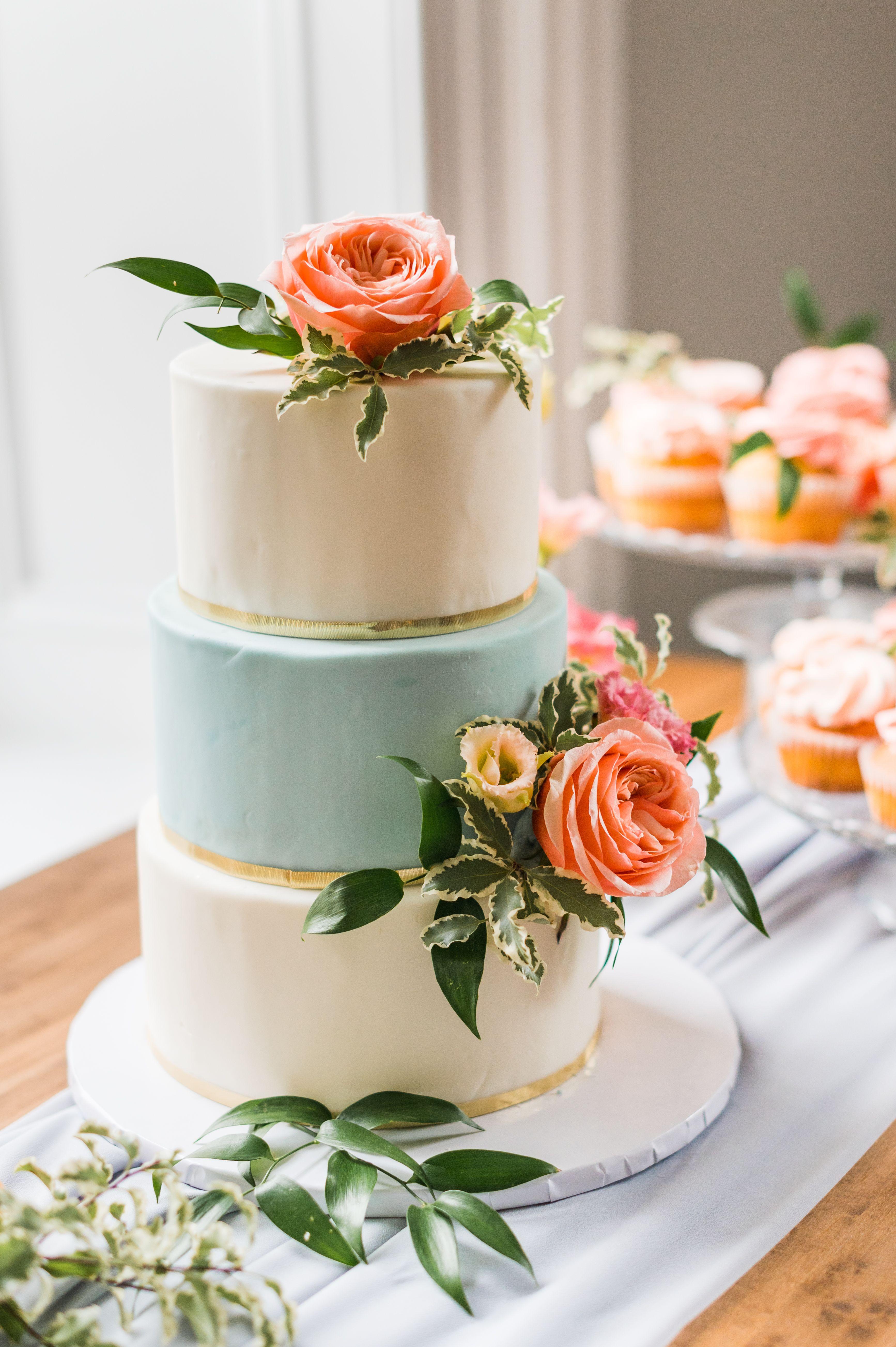 The perfect suit starts with the perfect fabric and style. Get expert advice based on your body type and your taste. While this custom suit is for a specific day it should carry over to the other events in your life. With endless combinations of fabric, texture, and colour, JAC will help find the perfect style for you. Your body is unique and needs a garment that fits it perfectly. The professional team at Jeff Alpaugh Custom take precise measurements to ensure a perfect fit. This 2-hour group appointment is everyone's chance to select personalized details for their outfits (like custom linings and monograms), and have their measurements taken. Style each member of your wedding party with the same fabric or go the mismatched groomsmen route with each outfit entirely different at no additional cost.
ABOUT JEFF ALPAUGH CUSTOM: Uptown Waterloo's trusted source for custom clothing and alterations, specializing in wedding suits, tuxedos, and shirts, with 10 years' industry experience outfitting men and women.
EXPERT TIP BY: Jeff Alpaugh Custom (♥) (www.jeffalpaugh.com) Waterloo, ON
•
PHOTO: dmlfilms.ca
1. PLAN A PARTY: Once your wedding party members are chosen and a custom suit decided, it's time to bring everyone to the shop for a private wedding party event (at no extra charge!). "Our shop has been designed and laid out with this purpose in mind, with a wedding party lounge up front, a pool table, TVs to watch the game, and storefront curtains for privacy. Bring your own food and drink or let us handle it - multiple catering packages are also available."
Jeff Alpaugh Custom believes that grooms, groomsmen, and groomsmaids deserve a custom suit created to suit their individual style and physique. Getting a custom suit for your wedding and for your wedding party is as easy as 1-2-3.
2. EXPERT FITTING AND ENDLESS CHOICES:
42 •The Wedding Ring Magazine | www.theweddingring.ca
A Custom Suit Experience
3. PICK UP YOUR CUSTOM SUIT: When you arrive to pick up your custom suit, you'll do one last fitting to ensure a flawless fit. The master tailor and seamstress at JAC have over 10+ years' experience in the industry. They have the know-how to achieve the fit that will look best on you. Take home your new custom clothing after any slight adjustments to it. Get compliments.
"Incredible service mixed with exceptional products, what more could you ask for? I love walking into a place and feeling like the team there really wants to help you look your best with no agenda. Head in there and leave it to the pros, these guys nail it every time. You're in good hands."
"I ordered and was fitted for a custom three-piece tuxedo at the Waterloo store for my upcoming wedding. The design process was smooth and fun, and Chris was exceptionally helpful and honest.
a custom suit for my wedding here and it was a great experience. Chris has the right mix of offering helpful advice but also letting you make your own decisions. There was so much to customize. It was a lot of fun and you really feel like the suit is your own. The fit was excellent, especially the pants. I've never had pants that fit that well. Definitely would recommend." - Chris Lolas
WHERE FABULOUS LOCAL WEDDINGS BEGIN! • 43
never once felt like I was being up-sold. The measurements were taken so well the first time that the tuxedo fit perfectly with no alterations needed upon arrival. Big thank you to Chris and the rest of the JAC Waterloo team, I absolutely recommend them!"
-
PHOTO: jeffalpaugh.com
PHOTO: @brockjorgymedia
- Jeff Maeck
"I had booked a few appointments to get fitted for a suit for my upcoming wedding. After 5 minutes inside JAC, I cancelled the rest as I knew I had found the place. Haseeb was absolutely amazing - I never had my own suit before but I felt that I found the master.It was such a cool experience and I will definitely be going back. Thanks again fellas for the easiest part of the wedding!"
PHOTO: Matthew Gorveatte Productions
Check out some of the many Jeff Alpaugh Custom's Rave Reviews to see for yourself why they are the #1 go to for custom...
Jamie Young
PHOTO: jeffalpaugh.com
- John "BoughtLeBlanc
If you were divorced in a country other then Canada, you'll also need to provide additional documents to prove that you are no longer married and can legally remarry in Ontario. Since the government of Ontario needs to validate these documents, this process can take up to 4 weeks. You will need to send your completed marriage licence application form along with the following documents to ServiceOntario:
If you're getting married in your church, you'll have the option of skipping the licence (and the licence fee) and being married by a publication of banns. Banns are a lovely traditional religious way of both announcing your intention to marry and making sure it's legal. The Banns are typically announced during church services 3 weeks in a row prior to your ceremony. Both you and your fiancé must be members of the church and attend regularly. Banns cannot be published if you or your intended spouse has been married before. Speak to the clergy of your church for more information on how a publication of banns
Costs for a marriage licence varies by municipality. For more information fees, office hours, and contact information for your local municipality, be sure to check out our article Marriage Licence: How much does it cost and where can I get one? (www.theweddingring.ca/marriage-licence-costs-locations)
EXPERT TIP BY: The Wedding Ring (www.theweddingring.ca/everything-need-know-getting-married-ontario)
• Statement of sole responsibility: for each divorce (signed by both people who are planning to get married and a witness)
• Divorce decree or annulment: an original or court-certified copy in English or French. If the decree is in another language, you will need to include a translated copy and an affidavit sworn by a certified
Everyone else wishing to be legally married in Ontario will need a marriage licence. The application process is short and sweet, but you'll need to know the right Adetails.licence is valid anywhere in Ontario for 90 days from the date of issue. There is no waiting period between the date of issue of the marriage licence and the date of marriage. The Marriage Licence Application form must be completed and signed by both parties to the marriage. One party to the marriage may submit the completed application form to the City Clerk's Office in-person in order to obtain the Marriage Licence, provided that one of the following documents is submitted in place of the absent party: (a) the absent party's original birth certificate; (b) the absent party's valid passport; (c) an Affidavit of Age (available from the City Clerk's Office) completed and signed by the absent party and notarized.
OUTSIDE OF ONTARIO: For residents of Ontario who are getting married in another province or territory in Canada, you must contact the province's or territory's vital statistics office for information on licencing requirements in that province or territory.
To keep life simple, we always recommend taking care of the legal details here at home before you leave for your destination wedding.
PHOTO: jesscollinsphotos.comfedoramedia.com judynguyenphoto.com
PUBLICATION OF BANNS:
GETTING MARRIED IN ONTARIO AFTER A DIVORCE: If this is not your first trip down the aisle and if you were divorced in Canada, you'll also need to bring official proof of the divorce with you when you apply for a marriage licence. This can the original or court-certified copy of one of three documents: the final divorce decree, the final divorce judgement, or a certificate of divorce.
44 •The Wedding Ring Magazine | www.theweddingring.ca
MARRIAGEworks.LICENCE:
GETTINGtranslatorMARRIED
• Everything you need to know about getting married in Ontario
PHOTO:
Getting legally married in Ontario involves more than just a dress and a fiancé. When it comes to getting legally hitched, you have two options: a marriage licence issued by a municipality of Ontario or, if you are being married in a religious ceremony, you may be eligible to be married by a publication of banns.
PHOTO: gary-evans.ca PHOTO:
• Legal opinion letter: from an Ontario lawyer, addressed to both people who plan to get married, giving reasons why the divorce or annulment should be recognized in Ontario
Legally Wed:
3 Looks Inspireto
Erica from Blush MUA offers these 3 looks to inspire you.
THE BOLD AND THE BEAUTIFUL (LEFT): A bold eye with a glitter lid offers lots of depth and dimension. With bold eyes you want to keep the lips soft. "We didn't want to cover her freckles, they part of what makes her beautiful."
EXPERT TIP BY BLUSH (www.blushhmua.com) London, ON You've found the perfect partner. You've found the perfect wedding outfit. Now you need the perfect look. Your wedding makeup is an important part of your overall look and should last the whole day.
PHOTOS
WHERE FABULOUS LOCAL WEDDINGS BEGIN! • 45
ABOUT BLUSH MUA: Blush specializes in on-location Bridal Hair and Makeup artistry. Serving wedding parties in the London and surrounding area as well as their London studio. At Blush MUA their goal is to always make you look and feel beautiful.
CLASSIC ELEGANCE (ABOVE): The balanced eyes and lips make this a classically elegant choice. When we think of this look, we think of Old Hollywood and Disney Princesses. There's a reason it's a classic.
onceuponatimeweddings.capage:this, VEIL:&ACCESSORIESGOWNS, onceuponatimeweddings.ca HAIR: @amber.m.artistry
NATURAL GLOW (ABOVE): This look is skin focused. It starts with luminous glowing skin with a shimmer on the lid and fluffy lashes to make the eyes pop. A subtle pinky mauve lip adds just a touch of definition.
Jess Collins Photography (www.jesscollinsphotos.com) Kitchener, ON BRIDE & GROOM: Becky & Jeff Norman Full story: p50 WHERE FABULOUS LOCAL WEDDINGS BEGIN! • 47
The following pages are filled with love stories, planning tips and tricks, and venue spotlights written and contributed by local brides & grooms and the wedding professionals who know best how to create the ultimate destination wedding event. Curated by The Ring. Destination Weddings
PHOTO:
Although it does add to the budget, taking a scouting trip with your fiancé or maid/man of honour in the weeks or months ahead of your wedding will give you firsthand insight into your chosen destination wedding locale. Plan to visit the venue, meet local vendors, identify any concerns, and experience some of what your destination has to offer. This will help create a smooth wedding trip for both you and your guests. A destination wedding is always a great way for both families and friends to come together in celebration. Your Northstar agent is thrilled to help you plan a flawless weddingmoon so you and your guests can relax and enjoy your destination wedding. •
Have you been dreaming of a long walk down a sandy aisle with the ocean as your ceremony backdrop? Maybe an unadorned snowy mountaintop is your dream locale. If you've been imagining a destination wedding, you already know that you'll want to hire a travel agent to help ensure that your weddingmoon is everything you dreamed of. While there are many online booking options available for travelers these days, you don't want to leave anything to chance or the whims of the internet gods. The TICO certified travel agents at Northstar Travel & Associates would love to help you plan your destination wedding. To help you get started, they offer you these 3 things to consider when planning your Destination I Do's.
Warning: Some countries are not LGBTQ+ friendly so may not make your short list. You'll also want to consider the overall trip experience. Are there other activities and attractions to keep your guests entertained throughout the duration of the trip?
Everything impacts the budget – location, time of year, length of trip, number of guests, and how long the festivities can last. Your Northstar travel agent can get you the best prices locked in for certain periods to ensure that your guests all pay the same rate (if booked by the deadine). They can also access discounts, deals, and special inclusions. Some resorts offer special pricing for larger groups. Some hotels offer special bonuses for the wedding couple. Bonuses and specials can only accessed through your travel EXPERTagent.TIP:
ABOUT NORTHSTAR TRAVEL & ASSOCIATES: The team of TICO certified Northstar Travel agents are thrilled to help couples plan their weddingmoons, honeymoons, bachelor/bachelorette trips, and more. With expertise in planning travel throughout the world: from Canada to the Caribbean to Europe to cuising to Disney – they'll help make your I Do's as unique as you are. Email weddings@northstartravel.ca to be connected to the agent in your area.
BUDGET: While we listed budget last, for many people it comes first. When planning your destination wedding you're not just considering the cost of the actual wedding, you're also considering the cost of the entire trip for yourselves and for your guests.
LOCATION: Now that you've sorted out your vision, your Northstar agent will be able to help you narrow down your location options. Not only will they be able to elaborate on the most popular options, they will know places and spaces that you may not have ever considered. Their wealth of knowledge will save you research time as they help find the perfect location for your destination wedding. When searching for the location that best fits your vision, you'll also want to consider what best suits your guests. Are they able to get there hassle free? Is the location/venue accessible? What about travel advisories and difficulty of the journey to get there?
VISION: If you're planning a destination wedding, you've likely already envisioned how the ceremony looks. Are you dreaming of an oceanside ceremony? Perhaps something in front of a waterfall or on a cliff, atop a mountain or beside a lake? Destination weddings don't have to be on a beach though that is what we think of first. Your destination can be as unique as your destination wedding. They can be in almost any country around the world, offering an endless assortment of views and Instragamable spaces.
48 •The Wedding Ring Magazine | www.theweddingring.ca
EXPERT TIP BY NORTHSTAR TRAVEL & ASSOCIATES (♥) (www.northstartravel.ca) Kitchener, ON Destination I Do's
CHECK OUT YOUR WEDDING DESTINATION EARLY
A lifetime of adventure starts with a destination wedding by www.NorthstarTravel.ca | TICO #2569684 | weddings@northstartravel.ca Head Office: 678 Belmont Ave West Unit 201, Kitchener, ON N2M 1N6
Canadian Rocky ElopementMountain
WEDDING DATE: September 1st, 2021 LOCATION: Tunnel Mountain, Banff AB PHOTOGRAPHY: Jess Collins Photography (www.jesscollinsphotos.com) Kitchener, ON "We found Jess at The Ring's KW Wedding Expo right before the pandemic struck! I am so glad I did because it gave me the chance to actually chat with her in person before making a choice, an opportunity that would have been much more difficult through virtual searching in a COVID world. Jess is a fantastic photographer. Her energy matched our go-with-the-flow style and she made us feel so comfortable throughout our wedding day! Jess is both a fly on the wall capturing special moments you wouldn't have seen on your own, while simultaneously being so personable and connecting with your guests." - B BRIDE ATTIRE: The Modern Bride (www.tmodernbride.com) Guelph, ON GROOM ATTIRE: Moores Clothing for Men (♥) (www.moores.com) Kitchener, ON HAIR & MAKEUP: Lilies & Lace Beauty Co. (www.liliesandlace.ca) Canmore, AB FLORALS: Banff Mountaintop Flowers (www.banffmountaintopflowers.com) Banff, AB CAKE: Kake by Darcy (www.kakecanmore.com) Canmore, WEDDINGABPLANNER: Rocky Mountain Weddings & Events (www.rockymountainweddings.ca), Banff AB TELL US YOUR STORY: "Jeff and I met in 2007 when we were a couple of awkward teenagers in high school just trying to get by. What started as a strong friendship, bonding over video games, music, and pizza, blossomed quickly into a relationship. Though it may be cliche, we are each other's person. The one we go to with the good, the one we feel supported with in the bad, and the one we want to experience all of life's in-betweens with. Growing into adulthood together and learning who we wanted to become was always supported by the other - how could you not want the world for your best friend?! We made our way through different University journeys, braved a 2-year long-distance relationship, and made sacrifices to support each other's goals. All our life changes and challenges have built a strong foundation for us to build our life Weon.had always talked about getting married, even during those love-struck teenager days, and inevitably, so did other people after having been dating so long! It was on our radars but we were working hard to save up to buy a home. So when Jeff proposed on October 2019 during our vacation trip, I was surprised but excited to say yes to this next chapter. And let's just say he understood the assignment and did his research, talking with my sister and spying on my Pinterest boards to pick out my dream ring!" - B
BEST MEMORY: "There are so many that we both have during that day, but I think we both would agree that having a first look between the two of us was perfect. Admittedly, we picked a fairly touristy spot to do it (Surprise Corner) so we were a little worried about privacy, but we wanted to get some shots with the castle in the background. Fortunately for us, by some universal miracle, everyone cleared out just as I arrived to meet Jeff. It was a perfect moment of being with each other before the ceremony in a beautiful location." -
BIGGEST CHALLENGE: "Looking back the whole planning process went incredibly smoothly. I hired Rocky Mountain Weddings and Events to assist with the planning and execution because it was a destination wedding and I thought it would be best to have someone with their boots on the ground to help out. Best choice I could have made for the day!" - B
Becky
& Jeff Norman 50 •The Wedding Ring Magazine | www.theweddingring.ca
B ADVICE: "If you can afford to hire a day-of coordinator or planner to assist you with sorting the details and getting vendors organized, I highly recommend it! We had a small wedding and found it so helpful. I can't imagine trying to coordinate a larger-scale wedding on my own!" - B •
PHOTOGRAPHY:
)
WEDDING
"We both agreed that getting to see each other in the Chapel was incredible. We both described a feeling of overwhelming joy and love in that moment." B&M
'Going
CEREMONY:
one.' " - B GUEST #: 18 COLOUR PALETTE: Blush, Mauve, Rose complimented by a touch of Deep Blue BRIDE GOWN:
) Nanaimo,
) Toronto,
"We found our photographer
ADVICE: "A COVID wedding was not easy to plan but it was worth it. We don't know what the future holds in terms of this pandemic, but try to go with the flow and focus on what matters the most to you. The rest will come together."- B&M
meeting, we
"Not to have everyone we wanted in attendance 'in person'. We tried to make the best Zoom experience we could for our guests who stayed home - ensuring camera, lighting, and sound were good quality and that there was champagne ready for a toast from afar." - B&M BEST MEMORY:
Bridget & Matthew Watson to the chapel' DATE: August 1st, 2020 St. Ann's Academy (www.stannsacademy.com) Victoria, BC Kim Jay Weddings (www.kimjayweddings.com) Victoria, BC through and reviewing her work. Then after a decided she was 'the Bliss Gowns (@blissgowns BC Blush Bridal Boutique (www.blushvictoria.com Victoria, BC GROOM ATTIRE: Gotstyle (www.gotstyle.com ON HAIR: Melissa Robinson (@meliss_robinson) CAKE: Pâtisserie Daniel (www.patisseriedaniel.com) Victoria, BC FLORAL: Apothecary Floral (www.apothecaryfloral.com) Victoria, BC CATERING: Toque Catering (www.toquecatering.com) Victoria, BC TELL US YOUR STORY: "We met shortly after Bridget moved to Victoria in July 2017 and fell in love over a shared love for fresh basil and world travel. After getting engaged in December 2019 on Mystic Beach, we planned for a dream wedding surrounded by 100 close friends and family later that summer. We planned for the ceremony at St. Ann's Chapel and reception to be held at the Inn at Laurel Point. Once the pandemic hit, we knew our planned 'dream wedding' was unlikely. So, we sought advice from the wisest members of both our families - our Grandmothers - who encouraged us to honour our chosen date and 'don't put your life on hold, go get married!' After countless changes in plans due to the pandemic's ever-changing rules, we got married on August 1st, 2020 at St. Ann's Chapel surrounded by a few close friends and family and a whole lot of loved ones in attendance over Zoom. Following the ceremony, we had a Zoom toast with loved ones and enjoyed a wonderful intimate dinner with our guests at a private home in Victoria. We finished the night off with some dancing, a lot of laughing, and then the two of us spent the night at the beautiful Inn at Laurel Point. While it was not the wedding we planned, it turned out to be a perfect day and we felt so much love from everyone, even those attending from far away. Since then, we bought a home and at the end of last year, we welcomed a beautiful baby girl into our family. She has added immeasurable joy to our lives and we felt so blessed to return to St. Ann's Chapel this Spring to christen her with our same Reverend and the same wonderful staff. Again, we held a small ceremony with many family members watching from afar. We often marvel at what a journey these last few years have been and how grateful we are that we followed our grandmothers' wise advice."- B&M
finally
BIGGEST CHALLENGE:
BRIDE ACCESSORIES:
• WHERE FABULOUS LOCAL WEDDINGS BEGIN! • 51
online searching
·
·
•
52 •The Wedding Ring Magazine | www.theweddingring.ca www.astonhotelsinternational.com/en/hotel/view/72/grand-aston-cayo-las-brujas-beach-resort---spa
WEDDINGS AND EVENTS: Get married on the warm sand beach with the warm breeze in your hair. Grand Aston Cayo Las Brujas offers a variety of spaces and locations for both your ceremony and your reception dinner both indoor and outdoor. Chat with your Grand Aston wedding planner to discuss the All-Inclusive packages available. restaurants/11 bars 8 pools including the elevated infinity pool reception spaces Cuba's only Balinese spa Stunning beaches All our rooms include a terrace Family and Adults-Only sections
·
· Parking.
·
·
·
Grand Aston Cayo Las Brujas BeachResort & Spa
•
·
·
•
SERVICES: This holiday haven has Cuba's first and only authentic Balinese spa among other recreational facilities, that make for a perfect beach holiday. Other amenities include 8 swimming pools, 7 restaurants, 11 bars, and much more. All inclusive service Shows and entertainment Nightlife · Spa and beauty center Gym · Free WiFi Tour desk Car rental Water sports area Doctor's Shops and boutiques Laundry
• Private
•
Dreaming of a wedding ceremony on a pristine, white sandy beach under the Caribbean sun? Special occasions deserve special locations! Staging your wedding event in a heavenly outdoor environment, from lush gardens to sandy beaches, can be inspiring and engaging at the same time - but most definitely unforgettable.
• • 7
If indoors is your thing, look no further as there is an array of different restaurants for everyone's taste. Just let us know what you desire and our experienced events team will prepare an event specifically tailored to your needs.
CULINARY EXPERIENCES: The hotel offers the possibility of choosing endless gastronomic specialties in its restaurants, both buffet style and à la carte, with different specialties and proposals. In addition, it also has several snack bars in different locations around the resort.
·
LOCATION AND CLIMATE: The resort sits on a picturesque 3 km long pristine sandy beach, immersed amid lush gardens and steps away from the ocean. The Santa Clara airport is only 93 kms away. Tropical climate with temperatures ranging between 25ºC and 30ºC. In the late afternoon, a pleasant sea breeze refreshes the warm days.
•
Located on the beachfront, with a 8 pools including the elevated infinity pool that overlooks the beach and ocean, Grand Aston Cayo Las Brujas, consists of 727 rooms including 67 adult-only rooms and a range of luxury amenities and services, typical of a luxurious hotel.
office · Beach weddings ·
Brant @ The show: venues, wedding designers & decorators, fashion & formal wear, photography, travel specialists, life & wedding budget specialists, officiants, music, transportation, beauty, health, gifts, favours, wedding supplies & more! Enter to win great prizes! Register for FREE ADMISSION at: www.theweddingring.ca
DEALS! DEALS!
o f T h e R i n g ' s W e d d i n g E x p o s : W h e t h e r y o u ' r e b r a n d n e w t o t h e w e d d i n g p l a n g a m e o r r e p l a n n i n g a p r e v i o u s l y p o s t p o n e d w e d d i n g , y o u ' l l b e a b l e t o f i n d i n s p i r a t i o n f o r y o u r b i g d a y W e d d i n g s h o w s g i v e v e n d o r s t h e o p p o r t u n i t y t o s h o w c a s e t h e l a t e s t t r e n d s a n d h o t t e s t p r o d u c t s a n d s e r v i c e s RESEARCH1 . 2 . 3 . 4 . 5 . The Ring's Wedding Expos 5 R E A S O N S W H Y Y O U S H O U L D A T T E N D F i n d o u r f u l l W e d d i n g E x p o c a l e n d a r a t : w w w t h e w e d d i n g r i n g c a / w e d d i n g r i n g e x p o s
WIN PRIZES! IN PERSON PLANNING
Y o u c a n t a k e a d v a n t a g e o f t h e w e d d i n g e x p o s p e c i a l s o f f e r e d b y m a n y v e n d o r s W h e n c h a t t i n g w i t h t h e v e n d o r s y o u ' r e i n t e r e s t e d i n , i t n e v e r h u r t s t o a s k i f t h e y ' r e r u n n i n g a b o o k i n g p r o m o t i o n P r o T i p : W a t c h y o u r e m a i l i n t h e d a y s f o l l o w i n g t h e w e d d i n g s h o w f o r s p e c i a l o f f e r s DEALS! I n a d d i t i o n t o G r a n d P r i z e s a n d d o o r p r i z e s , y o u ' l l l i k e l y f i n d d i f f e r e n t g i v e a w a y s a n d p r i z e s a l o n g w i t h t h e e x p o s p e c i a l s p r e v i o u s l y m e n t i o n e d Y o u m a y w i n v a l u a b l e s e r v i c e s , f u n p r i z e s , o r e v e n d i s c o u n t s w o r t h h u n d r e d s o f d o l l a r s P r o T i p : m a k e s u r e y o u r e g i s t e r f o r c u s t o m l a b e l s w i t h y o u r c o n t a c t i n f o r m a t i o n t o e a s i l y e n t e r t o w i n p r i z e s !
The more shows you attend the more entries you get! See www.theweddingring.ca/fall2022grandprize for more details
W e d d i n g E x p o s g i v e y o u t h e o p p o r t u n i t y t o m e e t p r o s p e c t i v e v e n d o r s i n p e r s o n W e l o v e o n l i n e p l a n n i n g , r e s e a r c h i n g o n s o c i a l m e d i a a n d e m a i l c o m m u n i c a t i o n a s m u c h a s t h e n e x t p e r s o n B u t w e k n o w n o t h i n g r e p l a c e s f a c e t o f a c e m e e t i n g s U s e t h i s t i m e t o a s k q u e s t i o n s , v i e w / t a s t e s a m p l e s , a n d f i n d o u t i f a v e n d o r i s r i g h t f o r y o u r a n d y o u r v i s i o n f o r y o u r w e d d i n g d a y O n l y a t a w e d d i n g e x p o w i l l y o u h a v e a n o p p o r t u n i t y t o m e e t s u c h a w i d e r a n g e o f w e d d i n g p r o f e s s i o n a l s i n o n e p l a c e F r o m D J s t o p h o t o g r a p h e r s , v e n u e s t o g o w n s t o r e s , m o t i v a t e d c o u p l e s c a n p l a n t h e i r e n t i r e w e d d i n g s i n o n e d a y W e d d i n g P l a n n i n g W i n !
I f y o u ' r e n e w l y e n g a g e d a t t e n d i n g a w e d d i n g e x p o i s a n a b s o l u t e m u s t t o j u m p s t a r t y o u r w e d d i n g p l a n n i n g H e r e a r e 5 r e a s o n s y o u ' l l w a n t t o j o i n u s a t o n e
ONE STOP SHOPPING
If you can dream it, we can do it! Phone: (519) 622 0771 E-mail: jackie@wrpa.org Website: www.wrpa.org
The FAVOURITE WEDDING VENUE section contains fact filled pages featuring some of Ontario's most sought-after wedding venues. From historic estates and wide open spaces for tent receptions to ballrooms that any engaged couple would die for, Favourite Wedding Venues is designed to give you an at-a-glance look at the styles, spaces, indoor and outdoor options, catering choices, and guest capacities at select wedding venues. Want more? Find everything from colour schemes to wedding menus, and package pricing by checking out wedding venue reviews at TheWeddingRing.ca ♥ Favourite Wedding Venues (♥) = Reviewed in theweddingring.ca VENUE: Kitchener Public Library (www.kpl.org/weddings) PHOTO: KLB Consulting (www.kyralynbranding.com) pg 68 WHERE FABULOUS LOCAL WEDDINGS BEGIN! • 57
Free-flying butterflies, lush tropical gardens, and cascading waterfalls—a dream-worthy wedding venue. This indoor oasis is the perfect setting for all of life's celebrations. Offering personalized consultations, on-site bridal suite, customizable menus, bar ser vices, and more, it's clear that no detail is overlooked at Cambridge Butterfly Conservatory. CEREMONIES AND RECEPTIONS FOR UP TO 100 GUESTS | BRIDAL SHOWERS FOR UP TO 60 GUESTS CAMBRIDGEweddings@cambridgebutterfly.comCONSERVATORYBUTTERFLYINCAMBRIDGE519-653-1234x112 www.cambridgebutterfly.com PHOTO: carachapmanphotography.com PHOTO: carlykratzerphotography.com PHOTO: carlykratzerphotography.com PHOTO: dudekphotography.com WHERE FABULOUS LOCAL WEDDINGS BEGIN! • 59
ALL-INCLUSIVE WEDDING PACKAGES for twenty to five hundred guests. Host your ceremony in front of the Atrium gazebo, dance and dine with guests in elegant ballrooms, and get treated to special accommodation rates. Have your own Wedding Planner on-site, create your customized menu, take advantage of fantastic indoor photo locations and extensive wedding décor options. 60-500 GUESTS | FULL BAR SERVICE | ON-SITE CATERING | GRAND BALLROOMS | CRYSTAL CHANDELIERS | INDOOR WATERFALLS | GLASS CEILINGS | INDOOR ATRIUM EXTENSIVE CATERING MENUS | LUXURY OVERNIGHT SUITES | INDOOR GAZEBO CEREMONIES | HONEYMOON SUITES | YOUR ENTIRE WEDDING DAY IS TAKEN CARE OF AT THE BEST WESTERN PLUS® LAMPLIGHTERPHOTO:INNone12photo.ca PHOTO: one12photo.ca PHOTO: hrmphotography.com PHOTO: Best Western Lamplighter Inn BEST WESTERN® PLUS LAMPLIGHTER INN & CONFERENCE CENTRE IN sales@lamplighterinn.ca519-681-7151LONDON www.lamplighterinn.ca 60 •The Wedding Ring Magazine | www.theweddingring.ca
DELTA HOTELS BY MARRIOTT WATERLOO IN dhr.ykfdw.sales@deltahotels.com519-514-0404WATERLOO www.marriott.com/ykfdw PHOTOS, this page: garyevansphotography.ca Grey Silo Golf Club offers a sense of rustic sophisti cation that creates a unique, memorable setting for your wedding event. The classic post and beam interior and floor to ceiling fieldstone gas fireplace make the perfect backdrop for your on-site ceremony. This natural setting will deliver an experience that you and your guests will not soon forget. UP TO 130 GUESTS | ON-SITE CATERING | FULL BAR SERVICE GREY SILO GOLF CLUB IN hospitality.greysilo@golfnorth.ca519-884-3556WATERLOOx153 www.golfgreysilo.ca WHERE FABULOUS LOCAL WEDDINGS BEGIN! • 61
DELTA HOTELS BY MARRIOTT WATERLOO IN dhr.ykfdw.sales@deltahotels.com519-514-0404WATERLOO www.marriott.com/ykfdw PHOTO: photographyfromthesoul.ca PHOTO: .gary-evans.ca At Delta Hotels Waterloo, we believe your wedding day must be beautiful and magnificent. Located in the heart of Uptown Waterloo, our stylish, sleek designs and event space provide a stunning backdrop for your wedding. Explore our spectacular event space, delectable cuisine and four-star guest rooms. Our team will help you design a wedding celebration that exceeds all expectations. From exquisite cuisine to gracious service, every detail will be managed with care, allowing you to relax and enjoy every moment of your perfect day. 50-300 GUESTS | FULL BAR SERVICE | ON-SITE CATERING | ALL-INCLUSIVE PACKAGES | LUXURY ACCOMMODATIONS PHOTOS, this page: marriott.com/ykfdw Unless otherwise stated WHERE FABULOUS LOCAL WEDDINGS BEGIN! • 63
PHOTO: thebridallounge.ca PHOTO: michaelsteingard.com PHOTO: terryrichards.com PHOTO: otephotography.com PHOTO: dudekphotography.comPHOTO: thebridallounge.ca CRAIGOWANGOLFCLUBINWOODSTOCK519-462-2743ext.226info@craigowan.com www.craigowan.com CRAIGOWAN GOLF CLUB combines the natural beauty of our parkland setting with the finest service for weddings of all styles. With a gorgeous large patio overlooking the golf course, our private facilities and attentive service will create the wedding of your dreams. Our contemporary banquet rooms can accommodate 220 guests for a sit-down meal or 250 for cocktail receptions. Customizable packages are available. OUTDOOR CEREMONY AREA | PATIO UP TO 220 GUESTS | FULL BAR SERVICE | FULL SERVICE WEDDING PACKAGES | CEREMONY & RECEPTION OPTIONS 64 •The Wedding Ring Magazine | www.theweddingring.ca
PHOTOS, this page courtesy of bestwesternbrantford.com BEST BRANTFORDWESTERNHOTEL & CONFERENCE CENTRE IN BRANTFORD 519-753-8651 events@bestwesternbrantford.com www.bestwesternbrantford.com The Best Western Brantford Hotel & Conference Centre offers an all-in-one venue for your wedding ceremony, dinner, reception, and overnight accommodations. Its large, adjustable space, elegant décor, and beautiful crystal chandeliers make it a perfect choice for brides and grooms hosting either a large or intimate wedding. 50 TO 500 GUESTS | ON-SITE CATERING | FULL BAR SERVICE | OVERNIGHT ACCOMMOADATIONS WHERE FABULOUS LOCAL WEDDINGS BEGIN! • 65
Your dream wedding starts here at The Venue. We offer a high end service that will leave your guests wanting more. To say that The Venue is an elegant space is an understatement. With its open concept design, 2,800 square feet of space, sweeping windows and industrial chic appeal, it will take your breath away. CEREMONY & RECEPTION OPTIONS | UP TO 200 GUESTS | ON-SITE CATERING | FULL BAR SERVICE PHOTO: sylviapond.com PHOTO: anneedgarphoto.com PHOTO: emeraldandfox.ca PHOTO: gary-evans.ca PHOTO: gary-evans.ca PHOTO: gary-evans.ca PHOTO: jesscollinsphotos.com PHOTO: cambridgehotel.ca CAMBRIDGE HOTEL & THECONFERENCECENTRE/VENUEINCAMBRIDGE519-624-7732sales@belegant.ca www.cambridgehotel.ca 66 •The Wedding Ring Magazine | www.theweddingring.ca
PHOTO: GolfNorth PHOTO: decoratingdreams.ca PHOTO: GolfNorth PHOTO: GolfNorth Just a short drive from KW, Guelph, and Georgetown, Calerin Golf Club is the ideal venue to host your dream wedding ceremony and reception. Our majestic clubhouse offers a private club feel with an unparalleled backdrop for those photos to capture your moments to last a lifetime. Our newly designed bridal suite offers hair and makeup stations to allow your bridal party to get ready comfortably on-site. Our team will ensure that planning your special day will be as easy and stress-free as possible and is ready to help you create a magical intimate affair or an elaborate first-class event for up to 100 guests! INSIDE & OUTSIDE CEREMONY & RECEPTION OPTIONS | 30100 GUESTS | ON-SITE CATERING | FULL BAR SERVICE GOLFCALERINCLUBINERIN manager.calerin@golfnorth.cawww.golfnorth.ca/calerin WHERE FABULOUS LOCAL WEDDINGS BEGIN! • 67
Are you ready to start the next chapter? Kitchener Public Library is a wedding venue like no other. Iconic downtown Kitchener location, tons of natural light in all seasons, breathtaking art installations, award-winning architecture, and ample parking for all your guests. Hire your preferred caterer or ask for our recommendations. Perfect for events of all sizes, capacity for 30-200 guests. Book the library for your bridal shower, ceremony, cocktail hour, photos, and reception. Available on Fridays, Saturdays, and Sundays all year-round. CEREMONY & RECEPTION LOCATIONS 30-200 GUESTS | ALL-INCLUSIVE PACKAGES | FULL BAR SERVICE | ON-SITE PUBLICKITCHENERCATERINGLIBRARYINKITCHENER519-743-0271 www.kpl.org/weddingsvenues@kpl.org PHOTO: kyralynbranding.comPHOTO:liamgoodvisuals.com liamgoodvisuals.comPHOTO: lrilliant-images.comPHOTO: PHOTO: kpellerinphotography.com 68 •The Wedding Ring Magazine | www.theweddingring.ca
PHOTO: simplyemilyphotography.com DUNDEECLUBCOUNTRY IN NEW hospitality.dundee@golfnorth.ca519-696-3257DUNDEE www.golfnorth.ca/dundee PHOTO: simplyemilyphotography.com PHOTO: lovesproutsphotography.com PHOTO: lovesproutsphotography.com PHOTO: lovesproutsphotography.com Just a few minutes west of Kitchener, Dundee Country Club is a Golf North property that has been home to countless K-W and Cambridge area couples' weddings for over thirty years. With your own hands-on wedding coordinator, flexible catering and bar options, cocktail hour by the fireplace, outdoor or indoor ceremony options, photos by the pond, beautiful banquet rooms and an attitude that's all about you. INDOOR WEDDINGS FOR 10 TO 140 GUESTS | OUTDOOR CEREMONY OPTIONS | FULL BAR SERVICE | ON-SITE CATERING WHERE FABULOUS LOCAL WEDDINGS BEGIN! • 69
Host your ceremony & cocktail hour on our 2,500 sq. ft. outdoor deck overlooking Chicopee Hill, and your reception in our 9,500 sq. ft. log-style chalet with vaulted ceilings and exposed beams. Formal or casual; indoors or under the stars; available May–Mid December; and ideal for 50–125 guests. Our bright and rustic space offers gorgeous views and that mountain feel, right here in the city. INDOOR & OUTDOOR CEREMONY LOCATIONS | INDOOR RECEPTION LOCATION 50-125 GUESTS | ALL-INCLUSIVE PACKAGES | FULL BAR SERVICE | ON-SITE CATERING PINE VALLEY CHALET IN mdittmann@chicopeetubepark.com(519)KITCHENER895-2322 www.pinevalleychalet.com PHOTO: lisaannaphotography.mypixieset.comPHOTO:KaylaNguyen capturedbykait.comPHOTO: ClementsEmilyPHOTO: PHOTO: capturedbykait.com 70 •The Wedding Ring Magazine | www.theweddingring.ca
CONESTOGA GOLF hospitality.conestoga@golfnorth.caINCLUBWATERLOO1-888-833-8787 www.golfconestoga.ca PHOTO: lindsaycoulterphoto.com PHOTO: peterbphotography.com PHOTO: golfconestoga.ca PHOTO: golfconestoga.ca PHOTO: golfconestoga.ca NESTLED ALONGSIDE THE GRAND RIVER on 250 acres, Conestoga Golf Club features some of the most picturesque scenery in the area. With the option of indoor or outdoor services and a spacious solarium overlooking the Grand River, we tailor your special day to ensure your wedding dreams come true. INSIDE AND OUTSIDE CEREMONY & RECEPTION OPTIONS | 50 TO 120 GUESTS | ON-SITE CATERING | FULL BAR SERVICE WHERE FABULOUS LOCAL WEDDINGS BEGIN! • 71
PHOTOS, this page: courtesy of Best Western Plus Arden Park Hotel BEST WESTERN PLUS THE ARDEN HOTELPARK IN sales@ardenpark.ca519-275-2936STRATFORD www.ardenpark.ca We are committed to providing you with exceptional service and elegant banquet facilities that will exceed your expectations. Whether you are planning an intimate wedding for twenty, or an elaborate celebration for four hundred, we have the facilities available to accommodate your every need. Located in picturesque Stratford, Ontario, there are beautiful gardens within walking distance for pictures you can only dream of as well as unique locations for photo opportunities. Best Western Plus the Arden Park Hotel has 144 luxurious guest rooms and suites to accommodate all of your out of town guests. UP TO 450 GUESTS | OVERNIGHT GUEST ACCOMMODATIONS | CEREMONY & RECEPTION OPTIONS | FULL BAR SERVICE | ON-SITE CATERING 72 •The Wedding Ring Magazine | www.theweddingring.ca
PHOTO: sandramonacophoto.com PHOTO: The Barn @ Exeter PHOTO: amytaylorphotography.ca PHOTO: trethpassingphotography.com PHOTO: amytaylorphotography.ca PHOTO: sandramonacophoto.com The Barn at the Exeter Golf Club was renovated with natural industrial materials to complement the beams, walls, and antique farming tools. This creates a fun, relaxed atmosphere. Our 9-hole golf course provides an excellent pre-wedding outing and breathtaking photographic opportunities. CEREMONY & RECEPTION OPTIONS | UP TO 180 GUESTS | BARN VENUE | BAR SERVICE | GUEST HOUSE | ONSITE CATERING | DEDICATED EVENTTHECOORDINATORBARN@EXETERINCENTRALIA519-235-1517 www.golfnorth.ca/exeter-weddingsevents.exeter@golfnorth.ca WHERE FABULOUS LOCAL WEDDINGS BEGIN! • 73
Rebel Creek Golf Club, a Golf North property, is surrounded by beautiful ponds and gorgeous green trees. The 22,000 square feet of gorgeous space gives the secluded feeling of a destination wedding location, ready to cater to your ultimate KW or Cambridge area wedding. With year round ceremony options and gorgeous views from the floor to ceiling windows, its easy to see why couples choose Rebel Creek Golf Club for their special day. INDOOR & OUTDOOR CEREMONY & RECEPTION OPTIONS | 50-150 GUESTS | ON-SITE CATERING | FULL BAR SERVICE REBEL CREEK GOLF CLUB IN hospitality.rebelcreek@golfnorth.ca519-634-8666PETERSBURG www.golfnorth.ca/rebelcreek PHOTOS, this page: michaelsteingard.com Unless otherwise stated PHOTO: lovesproutsphotography.com 74 •The Wedding Ring Magazine | www.theweddingring.ca
BEST WESTERN® PLUS STONERIDGE INN AND CONFERENCE CENTRE IN LONDON natalie@stoneridgeinn.comwww.stoneridgeinn.com BEST WESTERN PLUS STONERIDGE INN offers it all, a century-old non-denominational ceremony venue, beautifully appointed reception spaces, and ac commodations for you and your guests to stay when the celebration is over. Exceptional cuisine, innovative menus, dedicated service, elegant ballrooms some with fabulous stone fireplaces, unique individual wedding packages, modern hotel rooms, century old "Rose Chapel" on property. UP TO 200 GUESTS | FULL BAR SERVICE | ON-SITE CATERING ONLY PHOTO: Melissa Kerry Photography PHOTO: loveknots.ca PHOTO: shawnvandaele.com PHOTO: one12photo.ca PHOTO: haveheartphotography.ca PHOTO: PhotographyKerryMelissa WHERE FABULOUS LOCAL WEDDINGS BEGIN! • 75
Stratford Country Club s t r a t f o r d c o u n t r y c l u b . c a Stratford's Premier Wedding Venue P h o t o c r e d i t : H e a t h e r D i e t z P h o t o g r a p h y
PHOTO: heatherdietz.com STRATFORDCLUBCOUNTRY IN jjacob@stratfordcountryclub.ca519-271-4212STRATFORD www.stratfordcountryclub.ca PHOTO: averhoevephotography.com averhoevephotography.comPHOTO: PHOTO: caragilhulaphotography.com PHOTO: caragilhulaphotography.com A beautiful backdrop for any style of wedding. Offering the opportunity to have your wedding outdoors surrounded by the historic setting of the Stratford Country Club, coupled with the modern facilities of a fully renovated spacious banquet hall with gorgeous chandeliers and an outstanding view of the golf course, lounge and patio; your event has limitless opportunities to inspire. UP TO 220 GUESTS | INDOOR & OUTDOOR CEREMONY OPTIONS | AVAILABLE ALL YEAR ROUND | FULL BAR SERVICE | DELICIOUS ON-SITE CATERING BY STRATFORD COUNTRY CLUB PHOTO: melissaphotographydesign.com WHERE FABULOUS LOCAL WEDDINGS BEGIN! • 77
BURNING KILN WINERY IN ST.WILLIAMS (519) 586-9858 cheers@burningkilnwinery.ca www.burningkilnwinery.ca Perched atop the shore of Lake Erie, overlooking the UNESCO World Biosphere of Long Point, start your journey together nestled among the rolling vines. Afterwards, celebrate your nuptials with your friends and family in our Vineyard Pavilion, complete with sliding glass walls that open onto a private patio. Experience the charm of the countryside while savouring award-winning wines produced on our estate and local farm to table fare. UP TO 150 GUESTS | CEREMONY & RECEPTION LOCATIONS DÉCOR & DAY OF COORDINATION | BAR & CATERING SERVICES | ACCOMMODATIONS PHOTO: jennkavanagh.com PHOTO: gaetzphotography.com PHOTO: honeyandlux.com PHOTO: blackbirdphotographs.com PHOTO:jennkavanagh.comPHOTO: gaetzphotography.com 78 •The Wedding Ring Magazine | www.theweddingring.ca
DELTA HOTELS BY MARRIOTT WATERLOO IN dhr.ykfdw.sales@deltahotels.com519-514-0404WATERLOO www.marriott.com/ykfdwThank you for choosing the Forest Golf Club & Inn for one of the most important days of your life. We would be honored to host your wedding and help with the venue related planning to ensure your day is how you envisioned it! Located in the beautiful small town of Lambton shores, Ontario, we are just a short drive from London, Sarnia and surrounding area. Our fully customizable wedding packages and private staff will ensure that your day is perfect, start to finish! With a private Banquet fa cility and our breathtaking natural backdrop of our 27 hole golf course, will set the stage for the perfect photos. INDOOR & OUTDOOR CEREMONY & RECEPTION OPTIONS | 30 TO 200 GUESTS | ON-SITE CATERING | FULL BAR SERVICE FOREST GOLF CLUB & hospitality.forest@golfnorth.caFOREST,INNON800-265-0214 www.golfnorth.ca/Forest PHOTOS, this page courtesy of: Forest Golf Club & Inn WHERE FABULOUS LOCAL WEDDINGS BEGIN! • 79
THE GRAND GUELPH BANQUET & EVENT CENTRE is Guelph's premier event facility, offering over 12,000 square feet of sophisticated, adaptable event space for weddings, corporate, and social occasions that can accommodate 50-1000 guests. Under the direction of Platters Catering, The Grand Guelph is a full service facility catering to all your food and beverage needs. A short drive from Kitchener-Waterloo and Cambridge, we are located at the corner of highways 6 & 7 in Guelph. UP TO 1000 GUESTS | ON-SITE CATERING | FULL BAR SERVICE THE GRAND GUELPH BANQUET & EVENT CENTRE IN info@thegrandguelph.ca519-836-3190GUELPHwww. thegrandguelph.ca PHOTOS, this page:Unlessthegrandguelph.caotherwisestated PHOTO: gotsphotos.com PHOTO: deanpalmer.ca 80 •The Wedding Ring Magazine | www.theweddingring.ca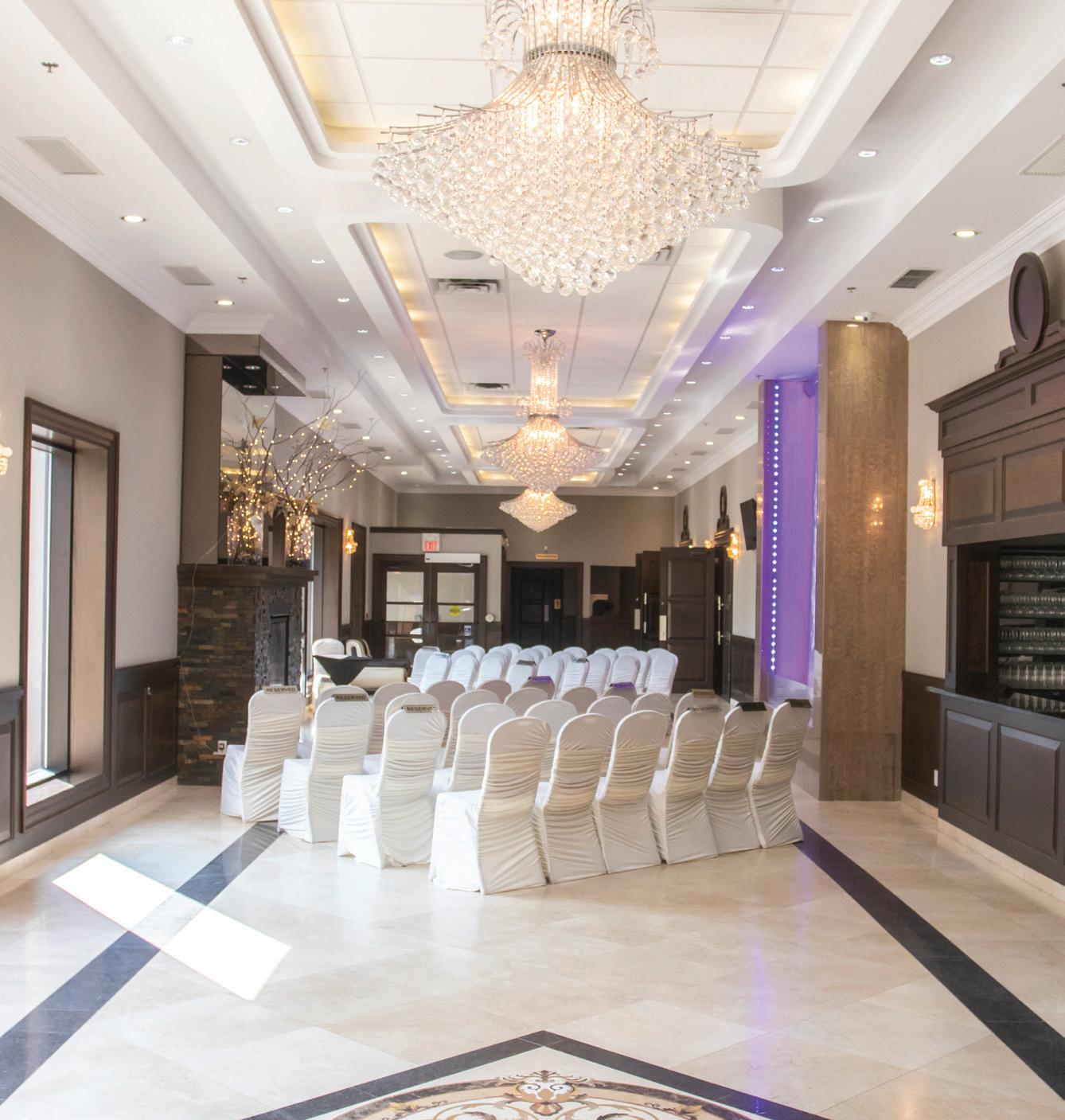 FREE online local wedding planning resources featuring: