ECKLAND COURT
MILLS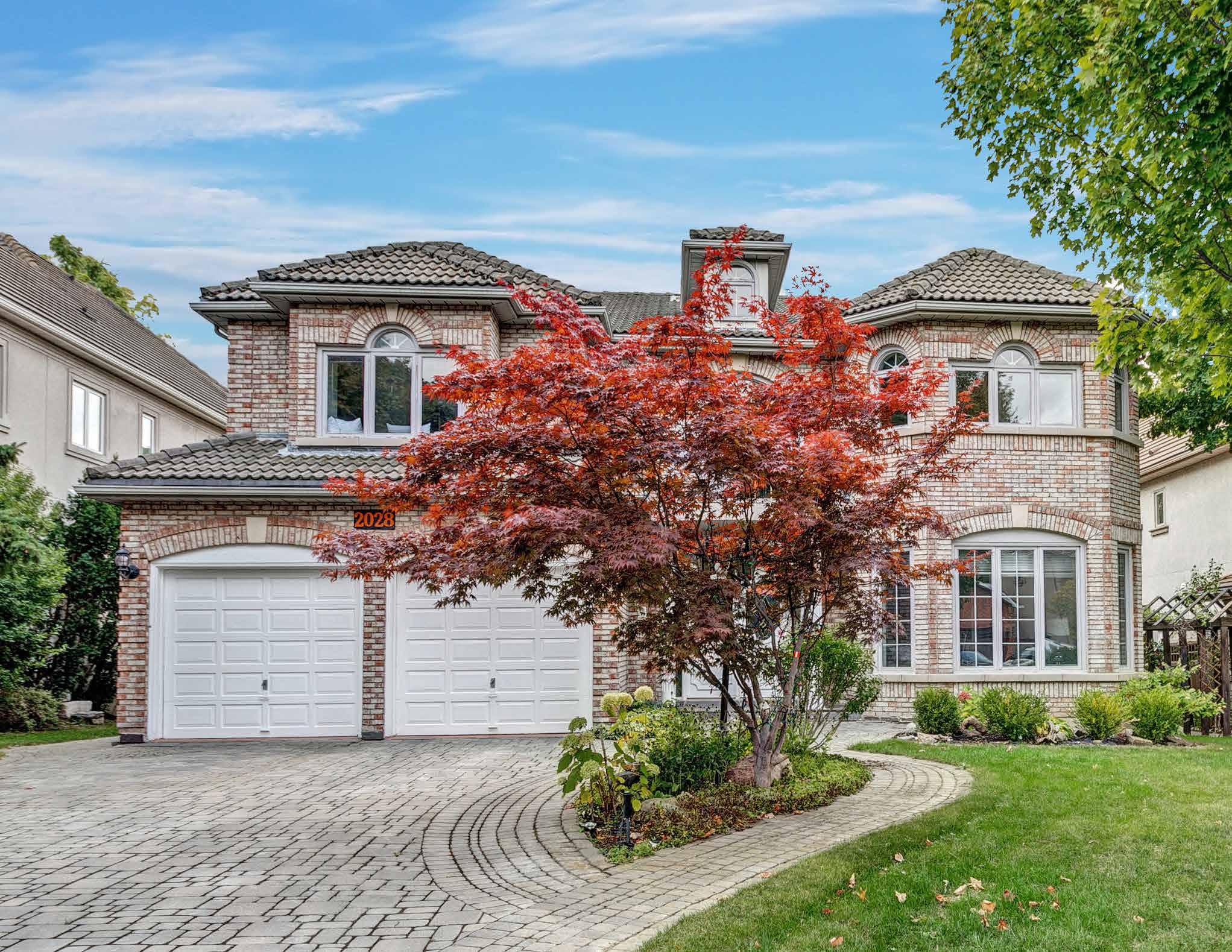 2028
ERIN
ECKLAND COURT
MILLS
2028
ERIN
A privileged lifestyle awaits
Welcome to a magnificent 2-storey home boasting 5,927 sqft. of living space on a 59x131 ft. private lot backing onto a ravine/river in the coveted Erin Mills neighbourhood.
This property has been exquisitely designed with sensational touches throughout. The stunning layout in the foyer opens to the upper level staircase and the living room. It is rare to see the kind of attention to detail and elegant opulence exuded in every space as you walk through this marvelous built.
Customized for luxury and leisure living, this home is nestled in a lovely, family friendly neighbourhood surrounded by majestic mature trees, perennial gardens, and other multimillion dollar properties.
Close to top schools, including the University of Toronto Mississauga Campus, Credit Valley Golf & Country Club, Streetsville Village, Square One Shopping Centre, and several parks and trails; after all, true luxury encompasses both the location and its surroundings.
We begin with the beautiful, curated greenery and landscaping of the front grounds leading to a charming, covered front porch.
Step through a double door entry onto a breathtaking foyer with wainscoting, two mirrored closets, and 20 ft. soaring ceilings and a grand circular staircase under an imposing chandelier complemented by a lovely skylight.
One of the first exceptional spaces is the sunken living room, combined with the dining room, and its wonderful round structure with windows overlooking the front and side yards. The rest of this main level boasts a remarkable stylish look with contemporary designs including hardwood fllors, French doors, and crown moulding.
The sprawling interiors, as well as the rest of this home, are designed to be sunlit sanctuaries emanating with natural light from its several expansive windows.
The spacious 6 bedrooms and 6 baths include a renovated primary with 5-piece ensuite, and another bedroom with a 6-piece ensuite. For your culinary realm, the chef's kitchen offers several high-end appliances and a walkout to the raised deck.
There are few properties built combining the various aspects of luxury living with the brilliance of this home.
2028 ECKLAND COURT // ERIN MILLS
6
2028 ECKLAND COURT // ERIN MILLS 7
8
2028 ECKLAND COURT // ERIN MILLS 9
14
Distinguished Living
From the remarkable light fixtures to the elegant custom wainscoting, these features were created to leave a lasting impression.
Together with an impressive and distinctive transom window complemented with an open floor space with railings on the upper level overlooking the front yard, your guests will be treated to opulent design brushstrokes.
2028 ECKLAND COURT // ERIN MILLS
Culinary Delights
Details and size matter when you are taking care of your family's daily meals. The resplendent and vast contemporary kitchen boasts luxury appliances, granite floors, custom cabinetry, quartz countertops, island with lower cabinetry and barstool seating, and an expansive window above the sink overlooking the backyard.
Complemented by a standalone large pantry, and a breakfast area with double door walkout to the raised deck. With all these features at your disposal, you are ensured to have the ultimate gathering place for cooking and hosting in style.
16
2028 ECKLAND COURT // ERIN MILLS
18
2028 ECKLAND COURT // ERIN MILLS 19
22
2028 ECKLAND COURT // ERIN MILLS 23
26
2028 ECKLAND COURT // ERIN MILLS 27
A Masterful Realm
Your rest sanctum comes with double door entry, hardwood floors, and expansive windows overlooking the side and backyard. Indulge in the comfort of exceptional matching walk-in closets with custom built-in shelving and hangers. Indeed, the haven you deserve after a long day.
28
2028 ECKLAND COURT // ERIN MILLS
Spa Splendour
Pamper yourself in a 5-piece ensuite featuring a built-in double sink vanity with granite countertops and lower cabinetry, a splendid feature tile wall, water closet, and a walk-in glass shower with rainfall shower head. In addition, there is a floating deep soaker tub with windows overlooking the backyard.
2028 ECKLAND COURT // ERIN MILLS
Exceptional Spaces
Living Well
Enjoy a wonderful lower level featuring above grade windows, a bedroom, 3-piece bath, laundry room, and a rec room with a walkout to the backyard.
In addition, this space also offers a private and separate apartment with similar features including a full kitchen, a bedroom, 3-piece bath, laundry room, and a family room with its own walkout to the backyard.
2028 ECKLAND COURT // ERIN MILLS
Backyard Oasis
The backyard features professional landscaping, including an interlocking patio, and a raised deck with stunning views of the surrounding nature and ravine/river. There are also side deck stairs for convenient access to this private space where you can host get togethers or simply relax.
We would be remiss not to mention the sophisticated DSC Security System with outdoor cameras. The curated front yard has an interlocking driveway that can easily accomodate 6 vehicles, in addition to the 2-vehicle garage.
This is a home that was built to provide your family with the luxury living and retreat feel you deserve.
42
2028 ECKLAND COURT // ERIN MILLS
48
2028 ECKLAND COURT // ERIN MILLS 49
1267 MISSISSAUGA ROAD // MISSISSAUGA 51
52 Peter Philip Papousek Sales Representative 647 891 2489 peterphilip@ppreteam.com ppreteam.com