The time has finally come! History now has been re-scripted!! We won the Oscars!!!! This has been the roar of every Indian patron swarming up the internet! The Magnum Opus 'RRR' rewrites history at the 95th Academy Awards as 'Naatu Naatu', the song from SS Rajamouli directed movie has won the Oscars in the Best Original Song. 'Naatu Naatu', composed by MM Keeravani and written by Chandrabose winning the largest and most-prestigious awards globally, not only serves as a warm embrace to the musical legacy of Indian cinema while it opens the doors to better prospects for future Indian films in other categories in the prestigious yearly ceremony.
Meanwhile, the undersupply for projectors seem to be keeping exhibitors up with a constant thirst. The scarcity in the chip production for these projectors have certainly created a stir for demand. But a fear also resides amongst exhibitors on the future coming by. The theatrical exhibition business depends on a consistent supply of good content; more than just that – Quality Content. And Exhibition doesn't succeed simply because of the movies, of course. Great movies must be experienced in extraordinary environment. And nothing could do justice to that but the 'Big Screens'.
Speaking of which, The Box Office sees 'Break the Ceiling' records with the James Cameron's 'Avatar: The Way of The Water' . Beating the lifetime of 'The Avengers' and the second highest grossing movies in the global charts, 'Avatar 2' continues to rake in good numbers at the worldwide box office. Topping the charts with a whopping of US$ 2.24 billion, most recently, the 'Avatar' sequel crossed 'Top Gun Maverick' to become the no. 1 film of 2022 and now, another feat has been achieved - 'The Way of Water' now ranks third all-time behind 'Avatar' (US$ 2.92 billion) and 'Avengers: Endgame' (US$ 2.7 billion). And so does YRF's latest addition to the house – the Shahrukh Khan starrer 'Pathaan'. As of March 2023 reports, the film has grossed INR 653.77 crore (US$ 82 million) in India and INR 394.53 crore (US$ 49 million) overseas for a worldwide gross collection of INR 1,048.30 crore (US$ 130 million). Pathaan is your true-blue commercial, masala entertainer that's not trying to send across any message or be a social commentary on the current state of affairs in the country. It's fun, non-fussy and fantastic at the same time.
Whats cooking more in the industry is the advent of LED screens into the market. More the hype, merrier the buy! Flying straight into this magazine issue, we have Switzerland's Blue Cinemas, the luxurious BFI IMAX, the mega Roxy Cinemas, the picturesque Curzon and other extremely prestigious properties from Belarus, Washington D. C, Auckland, Tokyo. We have loved reaching out to every part of the world to get our cinephiles loads of exciting info and hope to add many more into the list. With massive product launches and screenings, CinemaCon 2023 is sure to be an the most happening event for the next-generation technology. This year, CinemaCon, at Caesars Palace, Las Vegas, USA held from 24 – 27 April, is poised to get bigger and better than ever before.
See you all soon! Do not forget to pick our TheatreWorld magazine copy at CinemaCon Publication Bin!!!
Raghavendra T (Raghav) Editor-Publisher
DISCLAIMER - TheatreWorld Magazine does not warrant or assume any legal liability or responsibility for the quality, accuracy, completeness, legality, reliability or usefulness of any information, product or service represented within our magazine or web site. The information provided is for knowledge or entertainment purposes only. TheatreWorld Magazine does not endorse or recommend any article, product, service or information found within said articles or advertisements. The views and opinions of the authors who have submitted articles to TheatreWorld Magazine belong to them alone and do not necessarily reflect the views of TheatreWorld Magazine or its staff.
Issue # 95
March-May 2023
Raghavendra T
Editor-Publisher
+91 9980 208 208 raghav@network208.com
Asha Ranjith Business Development +91 9902 208 208 asha@network208.com
Himanshu Peshwani Business Development +91 9148 208 208 himanshu@network208.com
Shireen Mariam
Content & Corporate Marketing +91 97406 02545 shireen@network208.com
Varsha Naidu Subscription & Circulation
+91 9108 208 208 info@network208.com
Nidhi Shetty
Editorial Contribution
Printing Ramya Reprographic, Bengaluru
Published by Raghavendra T on behalf of NETWORK208
11/1, 7th Main, Indiranagar 2nd Stage, Bangalore 560 038, India Tel: +91 80 2529 0208 Email: info@network208.com www.network208.com
Sandeep Mittal Founder Editor-Publisher
RNI # KARENG02795/10/1/2002-TC
TheatreWorld TheatreWorld TheatreWorld TheatreWorld is a quarterly publication, on the motion picture exhibition industry, for private circulation. It reaches out to subscribers, mainly theatre owners and trade professionals around the world. Additional copies are being promoted at major international industry tradeshows. TheatreWorld seeks the healthy promotion of the theatre industry through dissemination of useful information. Some of the information is compiled from industry sources, trade journals, company brochures for the benefit of readers, especially, theatre owners. TheatreWorld acknowledges with thanks the authors and publishers of these printed materials. Views expressed in the articles are those of the authors and not necessarily of TheatreWorld. TheatreWorld is a trademark under registration. The contents of TheatreWorld are under copyright registration. All rights reserved. Reproduction by any means in whole or part without written permission is prohibited. Unsolicited printed material is welcome but no responsibility is undertaken for the same and will not be returned. TheatreWorld does not take responsibility for the absolute accuracy of information published.
THEATREWORLD
MINDS HARE
EDITORIAL
March-May 2023 TW-4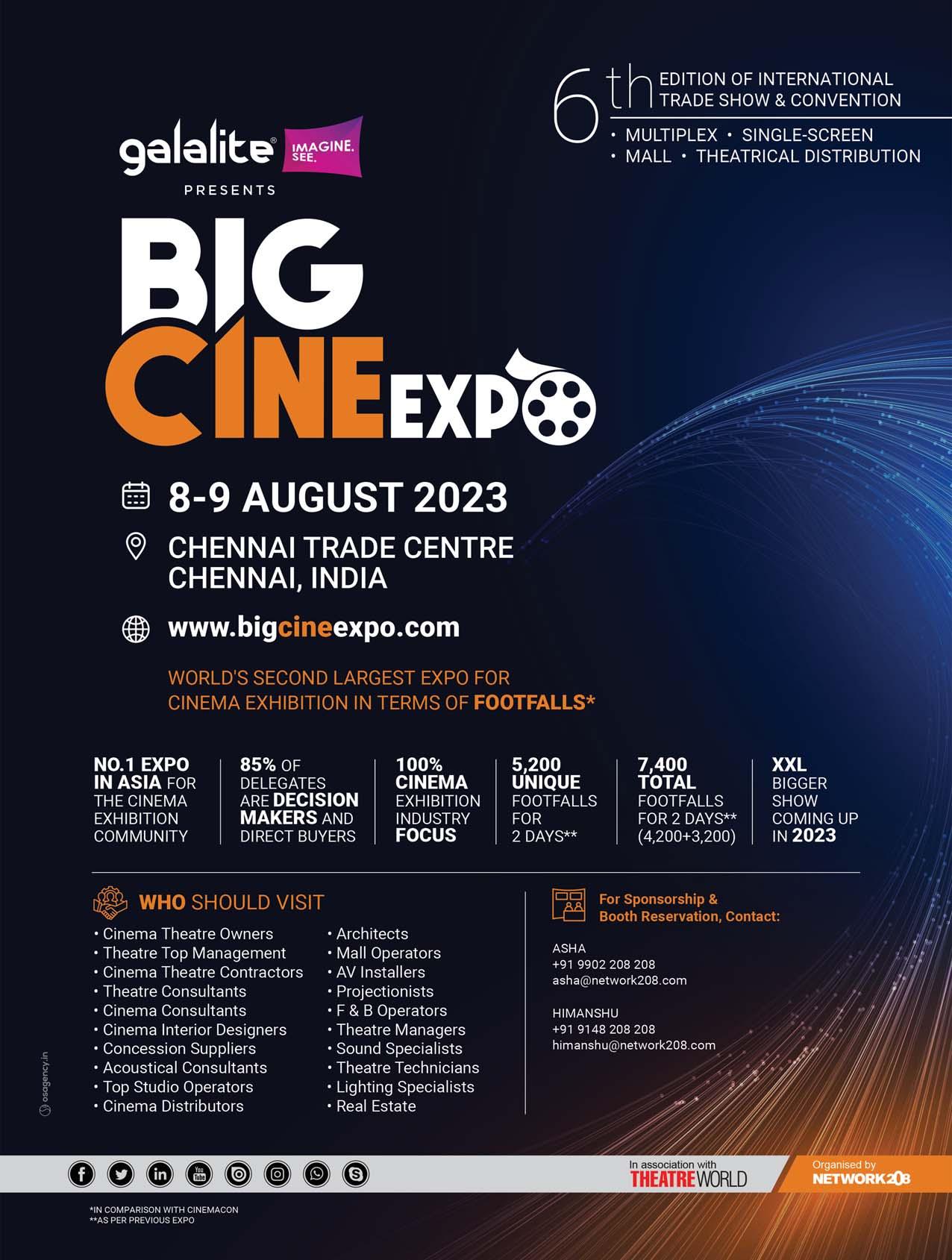 This issue of TW has two sets of page numbers - International pages TW-1 to TW-60 for TW, and India pages TM-1 to TM-42 for TM TM is inserted between pages TW-54 and TW-55 of TW
TW-8
SPECIAL STORY
TW-18 Silver Screen Cinemas: Largest Cinema in Belarus
TW-20 Blue Cinema: The Most Cinematic Marvel in Chur
TW-23 Silky Otter Ponsonby: Auckland's Most Anticipated Cinema
TW-24 RRR: The One Song that Rocked Cinemas
TW-26 BFI IMAX: Relaunches UK's Biggest Screen
TW-28 Roxy Xtreme: Biggest in the Middle East and North Africa!!!
INSTALLS
TW-33 Alamo Drafthouse: A Trendsetter in Washington D.C
TW-36 United Cinemas: Tokyo's Latest Cinematic Attraction
TECHNOLOGY
TW-38 HeyLED Innovation Centre: Absolute Visual Demonstration
TW-39 HARMAN: Spearheading Technological Sol...
TM-4
SPECIAL FEATURE
TM-10 PVR: The Luxury Collections
INDIA PLEXING
TM-18 PSS Multiplex: Boosted with Matchless Audio Systems
TM-22 Bansal Movieplex: The Most Iconic Cinema in Vadodara
TM-24 NY Cinemas: Brings Cinematic Luxury to Ahmedabad
TM-27 EVP Cinemas: India's First Pre - Engineered Theatre
Curzon Cinemas: Tribute to the Legacies!
TRADESHOWS
TW-41Preview
TW-43Review -
TW-44Review -
TW-55
TM-29 Rajhans Cinemas: Ventures into the Heart of Varachha
TM-32 INOX: Adds New Waves of Entertainment
TM-35 Mahalaxmi Cinema: Enhancing the 84-Year-Old Legacy
TM-36 Sky Multiplex: Redefining Moviegoing in Morbi
TM-37 PVR Cinemas: Setting Milestones Beyond Par!!!
TM-40 MovieTime Cinemas: Scales New Altitudes
contents
SPECIAL
TW-30
STORY
F U T U RE R E L E S E S A
March-May 2023 TW-6