LAST POST SERVICE Join us to honour service and sacrifice Every Sunday at 4.45pm All welcome shrine.org.au
Image: Cormac Hanrahan
REMEMBRANCE
NOVEMBER 2020-21 | Volume 10 | NO 2 ISSN 2209-3826
A LETTER FROM THE CHIEF EXECUTIVE
OFFICER
ON NARRATIVES AND TRUTHS
Our narratives, the stories we hold as truths, direct our actions. We are being tested in these curious times and some tensions have revealed themselves in contests between personal beliefs. Yet across our community, we have brought our best selves forward.
saying all the rest of us will benefit... That's not how societies work.'
ON THE COVER Pierrot (Sarbi) 2014
Lyndell Brown, Charles Green and Jon Cattapan oil and acrylic on linen
This painting shows Sarbi, a Special Forces Explosive Detection Dog (EDD), with an Australian soldier. Dogs were used in Afghanistan to sniff out explosives, and saved many lives. Sarbi was selected as an EDD for her curiosity and focus and deployed to Afghanistan with the Special Air Service Regiment.
Brown, Green and Cattapan were each commissioned as Australian official war artists and were fascinated by the story of Sarbi. in their title they refer to Pierrot, the sad-faced clown of traditional pantomime. Sarbi and the soldier, like Pierrot, are presented as silent witnesses, enmeshed in a map-like network of dots, just as a web of communication connects those on the modern battlefield with each other and with the wider world. The background glows green in the eerie dreamworld of night vision.
Remembrance is published by the Shrine of Remembrance.
At the Shrine we have embraced the challenge and turned to meet our ceremonial responsibilities and deliver education and learning programs in new and engaging ways. This has allowed us to maintain, and in many cases grow, our reach across Victoria and around the world.
To date, more than 200,000 people have joined us to participate in commemoration online in the months since we closed on 17 March.
This response to our programming has been affirming, but the Shrine is a place of personal connection and we desperately look to welcome the return of veterans and visitors as restrictions ease.
Throughout the coronavirus (COViD-19) crisis there has been discourse of the sacrifices we have been asked to make to protect those at risk in our community. Comparisons have inevitably been drawn to the sacrifices made in war.
That this statement could be made in response to a question comparing the pandemic response to war is troubling. This is precisely what societies— including Australia's—have asked of generations of defence force personnel.
How soon we forget.
We're also caused to wonder that some in our community would choose the Shrine as a site of protest. Misguided by the belief that the true symbol of Australia is the red ensign the ANZACs fought under in the First World War, and government under any other flag is illegitimate. The irony that the right to protest has been defended through the service and sacrifice of hundreds of thousands of Australians is lost to them.
All narratives run true for those that hold them, but some belong to all of us and must endure inviolate. We in the Shrine community must ensure this is the case and continue to advance and share stories of remembrance and personal selflessness in wartime.
To you, our Shrine Friends, we say thank you for your support and the part you play in allowing us to fulfil this enduring purpose.
Yours in commemoration
Friends of the Shrine enquiries:
Friends of the Shrine, GPO Box 1603, Melbourne Victoria 3001 For more information email friends@shrine.org.au or call 03 9661 8100
© All material appearing in Remembrance is copyright. Reproduction in whole or part, whether stored in an electronic retrieval system or transmitted in any form by any means, must be approved by the publisher. Every effort has been made to determine and contact holders of copyright for materials used in Remembrance. The Shrine of Remembrance, Melbourne welcomes advice concerning any omission.
in a recent episode of the ABC's Q&A considering Australia's approach to managing the pandemic, Professor Bill Bowtell of UNSW stated, 'You cannot segment out one sector of the population and ask them to undergo great misery, suffering, death in the interests—spurious interests—of
NOVEMBER 2020-21 REMEMBRANCE iii
Editorial Team Sue Burgess, Naias Mingo, Sue Curwood and Leigh Gilburt Art Director and Production Manager Louise Thrush
Dean M Lee
KEY PARTNERS
by Kate Spinks
by Peter Harris
i V NOVEMBER 2020-21 REMEMBRANCE
REMEMBRANCE NOVEMBER 2020-21 | VOLUME 10 | NO 2 THE PROMISE OF CONTEMPORARY ART RESTORING THE LIGHT TOWERS THE RAAF CENTURY RAY OF LIGHT REVAMP WREATH MAKING BEHIND THE SCENES DURING COVID-19 OUR COMMUNITY 01 12 23 29 32 by Peter
MEMORIAL PLAQUE PROJECT 38 40 44
36 FROM THE COLLECTION LOTUS FLOWER SHOES by Katrina Nicolson by
by Naias Mingo by Sue Burgess
Harris
by Neil Sharkey
Victoria English
by
THE PROMISE OF CONTEMPORARY ART
BY KATE SPINKS
Flowers of War 2018
Kirsten Haydon, Neal Haslem and Elizabeth Turrell photographer Vlad Bunyevich
Flowers of War 2018
by Kirsten Haydon, Neal Haslem and Elizabeth Turrell photographer Vlad Bunyevich
I n 2020, the Shrine brought together a series of special exhibitions united by the central theme of art. Between Two Worlds: Sean Burton, Rory Cushnahan, Ben Pullin; Dean Bowen's Imagining Centaur; and Through the Eyes of the Son: A John Williams Retrospective all use art to share stories and experiences of veterans, revive powerful historical moments in Australia's wartime history or explore the impact of war across society and culture.
inspired by the diversity and creativity of the works in these exhibitions and across artworks in the Shrine's permanent galleries, this article examines contemporary art's potential to engage audiences in new ways across more traditional war histories and acts of commemoration. it also examines the power of contemporary art to pose critical questions about service and the complexities of war.
Strictly defining what constitutes contemporary art could be an entire article in itself, so for our purposes here, it is referring to art produced now or in the recent past that has an innovative approach. Contemporary art often reflects on or critiques the current state of society and culture. It utilises many different mediums, technologies and creative practices.
At the more extreme end, contemporary art can also be challenging for audiences, causing people to wonder if what is produced even constitutes 'art'. it may deliberately appropriate or even reject 'traditional' art styles and practices that came before and be more about the practice or process of the art making than the aesthetic outcome.
One of the most compelling aspects of contemporary art is that it promises experience over explanation. it does
not provide answers, rather it raises or invites questions and encourages a more visceral exchange with audiences. This provides an interesting point of differentiation in the context of more conventional historical displays and traditional artefacts or artworks in a space like the Shrine.
What follows, is a discussion of four works across the Shrine's permanent galleries and special exhibitions that provide diverse examples of the ways in which contemporary artists have approached histories of war, witnessed war or experienced war Whilst none are examples of the more 'extreme' artworks that have divided and confronted audiences and the art establishment (read about some famous examples), they can still be seen as an interruption or disruption to the usual displays and narratives generally encountered within a war memorial.
NOVEMBER 2020-21 REMEMBRANCE 3
One of the most compelling aspects of contemporary art is that it promises experience over explanation. It does not provide answers, rather it raises or invites questions and encourages a more visceral exchange with audiences. This provides an interesting point of differentiation in the context of more conventional historical displays in a space such as the Shrine.
4 NOVEMBER 2020-21 REMEMBRANCE Anzac 2.0 2018 by
Sean Burton
Anzac 2.0 2018
Anzac 2.0 is one of the more challenging examples of contemporary art in the Shrine's collection. Challenging because it dares to pry open the often taken-for-granted traditions and meanings associated with service and sacrifice.
Using appropriation as his mode of interrogation, Sean Burton has reimagined Fred Leist's Australia in the War, a poster used to promote an exhibition of Australian First World War art and photography in 1918. Anzac 2.0 is a deeply personal response to the complexities and tensions embodied in the traditional image and associated narratives of the Anzac. A work that the artist felt compelled to tackle at a time when he experienced, what he has described as, cognitive dissonance with regards to contemporary military service and veteran issues.
The artwork depicts the artist's reflections on what the men in Leist's work would look like now. Leist's idealised clean-cut, young muscular heroes are replaced by guys from suburban Australia with southern cross tattoos, mobile phones and beer branded helmets. The middle figure, who in Leist's work looks like the definition of the smiling Aussie larrikin, is undefined in Anzac 2.0. Purposely left blank as a way of asking audiences to consider who would be there now? A woman perhaps? Someone from a culturally diverse background?
it also challenges us to consider whether by conflating the myth and reality of service are we, as a society, doing a disservice to our contemporary veterans? Does reducing veterans to the stoic and romantic image of the bronzed Aussie Anzac make it easier for us to ignore or gloss over issues we find confronting, or which point to contradictions?
The piece also raises the uncomfortable issue of the commodification of service, sacrifice, and commemoration and the ethics of corporations aligning themselves with the values that underpin these.
The work has many layers and provokes complex questions, particularly because of the 'sacred' nature of the Anzac legend and its relationship to an Australian national identity. Regardless, Burton's artwork asks that these images and narratives be discussed, not least by people such as himself: a veteran of military service.
NOVEMBER 2020-21 REMEMBRANCE 5
'Australians in the War' poster 1918 by Fred Leist AWM (ARTV07022)
VIEW
BETWEEN TWO WORLDS: SEAN BURTON, RORY CUSHNAHAN AND BEN PULLIN
Flowers
6 NOVEMBER 2020-21 REMEMBRANCE
of War 2018 by Kirsten Haydon, Neal Haslem and Elizabeth Turrell photographer Vlad Bunyevich
Flowers of War 2018
Created for the Centenary of the Armistice of 1918, Flowers of War is a breathtaking sculptural wreath that measures over two metres in diameter. it displays more than four hundred handcrafted enamelled brooches in the shapes of flowers and leaves. The floral emblems, associated with remembrance, were found on the battlefields of the First World War and at home.
The piece is an intricately layered reflection on commemoration from the personal to the collective. The Flowers of War wreath is a strong visual symbol of collective commemoration and memorialisation, made even
more apparent with its imposing size. However, once audiences move beyond the totality of the work, they are drawn into the smaller details of the foliage that make up this simultaneously grand and delicate piece. As the eye focuses on the individual leaves and flowers, photographs and text from letters, diaries and documents become discernible. individual brooches reveal deeper connections to service and sacrifice and take the audience into a more intimate space of reflection.
in developing the work, the artists researched the First World War archives of community organisations and museums to uncover personal
histories of the war. They have woven together these individual but connected stories with the symbolic botanical representations to create a rich meditation on commemoration.
Visitors to the Shrine are instantly in awe of this majestic artwork but its power goes beyond its initial impression. it has the potential to engage people in a string of associated thoughts around the impact of the First World War, the act of commemoration and its meaning both now and in the past.
individual brooches from the Flowers of War wreath by Kirsten Haydon, Neal Haslem and Elizabeth Turrell, photographed by Vlad Bunyevich.
Top right: Brooch no. 126 Maple 2018 enamel, photo transfer, steel
Bottom left: Brooch no. 181 Cornflower 2018 enamel, steel
Bottom right: Brooch no. 113 Blue Gum 2017 enamel, steel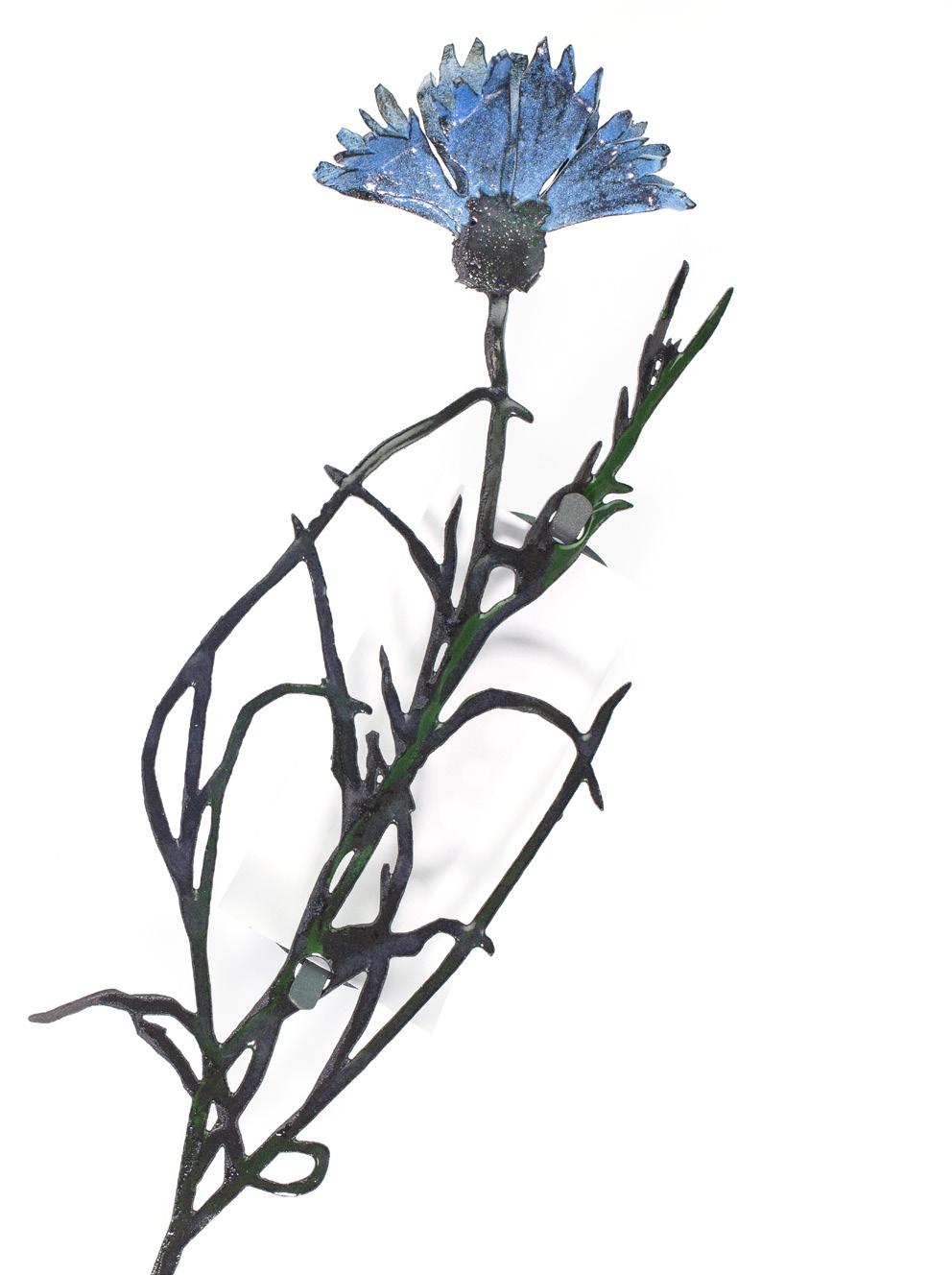 LEARN MORE ABOUT FLOWERS OF WAR
NOVEMBER 2020-21 REMEMBRANCE 7
VIEW
8 NOVEMBER 2020-21 REMEMBRANCE
Pierrot (Sarbi) 2014 by Lyndell Brown, Charles Green and Jon Cattapan oil and acrylic on linen
Peirrot (Sarbi) 2014
Since the First World War, Australia has enlisted official war artists in some capacity to record, first hand, conflict zones and the lives and experiences of soldiers. After an almost 30-year break after the Vietnam War, in 1999, official war artists were once again deployed to conflict and peacekeeping zones with the Australian Defence Force. These artists have both continued a tradition and, in some cases, recast it. The visual language and cultural representations of war have shifted over that 30-year period and a new sensibility has emerged among more recent war artists.
Contemporary war artists who have deliberately considered the heavy question of representation when it comes to war are Lyndell Brown, Charles Green and Jon Cattapan. Each served as official war artists for the Australian War Memorial. Brown and Green (who have worked together since 1989) joined the Australian Defence Forces in the Middle East and Afghanistan in 2007. Cattapan documented peacekeeping in Timor Leste in 2008. in a series of collaborative works created between 2011 and 2019, the three Victorian-based artists revisited their experiences of conflict and its aftermath, blending their artistic styles to create visually striking and immersive landscapes and imagery.
in the 2015 article The Obscure Dimensions of Confict: Three Contemporary War Artists Speak, the artists stated that the questions that informed their collaboration were:
How does the Australian contemporary artist make art in a time of war; and how can contemporary Western artists critique the spectacle of war without recreating it?
For Brown, Green and Cattapan, what sets their war art apart is their acceptance of the limitations of art in representing war. They further stated that:
All three of us attempted to solve these questions with deliberately low-key subject matter, devoid of action, so that we would avoid, as much as possible, any hint of glamorizing the illusory agency of action.
Peirrot (Sarbi) is one of many mesmerising works produced through the artists' collaboration. it is perhaps the one piece that stands out as a slight departure from the more haunting, fragmented and disorienting aesthetic that defines the other pieces in this collection. Despite this, it continues the theme of presenting scenes that are either on the cusp of conflict or its aftermath.
Peirrot (Sarbi) depicts a soldier in Afghanistan with a Special Forces Explosive Detection Dog named Sarbi. The piece is a recognition of the significant bonds between dogs and their handlers and an immortalisation of an incredible survival story in the midst of the chaos of war. Sarbi was trained to sniff out improvised explosive
devices and she, like other military dogs before and after her, saved the lives of many servicemen and servicewomen through this work. in September 2008, Sarbi was separated from her handler during an ambush by the Taliban. During a subsequent battle that lasted nine hours, Sarbi ran off after a rocket exploded near her Fourteen months later, she was miraculously found alive and well in an Afghan village where she had been taken care of. She was eventually reunited with troops at the Australian base in Tarin Kowt, much to their joy.
Sarbi was retired from service upon her return to Australia and she lived out her remaining years as the pet of her former handler. in 2011, Sarbi was awarded the RSPCA Purple Cross Award, the highest honour bestowed on animals that have shown outstanding service to humans and exceptional courage.
The striking artwork by Brown, Green and Cattapan is displayed in the Shrine's permanent galleries and provides yet another example of the different ways contemporary art can provoke discussions about service. This piece is particularly accessible to families with children and schools who visit the Shrine. Tapping into familiar emotions, the artwork and story of Sarbi help explain concepts such as friendship, loss, dedication and sacrifice.
NOVEMBER 2020-21 REMEMBRANCE 9
VIEW
LEARN MORE ABOUT THE RSPCA'S PURPLE CROSS AWARD FOR ANIMALS
10 NOVEMBER 2020-21 REMEMBRANCE
Trooper Luke Korman, Tarin Kowt 2012 by Ben Quilty (b 1973) print on paper, after aerosol and oil on linen painting
Trooper Luke Korman, Tarin Kowt 2012
Notable among the contemporary war artists is Ben Quilty. Quilty was inspired to represent the pain and anguish of wartime experiences as lived and embodied by veterans. His paintings of their raw and contorted bodies and faces attempt to reveal the, often unspoken, trauma of service.
The Shrine displays a limited edition, signed print of one of Quilty's works produced in 2012 after his return from Afghanistan.
His works explicitly invite audiences to step into an empathetic relationship with the subject depicted and there can be no mistake that what we are being asked to reflect on is the deep and disturbing impact of war on those who serve.
Each of the artworks mentioned provides an example of how contemporary art can add a dynamic punctuation between more traditional historical artefacts and narratives. it can take audiences on a, sometimes, unexpected journey and allow them to consider concepts like service, sacrifice and commemoration in a different way. This may be a familiar path of thoughts and emotions or it may be one that is difficult or unpleasant. Regardless, contemporary art will have achieved its promise if audiences feel themselves drawn into this visceral exchange.
Kate Spinks is Curator: Exhibitions and Collections at the Shrine. Kate has a passion for developing and delivering engaging experiences and interpretation for museums. She has worked with social and cultural history collections across various organisations including Sydney Living Museums and the Victoria Police Museum. She has taught Museums Studies at Sydney University and was Audience Engagement Manager at the Queen Victoria Museum and Art Gallery.
NOVEMBER 2020-21 REMEMBRANCE 11
THROUGH THE EYES OF THE SON: A JOHN WILLIAMS RETROSPECTIVE VIEW DEAN BOWEN'S IMAGINING CENTAUR VIEW BETWEEN TWO WORLDS: SEAN BURTON, RORY CUSHNAHAN AND BEN PULLIN VIEW Explore the Shrine's three contemporary art special exhibitions
THE RAA F CENTURY
BY NEIL SHARKEY
2021 marks the centenary anniversary of the foundation of the Royal Australian Air Force. The milestone provides a singular opportunity to recognise the achievements of the men and women whose courage and dedication have helped defend Australia and its interests during many of its most significant crises.
AWM (JK0024)
No. 77 Squadron flight briefing by a Gloster Meteor 18 August 1951 Kimpo, Korea photographer unknown
A ustralia's commitment to military air power was already a decade old when the Royal Australian Air Force (RAAF) was born on 31 March 1921. Australia first committed to a military aviation capability at the 1911 imperial Conference and by the close of 1912, pilots and mechanics had been recruited, aircraft ordered, and a Central Flying School (CFS) established. A permanent site for the CFS near Werribee, Victoria was selected in 1913. Today the same site, RAAF Williams at Point Cook, holds the distinction of being the oldest continually operating air base in the world.
The formation of the Australian Flying Corps (AFC) on 22 September 1912 proved timely. When Australia entered the First World War (1914–18) in August 1914, the AFC was one of the first combatants to take to the air. indeed, it was the only independent British Empire dominion air arm of the war.
The Mesopotamian Half-Flight, the first AFC unit to see action, was flying against the Turks in modern-day iraq by May 1915. No. 1 Squadron AFC began operations in Palestine in June 1916, while three other squadrons— Nos. 2, 3 and 4 AFC—were in combat over the Western Front by 1917. Four training squadrons, meanwhile, operated in Britain.
A total of 880 AFC officers and 2,840 other ranks served during the war with 410 serving as pilots and 153 as observers. By war's end the AFC had claimed 527 enemy aircraft at a cost of 175 Australian dead. Throughout the war, however, the AFC operated as part of the Australian imperial Force— that is, the army—and it remained subordinate to Australian army and British army and air commands.
The AFC was disbanded in 1919. its successor—the Australian Air Corps—
established in 1920, lasted only a year before it was replaced in turn by an alternative vision for Australian air power. Britain's Royal Air Force, formed in April 1918, served as the model.
The RAAF became the world's second independent air force in March 1921.
King George V bestowed the 'Royal' prefix to the service on August 1921.
Budget restraints initially limited the fledgling RAAF to 50 officers and 300 other ranks, across five cadrestrength squadrons, until 1924. it grew steadily thereafter. The service focused on training and local defence and its activities during the interwar period included aerial survey and meteorological flights, public displays and search-and-rescue missions.
The pace of RAAF expansion accelerated sharply towards the close of the 1930s as growing tensions in Europe and an increasingly belligerent
NOVEMBER 2020-21 REMEMBRANCE 13
United States of America First Lady Eleanor Roosevelt inspecting a WAAAF Guard of honour, Melbourne September 1943 photographer unknown | AWM (V iC1448)
Japan provided impetus. New squadrons were raised and bases established in Western Australia, Queensland, the Northern Territory and New Guinea. RAAF personnel increased from under 1,000 in 1935 to around 3,500 by 1939.
The Second World War (1939–45) would be the greatest ever challenge for the RAAF. in six years, the service increased 50-fold. Australian airmen resolutely defended Australia, its territories and approaches, and served in the skies over Europe, North Africa and the Middle East; patrolled the Atlantic, Indian and Pacific Oceans and the Mediterranean; and fought in india, Burma, Malaya, Singapore, Thailand, China, the Netherland East indies, New Guinea, the Solomon islands, the Philippines and Borneo.
Australia pledged aircrew for Britain's Royal Air Force (RAF), under Article XV of the Empire Air Training Scheme (EATS) on 17 December 1939.
Australia promised 36 per cent of the Commonwealth total—806 new aircrew per month—and eventually raised 17 squadrons. Despite London's early war assurances that 'Article XV' airmen would serve in RAAF units, most (27,899) served in RAF, not RAAF, squadrons. These RAAF airmen serving in non-RAAF squadrons were known as 'Odd Bods'.
Odd Bods and Australians serving in 'Article XV' RAAF squadrons suffered the highest loss rate of any Australian combatants during the war. RAF Bomber Command proved an especially dangerous posting, claiming 3,486 Australians—a staggering 35 per cent of all RAAF deaths during the war. One bomber squadron, No. 460 RAAF, with an establishment of 200 aircrew suffered 1,018 combat deaths during the war. The squadron was effectively wiped out five times over.
Australia's worst fears were realised when Japan entered the war in
December 1941. Vastly superior enemy forces overwhelmed four RAAF squadrons based at Singapore. Squadrons and flights defending Australian island garrisons in New Guinea, Ambon and Timor were also destroyed. A devastating air raid launched against Darwin on 19 February 1942, underscored Australia's vulnerability.
The RAAF soon bounced back. Excellent training facilities, established under the EATS, provided a steady stream of air and ground crews for the South West Pacific (SWPA) theatre. A new local aircraft industry provided the RAAF with hundreds of modern aircraft, including Australian-designed CAC Boomerang fighters, and DAP Beaufort and Beaufighter medium bombers built under license. These joined lend-lease aircraft from the United States—Curtiss Kittyhawk fighters, Consolidated Liberator heavy bombers and PBY Catalina flying boats—among other types.
14 NOVEMBER 2020-21 REMEMBRANCE
Avro Lancaster 'S' for Sugar of No. 467 Squadron RAAF was the first heavy bomber to complete an almost statistically impossible 100 operations with RAF Bomber Command, England 12 May 1944 photographer unknown | iWM (TR 1795)
Perhaps the most influential RAAF action of the war occurred at the Battle of the Bismarck Sea (2–4 March 1943).
Australian and American squadrons destroyed a major Japanese troop convoy bound for New Guinea. Japanese forces on the island were isolated without hope of reinforcement, resupply or evacuation.
RAAF squadrons moved north as the war progressed, operating in the Netherlands East indies and the Philippines. RAAF squadrons based at Morotai played a major role in Australia's largest ever combined-arms operation, the invasion of Borneo (1 May – 15 August 1945).
By war's end the RAAF had grown to 182,000 personnel and 6,200 aircraft in almost 100 squadrons, flights and half-flights. The rapidity of the RAAF's expansion, the pervasiveness of its modernisation and the magnificence of its achievements demonstrated the professionalism and dedication
of its personnel, training and tactics. in all, some 216,900 men and women had enlisted in the RAAF throughout the course of the war serving in every theatre. At least 9,780 RAAF personnel lost their lives.
Among those serving the RAAF was the Royal Australian Air Force Nursing Service (RAAFNS) and the Women's Auxiliary Australian Air Force (WAAAF). The WAAAF, formed in March 1941, was the single largest Australian women's wartime service and in 1950 was reborn as the Women's Royal Australian Air Force (WRAAF). All three services paved the way for the full integration of women into the RAAF in 1977. Australia's first female military pilots graduated in 1988.
Australia's commitment to its strategic partners, Britain and the United States, ensured that RAAF deployments in the post-war years were commonplace. The RAAF aircraft took part in the Berlin Airlift between 1948 and 1949,
transporting 7,030 tons of freight and 6,964 passengers to and from the besieged city. No. 78 Wing RAAF, meanwhile, was deployed to Malta between 1952 and 1954 to bolster British efforts at countering Soviet influence in the Middle East.
The RAAF component of the British Commonwealth Occupation Force (BCOF) in Japan comprised three fighter squadrons and 2,200 airmen. From 1946, the force was primarily tasked with tracking smugglers and locating caches of weapons and ordnance in western Japan.
No. 77 Squadron RAAF, the last of the squadrons serving in BCOF was being withdrawn from Japan in June 1950 when war broke out in nearby Korea (1950–53). The unit flew ground attack missions against communist forces from 2 July 1950—first in North American Mustang fighter-bombers and later Gloster Meteor jets. By the armistice, No. 77 had flown 18,872
NOVEMBER 2020-21 REMEMBRANCE 15
Aerial view of a No 35 Squadron RAAF de Havilland Caribou (left) and a No 9 Squadron RAAF, Bell UH-1 Iroquois helicopter, South Vietnam October 1966
photographer Gerald Wallace Westbury | AWM (VN/66/0081/26)
sorties claiming the destruction of 3,700 buildings, 1408 vehicles and 16 bridges. Three enemy MiG-15s were also downed. No. 77, meanwhile, lost 22 Mustangs and 44 Meteors with 42 airmen killed and six pilots captured. in 1950, Britain sought Australian assistance during the Malayan Emergency (1948–60). C-47 Dakota transports and Lincoln bombers were deployed to Malaya to help quell the 12-year communist insurgency. No. 2 Squadron equipped with GAF Canberra bombers began bombing operations in 1958.
The deployment had long-lasting consequences. A RAAF presence in Malaya, and its independent successor state Malaysia, has been maintained since 1958 at RAAF/RMAF Butterworth, Penang. The RAAF's presence at Butterworth peaked at 5,000 personnel in the 1970s. Australian Squadrons based at RAAF Butterworth proved a useful deterrent during indonesia's Confrontation with Malaysia (1963–66). RAAF units also
helped facilitate clandestine ground operations against indonesian troops in Borneo.
The RAAF contribution to the Vietnam War (1962–1973) peaked at 770 airmen in 1968. De Havilland Caribou transport aircraft of No. 35 Squadron RAAF carried supplies between the Task Force base at Nui Dat and the port of Vung Tau. Bell UH-1 iroquois helicopters of No. 9 Squadron RAAF supported army operations across Phuoc Tuy province. No. 2 Squadron RAAF, equipped with GAF Canberra bombers and based at Phan Rang, conducted bombing missions across South Vietnam from 1967.
At war's end, No. 2 Squadron had flown 11,963 bombing missions and was credited with destruction of 8,637 structures, 15,568 bunkers, 1,267 sampans and 74 bridges for a loss of two aircraft. Small numbers of RAAF pilots served in United States Air Force units, flying F-4 Phantom fighterbombers or as forward air controllers in light aircraft. The RAAF suffered 14
deaths and 60 other casualties before its withdrawal from Vietnam.
RAAF personnel and air assets have played a major role in peacekeeping and humanitarian missions across the globe, operating in Bougainville, Cambodia, East Timor, indonesia, Pakistan, Papua New Guinea, Rwanda, Solomon islands, Somalia and the Sudan. Globally, th air force has between 500 and 700 people on operations every day, contributing to peacekeeping and humanitarian and disaster relief since 2001. Over 60 air force personnel have lost their lives during operations since 1945. On 2 April 2005 three RAAF personnel were killed in a helicopter crash off the west coast of Sumatra while offering assistance in the aftermath of the Nias earthquake.
The RAAF continues to provide support across a wide spectrum of war-like operations—air superiority, precision strikes, intelligence, surveillance and reconnaissance and air mobility. in 2003, the RAAF returned to combat
16 NOVEMBER 2020-21 REMEMBRANCE
FLT LT Andrew Doig, a RAAF dentist, extracting teeth on a peacekeeping mission, Bougainville May 2000 photographer Poppy Wenham | AWM (P03518.030)
missions when 14 RAAF F/A-18 Hornets began strike missions over iraq.
AP-3C Orion aircraft conducted maritime patrols in the Middle East between 2003 and 2012, and also conducted extensive overland flights of iraq and Afghanistan on intelligence, surveillance and reconnaissance missions. They also supported counterpiracy operations off Somalia.
From 2007 to 2009, a detachment of No. 114 Mobile Control and Reporting Unit RAAF was on active service at Kandahar Airfield in Afghanistan and a detachment of iAi Heron unmanned aerial vehicles has been deployed there since January 2010.
in September 2014 eight RAAF FA-18F Super Hornets, a KC-30 Multi Role Tanker Transport, an E-7A Wedgetail Airborne Early Warning and control aircraft were deployed to the United Arab Emirates to combat islamic State forces in iraq and Syria, while C-17 and C-130J transport aircraft have been used to conduct airdrops of
humanitarian aid and airlift arms.
The RAAF currently employs some 14,700 personnel at 11 major bases and various commands across Australia. The achievements of the RAAF throughout its history have always been due to the quality of its personnel and the aircraft they have procured, operated and maintained.
Legendary aircraft operated by the service over the past century have included the Supermarine Spitfire (1941–45), Avro Lancaster (1942–46), North American Mustang (1944–60), CAC Sabre (1954–71), Lockheed C-130 Hercules (1958–present), Dassault Mirage (1964–88) General Dynamics F-111 (1973–2010) and McDonnell Douglas F/A-18 Hornet (1985–present).
And the future? The RAAF is currently remaking itself as a fifth-generation air power—replacing the F/A-18 Hornet with the Lockheed Martin F-35A Lightning. The state-of-the-art Boeing Poseidon maritime patrol aircraft will replace the aged Lockheed Orion
and the unmanned Loyal Wingman drone will become the first Australianmade combat aircraft for 50 years. A centenary on, the RAAF will continue providing air power for Australia's security, now and for the future.
Neil Sharkey is a Curator, Exhibitions and Collections at the Shrine of Remembrance. He developed the Shrine's Second World War Gallery as well as dozens of temporary exhibitions, including Bomber Command 2013 and The Cinderella Service: Australians Coastal Command 2019.
NOVEMBER 2020-21 REMEMBRANCE 17
Two state-of-the-art F-35 Lightning fighters of No. 77 Squadron RAAF, Newcastle 28 August 2020 photographer Sergeant David Gibbs ADF RAAF 8165233/396
BIOGRAPHY
HOLIAN
Annette Holian became the RAAF's first-ever female surgeon in June 2000 after being approached to serve with the Australian-led UN force deployed to East Timor. Having previously served alongside an ADF team in Papua New Guinea, Annette knew how well military medical teams could respond to acute humanitarian crises overseas.
After serving in Timor (2000–01), Annette was sent to the Solomons in 2003 and Banda Aceh in 2004, following the
FRACS FAOrthA
I sought a RAAF commission following my deployment as a civilian surgeon alongside the ADF to the Aitape Tsunami, PNG in July 1998. The performance of the ADF medical teams was exemplary. So professional, and so organised, I vowed to join the RAAF if I ever contemplated doing such work again...
Boxing day Tsunami. She undertook tours of Afghanistan in 2008 and 2010 at Tarin Kowt and in 2012 at Kandahar. in 2013 Annette deployed to the Philippines when Typhoon Haiyan devastated the country.
Annette's most challenging deployment occurred at Nias, indonesia after the 2005 earthquake. Nine of Annette's ADF colleagues were killed in a helicopter accident.
18 NOVEMBER 2020-21 REMEMBRANCE
Annette Holian 25 April 2018 Shrine of Remembrance, ViC GROUP CAPTAIN ANNETTE
MBBS
Shrine Governor (2006–present) | Surgeon, RAAF Reserves (2000–present)
The AAFC has moulded me into better human being. I have learnt how to be a part of a team and how to lead one. The RAAF centenary celebrates a proud organisation that has served its country in times of great turmoil—whether during a world war or a global pandemic.
LEADING AIR CADET JACKSON SCAIFE
Jackson first joined the Australian Air Force Cadets (AAFC) in June 2017. The AAFC is a youth development organisation established in 1941 which draws on the traditions and example of the RAAF. Jackson intends to remain in the AAFC until he 'ages out' in December 2022.
Jackson has been involved in a wide variety of AAFC activities including flight and firearms safety training and has undertaken courses in field craft, service knowledge and
aircraft recognition, among other electives. Self-discipline, teamwork and co-ordination have been honed through drill and ceremonial activities and Jackson has personally run fieldcraft exercises on bush camps or 'bivouacs'.
2020 has proved a difficult year for No. 405 Squadron AAFC as its members have been unable to meet in person. Nevertheless, Jackson and his fellow cadets continue to participate in a range of virtual AAFC activities.
NOVEMBER 2020-21 REMEMBRANCE 19
Young Ambassador (2019) | Australian Air
No.
(Sunshine) (2017–present) BIOGRAPHY
Shrine
Force Cadet,
405 Squadron
Leading Cadet Jackson Scaife undertaking a glider experience flight RAAF Base Williams (Point Cook)
I met my former Commanding Officer in the street one day. He put a piece of paper in my hand and asked for five pounds. That's how I became a foundation member of the Catalina Club!
In the years to come we raised a lot of money through Legacy to educate the children of the 322 men flying Catalinas who didn't come back. It's been an honour.
Mac undertook training in Geelong, becoming a flight rigger, and 'first met an airplane', an Avro Anson, at Base Mallala in South Australia. He subsequently worked on B-24 Liberators with No. 99 Squadron and Catalina Flying Boats with No. 112 Air-Sea Rescue Flight.
in 1945, Mac was deployed to Darwin where he served as part of the operation to bring Australian prisoners of war home from Singapore.
Mac discharged from the air force in 1946, married, and worked on Victoria's first state-owned hydro-electric scheme. Mac joined the Shrine family as a Volunteer in 2002
20 NOVEMBER 2020-21 REMEMBRANCE
Harold 'Mac' Mackinlay Ford enlisted in the RAAF immediately after his eighteenth birthday in 1943.
BIOGRAPHY
LEADING
HAROLD
Shrine Volunteer (2002–present) | RAAF aircraft rigger (1943–46)
Leading Aircraftman Mac Ford August 1943 Shepparton, ViC
AIRCRAFTMAN
MACKINLAY FORD
Tim loved the RAAF. As a boy, he built model aeroplanes and dreamt of becoming a pilot. Former Chief of Air Force, Air Marshal Geoff Brown, told Tim's wife Kay at the funeral that the RAAF had lost a future Chief. Our chairman, Chris Spence, flying a Caribou, scattered Tim's ashes across the slopes of Mount Kosciusko. Tim was captain of the RAAF ski team.
NOEL ELLIS
Tim Ellis was a Roulette pilot and veteran of the first Gulf War (1990–91). On 29 October 1991, Ellis and four other airmen died when their Boeing 707 tanker transport crashed off the Gippsland coast.
Tim's widow, Squadron Leader Kay Ellis CSC, an RAAF air traffic controller, was moved to campaign for changes to the way the RAAF handled accident investigations and the treatment of victims' families. Kay died of breast
cancer in 2011 but not before greatly improving the service to which she and her husband had dedicated their lives.
The sterling example of his son and daughter-in-law and pride in their service led to Noel's seventeen-year association with the Shrine of Remembrance.
NOVEMBER 2020-21 REMEMBRANCE 21
BIOGRAPHY
Noel and Tim Ellis October 1981 RAAF Pearce, WA
Shrine Volunteer (2003–present) |father of RAAF pilot Flight Lieutenant Tim Ellis
AIR
The RAAF's development over the last century has been dramatic, effectively mirroring the trajectory of technical innovation. From fabric and wire Box kites the RAAF has continued to evolve and is now transforming into a fifth generation air force, managing a complex information environment to deliver airpower beyond the aircraft in support of joint operations.
Chris Spence joined the RAAF in 1969 and after earning a Bachelor of Science, completed pilot training in 1974.
Flying Bell UH-1 helicopters with No. 5 Squadron RAAF, Chris conducted disaster relief operations throughout Australia (including Cyclone Tracy) and New Guinea. A six-month tour, monitoring the Egypt-Israel ceasefire in the Sinai with the United Nations followed in 1977.
Chris assumed many significant leadership roles in the RAAF including Commander No. 35 Squadron (1987); Staff Officer
to the Chief of the Air Staff (1989); Commander, No. 86 Wing (1995); Commander Training - Air Force at Headquarters Training Command (2000); and Deputy Chief of the Air Force (2001).
Chris qualified on 14 different aircraft types and in 2010 led a small RAAF team at Kandahar, Afghanistan. He assumed the role of Chairman, Shrine Board of Trustees in 2012.
22 NOVEMBER 2020-21 REMEMBRANCE
Chris Spence with his children Angus and Hanna in the cockpit of a PC-9 1990 RAAF Fairbairn, ACT
VICE-MARSHAL CHRIS
AO Chairman, Shrine Board of Trustees (2012–21) | RAAF helicopter pilot and former Deputy Chief of Air Force
SPENCE
BIOGRAPHY
BY SUE BURGESS
BEHIND THE SCENES AT THE SHRINE DURING
COVID-19
Live streamed service underway 2020 photographer Susan Gordon-Brown
At the Shrine we encourage all Victorians to commemorate through reflection, ceremony, education and learning. During a time when we haven't been able to come together, we are very proud of what our team has crafted to bring aspects of the Shrine to you at home. Our team has completely changed our way of
working this year to provide digital opportunities for commemorative services, education, exhibitions and public presentations. We virtually opened two new exhibitions and over 200,000 people have watched our commemorative services, including Anzac Day, as well as interviews, workshops and book launches online.
Taking our commemorative program online
in response to our temporary closure in March 2020, we started to live stream wreath-layings from the Shrine's Sanctuary. This ensured that these services, many of which have occurred on the same day for decades, were still acknowledged and our community was given the opportunity to participate remotely. Going digital has made the commemorative program more accessible than ever and presented opportunities for
people to connect with stories of service and sacrifice and reflect and remember in their own way, from their own home.
All services and commemorative broadcasts are streamed on our Facebook page then made available on our YouTube channel. They live on as a digital representation of what is usually transient and invisible: remembrance.
Schools have enjoyed a virtual visit or had a Shrine educator speak with them and answer their questions. Our aim has been to stay connected with the community and continue to provide inspirational stories of Australian service and sacrifice.
Our digital commemorative programs have reached more than 200,000 people. We have been overwhelmed by the positive response from our Ex-Service Organisations. Digital commemoration is powerful; it enables us to exponentially engage new audiences and to communicate our story and purpose.
NOVEMBER 2020-21 REMEMBRANCE 25
What has happened behind the scenes during the COVID-19 closures to keep our community engaged with our work of commemoration, education and reflection?
The Digital Gallery
Our curators had been busy planning and developing two new exciting exhibitions focussing on art when the lockdown started in March 2020. Whilst it was disappointing to close our doors and not be able to invite visitors to view the exhibitions, we understood the need for the closure to keep the community safe.
Between Two Worlds is an exhibition of veteran street art featuring the works of Sean Burton, Rory Cushnahan and Ben Pullin. The pieces on display reflect the artists' struggle with their identity post-service and the impact that military service has had on their lives. To bring this exciting exhibition to our audiences, our team turned its attention to developing content that we could share online.
With the support of our veteran artists, a video preview was created from footage captured in their studio and an artist interview series was released, providing unique and personal insights from each artist Each of these videos have been viewed thousands of times on our social media channels (Facebook, instagram and YouTube) and are also available to view on the Shrine's new website.
The second exhibition, Dean Bowen's Imagining Centaur, was installed during the short break between Victorian lockdowns it explores the sinking of the 2/ 3 Australian Hospital Ship Centaur by a Japanese submarine. The terrible event happened off the coast of Queensland in May 1943 and was a national outrage at the time. At the core of this exhibition is a selection of charcoal drawings by renowned artist Dean Bowen, who responded to the tragedy after seeing a documentary on the Centaur wreck discovery. Many years later, the story still has the power to move people.
Extending the art experience is a beautiful and unsettling animation of Bowen's artwork, accompanied by a poetry recitation and haunting soundscape. The animation and a selection of artworks are available for viewing on our website, as well as footage of the Centaur discovery and survivor interviews. An artist interview and virtual tour of the exhibition will follow.
Images from top
Meet the Artist Ben Interview 2020 video by She and the Others
Meet the Artist Sean Interview 2020 video by She and the Others
Meet the Artist Rory Interview 2020 video by She and the Others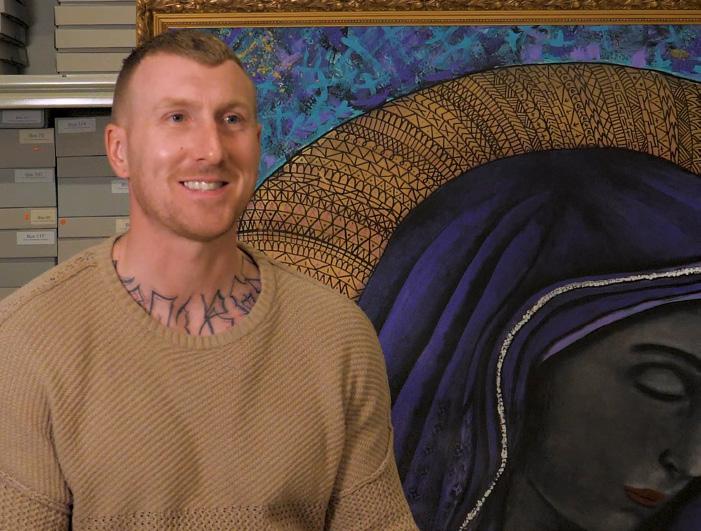 Dean Bowen's Imagining Centaur the Animation 2020 artwork by Dean Bowen animation by Ayumi Sasaki soundscape by Guy Webster
26 NOVEMBER 2020-21 REMEMBRANCE
Virtual tour in progress
Learning from home
As the pandemic changed the lives of all Victorians, students moved to learning from home. The Education team, themselves working from home, introduced virtual tours of the Shrine. These tours are live and interactive video conferences, navigating through high-resolution 3D scans of the building and Galleries, where students and presenters can discuss various aspects of the Shrine. The Education team worked with teachers to create relevant and bespoke experiences for their
students. We have even had a school put their entire Year 9 cohort through a virtual tour experience to replicate a normal 'City Week' experience. The feedback from teachers has been overwhelmingly positive:
It has brought the city and it's amazing monuments into the student's homes at a time when they are really isolated so I am so thankful to the Shrine staff for their ability to be able to be so available and adaptable during these difficult times.
Thank you so much for that wonderful experience. That truly exceed my expectations! I have already got messages from some of the students about how much they enjoyed that.
The introduction of virtual programming is a watershed in Shrine student education and will bring lasting benefits to our capacity to reach all Victorian schools.
Where are the Shrine volunteers?
Shrine volunteers are an important part of our community, giving over 12,000 hours of their time each year. Since March 2020, our 110 volunteers have been unable to come onsite. Normally, our volunteers take school group tours, community group tours and talk with visitors as they enter the Sanctuary, Crypt and Galleries. We knew they were feeling the gap in their week but we worked hard to keep them connected through a variety of activities. We had weekly newsletters,
a virtual coffee morning to discuss a film and finally a weekly volunteer training session where volunteers shared their knowledge on a favourite topic or object in our Galleries. Rich and stimulating discussions ensued! We are all looking forward to welcoming back our volunteers who engage our visitors every day with fascinating and compelling insights.
NOVEMBER 2020-21 REMEMBRANCE 27
Public presentations
Replicating a wreath making workshop online was just one of the challenges facing our Production Coordinator. Filming 95 year old veterans during Stage 4 lockdown? Not a problem!
From early 2020, we had to change the way we developed our public talks and events. A book launch in May with Mike Rosel talking about his book A Rat of Tobruk reached an audience of over 1,300 people—far more than we could have hosted onsite. A conversation between broadcaster Megan Spencer and Professor Peter Monteath on his new book Battle on 42nd Street also proved popular. in June, Victoria English from Telopea Flowers carefully walked us through how she makes a beautiful sustainable wreath. The result was stunning.
We also produced a series of short talks with curator Neil Sharkey who explored elements of the collection that resonated in the challenging circumstances.
These videos are all still available for viewing on our website, Facebook or YouTube channel.
To commemorate the 75th anniversary of the end of the Second World War, we worked together with the National Trust Victoria to produce a series of veteran interviews. The production challenges were significant, as Stage 4 restrictions prohibited elderly veterans from leaving their homes or having film crews visit them at home. Employing broadcaster Megan Spencer as the interviewer, we decided to film them remotely. Two of our interview subjects used video
conferencing and the other was patched in via voice call. Despite these lessthan-ideal conditions, the result was incredibly warm and uplifting.
Our recent experience and success with digital programming has challenged us to continue with a suite of hybrid programs that will complement the talks, events and workshops we deliver on site. The ability to connect with people across not only Victoria but nationally and internationally, has ensured that we continue to engage in commemoration, education and learning in meaningful new ways.
Sue Burgess is the Director of Public Programs at the Shrine. In this role Sue oversees exhibition, education and public program development and implementation. She comes to this role having worked and volunteered in museums in Australia and internationally. Sue is passionate about history and engaging visitors in memorable and high quality experiences.
Top
Top
Bottom
Bottom
Left Our first digital presentation with Mike Rosel May 2020 video by Rory Noke
Right Megan Spencer and Professor Peter Monteath in conversation for Battle on 42nd Street presentation May 2020 video by Podbooth
Left Megan Spencer conducts a socially distanced interview with Aunty Glenda Humes July 2020 video by Podbooth
28 NOVEMBER 2020-21 REMEMBRANCE
Right Virtual wreath Making Workshop with Victoria English June 2020 video by She and the Others
Restoring THE LIGHT TOWERS
BY PETER HARRIS
Four imposing towers have stood as sentinels watching over Victoria's national memorial for 88 years. Unremarkable and mostly unnoticed, they serve a pivotal role in illuminating the memorial at night and providing ceremonial support. They also provide a glimpse into early Melbourne construction methods.
Construction of the Shrine of Remembrance began in October 1927 and the memorial was dedicated in 1934. it remains an impressive and imposing structure—one of the first concrete and steel-cored buildings in Melbourne. A building project brimming with purpose, meaning and symbology, the Shrine represented hope, healing and an opportunity to support local trades. Selection of its labour force was weighted heavily in favour of returned servicemen and contracts were issued to local businesses perceived to have sufficient 'digger credentials'. The Shrine Reserve occupies 13 hectares of prime land in the heart of the Kings Domain precinct that was cleared and graded by hand with shovel and pick. Over seven years a truly amazing monument slowly rose from the foundations.
Early designs of the Shrine indicate that the tower lights were a late inclusion to original plans; however, their addition made a bold statement to the world. One can only image the sight when the 1000-watt projectors first fired up on an October
night in 1932. The incomplete structure of freshly hewn Tynong granite would have blazed, demonstrating the glory yet to come.
Controversy accompanied plans to illuminate the Shrine, with many deriding such an extravagance during times of economic depression. Some likened it to casting 'a carnival aura' over hallowed ground. Rival opinion pushed heavily for the Shrine to be a beacon in the night as the memorial was visible as far as the Port Phillip Heads. Perhaps more practically, the provision of lights assisted to deter material theft of brick and steel from a large open building site. However viewed, given Sir John Monash's role as Chairman of Victoria's State Electricity Commission (SEC), it's not hard to infer his posthumous approval.
As a late inclusion, the light towers are absent from the 1928 architectural plans and their original renderings have been lost in time. A long-held anecdote suggested they were
NOVEMBER 2020-21 REMEMBRANCE 29
SLV (H83.96/281)
Original vertical array of lights visible atop the Northern light tower c 1940
cobbled together from leftover rock and filled with rubble. A 2019 penetrative survey, however, confirmed a purposebuilt construction of pressed cement blockwork surrounding a reinforced concrete core. Densely formed with fine aggregates, the surface had the appearance of granite. A single hefty capping piece provides downward compression, holding the blockwork in position and supports the massive vertical array of stacked light projectors. Like the Shrine itself, the towers were made to high standard and designed to last.
Changes in technology have seen the towers take on new roles. Speakers were mounted to support major service days when thousands of people assemble on the Second World War Memorial Forecourt. CCTV cameras hover over the capped peak where once the lights were affixed. The towers now provide power, data, sound and video connectivity for external broadcasters.
in the 1970s the stacked lighting arrays were removed, which reduced the overall height of each tower by a third. High
pressure sodium flood lights were installed, now affixed to facing edges, these 'new' lights continued to bathe the Shrine in a distinctive yellow glow, unchanged for almost 50 years. in 2018, with the support of the City of Melbourne, the tower lights were replaced with modern LED luminaires. That same year, the Shrine led many public buildings across Melbourne in illuminating their facades in a hue of red to commemorate the 100th anniversary of the armistice that ended the First World War (1914-1918). The 'Red to Remember' illumination is now an annual event.
Time and the rigours of Melbourne weather have taken their toll on the towers. They were obscured by a dense growth of ivy for many decades, causing extensive surface damage necessitating restoration work in the 1990s. Unfortunately, the chosen repair methodology was not sympathetic to the materials used in their original construction. Damaged substrate material was roughly excised, holes and cracks patched over with mortar and the towers skimmed in cement-based slurry to conceal the repairs. Effective enough to last 30 years but not a permanent fix.
30 NOVEMBER 2020-21 REMEMBRANCE
350mm core sample taken from the East tower 2020
The Southern tower indicating surface cracks and dislodged material
An expert conditions report prepared by conservation specialists in May 2020 provided a clear assessment of the light towers: they are in overall poor condition. Extensive tests were conducted including core sampling, penetrative surface scanning to map reinforcement, trial surface treatments for the removal of the skim layer, mortar and petrographic analysis (an investigation of the chemical and physical features of a rock sample) and overall load capacity calculations. Core sampling showed that the inner structures remain strong however significant issues exist in the 170mm thick outer cladding blocks. The exhaustive report included a full restoration and repair plan, detailing the exact methodology required to achieve long-lasting results that restore the towers to their original appearance following international conservation standards.
The outermost skim will be dissolved to expose the original blockwork, new reinforcing rods will be threaded throughout the pylons and coatings applied to ensure damp proofing. Granite cladding will be replicated by matching the aggregates closely to the base materials of the Shrine itself. Noting
that the Tynong granite used throughout the Shrine proper has aged more than 86 years and has a natural oxidised appearance, the appearance of the towers will be closer to the granite used in the southern courtyards, which were installed in 2014 and are near pristine by comparison.
Expert restoration and conservation work comes with a considerable price tag, with estimates for each tower in the vicinity of $200,000. The Shrine has applied for funding to restore the first (Northern) tower under the Heritage Victoria Living Heritage grants program, a scheme targeted to support local expert trades specialising in heritage skillsets. The project will be staged across two to three years.
NOVEMBER 2020-21 REMEMBRANCE 31
The Shrine illuminated red for the 100th anniversary of the armistice that ended the First World War 2018
Peter Harris is Facilities Manager at the Shrine. Peter has the honour of being responsible for the presentation, upkeep and restoration of the Shrine and its Reserve. It's a challenging, yet highly rewarding role, a once-in-a-career opportunity to help preserve one of the most iconic sites in Melbourne.
32 NOVEMBER 2020-21 REMEMBRANCE
The ray of sunlight streams through the aperture in the Shrine's roof and down into the Sanctuary below
RAY OF LIGHT REVAMP
BY PETER HARRIS
The Ray of Light, as witnessed by over a million visitors every year, is a simulation achieved using complex mirrors, lenses and lamps. A recent upgrade brings 40-year-old technology into the digital era.
L ight is a strange thing, capable of drastically altering our perception of an object or space. The Ray of Light is a focal point within the ceremonial heart of the Shrine of Remembrance, the Sanctuary. its exact alignment is a key factor in the memorial's design, allowing a thin shaft of sunlight to pass over the word 'LOVE' inscribed on the Stone of Remembrance on the 11th hour of the 11th day of the 11th month. it is an incredible feat of mathematics and geospatial mapping requiring 140-odd pages of calculations—all in a time pre-dating modern computer modelling.
Adjustments were made to account for the introduction of daylight savings in 1971. A mirror was installed on a fixed plinth hidden away on the upper balcony to ensure the shaft of sunlight would continue its precise journey. Each year, the geospatial team from RMiT dutifully attend the Shrine a few weeks before Remembrance Day (11 November) to measure the alignment of the mirrors with an aperture leading down into the Sanctuary. Testament to the quality of design and care taken constructing the Shrine, only a fraction of a millimetre in movement has been recorded in recent decades.
The Sanctuary is an impressive, cavernous structure of granite, marble and mighty limestone columns raised in dedication of the fallen. Light spills into this sacred space from a lightwell in the ceiling far above, casting a glow across the friezes and stone walls and creating a warm and inviting ambience, also one that is respectful of the building materials. Hidden from view are four specialised LED luminaires, sensitively angled and colour balanced to supplement sunlight in darker winter months. They project wavelengths that highlight the surface and texture of stonework, showing details that previously went unnoticed. Tiny fossils within the limestone are all the more prominent for keen eyes that seek them out.
The reflected 'natural Ray of Light' makes its path across the inscription on the Stone of Remembrance at 11am on Remembrance Day—a sight viewed in person only by the serving Governor of Victoria and members of the official party. At noon visitors can also experience the natural Ray of Light due to daylight saving time changes.
NOVEMBER 2020-21 REMEMBRANCE 33
The Ray of Light witnessed by millions of visitors each half hour in the Sanctuary is a simulation, achieved using complex mirrors, lenses and lamps installed in the-1980s. The mechanisms of this simulation are mobile and are moved to allow the natural light to pass through on Remembrance Day. Adjustments in alignment are made with a micrometer spindle, affecting a hundredth of a millimetre per revolution.
The simulation had been in place unchanged for almost forty years, and although reliable, the relentless need for filament lamps became challenging. Times and technology have changed and the lamps which burned within the mechanism were no longer manufactured commercially. in response, the Shrine has installed a replacement LED projector, which seamlessly continues this tradition of commemoration, albeit without the (sometimes explosive) need for lamp changes.
Such updates will ensure the Ray of Light will continue to be enjoyed for many generations to come.
34 NOVEMBER 2020-21 REMEMBRANCE
The 'old' stage lamp above and its modern LED replacement below
The simulated light passes across the word 'Love', inscribed on the 'Stone of Remembrance' at the heart of the Sanctuary
NOVEMBER 2020-21 REMEMBRANCE 35
'Azimuth to Pillar' measurements and weather conditions recorded by the RMIT team between 1982 and 2009
From the Collection LOTUS SHOES
BY KATRINA NICOLSON
One of the most horrific artefacts in the Shrine's collection isn't a weapon—it is a beautifully made pair of tiny shoes.
A pair of small shoes held in the Shrine Collection are euphemistically known as 'lotus shoes'. They are a relic of the ancient Chinese practice of foot binding and are uncommon in Australian collections.
The name comes from the lotus bud shape created by the foot binding, with the heel the round base and the toes the pointed tip. Able Seaman Frederick Gries of the Victorian Naval Brigade acquired this example during the Boxer Rebellion (1900–1901).
Foot binding, chan zu, was practiced by sections of Chinese society for around 1,000 years until banned by the Communist regime in the twentieth century. it is believed to have originated with Song Dynasty (960–1279) court dancers in the tenth century who bound their feet into the shape of a half moon and danced upon their toes. The resultant tiny feet and body sway, imparted by the particular gait enforced by the binding shoes, became associated with sensuality
and desirability to men. Gradually, elite women took up the practice, which over time diffused to the wider female population. A small 'lotus foot' became a prized attribute, conferring status and marriageability upon a woman.
The lotus shoe came to symbolically demonstrate that status. A woman would hand-embroider a pair of shoes to send to a prospective husband for his and, importantly, his family's judgement. The quality of her embroidery and the size of her feet frequently determined her desirability. Highly elaborate embroidery and small shoes were associated with the qualities of fortitude, patience, self-discipline, household skill and an artistic nature.
The shoes themselves were made with a basic cotton base, which could be decorated in materials that reflected the relative wealth of the owner such as silks and gold or silver threads. Shoe colours and designs developed their own symbology in line with Chinese culture. Red symbolised festivity and
virtue so was often used in marriage shoes. White symbolised mourning and the strict interpretation of the shade— ranging from pure white, through greys, to black—defined the relationship with the deceased and the length of the mourning period, which could be up to 27 months. Flora and fauna were popular motifs and emblems denoting the seasons, good luck, longevity, good health or wearing occasions were often incorporated into the design.
It is difficult to determine the original colour of the faded silk clad pair held by the Shrine, but the red tassels indicate a festive occasion. The butterfly in Chinese culture symbolises longevity and marital happiness and is associated with young love. Two butterflies flying together, as when the shoes are paired, are a further symbol of love. So, these shoes may have been wedding shoes— perhaps a bride's, maybe a guest's—we don't know.
The ideal, or 'golden lotus', foot was around 7cm in length, the 'silver lotus'
36 NOVEMBER 2020-21 REMEMBRANCE
Lotus Shoes c 1900 Shrine Collection
7 to 9cm; an unbound or poorly bound foot was sometimes insultingly termed 'iron lotus'. The Shrine shoes are 13cm in length, so the owner's feet would have been a little smaller. To put it in perspective, the average women's shoe size in Australia is an 8, which is 25cm long. The beautiful name belies the horrific nature of the practice. The only way to achieve these tiny sizes was to deform perfectly healthy feet.
The process began when a girl was 5 to 8 years old, when the bones of the foot were still soft, and took 2 to 5 years to manipulate. To achieve the desired shape, her feet would be soaked in warm water and her toes curled under the sole and bound tightly; they were often broken in the process. The big toe was left to provide the required point and aid balance. Her foot would then be forced down to align with her leg and the arch bent up in a narrow horseshoe shape. Binding cloths wound in a figureeight pattern pulled the toes and heel tightly together, setting the unnatural arch in place.
The potential for infection was high and the bindings were replaced regularly— daily for the wealthy, less often for the poor—, to prevent this. At each unbinding the feet were cleaned and cared for, dead skin removed and nails cut. Then they were rebound; more tightly each time. This work was often done by an older female relative, or future mother-in-law, and sometimes by a professional foot binder. Girls were at times forced to walk long distances to speed up the process of breaking the arch. While crippling, this exercise strengthened the thigh and buttock muscles to achieve the sexually desirable 'lotus gait.' There is some evidence that lower class families embraced the practice as economically advantageous, as it tied women to seated cottage crafts, such as spinning, weaving, embroidery or fishnet manufacture. This was impractical for women who worked in the fields and may have given rise to the dilution of the practice in rural areas where binding was not as widespread and feet were often more loosely, or even only symbolically, bound.
With the rise of the Qing, or Manchu, Dynasty (1644–1912) various efforts were made to ban foot binding. Manchu women were forbidden to bind their feet and others were encouraged to follow suit. Despite these efforts it is estimated that as many as 40 percent of Chinese women in the nineteenth century still had bound feet. With the advent of Western missionaries in
the 1850s and a general opening up of China to the West, foot binding began to be stigmatised as culturally backward. Chinese societies devoted to its elimination became increasingly popular. By 1900, when these examples were acquired, the practice was in decline.
Able Seaman Frederick Gries was a member of the Victorian Naval Brigade, a colonial volunteer force. Joining brigades from New South Wales and South Australia, these forces were dispatched to China in August 1900 to bolster British representation within the Eight-Nation Alliance that had formed to suppress the Boxer Rebellion. Starting as a peasant uprising, the Society of the Righteous and Harmonious Fists (Boxers) eventually gained support from the Empress Dowager Tzu'u Hzi in their attempt to reduce foreign influence and expel Christian missionaries from the country. The Victorian Naval Brigade saw little action, although they witnessed atrocities by both sides, and was primarily involved in policing activities.
Gries is believed to have acquired the shoes in the Tianjin (Tientsin) region
where the Brigade was based. He returned in 1901 to the newly federated Commonwealth of Australia.
The People's Republic of China finally succeeded in banning foot binding in 1949. Progress was slow in traditional areas, and adding further indignity and pain to their experience, some women with bound feet had their bindings forcibly removed. For most however, it meant a move to utilitarian black leather shoes, which were made until the last factory closed in 1999.
It is difficult to understand women submitting to a thousand years of torture, despite the mythology of Cinderella's glass slipper (her stepsister cuts her own toes off to fit into it!) until one contemplates the Western stiletto heel.
Katrina Nicolson is a Research Officer at the Shrine. She has worked on many special exhibitions including Indigenous Australians at War: from the Boer War to the Present and is co-curator of the Shrine's travelling exhibitions, Australia Will Be There: Victorians in the First World War (1914–19) and Changed Forever: Legacies of Conflict.
NOVEMBER 2020-21 REMEMBRANCE 37
Able Seaman Frederick Gries c 1900 Shrine Collection
MEMORIAL PLAQUE PROJECT
BY PETER HARRIS
The Shrine of Remembrance is surrounded by 13 hectares of urban landscape known as the Shrine Reserve. Amongst its manicured lawns, landscaped memorial gardens and extensive tree canopy are over 280 memorial trees and associated plaques, each one dedicated to a unit, battalion, ship, squadron, Allied Nation or other Australian Defence Force group, force or operation.
The Shrine's major remembrance services are attended by thousands and receive extensive news coverage; however, there are approximately 200 smaller, more intimate services held in the Reserve annually—some with only a handful of dedicated attendees returning to honour their fallen mates and families. Small groups meet at
specific trees to honour the service of Australians in conflict on anniversaries that are significant to them. It is also traditional for many ex-service organisations to gather at 'their tree' on significant days such as Anzac Day. it is the duty of the Ceremonial Team to ensure that each service is held in a respectful and appropriate fashion, with each regarded as important as the next.
The Memorial Trees Project started with an extensive boots-on-the-ground survey in the summer of 2018 when the Shrine's memorials, plaques and trees were identified, photographed and GPS-tagged. The condition of each plaque was recorded, they were cleaned and, where possible, re-aligned to be level and facing the Shrine.
A new memorial plaque map was created to assist our visitors with finding service locations and navigating our extensive gardens. The survey materials are also shared with the City of Melbourne Urban Forest and Asset Management team, with regular updates when new plaques are dedicated. This information is included in the extensive open source Urban Forest website information available to all.
Many of the plaques have been in place for decades and sometimes repairs require a heavier hand. The landscape crew from Serco arrange the installation of new plaques and will occasionally relocate an existing plaque if the associated tree is replaced. Some plaques eventually reach a
38 NOVEMBER 2020-21 REMEMBRANCE
Amongst the manicured lawns, landscaped memorial gardens and extensive tree canopy are over 280 commemorative plaques and memorial trees, each one dedicated to a different ADF unit or service association. More than 200 services are held in the Reserve annually.
Visitor Services Officer Spencer Hurley tends to a plaque
Plaque C03 – Dedicated to 26 Australian Infantry Battalion (AIF)
point in their service where age and environment affect the stonework to a point where re-seating is required. if possible, the bronze plaque is freed from the concrete plinth. However, the older plaques are surprisingly fragile without their stone backing and in some cases a replacement is ordered and cast at the foundry. Retired plaques are either retained within the Shrine collection or presented to exservice organisations.
This year, with support from the Victorian Government project funding to commemorate the 75th anniversary of the end of the Second World War, we have undertaken to restore and repair all our Second World War memorial plaques. Each memorial plaque has been cleaned and its plinth repaired or, in some cases, replaced. A few plaques have been identified as requiring specialist restoration which will be undertaken once coronavirus (COViD-19) restrictions allow.
To support the restoration work currently being carried out, the story behind each memorial tree is being researched and consolidated from various sources by our Visitor Services
team as they work from home. These stories, combined with the survey information, will fully document the role these services have played in the rich history of the Shrine.
The ongoing care and maintenance of the memorial plaques is a labour of
love for our Visitor Services team. Prior to every tree service and major event days, they mobilise with buckets in hand to ensure that the plaques look their best and receive the care and attention they deserve. it is an honour to be involved with the preservation of these precious memorials.
NOVEMBER 2020-21 REMEMBRANCE 39
A Place to Remember in this beautiful hardcover publication, author Bruce
situates the Shrine in its larger physical, cultural and historical landscape. Archival image and first person vignette mesh with vivid prose to reveal the
then and now, illustrating the enduring significance of this grand memorial in the heart of Melbourne for generations to come. RRP $50.00 SHRINE SHOP The Shrine Store offers a diverse range of books, DVDs, ceremonial merchandise, collectible items and souvenirs. All proceeds fund the development and delivery of education programs which honour the service and sacrifice of Australians in war and peacekeeping. SHOP NOW: SHOP.SHRINE.ORG.AU SHOP FEATURE
Visitor Services Officer Peter Luby tends to a plaque
Scates
Shrine
ETAERC A R OSEMARY WREATHFOR REM E ECNARBM
BY VICTORIA ENGLISH
40 NOVEMBER 2020-21 REMEMBRANCE
Wreaths have long been associated with valour and sacrifice. For most of us, the image of a person laying a wreath during a commemorative event is a familiar one. The Romans crowned their victors in wreaths woven from laurel and the ancient Greeks laid evergreen wreaths on burial sites. The wreath itself represents eternal life and the evergreen foliage, the eternal spirit.
Rosemary has become a symbol of remembrance, believed to have properties that improve the memory and with special significance to Australians as it grows wild on the Gallipoli Peninsula. Happily, there is often a neighbour with a rosemary bush to hand that no amount of pruning seems to make a dent in.
There are a few different ways to make a wreath. The simple 'bunching' technique shown here is an easy and fun project for young and old alike. it will make a wreath that's about 40cm in diameter, but you can adjust your base size and bunches for a larger or smaller piece.
MATERIALS AND SUNDRIES
• Four big bunches of rosemary cut into 30 cm lengths. in this instance a 'bunch' is equivalent to around the size of a bunch of kale from your greengrocer. Note here that you need more than you think so if in doubt, cut more.
• One piece of wisteria vine approximately 1.5m long. You can also use 4 or 5 lengths of grapevine twisted together. This is for your wreath base. if you don't have grapevine or wisteria
to hand then you can use a pre-made base from a craft store. An embroidery hoop or large metal floral ring will both work well.
• Sharp scissors
• String or gardeners twine cut into 50cm lengths. Cut 10 of these and keep the string handy to cut more if necessary.
CONDITION AND PREPARE
1. Place your rosemary cuttings into a bucket filled with 10cm of water for a few hours or, if you can, overnight. You want the rosemary to be well hydrated.
2. Once the rosemary is hydrated and leaving approximately 15–20cm of foliage, strip the lower 10cm of the stem of all leaves. You may want to wear a garden glove to do this. Prepare for a delicious smell to permeate your house.
3. Remove any leaves from your vines.
NOVEMBER 2020-21 REMEMBRANCE 41
1. First, we make the base. Take the wisteria in the middle and cross it over itself to make a circle around 30cm in diameter. Wind each end around this first circle to secure. A base that is 30cm will produce a wreath that is about 40cm in width once you've tied on the foliage.
2. Next, we make the bunches. Take four or so stems of rosemary (depending on how bushy your cuttings are) and bunch together by crisscrossing the stems to create a shaggy triangle shape with the foliage. Cross the stems at the junction point; this is where the leaves end and the stripped stem begins. Wrap the twine tightly around the junction point a few times so they are secure, then finish with a knot. We want nice long lengths of string left on these bunches as we'll need them later.
3. Before tying the bunches on, lay them around the circle of your base, each one slightly on top of the other to hide the tie and stems and check you have enough bunches. Make more bunches if you need them.
4. Now we assemble the wreath. Place your first bunch onto your base. Wrap the string around the base vine and bring it around and over again across the junction point. Tie it tightly then continue to wrap the string around the vine base in a crisscross style (like a roman sandal) two or three times. You are tying some of the extra stem length down and in this way securing the bunches one at a time. Tie off with a knot on top, trim string to 2cm and the excess stems, cutting these in line with the curved base.
5. Place the next bunch on the base, laying it partially over the first to cover the tie and fanning the foliage out a little to cover each side as well as the middle.
6. Keep on doing this until you get about halfway then take a break—make a cup of tea!
7. Continue until you have just enough space for one more and, tucking it under your first bunch, tie it on.
42 NOVEMBER 2020-21 REMEMBRANCE ASSEMBLE
FINISHING OFF
1. Step back and check for 'holes'. Tuck in extra pieces where there's a gap, threading them through to the back and tucking into some string.
2. Give it a shake and make sure nothing falls out.
3. Give it a haircut around the sides if it looks a bit shaggy or leave it longer and wilder if you like that better.
Place your wreath in the fridge if making it for an event the next day and spray with water periodically to keep hydrated. Or place in the bath and just 'water' them! Just make sure if you do this to give it time to dry off before an event.
Congratulations. You have made a beautiful, commemorative wreath to lay somewhere special this Remembrance Day.
Victoria English is the owner of Telopea Flowers and official wreath supplier to the Shrine. She is the daughter of a veteran and is passionate about sustainably honouring service and sacrifice. Her wreaths are a beautiful representation of her love of flowers and gardening.
NOVEMBER 2020-21 REMEMBRANCE 43
WATCH VICTORIA ASSEMBLE ONE OF HER WREATHS VIEW
Welcome
Colonel Catherine (Bunny) Carrigan to the Board of Trustees.
Colonel Jason Cook to the Ceremonial Committee.
Farewell
Colonel John Wertheimer AM RFD, Deputy Chair of Shrine Trustees retired after 20 years of service.
Lieutenant Colonel Don Reid retired as a Governor after 14 years of service.
Our Life Governors and Governors support the Shrine's Board of Trustees in the conduct of remembrance services.
They give generously of their time and support.
We value the contribution of all of those who support our work honouring service and sacrifice.
OUR COMMUNITY
Our Trustees form our Board of Directors and are appointed by the State of Victoria. They are responsible for the care, management, maintenance and preservation of the Shrine of Remembrance and Shrine Reserve.
Colonel John Wertheimer has supported the Shrine as a member of our Board of Trustees for 20 years
and is now retiring as our current Deputy Chair. He retired this year leaving a legacy of stalwart support for our work honouring service and sacrifice.
One of our most active and visible supporters, John has been part of the Shrine's growth and development over the past two decades.
He and his family were instrumental in the installation of one of our most iconic gallery items; the Devanha Lifeboat.
John is known by the Shrine team as a kind, warm and generous person who would always stop to say hello and enjoy connecting with our people.
44 NOVEMBER 2020-21 REMEMBRANCE
Colonel John Wertheimer AM RFD 11 November 2018 Shrine of Remembrance, ViC photographer Susan Gordon-Brown
Thank you
TO OUR FRIENDS
Your support ensures that we continue to remember service and sacrifice—even when our doors are closed.
BECOME A LIFE MEMBER OF THE SHRINE
As a Friends Life Member, your generous commitment helps us to care for the Shrine and deliver our ceremonial services and free educational programs, ensuring future generations continue to honour Australian service and sacrifice. YES I'D LIKE TO SUPPORT THE SHRINE WITH A LIFE MEMBERSHIP
Able Seaman Hiram Ristrom at a Last Post Service 26 January 2020
photographer Cormac Hanrahan
46 NOVEMBER 2020-21 REMEMBRANCE