THE SUMMER READS EDITION
WHAT TO READ NEXT IN INDEPENDENT PUBLISHING SUMMER 2023
SHELF UNBOUND MAGAZINE
All we wanted was a really good magazine. About books. That was full of the really great stuff. So we made it. And we really like it. And we hope you do, too. Because we're just getting started.
OUR STORY
FEBRUARY / MARCH 2023 2
"A self-deprecating memoir, beautifully deppicting the intricacies of Chinese culture and the timeless search for where one truly belongs"
3
Shelf Unbound's 2022 Overall Best Indie Book Winner
Shelf Unbound Staff.
PRESIDENT, EDITOR IN CHIEF
Sarah Kloth
PARTNER, PUBLISHER
Debra Pandak
DIGITAL DESIGNER
Corinna Kloth
CONTRIBUTING EDITOR
Christian Brown
Alyse Mgrdichian
Gabriella Guerra
Wyatt Bandt
Christina Consolino
Michele Mathews
Anthony Carinhas
FINANCE MANAGER
Jane Miller
For Advertising Inquiries: e-mail sarah@shelfmediagroup.com
For editorial inquiries: e-mail media@shelfmediagroup.com
SIGN UP FOR A FREE SUBSCRIPTION TO SHELF UNBOUND WWW.SHELFMEDIAGROUP.COM WHAT TO READ NEXT? SUBSCRIBE CAN'T GET ENOUGH OF SHELF UNBOUND? Follow us on social!  @ SHELFINDIEREADS  @ SHELFMAGAZINE  @ SHELFMEDIAGROUP FEBRUARY / MARCH 2023 4
2003: THE TIME-LOOP DEVICE
Nolan Emerson, PhD, is a brilliant young theoretical and experimental physicist who is a professor at the University of Geneva, and the lead scientist at the CERN particle accelerator. He is a leader in the areas of general relativity and quantum mechanics. Dr. Emerson devises an experiment so radical and revolutionary that it seeks to unlock the astounding, complex, and mysterious secrets of Einstein's space-time. Ultimately, his work challenges the fundamental notions of consciousness and of the concept of reality itself.
1918: THE GREAT PANDEMIC
Major Edward Nobel's mission, as a physician, is to help protect American troops from infectious ailments during the First World War. However, his unique vantage point in Boston allows him to detect an emerging influenza strain that is an unprecedented global threat. Eventually, the 1918 influenza pandemic killed up to 100 million people, and became the worst natural disaster in human history.
1877: A NORTHERN PHYSICIAN IN SOUTHERN UNGOVERNED SPACES
Colonel Charles Noble is a US Civil War veteran, and an Army surgeon reservist. Extreme violence in the former Confederacy, in anticipation of a national election, has caused President Grant to send additional federal troops to the Southern states. Terrorists are determined to counter Noble's good intentions, as they threaten the civil rights, and the very lives, of all who oppose them.
1980: THE EMERGENCE OF HIV LEARN
Dr. Arthur Noble is a brilliant first-year medical resident in San Francisco. Noble encounters a strange new ailment that seemingly appears out of nowhere, and delivers its victims a most horrible merciless death. Dr. Noble struggles to find answers to the medical mystery, even as many researchers and society refuse to believe that it is a serious public health hazard, or that it even exists.
MORE
AT WWW.DAVIDCORNISHBOOKS.COM
5
FEATURES
13 Interview with Andrea Jeftanovic Author of Theatre of War from Charco Press By Anthony Carinhas
22 New Release Roundup: Summer 2023 By Corinna Kloth
76 Summer Tour: Interesting Bookstores to Visit Across The Globe By Michele Mathews
82 Seeking Justice: An Interview with Meredith Doench By Christina Consolino
92 Adjusting to the Unexpected: An Interview with Christina Berry By Christina Consolino
98 Interview: The Long Writing Career of Joyce Maynard By Michele Mathews
COLUMNS 62 Girl Plus Book Sarah Kloth 102 Small Press Reviews Sean Malone 104 Podster Gabrielle Guerra 108 Pride & Publishing Chrissy Brown 112 Fit Lit Christian Brown SECTIONS 38 Bookstagram 41 Recommended Reading 60 Book Shelf 68 Indie Catalog 110 Indie Bookstore 114 Indie Reviews 124 On Our Shelf FEBRUARY / MARCH 2023 6
CONTENTS IN THIS ISSUE
Summer Reads.
BY SARAH KLOTH, PUBLISHER
Summer is the time to slow down, relax, and rediscover your love of reading.
In this issue, you will find our Summer Edition: New Release Roundup features a wide selection Of summer books suitable for every reader's taste. And if you have summer travel plans, be sure to read
Summer Tour: Interesting Bookstores to Visit Across The Globe to give you a good list of bookstores to stop at along the way.
Also check out our interview's with Andrea Jeftanovic, author of Theatre of War , Meredith
Doench, author of Whereabouts Unknown , Christina Berry, Hearts on Fire and Joyce Maynard, author of Bird Hotel
Enjoy the issue! 
A WORD FROM THE PUBLISHER
7
FEBRUARY / MARCH 2023 8
Geophysicist Alex Cave discovers an alien spacecraft under the ice in Greenland, and is deceived by its artificial intelligence, who uses a woman named Pandora to represent it for what is about to happen. To protect her human slaves, she demands we kill every person with brown eyes, or she will destroy our entire species.
9
The color of your eyes will determine if you live or die! The color of your eyes will determine if you live or die!
Black Rose Writing
A well-crafted cat and mouse game of love and hate
Pain loves passion. Passion loves pain. He craved her in a way that drove him insane. Secret agendas, hidden names... forbidden love is such a wicked game.
A Spooky Love Story
When Annabelle finds out that her new home is being haunted by a dead poet, she will not let herself be scared away. A love story with a spooky twist...
A blend of classic fantasy with religious and political corruption
Cursed with extraordinary powers, Minna is branded a witch and resigns herself to a lonely life. But titanic forces are at play in the Empire, forces with Minna's fate in mind, and in her early teens, she must leave her small life.
A beautiful sci-fi story of love and revolution
First in series: Prince Jack Windsor struggles to bring the dormant HMS Ares back online while Harlow Hanson sneaks on board to plunder it. The Ares springs to life and begins speaking to her. Jack realizes the woman stealing from him is the key he's been searching for.
Check
out these titles from
FEBRUARY / MARCH 2023 10
Check out these titles from
Black Rose Writing
Florida's crime scene-boats, drugs, and money
DEA Agent Sam Dahl helps a friend find out what happened to her parents who went missing in the Gulf of Mexico. Follow Sam's quest as a beautiful woman steals his heart and a drug kingpin robs his soul.
A story of love, romance, and secrets
I Carry Your Heart is a story of undying love, the sacrifices we make for those we love, and the unbreakable strength of family.
The perfect steamy summer read
When a body is found near town, Grace's family comes under scrutiny for murder. Determined to prove they're innocent to the new detective, Grace unearths a web of secrets and deception — and mysteriously, her prized family heirloom is at the center of it all…
Laugh out loud women's fiction
When Katy stumbles onto the secrets her Hungarian parents tried to leave behind after immigrating to America, the little white family lies become the key to understanding her own destructive behavior.
11
Someone is killing reporters. And journalist Valerie Pierce fears she's next.
The darkly comical murder mystery novel Exposed.
"Exposed is highly entertaining, a wonderfully executed story that could easily be imagined as a terrific motion picture. Paul Ilett has a knack for storytelling."
Kaivalya Khisti, The Online Bookclub
WWW.PAULILETT.CO.UK
FEBRUARY / MARCH 2023 12
Interview with Andrea Jeftanovic
Author of Theatre of War from Charco Press
BY ANTHONY CARINHAS
INTERVIEW
13
Thank you for joining us today, Andrea, I'm excited to discuss your novel Theatre of War in our summer issue. I also want to thank Carolina Orloff and Charco Press for arranging this interview.
THEATRE OF WAR WAS FIRST PUBLISHED IN SPANISH IN 2000. HOW LONG DID THE PROCESS TAKE, FROM THE POINT CHARCO PRESS CONTACTED YOU OR YOUR AGENT TO GETTING THE BOOK PUBLISHED INTO ENGLISH, TRANSLATED BY FRANCES RIDDLE? WHAT SORT OF EMOTIONS SURFACED WHILE THAT WHOLE PROCESS TOOK SHAPE?
AJ: Since the first contact with Carolina Orloff I had to wait maybe a couple of years. However, what I would never anticipated was that the book would be released at the beginning of the Covid pandemic.
Beyond that, I am very impressed with and grateful for Frances' work in translating the novel. Reading Frances' translation, I was struck by the use of poetry and the rhythm she chose. The English language tends to be more concise and accurate, so it was revelatory for me, as the author, to re-read my own piece with that emotional distance. In addition, I loved the Charco Press catalog and the delicate cover design by Pablo Font.
TAMARA NARRATES THE STORY IN A SERIES OF THREE ACTS SHE'S PARTAKING IN, SINCE THE PLAY IS BASED ON HER LIFE. SHE'S NINE WHEN THE NOVEL BEGINS, BUT BY THE TIME IT FINISHES, TAMARA'S IN HER MID-TWENTIES. HOW DID YOU COME UP WITH THE CONCEPT OF TAMARA DIRECTING A PLAY IN ORDER TO MAKE SENSE OF THE PAIN SHE AND HER FAMILY ENDURED FROM THE BALKAN WAR?
AJ: There are three different approaches to this question.
The novel, to be precise, involves three historical events: World War II, the Chilean dictatorship, and Balkans War (in the 1990s).
First, the theatrical resource. I love drama and have been a theater critic and researcher for years. While I was writing, I had in mind Bertolt Brecht's theater. He says that in epic theater, the audience should have the opportunity to reflect and to
INTERVIEW CONTINUED
FEBRUARY / MARCH 2023 14
experience what he called "critical distance".
At the same time, I wanted to display the child's point of view, free from ideological apprehensions, so that the protagonist could observe what was happening in her environment in a playful way, resorting to the theatrical play that transforms her life into a mise-en-scène. In fact, it might be the reason why I wanted to explore a narrative "from childhood". I have been interested in childhood as an aesthetic horizon, as a "steep" gaze (one standing on tiptoes) or one that looks at the world from the knees of adults. I am interested in this opposition between the child's and the adult's gaze, almost as opposed to categories. It is also a contradictory, ambivalent place. Fiction from childhood—always a strategic device—becomes a machine that pushes the notion of subjectivity. It pushes language and the imaginary into unforeseen areas.
Children's point of view can be a critical perspective, because of their subversive power for denouncing violence and abuse of power.
THE BOOK HAS GRAPHIC DESCRIPTIONS OF LOST BODY PARTS AND VARIOUS OTHER TRAGEDIES THAT POP UP IN THE WAR-TORN REGIONS. THE BOOK HEAVILY EXAMINES MEMORY AND HOW IT IS DISTORTED BY EVENTS LIKE PTSD, TRAUMA, LOSS, ILLNESS, AND POVERTY. WHAT MADE YOU FOCUS ON THE ABSTRACT THEMES OF WAR RATHER THAN REFERENCE IT SPECIFICALLY? AJ: In the novel, I wanted to explore the devastating psychological effects that war and dictatorship—a nameless one—have on a family, through the eyes of Tamara, a nineyear-old girl. How they, as a family, redesign their existence, the life strategies that arise from damaged memory. However, I was drawn to speak about war or dictatorship not as a verbal discourse but through the body: what happens to the limbs, with issues like food, how we somatize that trauma. In addition, the theater was a resource where staging became the place to depict this pain, these traumas, and the circular journeys.
At the same time, I am very drawn to dreamlike language, because of
INTERVIEW CONTINUED
15
ABOUT THE BOOKS
its plasticity and the richness of its many symbols. I think "reality" is not enough to explain our complexity, our lives; I do believe in dreams as texts, as narratives we should rely on. I thought it was a chance to experiment with memory; a complex genre; but I wonder, what happens when our memories come from catastrophic loss? When memory comes from experiences such as wars, persecutions, or dictatorships, a process is organized around "black holes" (secrets or disappeared relatives). There is a lack of references in the chain of memory, facts that were blocked or that were not properly translated. Especially when you are dealing with memories that were inscribed in a different language. It is possible that second generations somehow look for or invent missing links, to make up for these silences and absences.
In that sense, writing fiction is like a response to that catastrophic loss that might help complete that vacuum, keeping the explosion from sweeping everything away, leaving us without words, without intergenerational memory. I think that remembering is closer to the exercise of evoking something from the past than
rebuilding it. So, why not consider memory as a creative exercise and desire for transformation?
Nevertheless, at the same time, memory is a concrete experience around objects, places and people.
WHAT ABOUT WAR DO YOU LOATHE MOST?
AJ: Everything!
THE WRITING IS EFFECTIVE IN THE WAY PEOPLE REMEMBER THEIR LIVES BECAUSE MEMORY ISN'T CHRONOLOGICAL, BUT RATHER A MONTAGE OF SIGNIFICANT EVENTS THAT SHAPE US. WAS THIS DIFFICULT TO PUT DOWN ON PAPER OR DID THE PROCESS COME EASILY TO YOU?
AJ: I think that when remembering, there are no pristine memories, but blurred memories. When we remember, we do so using imagination and our world's point of view. In addition, if that point of view comes from a child, from a teenager, someone whose body and mind is in evolution, it is more fascinating. Indeed, memory is not a static process; it is dynamic and porous; it is a chaotic and poetic
INTERVIEW CONTINUED
FEBRUARY / MARCH 2023 16
territory. So, to begin this novel with a main character as a young girl and to end it with her as an adult woman was an opportunity to experience so many important vital events: love, sexuality, illness, death, and more.
I was a person who lived, as a child and teenager, under Pinochet's dictatorship, where war memories of my predecessors were superimposed on images of weapons, torture, detention centers, and soldiers in the streets. Also, intimidation, and the helicopters flying over the city. Perhaps, I think—I have said it before—that I write to say everything that was silenced in those years.
Thus, my cultural identity was signed into a damaged genealogy. Stories of persecution, cities under siege, fear, hunger, abrupt departures, and painful journeys to unknown destinations collided in my heritage, forcibly stripped of our roots. At the same time, when I write, I am not writing the story of my parents, or about the adult victims of the dictatorship, I cannot. Maybe I am writing the response to catastrophic loss. About
the need to start a second life. This response to the catastrophic loss was reinvention.
AT THE END OF THE BOOK, WE'RE LEFT WONDERING IF THE STORY WAS REALLY TAMARA'S EXPERIENCE OR IF TAMARA IS JUST PLAYING A PART IN THE PLAY? WOULD YOU CARE TO ELABORATE ON THAT INTERPRETATION?
AJ: I prefer to leave this question in a kind of ambiguity. Fiction has its own rules.
CONTROVERSY IS POSITIVEREINFORCEMENT FOR SERIOUS ARTISTS, BUT MANY STRAY FROM EVER PARTICIPATING WITH RISK DUE TO FEAR OR POSSIBLE INSECURITIES THAT THEY MIGHT NOT HAVE THE SKILLS TO BE A CRITICAL THINKER. SINCE YOU VIEW ART AS A "SPACE FOR MORAL EXPERIMENTATION," WHAT SORT OF BOUNDARIES/ISSUES WOULD YOU LIKE ARTISTS TO PUSH OR BE MORE VOCAL ABOUT?
AJ: I like the idea of pushing the characters into an abyss to see how they react, how they change, and
INTERVIEW CONTINUED
17
how they confront dilemmas.
IN CHILE, YOU'RE A NATIONAL TREASURE BECAUSE YOU'RE SEEN AS ONE OF THE MOST PROMINENT AUTHORS IN YOUR COUNTRY. WHAT WAS IT LIKE GETTING YOUR DOCTORATE IN HISPANOAMERICAN LITERATURE AT THE UNIVERSITY OF CALIFORNIA, BERKELEY?
AJ: A great experience. Challenging in an intellectual sense. Besides, I love the city and the university, and its multicultural richness.
I READ YOUR STORY
"THE DISQUIET OF BEING ANONYMOUS," TRANSLATED
BY
JUAN CARLOS REYES,
WHICH WAS STELLAR, BUT MANY OTHER STORIES HAVE ALREADY BEEN FEATURED IN CHILEAN AND INTERNATIONAL ANTHOLOGIES. TELL US MORE ABOUT THE KIND OF STORIES READERS CAN ANTICIPATE FROM YOUR TWO VOLUMES OF SHORT STORIES: DON'T TAKE CANDY FROM STRANGERS AND ROVING DESTINATIONS?
AJ: Don't Take Candy… is a collection of short stories which has gone through ten editions, and
has been translated into Danish, Portuguese, and more. I would say that these are introspective stories that weave a captivating account of dire situations involving parents and children, siblings and couples— scenarios in which morality is a laboratory for the human experience. Challenging and uncomfortable stories threading the needle between pain and desire. I tried to write some hyper realistic portraits of the ambiguous and sensual violence of 'nuclear' ties.
And Roving destinations, coming soon in English translation from Lexington Books, is a book composed of nine personal essays blurring the line between fiction and nonfiction, a hybrid genre that explores border regions, addressing deeply intimate issues. For example, there is a piece that narrates a visit to a tunnel below Sarajevo, as the city is under attack and siege during the Yugoslav War. Or, another piece that examines in a poetic way, the unclear maritime border between Chile and Peru. Then there is one that explores the Brazilian hideouts of Clarice Lispector's characters. And there is a text following an organization
INTERVIEW CONTINUED
FEBRUARY / MARCH 2023 18
that supports the families of victims of the Israeli-Palestinian conflict. Another one is about a professional cyclist that won an international cycling championship whose brother, also a well-known cyclist, is a missing person during the Pinochet dictatorship.
THEATRE OF WAR WAS PUBLISHED WHEN YOU WERE THIRTY. HOW DOES IT FEEL KNOWING YOU WROTE AN IMPORTANT PIECE OF LITERATURE YEARS BEFORE IT WAS ORIGINALLY PUBLISHED?
AJ: Thanks for your kind words. To be honest, it just began as a literary
exercise that grew and grew over the years. I never thought it would be the first step to becoming an author. Since then I haven't stopped writing, reading and teaching literature.
THANK YOU SO MUCH FOR SITTING DOWN WITH ME, ANDREA. I WISH YOU ALL THE BEST IN YOUR LIFE AND WRITING CAREER. I TRULY HOPE YOUR READERSHIP CONTINUES TO EXPAND THE MORE PEOPLE BECOME ACQUAINTED WITH YOUR WORK.
AJ: Thanks for your interesting questions and deep reading! 
A powerful novel depicting the devastating psychological effects of war, political violence and domestic abuse. This is a story narrated from the point of view of a nine-year old girl, Tamara, who takes in the intricacies of the survival strategies of the world she inherits, marked by poverty, unspeakable trauma, trapped scenarios. Theatre of War takes us on a desolate journey into the reconstruction of memory – a universal question that here turns into a reflection on how giant historical events can affect the seemingly insignificant lives of nameless individuals. Tamara, protagonist and narrator, faces the ghosts of a very tangible past that includes her father's war (an immigrant from former Yugoslavia), a very conflictive family life, suicides, lost landscapes, inherited trauma, absent siblings and a mother who, due to an undefined illness, has suffered from partial memory loss and cannot recognise her own daughter.
INTERVIEW CONTINUED
19
Hell has never looked so www.kaylinmcfarren.com FEBRUARY / MARCH 2023 20
When we kill the last elephant, who's next?
The African Elephant population has decreased from roughly 5-million a century ago to 415,000 today. Experts fear the elephant has but four to five years left unless the mass genocide is halted
Set against this harsh reality comes John Crawley's nineteenth book from Lulu Press: One Elephant Too Many.
This legal/fantasy/ thriller depicts the horrors being inflicted upon the everdiminishing herds of African Elephants.
At the center of this conflict is a young black attorney, Myra Hunter, assigned to The World Court in The Hague to represent the elephants in their legal fight to co-exist with us on this planet.
Watching over her is her very own witch, Mary Agnes of Wintergarden – one uses the law, the other uses magic.
Available at Amazon, Barnes and Noble, Lulu and Wal-Mart www.johncrawleybooks.com Proceeds from this book benefit Elephant Havens.Org 21
New Release Roundup: Summer 2023.
BY CORINNA KLOTH
FEATURE
New & Upcoming Indie Releases to Add to Your Reading List.
FEBRUARY / MARCH 2023 22
EDGARD TELLES RIBEIRO
Brazilian writer Edgard Telles Ribeiro is the author of thirteen works of fiction including three books published in English: I Would Have Loved Him, If I Had Not Killed Him; His Own Man; and The Impostor (forthcoming from Bellevue Literary Press in June 2023). He studied cinema at University of California, Los Angeles, worked as film critic for several newspapers before becoming a career diplomat, and has received Brazil's most prestigious literary prizes.
THE IMPOSTER (TRANSLATED BY KIM M. HASTINGS AND MARGARET A. NEVES)
In "The Impostor," a man travels with his wife through Italy and recalls a family legend about an uncle who was swallowed by Mt. Vesuvius. Preoccupied by this mysterious event, he grapples with the fallibility of memory and the enigma of time. In "Blue Butterflies of the Amazon," a matriarch, rendered mute and paralyzed by a stroke, defenselessly observes the shifting dynamics between her only son, his wife, and her husband while they play out their complex intimacies before her.
The Impostor includes two novellas translated from the Portuguese: "The Impostor," translated by Kim M. Hastings and "Blue Butterflies of the Amazon" translated by Margaret A. Neves.
FEATURE CONTINUED
As the characters of The Impostor wander between worlds and states of mind, Edgard Telles Ribeiro elucidates their situations in surprisingly inventive ways that explore devastating questions of reality, consciousness, and loss.
23
ICE HARP
In 1879, toward the end of his life, the Sage of Concord has lost his words. Beset by aphasia and grief, Ralph Waldo Emerson is scarcely recognizable as America's foremost essayist and orator. To the dismay of his wife, he frequently entertains the specters of his fellow transcendentalists, including Whitman, Thoreau, John Muir, and Margaret Fuller, and frets about the future of humankind and the natural world. Does the present displace the past? Do ideas always precede actions? What responsibility does each of us bear for the downtrodden, the preservation of liberty, and the Earth itself? These metaphysical concerns become concrete when Emerson meets a Black soldier accused of killing a white man who abused him. The soldier's presence demands a response from Emerson, an action outside the parlors of philosophy and beyond the realm where language and logic hold sway.
The Ice Harp, the tenth stand-alone book in The American Novels series, is a poignant portrayal of a literary luminary coming to terms with the loss of memory, the cost of inaction, and the end of life.
NORMAN LOCK
Norman Lock is the award-winning author of novels, short fiction, and poetry, as well as stage and radio plays. He has won The Dactyl Foundation Literary Fiction Award, The Paris Review Aga Khan Prize for Fiction, and has been longlisted twice for the Joyce Carol Oates Prize. He has also received writing fellowships from the New Jersey State Council on the Arts, the Pennsylvania Council on the Arts, and the National Endowment for the Arts. He lives in Aberdeen, New Jersey.
FEATURE CONTINUED
FEBRUARY / MARCH 2023 24
SUSAN ISAACS
Susan Isaacs is the author of fourteen novels, including Takes One to Know One, As Husbands Go, Long Time No See, Any Place I Hang My Hat and Compromising Positions. A recipient of the Writers for Writers Award and the John Steinbeck Award, Isaacs is a former chairman of the board of Poets & Writers, and a past president of Mystery Writers of America. Her fiction has been translated into 30 languages. She lives on Long Island with her husband.
BAD, BAD SEYMOUR BROWN
When Corie Geller asked her parents to move from their apartment into the suburban McMansion she shares with her husband and teenage daughter, she assumed they'd fit right in with the placid life she'd opted for when she left the Joint Anti-Terrorism Task Force of the FBI.
But then her retired NYPD detective father gets a call from good-natured and slightly nerdy film professor April Brown—one of the victims of a case he was never able to solve. When April was a five-year-old, she'd emerged unscathed from the arson that killed her parents. Now, two decades later, April is asking for help. Someone has made an attempt on her life. It takes only a nanosecond for Corie and her dad to say yes, and they jump into a full-fledged investigation.
If they don't move fast, whoever attacked April is sure to strike again. But while her late father, Seymour Brown, was the go-to money launderer for the Russian mob – a mercurial and violent man with a penchant for Swiss watches and cheating on his wife – April Brown has no enemies. Well-liked by her students, admired by her colleagues, her only connection to crime is her passion for the noir movies of Hollywood's golden age. Who would want her dead now? And who set that horrific fire, all those years ago?
FEATURE CONTINUED
25
THE COVENANT OF WATER
The Covenant of Water is the long-awaited new novel by Abraham Verghese, the author of the major word-of-mouth bestseller Cutting for Stone, which has sold over 1.5 million copies in the United States alone and remained on the New York Times bestseller list for over two years.
Spanning the years 1900 to 1977, The Covenant of Water is set in Kerala, on South India's Malabar Coast, and follows three generations of a family that suffers a peculiar affliction: in every generation, at least one person dies by drowning—and in Kerala, water is everywhere. At the turn of the century, a twelve-year-old girl from Kerala's long-existing Christian community, grieving the death of her father, is sent by boat to her wedding, where she will meet her forty-year-old husband for the first time. From this unforgettable new beginning, the young girl—and future matriarch, known as Big Ammachi— will witness unthinkable changes over the span of her extraordinary life, full of joy and triumph as well as hardship and loss, her faith and love the only constants.
A shimmering evocation of a bygone India and of the passage of time itself, The Covenant of Water is a hymn to progress in medicine and to human understanding, and a humbling testament to the difficulties undergone by past generations for the sake of those alive today. It is one of the most masterful literary novels published in recent years.
ABRAHAM VERGHESE
Abraham Verghese is a graduate of the Iowa Writers' Workshop and the author of books including the NBCC Award finalist My Own Country and the New York Times Notable Book The Tennis Partner. His most recent book, Cutting for Stone, spent 107 weeks on the New York Times bestseller list and sold more than 1.5 million copies in the U.S. alone. It was translated into more than twenty languages and is being adapted for film by Anonymous Content. Verghese was awarded the National Humanities Medal in 2016, has received five honorary degrees, and is an elected member of the National Academy of Medicine and the American Academy of Arts & Sciences.
FEATURE CONTINUED
FEBRUARY / MARCH 2023 26
SAYAKA MURATA
Sayaka Murata is the author of many books, including Earthlings and Convenience Store Woman, winner of the Akutagawa Prize. Murata has been named a Freeman's "Future of New Writing" author and a Vogue Japan Woman of the Year.
LIFE CEREMONY
With Life Ceremony, the incomparable Sayaka Murata is back with her first collection of short stories ever to be translated into English. In Japan, Murata is particularly admired for her short stories, which are sometimes sweet, sometimes shocking, and always imbued with an otherworldly imagination and uncanniness.
In these twelve stories, Murata mixes an unusual cocktail of humor and horror to portray both the loners and outcasts as well as turning the norms and traditions of society on their head to better question them. Whether the stories take place in modern-day Japan, the future, or an alternate reality is left to the reader's interpretation, as the characters often seem strange in their normality in a frighteningly abnormal world. In "A First-Rate Material," Nana and Naoki are happily engaged, but Naoki can't stand the conventional use of deceased people's bodies for clothing, accessories, and furniture, and a disagreement around this threatens to derail their perfect wedding day. "Lovers on the Breeze" is told from the perspective of a curtain in a child's bedroom that jealously watches the young girl Naoko as she has her first kiss with a boy from her class and does its best to stop her. "Eating the City" explores the strange norms around food and foraging, while "Hatchling" closes the collection with an extraordinary depiction of the fractured personality of someone who tries too hard to fit in.
In these strange and wonderful stories of family and friendship, sex and intimacy, belonging and individuality, Murata asks above all what it means to be a human in our world and offers answers that surprise and linger.
FEATURE CONTINUED
27
THE MEASURE OF SORROW
Shirley Jackson Award-winning author J. Ashley-Smith's first collection, The Measure of Sorrow, draws together ten new and previously acclaimed stories of dark speculative fiction. In these pages a black reef holds the secret to an interminable coastal limbo; a father struggles to relate to his estranged children in a post-bushfire wilderness; an artist records her last days in conversation with her unborn child; a brother and sister are abandoned to the manifestations of their uncle's insanity; a suburban neighborhood succumbs to an indescribable malaise; teenage ravers fall in with an eldritch crowd; a sensitive New Age guy commits a terminal act of passive-aggression; a plane crash opens the door to the Garden of Eden; the new boy in the village falls victim to a fatal ruse; and a husband's unexpressed grief is embodied in the shadows of a crumbling country barn. Intelligent and emotionally complex, the stories in The Measure of Sorrow elude easy classification, lifting the veil on the wonder and horror of a world just out of true.
J. ASHLEY-SMITH
J. Ashley Smith is a British–Australian author of dark fiction and co-host of the Let The Cat In podcast. His first book, The Attic Tragedy, won the Shirley Jackson Award. Other stories have won the Ditmar Award, Australian Shadows Award and Aurealis Award. He lives with his wife and two sons beneath an ominous mountain in the suburbs of North Canberra, gathering moth dust, tormented by the desolation of telegraph wires. You can find him at spooktapes.net, performing amazing experiments in electronic communication with the dead.
FEATURE CONTINUED
FEBRUARY / MARCH 2023 28
KAT HAUSLER
Originally from Virginia, Kat Hausler is a graduate of New York University and holds an M.F.A. in Fiction from Fairleigh Dickinson University, where she was the recipient of a Baumeister Fellowship. She is the author of Retrograde and What I Know About July, as well as many shorter pieces. Her work has appeared in Hawaii Pacific Review, 34th Parallel, Inkspill Magazine, The Sunlight Press, The Dalloway, Rozlyn Press, Porridge Magazine, LitReactor, BlazeVOX, failbetter and The Airgonaut, among others. She lives in Berlin.
WHAT I KNOW ABOUT JULY
Simon Kemper is on the up and up–he's out of rehab, and his band is gaining moderate success around Berlin. But out of the corner of his eye and over his shoulder, he's always aware of her. The stalker. She's at every show, no matter what city. She sends hundreds of postcards to his label. Worst of all, she acts like she knows him. Like she owns him.
When the stalker disappears at one of his shows, Simon is the prime suspect. Initially an effort to clear his name, his search for July quickly becomes a deeper psychological quest: to prove that his fears were warranted? That she couldn't have given up her obsession that easily?
The threads of July's disappearance turn out to be tangled into every corner of Simon's life: a trusted band member, a tenuous new love interest, a resentful ex, and the self he's supposedly left behind. Narcissistic, insecure, and consummately relatable, Simon is the anti-hero of his own life—trying to want to be better; hoping that's enough.
FEATURE CONTINUED
29
FROM THE LONGING ORCHARD
Eighteen-year-old Sonya Hudson has been gripped by phobia since she was thirteen. What would make navigating the world so difficult for this budding visual artist? When the story opens, she lives with her mother and her sister in a suburb in New York in the late 1970s. The narrative carries us back through her childhood, where she struggles with the family's frequent moving and with her parents' increasingly fraught marriage. Lingering at the periphery of her consciousness is the shadow of a damaged boy she knew when she was very young. Reverence for the natural world provides comfort, as does her fierce attachment to her sister and her parents' poignant guidance. But it is the intimacy with another young woman that ultimately offers a path to healing. In language soaring with poetic incantation, From the Longing Orchard shows us the ways in which a young woman and those she loves all must contend with a longing of some kind and how they seek from each other, and sometimes find, the needed balm.
ABOUT
THE AUTHOR
JESSICA JOPP
FEATURE CONTINUED
Jessica Jopp grew up in New York state. She holds an MFA from the University of Massachusetts at Amherst. An award-winning poet, Jopp has published her work in numerous journals, among them POETRY, Seneca Review, and Denver Quarterly. Her collection The History of a Voice was awarded the Baxter Hathaway Prize in Poetry from EPOCH, and it was published in 2021 by Headmistress Press. She has been a finalist for the Yale Younger Poets Prize, the Juniper Prize, the Prairie Schooner Book Prize, and the Honickman Prize. Jopp teaches in the English Department at Slippery Rock University. She lives in Indiana, Pennsylvania, where she is on the board of a nonprofit working to protect a community woodland. FEBRUARY / MARCH 2023 30
KATHARINE COLES
Katharine Coles' eleven books include Wayward, poems from Red Hen Press; a memoir, Look Both Ways; and a collection of essays, The Stranger I Become: on Walking, Looking, and Writing. 2018-19 Poet-in-Residence at the Natural History Museum of Utah and the Salt Lake Public Library for the Poets House FIELD WORK program, she has received awards from the National Endowment for the Arts, the National Endowment for the Humanities, and the National Science Foundation's Antarctic Artists and Writers Program.
GHOST APPLES
In her ninth collection of poems, Ghost Apples, Katharine Coles interrogates and celebrates her relationship with the natural world and the various creatures who inhabit it, and in doing so asks what it means to be sentient and mortal on a fragile planet. From her own pet parrot, Henri, to the birds her husband attracts to their feeders, to the wildlife who live just outside—and regularly cross—her property on the wild edge of Salt Lake City, she uses her capacity for intense observation and meditation to think her way into other lives and possible shared futures, both good and bad.
FEATURE CONTINUED
31
OWLISH
In a city called Nevers, there lives a professor of literature called Q. He has a dull marriage and a lackluster career, but also a scrumptious collection of antique dolls locked away in his cupboard. And soon Q lands his crowning acquisition: a music box ballerina named Aliss who has tantalizingly sprung to life. Guided by his mysterious friend Owlish and inspired by an inexplicably familiar painting, Q embarks on an all-consuming love affair with Aliss, oblivious to the protests spreading across the university that have left his classrooms all but empty.
The mountainous city of Nevers is itself a mercurial character with concrete flesh, glimmering new construction, and "colonial flair." Having fled there as a child refugee, Q thought he knew the faces of the city and its people, but Nevers is alive with secrets and shape-shifting geographies. The winner of a 2021 PEN/Heim Translation Fund grant, Owlish is a fantastically eerie debut novel that is also a bold exploration of life under oppressive regimes.
DOROTHY TSE
Dorothy Tse is a Hong Kong writer who has received the Hong Kong Book Prize, the Hong Kong Biennial Award for Chinese Literature, and Taiwan's Unitas New Fiction Writers' Award. Her first book in English, Snow and Shadow (translated by Nicky Harman), was long-listed for the Best Translated Book Award. She is the co-founder of the literary journal Fleurs des Lettres.
FEATURE CONTINUED
FEBRUARY / MARCH 2023 32
H WARREN
H Warren (they/them) is a poet and musician from Fairbanks, Alaska. They received their MFA in creative writing poetry from the University of Alaska Fairbanks and are currently a MSW candidate with the University of New England online. H is a 2019 Rasmuson Individual Artist Award recipient.
BINDED
"I sew myself together / again and again" in urgent vulnerability, H Warren's debut collection, Binded, discloses their reality of living nonbinary in the rural context of Alaska. With breasts bound by compression, these poems explore the space that binds the body into itself, stuck in unrelenting forces of binary politics and violence. Each poem is a stitching and restitching of the self—an examination of trans-survival. This is a courageous collection—an anthem of Queer resilience and a reminder of the healing powers of community care.
FEATURE CONTINUED
33
BUT STILL THEY SING
In the lyrical prose style familiar to her readers, author J.F. Riordan records a natural world minutely observed. From an examination of life's fragility via a bathtub spider, to a treeborne cluster of raccoons huddled together in a polar vortex, the essays capture the peculiar isolation, focus, and intensity of the pandemic lockdown, while marking the contrast of nature's ruthlessness with human suffering.
"Our life's landscape isn't geographical. It's human. When you are young, life is an endless horizon of years ahead. It's hard to realize how fast time goes, and how quickly the people we assume will always be here can suddenly be gone, changing the world forever. It's easy to allow the demands of every day to take up our energy and our hours. But in this, in every day, we have the essence of our lives. Our lives are only time, and, however far off the horizon seems, finite."
Deeply insightful and personal, by turns soulful and humorous, But Still They Sing belongs at the bedside of anyone in search of the comfort and companionship of a humane voice.
J.F. RIORDAN
J.F. Riordan was born in New Jersey and first moved to Michigan, then Wisconsin as a child. At the age of 14 she decided to become an opera singer, and at 16 went to the University of New Mexico to study voice. She continued her music studies in Chicago and Milwaukee, and ultimately became a professional singer. Homesick after years of travel, she came home to the Midwest, finished her college degree, and became certified to teach high school. Riordan currently lives in exile from Washington Island with her husband and two dogs. North of the Tension Line is her first novel. You can visit her at northofthetensionline.net.
FEATURE CONTINUED
FEBRUARY / MARCH 2023 34
XU ZECHEN
Xu Zechen is the author of the novels Midnight's Door, Night Train, and Heaven on Earth. He was selected by People's Literature as one of the "Future 20" best Chinese writers under forty-one. The recipient of numerous awards and honors, he lives in Beijing.
BEIJING SPRAWL
Muyu, a seventeen-year-old from a small village, came to Beijing for his piece of the dream: money, love, a good life. But in the city, daily life for him and his friends—purveyors of fake IDs and counterfeit papers—is a precarious balance of struggle and guile. Surveying the neighborhood from the rooftop of the apartment they all share, the young men play cards, drink beer, and discuss their aspirations, hoping for the best but expecting little more than the comfort of each other's company. In these connected stories translated from Chinese by Eric Abrahamsen and Jeremy Tiang, Xu's characters observe as others like them— workers, students, drifters, and the just plain unlucky—get by the best ways they know how: by jogging excessively, herding pigeons, building cars from scraps, and holding their friends close through the miasma of so-called progress.
FEATURE CONTINUED
35
TOSKA
Toska explores a sense of rootlessness and a sort of anti-nationalism; how the pervasive sense of being an immigrant or "in but not of" a place never quite dissipates, particularly amid the dissonance and alienation felt within U.S. culture gunning towards a vision of imperialist capitalist white supremacist hegemony. Still, within this bleak reality, there's an insistence on documenting and noticing the multivalence of desire — its delights and pitfalls alike. These poems come to the weary conclusion, time and time again, that sexual liberalism/liberation and hedonism are only one sort of revelation — that this sort of openness and exploration isn't enough to save anyone from despair or the existentially weary feeling of toska from which the title takes its name. But desire is not just Eros — the poems carry a strong desire for a different world, for everyone.
ALINA PLESKOVA
Alina Pleskova is a poet, editor, and Moscow-born immigrant turned proud Philadelphian. She co-edits bedfellows magazine and is a 2020 and 2022 Leeway Foundation grant awardee. Her chapbook, What Urge Will Save Us, was published in 2017, and her writing has appeared in American Poetry Review, Thrush, Peach Mag, the tiny, and elsewhere.
FEATURE CONTINUED
FEBRUARY / MARCH 2023 36
JOHN BARR
John Barr grew up in a rural township outside Chicago. An honors graduate of Harvard College and Harvard Business School, he served on Navy destroyers for five years, including three tours to Vietnam. His poems have appeared in the New York Times, Poetry, and Flaunt Magazine among many periodicals, and in anthologies published by Bloodaxe Books, National Geographic, and the Anthology of Magazine Verse & Yearbook of American Poetry.
THE BOXER OF QUIRINAL
All animals struggle to survive. In John Barr's poems, the success of the heron hunting, the albatross breeding, and the inchworm spinning give proof of life. But for us, that struggle includes the eternal presence of war. Does the fall of Rome, the Battle of Shiloh, the Normandy Landings––and today's wars––give proof of life or only of the struggle?
ADVANCE PRAISE
"John Barr's collection takes its title from an ancient Greek statue that was unearthed after 2,000 years—a fitting emblem for a poet inspired by the deep connections between past and present, history and nature. Whether he is writing about mushrooms on a forest floor or a Civil War battle, Barr offers pleasures that are seldom found in contemporary poetry: a strong formal imagination and the company of an adventurous mind."
—Adam Kirsch, author of The Discarded Life
FEATURE CONTINUED
37
@Horror_Haus_Books
TELL US A LITTLE ABOUT YOU.
@Horror_Haus_Books: My name is Brittany. I'm 32 to years old and I live in Western New York. When I'm not completely emerged in a book you can easily find me either playing a video game or reorganizing my bookshelves.
TELL US A LITTLE ABOUT YOUR BOOKSTAGRAM ACCOUNT AND HOW IT GOT STARTED.
@Horror_Haus_Books: I started my account back in December of 2021 because I wanted someplace to share all of my book posts and to maybe make some other bookish friends. It's a horror based page where I focus mainly on indie horror authors. I was shocked to see how big the book community actually is and how welcoming it was, especially for this genre in particular. People love horror.
WHO IS YOUR FAVORITE INDIE/SMALL PRESS AUTHOR AND WHY?
BOOKSTAGRAM
Each issue we feature a new bookstagrammer highlighting some of their amazing work.
NAME: BRITTANY
FAVORITE GENRE: HORROR ALL DAY EVERYDAY.
BOOKS READ PER YEAR: TYPICALLY 70+, BUT THIS YEAR AIMINGTO BREAK 100!
FAVORITE AUTHOR: RICK RIORDAN; I LOVE PERCY JACKSON!
CURRENT READ: THE HAUTING OF ALEJANDRA BY V. CASTRO
@Horror_Haus_Books: This is a hard one because I've read a lot of stuff by some really great indie authors but I'd have to go with Scott Donnelly. His work in the indie horror genre is phenomenal, I was hooked right away and I will always highly recommend his stuff.
WHAT IS YOUR ALL TIME FAVORITE INDIE BOOK?
@Horror_Haus_Books: Last year I was lucky enough to review Josephine's Game by Clayton Tune and it easily became not only my favorite read of 2022 but my all time favorite indie book to date. Just imagine taking elements from Ouija boards and elements from Jumanji and turning it into one big nightmare of a game. It's a wild ride.
TELL US ABOUT WHY READING/BOOKSTAGRAM COMMUNITY IS IMPORTANT TO YOU?
@Horror_Haus_Books: Bookstagram is important to me because not only is it a way to help support and connect with indie authors but it's a way to share my complete love for reading and books. I've gotten to know so many other great bookstagrammers and indie authors through this community. It's been such a great experience. 
OOB K S T AGR A M BOO
K S T ARGA M
FEBRUARY / MARCH 2023 38
@HORROR_HAUS_BOOKS SEE MORE BOOK ADVENTURES ON INSTAGRAM OOB K S T AGR A M BOO K S T ARGA M 39
Never miss an issue! SIGN UP FOR A FREE SUBSCRIPTION TO SHELF UNBOUND MAGAZINE. SUBSCRIBE FEBRUARY / MARCH 2023 40
favorite book. RECOMMENDED READING
41
Take a bite from your next
SHELF UNBOUND'S RECOMMENDED READING EXCERPTS
Tell Her Everything.
BY MIRZA WAHEED
Melville House | February 2023
YOU SEE, SARA, IT HAD to happen … I couldn't have prevented it, could I? It could have been anyone, and it was me. It had to happen to someone, and it was me. Think about it. Of all the men in the world, of all the doctors in the world, of all the fathers in the whole world, I happened to be the one present in that place at that time. Someone or the other had to do it. It just so happens that that someone was your dad. That's how I look at it now, anyway. I didn't choose to be there, did I? It was all predestined, don't you think?
You know, I was quite young when I left home for England. Who was to know I wouldn't last even two full years here then? Anyhow, I was such a star in the neighbourhood when people heard I was going abroad. Abbu walked in the streets as if he'd vanquished all his troubles and foes and become the badshah of the locality. After all, I was the first person in the entire clan to be going to a Western country. Some distant relatives had spent years working in the Gulf, but no one had seen a proper foreign city. And to top it all, I was headed to London. Vilayat, as my mother said to anyone who listened or didn't listen. Ammi gave alms so many times a day to stave off the evil eye that Shabi, my sister, joked we'd soon be begging for food ourselves. For weeks, aunts, uncles, neighbours and family friends
came to congratulate my parents. Everyone brought sweets that practically oozed type 2 diabetes.
Shabi said I shouldn't feel too flattered, as nearly everyone who came to visit was fishing for a match for their daughter or niece. 'You think these women who have never set foot in our house would be landing wet kisses on you if they didn't have marriageable daughters or sisters?'
I said it was flattering nonetheless.
'Let's see how flattered you feel when you meet one of the girls.'
'Please spare me,' I said.
'No, no, you must. I know a few of these worthies, brother. One is so bright, so bright … that she spent five years doing her Matric just to make her mark. Another is properly stunning, until she opens her mouth, that is. Breathtakingly beautiful, ha-ha. I know her a little better than I know the others Shall I arrange a date, marriagematerial bro?' Shabi could be ruthless like that, but she was also very protective of me. It was through her that I met Atiya. You know that, right? They went to the same teacher-training programme in Meerut, Atiya's town, and became friends on the first day.
So, you see, I left home for England, but look where I landed. Fate moves in small circles over
our heads, just to toss us around, don't you think? It was destined to be me. And it's not as if it was my main occupation. Oh no, far, far from it. I had a perfectly ordinary job on most days. How did it all begin? When was the first time? What did it feel like? I'll come to it all, I promise.
I've been meaning to say this for so many years, Sara. I've thought and rethought the words so many times that the perfect words may have already escaped me, or they never arrived. And maybe they never will. That's why I will just say it as it is. As it was.
•
I was there, Sara, I was there. In the thick of it, in the middle of it all. I'd do it and then get back to routine work. Even though what was routine and what wasn't became mixed up sometimes. I'd do it, and then have tea and biscuits with my colleagues. Of course, I couldn't tell them all at first. What could I tell them?
RECOMMENDED READING
FEBRUARY / MARCH 2023 42
That I was the chosen one, selected to do it, and that I was paid extra? Please don't ask how much. It's embarrassing.
Once or twice a year, or every couple of years, it felt as if a small battle was going on somewhere nearby and I was on call to have the wounds fixed and dressed. I was there: closing the wounds, healing the wounds, then seeing those faces at night. There were, of course, the dreams. I'd wake up startled, having seen one of the faces in the dark. Sometimes they shook hands with me. Even in my dreams, I'd remind myself to shake hands properly. Not the limp, passive shake that can be construed as a sign of weakness, disinterest, or a lack of manners. I would've just shaken a hand and I'd be wide awake, confused, sometimes holding my other hand. In all honesty, it didn't happen every night. Some nights I slept normally.
• One day, they brought two people whose time was up. Let me work out what year it was. Sometimes certainty deserts me, but this I remember clearly. It was my third year over there and I think a few months after Sir Farhad decided to have such cases shifted from
ABOUT THE BOOK
Corrections to the hospital. You weren't born yet.
The two men had been convicted of selling stolen electronic goods. I didn't always know the deeds of those we attended to. This was also one of the few occasions when those I had to supervise were natives. I brought it upon myself, I admit, I'll tell you about it.
Anyhow, earlier that day, I was walking back from the toilets when I saw the Chief Secretary. He rarely came to see me for anything else, so I went along quietly. He always smelled of green cardamom. We first went to Sir Farhad's office on the first floor, which was unusual, much as I liked being in his enormous office. As I entered, Sir Farhad stood up and said, 'It should've been quick, that was the idea, wasn't it, but the Great Judge wants to preside over the proceedings. It appears to me that he wants to observe and make sure. I don't understand why. I am here. Am I not? Who am I?'
'You're the boss,' the Chief Secretary said, but Farhad didn't even look at him.
'I believe he wants to be
A doctor working in a prosperous Middle Eastern city finds himself placed in an unconscionable situation ...
As he prepares for a visit from his long-estranged daughter, Dr K., a retired surgeon enjoying the comforts of retirement in London, rehearses the conversation he will finally have with her. It's been years since he has seen her, and he has spent much of that time polishing the confession he wants to make to her. But as her visit draws closer, he finds his memories to be freshly torturous. He recalls leaving his childhood home in India to accept a dream job, working for a state hospital in a prosperous oil monarchy. Suddenly, he'd had access to a lifestyle that he would never have had back home. Money and success came quickly . . . as long as he performed certain tasks for the state. The price for that proved steep and often unbearable, especially to a wife and daughter who watch him walk the perilous path of lifelong ambition.
acknowledged as the preeminent jurist of our time, and it appears to me that that's the reason why he hasn't shown any leniency. The father and son are our people, somewhat known in their neighbourhood. I may have known of them too. There were suggestions from some quarters that perhaps the honourable judge might be kinder to the father, or at least be open to the idea of commuting the punishment.
Although, according to me, if anyone deserves mercy, it has to be the son. He has a full life ahead—fruitful employment, marriage, babies, and service to the community. However, the Great Judge has made it a point that there'll be no amendments to the decree just because they are our own, as it's against the law. And he is the law … So there we go. I am the administrator, and he knows I can't go against his decision without a major breach of protocol. Clever old fox.'
RECOMMENDED READING 43
Rogue.
BY ALEX SCHULER WITH KEVIN WEIR
Level 4 Press, Inc. | April 2023
While some of his crew listened to music to speed up the clock, Jonah preferred something more calming and loaded up his phone with as many audiobooks as he could fit. He'd gotten through most of them in the month and a half they'd already been out there and was now down to the dry dregs. The narrator, a wizened man with a slight German accent, picked up exactly where Jonah had left off: "When asked about the advancement of the human species, many are tempted to express the wonders of modern medicine, telecommunication, and transportation. Few take the time to consider these same advancements also resulted in the nuclear bomb, chemical weaponry, and environmental
destruction."
Frankie detached the massive bit, holding it with two hands and hauling it aside. As he plunked it on the ground, something within the grooves flashed. Jonah frowned and approached. Frankie continued with the switch, unaware of the odd material or Jonah leaning in to investigate.
A silvery substance coated the bit like a thick liquid or gel. Jonah had never seen anything like it come up from the earth. It looked more like mercury than ore. Out of pure curiosity, he gave it a poke before immediately realizing how stupid that was. It could've been acidic or toxic, but as his gloved finger struck the liquid, it hardened, taking on a semi-
"Stop!" Jonah shouted, holding up his hand. "Get the camera."
All the while, the narrator continued. "Even if one weren't so dramatic, we've seen our rush for advancement result in feelings of isolation and detachment. Our lives are longer, filled to the brim with experience after experience, but what do they mean? Take it all away now, and we would miss it, but a
RECOMMENDED READING
reflective sheen.
FEBRUARY / MARCH 2023 44
thousand years ago, we could not even have comprehended these technologies. We are living in a completely different world from our ancestors."
Jonah couldn't look away from the substance on the bit as his team sent the down-hole camera into the earth. Every time Jonah touched it, it sealed up like a shell, only to return to its gelatinous form again a minute or so later. When he finally glanced up, he saw his crew crowded around the monitor, jaws agape and eyes wide.
Mud turned from the screen, his face a
ABOUT THE BOOK
combination of alarm and confusion. "Jonah, you need to see this."
The tension on the drilling floor could have drowned them. Jonah's heart pounded against his sternum, and the audiobook narrator's voice became distant, as if from underwater: "As you look at the world around you, consider: Is progress the only goal? Is all progress the same? Is there a point where marching forward blindly will send humanity off the cliff?"
In the grainy black-andwhite monitor—in the distant depths below the snow and dirt and metal—
The final frontier is closer than we think . . . As a war journalist, Jonah Wall saw enough of humanity's horrors to last a lifetime. He wrecked his marriage, alienated his two sons, and escaped by working on an oil rig in Alaska, as far from civilization as possible.
But when he finds a spacecraft that was buried for millennia under the tundra, he is suddenly and reluctantly thrust into an unbelievable adventure. As the ship is being unveiled to the world, it mysteriously comes to life, taking Jonah, his estranged son, and a disparate group on a terrifying journey.
Our crew of unwilling travelers are transported to a network of planets with remnants of civilizations that are strangely familiar to Jonah and his companions. But something has wiped out every one of them, and the visitors are about to find out what it is.  Rogue is a sweeping adventure story through space and time and a profound exploration of humanity's age-old obsession with its origins, its flirtation with self-annihilation, and people's stubborn ability to find love even during the darkest moments.
the camera showed a small cavern with chairs, windows, and a control console that could've fit easily into a science-fiction movie. The walls weren't unworked stone, but smooth, and as the camera swung around, it revealed a closed exit to the tiny room. Jonah's mind stalled at the thought, urging him to stay sane, but there was only one explanation he could conjure. It looked like a spaceship.
RECOMMENDED READING 45
Funeral.
BY DAISUKE SHEN AND VI KHI NAO
Kernpunkt Press | January 2023
EnterLEDA,alsoreturned fromthedead.Sheisstill wearingherweddingdress. Herhairisadornedwithfake roses,but,liketheportraitat herfuneral,shehasnoface.
LEDA: I didn't think too much of the years before they passed. I was there, you know...in the crowd, standing outside her apartment as she did it. Did I smile? Despite myself? Imagine if I could have also regained something. Not eyes, I'm better off not seeing. I'd much rather have a mouth, lips, tongue…
Here,LEDA'sneck droopsdownlikeawetstalk. Ifshehadeyes,shewouldbe weeping.Sheshakesinside ofherkimono.It'ssoheavy towear,allthiswovenfabric. It'ssolonelywhentrappedby beautyonallsides.
EDDIEwalksinto LEDA'sapartment.Thestalk doesnotlookup.Itfingersthe plasticstemofoneoftheroses strewnacrossthebed.EDDIE iswearingherflapperdress, herhairtiedupinaponytail. Shelookssobeautifulasshe reachesdowntopickupan eyeball,whichhasfallenout ontothefloor.Itisveined andglobedlikeasweet,white grape.
EDDIE: Leda, it's me! Did you miss me?
EDDIEstopsmidstep.Herfaceslackens.For aroundanhour,EDDIEstands unmovingonthecarpet.
LEDAhumsthe folksong"TakedaLullaby" toherself,stillunawareof EDDIE'spresence.Suddenly, Eddiesnapsoutofher dissociativestatetopullout acompactmirror,quickly adjustingherfalselashes.
LAUGHTRACKand
CARNIVALMUSICplayin thebackground.
LEDA (changingthe themeofthesongfroman obonfestivaltoabirthday) : "...How can I be happy, even when my birthday is here?..."
EDDIE (worried) : Are you alright, Leda? Look, I...I brought some things for you. Happy birthday.
EDDIEbeginsto unlatchherbag,pullingouta pairofkabukidolls.Bothare womendressedinWesternstylefashions.EDDIEpulls outanother,andthenanother, andthenanother,desperately searchingfortheonemaledoll shehasburiedsomewherein herbag.Weseethatthewhole apartmentiscoveredindolls, EDDIEandLEDAmoving throughthemasifswimming throughthesea.
LEDA (doingaflipin thedoll-glossedsea) : "...The child continues to cry, and is mean to me…"
EDDIE (furiously paddlingtowardLEDA,as thoughscaredshemaylose her):Oh goodness, Leda. Come on. It was just one man. Can't we leave the past in the past? Please?
LEDArisesfromher bedandgoesintothekitchen, wheresheuntiesthebag holdingthebirthdaycakeshe hasboughtforherself.
EDDIEfollowsquickly behind,grabbingthepurseshe hasbroughtfilledwithgiftsfor LEDA'sbirthday.Ifshehada mouth,shewouldbesmiling rightnow.EDDIEhasnot realizedthatLEDAnolonger hasafaceyet.LEDAcontinues toignoreEDDIEasshestrikes amatchtolightthecandles with.
It's obvious that her non-face, a furnace in itself, is flickering in its gas. Its ghastly light. Its ghost frame. Meanwhile, Eddie has become Psyche, the Japanese goddess of the soul. Her Oedipus complex is that she is now an Aphrodite. And her new lover is Eros, is Leda.
LEDA: Promise me, Eddie, that you won't look at my face.
EDDIE: Why such a promise? You are my arrow through the underworld.
LEDA: Please.
EDDIE: Why can't I see your lovely face?
LEDA: Promise me you won't seek for my face?
EDDIE: Why would I promise you the impossible?
On her kimono knees, she begs Eddie for her continual blindness. For her eye sockets to become stones or empty baby ramen noodle bowls.
And after fucking like two open roses in a king-size bed made of silk and pearly sapphire, Eddie clandestinely and furtively pulls herself out
RECOMMENDED READING
FEBRUARY / MARCH 2023 46
of bed, cupping a flickering candle as she walks towards Leda's face, which is sleeping contently like a lotus on the moving river that is their conjugal bed.
Eddie lowers the candle so she can better view Leda's face, and she gasps when a void projects its blackhole — its gravitational field of nothingness — before her. This betrayal immediately sent Eddie to hell.
InHell-Eddie
In Hell, Eddie walks in modern, transamplifiable, vacuous circles: one intertwining thorn over another. Even in Hell, she doesn't own a single Nippon oil lamp, or a lantern made from translucent paper, or drag queen skin or nori. Leda, betrayed, began to forgive Eddie with the help of opium, Nuberu Bagu, two cockroaches, and Flamenco Umeji. Eddie could redeem herself if she underwent five stages of terminal cancer for the soul.
TheFirstStage:
DANCE UNTIL YOUR HAIR BECOMES EYEBALLS
Dead Can Dance - "Song of the Stars" (Pina version)
Eddie'ssoulmustmimicPina Bausch'schoreographyofCafe Mullerwhileshesipsmatcha, preparedinJapanesetea
ABOUT THE BOOK
ceremonystyle,fromaceramic vase,andborrowsTamakiMiura's voicetosingMadameButterfly fortwentyhoursstraight.
Eddie doesn't care about Dante's Inferno. Her throat is scratchy. She wants soft serve, melon cream soda; efficacious, gauzy whipped cream. She dips her hands into the flames, imagining them as warm, wet palms. The steam has driven her mad — that's what she tells herself as she ducks behind a column to check her pockets for a sweet. Out of the steam, a river of bodies flow.
She's found purchase with a loose, lint-covered milk candy, and she drops it in her mouth as she watches Mme Nguyễn Thị Bình cover her wound with soil.Where did she find all of this earth from?
Observing this woman, Eddie realizes that she's seen her on television. There's a war happening somewhere.
Eddie thinks about politics, marches, student activists. She would believe anything someone told her about the war—but when she asked the American man who frequents the club what she should think about the war in bed once, he said he didn't want to talk about it. It was boring.
Written using prose, images, lists, diagrams, songs, and plays, the novella Funeral follows Eddie from the 1969 film Funeral Parade of Roses in her descent to Hell.  In Hell, Eddie meets and falls in love with Madame Rose during lunch. They spend their days creating Hell's first boba shop and cheering on Hell in the final pingpong match against Heaven, but  their relationship soon falls apart. When Xing returns home to  Shanghai via Hell's bullet train, Eddie sets out on a journey to win  her back, accompanied by her friends Tony Leung, the god Tu'Er  Shen, the moon, Mary Poppins, and her over-talkative Uber  driver, Jimin Park. In this co-authored novella, DAISUKE SHEN & VI KHI NAO explore the depths of morality, pain, and queerness  with irreverent humor and unflinching honesty.
If Eddie had her phone, she could look her up on Wikipedia. She could read Internet archives about the Việt Cộng, pick her way through history books and data. She could browse the aisles at Kinokuniya or steal a fragrance diffuser from Muji. The security guard wouldn't be able to catch her; she runs too fast.
But it's 1969. It's hip to be careless. That's why it's so embarrassing for Eddie to feel anything — regret most of all. She thinks that she's heard something about dying. She also thinks this place smells like death.
"Pee-ew!" Eddie says as Mme Nguyễn Thị Bình hobbles off, the dirt on her stomach warping into vines, wrapping across her body like vacuous veins."What a stink this woman has!"
In Hell or otherwise, Eddie always forgets to check the time. She could be late for something important.
Oh, well. She sinks back down the column and waits for someone to save her.
RECOMMENDED READING 47
The Glassmaker's Wife.
BY LEE MARTIN
Dzanc Books | December 2022
Her name was Elizabeth Reed— Betsey, to everyone who lived around Heathsville; Miss Betsey to Eveline Deal, the hired girl who adored her—but after the summer of 1844, she would be known as the glassmaker's wife, an odd match to Leonard Reed— the Mister, Eveline called him, the man who back in the winter told her he'd teach her his craft.
"If I had a daughter, Eveline, I'd want her to be just like you," he told her one day in January when she was glad for the warmth of the glasshouse. He showed her how to mix the sand and soda and lime. He put the crucible inside the furnace to cook. "I've been thinking I might like to teach you the art of glassmaking. A woman glassblower. What would you think of that?" He picked up an apothecary jar full of a white powder and gave it a shake. "Stay around until this batch is cooked, and I'll show you how to add enough antimony oxide to take out the bubbles in the glass."
It was too much for her, this adoration. Not that she didn't want it—of course, she did; hadn't she watched with admiration as he made vases, tumblers, footed bowls, cream pitchers, sugar bowls, and wondered what it would be like?—but how would she feel if she had no knack for it and ended up disappointing the Mister? He stood before her now, not a handsome man, but instead a plain-faced sort who'd surely relied on his common sense and his hard work to get ahead in life. Somehow, he'd convinced Miss Betsey to marry him, but Eveline couldn't imagine how. He couldn't hold a candle to Miss Betsey's looks, and talk had it he was the one who insisted that she veil her bonnets so men wouldn't be able to see how beautiful she was. The veils, though—Eveline felt
sure of this—only made her more desirable. Whenever Eveline saw Miss Betsey's face in shadow, she recalled from memory the curled eyelashes, the high cheekbones, the dainty nose, the full lips, the long white throat. Miss Betsey oiled her hair and smoothed it down over her temples and wore long sausage curls at the sides. More than one man, Eveline imagined, hoped that he'd be fortunate enough to be in church, or a shop, or at a party, and see Betsey Reed remove her bonnet and turn her lovely face to him and smile and, oh Lord, then he'd find himself lost in the rapture. The Mister was a roughlooking man with red hair wild in curls about his ears. Miss Betsey was always hard after him to cut those curls, but he didn't pay her any mind. He didn't have need of her opinion, Eveline heard him tell her one day. He was who he was, and at one point that had been good enough for her, and if it wasn't anymore, well, that would just have to be a bitter herb for her to chew on. There wasn't anything he could do about his prominent forehead that drew his eyes in and made him look apish—Eveline had seen newspaper cartoons of Irish immigrants (the Mister was of their number) that drew them like gorillas—or his nose with the large bump in it, or the fact that his left eye had a tendency to wander, turning out instead of following the right one when he adjusted his gaze to look on something. It gave one a most disconcerting feeling, Miss Betsey always said, but to Eveline, it was just the fact of the matter and nothing to concern her at all, for what she really noticed was the warmth of those blue eyes and the way they looked at her with what she could only describe as a fatherly love.
Her own father had gone away and taken up with a woman in Dark Bend, that swampy woodlands in the crook of the Embarras River south of St. Marie, where highway men and counterfeiters and horse thieves hid from the law. "Don't be a lowlife like him," her mother told her, and Eveline promised she wouldn't.
Since winter past, Eveline had earned money to give her mother by helping Miss Betsey with her chores: before and after school and all day long come summer. Oh, those long, dreamy days of summer. Eveline, whose own father had left her and her mother destitute—"Abandoned," her mother always said. "He just up and walked away."—liked being at the Reeds'. She liked being with the Mister in the glasshouse. She liked being with Miss Betsey in the house where they read letters from the lovelorn in Godey's Lady's Book when the chores were done, and Miss Betsey told her not to worry, she'd be pretty someday. She'd find her true love. Just wait and see.
"As pretty as you?"
Eveline said.
RECOMMENDED READING
FEBRUARY / MARCH 2023 48
"Yes, as pretty as me," said Miss Betsey.
Eveline knew she was lying. She wasn't a pretty girl at all—her face was too round, her eyes too pale, her nose too broad, not a girl any boy would take note of—but she couldn't help but be enchanted. She found herself dawdling with the evening chores just for the extra time it bought her at the Reeds', where she pretended that she remembered what it was to be a family.
But sometimes, Miss Betsey would say something that hurt her. Eveline wasn't but fifteen, and even though her mother told her not to be so sensitive, at times, though she wished otherwise, she couldn't help but take offense.
"You're a moon calf," Miss Betsey said one morning as Eveline drew water from the cistern and let the rope slip from her hand and the bucket drop to the bottom. "Your head's in the clouds. You're dreaming of glory."
Eveline's cheeks burned with humiliation.
She was one of the Millerites, the believers who swore, come March, the Ascension would be at hand, and 1844 would be the last one lived on Earth. The clouds at length are breaking, she'd been singing just before she let go of the rope and knew the bucket was lost. The dawn will soon appear.
Sometimes Miss Betsey would snap at her because she scorched a shift she was ironing or
ABOUT THE BOOK
she left the bread to bake too long, and Eveline would let herself hate her just a little, all along wishing that Miss Betsey would throw her arms around her neck and press her to her and say she was sorry, oh, my precious girl, forgive me.
"Do your best," Eveline's mother told her when she brought her hurt home. "You can't expect to please everyone. Just do what you can and try not to take everything to heart."
She reminded Eveline of the story of Jesus, near the cross, and the woman who opened herself to scorn for wasting a precious ointment on his head. Jesus came to her defense. She hath done what she could, he said to those who complained. She is come beforehand to anoint my body to the burying. "There's a lesson for you in that," her mother told Eveline, who couldn't puzzle out exactly what she meant. All she knew was she wanted Miss Betsey to love her always and best.
If Betsey took a mind to, she could tell Eveline that it was all that Leonard lacked that first touched her heart. He was never a hale or beautiful man, not even when they were first starting out. Now they were nearing forty, and still she wanted to gather him into her arms and protect him from the people who gossiped about how they ever came together. If they'd seen him work with the glass, they'd understand exactly what she felt the
first time she saw him at his craft— that he was a man who knew exactly the how-much and the what-for of everything that was fragile. Imagine a man with his lips to a clay blowpipe and on the other end a blob of melted glass heated up and glowing orange, just hanging there, waiting for the short puffs of air to inflate it, the twirling of the pipe to shape it. All of this had drawn her to him—that beautiful glass, and the delicate way he formed it. If he could do that, wouldn't a life with him always be gentle and beautiful and good?
But that winter of 1844, it turned out to be anything but. The trouble started in January when the Mister sold twenty acres of land to Tom McKinney, the man who owned forty acres to the south of them.
"What gives you the right?"
Betsey asked one evening when the snow was falling outside, and they were sitting in rocking chairs close to the fire. "Without even a word to me? Is that how much I count to you?"
Leonard drew on his pipe and squinted at her through the curling smoke. The flame in the fireplace popped. He leaned forward and poked at the logs with a stoker.
A historical mystery for fans of The Trial of Lizzie Borden and The Good Sister. In August of 1844, a man named Leonard Reed takes violently ill at his home near Heathsville, Illinois, and four days later he is dead. The cause? Arsenic poisoning. The suspect? His wife, Betsey.
The chief witnesses against her? A hired girl, Eveline Deal, and the local apothecary, James Logan. The evidence? Eveline claims she saw Betsey put a pinch of white powder in Leonard's coffee. Betsey Reed, a woman who dabbles in herbal healing, is known about town as a witch. As the gossip and the circumstantial evidence mount, Betsey finds herself under the shadow of a trial— and a noose. Lee Martin's latest weaves a tale of a pinch of white powder, a scorched paper, a community hungry for a villain, and a young girl's first taste of revenge—but above all, of the contradictions and imperfections of the human heart..
RECOMMENDED READING 49
Sweetlust .
BY ASJA BAKIC TRANSLATED BY JENNIFER ZOBLE
The Feminist Press | February 2023
"WHAT GOD CONCEALS, sex reveals," my sister said.
I thought she was driving me to Međugorje, but she had a different plan.
"There's a nasty storm coming—we left at just the right time," she continued. The anticipation in her voice was palpable.
"Isn't it better to drive in nice weather?" I asked.
"I prefer rain," she said, stepping on the gas. Her window was down and the wind was ruffling our hair. It wasn't blowing hard, but I could tell it was going to get worse. We both listened carefully to the forecast. The rain didn't matter— what excited my sister was the thunderstorm slowly moving inland. I closed my eyes as she described the sky. My mind halted at the color blue; I'd begun to forget it. It took me a moment to understand what my sister was talking about. Colors were growing more and more abstract. They were harder for me to imagine than God.
NEARLY TWO YEARS before, I had lost my sight.
Quite suddenly. My sister had taken me to various doctors, with no
results. My eyes were totally normal. Neither the ophthalmologists nor the neurologists could find the cause of my blindness. I'd suffered no physical injury: no fateful blow to the head, no tumble down a manhole. No one in my family had ever gone blind. Darkness had simply descended from nowhere and, panicstricken, I struggled to escape. After consulting the doctors I went on various pilgrimages, first to Marija Bistrica because it was closest, and then wherever else I could think to go. I visited all the monasteries in Serbia, Montenegro, and Croatia, all the hodže and imams in Bosnia, and even one rabbi in Zagreb. In Zavidovići, they performed molybdomancy on me, read the beans, blew in my ears. A woman from Subotica told me to put two nails under my pillow every night to drive away the Devil, but my sister wouldn't hear of it. She didn't believe in God and she despised priests, but she took me to see them anyway. I didn't lose hope. I carried amber prayer beads in one pocket, a rosary in the other. My sister sewed talismans onto my clothes.
"It's all nonsense," she said. "If Yugoslavia hadn't fallen apart, we would have decent doctors. Communists would
be able to help you see again."
Whenever my sister would open her mouth to spit on God, I would recite a prayer or two to silence her. "Hail Mary, full of grace . . ." My sister was named Marija, and I felt like I was also praying to her. It was difficult, getting used to being blind.
For the first three months, I cried incessantly and prayed to God to either restore my sight or take my life. My sister got me a cane and a guide dog. They didn't help though, because fear and shame kept me from leaving the house. Of all the senses, I'd always valued sight the most. So when I lost it, it was as if I'd lost my legs. I sat by the window all day, in complete darkness
RECOMMENDED READING
FEBRUARY / MARCH 2023 50
regardless of the time. I sobbed loudly on purpose, so all the neighbors could hear.
"Enough!" snapped my sister. "It's time to move on."
To punish her, I vowed to seek answers in seminaries and monasteries. Without hesitating, she filled up the tank and we set off for Marija Bistrica. That pilgrimage didn't help either, but once I got going, it was hard to stop me. I wanted to travel, and my sister spent weekends in her car anyway. She was constantly escaping from home, escaping from me. Now I began to escape with her.
THE DAY BEFORE I went blind, I'd masturbated for the very first time in my life. I was in the bed my grandmother used to sleep in. Above me hung a fragile ceramic crucifix. I came abruptly and Jesus fell to the floor, shattering. I didn't say a word to my sister. The next night I lost my vision.
ABOUT THE BOOK
Marija sometimes went to Bosnia, so she remembered that there was a Franciscan monastery in Jajce. After Bistrica we went there, but instead of seeking help, we visited the bones of the last Bosnian king, Stjepan Tomašević. I couldn't see him, but my sister described him succinctly.
"He's very small," she said. I felt nothing when I touched his glass coffin. My sight was not restored. It was at that moment that I began to doubt God. I felt ashamed, so the whole ride home I prayed. I gripped my rosary and thought of the Virgin. I understood Marija. Not my sister Marija, rather the Virgin Mary. I never managed to understand my sister. We were very different. She was a grumpy librarian, and I avoided literature because I feared it had made her that way, that books had ruined her life. While Marija went to the library, I sought out nature, far away from the literary heroes she served
The eleven stories in Sweetlust interweave feminist critique, intertextuality, and science fiction tropes in an irreverent portrait of our past, present, and future.
In a dystopian world with no men, women are "rehabilitated" at an erotic amusement park. Climate change has caused massive flooding and warming in the Balkans, where one programmer builds a time machine. And a devious reimagining of The Sorrows of Young Werther refocuses to center a sexually adventurous Charlotte. Asja Bakić deploys the speculative and weird to playfully interrogate conversations around artificial intelligence, gender fluidity, and environmental degradation. As she did in her acclaimed debut Mars, Bakić once again upends her characters' convictions and identities—and infuses each disorienting universe with sly humor and off-kilter eroticism. Visceral and otherworldly, Sweetlust takes apart human desire and fragility, repeatedly framing pleasure as both inviting and perilous.
more devoutly than I did Jesus.
Once, when she wasn't home, I took a peek at her personal library. She had books by the Marquis de Sade, whom I'd heard terrible things about at school. He was surely burning in hell. I opened one of his books right to the sentence: "Virtue, vice, all are confounded in the grave." My sister had underlined it. She'd also marked: Oh! let her fuck with impunity! As I lay in bed, I thought about what I'd read. Before going to sleep I prayed, and then my hand lowered itself between my legs and waited for something. Then Jesus fell from the wall, and I lost my sight.
RECOMMENDED READING 51
The Red-Headed Pilgrim.
BY KEVIN MALONEY
Two Dollar Radio | January 2023
At first Zoë was excited by my new apartment. Lacking things like chairs and bowls, we found ourselves eating cereal directly from the box while reclining on my futon, watching The Simpsons on illegal streaming websites. I didn't know how to cook, so I bought food with cartoon characters on the packaging: Barbie Pop Tarts, Shrek 2 Go-Gurt, Scooby-Doo Mini Pizza Breadsticks. We gobbled up those neon snacks, then lay on the floor for hours in protracted sugar comas.
Our official explanation to Zoë re: our separation was that Mommy and Daddy needed a "timeout" to sort out our differences. But after six months of sorting (roughly 11 percent of Zoë's life), our little genius did some math and figured out that whatever weird vacation Daddy was on wasn't so much a vacation as a downward
spiral into slovenliness and depression.
One day when I picked Zoë up from daycare, she refused to speak to me. I tried to trick her into talking by pretending that I was dead, and when that didn't work, that our apartment was on fire, but she was a shrewd little monkey, much smarter than I gave her credit for.
Finally, I bribed her with an ice cream cone. Between licks, she finally asked the question she'd been pondering for weeks in silence: "Am I going to have two daddies now like Willem?"
"Of course not," I laughed. "I'm not gay."
"Are you sure?" she asked. It was a good question. I didn't know what I was. If it turned out I was gay, that would certainly explain a lot of things.
"Listen," I said. "If I find out I'm gay, I promise
you'll be the first person I tell."
This satisfied her immensely, as did the cookie dough monstrosity I'd bribed her with, hoping in this way to convince her that Team Daddy was better than Team Mommy.
Zoë stayed with me every other weekend from Friday afternoon until Sunday evening. I didn't know what to do with a 4-year-old, so I took her to Border's and bought her books she was too young to understand— Catch-22, The Stranger, and Slaughterhouse-Five.
RECOMMENDED READING
FEBRUARY / MARCH 2023 52
Then we found our way to one of Burlington's "family friendly" bars that allowed minors until 8 p.m. "What's lousy?" asked Zoë.
"It's an old-fashioned way of saying sucks," I said, taking a sip of beer.
"Who's David Copperfield?" she asked.
"I don't know. A magician? Like the guy with the long white beard in Harry Potter."
Zoë nodded and kept reading, her face buried in the iconic red cover of The Catcher in the Rye.
"What's crap?" she asked.
"It's a bad word," I said. "But not that bad… like poop or turd."
"Crap," she said. "You got it."
"Crap!" she said again, only louder.
"Home run."
The waitress came by and asked if I wanted another beer. I said sure.
"That's some heady reading there, young lady," said the waitress, nodding to Zoë.
"Sure you understand all those big words?"
Zoë scowled and knocked over her water on purpose. The waitress had to clean it up. I tried not to laugh, but I couldn't help it. Everything was so incredibly fucked up that I'd become completely indifferent to the consequences of my actions. The waitress brought me another IPA. I took a long sip and felt all my problems turn into a blurry
rainbow. Zoë asked why I liked beer so much. I pushed my glass over to her. She took a sip and made a disgusted face.
"Yeah," I said. "I didn't like it when I was your age either."
We sat there for a while in silence. Zoë gave up trying to read The Catcher in the Rye. I moved my fingernail back and forth along the sticky tabletop. Finally, I said, "—unless your mom gets remarried."
Zoë gave me a confused look. "You might have two dads if your mom gets remarried."
ABOUT THE BOOK
Provocative, poignant, and resoundingly hilarious, The Red-Headed Pilgrim is the tragicomic tale of an anxious red-head and his sordid pursuit of enlightenment and pleasure (not necessarily in that order).
On a sunny day in a business park near Portland, Oregon, 42-yearold web developer Kevin Maloney is in the throes of an existential crisis that finds him shoeless in a field of Queen Anne's lace, reflecting on the tumultuous events that brought him to this moment. Growing up in the suburbs, young Kevin suffered "a psychological break that ripped me from my humdrum existence" mainlining high fructose corn syrup and episodes of The Golden Girls. Thus begins a journey of hard-earned insights and sexual awakening that takes Kevin from angst-ridden Beaverton to the beaches of San Diego, a frontier-themed roadside attraction in Helena, Montana, and a hermetic shack on an organic lettuce farm.
RECOMMENDED READING 53
Owl In The Oak Tree.
BY PENNY WALKER VERAAR
…One of her seventh graders stood stoop shouldered outside the redbrick school's entrance, a backpack slung over her shoulder, her long, thin hair flying around her face.
"Angela, why are you still here?" Reagan had to bite her tongue to keep from asking the girl to stand up straight. She too had been uncomfortably tall at that age.
"I'm waiting for my mom. She was supposed to pick me up at three." The teen pulled her sweater tight around her.
"It's almost four. Have you called her?"
"I did, but she didn't answer."
"It's about to storm. I'll drive you home." Reagan wasn't supposed to do that, but she couldn't let the girl get caught out in a thunderstorm.
"Thanks, Mrs. Ramsey. Where's your car?"
"Hello, Miz Ramsey."
Surprised, Reagan pivoted to face one of her former students, a senior, standing too close, his eyes squinting at her. He was about her
height and thin. His clothes reeked of cigarettes; his fingers were stained yellow. "Bryan Butler, what are you doing here?"
With a toss of his head, he flipped his dark hair away from his eyes. "Just passin' by."
Reagan motioned with her palms. "Bryan, personal space. Back it up, buddy." He took one step back, his eyes squeezed into thin slits. "It's been a long time since I seen you, Miz Ramsey. Ain't it?" A rip of lightning, closely followed by a shotgun blast of thunder, startled them both. "Yes. It's nice to see you, Bryan, but we were just leaving. I want to get Angela home before the sky falls. Angela, get in the car and buckle up."
"I heard you seen that driveby over on Montgomery last month."
Reagan flinched. "Who did you hear that from?" she asked, studying his face. He shrugged. "I heard it around."
"What does that mean, 'around'?"
"I just overheard some guys. They said the dude that done it, he's a really bad dude."
"That's obvious. He murdered that young man." "I hope y'all don't have any trouble outa 'em. They say you looked right at the guy." Bryan's stare was unrelenting.
Reagan's stomach tightened as she glanced around the parking lot. Just a few cars still there. She straightened and crossed her arms. "Why would l have trouble?"
"I just hope he don't think ya might finger 'em."
Reagan recalled Bryan of seventh grade. A capable student but his family didn't seem interested.
She had always felt a little sad for him; he wasn't a bad kid. "Bryan, do you know
RECOMMENDED READING
GG Publishing | February 2023
FEBRUARY / MARCH 2023 54
who shot that young man?"
"Me? Uh, nah. Not me." He leaned toward her and shook his head, but his eyes never strayed.
"Did you have anything to do with that shooting?"
He blinked twice and answered with a flat voice. "Er . . . no, of course not. You know how word gets around. Lots of people talk."
Reagan frowned and searched his face. "Who do you hang around with now, Bryan? Don't forget, I know your mom. How 'bout I call her to ask what's going on with you?"
"If you know her so well, you know she don't give a shit about me. Go ahead. Call 'er." Reagan's eyes narrowed. "Well, how about I talk to Ms. Ginny?" Fat raindrops began to splatter against the car roof. She opened the driver's-side door, but Bryan grabbed her arm.
"Leave my grandma alone! I told you, I ain't done nothin' wrong."
Reagan looked at his hand on her arm and arched an eyebrow as needles of cold rain pricked her skin.
He released her and leaned closer to her ear. "I just don't want anything bad to happen to you or your kids."
Reagan ducked into the driver's seat and slammed the door. A bright flash of lightning lit Bryan's face as he stood outside the window. Another loud crack of thunder followed. Rain blew into the car when Reagan lowered her window. "You need to get out of the rain, Bryan, but you shouldn't worry about me. My brother's a Norwood cop. He's sticking to me like glue. You know what you hear around. You don't want to mess with a cop or a cop's family." She started the car and drove away,
looking at Bryan in her rearview mirror, his features distorted by the rain as he watched her leave the lot.
"That guy's creepy," Angela said. "Most of the kids stay away from him."
Water dripped from Reagan's hair down her neck, making her shiver. She cranked up the heater.
"Really? Do you know him?"
"Well, I don't know him. He hangs around school a lot."
"The middle school? Why?"
"Mrs. Ramsey, geez. He deals." Reagan froze. "Who knows about this? I haven't heard anything like that about him."
Angela shrugged. "Kids talk. It's good your brother's a policeman." "Yeah, well . . . he's sort of like a brother."
ABOUT THE BOOK
She's the key witness to a drive-by shooting. But what happens when her duty to justice threatens the most important thing in her world—her family? Reagan Ramsey—mother and middle school teacher extraordinaire—knows how to hold it together in the face of adversity. In the aftermath of her husband's death from cancer, Reagan is doing everything she can to help her two children process their father's passing while trying to sort out what a new normal looks like for their family. The loss proves especially difficult for her seven-year-old daughter, Lizzie, who has a dual diagnosis of Down syndrome and autism and is nonverbal. Lizzie's father had been her protector, a hands-on parent since the day she was born, and in his absence, her behavior becomes increasingly challenging as she struggles to express her feelings of loss and confusion.
But when a random encounter puts Reagan in the cross fire of a drive-by shooting—an event that shakes the foundation of her community—she suddenly becomes an involuntary key witness to a murder that turns her world, and her sense of safety, upside down.
RECOMMENDED READING 55
The Merry Dredgers.
BY JEREMY C. SHIPP
When I first started working as a princess, I felt a little self-conscious peeking through a gap in the fence into a client's yard. Nowadays, it comes as second nature. Through a knothole, I see a French bulldog in a polka-dot bowtie, squirming on his back and sunning his round, speckled belly. I also see a rustic-looking shed with a massive window. In the window, I see the severed heads of bobcats and boars and black bears. I wonder for a moment if the hunter who owns this shed only kills animals that start with the letter b. No, there's a sheep's head right there. Ah, but is it a bighorn sheep?
My attention shifts away from the shed because a little girl appears with glittery stickers covering her arms like tattoo sleeves. She tickles the armpits of the French bulldog for a while, and then she lies down
beside him on the wellmanicured lawn. A boy with a buzzcut appears and drops a balloon onto the girl's stomach.
The taxidermy shed gives me Norman Bates vibes, but at least there are actual children at this children's party. That isn't always the case. Now and again, guys will book you for a bachelor party, or worse. I haven't experienced this myself, but I visit the princess forums and I read the stories.
Now that I'm feeling somewhat safe, I make my way to the front of the house where I make my grand entrance. Sometimes a parent will speak with me one-onone before leading me to the heart of the party, but most of the time I'm greeted at the door by a horde of wide-eyed, yipping children. This time around, three girls spill out of the front
entrance before I can even ring the doorbell.
Children soon surround me on the front porch, and I sing the Greeting Song. Or croak is more accurate, as this is my seventh party this week and I'm losing my voice. To those children who come close enough, I gently tap them on the head with my magic wand.
After I finish singing, a young mother shakes my hand and leaves behind a smear of frosting on my glove. She tells me her name, although her voice is too soft for me to hear
RECOMMENDED READING
Meerkat Press | March 2023
FEBRUARY / MARCH 2023 56
it, and she leads me into the house to the birthday girl, who also politely shakes my hand. While I sing the girl the Birthday Princess Song, she stares down at an astronaut doll bent in strange angles on the hardwood floor. Even when I present her with a magic wand of her very own, she takes it without looking at me and doesn't say a word. I don't mind.
I sing a couple more songs and teach the children to do the fairy tale shuffle. Eventually, the birthday girl musters up enough courage to approach me and say, "Do you want to see my dog?"
"Oh yes," I say, in the sicklysweet manner that feels almost normal to me at this point. "I do so love animals."
There aren't any songs in the princess guidebook that are meant for pets, but I made one up about a year ago. Through song, I tell the French bulldog that his heart is full of gold and that his nose is very cold.
I won't be winning any Grammys for my lyrics, I know, but the kids gobble this ditty up.
One of the good things about princess work, compared to my other jobs, is that time almost always passes swiftly. One minute I'm painting a golden tiara onto a girl's chubby face, and the next, I'm packing my rainbow duffle bag to head out.
Before I leave the yard, the girl with stickers covering her arms hops toward me.
ABOUT THE BOOK
Seraphina must infiltrate a bizarre and dangerous cult to determine why her sister is in a coma after a mysterious accident at the hands of the cult members.
Seraphina Ramon will stop at nothing to find out the truth about why her sister Eff is in a coma after a very suspicious "accident." Even it means infiltrating the last place Seraphina knows Eff was alive: a once-abandoned amusement park now populated by a community of cultists.
Follow Seraphina through the mouth of the Goblin: To the left, a wolf-themed roller coaster rests on the blackened earth, curled up like a dead snake. To the right, an animatronic Humpty Dumpy falls off a concrete castle and shatters on the ground, only to reform itself moments later. Up ahead, cultists giggle as they meditate in a hall of mirrors. This is the last place in the world Seraphina wants to be, but the best way to investigate this bizarre cult is to join them.
"Are you a real princess?" she says.
"What do you think?" I say, because according to the guidebook, a princess can't answer a question about her true identity with the truth, or with a lie. The girl stares at me with her head tilted far to the side. After a few moments of scrupulous inspection, she peels a tiger sticker off her arm and holds the object out to me. "You can have this, if you want."
"Thank you ever so much." I take the sticker, and the girl waits silently until I press the gift onto my arm. Then she dashes away.
RECOMMENDED READING 57
The Measure of Sorrow.
BY J. ASHLEY-SMITH
Meerkat Press | June 2023
That night Chris dreamt of Miriam for the first time since they saw her buried. She was paler than he remembered, and her hair was black and straight as a ribbon. But it was her just the same. He knew her by the ache in his chest, the sensation of falling, of descent without end.
She ran ahead of him through the darkness, her nightdress billowing. Through fields of tall grass wet from the rain, through a maze of black chambers inside the old barn. Then he lost her, and was lost himself, wading through black waters in an underground tunnel, through the smell of mold and stone and decay, calling her name into the dripping echoes. And all around, from within the walls, and behind and above, the grinding of colossal but invisible gears.
Chris woke in wetness, his hand cold on soaked
bedsheets.
His first panicked thought was that Callum had a fever and had sweated the sheets through. Then he remembered the boy had fallen asleep fully clothed and hadn't put on his training pants.
He and Miriam had been so proud when Callum decided, quite by himself, to give up nappies at bedtime. The boy had been three at the time and they—younger, happier, oblivious of what lay ahead—saw in this decision more evidence of his inherent genius, another ray of glory from the wonder they'd created. The night of the funeral, Callum wet the bed for the first time in two years. He'd been unable to get to sleep on his own and had cried until Chris let him into bed. That morning, Chris had stripped the sheets, taken the mattress out onto the balcony to dry,
performing the new tasks mechanically. Callum had been embarrassed, and his shame at this thing, so small in the light of everything else, was a weight that Chris carried still, that plummeted every time Chris saw in him all that was left in this world of her. Callum had slept in bed with him every night since the funeral; afraid, perhaps, that without this physical constant, he would wake one morning to find his father gone as well.
Chris rolled out of the bed, leaving Callum spread across the wet mattress like a starfish.
RECOMMENDED READING
FEBRUARY / MARCH 2023 58
The curtains were thin, barely holding back the cold morning light. Chris squinted as he pulled them apart, then yelled, swore, heart tumbling at the sight of two large eyes, just inches from his own. "What is it, Dad?" Callum sat up, rubbing his face.
"Come and look," said Chris.
Outside the window, calmly ruminating, holding his gaze with indifference, was a huge caramel alpaca. Two more, dark brown, stooped behind it, bending to munch the grass around the cottage. He had forgotten to close the gate.
It was an ordeal, getting the alpacas out onto the driveway. They seemed quite content where they were, not a bit bothered
ABOUT THE BOOK
by the man and boy at the window, entirely resistant to their claps, threats and cajolements. Father and son dressed quickly, stripped the bed, spilled into the cottage's small garden to oust the stubborn invaders.
At last, after much fruitless pushing, Chris remembered the food they'd been given the night before.
He sent Callum out beyond the gate, shaking the bucket and calling to them, while he drove from behind. At last they got them through and closed the gate. Callum stood, laughing, completely surrounded, the alpacas peering down at him as he scooped handfuls of pellets from the bucket.
Chris's attention was drawn again to the looming barn.
Shirley Jackson Award-winning author J. Ashley-Smith's first collection, The Measure of Sorrow, draws together ten new and previously acclaimed stories of dark speculative fiction. In these pages a black reef holds the secret to an interminable coastal limbo; a father struggles to relate to his estranged children in a postbushfire wilderness; an artist records her last days in conversation with her unborn child; a brother and sister are abandoned to the manifestations of their uncle's insanity; a suburban neighborhood succumbs to an indescribable malaise; teenage ravers fall in with an eldritch crowd; a sensitive New Age guy commits a terminal act of passive-aggression; a plane crash opens the door to the Garden of Eden; the new boy in the village falls victim to a fatal ruse; and a husband's unexpressed grief is embodied in the shadows of a crumbling country barn. Intelligent and emotionally complex, the stories in The Measure of Sorrow elude easy classification, lifting the veil on the wonder and horror of a world just out of true.
In the daylight it seemed even larger, even more out of place. It stood completely apart from the other farm buildings, twice or more the height of the wool shed, built of raw boards blackened with age. The barn seemed ancient, as though hewn from the landscape's earliest trees, a shelter for its first European settlers. But it was unlike anything Chris recognized from that era; in their long drives through rural towns and old farm country, they had passed nothing to match it, nothing with even the vaguest resemblance.
RECOMMENDED READING 59
BOOK SHELF SHELF UNBOUND'S
BS SPECIAL ADVERTISING SECTION FEBRUARY / MARCH 2023 60
What to read next in independent publishing
Book Shelf
Promote your book in Shelf Unbound in our Special Advertising Section for Authors. YOUR BOOK COULD BE HERE! Each issue of Shelf Unbound is distributed to more than 125,000 people in the U.S. and 62 countries around the globe. Our introductory ad rate for this section is $350/quarter page as seen here. Contact publisher Sarah Kloth to reserve your space. sarah@shelfmediagroup.com 61
The Hive
BY MELISSA SCHOLES YOUNG
The Fehler sisters wanted to be more than bug girls but growing up in a fourth- generation family pest control business in rural Missouri, their path was fixed. The family talked about Fehler Family Exterminating at every meal, even when their mom said to separate the business from the family, an impossible task. They tried to escape work with trips to their trailer camp on the Mississippi River, but the sisters did more fighting than fishing. If only there was a son to lead rural Missouri insect control and guide the way through a crumbling patriarchy.
Available at Amazon and Barnes & Noble.
Hot Air.
BY CHARLIE SUISMAN
A sequel to the awardwinning novel Arnold Falls, Hot Air features the characters of the small, upstate New York town during the summer following the events of book one. The "incredibly funny" (Kirkus) antics continue as Arnold Falls has several identity crises all at once. Our narrator, Jeebie, has a life-changing moment with a cow, there's trouble brewing at the hospital, and Arnold Falls may change its name to Emollimax, for a payout. This is a character comedy about life in a small, extremely quirky town, for fans of Armistead Maupin and P. G. Wodehouse.
Ninety-Nine Fire Hoops
BY ALLISON HONG MERRILL
Allison Hong isn't a typical fifteen-year-old Taiwanese girl. Unwilling to bend to the conditioning of her Chinese culture, which demands that women submit to men's will, she disobeys her father's demand to stay in their faith tradition, Buddhism, and instead joins the Church of Jesus Christ of Latter-day Saints. Six years later, she drops out of college to serve a mission—a decision for which her father disowns her.
Available at Amazon and Barnes & Noble.
KARL'S DIARY: IT'S A DOG'S LIFE
BY SHARON WINTERS
In December 2014, chocolatecolored dogs with golden eyes is found wandering in Arizona's Yuma Desert. A kind hearted man brings the lost dog to a rescue facility. Sadly, no one chooses to adopt the stray, who's desperate wish is for a family to love and cherish him. Soon however, while he is at a second animal rescue, his picture is published in a local newspaper  paper and a compassionate couple adopt him, name him Karl, and bring him to his forever home, one filled with unconditional love. Parents and children alike will be captivated by this tender, humorous look at Karl's now happy life told from his point of view and with pictures of the real Karl, a handsome Boykin spaniel.
BOOK SHELF SPECIAL
FEBRUARY / MARCH 2023 62
ADVERTISING SECTION
Sketches of Life
BY A. GAVAZZONI
A careless girl. A survivor alone in the world. A world in turmoil.
In the middle of WWII, France surrendered to Germany, and young Lily, half French and half American, has her life turned upside down. A careless girl, full of dreams, Lily must leave France and go to her father's homeland, taking her mother with her. France, the United States, Spain, Austria, and Argentina present the backdrops for an epic tale of people trying to adapt to a world in turmoil—one that's filled with secrets and surprises…
New Horizonz
BY MICHELLE C. LEIGH
New Horizons follows the epic adventure of Alexandra. As a young woman driven to help her family, she takes a job with MurAdKo. Hoping to send home paychecks from Iceland, she finds herself much further from home and working for a company that will do anything to protect a secret. When Alexandra discovers the horror, she fights to get back to her family. The first book in the Europa trilogy delights.
www.michellecleigh.com
Salt & Light: The Complete Jesus
BY JONATHAN GEOFFREY DEAN
A landmark investigation providing an easily accessible yet complete and definitive statement on the historical Jesus of Nazareth, history's most compelling figure. Derived from critically reviewing, for the first time, ALL relevant ancient sources and bringing together the latest, but previously disparate, scholarship, Salt & Light follows a tightly argued but common-sense structure culminating in a description of the real Jesus; what he did, who he was and what he said.
The Final Programme
BY ANGUS KENNEDY
In this final novel of the Out of Solitude tetralogy, Australian wine writer, Andrew Johnston, is comatose in a hospital in Sydney, Australia after the events of Međjugorje in Bosnia and Herzegovina. His Croatian lover, Niki Menčetić, believes him gone, the victim of a cruel deception by Andrew's brother, Adrian, and has returned to Dubrovnik. Andrew now has to try to re-establish the rest of his life.
www.anguskennedybooks.com
Available at Amazon, Amazon UK, and Barnes & Noble.
BOOK SHELF SPECIAL ADVERTISING SECTION 63
Wullie The Mahaar Gome
BY DAVID KENNEDY MCCULLOCH
Finnley McDougall's boring schoolboy life in Seattle gets turned upside down when Great Uncle Hugh gives him a most unusual gift – a scruffy, rude, bad-tempered Scottish rock creature called Wullie who brings danger and disaster with him wherever he goes.From French snobs in fancy hotels, rusting barges on the Seattle waterfront, abandoned coalmines and flooded quarries in the Scottish hillsides filled with bullies, gangsters, slobbering dogs and weird food Finn is drawn into an evil plot that threatens to destroy everything he loves… including Edinburgh Castle.
Feast of Fates
BY CHRISTIAN A. BROWN
Morigan lives a quiet life as the handmaiden to a fatherly old sorcerer named Thackery. But when she crosses paths with Caenith, a not wholly mortal man, her world changes forever. Their meeting sparks long buried magical powers deep within Morigan. As she attempts to understand her newfound abilities, unbidden visions begin to plague her—visions that show a devastating madness descending on one of the Immortal Kings who rules the land.
www.christianadrianbrown.com
Available at Amazon and Barnes & Noble.
Touch
BY REBECCA MILLER
After her mother's sudden death, artistically gifted Megan lost her will to draw as she watched her family crumble. When her father unexpectedly moves what's left of them halfway across the country to mend, Megan must try, yet again, to rise from the ashes and create a new existence for herself. She's intrigued when she sees Shawn-a secluded classmate who sparks unexpected drawing inspiration. Shawn is protecting a terrible secret and teeters on the edge of letting go. With each layer Megan strips from him, she gets hints about how broken he is.
There She Lies
BY MICHELLE YOUNG
We all have secrets—little white lies we tell ourselves. Everyone has them, but no matter how hard we try to keep them hidden, even our deepest secrets can come up to the surface.
When the Millers move across the province to pursue William's lifelong dream of becoming a helicopter pilot, Quinn, a new mother, feels isolated from everything she's ever known, only, Quinn has been there before. Struggling with severe postpartum depression, Quinn turns to her elderly neighbour for help, but how much does she really know about Mrs. Westover? Only what she chooses to reveal. Mrs. Westover never lies, in fact, she despises liars. What will she do when she finds out Quinn's been dishonest with her?
BOOK
SHELF
SPECIAL ADVERTISING SECTION FEBRUARY / MARCH 2023 64
The Home For Friendless Children
BY C.L. OLSEN
Abandoned on a remote mountain in eastern Pennsylvania by his father at age five, and discarded at an orphanage by his mother a few years later, this is the remarkable true story of one boy's impenetrable resilience and courageous hope; holding onto his dreams in the face of heartbreaking loss, loneliness and betrayal.
Little Robbie Olsen, his two brothers, sister, and mother would be saved from starving to death by the kindness of the Mennonite family who farmed the hills far below. Forced to leave their mountaintop home, they would walk fifteen miles into town, carrying what little they had in paper bags, finding lodging in a two-room apartment above Arlene and Ray's Bar.
Haelend's Ballad
BY IAN V. CONREY
A young man signs his own death warrant when he joins an already failing militia. A teenage girl is haunted by her childhood abuse and begins to crave the very things she hates. A childless mother finds herself on the run as a convicted murderer. Yet they are all unaware that their own fates are tied to a young orphan who has drowned and come back to life in a foreign land where he will be the death of everyone he meets. Haelend's Ballad is a grimdark fantasy/ steampunk tale about what happens when men and women from two colliding cultures realize they may not be on the right side. Heroes are villains. The persecuted are oppressors. And when rumors begin to spread that the world is dying, the darkness of their own hearts betrays them.
The Talking Drum
BY LISA BRAXTON
The fictional city of Bellport, Massachusetts, is in decline with an urban redevelopment project on the horizon expected to transform this dying factory town into a thriving economic center. This planned transformation has a profound effect on the residents who live in Bellport as their own personal transformations take place.
The Talking Drum explores intra-racial, class, and cross-cultural tensions, along with the meaning of community and belonging.
Available at Amazon and Barnes & Noble.
Sunflowers Beneath The Snow
BY TERI M. BROWN
A Ukrainian rebel. Three generations of women bearing the consequences. A journey that changes everything. When Ivanna opens the door to uniformed officers, her tranquil life is torn to pieces - leaving behind a broken woman who must learn to endure cold, starvation, and the memories of a man who died in the quintessential act of betrayal. Using her thrift, ingenuity, and a bit of luck, she finds a way to survive in Soviet Ukraine, along with her daughter, Yevtsye. But the question remains, will she be strong enough to withstand her daughter's deceit and the eventual downfall of the nation she has devoted her life to?
BOOK SHELF
SPECIAL ADVERTISING SECTION 65
Black, White, and Gray All Over
BY FREDERICK REYNOLDS
From shootouts and robberies to riding in cars with pimps and prostitutes, Frederick Reynolds' early manhood experiences in Detroit, Michigan in the 1960s foretold a future on the wrong side of the prison bars. Frederick grew up a creative and sensitive child but found himself lured down the same path as many Black youth in that era. No one would have guessed he would have a future as a cop in one of the most dangerous cities in America in the 1980s---Compton, California.
Cold as Hell
BY JAIME CASTLE AND RHETT C. BRUNO
In the West, there are worse things to fear than bandits and outlaws. Demons. Monsters. Witches. James Crowley's sacred duty as a Black Badge is to hunt them down and send them packing, banish them from the mortal realm for good. He didn't choose this life. No. He didn't choose life at all. Shot dead in a gunfight many years ago, now he's stuck in purgatory, serving the whims of the White Throne to avoid falling to Hell. Not quite undead, though not alive either, the best he can hope for is to work off his penance and fade away.
I'm So Glad There's Someone
WRITTEN BY RUTH BURES
ILLUSTRATED BY AMY KLEINHANS
I'm So Glad is a positive and uplifting story that contains a template for healthy communication about feelings. The words validate a range of emotions that children (and adults) experience, from anger to loneliness, to sadness, to happiness. It also provides a guide to discussing these feelings, without judgment, for both the listener (child) and the reader (mentor/adult/parent) that does not patronize or criticize the child. www.orangehatpublishing.com
Climate Change Family: Lord's Town
BY MATT BOXALL
Lord's Town is a refuge in a hungry world destroyed by climate change. Serving the soil is hard and cruel, but the seeds of humanity may yet survive in a young tender called Charlotte, and the friends she makes on her journey to discover Lord's Town's disturbing secret.
Here is the future we don't want. A decade from now, Charlotte lives in Lord's Town –a tyrannical horticultural fortress cobbled together from the remnants of the old world. A forever-hungry slave, clever Charlotte grows food in her sealed "greenhome" for the brutal elite. But after saving the citadel from disaster, the mysterious "Lord Himself" grants Charlotte the opportunity to embrace a new family… and uncover a horrifying truth.
BOOK SHELF
SPECIAL ADVERTISING SECTION FEBRUARY / MARCH 2023 66
Squeeze Plays
BY JEFFREY MARSHALL
A financial thriller and satire, Squeeze Plays is a contemporary morality tale set principally in New York and London. It centers on a bank CEO, a tabloid publisher, and a cunning Russian oligarch who steps in when the bank's loan to the publisher goes sour. An intrepid financial reporter catches wind of the gambit and develops a front-page expose.
Professional reviewers have called the novel "captivating" and "thoroughly entertaining."
Adventures On The Bloody Trail
BY SUSAN FIEBIG
Adventures On The Bloody Trail is a travel guide that sends you to the best Bloody Marys in Wisconsin and so much more! If you're looking for those out-of-the-way places where good food and great views can be found, Fiebig's guide will take you there with Bloody Mary stops along the way. Filled with the history of the cocktail and instructions on how to score Bloodys using Fiebig's 50-point criteria, this is a fun-filled adventure guide to Wisconsin with a twist. As always, please take a designated driver with you on your adventures. Cheers!
www.ten16press.com
Available at Amazon and Barnes & Noble.
Grenadine and Other Love Affairs
BY CAROLYN GRACE
In this sensuous debut poetry collection, Carolyn Grace explores meaning through body, image, form, music, myth, history, and language. To read these poems is to touch, taste, and hold love deeply in body and soul, to celebrate love, unflinching and painful and joyful.
Come, enter this magical, essential world. Let its music sound your depths, its precision sharpen your mind. Then prepare to leave changed, your self challenged and enlarged.
Pandora's Eyes: The Alex Cave Series Book 5
BY JAMES M. CORKILL
The color of your eyes will determine if you live or die!
Geophysicist Alex Cave discovers an alien spacecraft under the ice in Greenland, and is deceived by its artificial intelligence, who uses a woman named Pandora to represent it for what is about to happen. To protect her human slaves, she demands we kill every person with brown eyes, or she will destroy our entire species.
A fantastic ride, with thrilling scenarios, exhilarating situations, and nail-biting suspense, by this bestselling and award-winning author.
SUBSCRIBE
BOOK SHELF
SPECIAL ADVERTISING SECTION 67
The Indie Catalog
Latest releases, award winners, and more!
INDIE BOOKSTORE
BROWSE
BS FEBRUARY / MARCH 2023 68
Riding with Ghosts, Angels, and the Spirits of the Dead.
Join me for a truly magical ride as I travel thousands of miles to explore the paranormal from the seat of my beloved motorcycle, Melissa. Everywhere I roam ghosts, angels, and the spirits of the dead come to greet me, communicating intriguing messages to me, and providing me with an incredible array of otherworldly manifestations: UFOs; haunted forests; ghostly owls; recordings of spirit voices; and a phone call…to a ghost?
"John's books provide a unique perspective on the psychic and paranormal realms. Fans of true ghost stories will be entertained by accounts ranging from UFO encounters to Guardian Angel guidance that proved to be life-saving."
— George Noory, Host: Coast to
Coast AM
ABOUT THE AUTHOR
JOHN RUSSELL has been a professional psychic for 50 years. Internationally known, he has provided psychic readings for clients in over 40 countries, and still reads full-time for a worldwide clientele. John filmed a TV pilot for The History Channel in which he psychically explored the assassination of President Abraham Lincoln. For 18 years he has been a popular featured guest, heard worldwide, on over 70 different radio shows and podcasts.
He's a published author with two award-winning books in print: "Riding with Ghosts, Angels, and the Spirits of the Dead" and "A knock in the attic." A third book, "20 Ways to Increase Your Psychic Abilities" is due for publication in 2023.
RELIGION/SPIRITUALITY SPECIAL ADVERTISING
SECTION CATALOG
69
Last Liar Standing.
Vonny Kwan wakes up in a Nevada hospital, the victim of a hit-and-run accident she doesn't remember. As she struggles to recover from her injuries, she learns that she also has no memory of the past nine years, including her marriage and what she was even doing in the West.
While she's still reeling from the shock of her amnesia, two detectives visit and inform her that her husband, John, was recently murdered. As more information comes to light, Vonny grows increasingly suspicious of everyone around her.
Vonny realizes she must piece together the last decade to uncover the truth. The missing chunk of time holds secrets about the person she became, the mysterious man she fell for, and the life she never wanted.
ABOUT THE AUTHOR
DANIELLE M. WONG
Danielle M. Wong is a bicoastal author with a permanent case of wanderlust. An extended trip abroad inspired her debut novel, Swearing Off Stars. The book was published to critical acclaim, garnering an Independent Press Award, a Benjamin Franklin Award, and an International Book Award. Danielle's writing has appeared in Harper's Bazaar, HuffPost, PopSugar, and Writer's Digest. She is currently working on her next novel.
FICTION SPECIAL ADVERTISING SECTION
CATALOG
FEBRUARY / MARCH 2023 70
Doctor Refurb.
An unconventional, satirical, controversial, time travel comedy!
What if you could reach back in time to deport the world's worst environmental villains to a depository planet before their greed condemns Earth to an ecological apocalypse? What if each time you did so, an alien instantly extracted a body part and replaced it with a refurbished one? Would you still do it?
Heartrending yet hilarious, Doctor Refurb is influenced by actual historical events and confronts the serious subjects of climate change, far-right politics, and child abuse committed by Christian authorities. ABOUT THE AUTHOR
MARTY ESSEN
Marty Essen began writing professionally in the 1990s, as a features writer for Gig Magazine. His first book, Cool Creatures, Hot Planet: Exploring the Seven Continents, won six national awards, and the Minneapolis Star-Tribune named it a Top Ten Green Book. His second book, Endangered Edens: Exploring the Arctic National Wildlife Refuge, Costa Rica, the Everglades, and Puerto Rico, won four national awards. Marty is also a popular college speaker. He has performed the stageshow version of Cool Creatures, Hot Planet on hundreds of campuses, in forty-five states. Marty's latest books, Time Is Irreverent and Time Is Irreverent 2: Jesus Christ, Not Again! are science-fiction political-comedies.
SPECIAL ADVERTISING SECTION
CATALOG FICTION
71
The Mad, Mad Murders of Marigold Way.
For Scott Hatcher, a former television writer turned struggling novelist with a failing marriage to boot, social-distancing and mask-wearing feel like fitting additions to his already surreal life. When his wife Marie and neighbor John Bergman disappear in the middle of the raging COVID-19 pandemic, Scott is naturally mystified and disturbed, but he is also about to learn that his picturesque neighborhood hides more than just the mundane routines of suburban life. When a fire claims the empty house for sale next door, the entire community is shocked when the charred remains of Marie and John are found inside. Stranger still, stockpiles of valuable PPE clearly stolen, were destroyed in the blaze alongside them. As the neighborhood reels from the loss, Scott and Bergman's earthy and enticing widow, Rachel, not only find themselves under investigation for the crime, but also inexorably drawn to one another. As tensions reach a fever pitch, the tale--which is at once familiar and ordinary, yet bizarre and eerie--shows that, just like life in 2020's uncertain times, dread and danger lurk below the hidden underside of everyday suburbia.
ABOUT THE AUTHOR
RAYMOND BENSON
Raymond Benson is the author of over forty published books. He is most well-known as the third--and first American-author of continuation James Bond novels, commissioned by the Ian Fleming copyright holders. In total, six original 007 novels, three film novelizations, and three short stories were published worldwide between 1997 and 2002. His bestselling and critically praised five-book serial, The Black Stiletto, is in development as a possible film or TV series. Raymond's other recent acclaimed novels of suspense are Blues in the Dark, In the Hush of the Night, and The Secret on Chicory Lane.
FICTION SPECIAL
ADVERTISING SECTION CATALOG
FEBRUARY / MARCH 2023 72
Tapestry: A Lowcountry Rapunzel.
If your stepmother were a sociopath, how would you know? And who would you turn to?
Life is not as ordinary as it seems for Gaynelle and Vivian, who only understand that the woman they now call 'Mama' is complicated and difficult to please. Is the romantic love that Gaynelle finds at a tootender age going to last? And will Vivian uncover the truth about her parentage while recovering from a strange illness?
Rural South Carolina meets the Roaring 20's in this tale of two sisters who face separation and trauma with the resilience of the young and find their way, despite everything.
ABOUT THE AUTHOR
SOPHIA ALEXANDER
Sophia Alexander is the mother of two college-age children and a number of manuscripts. Her character-driven historical fiction grips readers' emotions and surprises them with unexpected twists. A full-time author with a passion for genealogy, she resides near the beautiful Southern city of Savannah, Georgia, but studied in the magnificent Pacific Northwest at Bastyr University, where she earned a doctorate in naturopathic medicine-and thus her characters are often found swallowing decoctions or slathering on herbal salves. Her narratives have appeared in local anthologies, and she was awarded first place in the Savannah Authors 2017 Short Story Contest.
SPECIAL ADVERTISING SECTION
CATALOG FICTION
73
Truth and Other Lies.
Megan Barnes' life is in free fall. After losing both her job as a reporter and her boyfriend in the same day, she retreats to Chicago and moves in with Helen, her over-protective mother. Before long, the two are clashing over everything from pro-choice to #MeToo, not to mention Helen's run for U.S. Congress, which puts Megan's career on hold until after the election.
Desperate to reboot her life, Megan gets her chance when an altercation at a campus rally brings her face-to-face with Pulitzer Prize-winning journalist Jocelyn Jones, who offers her a job on her PR team. Before long, Megan is pulled into the heady world of fame and glamour her charismatic new mentor represents.
Until an anonymous tweet brings it all crashing down. To salvage Jocelyn's reputation, Megan must locate the online troll and expose the lies. But when the trail leads to blackmail, and circles back to her own mother, Megan realizes if she pulls any harder on this thread, what should have been the scoop of her career could unravel into a tabloid nightmare.
ABOUT THE AUTHOR
MAGGIE SMITH
Maggie Smith loves a challenge. In a career that's included work as a journalist, a psychologist, and the founder of a national art consulting company, in 2022 she added published author to her resume with the release of her debut novel, Truth and Other Lies, released by Ten16 Press. She makes her home in Milwaukee, WI with her husband Scott and her aging, but adorable Sheltie.
FICTION SPECIAL ADVERTISING
CATALOG
SECTION
FEBRUARY / MARCH 2023 74
Never miss an issue! SIGN UP FOR A FREE SUBSCRIPTION TO SHELF UNBOUND MAGAZINE. SUBSCRIBE 75
Summer Tour: Interesting Bookstores to Visit Across The Globe
BY MICHELE MATHEWS
Summer brings about many fun things, and traveling is one of them. I don't travel near as much as I'd like, but when I do, visiting bookstores is on the top of my list. More importantly, I enjoy the interesting bookstores, the ones that have something unique about them whether it's the history of the shop or the shop itself.
Whether you travel within the United States or overseas this summer, let's take a quick trip about the globe and see what interesting bookstores we can find in the various parts of the world.
We're leaving New York City and heading to Europe first where you'll find several bookstores in a few different countries. We'll start in the northern part of the continent and move our way south
FEATURE
FEBRUARY / MARCH 2023 76
First stop, Europe
Honesty Bookshop, Hay-on-Wye, Wales
The little town of Hay-on-Wye hosts a literary festival each year and is home to 40 bookstores. The one that stands out the most is the Honesty Bookshop, which has had various changes since it started back in the 1960s. The books are outside on shelves, and just like its name, it's all based on honesty. You pay for your books by dropping the money in a box.
Shakespeare and Company, Paris, France
Sylvia Beach opened the first store in 1919, and it was the hangout for famous authors like James Joyce, Ernest Hemingway, and Ezra Pound. During World War II, it was forced closed when Paris was occupied. When the store reopened in 1951, it became a favorite among readers because of its selection.
Dominicanen Bookstore, Maastricht, Holland
Beginning as a 13th century church, Napoleon Bonaparte turned it into storage space in the late 1700s. Eventually, he abandoned the property, and it became a place where bikes were stashed. In 2005, the architecture firm Merkx + Girod returned the building to its original look and created the bookstore where you can enjoy plenty of books and a café.
FEATURE CONTINUED
77
Libreria Acqua Alta, Venice, Italy
Venice is known for its waterways, but it also has a floating bookstore. In 2004, Luigi Frizzo founded the shop, and he created the shop in a way that the books float. How did he do this? He keeps the books in bathtubs, plastic bins, rowboats, and one full-size gondola. When Venice's famous periodic high water happens, the books will float in whatever they're in and stay safe.
Asia
Now that we've finished touring Europe, let's head to Asia and see what bookstores we can find there. It looks like we'll be all over the continent, starting in Israel.
Sefer Ve Sefel, Jerusalem, Israel
Opened in the 1980s, Sefer Ve Sefel was considered one of the original bookstore and café combinations of that time. The café is no longer there, but after Michael and Zia Rose bought it in 2015, this bookstore continues to thrive in Jerusalem and is popular with both tourists and locals.
The Bookworm, Beijing, China
The Bookworm is not only a bookstore, but it's also a library. It has over 16,000 titles in its library. It also has a café and plenty of places to sit and either chat with friends or read a book.
Hikayat, Penang, Malaysia
Hikayat is located in Penang, a creative island in Malaysia. Editor and writer
Gareth Richards runs the two-year-old bookshop, which is on the first floor along with a café. Upstairs, visitors will find an art room.
FEATURE CONTINUED
FEBRUARY / MARCH 2023 78
Australia
Those were interesting bookstores, but I wonder what Australia has. So, we'll fly south to the smallest continent. While I'm not a food and wine expert, I see there is a shop I might want to visit so I can learn more about those topics.
heading to South America now. I've got my eye on one in Buenos Aires that looks unique.
Books for Cooks, Melbourne
Back in 1983, this bookstore opened and started as a part-time venture. In 2000, it started its journey to the store it is today. Owned by cooks Tim and Amanda, this bookshop is more for those readers who want to learn and read about cooking, wines, and anything else about food and drinks. They have both used and new books.
South America
We're circling around the globe and
El Ateneo Grand Splendid, Buenos Aires
Did you know that Buenos Aires is the bookshop capital of the world?
I didn't, and the most famous one is called El Ateneo Grand Splendid.
Back in 1919, this bookstore opened as a theater and became famous for its tango performances. Ten years later, it became a cinema, and in 2000, it was to be demolished. However, Grupo Ilhsa
FEATURE CONTINUED
79
bought it and opened it as the bookstore that we can visit today.
North America
Now we're heading back to North America and where our trip around the globe started. Let's roam through Mexico on our way north to California where we'll find a couple of interesting bookstores. Then we'll head across country to a couple on the east coast.
It's also decorated with plenty of plants to give you a cozy feeling as you wander the bookstore.
Cafebrería El Péndulo, Mexico City
Even though this is a chain in Mexico City, the bookstore in Zona Rosa, a neighborhood in the city, has a great selection of English books. It also has plenty of events, such as live music and poetry readings, as well as a piano bar.
Bart's Books, Ojai, California
Back in 1964, owner Richard Bartinsale ran out of room in his house for his books, so he started putting them on shelves where people passing by saw them and left him money in a coffee can. Today, he runs this unique openair bookshop with mostly used books, complete with couches and coffee.
The Last Bookstore, Los Angeles
Back in 2005, this bookstore was started
FEATURE CONTINUED
FEBRUARY / MARCH 2023 80
in a loft when other independent bookstores were closing. It has since grown and is now housed in a 22,000 square feet space. Whether you're looking for vinyl records, graphic novels, or arts and crafts, you'll find all of that as well as over 250,000 new and used books on two floors.
bookstores in Canada have closed. It maintains its 1990s décor and sells both new and used books. While you shop, you can also enjoy the café and get your favorite drinks and sweet treats.
Brattle Bookshop, Boston
Established in 1825 and located in downtown Boston, this bookstore is one of the oldest ones in the U.S. The shop buys and sells used magazines and books as well as rare books and houses over 250,000 items on three floors.
Trident Booksellers and Café, Halifax, Nova Scotia
Since 1992, this bookstore has remained open while other independent
We're flying back to New York City where we began our journey of some interesting bookstores around the world.
I know there are plenty more to find, but these are the ones I found the most unique. Which one will you visit first?
FEATURE CONTINUED
 81
Seeking Justice: An Interview with Meredith Doench
BY CHRISTINA CONSOLINON
MEREDITH DOENCH
Crime writer Meredith Doench is an awardwinning author of four novels: The Luce Hansen series, which includes Crossed, Forsaken Trust, and Deadeye, and the stand alone novel, Whereabouts Unknown. Doench's work has been lauded for exploring the human psyche, providing psychological twists, and balancing character and plot. Here, she reveals how horror influenced her writing, why she's fascinated with justice, how the community can help queer books and writers, and what literary citizenship means to her.
INTERVIEW
FEBRUARY / MARCH 2023 82
WHEREABOUTS UNKNOWN
Theodora Madsen has everything she's ever hoped for: a distinguished career as a homicide detective with the Dayton Police Department, a woman she loves, and a baby on the way.
While Theo and Bree nest and plan for their family's future, two sixteen-year-old Ohio girls vanish—one from Dayton and the other from Brecksville—each leaving behind a bloody handprint. Then a routine interview goes disastrously wrong, and Theo's injured and facing a lengthy recovery.
With her professional future uncertain and the cases growing cold, Theo scrambles to piece together the links between the girls. But the clock is ticking and time is running out.
INTERVIEW...
WITH A BACKGROUND IN SPECIAL EDUCATION AND ENGLISH/CREATIVE WRITING, YOU'RE CURRENTLY AN INSTRUCTOR AT UNIVERSITY OF DAYTON. DID YOU ALWAYS WANT TO BE A TEACHER? DOES YOUR CLASSROOM EXPERIENCE INFORM YOUR WRITING?
MD: I caught the teaching bug early, for sure. My mom was a fourth-grade teacher for many years, and she strongly encouraged me to go into teaching. I taught high school students in a special needs classroom for three years. I wasn't writing thrillers at that point in my life, but I was writing short stories and essays. I wasn't satisfied with my teaching job for many reasons, but mostly because I wanted to do something with writing. A good friend encouraged me to go back to school for my master's degree and explore the writing field. Once I found creative writing classes/programs at the graduate level, I was hooked. However, I wasn't ready to let teaching go. I taught as a graduate student and then decided to teach at the college level. I'm going on my twelfth year as a lecturer of creative
INTERVIEW CONTINUED
83
writing, literature, and composition at the University of Dayton.
I have learned through my teaching that there is still so much I need to learn about writing. One of the reasons I love creative writing is because there are countless ways to do it "right." I am fascinated by the multitudes of ways to combine language and the different points of view my students bring to their writing. I work hard to create an environment in my classes where we all learn from one another.
There is always room for improvement in my own writing. One of the best ways for me to grow as a writer is to engage in discussions about craft with others. I love to go to writing conferences and workshops for this very reason, and I always leave with a few new ideas of how to approach my own writing projects. There is so much reciprocity in the classroom workshop environment and fluctuations of roles between teacher and student—I love that! I cannot imagine my writing life without the involvement of teaching.
YOUR NOVELS ARE LISTED AS CRIME THRILLERS, BUT YOU'VE STATED YOU WANTED TO BE A HORROR WRITER SINCE THE EIGHTH GRADE, AND THAT LUCE HANSEN, THE MAIN CHARACTER IN YOUR EPONYMOUS SERIES, IS
"BUILT ON THE HORROR GENRE." THERE'S SORT OF A FINE LINE BETWEEN CRIME THRILLERS AND HORROR, NO? HAVE YOU CONSIDERED WRITING HORROR?  MD: Absolutely! In fact, I set out to be a horror writer and it wasn't until graduate school that I found my love of crime fiction and thrillers. I realized what drew me to horror was some of the beloved tropes of the genre like the final girl, twist endings, and the outsider who finally gets some glory. Somewhere along the path, I realized my stories were really about issues of justice and how that looks for different people. I started to play around with characters who solved crimes for a living. The more crime stories I wrote, everything clicked into place. My writing still has some very dark and grisly elements to it. And I bet I'll never get over my love of reading and watching horror. My writing these past ten years, though, has really fallen on the side of the crime thriller.
THANKS FOR BRINGING UP THE TOPIC OF JUSTICE! IN A LOVELY INTERVIEW WITH AUTHOR ERIN FLANAGAN, YOU MENTIONED THAT WHAT YOU REALLY WANT TO WRITE ABOUT IS "WHO GETS [JUSTICE], HOW IT'S METERED OUT, AND WHY." CAN YOU TELL US A LITTLE MORE ABOUT WHY THAT MIGHT BE THE CASE?
MD: Yes, this is my fascination with
INTERVIEW CONTINUED
FEBRUARY / MARCH 2023 84
justice. I spend a lot of time thinking about how it works and doesn't work in our society. There seems to be a system that meters out justice in a manner that's meant to quiet the outrage of society. I see it as a type of band-aid, an attempt to halt some of the pain in the moment. But the true meaning behind justice is for those who hurt to find peace. I'm not sure our system is set up to take on an idea as big as peace.
Along with writing crime fiction, I also teach an American Prison Literature and Culture class where we try to hash out why certain people have gotten the sentences they have and why others who have committed similar crimes have not. So much of this has to do with race and class in our culture. So many people in our culture are overlooked by falling into the category of "the other." One of my favorite parts of writing fictionalized crime is the allowance it gives for a glimpse into the multiple ways justice is delivered whether that be in a court room, within community, or through karmic means.
THE MIDWEST IS YOUR SETTING OF CHOICE AT THE MOMENT. WHAT ABOUT THE MIDWEST MAKES IT A GREAT PLACE TO SET STORIES? DO YOU FIND ANY CHALLENGES WITH SETTING THE BOOKS THERE?
MD: I really love writing about the
areas where I live. My latest novel, Whereabouts Unknown, was set in Dayton, my hometown and current residence. There's something about the familiarity of it, these locations where I've spent so much time at various stages of my life. Dayton is its own comeback story, or at least one in the making, and that atmosphere really gives me a lot to work with in my writing. I also love that sneaking suspicion I sometimes get when I'm out and about that I might just run into one of my characters!
My thriller series that featured Ohio Bureau of Criminal Investigation agent Luce Hansen were all set in made-up towns in Southeast Ohio. I've long been fascinated with that area of Ohio, nestled along the edge of the Appalachian Mountains. With its rolling hills and thick forest, it's the perfect Americana backdrop for a crime novel. There are so many places like this in the Midwest where the inherent wild beauty runs deep. However, what you see isn't always what you get. I love to play with those mysteries of the land, the people, and the history of the area. These are where secrets live. There's a ruggedness to the Midwest that really suits my sense of story and characters.
I LOVE YOUR CHARACTERS! THEY ARE STRONG, INDEPENDENT WOMEN WHO OFTEN GIVE VOICE TO THE
INTERVIEW CONTINUED
85
UNDERDOG. THEODORA MADSEN, FROM WHEREABOUTS UNKNOWN, IS ESPECIALLY RELATABLE AND REAL. WHO INSPIRES THESE CHARACTERS? AND HOW DO YOU MAKE SURE THEY ALL HAVE DISTINCT VOICES?
MD: Thank you! It took a long time for me to fully hear Theo's voice, but once she came through, it was like I'd known her my whole life. It really happened that way for my protagonist from the Luce Hansen series as well. Honestly, the major inspiration for these characters comes from my own frustration in finding books to read as a teen and young adult about lesbians or women struggling with their sexuality. I was looking for these representations of LGBTQIA in books and couldn't find them. The sad thing is there were people writing these novels and stories! Granted, I should have asked a librarian for help, but the stigma of LGBTQIA, particularly for teens, kept me (and countless others) feeling isolated and alone. I've always loved the quote from Beverly Cleary: If you don't see the book you want on the shelves, write it. Well, that's basically what I did and continue to do. I never want another teen/young adult to struggle in finding representations of themselves in literature.
LET'S DIG A LITTLE DEEPER INTO THESE CHARACTERS.
IN ADDITION TO LESBIAN PROTAGONISTS, YOU ALSO SHOWCASE CHARACTERS ON THE DISABILITY SPECTRUM. DID YOU SET OUT TO WRITE THESE CHARACTERS SPECIFICALLY, OR DID THEY ARISE ORGANICALLY? HOW DO YOU DETERMINE WHICH CHARACTERISTICS WILL SUIT THE STORY BEST?
MD: I want to say these characters are organic and grow out of my writing, however, many of my leading characters struggle with many of the same issues I have. I have always turned to writing to work through personal struggles and was an avid journaler through high school and college. In the last ten years or so, my journaling has laxed, and the work on my novels is where a lot of the characters show up. For example, Annabelle in Whereabouts Unknown is a sixteen-year-old who was diagnosed with lupus as a child. In the novel, she struggles with the autoimmune disease and is without her medication for some time, and much of Annabelle's narrative is about her inability to control her body. A few years before I started that novel, I was diagnosed with my own autoimmune disease and was in the throes of dealing with my own symptoms and frustrations regarding medications and my body's response to them. So much of my own journey went into Annabelle's story.
So many of my characters have fallen
INTERVIEW CONTINUED
FEBRUARY / MARCH 2023 86
somewhere on the disability spectrum in one way or another. I often consider how my degree in Special Education has influenced that. One of the greatest things I learned from my studies in Special Education is the resilience of people. There's nothing like the sheer determination to succeed despite personal limitations. The best gift my degree gave me was the tool to meet people exactly where they are, not where they hope to be or where I would like them to be—exactly as they are. These skills have helped me so much in my writing and the building of strong, believable characters. It has helped me to see that what others consider to be a character's flaw or hardship can become a character's greatest strength. It's also helped me to have more compassion and patience, not just with my characters, but with the people and animals in my life.
THE PUBLISHING INDUSTRY HAS MADE HEADWAY IN TERMS OF DIVERSITY AND REPRESENTATION ACROSS THE BOARD, THANKS IN PART TO WORK LIKE YOURS. IT'S PARAMOUNT FOR READERS AND THE COMMUNITY AT LARGE TO SUPPORT AN AUTHOR'S WORK, SO HOW CAN WE HELP MAKE EVEN GREATER STRIDES IN THE PUBLISHING INDUSTRY?
MD: It's a really difficult time right now for LGBTQIA people and books.
We need these voices and stories now more than ever. There are those who are actively trying to silence our voices and erase our experience from existence. There have also been considerable attempts to "erase" trans people in our country through health care and legislation. The banned books effort this year was stronger than it's ever been and fueled by Florida's Don't Say Gay ruling. With so much going against the LGBTQIA community, our voices are still rising. I applaud the smaller presses who have been steadfast in their support through publishing queer books. We have seen larger presses in the last few years stepping up as well.
One change that would help queer books and writers is working against the notion that we are somehow separate or different from other writers/books in our genres. Many times, LGBTQIA books in stores are kept in their own section, usually in some far corner. Additionally, at many conferences and book events, LGBTQIA writers are designated to a panel all our own. This type of separation sends the message our work is somehow different and only to be displayed for the Pride month of June. Integration of our work with other categories and writers could help to fade these lines of separation.
WRITING DOESN'T HAPPEN IN A VACUUM, AND ESTABLISHING
INTERVIEW CONTINUED
87
COMMUNITY AND EMBRACING LITERARY CITIZENSHIP IS IMPORTANT. WHAT DOES "LITERARY CITIZENSHIP" MEAN TO YOU, AND HOW DO YOU BALANCE LITERARY CITIZENSHIP WITH MAKING THE TIME FOR YOU AND YOUR OWN WORK?
MD: Literary citizenship is extremely important to me, as I believe writers do not write alone. No matter how much we love the image of the lone writer blazing away into the wee hours of the morning on a manuscript, we're always bouncing ideas off one another, whether that is through simply reading another writer's book or having conversations about characters and plot development. In other words, literary citizenship means community to me. One of the most important ways I engage with literary citizenship is in the classroom. I try to introduce my students to new writers and genres as well as through the suggestions of readings that might enhance their own writing. I've found that most of my students have never attended a live book event or a writing workshop. This breaks my heart because I love the level of engagement and excitement at these events, and I want my students to experience them too. I'm usually emailing students with opportunities, live or online, and encouraging them to dip into the writing community a little further. Outside of the classroom, I do
my best to support authors whose work I really love and have served on the board of Mystery Writers of America Midwest Chapter for nearly four years. I've also been involved with the development of the Queer Crime Writers organization. This work can be hard to balance with my own writing, but I've always found it well worth my time. I have so much to learn about writing and publishing, and I've found my engagement with other authors has helped me to feel like we are in this together rather than alone.
WHAT'S NEXT FOR YOU?
MD: I've been writing some creative nonfiction about a true crime case in Ohio as well as working with a few new characters that I hope will make their way into a novel or two soon. Whereabouts Unknown released in March 2022, and I've really been taking my time to determine what I want to write next. It's important to me that whatever comes next feels right and not rushed. It can be hard to trust the process and be patient, but I've found it's worth it in the end.
INTERVIEW CONTINUED
 FEBRUARY / MARCH 2023 88
Never miss an issue! SIGN UP FOR A FREE SUBSCRIPTION TO SHELF UNBOUND MAGAZINE. SUBSCRIBE 89
Adjusting to the Unexpected: An Interview with Christina Berry
BY CHRISTINA CONSOLINON
Romance author Christina Berry started her publishing career at a small press before switching to independently publishing her own novels. The books in her Lost in Austin series have garnered multiple awards, and she was months away from releasing her third book in the series, After the Storm, when the unexpected occurred: she suffered a stroke. Berry didn't let that stop her, though. In this interview, she talks a little about the romance genre, what sex-positive romance is, and how she's had to adjust her approach since the stroke.
INTERVIEW
CHRISTINA BERRY
FEBRUARY / MARCH 2023 90
CAN YOU GIVE US A FEW DETAILS ON WHO YOU ARE AND HOW YOU CAME TO BE A WRITER? WHEN DID YOU FIRST START WRITING AND WHY?
CHRISTINA BERRY: I'm an awardwinning author of smart, smutty romance novels, and I've been writing in one form or another since I was a kid. I first got into writing because I'm a visual person who can't draw. The only way for me to illustrate the images in my head was to describe them with my words, so I was writing fiction as early as grade school.
Throughout high school and college, I focused on studying history, so most of my writing was nonfiction essays. But a trip to Hungary in my twenties reawakened my creative-writing gene. The beauty of Budapest inspired me deeply, not only with what I could see with my eyes and capture with a camera but also with how that city made me feel. When I returned home, I started writing it all down using fictional characters. Nothing ever came of that Hungary piece, but the genie was out of the bottle, and I've been writing moody romance ever since.
WHAT ABOUT THE CONTEMPORARY ROMANCE
GENRE COMPELS YOU TO WRITE IT? WOULD YOU EVER CONSIDER WRITING ANY OTHER GENRE?
CB: To be considered "Romance" (with a capital "R"), a story must meet two simple criteria: 1) it features a love story, and 2) ends happily. I just happen to enjoy reading and writing love stories with happy endings, so I naturally gravitate toward the genre.
Within the romance universe, there's a great deal of variety when it comes to subgenres and tropes. I've written a few paranormal romance short stories, and I've finished the first draft of a sci-fi romance.
Someday, I'll branch into more areas of Romancelandia, I'm sure, but I'm not particularly interested in exploring outside of romance. For me, love and happy endings are always in the equation.
YOUR NOVELS ARE "SEXPOSITIVE" BOOKS. WHAT DOES THAT MEAN, AND WHY IS WRITING SEX-POSITIVE STORIES IMPORTANT TO YOU?
CB: There are a lot of long-held taboos in our culture pertaining to sex, particularly when it comes to women. Even today,
INTERVIEW CONTINUED
91
women are often "slut shamed" for feeling and expressing their sexual desires. I take a negative view of all that.
To me, writing sex-positivity means writing about healthy sexual relationships where characters are not shamed for exploring or expressing their sexual wants and needs. Characters communicate clearly, both in and out of bed. Sex scenes only progress when consent is enthusiastically given. It's important to me to write sex scenes that titillate without crossing the line into dubious consent or risky behavior. And birthcontrol/STI safety is always explicitly addressed in the scenes.
HEARTS ON FIRE FEATURES
A FIREFIGHTER WHO FALLS IN LOVE WITH A WOMAN LIVING WITH PTSD, AND YOUR NOVELLA, WISHING UPON A STAR, INVOLVES
A BILLIONAIRE SPACETECHNOLOGY MOGUL WHO FALLS IN LOVE WITH A HOLLYWOOD STAR. WHERE DO YOU FIND INSPIRATION FOR THESE WILDLY DIFFERENT CHARACTERS? HOW MUCH
RESEARCH DO YOU DO TO PORTRAY CHARACTERS AUTHENTICALLY?
CB: Firefighters and billionaires are extremely popular character tropes in romance. For me, I like the idea of taking those tropes and playing with them a bit. So my firefighter in Hearts on Fire is also a cat dad who babies his three-legged cat a lot. I got the idea from that charity calendar in Australia where firefighters pose with kittens. So cute…and sexy.
In Wishing Upon a Star, the billionaire tech mogul is the female character, while the male character is the Hollywood heartthrob. I loved the idea of turning that trope on its head, and a lot of readers have commented that they enjoyed the role reversal. I live for that sort of feedback.
It also means a lot to hear that readers appreciate the authenticity of my stories and characters. For that, I do a lot of research and ask tons of questions. When I wrote After the Storm, which is set in the aftermath of Hurricane Katrina, I read many articles and watched hours of historic Weather Channel footage to get the minute-by-minute details
INTERVIEW CONTINUED
FEBRUARY / MARCH 2023 92
right. Additionally, I reached out to several Katrina survivors who were so wonderfully helpful in providing feedback on my portrayal of that experience. For Hearts on Fire, I enlisted the help of several friends and acquaintances at Austin Fire Department to help me perfect the wildland fire, house fire, and swift-water rescue scenes.
The sequel to Hearts on Fire, called Hearts to Mend, is a work in progress about a man who suffers a stroke. For that, I'm using my own lived experience. But I'll also enlist the help of my favorite nurse in the world. She's a big fan of my books, and she's assisted me with every medical scene I've ever written. She happens to be a Stroke Coordinator at one of the hospital systems here in Austin, so this book will be as accurate as can be with her help.
to me. I have no family history or any of the usual health conditions that lead to stroke (such as high cholesterol or blood pressure). Yet, I had a stroke. It was the scariest experience of my life, mostly because it was so confusing.
I went from being absolutely fine to absolutely not fine in mere seconds. I couldn't focus my eyes, I couldn't think clearly, my legs and hands weren't working correctly, and all of that preceded the absolute worst headache in the entire history of headaches. That night, I tried to remember the ways that you detect a stroke, which I'd learned from a scene I saw on House many years ago. But my speech was fine, and my arms and face didn't droop asymmetrically, so in my mind I passed the stroke test. I went with migraine as my self-diagnosis and tried to go back to sleep.
It was several days before I went to the doctor, complaining about persistent migraine pain. She gave me something for the pain and referred me for an MRI, and that's when I learned the truth: I'd had a stroke.
CB: Yeah, it came as a complete shock
Discovering I'd had a stroke was a seismic shift in my understanding of my body
INTERVIEW CONTINUED
LET'S TALK ABOUT THE STROKE, WHICH IS SOMETHING WE DON'T ALWAYS EQUATE WITH SOMEONE SO YOUNG (YOU'RE IN YOUR FORTIES). TELL US A LITTLE BIT ABOUT WHAT HAPPENED.
93
and my health, and it has started a long journey to understand what happened, why it happened, and to fix the problem so it never happens again. After countless tests, scans, and consultations, my cardiologist determined I had a common birth defect called an atrial septal defect (ASD), which just means I've had a 12mm hole in my heart my entire life and only learned about it when a clot passed through the hole and went to my brain.
It's been eight months since my stroke. The hole in my heart is now mended; the residual numbness on my left side is minimal; and my brain is finding new neural pathways to connect with the parts of my mind that were lost for a while there. All in all, I was very lucky. It could have been so much worse.
OF COURSE, RECOVERY FROM A STROKE CAN BE LONG. WHAT DOES RECOVERY LOOK LIKE FOR YOU? WHAT'S BEEN THE MOST FRUSTRATING ASPECT OF THE RECOVERY PROCESS?
CB: Mostly, the stroke affected my mind more than my body, so my neurologist referred me to a speech pathologist. I didn't think I needed a "speech" pathologist
because I could speak fine. But I learned that her role involved the full cognitive process, of which speech was just a small part. And it turned out that I did have some speech problems, mostly with word recall. Seeing Liz, my speech pathologist, helped a lot with that, as did my newfound affection for Wordle.
Liz also helped me recognize when I was becoming overwhelmed and confused by too many stimuli. I called it "getting tangled up," and it turns out that was one of my biggest hurdles to overcome. Multitasking was a huge challenge for me, and even ordinary tasks like scheduling appointments was nearly impossible. Once, I showed up an hour and a half early for an appointment because I couldn't get times, dates, and schedules right in my head.
To graduate from my speech pathology sessions, I had to learn to pause, detangle my thoughts, and then achieve the goal. And I did. I remember my "graduation test" was to multitask between a word task and a math task while a podcast played on Liz's phone in the background. When I could manage that without any wrong answers, I graduated.
Now, I'm almost back to my old self. The
INTERVIEW CONTINUED
FEBRUARY / MARCH 2023 94
one lingering issue is a frustrating case of writer's block (at least where my fiction writing is concerned). Since the stroke, it seems the one thing I can write about without any trouble is the stroke. So I've decided to incorporate a stroke into my romance in order to bust through the block. And it appears to be working, I have six chapters written on Hearts to Mend, and I haven't even gotten to the stroke scene yet.
DOES YOUR WRITING PROCESS DIFFER NOW, AND IF SO, HOW?
CB: Since the stroke, I'm more easily exhausted, so I don't usually have the energy at the end of the day to write. But if I tackle writing first thing in the morning, it gets done, and it's an encouraging start to my days.
Additionally, with past books, I would write by the seat of my pants, creating the characters and putting them into my imaginary world to see what they'd do. More than once, my characters surprised me, and stories that started one place ended up somewhere completely unexpected.
Now, though, I'm plotting out every scene of my current work in progress. I know where it's going to go this time, so my job
is to outline the journey, then flesh it out with details and pretty prose. It's sort of amazing, to feel some semblance of control over my story and characters. I'm curious to see if this will continue past this current "stroke romance" project or not.
YOU'VE BEEN ESPECIALLY OPEN ABOUT THE STROKE AND YOUR RECOVERY ON SOCIAL MEDIA. WHAT ARE THE THREE MOST IMPORTANT ITEMS YOU WANT PEOPLE TO KNOW?
CB: First and foremost, listen to your body. If you're receiving signals that something is wrong, listen. Don't talk yourself out of going to the hospital or the doctor because it's "probably nothing."
Secondly, be kind to yourself. Recovery is frustrating, depressing, slow, and difficult. Allow yourself the time, space, and patience to heal. Plus, get plenty of sleep. That's been huge for me.
And lastly, work with what you have. For me, I'm a writer who was having trouble with word recall. So I started playing Wordle and crossword games on my phone. It helped me reconnect those neural pathways with the word bank in my head.
INTERVIEW CONTINUED
95
Additionally, I struggled to type for a while, so I used speech-to-text software on my phone when I wanted to write. I would speak the dialogue and story to my phone, then download those files to my computer, and suddenly I had thousands of words on the page that I didn't have to type. That helped me a great deal as I first got back to writing.
With patience and concerted effort, my hope is I'll have my "stroke romance," Hearts to Mend, ready to publish by the one-year anniversary of my stroke. I like the symbolism of that: overcoming the effects of my stroke with the stroke of a pen. Now, I just have to make it happen. 
HEARTS ON FIRE
The plan was to fix up the farmhouse, sell it, and leave. Then I met Drew.
I'm a stranger in this place. When a car accident nearly killed me, Mom took me away from my father and this small Texas town. Now, I'm back, and while everyone seems to remember the little girl I used to be, no one knows the woman I've become. That's okay. I'm not here to reconnect or fix what's broken between my father and me. I'm just here to fix the house I inherited, sell it, and go.
Then I meet Bodhi, the three-legged cat who keeps peeing on my porch. And along comes Bodhi's dad, Drew, the protective firefighter with rough hands, a smooth smile, and such a dirty mouth.
Drew has a reputation for rescuing strays. Is that what I am, another stray for him to rescue? Or this time, maybe I'll be the rescuer.
INTERVIEW CONTINUED
FEBRUARY / MARCH 2023 96
Never miss an issue! SIGN UP FOR A FREE SUBSCRIPTION TO SHELF UNBOUND MAGAZINE. SUBSCRIBE 97
Interview: The Long Writing Career of Joyce Maynard
BY MICHELE MATHEWS
INTERVIEW
FEBRUARY / MARCH 2023 98
Released in May, The Bird Hotel is Joyce Maynard's newest novel. Her career has spanned over 50 years, starting when she was in her teens. I wanted to learn more about her long writing career so I asked her a few questions about it as well as The Bird Hotel.
AT 13, YOU WERE PUBLISHING YOUR STORIES IN MAGAZINES, AND AT 18, YOU GAINED NATIONAL ATTENTION IN THE NEW YORK TIMES WITH YOUR COVER STORY CALLED "AN EIGHTEEN YEAR OLD LOOKS BACK ON LIFE." SHARE YOUR THOUGHTS ABOUT BEING PUBLISHED AT A YOUNG AGE.
JM: It was a pretty intoxicating experience, at 18, to find myself on the cover of a major magazine, and sought out by editors and publishers. Looking back now, I recognize what I could not have understood at the time: that a young writer would do best to develop her talent slowly, not under the gaze of so much public scrutiny.
YOUR CAREER HAS SPANNED OVER 50 YEARS. WHAT ARE TWO OR THREE HIGHLIGHTS THAT STAND OUT THE MOST TO YOU?
JM: THREE? Oh boy. Here goes. One would be writing my first novel—Baby Love. Not the publishing part. I'm talking about the sheer joy of discovering that I
could write a novel, and losing myself so utterly in that story (I was 26 at the time) that I lost all sense of time. Until then, the stories I told were all about things that actually happened to me. The experience of writing fiction—telling a story that came from my imagination—set me on fire.
Next I'll choose the moment–age 43 now—when I gave myself permission to tell a story I'd kept secret for 25 years, concerning what happened to me when I was 18 years old. I'm speaking of my relationship with J.D. Salinger, who wrote me a letter (many letters, eventually) and encouraged me to leave college and move in with him. Forbidden by him to ever speak of this, after he dismissed me from his life a year later, I had never spoken of Salinger. Then, when my oldest child—my daughter, Audrey—turned 18, I suddenly saw what had taken place through a completely different lens and gave myself permission to tell my story. That became my memoir, At Home in the World. The consequences of publishing that book were vast and devastating. In the preMe Too world, I was almost universally condemned for revealing an aspect of a great author's life that didn't support the narrative around him. The cost to my career was high. But I have never regretted telling that story. And in the
INTERVIEW CONTINUED
99
years since the publication of At Home in the World, I've heard from hundreds of women who were helped by that story. Number three: I think that would be the years I got to write my syndicated newspaper column, Domestic Affairs, about my life and the life of my family when my children were small. I loved how that column connected me with women all around the country, raising children, carrying on in their marriages, and trying at the same time to be true to themselves.
YOU'VE HAD TWO OF YOUR BOOKS, TO DIE FOR AND LABOR DAY, ADAPTED FOR FILM. FOR LABOR DAY, YOU TAUGHT ACTORS, JOSH BROLIN AND KATE WINSLET, HOW TO BAKE A PIE. WHAT WAS THAT EXPERIENCE LIKE?
JM: Oh, you know…Teaching an utterly irresistible movie star how to make a pie is kind of so-so….
Just kidding. I loved Josh. And I loved it that he really cared about making that pie well (and learned how to do it). The scene in Labor Day where Josh makes peach pie has to be the sexiest pie scene in film history.
ONE OF YOUR MOST RECENT NOVELS, COUNT THE WAYS, WON
THE GRAND PRIX LITERAIRE AWARD IN FRANCE. HOW DID YOU FEEL WHEN YOU FOUND OUT YOU HAD WON THIS PRESTIGIOUS AWARD?
JM: That was a hugely gratifying moment, of course. I'll be honest, here. As many years have passed since I published At Home in the World, and as many novels as I've published since then, in my own country, I am still identified, way too often, as "that writer who slept with Salinger." It was in a whole different country, on the other side of the ocean, that I first felt I'd been truly respected as a writer.
IN YOUR NEWEST RELEASE, THE BIRD HOTEL, THE MAIN CHARACTER IRENE TRAVELS TO CENTRAL AMERICA AND ASSIMILATES INTO THE CULTURE. WHAT RESEARCH DID YOU DO TO MAKE SURE THE NOVEL SHOWED THE AUTHENTICITY OF THE CULTURE?
JM: No research was necessary. I've spent a significant portion of my time in Guatemala, where I have a house, for the last 23 years. The country in which I set The Bird Hotel is a fictional one, but I know enough about life in a small Mayan indigenous village on a lake—overlooking a volcano—that I felt very comfortable in that territory.
INTERVIEW FEBRUARY / MARCH 2023 100
LA LLORONA, THE SETTING OF THE BIRD HOTEL, SOUNDS A BIT LIKE YOUR OWN HOME, CASA PALOMA. WHERE DO YOU GET YOUR INSPIRATION FOR THE SETTINGS IN YOUR NOVELS?
JM: One of the great gifts of my life has been the relationships I've formed with women who read my books and attend the memoir writing workshops I've hosted—in Guatemala and elsewhere— for over 25 years now. I carry with me the stories hundreds of women have entrusted to me. I don't divulge anyone's secrets or appropriate their experiences. But my greatest education has come from women who tell me their stories.
WHAT WAS YOUR FAVORITE PART ABOUT WRITING THE BIRD HOTEL?
JM: Without giving anything away, I'll just say it has to do with a moment in which my central character—a woman who has lived on the shores of a vast and beautiful lake for many years, but is terrified of swimming—finds herself compelled to dive in and the reason why she does it.
ARE YOU CURRENTLY WORKING ON A NEW BOOK? IF SO, COULD YOU SHARE A BIT ABOUT IT AND ITS RELEASE DATE?
JM: I just finished writing the sequel to
my novel, Count the Ways—titled How the Light Gets In. That one will come out next year. I can't wait to share this next part of the story with the readers who keep writing to say they're longing to know what happens next. 
After a childhood filled with heartbreak, Irene, a talented artist, finds herself in a small Central American village where she checks into a beautiful but decaying lakefront hotel called La Llorona at the base of a volcano.
The Bird Hotel tells the story of this young American who, after suffering tragedy, restores and runs La Llorona. Along the way we meet a rich assortment of characters who live in the village or come to stay at the hotel. With a mystery at its center and filled with warmth, drama, romance, humor, pop culture, and a little magical realism, The Bird Hotel has all the hallmarks of a Joyce Maynard novel that have made her a leading voice of her generation.
INTERVIEW CONTINUED 101
SMALL PRESS REVIEWS
The New Apprentice by Michael Weber.
Review by Jenna Zerbel | Ten16 Press
Wesley Derek Fulstarter fancies himself a hero, but his quick temper keeps him in hot water. A street fight with the neighborhood bully, Conrad, gets him arrested, landing them both in the stockades on Ploughman's Wharf. From there, Wesley finds himself on a rescue mission involving pirates, ogres, and sorcerers. The New Apprentice follows two timelines—before and after catastrophe strikes the city that Wesley calls home. Protecting his loved ones is a matter of bravery and finding allies in unexpected places…
TEN16 Press, a division of Orange Hat Publishing, housing fiction, non-fiction, YA and poetry books. WWW.ORANGEHATPUBLISHING.COM
Michael Weber's debut novel is a standout in the young adult fantasy genre. This plot-driven novel will keep readers at the edge of their seats between two interwoven timelines. Whether before the flood or after, Wesley's adventures are swift and actionpacked. There is no good time to put this story down, and I mean that in the best way possible. You will need to keep reading once you get started.
One of this book's most impressive feats is the impossibility of guessing where the story is headed. Coming-of-age fantasy is a genre rife with tropes, and although there are still plenty of familiar features in The New Apprentice, Weber manages to put a new spin on how these tales unfold. This book dares to explore the unexpected, and the risk pays off. Journeying with these characters is a perfect
TEN16 PRESS
FEBRUARY / MARCH 2023 102
mix of joyful triumphs and gutwrenching losses.
Of course, an interesting plot would be nothing without a distinct voice. Weber's writing style is the beating heart of this book, vivid in its imagery and emotional punches. The action is cinematically painted into readers' minds, putting you right in the middle of battles with pirates and sorcerers. Summer is the perfect time for reading about larger-thanlife adventures, and this is one you won't want to miss!
Synopsis:
Derek Fulstarter fancies himself a hero, but his quick temper keeps him in hot water. Like this morning, when a street fight with the neighborhood
bully, Conrad, got him arrested, landing both of them in the stockades on Ploughman's Wharf. When they witness the bully's sister, Dani, getting kidnapped, Derek has to make a choice—be the hero he imagines himself to be or let the bully figure things out on his own.
With a little push from a mentor, Derek realizes it's time to put up or shut up. He and Conrad escape the stockade and set off on an adventure with swaggering swordsmen, towering minotaurs, and pirates on the high seas to save the kidnapped children. Along the way, Derek discovers a new friend in Conrad, as well as admiration for Dani, who proves to be much stronger than Derek realized.
Wizards and giants and ogres, oh my! The New Apprentice starts with a bang—literally huge explosions—and keeps the reader on tenterhooks until the very end. Along the way, we are treated to rich world-building, compelling (and colorful) characters, and a fresh take on the hero's journey. With the added bonus of lush artwork and masterful storytelling, this book will stay with you long after you read the final page.."
—Kim Suhr, author of Nothing to Lose
 "
103
RETURN OF PODSTER!
Shelf Media Group's digital magazine about podcasts and podcasters.
FEBRUARY / MARCH 2023 104
Borrowed.
BY VIRGINIA MARSHALL AND HEYRLING OROPEZA
About the Podcast
Brooklyn has so many stories to tell, and a lot of them start at the library. Brooklyn Public Library's flagship podcast, Borrowed, brings you stories that start here and take you somewhere new.
READ THE INTERVIEW ON THE NEXT PAGE.
FIND YOUR NEXT PODCAST
BY CATRINA STADLER
Podster is a column for podcast listeners and serves as a curator for the best of known and unknown podcasts.
BORROWED BY VIRGINIA MARSHALL AND HEYRLING OROPEZA
105
TELL US ABOUT YOURSELF/ SELVES.
Borrowed is produced by a rotating team of library professionals who contribute to the content and sound of each episode. The senior audio producer and creator is Virginia Marshall, and our two longest-running hosts are Adwoa Adusei and Krissa Corbett Cavouras. Fritzi Bodenheimer and Ali Post are two of our newer hosts/producers. As a public library podcast rooted in the borough where we are made, one of our main goals is to help our listeners feel more connected to their community. We also seek to challenge our listeners' notions of the public library, and of Brooklyn, too!
HOW DID YOU GET STARTED WITH THE PODCAST?
Way back in 2018, BPL's Chief Librarian
Nick Higgins, VP of Marketing
Robin Lester Kenton, Press Officer
Fritzi Bodenheimer, and Director of Engagement
Krissa Corbett Cavouras decided BPL needed a flagship podcast to tell the stories of its many branches and communities. They hired Virginia Marshall to create Borrowed, which launched in March 2019. Four years and over 70 episodes later, Borrowed is still making (sound) waves!
HOW WOULD YOU DESCRIBE YOUR PODCAST?
Borrowed is a narrative podcast about superhero librarians, neighborhood stories, and what it means to be a free, democratic place in a changing world. Each episode dives into a different aspect of library services, highlighting the stories of our librarians and everyday Brooklynites who make the library come alive. We've told stories about libraries during natural disasters, intellectual freedom at the public library, the challenges of homelessness, and NYC's fraught relationship with trash.
WHAT'S THE MOST CHALLENGING AND MOST SATISFYING PART OF RUNNING A PODCAST?
Brooklyn is an enormous place, and our library plays so many different roles in our patrons' lives. One challenge is trying to capture just what the public library means to the 2.5 million people who live here, but that's also one of the most rewarding aspects of making Borrowed: we are constantly learning new things about our 62 branches and the many neighborhood communities they serve.
PODSTER CONTINUED FEBRUARY / MARCH 2023 106
HOW DID YOU GET THE WORD OUT ABOUT YOUR PODCAST IN THE BEGINNING, AND HOW HAVE YOU GROWN YOUR AUDIENCE?
At the start, we primarily promoted our show to BPL's followers on Instagram, Twitter, Facebook, and our email list. We've since expanded by doing promotional swaps with other podcasts and submitting to awards. Borrowed won an Anthem Award for Education, Art and Culture, and was rated among the best book podcasts by Podcast Review and Town & Country magazine. We also submit our episodes to PRX's public radio exchange. Thanks to them, Borrowed has been played on nearly 50 community and public radio stations nationwide, from Alaska to Maine to the Chickasaw Nation in Oklahoma. Recently, we took advantage of our status as a public library, and now all of our episodes are available to "check out" through the Libby reading app as an e-audiobook, which is very cool!
WHAT'S ONE OF YOUR FAVORITE EPISODES?
According to our listeners, Secret Lives of Librarians is our most popular episode (perhaps because of the intriguing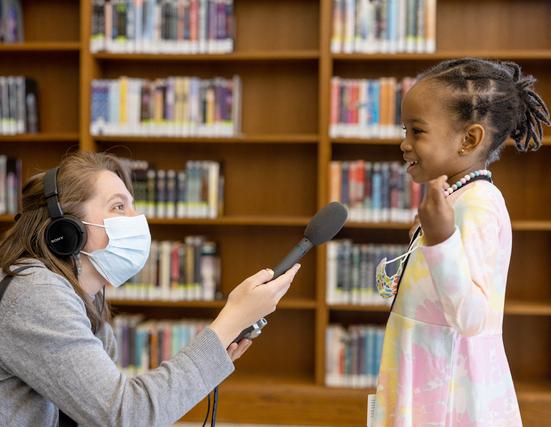 title!) … but one of our favorites is our five-episode mini-series called "Building Brooklyn." We got to use BPL's large collection of oral histories to tell unique stories about four Brooklyn neighborhoods that have seen drastic change over the last 50 years.
WHERE CAN LISTENERS FIND THE PODCAST?
You can listen right on our website (bklynlibrary.org/podcasts) by clicking the audio players. Or, subscribe to our show on any of the podcast apps. You can also occasionally catch us on local community radio stations across the country and listen to Borrowed on the Libby app by signing in with your Brooklyn Public Library card!
PODSTER CONTINUED
107
PRIDE & PUBLISHING
Books we at Caab Publishing love and would recommend to a friend as a great Summertime read..
by Chrissy Brown | C.A.A.B Publishing
1. Seven Days in June by Tia
Williams
C.A.A.B PUBLISHING
CAAB Publishing Ltd is a traditional, small, indie company helping unknown authors have a voice and inspiring new writers to take that first step into the world of publishing.
WWW.CAABPUBLISHING.CO.UK
Eva Mercy is a single mother and best-selling erotica writer who is feeling pressed from all sides. Shane Hall is a reclusive, enigmatic, award-winning novelist, who, to everyone's surprise, shows up unexpectedly in New York. When Shane and Eva meet at a literary event, sparks fly, raising not only their buried traumas but also the eyebrows of the Black literati. What no one knows is that 15 years earlier, teenage Eva and Shane spent one crazy, torrid week madly in love. While they may be pretending not to know each other, they can't deny their chemistry - or the fact that they've been secretly writing to each other in their books through the years. Over the next seven days, amidst a steamy Brooklyn summer, Eva and Shane reconnect - but Eva's wary of the man who broke her heart and wants him out of the city so her life can return to normal. Before Shane disappears though, she needs a few questions answered....
2. The Silent Patient by Alex Michaelides
Alicia Berenson lived a seemingly perfect life until one day six years ago. When she shot her husband in the head five times. Since then she hasn't spoken a single word. It's time to find out why.
FEBRUARY / MARCH 2023 108
3. Waiting for the Winds to Change by Claire Beesley
Her life is pampered, quiet…suffocating. Home is both sanctuary and prison to loyal Emeline, as she tries to fill the void her mother left when she walked out fifteen years before. And her dad might be a bit overbearing at times, but she feels sorry for him. So, she stays. But, he has secrets. When Emeline finds a box of letters from her Aunt Juliana to her mother, she cannot deny anymore that her family is fractured and broken. As she uncovers the truth, she discovers she's been sheltered from a lifetime of pain and betrayal. And that she doesn't really know her family at all. As her world caves in, she longs for the winds to change, to bring her a fresh new start. But will she realise that the only person who can change the course of her life, is her?
4. One Italian Summer by Rebecca Serle
When Katy's mother dies, she's left reeling from the loss. Carol had been her best friend, her anchor, and they'd been so close to their dream of travelling to Positano together. Feeling untethered from her own life and unable to connect with anyone, Katy makes a rash decision. In a bid to keep her mother close,
she follows in a young Carol's footsteps, flying to Italy alone. Katy had imagined a holiday painted by grief but finds more comfort than she had expected. Then, in a sharp twist of fate, Carol's past and Katy's present collide, leaving Katy to wonder if she ever really knew her mother at all...
in Another Life
At the age of twenty-nine, Hannah Martin still has no idea what she wants to do with her life. She has lived in six different cities and held countless jobs since graduating college. On the heels of leaving another city, Hannah moves back to her hometown of Los Angeles and takes up residence with her best friend Gabby. Shortly after, Hannah goes out to a bar one night with Gabby and meets up with her high school boyfriend, Ethan. Just after midnight, Gabby asks Hannah if she's ready to go. A moment later, Ethan offers to give her a ride later if she wants to stay. Hannah hesitates. What happens if she leaves with Gabby? What happens if she leaves with Ethan? In concurrent story lines, Hannah lives out the effects of each decision. Quickly, these parallel universes develop into radically different stories with largescale consequences for Hannah, as well as the people around her. As the two alternate realities run their course, Maybe in Another Life raises questions about fate and true love: Is anything meant to be? Is there such a thing as a soul mate? Hannah believes there is. And, in both worlds, she's found him. 
5. Maybe
by Taylor Jenkins Reid
109
The Wild Detectives.
DALLAS, TX
FEATURED INDIE BOOKSTORE
This bookstore-and-bar hybrid space was born out of a friendship between two Spanish civil engineers who wanted to create a community gathering spot for people to get drinks, open up, and have conversations that would change their worldview. The books in the space are curated by local publishers and booksellers in the Oak Cliff neighborhood of Dallas and beyond.
WHAT IS THE BACKGROUND OF THIS BOOKSTORE?
The Wild Detectives is a Dallas-based independent bookstore. It was founded in 2014 by Javier Garcia del Moral and Paco Vique, two Spanish civil engineers who met for the first time while working as expatriates in Dublin, Ireland. This led to a long-term friendship, which led to The Wild Detectives bookstore, a place where we could share everything that shaped our friendship over the years.
WHAT OTHER SERVICES AND PRODUCTS DO YOU PROVIDE FOR YOUR CUSTOMERS?
WD is a bookstore, café, and bar that combines the delights of literature with food, drinks, and socializing. We wanted to create a venue where people could gather to enjoy literature, have important conversations, and
build community. The Wild Detectives has become a popular cultural destination in Dallas, noted for its welcoming ambiance, well curated book selection, and entertaining programming. It has been named one of the greatest bookstores in Dallas by many magazines and has become a favorite place for book lovers, intellectuals, and creatives alike. The Wild Detectives organizes a variety of activities and events in order to foster a dynamic literary and cultural community.
We are well-known for the following activities:
Author Readings and Book Signings: The bookshop organizes readings and signings by local, national, and worldwide writers on a regular basis. It provides readers with the ability to interact with their favorite authors, discover new voices, and receive insights into the creative process.
Book Clubs: where readers can meet to debate and analyze a specific book or theme. These book clubs allow literary aficionados to express their ideas, engage in important discussions, and interact with other readers.
Live Music: The bookstore frequently hosts live music performances by local musicians and bands. These events foster a vibrant atmosphere and provide a platform for new artists to demonstrate their abilities. Folk,
FEBRUARY / MARCH 2023 110
indie, jazz, and more genres are represented in the music.
Art Exhibitions: The Wild Detectives conducts art exhibitions exhibiting the work of local artists on a regular basis. Painting, photography, mixed media, and other artistic forms and mediums are represented in these exhibitions. It's a chance for local artists to obtain visibility, as well as for tourists to enjoy and support local creativity.
And Literary and Cultural conversations
Film so much more including Screening, Workshops and Classes and Community activities
WHAT IS SOME BACKGROUND ON YOURSELF? HOW DID YOU FIND YOUR ROLE IN THIS BOOKSTORE?
I'm a civil engineer from Spain who has relocated to various countries for work. Eventually, I settled in Dallas, where my friend Paco and I established a bookstore. I oversee the bookstore, managing the activities program and overall operations.
WHAT DO YOU LIKE MOST ABOUT WORKING IN THIS BOOKSTORE?
I have a passion for various things, including
music and other art forms. The Wild Detectives provides an incredible space where I can indulge in all of these interests. Having a bar within the space greatly contributes to creating a fantastic atmosphere, allowing for meaningful interactions with others and enhancing the diverse events we host.
DO YOU SEE ANY COMMON READING TRENDS AMONG CUSTOMERS?
In recent years, I've noticed a shift in people's focus towards social issues and a greater interest in engaging with the conversations taking place in our society. There seems to be a growing demand for essays and memoirs compared to contemporary fiction. However, we strive to maintain a balance in our bookstore. While we offer titles that are relevant to current events, we also curate a significant selection of fiction. Fiction may not provide direct understanding of certain topics like non-fiction does, but it can be equally helpful and fulfilling in different ways to understand the world we live in.
FEATURED INDIE BOOKSTORE 111
Quadragenarian fitness model, lifestyle coach and bestselling author of the critically acclaimed Feast of Fates, Christian A. Brown received a Kirkus star in 2014 for the first novel in his genrechanging Four Feasts till Darkness series. He has appeared on Newstalk 1010, AM640, Daytime Rogers, and Get Bold Today with LeGrande Green. He actively writes and speaks about his mother's journey with cancer and on gender issues in the media.
Sweat, Soul, and Serenity: This Summer's Hottest Reads.
BY CHRISTIAN ADRIAN BROWN
Ah, summer! The season of sandy beaches, refreshing drinks, and leisurely days spent soaking up the sun. But wait, before you dive headfirst into the depths of relaxation, let's talk about the hottest reads that will keep your mind sharp, your body fit, and your spirit enlightened. This summer, I've handpicked two books that seamlessly blend the worlds of fitness, mindfulness, and health, delivering a literary experience that will leave you motivated, inspired, and, dare I say, even a tad fitter.
If you've struggled to build and sustain healthy habits, "Atomic Habits" by James Clear is the perfect companion for your fitness journey. This New York Times bestseller is a refreshing take on habit formation and shows you how to make small, incremental changes that lead to remarkable transformations.
Clear's writing style is as captivating as a motivational coach, blending practical advice with compelling anecdotes. He effortlessly draws you into the world of habit-building and unveils the power of microchoices. Whether you aim to establish a regular workout routine, eat healthier, or improve your sleep habits, "Atomic Habits" will guide you with actionable strategies to make your goals stick.
"Atomic Habits" serves as a perfect bridge between fitness and literature by merging the principles of
FIT LIT
ABOUT THE COLUMNIST
Body, Mind and Quill
FEBRUARY / MARCH 2023 112
behavioural psychology with the art of storytelling. Clear weaves real-life examples and relatable narratives throughout the book, making it an enjoyable and enlightening read. By the time you finish the last page, you'll be armed with a treasure trove of wisdom to make fitness and health an effortless part of your life.
Moving on, in a world buzzing with distractions, finding inner peace can seem like a distant dream. Enter "The Headspace Guide to Meditation and Mindfulness" by Andy Puddicombe, a renowned meditation expert and co-founder of the Headspace app. This book offers a comprehensive roadmap to navigate the labyrinth of your thoughts and achieve a calm and focused mind.
Puddicombe's writing style is akin to a friendly conversation with a wise and relatable mentor. He breaks down the complexities of meditation and mindfulness into bite-sized nuggets, making them accessible to beginners and experienced practitioners alike. With its warm and conversational tone, this book invites you to embark on a transformative journey toward mental well-being.
What sets "The Headspace Guide to Meditation and Mindfulness" apart is its unique blend of practical exercises,
personal anecdotes, and scientific insights. Puddicombe effortlessly intertwines his experiences as a former Buddhist monk with modern research, demystifying meditation and providing valuable tools for stress reduction, improved focus, and emotional resilience. Puddicombe emphasizes the significance of mental well-being alongside physical health. Likewise, this book will help you cultivate a daily meditation practice and inspire you to approach your fitness goals holistically.
Don't let your summer reading list become a snooze-fest! As you embark on your summer adventures, whether lounging by the pool or exploring new horizons, don't forget to pack these sizzling reads in your carryon. "Atomic Habits" by James Clear will equip you with the tools to build sustainable habits that propel your fitness journey forward. Whereas "The Headspace Guide to Meditation and Mindfulness" by Andy Puddicombe will guide you toward tranquillity, helping you achieve a balanced and centred mind.
Change is always within our grasp.
—C  113
Self-Published & Small Press Book Reviews BOOKS IN REVIEW SHELF UNBOUND'S Books In Review BR SPONSORED BY FEBRUARY / MARCH 2023 114
Brother & Sister Enter The Forest .
BY RICHARD MIRABELLA
Adult
PUBLISHER: CATAPULT
PAGES: 288
ISBN: 9781646221172
While the title of Richard Mirabella's debut novel, Brother & Sister Enter the Forest, might be evocative of the fairy tales we read as children, the story is anything but a fairy tale. Instead, it's an emotional story of two siblings, Justin and Willa, and the events and relationships that shape their lives. When the novel begins, Justin and Willa haven't spoken for a year. Justin shows up at Willa's door, but Willa, open to having him with her, also maintains her distance. The reader soon learns why: Justin is emotionally heavy for Willa. He's battled addiction and depression, he is estranged from their mother, and he's often homeless. What the reader doesn't readily learn is the why behind Justin's circumstances. And that's where Mirabella's storytelling comes in. He weaves together timelines, teasing the reader with just enough information to move forward in time before pulling back to the past again. We learn of Nick, the older man a young Justin looks up to and gets involved with, the one Justin relies on for love and affection, the one who assaults another boy, the one who abuses Justin and leaves him deeply scarred. Justin truly wants to be loved, but is it possible to find love if he doesn't know, or hasn't been taught, how to love himself?
Willa, meanwhile, is more successful in society's eyes—she holds a steady job and plans to be married—but she, too, is hurting. She has a need to make something beautiful and meaningful, to shape her art—building miniature dioramas of past events—in a fulfilling way, which supplants the life that hasn't fulfilled her and provides some power over that painful past. Willa tries to support Justin as much as possible, but her brother, whether consciously or subconsciously, refuses to completely open up to her.
Mirabella's spare prose here is exactly what this story needs. Anything more would have overshadowed the narrative and colored the trauma in an unwanted fashion. Instead, the author paints a dramatic and heart-wrenching portrait of Willa, Justin, their relationship, and the authentic, often painful world in which they live.

115
Moonlight Can Be Deadly.
BY CHARLOTTE STUART
Adult
Charlotte Stuart hits all the cozy mystery marks with a well-balanced blend of quirky characters, odd twists, and lively writing—adding a dollop of droll political commentary for added flavor.
PUBLISHER: AMPHORAE
PUBLISHING
PAGES: 294
ISBN: 9781664271883
Cameron Chandler likes her job as a detective for Penny-wise Investigations: Discount Detective Agency; she enjoys her co-workers, including her glamorous boss P.W. and her trivia-spouting colleague, Yuri. That's why it stings when a dead body turns up at a stakeout where she and Yuri are supposed to be protecting young Tilly, who has volunteered to play the role of sacrificial victim in a ritual held by the Full Moon Society. When Tilly goes missing after the ritual, Cameron and Yuri don't look too competent. Their quest to find Tilly, and the murderer, leads them to the Green Women society, a group of militant ecofeminists whose tactics for battling climate change involve a dramatic public protest that lands Cameron in jail. With the help of her colleagues and family—two clever almost-teens and a nurturing mother—Cameron must clear her name, protect Tilly, and stop a killer, all while trying to find out what the Full Moon Society and the Green Women, are really up to. Stuart's pacing and prose suit the genre perfectly, moving with speed and zest. The secondary characters have distinct quirks but remain on the safe side of typecasting. With a lot of coffee, humorous patter, and running moon metaphors, Stuart keeps the tone light and engaging while dealing with the sobering topics of mental illness, climate catastrophe, and dating as a single mother.
The members of The Green Women aren't quite as developed as Cameron's supporting cast, but there are enough twists to the action and an engaging rhythm to the dialogue to keep readers from feeling any lack.
Overall, Stuart delivers compelling and satisfying entertainment that still feels firmly rooted in the challenges of the modern world. 
FEBRUARY / MARCH 2023 116
Memories and Pain.
BY MICHAEL OLLERICH
Adult
In Memories and Pain, Michael Ollerich shares his experience of childhood sexual and physical abuse and the painful effect it had on his life.
"My life has been dangerous [sic] painful and cruel," writes Ollerich. Ollerich was sexually abused by a perpetrator he doesn't name. While this ended in fourth grade, physical abuse by others continued. Although results of this abuse were visible, Ollerich had no memory of the events afterward. At 12 years old, the author obtained a revolver to scare his abusers away. He suffered from nightmares throughout his life.
PUBLISHER: WESTBOW PRESS
ISBN: 9781664271883
In high school, he states, "I was enrolled in AP classes and did very well." At 19, he enlisted in the Army. Stationed in Germany, he joined the military police, where he was involved in various skirmishes and hijinks. After a bus hit the Jeep in which he was riding, he underwent 29 surgeries and was in constant pain. Medically discharged, he enrolled in college, earning a civil engineering degree.
Ollerich married the love of his life. They adopted two children. Throughout his almost 70 years, he suffered serious health challenges, including a stroke, open heart surgery, and gallbladder removal.
Ollerich writes in a stream-of-consciousness style with no organizational structure. The narrative constantly shifts time periods, making the story extremely difficult to follow. Misspellings and grammatical errors are a serious distraction, as are a handful of pages repeated later in the book.
Finally, the author frequently comments on the emotional pain he experiences writing the memoir, which becomes gut-wrenching for readers. In fact, the final sentence reads: "I am stopping the project for now because the pain was too much for me."
Ollerich valiantly faces his demons here, and the memoir admirably sheds light on the terrors of child abuse and the need for accessible mental health treatment. However, writing issues make this an exceptionally challenging read. While the book will interest Ollerich's family, it's unlikely to attract general readers. 
117
Gillespie Field Groove.
BY COREY LYNN FAYMAN
Adult
Corey Lynn Fayman's highly entertaining Gillespie
Field Groove is the fifth novel in a mystery series featuring musician-turned-gumshoe Rolly Waters, but can easily stand alone for newcomers.
Waters was once a guitarist in a local San Diego band on the precipice of the big time, but was derailed by a car accident and drugs and alcohol. Now he's sober, a private investigator by day, a blues musician by night.
PUBLISHER: KONSTELLATION PRESS
PAGES: 294
The story opens in the late 1960s with a teenaged hippie fan befriended by a roadie at a Jimi Hendrix concert. Then it shifts to the present day with the daughter of the fan and roadie hiring Waters to locate a Stratocaster guitar her deceased father owned and claimed was once Hendrix's. Waters' investigation leads him to a cast of colorful characters revolving around Roger Sledge, a sleazy womanizer who manages acts and runs a recording studio. They include: Sledge's former wife, a superstar singersongwriter; a singer shot and killed in Sledge's studio, and a Russian mob boss whose daughter is Sledge's current wife. The storyline keeps readers enthralled as Waters works his case through bars, nightclubs, guitar shops and airfields (many real San Diego locales).
Fayman is a keyboardist and sound tech. Music fans of a certain age (OK boomer) will enjoy random details, like the two FBI agents Waters encounters: Agents King and Goffin. Songwriters Gerry Goffin and Carole King penned some of the early '60s biggest hits. But you don't have to be a music fan to enjoy the story. Fayman excels at the crisp cadences of hard-boiled detective fiction. And he often drops in humorous asides, like when Rolly senses a lawyer he's speaking to has been hiding the truth: "Rolly felt defeated, but Gabriel seemed to have accepted defeat a long time ago. Lawyers took defeat for a living. Often a good living."
In sum, Gillespie Field Groove hits all the right notes. Music fans and general mystery readers alike will enjoy this story's irresistible beat. 
FEBRUARY / MARCH 2023 118
Eliza and the Alchemist .
BY CARLOS LACÁMARA
Playwright and actor Carlos Lacámara's novel, Eliza and the Alchemist, is a mystical, madcap trek through worlds presumably real and realistically etheric, where a young woman becomes the bearer of supernatural powers. In this far-reaching, light-hearted fantasy, Eliza is an intelligent UCLA student who has been unsuccessful in love or even friendship with men. She ventures into a class in ancient history and folklore taught, once a year, by aging professor Oliver Crowley, who speaks in Latin and advances radical theories that intrigue her.
PUBLISHER: FIXED MARK PRODUCTIONS
As Eliza finds herself magnetically drawn to him, she tries to get his attention, finally succeeding by showing him a book written by one of her ancestors that she has surreptitiously taken from her filmmaker father's library. Crowley is more than impressed. In fact, he disappears with the book.
PAGES: 384
ISBN: 9798986742700
Trying to track him down, Eliza finds herself in a realm where weird creatures murmur in archaic tongues and the dead may be brought to life. Crowley reveals that the ancestral volume has magical potential and that he and Eliza must now join forces to save the world from evil and destruction.
The story offers a host of deftly drawn, disparate characters, including street criminals, sexual seducers, and mighty moguls in need of being taken down a peg. The seamless narrative is infused with a sly sense of humor. For example, on a third date with a handsome college student, Eliza assesses his worthiness as he ruminates on important world affairs, such as the plight of the Innuit. "He likes Eskimos," she thinks. "That's nice. I mean somebody has to…"
Additionally, there's enough creepiness — blood, vomit, slimy worms and homunculi — to please the most ardent fans of the darker side, and the setting, in and near Hollywood, offers a plethora of opportunities for calamities, changes, and a tinge of romance.
The result is an engaging saga worthy of cinematic treatment. A mysterious ending suggests a sequel, which Lacámara's audience will anxiously anticipate. 
119
Adult
BY DENNIS BATCHELDER
In Dennis Batchelder's young adult novel Oversight, a girl fights for her destiny and uncovers ancient secrets that pit her against her ally.
Connected to a group called Soul Identity by her special ancient soul line, 17-year-old Zelly is destined to become one of the organization's overseers when she turns 19. The clandestine organization dictates the world's agenda and runs a powerful bank that transfers its depositors' wealth to their new lives after reincarnation. But Zelly's dream might be deterred by Ying, who is about to become an overseer and could block others from achieving similar positions.
PUBLISHER: NETLEAVES
PAGES: 352
ISBN: 9780979805660
Throughout the story, Zelly grows as a character, becoming more self-aware. Unable to convince others of Ying's intentions, Zelly works to stop her, endangering her life and the lives of those around her. Her fears cause her to make impulsive decisions that jeopardize her relationships and Soul Identity's team-oriented culture. Along the way, she develops more trust for others, becomes more thoughtful and overcomes her fears.
The plot, however, is clouded by many different ideas and twists. Among them: Zelly traces her soul line and researches Soul Identity's soul line ancestors while trying to stop Ying; the ancestors' stories are interwoven with Zelly's current mission. So that she can travel between her current life and the past, Zelly has to learn special techniques. There's also a rival group working against Soul Identity.
The plot's fast pace and divergent ideas hinder the development of the story's other main characters. Their emotional responses, personalities and voices are glossed over. Although Ying is one of the lead characters, few details are offered about who she is and her motive. Other characters similarly lack depth, including Simon, Zelly's friend and fellow future overseer. Details offered about the rival group opposed to Soul Identity are also insufficient.
While these issues impact the novel's overall success, fans of young adult novels will appreciate Oversight's original concept and find Zelly's courage inspiring. 
Oversight .
FEBRUARY / MARCH 2023 120
Adult
The Bird Hotel.
BY JOYCE MAYNARD
Released in May, The Bird Hotel is Joyce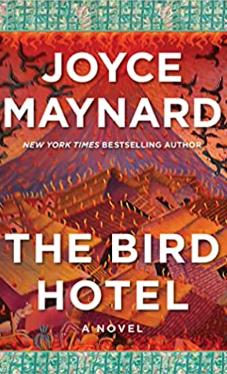 Adult
PUBLISHER: ARCADE
PAGES: 432
ISBN: 978-1956763737
Maynard's eleventh novel as a New York Times bestselling author. The release also coincides with the fiftieth anniversary of her first book published in 1973. After a heartbreaking childhood, Irene ends up in Central America where she lives in a rundown hotel in a small village. She is a young American who suffers tragedy and decides to run away from the life she had, and as time passes, she restores and runs the hotel. Despite her long career, I had not heard of Joyce before I started reading The Bird Hotel. The cover drew me, and once I started reading, I had a hard time putting the book down. First of all, the chapters are short. Most of them are around two to three pages, but each chapter is packed with a specific incident that happened. I think the short chapters are what made the book read quickly. Second, Irene tells the story from a first person point of view. Normally, with a novel like this, I would prefer third person, but Joyce makes me feel like I was in Irene's head—right there seeing things as they happened in the story.
As far as the actual story goes, Joyce does an excellent job of describing the setting and everything Irene sees. The way Joyce uses descriptions in The Bird Hotel, I could visualize the village as I read. I almost want to know where I can find it so I can visit the hotel and see the beauty myself, but I know it is an imaginary world in Joyce's head.
While the book is long at around 400 pages, you won't even realize it's that long as you're reading. If you enjoy reading a little bit of everything—romance, drama, humor, pop culture, and mystery, you'll want to check out The Bird Hotel. 
121
The Island Sisters.
BY MICKI BERTHELOT MORENCY
Adult
PUBLISHER: BHC PRESS
PAGES: 314
ISBN: 9781643973302
Micki Berthelot Morency has written an important and poignant debut novel that will sit with readers for a long time. The Island Sisters is told in four voices and follows the lives of Monique, Ella, Cecilia, and Lanei. Hailing originally from Haiti, Guam, and St. Thomas, these four young women meet at university in Miami, where each woman dreams of something more. They want to be able to put the past behind them, to make their own choices, to forge their own paths, and to be free of domestic violence. They want to stand as independent women, untethered from the bonds of the patriarchy. But much of this story takes place in the eighties, at a time and place when women in many cultures were still vulnerable and dependent on men. And while Monique, Ella, Cecilia, and Lanei do not succeed in reaching every dream, their friendship, cemented by common experiences, helps each of them move beyond their challenges with hope and positivity.
One of Morency's strengths lies in these characters. All four women are distinct, engaging voices with similar yet different stories. Their hopes and dreams, their want for love and family, are relatable to many, as are the preconceptions these characters must deal with in terms of expectations for women and how to live their lives. Authenticity abounds from their points of view as they exhibit their fortitude and resilience. Another strength is Morency's decision to tackle domestic violence and abuse head on. She's not quiet about what happens in these women's lives and how those experiences affect the characters, both physically and emotionally. The raw and sometimes brutal honesty allows the reader to sympathize and empathize with the characters. Their pain becomes ours. Their sadness too.
Other heavy themes include racism, addiction, and misogyny, but this book is ultimately uplifting, hopeful, and satisfying. Full of beautiful descriptions and emotional moments, The Island Sisters reminds the reader of the power of women and friendship and that the world is, indeed, a better place when sisters of all kinds look out for each other. 
FEBRUARY / MARCH 2023 122
BLUEINK REVIEW
BlueInk Review offers professional book reviews ofindependently published and self-published books.
A fee-based book review service for self-published books. All of our book reviewers are professional reviewers with bylines from major newspapers and periodicals and senior editors from major NY publishing houses. All of our reviews are honest and credible.
123
CHECK OUT What's On Our Shelf
Nobody loves books more than us. We're a team of readers with broad interests and strong feelings about the books on our shelves.
ON OUR SHELF
BS FEBRUARY / MARCH 2023 124
ALIVE AT THE END OF THE WORLD by
Saeed Jones
In haunted poems glinting with laughter, Saeed Jones explores the public and private betrayals of life as we know it. With verve, wit, and elegant craft, Jones strips away American artifice in order to reveal the intimate grief of a mourning son and the collective grief bearing down on all of us.
Drawing from memoir, fiction, and persona, Jones confronts the everyday perils of white supremacy with a finely tuned poetic ear, identifying moments that seem routine even as they open chasms of hurt. Viewing himself as an unreliable narrator, Jones looks outward to understand what's within, bringing forth cultural icons like Little Richard, Paul Mooney, Aretha Franklin and Diahann Carroll to illuminate how long and how perilously we've been living on top of fault lines. As these poems seek ways to love and survive through America's existential threats, Jones ushers his readers toward the realization that the end of the world is already here—and the apocalypse is a state of being.
PARTICIPATION by Anna Moschovakis
When the weather revolts, certainties dissolve and binaries blur as members of two reading groups converge at the intersection of theory and practice to reshape their lives, relationships, and reality itself.
In the latest novel from Anna Moschovakis, two reading groups, unofficially called Love and AntiLove, falter amidst political friction and signs of environmental collapse. Participation offers a prescient look at communication in a time of rupture: anonymous participants exchange fantasies and ruminations, and relationships develop and unravel. As the groups consider--or neglect-their syllabi, and connections between members deepen, a mentor disappears, a translator questions his role, a colleague known as "the capitalist" becomes a point of fixation, and "the news reports" filter through in fragments. With incisive prose and surprising structural shifts, Participation forms an alluring vision of community, and a love story like no other.
THE NATURE BOOK by Tom Comitta
Part sweeping evocation of Earth's rhythms, part literary archive, part post-human novel, The Nature Book collages descriptions of the natural world into a singular symphonic paean to the planet.
What does our nature writing say about us, and more urgently, what would it say without us? Tom Comitta investigates these questions and more in The Nature Book, a "literary supercut" that arranges writing about the natural world from three hundred works of fiction into a provocative re-envisioning of the novel. With fiction's traditional background of flora and fauna brought to the fore, people and their structures disappear, giving center stage to animals, landforms, and weather patterns--honored in their own right rather than for their ambient role in human drama. The Nature Book challenges the confines of anthropocentrism with sublime artistic vision, traversing mountains, forests, oceans, and space to shift our attention toward the magnificently complex and interconnected world around us.
ON OUR SHELF
125
BLACK WAS NOT A LABEL by
Kathryn H. Ross
BLACK WAS NOT A LABEL is a collection of essays that explores the intersection of faith and racial trauma and the attempt to come to terms with instances of otherness, isolation, racism, erasure, anger, and lost love. A look at life within the "veil" W.E.B. Du Bois spoke of in his work, The Souls of Black Folk, this collection is both catharsis and lamentation to God for the self and all who have felt trapped within this (sometimes impenetrable) veil.
Kathryn H. Ross lives and writes in Southern California. She works as a professional freelance copywriter and consultant, an adjunct professor of English, and a writer and editor with Hallmark Mahogany.
DRUMMING WITH DEAD CAN DANCE by Peter
Ulrich
Ulrich thinks he got the ultimate fan trip--to play, record, and tour with his favourite band, Dead Can Dance. His memoir details the early days, from signing with 4AD, recording their first album, then heading off on tour with the Cocteau Twins. There follow insights into the legendary period of the 4AD label of the 1980s; contributing to This Mortal Coil; guesting with Wolfgang Press, Pieter Nooten and Michael Brook, and Modern English; and touring the US for the first time in 1990. Following his departure from DCD, Ulrich remained close with Brendan Perry and Lisa Gerrard, and his memoir tracks their parallel paths over the following decades. A must for fans of Dead Can Dance and the 4AD label, and at the same time, a fascinating slalom through the ups and downs of trying to pursue a vision through the music industry.
MACLEISH SQ. by Dennis Must
John Proctor, about to turn seventy, spies a disconsolate young man eyeing him from outside his remote studio window. Invited inside from the bitter cold and fed dinner, the visitor, who calls himself Eli, implies that he is no stranger to the man, having been told by his grandmother that "you might take me in." Astonished to learn that the woman was his wife who decades earlier had aborted their marriage, which lasted "but the length of a wedding candle," the narrator ruefully explains he has since relished living alone by making no lasting connections to anybody or anything. Whereupon Eli confides, "She also said you had profaned my mother," the daughter John Proctor never knew he had. Thus commences MacLeish Sq.,a tale of awakened remorse and familial longing recounted by an aging recluse when his life is abruptly upturned by the young visitor—captive to a mythical past of his own creation—who intimates that he and the narrator a re unlikely strangers.
ON OUR SHELF
FEBRUARY / MARCH 2023 126
LUNGFISH by Meghan Gilliss
Tuck is slow to understand the circumstances that have driven her family to an uninhabited island off the coast of Maine, the former home of her deceased grandmother where she once spent her childhood summers. Squatting there now, she must care for her spirited young daughter and scrape together enough money to leave before winter arrives--or before they are found out.
Relying on the island for sustenance and answers--bladderwrack, rosehips, tenacious little green crabs; smells held by the damp walls of the house, field guides and religious texts, a failed invention left behind by her missing father--Tuck lives momentby-moment through the absurdity, beauty, paranoia, and hunger that shoots through her life, as her husband struggles to detox.
Exquisitely written and formally daring, Lungfish tells the story of a woman grappling through the lies she has been told--and those she has told herself--to arrive at the truth of who she is and where she must go. Meghan Gilliss's debut is a brilliant and heartbreaking novel about addiction, doubt, marriage, motherhood, and learning to see in the dark.
WAYWARD by Chuck Wendig
Five years ago, ordinary Americans fell under the grip of a strange new malady that caused them to sleepwalk across the country to a destination only they knew. They were followed on their quest by the shepherds: friends and family who gave up everything to protect them. Their secret destination: Ouray, a small town in Colorado that would become one of the last outposts of civilization. Because the sleepwalking epidemic was only the first in a chain of events that led to the end of the world--and the birth of a new one.
The survivors, sleepwalkers and shepherds alike, have a dream of rebuilding human society. Among them are Benji, the scientist struggling through grief to lead the town; Marcy, the former police officer who wants only to look after the people she loves; and Shana, the teenage girl who became the first shepherd--and an unlikely hero whose courage will be needed again.
Because the people of Ouray are not the only survivors, and the world they are building is fragile. The forces of cruelty and brutality are amassing under the leadership of self-proclaimed president Ed Creel. And in the very heart of Ouray, the most powerful survivor of all is plotting its own vision for the new world: Black Swan, the A.I. who imagined the apocalypse. Against these threats, Benji, Marcy, Shana, and the rest have only one hope: one another. Because the only way to survive the end of the world is together.
THE LOST WOMEN OF AZALEA COURT
by Ellen Meeropol
On a chilly November morning, eighty-eight-year-old Iris Blum goes missing from Azalea Court, a six-bungalow development on the grounds of a long-closed state mental hospital. Her husband, Asher Blum, was the last head psychiatrist at the hospital and is writing a book about the treatment of mental illness. Their daughter Lexi, the neighbors, and police detective McPhee suspect Dr. Blum of being involved in Iris's disappearance. When the searches and interviews come up empty, the neighbors dig into the past—Asher's childhood experiences with anti-Nazi partisans in the forests of Poland, unethical practices at the mental hospital, and Iris's mysterious best friend, Harriet. The neighbors of Azalea Court, Lexi, Harriet, and Detective McPhee narrate this story together, uncovering ghosts, secrets, and lies.
ON OUR SHELF
127
BANZEIRO
Elaine Brum
In lyrical, impassioned prose, Eliane Brum recounts her move from São Paulo to Altamira, a city along the Xingu River that has been devastated by the construction of one of the largest dams in the world. In community with the human and more-thanhuman world of the Amazon, Brum seeks to "reforest" herself while building relationships with forest peoples who carry both the scars and the resistance of the forest in their bodies. Weaving together the lived stories of the region and its history of violent corruption and destruction, Banzeiro Òkòtó is a call for radical change, for the creation of a new kind of human being capable of facing the potential extinction of our species. In it, Brum reveals the direct links between structural inequities rooted in gender, race, class, and even species, and the suffering that capitalism and climate breakdown wreak on those who are least responsible for them.
Voyager begins with Nona Fernández accompanying her elderly mother to the doctor to seek an explanation for her frequent falls and inability to remember what preceded them. As the author stares at the image of her mother's brain scan, it occurs to her that the electrical signals shown on the screen resemble the night sky.
Inspired by the mission of the Voyager spacecrafts, Fernández begins a process of observation and documentation. She describes a recent trip to the remote Atacama desert—one of the world's best spots for astronomical observation—to join people who, like her, hope to dispel the mythologized history of Chile's new democracy. Weaving together the story of her mother's illness with the story of her country and of the cosmos itself, Fernández braids astronomy and astrology, neuroscience and memory, family history and national history into this brief but intensely imagined autobiographical essay.
Sterling Beckenbauer is plunged into a terrifying and nonsensical world one morning when they are attacked, then unfairly arrested, in their neighborhood in London. With the help of their friends, Sterling hosts a trial of their own in order to exonerate themselves and to hold the powers that be to account.
Sterling Karat Gold, in the words of Kamila Shamsie, is "a madly brilliant and deeply sane novel that reveals surrealism as possibly the most effective way of talking about the political moment we find ourselves in." In it, Isabel Waidner concocts a world replete with bullfighters, high fashion, DIY theater, the Beach Boys, and timetraveling spaceships. The acclaimed winner of the 2021 Goldsmiths Prize for fiction that breaks the mold and extends the possibilities of the form, this novel explores the phantasmagoric nature of contemporary life, especially for nonbinary migrants, and daringly revises how solidarity and justice might be sought and won.
ON OUR SHELF
ÒKÒTÓ by
VOYAGER by Nona Fernández
STERLING KARAT GOLD by Isabel Waidner
FEBRUARY / MARCH 2023 128
BLACK AND FEMALE by Tsitsi Dangarembga
The first wound for all of us who are classified as "black" is empire.
In Black and Female, Tsitsi Dangarembga examines the legacy of imperialism on her own life and on every aspect of black embodied African life.
This paradigm-shifting essay collection weaves the personal and political in an illuminating exploration of race and gender. Dangarembga recounts a painful separation from her parents as a toddler, connecting this experience to the ruptures caused in Africa by human trafficking and enslavement. She argues that, after independence, the ruling party in Zimbabwe only performed inclusion for women while silencing the work of self-actualized feminists. She describes her struggles to realize her ambitions in theater, film, and literature, laying out the long path to the publication of her novels.
THE CONSEQUENCES by Manuel Munoz
"Her immediate concern was money." So begins the first story in Manuel Muñoz's dazzling new collection. In it, Delfina has moved from Texas to California's Central Valley with her husband and small son, and her isolation and desperation force her to take a risk that ends in profound betrayal.
These exquisite stories are mostly set in the 1980s in the small towns that surround Fresno. With an unflinching hand, Muñoz depicts the Mexican and Mexican American farmworkers who put food on our tables but are regularly and ruthlessly rounded up by the migra, as well as the quotidian struggles and immense challenges faced by their families.
In The Consequences, obligation can shape, support, and sometimes derail us. It's a magnificent new book from a gifted writer at the height of his powers.
LITTLE
by David Treuer
The grave we dug for my brother Little remained empty even after we filled it back in. And nobody was going to admit it.
So begins Little, first published by Graywolf Press in 1995 when David Treuer was just twentyfour. The narrative unfolds to reveal the deeply entwined stories of the three generations of Little's family, including Stan, a veteran of the Vietnam War who believes Little is his son; Duke and Ellis, the twins who built the first house in Poverty after losing their community to smallpox and influenza; Jeannette, the matriarch who loved both Duke and Ellis and who walked hundreds of miles to reunite with them. Each of these characters carries a piece of the mystery of Little's short life. With rhythmic and unadorned prose, Treuer uncovers in even the most frosthardened ground the resilience and humor of life in Poverty.
ON OUR SHELF
129
A LINE IN THE WORLD
by Dorthe Nors
Dorthe Nors's first nonfiction book chronicles a year she spent traveling along the North Sea coast—from Skagen at the northern tip of Denmark to the Frisian Islands in the Wadden Sea. In fourteen expansive essays, Nors traces the history, geography, and culture of the places she visits while reflecting on her childhood and her family and ancestors' ties to the region as well as her decision to move there from Copenhagen. She writes about the ritual burning of witch effigies on Midsummer's Eve; the environmental activist who opposed a chemical factory in the 1950s; the quiet fishing villages that surfers transformed into an area known as Cold Hawaii starting in the 1970s. She connects wind turbines to Viking ships, thirteenth-century church frescoes to her mother's unrealized dreams. She describes strong waves, sand drifts, storm surges, shipwrecks, and other instances of nature asserting its power over human attempts to ignore or control it.
LIFE IS EVERYWHERE
by Lucy Ives
Manhattan, 2014. It's an unseasonably warm Thursday in November and Erin Adamo is locked out of her apartment. Her husband has just left her and meanwhile her keys are in her coat, which she abandoned at her parents' apartment when she exited mid-dinner after her father—once again—lost control.
Erin takes refuge in the library of the university where she is a grad student. Her bag contains two manuscripts she's written, along with a monograph by a faculty member who's recently become embroiled in a bizarre scandal. Erin isn't sure what she's doing, but a small, mostly unconscious part of her knows: within these documents is a key she's needed all along.
With unflinching precision, Life Is Everywhere captures emotional events that hover fitfully at the borders of visibility and intelligibility, showing how the past lives on, often secretly and at the expense of the present.
SINKING BELL by Bojan Louis
An ex-con hired to fix up a school bus for a couple living off the grid in the desert finds himself in the middle of their tattered relationship. An electrician's plan to take his young nephew on a hike in the mountains, as a break from the motel room where they live, goes awry thanks to an untrustworthy new coworker. A night custodian makes the mistake of revealing too much about his work at a medical research facility to a girl who shares his passion for death metal. A relapsing addict struggles to square his desire for a White woman he meets in a writing class with family expectations and traditions.
Set in and around Flagstaff, the stories in Sinking Bell depict violent collisions of love, cultures, and racism. In his gritty and searching fiction debut, Bojan Louis draws empathetic portraits of day laborers, metalheads, motel managers, aspiring writers and musicians, construction workers, people passing through with the hope of something better somewhere else.
ON OUR SHELF
FEBRUARY / MARCH 2023 130
THE APPETITE FACTORY by
Jon Gingerich
As head of the crisis management team at a Madison Avenue PR firm, Leonard Lundell spends his days counseling executives whose reputations have been ruined by scandal. But Leonard has been managing a strange and debilitating crisis of his own that's held him captive his entire adult life: Leonard likes to eat soap, pencils, paint chips--anything with no nutritional value.For years, he's kept his compulsion hidden behind a professional veneer. But when he signs an important client, an antisocial file clerk unwittingly discovers Leonard's secret and blackmails him into accommodating her own bizarre culinary indulgences. A picaresque set against the backdrop of Madison Avenue's marketing machine in the months leading up to the 2008 financial crisis, The Appetite Factory examines the earliest days of our post-truth era, where a scandalobsessed news cycle and social media's rise as an information platform have given birth to a culture addicted to recreational outrage and hell-bent on finding the next public figure to disgrace to keep ourselves entertained.
THE MAN WHO HACKED THE WORLD by
Alex Cody Foster
After parting ways with the eponymous McAfee Antivirus software company in 1994, McAfee embarked on innumerable business, political, and criminal enterprises. From investing in cybersecurity and cryptocurrency to accusations of murdering his neighbor in Belize to making two unsuccessful bids for President of the United States—the latter attempt done in exile following a federal indictment—this largerthan-life man nurtured a rakish public profile while evading law enforcement for his involvement with drugs, weapons, and murder.
For six months, Alex Cody Foster— hired as McAfee's ghostwriter— traveled with McAfee across America and Europe, occasionally going on the run to evade purported killers and kidnappers. Foster tells the incomparable tale of how the two of them met, where their adventures had taken them, and what precipitated McAfee's death.
INTERFACE by Scott BritzCunningham
A new technology has emerged, promising a perfect society, and resisters are not long for this world...
Ahead, not too many years from now, everyone has been linked to a network of government-mandated brain implants. The Interface has become a way of life, connecting all people to limitless information, nonstop personal messaging, and instantaneous news flashes. Gone are the days of cell phones and laptops— even loneliness itself is obsolete.
But when the genius behind the Interface turns against his own creation and threatens to unleash a deadly electronic brain virus on the public, the fate of the world falls on NYPD Captain Yara Avril, who must stop this sinister, ever-escalating plot before it's too late. A thrilling nod to a future waiting just around the corner, Interface is a remarkably prescient exploration of the potential links between boundless connection and cataclysmic disaster in digital society.
ON OUR SHELF
131
THE MAD, MAD MURDERS OF MARIGOLD WAY by
Raymond Benson
For Scott Hatcher, a former television writer turned struggling novelist with a failing marriage to boot, social-distancing and mask-wearing feel like fitting additions to his already surreal life. When his wife Marie and neighbor John Bergman disappear in the middle of the raging COVID-19 pandemic, Scott is naturally mystified and disturbed, but he is also about to learn that his picturesque neighborhood hides more than just the mundane routines of suburban life. When a fire claims the empty house for sale next door, the entire community is shocked when the charred remains of Marie and John are found inside. Stranger still, stockpiles of valuable Personal Protection Equipment, clearly stolen, were destroyed in the blaze alongside them. As the neighborhood reels from the loss, Scott and Bergman's earthy and enticing widow, Rachel, not only find themselves under investigation for the crime, but also inexorably drawn to one another.
LIGHT OF DAY by Webb Hubbell
Jack Patterson is summoned to New Orleans to meet with the heads of the Louisiana crime syndicate. For years, the syndicate has been protecting Jack's daughter, and now the syndicate expects a favor in return. The favor involves representing the head of the syndicate's grandson--a computer geek who has designed a unique software program that threatens national security and the way most technology companies do business. The young man is being held without bond in DC's jail, and a conglomerate of major corporations have sued him in Federal Court. Jack breathes a sigh of relief. He believes the grandson's case will be complex but not dangerous. Before Jack even meets the new client, he is kidnapped and left to die in the swamps of southern Louisiana. An environmental scientist, Judy Clawson, rescues Jack. He returns to DC to battle the Justice Department. To make matters worse, there is a traitor in the crime syndicate who has plans for the invention and will do anything to gain its possession.
RESILIENT LIFE
The world is experiencing unprecedented levels of burnout, stress, and mental health challenges. This comes with the inevitable fallout: poorer health, chronic exhaustion, strained relationships, and decreased satisfaction and performance at work. You're so tired of being stressed and tired, but how can you tell the difference between run-of-the-mill stress, burnout, and serious mental health issues like depression or anxiety? And what can you do about it? Throughout the pages of The Resilient Life, you'll learn how to identify, address, and protect yourself from burnout; easy neuroscience-based techniques that can "rewire" your brain, reduce stress hormones, decrease anxiety, and help restore your sense of calm and control; and how to reconnect with and make time for what matters most, allowing you to reclaim meaning, purpose, and passion in your life. Filled with easy-to-apply tips, straight-talking advice, practical wisdom, and stories from Dr. Susan Biali Haas's life (and the lives of her clients), The Resilient Life can truly help you to finally break free from overwhelm, get unstuck, and move forward with renewed clarity, energy, well-being, and purpose.
ON OUR SHELF
THE
by Dr. Susan Biali Haas, M.D.
FEBRUARY / MARCH 2023 132
RED CHAOS by Ed Fuller and Gary Grossman
The Arctic ice is melting, the waters are warming, and Russian President Nicolai Gorshkov is one step closer to monopolizing the oil industry and funding his expansionism plans past Ukraine and Latvia. Russian-backed attacks have shut down the Suez Canal and other key shipping routes, making it nearly impossible for the West and the Middle East to transport oil. With nothing less than oil futures and the global economy at stake, one man slips out of the shadows to stop Gorshkov's maniacal plans: Dan Reilly, a freelance State Department and CIA consultant. In his attempts, Reilly is drawn into a web of intrigue twelve years in the making, involving the current American president, a United States senator, a Chinese businessman, and the death of a young girl. How these seemingly unrelated elements have a profound impact on Russia's far-reaching plans is what makes Red Chaos a thriller to be read like breaking news. Red Chaos is the third novel in the acclaimed Red Hotel series by thriller masters Ed Fuller and Gary Grossman who America's political and intelligence insiders have noted, "might as well sit on the National Security Council."
ON A WOMAN'S MADNESS by Astrid Roemer
After parting ways with the eponymous McAfee Antivirus software company in 1994, McAfee embarked on innumerable business, political, and criminal enterprises. From investing in cybersecurity and cryptocurrency to accusations of murdering his neighbor in Belize to making two unsuccessful bids for President of the United States—the latter attempt done in exile following a federal indictment—this largerthan-life man nurtured a rakish public profile while evading law enforcement for his involvement with drugs, weapons, and murder.
For six months, Alex Cody Foster— hired as McAfee's ghostwriter— traveled with McAfee across America and Europe, occasionally going on the run to evade purported killers and kidnappers. Foster tells the incomparable tale of how the two of them met, where their adventures had taken them, and what precipitated McAfee's death.
DAYS COME & GO by Hemley Boum
Chronicling the beauty and turmoil of a rapidly changing Cameroon, Days Come and Go is the remarkable story of three generations of women both within and beyond its borders. Through the voices of Anna, a matriarch living out her final days in Paris; Abi, Anna's thoroughly European daughter (at least in her mother's eyes); and Tina, a teenager who comes under the sway of a militant terrorist faction, Boum's epic is generous and all-seeing.
Brilliantly considering the many issues that dominate her characters' lives--love and politics, tradition and modernity--Days Come and Go, in Nchanji Njamnsi's vivid translation, is a page-turner by way of Frantz Fanon and V. S. Naipaul. As passions rise, fall, and rise again, Boum's stirring English-language debut offers a discerning portrait of a nation that never once diminishes the power of everyday human connection.
ON OUR SHELF
133
HUGS AND CUDDLES by João
Gilberto Noll
Many years have passed since their prepubescent wrestling; everywhere around them is a nation in decline. Representatives of the Brazilian state-everyone from government officials to the impoverished--endlessly harass passers-by for donations to "the cause," even as a mysterious plague rages. Never mind that. Our insatiable narrator, driven to discover his true self through increasingly transgressive sexual urges, is on an epic journey through the shadows of this dysfunctional yet polite society. The resulting novel is the late João Gilberto Noll's most radical statement: A Book of Revelations-grade voyage to the end of gender and the outermost reaches of sexual and artistic expression. Nimbly translated from Portuguese by Edgar Garbelotto, Hugs and Cuddles is an unapologetically explicit fable of fluidity that takes readers from decaying city centers to the dark corridors of a mysterious submarine to a miserable hovel in the rainforest, where, at long last, our narrator finds peace.
Trash interweaves the voices of three women with lived connections to the municipal garbage dump of Ciudad Juárez, Mexico.
Aguilar Zéleny's English-language debut shows the complexities of survival and joy, love and violence for three women: a teenager abandoned by her guardian at the dump, a scientist doing research on the residents of the dump, and a transwoman living nearby who is the matriarch of a group of sex workers.
Each one of the characters navigates family, abandonment, power, jealousy, greed, and multiple taboos around sexuality and gender violence. Their stories are linked by geography and by ideas of waste and abandonment. As Aguilar Zéleny explores these territories in her book, she asks crucial questions: who is seen as disposable and why? How do women find their own means of survival and joy in the midst of a perilous sociopolitical context? What does it mean to live a life in a time of austerity and extreme violence? Trash is a critical intervention in Mexican literature.
NOT ONE DAY by Anne Garréta
Winner of the 2018 Albertine Prize Finalist for the 2018 Lamba Literary Awards Finalist for the 2018 French American Foundation Translation Prize Available in a new edition, Anne Garréta's sensual portrayal of trysts past.
Not One Day begins with a maxim: "Not one day without a woman." What follows is an intimate, erotic, and sometimes bitter recounting of loves and lovers past, breathtakingly written, exploring the interplay between memory, fantasy, and desire. Organized alphabetically, Not One Day remembers the evanescent thrill of each encounter, dismissing the ultimatum of truth in favor of an enigmatic assemblage.
"For life is too short to submit to reading poorly written books and sleeping with women one does not love."
"I could smother the book with adoration—it is aching and maddening, intelligent and wildly sexy. But it would be simpler to say that reading it is like meeting someone new and feeling the world come undone. Here is a book that insists that the desire for fiction, for its mimicry and its mirage, is indistinguishable from the desire for another person." —Merve Emre, The New Yorker
ON OUR SHELF
TRASH by Sylvia AguilarZéleny
FEBRUARY / MARCH 2023 134
KIDNAPPED by Ludmilla Petrushevskaya
Set in the 1980s and '90s, Kidnapped focuses on the life of Alina, a promising language student who must drop her academic career because of an unplanned pregnancy. Alina decides to give up a baby for adoption after birth and is set to leave the hospital alone. In the hospital she meets another girl, Masha, who is happily looking forward to the childbirth and speaks up of her life plans with the husband in a republic in South Asia.
When Masha dies in childbirth, Alina impulsively exchanges the babies' name bracelets in an attempt to send her newborn son away from the dull reality of Soviet life. But then the unthinkable happens: Masha's husband asks Alina to falsify her identity and come with him in the foreign service. Full of twists and turns, Kidnapped results in a drama worthy of a daytime soap opera: medical deceit, identity scams, and falsified death abound. Despite it all, Alina survives against all odds in unthinkable circumstances, sure above all that she will learn to be a good mother.
ISCHIA by Gisela Heffes
Ischia is a portrait of an unnamed narrator and protagonist who, along with her friends, wanders through the margins of different cities, especially Buenos Aires, searching for something they don't know and seems unfathomable. An intricate, gutsy, and raw novel, Ischia is populated with outsiders who navigate the vicissitudes of life in Argentina and the world. Ischia, the first-person female narrator, is the youngest in a family of seven brothers and relates her experiences as she waits for a ride to the Argentine international airport. Told through the dizzying wouldhave-could-have of conditionals, Ischia overlaps the past, present, and future of three young characters defined by lack of certainty or expectations.
These three lives unfold between disenchantment and humor, and the narration transports the readers into a universe of memories, desires, and dreams. The novel advances lyrically through themes both solemn and lighthearted, shaping the contours of imaginaries, hilarious, and sometimes even surreal experiences.
DOT by Ron Padgett
In this new poetry collection, Pulitzer Prize finalist Ron Padgett illuminates the wonders inside things that don't even exist--and then they do.
In Dot, Ron Padgett returns with more of the playfully profound work that has endeared him to generations of readers. Guided by curiosity and built on wit, generosity of spirit, and lucid observation, Dot shows how any experience, no matter how mundane, can lead to a poem that flares like gentle fireworks in the night sky of the reader's mind.
"For decades now, Ron Padgett has built up a body of work that, like the tenderly deadpan ballads of Jonathan Richman, has at its heart a sort of wry, pickled innocence. . . . The charm of his lines--and their power, because his work has a way of disarming you and pulling you in again and again--often comes from his allergy to anything pretentious or even 'poetic.' He makes plain niceness look like the most radical stance of all." --Jeff Gordiner, The New York Times
ON OUR SHELF
135
Never miss an issue! SIGN UP FOR A FREE SUBSCRIPTION TO SHELF UNBOUND MAGAZINE. SUBSCRIBE FEBRUARY / MARCH 2023 136
The more that you read, the more things you will know. The more that you learn, the more places you'll go."
137
– DR. SEUSS
SHELF UNBOUND WHAT TO READ NEXT IN INDEPENDENT PUBLISHING
SUMMER 2023
WWW.SHELFMEDIAGROUP.COM