AMERICA'S MOST TRUSTED PUBLICATION FOR THE SOUVENIR & RESORT GIFT INDUSTRY | MARCH-APRIL 2023
ON THE COVER
A STORE FIT FOR 'THE GODS'
The Garden of the Gods' retail operation complements the natural wonders of a Colorado landmark.
SOUVENIRS SELLING LIKE WILD AT ZOOS
Visitors can't get enough of these trending buys.
JEWELRY TRENDS AT CAVES AND CAVERNS
These cool jewelry styles capture the cave experience.
HOT IMPULSE BUYS SELLING AT THE BEACH
Coastal customers can't resist these last-minute items.
+
COVER STORY
In this profile, Store Director Scott Quine shares how The Garden of the Gods retail operation complements the natural wonders of this special Colorado landmark.
SOUVENIR
FOCUS: Zoos
Visitors at zoos across the country are going wild for a variety of souvenirs, from low-cost stickers and pins to plush and name drops. Hear about hot sellers from zoo buyers across the country in this article.
8
RETAILER ROADMAP
Discover the stores featured in this issue.
10
EDITOR'S LETTER
Carrying on a legacy in the souvenir industry.
12
NEWS BRIEF
Breakwall Publishing acquires SGN magazine.
16
TRADE SHOW CALENDAR
Make plans to attend these upcoming trade shows.
20
TRADE SHOW NEWS
Coverage from past and upcoming trade shows.
68
WHOLESALER NEWS
Wild Republic opens new headquarters in Ohio.
70
PRODUCT SHOWCASE
Get fresh new product ideas for your store.
72 AD INDEX
Easily locate an advertiser's ad and website.
74
SHOP TALK
Industry experts share advice for souvenir retailers..
4 SOUVENIRS, GIFTS & NOVELTIES MAGAZINE MARCH-APRIL 2023 www.sgnmag.com CONTENTS
IN EVERY
ISSUE
26 32 MARCH-APRIL 2023 | VOLUME 62 | ISSUE 1
38
PRODUCT TREND: Gifts
These retailers offer gifts that offer a special touch.
44
PRODUCT TREND: Jewelry Cave and cavern jewelry resonates with visitors.
44 FEATURES
48
PRODUCT TREND: Souvenirs
Coastal stores are enticing impulsive purchases.
52
PRODUCT TREND: Garden-themed gifts
Botanical gardens have much inspiration to draw from.
56
RETAILER SPOTLIGHT: American Jazz Museum
Lighting helps highlight the store's quality merchandise.
60
RETAILER SPOTLIGHT: Shane Confectionery
This historic store is an enduring sweet spot.
62 MERCHANDISING: Sports & Collegiate Shops
These stores hit their targets with licensed apparel.
66
MERCHANDISING: Boutiques
38 48
6 SOUVENIRS, GIFTS & NOVELTIES MAGAZINE MARCH-APRIL 2023
CONTENTS
Retailers are drawing attention to jewelry offerings. 56
Adorned Accessory & Gift Boutique
Johnstown, PA
Jessica Martella
American Jazz Museum
Kansas City, MO
Michael Tosatto
April Blooms
Pasadena, CA
April Hicks
Blithewold Mansion
Gardens & Arboretum
Bristol, RI
Sue Legault
Colorado University
Bookstore
Fort Collins, CO
John Parr
Crystal Cave-Heineman's Winery
Put-In-Bay, OH
Dustin Heineman
Dazzles Gift Boutique
Duck, NC
Tracy Stamp
Diamond Caverns
Park City, KY
Chase Lasley
Garden of the Gods Visitor and Nature Center
Colorado Springs, CO
Scott Quine
Hidden River Cave and American Cave Museum
Horse Cave, KY
Dylan Wilson
Iowa Arboretum & Gardens
Madrid, IA
Heather Bass
Just Sports
Gilbert, AZ
Jacob Saptho
Lake Superior Zoo
Duluth, MN
Taryann Bennett
Lions Pride Penn State
Fan Store
State College, PA
Michaela Penkala
Lotus Lake Gifts & Decor
Chanhassen, MN
Kate Nordby
Miller Park Zoo
Bloomington, IL
Sandra Goaley
Naples Botanical Garden
Naples, FL
Siobahn Gilmore
National Hot Rod Association Museum
Pomona, CA
Lisa Russo
New York Botanical Garden
Bronx, NY
Margaret Csala
Ohio Caverns
West Liberty, OH
Tim Grissom
Serendipity Gifts
Saint Charles, MO
Nikki Hickman
Sessoms' Candy & Gifts
Sea Isle City, NJ
Jay Sessoms
Shane Confectionery
Philadelphia, PA
Eric Berley
Sierra Bell
Reno, NV
Hope Triplett
Souvenir City
Orange Beach, AL
Lee Howell
Tendy Pieces
Murfreesboro, TN
Judy L. Goldie
The Little Pelican
North Redington Beach, FL
Rene Wolf
Tohono Chul Park
Tucson, AZ
Linda Wolfe
Turtle Central
Bald Head Island, NC
Pam Smith
Zoo Miami
Miami, FL
Carlos Abreu
ZooTampa
Tampa, FL
Elie Johnson
Have
RETAILER ROADMAP
8 SOUVENIRS, GIFTS & NOVELTIES MAGAZINE MARCH-APRIL 2023 www.sgnmag.com
Souvenirs, Gifts & Novelties interviews retailers in popular destinations all over the United States. These are the stores featured in the March-April 2023 issue.
a story
like to share?
you would
We would love to hear from you! Email Caroline Risi at caroline@breakwallpublishing.com.
Carrying on a legacy in the souvenir industry
Iremember attending my first souvenir trade show several years ago as a member of the trade press. In the publication bins, next to the publication Karen Carr and I had recently launched, Seaside Retailer magazine, was a magazine called Souvenirs, Gifts and Novelties. I immediately picked up a copy and was blown away by how many retailers were interviewed among the pages. I also was impressed by the many relevant wholesalers in the souvenir and gift industry that were represented with advertisements in the pages, not to mention the number of years it had been in business, being founded in 1962.
"Wow, this magazine really has its pulse on the souvenir industry," I thought. Fast-forward to 2023 and not only is SGN magazine still going strong, Breakwall Publishing, the company Karen Carr and I founded in 2019, is now publishing the magazine!
We couldn't be more thrilled to carry on the legacy set forth by the magazine's long-time president and executive editor, Scott Borowsky, and we're so honored to retain SGN's tenured sales manager, Larry White, and its experienced managing editor, Caroline Risi, and ad production coordinator, Debby Clarke. Bringing their experience together with Karen's and my combined 45 years' experience in producing award-winning business-to-business magazines for a variety of industries, plus a dedicated staff from Seaside Retailer, and we've got ourselves a winning team that is eager to serve the needs of the souvenir industry.
We know that we have big shoes to fill with taking over the publishing of SGN magazine, and we hope you enjoy the first issue produced by Breakwall Publishing. While we've continued to put emphasis on retailers who represent the souvenir and gift industry, we've also updated the look and added new informative sections, including Retailer Roadmap, Product Spotlight and Shop Talk that we hope you enjoy.
None of this would be possible without an amazing staff and the support of retailers and wholesalers like you. We look forward to a bright future together! SGN
PUBLISHER & CREATIVE DIRECTOR
KAREN CARR karen@breakwallpublishing.com
330-591-2575
EXECUTIVE EDITOR & CONFERENCE DIRECTOR
KRISTIN ELY kristin@breakwallpublishing.com
858-684-7744
MANAGING EDITOR
CAROLINE RISI caroline@breakwallpublishing.com
610-645-6948
SALES DIRECTOR LARRY WHITE larry@breakwallpublishing.com
610-324-2100
SALES MANAGER
KATIE TURNER katie@breakwallpublishing.com 219-206-1140
SALES MANAGER
JAMIE WINEBRENNER jamie@breakwallpublishing.com 330-269-5875
AD PRODUCTION COORDINATOR DEBBY CLARKE debby@breakwallpublishing.com
856-816-6346
BILLING GABBY PAGURA accounting@breakwallpublishing.com
330-368-2047
CONTRIBUTORS
Karen Appold Genie Davis Kristen Hampshire Sara Karnish Carimé Lane
ADMINISTRATIVE ASSISTANT
JEANNE LARSEN
WEBSITE DEVELOPMENT
CHRISTINE WELMAN
BUSINESS ADVISOR BOB THOMPSON
Published six times a year by: Breakwall Publishing LLC 3593 Medina Rd. #117 Medina, OH 44256 330-591-2575
Subscriptions and address changes: Souvenirs, Gifts & Novelties magazine P.O. Box 3000 Denville, NJ 07834
subscriptions@breakwallpublishing.com
Entire contents copyright 2023 Breakwall Publishing LLC. All rights reserved. Materials in this publication may not be reproduced without written permission from the publisher.
EDITOR'S LETTER www.sgnmag.com 10 SOUVENIRS, GIFTS & NOVELTIES MAGAZINE MARCH-APRIL 2023
—
Kristin Ely
Souvenirs Gifts & Novelties magazine sold to Seaside Retailer magazine's parent company
Breakwall Publishing, the Medina, Ohio-based publisher of Seaside Retailer magazine, has announced it has purchased the assets of Souvenirs, Gifts and Novelties (SGN) magazine from Kane Communications Inc., based in Bryn Mawr, Pennsylvania.
SGN was founded in 1962 and from 1977 to 2022 was led by Scott Borowsky, who served as SGN's president and executive editor.
"In searching for a new owner, we wanted to make sure the foundation and values that we have prided ourselves on over the last four decades would be carried on," said Barowsky. "Breakwall Publishing has proven its ability to provide relevant and valuable information to its retailer audience, and I am confident that they will help us carry on our legacy for decades to follow."
Breakwall Publishing was founded in 2019 by Karen Carr and Kristin Ely, two award-winning business-to-business publishing veterans with over 45 years combined industry experience.
SGN has a strong readership of retail officials at tourist locations such as zoos, aquariums, caves and caverns, museums and amusement parks. The readership additionally consists of owners, buyers and managers at shops located in resorts, hospitals, gift stores, boutiques and other destination-driven retail businesses. Seaside Retailer reaches a robust audience of owners, buyers and managers of coastally located and inspired gift shops, boutiques, resorts and souvenir stores.
Karen Carr, Breakwall Publishing president and Seaside Retailer publisher, said, "We've had our pulse on the gift and souvenir industry for the past several years through Seaside Retailer's coverage of beach, coastal and nautical retailers. We look forward to providing the same award-winning editorial content and design that readers have come to expect from our publications."
SGN will publish five issues in 2023: March/April; May/June; July/ August; September/October and November/December. Beginning in 2024, SGN will be published on a bimonthly basis.
Kristin Ely, Breakwall Publishing vice president and Seaside Retailer editorial director, said, "We are excited to expand our portfolio with the acquisition of SGN magazine. Connecting retailers with wholesalers who can help them expand their offerings and be successful in their businesses has always been our goal, and now we will be able to do the same for a wider community of gift and souvenir retailers."
Caroline Risi will continue her role as managing editor of SGN, providing readers with quality coverage of the gift and souvenir retail industry. Debby Clarke will also continue her role as ad production coordinator. Larry White who has served as SGN's advertising director for the last 31 years is also staying on board.
"I value the relationships I have built with advertisers over the years, and I am eager to continue to foster existing relationships and build new ones with Breakwall Publishing," said White.
For more information about the acquisition, contact Karen Carr, publisher, at 330-591-2575 or email her at karen@breakwallpublishing.com.
Subscriptions to SGN magazine are available for free by signing up online at www.sgnmag.com/subscribe.
Coastal Connections Conference draws retailers to Orlando
The inaugural Coastal Connections Conference brought together over 100 participants, including seaside retailers from more than 13 states and dozens of vendors who exhibited in an exclusive buying event called The Boardwalk.
Consultants, store designers, veteran store owners and other experts gave presentations on different aspects of store ownership and management — everything from buying strategies to product trends and display ideas to open discussions with the audience.
Before, during and after sessions, conference-goers enjoyed networking opportunities with other retailers and wholesalers.
Additional opportunities to learn about wholesalers, included a welcome bag filled to the brim with gifts from various beach, coastal and nautical wholesalers and a special session called "The Boardwalk Chat" where vendors exhibiting at The Boardwalk sat down with Seaside Retailer Publisher Karen Carr for a one-on-one discussion in front of attendees.
"We enjoyed all of it!" said attendee, Pam Smith, retail director, Turtle Central, Bald Head Island, North Carolina. "So priceless to be able to share similar experiences and learn how to overcome specific challenges when dealing with a coastal business!"
The Coastal Connections Conference returns to the Margaritaville Resort Orlando, Oct. 22 to 24. Information will soon be available at www.coastalconnections conference.com.
12 SOUVENIRS, GIFTS & NOVELTIES MAGAZINE MARCH-APRIL 2023 www.sgnmag.com NEWS BRIEFS
"We look forward to providing the same award-winning editorial content and design that readers have come to expect from our publications."
— KAREN CARR, BREAKWALL PUBLISHING
APRIL 23-25
Minneapolis Mart Home & Gift Show Minneapolis www.mplsmart.com
APRIL
APRIL 2-4
TMC- The Merchandise Center
Chicago & Schiller Park, Illinois www.tmcexpo.com
APRIL 3-5
Gaylord Gift Show
Gaylord, Michigan www.petoskeygiftshow.com
APRIL 19-20
Mid-Atlantic Merchandise Mart Philadelphia www.midatlanticmart.com
APRIL 22-26
High Point Market Week
High Point & Thomasville, North Carolina www.highpointmarket.org
APRIL 25-27
Trendz
Palm Beach, Florida www.trendzshow.com
MAY 10-12
IFJAG
Orlando, Florida www.ifjag.com
MAY 12-14
West Coast Gem & Mineral Show
Santa Ana, California
www.mineralshowslld.com
MAY 12-14
Dallas Spring Gem, Jewelry & Bead Show
Grapevine, Texas www.aksshow.com
MAY 17-19
Las Vegas Market-Spring Sample Sale Las Vegas www.lasvegasmarket.com
MAY 17-21
MSA Forward Retail Conference & Expo
Denver, Colorado www.museumstoreassociation.org
MAY 19-22
MuseumExpo Denver www.annualmeeting.aam-us.org
APRIL 26-27
Magic Nashville Nashville www.magicfashionevents.com
MAY
MAY 2-3
Keystone Cash & Carry Lancaster, Pennsylvania www.lancasterwholesalemall.com
MAY 3-4
MAY 22-25
Sweets & Snacks Expo Chicago www.sweetsandsnacks.com
White Label World Expo
Las Vegas www.whitelabelexpo.com
MAY 3-5
ABC Kids Expo
Las Vegas www.theabcshow.com
MAY 8-9
Midwest Market Days Chicago River Grove, Illinois www.midwestmarketdays.com
MAY 19-21
GTS Greensboro Expo
Greensboro, North Carolina www.gtshows.com
MAY 29-JUNE 1
JOGS Gem & Jewelry Show
Las Vegas www.jogsshow.com
JUNE
JUNE 1-2
The Mississippi Market Wholesale Show
Jackson, Mississippi www.mismag.com/msmarket
JUNE 4-6
Miami International Mart Show Miami Gardens, Florida www.martofmiami.com
JUNE 6-9
June Atlanta Apparel Atlanta www.americasmart.com
JUNE 21-27
Dallas Total Home & Gift Market Dallas www.dallasmarketcenter.com
MAY 8-10
Atlanta Spring Cash & Carry Atlanta www.americasmart.com
JUNE 11-14
CMC LA Market Week
Los Angeles www.californiamarketcenter.com
TRADE SHOW CALENDAR www.sgnmag.com 16 SOUVENIRS, GIFTS & NOVELTIES MAGAZINE MARCH-APRIL 2023
Atlanta Market sees double-digit growth
Strong order writing, expanded discovery opportunities, standing-room-only events and significant participation from industry organizations brought energy to the bustling Winter 2023 Atlanta Market staged Jan. 10-16, 2023 at AmericasMart Atlanta.
"Atlanta Market is thriving!" said Bob Maricich, International Market Centers (IMC) CEO. "It felt like the Atlanta Market that buyers and sellers know and love. The surprise and delight of new product, connecting with new and old industry friends, engaging with programming — and even waiting for a packed elevator — were welcomed signs of a confident industry looking forward."
Atlanta Market attendance posted double-digit growth over the Winter 2022 staging, attracting buyers from all 50 states and 56 countries. International traffic significantly increased, nearly doubling year-over-year with a notable 350% increase in Canadian attendees. Domestically, attendance from the Northeast grew by over 40% and the Southwest by 70+%.
Driving Atlanta Market's attendance growth was the return of major buying groups, associations and key accounts for the first time since Winter 2020.
The Summer 2023 Atlanta Market is July 11-17 at AmericasMart Atlanta. The debut of Casual Market Atlanta runs July 10-13.
Relaunched Rocky Mountain Apparel, Gift & Resort Show gaining momentum
The Rocky Mountain Apparel, Gift & Resort Show is finding success under its new ownership. RedlineXpo relaunched the show in 2021 as a bi-annual show.
Square footage of booths leased for the company's fourth edition of the show grew by 16% from the February 2022 event, while attendance grew 20% between the same two shows, according to Evan Shoda a partner with RedlineXpo.
Shoda said exhibitors and attendees alike at the February show were impressed with the growth of the show and expressed their optimism in the continued upward trajectory. "Vendors were appreciative of our new marketing initiatives as well as our focus on bringing in key accounts from around the country."
"The venue was convenient and the attendance was exceptional," said exhibitor Thad Fabish of Wild West Shirt Co. "We are looking forward to coming back in August."
Hollie McBride of exhibiting company Sea To Me said, "The Rocky Mountain Show exceeded our expectations. We will be back next year."
Murffy Stevens of Monterey Imports, a souvenir company that has exhibited at the Denver show for 65 years said, "For the first time in a long time I'm optimistic about this show's long-term future. I appreciate the fresh energy and attention that this management team has brought to the show."
He added, "It's wonderful to see first time buyers and new retailers in addition to all the dedicated buyers and exhibitors that keep this show going. Denver is always an important show, and a strong market, but there is a new sense of vitality that's so important and actually makes it fun to walk through the door again.
The bi-annual show returns to Denver, Colorado's National Western Complex Aug. 14-16.
Growth is expected from last year's August show with increased product offering expansions in every category.
"We have a strong category of established companies with trusted and familiar lines as well as a large number of new manufacturers bringing new products and lines to market," according to Shoda.
Las Vegas Market experiences major attendance growth
Throngs of optimistic retailers, designers and specifiers gathered for Las Vegas Market's first market of 2023 to place orders for new products, explore new technologies and embark on new opportunities.
A 25% year-over-year increase in attendance combined with a wealth of new introductions created an unmistakable energy throughout the market's 1,000 gift, home decor and furniture permanent showrooms and temporary exhibits, Jan. 29-Feb. 2, at World Market Center Las Vegas.
"The unbridled optimism of buyers and suppliers at Las Vegas Market was reminiscent of prepandemic market conditions and is a great indicator of our industry's future," said Bob Maricich, International Market Centers (IMC) CEO. "Business was brisk and new relationships forged as the right buyers and the right sellers came together to kick off 2023 on a very positive note." The Summer Las Vegas Market is July 30-Aug. 3.
20 SOUVENIRS, GIFTS & NOVELTIES MAGAZINE MARCH-APRIL 2023 www.sgnmag.com
TRADE SHOW NEWS
Surf Expo January records 21% increase in total attendance
Surf Expo, the premier watersports and coastal lifestyle tradeshow, saw a robust 21% yearover-year gain in attendance for its January 2023 edition, hosting more than 8,500 industry professionals at the Orange County Convention Center in Orlando, Florida, from January 4-6 for an incredible buying experience.
"The surf, coastal, and resort markets are thriving and vibrant," said Roy Turner, Surf Expo SVP and show director. "We were thrilled to see that qualified buyer attendance was up 20% at this show over the previous year, with more than 4,100 qualified buyers attending. These retailers from the U.S. and more than 60 different countries got to check out more than 750 brands."
"We had a really great experience at this year's show," said Luke Mesanko of Wanderlust & Sea in New Jersey. "A lot of the next-gen brands got our attention, and we had time to build up those relationships. We had some really great dinners and lunches with business executives and their teams. All around, it was super productive, and the vibes were high."
In addition to the busy sales floor, Surf Expo hosted free professional learning labs and multiple fashion shows. The Florida Shape-Off, the annual surfboard shaping contest and exhibition that promotes the craft of hand-shaping surfboards, was won by Josh Peterson of Peterson Surfcraft.
Surf Expo will return Sept. 7-9, 2023, to the Orange County Convention Center's South Concourse.
Las Vegas Apparel finds continued success
The fourth semi-annual edition of Las Vegas Apparel kicked off Las Vegas Fashion Week, connecting buyers and brands in a resource-filled and hospitality-driven environment, Feb. 12-15 at the Expo at World Market Center Las Vegas.
Las Vegas Apparel offered 100-plus lines across apparel, accessories, gift, and even home decor through temporary exhibits and the unique advantage of open gift and home showrooms, according to show organizer IMC.
The winter 2023 edition drew a diverse geographic audience, with retailers from 46 states and Puerto Rico, as well as eight international countries. Additionally, more than half the February attendees were new to the market.
The next semi-annual Las Vegas Apparel is Sunday, Aug. 6 to Wednesday, Aug. 9 at the Expo at WorldMarket Center Las Vegas.
22 SOUVENIRS, GIFTS & NOVELTIES MAGAZINE MARCH-APRIL 2023 www.sgnmag.com TRADE SHOW NEWS
Bulletin brings new energy to NY Now
NY Now and Bulletin's reimagined February's 2023 Winter Market included a fresh crop of brands and makers coupled with a sense of innovation and transformation.
Emerald X recently acquired the curated wholesale marketplace, Bulletin, whose team and leadership played a key role in planning, marketing and staging the country's largest gift and home show. The show featured elevated lounges, packed networking happy hours and engaging panels. Bulletin's B2B marketplace and commitment to small businesses will continue to play a significant role in making NY Now a more tech-powered event, with even more changes slotted for summer 2023, organizers say.
The Bulletin Pavilion, an incubator space at the show's center featuring emerging wholesale brands, was a great contributor to the show's sense of discovery and community.
Toy Fair responds to demand for Halloween merchandise with introduction of BOOlevard
In response to high demand to participate in the already sold-out Halloween Pavilion, Toy Fair 2023 is introducing a brand-new area that creates additional display opportunities for Halloween-themed products.
The Halloween BOOlevard is a dedicated space spotlighting companies representing Halloween toys, games, costumes, accessories, décor, novelties, and more. Each participating company receives a showcase spot to display its product, along with the item's description and manufacturer contact information. The space will be located in the high-traffic Toy Fair registration area and adjacent to the entryway that leads into the Halloween Pavilion, ensuring that brands will be front and center for all buyers and attendees to see.
"We knew that Halloween was a beloved holiday, but the tremendous response we saw with the Halloween Pavilion exceeded our expectations," said Kimberly Carcone, executive vice president of global market events at The Toy Association. "We believe the Halloween BOOlevard addition will add significant value to the Toy Fair experience, and we can't wait to see the creativity and innovation that will be on display!"
In addition to the Pet PLAYce showcase and the Halloween and World of Toys Pavilions, this new featured area is just one of the ways the reimagined Toy Fair will give attendees direct access to a broader range of products and provide even more opportunities to expand their business. Additional showcases and pavilions on the Toy Fair show floor will be announced in the coming weeks.
Toy Fair is Sept. 30 to Oct. 3 in New York City.
24 SOUVENIRS, GIFTS & NOVELTIES MAGAZINE MARCH-APRIL 2023 www.sgnmag.com TRADE SHOW NEWS
A STORE FIT FOR 'THE GODS'
THE
STORY BY CAROLINE RISI
When Scott Quine was looking for a new career opportunity in retail, he noticed a store director opening at a Colorado national natural landmark where he and his family routinely hiked. Quine has a broad background in retail and has worked for Old Navy, Barnes & Noble, King Soopers, Fossil Watches and others. He was intrigued by the possibility of working at Garden of the Gods Visitor and Nature Center in Colorado Springs, Colorado, so he decided to apply. It's a decision he hasn't regretted.
"It has been a wonderful three years since I joined the store, and I'm truly honored to be able to work at this location," Quine says of his job as store director at the Garden of the Gods Visitor and Nature Center.
While many locations have seen wild fluctuations since 2020, this free park and national landmark has experienced steady visitation. "Our location is the main tourist destination in the state of Colorado and regardless of conditions, our guests have shown a continued interest in visiting us. There have been numerous traffic improvements as well, that when finished, will further assist in our visitors having a much more streamlined experience here," Quine says.
The Garden of the Gods retail operation sees itself as an extension of guests' experiences in the park, he says. "We're here to provide more information or help create a memory of their visit. The Garden of the Gods is a place for people to experience nature and spend time in one of the most beautiful places on Earth. We hope to give guests a way to take a piece of that experience home with them. It's important that the guests feel everything is working together in harmony. While every aspect of the visitors' center works independently, we all strive to build a team that gives the guests the feeling that it's one seamless experience," he says.
26 SOUVENIRS, GIFTS & NOVELTIES MAGAZINE MARCH-APRIL 2023 www.sgnmag.com COVER STORY: GARDEN OF THE GODS
THE GARDEN OF THE GODS' RETAIL OPERATION COMPLEMENTS
NATURAL WONDERS OF A COLORADO LANDMARK.
Garden of the Gods Visitor and Nature Center's gift shop is an extension of the park experience with quality gifts and souvenirs to commemorate the visit.
Sales from the 3,000-squarefoot store go back to the visitors' center, which in turn help in the operation of the park. "We also do donation roundups for every customer," notes Quine.
The retail operation at the Garden of the Gods Visitor & Nature Center, through the Garden of the Gods Foundation, has donated over $5.3 million dollars to the city of Colorado Springs. The sum represents contributions of a portion of every sale over the past 27 years, and has been used for the preservation and maintenance of the Garden of the Gods Park.
"I was told a long time ago that retail management is simple: Put your product where it's supposed to go, open the doors, and be nice. Everything we do, down to the last detail, can be filtered through one of those three things."
— SCOTT QUINE
as he instead opened the area to the public.
ANCIENT BEGINNINGS
Guests come from all corners of the globe and every U.S. state to see the stunning geological features of the park. Massive sedimentary rock formations date to the Pleistocene Ice Age and are among the outstanding features of the location. The park's name dates to 1859 when it is said a pair of surveyors came upon the area. One of them said it was a place for the gods to assemble, and named it the Garden of the Gods, the park's website notes.
Donated to the city of Colorado Springs in 1909 as a 480-acre parcel by the children of Charles Elliott Perkins, the park was designated a National Natural Landmark in 1971. Perkins had acquired the land for a summer home that was never built,
Today, the park encompasses 1,320 acres with 15 miles of trails for hiking, biking and horseback riding. In addition to the souvenir and gift store, The Visitor and Nature Center serves all guests with free trail maps, water bottle refill stations, the GeoTrekker Theater, exhibits and galleries and a cafe.
THE RETAIL DETAILS
Display is an important part of the retail experience at the store, and the impact of the merchandise arrangements is enhanced by a huge panoramic window with the Garden of the Gods Park on display right outside.
"It's like having a billboard right outside our
www.sgnmag.com MARCH-APRIL 2023 SOUVENIRS, GIFTS & NOVELTIES MAGAZINE 27
To view more photos of the Garden of the Gods Visitor and Nature Center, visit www.sgnmag.com
store, and the merchandising needs to reflect that immediacy when guests look out at that beautiful and majestic park," Quine says.
He describes the store as being integrated seamlessly into the visitors' center and the Garden of the Gods experience, and that it tells stories with its merchandise. "We want that feeling you have outdoors to be echoed in the store," he says. "We do that by making every display and table feel like it could be out there. There's a natural way in which our store flows and is merchandised that fits seamlessly into the park."
The store uses spotlights that are adjusted to highlight specific areas of a fixture. The shop was remodeled in 2022 to "help the customer not only make their way through every space available to them, but to also give them more opportunities to find the perfect items for their visit," he says.
"We extended our queue line and moved our registers to a different space closer to the front of the store. We also remerchandised the store to better reflect the space we have and to give the customers a more personal store. It really made a huge difference towards that experience I keep talking about," Quine explains.
Guests may only visit the store once in their lifetime, and the store answers the question of how it can maximize that time for the guest. "These improvements have done that and so much more," he says of the remodel.
The layout of the store is a long oval shape, and the remodel helped make the store flow even better, according to Quine. "And now, I think our store is in the best place it's ever been visually and for the customer experience. Customers can easily move throughout the store and find everything they need to remember their time here."
As to the future, he says changes are currently all "based around how to keep improving our assortment to find that perfect balance for the business and guest. We are always striving to find new and exciting items to further help in improving the guest's memory of visiting here."
MERCHANDISE FOR THE MASSES
Quine says that store staff interact with guests every day who have made a stop at the gift shop a part of their long journey. "We interact with every guest we can and help in every way we can. Whether it's how to get something back to the
country they're visiting from or helping them find some local places to eat along their way," he says. "We also have plenty of suggestions for those guests looking to further their experience after the park here in Colorado Springs."
The park's retail operation carries an assortment of apparel, souvenirs, jewelry and snacks. "We have a very thorough buying team that works tirelessly to find the most unique and customer friendly items they can get for us," Quine says. "They are constantly looking for ways to create the perfect assortment for our guests."
Top selling souvenirs in the store's merchandise mix include stickers, postcards and magnets. "While each guest is looking for something truly unique that speaks to them and their experience here, overall, every guest is looking for something that will have them remember their visit, whether it be on their water bottle or while opening their fridge. Guests leave here with a true connection to the park and visitors' center. It's something they can reflect on for the rest of their lives, and a small item like a sticker helps them do that," Quine says.
Apparel and souvenirs are the top sellers. "Guests really want something tangible to help them connect to their time here," Quine says. "We do everything we can to help them find that. Whether it be a shirt they wear week to week or a coffee cup they go to every morning. These are our biggest sellers — anything to help them connect back to their experience here."
Reusable bags are another popular item for the store. They're also made from recycled water bottles. So, it's a great way for customers to feel that connection "but also that they're a part of keeping our park clean for future visitors," Quine says.
28 SOUVENIRS, GIFTS & NOVELTIES MAGAZINE MARCH-APRIL 2023 www.sgnmag.com COVER STORY: GARDEN OF THE GODS
The varied selection of unique merchandise throughout the store is the result of a thorough buying team.
A recent remodel has helped improve the flow of the gift shop, giving customers a welcoming experience.
COUNTING ON KIDS
To appeal to children, the store offers toys and "great" shirts, Quine says. The biggest help in making kids' visits memorable is the Junior Rangers Program. As part of the program, guests purchase a $2 activity book for youngsters to use to complete activities at the park.
PRACTICING HIS PHILOSOPHY
Quine puts his business philosophy into action at Garden of the Gods Visitor and Nature Center: "I was told a long time ago that retail management is simple: Put your product where it's supposed to go, open the doors, and be nice. Everything we do, down to the last detail, can be filtered through one of those three things."
Put your product where it is supposed to go – Guests are provided with a seamless experience as they traverse the park and through the visitors' center, according to Quine. "We make the store visually appealing while also blending into the view of the park in the background."
Open the doors – Quine says, "We understand visitors have planned their trips, sometimes years in advance. It's important that we are ready to be open on time every single day, with a team that is ready to do everything it can to run the store efficiently and be visually enticing.
Be nice – He and Assistant Store Director Andrea Landerl strive to make the team feel like a family, saying it is not uncommon to hear laughter from
thing anyone on our team showcases. The guests are here to experience something they never have before, and our team does everything we can to make it happen."
Quine adds that the skillset for his team needs to be varied. "It's important for the team to be experts in the product we carry, but they need to be experts in the amazing experiences available to guests during their visit — from Segway tours to rock climbing. It also helps that the team can recommend favorite things to do in the park and be familiar with the Colorado Springs area," he says.
Guests are already in a great mood when they arrive and the store's role is, "How can we help that continue?" They do it by showing visitors "you're glad they're here and help them have a wonderful time in our store. Help them find that special item to remember their time here. When they walk in the store, it should match the feeling they get when they go to the park," he says.
Quine describes his team as "amazing." "First and foremost is my Assistant Store Director Andrea Landerl. She accepted the position over a year ago and has truly done an amazing job growing in her role. She strives every single shift to make all our visitors and staff feel welcomed," he says.
The rest of the team, too, has made the location a great success, "and without them, it would not have been possible," according to Quine.
them on the sales floor or in the office. "This is a huge part of our success here at the visitors' center, and the customers pick up on that every day," he says. "We all love being here, working with each other and helping our guests feel like they are getting a truly unique experience."
A WINNING TEAM
Members of the team are hired based on personality and not skill, Quine says. "We can train someone to work on the register. We can't train someone to be pleasant, helpful and energetic," he explains. "Those come naturally, and it's the most important
The staff, Melissa Brown, Sarah Bryer, Joan Ernst, Hannah Lawrence, Terry McDonald, Donald Metz, Sherri Myers, Lily Neville, Meggan Norman, Faye Olsgard, Raychel Smith and Simone Soerensen, handle everything from cash registers, restocking, merchandising, customer service and recovery.
"I am truly grateful to have each and every one of these people in my life and working here with me. They show up for every shift with a smiling face, wonderful demeanor and willingness to do whatever it takes to help our visitors have an amazing visit." Quine says. SGN
30 SOUVENIRS, GIFTS & NOVELTIES MAGAZINE MARCH-APRIL 2023 www.sgnmag.com COVER STORY: GARDEN OF THE GODS
"My team is amazing. First and foremost is my Assistant Store Director Andrea Landerl (pictured above). She has truly done an amazing job growing in her role. She strives every single shift to make all our visitors and staff feel welcomed."
—
SCOTT QUINE
The park's Junior Rangers Program helps draw kids into the store's kids' section.
GOING WILD FOR SOUVENIRS
Retailers share what products are trending at zoos across the United States.
STORY BY CARIMÉ LANE AND KRISTIN ELY
Souvenirs are more than just a reminder of a trip when zoos are involved. Zoo gift shops across the country know that they are catering to a crowd of visitors who have made special bonds with resident animals ranging from fun-loving manatees to slithery snakes. That's why they often carry a variety of animal-themed and name-dropped gifts for all ages.
Kids especially can't wait to get that special item that reminds them of the new members of the animal kingdom they've just formed a bond with.
"Our best-selling item far and wide is plush," says Elie Johnson, director of retail at ZooTampa at Lowry Park. "It's mainly because of our customer base. It's kids coming to the zoo and they make a connection with one of the animals, and it's just having that plush to bring home to remind them of the animal they saw or interacted with. It helps them have that memory at home at well."
The most popular plush items across the zoo's six gift stores, pop-ups and mobile carts tend to be snakes and painted dogs. ZooTampa is also one of the few zoos in the country that carries a shoebill
www.sgnmag.com SOUVENIR FOCUS: ZOOS 32 SOUVENIRS, GIFTS & NOVELTIES MAGAZINE MARCH-APRIL 2023
PHOTOS: AARON LOCKWOOD
stork, "which if you've never seen one, you should check it out," says Johnson.
The snakes do well, she says, because of how they are displayed. "We have a rack that they hang from, so it is like a long snake and it really draws kids over."
"We always had a reusable bag option and they always did well but now that we don't have any other bag options for the guests, they're doing even better."
Plush aren't the only items with animals that the kids go wild for, notes Johnson. "We have these buttons, and we sell them for $1 each. They'll have a photo of an animal that is actually here at the zoo and then it has the ZooTampa logo on it."
The buttons are an upsell item at the cash register, "so we sell quite a few of those," Johnson adds. Good Luck Minis from Safari Ltd. are another low-priced big seller. They are pocket-sized animal figurines that the zoo sells hundreds of in a day.
"They also do really well with our members because there are always new ones coming out. They come back and try to collect them all," she says.
Reusable bags are also trending. ZooTampa removed all its single-use bags in July. "We always had a reusable bag option and they always did well, but now that we don't have any other bag options for the guests, they're doing even better."
The zoo sells a custom manatee bag and is coming out with a custom Florida panther bag soon. The zoo also works with a local artist who creates stickers that are custom to the Florida area. The artist also donates 10% of the sticker proceeds to conservation funds which appeals to the clientele.
Name-drops are about 50/50 of the stores' mix, according to Johnson. They do well at the zoo's gift stores, particularly for those who are visiting from another area. "If we have people coming into Florida, they are going to be more attracted to the name-drop item."
Some of the plush animals wear vests and hoodies with a name-drop sewn in. T-shirts are the zoo's best-selling name-drop item, but snow globes, keychains, and magnets are also part of the name-drop mix. The zoo doesn't do a lot of name-drop on its giftware because that is more geared toward members who aren't as interested in it, notes Johnson.
Johnson has seen some shifts in merchandise trends since the COVID-19 pandemic. Where before a customer might have settled for whatever
www.sgnmag.com
— ELIE JOHNSON, ZOOTAMPA
ZooTampa's plush is a big draw for the kids, while name-drop merchandise does well with those visiting from out of town. Reusable bags are also popular.
item was available at the time, now, they are going after items they are specifically seeking.
"I could sell an armadillo plush in 2020 and no one cared because they just wanted an item, even though we don't have an armadillo at the zoo," she explains. "Now people are more focused on getting that correct item that they want that means something to them."
Mission-based items are one such example. Johnson says customers are willing to pay more for them because they support conservation initiatives. A bracelet the zoo carries is one example.
"We find that guests don't mind paying a premium for it, which is really cool because it ties back to the zoo's mission as well and we can promote these conservation-based items," she says.
NAME-DROP POPULARITY
The Zoo Miami gift shop aims to maintain a "vast variety of eye-catching and neat trinkets, toys and apparel," according to Carlos Abreu, retail operations manager at The SSA Group, which manages the store.
According to Abreu, the zoo's top three best-selling inexpensive souvenirs are usually plush, postcards and magnets.
"Name-drop items are almost always top sellers, but truly anything that has to do with our animals at the zoo are nearly impossible to keep on hand," Abreu says.
Every month, in partnership with the zoo, the store chooses to donate to a specific animal fund. The store staff creates displays of the featured animal, and the plush products associated with that animal tend to be big sellers.
One vendor's postcards feature prolific wildlife
expert and photographer Ron Magill's wildlife photographs.
"These postcards are a constant restock item as guests tend to purchase 10 or more at a time," notes Abreu.
"Name-drop items are almost always top sellers, but truly anything that has to do with our animals at the zoo are nearly impossible to keep on hand."
Zoo Miami takes recommendations from their guests and zoo members on what items to name drop. Team members and zoo staff also like to purchase these items before they're sold out.
"Where best to get recommendations for product than the guest making the purchase themselves?" says Abreu. "Typically, any namedrop items we carry tend to practically fly off our shelves."
In the case that the zoo had leftover items, they would be moved to the on-sale section. But that hasn't happened yet. According to Abreu, the zoo's name-dropped merchandise always sells out.
SWEETS, PENNIES AND MORE
Tarynn Bennett, retail guest experience manager at the Lake Superior Zoo in Duluth, Minnesota, says some of the zoo's top-selling souvenirs are its penny magnet holders, stickers, Good Luck Minis and caramels.
34 SOUVENIRS, GIFTS & NOVELTIES MAGAZINE MARCH-APRIL 2023 www.sgnmag.com SOUVENIR FOCUS: ZOOS
Zoo Miami's mix of merchandise typically will include a name-drop or have an animal theme.
Apparel is big with kids and adults at Zoo Miami. The zoo stocks a variety of clothing for men, women and children.
Merchandise featuring wildlife does well at Zoo Miami.
— CARLOS ABREU, ZOO MIAMI, THE SSA GROUP
"Our Annie B caramels are one of our top two sellers. They're inexpensive and support a local business at an affordable price," she says.
Penny press machines are located throughout the zoo. Guests can crush a penny at these machines with one of the zoo animals on it.
Shoppers can then purchase penny books or bracelets to hold the souvenir penny.
Along with performing good research to find new vendors with inexpensive souvenirs to stock, Bennett is a member of the Zoo, Aquarium & Garden Buyers Group (ZAG). She says it is a great resource for sourcing locally made items, fair trade products and more.
CONSIDERING COSTS
Inexpensive souvenir pins are the top seller at Miller Park Zoo in Bloomington, Illinois, according to Guest Services Manager Sandra Goaley.
"I think they sell so well because they are straightforward and don't have an animal or year
associated with them," says Goaley. "If a guest is looking for a particular animal with our name, but can't find it, they likely won't buy anything. But if they find something that is neutral instead, they will likely get it."
Goaley browses print catalogs and the Internet to aid in the search for inexpensive souvenirs. When something catches her eye, she'll look into how much the sales price would be and decide if it's something the zoo's guests would purchase. She also asks the staff, "Would you buy this for this much?"
"It works because I'm not only considering our cost, but what someone would purchase something for," Goaley says. If she finds a product she likes on its own, without a name-drop, she'll consider what it would look like with a name.
Goaley would consider offering merchandise that isn't moving at a discount price, but also believes that for the most part since there's something for everyone at a zoo gift shop, it'll eventually sell.
Zoos have plenty of options to entice customers with purchases that help further connect with memories, animal experiences and causes that zoos help promote. Sticking with animal themes and name-drops are successful strategies. SGN
36 SOUVENIRS, GIFTS & NOVELTIES MAGAZINE MARCH-APRIL 2023 www.sgnmag.com
ZOOS
SOUVENIR FOCUS:
"If a guest is looking for a particular animal with our name, but don't find it, they likely won't buy anything. But if they find something that is neutral instead, they will likely get it."
SANDRA GOALEY, MILLER PARK ZOO
are
all tourists. That definitely plays into what we carry. They are looking for things you wouldn't find in the big box stores."
CONNECTING CUSTOMERS WITH THE PERFECT GIFT
Gift
Finding the perfect gift can take a lot of time and thought. Retailers often hear browsing shoppers say they are looking for a "unique" gift — a special item that reflects the recipient's tastes, personality, or something they didn't even know they needed.
Nikki Hickman, owner of Serendipity Gifts in Saint Charles, Missouri, hears this from customers every day. "Our customers are almost all tourists," she explains. "That definitely plays into what we carry. They are looking for things you wouldn't find in the big box stores — maybe a brand they've never heard of, or something they've never seen. We also carry Simply Southern, which is a pretty well-known brand.
STORY BY SARA KARNISH
It's cute and comfy. We have a lot of humorous, 'snarky' gifts, too — just very unexpected, positive, happy finds."
Hickman says in her 1,000-square-foot store, comfort in all forms continues to be a dominant trend, as well as self-care products — "whether it's our Hello Mello PJs, or bath and body care, like lotion or just a silky pillowcase. Since COVID, the landscape has really changed. People are not dressing up as much. Many folks are still working at home. They're just more comfortable," she says.
BRIGHTENING THE MOOD
At Lotus Lake Gifts & Decor in Chanhassen, Minnesota, Owner Kate Nordby says many of
38 SOUVENIRS, GIFTS & NOVELTIES MAGAZINE MARCH-APRIL 2023 www.sgnmag.com PRODUCT TREND: GIFTS
Gift offerings at Serendipity Gifts include a variety of cute, fun and "unexpected" finds.
shop retailers are carrying a variety of gifts that offer a special touch.
"Our customers
almost
— NIKKI HICKMAN, SERENDIPITY GIFTS
her customers look for gifts to brighten someone's day, particularly during the long, cold Minnesota winters. She says self-care is also a popular category in her 1,000-square-foot store.
"Customers are looking for things to brighten the mood, whether self-care products or candles, either as a gift for themselves or someone else," she says.
Whether the retailer carries national or local vendors, or a combination, distinctive products or fragrances continue to keep customers' interest. Because Nordby's store has a largely local clientele,
Going above and beyond
Gift stores hold a special place in their communities' hearts by offering keepsakes for any occasion. Many of these store owners do even more for their communities by hosting in-store events or participating in larger business-centric community events throughout the year.
Tracey Stamp, owner of Dazzle's Gift Boutique in Duck, North Carolina, has joined in with fundraisers organized by her store's shopping plaza location. "In December there was a fundraiser for a local charity — all of the merchants bought oysters, and the proceeds went to charity. In the spring there is an Easter egg hunt. There are a lot of community events," Stamp says.
Similarly, Serendipity Gifts in Saint Charles, Missouri, is in a wellknown historic neighborhood with built-in foot traffic and a strong tourist population. "The entire area is small boutiques, and there are lots of events throughout the year," says Owner Nikki Hickman.
At Lotus Lake Gifts & Decor, Chanhassen, Minnesota, Owner Kate Nordby holds book readings with local authors. "We have a biannual sidewalk sale and will invite local artists to set up tables. We have food trucks and kids' events. We try to make it more of a family gathering kind of thing."
Jessica Martella, owner of Adorned Accessory & Gift Boutique, Johnstown, Pennsylvania, holds trunk shows for certain brands, private shopping parties and a Sip & Shop Saturday during the holidays. "We're coming up on our 10th anniversary, so we'll do some special events around that," she adds.
her regular customers want to see a regular inventory of new merchandise.
"Shoppers are looking for unique items, so our store is ever-changing," she says. "They expect it to be different."
Nordby tries to infuse some humor throughout the store and in the displays. "I'll add little pops of things to make people laugh. It's fun to watch people shop and find something unexpected. We get a lot of locals, but there is a dinner theater known statewide right across the street from us, so that brings in the visitor traffic every year," she says.
Rather than necessarily following "trends," Jessica Martella, owner of Adorned Accessory & Gift Boutique in Johnstown, Pennsylvania, has noticed a change in customers' buying behaviors. "Our biggest selling line right now is E. Newton, which is gold-filled jewelry. It has a higher price point for our store, but it lasts, rather than something that's costume. People are willing to make more of an investment in something that will last."
Martella says she has also seen a huge demand for home fragrances. "Over the last two years, people were burning candles like crazy," she pointed out. "Any kind of products for 'scenting the home'—wax melts, diffusers with essential oils … people seem to be giving that sort of gift."
She also experienced how COVID changed the landscape. "People were home more, so they wanted their homes to smell nice." She explains. "Anything crystal or sparkly [jewelry] seems to be less popular. People just aren't going out as much. The jewelry is smaller. They want practical, small jewelry they can wear every day. They're just not wearing as much of the big statement pieces."
LOCAL SELLS
Dazzles Gift Boutique's customer base is about 95 percent tourists, notes Tracey Stamp. The Duck, North Carolina-based boutique carries work by local artists and crafters. While Stamp does not
40 SOUVENIRS, GIFTS & NOVELTIES MAGAZINE MARCH-APRIL 2023 www.sgnmag.com PRODUCT TREND: GIFTS
Adorned offers unique housewares to cater to customers staying home more.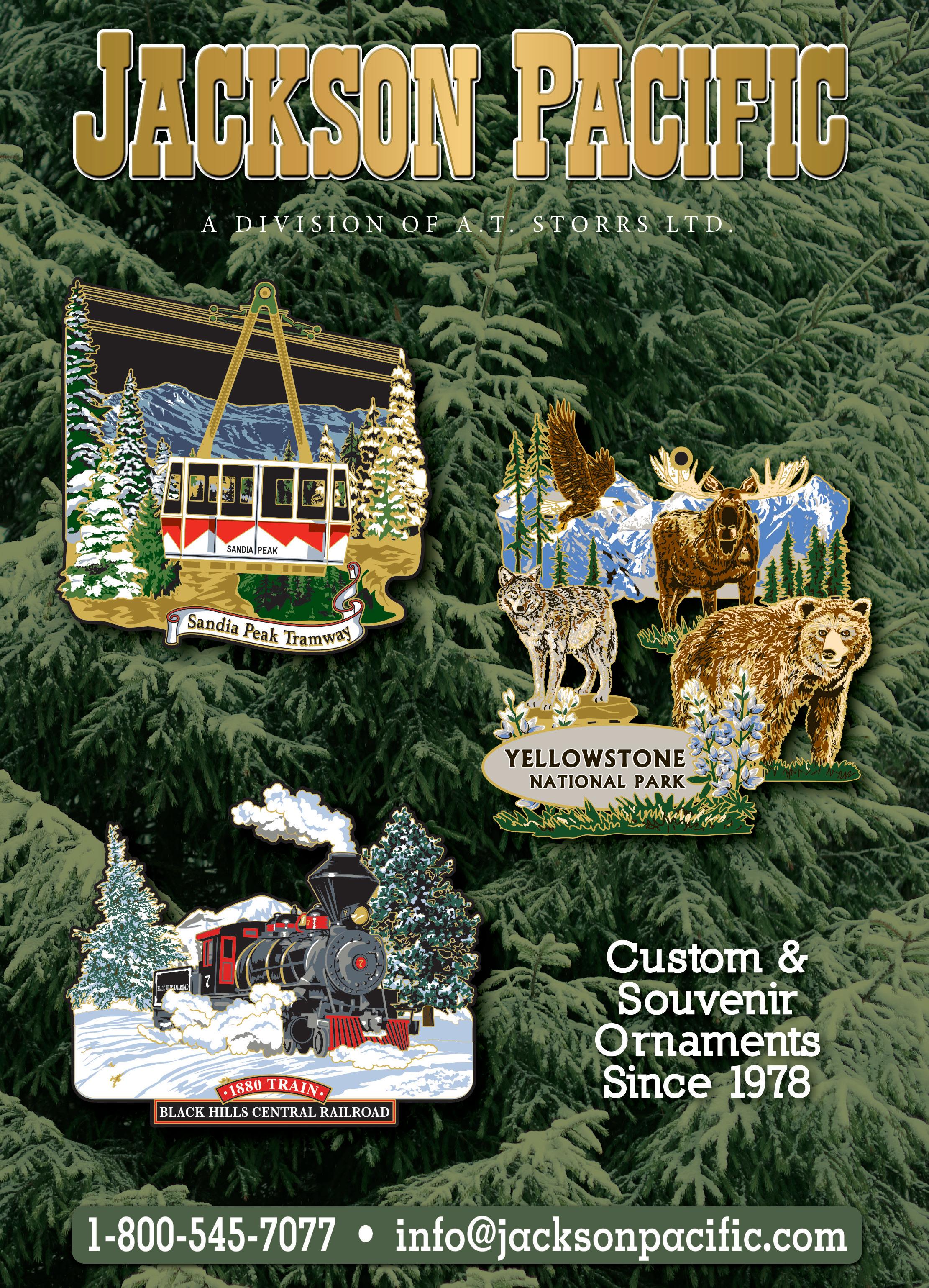 have one outstanding best-seller, she has noticed most of her customers are gravitating toward items made by local vendors.
Handmade, homemade or something with a local flair are consistently strong sellers for gifts regardless of location.
"The year COVID broke, people were buying everything," she says. "Last year, we were more conservative and selective. It's hard to say, trend-wise, because some things that were strong sellers didn't sell as well, or something I didn't think would sell flew off the shelves. Some people like their jewelry; some people like the namedropped items. It's a pretty even mix across the board. People are definitely looking for deals, and they definitely like local."
Most of these retailers find their vendors by going to gift shows. Because Stamp likes to
work with local vendors, she says, "I'm always looking. People come into the store to show me some of their items, or I hear about them through word of mouth. When I travel, I look for interesting vendors. People will approach me."
Dazzles was runner up for "Most Unique Items" in a Best of the Beach contest, so her strategies appear to be working.
Nordby says helping customers find the perfect gift is often a very personal experience. "The biggest thing is connecting with customers. It goes beyond helping people shop."
She says the stories she's heard from people over the years run the gamut — from the most wonderful things, to the most heartbreaking.
"It's not a responsibility I take lightly. Our customers want to connect with people. They are excited to find a gift they are proud to give," Nordby says. SGN
42 SOUVENIRS, GIFTS & NOVELTIES MAGAZINE MARCH-APRIL 2023 www.sgnmag.com PRODUCT TREND: GIFTS
Lotus Lake Gifts & Decor's offerings help brighten up customers' days.
"Customers are looking for things to brighten the mood, whether self-care products or candles, either as a gift for themselves or someone else."
— KATE NORDBY, LOTUS LAKE GIFTS & DECOR
STORY BY GENIE DAVIS
CAPTURING THE CAVE EXPERIENCE
Just like the caves and caverns where these gift shops are locaed, jewelry items offered by the retailers within them are unique. With an emphasis on stocking natural stones and keeping the selections varied, caves and caverns offer much to choose from in the jewelry category.
EARTH AND SEA
Tim Grissom, manager of the gift shop at Ohio Caverns in West Liberty, Ohio, has two top sellers. "We sell jewelry made from natural materials, primarily created from Brazilian gemstones. That's our biggest seller. Our second best is jewelry made from abalone shells, which we source from A.T. Storrs. Those are by far the two jewelry lines that we do best in."
The store also offers necklaces in all different lengths, earrings, bracelets, rings, anklets and chokers. "Our necklaces and our rings are the biggest sellers," he adds.
While necklaces are "by far our number one," he explains, "Gemstones and abalone rings set in silver also do extremely well for us."
Grissom says the shop goes directly to the jewelry craftsmen to find its unique jewelry. "We import directly from Brazil. We go there to the jewelry makers and source from them, which not only makes our items very unique, but gives us the advantage of picking and choosing items from the suppliers as they are actually building the pieces."
The 2,000-square-foot shop redesigned its lighting arrangement several years ago to highlight the jewelry area and creates displays that fit the sparkling lighting. "For the abalone, we use an 8-foot spinning floor rack that's about 2-by-2 feet in diameter. We also
www.sgnmag.com
Jewelry at cave and cavern gift stores contain elements and styes that resonate with visitors.
Ohio Caverns emphasizes the natural beauty of rocks and minerals throughout its gift shop and draws special attention to necklaces that hang from a tree.
have a [slat] wall which we place our Brazilian gemstone items on, and a freestanding necklace tree created from natural wood for those necklaces. It looks just like there's a tree growing in the gift shop," Grissom says.
According to Grissom, "Having knowledge of the items you're selling helps to close the sale, and that's important. But what most souvenir shops miss is that they never open the sale."
Grissom says opening is the most important part. "By opening, I mean greeting your customer as he or she walks into the space and letting them know you're there at their service if needed. And you have to make yourself approachable for that introduction."
He says he sees lots of locations where that is simply not occurring. "That's not how we operate. We always strive to break the ice and make customers feel comfortable, which is the way to start the sale. We'll worry about closing it later."
And whether that's jewelry or another coveted item from the store, the gift shop at Ohio Caverns has seen success with that approach.
JEWELRY ALL AROUND
In Park City, Kentucky, Chase Lasley, gift shop manager at Diamond Caverns, describes mineral
and gemstone necklaces of all kinds as generating the most interest at his shop.
"We have an assortment of stones, as well as shark's teeth necklaces for kids. Our higher-end gemstone necklaces feature stones hung on quality, sterling silver, adjustable chains."
The stones come from a wide range of locations, not just from the local Kentucky area. To find the jewelry items the store carries, Lasley attends retail conferences and rock shows. "We frequently go to
PRODUCT TREND: JEWELRY www.sgnmag.com MARCH-APRIL 2023 SOUVENIRS, GIFTS & NOVELTIES MAGAZINE 45
Ohio Caverns' lighting arrangement highlights the jewelry area amidst an eclectic mix of geodes and apparel.
the geological show in Franklin, North Carolina," he notes.
He uses a large, human-height tree to display the jewelry. "We hang our necklaces from the branches. It's a big floor display that is appealing to the eye, and it is very helpful because it can hold a lot of items and allow visitors to clearly see a lot of different options in stones."
Lasley creates his own displays along with other members of his sales team who hang and arrange jewelry.
"Our gift shop has spot lighting, and I can rotate the spots to strike the jewelry, which makes it sparkle. We will sometimes show jewelry along with big geode slices, which we also offer as jewelry on sterling silver chains," he says.
His top customer service tip? "Have good signage, and make sure your staff is knowledgeable and ready to both answer and ask questions. If they don't know the answer to a customer's question, we encourage them to say, 'I don't know, but I'll find
out.' Customers want to know what they are buying when it comes to jewelry and the different stones we offer."
HIDDEN GEMS
Also in Kentucky, at the Hidden River Cave and American Cave Museum in the town of Horse Cave, Dylan Wilson, a tour guide, environmental educator and gift shop staffer, describes the store's top sellers.
"Gemstone necklaces create the most interest," he says. "Some are carved like hearts, and some are just raw and natural. We have earrings made of gemstone material as well. Amethyst and quartz crystals are the most popular for earrings," Wilson says.
The shop also does well with agate necklaces, necklaces made with small geodes and plain quartz.
"We find some of our quartz pieces here locally, from local distributors and craftspeople. We get some from Mike's Big Rock Shop in Cave City, for example. But mostly our store's jewelry is ordered online," Wilson says.
The store's amethyst pieces come from Brazil. A variety of unique rings the store carries are also purchased online, such as those with several types
46 SOUVENIRS, GIFTS & NOVELTIES MAGAZINE MARCH-APRIL 2023 www.sgnmag.com PRODUCT TREND: JEWELRY
"People will often go visit the cave and then be looking for something that relates to it, so we will always show them the necklaces and other jewelry items and talk about them."
— DUSTIN HEINEMEN, CRYSTAL CAVE-HEINEMAN'S WINERY
of genuine opal, "that people just love," according to Wilson.
Wilson says the most popular jewelry items at Hidden River Cave and American Cave Museum are rings and necklaces. All have a very reasonable price point. "Our necklaces are in the $12 range primarily, and rings $2.50. Any little girl who comes in will go for those rings. We don't sell as many earrings."
Display and lighting, which are handled by the shop staff, include rings kept in open ring boxes, a jewelry tree for necklaces and some of the earrings, and "a really cool actual tree branch that we hang
several necklaces from. We don't keep our jewelry in glass cases; we want people to be able to see what we have."
A key component to the customer service provided by the shop revolves around knowledge. "We make sure we can tell visitors what gems are contained in our jewelry. We provide some input on their origin. I think that's important," Wilson says.
From jewelry crafted of actual cave stalactites to abalone, opal and direct-from-the-source Brazilian crystals, cave and cavern shops all have a focus on offering jewelry as special as the attractions themselves. SGN
PRODUCT TREND: JEWELRY www.sgnmag.com MARCH-APRIL 2023 SOUVENIRS, GIFTS & NOVELTIES MAGAZINE 47
Displays at Diamond Caverns are created by a team who works with lighting and fixtures to entice shoppers to check out geode slices, jewelry and other gift items throughout the store. The human-height tree displaying jewelry catches the eyes of shoppers.
STORY BY KRISTIN ELY AND KRISTEN HAMPSHIRE
ALL ABOARD WITH SOUVENIRS AT COASTAL STORES
Coastal stores are finding ways to attract sales by enticing impulsive purchases and capturing beach memories.
From impulse buys to name-drop keepsakes, souvenirs are selling like crazy at seaside locations. Impulse purchases ring in last-minute revenue for coastal retailers that smartly stock and neatly display a range of low price point products, usually at the check-out counter.
Sessoms' Candy & Gifts in Sea Isle City, New Jersey, on the other hand, has an entire store filled with merchandise that might all be considered an impulse buy. Customers are immediately drawn to the 6-foot lighthouse display stacked with shot glasses and mugs.
"At the counter, we have coasters, magnets, keychains — the whole section is 'impulsey' and says Sea Isle City on it," says Jay (Junius Jr.) Sessoms, owner of
the multi-generational shop, in business since 1972. Customers are often overheard saying, "It's the only store like this on earth."
The boardwalk gift store carries items like sharks-in-a-bottle, pirate paraphernalia, model ships, bamboo wind chimes — and souvenir staples priced so customers can add them to their bag without a second thought.
Sessoms stocks perennial favorites like decals and Hydro Flasks — customers buy Sea Isle City stickers for them — along with trendy items. "This year we have jiggly wiggly slugs and the latest fidgets," he says. "During the summer, we have to replenish the displays every day or it looks like we are empty."
48 SOUVENIRS, GIFTS & NOVELTIES MAGAZINE MARCH-APRIL 2023 www.sgnmag.com PRODUCT TREND: SOUVENIRS
The Little Pelican offers a wide assortment of souvenirs in its store. A fixture upgrade in 2021 has given it even more space to display merchandise.
PHOTOS: AARON LOCKWOOD
Sessoms keeps impulse price points under $20, and there is a wide selection of items that are less than $10.
"If you can get it under the $10 and $20 point like $9.98 or $14.98, that will sell a little better, but our economy here has switched," he notes. "We used to be a blue-collar area, and we really are not anymore. They are building million-dollar homes in town so if they like it, they buy it."
A NAME-DROP STOP
When customers visit Souvenir City in Orange Beach, Alabama, they're usually there for one of two reasons. "When they get here they buy a lot of their beach supplies to go to the beach, and before they return home they buy all their souvenirs," says Lee Howell, general manager of the two Orange Beach Souvenir City locations and Gulf Shores Beach Supply.
Customers at Sessoms' Candy & Gifts can easily grab a shirt or two as a souvenir. the store has increased its inventory threefold.
The store was able to bring in new toy, apparel and jewelry lines thanks to having more room to display its offerings.
Luckily, with a wide selection as the name indicates, souvenir-seeking customers usually have no trouble finding exactly what they are looking for.
The store sells all sorts of merchandise with Orange Beach displayed on them, including T-shirts, hats, picture frames, snow globes, keychains, magnets, drinkware, decals and towels.
"We sell really anything you need for the beach or to take home as a gift with a name-drop on it," says Howell.
"Our main thing that we sell with the name drop is T-shirts. Everybody wants an Orange Beach or Gulf Shores T-shirt to take back to a friend or family member," he adds. "We also sell a lot of coffee mugs and a lot of picture frames, a lot of little trinkets and snow globes. People are always looking for something with the location name on it to take back home with them."
SOMETHING FOR EVERYONE
Souvenirs large, small and everywhere in between adorn the shelves, racks, tables, walls and display cases at The Little Pelican in North Redington Beach, Florida. According to owner Rene Wolf, it is the only store that carries North Redington Beach merchandise.
"We have a lot," she says. With a fixture upgrade in 2021 that gave the store more shelf space,
Shoppers on the hunt for the perfect souvenir can find just about anything they are looking for, including drinkware that ranges from handpainted shot glasses, coffee mugs, and the store's best-selling Silipint line of pint and shot glasses. They'll also find a wide selection of magnets, postcards, pocket knives, keychains, picture frames, bracelets and towels.
It's Christmas year-round at The Little Pelican. The store also expanded its ornament selection and now carries some 200 different types. Approximately 100 of them feature a name-drop. Snow globes are also a hit.
"Snow globes are probably one of the main lower priced souvenirs. I have glass and acrylic ones that are very different," says Wolf. "We also came up with a magnet called 'beachfront property.' It is a square plexiglass block that is name-dropped with the person's name as well as North Reddington Beach. The back has a sunset picture and inside has sun, sand and shells."
When Wolf looks for new products to carry in the store, her criteria consists of two main factors: uniqueness and price point.
"We want to make sure we aren't overpricing ourselves," says Wolf. "We have upgraded the store and added higher price points, but the store has been here for 30 years. I wanted to upgrade the look and feel and bring in quality merchandise for a great price.
Retailers on the coast are stocking plenty of products to help their beach-loving customers relive happy memories with items to wear, display and enjoy. SGN
50 SOUVENIRS, GIFTS & NOVELTIES MAGAZINE MARCH-APRIL 2023 www.sgnmag.com PRODUCT TREND: SOUVENIRS
Plush animals are among the souvenirs at Sessoms' that vacationing families flock to.
Sprouting new ideas
Botanical garden gift shops have much inspiration to draw from in offering gardenrelated finds.
Botanical gardens have many ways to draw in sales with merchandise that appeals to their plant-loving customer base. From gardening essentials to gifts that beacon to the specific region or exhibit, garden gift shops have many options that help extend a visitor's experience.
When looking for new merchandise to carry in her shop, Sue Legault, visitor center and gift shop manager at Blithewold Mansion, Gardens and Arboretum in Bristol, Rhode Island, meets with vendor reps and reviews their offerings.
"The key is to build good relationships with them," Legault says, and to stay on point. "Some reps represent a number of different lines; a lot of time and energy can be wasted if reps show everything they have. After a few meetings, a good rep will understand my needs and only show items that fit with my assortment."
If Legault notices something in her travels that would be a nice addition to her product line, she'll
Floral-themed gifts as well as seed packets appeal to garden enthusiasts at New York Botanical Garden.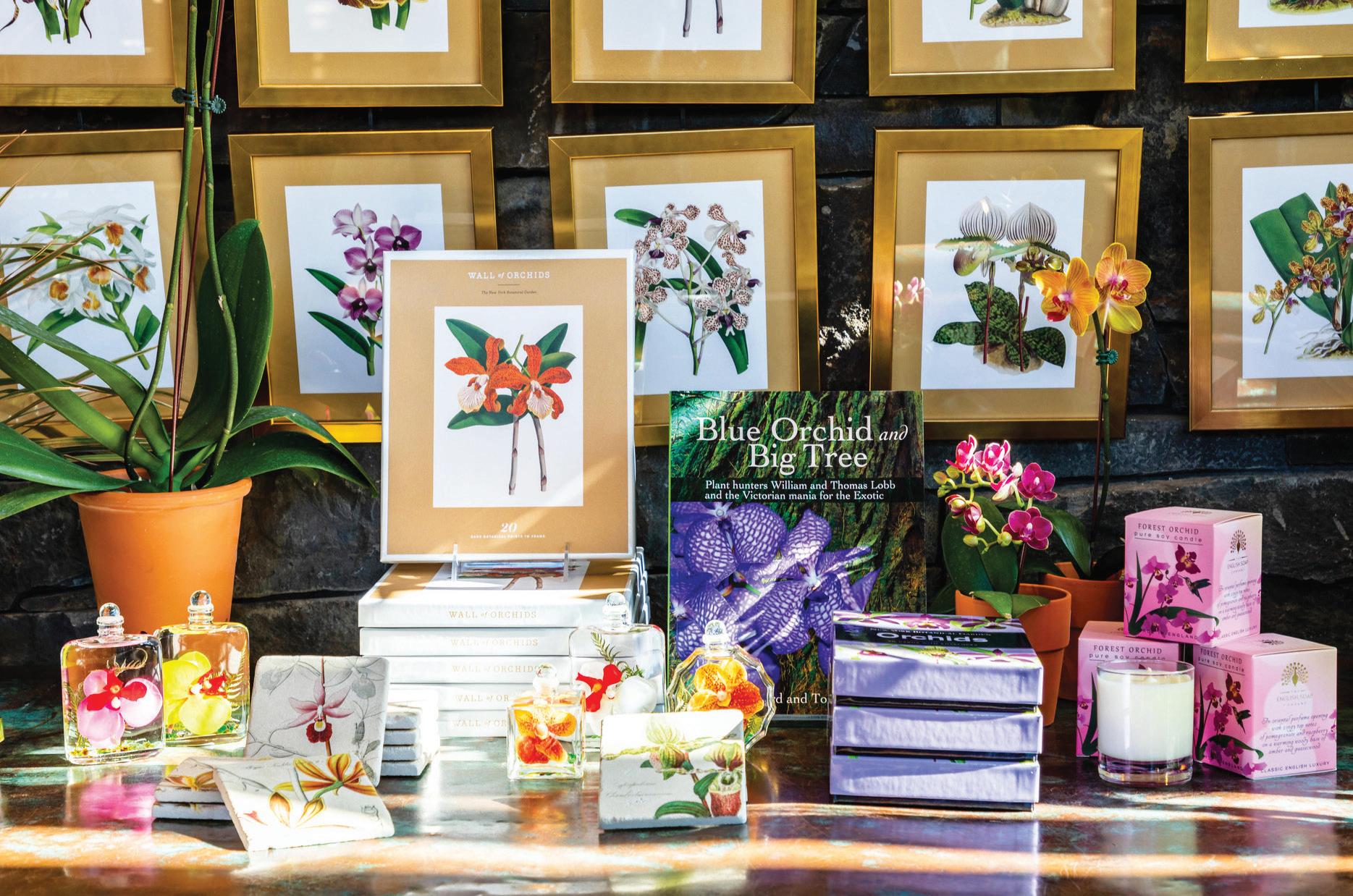 make a note, take a photo and investigate it further. Staff and volunteers also recommend items.
UNDERSTANDING TRENDS
Heather Bass, gift shop manager at Iowa Arboretum and Gardens in Madrid, Iowa, says understanding why customers visit the arboretum helps her determine which new merchandise to carry in her 256-square-foot shop.
52 SOUVENIRS, GIFTS & NOVELTIES MAGAZINE MARCH-APRIL 2023 www.sgnmag.com PRODUCT TREND: GARDEN-THEMED GIFTS
STORY BY KAREN APPOLD
"Seeing what is popular with customers in the past helps predict what will likely interest future customers," she says. In addition, "Sometimes new merchandise follows a certain gardening trend. The shop also carries items that complement events being held there."
Because her shop aims to carry locally made items, Linda Wolfe, director of guest services at Tohono Chul Park in Tucson, Arizona, attends area craft fairs and artisan farmers markets to source out new vendors. She also finds local vendors through Local First Arizona, a nonprofit organization committed to community and economic development.
Siobahn Gilmore, store director at Naples Botanical Garden, Naples, Florida, explores the exhibiting artists, researches trends on social media, leverages existing vendors and attends trade shows, while Margaret Csala, director of retail and business development at New York Botanical Garden in Bronx, New York, attends gift shows; solicits colleagues on local small business recommendations; develops relationships with reps and publishers for books; and researches online media, reviews and blogs when looking for new merchandise.
BIG SELLERS
Coastal-themed decorative items are among Legault's top-selling merchandise categories. This is because Blithewold Mansion is on Narragansett Bay, where many coastal communities are located.
Home decor items with floral patterns also sell well. "We attract visitors who not only enjoy gardening, but also want their homes to reflect their love of flowers and all things nature," Legault says.
Another popular seller is garden tools. "Because of the shop's small size, we only sell hand tools," Legault says. "I try to find tools that you wouldn't ordinarily find in straightforward garden centers."
These might include well-made garden gloves in a decorative pattern. The shop also carries a line of ergonomic tools and a line of seeds that have beautiful packaging based on works of art.
Plants are a top-selling category at Naples Botanical Garden. The shop there offers many varieties, but orchids and kokedamas are the best-sellers.
THEMES THAT RESONATE
Locally made items such as jam, honey, earrings and pottery are a top-selling merchandise category at Iowa Arboretum and Gardens. "These items
54 SOUVENIRS, GIFTS & NOVELTIES MAGAZINE MARCH-APRIL 2023 www.sgnmag.com PRODUCT TREND: GARDEN-THEMED GIFTS
"I try to find tools that you wouldn't ordinarily find in straightforward garden centers."
— SUE LEGAULT, BLITHEWOLD MANSION, GARDENS AND ARBORETUM
The gift shop at Naples Botanical Garden sources product and gains inspiration from artist exhibits, social media trends and trade shows.
appeal to customers because they are quality products and guests like to support locally produced items," Bass says.
Outdoor metal wind spinners and garden art are another bestselling category for Bass. "Guests draw inspiration from our grounds and like to purchase these items for their own yards," she says.
Food, particularly those items that represent the Southwest culture, is a popular category at Tohono Chul Park. Prickly pear syrup and jams, jellies and salsas are a way to bring home a taste of Tucson, Wolfe explains.
Stationery sales stay strong throughout the year. "By carrying notecards of the desert's beautiful flora and fauna as well as replications of artwork shown in our galleries, folks can take home a piece of Tucson," she says. "The artwork can be easily packed and framed, and it's affordable."
Textiles also sell well at Tohono Chul Park. Visitors purchase Southwest placemats, runners and tea towels to remind them of the desert colors back home or as gifts.
At New York Botanical Garden, plants are a popular selling category. Gardening customers buy annuals, perennials, shrubs, bulbs and so forth, says Csala. Indoor plant sales have increased over the past few years. The garden's annual orchid show, which runs for eight weeks, is a huge draw for orchid enthusiasts. The gift shop sold more than 7,000 orchids during the exhibition.
Exhibition-related merchandise, including, mugs, magnets and collectible art are also popular. "Visitors, whether local or tourists, love branded items that reference a specific exhibition," Csala says.
Furthermore, books have notable sales. Csala's shop offers a wide array of titles on topics such as gardening, botany, herbal remedies, floral design, cooking and entertaining. Leather-bound classics sell well during the holidays, and seasonal and exhibition-related titles are always a hit.
The kokedama, a Japanese moss ball plant, has been a great new hit at Naples Botanical Garden. "They are unique, easy to maintain and beautiful," describes Gilmore. "They are perfect as a unique gift for a hostess or a living centerpiece for the home."
IMPACTFUL IMAGES
The gift shop at Blithewold Mansion, Gardens and Arboretum sells an image of a pink poppy on magnets, coasters, trivets and ornaments. The pattern is a replica of the tiles used on the mansion's breakfast porch floor. "I think it's a popular image because it's a pretty pattern and a lovely memento of a visitor's time spent in such a magical place."
Recently, monstera leaf images have become popular at New York Botanical Garden due to the houseplant trend with images featured on tote bags, mugs, magnets, mouse pads and iron-on patches.
T-shirts, prints, notecards, and many other items feature a variety of trees and leaves at Iowa Arboretum and Gardens' gift shop, and at Tohono Chul Park, the stately saguaro is a best-selling image. The saguaro is also the state's iconic symbol. "Succulents continue to be a strong image on textiles, dinnerware, stationery, jewelry and other merchandise," Wolfe says.
For botanical gardens looking to increase their merchandise offerings, the sky is the limit and what sprouts out of the ground is the inspiration. SGN
PRODUCT TREND: GARDEN-THEMED GIFTS www.sgnmag.com MARCH-APRIL 2023 SOUVENIRS, GIFTS & NOVELTIES MAGAZINE 55
"Visitors, whether local or tourists, love branded items that reference a specific exhibition."
— MARGARET CSALA, NEW YORK BOTANICAL GARDEN
Jazzing things up with lighting
STORY BY KRISTEN HAMPSHIRE
Beams of natural light flood into the atrium at the American Jazz Museum in Kansas City, Missouri, where the Swing Shop has offered an array of souvenirs and gifts for 25 years. The luminous setting has its advantages, even on a cloudy day. The open brightness takes somewhat of a burden off other fixtures, but Manager Michael Tosatto must also highlight artwork the shop carries with spotlights.
"Light touches on people's emotions," he says. "So, if it's dark, it gives off a different sense as opposed to walking into a brighter space, which feels cleaner and provides a better experience."
Of course, there's a balance. "You walk into any store these days and if it's really bright it can be too harsh," Tosatto adds. He takes this into consideration when showcasing products at the Swing Shop, which is located by the ticketing area so guests get a good look at what's available and can stop in to browse.
The American Jazz Museum celebrates and exhibits jazz as an original American art form along with delivering performances and education, and through research. Located at one of the country's jazz crossroads — 18th & Vine — the museum property also houses the Negro Leagues Baseball Museum. And across the street is the historic movie theater that once served the segregated community. Today, The Jem is a restored space and serves as an events venue for the museum. The Swing Shop displays merchandise there during performances.
Beyond lighting, the American Jazz Museum is a multisensory experience and the growing Swing Shop recently expanded its product selection to include items guests and local residents will enjoy.
SHINING A LIGHT ON LOCAL ART
"My goal is to bring more of the Kansas City market into the shop," Tosatto says.
Tosatto's initiative to grow the local collection of
RETAILER SPOTLIGHT: AMERICAN JAZZ MUSEUM www.sgnmag.com 56 SOUVENIRS, GIFTS & NOVELTIES MAGAZINE MARCH-APRIL 2023
Lighting at the American Jazz Museum's store in Kansas City, Missouri, has helped highlight the store's high-quality variety of offerings.
artisan products, original artwork and name-drop products prompted him to create a dedicated Kansas City section inside the Swing Shop. It includes coasters, puzzles, coffee mugs, shot glasses and other tabletop decor.
Local artist Keliah Smith and her greeting card line, Crwnd Illustrations, are popular sellers. "The cards are hand embellished, and she was just named one of the Top 20 Black Women Entrepreneurs in the country," Tosatto says.
He seeks out talent producing high-quality wares for the shop. But because there is a range of price points, it's accessible to guests.
— MICHAEL TOSATTO, AMERICAN JAZZ
Most of the T-shirts the Swing Shop carries are made in Kansas City, and hats are also homegrown and produced by Sandlot Goods. Some bear the museum logo, others the city. Socks are also big sellers — some with a music motif like a piano keyboard, others printed with images honoring famous artists like Ella Fitzgerald.
"One of the companies I sell the most socks from is called Foot Traffic," Tosatto says, again always searching for fresh vendors.
Artwork on consignment is vibrant and displayed in cubbies at the back of the shop, and the positioning is strategic. "I focus lights on the brighter paintings and brand-new products to draw people in so they have to walk through to the back of the shop," he explains.
58 SOUVENIRS, GIFTS & NOVELTIES MAGAZINE MARCH-APRIL 2023 www.sgnmag.com RETAILER SPOTLIGHT: AMERICAN JAZZ MUSEUM
"I focus lights on the brighter paintings and brand-new products to draw people in so they have to walk through to the back of the shop."
MUSEUM
Swing Shop's expanded product offerings are carefully lit to find balance.
T-shirt designs change based on the museum's exhibitions and Tosatto has backdrops custom built to showcase the theme.
The Swing Shop is an open-air aspect of the atrium with two walls. One houses about 32 feet of cubicle space on slat wall divided into 2- and 4-feet sections. The other wall is glass, allowing light to flood in. "That can present a problem depending on the merchandise. I move it around so the sun won't damage products," Tosatto says.
AN ILLUMINATING EXPERIENCE
When the American Jazz Museum hosts evening events, Tosatto assures that the Swing Shop is open so guests can take home a memento from their experience. After dusk, the shop loses its blast of natural light, so illumination is even more important.
Lighting is on dimmers so Tosatto can adjust them based on the time of day. "With the sunlight we have, you can't control that, so you want lights directed on items to be softer," he says.
Meanwhile, as Tosatto steers the Swing Shop toward growth by expanding product selection and carrying enticing items that will draw Kansas City residents into the store, he is also focused on stocking fresh inventory on the Swing Shop
website. "I try to buy a few things that are different for the website and we change up the products," he says.
When new products come into the shop, he invites museum employees to wear the apparel so he can take pictures. He then shows off the merchandise online. "I'm trying to make it more personal," he says.
Indeed, the experience guests have in the shop is highly personal, with Tosatto welcoming visitors into the Swing Shop and feeling an overwhelming sense of gratitude when customers compliment the product collection.
The atrium light is an instant mood lift that adds to the feel-good time guests have at the museum.
Tosatto says, "Buying for this shop is one of the best jobs I've ever had because there is so much out there that is music-related, and when you bring it all together and make a story out of it with displays and lighting, you know people see it and they say how fun and great it is." SGN
Natural light helps accentuate specially selected merchandise.
RETAILER SPOTLIGHT: AMERICAN JAZZ MUSEUM www.sgnmag.com MARCH-APRIL 2023 SOUVENIRS, GIFTS & NOVELTIES MAGAZINE 59
STORY BY CAROLINE RISI
AN ENDURING SWEET SPOT
Passionate owners and staff have helped Shane Confectionery remain a historic destination.
Unique and often handmade, the sweets candy stores offer never go out of style as gifts or self-purchases. Maybe that is why some candy shops stay in business for decades, with new owners taking up the mantle and moving the business forward. Shane Confectionery, a candy store in historic Old City Philadelphia, is one such example of a sweet shop that has endured for more than just decades.
GOOD FEELINGS AND TASTE
The historic confectionery was founded in 1863 and is considered America's oldest continuously operating confectionery shop. While it's gone through a number of owners over the years, since 2010, brothers Ryan and Eric Berley have owned the thriving business. And their "sweetness" doesn't stop there. The pair also own The Franklin Foun-
tain Ice Cream Bar just two doors down from the candy store.
Eric Berley says candy is an affordable luxury that puts people in touch with good feelings from their own childhoods.
"As a buyer, you can find and match price points and tastes to nearly anyone on your list — it's both incredibly personal, respectable and perennially appropriate," Eric says, regarding candy as gifts.
Artisan candies, which elevate both the craft process and the suppliers' stories of the raw ingredients "can transport individual taste experiences into a sustainable, socially responsible and immersive community experience," he says.
Shane Confectionery also offers complimentary items in the Drinking Chocolate Cafe in the back of the candy shop. This special area of the store allows customers to experience historically inspired cookies and candied nuts. A bundled gift area
www.sgnmag.com 60 SOUVENIRS, GIFTS & NOVELTIES MAGAZINE MARCH-APRIL 2023 RETAILER SPOTLIGHT: SHANE'S CONFECTIONERY
has also recently been expanded to marry antique glassware with the store's candy.
BLENDING ART WITH CHOCOLATE
The store's shoppers are a mix of tourists and locals, with history tour participants among the clientele, and the shop also engages in a wholesale business. For example, the store supplies a chocolate and pretzel bar at the Philadelphia Museum of Art and also provides merchandise for businesses in South Philadelphia and Philadelphia's Fishtown.
Burroughs says the store sources cacao from Uncommon Cacao, and the company works directly with farmers in South America to make sure fair wages are paid. The beans are turned into chocolate at the store's kitchen. Sugar, flour and dairy products are from local providers, and Itaja sugar is used for the chocolate.
CANDY FOR ALL
Although candy is often associated with children, Shane does not specifically target kids. Eric says the store seeks to preserve the "spirit of childhood" with its products. The shop highlights flavor over sweetness, a practice that doesn't necessarily appeal to children. "This is a paradox we live daily as we simultaneously churn out huge batches of Philadel-
phia Buttercream," he says. Still, there is something for everyone, and smaller portions at both The Franklin Fountain and Shane Confectionery are perfect for youngsters.
A BRAND FOR THE FUTURE
The company addresses the need for, among other traits, ethical and transparent business practices.
Eric says it all comes down to his personal philosophy of "doing the right thing."
"I can say that our Shane management team here has worked really hard to persevere [through] pandemic years and circumstances and come out stronger, with a will to expand both our chocolatemaking production spaces on our block as well as our online and wholesale sales footprint."
He admits, "We've made a lot of mistakes over the years, taken stock often of our strengths and weaknesses and are poised to see more clearly that Shane Confectionery becomes what we always knew she could be — a successful, profitable and exciting brand to carry us into the future." SGN
www.sgnmag.com MARCH-APRIL 2023 SOUVENIRS, GIFTS & NOVELTIES MAGAZINE 61 RETAILER SPOTLIGHT: SHANE'S CONFECTIONERY
"As a buyer, you can find and match price points and tastes to nearly anyone on your list — it's both incredibly personal, respectable and perennially appropriate."
— ERIC BERLEY, SHANE CONFECTIONERY
WINNING WITH WEARABLES
These stores hit their targets with higher priced licensed apparel.
STORY BY GENIE DAVIS
It's always the right season to cheer for licensed apparel at sports team stores, college stores and museums. Higher-end sports team apparel is popular due to its durability, collectability and attractive look and feel.
At Lions Pride, a Penn State University fan store in State College, Pennsylvania, Manager Michaela Penkala describes the store's top-selling more expensive apparel item as "Champion crew neck heavy-weight classics. It's a high-end item that's popular to wear to games, gift and keep. We have them in navy, white and gray with navy and white graphics on. Navy and white are our colors."
To display higher-end apparel items, Penkala says the store uses a variety of approaches. "We have some items hanging, such as hoodies and quarter zips, and we have our T-shirts and crew necks folded on shelves, but clearly and easily accessible. We also dress a couple of our mannequins in this kind of attire, we have several mannequins positioned in our store window, and one on the sales floor so people can see how the clothing looks."
Much of the store's clientele consists of school alumni, both in-person and online.
"In the store, students will come in with other family members or their parents, and they are usually looking to buy a lot of items, particularly the higher-end pieces that will last for a while, the kinds of things that you can pass down," she says. "Some people will say they have good quality items that their dad had in college, and things like that. So, they're definitely looking for similar, heavy-weight, good quality pieces that will last."
APPEALING TO EVERYONE
John Parry, manager at the Colorado University Bookstore in Fort Collins, Colorado, reports that the store's best-selling more expensive apparel items are hooded sweatshirts.
"They range from a price of $40 to $90 depending on the brand and the style. They're popular because they're warm to wear at games, but for us, it's a part of the community and the environment."
The store displays its highend items in a variety of ways, Parry says. "We cross-merchandise with other items, and we display them on mannequins and on racks. We also have nesting tables in the back of the store that show the four or five most popular styles and
62 SOUVENIRS, GIFTS & NOVELTIES MAGAZINE MARCH-APRIL 2023 www.sgnmag.com MERCHANDISING: SPORTS & COLLEGIATE SHOPS
Lion's Pride uses a variety of display approaches for its higher priced team apparel items.
colors, and we place mannequins wearing them next to those tables. We also hang them throughout the store and have them on other mannequins throughout the store in a variety of different styles."
The type of shopper who most often purchases more expensive apparel items can vary. "Students buy it, alumni, community members and visitors," he says. "There isn't one demographic that purchases it. Everyone wants to buy a good quality, popular item."
Parry says, "Even at the higher end we have a wide variety of price points so that we can appeal to more people interested in buying these hoodies."
Students who are more likely to be on a budget go for the price points around $45. The Under
Armor performance items in the $80 to $90 range tends to be purchased more by family and visitors during student drop off in the autumn and at family- and home-game weeks. "Even if they are bought for their students, the students themselves don't purchase those as often," Parry says.
JERSEYS AND MORE
At Just Sports, a fan store in Gilbert, Arizona, Manager Jacob Saptho says the best-selling higher-end item is an Arizona Suns team jersey.
"They have a lot of fans in the area and the team started off very well this year. We have a turquoise color jersey that honors the Native American culture in the state in terms of the color, and that sold
At Just Sports in Gilbert, Arizona, team jerseys and hats are the most popular sellers.
64 SOUVENIRS, GIFTS & NOVELTIES MAGAZINE MARCH-APRIL 2023 www.sgnmag.com MERCHANDISING: SPORTS & COLLEGIATE SHOPS
very well for us," he says.
Team hats for both football and baseball also perform well. Saptho divides the items Just Sports sells by type and into specific sections, which he says makes them easier for customers to find.
"We also have window displays, which I place based on the teams that are playing or the season in which team types are playing We also keep items folded on racks throughout the store where they are easily seen and can be selected by size."
Saptho describes the type of shopper who purchases more expensive apparel items as "a mix of visitors and local fans. We do get a lot of people who come in from out of state who support specific teams and want to purchase high-end items."
DEDICATED TO SPEED
The National Hot Rod Association (NHRA) Museum in Pomona, California, contains a wide collection of displays and gift shop apparel dedicated to the sport of drag racing. According to Administration Supervisor Lisa Russo, top sellers in the higher-end apparel category are the gift shop's black Varsity jacket that feature Hot Rod Heritage logos priced between $100 to $135.
The store also offers workshop-style shirts priced between $45 and $68, and ghost-track drag
strip shirts, such as those representing the Lions Drag Strip and OCIR Raceway, that are priced at $25 to $35. A cozy zippered hoodie with a "Museum in Motion" logo is offered for $45 to $50.
Jackets are displayed on a rack of hangars. The store also has six half-mannequin torsos throughout the store that it uses to display eventstyle T-shirts and other shirts.
"We use the mannequins to highlight merchandise during events at the museum and whenever we have items left over from events that we want to feature," says Russo.
Shoppers searching for higher-end gift shop apparel tend to be racing fans, notes Russo. "When we hold national events at the Pomona raceway, that's when we see visitors to the museum who will come in and purchase the higher-end items."
While at college stores, more expensive team apparel is typically often purchased by parents and alumni, sports fan stores and museum locations, get their higher-item sales from the most active and involved fans. SGN
www.sgnmag.com MARCH-APRIL 2023 SOUVENIRS, GIFTS & NOVELTIES MAGAZINE 65 MERCHANDISING: SPORTS & COLLEGIATE SHOPS
We use the mannequins to highlight merchandise during events at the museum and whenever we have items left over from events that we want to feature."
— LISA RUSSO, NATIONAL HOT ROD ASSOCIATION MUSEUM
MAKING YOUR STORE'S BLING SHINE
Retailers are drawing attention to jewelry offerings as standalone collections and complete ensembles that tourists can gleam in.
STORY BY BY CAROLINE RISI
Jewelry plays a major role in the looks customers at boutiques across the country are trying to create. April Hicks, owner of April Blooms Boutique in Pasadena, California, says her customers are usually eager to complete their outfit by adding accessories.
Hicks opened up April Blooms six years ago. Her original calling was as a hair stylist, which she's been doing for the last 29 years, including operationg a salon.
The store's story started with Hicks lending a small area of her salon to a client to sell T-shirts and jewelry. When the space for a store opened up nearby, April Blooms was founded. "It's definitely
been a challenge, but we're still here," she says.
Her experience, means she is all too familiar with completing a look, whether it's hair, which she still does every day, or jewelry for customers who want that special accessory to go with the cute ruffle dress or wrap dress they just found.
Jewelry is displayed at eye level in the store. In addition, there is placement next to an outfit that's displayed to show a complete look, whether on a dress form or table display, she says.
COMPLETING THE LOOK
Hicks finds that displays in a designated area, and the cash wrap are the best choices. Arrangements using materials that suit the style of the store work best. The shop is 750 square feet, and there are two designated shelving displays for accessories as well as the cash wrap.
As far as jewelry trends, Hicks says she is seeing more pearls, gold chunky necklaces, some with name plates, and that she is starting to see some edgy silver pieces coming back.
"We try to incorporate some of the trends but keep a lot of simple pieces and hoops, which are always our customers' favorites," she says. Earrings are the best-selling jewelry pieces, with basic hoops and big hoops standouts in terms of popularity. April Blooms sells a lot of brass, silver and natural stone jewelry. Among the popular designers the store carries are Ink + Alloy and Scout.
Hicks has resumed offering in-store events, which were shut down during the height of the COVID pandemic. She's has had two gatherings but observes, "People are still a little shy about coming out."
66 SOUVENIRS, GIFTS & NOVELTIES MAGAZINE MARCH-APRIL 2023 www.sgnmag.com MERCHANDISING: BOUTIQUES
Bella's Boutique groups jewelry lines together for a full display to show customers.
There are also a lot of opportunities for pop-ups in the community, and Hicks has participated in fundraisers for local charities and nonprofits for such causes as cancer and the Pasadena Symphony, with a portion of her sales going back to the charities.
COLLECTIONS THAT DAZZLE
Judy L. Goldie, owner of the ladies' boutiques
Trendy Pieces and Bella's Boutique as well as The Marketplace home and gift in historic downtown Murfreesboro, Tennessee, says the stores stock several amazing jewelry lines.
The stores use social media platforms to attract shoppers to the three stores, which are connected and open to each other. The sales floor space for the three combined shops is over 5,000 square feet. In designing the retail spaces, the owners kept much of the old and added the new.
The three best selling jewelry lines are Enewton, Kendra Scott and ABLE. According to Goldie, Enewton and ABLE perform well for the shops because customers like that they are gold filled and can be worn in the shower, pool etc., and they keep their beautiful shine. The stores also offers the works of two local jewelry artists, Darby Drake and Cross the Line.
The stores all merchandise and group jewelry lines together. Goldie says having a full display to showcase a line is important. Customers typically come in to see the jewelry and are asked questions on the style they are looking for. It is fun to show them all collections when they need jewelry for themselves or for a gift, she says.
DRESSING THINGS UP
At Sierra Bell, a 1,350-square-foot store in Reno, Nevada, the best-selling jewelry item tends to be classic gold layered chain necklaces, according to Owner Hope Triplett. She explains that gold chain necklace can be a staple piece to any wardrobe and can easily dress up any outfit. Layered necklaces especially are a best-seller as the simplicity of purchasing an already layered necklace set takes the hassle out of trying to match and layer multiple necklaces, she adds.
Triplett says it is extremely important to place complementary pieces of jewelry next to each other to allow customers to easily see what pieces work well when worn together.
"We use many neck and head displays to show a necklace paired with earrings, as well as placing jewelry on our mannequins throughout the store to easily display which pieces look the best with different outfits. Natural light as well as glass displays provide a beautiful display to easily see the shine of different metals and stones," she says.
To garner attention for jewelry, Triplett places jewelry on a front display, allowing for immediate
interest when customers walk into the store. Also placing jewelry throughout the store and near the register allows the customer to be continually reminded of jewelry throughout their shopping experience.
The store is currently working on rebranding, and the new logo will be pink. For the remodel, Triplett plans to paint the walls pink, as well as replace large wood fixtures with glass shelving to provide more light in the store. She is currently making small changes to match the new aesthetic of the brand image. "We are so excited to share the new logo publicly," she says.
Like Hicks, Triplett also participates in pop-ups and events to get out into the community, as well as using social media platforms such as Facebook and Instagram to stay engaged with the customers. "We love when we see our customers wearing pieces from Sierra Belle out in the community," she says. SGN
www.sgnmag.com MARCH-APRIL 2023 SOUVENIRS, GIFTS & NOVELTIES MAGAZINE 67
"We try to incorporate some of the trends but keep a lot of simple pieces and hoops, which are always our customers' favorites."
— APRIL HICKS, APRIL BLOOMS
Sierra Bell places complementary items next to each other. Placing jewelry throughout a store can remind customers to make a purchase.
OneCoast to create flagship showroom at Dallas Market Center
OneCoast, an omnichannel wholesale sales and marketing company, and Dallas Market Center, have announced a new flagship showroom for OneCoast. The expansive space on the atrium of the World Trade Center will open in time for the January 2024 Total Home & Gift Market.
The move follows a series of investments by OneCoast in Dallas Market Center. The expanded location will provide an enhanced shopping experience for its existing customers while expanding its reach to Western region retailers. This move also comes at a time of Dallas Market Center's launch of a new vision to enhance the atrium experience and the overall shopping environment for retailers.
"I am truly excited about the vision of Dallas Market Center and our initiative together to create an environment that exceeds our retailers' expectations," says John Keiser, CEO of OneCoast. "With our long-term partnership with Dallas Market Center, we will continue to build on this experience for years to come."
"OneCoast is a forwardthinking company, and we have a special partnership built upon long-standing shared values and mutual support for the independent retailer," said Cindy Morris, president and CEO of Dallas Market Center. "We are pleased that a destination like OneCoast will have an atrium presence to welcome and inspire buyers year-round."
To accommodate the new OneCoast showroom, the existing Gourmet Market exhibitors will transition into a larger, new neighborhood of gourmet and housewares resources.
Wild Republic celebrates new headquarters, donates plush to children in need
Wild Republic, an international toy company lauded for its 40-plus years of giving back and supporting various humanitarian, environmental and animal charities, has announced the relocation of its U.S. corporate headquarters from Twinsburg, Ohio, to Independence, Ohio.
The move to a larger, more modern space at 7711 E. Pleasant Valley Road, comes as the company has seen tremendous growth with innovative, groundbreaking and environmentally friendly products. To mark the occasion, an official ribbon cutting ceremony was held Nov. 29, 2022, Giving Tuesday, an International Day of Generosity which encourages organizations to do good and give back to their communities.
In 2022, it earmarked close to 18,000 plush to be distributed through local Rotary Clubs to several different agencies in Independence, Ohio, that care for children in distress, such as Big Brothers Big Sisters of America, food banks and foster care organizations.
"We wanted to make sure we are giving back to the community we are now a part of in Independence, Ohio, and are honored to have Mayor Gregory Kurtz in attendance as our special guest," said Vishnu Chandran, CEO of Wild Republic and grandson of the company's founders. "Our relocation coinciding with Giving Tuesday is just another reminder that giving back to our community and the world we live in is a main pillar of our company and will continue to be in the years to come."
Founders G.B. and Kamala Pillai have funded several animal sanctuaries and rescue organizations throughout the world and began an orphanage for young girls in India who needed housing. Since 2002, Wild Republic has partnered with The Audubon Society to help sustain natural habitats for wild birds throughout the United States. In 2022, Wild Republic partnered with Planet Water, a nonprofit organization focused on alleviating the global water crisis by bringing clean water access and water health and hygiene education to the world's most impoverished communities.
Philadelphia Gift Show recognizes Third Wolf with Best Handmade Product Award
Third Wolf, a Wayne, New Jersey-based clothing brand, was awarded the Best Handmade Product award at the 2023 Philadelphia Gift Show, which was held Feb. 5-7 at the Greater Philadelphia Expo Center in Oaks, Pennsylvania.
Artist and Owner Alexa Varano individually hand paints every item. The self-taught artist and business owner began with painting on canvas, but then had the idea to paint on clothing.
"I decided to hand-paint shirts rather than screen print them in order to keep the authentic feel of each original product," she says on the company's website. Varano will sketch out a design, cut out a stencil then hand-paint each shirt individually. The materials used are sustainable and made in the USA. The most popular material she uses is bamboo. Many of the designs are nature and wildlife themed.
68 SOUVENIRS, GIFTS & NOVELTIES MAGAZINE MARCH-APRIL 2023 www.sgnmag.com WHOLESALER NEWS
From left to right: Dave Grendel, vice mayor of Independence, Ohio; Vishnu Chandran, Wild Republic CEO; Gregory Kurtz, mayor of Independence; G.B. Pillai, Wild Republic founder and chairman.
Puffin Drinkwear introduces travel and leisure line
Puffin Drinkwear, a line of personality-infused apparel for your drink to wear, keeping beverages chilled and looking stylish, is introducing a new travel and leisure line, Time to Chill in the second quarter of 2023. Samples of the new line were on display at the company's booth at January's Surf Expo in Orlando, Florida.
"For the surfer, paddler, hiker, skier, golfer, or tailgater, we've got a Puffin for that," the company notes.
Puffin Drinkwear's tagline is "Fun Together" and with its variety of options, it aims to keep family and friends close and drinks cozy.
Every Puffin is designed with a sturdy, non-slip rubberized base to ensure the Puffin stays upright. Puffin also uses insulation technology with a premium thermal liner for colder sips 'til the very last drop." Puffins offer a lifetime warranty "so your trusty sidekick isn't going anywhere," according to the company.
"We view ourselves as an outdoor industry brand, but we want to start expanding out," says founder Tyrone Hazen. "There are so many places we can go with our identity here. We don't want people to be left out. In the case of travel and leisure, this opens Puffin up to golf course communities, hotels and spas."
Puffin Drinkwear comes in a variety of silhouettes for any gift recipient: a space suit for space-lovers, hoodies for casual beverages around the bonfire; adventure vests for hikers; T-shirts for surfers; life vests for boaters; sweaters/snowsuits for skiers; and football jerseys for tailgaters, college students and football fans.
P. Graham Dunn launches wooden pickleball paddles
P. Graham Dunn, Dalton, Ohio, has launched a new line of wooden pickleball paddles.
The new collection combines the company's signature craftsmanship with eye-catching designs and sentiments to create a must-have accessory for pickleball players of all levels.
Each paddle is made from high-quality plywood and feature fun, playful design elements and humorous sentiments.
From bright florals to whimsical patterns, these paddles bring a touch of artistic flair to the game.
www.sgnmag.com MARCH-APRIL 2023 SOUVENIRS, GIFTS & NOVELTIES MAGAZINE 69 WHOLESALER NEWS
1: Xplorer Maps
Chesapeake Bay framed hand-drawn map. www.xplorermaps.com
2: Kool Tees
Name-drop plush bone toys for dogs. www.kooltees.com
3: Morris Magnets & Dust City Gifts
Laser cut gifts and souvenirs with lasting colors. www.morrismagnets.com
4: Seaside Graphics
Hooked for Life yellow performance shirt. www.seasidegraphics.com
5: History America
History of Women in the U.S Military patriotic print. www.historyamerica.us
6: Laser Gifts
Personalized heart keychain with location name. www.lasergifts.com
7: AdventureKeen
Nature field guides, books and activity books for the outdoors. www.adventurewithkeen.com
8: A.T. Storrs Ltd.
Wild Pearle collection abalone jewelry. www.atstorrs.com
9: Ande Rooney
Yellow cautionary black bear crossing sign. www.anderooney.com
10: Urban Charm
Go Into the Wild bronze keychain with tassle feature. www.urbancharmbeads.com
11: Mountain Graphics
Dark sky bear diecut sticker with custom name-drop. www.mtgraphics.com
12: Fiesta
Comfies moose made with extra soft fabric and stuffed just right. www.fiestatoy.com
70 SOUVENIRS, GIFTS & NOVELTIES MAGAZINE MARCH-APRIL 2023 www.sgnmag.com PRODUCT SHOWCASE
1 2 4 3 5 6 7 8 9 10 11 12
13: Desperate Enterprises
Weathered Coca-Cola bottle cap tin sign. www.desperate.com
14: Beacon Design
Great blue heron ornament with custom name-drop. www.beacondesign.com
15: Bucket Wonders
Personalized coaster magnet with destination art. www.bucketwonders.com
16: The Lipco Group
Personalized metal keychain with beach-themed charms. www.lipco.biz
17: Catania Metallic Specialty Metallic multi-use bottle opener with custom name-drop. www.cataniainc.com
18: Kurt S. Adler
Western cowboy gnome ornaments. www.kurtadler.com
19: Penny Bandz
Great Adventure penny journal holds 146 pressed coins. www.pennybandz.com
20: Impulse Souvenirs
Leather patch with unique artwork. www.impulsesouvenirs.com
21: The Petting Zoo
Highland cow 12-inch plush made of recycled water bottles. www.pettingzooplush.com
22: Maple Landmark Woodcraft Cardinal windspinner made from reclaimed hardwood maple. www.maplelandmark.com
23: SJT Enterprises
Wall hanging bottle opener customized to a location. www.sjtent.com
24: Wheeler
Paua earrings from the Nature's 1 collection. www.wheelerjewelry.com
www.sgnmag.com MARCH-APRIL 2023 SOUVENIRS, GIFTS & NOVELTIES MAGAZINE 71 PRODUCT SHOWCASE
13 14 15 16 17 24 18 23 20 21 22 19 Have a product you would like featured? Send a high-resolution flat-lay image and description to: caroline@breakwallpublishing.com.
72 SOUVENIRS, GIFTS & NOVELTIES MAGAZINE MARCH-APRIL 2023 www.sgnmag.com AD INDEX A.T. Storrs Ltd. www.atstorrs.com 9, Ande Rooney www.anderooney.com 23 Beacon Design www.beacondesign.com 11 Bucket Wonders www.bucketwonders.com 25 Desperate Enterprises www.desperate.com 17, 63 Dutch American www.dutcham.com 3 Eagle Emblem www.eagleemblemsinc.com 24 Exist Inc. www.existcatalog.com............................................................................. 76 Exotic Sea Images www.exoticseaimages.com 22 Fiesta Toy www.fiestatoy.com 37 Jackson Pacific www.jacksonpacific.com 41 Kool Tees www.kooltees.com .................................................................................... 64 Kurt S. Adler www.kurtadler.com 39 LaserGifts www.lasergifts.com 75 Lorab www.lorab.com 59 McCutcheons Apple Products www.mccutcheons.com .......................................................................... 61 Momadic www.momadic.com 46 Monogram International www.monogramdirect.com 13 Mountain Graphics www.mountaingraphics.com 31 Penny Bandz www.pennybandz.com 35 Popularity Products www.popularityproducts.com 21 Ramsom's Imports www.riohio.com 51 Seagull International Inc. www.seagullintl.com 69 Signs 4 Fun www.signs4fun.com 65 Silver Streak www.silverstreak.com 14-15 Simply Southern www.simplysouthernwholesale.com 18-19 Souvenir Avanti Inc. www.souveniravanti.com 29 Souvenir Source www.souvenirsource.com.........................................................................7 Souvenirs, Gifts & Novelties magazine www.sgnmag.com 69, 73 The Charleston Mint www.thecharlestonmint.com 58 Town Pride www.townpride.com 42 Urban Charm www.urbancharmbeads.com ............................................................... 45 Wayne Carver www.waynecarver.com 2, 5 Whistle Creek www.whistlecreek.com 55 Wikki Stix www.wikkistix.com 47 Wild Attire/DBA Alynn Neckwear www.wildattire.com .................................................................................. 43 Wildthings Snap-Ons www.wildthingstshirts.com 36 Wind River www.windriverchimes.com 53 Xplorer Maps www.xplorermaps.com 57
Industry experts weigh in on important topics affecting souvenir retailers.
TRENDING TIPS
MAKE A SPLASH WITH SOCIAL MEDIA
Maddie Goode, retail social media strategist for Crystal Media, a retail-focused social media ad management and digital marketing company, says social media is without a doubt one of the best tools you can use to market your business. It allows you to meet your customers and intercept their attention right where they're already spending their time.
She recommends posting daily Facebook and Instagram Stories. "Stories appear at the top of the news feed when a user opens the Facebook or Instagram app, and they disappear after 24 hours," she says. "Stories are the perfect way to ensure you're showing up in front of your customers every single day — helping to keep your business top of mind. Consider using Stories to share behind-the-scenes content or information about sales or events."
MARKETING SCHEDULE TIPS
Cathy Donovan Wagner, founder and CEO of Retail Mavens says:
• At the start of your season, marketing content should highlight new arrivals, reveals, pre-orders, product launches and glimpses from trade shows.
• Mid-season is all about showcasing merchandise — one clothing item styled three ways, beautiful tablescape inspo, fun game demos, etc.
• At the end of the season, focus on clearance sales and targeting sale customers to successfully move out unsold inventory.
Interview pointers
In this tough job market Retail Doctor Bob Phibbs recommends asking job candidates for examples. You always want to be asking for times when they have done something, he advises.
Ask, "Can you give me a time when you had a problem with another employee and how you handled it?" Past behavior determines future behavior, he says.
"Stay away from hypotheticals. I don't care about what the candidate might do. What I care about is them showing me a time they've done something. If you ask them what their greatest fault is, and they say, 'Oh, I work too much,' have them give you an example of how that played out in their last job. Always go back to what they exhibited before and not what they think," he advises.
ALL IN THE NAME
Tom Borg says if you and your team members are not regularly using the names of your customers, you are missing out on a technique that can help build a lasting relationship with them.
Retail consultant
"Some customers only come in once or twice and you never see them again. Others are regulars who come back again and again," says Borg. "Regardless of which types of customers they are, it is to your advantage that you find out and use their names. It lets them feel like they are no longer a stranger in your store, but someone familiar."
It helps to write them down and review them from time to time. "Watch how their faces light up with a smile the next time they come in and you greet them by name," he concludes.
74 SOUVENIRS, GIFTS & NOVELTIES MAGAZINE MARCH-APRIL 2023 www.sgnmag.com SHOP TALK
© ADOBE STOCK RAWPIXEL.COM; BRAD PICT; TIPPAPATT