COASTAL Connections CONFERENCE JANUARY 22-24 • 2023 MARGARITAVILLE RESORT ORLANDO A RETAIL CONFERENCE WITH AN ISLAND VIBE! www.coastalconnectionsconference.com BOARDWALK PREVIEW GUIDE
Bags by Bruno
If your business wants to be more environmentally friendly and fashionable at the same time, order your custom polypropylene bags from Bags By Bruno based in North Wildwood, NJ. With over a decade of industry experience, you can trust us to exceed your expectations every step of the way. From printed reusable bags to colored polypropylene bags, we can do it all.
JOEY CATRAMBONE joey@brunoandcompany.com 856-784-6845 www.bagsbybruno-nj.com
Bali Queen Wholesale
Bali Queen is a lifestyle resort wear and jewelry brand brought to you from the travels of a mother-daughter who values giveback. It is our guarantee that each garment and jewelry piece are handmade in Bali with a purpose by the artisans. Each dress purchased is creating jobs where women can work out of their homes while caring for their families. Our staff pride themselves on providing quality products that are created from the efforts of sustainability.
EILEEN BURKE info@baliqueen.com 760-846-4230 www.baliqueen.com
2 2023 COASTAL CONNECTIONS CONFERENCE BOARDWALK PREVIEW GUIDE
Bamboo Source Tropical Decor
This beautiful Sea Turtle wall art piece is just one of the many new items in our new Reef Collection of galvanized metal and capiz shell art arriving January 2023. Our #234-2-2275 Reef Capiz Sea Turtle features inlaid and floating Capiz shells on an airbrushed galvanized metal base. The Reef Collection also includes Jellyfish, Angelfish, Sea Horse, Octopus, Dolphin and Scallop shell wall decor plus inlaid Capiz Shell Sealife trinket box sets.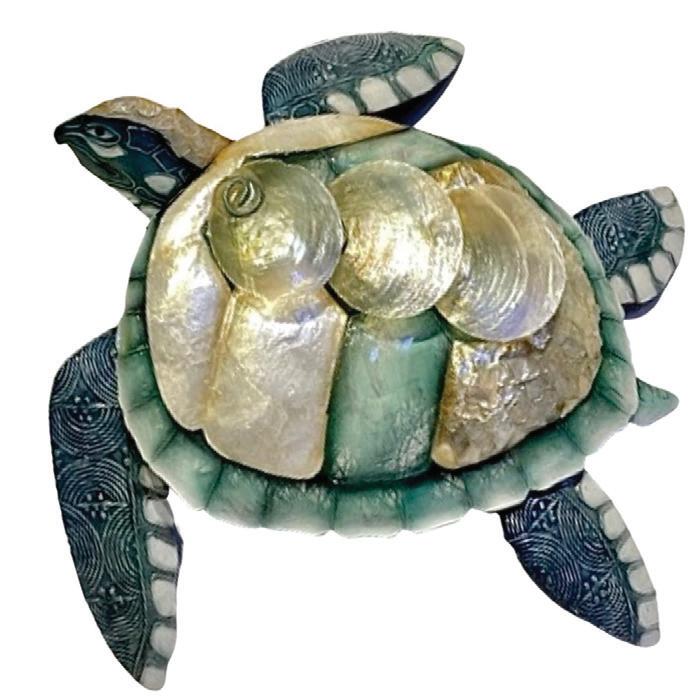 CYNTHIA MIELKE sales@bambootropicaldecor.com 760-722-1774 www.bambootropicaldecor.com
Beachables
Beachables is the expression of our love for the beach, the water and all things coastal. Our high-quality collection of custom embellished beach accessories are hand-crafted from ethically made global materials in Charleston, SC. Beachables — signature towel, tote, chair cover — are multifunctional, and our dress/coverups for adults and children are versatile, perfect from beach to drinks or dinner.
MARY WATTERS mary@beachables.com 843-822-3688 www.beachables.com
BOARDWALK PREVIEW GUIDE 2023 COASTAL CONNECTIONS CONFERENCE 3
Beachmate
Beachmate is an all-in-one stackable storage system that consolidates all your beach products in one easy-to-pack bag. Chic and multifunctional, invented by parents of 4 kids, Beachmate solves the problem of getting to the beach with ease and organization! Our shovel is the strongest on the beach. Lightweight and reliable for all digging, on or off the beach. Made for kids, built for adults! Towels, swim shirts and bags –Beachmate is simple, durable and quality you can depend on!
BEATRICE MELLICK beatrice@mybeachmate.com 917-656-6424 www.mybeachmate.com
Blue Iguana Sustainable
Wood Watches, Wood Sunglasses, Natural Jewelry. Our mission is to create the most comfortable, the most stylish and the most natural line of accessories you have ever worn. We have all become more conscious of the earth, our bodies and the environment. Now it is time to put it all together to care about what we wear.
NICK NICOLINO nick@myblueiguana.net 516-807-9433 www.myblueiguana.net
4 2023 COASTAL CONNECTIONS CONFERENCE BOARDWALK PREVIEW GUIDE
Caloosa WaterWear
Caloosa WaterWear is based in Boca Raton, Florida, where we design and print all of our products in house. The Caloosa team offers a line of performance apparel and accessories for the entire family with unique coastal watercolor designs, designed by our artists. We are proud to offer custom designs, name drops and can add your logo to any of our products. We love to make your vision come to life by making your boutique's assortment stand out with a one of a kind look.
REBECCA FORDHAM customerservice@caloosawaterwear.com 561-463-0648 www.shopcaloosa.com
CōTZ Skincare
CōTZ® Face Prime & Protect SPF 40 is a sheer mineral sunscreen providing broad spectrum UVA-UVB protection in a silky, translucent primer. It layers beautifully under makeup or can be used alone for a smooth matte finish! Water resistant up to 80 minutes and tinted with iron oxide so it is sure to blend seamlessly with virtually every skin tone.
GILLIAN BARRIE gillian@cotzskincare.com 484-602-4910 www.cotzskincare.com
BOARDWALK PREVIEW GUIDE 2023 COASTAL CONNECTIONS CONFERENCE 5
Country Home Creations
Country Home Creations got its start in 1980, and today, its line of over 100 easy-to-prepare gourmet mixes is a dependable profit center for businesses just like yours. Whether you're looking for dip, drink, or cheesecake mixes to compliment the products you offer, look no further than Country Home Creations. With a successful track record in the tourism industry, Country Home Creations understands the demands of a seasonal business and creates products customers will remember.
JUSTIN GAILITIS justin@chcdips.com 810-441-3839 www.chcdips.com
Devi & Co. Boutique
Devi & Co. is a woman owned brand that seeks to transport you to paradise with luxurious handcrafted jewelry featuring real preserved orchid blossoms, gemstones and pearls.
SHELEY JAGGAR Sheley@deviandco.co 678-5028-393 www.deviandco.boutique
6 2023 COASTAL CONNECTIONS CONFERENCE BOARDWALK PREVIEW GUIDE
Dune Jewelry & Co.
Dune Jewelry creates fine experiential jewelry and gifts using sand and earth elements from around the globe. Dune's Sandbank offers over 5,000 elements, including sand from beaches and ballparks, earth from hiking trails, flowers, power stones, and more. Handcrafted in the USA, Dune creates custom collections for each store, offers a lifetime warranty, and donates a portion of every purchase to important coastal and global causes. Visit Dune on The Boardwalk to receive a special gift!
KATE COLOZZI sales@dunejewelry.com 508-333-5307 www.dunejewelry.com
Fin Pin Shop
Fin Pin Shop is run by two women who share with the world our combined passion for marine life through ocean-themed products. We are two biologists who love ocean puns and promoting an eco-friendly lifestyle. Your purchases with us give back to wildlife conservation and scientific research.
JACLYN GERAKIOS finpinshop@gmail.com 727-260-0799 www.finpinshop.com
BOARDWALK PREVIEW GUIDE 2023 COASTAL CONNECTIONS CONFERENCE 7
First and Main
First & Main is a manufacturer, importer and wholesale distributor of gift quality stuffed toys. Brad and Nancy Holes began development of First & Main in 1994. Their principal interest then, as it is today, was to offer distinctive and valuable stuffed toys to the American marketplace, imaginatively designed and finely crafted from soft, high-quality materials. The creation of these soft, adorable and affordable plush toys wins the hearts of those who adopt and befriend them, becoming timeless treasures.
BEN CUTINELLO ben@firstandmain.com 630-333-7335 www.firstandmain.com
Impulse Souvenirs
Let Impulse Souvenirs help you create a design collection inspired by your special destination. As veteran souvenir makers, we offer you standout custom products from the experts. Our talented artists capture your unique essence in original art designs and craft in our own factories. Premium products include patches, magnets, pins, stickers and decorated apparel for any visitor destination. Impulse can ensure the best quality products because we own the process from end-to-end.
KIM WILLIAMS kimw@impulsesouvenirs.com 828-808-8096 www.impulsesouvenirs.com
8 2023 COASTAL CONNECTIONS CONFERENCE BOARDWALK PREVIEW GUIDE
Jackie Gallagher Designs
Jackie Gallagher Designs is a woman owned business based outside of Annapolis, MD, where all of our products are proudly made in the USA. Our line is designed in sterling silver with a coastal/nautical theme that fits well in many locations. All of our products are packed and shipped in anti-tarnish bags and come on hang tags/cards unless you ask us to do something different. Stop by and see us or contact us for an appointment to view the line.
JACKIE GALLAGHER
JackieGallagherDesigns@gmail.com 443-569-9740 www.jackiegallagherdesigns.com
Kay Hova Art
Kay Hova Art specializes in one-of-a-kind ocean resin homegoods and makes everything from wine glasses and coasters to charcuterie boards and holiday ornaments. Kay Hova Art homegoods make ideal gifts for special occasions and also make the perfect souvenir for any vacationgoer to remember their beach getaway or to take home as a gift to family and friends.
KAYLIN HOVANCE kay@kaylinhovance.com 330-717-5339 www.kaylinhovance.com
BOARDWALK PREVIEW GUIDE 2023 COASTAL CONNECTIONS CONFERENCE 9
Mac Daddy Beach
The Mac Daddy Beach™ is the first beach chair on wheels, which offers comfort, convenience and mobility. It features 10" x 4" wide plastic wheels which glide over the top of loose or wet sand. The 24-can soft-side cooler, wire basket, drink and cell phone holder all come standard with an expandable 50-SPF waterproof canopy. The removable wire basket is designed to transport the cooler and transforms to a side table. The large pocket on the back of the seat is designed to hold towels, snacks, sunscreen, etc.
JAMIE BULGER jamie@macdaddyleisureco.com 229-515-3777 www.macdaddybeach.com
Meadowbrooke Gourds
For 28 years, Meadowbrooke Gourds, a small family-owned company, has been crafting hard-shelled gourds into beautiful, unique home decor. Located on a 200-acre farm outside of Carlisle, PA, we grow, craft, and ship our creations all over the country. Our newest line, introduced two years ago, is the Coastal Collection for all our beach lovers. They are sure to put a smile on your face! Made in the USA!
EMILY BEAR emilyb@mbgourds.com 717-776-3470 www.mbgourds.com
10 2023 COASTAL CONNECTIONS CONFERENCE BOARDWALK PREVIEW GUIDE
Melissa Lew
Inspired by her love of adventure and the ocean, Melissa Lew's eco-friendly jewelry line celebrates the beauty of the world around us. A range of customizations are available; develop meaningful souvenirs that allow your customers to keep the memories of their visit close to their heart. Each piece is handmade in her studio in Virginia and she is also a member of the Museum Store Association.
MELISSA LEW melissa@melissalew.com www.melissalew.com
MTO Performance Wear
MTO Performance Wear is the premier private label and custom, performance wear manufacturer. Offering state-of-the-art sublimation options on multiple fabrics and many styles ranging from sun shirts to hoodies and everything in-between! Our low minimums and open size scale complement MTO's aggressive pricing. Offering Spot Dye and Cut/Sew Full Dye, so whether it's your art, our art, or something new even based on concept, we would love to create together and bring your vision to life!
MIKE CAIAZZO Michael@mtowear.com 704-241-2409 www.mtowear.com
BOARDWALK PREVIEW GUIDE 2023 COASTAL CONNECTIONS CONFERENCE 11
Nau-T-Girl Jewelry
Get hooked on the Nau-T life! Nau-T-Girl Jewelry is a unique, fashionable, and high-quality line of nautical jewelry available in sterling silver with rhodium and 14K gold. Nau-T-Girl is more than a jewelry brand... It's a lifestyle, designed to take you to your happy place and ride the waves of life. As seen on Natalya Scudder of Below Deck Mediterranean.
PAM DUKE Nau.t.pam@gmail.com 941-525-4459 www.nau-t-girl.com
Nomadic State of Mind
Handmade rope art: rugs, wall art, surfboard rugs, rope chairs and swings, also custom made and colored rugs. For 23 years we have been creating rope art consistent with beach boho lifestyle. We can custom make rugs for rooms in your hotel, house or store.
CHRIS ANDERSON nomadicstate@gmail.com 781-816-3030 www.nomadicstateofmind.com
12 2023 COASTAL CONNECTIONS CONFERENCE BOARDWALK PREVIEW GUIDE
North Swell
North Swell (NS) is a Mystic, CT based company for ocean enthusiasts and outdoor adventurers. Our mission is to clean our shores, one beach at a time. Established in 2017 as a grassroots organization that focused on organizing beach cleanup events and bringing awareness to ocean litter and plastic pollution. The NS brand was our way to represent the Northeast Coast with local designs and flavor, yet giveback to it at the same time! Our motto is "Live Outside," that's who we are, that's what NS represents.
SHERRIE MELLO wholesale@shopnorthswell.com 860-415-9442 www.shopnorthswell.com
Ocean World Imports
Imports and wholesale of top quality souvenirs, gifts and novelties. We offer the lowest prices in the industry, customized name drop and fast shipping. A wide variety of coastal and sea-themed options available in many sizes and colors to suit your needs.
JAY SADA
Sales@oceanworldimports.com 407-779-9999 www.oceanworldimports.com
BOARDWALK PREVIEW GUIDE 2023 COASTAL CONNECTIONS CONFERENCE 13
Patti Biggs Coastal Collection
Our Made in the USA, UPF 50 resort clothing is hand-crafted with the busy coastal traveler in mind. You will find our garments are easy fit, lightweight, 4 way stretch and very versatile. They can be worn from day to night and from the office to the tiki bar. We have over 30 years experience designing and manufacturing. Based in West Palm Beach, FL. Inspired by life, designed with love. Available in small quantities with dozens of custom prints to meet your need to be unique.
PATTI BIGGS biggnews@gmail.com 561-441-1588 www.pattibiggs.com
The Cottonseed Marketplace
The Cottonseed Marketplace specializes in wooden engraved gifts and macrame souvenirs. Everything is handmade in Tampa, Florida, with most of our raw materials sourced from within the United States. We are a husband and wife team, creating life-inspired designs for products that include wooden bookmarks, keychains, Christmas ornaments and more. With over 15+ years of graphic design experience, we welcome custom requests as well!
JOE PERKINS
info@cottonseedmarketplace.com 614-565-1554 cottonseedmarketplace.faire.com
14 2023 COASTAL CONNECTIONS CONFERENCE BOARDWALK PREVIEW GUIDE
Town Pride
At Town Pride we focus on making custom easy! We do all of the creative and design work for you, keeping our minimums low and have no setup fees. We curate quality goods made or finished in the USA and regularly add new products to keep on-trend. Never selling directly to consumers, we prefer to build relationships with our approved shopkeepers and pride ourselves on collaboration, quality, creativity and consistency. Get on board with the local love and custom trend with Town Pride!
TAMARA MORAN info@townpride.com 207-466-4004 www.townpride.com
True Ocean
True Ocean's Body Spray, a fine fragrance mist and a member of the True Ocean Coastal Collection, offers a light, beach day scent. Made from purified seawater, the Coastal Collection is an amazing mix of merchandise, specifically designed for beach-centric clientele. Other members of the collection include Seasoap, Foaming Mineral Bath, Pillow Mist, Salt Scrub, and Mineral Lotion.
DARIN TRIMBLE darin@trueoceanproducts.com 630-215-8579 www.trueoceanproducts.com
BOARDWALK PREVIEW GUIDE 2023 COASTAL CONNECTIONS CONFERENCE 15
Wellington Michael
Take the beach with you everywhere you go. Each beautiful piece of handcrafted jewelry uses natural, authentic beach sand to replicate the beauty of the shoreline. Just like every ocean wave is unique, each piece of jewelry is handcrafted and special! Turks and Caicos' beaches are spectacular to look at because of the clear turquoise water and magnificent white sand. This breathtaking beauty is what inspires each piece we handmake.
RYAN DEDOLA ryan@wellingtonmichael.com 562-882-7705 www.wellingtonmichael.com
Wild Republic
Our mission is to create superior quality toys that foster curiosity and connectivity with wildlife while committing to the environment. This means pioneering the most socially responsible avenues and technologies to drive sustainability with ecofriendly products that spark curiosity and joy in users. Our nature-inspired product line features the most realistic plush in the market as well as products that are creative in design, innovation and value.
ASHLEY ROSSITER arossiter@wildrepublic.com 440-725-3709 www.wildrepublic.com
16 2023 COASTAL CONNECTIONS CONFERENCE BOARDWALK PREVIEW GUIDE