LakeWylie An insider's guide to living at the Lake + SEASONAL EVENTS, AREA MAPS, AND DINING GUIDE COVERING: LAKE WYLIE CLOVER YORK STEELE CREEK TEGA CAY FORT MILL BELMONT Living on NEWCOMERS GUIDE GUIDE NEWCOMERS
548 Nautical Drive, Ste. 201 • Lake Wylie, SC 29710 • 704.825.7324 • McSpaddenHomes.com ® [ Certified Master Builder in Lake Wylie ] Professional, Predictable, Detailed and Systematic Design/Build Experience • Weekly Progress Reports from your Project Manager throughout the entire project • A Specialist for each phase of the Project Development process (including a Certified Interior Designer) • An exclusive State of the Art Design Center that makes the selection process an absolute pleasure Give us a call or visit our website and find out more about McSpadden Homes. SINCE 1987
803-746-5700 It's time to take control of your well being! Acupuncture • Chiropractic • Massage Therapy • Body Detox • Sauna Therapy Yun (Ann) Teng Acupuncturist Dr. Marcia Nibert Chiropractor & Acupuncturist Health Supplements Package & Family Discounts for Total Body Detox Gift Certificates for Most Services Holistic Care • Pain Management • Functional Medicine • Fertility Acupuncture Now Offering: Hours of Operation: Mon, Wed, Fri: 8am - 6pm (Closed 1pm - 2pm) Tues, Thurs: 8am - 1pm | Saturday: By Appointment www.DocMarciaAcupuncture.com 264 Latitude Lane, Suite 103 Lake Wylie, SC 29710 Near Publix, next door to the Chamber of Commerce
IsyourFinancialAdvisoraFiduciaryandlookingoutforyourbest interests? Ifyou have an aggregate portfolio of $500,000 to invest, I provide customized advisory equity portfolios tailored to you. • Financial Planning • Life and Long-Term-Care Insurance • Health and Medicare reviews Call Today to see what True Independence can doforyou! Providing IndependentWealthManagementwhile servingmyclientsforover 15 years. AllanGregory,CFP®,WealthAdvisor 244LatitudeLane, Suite105 I LakeWylie, SC29710 I (803) 619.5062 I www.gregorywealthmanagement.com Securities offered through LPL Financial, Member FINRA/SIPC. Investment advice offered through K.A. Gregory Wealth Management, a registered investment advisor and separate entity from LPL Financial.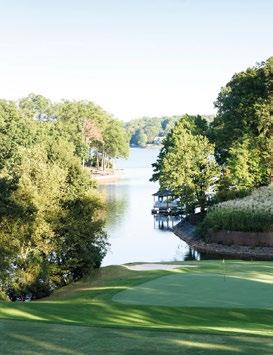 4 Living On Lake Wylie 8 About The Area 16 Lake Wylie 22 Development Update 24 Clover 26 York 28 Steele Creek 30 Tega Cay 32 Fort Mill 34 Belmont 35 Rock Hill 38 Education 40 Health Care 44 Sports/Recreation 50 Caring Community 54 Food/Drink 58 Calendar/Map 62 Newcomer Information 63 Camp Thunderbird 3265 North Carolina Ave., Suite 101 North Charleston, SC 29405 843.849.3100 • Fax: 843.849.3122 www.scbiznews.com Published by SC Biz News Executive Editor Jason Thomas jthomas@scbiznews.com • 864.568.7570 Editor, Custom Publishing Division Steve McDaniel smcdaniel@scbiznews.com • 843.849.3123 Advertising Sales Jane DuBois jane@littlewoodsmarketing.com • 704.287.8668 Contributing Writers Susan Brom eld, Jan Todd Contributing Photographers Susan Brom eld, Kim McManus, Jan Todd The entire contents of this publication are copyrighted by SC Business Publications LLC with all rights reserved. Any reproduction or use of the content within this publication without permission is prohibited. CONTENTS 2023 About The Cover: River Hills Country Club offers scenic lake views and a challenging layout on its 18-hole golf course. Photo by Jan Todd Living on LakeWylie GUIDE NEWCOMERS LakeWylie An insider's guide to living at the Lake + SEASONAL EVENTS, AREA MAPS, AND DINING GUIDE COVERING: LAKE WYLIE CLOVER YORK STEELE CREEK TEGA CAY FORT MILL BELMONT Living on NEWCOMERS GUIDE GUIDE NEWCOMERS
LAKE WYLIE • FORT MILL • CHARLOTTE • TEGA CAY • BELMONT • ROCK HILL • YORK Drew Choate 803-818-0704 info@lwman.com www.TheLakeWylieMan.com #1 on Lake Wylie! When it comes to buying or selling property, an experienced Realtor can make the process go smoothly and provide you with the best value. Knowledge is the key, and The Lake Wylie Man team knows real estate on and around Lake Wylie. Each year for the past decade, The Lake Wylie Man has been #1 in sales of waterfront homes and land on Lake Wylie. Put that experience to work for you. Trust the Lake Wylie experts!
Insurance