Issue 97 | September 2022 THE MAGAZINE PROMOTING GERMANY, SWITZERLAND & AUSTRIA BATHING IN THE CLOUDS EXPLORING WHEELCHAIRMOUNTAINSTHEINA PLUS BEST OF SWISS DESIGN HIKING THE WHISKY TRAIL  GERMANY'S SOFTWARE INDUSTRY TRAVEL, CULTURE, BUSINESS & MORE
Software is everywhere right now and the industry is booming. Find out more about the movers and shakers in the sector.
When thinking of whisky and rugged mountainous terrain, Scotland is what normally first comes to mind. One dis tillery in Switzerland, however, is look ing to change that perspective.
SPECIAL THEMES 14 CULINARY INDULGENCE AND LIFESTYLE MADE IN SWITZERLAND
Since the pandemic, actor Simon Böer has fallen in love with caravanning, and often drives to filming locations in his mobile home. He speaks to Discover Germany, Austria & Switzerland about his love for motorhome holidays and more.
FEATURES
REGULARS & COLUMNS
74 BARBARA GEIER COLUMN This month, our columnist Barbara Geier questions Germany's relation ship with alcohol. "There's a new gen eration of Germans in town that seem to have a different view of alcohol," she comments.
Photo: Simon Böer Photo: Aletsch Arena
28 WINERY OF THE MONTH
48 BUSINES S Our Business section is filled with in novative companies, architects and much more.
The Artners, a vintner family from the Carnuntum region in Austria, certainly know how to create a feast for your palate. From liquid delicacies produced in their winery to the gourmet restau rants in Vienna – the name Artner stands for pure indulgence.
September 2022 | Issue 97 | 3 4034 Contents SEPTEMBER 2022 COVER FEATURE 40 BATHING IN THE CLOUDS Exploring the mountains in a wheelchair? Kim Lumelius lets us in on that experience.
32 SWITZERLAND'S WHISKY TRAIL
6 DEDICATED TO DESIGN Whether you are searching for trendy interior items, gorgeous decoration ide as or unique fashion pieces, be sure to take a look at our Design section.
68 CULTURE CALENDAR Discover Germany, Austria & Switzer land's Culture Calendar is your perfect guide to what not to miss in September.
58 GERMANY'S MOST INNOVATIVE AND EFFICIENT SOFTWARE INDUSTRY COMPANIES
56 ARCHITECT OF THE MONTH Vienna-based skyline architekten have been realising client-centred, costefficient and sustainable projects in the health and spa sector since 2003.
36 FOCUS ON MINDFULNESS
34 STAR INTERVIEW: SIMON BÖER
Mindfulness describes the state at which you're fully present and aware of both where you are and what you're do ing. It can help alleviate stress and turn you into a happier person. But, where to start? This special theme will help you with precisely that.
66 WINE COLUMN Iris Ellmann is the managing director of The WineBarn, a multi-award-winning wine merchant. This month, she intro duces some of her favourite wines of this time of year.
Switzerland is known for tasty treats and high-quality design products and there is so much to discover. Find out what inno vative products Switzerland has brought to the market recently.
Nane Steinhoff Editor 4 | Issue 97 | September 2022
Dear Reader, © All rights reserved. Material contained in this publication may not be reproduced, in whole or in part, without prior permission of Scan Group – a trading name of Scan Magazine Ltd. This magazine contains advertorials/promotional articles. Discover Germany Issue 97, September 2022 Published 09.2022 ISSN 2051-7718 Published by Scan Magazine Ltd. Print H2 Print Executive Editor Thomas Winther Creative Director Mads E. Petersen Editor Nane Steinhoff Assistant Editor Marilena Stracke Copy-Editor Karl Batterbee Graphic Designer Mercedes Moulia Contributors Barbara Geier Cornelia Brelowski Daniel SilkeMarilenaColeStrackeHenkele Cover Photo Aletsch Arena Sales & Key Account Managers Carlota von Ertzdorff Julia JörgSophieLawiniaFreisingerTothBlechaSchmid Publisher: SCAN CLIENT PUBLISHING SCAN MAGAZINE LTD. The News Building, 3 London Bridge Street SE1 9SG, London Phone: +44 (0)870 933 0423 Fax: +44 (0)870 933 0421 Email: info@discovergermany.com For further information please visit www.discovergermany.com
Dear SeptemberReader,is here! And in a German context, the festival of all festivals is happening: Oktoberfest! So, head down to Munich, grab a pretzel and indulge in some tasty local beer. With September also comes shorter, cooler days that usually still sport plenty of sunshine. And when it comes to travelling, you can look forward to less crowds and better prices, too. With temperatures dropping slightly, September is a favourite month for hiking enthusiasts. Our tip: why not head to Switzerland's Whisky Trail? In the mountainous Appenzell district of Switzerland, just 30 kilometres south of Lake Constance, is a whisky hiking trail that winds and weaves its way through scenic Alpine terrain. Learning more about the warming drink, while doing something for your body and mind? Sign us up! Our cover feature also talks about mountain exploration, but in a somewhat different way. Kim Lumelius lets us in on the experience of exploring the mountains in a wheelchair. A highly inspiring read. Further topics covered in our brand-new September issue are a focus on caravanning holidays through the eyes of actor Simon Böer, great products made in Switzerland, a focus on mindfulness, a look at Germany's software industry, top travel tips, hotel recommendations, and much, much more. Last but not least, our wine column focuses on some tasty summer wines that should be tried this September. And now: sit back, relax and thanks for reading.
HUGGLER HOLZBILDHAUEREI 122 Jahre Jahre Schnitztradition im Herzen der Schweiz - Brienzer Holzbildhauerei lebendiges ShopKulturerbe.inBrienz mit Live Schnitzen / OnlineWerkstattbesuchShopunter www.huggler-holzbildhauerei.ch Schweizer Handharbeit – Huggler Qualität HUGGLER, HOLZBILDHAUEREI AG Hauptstrasse 64 3855 Brienz Tel. +41 33 952 10 www.huggler-holzbildhauerei.chinfo@huggler-holzbildhauerei.ch00
6 | Issue 97 | September 2022 Fashion Finds September is here! And with it, the days are getting shorter, the temperatures slightly colder and the rain falls that tiny bit more throughout the month. But that doesn't have to rain on your mood – especially when you come prepared and have the right equipment on hand. To help you embrace the elements, we have collected some gorgeous September-proof essentials for you. EDITOR'S PICKS I PRESS IMAGES Discover Germany | Design | Fashion Finds A timeless long-sleeve that will last for years to come? We found it with this colourful version of the traditional Breton top. £40. www.thenauticalcompany.com
Fashion Finds | Design | Discover Germany
This raincoat comes fully padded and therefore will even see you through the coldest of winter days. The gorgeous orange-brick colour is especially eyecatching. £146. www.thenauticalcompany.com
This hooded zip-up raincoat with a fun pattern, filled with bunches of bananas and leaves, will make you smile every time you wear it. £65. www.antipodream.co.uk
Looking for somewhat different wellies that will see you through autumn? This pair sports an inky octopus print, inspired by the maker's local coastline. They are fabulously comfortable; so much so, you'll forget you're wearing them! £65. www.thewidewellycompany.co.uk
A Knirps umbrella will last for a lifetime. The German manufacturer is known for its quality products and, as you can see, those products are pretty stylish too! Win, win. £34. www.knirps.com
Dedicated to Design
BY: NANE STEINHOFF
2. This pendant light is made from rattan sticks that have been artfully arranged together. The organic shape and the surface of the material merge into a timeless design that looks warm and natural. £99. www.guru-shop.de
4. In need of a new mirror? Why not choose this stylish one, made from natural mango wood? £199. www.swooneditions.com
I PRESS IMAGES 1 Discover Germany | Design | Dedicated to Design 4 3 5 2 8 | Issue 97 | September 2022
3. This sculpture is stunning. Made from a textured sandcoloured polyresin, not only does it look good with candles placed in it, but as a separate sculpture, too. The texture and shape is modern but totally timeless. £69. www.fiveanddime-interiors.com
5. Braided in the shape of a pear, the basket brings a fun atmosphere to a child's room. Whether cuddly toys, blankets or other play things, this design basket holds more than enough to keep things tidy. £38. www.einrichten-design.de
Au naturel – an interior trend that is here to stay. Organic textures and natural materials are as popular as ever, creating a refreshing, grounded space with a bit of retro flare. Combine elements of stone, wood, wicker and rattan to effortlessly breathe new life into any interior space.
1. This stylish side table features off-centre stacked timber disks crowned with a warm travertine tabletop. The fossilstyle of the design is accentuated by chiselled stone edges. £630. www.timneve.com
September 2022 | Issue 97 | 9 Fabulous Fashion | Design | Discover Germany
www.dossantosshop.dewww.petradossantos.de leather outfits with individual style and prefer ences. They value the top quality, the crafts manship, the safety and pleasure dos santos guarantees for their own special passions. Choosing leather is not a purely functional process. The material's unique properties and texture raise questions about desire, sensuality and passion. Leather keeps its special scent. It feels supple and strong. It embraces the body and gives it shape and firmness at the same time. Worn over years, leather grows with its owner, almost be comes like a second skin. Aside from the dos santos' collection for women, men and non-binary people that can be worn in daily life, there is also a vast vari ety of playful accessories, restraints, masks, collars and many more items for every indi vidual adult playground. Petra dos Santos' specialty are customised leather goods that will last a lifetime.
A PASSION FOR LEATHER Leather studio dos santos has been based in Berlin for 24 years. Owner Petra dos Santos combines her tailoring production workshop and the showroom, where a phe nomenal variety of high-quality handmade leatherwear and items awaits. Customers visiting the workshop studio for the first time are often surprised when they see the sewing machines, worktables and the wall draped with leathers of all colours. dos santos follows traditional craft procedures, including pattern making, hand selecting materials and fitting her designs to individual customers.
Visit the studio (by appointment only) or find your next favourite piece in the online store.
TEXT: MARILENA STRACKE I PHOTOS: MARCEL STEGER, © DOS SANTOS dos santos Lederatelier: Mehringdamm 119 10965 Berlin Phone + info@petradossantos.de49-30-50599919
"Recently, I specialised in stretch leather, as it allows for tight-fitting designs that were difficult to achieve with leather. Stretch leather allows you to breathe and bend over even in the tight est dress," she explains smiling. Each piece is 'Made in Berlin', designed and produced by Petra dos Santos and her team. The leather is exclusively from Germa ny and Europe, quality certified by German regulators. For dos santos, it's important that it doesn't just look beautiful, but that it's also toxin-free and ethically sourced. Her customers are fashion-conscious people of all genders who share a passion for specialty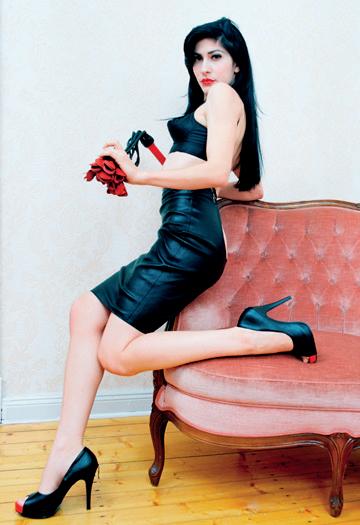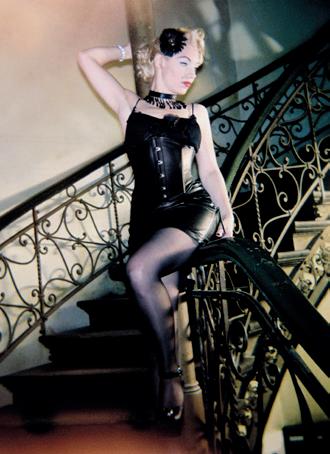 Conrad Peyer, Owner and CEO of Weseta Textil AG. Colorful Dreamflor towels.
10 | Issue 97 | September 2022
AGTEXTILWESETAPHOTOS:STRACKEMARILENATEXT:I
weseta switzerland is particularly known for the terry-cloth collection Dreamflor, which has been the most popular product for decades.
The traditional terry cloth weaving mill was founded by Leonhard Blumer in the Sernftal Valley in Glarus during the heyday of the tex tile industry in 1864. Today, the family busi ness is led by Conrad Peyer, and continues to create jobs in the Glarnerland region. Peyer personally buys the cotton from trusted spin ning mills and cotton farms, which have been carefully selected over time.
The towels and bathrobes made by weseta switzerland might be in a higher price range, but they are a worthy long-term investment. If you have experienced the comforting feeling of drying yourself with their terry cloth products in the morning, you know what we are talking about. Try weseta switzerland once and it's quite likely that you will never look back. weseta switzerland products are available in major department stores and retail shops in both Switzerland and Germany. www.weseta.ch
"It's also extremely absorbent and incredibly long-lasting. A real pampering for your skin and senses."
A TRUE PAMPERING FOR YOUR SKIN AND YOUR SENSES
The CO2-free energy comes from the compa ny's own hydropower plant and all products are certified 'Made in Green' by OEKO-TEX.
weseta switzerland is the only terry-cloth weaving mill in Switzerland and has be come well known for its luxurious products. Since its founding in 1864, the tradi tional Swiss brand stands for top quality, reliability, sustainability – and snuggly soft terry cloth. Premium terry-cloth towels and bathrobes in many sizes and colours, as far as the eye can see – that's the weseta switzerland range, made in Switzerland, in a nutshell. The com bination of almost 160 years' worth of expe rience and innovative weaving technology is the foundation for its ongoing success.
"Being at home in a mountain valley means that sustainability is second nature to us and it's been taken seriously for generations," Anita Borschberg, chief people and commu nication officer, says. She continues: "But sustainability never stops. Protecting the climate, transparency of the production chain, recycling, employ er responsibility and corporate governance are complex subjects, and we keep learn ing. Our corporate philosophy is based on real-life values such as trust, responsibility and courage."
"The newly launched collection Dream Royal is particularly soft and fluffy," Borschberg adds.
September 2022 | Issue 97 | 11 Wonderful Things – Made in Switzerland | Design | Discover Germany EIN WAHRER LUXUS FÜR HAUT UND SINNE
Premium-Frottiertücher und Bademäntel in zahlreichen Größen und Farben soweit das Auge reicht, so kann man sich das weseta switzerland-Sortiment vorstellen. Made in Switzerland, basiert der anhaltende Erfolg auf der perfekten Kombination aus beinahe 160 Jahren Erfahrung und ausgefeilter Web Gegründettechnologie.wurde die traditionelle Frottierwe berei 1864 zur Blütezeit der Textilindustrie von Leonhard Blumer im Glarner Sernftal. Heute leitet Conrad Peyer das Familienunterneh men, welches kontinuierlich Arbeitsplätze im Glarnerland schafft. Die Baumwolle kauft er persönlich bei langjährig vertrauten Spinne reien und Baumwollbauern ein, die sorgfältig ausgesucht wurden. Die CO2 freie Energie kommt aus dem eige nen Wasserkraftwerk und alle Produkte sind von ÖKO-TEX 'Made in Green' zertifiziert. "Zuhause in einem Bergtal ist Nachhaltigkeit eine Selbstverständlichkeit, die wir uns seit weseta switzerland ist die einzige Frottierweberei in der Schweiz und bekannt für ihre luxuriöse Frottierware. Die Schweizer Traditionsmarke steht seit der Gründung im Jahr 1864 für höchste Qualität, Verlässlichkeit, Nachhaltigkeit – und kuschelweiche Frottierware.
Generationen zu Herzen nehmen", so Anita Borschberg, Chief People and Communica tion Officer. Sie führt fort: "Doch Nachhaltigkeit hört nie auf. Die Themen Klimaschutz, Transparenz
der Produktionsketten, GovernanceArbeitgeber-VerantwortungKreislaufwirtschaft,undCorporatesindkomplexundwirlernennie aus. Wir pflegen eine Firmenkultur mit spür baren Werten wie Vertrauen, Verantwortung und wesetaMut."switzerland ist vor allem bekannt für die Frottierlinie Dreamflor. Sie ist seit Jahrzehn ten das beliebteste Produkt der Schweizer Marke. "Besonders kuschlig und angenehm ist auch die neu lancierte Linie Dream Royal", fügt Borschberg hinzu. "Flauschig weich, ex trem saugfähig und unglaublich langlebig. Ein wahrer Luxus für Haut und Sinne." Zwar befinden sich die Frottiertücher und Bademäntel in einer höheren Preisklasse, sind aber langfristig die Investition wirklich wert. Wer einmal die weichen Frottierwaren ausprobiert hat und am Morgen das wohlige Trocknungsgefühl erlebt hat, ist schnell über zeugt. Einmal weseta switzerland, immer weseta switzerland. weseta switzerland Produkte sind in allen gro ßen Kaufhäusern und Fachgeschäften in der Schweiz und in Deutschland erhältlich. www.weseta.ch Schweizer Folklore Kollektion. weseta Fabrik Sernftal, Kanton Glarus/Schweiz. Dream Royal Bademantel.
GMBHRHEINWALTTOS:PHOHENKELESILKETEXT:I
Customers particularly appreciate the reliably high quality of articles and designs, as well as the individually customisable Full Service, a service that Rheinwalt offers to all customers. "Full Service is a cost-saving all-in-one solution for the procurement and provision of articles particularly interesting to customers with several branches. This service generally covers all areas in full. Registered staff mem bers of the respective client company have access to a specially set-up online shop from which articles can be ordered. All products are stocked in our warehouse and can immediately be collected and dispatched to the respective customer or branch."
Targeted marketing has been offered by Rheinwalt GmbH since 1995. Based in Neustadt an der Weinstraße, Rheinwalt is a go-to supplier of special productions of textiles, sales promotional articles and Longmerchandise.sincethatstart in '95 has Rheinwalt established itself as a re liable partner that well-known large corporations from the European industry are happy to trust and rely on. "We develop an individual concept for each customer. Regardless of whether it's design or pro duction," relates managing director Simon Rheinwalt.
Schneller und besser kann ein starker Markenauftritt nicht gelingen! www.rheinwalt.eu Wenn es darum geht, ein Unternehmen bekannt zu machen, ist gezielte Werbung das A & O.
www.rheinwalt.eu
schätzen die Kunden neben der zuverlässig hohen Qualität der Artikel und Designs auch den individuell anpassbaren Full Service, eine Dienstleistung, die Rheinwalt allen Kunden anbietet. "Der Full Ser vice ist bei der Warenbeschaffung und Bereitstellung eine kostenspa rende Komplettlösung, die besonders für Kunden mit mehreren Nie derlassungen interessant ist. Im Prinzip deckt der Service alle Bereiche vollumfänglich ab. Registrierte Unternehmensmitarbeitende haben Zu griff zu einem speziell für den Kunden programmierten Online-Shop, über den die jeweiligen Produkte bestellt werden können. Die Artikel liegen bei uns im Lager und können sofort kommissioniert und an die jeweiligen Kunden bzw. Niederlassungen versendet werden."
12 | Issue 97 | September 2022 Discover Germany | Design | Germany's Top Business for Targeted Marketing Products
There is no faster or better way to create a successful and strong brand presence!
A POWERFUL IMAGE EIN STARKER AUFTRITT!
When it comes to promoting a business or creating a strong brand image, targeted marketing is essential.
Gezielte Werbung, wie sie seit 1995 von der Rheinwalt GmbH angebo ten wird. In Neustadt an der Weinstraße ansässig, ist Rheinwalt DER Anbieter, wenn es um Sonderproduktionen von Textilien, Werbeartikeln, Handelswaren, Verkaufsförderungsartikeln sowie Merchandisingarti keln Längstgeht.hat sich Rheinwalt als zuverlässiger Partner etabliert, dem be kannte Großkonzerne aus der europäischen Industrie gerne vertrau en. "Wir erarbeiten für jeden Kunden ein ganz individuelles Konzept, sei es beim Design oder in der Produktion", so Geschäftsführer Simon BesondersRheinwalt.
MDK - Miranda Kaloudis is a Zurich based independent fashion design label creating product oriented all season leather good collections for urban Underneathnomads.the minimalistic & geometrical design there is always a playful usability to be found. The timeless products are produced in Europe out of high-quality European leathers.
All about Swiss quality Switzerland is known for tasty treats and high-quality design products and there is so much to discover. On the following pages, find out what innovative products Switzerland has brought to the market recently. PHOTOS: PIXABAY SPECIAL THEME: CULINARY INDULGENCE AND LIFESTYLE –MADE IN SWITZERLAND 2022 14 | Issue 97 | September 2022
Besteck kommt aus Biel! www.sknife.com sknife ag | Neuengasse 5 | CH-2502 Biel | Tel.: +41 32 322 97 55 | info@sknife.com | Vertrieb: www.world-of-knives.ch
Mit dem "TableWare International Award of Excellence 2022" für das weltbeste Besteck verfügt die Messermanufaktur sknife in Biel über 4 Internationale Designpreise. Das einzigartige Messerdesign findet mittlerweile in den weltbesten Restaurants mit über 100 Michelin-Sternen seinen Einsatz. Präzision aus der Uhrenstadt Biel zeichnet auch das Taschenmesser mit High-Tech Keramik Gleitlager aus. www.sknife.com With the "TableWare International Award of Excellence 2022" for the world's best cutlery, the knife manufactory sknife in Biel is recognised with 4 international design awards. The unique knife design is now used in the world's best restaurants with over 100 Michelin stars. Precision from the watchmaking city of Biel also characterises the pocket knife with high-tech ceramic plain bearing.
Schönsteswww.sknife.com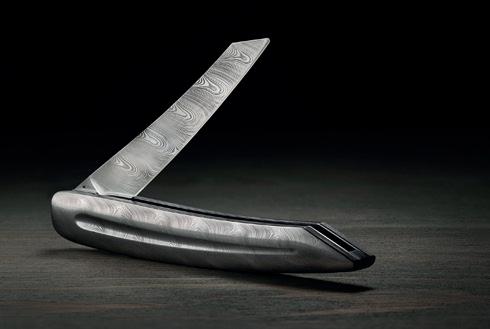 Photo: Stefan Schüpbach
16 | Issue 97 | September 2022 Discover Germany |  Special Theme  |  Culinary Indulgence and Lifestyle – Made in Switzerland 2022 DÜRRMELISSAPHOTOS:|STRACKEMARILENATEXT:
HANDGEFERTIGT…VERBLÜFFEND, UND EIN KLEINES KUNSTWERK
heraus entstand die Hervorragend AG, ein Han delsunternehmen, das nach Fair-Trade Grundsätzen arbeitet und welt weit ca. 60 soziale Arbeitsplätze unterstützt - ein beträchtlicher Anteil davon für Menschen mit Beeinträchtigungen. Hier geht es nicht haupt 3D Pop-up Grußkarten sind und bleiben eine Faszination für sich. Noch besser aber, wenn das Ganze als Fair-Trade läuft und nicht nur den Empfängern Freude macht, sondern auch soziale Arbeitsplätze schafft. Die Hervorragend AG zeigt, wie's geht.
Aside from the eye-catching pop-up cards, the plantable cards embedded with seeds have also grown in populari ty – a truly wonderful idea. You can find the hand-made cards in stores across Switzerland, in the showroom in Bern or via the online shop. Use the store lo cator on the website to find a seller in Switzerland. www.hervorragend.ch
STUNNING, HANDMADE… AND A LITTLE PIECE OF ART
sächlich um Gewinn, sondern darum, den po sitiven Impakt auf Menschen zu maximieren.
2008 kündigten Simone und Stefan Schüpbach ihre Jobs und gingen auf Weltreise. In Vietnam stießen sie auf verblüffende, handgefertigte 3D Pop-up Glückwunschkarten und später auf weitere handgemach te AusKunstwerke.dieserFaszination
Neben den verblüffenden 3D Pop-up Karten ist in den letzten Jahren auch die Nachfrage nach pflanzbaren Samenkarten angestiegen – eine tolle Idee. Man findet die handgemachten Kar ten im Einzelhandel in der ganzen Schweiz, im Berner Showroom oder über den Onlineshop.
3D pop-up greeting cards are always fascinating. But even better if they are fairtrade and don't just bring a smile to the recipient, but also create jobs. The Hervorragend AG shows how precisely that is done. In 2008, Simone and Stefan Schüpbach quit their jobs to travel the world. In Vietnam, they found stunning handmade 3D pop-up greeting cards, and later more handmade artwork that caught their attention. This fascination turned into a professional business, the Hervorragend AG. It follows the fairtrade principles and supports around 60 jobs worldwide – with a significant percentage of that being jobs for people with disabilities. The focus is not on the profit, but on maximising the positive impact on the people involved.
Auf der Webseite gibt es außerdem einen Store-Locator, der die Verkaufsstellen in der Schweiz anzeigt.
Growingpaper Schweiz | Hervorragend AG | Länggassstrasse 16 | CH-3012 Bern, Schweiz Lassen Sie Ihre Worte blühen! Wir drucken Ihre Botschaft auf pflanzbares Samenpapier www.growingpaper.ch Hervorragend AG | Länggassstrasse 16 | CH-3012 Bern, Schweiz | info@hervorragend.ch .handmade .fair .social 10% Rabatt auf Ihren Einkauf in unseremCode:Webshop IFM1022 www.hervorragend.ch Grusskarten mit Wow-Effekt TunnelkartenNeuheit:
Photo: Silvano Zeiter
18 | Issue 97 | September 2022 Discover Germany |  Special Theme  |  Culinary Indulgence and Lifestyle – Made in Switzerland 2022 STRACKEMARILENATEXT:
REPAIRING INSTEAD OF THROWING IT AWAY… REPARIEREN WEGWERFEN…ANSTATT
Photo: Christian Pfammatter
Photo: Samuel Gachet
Zeitlos und doch voll im Trend – so könnte man die einzigartigen Taschen mit dem traditionsreichen Schweizer Kreuz von Karlenswiss beschrei ben. Jedes Produkt im Sortiment ist ein Unikat und fast alle sind aus ori ginal Schweizer Armeedecken, Postsäcken oder anderen hochwertigen und oft traditionsträchtigen Materialien angefertigt. Als verantwortungs volles Unternehmen beschäftigt Karlenswiss rund sieben einheimische Angestellte. So ist ein tolles Frauenteam entstanden, welches die Unter nehmensphilosophie der Nachhaltigkeit und Qualität täglich lebt. Seit 2021 gibt es eine neue Leinen-Kollektion aus nachwachsendem Schweizer Flachs bei Karlenswiss. Beim Kauf einer Tasche wird im Schon seit der Gründung 1951 stellt Karlenswiss im typischen Walliser Bergdorf Törbel diverse Lederwaren und einzigartige Taschen in Handarbeit her. Wer auf der Suche nach traditioneller Schweizer Qualität ist, ist hier goldrichtig. Und das Beste? Bei Karlenswiss steht die Nachhaltigkeit im Fokus und so werden zwischen 80 und 90 Prozent recycelte Materialien verwendet. nächsten Jahr der gleiche An teil Flachs wieder neu ange pflanzt. Hand in Hand mit der Natur – und als Team miteinan der. So macht Nachhaltigkeit Spaß, und sieht dazu noch fan tastisch aus. with nature – and with each other acting as a team. That's sustainability done right, and it also looks fabulous, too.
Photo: Christian Pfammatter
www.karlenswiss.ch
Karlenswiss has been producing various handmade leather goods and unique bags in the rural Valais village of Törbel, since it was founded back in 1951. If you are looking for traditional Swiss craftsmanship, you have certainly come to the right place. And the best part? Sustainability takes centrestage here because 80 to 90 per cent of the used materials have been recycled. Timeless yet trendy – this describes the unique bags with the tradi tional Swiss cross made by Karlenswiss perfectly. Each item in the collection is one of a kind and almost all are made from original Swiss Army blankets, mailbags or other top-quality materials of sentimental value. As a responsible company throughout, Karlenswiss employs around seven locals – a fantastic team of women who firmly believe in the corporate philosophy of sustainability and quality. Since 2021, Karlenswiss has offered a new linen collection made from renewable Swiss flax. For every sale of a bag, the same amount of flax is planted in the following year. Everything is managed hand in hand
FüglistallerDominikPhoto:
DISTINGUISHED: WINES BY ZWEIFEL 1898
Lokal gekelterte Weine, der sorgfältige Umgang mit der Natur, große Handwerkskunst, Innovationsgeist (Urs Zweifel baute bereits vor fast 30 Jahren neue, widerstandsfähige Traubensorten an) und ein hoher Wie dererkennungswert kennzeichnen die Weine der Traditionskelterei. Ob die fruchtigen Klassiker aus der Terroir-Linie, die frisch-unkomplizierten Weine aus der Fauna-Linie oder die elegant-komplexen Premiumweine aus der Centenaire-Line - die Weine von Zweifel 1898 überzeugen auch die anspruchsvollsten Sommeliers. Das wissen auch die Passagiere der Swiss, denn seit neuestem werden der Sauvignon Blanc Zürich 2021 und der Pinot Noir 578 2018 aus dem Hause Zweifel 1898 hier in der First Class serviert. Egal ob lokale Spezialitäten, hochwertige, sortenreine Weine oder außergewöhnliche Cuvées mit hohem Wiedererken nungswert – bei Zweifel 1898 sind Weingenießer genau an der richtigen Adresse.
ZWEIFELLOS HERAUSRAGEND: WEINE VON ZWEIFEL 1898 Local specialities, high-quality, authentic wines or unique cuveés with high recognition value – Zweifel 1898 is exactly the right choice for wine connoisseurs. Committed to the exquisite taste of fine wine for centuries, the familyrun business Zweifel 1898 is one of the top names when it comes to excellent wines. Whether as an exclusive importer of top-class wines from all over the world or as a winery with its own portfolio: Zweifel 1898 satisfies every whim in terms of taste and quality. Locally pressed wines, the careful handling of nature, superb craftsmanship, a spirit of innovation (Urs Zweifel already cultivated new, resistant grape varieties 30 years ago) and a high recognition value characterise the wines from the traditional winery. Fruity classics from the Terroir-line, fresh and uncomplicated wines from the Faune-line or the elegant and complex premium wines from the Centenaire-line –wine by Zweifel 1898 convinces even the most demanding sommeliers. Passengers of Swiss International Air Lines might already know this as Zweifel 1898's Sauvignon Blanc Zurich 2021 and the Pinot Noir 578 2018 are now being served in the airline's First Class. www.zweifel1898.ch
20 | Issue 97 | September 2022 Discover Germany |  Special Theme  |  Culinary Indulgence and Lifestyle – Made in Switzerland 2022 AG1898ZWEIFELTOS:PHOHENKELESILKETEXT:I
Seit Jahrhunderten dem feinen Geschmack guter Weine verpflichtet, ist das in vierter Generation familiengeführte Unternehmen Zweifel 1898 eine der ersten Adressen, wenn es um exzellente Weine geht. Sei es als Exklusivimporteur hochklassiger Weine aus aller Welt oder als Weingut mit eigenem Weinportfolio: geschmacklich und qualitativ lässt Zweifel 1898 keine Wünsche offen.
Seit der Gründung vor über 120 Jahren widmet sich Zweifel 1898 voller Freude und Passion dem Rebensaft! Als Produzent von Spezialitäten aus hauseigenen Rebbergen in der Stadt- und Grossregion Zürich, Händler von Schweizer Weinen und Importeur von edlen Tropfen aus aller Welt, kennt sich das Familienunternehmen bestens aus im grossen, köstlichen Universum des Weines. www.zweifel1898.ch
22 | Issue 97 | September 2022 Discover Germany | Special Theme | Culinary Indulgence and Lifestyle – Made in Switzerland 2022
Photo: Philipp Spalek, Caritas Deutschland
SWISS SOLIDARITY
Crises have unfortunately become part of our daily lives, these days. However, those who want to give help and show solidarity to those affected, have a trusted partner to do so quickly and efficiently.
GLÜCKSKETTE – DIE SOLIDARISCHE SCHWEIZ
In puncto Solidarität geht die Schweiz mit gutem Beispiel voran. Denn hier sammelt die Glückskette bereits seit 1946 Spenden für Menschen, die von Krisen und Katastrophen betroffen sind. Heute ist die Glückskette eine unabhängige Stiftung und die größte pri vate Schweizer Geldgeberin für humanitäre Hilfe. Die Stiftung genießt enormes Vertrauen in der Schweizer Bevölkerung und wird von den öf fentlichen Medien maßgeblich unterstützt. Als verantwortungsvolle Geld geberin macht sie einerseits auf humanitäre Krisen und Katastrophen aufmerksam, andererseits sammelt und verwaltet sie effizient Spenden und finanziert und überwacht qualitativ hochwertige Hilfsprojekte. 25 akkreditierte, seriöse Schweizer Organisationen wie das Schweizerische Rote Kreuz, Caritas oder Helvetas sind verlässliche Partner.
www.swiss-solidarity.org
Glückskette – die solidarische Schweiz www.glueckskette.ch Krisen gehören leider mittlerweile zu unserem Alltag. Doch wer solidarisch sein und helfen möchte, kann dies schnell und effizient tun.
Photo: Oscar Alessio, SRF
Swiss Solidarity – solidarity from the Swiss population
"Swiss Solidarity," explains director Miren Bengoa, "is Switzerland's solidarity reflex, which is particularly evident after major catastrophes such as the disastrous tsunami in 2004 or the current war in Ukraine."
25 professional, committed team members ensure that lesser known crises such as the unprecedented current hunger crises in East Africa do not disappear from the public radar. "In view of this emergency situation, Swiss Solidarity will channel solidarity from all parts of the country into effective aid projects," adds Bengoa.
HENKELESILKETEXT:
Switzerland sets a fine example when it comes to charitable aid. Here, Swiss Solidarity has been collecting donations for people af fected by crises and disasters since 1946. Today, Swiss Solidarity is an independent foundation and currently the largest private Swiss donor of humanitarian aid. The foundation enjoys huge trust among the Swiss population and receives signif icant support from public media. As a responsible donor, it raises awareness of humanitarian crises and catastrophes, while on the other hand it efficiently collects and manages donations and moni tors high-quality aid projects. 25 accredited, reputable Swiss organ isations, such as the Swiss Red Cross, Caritas and Helvetas, are reliable partners.
"Die Glückskette", erklärt Direktorin Miren Bengoa, "ist der Solidaritäts reflex der Schweiz, der sich besonders nach großen Katastrophen wie beispielsweise dem verheerenden Tsunami im Jahr 2004 oder aktuell im Ukrainekrieg zeigt." Das 25-köpfige, professionelle Team sorgt jedoch auch dafür, dass weniger bekannte Krisen wie die aktuell beispiellose Hungerkatastrophe in Ostafrika nicht aus dem Bewusstsein der Bevölke rung verschwinden. "Angesichts der Notlage wird die Glückskette auch in dieser Situation die Solidarität aus allen Teilen des Landes in effektive Hilfsprojekte umwandeln", so Bengoa weiter.
Ob Naturkatastrophe oder Krise: Seit über 75 Jahren ist die Glückskette der Schweizer Solidaritätsreflex mit Menschen in Not und finanziert in der Schweiz und im Ausland hochwertige Hilfsprojekte ihrer Partnerorganisationen. Jetzt spenden www.glueckskette.ch President Ignazio Cassis and radio host Dani Fohrler at the National Day of Solidarity.
|HENKELESILKETEXT:PHOTOS:HUGGLERHOLZBILDHAUEREIAG
SWISS WOOD CARVING BETWEEN TRADITION AND FUTURE
www.huggler-holzbildhauerei.ch/en
24 | Issue 97 | September 2022
When you think of Switzerland, you might probably first think of the breathtak ing Alpine panorama and delicious chocolate. But Switzerland can excel at much more; woodcraft, for example! When living conditions in the Alpine regions of Switzerland became arduous at the be ginning of the last century, people decided to make a virtue of necessity and promote the traditional Alpine art of wood carving to the ever-increasing number of tourists; and thereby created a veritable hype surrounding their carvings. In its heyday, up to 3,000 people worked as wood carvers in the Bernes Oberland, thus helping the art of wood carving to achieve cult status. There was hardly a smoking sa lon without at least one intricately carved piece of furniture or some exquisitely de signed wooden objects dotted around the place. Today, this ancient craft lives on at Huggler Holzbildhauerei in the picturesque mountain village of Brienz in the canton Bern. How does it feel to work in such a traditional profession? "Great! We consider our work to be the preservation of a tradition. A tradition we are aware of every day as, for example, we still work on our nativity figurines from Hans Huggler-Wyss' original designs from 1915. Of course, we also create new designs, but we do so by applying traditional carving techniques. Our goal is to keep the cultural heritage of wood carving alive; and this includes all facets of this craft: modern as well as traditional, un conventional and classic woodwork," stresses owner and director Heinz Linder. So, Huggler designs belong to the past and to the present. What distinguishes them in par ticular? "Well, we are the only wood carvers in Europe who still manufacture figurines in series, in larger quantities and, above all, en tirely by ourselves. Woodcarvings by Huggler are also easily recognisable by some special characteristics: We carve our objects in flatcut; i.e., each cut is still recognisable. Each of our designs is manufactured and painted with a great love for detail. All these aspects combined give each of our figures its own unique character, making them truly special: an exclusive carving by Huggler." Next to the famous nativity figurines, which have long been renowned beyond the Swiss borders and are the trademark of Huggler, Huggler's range of woodworks is much larger: human figurines in traditional Swiss costumes, classic Swiss farm animals, sacred figures, tra ditional wooden children's chairs, reliefs and clocks. "And we add new designs and fig urines each year. You can have a look at the whole range on site in Brienz," adds Linder. Anyone who appreciates the designs can also order them online. Huggler Holzbildhauerei: original Brienz woodcarvings since 1900.
September 2022 | Issue 97 | 25 Culinary Indulgence and Lifestyle – Made in Switzerland 2022  |  Special Theme |  Discover Germany
Oder sie online bestellen: Huggler Holzbild hauerei, die original Brienzer Schnitzereien seit 1900. www.huggler-holzbildhauerei.ch
Neben den berühmten Krippenfiguren, die längst über die Grenzen der Schweiz bekannt sind und das Markenzeichen der Holzbildhau erei Huggler darstellen, umfasst das Sortiment der Holzbildhauerei aber deutlich mehr: Men schenfiguren in traditionellen Schweizer Trach ten, klassische Schweizer Bauerntiere, sakrale Figuren, traditionelle Kinderstühle aus Holz, Reliefs und Uhren. "Und es kommen jährlich neue Designs und Figuren dazu. Das gesamte Sortiment kann man sich übrigens vor Ort bei uns in Brienz anschauen", so Linder.
SCHWEIZER HOLZBILDHAUEREI ZWISCHEN TRADITION UND ZUKUNFT
Als die Lebensbedingungen Anfang des letzten Jahrhunderts in der Schweizer Berg regionen eher beschwerlich waren, fiel die Entscheidung, aus der Not eine Tugend zu machen, und die traditionelle alpine Schnitzkunst unter den immer zahlreicher werdenden Touristen zu verbreiten. Daraus entwickelte sich ein wahrer Hype um Schnit Inzereien.denHochzeiten arbeiteten im Berner Ober land bis zu 3.000 Personen als Holzbildhauer, die der Schweizer Schnitzkunst zu wahrem Kultstatus verhalfen - kaum ein Rauchsalon, in dem nicht mindestens ein filigran geschnitztes Möbelstück oder exquisit gestalteten Objekte gestanden hätte. In der Huggler Holzbildhaue rei im malerischen Bergdorf Brienz im Kanton Bern lebt diese alte Kunst weiter. Wie fühlt es sich an, in solch einem tradi tionsreichen Beruf zu arbeiten? "Großartig! Für uns ist unsere Arbeit die Bewahrung Wer an die Schweiz denkt, denkt vermutlich vor allem zuerst an das atemberaubende Alpenpanorama und an leckere Schokolade. Doch die Schweiz kann mehr! Schnitzkunst zum Beispiel. einer Tradition. Wir haben sie ja täglich vor Augen, da wir beispielsweise unsere Krip penfiguren noch nach den Originalvorlagen von Hans Huggler-Wyss von 1915 arbeiten. Natürlich kreieren wir auch Neues, aber das stellen wir eben in der überlieferten Schnitz tradition her. Grundsätzlich möchten wir das Kulturgut der lebendigen Holzbildhauerei am Leben erhalten, und das beinhaltet natür lich sämtliche Facetten der Holzbildhauerei: moderne und traditionelle, ausgefallene und klassische Holzarbeiten", beschreibt Ge schäftsführer Heinz Linder. Huggler-Designs sind also in der Vergangen heit und in der Gegenwart zu Hause. Was zeichnet sie speziell aus? "Wir sind zum einen die einzigen Holzbildhauer:innen Europas, die Figuren noch in Serie, in größeren Men gen und vor allem komplett selbst herstellen. Huggler-Schnitzereien sind außerdem relativ leicht an einigen besonderen Merkmalen er kennbar: Wir schnitzen unsere Objekte im Flachschnitt, so dass einzelne Schnitzschnit te noch gut erkennbar sind. Und jedes unse rer Objekte ist mit großer Liebe zum Detail gefertigt und bemalt. All diese Aspekte zu sammengenommen verleihen jeder unserer Figuren einen ganz eigenen Charakter und macht sie zu etwas ganz Besonderem. Näm lich zu einer exklusiven Huggler-Schnitzerei."
Feinschmecker – Germany's Top 15 Gelato-Festival Germany/Berlin – 3rd place TripAdvisor – Germany's best ice-cream parlour Expedia – Top10 best ice-cream parlours world-wide Varta – Top German ice-cream parlour Federal minister for economy and energy – Best overall entrepreneur Award Meister.Werk.NRW – Proximity, responsibility, quality
26 | Issue 97 | September 2022
Der
From the prestigious Feinschmecker Magazine to TripAdvisor – the EisLabor in Bonn has been receiving one award after the next, and rightly so. Aside from its delicious ice-cream creations, the team at EisLabor also places great importance on sustainability. That's why you can not only eat the ice-cream, but the spoons and cups as well.
Ice-cream classics such as vanilla, chocolate and strawberry are the most popular flavours. But salty caramel or vegan cookie ice-cream are also in great demand. Even the cups and spoons are edible – instead of regular straws, EisLabor provides macaroni. That way, zero plastic is being used and overall, a lot less waste is produced.
"We pay great attention to the ingredients of our ice-cream," Recker adds. "If possible, we always prefer making them ourselves. Our confectioners love creating tasty high-quality ice-cream and our service staff loves making our customers smile with it."
"Since I can remember, I've always loved icecream," says Petra Recker, the founder of EisLabor who has turned her passion into a dreamy ice-cream parlour. "As a child, each Sunday during our walk, my mother took me for ice-cream. That's probably where it all Today,started."the
A TRUE PASSION FOR ICE-CREAM
|STRACKEMARILENATEXT:PHOTOS:EISLABOR
Photo: Nadine Saupper
EisLabor can be found in three lo cations: the first store is in the old part of town Bonner Altstadt; another, EisLabor, is on the other side of the Rhine River in Beuel; and in 2017, a bigger ice-cream parlour with seating and a terrace opened in Bonn's city centre. Only top-quality ingredients are being used. The milk and yoghurt are sourced from a re gional farm, and the EisLabor team makes the strawberry and chocolate sauce, as well as the fruit compote and salty caramel, themselves.
"I like most flavours," Recker says, but lets us in on a secret: "my favourite one, though, is Stracciatella, with as many chocolate chunks as possible. However, our most recent icecream creation is Peanut Sesame Orange, us ing oat as a vegan base." Another new addition is the EisKnödel, a filled ice-cream dumpling which has already become a firm favourite with anyone who fancies an icy treat? www.instagram.com/eislaborbonnwww.eislabor.info
weltbesten VartaEiscafés-Top Eisdiele Deutschlands Bundesministerin
Energie
– Deutschlands Top15 Gelato-Festival Deutschland/Berlin –3.Platz TripAdvisor – Deutschlands beste Eisdiele Expedia – Top10
Heute gibt es das EisLabor bereits an drei Standorten: Da ist die erste Eisdiele in der Bonner Altstadt, das EisLabor auf der an deren Rheinseite in Beuel und seit 2017 das Geschäft mit Sitzplätzen und Terrasse in der Bonner City. Nur die allerbesten Zutaten kommen hier zum Einsatz. Die Milch und der Joghurt werden direkt von einem regionalen Bauernhof bezo gen und die Erdbeer- und Schokoladensoße, Vom Feinschmecker Magazin bis TripAdvisor: Das EisLabor in Bonn räumt eine Auszeichnung nach der anderen ab, und das völlig zurecht. Neben den köstlichen Eiskreationen steht im EisLabor aber auch die Nachhaltigkeit im Vordergrund. So kann man Löffel und Becher ebenfalls gleich mitessen. sowie das Fruchtkompott und das Salzkara mell stellt das EisLabor-Team selbst her. "Wir achten sehr genau darauf, welche Zutaten in unserem Eis verwendet werden", fügt Recker hinzu. "Wenn möglich, stellen wir alles dafür selbst her. Unsere Konditoren lieben es ein hochwertiges, leckeres Produkt herzustellen und unsere Servicekräfte die Kunden damit zu Nebenverwöhnen."denbeliebten Eis-Klassikern wie Vanille, Schokolade und Erdbeere erfreuen sich aber auch etwas ausgefallenere Sorten höchster Beliebtheit - darunter Salzkaramell oder veganes Cookie Eis. Gegessen wird aus Bechern und mit Löffeln, die der Nach haltigkeit zuliebe ebenfalls essbar sind. Statt Strohhalme werden Makkaroni eingesetzt. So wird komplett auf Plastik verzichtet und Müll reduziert.
"Ich liebe Eis, seitdem ich denken kann", er zählt EisLabor Gründerin Petra Recker, der es gelungen ist genau diese Leidenschaft kompromisslos in ihre Eisdiele einfließen zu lassen. "Meine Mutter hat mich schon als kleines Kind bei jedem Sonntagspaziergang immer auf ein Eis eingeladen. Dabei ist wahr scheinlich meine Leidenschaft entstanden."
Unternehmerin Auszeichnung Meister.Werk.NRW –Nähe, Verantwortung, Qualität
September 2022 | Issue 97 | 27 Top Ice Cream Parlour in Germany | Wine & Dine | Discover Germany AUS LIEBE ZUM EIS
Der Feinschmecker der für Wirtschaft und - Bester Gesamteindruck als
"Es gibt kaum eine Eissorte, die ich nicht mag", verrät Recker. "Meine Lieblingssorte ist Stracciatella mit möglichst vielen Scho koladenstücken. Unsere neueste Eiskreation ist 'Erdnuss Sesam Orange' als vegane Va riante auf Haferbasis." Ganz neu und bereits ein Favorit ist auch der gefüllte 'EisKnödel' -schon Eishunger?
If you are in Vienna, a visit to Restaurant Artner is a must. It's located at the pictur esque Franziskanerplatz plaza and has its own vault housing a wine cellar. Managing director Markus Artner runs it with great pas sion and is supported by his sister Beatrix.
The Carnuntum region, 20-minutes east of Vienna, enjoys a great reputation for its viticul ture. Right there, in the village of Höflein to be precise, nestles the idyllic Artner family winery, which is run by Hannes Artner and his son Peter, who recently took over the reins of the cellar and the vineyard from his father. The origin story goes back to 1985 when the first self-produced Superblaufränkisch wine was awarded fourth place by prestigious Falstaff. From then on, the Artner range has steadily grown into an impressive selection of award-winning wines. From the Grüner Veltliner and Zweigelt to the Syrah – a rather uncommon variety in the region – the Artner cellar shows remarkable diversity. However, there is more to discover at Artner winery. The historic Heuriger wine tavern in the old farmhouse is a wonderful destination in and of itself. An audience vote facilitated by Falstaff just awarded it an incredible 97 points and named it Austria's number one in the Heu rigen Guide. Enjoy the wonderful, candle-lit atmosphere during a relaxed supper. On the menu are, for example, Mangalitza pork delica cies, cheese from the Vorarlberg region and, of course, premium wines straight from the cellar.
"Our cuisine is dedicated to mastering tra ditional Austrian dishes – with an innovative twist," Artner explains. "We serve steaks made from locally sourced calves and love to pair them with the perfect wines from our winery. Seasonal highlights include anything from asparagus to porcini mushrooms, and even the traditional St Martin's Day goose."
AN INDULGENCE FOR THE PALATE… WELCOME TO THE ARTNER FAMILY WINE ESTATE
The Artners, a vintner family from the Carnuntum region in Austria, certainly know how to create a feast for your palate. From liquid delicacies produced in their winery to the gourmet restaurants in Vienna – the name Artner stands for pure indulgence.
Contemporary hospitality, regional origin and quality are the pillars of the restaurant's suc cess. Unsurprisingly, the Artner is a popular venue for events of any kind. Aside from the culinary delights on offer, it has this unique atmosphere, much like the wine tavern in the old farmhouse. Are you ready to indulge? www.artner.co.at
28 | Issue 97 | September 2022
STRACKEMARILENATEXT: Artner at Franziskanerplatz plaza. Photo: Restaurant Artner
Photo: Katharina Roßboth The vaults at Artner. Photo: Adrian Almasan
Ist man allerdings direkt in Wien, bietet sich ein Besuch im Restaurant Artner am schönen Franziskanerplatz an, welches sogar ein Ge wölbe mit angeschlossenem Weinkeller hat. Geschäftsführer Markus Artner ist mit Leiden schaft dabei und wird von Schwester Beatrix unterstützt. "Unsere Küche widmet sich der traditionellen österreichischen Kochkunst, ver feinert mit innovativen Akzenten", so Artner. "Wir servieren unsere Steaks von der heimi schen Kalbin am liebsten mit passenden Wei nen vom eigenen Weingut. Dazu kommen sai sonale Highlights vom Spargel über Steinpilze bis hin zum traditionellen Martinigansl." Zeitgemäße Gastlichkeit, Regionalität und Qualität bilden hier das Gesamtwerk. Das spricht sich natürlich herum, und so ist das Artner auch für Events jeglicher Art unglaub lich gefragt. Denn neben den feinen Köst lichkeiten besticht das Restaurant, wie auch der 'Heurige im alten Bauernhof', mit diesem wirklich einzigartigen Ambiente. …eben Genuss pur.
Das Carnuntum, 20 Minuten östlich von Wien, ist für seine hochwertigen Weine bekannt. Ge nau dort, genauer genommen im kleinen Ort Höflein, liegt das idyllische Familien-Weingut Artner, welches von Hannes Artner und sei nem Sohn Peter geführt wird, der die Regie im Keller und Weingarten mittlerweile von Vater Hannes übernommen hat.
September 2022 | Issue 97 | 29 W inery of the Month | Wine & Dine | Discover Germany
Peter, Hannes und Christoph Artner. Foto: Katharina RoßbothArtner Rossini Rostbraten. Foto: Restaurant Artner Artner Heuriger. Foto: Weingut Artner
Was 1985 mit dem ersten und vom Falstaff mit dem vierten Platz ausgezeichneten Su perblaufränkischen begann, hat sich heute in einen beeindruckenden Keller voller preisge krönter Weine entwickelt. Vom Grünen Velt liner und Zweigelt bis zum - für die Gegend eher untypischen - Syrah ist alles dabei. Aber es sind nicht nur die erstklassigen Wei ne, die hier gefeiert werden, es lohnt sich ebenfalls im historischen 'Heurigen im alten Bauernhof' einzukehren. Dieser wurde gera
GENUSS, PUR… WILLKOMMEN BEI FAMILIE ARTNER
Die Winzerfamilie Artner im österreichischen Carnuntum weiß, wie man den Gaumen gleich rundum verwöhnt. Ob flüssige Köstlichkeiten vom familiengeführten Weingut oder doch Gourmet-Highlights in den Restaurants im Herzen Wiens: Der Name Artner steht für Genuss pur. de im Falstaff - durch Publikumsvoting - mit 97 Punkten als Österreichs Nummer 1 im Heurigen Guide ausgezeichnet. Am besten aber, man schaut einfach selbst vorbei und probiert in wunderbarer Atmosphäre bei Ker zenschein Feines vom Mangalitza-Schwein oder Vorarlberger Bergkäse – und dazu na türlich einen edlen Tropfen aus dem Keller.
HofbräuOktoberfest.Berlin.
The legendary Oktoberfest in Munich also has this very special atmosphere. Each year, around 6.5 million people visit Munich to enjoy the world's biggest beer festival. The Hofbräu Festzelt, with 10,000 seats and one of the largest tents on site at the huge event, is certainly the place-to-be this September. www.hofbraeu-muenchen.de beispielsweise Berlin, Hamburg oder Dresden. Einzigartige Stimmung und eine besondere Atmosphäre erleben auch die Besucher vom legendären Münchner Oktoberfest. Jährlich besuchen etwa 6,5 Millionen Menschen Mün chen, um beim größten Bierfest der Welt da bei zu sein. Das Hofbräu Festzelt, mit 10.000 Plätzen eines der größten Zelte vor Ort, ist der Place-to-be im September.
Hofbräuhaus am Platzl, Munich. Hofbräu München Brewery.
In 1589, the Hofbräuhaus was originally founded to supply the royal court with beer. Today, it enjoys a worldwide reputation for being the cradle of Munich's tavern culture and Bavarian hospitality. Each year, almost two million people from all over the world visit the Hof bräuhaus in the heart of Munich's city centre. Thanks to its global popu larity and unique character, it has even made it all the way to Las Vegas.
Das Hofbräuhaus am Platzl, 1589 ursprünglich zur Versorgung des Hofstaates mit Bier gegründet, ist heute ein weltweiter Begriff für Münchner Bierkultur und bayerische Gastlichkeit.
The Hofbräu München brewery has been located in München-Riem since 1988. It is known for its lager beer and seasonal specialities such as the Oktoberfest beer. The bestseller is the Hofbräu Original, which can be purchased across Germany and in over 40 countries –like all Hofbräu beers. If you cannot visit the original site in Munich, you can enjoy the Hofbräuhaus vibe in various Hofbräu taverns in many metropolises, such as Berlin, Hamburg and Dresden.
Fast zwei Millionen Besucher aus der ganzen Welt besuchen das Hof bräuhaus im Herzen der Münchner Innenstadt jedes Jahr. Aufgrund seiner Einzigartigkeit und weltweiten Beliebtheit hat es die Kultstätte inzwischen bis nach Las Vegas geschafft.
WELCOME TO THE WORLD'S MOST FAMOUS TAVERN WILLKOMMEN WIRTSHAUSBERÜHMTESTENIMDER WELT
30 | Issue 97 | September 2022 MÜNCHENHOFBRÄUTOS:PHOSTRACKEMARILENATEXT:I
Discover Germany | Wine & Dine | Beer – Made in Germany
Die Brauerei Hofbräu München, seit 1988 in München-Riem Zuhause, steht für helle Biere und saisonale Spezialitäten wie dem Oktoberfest bier. Bestseller ist das Hofbräu Original, das, wie alle Hofbräu-Biere, deutschlandweit und in über 40 Länder weltweit verkauft wird. Wer das Münchner Original nicht besuchen kann, erlebt die HofbräuhausAtmosphäre in zahlreichen Hofbräu-Wirtshäusern in Metropolen wie
SHOW TIME – IM GOP VARIETÉ-THEATER
Wie es aussieht, wenn eine über 100 Jahre alte Kultur wie das Varieté mit Vollgas im 21.Jahrhundert angekommen ist, zeigt das GOP Varieté-Theater in der Münchner Maximilianstraße nun seit bereits über zehn Jahren. Alle zwei Monate wird ein neues Show-Format gezeigt, das durch jede Menge Leidenschaft, Fantasie und Liebe zum Detail begeistert.
Bühnenpro gramm bietet die vielfältige Gastronomie des GOP Varieté kulinarische Highlights.
Feingeist im bayerischen Mömbris: Was vor einigen Jahren als Idee begann, ist heute ein bekannter Treffpunkt für Genießer:innen. Ausgestattet mit einem begehbaren Humidor, einer Tastinglounge, einer hauseigenen Bar zum Verkosten und bald auch einer Außenlounge für Fans feiner Rauchwaren, bietet Feingeist den Bewunder:innen des Außergewöhnlichen auf über 400 Quadratmetern die perfekte ErgänzendGenussumgebung.zumspektakulären
Liebevoll kreierte Menüs sowie saisonal ab gestimmte Snacks können auf Wunsch vor der Show genossen werden und bilden so die perfekte Einstimmung auf einen einzig artigen Abend. Hier verbinden sich zeitgenössische Artistik, herzerwärmende Clownerie und intelligente Comedy mit fantasievollen Bühnenbildern und effektvollem Lichtdesign zu einem Gesamtkunstwerk voller Energie und Emotion.
Besonders exquisite Whiskysorten haben es den Inhabern angetan, wie Geschäftsführerin Lisa-Marie Schäfer bestätigt: "Was unser Angebot kennzeichnet, ist vor allem die Vielfalt. Man findet bei uns Einsteigerwhiskys, aber auch Raritäten sowie eine sehr große Auswahl an unabhängigen Whiskyabfüllungen. Feingeist stellt keine bestimmten Geschmacksnoten oder die Herkunft in den Vordergrund, sondern eigentlich genau das
Gegenteil: Wir haben uns dem Genuss verschrieben, spüren Trends auf, freuen uns über Kundenwünsche und -anregungen. Das gilt im Übrigen auch für unser Angebot an Gin, Rum, Wodka und so weiter." Exklusive Rauchwaren ergänzen das Angebot. "Wir finden, dass Whisky, beziehungsweise Spirituosen überhaupt, und Zigarren sich perfekt ergänzen. Zigarren haben ein breites Geschmacksspektrum und betonen die Aromen von Spirituosen optimal. So bieten wir unseren Kund:innen die Möglichkeit, bei uns ihre ganz individuellen Genussmomente zu erleben." www.fein-geist.de Bar, die kurz vor der Schließung steht, stellt für einen letzten Abend einen Ort der Begegnung für kühne Akrobaten, Artistinnen und Illusionisten dar. Hier trifft der Bartender auf die Femme Fatale, der starke Mann auf die zarte Tänzerin, und über Allem liegen Musik und eine Stimme mit Gänsehautpotential. www.variete.de GOP Varieté München Maximilianstraße 47 80538 (089)210München288444
Dies sangen The Doors einst in ihrem Alabama Song. Nichts leichter als das!
Unterstützt von dynamischen Choreographien sowie mitreißender Musik erzählt jede GOP Show eine vollkommen andere Geschichte.
Ob ein romantischer Abend zu zweit oder ein unvergessliches Erlebnis mit Freunden oder Kollegen – diese Kombination aus einer einzigartigen Show und kulinarischen Kreationen ist Entertainment für alle Sinne. Noch bis zum 6.November 2022 kann man sich von der Show WunderBar begeistern lassen – diese I
September 2022 | Issue 97 | 31 Feingeist / Wine & Dine | GOP Varieté München / Culture | Discover Germany 'SHOW ME THE WAY TO THE NEXT WHISKY BAR'
TEXT: SILKE HENKELE
FOTOS: FEINGEIST TEXT & FOTOS: GOP VARIETÉ MÜNCHEN
When thinking of whisky and rugged mountainous terrain, Scotland is what normally first comes to mind. One distillery in Switzerland, however, is looking to change that perspective. In the mountainous Appenzell district of Swit zerland, just 30 kilometres south of Lake Constance, is a whisky hiking trail that winds and weaves its way through scenic Alpine terrain. It's here in the foothills of the Alpstein mountain range, where Karl Locher has been distilling a mix of whisky blends to be sold in the mountain huts above. For hikers who love their whisky, it has created a unique opportu nity to sample one-off blends while trekking from one summit to the next.
Locher's family business has been responsible for brewing the local Appenzeller Beer for well over a hundred years, but it wasn't until 1997 that they turned their hands to whisky after the Swiss government changed their laws sur rounding the distillation of spirits. Säntis Malt Whisky, named after the highest peak in the Alpstein range, is made using the fresh spring water on its doorstep, and is a rare breed in the whisky world, distilled in old beer barrels, thus giving it a smooth, cured flavour. One particular mountain hut proprietor took to the whisky so much, he wanted his own blend to sell as a treat for the weary hikers who completed the epic trek to his estab lishment. "Sepp Manser, owner of mountain restaurant Meglisalp, was a big Säntis Malt fan from the beginning and wanted his very own whisky barrel," explains Locher's sales manager Kuno Mock. After the success of introducing a unique blend to the mountain market, Manser and Locher started to think about how they could take things to the next level. They decided to create 26 unique blends – one for each and every hut. Each whisky is not only differentiated though its flavour, aroma and colour, but the varying altitudes and temperatures at which the casks are stored, also provide the blends with their own individual characters.
In 2015, the Appenzell Whisky Trek was launched, connecting the 26 mountain huts with a unique whisky tasting experience. The
32 | Issue 97 | September 2022
TEXT & PHOTOS: DANIEL COLE FROM SOURCE TO SUMMIT: SWITZERLAND'S WHISKY TRAIL
September 2022 | Issue 97 | 33 Switzerland's Whisky Trail | Culture Feature | Discover Germany series of pathways run from the beautiful res taurant that looks out across the valley floor at Seealpsee, past the iconic mountainside lodg ings at Aescher on Ebenalp, on to the Santis summit, 2,502 metres above sea level. At each stop, the whisky trekker can experience a unique Säntis blend, exclusively available at each remote location.
GETTING THERE From Appenzell, a direct train to the village of Wasserauen signals the start of most journeys. Here, a cable car traverses the Ebenalp peak, but for those travelling by foot, there's a path way to Seealpsee that careers up 200 metres of cow-filled pastures. From the comforting seats at the Berggasthaus perched on the lakeside, you can look out all the way up to the summit, and on a clear day, also see the Meg lisalp restaurant peering out over the precipice into the valley. Hiking to each lodge doesn't come with out its challenges. The 86 kilometres of trails encompass several peaks, rock faces and ridges. Hikers need to be well equipped, ex perienced in Alpine terrain, and check the dif ficulty of each route before venturing off. For those who do make it into this rocky wilder ness, the landscape is rewarding enough, with fields of heather and wildflowers filled with Al pine cattle and goats. Ibex and marmots are usually not far behind, either. Small family-run dairies where you can find the renowned Ap penzeller cheese are also littered throughout the hillsides. For those who manage to collect all 26 100-millilitre whisky bottles, their toil will be re warded with a traditional bespoke leather belt and buckle forged by the village's long-serving craftsman Roger Dörig. Yet, reaching every sin gle mountain hut to collect all 26 whisky bottles is no easy feat. So how many people have ac tually achieved this? "Hard to tell," Mock an swers frankly. "But since 2015, approximately 1,600 people have completed the trek fully, and approximately 65,000 100-millilitre bottles were sold." If a whisky-on-the-rocks type of experience isn't your thing then a visit to the Säntis dis tillery – which forms part of the Locher Brewery –in the village of Appenzell, will provide ample refreshment for those looking to delve further into the world of Swiss malt liquor.
34 | Issue 97 | September 2022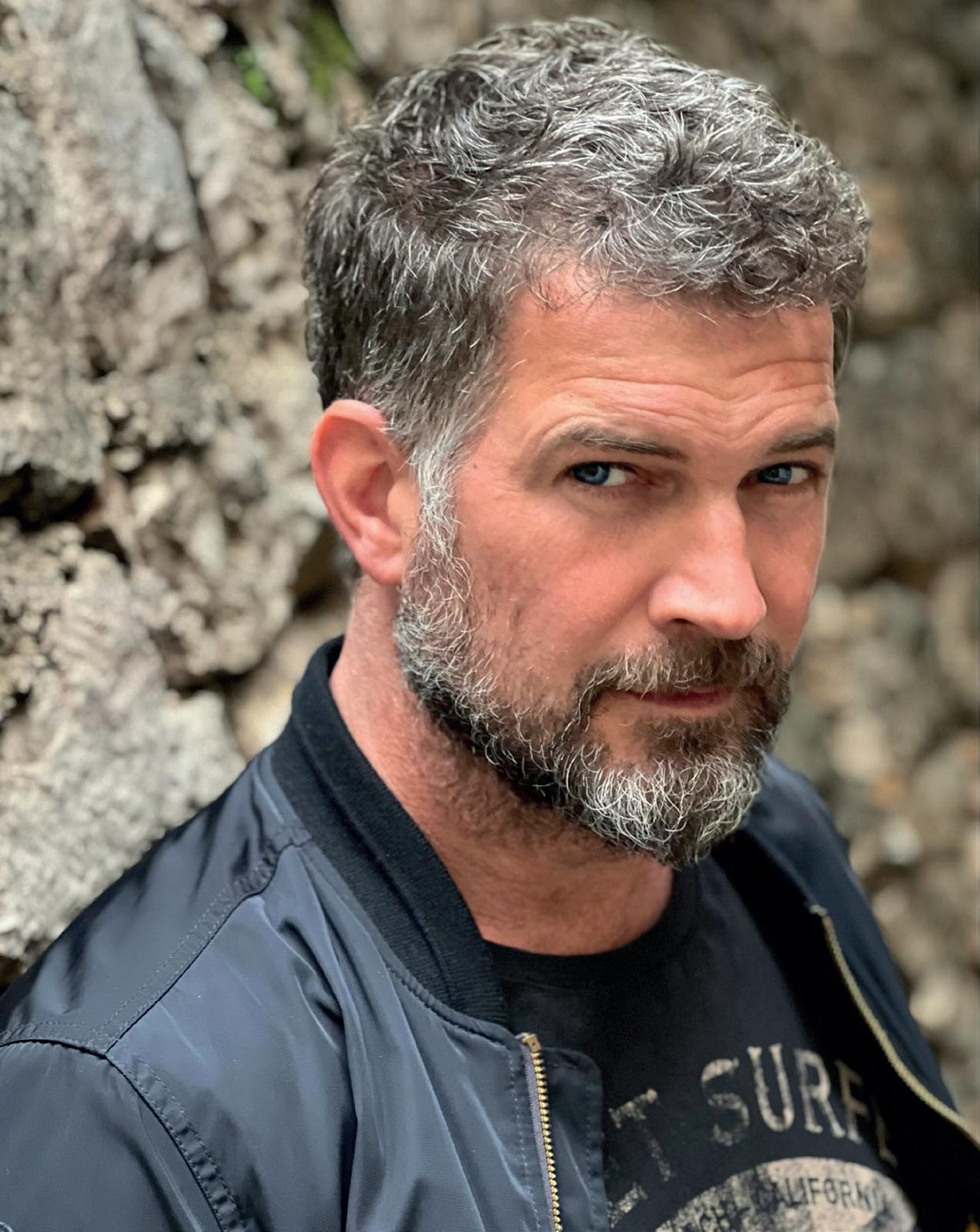 Simon Böer: It's the little things, because our LMC cruiser is very well equipped with a kitchen, bathroom with shower and toilet. If you are away from the campsites, a watering can suddenly has great value if you want to refill water and there is no hose connection to be found. Torch and clothesline are also worth their weight in gold now and then.
TEXT: NANE STEINHOFF I PHOTOS: SIMON BÖER tive scenes had to be played at a distance, scripts had to adapt to the conditions at the time. Nevertheless, I'm very grateful to Sony Pictures and proud of the whole team that we didn't let it get us down right to the end. The rest is history.
'IT'S THE LITTLE THINGS'
DISCOVER GERMANY: What role would you most like to see yourself in?
DISCOVER GERMANY: What do you love about caravanning? Why should ever yone try it once in their lifetime?
Simon Böer: Corona paralysed everything. After a year of standstill, I got the offer to take over the series Der Lehrer. However, work here was also made logistically and, in terms of content, very difficult by the pan demic: suddenly there were only six students in a class, emotional and physically interac
Since the pandemic, actor Simon Böer has fallen in love with caravanning, and of ten drives to filming locations in his mobile home. He speaks to Discover Germany, Austria & Switzerland about his love for motorhome holidays and much more.
Simon Böer: I don't think newcomers need any tips from me. I observe that there is a lot of permeability and authenticity at the start. That is exactly the key to the job: empathy and dedication.
DISCOVER GERMANY: What does home mean to you?
Simon Böer: I was born in Bonn and grew up in the surrounding area, very rural. After grad uating from high school, I went to Berlin to at tend acting school. I started my family there, my son was born in Berlin and even though we have now moved back to my actual homeland, the Rhineland, to the beautiful Siebengebirge mountains, after 20 years there I still have a feeling of home in Berlin. In short: for me, home is not just the place where I grew up. Home are places that made my heart beat faster, where I spent an intense lifetime and where people are at home who always make me feel welcome.
Simon Böer: When traveling in a motorhome, every kilometre covered is an experience. You get to know the country and its people much more directly – the journey is the goal. As soon as I sit behind the wheel, a relaxed holiday feeling sets in. Ever since we met LMC at a motorhome show and found our favourite motorhome with this manufacturer, there has been no turning back. When you are traveling in a mobile home, you come very close to the here and now. You go with the flow and that opens up new worlds and adventures for you. Spontaneous plan changes included.
Simon Böer: I'm not committed to that either. I became an actor so that I could slip into many different roles. It's more of a genre. Right now, I'm in the mood for a western movie. But I also like crime and horror. The main thing is that the screenplay is good – that's more than half the battle.
Simon Böer: In a poem that my grandfather wrote when I was five years old, he describes that I want to become an actor – and tread the boards. So, I must have said that very early on. But I remember that I found a lot of jobs interesting. From criminal investigation to space travel, there was a lot that appealed to me. As an actor, I can now get a taste of very different professions and aspects of life. So, it is a dream job, yes!
DISCOVER GERMANY: You have been involved in many productions. Which do you remember most fondly and why?
DISCOVER GERMANY: Any tips for aspiring young actors?
DISCOVER GERMANY: How did you get into acting? Has this always been your dream job?
DISCOVER GERMANY: Do you have a favourite caravanning destination in Europe? Simon Böer: We love Italy. A very special experience was our also unplanned detour to Elba. This island is just beautiful. Since we are enthusiastic surfers, we are also drawn to the Atlantic: France, Spain, Portugal. Cro atia and its impressive national parks are also beautiful. As you can see, I can't decide on my favorite here, either. The main thing is to travel with the mobile home.
DISCOVER GERMANY: Which utensil should you definitely not forget when caravanning?
DISCOVER GERMANY: To what extent has the acting environment changed since Corona?
September 2022 | Issue 97 | 35 Star Interview | Culture | Discover Germany
Simon Böer: Oh, there are many! I couldn't even say which is my favourite. As a traveller at heart, my shoots in South Africa and New Zealand have made for lasting memories and friendships. My recent two-month trip through Croatia in a mobile home, where I was able to combine filming with family va cations, will also remain unforgettable. I was very touched recently that my friend and then 'film son' from the series Herzensbrecher, Gerrit Klein, cast me in the road movie he produced, Sommer auf drei Rädern (which can still be seen in the ARTE media library) –even if I I had to shave my head bald for a month for this. We had a great time, which makes us want to do more projects together.
Be here, right now Mindfulness describes the state at which you're fully present and aware of both where you are and what you're doing. It can help alleviate stress and turn you into a happier person. But, where to start? The next few pages will help you with precisely that. TEXT: NANE STEINHOFF I PHOTOS: UNSPLASH SPECIAL THEME: FOCUS ON MINDFULNESS 36 | Issue 97 | September 2022
Viele Stresserkrankungen stehen im Zusammenhang mit unseren Lebensgewohn heiten. Eine Änderung der Lebensgewohnheiten könnte diese also vermeiden. Leichter gesagt als getan, denn dazu benötigt es das entsprechende Mindset. "Früher gab es für mich eine Zeit, in der ich meditiert habe und eine Zeit, in der ich Medizin gemacht habe. Zwei schwere Erkrankungen und die Begegnung mit Zen haben diese Tren nung nachhaltig aufgehoben", erinnert sich die in Lübeck ansässige Ärztin, Mentalcoachin und MSBR-Lehrerin Judith Heuer. "Heute lebe ich meine Vision, Menschen in schwierigen Lebenssituationen vor Ort und online auf ihrer Suche zu einem gesünderen, zufriedenen und glücklichen Selbst zu begleiten." Wichtig ist Heuer das Thema Achtsam keit, eine Haltung, die auf Präsenz, Klarheit, Einfachheit, Verständnis und Wertschätzung zielt. "(Selbst)Mitgefühl und Selbstfürsorge sind die Basis von Achtsamkeit. Also die ei
genen Bedürfnisse kennen- und verändern zu lernen, um die innere Balance wieder her zustellen."Achtsamkeit schafft jedoch nicht nur das Mindset, um ungesunde Lebensangewohnheiten zu entlarven und verändern. Sie hilft, die Verflechtung zwischen körperlichen Beschwerden und Gedanken und Gefühlen aufzulösen. Beispielsweise mit Hilfe von von Meditation begleiteten MBSR-Kursen (Mindfulness Based Stress Reduction) und Zen, das Heuer beides in ihrer Praxis anbietet. "Wer weiß, was Achtsamkeit kann, schätzt die Kräfte, die sie freisetzt." www.zen-based-pain-management.de
September 2022 | Issue 97 | 37 Focus on Mindfulness | Special Theme | Discover Germany
TEXT: SILKE HENKELE
Foto: Judith Heuer Foto: shutterstock/Prostock-studio
–ZWEI, DIE ZUSAMMENGEHÖREN
ACHTSAMKEIT UND MEDIZIN
VOM KIND BIS ZUR FÜHRUNGSKRAFT
Dann fügt er lächelnd hinzu: "Die Welt ist wie sie ist, aber du kannst lernen, mit ihr umzuge hen. Mentale Stärke ist trainierbar."
GEWONNEN WIRD IM KOPF MBSR steht für 'Mindfulness-Based Stress Reduction' – oder 'Achtsamkeitsbasierte Stressreduktion' in deutsch. Das Hauptziel dieses Trainings ist es, durch meditative Übungen auf Stresssituationen und Herausforderungen des täglichen Lebens bewusst zu reagieren, anstatt in erlernten automatischen Denk- und Handlungsmustern festzustecken. Thorsten Friese und sein Berliner Unternehmen 'achtsamkeit-imLeben' hat sich genau darauf spezialisiert und hilft Menschen auf ihrem Weg zu mehr Zufriedenheit, Gelassenheit und Kompetenz im Umgang mit Stress. Das Mindfulness-Training MBSR wurde in den späten 1970er Jahren von Prof. Jon Kabat-Zinn in den USA entwickelt. Durch regelmäßige, mentale Übungen wird die eigene Achtsamkeit gesteigert und eine innere Ruhe hergestellt. Die Wahrnehmung von Gedanken, Gefühlen und Körperempfindungen vertieft sich zudem stark. Wie effektiv MBSR tatsächlich ist, war für Thorsten Friese klar, nachdem er 2013 ein Jahr lang als Proband beim Max-Planck-Institut am ReSource-Projekt - einer groß angelegten Stu die über mentales Training mithilfe westlicher und fernöstlicher Methoden der Geistesschu lung - teilnahm. "Aufgrund dieser Erfahrungen an und mit mir entschloss ich mich eine Ausbil dung zum MBSR-Lehrer zu machen", erzählt er. "Die Gründung von achtsamkeit-im-Leben erfolgte dann nach dem erfolgreichen Ab schluss dieser Ausbildung."
Das Angebot von Thorsten Friese ist breit ge fächert, denn mentale Stärke zu lernen, ist für uns alle vorteilhaft – und zwar vom Kind bis zur Führungskraft wie er betont: "Achtsamkeit ist ein wichtiger Baustein zu mehr Kompetenz im Umgang mit Stress und für Menschen in den unterschiedlichsten Kontexten. Ob für Kinder und Jugendliche in der Schule, für Beschäftig te in den Unternehmen, für Führungskräfte und auch im sportlichen Bereich ist mentale Stärke ein wichtiger Faktor."
Neben längeren, intensiven MBSR Kursen, hält Thorsten Friese Vorträge, bietet Workshops und Sport Mental-Training an, arbeitet mit Schulen und hat eine Reihe von Angeboten, die sich gezielt an Firmen richten. Auf die Frage was Achtsamkeit für ihn per sönlich bedeutet, antwortet er: "Für mich be deutet es, mehr im jetzt zu sein, die Gegen wart zu wertschätzen, besser und schneller zu erkennen, wie es mir geht. Achtsamkeit ist eine Qualität des menschlichen Bewusst seins, eine besondere Form von Aufmerk samkeit. Es handelt sich dabei um einen ACHTSAMKEIT-IM-LEBEN (DEPOSITFOTOS)
TEXT: MARILENA STRACKE I FOTOS:
MBSR Trainer Thorsten Friese bei der Arbeit.
38 | Issue 97 | September 2022
klaren Bewusstseinszustand, der es erlaubt, jede innere und äußere Erfahrung im gegen wärtigen Moment vorurteilsfrei zu registrieren und zuzulassen."
Für Thorsten Friese ist es die Arbeit mit den Menschen, die ihn jeden Tag aufs Neue an treibt und motiviert. So gibt er auch gerne ein paar wertvolle Tipps für akute StressNotfälle. "Erstens bewegen Sie sich: Stehen Sie auf, gehen Sie im Raum umher, einen Gang entlang, zur Toilette. Zweitens atmen Sie aus: Atmen Sie ein paar Mal tief durch und betonen Sie dabei vor allem das Aus atmen. Drittens trinken Sie ein ganzes Glas Wasser zügig aus: Das Trinken beansprucht Ihre Aufmerksamkeit und die Gedanken im Kopf kommen kurz zur Ruhe."
Die positiven Auswirkungen des Achtsam keitstrainings ziehen sich durch alle Aspekte des Lebens. Es hilft einem dabei mehr inne re Ruhe, Gelassenheit und Lebensfreude zu spüren. Selbstvertrauen, Selbstakzeptanz und Selbstfürsorge werden durch Aktivierung der persönlichen Ressourcen gestärkt. Zudem fördert es die physische und psychische Ent spannung und stärkt die Selbstverantwortung im Umgang mit der eigenen Gesundheit. Auch körperliche und psychische Symptome kön nen vermindert werden und das Immunsystem wird "Unsereunterstützt.heutige Zeit ist geprägt von radika len Veränderungen, die vor dem Arbeitsalltag längst nicht halt machen. Vielleicht kennen Sie als Führungskraft Selbstzweifel, Ängste oder Pessimismus die wie Bremsklötze Ihr Han deln beeinträchtigen. Sportler haben längst erkannt, dass mentale Stärke entscheidend zum Erfolg beiträgt", erklärt der sympathische MBSR Trainer. Auch in der Arbeitswelt zahlt es sich aus, die eigene Achtsamkeit und mentale Stärke bewusst zu trainieren.
DIE VORTEILE AUF EINEN BLICK
Thorsten Friese.
www.achtsamkeit-im-leben.berlin
Es ist klar, dass für Thorsten Friese immer der Mensch im Mittelpunkt steht. "Mich be geistert die Arbeit mit den Menschen, sie zu unterstützen mit dem Umgang mit sich und der Welt", erzählt er. "Schöne Momente sind das Miterleben von Aha-Erkenntnissen und dem Verstehen wie sie es schaffen gelasse ner und zufriedener durchs Leben zu gehen."
DER MENSCH IM MITTELPUNKT
Thorsten Friese er läutert, dass Achtsamkeitstraining in Unter nehmen nicht nur das Betriebsklima grund sätzlich verbessert, sondern auch einen wirksamen Beitrag zur Gesundheitspräven tion leistet, was eine willkommene Reduk tion der gesundheitsbedingten Fehltage zur Folge hat. Zudem verbessert Achtsamkeit die Kommunikation im Team, erhöht die Resilienz und Kreativität des Einzelnen und unterstützt den aktiven Umgang mit Verän derungsprozessen. Man kann sich besser fokussieren und Wichtiges von Unwichti gem unterscheiden.
September 2022 | Issue 97 | 39 Focus on Mindfulness | Special Theme | Discover Germany
40 | Issue 97 | September 2022 Discover Germany | Cover Feature | Bathing in the Clouds BATHING IN THE CLOUDS –EXPLORING THE MOUNTAINS IN A WHEELCHAIR Exploring the mountains in a wheelchair? Kim Lumelius lets us in on that experience. TEXT: NANE STEINHOFF, C.C. SCHMID
The high mountains, at least that's what it looks like from the valley, are a world of steep slopes, sharp rocks and sharp ridges. A world of mountain farmers, hikers, climb ers, skiers, and a world in which you need to make full use of your hands and feet, one might think. However, people with physical disabilities, like Kim Lumelius, can also expe rience their deep summer blues and greens, and their high Alpine mountain wonders – for example, in the Swiss Aletsch Arena, in the UNESCO region of the Swiss Alps Jungfrau Aletsch. This young woman even goes into the air – and without her wheelchair, 'Lutzi'. Here, she experiences an unprecedented form of weightless freedom.
Photo: Aletsch Arena Photo: Aletsch Arena
September 2022 | Issue 97 | 41 Bathing in the Clouds | Cover Feature | Discover Germany
"I was actually always fixated on the sea," says the Mannheim native with the conta gious laugh. She doesn't let her wheelchair slow her down. On the contrary, Lutzi – "As in: 'Let's go Lutzi'," she smiles – is always there as a four-wheeled companion on her travels through the world. Kim Lumelius re ports about it on her blog Wheeliewander lust, writes about beaches on Greek islands and on the Gulf of Mexico, about trips to Thailand, Mauritius, London, Paris. Always also, but not only, from the point of view of a person who cannot use her legs. She has a condition called Spinal Muscular Atrophy, which is causing her to have less and less control over her muscles. The mountains are no place for you, Kim Lumelius had always said to herself.
42 | Issue 97 | September 2022 Discover Germany | Cover Feature | Bathing in the Clouds
Until now, that is. Already at the valley station of the cable car to Bettmeralp, she felt that things could be completely different, uncom plicated and she felt like she didn't have to make such a big fuss about her wheelchair.
First comes the climb upwards. The way up becomes a journey through time, a journey into a decelerated world. She, the well-trav elled woman that she is, is still hugely fas cinated at this new opportunity: "Up there, the clocks seem to go differently, even the eggs take longer to cook." And there are no cars in the little village with the romantic cha lets in the UNESCO region Aletsch Glacier.
A very special experience for the mountain newcomer: "Everyone was traveling at the same pace as me, and even the 'Aletsch-Ex press', an electric car that connects the two towns of Bettmeralp and Riederalp, was able to take me and Lutzi with it." So in the end, there was enough time to talk to people, to ask where they came from and where they are going, or just to look out at and enjoy the scenery: the breathtaking Valais mountains with their mighty 4,000-metre peaks, with the summer clouds sailing past on the other side of the valley. She experiences a view almost like that of a paraglider. Kim Lumelius, however, first ex plores the barrier-free hiking trails of Bettmer alp in her wheelchair. Breathe in the mountain air, listen to the wind between Alpine pastures and lakes, feel the sky and maybe even forget your job – as a civil servant in the Ministry of Education of Rhineland-Palatinate, in Kim's case. A true travel blogger, she recommends the Bootshüsi for a break at Bettmersee, which reflects the opposite mountain peaks in a romantic way. "Mountains and wheel chairs go together after all," she laughs. "It just needs the right infrastructure."
The gondola lift to the Bettmerhorn also has the right infrastructure for her: with a ramp, Lutzi can easily go up to almost 2,650 metres. This is where the Aletsch Arena demonstrates its sense of drama: "We had brought a wall of smoke up with us – nothing could be seen, absolutely nothing." It remains grey in grey, Photo: Aletsch Arena
Photo: Skischule Riederalp, Doris Peyer
Bei wenigen Unternehmen ist Qualität so eng mit dem Namen verbunden wie bei Etter. Seit Gründung des FamilienUnternehmens im Jahre 1870 beherrscht dieser Anspruch das gesamte Tun und Wirken. Erst wenn alle Ansprüche erfüllt und alle Qualitätskontrollen in der hauseigenen Manufaktur durchlaufen sind, erhält das Produkt sein Gütesiegel. Schlicht und einfach einen Namen: Etter. Dank Ihnen folgen wir unserer Berufung bereits in vierter Generation mit Herzblut und Engagement. Mit grossem Stolz blicken wir als unabhängiges Familien-Unternehmen glücklich auf über 150 Jahre gelebte Tradition zurück. Der Familienname ETTER steht für Qualität – heute und in Zukunft.
ETTER – unser Feuer brennt seit über 150 Jahren Unsere Qualität ist unsere Zukunft ETTER SOEHNE AG | Distillerie | Chollerstrasse 4 | CH-6300 Zug Telefon +41 41 748 51 51 | Fax +41 41 748 51 55 | etter@etter-distillerie.ch | www.etter-distillerie.ch
impenetrable for an hour, then the curtain ris es. "It was breathtaking!" she enthuses, and continues: "A comfortable wooden path leads out to the vantage point. And then there is this huge stream of ice, the longest in the Alps, the Aletsch Glacier. "The view is sensational – I've never been so close to a glacier..." When a herd of goats then roams through the rocky desert and she – as she describes on her blog – deposits a lucky stone, the mountain experi ence is complete for Kim. Time to make her dream of paragliding come true. The team heads over to Fiesch, but makes a little stop at an adventure playground in between for Kim to do something she has never done before: she will climb trees. "I've always liked being in the forest, but I never would have thought that I would swing from trunk to trunk," Kim explains. "A funny idea," she adds, and is enthusiastic about "the cool things you can do as a wheelchair user". And so it goes straight on, up to the launch site for the paragliders of the Flug Taxi flight school on Fiescheralp. An in-house con struction made of light metal allows people who do not have strong legs to be able to take to the air as passengers. Kim was more than a bit excited: "We had to wait three hours for the fog to clear!"
Photo: Kim Lumelius
Photo: Aletsch Arena
The most exciting element of it all is quickly over, however. The start, the rolling over the gentle slope, the take off. "The moment we were in the air, I was completely relaxed." All thoughts of what could go wrong that I had during the last few hours are gone. "I couldn't find the words. The gliding through the air, the view of the tiny towns in the valley, the view over the mountains – it was just incredible."
44 | Issue 97 | September 2022 Discover Germany | Cover Feature | Bathing in the Clouds
Kim Lumelius was left with a great passion for the mountains. At some point she wants to come back to the Aletsch Arena in winter, because the region is barrier-free there, too. Maybe she will even be able to make tracks through the snow? Thanks to dual skis, a seat mounted on two skis, and specially trained instructors, wheelchair users can also romp around on the slopes up here. But she is still experiencing a different kind of freedom, cir cling through the thermals of the summer sky with a paraglider, while deep down an old ac quaintance appears: the icy giant, the Aletsch Glacier. How was your flight, we ask? For her it was like "bathing in clouds". This is how it feels when the chains stay on the ground: weightless, a dream of freedom.
Photo: Kim Lumelius
Angerer Alm | Travel | Discover Germany EINE ALM ZUM TRÄUMEN
Die
Angerer Alm im Sommer. Kulinarischer Genuss im Restaurant der Angerer Alm. Subscribe in Print only £39 / Year (UK Subscribeonly) online only £20 / Year
TEXT: SILKE HENKELE I FOTOS: PLATO, ANGERER ALM
Wenig kommt an die entspannende, entschleunigende Wirkung der Berge heran. Grüne Bergwiesen, atemberaubendes Panorama. Lust auf mehr? Hier ist ein Vorschlag. Familien, Paare, Firmen - sie alle fühlen sich wohl bei Annemarie Foidl, der Besitzerin der Angerer Alm in St. Johann in Tirol. Woran liegt das? "Ich denke, das hat viel damit zu tun, dass wir bodenständig und authentisch geblie ben sind. Unser Haus ist natürlich gewachsen und erzählt eine Geschichte. Und wenn man die Natur spüren will, ist man bei uns genau richtig!"DieAngerer Alm ist der perfekte Ausgangs punkt für Wanderungen in die Kitzbüheler Al pen. Der Hornpark Kletterwald, Tandemsprin gen, Mountainbike und Mountaincart fahren, Bogenschießen, all diese Aktivitäten sind von der Angerer Alm aus leicht erreichbar. Träumen auf 1.300m: Es gibt 13 urige Gäs tezimmer, und das ausgezeichnete Frühstück ist auch für Gäste, die nicht hier übernachten, buchbar. Nicht zu vergessen der Weinkeller, den die Sommelière angelegt hat. "Bei uns la gern Weine aus der ganzen Welt. Das Thema Wein spielt also auf der Angerer Alm eine sehr große Rolle. Ebenso die regionalen Produkte, mit denen wir kochen." So macht die Einkehr auf der Angerer Alm einen perfekten Tag in den Bergen komplett. www.angereralm.at
The convenient location between Italy, Slovenia and Austria makes for numerous destinations that are perfect for day trips. The slow trails begin right on your doorstep, and you can simply borrow some bikes on site during summer. Hiking, cycling, swimming or attending one of the many events nearby – your holiday will be anything but boring. However, it's also pretty glorious to simply just relax by the lake, particularly with a refreshing cocktail in your hand. Let's go!
The ROCKET ROOMS hotel in Velden offers a casual atmosphere merged with Carinthian hospitality directly located on the scenic Lake Wörthersee. Anyone in the mood for a mini break?
GMBHROOMSROCKETTOS:PHOSTRACKEMARILENATEXT:I
46 | Issue 97 | September 2022
"Over the years, not only the hotelier family has grown, but the bistro also turned into a popular restaurant offering culinary highlights such as the vegan 'no moo burger', the newly created ramen variation and much more," the ROCKET fans tell us. Director Maria Lackner adds: "The ROCKET ROOMS hotel is perfect for a mini break at Lake Wörthersee. Anyone who appre ciates style, is going to enjoy their stay with us!"
A MODERN HOTSPOT FOR TRAVELLERS AND LOCALS
The ROCKET ROOMS hotel and bistro opened its doors in May 2016. It was found ed by Andreas Hofmayer and his partner Maria Lackner, who wanted to bring some urban lifestyle and flair to the centre of Velden in Austria. Their vision turned into a great success. The modern rooms (available with and without balcony) are the perfect home away from home. Urban, cool yet cosy – they bridge the gap between trendy design con cept and maximum comfort.
The culinary aspect is also taken care of. From breakfast to dinner, coffee or fancy cocktails –the ROCKET ROOMS is popular among both locals and travellers. Cool details like be ing able to pick your favourite egg before it's served to you at your table, make the hotel so unique. At night, ROCKET BISTRO turns into a stylish restaurant with set tables and exciting dishes on the menu.
Auch für das kulinarische Wohl ist bestens ge sorgt. Ob Frühstück oder Dinner, Kaffee oder schicke Cocktails – das ROCKET ROOMS ist bei Einheimischen genauso beliebt wie bei Ur laubern. Kein Wunder, denn coole Details wie, dass man sich vor Ort das Lieblings-Ei aus suchen kann, welches einem dann am Tisch serviert wird, sprechen sich rum. Am Abend verwandelt sich das ROCKET BISTRO dann in ein stylisches Restaurant mit eingedeckten Tischen und spannenden Gerichten auf der DieSpeisekarte.zentraleLage im Länderdreieck zwischen Italien, Slowenien und Österreich lockt hin gegen mit zahlreichen Ausflugsmöglich keiten. Die Slowtrails starten direkt vor der Tür und Räder kann man sich im Sommer vor Ort ausleihen. Wanderungen, Radtou ren, schwimmen gehen oder eines der vielen Events in der Umgebung besuchen – von Langeweile kann keine Rede sein. Allerdings ist es ebenso herrlich einfach am See zu relaxen - am besten mit einem erfri schenden Cocktail in der Hand. Auf geht's! www.rocket-rooms.at
September 2022 | Issue 97 | 47 ROCKET ROOMS | Travel | Discover Germany EIN MODERNER HOTSPOT FÜR KURZURLAUBER UND EINHEIMISCHE
Im Mai 2016 eröffneten Andreas Hofmayer und seine Lebensgefährtin Maria Lackner das Hotel ROCKET ROOMS inklusive eines Bistros im österreichischen Velden. Sie woll ten urbanen Lifestyle und Traveller-Flair ins Zentrum von Velden bringen und das ist ihnen mit Bravour gelungen. Die modernen Zimmer (mit und ohne Balkon) lassen keine Wünsche offen. Urban, cool und trotzdem cosy – so vereinen sie trendiges DesignKonzept mit unschlagbarem Komfort. Das Hotel ROCKET ROOMS Velden bietet eine lässige Atmosphäre gepaart mit Kärntner Gastfreundschaft direkt am malerischen Wörthersee. Lust auf eine kleine Auszeit?
"In den vergangenen Jahren entwickelte sich nicht nur die Unternehmerfamilie weiter, son dern aus dem Bistro wurde ein angesagtes Restaurant mit kulinarischen Highlights wie zum Beispiel dem veganen 'No Moo Bur ger', den neu entwickelten Ramen und vie lem mehr", erzählen die ROCKET-Liebhaber. Maria Lackner, die Chefin des Hauses, be tont: "Das ROCKET ROOMS ist perfekt für Kurztrips an den Wörthersee, jeder der Style liebt, wird es bei uns mögen!"
Founded in 1992, NORDAKADEMIE has been growing in popularity and prestige ever since. Today, over 2,000 Bachelor students live and learn on the campus in Elmshorn, and around 1,000 young professionals are studying for their Master's degree in Hamburg.
48 | Issue 97 | September 2022
The university of business and industry, NORDAKADEMIE, offers a dual study model with over 400 participating partner companies. It keeps an eye on the occupational profiles currently in demand in the world of business and trains young, ambitious peo ple in the qualifications they need – from the economy for the economy.
"We see ourselves as an innovative, alert, cre ative, education-centred and entrepreneur ial university," emphasises Prof. Dr Stefan Wiedmann, President of NORDAKADEMIE.
The particularly high career opportunities for NORDAKADEMIE students are based on the special business model: the dual study pro gramme in the Bachelor's degree and the part-time study programme in the Master's degree. The students are thus connected to the companies from the very beginning. In ad dition, it's a hiring requirement for every pro fessor at NORDAKADEMIE that they come from the industry and are well-experienced.
FROM THE ECONOMY FOR THE ECONOMY
"From my point of view, the dual study pro gramme at NORDAKADEMIE is the ideal way for committed students in the field of eco nomics," Nils, who studies Business Admin istration, says. "The theoretical knowledge learned in blocks can be excellently com bined with practical experience. This con cept ensures a demanding but high-quality education and prepares students for profes sional life in a goal-orientated manner."
Aside from the fantastic career opportunities thanks to the solid connection to the industry and the real-life experience in the workplace, students also benefit from being financially independent, as companies usually pay the student Prospectivefees.students can choose from five Bachelor of Science degree programmes in cluding Business Administration, Industrial Engineering, Business Information Systems, Applied Computer Science / Software Devel opment and Computer Engineering. The six Master of Science degree programmes are General Management, Financial Management & Accounting, HR Management & Psychology, Industrial Engineering, Business Information Systems and Applied Data Science.
NORDAKADEMIEWIRTSCHAFTDERHOCHSCHULEPHOTOS:STRACKEMARILENATEXT:I
NORDAKADEMIE President Wiedmann and NORDAKADEMIE Chancellor Fuelscher.
Business Administration graduate Laura adds: "During my dual studies, I particular ly enjoyed the insights into different depart ments of my employer and the associated freedom to develop and to keep different paths open for myself."
"We fill this self-image with life every day – for the benefit of our students!"
NORDAKADEMIE Campus Elmshorn.
Die NORDAKADEMIE wurde 1992 gegründet und ist seitdem auf dem Erfolgskurs. Heute leben und lernen über 2.000 BachelorStudierende auf dem Campus in Elmshorn und circa 1.000 junge Berufseinsteiger studieren auf dem Hamburger Campus für ihren Master. "Wir verstehen uns als eine innovationsfreu dige, wache, kreative, bildungszentrierte und unternehmerische Hochschule", betont Prof. Dr. Stefan Wiedmann, Präsident der NORD AKADEMIE. "Dieses Selbstverständnis füllen wir jeden Tag mit Leben - zugunsten unserer DieStudierenden!"überdurchschnittlichen Berufschancen für Absolvent:innen der NORDAKADEMIE sind auf das spezielle Business Model zu rückzuführen: das duale Bachelor-Studium
BWL-Absolventin Laura fügt hinzu: "Wäh rend meines dualen Studiums hat es mir besonders gefallen Einblicke in die verschie denen Abteilungen meines Arbeitgebers zu bekommen. Auch die entsprechende Frei heit, sich verschiedene Laufbahnen offen zu halten und auszuprobieren, hat mir gefallen." www.nordakademie.de Campus Elmshorn.
September 2022 | Issue 97 | 49 Hochschule der Wirtschaft NORDAKADEMIE | Business | Discover Germany VON DER WIRTSCHAFT, FÜR DIE WIRTSCHAFT
Die Studierenden sind so von Anfang an mit den Ausbildungsunternehmen verbunden. Es ist außerdem ein Einstellungskriterium für Professor:innen der NORDAKADMIE, dass sie selbst aus dem Business kommen und viel Erfahrung mitbringen.
Die Hochschule der Wirtschaft NORDAKADEMIE bietet ein duales Studium mit über 400 teilnehmenden Partnerunternehmen. Sie behält dabei immer die von der Wirtschaft aktuell gefragten Berufsbilder im Blick und bildet junge, ambitionierte Menschen in den dafür benötigten Qualifikationen aus – von der Wirtschaft, für die Wirtschaft. und das berufsbegleitende Master-Studium.
Neben den fantastischen Karrieremöglich keiten dank der starken Verbindung in die Berufswelt und der direkten Praxiserfahrung am Arbeitsplatz, profitieren die Studierenden auch von finanzieller Unabhängigkeit, denn die Unternehmen zahlen normalerweise die Studienanwärter:innenStudiengebühren. können aus fünf Bachelor of Science Studiengängen wählen: Betriebswirtschaftslehre, Wirtschaftsinforma tik, Wirtschaftsingenieurwesen, Technische Informatik/IT-Engineering und Angewand te Informatik. Die sechs Master of Science Studiengänge sind Wirtschaftsinformatik/ ITManagement, Applied Data Science, Finan cial Management & Accounting, General Ma nagement, HR-Management & Wirtschafts psychologie und Wirtschaftsingenieurwesen.
"Meiner Meinung nach ist das duale Studi um an der NORDAKADEMIE der ideale Weg für engagierte Studierende im Wirtschaftsbe reich", sagt BWL-Student Nils. "Die Theorie, die in Blöcken gelehrt wird, kann man perfekt mit der Praxiserfahrung kombinieren. Dieses Konzept sorgt für eine anspruchsvolle, hochqualifizierte Ausbildung und bereitet Studie rende zielorientiert auf das Berufsleben vor."
For around 20 years, the real estate agency KITZIMMO has been finding the per fect properties for their clients in and around Kitzbühel. The family business ensures to stay true to their motto: the people come first, then the real estate. KITZIMMO was founded in 2002 by Franz Grobec, who relocated to the beautiful Kitz bühel. Today, his sons Markus and Roman run the real estate agency independently and con tinue its success story. However, their father Franz still gives advice and continues to share the knowledge of decades of experience.
It should come as no surprise, then, that KITZIMMO is a trusted partner, often recom mended by former clients. As Markus Gobec explains, the client base is kept very broad: "It is in line with our motto to offer properties to all clients – without special ising in a particular group. That's why our port folio includes a great range, from affordable to luxurious real estate. That's also something highly valued by our clients who feel genuinely looked KITZIMMOafter."is specialised in real estate in and around Kitzbühel, which has been a hugely popular area for a very long time. Thanks to the high standard of living, the surrounding areas are equally in demand. Hence, the port folio includes locations within a 20 kilometre radius around Kitzbühel. Then there are also some special-purpose properties which might be located further away, such as the castle 'Schloss Grubhof', which KITZIMMO sold Onesuccessfully.thingis certain: KITZIMMO is a reliable real estate partner, where everyone receives a warm welcome. www.kitzimmo.at
"THE PEOPLE COME FIRST, THEN THE REAL ESTATE"
"We are a family business throughout and we will keep it that way," Roman Gobec says. "All three of us are officially certified and have great specialist knowledge." What is particularly striking is the trio's excellent lo cation and market insights, as well as their strong connection to government agencies, councils, property developers, construction businesses – and, of course, to the people.
KITZIMMOPHOTOS:STRACKEMARILENATEXT:I
Markus, Franz and Roman Gobec. Sold real estate.
50 | Issue 97 | September 2022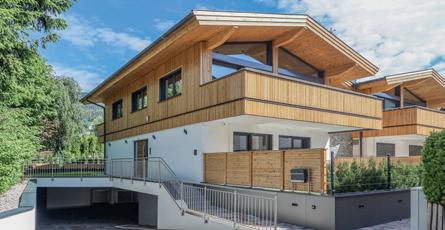 September 2022 | Issue 97 | 51 KITZIMMO | Business | Discover Germany "ZUERST DER MENSCH UND DANN DIE IMMOBILIE"
Die Zielgruppe ist breit gefächert, wie Roman Gobec erklärt: "Unser Motto ist, dass wir für alle Kunden Immobilien anbieten und uns nicht auf eine besondere Zielgruppe orien tieren. Somit haben wir von der günstigsten bis zur Luxusimmobilie ein breites Angebot.
Gegründet wurde KITZIMMO 2002 von Franz Gobec als dieser seinen Wohnort ins herr liche Kitzbühel verlegte. Heute führen seine Söhne Markus und Roman die Immobilien firma eigenständig und mit großem Erfolg weiter. Vater Franz steht allerdings weiterhin beratend zur Seite und bringt gerne seine langjährige Erfahrung ein.
"Wir sind ein reines Familienunternehmen, und bleiben dies auch", erläutert Markus Gobec. "Alle drei sind wir staatlich geprüft und verfü gen somit über ein qualifiziertes Fachwissen."
Die Immobilienfirma KITZIMMO findet bereits seit rund 20 Jahren die passende Immobilie für ihre Kunden in Kitzbühel und Umgebung. Dabei folgt das Familienunternehmen einem klaren Motto: Zuerst der Mensch und dann die Immobilie.
Und auch das schätzen unsere Kunden und fühlen sich bei uns gut beraten, betreut und Spezialisiertaufgehoben."ist KITZIMMO auf Immobilien rund um Kitzbühel, eine Gegend, die sich konstant höchster Beliebtheit erfreut. Das Umland liegt aber dank der hohen Lebens qualität ebenso im Trend. So sind auch alle Nachbargemeinden im Umkreis von ca. 20 km im KITZIMMO Portfolio enthalten. Es fin den aber auch Sonderimmobilien, die etwas weiter weg liegen den Weg ins Portfolio, wie zum Beispiel das 'Schloß Grubhof', welches erfolgreich von KITZIMMO verkauft wurde. Eins steht fest: KITZIMMO ist ein vertrauens voller Partner in Sachen Immobilien, bei dem jeder Kunde herzlich willkommen ist. www.kitzimmo.at Stadt Kitzbühel. Verkauftes Objekt.
KITZIMMO zu einem vertrauenswürdigen Part ner, den die Kunden gerne weiterempfehlen.
Das Trio überzeugt aber vor allem auch durch seine hervorragende Orts- und Marktkenntnis, sowie eine enge Vernetzung zu den Behörden, Ämtern, Bauträgern, Handwerksbetriebenund natürlich zur Bevölkerung. Dies macht
Founded 20 years ago, estate agent and fran chisor KENSINGTON International is a fixed constant on the real estate market. What sets the company apart? Sven Binnewies, CEO of KENSINGTON Finest Properties Deutschland explains: "Roughly speaking, we are estate experts with an international network and high standards. We are professional, reputable, in novative, value exclusivity, and have extensive knowledge of the national and international real estate market. We have access to the latest marketing tools and possibilities. This makes KENSINGTON International one of the best partners when it comes to real estate."
52 | Issue 97 | September 2022
Going that extra mile, making a difference? A matter of course for the experts from KENSINGTON International. Paying special attention to each object and each client? In dispensable. "Only by going that extra mile can we meet our own high standards and deliver the highest added value to all parties involved." So, going that extra mile means that KENSINGTON International will make everything possible? "Well, maybe making the impossible happen. Not everything, unfortu nately. Going one step further, taking it to the next level. Arranging a virtual viewing, drone flights and home staging, that's us." Even if this means that a prospective buyer wants to have a quick dip into the pool of a villa? "Of course," smirks Binnewies.
In this challenging and fascinating environment, a cooperation with franchisor KENSINGTON International offers significant advantages. Binnewies elaborates: "Our goal is clearly set: We want to establish ourselves amongst the top three in the international real estate mar ket. True to the motto 'Stronger together' and 'The TEAM is the star'. For this, we are look ing for partners with the perfect mindset. With KENSINGTON International, franchisees be come part of a global, exclusive network of experts, a globally expanding brand and they experience the maximum added value of a perfectly organised franchise system. They benefit from relevant references, wide-ranging know-how, have access to a substantial port folio of exclusive international objects, and deal with an exclusive clientele." This range of opportunities makes a franchise partnership the next logical step in real estate.
"The exclusive real estate market is some thing of an accolade of the industry. With KENSINGTON International, franchisees have the opportunity to play out all nuances of mar keting and achieve sustainable success in the upscale real estate market." www.kensington-international.com
Sven Binnewies, CEO of KENSINGTON Finest Properties Deutschland GmbH. Photo: KENSINGTON Finest Properties Deutschland GmbH Photo: js-photo/Adobe Stock
|HENKELESILKETEXT:PHOTOS:KENSINGTONFINESTPROPERTIESDEUTSCHLANDGMBH
The real estate market is highly competitive. Buyers, sellers and agents are each trying to secure the best deal. Integrity, professionalism and an extensive knowl edge of the market therefore remain vitally important.
EXCLUSIVE REAL ESTATE, EXCLUSIVE PARTNER
Durch diese Bandbreite an Möglichkeiten ist eine Franchisepartnerschaft der nächste lo gische Schritt in Sachen Immobilien. "Der ex klusive Immobilienmarkt ist so etwas wie der Ritterschlag der Branche. Mit KENSINGTON International haben Franchisenehmer:innen die Möglichkeit, alle Nuancen des Marketings auszuspielen und im gehobenen Immobilien markt nachhaltigen Erfolg zu haben." www.kensington-deutschland.de
DEN Unterschied zu machen bedeutet also, dass KENSINGTON International alles möglich macht? "Vielleicht eher Unmögliches möglich macht. Alles aber leider auch nicht. Noch einen Schritt weiterzugehen, etwas oben drauf zu setzen. Eine virtuelle Besichtigung zu ermög lichen, Drohnenflüge und Homestaging zu or ganisieren. Das sind wir." Auch wenn das heißt, dass ein Interessent im Pool einer Villa einmal Probeschwimmen möchte? "Auch das natür lich", schmunzelt Binnewies.
Vor 20 Jahren gegründet, ist der Immobilien makler und Franchisegeber KENSINGTON International eine feste Größe am Immobilien markt. Was zeichnet das Unternehmen aus? Sven Binnewies, CEO der KENSINGTON Finest Properties Deutschland, führt aus: "Grob zusammengefasst sind wir Immobilien experten mit einem internationalen Netzwerk und hohen Standards. Wir sind professionell, seriös, innovativ, schätzen die Exklusivität und verfügen über eine umfassende Kenntnis des nationalen und internationalen Immobi lienmarkts. Uns stehen die neuesten Marke tingtools und -möglichkeiten zur Verfügung.
September 2022 | Issue 97 | 53 KENSINGTON International | Business | Discover Germany EXKLUSIVE IMMOBILIEN, EXKLUSIVE PARTNER
Damit ist KENSINGTON International einer der besten Partner, wenn es um das Thema Immobilien Besonderesgeht."zuleisten, den entscheidenden Unterschied zu machen? Für die Profis von KENSINGTON International selbstverständ lich. Jedem Objekt, jeder Kundin und jedem Kunden besondere Beachtung und maxima le Aufmerksamkeit zu widmen? Unerlässlich. "Nur, wenn wir genau diesen Unterschied machen, werden wir unseren eigenen hohen Der Immobilienmarkt ist heiß umkämpft. Käufer, Verkäufer und Immobilienmakler versuchen, den besten Deal zu sichern. Seriosität, Professionalität und sehr gute Marktkenntnis sind hierbei nach wie vor von entscheidender Bedeutung.
Ansprüchen gerecht und können allen beteilig ten Parteien den maximalen Mehrwert liefern."
In diesem anspruchsvollen und spannen den Umfeld bietet eine Kooperation mit dem Franchisegeber KENSINGTON International klare Vorteile. Hierzu nochmals Binnewies: "Unser Ziel ist klar gesetzt: Wir wollen uns unter den Top 3. im Internationalen Im mobilienmarkt etablieren. Ganz nach dem Motto 'Gemeinsam sind wir stärker' und 'Das TEAM ist der Star'. Hierfür suchen wir Partner:innen mit dem perfekten Mind set. Franchisenehmer:innen werden mit KENSINGTON International Teil eines glo balen, exklusiven Expertennetzwerkes, einer weltweit expandierenden Marke und erfah ren die maximalen Mehrwerte eines perfekt organisierten Franchisesystems. Sie pro fitieren von einschlägigen Referenzen und breitgefächertem Know-how, haben Zugriff auf einen beachtlichen Bestand an exklusi ven internationalen Objekten, verkehren mit einer exklusiven Klientel."
It's not only home hunters that profit from the agencies large service portfolio, but also the owners. "We are one of the few agents in Munich who offer a comprehensive ser vice package. In addition to interior design consultation and home staging by our own interior designers, it also includes technical service by a team of qualified craftsmen. In order to achieve maximum coverage, profes sional photographers produce high-quality photo and video footage that presents the property in its best light on our homepage." www.mrlodge.com
SEARCHING AND FINDING
"We want the people who come here to quickly feel at home. We contribute to this by being a reliable partner to our clients in their search for a home. Our team of 90 employees speak 16 languages, which enables us to provide the best support for many different nationalities.
54 | Issue 97 | September 2022
The search for a new apartment or house, whether needed for a longer or shorter time period, can easily become an overwhelming endeavor in light of the tight housing market. Finding the best offer can be taxing. Not necessarily, however, as proven by Munich real estate agency Mr. Lodge.
We appeal to property owners with our comprehensive portfolio of services for rentals and property sales, which is practically unique in Munich," emphasises the director. Mr. Lodge's clientele includes not only specialists and managers who are new to Munich, but also self-employed project staff and international students living in Munich for a limited time period, as well as private individuals, who need an interim solution while they are looking for long-term housing.
"We would like our clients' search for ac commodation to result in finding the home of their dreams. Consequently, our clients' wishes always come first. We try to fulfill these with suitable and, above all, quick and flexible housing solutions. One of our clients, an engineer, who, unsuccessfully, had been looking for a one-bedroom apartment in the Munich area for quite a long period of time only recently said that we were his silver lining," relates Verbücheln. "Statements like this make us really happy, as they show us that our service really does reach the right people: our clients."
GMBHLODGEMR.TOS:PHOHENKELESILKETEXT:I
Managing director Norbert Verbücheln.
One of those that helps new residents in having a smooth start in Munich is Norbert Verbücheln, managing director of the Mr. Lodge real estate agency that has been op erating for over 30 years within Munich and the greater area and is now also active with its new branch in Rottach-Egern for the Lake Tegernsee region.
"Die Menschen, die hierherkommen, sollen sich schnell wohlfühlen. Hierzu tragen wir bei, indem wir unsere Kund:innen als zuverlässiger Partner umfassend bei der Wohnungssuche unterstützen. In unserem 90-köpfigen Team werden 16 Sprachen gesprochen. Damit kön nen wir viele unterschiedliche Nationalitäten optimal betreuen. Immobilieneigentümer:in nen überzeugen wir durch ein umfangreiches, in München praktisch einzigartiges Dienstleis tungsportfolio rund um Vermietung und Ver kauf", betont der Geschäftsführer.
VOM SUCHEN UND FINDEN
Mr. Lodge | Business | Discover Germany
Zu Mr. Lodges Klientel zählen neben Fachund Führungskräften, die neu nach München
Hier das beste Angebot zu finden, kann anstrengend werden. Das muss nicht sein, wie der Münchner Immobilienmakler Mr. Lodge beweist. kommen, auch selbstständige Projektmitar beiter:innen, internationale Student:innen, die befristet in München wohnen, als auch Privatpersonen, die auf der Suche nach einer langfristigen Unterkunft eine Interimslösung "Wirbenötigen.möchten, dass die Suche nach einem Wohnort zum Finden der Wunschimmobilie führt. Dabei stehen die Wünsche unserer Kund:innen natürlich immer an erster Stelle. Diese versuchen wir, mit passenden und vor allem mit schnellen, flexiblen Wohnungslö sungen zu erfüllen. Einer unserer Kunden, ein Ingenieur, der im Münchner Raum eine ZweiZimmer-Wohnung suchte und über einen langen Zeitraum hinweg nicht fündig wurde, sagte erst kürzlich über uns, wir seien für ihn bei seiner Wohnungssuche ein helles Licht am Horizont gewesen", so Verbücheln. "Sol che Aussagen freuen uns natürlich und zei gen uns, dass unsere Dienstleistungen wirk lich dort ankommen, wo sie wahrgenommen werden sollen: bei unseren Kund:innen."
Nicht nur Wohnungssuchende profitieren von dem umfassenden Portfolio des Maklers, sondern auch die Eigentümer:innen. "Diesen bieten wir, übrigens als einer der wenigen Makler Münchens, ein umfangreiches Dienst leistungspaket an. Es beinhaltet neben der Ein richtungsberatung und Home Staging durch eigene Innenarchitektinnen auch einen tech nischen Service durch ein qualifiziertes Hand werkerteam. Um eine maximale Reichweite zu erreichen, fertigen professionelle Fotografen hochwertige Foto- bzw. Videopräsentationen an, die die Immobilie auf unserer Homepage von ihrer besten Seite präsentieren." www.mrlodge.de
Die Suche nach einer neuen Wohnung, egal ob man für längere oder nur eine begrenzte Zeit einzieht, kann wegen des angespannten Wohnungsmarkts schnell überfordern.
Einer derjenigen, der Neumünchner:innen den besten Start in der Stadt ermöglicht, ist Norbert Verbücheln, Geschäftsführer des Immobilienanbieters Mr. Lodge, der seit 30 Jahren im gesamten S-Bahn-Bereich und Großraum München tätig ist und mit der Filiale in Rottach-Egern auch die Region Te gernsee und Oberland betreut.
September 2022 | Issue 97 | 55
Vienna-based skyline architekten have been realising client-centered, costefficient and sustainable projects in the health and spa sector since 2003.
56 | Issue 97 | September 2022
BRELOWSKICORNELIATEXT: Justuspark therapy centre, Bad Hall, 2015. Photo: Mark Sengstbratl, © skyline architekten
A POSITIVE, HIGHLY FUNCTIONING ENVIRONMENT
Founded almost two decades ago by five partners, the now much bigger team can look back on a portfolio of more than 200 projects, 42 of which have been realised. The client list features public investors, investment groups and non-profit associations, as well as some private investors.
Largely specialising in rehab centres and health spas, the team strives to combine functionality and appealing aesthetics with the best cost-benefit ratio for both the investors and future users. Managing partner Udo-Friedrich Schuster explains: "We create buildings with a unique image, while strongly embracing the immediate environment and addressing the senses in a positive way." On the technical level, this approach is marked by material- and energy efficiency, sustainability and the conservation of resources.
HEALING SPACES
Creating a positive, aesthetically appealing environment in combination with high functionality is an essential part of building spaces in the health sector. At the Justuspark therapy centre for mental healing, both the overall building structure and the daylight-bright access concept help the patients to find their way with ease – from reception through to the three-storey-high winter gardens at the station centres. Three stations, with two groups of patient rooms to the east and west respectively, offer a four-star hotel standard. An innovative and technical concept with geothermal piles, heat pumps, building core activation, air collectors, as well as solar collectors, make for a largely energy self-sufficient building. To the south west, the complex opens to the park.
PRIZE-WINNING MODERNISATION CONCEPTS
The modernisation and conversion of the Austria Rehab Centre Bad Schallerbach for cardiovascular and airway diseases was finished in 2021. An extension for the kitchen, restaurant and patient lounges was realised in several building phases, partially executed during opening hours. The extension is accessible via a bridge construction with cafeteria – an architectural solution which proved decisive for the competition win. Among other projects, the general plan ning for an expansive sport pool arena in Krems on the Danube river will be next on the agenda, thanks to another recent com petition win. Udo-Friedrich Schuster sums up: "Thermal spas, poolscapes, health care buildings and housing are our core compe tencies – however, we are always open for new challenges!" www.skyline-architekten.at
Als Spezialist für Rehabilitationszentren und medizinische Spas kombiniert das Team Funk tionalität und ansprechende Ästhetik mit der bestmöglichen Kosten-Nutzungsrelation für Investoren und zukünftige Nutzer. Geschäfts führer Udo-Friedrich Schuster erläutert: "Unse re Gebäude erhalten ein unverwechselbares Image, beziehen die Umgebung stark mit ein und sprechen die Sinne der Menschen posi tiv an." Auf dem technischen Level ist dieser Ansatz von Materialeffizienz, Nachhaltigkeit, Energieeffizienz sowie Ressourcenschonung
HEILENDE ORTE
Dank eines weiteren Wettbewerbssieges werden skyline architekten demnächst unter anderem die Generalplanung für eine Bade arena in Krems an der Donau übernehmen.
Imgekennzeichnet.Jahr2003von fünf Gesellschaftern ge gründet, kann das stark gewachsene Team heute auf ein Portfolio von mehr als 200 Pro jekten zurückblicken, von denen 42 realisiert wurden. Die Kundenliste besteht aus größ tenteils öffentlichen und einzelnen privaten Investoren, sowie Investorengruppen und gemeinnützigen Vereinen. EINE POSITIVE, HOCH FUNKTIONALE UMGEBUNG SCHAFFEN Eine ansprechende Ästhetik, die gleichzeitig mit hoher Funktionalität einhergeht, bildet Das Wiener Büro skyline architekten realisiert seit fast zwei Jahrzehnten kundenorientierte, hoch funktionale und ökologisch nachhaltige Projekte im Gesundheitsund Spa-Sektor.
Modernisierung und Umbau des Rehabilita tionszentrums Austria Bad Schallerbach für Herz/Kreislauf- und Atemwegserkrankungen wurden erst kürzlich abgeschlossen. Eine Erweiterung mit Küche, Restaurant und Pa tientenaufenthaltsbereichen wurde in ver schiedenen Bauphasen bei teils laufendem Betrieb realisiert. Der Zubau ist durch eine Brückenkonstruktion mit Cafeteria zugäng lich – eine architektonische Lösung, die letzt endlich entscheidend für den Wettbewerbs gewinn zeichnete.
Udo-Friedrich Schuster fasst zusammen: "Thermen, Badeanlagen, Gesundheitsbau ten und Wohnbau zählen zu unseren Kern kompetenzen – aber wir freuen uns auch auf ganz neue Aufgaben." www.skyline-architekten.at Rehazentrum Austria, Bad Schallerbach, 2021. Foto: Daniel Hawelka, © skyline architekten
September 2022 | Issue 97 | 57 Architect of the Month | Business | Discover Germany
MODERNISIERUNGSKONZEPTEPREISGEKRÖNTE
Vita med Gesundheitszentrum der Parktherme Bad Rad kersburg, 2017.Foto: Harald Eisenberger © Parktherme Bad Radkersburg/Vita med Gesundheitszentrum Tauern Spa Zell am See-Kaprun, Erweiterung Hotel, 2019. Foto: Franz Reifmüller, © skyline architekten Badearena Krems. Visualisierung: skyline architekten
eine der hauptsächlichen Herausforderungen für architektonische Projekte im Gesundheits bereich. Im Therapiezentrum Justuspark für mentale Gesundheit helfen beispielsweise sowohl die übersichtliche Baukörpergliede rung als auch das tageslichthelle Erschlie ßungskonzept den Patienten, sich mühelos innerhalb der Anlage zu orientieren – von der Rezeption bis hin zu den lichtdurchfluteten, mehrstöckigen Wintergärten, die jeweils das Zentrum der einzelnen Stationen bilden. Von diesen gibt es drei mit jeweils zwei Patien tengruppen ost- und westseitig, jeweils auf Vier-Sterne Hotel Standard. Ein innovatives Haustechnikkonzept mit Tiefenpfählen, Wär mepumpen, Baukernaktivierung, Luftkollekto ren und Solarkollektoren macht das Gebäude weitgehend energieautark. Nach Südwesten öffnet sich der Komplex zum Park.
A booming sector Software is everywhere right now and the industry is booming. Find out more about the movers and shakers in the sector, across the following pages. TEXT: NANE STEINHOFF I PHOTOS: UNSPLASH SPECIAL THEME: GERMANY'S MOST INNOVATIVE AND EFFICIENT SOFTWARE INDUSTRY COMPANIES 58 | Issue 97 | September 2022
Hague and Stockholm. In 2021, Onventis was named by Spend Matters on its list of '50 Providers to Watch' in the source-to-pay area.
ONVENTISTO:PHOSTRACKEMARILENATEXT:I
Das im Jahr 2000 gegründete Stuttgarter Software-Unternehmen hat sich mit seinen Standorten in Düsseldorf, Hamburg, London, Wien, Den Haag und Stockholm zu einem internationalen Player entwickelt.
September 2022 | Issue 97 | 59 Germany's Most Innovative and Efficient Software Industry Companies | Special Theme | Discover Germany DIGITAL PROCUREMENT FOR MID-SIZED COMPANIES? COME THIS WAY… SO GEHT DIGITALER EINKAUF IM MITTELSTAND
Das Einkaufsystem für die digitale Transformation von Beschaffungs prozessen unterstützt dabei, kostspielige und wiederkehrende Pro zesse zu automatisieren, die erheblichen Mehrwert für den gesam ten Geschäftserfolg erzeugen. Einkäufer steuern Betriebsausgaben, automatisieren Beschaffungsaufgaben und verarbeiten Rechnungs daten robotergestützt. Community Intelligence und Crowd Data er möglichen die smarte Vernetzung von Einkäufern und Lieferanten.
www.onventis.com/discover
Founded in 2000, the Stuttgart-based software company has turned into a global player with offices in Dusseldorf, Hamburg, London, Vienna, The
Das erhöht den Wertbeitrag für die gesamte Lieferkette und macht Einkaufsorganisationen transparent und messbar. Der Source-toPay-Anbieter Onventis treibt mit einer modular aufgebauten Platt formlösung die Zukunftsthemen für den Einkauf voran. Rund 450.000 Anwender arbeiten täglich damit. Im Portfolio finden sich eine Viel zahl cloudbasierter Anwendungen für den Mittelstand. Onventis setzt dabei auf die Hilfe von KI, wie zum Beispiel bei der automatisierten Kategorisierung von Warengruppen und Ausgaben.
Holistic digital processes contribute significantly to cost reduction and increase the resilience and sustainability of the company. Purchasing and finance processes can be optimised by using one platform for sourcing, supplier and contract management, procure-to-pay, invoice processing and spend analytics. This adds value to the entire supply chain and makes the purchasing organisation transparent and measurable. The source-to-pay provider Onventis is paving the way to the future of purchasing with its modular platform-based solutions. Around 450,000 users work with it every day. The portfolio includes various cloud-based applications for medium-sized companies. This is where Onventis relies on AI. It is used, for example, for the automated categorisation of product groups and expenses. The purchasing system, which digitally transforms procurement pro cesses, helps companies to automate cost-intensive and recurring pro cesses. This creates significant added value to the overall success of the company. Buyers control operational costs, automate procurement tasks and process invoice details using robots. Community intelligence and crowd data enable a smart network of buyers and suppliers.
Ganzheitlich digitale Prozesse tragen maßgeblich dazu bei, Kosten zu senken sowie die Resilienz und Nachhaltigkeit von Unternehmen zu erhöhen. Über eine Plattform für Sour cing, Lieferanten- und Vertragsmanagement, Procure-to-Pay, Rechnungsautomatisierung und Ausgabenanalyse werden Einkaufs- und Finanzprozesse optimiert.
Onventis wurde 2021 von Spend Matters unter die ,50 Providers to Watch' im Bereich Source-to-Pay aufgenommen.
PROFESSIONALLY PRESENTED
GMBHSOFTWARETHINK-CELLPHOTOS:HENKELESILKETEXT:I
It's late and you're still in the office working on a presentation for the management. Every month it's the same manual process of building charts – it takes hours and never gives you the exact visuals that you need. A solution to this, however, is just around the corner. Those affected will know: creating slides in Microsoft PowerPoint can be quite difficult. Frequently used chart types and graphical elements are missing and there is limited au tomation. "You usually end up manually up dating numbers and pushing around shapes," says Robin Jung, head of product manage ment at think-cell and former consultant with The Boston Consulting Group. Sound famil iar? Well, think-cell might just be the answer.
Photo: Unplash
Designed to serve the needs of the modern working world, think-cell is, above all, a flexible solution. "Other add-ins insert their own con tent as fixed elements, like images that can't be changed or directly edited in PowerPoint. think-cell works differently. We have based think-cell entirely on PowerPoint charts and shapes. Meaning that we take what Power Point provides us with and make it better. This way, presentations designed with think-cell remain data-driven and are always editable in PowerPoint, even if think-cell is not installed.
Designing stunning presentations with thinkcell is easy: they are offering you a chance to get started today for free with a fully-functional 30-day trial – no credit card required. www.think-cell.com
60 | Issue 97 | September 2022
Awarded with the Berlin StartUp-Award, the Deloitte Rising Star and the Fast 50, think-cell set out to revolutionise the world of presenta tions and now has a million users benefiting from improved visualisations in PowerPoint. Available for both Windows and Mac, this powerful tool is setting out to make your next presentation a lot easier to prepare. How does it work? "think-cell is locally installed and adds itself directly to the PowerPoint rib bon for automating charting and layout. It also includes powerful Excel integrations. By having a direct integration to PowerPoint and Excel, users can operate in the environment they are most familiar with, but with even greater pro Testsductivity."carried out by a well-known top manage ment consulting firm have shown that slides and presentations designed with think-cell saved 70 per cent of users' time compared to standard PowerPoint. Another study found that the average office worker saves 2.5 hours per week with think-cell. Impressive figures! However, think-cell doesn't just aid produc tivity, as Jung stresses: "Overall, the quality of slides improves significantly. They are better laid out, easier to comprehend and convey a higher degree of professionalism."
Das Erstellen überzeugender Präsentationen mit think-cell ist einfach: Starten Sie noch heute mit Ihrer voll funktionsfähigen 30-tägigen Testversion. Ganz ohne Kreditkarte. www.think-cell.com
Germany's Most Innovative and Efficient Software Industry Companies | Special Theme | Discover Germany
September 2022 | Issue 97 | 61 PROFESSIONELL PRÄSENTIERT
Betroffene wissen: Mit Microsoft PowerPoint Folien zu erstellen, kann schwierig sein. Häu fig verwendete Diagrammtypen und grafische Elemente fehlen, kaum etwas ist automati siert. "Normalerweise trägt man die Zahlen dann eben manuell ein und schiebt Formen auf dem Bildschirm herum", sagt Robin Jung, think-cells Head of Product Management und ehemaliger Berater bei The Boston Consul ting KlingtGroup.bekannt? think-cell könnte die Antwort sein. Ausgezeichnet mit dem Berlin StartUp Award, dem Deloitte Rising Star und dem Fast 50, hat sich think-cell aufgemacht, die Welt der Präsentationen zu revolutionieren. Bereits 1 Million Nutzer:Innen profitieren von den profes sionellen Visualisierungen in PowerPoint. Das leistungsstarke Tool ist sowohl für Windowsals auch für Mac-Umgebungen verfügbar und wird die Erstellung der nächsten PowerPointPräsentation mit großer Sicherheit um einiges Wieerleichtern.funktioniert
Tests einer bekannten Top-Management Unternehmensberatung zeigten, dass thinkcell 70 % Zeitersparnis bei der Erstellung von Folien und Präsentationen im Vergleich zu Standard PowerPoint brachte. Eine weitere Studie ergab, dass der durchschnittliche Bü roangestellte mit think-cell 2,5 Stunden pro Woche einspart. Beeindruckende Zahlen! think-cell fördert aber nicht nur die Produktivi tät, wie Jung betont. "Insgesamt ist die Qua lität der einzelnen Folien deutlich besser. Sie sind übersichtlicher, verständlicher und ver mitteln ein höheres Maß an Professionalität." Entwickelt, um den Anforderungen der mo dernen Arbeitswelt gerecht zu werden, ist think-cell vor allem eine flexible Lösung. "An dere Add-Ins fügen ihre eigenen Inhalte als feste Elemente wie Bilder ein, die weder ver ändert noch direkt in PowerPoint bearbeitet werden können. think-cell funktioniert anders! Wir haben think-cell vollständig auf Power Point-Diagrammen und Formen aufgebaut.
Das bedeutet, dass wir das, was PowerPoint uns zur Verfügung stellt, nutzen und ver bessern. So bleiben mit think-cell erstellte Präsentationen datengetrieben und können jederzeit in PowerPoint editiert werden, selbst wenn think-cell nicht installiert ist."
es? "think-cell ist ein lokal installiertes Add-In, das sich direkt in das Menüband von PowerPoint einfügt und die Es ist schon spät und Sie arbeiten immer noch an der Präsentation für das Management. Jeden Monat dasselbe: Die Diagramme müssen per Hand erstellt werden. Es dauert Stunden und liefert nie das gewünschte Ergebnis. Sie brauchen Hilfe? Ein Lösungsvorschlag. Erstellung von Diagrammen und Layouts automatisiert. Außerdem verfügt es über eine leistungsstark Excel-Integration. Durch die direkte Einbindung von PowerPoint und Excel arbeiten die Nutzer:innen in der ihnen vertrauten Umgebung, sind dabei allerdings noch produktiver."
The manufacturer of such flavours and deriv atives is a company based in New York, USA, which also operates large facilities in Ger many, e.g. in Walsrode, Niebuell, Hamburg and Oberhausen.
The largest facility in Germany is the Industrial Park Walsrode, which looks back on around 200 years of industrial history.
Have you brushed your teeth today, eaten a chocolate bar or taken a food supplement in capsule form? All of these everyday products, such as toothpaste, capsules, per fumes or snacks need them: flavours, fragrances and additives that serve as carriers or are responsible for a product's texture.
IFF (International Flavors & Fragrances Inc.) has long been dedicated to good taste, the world of fragrance and health.
As a producer of flavours, fragrances and de rivatives for the food, pharma and cosmetic industries, but also many industrial purposes too, around 1,700 employees in Germany alone contribute daily to making the world a little bit better. Food stuffs such as vegan and vegetarian meat alternatives, sauces or glu ten-free bakery products, but also crisps or chocolate bars, spices, cosmetics or perfume would be virtually inconceivable without IFF. This also applies to medicine in capsule form or suspensions such as cough syrup, where IFF's additives ensure that the active ingredient is released at the right time at the right place."
IFF's employees are as diverse as its applica tion fields. "Our comprehensive expertise and unconditional passion for the cause is based on our employees' knowledge and diversi ty. We combine science and creativity for a better future and consider ourselves as our customers' partner for groundbreaking solu tions. In this context, we are not only inter ested in formulating the best or most sensible solutions, but also in the sustainability of our products," stresses Wilkens. In Walsrode, for example, cellulose serves as raw material for various products, many fragrances are ob tained from plants. From Bavaria to Schleswig-Holstein, IFF is represented with 15 sites across Germany. In the Hamburg, Bremen and Hannover-triangle, IFF also maintains the Competence Centre For Polymer Design and Characterisation. Here at Industrial Park Walsrode, around 100 employees research and optimise products and solutions from renewable raw material cellulose and related polymers. The latest innovation is a solution for electric car batteries, which significantly reduces the charging time. www.iff.com
Site manager Walsrode and IFF country man ager Germany, Alf Wilkens, gives an overview of the scope of activities of the globally operating company. "IFF has long been 'on everyone's lips'. Yet, in Germany it is still barely known to the public as a company and employer.
KGCO.&GMBHGERMANYPRODUCTSSPECIALTYDDPPHOTOS:HENKELESILKETEXT:I Discover Germany | Business | Top German Chemical Processing Company
Production of cellulose derivatives from the renewable raw material cellulose
ON EVERYONE'S LIPS: IFF PRODUCES FLAVOURS, FRAGRANCES AND ADDITIVES
Lebensmittel wie vegane und vegetarische Fleischalternativen, Soßen oder glutenfreie Backwaren, aber auch Chips oder Schoko ladenriegel, Gewürze, Kosmetika oder Par fums wären ohne IFF kaum denkbar. Das gilt übrigens auch für Medikamente in Kap selform oder Suspensionen wie Hustensaft, in denen Zusatzstoffe von IFF dafür sorgen, dass der Wirkstoff zur richtigen Zeit am rich tigen Ort freigesetzt wird." So divers wie die Anwendungsfelder sind auch die Mitarbeiter. "Unsere umfassende Expertise und unbedingte Leidenschaft für die Sache basiert auf dem Wissen und der Viel falt unserer Mitarbeiter. Wir vereinen Wissen schaft und Kreativität für eine bessere Zukunft und sehen uns als Partner unserer Kunden für wegweisende Lösungen. Uns sind hier bei nicht nur die Formulierung der besten und sinnvollsten Lösungen wichtig, sondern auch die Nachhaltigkeit unserer Produkte", betont Wilkens. In Walsrode dient beispielsweise Cellulose als Rohstoff für die verschiedenen Produkte, viele Düfte werden aus Pflanzen Vongewonnen.Bayern bis nach Schleswig-Holstein ist IFF deutschlandweit mit 15 Standorten vertreten.
IFF ist Eigentümer und Betreiber des Industrieparks Walsrode.
ALLER MUNDE: IFF PRODUZIERT AROMEN,
Als Hersteller von Aromen, Duftstoffen und Derivaten für die Lebensmittel-, Pharma- oder Kosmetikindustrie, aber auch viele industrielle Anwendungen,leisten rund 1700 Mitarbeiter al leine in Deutschland täglich einen Beitrag dazu, die Welt ein Stückchen besser zu machen.
Die Werkstätten in Walsrode - weit über die Grenzen Deutschlands hinaus geschätzt und bekannt.
Hersteller solcher Aromen und Derivate ist ein Unternehmen mit Sitz in New York, USA, das auch in Deutschland große Standorte betreibt, zum Beispiel in Walsrode, Niebüll, Hamburg oder Oberhausen. IFF (Internatio nal Flavors & Fragrances Inc.) hat sich dem guten Geschmack, der Welt der Düfte sowie der Gesundheit verschrieben. Und das schon lange: Der größte Standort in Deutschland ist der Industriepark Walsrode, und der kann auf eine rund 200-jährige Industriegeschichte Alfzurückgreifen.Wilkens, Industrieparkleiter Walsrode und Country Manager Germany der IFF, gibt einen Überblick über das Tätigkeitsfeld des weltweit operierenden Unternehmens: "IFF ist schon lange sprichwörtlich 'in aller Munde'. Dennoch ist es in Deutschland als Unternehmen und Arbeitgeber bislang in der Öffentlichkeit kaum bekannt. Haben Sie heute schon Zähne geputzt, einen Schokoriegel gegessen oder Nahrungsergänzungsmittel in Form einer Kapsel geschluckt? All diese Produkte des täglichen Lebens wie Zahnpasta, Tabletten, Parfums und Snacks brauchen sie: Aromen, Duftstoffe und Zusatzstoffe, die als Träger der Wirkstoffe oder Aromen dienen oder für die Produkttextur zuständig sind.
IN DUFTSTOFFE UND ZUSATZSTOFFE
Im Städtedreieck Hamburg-Bremen-Hannover unterhält IFF im Industriepark Walsrode zudem das Kompetenzzentrum für Polymerdesign und -charakterisierung. Rund 100 Mitarbeiter forschen und optimieren hier an Produkten und Anwendungen aus dem nachwachsenden Rohstoff Cellulose und verwandten Polymeren. Neueste Entwicklung ist eine Anwendung in Batterien für Elektroautos, die deren Ladezeit maßgeblich verkürzt www.iff.com
Im eigenen Ausbildungszentrum werden rund 60 Auszubildende betreut und fit für das Berufsleben gemacht.
September 2022 | Issue 97 | 63
Top German Chemical Processing Company | Business | Discover Germany
Greigeritsch continues: "The principle of sus tainability is integral to our products and our corporate actions; this holds true not only for FOODBOARD™. Sustainability is firmly anchored in our corporate strategy. For ex ample, in addition to recovered paper, we only use wood from controlled forests in our products. The origin of our packaging mate rials' fibres can be transparently traced, our products are recyclable almost indefinitely. We have committed ourselves to achieving net-zero emissions in our entire value chain by One2050.thing is certain: Our economic success can only be achieved in harmony with nature and society." MM Group including MM Board & Paper and MM Packaging will be present at the FACHPACK 2022 in Nuremberg at stand 348 in hall 7A. A perfect opportunity to have a look at their innovative and sustainable packaging solutions. www.mm-boardpaper.com/en
Packaging is often an indispensable part of a product. Well-wrapped products are hygienically safe, easier to store and transport, and make for a nicer display. All the better when packaging is sustainable.
SUSTAINABILITY AND INNOVATION AT FULL SPEED
MM Board & Paper's innovations are de signed with sustainability in mind. The best example is FOODBOARD™, a cartonboard with a functional barrier for safe food pack aging. FOODBOARD™ protects packaged foods from defined unintended substances, such as mineral oils, while preserving the food's original taste and flavour. "As a pure cartonboard solution, i.e. not an extrud ed or laminated compound, folding boxes made from FOODBOARD™ are recyclable. FOODBOARD™ makes the previously used protective cellophane, for example, for tea packaging, obsolete. This ensures the high est possible, and at the same time sustaina ble, product safety." This demonstrates that the company is at the very forefront when it comes to innovative, plastic-avoiding solutions from cartonboard and paper.
With the cartonboard and paper mills Kwidzyn (Poland) and Kotkamills (Finland), MM has acquired two new core products, kraft papers and uncoated fine papers, in addition to its improved position in virgin fibre-based cartonboard.
GMBHPAPER&BOARDMMPHOTOS:HENKELESILKETEXT:I
Discover Germany | Business | Top Innovative Paper Industry Company
"We want to inspire our customers with a com prehensive product portfolio. We are driven by our claim to be the best while working sus tainably. We are innovative and use new tech nologies in a targeted manner. This benefits our customers who know that our packaging solutions optimally meet their requirements," explains Thomas Greigeritsch, Head of Group Sustainability & Marketing.
Mit den Karton- und Papierwerken Kwidzyn (Polen) und Kotkamills (Finnland) hat MM neben der verbesserten Position bei Frischfaserkarton zwei neue Kernprodukte, Kraftpapiere und ungestrichene Feinpapiere, erworben.
MM Board & Paper, leading producer of car tonboard and paper solutions, shows how packaging is done. Produced at six European locations, their products are used for the pro duction of packaging of everyday consumer goods. The continuous expansion of its prod uct portfolio, and new investments such as the acquisition of two large cartonboard and paper mills in Finland and Poland in 2021, underline the company's market leadership. What is the company's recipe for success?
64 | Issue 97 | September 2022
Seine Marktführerschaft unterstreicht das Unternehmen mit der stetigen Erweiterung seines Angebotsportfolios und Neuinvesti tionen wie etwa 2021 in große Karton- und Papierwerke in Finnland und Polen. Was ist das Erfolgsrezept des Unterneh mens? "Ziel ist es, unsere Kunden mit einem umfassenden Produktportfolio zu begeistern. Unser eigener Anspruch, die Besten zu sein und dabei nachhaltig zu arbeiten, treibt uns an. Wir sind innovativ, setzen neue Technolo gien gezielt ein. Das kommt den Kunden zu gute, die wissen, dass unsere Verpackungs lösungen ihre Ansprüche optimal erfüllen", Die Verpackung ist meist unerlässlicher Bestandteil eines Produkts. Gut verpackt ist es hygienisch sicher, lässt sich besser transportieren und lagern, im Laden schöner präsentieren. Umso besser, wenn Verpackungen nachhaltig sind. erklärt Thomas Greigeritsch, Head of Group Sustainability & Marketing. Innovationen entwickelt MM Board & Paper immer unter dem Gesichtspunkt der Nachhaltigkeit. Bestes Beispiel hierfür ist FOODBOARD™, ein Karton mit funktioneller Barriere für sichere Lebensmittelverpackungen. FOODBOARD™ schützt verpackte Lebensmittel vor definierten unerwünschten Substanzen, wie z. B. Mineralöle und bewahrt zugleich den ursprünglichen Geschmack und das Aroma des Lebensmittels. "Als reine Kartonlösung, also kein extrudierter Verbund oder kaschiertes Laminat, sind die Faltschachteln aus FOODBOARD™ recycelbar und machen etwa bei Teeverpackungen eine Schutzfolie aus Zellophan obsolet. So ist für höchstmögliche und gleichzeitig nachhaltige Produktsicherheit gesorgt." Mit innovativen Lösungen aus Karton und Papier steht das Unternehmen daher an der Spitze bei Vermeidung von Plastikabfall.
The imprint on tea packaging from retailer dm-drogerie markt communicates the use of FOODBOARD™, sustainability and the safety of food. Die Teeverpackungen von dm drogerie markt kommunizieren mit dem Hinweis zu FOODBOARD™ Lebensmittelsicherheit und Nachhaltigkeit.
Wie Verpackungen richtig gehen, zeigt MM Board & Paper, führender Produzent von Karton- und Papierlösungen. Die Produkte von MM Board & Paper werden an sechs europäischen Standorten produziert und für die Erzeugung von Verpackungen für Kon sumgüter des täglichen Bedarfes eingesetzt.
Greigeritsch weiter: "Nicht nur bei FOOD BOARD™ ist das Prinzip der Nachhaltigkeit unbedingter Bestandteil unserer Produkte und unseres unternehmerischen Handelns. Nachhaltigkeit ist fest in unserer Unterneh mensstrategie verankert. Beispielsweise ver wenden wir für unsere Produkte, neben Alt papier, ausschließlich Holz aus kontrollierten Wäldern. Die Herkunft der Faserstoffe unse rer Packstoffe sind transparent nachverfolg bar, unsere Produkte können fast unbegrenzt recycelt werden. Zudem haben wir uns ver pflichtet, bis 2050 Netto-Null-Emissionen in unserer gesamten Wertschöpfungskette zu erzielen. Eines ist klar: Unser wirtschaftlicher Erfolg kann nur im Einklang mit der Natur und der Gesellschaft stattfinden." MM Group mit den beiden Divisionen MM Board & Paper und MM Packaging wird auf der Nürnberger Fachmesse Fachpack 2022 auf dem Stand 348 in Halle 7A vertreten sein. Eine gute Gelegenheit, sich von den innovati ven und nachhaltigen Verpackungslösungen des Unternehmens selbst zu überzeugen. www.mm-boardpaper.com
September 2022 | Issue 97 | 65 MIT FOKUS AUF NACHHALTIGKEIT UND INNOVATION AUF DER ÜBERHOLSPUR
Top Innovative Paper Industry Company | Business | Discover Germany
Multi-award winning German wine merchant, The WineBarn, have recently had the honour of having many of the wines in their diverse portfolio score very highly when reviewed by the famous British wine critic Jancis
Visit:
Email:
Becker's Kammerberg vineyard in the Pfalz region of Germany. Photo: Becker
WINEMAKER: JAKOB SCHNEIDER WINE: 2020 NIEDERHÄUSER KLAMM RIESLING EISWEIN REGION: NAHE £59.30 PER HALF BOTTLE (0,375L) Tamlyn scored this wine at 18.5 out of 20. She describes this Eiswein (Ice Wine) as, "Strik ingly long and elegant. So exquisite it's hard to describe. Iris perfume. Guava nectar. Blue berries. Green figs when they're dripping their sticky nectar like wild honey on a hot stone wall. And then this exquisitely fine racy silver wire acidity. Just wow. Sometimes words won't do."
WINEMAKER: K. F. GROEBE WINE: 2019 AULERDE RIESLING GRAND CRU DRY REGION: NAHE £46.40 PER BOTTLE Tamlyn scored this wine at 18 out of 20. She describes this Riesling Premier Cru as, "Broad in the mouth, wide, fans out and is loose-knit. Yet on the finish, the acidity tightens up very quickly, snaps into intentional focus. The finish is fantastic: power and fanfare, and mouth-watering. The fruit is succulent, sen suous, but even with the breadth and lavish spread, there is diamond-cutter precision in the acidity. Glorious."
Photo: Iris Ellmann
WINEMAKER: BECKER WINE: 2017 ST. PAUL SPÄTBURGUNDER GRAND CRU DRY REGION: PFALZ £81.40 PER BOTTLE Tamlyn scored this wine at 18 out of 20. She describes this Spätburgunder (Pinot Noir) as, "Pink peppercorns, barrel spices, toasted chestnut, coconut, black olives. The nose is rococo, dramatic, and I was a little bit intimi dated. Was this going to be a Becker chestdrumming show of power? Quite the opposite, and I was undone. One sip filled my mouth with this exquisitely gentle, pure-throated, nightingale song of sweet, limpid, pink-red fruit. Such a story of contrast! Roses and cherries, dimples and deep, deep pools of glowing fruit. Magical, suspense-filled; a thou sand stories in every sip. The liquid version of One Thousand And One Nights? But still quintessentially Becker, and all this luminous fruit comes between the towering pillars of great, chewy tannins. It's an awesome wine, and I mean that in every sense of the word."
66 | Issue 97 | September 2022
Robinson's talented and expressive wine writer Tamlyn Currin. The WineBarn recommend three very different wines for find your new favourite German wine, you can contact the awardwinning merchant The WineBarn now. www.thewinebarn.co.uk Call: 0044 (0)1962 761 215 wine@thewinebarn.co.uk
you to try this summer... To
Iris Ellmann is the managing director of The WineBarn, a multi-award-winning wine merchant that has been importing premium German wines to the UK for over 20 years. The WineBarn team lives, breathes and loves wine.
Discover Germany | Wine Column
German wines score highly with critics
E-Mail: info@nullkommanull.ch Instagram: nullkommanull.ch Facebook: Nullkommanull LinkedIn: Nullkommanull GmbH
Unsere Schweizer Bio-Bouillon produzieren wir aus regionalem und frischem Gemüse. Für unsere FleischBouillon's setzen wir ausschliesslich auf Schweizer Fleisch. Wir verzichten auf jegliche Zusatzstoffe und Geschmacksverstärker, um ein naturnahes und gesundes Produkt zu ermöglichen. Aus diesem Grund sind unsere Produkte besonders geeignet für gesundheits- sowie naturbewusste Leute und Allergiker. Zusätzlich unterstützen wir Startups beim Aufbau ihres Unternehmens und haben somit eine Plattform für Innovation geschaffen. Webpage: www.nullkommanull.ch
Discover Germany | Culture Calendar 68 | Issue 97 | September 2022
September 2022 | Issue 97 | 69 Culture Calendar | Discover Germany
This is one of Germany's biggest film festivals and this year it returns for its 18th edition. Held on a lovely little island, it celebrates the absolute crème de la crème of German film making. Guests can look forward to great sto rytelling, and many celebrities and new talent mingling with film buffs from across the globe. www.festival-des-deutschen-films.de
Culture Calendar
FESTIVAL OF GERMAN FILM, LUDWIGSHAFEN AM RHEIN (24 AUGUST 11 SEPTEMBER)
TEXT: MARILENA STRACKE
GENUSSMEILE, VIENNA WOODS (3 4 AND 10 11 SEPTEMBER) This festival is also affectionately called the 'longest bar' as it measures a stunning ten kilometres. Along Vienna's waterline hiking path between Mödling and Bad Vöslau over 90 vintners from the region offer a wonderful range of tasty treats. The German word 'Ge nussmeile' translates to 'Mile of Indulgence', which is very fitting for these two special weekends filled with delicious food. genussmeilewww.thermenregion-wienerwald.at/ INTERNATIONAL LITERATURE FESTIVAL, BERLIN (7 17 SEPTEMBER) The exciting literature festival in Berlin pre sents contemporary artists from across the globe and is one of the most important lit erature festivals worldwide. New poetry and prose await visitors. Each text will be read out loud in its original language, with transla tions available. An absolute must for all liter ature fans from far and wide. www.literaturfestival.com Hello September! We might be reaching the end of sum mer but that doesn't mean the outdoor fun is over. From food and music festivals to the legendary Oktoberfest in Munich, this month promises to be packed with great events throughout.
Lollapalooza Festival, Berlin. Photo: Stephan Flad
Discover Germany | Culture Calendar 70 | Issue 97 | September 2022 Vienna Design Week. Photo: Vienna Design Week
VIENNA DESIGN WEEK, VIENNA (16 – 25 SEPTEMBER)
Put your Lederhosen and Dirndl on because this year's Oktoberfest is about to open its gates to international beer lovers in Munich. The city's infamous and beloved 'Wiesn' be comes the backdrop for a true celebration of the quintessentially German pretzels and beer. 'Prost' to that! www.oktoberfest.de
www.viennadesignweek.at
Photo: Vienna Design Week
www.wavesvienna.com
Austria´s largest curated design festival offers a fabulous platform for discussion around de sign. It takes place at various event venues across Vienna and promises to be a great hap pening for the world of design.
OKTOBERFEST, MUNICH (17 SEPTEMBER – 3 OCTOBER)
REEPERBAHN FESTIVAL, HAMBURG (21 – 24 SEPTEMBER)
Photo: Daniel Wetzel Vienna Design Week.
September 2022 | Issue 97 | 71 Culture Calendar | Discover Germany WAVES VIENNA, VIENNA (8 10 SEPTEMBER)
The club- and showcase festival is held around Vienna's 9th district and it attracts over 15,000 music fans. True to their motto 'East meets West', the festival presents international as well as local alternative, electronic, rock and club acts. Lectures, panels and workshops encour age pan-European collaborations and draw attention to the importance of Europe
Hamburg's infamous red-light district around St. Pauli is the proud home of Germany's biggest club festival. This is where the global music industry meets and this year the festi val features a large number of events spanning a great range of genres in locations around Festival des deutschen Films.
www.reeperbahnfestival.com/en
72 | Issue 97 | September 2022 Discover Germany | Culture Calendar Hamburg's Reeperbahn. The festival's partner country is the USA this year.
Lollapalooza Festival, Berlin. Photo: Johannes Riggelsen Genussmeile, Vienna. Photo: Paul Landl Genussmeile, Vienna. Photo: Christian Dusek
www.lollapaloozade.com
LOLLAPALOOZA FESTIVAL, BERLIN (24 25 SEPTEMBER) Once again, Berlin hosts the extremely popular US-Festival to celebrate the end of the sum mer. This year's fabulous line-up includes Die Fantastischen Vier, Kraftklub, Machine Gun Kelly and Seeed, among many others. This festival is known for being particularly fami ly-friendly, as there is the 'Kidzapalooza' part, which is entirely dedicated to children.
Patienten helfen Patienten Die erste bilaterale Matchmaking App für Patienten Du leidest an Diabetes, Depressionen, Long-Covid-19, Krebs oder einer anderen chronischen Krankheit? Melde dich an bei goPatients und finde ähnliche Patienten und tausche dich über deine Krankheit aus.
74 | Issue 97 | September 2022
The times they are a-changin' "Alcohol is part of our culture. It's normal –for socialising and having a good time". I think it's fair to say that for a long time the majority of Germans would have agreed with that sentiment. For the country of beer and of wine – the latter might still be less known internationally but is still very much a part of Germany's 'drinks identity' – alco hol has always been part of the fabric of life. However, there's a new generation of Ger mans in town that seem to have a different view of April 2022 YouGov survey among Germans, Generation Z is far less in clined to drink alcohol than older Germans. 49 per cent of 18 to 24-year-olds said that they don't drink any alcohol at all. Germans aged 45 to 54 are the least likely to abstain from alcohol (41 per cent), followed by the 35 to 44-year-olds (44 per cent). German youngsters also lead in the non-alcoholic league when comparing them with their European counterparts. The UK is at num ber two with 43 per cent saying that they don't drink, while Switzerland and Portugal
Barbara Geier is a London-based freelance writer, translator and commu nications consultant. She is also the face behind www.germanyiswunderbar.com, a German travel and tourism guide and blog that was set up together with UK travel writer Andrew Eames in 2010.
Barbara Geier Column a re at the other end, with 30 per cent each in that age group abstaining from alcohol.
Discover Germany |
Accordingalcohol.toan
Interesting, isn't it? As a member of Genera tion X, thinking back over the ages between 18 and 24, I'd certainly say the German sur vey figures would have been different. Mind you, that's mainly spoken from observation. I might be two letters removed generationwise but at least when it comes to alcohol I seem to have something in common with the kids of 2022. When (almost) everyone started drinking in school, let's say around the age of 16, I often was the only one sans alcohol ic drink, simply because none of that alco holic stuff was to my taste. Least of all the most common drink, beer, and that hasn't changed. The bitterness. I just don't get it.
There's things that have grown on me since. I do like a cocktail and certain long drinks, but at the same time, should someone say to me now, you'll have to do without alcohol for the rest of your life, I'd just shrug my shoulders and say: fine, no probs. However, never ever threaten me with taking ice-cream away from me. But that's another story…