CHASING THE SUN May/June 2023
lori & dana
CAPTIVATING MODERN LUXURY Shop online at allorabylaura.com
1269 Coast Village Road, Montecito | 805.563.2425 | @allorabylaura TIMELESS FINE JEWELRY
PAVE DROP EARRINGS BY KAI LINZ JEWELRY
THE FINEST MONTECITO & SANTA BARBARA HOMES ©2023 Berkshire Hathaway HomeServices California Properties (BHHSCP) is a member of the franchise system of BHH Affiliates LLC. BHH Affiliates LLC and BHHSCP do not guarantee accuracy of all data including measurements, conditions, and features of property. Information is obtained from various sources and will not be verified by broker or MLS. *Individual agent by sales volume in 2022 for Berkshire Hathaway HomeServices. CRISTAL CLARKE • MONTECITO-ESTATE.COM • 805.886.9378 • CRISTAL@MONTECITO-ESTATE.COM • DRE 00968247 EXQUISITE ENNISBROOK CONTEMPORARY FARMHOUSE 1930 JELINDA DRIVE, SANTA BARBARA ROMANTIC CAPE COD STYLE ESTATE 935 ARCADY ROAD, SANTA BARBARA
CRISTAL CLARKE • MONTECITO-ESTATE.COM • 805.886.9378 • CRISTAL@MONTECITO-ESTATE.COM • DRE 00968247 ©2023 Berkshire Hathaway HomeServices California Properties (BHHSCP) is a member of the franchise system of BHH Affiliates LLC. BHH Affiliates LLC and BHHSCP do not guarantee accuracy of all data including measurements, conditions, and features of property. Information is obtained from various sources and will not be verified by broker or MLS. *Individual agent by sales volume in 2022 for Berkshire Hathaway HomeServices. THE FINEST MONTECITO & SANTA BARBARA HOMES LUXURIOUS OCEAN-VIEW COMPOUND 4347 MARINA DRIVE, HOPE RANCH I LOVE WHERE I LIVE. LOVE WHAT I DO. SELL WHAT I LOVE. #1 AGENT LOCALLY AND GLOBALLY
Goat Tree | 36 State Street, Santa Barbara (805) 882-0103 | goattreesb.com | @hotelcalifornian | #goattreesb Dip into Happy Hour 4PM - 6PM Daily
the genevieve EXPERIENCES AW AIT #COMETOGETHER @ShopPaseoNuevo 651 Paseo Nuevo, Santa Barbara CA 93101 EXPLORE PASEO NUEVO Open 11am to 7pm Daily PaseoNuevoShopping.com and our collection of local, regional, and national retailers and restaurants
LUXURY AWAITS IN WINE COUNTRY
TIMELESS DECOR • PLUSH LINENS
THE VICTOR RESTAURANT & BAR
GOURMET BREAKFAST • DESSERT HOUR
WINE RECEPTION • FIRE PITS
SPLENDOUR SPA
THE GENEVIEVE HOTEL | 3627 SAGUNTO STREET SANTA YNEZ, CA 93460 | THEGENEVIEVE.COM
@THEGENEVIEVEHOTEL
plant gallery
let's talk about the birds and the bees
PLANTGALLERYSB.COM
14 MAY /JUNE 2023
Letter Perfect LOCALLUXURYLOVE . . . . NEVER STOP WRITING Letter Perfect Santa Barbara Stationers since 1984 farmtopaper.org letterperfectsantabarbara.com Now at the Farm to Paper Collective 2325 Lillie Avenue Summerland Paper Shop 805 969 7998 Farm Store 805 770 3677
SPONSORS
All Heart Rentals
Arroyo Seco Construction
Landscape and Design
Balance Financial
Bibi Moezzi
Bite Me SB
BRIGHT Event Rentals
BrightView
Jump on The School Bus
Katalyst Public Relations
Knight Real Estate Group
Mission Wealth
Pondel Law
Randy Solakian Estates Group
Santa Barbara Adventure Company
our Beer Garden Sponsors
Thank you to
FEATURED SPONSOR
FEATURED VENDORS
Buddha Properties
Dan Crawford, Realtor
DiBenedetto Family
Edible Santa Barbara
Flowers & Associates, INC.
Forward Lateral
Helene Schneider
Hutton Parker Foundation
Jeffrey & Rebecca Berkus
VENDORS
Augie's brewLAB
Convivo
Draughtsman Aleworks
Eating with Jo
Figueroa Mountain Brewing Co.
Firestone Walker Brewing Company
Island Brewing Company
La Paloma
Santa Ynez Band of Chumash Indians
Sarah & Hayden Gower
Scale Microgrids
Schipper Construction
Sol Wave Water
The Spracher Family
Urgent Veterinary Care of Santa Barbara
Little Dom's Seafood
Night Lizard Brewing Company
Oat Bakery
Sama Sama
T.W. HollisteR
Tarantula Hill
Third Window Brewing
Topa Topa
Tyger Tyger
Validation Ale
SBBotanicGarden.org
TIMELESS CLASSICS FOR THROUGHOUT THE YEAR FOLLOW US: wildflowerwomenboutique.com LOS OLIVOS 2920 Grand Ave. 805.697.7377 ORCUTT 3388 Orcutt Rd. 805.922.9195 PISMO BEACH 890 Price St. 805.773.1055 SAN LUIS OBISPO 874 Monterey St. 805.543.3200 PASO ROBLES 1236 Park St. 805.226.5088 Home of Sandbox Kids "The Central Coast's Premier Women and Children's Boutique"
A PREMIER LIBERAL ARTS COLLEGE | SANTA BARBARA
Westmont consistently ranks among the nation's best Christian liberal arts colleges with one of the most beautiful campuses in the country. And for 85 years, we've remained committed to cultivating thoughtful scholars, grateful servants, and faithful leaders for global engagement with the academy, church, and world.
AND RECEIVE UP
Learn more at westmont.edu/visit 955 LA PAZ RD, SANTA BARBARA, CA 93108 WESTMONT.EDU • (805) 565-6000
TO $2000!
applicants can receive up to $2,000 in additional scholarship,
each year, for visiting campus! That's an $8,000 value! Experience Westmont during your visit to Santa Barbara 10/5/22 11:38 AM PLACE YOUR AD HERE Contact advertise@sblifeandstyle.com Instagram | @sblifeandstyle
2023
renewable
MAY/JUNE 2023
EDITOR IN CHIEF & PUBLISHER Ottocina Ryan
ART DIRECTOR Johanna Smeds
DIRECTOR OF PHOTOGRAPHY Silas Fallstich
BRAND PARTNERSHIPS & ADVERTISING LEAD Lindsey Garrison
SOCIAL MEDIA MANAGER Alexandra Lee
CONTENT COORDINATOR Olivia McGovern
WRITERS Laura Hupp, Alexandra Lee, Hannah Meyers, Emma Roberts, Alexandra Sharova, Maddy Sims
PHOTOGRAPHER Angelo Sgambati
INTERNS Laura Hupp, Nicole Johnson
ON THIS COVER
May/June
PHOTOGRAPHER Angelo Sgambati
MODEL Gwen Van Meir with Women Management
STYLIST Ottocina Ryan
HAIR Andre Gunn
MAKEUP Nicole Chew
PROPERTY LISTED WITH CRISTAL CLARKE, BERKSHIRE HATHAWAY HOMESERVICES
MEIMEIJ dress, Allora by Laura Alexis Bittar earrings & bracelet
Santa Barbara Life & Style Magazine is published by Santa Barbara Life & Style, Inc. 26 West Mission Street #5, Santa Barbara, CA 93101
For distribution, advertising and other inquiries: info@sblifeandstyle.com santabarbaralifeandstyle.com
On Gwen Stillwater dress, Whiskey & Leather Anne Sisteron earrings, bracelets & necklace
On Natalia
Dèluc. dress, Whiskey & Leather Kai Linz earrings, Allora by Laura
MAY/JUNE 2023
IN EVERY ISSUE
SBLS SPOTLIGHT 25
Tacos, wine, and surfing–what more could you need?
BEACH BUM BASICS 26 Calling all sun lovers! RING IN THE SUMMER 28 Fill your
48 HOURS 98
The perfect summer itinerary for a weekend in Santa Barbara.
DINING
ALL THINGS CONSIDERED 30 A bus you won't want to miss.
PASTA AL FRESCO 36
Nothing says summer like fresh pasta and a garden.
STONEHOUSE 44
San Ysidro Ranch's Stonehouse puts on quite the show.
DUSK TIL DAWN 48
Tastes of Cabo San Lucas right on Santa Barbara's historic State Street.
WELLNESS
PANCHAKARMA, A RETURN TO SELF 54
An ayurvedic experience to rejuvenate you inside and out.
FASHION
SUMMER HOUSE 58
Bring a towel.
TRAVEL
THE COASTAL COWGIRL 74
A modern take on country life at Alisal Ranch.
BELIZEAN ESCAPE 80
Reefs, rainforest, ruins, and more reasons to explore Belize.
TRIBAL HEAT 88
Enter the gateway to paradise.
WELCOME TO THE GENEVIEVE 94 Simpler times ahead.
22 MAY /JUNE 2023
CONTENTS
mind, body, and glass.
READY FOR SUMMER? SO ARE WE. JOIN NOW AND ENJOY YOUR FIRST MONTH FREE PLUS A PERSONAL TRAINING ASSESSMENT SCAN THE QR CODE TO LEARN MORE OR VISIT US AT SWELLCLUBS.COM *Offer valid from May 1, 2023 through June 30, 2023. Mention this ad to redeem. Valid for new members only. Additional restrictions may apply. SANTA BARBARA ATHLETIC CLUB 520 CASTILLO STREET | 805.966.6147 CATHEDRAL OAKS ATHLETIC CLUB 5800 CATHEDRAL OAKS ROAD | 805.964.7762
The Hidden Garden is downtown Santa Barbara's newest gathering space, hosting private events and popups along with a curated selection of home and garden goods.
SBLS SPOTLIGHT
3. WINE NOT?
The Barn at The Hilt Estate is wine country's newest tasting experience, with curated flights and exclusive library bottle tastings served in this historic reclaimed barn.
4.
TUESDAY
Transport your tastebuds to Mexico with all-new Taqueria La Unica, featuring authentic Mexican specialities including pastor, lengua, and tripa, as well as homemade salsas.
Follow
@sblifeandstyle for daily behind the scenes content, new restaurants, events, getaways, and more...
@SBLIFEANDSTYLE | 25 SBLS spotlight
1. GARDEN PARTY
2. SURF'S UP Tackle surf season with The Shaper, a half-day board carving experience with world-famous surfboard shaper Gary Larson, at The Ranch at Laguna Beach.
TACO
BEACH BUM BASICS
MAKE THE MOST OF YOUR BEACH DAY WITH THESE SUMMERTIME ESSENTIALS
BY Alexandra Lee
Scanlan Theodore Slim Cat Sunglasses
Your standard black shades deserve a summer upgrade, too! In a pearlescent finish, these wide frames are a modern take on the cat eye, adding an instant cool factor to your oceanside style.
SCANLANTHEODORE.COM
Frank & Eileen Montecito Travel Set
Inspired by picturesque al fresco dinners and beach walks in our very own Montecito, this fleece capelet and skirt set triples as a cozy beach cover up, casual-chic errand wear, and effortless garden party attire.
Jenni Kayne
Woven Raffia Tote
Introducing the beach bag. This crochet raffia tote is a must-have summer essential for transporting your beach gear, farmers market picks, and freshly bundled bouquets in elevated style.
JENNIKAYNE.COM 5
4
FRANKANDEILEEN.COM
Bluejay Premiere Edition Electric Bike
Cruising to the beach has never looked better. This vintage-style electric bike has a 350-watt motor and long battery life, guaranteeing a smooth ride to your final destination (and, lots of compliments).
BLUEJAYBIKES.COM
Cartier Oud Vanillé Les Heures Voyageuse Fragrance
Transition into early summer with a romantic spritz of warm vanilla and oud wood. The newest addition to Cartier's high perfumery line, this addictive scent is as timeless as the jeweler's precious stones.
CARTIER.COM
26 MAY /JUNE 2023 SBLS covet & crave
3 1 2
TRUE LOVE ALWAYS
a highly curated lifestyle botique
We look forward to welcoming you to our store 1115 Coast Village Road
Owner, Lori Runnfeldt TRUE LOVE ALWAYS
XO, Lori
RING IN THE SUMMER
ALL THE BEST EXPERIENCES AND GOODIES TO HELP YOU FEEL SUMMER READY
BY Hannah Meyers
BEST OF BOTH WORLDS
Another one please! Strange Beast is the latest concept bar to come from the inventive minds at Good Lion Hospitality, the genius behind Santa Barbara's favorite cocktail bars Test Pilot and Good Lion. Set in downtown Ventura, the cocktail lounge combines the laid back vibes of Japanese izakayas with the edgy feel of American rock-n-roll. Their drinks represent a unique blend of Japanese flavors and familiar cocktail names like the Ube Pina Colada, a fusion of the beloved tropical beverage and the trendy purple yam. Combine their wide range of sips with Japanese tapas designed by the talented chef at Santa Barbara's Sama Sama. The grand and moody bar is a sweet escape for your next trip down the coast.
SECLUDED HIDEAWAY
Step inside the most exclusive room at San Ysidro Ranch for an unforgettable wine tasting. The Secret Cellar provides an intimate setting to sip from the 2,000 bottle collection featured in the room. The experience includes a private tour of the ranch's renowned 14,000 bottle cellar with wines spanning 70 regions around the globe. Dark wood and vaulted ceilings create a pristine atmosphere to indulge in world-class wine. The Secret Cellar features three curated wine tasting menus: Wanderlust, Reserve, and Warner. The wine selections all compliment Executive Chef Matthew Johnson's four course seasonal tasting menu, designed to be enjoyed harmoniously.
SIP SOPHISTICATION
Pack a spritz (or two!) in your beach bag for a refreshing twist. Not your average sparkling beverage, Ysidro is the summer's hottest new drink–sake spritz. Founded by Montecito locals, the canned cocktail is inspired by San Ysidro Road which runs close to their homes, and Saint Ysidro–the patron saint of farmers and gardeners. Born in the pandemic to symbolize slow living and a proper work-life balance, the spritz is the perfect accompaniment for relaxing days and gatherings with friends and family. Made with premium ingredients, the grapefruit and sea salt sake spritz is refreshing, bold and ready to splash into summer.
28 MAY /JUNE 2023
SBLS this season
BREAK A SWEAT
Feel your best this summer thanks to Santa Barbara Athletic Club. In honor of Mental Health Awareness Month, during May and June they're offering 50% off the initiation fee, plus a sixmonth membership to Headspace. The premier club encompasses all aspects of health and wellness to make your fitness journey a fun one. Jump into the dozens of group classes they offer every week, which change seasonally to keep it fresh, or take advantage of the heated pool to get an aquatic workout. Whether it's pilates or weight lifting, yoga or spin, there's truly something for everyone. Treat yourself to one of their superfood smoothies as a postworkout reward; you deserve it.
A READER'S PARADISE
Laying out in the sun, book in hand is one of the most relaxing summer activities. El Encanto, A Belmond Hotel is the destination for reading aficionados to convene. Their literary club provides dedicated readers a space to meet notable writers. Every month a new author is featured at the hotel over a three course lunch. Book signings and guest panels make it an all encompassing experience. On May 2, comedic actress and author Annabelle Gurwitch will discuss her latest memoir, You're Leaving When? Adventures in Downward Mobility. Happy reading!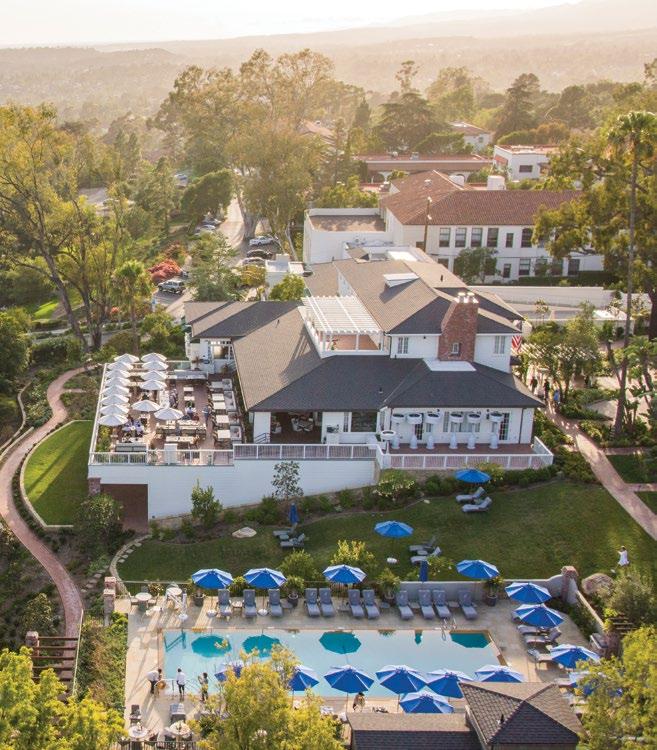 SEE SOMETHING NEW
Santa Barbara Museum of Art showcases a world class collection of works spanning more than 5,000 years. This summer only, they're bringing the unique work of 20th century Idahobased artist James Castle to Santa Barbara. The museum will exhibit his innovative drawings composed of soot and saliva on scraps of paper. His illustrations depict landscapes and interior scenes that invite guests a glimpse into his world.
@SBLIFEANDSTYLE | 29
Photo by Jon Premosch
SBLS dining
ALL THINGS CONSIDERED
INTRODUCING CONSIDERED: A SUSTAINABLE, SENTIMENTAL COFFEE BUS WITH A COOL, RETRO TWIST
BY Maddy Sims | PHOTOGRAPHS BY KaSandra Mitchell
@SBLIFEANDSTYLE | 31
I'll be the first to admit it: I've never been a big coffee drinker. Yet when I heard about Considered in Santa Barbara, I had to go. A newly-renovated VW bus that serves coffee and other delicious drinks? I'm in. On a sunny Sunday afternoon, the cream-colored bus looks straight out of a 1970s movie. The baristas greet me with warm smiles and kindly ask what I would like (assuring me that using oat milk is no problem and no extra charge). After just a minute, I am handed a creamy, warm matcha latte. Everyone around me is smiling and talking—not one person is on their phone. The longer I stay, it becomes obvious: connection and coffee at Considered go hand in hand.
Founder Pia Beck didn't set out to start a coffee bus. She dreamed of a brick and mortar coffee shop: part cafe, part co-working space, part event venue, and part photo studio. "We envisioned a gathering place where entrepreneurs, creators, disruptors, could gather to instigate innovation in our community," Beck says. She spent months working on a business plan and fundraising. Yet when it came to finding the space in Santa Barbara, Beck says it wasn't possible. "We were met with an answer we expected but were still disappointed by: it's too risky to rent to a new business," she says.
As a young female entrepreneur, Beck is no stranger to the word no. "I'm used to shocked reactions about the businesses I've built," she says. "I'm used to being asked, 'How old are you?' as if it's a qualifier for my success. I'm used to being written off, no matter how prepared, organized, or capable I feel. I'm used to people assuming my husband is involved in my business ventures." So, she pivoted. She thought hard about how she could bring Considered to life in a smaller format, and then went shopping for a bus on Craigslist.
There, she found the Bus. "Turns out, the seller converts vehicles for a living, and that was my sign that it was right," she says. "We bought the Bus in September 2022, and started work on it right away." The Bus had quite a bit of rust on its exterior, and the upholstery was peeling away, but Beck and her support team (including her mother and interior designer, Rory Beck, and Isaiah Brothers, previous owner of the Bus and manager at Camp Vans) didn't let that deter them.
They rebuilt the engine, replaced the brakes, and gutted the inside (installing foodsafe flooring and new upholstery). "I actually ended up painting the exterior and changing out all the window and door seals myself because we couldn't find someone that wanted such a big project," Beck says. Over the course of four months, the team installed cabinetry, electrical (including a solar-powered battery), and plumbing. "It's truly impressive that we were able to fit an entire coffee shop into 80 square feet— and even more so because we did it so quickly."
The Considered Bus is solar-powered and generator-supplemented, meaning they don't require any venue they serve at to supply power. "The generator only powers the espresso machine, which draws such a huge wattage that it simply wasn't possible to
32 MAY /JUNE 2023
"'WE ENVISIONED A GATHERING PLACE WHERE ENTREPRENEURS, CREATORS, DISRUPTORS, COULD GATHER TO INSTIGATE INNOVATION IN OUR COMMUNITY,' SHE SAYS."
power it effectively with our solar panels," Beck explains. "We practice leave no trace pop-up procedures. We didn't want to be limited in who or where we could serve due to power needs."
Another thing that sets Considered apart? Their transparent pricing. "You see a latte," she says. "We see the 40-plus people involved in the coffee process from planting the seed to creating beautiful art on the surface of your drink." She hopes the transparent pricing will help consumers appreciate what went into their daily staple (and avoid complaints of "another six-dollar latte"). Another reason Beck uses this price model is to include a 15 percent gratuity for her staff. "It's important to me that our staff makes a living wage," she says.
The price tag also reflects Beck's commitment to fair pricing. Considered doesn't upcharge for alternative milks. "We feel strongly that you shouldn't have to pay for a preference that doesn't cost us more to accommodate," she says. "Oat milk is actually cheaper than high-quality cow's milk. We don't need or want to make money on your allergy or lifestyle choices."
And finally, Beck says the prices on the menu are part of ethical business practices. "Instead of burying the cost and surprising you with a $7.50 total on your $4.75 cappuccino, we put the total price (including sales tax and gratuity) right on the menu," she explains. "When you order from us, the total comes out to be the same as any other coffee shop—the only difference is that we removed steps for you."
Considered is centered around sustainability and transparency, and community is at the heart of this venture. At the end of the day, Beck says, we all just want to feel considered. "In an increasingly digital and divisive world, we've settled for anonymity," she says. "Most of us have
become accustomed to moving through our days quickly and without much thought. We've forgotten that we have more in common than not, and that sharing in the human experience is what makes us feel more like ourselves."
She wants to create a space where the baristas know customers, where customers know each other, and where everyone can take a moment to connect. "I've had my own battles with loneliness and seeking belonging, and I've also had the privilege and gift to feel deeply understood," Beck says. "The latter is really what we're hoping to create for this community. Coffee just happens to be the vehicle we chose to do so."
The Considered Coffee bus will serve all over Santa Barbara—at pop-up events, private events (they're available for hire), and other local businesses. "You might see us in the Funk Zone, by the Courthouse or farmers' market, on the Mesa, in the Westside neighborhood, and everywhere in between," Beck says.
You can follow along on social media or sign up for their SMS service. "We send a text out every morning at 6:00 a.m. (an hour before we open) sharing our location and hours for the day. If you subscribe for SMS, you also get a free coffee on your birthday, and surprise flash sales," Beck says. Text "coffee" to +1 (805) 387-9157 to get on the list, and experience the Considered Coffee bus yourself.
"We're here to surprise people with something better," Beck says. "Our hope is that every person who visits the Bus forms a memory that changes them in some way." After stopping by myself and enjoying my (fairly-priced!) oat milk matcha latte, I can say Considered is well on their way to achieving this goal—visiting the bus was a bright spot in an otherwise routine and regular Sunday morning.*
@SBLIFEANDSTYLE | 35
PASTA al FRESCO
SUMMER NIGHTS CALL FOR AN OUTDOOR CELEBRATION OF FOOD, FRIENDS, AND WINE. MAKE IT A DINNER TO REMEMBER WITH SEASONAL PRODUCE FROM SWEET WHEEL FARM AND HAND-CRAFTED PASTA FROM APERITIVO'S
PASTA CLUB
BY Hannah Meyers | PHOTOGRAPHS BY Silas Fallstich | FLORAL DESIGNER & TABLETOP STYLIST Lilla Bello
To me, summer means late sunsets and gathering around a table with friends and family for a meal outdoors. Santa Barbara's warm evenings, fresh air, and abundance of local produce make it the ideal setting to dine al fresco. Sitting down to a family style dinner in a Montecito backyard reminded me of what to look forward to in the coming months as the weather gets better and farmer's markets start bustling.
We indulged in a seasonal Italian feast crafted by Brian Dodero, chef and co-owner of Aperitivo, who created Pasta Club. Originally an inventive way to make do with a delayed opening due to the pandemic in 2020, Pasta Club has become an integral part of Aperitivo, offering "pasta e vino" to go. Every week they focus on a different region of Italy, thoughtfully pairing a bottle of wine with their fresh handmade pasta and sauce.
Our meal highlighted the island of Sicily, famous for its stellar cuisine. We started with a creamy burrata adorned with crushed pistachio, paired fabulously with golden Sicilian datterino tomatoes decorated with peppery wild arugula and delicate arugula flowers. The arugula from Sweet Wheel Farm had an enhanced spiciness not found in typical
CHEF Brian Dodero of Aperitivo & Pasta Club | LOCATION private residence in Montecito
Teak Warehouse table & chairs
Lilla Bello florals
The Hideaway Wine Co. rosé Hudson Grace placemats, plates, cutlery & glassware Linen Tales napkins, Clic
Lilla Bello florals
Misa dress
Adoore dress
Teak Warehouse table & chairs
Lilla Bello florals
The Hideaway Wine Co. rosé
Hudson Grace placemats, plates, cutlery & glassware
Linen Tales napkins, Clic
38 MAY /JUNE 2023
grocery stores. The Summerland farm prides itself on pure and sustainable regenerative farming, which owner Leslie Person Ryan explains takes organic a step further. "Regenerative farmers put the soil first. We don't use any pesticides, herbicides, push chemicals, or additives. Nothing. We believe from the ground up," says Person Ryan.
The quality that comes from natural farming is obvious in the bright salad that accompanied the meal. Crisp lettuce topped with sweet strawberries and juicy blackberries. The flavors of the produce speak for themselves under a light drizzle of olive oil.
To Person Ryan, summer means welcoming in new produce that she's excited to use in her cooking. "If you like to cook, you want to begin with the most pure ingredients. You want it without chemicals, pesticides and herbicides. If you truly care about your health and the environment, that's what you'll start with and all else will fall into place," she remarks. Her passion to provide the local community with healthy and fresh food is clear.
The farm is gearing up for the new season and expecting beautiful fruit including yellow raspberries, pineapples, and granadillas—a sweet passion fruit marked by its orange shell. In addition to fresh produce, the Sweet Wheel Farm stand also sells ready made foods including their famed tortillas and addictive black raspberry curd.
Supporting local farms is key to Aperitivo's impeccable food. While they started as a wine bar, Dodero has made strong use of their kitchen. Utilizing seasonal produce means no set plates, but rather a new menu of innovative meals every week. "Everything is driven by what's in season. Every week we pick one of Italy's 20 regions, see what's available at the farmer's market and turn that into Pasta Club for the week," Dodero explains.
A beautiful platter of steaming pasta was the centerpiece of our dinner. Perfectly al dente spaghetti swirled in a heavenly spring pea green garlic sauce was by far the most unique pasta I've ever had. Topped with fava beans, sun dried tomatoes, shavings of firm
@SBLIFEANDSTYLE | 39
"'Regenerative farmers put the soil first. We don't use any pesticides, herbicides, push chemicals, or additives. Nothing. We believe from the ground up,' says Person Ryan."
Adoore dresses
Lilla Bello florals
Hudson Grace serving platter, serving utensils, placemats, plates, cutlery & glassware
Linen Tales napkins, Clic
Jenni Kayne serving board & blue glasses
Oat Bakery bread
Pasta Club pasta
The Hideaway Wine Co. rosé
@SBLIFEANDSTYLE | 41
Sicilian ricotta salata, and delicate pea tendrils, it was a work of art bursting with color and texture. The flavors left us speechless and we quickly cleared our plates. It paired perfectly with The Hideaway Wine Co. rosé.
Brian has no easy task crafting a new menu every week based on the seasons while still staying true to the region's cuisine. As for this summer? He's most excited to work with tomatoes as they're central to Italian fare and best when fresh off the vine during the summer. He has a host of recipes and ideas up his sleeve and I can't wait to see what's to come. Pasta Club brings exquisite yet easy food to the community, making it a staple for dinner parties.
"It's great because it brings people together. It only takes ten minutes to prepare the food and cook the pasta that was made only hours before. It's more than just a meal, you can share the experience with other people," Brian says. Here's to wishing Pasta Club was every day instead of every week! *
42 MAY /JUNE 2023
Lilla Bello florals
Hudson Grace placemats, plates, cutlery & glassware
Brown plates, Clic
Pasta Club pasta & burrata with Sweet Wheel Farms arugula
S T O N E H O U S E
RUSTIC CHARM MEETS CONTEMPORARY FINE DINING AT AWARD-WINNING STONEHOUSE
RESTAURANT
BY Alexandra Sharova | PHOTOGRAPHS BY Silas Fallstich
44 MAY /JUNE 2023
San Ysidro Ranch Meyer Lemon Tart
46 MAY /JUNE 2023
"The new menu is driven by the pursuit of offering guests the best quality ingredients in the world with a sense of showmanship and theatre."
Japanese Yellowtail Crudo
Crispy Skin Maple Leaf Farms Duck Breast
Stonehouse at San Ysidro Ranch sparks my nostalgia; growing up, it was the special occasion restaurant my family frequented. For me, it's filled with love, laughter, and the type of food where no matter your order, there's an unspoken guarantee that it will be delectable. So, in honor of my first visit of the year, I invited my mom to relive some memories over dinner.
The serene scent of lavender lining the driveway to the Ranch flows in the car window. We walk through a vine-adorned archway, past loquat trees sprinkled with lights. Aged leather seats, a bustling full bar, and a grounding fireplace catch my eye on the way to our outdoor table. The menu is a feast; brimming with enticing dishes, cocktails, and a wine selection so prestigious, Wine Spectator has bestowed the restaurant with its "Grand Award" nine years in a row.
Rich smoky notes, from the tableside-prepared blood orange margarita—the property's signature cocktail—flood my senses, as they slow dance to the nadir of a Spanish guitar. And like a well-timed performance, our appetizers decorate the table in unison. BeauSoleil oysters are innovatively topped with strawberry yuzu and accompanied by a rose mignonette, making for the most memorable oyster experience I've had to date, in both oyster quality (they're like silk) and flavor pairing. My bar for sea urchin is set high, after a particularly comprehensive omakase tasting in Tokyo, but this freshharvested local variant feels unreal. As though it was whipped into creamy goodness by Santa Barbara waves. In fact, most of the offerings are locally sourced, with many ingredients hailing from the diverse on-site garden. Due to the emphasis on seasonal dining, the menu is always evolving. "The new menu is driven
by the pursuit of offering guests the best quality ingredients in the world with a sense of showmanship and theatre," explains Matt Johnson, the Executive Chef.
I take a short break from focusing on the food before me to take in the scene. Twinkling lights ornament the veranda cover, like stars. The rustic setting is indisputably romantic— it's no wonder Kennedy and Jackie O. once honeymooned at this very spot, and why the space is filled with couples celebrating love. Between bites of citrus-infused yellowtail and truffle-topped venison ravioli—that's so aromatic that my mom, who does not eat meat, can't resist a taste—we catch up on life and look back on all the times we came here over the years.
Paying homage to European service, my Steak Diane arrives atop a gueridon, where the finishing touches and plating take place. As Chef mentioned, this isn't just dinner, it's an experience. The filet melts like it's magic, while the mashed potatoes are so smooth, they could pass for sauce. My mother, who in my opinion is the toughest duck critic out there, eats every crisped-to-perfection piece with a smile on her face—the mark of a positive review. Of course, there's still the final act: dessert. With less dramatics than the steak—but all the flavor—the Grand Marnier soufflé is drenched in crème anglaise before me. Reminiscent of a Dutch baby, the cloudlike ambrosial dessert is the finishing touch we needed.
On our way out, we're offered a tour of the acclaimed wine cellar, to which over 1,000 new bottles have just been added. I'm tempted, but having an excuse to come back to Stonehouse sounds like a good idea—especially to sample some of the rarest wines in the world. *
@SBLIFEANDSTYLE | 47
BAJA-INSPIRED TAPAS AND TEQUILA BAR DUSK REVIVES SANTA BARBARA'S NIGHTLIFE SCENE WITH A NOVELTY MENU OF FLAMBOYANT CRAFT COCKTAILS
BY Alexandra Lee | PHOTOGRAPHS BY Silas Fallstich
Picante Amante
The building was an enigma to passersby, its facade quiet and still as the evening scene came crawling to life along Santa Barbara's busiest promenade. The witching hour, when twentysomethings emerge from their dens to secure strong drinks for midnight adventures ahead, gave no clue as to the mystery occurring behind its closed doors. Locals knew of 524 State Street as the former Church of Scientology, before its purchase in 2020 by a commercial real estate team, and from then on it lay shut to visitors. "Every local knew of the establishment, but what went on inside was very mysterious to outsiders," says Lila Boyce, designer at local firm Anacapa Architecture, who transformed the building.
Come February, minimalist modern luxury hotel Drift gave the space a new life, its moody openair cocktail bar Dusk drawing inquisitive glances from visitors strolling State Street—though this time, for different reason. This new enclave of sophisticated spirits is understated in its design, a handsome respite from bright interiors and bougainvillea. Should passerby choose to give in to its gravitational pull, they'll be dazzled by the unbridled creativity that Dusk has dared to unleash in its novelty mixology. As its namesake hour would suggest, an evening here is a departure from expectations, an invitation to the unknown. Same building, different mystery…and long overdue that we discover what's inside.
"Our inspiration was to keep the mystery alive and do the unexpected," says Lila, in regards to the building's peculiar history. "We used black as our main accent, with concrete coming in a close second, and then warmed it up with wood." Accomplishing the unexpected has always been a trademark of Drift properties. Its primary location in San José del Cabo is a refreshing pause from towering family resorts and crowded pools, in exchange for desert-toned minimalism and tranquility. Their in-room showers, for example, are a playfully bold choice meant to push expectations for hospitality and design. In its partnership with Anacapa Architecture, which specializes in bespoke, nontraditional structures, Drift Santa Barbara pays
homage to its Baja soul while staying true to California's laid-back lifestyle. Flowing natural light, woody accents, and rattan light fixtures are staples within its aesthetic. Dusk's menu, similarly, is heavily inspired by Baja's raw seafood cuisine, serving up oysters and mouthwatering ceviche tostadas with a curated selection of non-name brand mezcals and tequilas.
So, let's get shaking! At first glance, the leatherbound menu's cocktail constituents pique my curiosity. Tomato water. Basil vermouth. Pink peppercorn tequila. Kiwi salt. Each unconventional item adds another layer to the mystery, and I'm eager to investigate. An endless lineup of multicolored syrups adorns the black bartop, and instantly the intention behind Dusk's minimalist atmosphere is clear—it's a seamless backdrop to let their kaleidoscope of drinks do the talking.
To ease into the heavier stuff, I start off with a Fine Fine Fine, a neon-green mix of midori, vodka, lime, cucumber cordial, and housemade kiwi salt. Our lively and charming bartender Claudia, whose hair is dyed an electric purple (you can't miss her) advertises this beverage for those who don't enjoy a strong alcoholic taste—sure enough, it tastes like those thirst-quenching agua frescas you'd crave at the beach as a child. I'd liken this drink to your unproblematic friend—sweet, refreshing, and uncomplicated, a reliable bet. Enjoy on a hot afternoon for a soft sense of euphoria, much like sipping an ice-cold lemonade in the dead of summer.
I'm feeling fine fine fine, having now graduated from lighter drinks to more complex flavor profiles. The Smoke 'Em If You Got Em is Claudia's favorite drink, so I know I'm in for a real treat. Mezcal fans, this is for you! The bestseller is smoky on the nose, balanced with a half-and-half mixture of mezcal verde and tequila, and a smoke-salt rim to match. Softer elements of smoked honey and ginger complement a red-hot chile de árbol tincture. This drink is everywhere at once, balancing spicy, sweet, and smoky elements with poise—for anyone looking to liven up a Friday night.
@SBLIFEANDSTYLE | 49
50 MAY /JUNE 2023
Into the Sky
Warning: for those who enjoy a spicy margarita, the Picante Amante is addictive. The sister beverage to Smoke 'Em, she packs a punch without the potency of smoky mezcal. Her fiery fuchsia hue evokes a daunting habanero heat, as passionate as the name would suggest (translated from Spanish, "spicy lover"). Prickly pear shrub rounds out the spice with a syrupy sweetness, contrasting its housemade pink peppercorn-infused tequila and matching rim salt.
If semi-sweet, tequila-centric drinks aren't striking your fancy, don't be deterred. Dusk does it all. Strong and savory signatures include the Sip On This, an Old Fashionedinspired concoction of mezcal reposado, fortaleza tequila, tamarind syrup, and bitters. Perhaps their most technical drink is a caprese-inspired martini (yes, caprese) dubbed the High And Dry, made with olive oil-washed vodka, basil vermouth, and house-filtered tomato water. Move over, dirty martini with a lemon twist! That's so 2022.
To credit this menu's genius, thank mastermind John Hardin, a community beverage master whose favorite color is pink, and whose colorful dreamlike concoctions are very much inspired by the vibrant hues of Palm Springs. How fitting that Drift opened its most recent location in downtown Palm Springs this March? The Dusk team is as lively as their drinks, emphasizing that the menu is all about having fun and stretching the limits of mixology. I mean, who else would invent a caprese martini?
With two spicy beverages lingering on my palate, it's time to tackle the heat with a tropical elixir. The Loves Train, a gin, pisco, guava, and pineapple concoction, is as refreshing as it is intriguing on the tongue. With primary flavors of summery fruit, the sweetness is rounded out by a bitter zing of prosecco on the finish. I find the duality of this drink to be extremely unique. One sip and your soul is swinging on a hammock in the Bahamas—it's tropical and flirty, an instant vacation for your tastebuds.
It's getting to that point where my cocktails are feeling lonely without some Baja bar bite company. The daily Ceviche Tostada features the freshest catch (in my case, a delectably tender sea bass) topped with chile, lime, and red onion. An off-menu favorite is the Ahi Tuna Tostada, a spicy, zesty, flavor-packed delicacy that has me savoring the last morsels. If you don't want to spoil dinner, opt instead for quicos, an addictive Mexican-style corn nut
snack dusted with sea salt and lime tajin—the perfect salty nibble to balance out sweeter drinks. Other bites include a fresh seafood cocktail, street cart fruit cup and vegan-friendly avocado tostada.
The time has come for the grand finale, a showstopping neon blue creation I've had my eye on all evening—as a product of the Instagram generation, I'm susceptible to anything with extra flair. Into The Sky holds as much star power in its presentation as in its unique flavor profile. Claudia describes it as essentially a kaffir lime-infused margarita with pistachio syrup and blue curacao, but its most interesting element is the bubble of rosemary smoke that hugs the top of the coupe glass. After it bursts, an eerie flood of smoke unfurls around the bartop, attracting wide-eyed reactions from all in the vicinity. This drink is for those who crave a little extra drama—or, who prefer their nightcap with a show.
When it comes to details, none are too tiny for Dusk. The team produces all of their rim salts in-house, from kiwi to pink peppercorn, a multi-day long process involving dehydrating the ingredient, crushing it, and mixing it in with salt. Even the tomato water in the High And Dry is house-filtered, and each of the tequila infusions and syrups are made by hand. It's a quality you can taste, and that ensures these bespoke creations truly cannot be found elsewhere.
This wizardry, however, is not even Dusk at its very best. The cocktail menu is not set in stone, subject to change as soon as every three months to keep the bar's creativity on high and its regulars on their toes. My insider intel also hints at a coffee-cocktail collaboration with Dawn, its third-wave coffee shop neighbor, also a project of Drift. Bartenders may even offer their own individual drink of the month—what they will concoct leads us back to the mystery.
As twilight begins to fall and darkness creeps through the open-air facade, I sit with my collection of rainbow-like cocktails, observing the after-hours scene come to life. An Into The Sky bubble pops to my left, and my eyes meet those of nightcrawlers beginning to traipse State Street in search of adventure. They have no idea where the evening might lead them, another enigma yet to be solved. My night is just beginning, though I'll remain here at Dusk long after the sky has faded to black. *
52 MAY /JUNE 2023
Anne Sisteron ring Daily Ceviche Tostada
Panchakarma A RETURN TO SELF
HOW A 5,000 YEAR OLD TRADITION BROUGHT ME BACK TO MY CENTER
BY Alexandra Sharova | PHOTOGRAPH BY Silas Fallstich
Over the last few years, I've felt a pull towards a natural and holistic way of life, onerooted in listening to and honoring myself. This has brought me to healers, herbalists, seers, an array of yogas, breathwork classes, plant medicines, and other ancient practices that are experiencing a resurgence. While searching for local wellness programs, I discovered Panchakarma—a sort of "cleanse," for the mind, body, and consciousness, based on Ayurvedic principles. I had to try.
I meet Corinna Maharani—of her namesake business, Maharani Ayurveda—at her downtown Santa Barbara office for an initial consultation, to determine my elemental makeup and from there, my 3-day treatment course. It's aromatic and inviting: the scent of spiced tea and sweet floral candles glides across marigold, saffron, and tangerine decor.
Everything—including the teachings the program is based on—is from India, or inspired by it. Corinna explains that everyone is born with their Prakriti (constitution); a specific combination of the three doshas (Vata, Pitta, Kapha)—which spring from the five elements of nature (ether, air, fire, water, earth). After taking my pulse and asking many questions, it is determined that my level of Vata is too high, which leads to heartburn, digestive issues, an overactive mind, etc. I leave
with instructions for a detox in preparation for Panchakarma, in ten days.
Day 1
After following a clean diet, limiting my stress (as much as I could), and doing nightly oiliation— drinking almond milk with spoonfuls of melted ghee to help reduce inflammation—I arrive for my first day of Panchakarma. The goal is to balance my Vikruti (the imbalance of one's Prakruti), from the inside and outside. After a warm cup of tea, I enter the welcoming treatment room. We begin with Abhyanga, a head-to-toe warm oil massage that's grounding and Vatacalming. I don't know about my dosha, but the peaceful music and deep strokes put me in a state of hypnagogia. Next is Swedhana, an herbal-steam bath with a customized blend for cleansing, hydrating, and relaxing the skin and muscles. The last body treatment is Udvartana: a brisk lymphatic system-stimulating botanical scrub, to revive me from my sleepy state. Before moving on to my first ever Shirodhara, Corrina reads me a Rumi poem; it feels like the message is meant for me.
Over three hours after arriving, I find myself lying face up with a bronze, oil-filled pot suspended above my head…this should be interesting. As the infused oil pours over the crown of my head
54 MAY /JUNE 2023
SBLS wellness
56 MAY /JUNE 2023
"While the novelty of foreign treatments is exciting, it's the 'trust in the process' and in my facilitator, that reinforces a crucial lesson: letting go of control."
in velvet caresses, my mind slows down—quieting and returning to my own equilibrium. Calm for me might not be the same for someone else; the aroma of patchouli might overwhelm others, but to me, a whiff leaves a sensory impact. I feel like I am in a trance, once again dozing off into a serene lull.
Day 2
A foot soak and two cups of tea later, we begin the session with an Indian head massage, followed by Nasya—a sinus treatment that opens and clears the channels. My ever-present congestion fades in seconds; I find myself being able to really breathe. While the novelty of foreign treatments is exciting, it's the "trust in the process" and in my facilitator, that reinforces a crucial lesson: letting go of control.
Next, Corrina performs Garshana, a raw silk glove massage that alkalizes the body, while increasing circulation. After that, we're on to Pinda, a cooling massage and body mask for hormone balancing, hydration, and combating inflammation. Wrapped up in soft cotton, I can't believe how luxurious this experience is. Having visited countless international spas, the level of attentiveness and personalization found here, surpasses all of them. Before Shirodhara, it's Rumi time: "the moon shines because it does not escape the night." I take this as a reminder to explore and embrace all of me—shadow and darkness included.
Day 3
I arrive calmer and more at ease in my body than I've felt in months. Today, we're going more into the energy-work side of Panchakarma. Corrina explains that Marmas are energy points through which Prana (life force) enters the body, and that this subtle therapy enhances flow and communication between our organs and tissues. My Marma session ends on the heart chakra, with a lotus oil filled dough ring placed over my heart and a rose quartz stone just above it. Ironically, I feel lighter, like a weight has been lifted off of my chest, and I have sunk deeper into myself. I leave renewed, with an overwhelming sense of gratitude for the gift Corrina has given me.
While many wellness trends focus on a one-size-fits-all approach and on changing something about ourselves, Maharani Ayurveda stems from a five-thousand-year-old Vedic tradition that's all about embracing and honoring your unique disposition. Bespoke treatments, serve as custommade compasses, bringing you back to your optimal state. Panchakarma feels like coming home, to the Self. *
@SBLIFEANDSTYLE | 57
summer house
SBLS fashion
PROPERTY LISTED WITH CRISTAL CLARKE, BERKSHIRE HATHAWAY HOMESERVICES MONTECITO-ESTATE.COM | 805-886-9378
PHOTOGRAPHS BY Angelo Sgambati | STYLIST Ottocina Ryan
MODELS Natalia Sirotina & Gwen Van Meir with Women Management
HAIR BY Andre Gunn | MAKEUP BY Nicole Chew using Chanel Beauty
LaPointe duster, Allora by Laura So De Mel swimsuit Ancient Greek Sandals slides
60 MAY /JUNE 2023
Nili Lotan dress, Allora by Laura Anne Sisteron earrings & bracelet
So De Mel bikini top Gucci shorts, The Webster Anne Sisteron Earrings
On Gwen So De Mel bikini Dorothee Schumacher coat, Allora by Laura Anne Sisteron earrings
On Natalia
Peter Cohen top & pants, Allora by Laura Anne Sisteron earrings Alexis Bittar choker
@SBLIFEANDSTYLE | 63
Anne Sisteron earrings
So De Mel swimsuit ban.do raft
So De Mel bikini
Solid & Striped skirt
Anne Sisteron earrings
@SBLIFEANDSTYLE | 67
CIVIDINI tank top, Allora by Laura Alexis Bittar earrings
68 MAY /JUNE 2023
So De Mel bikini
Chanel tennis racquet mirror bag, The Webster Alexis Bittar earrings
MEIMEIJ dress, Allora by Laura Alexis Bittar earrings & bracelet Amanu sandals
Dèluc. dress, Whiskey & Leather Anne Sisteron earrings
On Gwen Stillwater dress, Whiskey & Leather Anne Sisteron earrings & necklace
On Natalia
Dèluc. dress, Whiskey & Leather Kai Linz earrings, Allora by Laura
74 MAY /JUNE 2023 SBLS travel
the coastal cowgirl
IMMERSE YOURSELF IN A BYGONE ERA AT ALISAL RANCH
BY Alexandra Lee
Cowgirl dreams can run wild and free amongst the 10,500 acres of natural beauty at Solvang's Alisal Ranch, California's premier luxury dude ranch. Country roots and a close bond with nature are rediscovered here, where horses and cattle graze as openly as they did in the 1800s, under the indigenous Chumash. Alisal is an all-in-one host of experiences and activities that can't be found even 30 minutes south in Santa Barbara. Spirited outdoor events include archery, air rifle, hiking Deer Canyon (where you may actually spot wild deer!), paddling Alisal Lake, guiding fishing trips, birdwatching, and of course two golf courses—if that isn't enough, you can hit the 50 miles of trails carved into Alisal's expansive acreage. Each of the western-inspired cottages are an ode to Santa Ynez's cowboy roots, back when the land served as livestock ranch maintained by the Spanish. No dude ranch is complete without its equestrian pursuits, for which Alisal has its own personal collection of 100 horses ready for daily rides to the lake and their renowned breakfast ride.
@SBLIFEANDSTYLE | 75
76 MAY /JUNE 2023
Photo by Nicki Sebastian
Photo by Teal Thompsen
Photo by Teal Thompsen
But, Alisal isn't without modern flair. A trip to the spa yields deep tissue massages and hydrating facials, well-deserved after a day spent roughing it up on the trails. The fine dining scene culminates at the Ranch Room, with a daily-changing menu offering Chef Craig Riker's fresh take on hearty ranch cuisine. A meal isn't complete without their famous peanut butter pie. Alisal's human watering hole, the Oak Room, serves up craft cocktails and beers on tap, with nightly live music and a fireplace hearth to warm your hands (and your heart). Everything you need for a retreat into the Central Coast's natural playground is right on property—but, a close proximity to world-class vineyards and Solvang's culinary hotspots doesn't hurt. If there's such a thing as escaping from Santa Barbara's beach town lifestyle, a touch of Wild West and a little country lovin' may be just what the soul needs.*
@SBLIFEANDSTYLE | 79
Photo by Victoria Pearson
BELIZEAN ESCAPE
Photo by Murray Ash
WHERE JUNGLE MEETS THE SEA, LIES A CULTURE ENRICHED BY HISTORY AND TROPICAL ALLURE
BY Alexandra Sharova
82 MAY /JUNE 2023
Ka'ana Resort
Ka'ana Resort
Travel is a simple word with many meanings; it can be luxurious, experiential, or adventurous. It can be a vacation, or a testing journey that pushes your limits. With that being said, I just spent three weeks exploring Central America—largely unglamorously—and it was time for a change of pace, a proper vacation from my vacation. It was time for Belize.
Glowing (read: sweating) from the Guatemalan heat we're leaving behind, my partner and I walk through customs, and across the border into Belize, where our air-conditioned ride awaits. A short drive later we arrive at Ka'ana Resort in San Ignacio. Our standalone villa provides the repose we've been seeking: a plush bed, tropic-inspired decor, and our very own pool just outside, that's all but calling us in. We oblige, plunging into the refreshing water. Vacation has begun
For dinner, we opt for one of the various activities offered by the hotel: an authentic Mayan cooking class with Mrs. Clarita and Amirita. The sisters guide us through step-by-step preparations of four traditional dishes, using ingredients largely harvested from the property's organic garden, all while sharing the richness of the Mayan culture. Cooking over a clay firepit, we make tamales, tortillas, and atole de masa (a molasses-sweetened porridge), all from scratch. The methods have been passed down from generation to generation; it feels like we're experiencing a glimpse of history with every banana leaf tamale we wrap. Accompanied by a cooling mojito from The Wallace bar, we enjoy our homemade meal that somehow tastes better thanks to the experiential factor. Satiated by food that feels like a warm hug, we turn in for the night, because tomorrow is another big day.
We rise, not quite with the sun but close, to catch a quick breakfast at La Cieba, before heading on a full-day tour. Fueled by tropical fruit and motuleños—a local dish comprised of corn tortillas, refried beans, ham, and fresh eggs from the property's own hens—we meet our driver and guide, Andy, and head off to the ancient Mayan city of Caracol. Once called Uxwitza, meaning "Three
Water Hill," the largely persevered archeological site provides a look into what life was like between 650 BC-950 AD in the region. On our way to the ancient city, we stop by Rio Frio, a colossal cave where the Mayans believed this world met with the underworld. I can see why. Standing inside the cave, surrounded by stalactites that hang like grandiose chandeliers, the only source of light is the sweeping 65-foot entrance. Between the chilling dampness and the overpowering energy emanating from its depths, I feel a sobering chill—this was, after all, the site of sacred sacrifices to the gods and a burial ground, once upon a time.
We continue on our journey to the ancient city that spans nearly 25,000 acres, while Andy shares insights about Belize. Turns out, the country is quite the melting pot, with Maya, Mestizo, and an array of African and Caribbean descendants making up the population to create the vibrantly diverse culture. After a very bumpy road, we arrive. Due to the low season, and the potential for rainfall, the site is largely empty, making it feel like a truly private tour. There's something indescribable about walking through the remains of a city that once housed over 150,000 people, deep within the confines of a tropical forest. Temples, hieroglyphic-inscribed tombs, and a skyscraper-high pyramid—which at 140 feet is still the tallest structure in the country— inspire awe. We have the privilege of walking through palace halls and rooms, where remnants of red paint echo what was once an opulent space. The highlight of the excursion is scaling up to the top of the temple where I can see for miles above the lush canopy; standing in the same spot as my predecessors did over two thousand years ago, I imagine what life could have been like for the city's inhabitants.
The verdant jungle is alive with chirping birds, animals ruffling through plants, and the unexpected beat of raindrops that quickly transform into a fullon torrential downpour. On the bright side, we're so sticky from the humid heat that the tropical shower is more than welcome. Back at Ka'ana, we take a swim at the pool and lounge under the setting sun— the perfect way to end a day of adventure. And
@SBLIFEANDSTYLE | 83
because tomorrow we're hopping to our second destination, we turn in early to the peaceful sounds of nature in full bloom, just outside our window.
A few hours by car, and a short boat ride from Belize City, we find ourselves on a private boat transfer, equipped with champagne, going from the dock in San Pedro, to the Alaia, an Autograph Hotel. The beachfront property mixes modern design with Caribbean style, all while taking inspiration from its surroundings. Crystal clear waters and white sand beaches are reflected in our one-bedroom suite. Thanks to contemporary styling—and a fourthfloor balcony looking out past one of three pools, right on to the sparkling sea—it feels like we're in Miami, minus the hectic overwhelm. Seeing the beach isn't enough; we have to experience it, immediately. A month away from my sacred place, where I recharge and find equilibrum, is far too long.
Plush indiviudal cabanas scatter the shore of the bay. The water is warm, almost hot, with the tranquility of a lake. It's saltier than the Pacific, so I float with ease, drifting gently into a meditative lull. We order cocktails and lounge under the Carribean sun rays, hands intertwined. I find myself relaxed in a way I hadn't been in months; there's something here. We clean up and dress up, for our first meal at Sea Salt. Seated inside, in the wine tasting room, we indulge in a four-course wine-paired dinner. Coconut shrimp with pina colada sauce starts us off, and it's like a dessert—sweet, crispy. Next, a traditional Belizean Serre with snapper—a dish that originated from the Garifuna culture—made with creamy coconut and vegetables. In-between courses our attentive server checks in and the sommelier refreshes our glasses, as we smile earto-ear. When the service and setting are aligned, you can truly sit back and enjoy your vacation, because you know you're in good hands. Though we're nearly satiated from the hearty meal, the beef tenderloin entree, set upon a sweet potato mash is the kind of dish you make room for. Like a filet, the meat melts as though it's butter. We split the Alaia's signature panna cotta dessert,
and with the happiest full bellies, head to bed.
I wake up at leisure, the true sign of a proper vacation, and head to the balcony. Journaling to a subtle sea breeze before breakfast might be the ideal way to begin a day. We head back down to Sea Salt, this time opting for an outdoor table to soak up the surroundings. The menu is extensive, offering everything from classic options like burritos and avocado toast, to an array of lobster-centric dishes— this is the Carribean, and Alaia fully embraces those riches. I get an cappuccino and the Chef's "Hangover" Cure, a sandwhich the size of my hand due to a hefty heapping of fluffy eggs and fresh brioche, to keep me energized for the day ahead. Our tour of San Pedro is by golf cart, the main mode of transportation in the area. It's not the quickest, but hey, what's the rush when you're on island time?
Secret beach, as the locals call it, is a quaint stretch away from tourists and time-share owners. We drink fresh coconuts gathered earlier that morning, swim, sunbathe, and read, before stopping by Truck Stop for Mai Tais and street food. Back at Alaia we test out the sweeping pool that's been teasing me from the room since we arrived. Couples on honeymoons, friend groups celebrating birthdays, and families enjoying reunions, are full of love and laughter—this is the type of place where worries can be put on pause, and you can drift away from reality, if only for a while. I watch the sunset from the balcony, wrapped in a fluffy towel, before heading up to Vista Rooftop for dinner. The rooftop—Belize's first bar and lounge of its kind— is bursting with energy: the DJ plays nostalgic hip-hop hits as people dance, sip on cocktails exclusive to the lounge, and some swim across the suspended pool. Seafood takes center stage here, and the octopus ceviche appetizer proves why with the very first bite. We munch on crispy rice rolls, poke, and sushi. Everything is fresh and brimming with abundance, from juicy fruit to buttery sashimi. Next on the itinerary, is Piano Bar, where Subhash, the on-site mixologist, makes magic. To the smooth sound of jazz in the background, I watch Bailey's,
84 MAY /JUNE 2023
"Couples on honeymoons, friend groups celebrating birthdays, and families enjoying reunions, are full of love and laughter this is the type of place where worries can be put on pause, and you can drift away from reality, if only for a while."
@SBLIFEANDSTYLE | 85
86 MAY /JUNE 2023
Alaia Resort
Alaia Resort
Kahlua, and Cointreau—all homemade—get infused with rosemary and hickory smoke. The process is as much a show as the musical performance. The Tiki Carmel Martini is sweet, but complex thanks to the various layers of liquor that dance together in unexpected harmony. This is the kind of nightcap that makes the night.
After a quick breakfast, it's time for our snorkeling tour aboard the Reel Escape—it is just that. Crystal waters transform under the playful sun; pockets of aquamarine, seafoam green, and torquise stretch for miles into the horizon, while the sky boasts every cloud type, scattered in abstract formation. The salty air feels like home, but the tropical tempatures are telling a different story. Along with our guide we plunge into the sea, home to the second largest reef system in the world. Because the area is so protected, the fish swim all around without fear of humans, allowing us to get close. The kaleidoscope of colors is hard to leave, but the turtles are next on our itinerary. Though this spot is much busier, following groups of sea turtles, old and young, small and large, across the ocean floor is so much fun. The last snorkeling spot is Shark Ray Alley, and the name says it all. As someone who's always had a huge fear of sharks, I'm both reluctant and excited to potentially overcome—or at least minimize—said fear. When the boat stops, our guides throw some bait to lure in the sharks, and in an effort to not change my mind, I jump in first. There are close to fifty nurse sharks swarming the boat and its surroundings. They are magnificent, and surprisingly, cute. While a particularly small one passes me, I reach out to touch it (this was allowed and encouraged, as they are not aggressive), and it feels like sandpaper. Having checked that experience off of my bucket list, we return to the boat for mai tais, continuing on to another part of the island for some free time.
We take photos of the vibrant docks, shacks, and outdoor "restaurants," after lunch. On our way back to Alaia, the clear sky we so enjoyed turns grey and murky. The one thing that's truly fast around here, is the change in weather. We stop to wait out the rain. It's torrential, but instead of hiding under the Bimini, I let the cooling rain wash over me, and it's euphoric. After fifteen minutes, we're back en route. I spot a rainbow, breaking through the gloomy sky: the moment is surreal. As the wind blows my hair back in wild contortions, I feel alive; connected to nature.
Somehow, the most memorable day is not yet over, we still have massages and a lobster dinner waiting for us ashore. Relaxed and in a blissful daze from a deep massage, we sit down in a private gazebo. A full moon overhead, the gentle whisper of waves playing a melody around us, and a decadent lobster infront of us—this is the type of stuff romance is made of. And though it's our last night in Belize, we're too present to think about our escape coming to an end, we're simply in the now.*
@SBLIFEANDSTYLE | 87
TRIBAL HEAT
PUNTA DE MITA IS A SURF TOWN-MEETS-JUNGLE ESCAPE IN MEXICO'S RIVIERA NAYARIT, WITH A FOCUS ON EPICUREAN EXCELLENCE AND INDIGENOUS HUICHOL CULTURE
BY Alexandra Lee
W
One remarkably warm December evening, my eyes creep open to find that sunset has finally caught up with us, fiery streaks of tangerine dance across the heavens as if the Mayan gods of the sky have just awoken. So have I. The mystical melody of the shaman's didgeridoo has replaced the buzzy thrum of tropical poolside beats, leaving my heart beating brighter than before. Cacao, after all, is the ancient Mayan medicine of the heart. To close the ceremony, I pull a tarot card with the word "foundations," pondering its significance—my conclusion is that even far from home, I can rely on my sense of self for stability. After a visit to W Punta de Mita in Mexico's Riviera Nayarit, it's clear that foundations here, too, run deep.
The energetic beach-chic resort, whose guest rooms are situated in tiers on a manmade spring-fed lake, is the Mexico you know and love. It boasts its own exclusive Jose Cuervo installation, a poolside DJ with a voguish house playlist, all-you-can-eat al pastor tacos, and piña coladas placed in your hand before you have time to object. But it's also Mexico, where Nayarit born-and-bred chefs are reinventing international cuisine (think foie gras and roasted duck) with Mexican nuance, where opportunities to partake in indigenous customs are abundant and authentic, without disingenuously parading culture
for tourism. The property is adorned with indigenous Huichol-inspired works of art, including Tapete Huichol, a massive elevated walkway that offers 360-degree views of the property, constructed by hand with over 700,000 mosaic tiles. Rest assured, you'll have plenty an opportunity for poolside tacos and Coronas, but you'll also leave with much more. Perhaps a clearer heart due to the spiritual intimacy of a cacao ceremony, or an inspired stomach after recreating Yucatán ceviche by hand. At the very least, you'll leave with a lasting suntan.
The resort's recent multi-million dollar renovation features a brand-new Jose Cuervo Reserva de la Familia installation, to which I had the pleasure of scoring a first-hand look. After an obligatory cocktail at the Living Room Bar, I make my way to the installation for a private tequila pairing dinner, an experience available to guests only by request. The installation is its own mini art exhibit, displaying the artistcommissioned collector boxes that have held Jose Cuervo's award-winning Extra Añejo since 1995. There's also a host of coveted spirits from Gran Centenario, 1800, Creyente, and others. My personal favorite is the Maestro Dobel Cristalino, a first-ofits-kind extra añejo that appears clear like a blanco, yet has a robust flavor with a smooth vanilla finish.
@SBLIFEANDSTYLE | 89
This is by far the most in-depth tasting experience I've had to date, in tequila, wine, or otherwise. The extremely knowledgeable and charismatic team explains differences in distillation processes, agave plant age, and the entire Cuervo family lineage. We start by tasting a tequila blanco two ways—straight from the bottle, and shaken with ice to smooth the burn. Our first paired course is a testament to successful Mexican-international fusion, a thinly sliced sea bass ceviche drowned in rich tomato sauce and salty capers, as opposed to the traditional citrusy version. Burrata in a pink hibiscus reduction, pork belly with pureed plantain, and delicate short rib with pickled onions follow. A small cup of sorbet is what I assume to be dessert, before realizing it's only the palate cleanser. Chocolate mousse with apple compote is the real thing.
Post-feast, my jungle suite's private outdoor shower and heated plunge pool sound like a divine retreat. My evening soak is interrupted only by soft jungle chirps and the occasional sounds of the tuk tuk, the resort's vehicle of choice, carrying laughter in the distance. This W has the curated feel of a boutique hotel, with the brand-name perks of 24 hour concierge service—though my night has a finite end time. I've got a 9 a.m. appointment at the Surf Shop, followed by taxing plans at the spa.
Because of its welcoming warm waters, Bahía de Banderas is ideal for a Mexican beach getaway—unlike Los Cabos, its gentler tide boasts swimmable white sand beaches and the duality of a lush jungle escape. In accordance with the region's ecotourism efforts, the property is built in harmony with its natural environment, carved around the jungle landscape without disrupting native ecosystems. Losing yourself in its winding maze of palm frond pathways (should you choose to forgo the tuk tuk) feels like a scene from The Jungle Book, and I half-expect Mowgli to come swinging from the vines.
Though my novice surf status has successfully dishonored the Santa Barbara reputation, even paddling out in the serene waters is enough of a win for me. After a morning of sandy exfoliation from many a wipeout, I give up and turn myself into
the spa for some unabashed pampering. AWAY Spa's signature Blue Agave massage is an aromatic escape, using the tequila-producing plant and warm stones to gently melt away tension from my spine, neck, and chest. While the 4,000 foot spa is paradise in its own right, its shimmering emerald hydrotherapy pools are the real showstopper, seamlessly blending into the surrounding jungle. Masseuse missed a spot? Not a worry—the spa's high-pressure water spigots are designed to break up muscle tension, pre- or post-treatment. Half a day could easily be lost here, sipping on herbal water and exploring this playground of hot and cold plunge pools.
Refueling takes place at Chevycheria, a charming ceviche stand whose interior and bar are constructed from the bed of a repurposed Chevy truck. It's here I can finally get my hands on authentic Mexican ceviche, although later I'll recreate their secret recipes in a hands-on cooking class. According to yesterday's tequila pairing, this ceviche should be enjoyed with a light beer and a view—and while I've opted for grapefruit margarita instead of Corona, it's in this moment that I find my beach. The Tostada Macha is to die for, with fresh sea bass marinated in salsa macha (a rich oil made from dried chiles) and topped with dollops of tangy mango puree. I strike up conversation with a woman two seats down, who's eating the same dish—originally from Portland, she now resides in the neighboring town of La Cruz de Huanacaxtle and runs a flower shop, though she divulges that she comes here regularly for a spa day and a ceviche lunch. Smart lady.
A golden sunset foreshadows a special evening at the resort's most enchanting venue. Stepping stones lead to a man-made island set inside a spring-fed lake, where I'm welcomed with a glass of champagne to the world's most exclusive restaurant (if not the most, then it's up there). Hosting only one seating per night, Mesa1's massive parota trunk table boasts its own hidden kitchen, an idyllic spot for proposals (of which they've seen many), and family gatherings for the epicurious. The chef's seven-course tasting menu with French and Mediterranean influences is an exquisite testament to the revelry of Mexico's
90 MAY /JUNE 2023
"In accordance with the region's ecotourism efforts, the property is built in harmony with its natural environment, carved around the jungle landscape without disrupting native ecosystems."
@SBLIFEANDSTYLE | 91
culinary talent. The menu is is curated according to elements of earth, water, and air, so that each guest can sample an entirely different array of flavors. My air menu includes foie gras, Mediterranean chicken with hummus, and duck roasted with Ancho Reyes for a jolt of signature spice. The sommelier presents only Mexican wines to pair, largely from Valle de Guadalupe, Mexico's version of Napa. My sea and land compadres enjoy octopus, braised short rib, and burrata dishes. Dessert, fittingly, is a dinosaur-sized chocolate egg which melts in a waterfall of Mexican hot chocolate, revealing a strawberry ice cream center. Instagram-worthy is an understatement. Our nightcap is a tiny thimble of pechuga, a mezcal that involves hanging a cooked chicken breast during the distillation process, adding a savory note to its final flavor.
Daylight indicates a field trip to the relaxed beach towns of Sayulita and San Pancho, where charming artisans pepper the papel-picado lined streets. W sources its quirky room decor from Sayulita home shop Pinché Mexico Te Amo, including the Frida-Kahlo-rocking-a-skateboard wall decal in my room (there's also an Emiliano Zapata version). The town has become more of a tourist hub in recent years due to its lively spirit and favored taquerias, while San Pancho remains a hidden gem for laid-back surf life. My afternoon back at W means recharging at the adults-only pool, reveling in its posh seating and tropical beats while watching the surf break in the distance. All the while, I'm unaware that the most transformational moment of my trip is about to unfold.
I'm invited to partake in a traditional Mayan cacao ceremony, an ancient ritual that promotes self-reflection and healing through the power of the sacred beverage. Our spiritual guides, a heartwarming mother-daughter duo whose community Kuku Cacao hosts gorgeous ceremonies for guests, begin by cleansing our negative energies with fragrant copal smoke. Over the next hour, each member of the circle speaks their intentions for the year ahead—for some, releasing self doubt and anxiety; for others, embracing the unknown. I press the cup of ceremonial cacao to my lips, and appreciate its herbal taste. We lay down, with our heads pointing towards the central fire, as the beverage works its magic inside my body, accompanied by the song of the shaman's didgeridoo. The ceremony concludes by throwing a seed into the fire—our guides explain that because fire is the purest element (it cannot be polluted), our wish is certain to come true. Somehow, this hour-long ceremony has fostered a greater
understanding of myself, and a deeper connection to strangers in the circle than people I've known for years.
Because cacao is detoxifying, it's important to rehydrate after the ceremony—luckily, it's a short jaunt to Spice Market, where the greeting is a cocktail of pomegranate liquor, pineapple, and champagne. That'll do! After all, the W promotes a "detox before you retox" lifestyle. This Pan-Asian eatery is Chef Jean-Georges Vongerichten's elevated take on Thai, Vietnamese, and Malaysian street food, and was a favorited hotspot in Manhattan's Meatpacking District until its closure in 2016. Now, you can only get your hands on its signature pork belly buns and drunken noodles at two locations throughout the globe: W Punta de Mita and Doha, Qatar. The resort's fusion of international flavors is a sage move, guaranteeing that there's always something for everyone's tastes, no matter how picky you're traveling with. Should such a thing as too many tacos be a pressing issue, I appreciate having the option of chicken samosas and miso sea bass for a refreshing change of pace.
My last day in Nayarit has visibly reiterated each facet of W Punta de Mita's soul, without even trying to. Its sense of place showcases local artistic talent from Sayulita and beyond, incorporating indigenous Huichol art into its very design. Its spiritual sincerity invites visitors to partake in ancient rituals, bringing their own sense of individuality for opportunities to grow, together. Culinary prowess runs far beyond the Mexican classics, reinventing global cuisine with a distinct Mexican twist. My tarot card has predicted correctly—here at W Punta de Mita, the foundation is authenticity, just as it should be for any global traveler hoping to immerse themselves in the wonders of cultures far from home. *
WHAT to PACK
SURF TOWN ATTIRE
CULT GAIA FLOREANA KNIT DRESS
$658
The vibrant energy of this hand-crocheted, floralinspired mini dress is sure to make a grand entrance. Perfect for Sip O'Clock at Tapete Huichol and midnight dance parties on the beach. cultgaia.com
LOEWE SMALL PASEO BAG
$2,900
Finally, a bag as frisky as you are…after a few margaritas. Its unique oblong shape makes a playful statement, while ultra-soft nappa calfskin leather complements your outfit in all the right places. loewe.com
GIGI C BIKINIS LYDIA SURFSUIT
$260
Surf's up! Warm waters call for an ultra-cheeky wetsuit–take your hang ten to the next level with this neoprene one-piece in a jungle-inspired emerald. Bonus points for the open back! gigicbikinis.com
$80 4
DIOR J'ADORE LES ADORABLES GOLDEN GEL
Nothing screams "beach vacation" like lustrous, glistening skin. This shimmering Dior body gel will take your tan to new heights with real 24k gold particles and a lingering jasmine fragrance. dior.com
by ALEXANDRA LEE
@SBLIFEANDSTYLE | 93
1
2
welcome
to the Genevieve
CHECK INTO SANTA YNEZ'S NEWEST HOTEL
BY Emma Roberts
Driving into Santa Ynez with low country tunes crooning in the background, my fiancé and I pass through the swoon-worthy western town and make our way to a newly reemerged hotel—the luxurious Genevieve. Spotting this beauty is like a movie scene: The Genevieve is a beautiful, two-story Victorian hotel with modern amenities, such as a Tesla charging station, a full spa, made-to-order breakfast, and one of my favorite hours: "Social Hour," an hour designated to meeting your neighbor in the dining area over complimentary wine and cheese.
The Genevieve is full of romance. We can't help but notice the perfectly manicured details of the lawn and garden area. Walking through the navy double doors, a subtle pomegranate candle scent wafts throughout the hotel. Coffered ceilings, giant fireplaces, and chair railings line the rooms. When we enter our room, we're greeted by music piping through the speakers, and picture frames of musical scores lining the walls. Crystal chandeliers hang throughout the twenty rooms and hallways, bringing you to another era, of a time long past. Everything is on brand, from the heavy silverware to the luxurious library whiskey lounge–where my fiancé ferociously beats me in multiple games of backgammon. I admit defeat…for now.
@SBLIFEANDSTYLE | 95
welcome
As for surprises, Chef Beto Huizar, formerly of The Landsby, joined The Genevieve and opened The Victor, which has an exciting progressive Californian menu. The next-door restaurant has white beadboard walls with contemporary art and mirrors, low lights, and indoor olive trees.
Chef Huizar grew up in Jalisco, Mexico, and learnt how to work with fire as a child to contribute to his family's nightly dinner cookouts. He describes his work as playing with fire, as it brings back memories of his childhood. Chef Huizar began working in the kitchen when he was eighteen by washing dishes, and learned sauces and stocks from a French-trained chef. He now has a Josper Oven, which is a live fire stainless steel oven.
Chef Huizar's love language is feeding others, and you can feel the love with every bite. His deviled eggs have smoked trout roe, mustard seeds, and Calabrian chili—a twist on a traditional recipe. Each bite has surprise bursts of briny, ocean goodness, with pops of saltiness from the mustard seed and trout roe. It's as if he elevated an everyday deviled egg to an elegant one. Chef's Morro Bay oysters on the half shell have a champagne cilantro mignonette, and taste bright, ocean fresh. The duck fat fries have a luscious fat to them, and the kobe filet mignon has just the right amount of char— cooked correctly and not overly seasoned.
For a couple of days, we are transported to a simpler time, of kindness and sophistication. Pulling out of the driveway and onto the road, we turn up some country tunes, and somehow, they sound even better with the thoughts of The Genevieve and The Victor in our heads. *
96 MAY /JUNE 2023
"When we enter our room, we're greeted by music piping through the speakers, and picture frames of musical scores lining the walls. Crystal chandeliers hang throughout the twenty rooms and hallways, bringing you to another era, of a time long past."
DAY 1 48 HOURS
STAY
"Modern classic"—an oxymoron that perfectly describes Drift Hotel.
Anacapa Architecture combined earth tones and minimalist coastal decor to reflect SB's understated luxury. Nestled between its Dawn café and Dusk bar, your morning cappuccino and evening paloma are a step away.
@drift.hotels
SHOP
From surfboards to wetsuits, and all sun and sea necessities in between, Mollusk Surf Shop is the place to gear up for your much deserved beach day and get a taste of Santa Barbara surf culture.
@mollusksantabarbara
BEACH
Sit back and enjoy the sun at Butterfly Beach in Montecito. Whether kayaking or basking, this favorite local spot is the perfect place to spend the day. Catch a coastal sunset as you pack up your towels and beach chair for an added bonus.
DAY 2
in Santa Barbara
DRINKS
Calling all tequila lovers! Dusk Bar offers a Bajainspired experience in the heart of Downtown Santa Barbara. Quench your thirst with a signature Sweet Gidget and curb your hunger with daily market catch ceviche. The best part? It's right below your hotel.
@duskbarsb
DINNER
France meets California at Black Sheep "SB Brasserie."
The ever-changing menu reflects the best locally sourced seafood and produce of the season. Struggling to choose what to order? Try "The Chef's Table" and let the head chef present seasonal dishes paired with selections from their award-winning wine list. @theblacksheepsb
SHOP
YOGA
BRUNCH
No weekend jaunt is complete without a proper brunch, and Scarlett Begonia is just the place. Sip mimosas on the outdoor patio and indulge in classics like Shrimp and Grits and Eggs Benedict. Make sure to try their famous Lemon Ricotta Pancakes!
@scarlettbegoniasb
BY Laura Hupp
Expand your summer wardrobe at Montecito's new luxury boutique Wunderkind. This curated selection of ready-to-wear designer, high-end shoes and handbags (boasting brands like Chloé, The Row, and Bottega Veneta) started in Scottsdale and has found a new home in Santa Barbara.
@shop_wunderkind
SAIL
Set sail with Santa Barbara Sailing Company. Charter one of their many Catalinas for the day at sea or plan a Channel Islands getaway.
@sbsailing
Take care of yourself at Sol Seek Yoga. Go back to the basics with a Roots class or elevate your practice with any of the varying levels of Flow classes. There is truly no better way to start your day.
@solseekyoga
DINNER
The garden, sea, and mountains meet at Gala. Here, the chefs simply cook what they love. Dishes like Shrimp Croquetas, Oyster Mushroom Risotto, and Wagyu Smash Burger fill the menu. It's no wonder the name comes from Salvador Dalí's wife—this dining establishment is a work of art. @galarestaurantsb
98 MAY /JUNE 2023
Photo by @photogenic.estate
Nestled above the Paci c Ocean in the foothills of the Santa Ynez Mountains, El Encanto, a Belmond Hotel, invites you to unwind and draw inspiration from this vivid sensory oasis.
8 0 0 A LVA R A D O P L AC E , S A N TA B A R B A R A , C A 93 1 03 | 8 0 5 8 4 5 5 8 0 0 | B E L MO N D CO M / E L E N C A N TO @ e l e n ca n to h o te l | @ b e l m o nd e l e n ca n to
FINE JEWELRY We strive to be your personal jeweler™ WWW.ANNESISTERON.COM @ANNESISTERON BEVERLY HILLS