EXERCISE O'CLOCK
TIPS TO EXERCISE ANY TIME OF DAY
CREATING CONNECTION
TWO SURVIVORS FIND FRIENDSHIP
FALL 2023
A NEW HOPE
DR. MONA SHAFEY'S NEXT-GEN RESEARCH PROVIDES PROMISE FOR PATIENTS
HEALTHIER HAPPY HOURS BENEFITS OF BOOZEFREE BEVERAGES
PM 40030911
THE ALBERTA ADVANTAGE
FEATURES 18-29 THE ALBERTA ADVANTAGE
Although Albertans are proudly diverse, cancer doesn't discriminate. But we speak openly about cancer journeys, offer donations and expertise and conduct research so locally grown innovations can improve the cancer experience. Albertans come together to support each other, give back to community and change the course of cancer — for the better.
COLUMNS/DEPARTMENTS
Learn
Dr.
11 DID YOU KNOW
A closer look at the four
12 FOOD FOCUS
Why Canada's alcohol guidelines changed, plus three tasty booze-free drinks to try.
14> WORKOUT
Whether you're a night owl or an early bird, get moving any time of day with these tips.
16 EXPERT ADVICE
Dr. Nimira Alimohamed shares advances in bladder cancer research and treatment.
30
LIVING WITH CANCER
Torey Erdman and Lorne Miller both lived with a rare cancer and now give back to others.
32 RESEARCH ROCKSTAR
Dr. Mona Shafey offers hope to patients with blood cancers.
35
MY LEAP
Two 11-year-olds raise big bucks for OWN.CANCER.
36
TRUE CALLING
Tristin Hamilton helped implement virtual care for rural cancer patients.
39 IMPACT
The Alberta Cancer Foundation helps two oral cancer survivors find friendship.
40
WHY I DONATE
A friend's cancer journey inspired Eva Wong to become a monthly and legacy donor.
41 APPLAUSE, PLEASE
A moment of gratitude for everyone who makes endowed chair positions possible.
42
GAME CHANGER
A charity partnership makes cancer care easier for Grande Prairie patients.
We want to hear from you!
Please take our reader survey and share your thoughts about Leap
myleapmagazine.ca FALL 2023 LEAP 3
CONTENTS
IMAGES (CLOCKWISE FROM TOP RIGHT): DANE THIBEAULT; MATEUSZ NAPIERALSKI; LINDSAY ELLIOTT; ANDREA_HILL, COURTESY iSTOCK
<6 FRONT LINE
about a now-legendary fundraising event and discover
Kirstie Suderman's cancer exercise research.
16
most common cancers in Alberta.
Dr. Nimira Alimohamed
Flip Leap over to read about trailblazers influencing the future of cancer treatment, research and care.
TRUSTEES
Dr. Chris Eagle (Board Chair)
Barbara Munroe (Board Vice Chair)
Cathy Allard Roozen
Brian Bale
Dr. Charlie Butts
Max Chan
Rajko Dodic
John Donald
Brenda Hubley
Dr. Dianne Kipnes
Chris Kucharski
Sandra Lau
William "Billy" Morin
Dr. Don Morris
Gelaine Pearman
Shelley Powell
Dr. Dean Ruether
Tom Valentine
Heather Watt
Albertans Helping Albertans
It's easy to think world-class cancer research and innovation only happens in far bigger cities with far bigger populations and far bigger facilities. But, it is happening right here in Alberta, thanks to donor support.
That's what this issue of Leap is all about: the Alberta advantage.
Because of Alberta Cancer Foundation donors like you, Alberta is attracting some of the world's brightest minds — like Dr. Jongbok Lee (pg. 23), who is pushing the boundaries of cancer treatment with immunotherapy. Being home to many trailblazers in cancer research means more made-in-Alberta solutions that are making a difference for Albertans facing cancer. Take, for example, the Syantra DX™ Breast Cancer test, a new and effective way to test blood and detect cancer earlier, made right here in Calgary (pg. 24). Or, CAR T-cell therapy research happening across the province, that is saving lives and promising improvements to the standard of care for many cancers in the future (pg. 32). Thanks to donor support, Alberta is also home to some of the most advanced technology — like the trailblazing MR-Linac machines that will deliver more precise radiation for patients receiving treatment (pg. 25).
Unfortunately, Alberta is also home to far too many people who will hear the words, "You have cancer." Our friends. Our neighbours. Our loved ones. Albertans like Leah Meier. On page 7, Leah shares her courage, her story of resilience and the incredible impact that she has had on Alberta Cancer Foundation's Enbridge Tour Alberta for Cancer. You'll also read about Bayo Oladele (pg. 21), who shares the importance of communities and how they shape our outlook on life with cancer. And, on page 20, you'll read about Gurpreet Kaur and her mother's story, highlighting the fact that individual cancer journeys are all unique yet universal, and, despite our differences, cancer doesn't discriminate.
And, while cancer doesn't care who you are, we do.
At the end of the day, it's all about Albertans helping Albertans. Without your support, an Alberta advantage wouldn't exist for the 23,000 people across our province who will face a cancer diagnosis this year. As you read through each story within, we hope you see the incredible impact you have made possible for your fellow Albertans — today and into the future.
4 LEAP FALL 2023 MESSAGE
DR. CHRIS EAGLE, BOARD CHAIR ALBERTA CANCER FOUNDATION WENDY BEAUCHESNE, CEO ALBERTA CANCER FOUNDATION
GET YOUR FREE ISSUE! VISIT albertacancer.ca/leap/ leapsubscription
PHOTOGRAPH BY JARED SYCH
Fall 2023 | VOL. 13 | NO. 2
ALBERTA CANCER FOUNDATION EDITORS
Ashley Tyler and Breanne Kraus
DIRECTOR, STRATEGY & CONTENT
Meredith Bailey
MANAGING EDITOR
Karin Olafson
ART DIRECTOR
Veronica Cowan
STAFF PHOTOGRAPHER
Jared Sych
CONTRIBUTORS
Colleen Biondi, Elizabeth
Chorney-Booth, Deaniell Cordero, Jason Dziver, Lindsay Elliott, Jennifer Friesen, Fabian Mayer, Mateusz Napieralski, Aaron
Pedersen, Michaela Ream, Lynda
Sea, Colleen Seto, Keri Sweetman, Dane Thibeault, John Ulan, Debby Waldman, Sean P. Young
PUBLISHED FOR
Alberta Cancer Foundation
Calgary Office
Suite 300, 1620 29 St. N.W.
Calgary, Alberta T2N 4L7
PROVINCIAL OFFICE
710, 10123 99 St. N.W.
Edmonton, Alberta T5J 3H1
Tel: 780-643-4400
Toll free: 1-866-412-4222
acfonline@albertacancer.ca
PUBLISHED BY RedPoint Media Group
cSPACE Marda Loop
1721-29 Ave. S.W., Suite 375
Calgary, Alberta T2T 6T7 (Letter mail only)
Tel: 403-240-9055
Toll free: 1-877-963-9333
Fax: 403-240-9059
info@redpointmedia.ca
PM 40030911
Return undeliverable Canadian addresses to the Edmonton address above.
CEO, CO-OWNER
Roger Jewett
PRESIDENT, CO-OWNER
Käthe Lemon
myleapmagazine.ca FALL 2023 LEAP 5
FRONT LINE
A Legendary Ride
The Enbridge Tour Alberta for Cancer celebrated 15 years this past July, making it the longest-running fundraising event in Alberta by
KARIN OLAFSON
RIDER REMEMBERED: TEGAN CARMICHAEL
While Krystal Clements says everyone who participates in the Tour is an inspiration, Tegan Carmichael is "an extremely legendary rider." In 2010, Carmichael was diagnosed with an oligodendroglioma brain tumour in her left temporal lobe. During treatment, which included many rounds of chemotherapy, two spinal surgeries and seven brain surgeries, Carmichael remained active — and participated in the Tour six times on teams that raised more than $60,000. Carmichael passed away on Feb. 19, 2019, at the age of 32, yet her dedication continues to inspire.
On June 27, 2009, more than 1,700 cyclists rode 200 kilometres over two days in Alberta's first Enbridge Ride to Conquer Cancer. Fifteen years later, this event, which was rebranded as the Enbridge Tour Alberta for Cancer in 2021, is still running strong. Yet its longevity isn't the only reason the Tour has become a legendary summer event.
"If you can keep any event running for 15 years, it's pretty incredible. But to keep an event going for that long when you are asking people to fundraise at least $2,500 and cycle up to 200 km over two days, neither one of those things are easy! But people continue to come back every year," says Krystal Clements, manager of the Enbridge Tour Alberta for Cancer. "There isn't another large fundraising event like this in Alberta."
The Enbridge Tour Alberta for Cancer is an important annual event for Albertans and has reached legend status through the funds raised, which this year was more than $5,650,000. It's also lauded for the community it creates: each year sees more riders, ambassadors, sponsors and volunteers, with top sponsors offering to pay registration fees, organizing team training rides and even matching donations.
The Tour is full of legendary riders like Carmichael. And it's riders like her that built this community of support for over 15 years.
But what truly makes this event legendary is how inclusive it has always been — and always will be. Everyone is welcome to participate, whether they're cycling newbies, seasoned pros, cancer survivors or individuals in the midst of a cancer journey. Clements calls every single rider who signs up and welcomes them to the Tour, pairs them up with a supportive team, and offers them personalized fundraising and training support. From the onboarding to the fundraising to the pedalling, no one is ever alone.
Fifteen years after its launch, each and every rider is still challenged, cared for and making a big difference for Alberta cancer patients.
6 LEAP FALL 2023
PHOTOGRAPHS COURTESY ALBERTA CANCER FOUNDATION; (OPPOSITE PAGE) COURTESY LEAH MEIER
ALBERTA'S LONGEST-RUNNING FUNDRAISER | ADVANCING CANCER EXERCISE RESEARCH
RIDING WITH COURAGE:
LEAH MEIER'S STORY
In 2013, on a whim, Leah Meier decided to register to ride the 200-km Enbridge Tour Alberta for Cancer (then the Ride to Conquer Cancer). But life was busy and it was tricky to fit in any training, so she pulled out before the event day.
Fast-forward to June 2018, and Meier was diagnosed with stage 4 colon cancer that had spread to her liver. She started chemotherapy in July and had her first big surgery in November. "By early 2019, I felt like I was at the lowest point in the journey so far," says Meier, who lives in Taber. "But details about this Ride to Conquer Cancer kept coming up on my Facebook feed. I felt this pull and knew it was something I wanted to do, even though I wasn't slated to be done with chemo for another two months and was still recovering from surgery."
She signed up to ride in the Tour in January 2019, and her friends and family were on board immediately.
Meier became captain of Team Leah, which started out with seven riders and has since grown to 19. Meier and her team have ridden for five years, including during the pandemic, and raised between $50,000 and $72,000 each year.
"The Tour has done so much for me in every single way. There's that saying about turning pain into purpose, and
the Tour certainly checks that box for me. Prior to my diagnosis, I saw all these people riding for years and raising funds. Little did they know they were raising money for me personally. It was time for me to start giving back," says Meier.
At the end of 2019, results from her checkup scans showed the cancer had returned in her lungs. Since 2020, Meier has had six lung surgeries. The upper lobes of both her lungs have been removed, but her cancer journey never stopped her riding.
"After my most recent surgery in February this year, recovery felt like a slog," she says. "But the Tour gives
me such a focus. I think it's a huge reason why I've been able to recover as well as I do. If I didn't have this goal of riding 200 km each year, I don't think I would be as motivated."
And Meier has no plans to stop leading Team Leah. "The Tour is a good reminder of what we're all capable of doing."
THE NUMBERS: 15 YEARS OF PASSIONATE PEDALLING
18,000+ Total number of riders who have participated in the Tour.
$94 million The amount of money the Tour has raised for the Alberta Cancer Foundation since 2009.
54 million+ The total number of kilometres cycled.
83 The age of the oldest-ever Tour participant.
16 The age of the youngest-ever participant.
114 The number of Alberta cities and towns represented this year.
18 Number of riders who have participated in the Tour every year since 2009.
FRONT LINE myleapmagazine.ca FALL 2023 LEAP 7
BY
"The Tour gives me such a focus. I think it's a huge reason why I've been able to recover as well as I do."
—Leah Meier
BRIGHT MIND
A love of exercise and a challenging personal experience drove Dr. Kirstie Suderman to become both a physical therapist and researcher in cancer exercise and rehab
by COLLEEN BIONDI
irstie Suderman has always been active. For years, she used cross-country skiing, hiking and biking to combat stress and connect with family and friends. This love of movement led to her earning a kinesiology undergraduate degree in 2011 from the University of Alberta (U of A), and, in 2012, she was accepted into the master of physical therapy program at the U of A.
But then, life took a turn.
Suderman was training for a triathlon when she developed a deep vein thrombosis — a blood clot in a vein far beneath the surface of the body — in her left leg. She underwent two years of rehabilitation to restore nerve function and re-learn to walk. Her dream to pursue graduate studies in physical therapy was derailed.
This challenging experience inspired her to advocate for the needs of patients. Today, Suderman is a physical therapist and researcher. Her career began in 2015, when Suderman approached Dr. Margaret McNeely, professor in the department of
physical therapy and director of the Cancer Rehabilitation Clinic at the U of A, about helping deliver a new exercise program as part of a study for individuals living with cancer. The study was the Alberta Cancer Exercise Feasibility Trial. It taught cancer survivors how to incorporate gentle aerobic and resistance exercises into their weekly routine. Suderman spent a year there as a research assistant for McNeely, helping patients with their exercise programs and collecting data. She saw the positive results firsthand — participants talked about increased stamina and strength, decreased fatigue and
improved everyday functioning.
"That made me want to pursue a career in cancer research," says Suderman.
In 2015, Suderman was accepted as the first student in a combined master of science degree in physical therapy and a PhD in rehabilitation sciences in the faculty of rehabilitation medicine at the U of A. For seven years, Suderman juggled the demanding combination of coursework and clinical rotations to become a physical therapist and complete her doctoral studies.
With McNeely as her doctoral supervisor, Suderman led research studies focusing on patient engagement in cancer-specific exercise. Her first study took place in 2016: it was a sub-study of the feasibility trial and examined barriers to exercise participation. As part of her doctoral studies, Suderman conducted focus groups with 33 individuals living with cancer before and after their participation in the feasibility trial. The results were clear and consistent: participants said they were interested in exercise as part of their care and recovery, and that they wanted programs to be run by trained exercise professionals in community-based settings (not at hospitals).
Results also found that few healthcare providers had informed them about the value of exercise throughout the cancer journey. In fact, 93 per cent of participants self-referred for the trial.
"There is a lot going on with clinical interaction," says Suderman, adding that the feedback they got from participants was that "exercise was a low priority" for health-care providers who were often more focused on discussing acute cancer treatments. "Further understanding is needed regarding the poor rates of reported physical activity by individuals with cancer, despite robust evidence of benefits for exercise towards oncology disease-related symptoms."
Suderman's next study in 2020 was
FRONT LINE myleapmagazine.ca FALL 2023 LEAP 9
DR. KIRSTIE SUDERMAN IS A PHYSICAL THERAPIST AND RESEARCHER. HERE, SHE DEMONSTRATES AN UPPER BACK STRETCH.
PHOTOGRAPHS BY LINDSAY ELLIOTT
a sub-study of a subsequent fiveyear, province-wide initiative called the Alberta Cancer Exercise (ACE) effectiveness-implementation study. (ACE is led by McNeely and Dr. Nicole Culos-Reed from the University of Calgary.) Suderman surveyed 127 patients in the ACE study about virtual exercise programming. There were two groups: 88 individuals who had participated in the exercise programming in-person and 39 had participated virtually during the COVID-19 pandemic. All respondents expressed concern about the risks of in-person exercise during the pandemic. Respondents also reported they would be interested in virtual
options, but were wary about technological issues and wondered how emotional support — easily provided during in-person exercising — could be realized with virtual exercise options. These findings helped inform virtual exercise programming and make it more accessible for individuals with cancer.
Suderman says making exercise a standard of care, along with traditional cancer treatments like chemotherapy and radiation, will require more than educating health-care providers and patients about its importance. She adds that it will also require creating and implementing more widely accessible community-based exercise
SUDERMAN SAYS ONE WAY TO MAKE EXERCISE A STANDARD OF CARE IS TO CREATE AND IMPLEMENT MORE WIDELY ACCESSIBLE COMMUNITYBASED EXERCISE PROGRAMS.
programming and encouraging patients to participate during one of the most vulnerable times of their lives.
Suderman successfully completed her PhD in December 2022. Since March 2023, she has been a co-investigator with the Control 4 Life study, which is designed to explore the importance of education and exercise to address pelvic, sexual and metabolic health for men following prostate cancer surgery.
Suderman says working in this field as a researcher, clinician and advocate to help patients live fully with and beyond cancer has been both a privilege and an honour.
"It is the most rewarding experience I have ever had."
10 LEAP FALL 2023
PHOTOGRAPHY BY LINDSAY ELLIOTT
The Four Most Common Cancers in Alberta
In 2023, 23,000 Albertans will face a cancer diagnosis. That's a big number, especially considering most of these diagnoses will be for either breast, prostate, colorectal or lung cancer. These four cancers account for 50 per cent of all new cancer cases in the province. Despite the sobering numbers, Alberta Cancer Foundation donors play a pivotal role in improving cancer outcomes by helping fund clinical trials. Clinical trials are research studies that provide patients with access to leading-edge therapeutics and enable researchers to fine-tune and expand current methods of preventing, detecting and treating cancer. Discoveries from these studies help determine if new treatment options are safe and effective for use and provide optimism for other people who will face cancer in the future. Here, we take a close look at the numbers.
BREAST CANCER
In 2022, 3,522 Albertans were diagnosed with breast cancer and that number is expected to increase by 3.5 per cent this year. Even so, breast cancer has some of the best outcomes: the five-year survival rate for someone diagnosed with stage 1 breast cancer is 99 per cent. Alberta currently has 75 active breast cancer clinical trials that will enhance the outcomes for patients with a breast cancer diagnosis.
PROSTATE CANCER
This common cancer can be highly curable when caught early. In Alberta, the five-year survival rate for men diagnosed with stage 1 prostate cancer is 97 per cent. The province is currently engaged in 49 active clinical trials dedicated to prostate cancer, aiming to elevate treatment and discovery for Albertan men.
LUNG CANCER
This year, 2,817 Albertans are expected to receive a lung cancer diagnosis. Unfortunately, lung cancer is associated with one of the lowest survival rates. The five-year survival rate for a stage 1 lung cancer diagnosis is 63 per cent and just six per cent when diagnosed at stage 4. However, there are currently 72 active lung cancer clinical trials across Alberta discovering new treatment options and innovations.
COLORECTAL CANCER
Last year, 2,212 Albertans were diagnosed with colorectal cancer. While the five-year survival rate for patients diagnosed with stage 1 colorectal cancer is 95 per cent, the survival rate when diagnosed at a later stage is just 14 per cent. There are currently 25 active clinical trials in the province — a significant step towards improving treatment and longterm outcomes for Albertans.
DID YOU KNOW?
In 2022, the Alberta Cancer Foundation disbursed approximately $18 million to research and clinical trials in Alberta. Read more about Alberta-made investigator-initiated trials (IITs) on page 26.
DID YOU KNOW myleapmagazine.ca FALL 2023 LEAP 11
WATERCOLOURS BY
ILLUSTRATIONS
PP7, COURTESY iSTOCK;
BY APPLEUZR, COURTESY iSTOCK
The Happiest Hour
Why Canada's alcohol guidelines changed and how liquor consumption affects cancer risk
Canada has long had a boozy history, from the first introduction of beer by European settlers in the 1700s to the deeply problematic trading of alcohol during the fur trade, and later, home brewing and rum-running during Canada's prohibition era. When raising a toast today, Canadians continue to love their liquor: 80 per cent of Canadian adults drink.
In the early 20th century, alcohol was connected to increased cancer risk and declared a Group 1 carcinogen, meaning there was conclusive evidence
by MICHAELA REAM
of it causing cancer. Fast-forward to 2011 and the National Alcohol Strategy Advisory Committee guidelines, called Canada's Low-Risk Alcohol Drinking Guidelines, reported that 15 drinks per week for men and 10 for women were considered a low health risk when it came to developing diseases like cancer, as well as high blood pressure and other health issues.
"The body breaks down alcohol into a toxic chemical that can damage DNA and cells, causing the cells to grow and multiply out of control, which
can create a cancerous tumour," says Andrea Holwegner, founder and CEO of Health Stand Nutrition Consulting Inc. in Calgary.
For those living with cancer or undergoing treatment, limiting or abstaining from alcohol is even more relevant, as alcohol can worsen the side effects of chemotherapy and increase the risk of developing other health problems, such as high blood pressure or liver damage.
Holwegner also notes that alcohol can disrupt sleep, reduce the effectiveness
12 LEAP FALL 2023
PHOTOGRAPHS (THIS PAGE) BY 5PH, COURTESY iSTOCK; (OPPOSITE, LEFT TO RIGHT) COURTESY MOBU; COURTESY WILD FOLK; COURTESY VILLAGE BREWERY
of insulin for individuals with diabetes, cause blood sugar levels to fluctuate, negatively influence digestive health and exacerbate symptoms for people struggling with mental health. With seven calories per gram of alcohol, it can also lead to excess calorie intake and potential weight gain.
However, despite the effects of alcohol and the plethora of warnings about consuming in excess, it has remained a dominant part of daily life. In fact, 76.5 per cent of Canadians aged 15 and older reported drinking in 2019, according to Statistics Canada, and, between 2020 and 2021, the 3,180.1 million litres of alcohol sold could have filled 1,272 Olympic-sized swimming pools.
In 2020, the Canadian Centre on Substance Use and Addiction (CCSA) began an intensive study examining the relationship between alcohol and related mortality, disease risk, social harms and cancer risks in order to update the 2011 guidelines. In January
2023, the result of that study was released: no amount of alcohol is good for your health. The new guidelines suggest both men and women limit alcohol whenever possible, as health risks, including the risk of cancer, increase when individuals consume more than two alcoholic drinks per week.
Holwegner says the CCSA is simply sharing with Canadians that alcohol use comes with a risk. It's based on research that shouldn't be ignored and that should be used as a tool to help guide drinking decisions, whether by limiting the amount consumed or engaging in the increasingly popular "teetotalism," or full alcohol abstinence.
"For other generations, [like Gen Z,] the trending non-alcoholic drinking scene is growing," says Holwegner. "We're seeing fancier mocktail offerings, alcohol-free beers and spirits with added herbs to enjoy around friends and family, without the risks."
As a registered dietitian, Holwegner
hopes to see more people limit their alcohol consumption; however, she also strives to empower people to create a healthy and joyous relationship with food and their body by eating "healthfully and soulfully."
"Eating healthfully is about getting enough veggies and other healthpromoting foods for [physical and] mental health, energy and productivity," explains Holwegner. "Eating soulfully means saving room to enjoy foods chosen more specifically for taste and social fun."
For some, that may mean enjoying chocolate or potato chips, and, for others, it may mean an alcoholic drink, either alone or during social settings with friends. With increasing options for equally delicious alcoholfree options, it's still possible to keep the fun going while staying safe and healthy.
"There are no bad foods, only overall bad diets," says Holwegner, adding that everything in moderation is key.
THREE ALBERTA-MADE NON-ALCOHOLIC BEVERAGES
Try these delicious alcohol-free options that taste just as good as the real deal:
CRAFT KOMBUCHA BY MOBU KOMBUCHA
Made in: Edmonton
Try this: Haskap Kombucha
Learn more: mobukombucha.ca
BOTANICAL COCKTAILS BY WILD FOLK
Made in: Calgary
Try this: Bee's Knees Learn more: drinkwildfolk.com
CR*FT NON-ALCOHOLIC BEER BY VILLAGE BREWERY
Made in: Calgary
Try this: CR*FT Stout
Learn more: shop.villagebrewery.com
FOOD FOCUS myleapmagazine.ca FALL 2023 LEAP 13
Exercise O'Clock: How to Exercise Any Time of Day
Whether you like to get your workout in as soon as you wake up, after the sun sets or somewhere in between, here are tips to keep you moving
by KARIN OLAFSON
illustration by MATEUSZ NAPIERALSKI
It's perfectly natural for different people to prefer working out at different times of the day. In fact, the time you get your workout in doesn't matter — what matters is just getting in some movement each day, says Heather Mielke, an exercise specialist with the Lloydminster Primary Care Network and an Exercise for Cancer to Enhance Living Well (EXCEL) instructor since 2020. (EXCEL delivers exercise programming and resources to cancer survivors and thrivers in rural Alberta.)
"I tell my clients that
TRY AN EXERCISE SNACK
Another way to fit some movement into your day is to incorporate what Mielke calls "exercise snacks." Sprinkle little bits of activity throughout your day, like taking the stairs, going for a short lunchtime walk or doing some squats at your desk.
the best time of day to exercise is whatever works best for them. I often tell people that you are likely to do what you like to do, and you're likely to do it when you like to do it," says Mielke.
For individuals going through cancer treatment and tackling cancer-related fatigue, Mielke points out there might be less of a regular workout routine depending on the treatment journey and fluctuating energy levels.
"Individuals going through cancer treatment need to have a bit of flexibility and monitor how they're feeling. When fatigue is light and there are times of the day that they feel more energetic, they can try to get exercise in then," says Mielke, adding that this could differ day to day. "Any cancer patient I've worked with sees the benefits of the exercise, and once they get going, they find they have better energy and less fatigue."
Here, Mielke offers tips to help you get moving, regardless of the time of day you like to exercise.
14 LEAP FALL 2023 WORKOUT
TIPS FOR EARLY BIRDS
"If you're getting up to workout first thing in the morning, lay out your clothes — and maybe even wear your workout clothes to bed," says Mielke, adding that this day-before preparation minimizes early morning decision-making and means you're less likely to talk yourself out of the workout.
Try This: Walk or run Lethbridge's Oldman River valley parks system
Enjoy a solitary moment before the busyness of the day begins as you walk or run the pedestrian trails through one (or several) of the eight parks that make up this trail system. Highlights along your route include views of the Lethbridge Viaduct, more commonly known as High Level Bridge, the coulees and, of course, the Oldman River.
TIPS FOR MIDDAY MOVERS
Afternoon exercisers often need to plan their movement around lunchtime. "You need to fuel your body, but your choice of exercise could affect what you eat for lunch. For example, if I was going for a run at two o'clock, a heavy lunch likely won't sit well," says Mielke. "If you can't stomach lunch before you exercise, a snack will give you the energy you need to do the workout."
Try This: Climb the walls at Calgary's Bolder Climbing Community
Instead of opting for cardio in the middle of the day, try a lunchtime strength workout at this bouldering gym. Bouldering is similar to rock climbing, except the walls are shorter and there are no ropes. The centre is less busy in the early afternoon than in the evening, so you can tackle different climbing "problems" without the crowds.
TIPS FOR EVENING EXERCISERS
Working out in the evening can be a great way to get the whole family moving and, according to Mielke, "any time you can make it fun, especially if you've got kids, they're more likely to want to participate in the activity."
Try This: Visit Edmonton's Meadows Community Recreation Centre
Everyone in the family can find a way to move their body at this facility, which is open well into the evening. Swim a few laps in the 25-metre lane pool, challenge yourself to a group workout class, or get the whole family ice-skating at one of the centre's rinks.
TIPS FOR NIGHT OWLS
"Some people can do an intense workout before bed while others might prefer something quieter that sets the stage for sleep, like yoga," says Mielke, adding that listening to your body is most important. "There's no right or wrong way to exercise at night. As long as your nighttime exercise isn't interrupting your sleep and you're sticking with your workout routine, it's working for you."
Try This: Cross-country skiing at the Canmore Nordic Centre Skiing under twinkling lights while the snow gently falls is a magical way to get a nighttime workout in. The Canmore Nordic Centre has 6.5 kilometres of illuminated trail for the night skiers, and its warming hut is open daily until 9 p.m.
myleapmagazine.ca FALL 2023 LEAP 15
Advances in Bladder Cancer Research and Treatment
DR. NIMIRA ALIMOHAMED is a medical oncologist at the Tom Baker Cancer Centre and clinical associate professor in the department of medicine at the University of Calgary. She shares a decade of insights, including novel and Alberta-made bladder cancer treatments and research.
by SEAN. P. YOUNG | illustration by DANE THIBEAULT
16 LEAP FALL 2023 EXPERT ADVICE
Bladder cancer is the fifth most common type of cancer in Canada, yet it "has received less attention [than other cancers] in the media," says Dr. Nimira Alimohamed. "That being said, outcomes for patients are improving and patients with bladder cancer can live a long time."
Alimohamed specializes in researching and treating muscleinvasive bladder cancer and advanced bladder cancer, which usually means the disease has progressed beyond stage 1 and patients need aggressive treatment. Muscle-invasive bladder cancer is typically, though not always, treated by the removal of the bladder and neoadjuvant chemotherapy — that means the chemotherapy is given to the patient before surgery. "Both non-muscle-invasive and muscle-invasive stages of the disease are potentially curable," Alimohamed says.
Here, Alimohamed shares several promising advancements that offer hope for Albertans facing bladder cancer. >>>
Q: What are the symptoms to look for that may indicate bladder cancer?
"The most common symptom of bladder cancer is blood in the urine. If a patient has blood in the urine, they really should see their doctor quickly. Oftentimes, women are delayed in terms of getting a diagnosis of bladder cancer because, if a woman presents with blood in the urine, it's often [presumed to be of] gynecological origin, as opposed to starting in the urinary tract. So something to keep in mind, as well, is that both men and women can get bladder cancer."
Q: Why did you decide to focus on researching and treating bladder cancer?
"Between 2010 and 2014, while I was doing my medical oncology training, there were a lot of advancements in kidney cancer and in prostate cancer — the field was changing very quickly. But I realized there was a huge unmet need in the [bladder cancer] patient population."
Q: How has treatment advanced since you started working in the bladder cancer space nearly a decade ago?
"We've seen a lot of advancements. The introduction of immunotherapy has really changed what we do. Pembrolizumab is an immunotherapy drug that became available in 2018 only to patients with advanced bladder cancer. Immunotherapy has now moved into maintaining remission with another immunotherapy drug,
Avelumab. If those medications stop working, we now have another option, which is an antibody drug conjugate [targeted biopharmaceuticals intended to kill cancer cells while sparing healthy cells]. We also have targeted therapy for some patients. These are all options that we did not have 10 years ago. It's rapidly evolving in a good, meaningful way for patients in terms of improving their outcomes."
Q: What advantages do Albertans facing bladder cancer have when it comes to the research and treatment options available here?
"A few years ago, I was lucky enough to work with the PaCER [Patient and Community Engagement Research] group at the University of Calgary. We really wanted to hear the patients' voices as they were on their journey with bladder cancer. We're currently working on that research by taking exactly what the patients told us and trying to improve on our system so that patients throughout the province have standardized care. Our goal is that patients understand their disease, they understand their treatment options and they receive the right care at the right time.
"Over the last several years, we've had a multitude of clinical trials here in Alberta for our patients, which means that they have access to novel therapies before they become the standard of care. Our patients are also contributing to advancements in the field. Bladder cancer patients in Alberta now have improved quality and quantity of life."
myleapmagazine.ca FALL 2023 LEAP 17
ALBERTA ADVANTAGE The
Despite varying backgrounds, beliefs and religions, we are all Albertan. We're diverse and that is our strength. Regardless of our differences, cancer doesn't discriminate. It affects all of us and we come together to support one another.
Albertans generously give back to their communities, whether that's by bravely sharing cancer journeys, through donations or by conducting research that drives locally grown innovations to improve the cancer experience.
We attract incredible talent, cultivate cutting-edge research and encourage conversations that connect us. We create professional and personal camaraderie that is changing the course of cancer — for the better. That is the Alberta advantage.
LET'S TALK
as told to LYNDA SEA illustrations by DANE
THIBEAULT
For some, a life-changing cancer diagnosis comes with added challenges due to varied cultural beliefs, stigmas and attitudes. We spoke to four Albertans from various cultural groups who share how their different backgrounds affected their experiences with cancer. Ultimately, each of them found that, by sharing their stories and talking openly about their experiences within their respective communities, they are making an impact on others, as well as healing themselves.
18 LEAP FALL 2023
Let's Talk. . . . . . . . . . . . . . . . . . . . . . 18 Recruiting the Best to Alberta .. 23 Made-in-Alberta Innovations... 24 Albertan Altruism ............. 28
In 2019, Harjeet was diagnosed with a subcutaneous panniculitislike T-cell lymphoma, a rare blood cancer. She was 32. Kaur's diagnosis was complicated with hemophagocytic lymphohistiocystosis (HLH), an autoimmune disease she found out about after her cancer diagnosis. Harjeet grew up in India. She then lived in Dubai before moving to Edmonton in 2018. She was treated at the Cross Cancer Institute and the Tom Baker Cancer Centre when she moved to Calgary in 2022, and underwent a stem cell transplant during the early days of the COVID-19 pandemic.
HARJEET KAUR
"Cancer is a taboo and stigma in the South Asian community, specifically in the Indian communities. I've been advocating lots, because we don't talk about cancer much.
"When I was going through treatment for one-and-a-half years — my stem cell transplant and chemo — my family never spoke to me about it. I kept everything inside and I was really frustrated and isolated by the end of the treatment. The worst part for me was you lose your hair when you're having chemo and it was difficult for my family to see that. I kept my hair for two chemos because I didn't want my dad or mom to see me with a shaved head, but I was struggling to keep my long hair.
"By speaking up, I'm spreading awareness within my community that there's nothing wrong with sharing your journey, nothing wrong with showing your shaved head, nothing wrong with going through cancer treatment and talking about your feelings. I think these were my mistakes. When I was diagnosed, nobody wanted to talk about it. Nobody asked me how I was feeling. Everybody was like, 'You'll get over it. Just think positive.'
"For one and a half years, I kept all my feelings about my diagnosis and treatment journey to myself and it was so difficult. When I started writing my blog, My Cancer Battle, I used to write about my feelings because I was not able to discuss them with family and friends.
"I wanted to break through the stigma and reach out to more Asians in Alberta about the cancer experience. I wanted to show them the importance of discussing their diagnosis, being their own advocate when it comes to their health and listening to their body when they feel something is not right. I've been more vocal, sharing my journey and telling my story as a volunteer, patient advocate and on social media. I feel that it's part of the healing process. Now that I'm sharing it, it's empowering others to talk about their experiences with cancer. I know it takes time, but nobody should think that they are alone during this journey."
A RESOURCE HARJEET RECOMMENDS ELEPHANTS AND TEA
This is a magazine written for and by adolescent and young adult (AYA) patients, survivors and caregivers. Learn more at elephantsandtea.com.
myleapmagazine.ca FALL 2023 LEAP 19
LET'S TALK
READ HARJEET'S BLOG ABOUT HER CANCER JOURNEY BY VISITING CANCERWARRIOR.HEALTH.BLOG.
GURPREET KAUR
"My mother was diagnosed with stage 2 breast cancer in 2007. Before her formal diagnosis, she had a feeling that something was wrong and feared it might be cancer. However, she chose not to share her concerns with anyone, especially me, because it was my time to pursue my dreams of higher education in Chicago. In 2012, my mom's cancer resurfaced, and, during that time, I was fortunate to be able to return to India and spend a few months with her. It was a precious time we shared together. However, I had to return to the States due to work obligations, and, deep down, both of us knew that it would likely be our last meeting.
"I think my mom was in denial about her cancer. It was the culture, as well — growing up, if I had any health issue, my mom would say, 'Don't tell anyone. Just keep it to yourself.' All my life, this is what I heard the most: 'What are people going to think? What are people going to say?'
"She had many rounds of chemotherapy and radiation and a surgery. Because of the mastectomy, she thought, 'I don't look like a woman.' My dad started going to a lot of temples and places of worship so my mom could get better — that was his mentality.
"There are so many stigmas around cancer that are still prevalent in our society. And not just in the South Asian community, but in general, too. I've learned that you have to be your own advocate, even for cancer screening. In 2016, we had a trip planned to Hawaii and I was changing clothes and I felt a lump in my breast. With my mom's history, doctors wanted to be more diligent and I went in for a biopsy. It came out as fibroadenoma [benign tumours in the breast tissue]. I get a mammogram yearly, but if I find a new cyst that did not exist before, then I go for testing. I have to tell my doctor, I need this — even if she says it's no big deal, it's a big deal for me.
"The reluctance to undergo cancer screening within the South Asian community can be a combination of factors — the fear of receiving bad news, the stigma around cancer in the community and a general lack of awareness regarding the benefits of screening. My key message to all the patients and cancer survivors going through treatment is that you have to listen to your body, take your time and don't struggle alone.
"We need more people to share their stories. They would not only receive the support they need, but also inspire others to be proactive about their own health. A lot of people don't realize that early diagnosis leads to better outcomes."
Gurpreet, who is originally from India, moved to Calgary in 2015. In 2013, she lost her mom to breast cancer. She currently works as a philanthropy associate at the Alberta Cancer Foundation.
A RESOURCE GURPREET RECOMMENDS
MOBILE BREAST CANCER SCREENING
Screen Test started in 1991 and allows Albertans to undergo breast cancer screening in their own communities. The mobile screening units travel to 120 communities throughout Alberta. Learn more at screeningforlife.ca.
20 LEAP FALL 2023 THE ALBERTA ADVANTAGE
BAYO OLADELE
"Before diagnosis, I was experiencing pain all over my body. I'd go to my family doctor and he kept giving me painkillers and doing blood work. He said there was an elevation of protein in my body. I didn't know what it meant and he didn't tell me what it meant, either.
"After receiving the multiple myeloma diagnosis, I didn't know its gravity. I had never heard that word before in my life, so I didn't know what they were talking about. Then they said it's a type of cancer.
"The challenge we have, in the African community, is that nobody wants to talk about cancer. In the past, when you had cancer in Africa, it was assumed that the individual was going to die. It's just a misconception of how cancer really affects people.
"Before I was diagnosed, I didn't actually pay much attention to cancer. It was not one of the what-ifs. In my community, I didn't see people who were cancer survivors. Nobody wants to say they had cancer, so no one actually knows anyone who is a survivor. That gives the impression that everyone who had cancer has died.
"But cancer does not mean a death sentence. We want our community to talk about cancer and discuss it openly so we can collectively support anyone going through cancer. When we wrote the book, the community was surprised that somebody was bold enough to talk and write about cancer. Then we discovered other people that have cancer within the community — and nobody had known.
"In 2018, my wife and a friend went for community support group training with the Canadian Cancer Society and we wanted to translate this into helping our own community. That's when we started the African Cancer Support Group.
"Because Africans are such people of faith, we also started bringing those that have cancer and other diseases together for prayers and discussions. That's when we started what we call the Second Chance Healing Conference in 2018. Our goal is to support anyone going through cancer and to educate the community about the importance of cancer screening and prevention. At the end of the day, we want to reduce the number of people dying."
Bayo lives in Calgary, and moved to Canada from Nigeria 23 years ago. In 2016, he was diagnosed with multiple myeloma, a type of blood cancer. With his wife, Yinka Oladele, he runs The Oladele Foundation, which started the African Cancer Support Group for Calgarians in 2018. They also wrote the book, Second Chance: Surviving The Battles of Cancer to destigmatize cancer for African Canadians.
ABOUT THE AFRICAN CANCER SUPPORT GROUP (ACSG)
ACSG is based in Calgary and supports anyone within the African Canadian, Caribbean Canadian and Black Canadian communities going through cancer and other chronic diseases. It was started to support survivors, patients and caregivers, and for them to de-stigmatize cancer by sharing stories, symptoms, information and coping strategies. For more info, visit africancancer.ca.
myleapmagazine.ca FALL 2023 LEAP 21 LET'S TALK
Bob is Métis and lives in Calgary. He was diagnosed with prostate cancer in 2019. He is now a stage 4 metastasized prostate and bone cancer patient.
BOB PHILLIPS
"I've been fighting cancer for about four years now. I was suffering from an enlarged prostate. I would go and get it checked, but nothing ever really came of it other than doctors examining me with a cystoscope and giving me medication for the discomfort and pain. In 2014, I had to go in for a transurethral resection of the prostate, which is an invasive treatment option. But, by 2018, I couldn't even go to the washroom to pee and was in a lot of pain. I went to the emergency room, where they did another resection. They also took a biopsy at that time and that's when they found the tumour.
"I did not know I was not being taken seriously prior to diagnosis. I did not know the questions to ask and didn't understand the consequences of nipping it in the bud as soon as possible. I feel you've got to be suffering before you seem to get attention. I bugged the doctors, the oncologists and the urologists through the years, but they put it down to an enlarged prostate. They didn't educate me and explain, because they're so busy. It's your job to become aware, to ask questions.
"The Prostate Cancer Centre [PCC] at the Rockyview General Hospital has been my home base. I've also spent a lot of time at the Tom Baker Cancer Centre, mostly for tests and treatment, but I never saw one Indigenous person, that I know of, in the four years that I've been getting treatment. I know they go, but I don't see them.
"Indigenous People seldom are diagnosed, because they prefer traditional ceremony and herbs. There's great mistrust for the medical system. If Indigenous People want to do their traditional healings, there's nothing wrong with that, but they should also consider taking Western medicines, procedures, surgeries and whatever else can help them so they live longer.
ABOUT THE PROSTATE CANCER CENTRE (PCC)
The PCC fights prostate cancer by delivering one-stop support to men and families through rapid access to personalized care, research and education. It promotes overall health and well-being, and reduces the impact of prostate cancer in the community. Learn more at prostatecancercentre.ca.
"I've been volunteering with the PCC and through another men's group called Prostaid Calgary Society. Their role is to provide support for men. And I'm an Alberta Health Services volunteer with the Patient and Family Advisory Council for the new Calgary cancer centre. I also proposed a pilot program to [Wellspring Calgary and PCC] to help support rural Indigenous men to come into Calgary to get their treatment.
"Indigenous People have serious mortality rates and if they're diagnosed with cancer, it's like the thought is, 'What's the point?' That, to me, means they need treatment all the more. A lot of awareness and education needs to be done with Indigenous communities, and that's the hardest part. Don't ignore it; that's the worst thing you can do."
22 LEAP FALL 2023 THE ALBERTA ADVANTAGE
RECRUITING THE BEST TO ALBERTA
Dr. Jongbok Lee is ready to help Calgary push the boundaries of T-cell immunotherapy
by
DEANIELL CORDERO
Lee's research is in immunotherapy, a type of cancer treatment that uses our own immune system to treat cancer. Immunotherapy boosts the immune system's natural function to fight diseases to better prevent cancer cells from developing or worsening. It also helps stop cancer cells from spreading across the body.
Lee focuses on the body's T cells — a type of white blood cell that's part of the immune system — and how these cells can target cancer cells to revolutionize treatment. Specifically, he's focused on developing new cell therapies using a unique subset of immune cells known as double-negative T cells (DNT). Lee earned his PhD in immunology from the University of Toronto in 2019, where he researched how safe and effective DNT therapy is in fighting acute myeloid leukemia. Part of his research also involved investigating whether DNT can be used for cancer treatment on a large scale to reduce treatment costs and increase patient accessibility.
T-cell immunotherapy, in general, can be challenging, and Lee says that, "about half of eligible patients don't end up receiving treatment for several reasons." One of those reasons is financial, but there's also a significant wait time to access treatment, limiting its viability for those with serious conditions. "Making [DNT therapy] more of an off-the-shelf accessible approach will minimize the time a patient has to wait," he says.
In his hunt to further his research, Lee became intrigued by the innovation happening in Alberta. Another appealing aspect for him was joining the collaborative camaraderie of the University of Calgary's Alberta Cellular Therapy and Immune Oncology Initiative (ACTION) team.
"It felt like this was a team trying to build therapy to benefit patients as soon as possible in an optimal manner," Lee says. "It was a growing team with growing funding, and people understood what each member was doing."
Lee applied for, and was eventually hired by, the University of Calgary as an assistant professor in the department of biochemistry and molecular biology, passing on other potential opportunities in his native Toronto and overseas in Korea in favour of Alberta. He arrived in Calgary this past March, with funding and support from the University
of Calgary, Alberta Cancer Foundation and Alberta Children's Hospital Foundation, and opened his lab at the Cumming School of Medicine in July.
Lee spent his first few months in Calgary focused on building his team and deciding the next steps to rapidly translate his research findings to benefit patients with unmet needs. He's also excited to take on a strong mentorship role.
"One of my biggest passions as a researcher and as a professor in Calgary is to train future scientists," says Lee. "Providing good mentorship can really help these young potential scientists to think about what they want to do and how they want to make changes in the scientific community."
Lee is hopeful for the future of his research and believes that Calgary is a great fit to pursue his goals alongside his ambitious colleagues.
myleapmagazine.ca FALL 2023 LEAP 23
RECRUITING THE BEST TO ALBERTA
ILLUSTRATION BY DANE THIBEAULT
When Toronto's Dr. Jongbok Lee was ready to take his research to the next level, a move to Calgary seemed like the perfect opportunity.
40% OF WOMEN HAVE SCATTERED AREAS OF DENSITY
MADE-IN-ALBERTA INNOVATIONS
BY ELIZABETH CHORNEY - BOOTH
A lot of research and innovation that benefits patients is the result of work done right here in Alberta. These are just a few of the incredible advancements that started as ideas in local universities and hospitals before making their way into Albertans' cancer treatment plans.
those with dense breast tissue," says Syantra's vicepresident Carol Roesler. "The Syantra DX TM Breast Cancer test provides a new option, in particular for younger women and women with dense breast tissue."
SYANTRA
WHAT IS SYANTRA?
This Calgary-based company developed a new way to test blood in order to detect cancer at early stages. Its flagship product is the Syantra DXTM Breast Cancer test. This test measures gene expression markers in blood and the data is interpreted using proprietary software. International independent clinical study results show the test to be 98.5 per cent accurate in detecting breast cancer in patients under 50 years of age and 92.2 per cent accurate for its entire study cohort of women ages 25 to 80. The test gives a simple positive or negative result indicating if the breast cancer signal was detected.
"Breast cancer is not detected at early stages in many women, such as
Patients across Canada can access the test via a requisition form signed by their doctors. Then, a phlebotomist collects a blood sample to be sent to Syantra's lab. Results are typically sent back to the patient's physician within five business days. The Syantra DXTM Breast Cancer test is available at $499, paid out of pocket. The test is not covered by provincial health-care plans, but can be reimbursed through health spending accounts via private insurance.
WHO IS BEHIND THE INNOVATION?
Syantra grew out of Dr. Tina Rinker's lab in biomedical engineering and
the Arnie Charbonneau Cancer Institute at the University of Calgary. After collaborating with a laboratory medicine group out of Yonsei University in Korea, Rinker, Robert Shepherd and Ken Fuh worked together to develop what is now the Syantra DXTM Breast Cancer test. Syantra was formed in 2016 and soon after received an Alberta Small Business Research Innovation grant to support the clinical studies.
10% OF WOMEN HAVE EXTREMELY DENSE BREASTS
HOW WILL IT IMPROVE CANCER CARE IN ALBERTA?
Breast cancer is typically detected later in women with dense or extremely dense breasts (which is 50 per cent of women) and women under age 50. The earlier cancer is detected, the better the outcomes, and the Syantra DXTM Breast Cancer test was developed to increase early stage detection of breast cancer.
Roesler explains that, "as a molecular blood test, the Syantra DXTM Breast Cancer test complements existing breast imaging for assessing the presence of breast cancer."
She adds that, "the test is a convenient option for women who may otherwise not be screened due to anxiety, or geographical or cultural barriers preventing them from seeking a mammogram as frequently as recommended. The blood test can also detect cancer signals in higher-density breast tissue, which may camouflage tumours in mammogram imaging."
24 LEAP FALL 2023
OBTAIN BLOOD SAMPLE EXTRACT SAMPLES PERFORM qPCR TO QUANTIFY ENE EXPRESSION ANALYZE WITH SYANTRA DXTM SOFTWARE RETURN RESULTS THE ALBERTA ADVANTAGE
MR-LINAC
WHAT IS MR-LINAC?
Scientists often say that magnets and radiation are "allergic to each other." That's because magnetic resonance imaging (MRI) units and the Linac devices used to deliver radiation treatment typically need to be placed 10 metres apart, as the magnets can distort radiation beams.
However, a new hybrid MR-Linac developed in Edmonton allows radiation and MRI technology to coexist, delivering more precise radiation via a single machine once it becomes widely available (pending clinical trials). Without this groundbreaking innovation, doctors can't observe the small shifts that organs and tumours may make when a patient breathes or moves with real-time imaging. But now they'll be able to see everything as they precisely administer radiation.
WHO IS BEHIND THE INNOVATION?
Dr. Gino Fallone, professor and director of medical physics at the Cross Cancer Institute and University of Alberta, dedicated 15 years of his career to the development of the MR-Linac technology. The first version of the machine was constructed in the basement of the Cross by Fallone and his team and installed in 2013.
HOW WILL IT IMPROVE CANCER CARE IN ALBERTA?
Research on the MR-Linac continues with the Northern LIGHTS trial; it's a five-phase trial, one of which has been completed so far. One hundred patients are enrolled for trial treatment this year at the Cross and it's expected the technology will improve outcomes through its improved precision. Being able to target tumours with extreme accuracy means oncologists can get as much of the tumour as possible while avoiding adjacent organs. This allows for a stronger dose of radiation without the worry of damaging noncancerous tissue. The hope is for fewer,
yet more effective radiation sessions. The machines are expected to become available in the Arthur J.E. Child Comprehensive Cancer Centre, as well as the Cross.
"This technology was truly viewed as being scientifically impossible before Dr. Fallone's invention," says Lindsay Gilbert, director of philanthropy at the Alberta Cancer Foundation. "We're so lucky somebody right here at the Cross Cancer Institute overcame that."
Loyal donors have supported this discovery for more than 10 years, and, most recently, donations from the We Cross Cancer campaign help fund the Northern LIGHTS clinical trial.
myleapmagazine.ca FALL 2023 LEAP 25
IMAGES (CLOCKWISE FROM TOP) BY VERONICA COWAN; BY JOHN ULAN; COURTESY SYANTRA; COURTESY SYANTRA
40% OF WOMEN HAVE DENSE BREASTS
10% OF WOMEN HAVE FATTY BREASTS
MADE-IN-ALBERTA INNOVATIONS
AN MR-LINAC MACHINE.
CLINICAL TRIALS
Practicing oncologists are always looking to improve patient outcomes and the current standard of care, often through ongoing research into new drugs and therapies. Much of this research is done through clinical trials, something Alberta's oncologists have embraced wholeheartedly. In addition to participating in global drug trials to help test the efficacy of emerging cancer drugs, a number of local oncologists are creating made-in-Alberta solutions through investigator-initiated trials (IITs).
WHAT IS AN IIT?
Many of the big drug trials that local cancer patients find themselves participating in are connected to large commercial pharmaceutical companies that are working to get a particular medication or therapy to market. These are known as industry-sponsored trials. An investigator-initiated trial (IIT) involves an individual investigator (usually an academic or a practicing oncologist) pursuing an area of personal interest, be it the use of an already-approved therapy in a new application or a trend noticed during clinical practice. The investigator organizes and conducts a clinical trial, which can lead to outcomes or findings that alter the way the rest of the world practises cancer care.
Both types of clinical trials are immensely important to cancer care in the province, but Alberta has been a particularly fertile ground for homegrown IITs. Part of this is thanks to Alberta Cancer Foundation funding — every year, the Foundation grants a total of $1.5 million to successful applicants, typically funding an average of six to seven different trials.
"We have developed a program over the last 10 years in investigator-initiated clinical trials, and almost all are Alberta-born," says Dr. Randeep Sangha, director of the Clinical Trials Unit at the Cross Cancer Institute. "The program has led to 60 key protocols
26 LEAP FALL 2023 THE ALBERTA ADVANTAGE
DR. RANDEEP SANGHA
"We have developed a program over the last 10 years in investigatorinitiated clinical trials, and almost all are Alberta-born."
—Dr. Randeep Sangha
answering critical questions to improve cancer care. Alberta investigators are leading the charge to improve outcomes for our patients."
DIRECTLY BENEFITING ALBERTANS
While IITs and other clinical trials are academically satisfying for the researchers, they also have realworld benefits for patients in Alberta. By definition, a clinical trial needs willing patients to participate, and nearly 1,000 Albertans are involved in oncology trials at a given time. Naturally, not all of those patients will experience benefits that go beyond the typical standard of care, but the potential for improved outcomes is always a possibility.
Some of Alberta's locally grown clinical trials are making waves around the world. Dr. Quincy Chu, a medical oncologist at the Cross Cancer Institute and the lead investigator on a trial sponsored by the Canadian Cancer Trials Group, presented the results of his research at the American Society of Clinical Oncology (ASCO) Annual Meeting in Chicago earlier this year, showcasing this Alberta-born research to top international doctors and researchers. His research combined the immunotherapy drug Pembrolizumab (sold commercially as Keytruda) with chemotherapy to treat patients with mesothelioma, a cancer most commonly affecting the lining of the lungs, with only a five-year survival rate of seven per cent in Canada.
"The combination of chemotherapy and Pembrolizumab makes patients live longer. At the three-year mark, 25 per cent of patients were still
alive as compared to 17 per cent [not receiving this combined treatment]," Chu says. "Patients treated with the combination were more likely to have their mesothelioma reduced in size. This combination may become a treatment option for patients diagnosed with mesothelioma if approval is granted to health authorities throughout the world."
CREATING A CULTURE OF CLINICAL TRIALS
Chu's mesothelioma trial is just one of many encouraging Albertabased clinical trials that are making a difference.
"I want to change the perception about clinical trials — I don't want it to be just an afterthought," says Dr. Jose Monzon, medical lead of the Clinical Research Unit at the Tom Baker Cancer Centre. "Clinical trials, especially in incurable cancer settings, are absolutely a necessary part of care. Our job is to have a clinical trial for every patient so that we not only offer the standard of care, but also a clinical trial as an option. They provide patients hope for another line of treatment, where one might not have existed before."
BY THE NUMBERS
More than 60 IITs have been funded by the Alberta Cancer Foundation over the last decade
More than 500 patients in Alberta are enrolled in new clinical trials every year
There are currently about 250 open clinical trials running in the province
myleapmagazine.ca FALL 2023 LEAP 27
PHOTOGRAPHS
BY (OPPOSITE) JOHN ULAN; (THIS PAGE) JASON DZIVER
"I want to change the perception about clinical trials — I don't want it to be just an afterthought."
—Dr. Jose Monzon
MADE-IN-ALBERTA INNOVATIONS
DR. JOSE MONZON
ALBERTAN ALTRUISM
Dr. Bireswar Bose chose Alberta again and again — he emigrated to Barrhead to practise medicine in 1969 and then gave back to his community in the form of a generous legacy gift by
DEBBY WALDMAN
Dr. Bireswar Bose was a big-city man. He was born and raised in Calcutta, India, and, after graduating from medical school there, did further medical training in London, England, and Philadelphia, Penn. But, when it came time to practise medicine, he emigrated to Canada and settled in the rural community of Barrhead, Alta., moving into a house across the street from what was then St. Joseph's Hospital and is now the Barrhead Healthcare Centre.
For much of his career, Bose was one of three surgeons in Barrhead, recalls Bonnie Durling, a retired registered nurse who worked at the centre from 1979 until 2019.
"He was labelled a general surgeon, but, honest to God, he did everything," she says, adding that cancer care was one of his specialties, but some nights he would work in the emergency department, only to be back in the
operating room first thing the next day.
"He was just so knowledgeable," Durling says. "He knew everything that went on in that hospital. And he would teach all the nurses. He was very patient with us."
Humble, polite, precise and smart, Bose was the kind of person whom everyone looked up to, according to Durling. Durling says he mentored her late husband, Brent Wray, who trained in obstetrics and gynecology, and that he was as committed to teaching others as he was to learning. He often travelled to Edmonton to consult with other medical professionals and bring his knowledge back to Barrhead.
"He put Barrhead on the map," Durling says, describing one of the research papers Bose wrote, which was about using amniotic membranes to treat burn wounds. "He taught the nurses to peel the membrane away [from the placenta] and preserve it in
silver nitrate liquid, and when people would come into the hospital with burns, we would put the membrane over the burns and the patient would have no pain."
From 1969 until he retired in 2002, Bose devoted his life to the centre, his patients, medical science and his wife, anesthesiologist Dr. Anita Roy, who had been his medical school sweetheart. The couple had no children, which gave him even more time to focus on her and the work that meant so much to him.
Bose's commitment to health in the Barrhead community continues to live on even though he died in 2018, a year after his wife passed away. In his will, he left approximately $1.3 million to the Alberta Cancer Foundation, half of it earmarked for breast cancer research at the Cross Cancer Institute and half to make life better for cancer patients in the Barrhead area.
"We are so grateful to Dr. Bose for his generosity to breast cancer research and the Barrhead community. Specifically for a small cancer centre like Barrhead, this gift is very significant," says Christy Soholt, director of legacy giving at the
28 LEAP FALL 2023
THE ALBERTA ADVANTAGE
"[Dr. Bose] was labelled a general surgeon, but, honest to God, he did everything."
—Bonnie Durling
Alberta Cancer Foundation. "With additional local health services as beneficiaries as well, Dr. Bose gave a significant portion of his estate to his community."
The Alberta Cancer Foundation received the funds in installments from 2019 to 2020. Despite the COVID-19 pandemic, Soholt and her colleagues managed to meet multiple times with community representatives from the Ladies Auxiliary and Cancer Care Alberta to determine the best use for the funding so it can have the largest impact on patients living in the Barrhead and surrounding areas.
Together, the decision was made to divide Bose's gift to Barrhead into four programs, all of which are about to get off the ground. That includes the Dr. B. Bose Scholarship for Excellence for Barrhead-area students studying to
ILLUSTRATION BY DANE THIBEAULT
become nurses or nurse practitioners; the Dr. B. Bose Nurses Education Program, for continuing education for nurses at the Barrhead Healthcare Centre; the Dr. B. Bose Fund for Equipment Purchase at Barrhead Community Cancer Centre, which funds equipment to enhance patient care; and a ride-share program to make life easier for the cancer patients who receive at least some of their treatment at the small cancer centre housed within the Barrhead Healthcare Centre.
The ride-share program, modelled after a similar program in Athabasca and titled the Dr. B. Bose Road to Home Program, will provide transportation for residents of Barrhead, Westlock, Fort Assiniboine, Swan Hills, Mayerthorpe and Sangudo who need to get to the Cross Cancer Institute in Edmonton for care not available locally, such as
centre
radiation and visits to specialists. Transportation to appointments and treatment in the city has been a significant barrier for some people. Sometimes patients didn't get treatment because they had no way to get to Edmonton — either because they had nobody to drive them or couldn't afford transportation. The Dr. B. Bose Road to Home Program will be staffed with volunteers who will be paid for mileage and have their meals covered if they're in Edmonton for a significant amount of time.
In August 2023, the first round of funding was disbursed by the Alberta Cancer Foundation. "Dr. Bose left this amazing gift, and he cared so deeply about the people in this area, it is fitting that his legacy is going to help remove barriers and provide people with easier access to care," Soholt says.
"It's clear by leaving this gift in his will, Dr. Bose very much valued the patients and staff in Alberta — specifically those in Barrhead. It's our honour to work with the community to help fulfill his final wishes and make a big impact with his gift."
myleapmagazine.ca FALL 2023 LEAP 29
ALBERTAN ALTRUISM
"We are so grateful to Dr. Bose for his generosity to breast cancer research and the Barrhead community. Specifically for a small cancer
like Barrhead, this gift is very significant."
—Christy Soholt
LORNE MILLER'S STORY
Lorne Miller was diagnosed with liposarcoma on Mother's Day in 2021. It was a whirlwind as he tried to figure out the logistics of his treatment with his wife and two children. His surgery was a month later, and he woke up on his 39th birthday to the news that he was on the road to recovery. He met Erdman shortly before he had a recurrence just before Christmas in 2022, but has since had surgery to remove the mass and is now in remission. He said it was a "no-brainer" for the two of them to support the OWN.CANCER campaign.
"For me and Torey, as frontline workers, the notion of giving back is already something that runs through our blood. We also know we won't be the last people to walk that journey. So, it's been important for us to work together and stay connected and help give back. If we can be a light of hope for someone else who gets that phone call, then we're all for it. And to do it as a team is powerful for us."
30 LEAP FALL 2023
PHOTOGRAPHS: (ABOVE) BY JASON DZIVER; (INSET) LINDSAY SKEANS PHOTOGRAPHY
IN THIS SERIES, WE CAPTURE THE BRAVERY, STRENGTH, HONESTY, HOPE AND RESILIENCE OF ALBERTANS LIVING WITH CANCER.
LORNE MILLER WITH HIS SON, AUGUST, AND DAUGHTER, ESMAE, PHOTOGRAPHED BY HIS WIFE LINDSAY.
TOREY ERDMAN WITH HER DOG, HANK.
LIVING WITH CANCER
Meet TOREY ERDMAN
As told to JENNIFER FRIESEN
Following the Thanksgiving long weekend in October 2021, Torey Erdman returned to the operating room at Rockyview General Hospital, where she worked as a registered nurse. She casually mentioned to her surgeon colleague that she must have "overindulged" during the holiday as she still felt full. He suggested he give her a "quick exam just to be sure" and recommended she get a CT scan to be safe. She took his advice, and, within four days, doctors discovered a 26-centimetre mass in her abdomen. She was diagnosed with liposarcoma; sarcomas are rare cancers that develop in bones and soft tissue and liposarcoma is a rare cancer that develops in fatty tissue. Erdman soon underwent radiation and the tumour was surgically removed.
Shortly after her surgery, Erdman read an article about Lorne Miller, a Calgary firefighter who faced the same diagnosis. After reaching out to him, the two bonded quickly over their shared experience. Now 38 years old, Erdman is in remission and still works as a nurse. And, along with Miller, Erdman is an ambassador for the OWN.CANCER campaign to offer hope and raise awareness.
"I was in complete disbelief when I was first diagnosed. I had no other symptoms other than feeling full. I was looking for a [support] network, and my surgical team told me how liposarcoma is very rare and my case was unique. Initially, it left me with a very big feeling of isolation.
"It was this huge weight off my shoulders when I met Lorne because there's not a lot of [younger] people out there with sarcoma. It was so nice to share information, knowing he had gone through everything and had come out the other side thriving.
"I had my surgery on Jan. 26, 2022, and came home three weeks later a very different version of myself. But the human body is incredible and I was back to work in May. Even in my darkest moments, so many people uplifted me. It was challenging, but I was so wellsupported and loved. I also can't say enough about my surgeon, Dr. Lloyd Mack, and the oncology team at the Foothills and Tom Baker.
"Lorne was a mentor in a sense to me, and I thought, 'If I can share my story and have someone recognize themselves in me, maybe I can help, too.' I want to be an advocate for sarcoma because it accounts for less than one per cent of all cancers. It's important to me to give back because I'm so grateful for my care and want to [support] this community."
myleapmagazine.ca FALL 2023 LEAP 31
RESEARCH ROCKSTAR
In 2007, when Dr. Mona Shafey was a first-year hematology resident in Ottawa, she watched her instructor tell a cancer patient that he was in complete remission after his treatment. He was so happy he bear-hugged the physician right off her feet.
It was in that moment that Shafey knew she wanted to work with cancer patients. "Observing the patient's reaction to that news, I said, 'I want to be able to do that.'"
That image has stayed in her mind for 16 years. Now, Shafey is living in Calgary and doing all she can to offer hope to patients with lymphoma, leukemia and other blood cancers. She works directly with patients as a malignant hematologist and as an investigator in a growing number of clinical trials, mainly at the Tom Baker Cancer Centre and largely involving groundbreaking cellular therapy. And she believes the future of treatment for many blood cancers, and possibly other malignancies, will involve CAR T-cell therapy.
Shafey completed her medical degree and residencies (internal medicine and hematology) in her hometown at the University of Ottawa, graduating in 2008. She was then accepted as a fellow in the University of Calgary's highly regarded cellular therapy program, which she was drawn to because of its innovative approaches to using cellular therapies for patients with blood cancers. She completed her fellowship training and started a university staff position in Calgary in July 2010.
Since October 2022, Shafey has been the clinical director of the Alberta Cellular Therapy and Immune Oncology Initiative (ACTION). This ambitious program supports the development of next-generation therapies for children and adults using a patient's own immune system to fight cancer. One of the most promising therapies involves engineering CAR T cells (chimeric antigen receptor T cells, which are genetically modified immune cells from the patient) to find and attack cancer cells. This therapy, which was developed more than 10 years ago,
Dr. Mona Shafey
32 LEAP FALL 2023
This clinician and researcher is offering hope to patients with lymphoma, leukemia and other blood cancers by KERI SWEETMAN | photography by JASON DZIVER
has been most successful in patients diagnosed with blood cancers who have not responded to traditional treatment such as chemotherapy or stem cell transplant. In the past, most of those patients would die within six months of a cancer recurrence.
Shafey has been the principal investigator for 12 clinical trials, six of which are currently ongoing. She is collaborating on another 15 active trials; her own patients are enrolled in five. Most of the trials have involved new approaches to treating lymphoma, including CAR T-cell therapy and stem cell transplants. Some of the trials have received funding from the Alberta Cancer Foundation, including a current project she is leading that is investigating the use of GCAR1, a CAR T-cell product developed at the University of Calgary, for a patient with alveolar soft part sarcoma (ASPS).  Shafey's team also recently received nearly $3 million in funding from the Canadian Institutes of Health Research for a multi-centre phase 1
clinical trial investigating the safety and efficacy of using GCAR1 in patients with ASPS and some types of kidney and breast cancers.
"Alberta Cancer Foundation has consistently supported the early work of investigators who have ideas to support Albertans who need treatments that may not necessarily be interesting or attractive enough for a pharmaceutical company to get involved," says Shafey. "That early support is really key."
Also on the list of Shafey's achievements is being the director of the Alberta Blood and Marrow Transplant Program, a role she's held since 2019, which oversees cellular therapy in the province. Cellular therapy refers to any treatment involving collected cells, including stem cell transplants (either from donors or patients' own stem cells), lymphocyte infusions, CAR T-cell treatment, and therapies for non-cancer patients with autoimmune diseases and blood disorders.
The bulk of what the program does now is stem cell transplants, says Shafey,
"but the greatest area of growth over the next three to five years is in CAR T cells."
Health Canada approved CAR T-cell products in 2019 for patients with certain types of leukemia and lymphoma, but the treatment was initially only offered in Ontario and Quebec. There was no CAR T-cell program in Alberta until August 2020, when the province and the Alberta Cancer Foundation announced $15 million in funding to start offering the therapy here. Of that, $5 million from Alberta Cancer Foundation supports an Edmonton team, led by Dr. Michael Chu, that's developing made-in-Alberta CAR T-cell products. The remaining $10 million pays for a provincial initiative to provide CAR T-cell therapy to adult and paediatric patients with aggressive lymphoma, or B-cell acute lymphoblastic leukemia, who have had a recurrence or have not responded to treatment.
The Calgary team started offering CAR T-cell treatments in January 2021, says Shafey, who oversees the adult
myleapmagazine.ca FALL 2023 LEAP 33
RESEARCH ROCKSTAR
THREE QUESTIONS WITH DR. MONA SHAFEY
What's the biggest misconception about what you do?
That lymphoma is a single disease. When somebody's diagnosed with lymphoma, it's very important to know what type of lymphoma they have because the treatment and prognosis are completely different.
What motivates you?
My patients. Even if a patient can't be cured, being able to offer treatments that can improve their quality of life means I can still have a positive impact on them.
Why does your research matter?
We as clinicians always want to do better and sometimes the only way you can do that is through a research study. That's how I convince many of my patients to consider clinical research, because some of the best therapies are on these trials.
portion of the program. Of the first 26 patients, 84 per cent had a complete or partial response to the treatment. After one year, 50 per cent of those patients who received the CAR T-cell therapy were alive and in remission, which was higher than expected. There were also fewer toxicities and side-effects than expected.
"It's hard to predict, when you have a patient in front of you, if they're going to be someone who does really well or if they will be a person who doesn't respond at all. I like to prepare them for all possibilities, but we always hope for the best."
Dr. Carolyn Owen, an associate professor of medicine and oncology at the University of Calgary, has known Shafey for 20 years — they were both in the University of Ottawa's faculty of medicine. They share many of the same clinical interests and often work together on clinical trials.
Shafey's strengths include her "broad knowledge base and her ability to develop good relationships with patients, to be able to explain the implications of clinical trials in layman's terms, while still understanding and advocating for the scientific benefits," says Owen.
She considers Shafey's four years leading the Alberta Blood and Marrow Transplant Program as highly successful. Shafey became the director at a really critical time, with the new cellular therapies becoming available. "She took
over at a time of great change, and I think she's done an excellent job leading that change, but also trying to overcome a lot of logistical obstacles — and there were many," says Owen.
Three CAR T-cell products have been approved and funded in Alberta, with two more expected to receive the green light next year. So far, these products have been used only as a third-line treatment for aggressive lymphoma and B-cell acute lymphoblastic leukemia,
meaning they are given to patients with no other viable treatment options. But Shafey expects the products to be available as a second-line treatment (after the first relapse) for high-risk patients with aggressive lymphoma as early as 2024. She also hopes the therapy will be available for multiple myeloma patients in Alberta next year.
Shafey hopes CAR T-cell therapy will be the standard of care for many cancers in the future.
"There's a lot of promise in the hematological malignancy world. We've already seen that. We're going to see where this expands — to new types of tumours, but also for earlier stages of disease," says Shafey.
It's an exciting time to be involved in this groundbreaking research and treatment, particularly in her specialty area.
"For blood cancers, particularly B-cell malignancies, there is an explosion of CAR T-cell therapies that are going to keep us busy for many years to come," she says.
34 LEAP FALL 2023
Taking Action Early
Two 11-year-old students in Calgary raised nearly $3,000 for the OWN.CANCER campaign as a way to support their loved ones
by JENNIFER FRIESEN
When a classroom of Grade 6 students received an assignment last fall to fundraise for a cause of their choosing, best friends Brayden Kenly and Carson Weiss knew what to do next.
"As soon as I heard what the project was about, I knew that I had to do something to help my mom," says Brayden.
Brayden's mom, Trish Kenly, was diagnosed with stage 4 breast cancer in 2019. She noticed a lump while doing an at-home exam and, within one month, had a lumpectomy. Further testing revealed the cancer had metastasized to her spine. The tumour
ABOUT OWN.CANCER
The OWN.CANCER campaign for the Arthur J.E. Child Comprehensive Cancer Centre was launched in 2021 by the University of Calgary, Alberta Cancer Foundation and Alberta Health Services. The $250-million fundraising goal supports improved research, treatment and equipment for the Arthur Child, which is set to open next year.
on her spine can't be removed due to its location, so Trish underwent radiation at the Tom Baker Cancer Centre and continues treatments to this day.
"When Brayden said he wanted to [fundraise for] the Alberta Cancer Foundation for his mom, I knew it was a good idea," says Carson. "Because I wanted to help her and other people that have cancer."
The assignment's goal was to raise funds or awareness for a cause. The duo, who were both 11 at the time, decided to support the OWN.CANCER campaign and sold cake pops and candy at school to fundraise. The project culminated in the Take Action Fair on April 20, an annual event at their school and part of the assignment.
"Brayden told me they were doing a Take Action Fair, but he didn't really tell me what they had decided," says Trish. It wasn't until she read his mission statement that she learned he chose to fundraise for the OWN.CANCER campaign as a way to support her.
"I was just so overwhelmed and proud that he would think of somebody like me, and that I could be an inspiration to him," she says.
The boys' initial goal was to raise
$100, which was met within the first hour of the sale. They kept upping their goal from $500 to $1,000 and eventually $2,500. By the end of the two-week-long event, they sold all 200 cake pops Trish had made and Brayden had decorated, along with countless bags of candy the boys made together. They also had a booth set up with information on OWN.CANCER's mission, a QR code linking to their website for direct donations and they wore custom T-shirts designed by Carson's mom, Lisa Weiss. By the end of the project, they raised a total of $2,989.
"It was really exciting," says Carson. "I didn't think we would make that much."
Lisa is a registered nurse who started her career in the oncology hematology unit and says she "can't be more proud" of the two of them and their work for the new cancer centre.
"On top of what I've seen Trish go through, my mom and Carson's greatgrandmother have cancer," says Lisa. "Watching their experiences, as well as being on the flip side where it was my job to care for these patients, you really realize the importance of having these
world-class facilities to help them in their healing and their treatment."
Now both 12, Brayden and Carson reflect on the support from their classmates, teachers and family, and say they're excited to see what they've accomplished.
"I enjoyed this project so much," says Brayden. "It's crazy that some day I'm going to get to say that I helped this new cancer centre come to life."
MY LEAP myleapmagazine.ca FALL 2023 LEAP 35 PHOTOGRAPHS COURTESY LISA WEISS
CARSON WEISS (LEFT) AND BRAYDEN KENLY SELLING CAKE POPS AND BAGS OF CANDY TO FUNDRAISE FOR THE OWN.CANCER CAMPAIGN.
"CANCER CARE HAS REALLY CHANGED FOR THE BETTER FOR A LOT OF PEOPLE IN RURAL ALBERTA AND I'M PROUD OF WHAT WE ARE ABLE TO ACCOMPLISH FOR OUR PATIENTS."
36 LEAP FALL 2023
— TRISTIN HAMILTON
The Nurse Practitioner Will (Virtually) See You Now
After working as a medic in the military and in emergency medicine, Tristin Hamilton switched into oncology and helped implement a virtual model to make cancer care more accessible in rural communities by FABIAN MAYER
ancer cares little about geography. And in Alberta, a province that is bigger than many countries, geography presents an immense challenge. But advances in technology and creative approaches to delivering care are helping solve that puzzle and improving cancer care and quality of life for patients across Alberta. One such initiative is taking place at the Lloydminster Community Cancer Centre, where a virtual care approach is saving patients time, money and stress as they go through their cancer journey.
Tristin Hamilton is an oncology nurse practitioner at the Cross Cancer Institute in Edmonton. She helped implement the centre's virtual care model and serves as the primary contact for cancer patients in Lloydminster and the surrounding region, which includes the communities of Camrose, Bonnyville, Vermillion, Wainwright and many more in between.
Hamilton says the virtual care model, the first of its kind in Alberta, grew out of a need for a cancer care provider at the Lloydminster Community Cancer Centre. With the centre lacking a permanent oncologist, patients in the region would often have to travel to Edmonton even for relatively minor appointments. Hamilton, having recently completed her master of nursing, was tasked with investigating whether using video calls and a virtual care model could improve the situation.
"It's an ongoing issue where a lot of our rural outreach clinics do not have regular provider coverage, especially
when it comes to oncology as a specialization," says Hamilton. "The doctors are mostly in family practice, so the oncology piece is missing in a lot of cases."
Starting in December 2020, it took Hamilton an entire year to set up the new model, making sure it would provide the same level of cancer care available in the big cities. That meant working together with nurses on the ground in Lloydminster and building relationships with service providers throughout rural Alberta to explore how virtual care could enhance patient care and quality of life. The system has been fully operational since December 2021.
"I'm overseeing their treatment through Lloydminster. It's very much a team approach: I oversee their care in between visits with their oncologists," says Hamilton, adding that patients come to the Cross for initial assessments and chemotherapy treatment, and followups and referrals are handled virtually by Hamilton. "Anything urgent that comes up, they contact me. With it being virtual care, there's a quicker response if there's an urgent issue, rather than trying to track down each individual oncologist."
Hamilton says patients appreciate the creative approach to delivering care. There are some obvious benefits, such as cutting down on travel time and the cost of transportation. But it has also made it easier for rural patients to access different services and receive more holistic cancer care, including everything from mental health support to nutritionists and physiotherapists.
"The biggest benefit is that it's equitable access to care for rural populations. There are a lot of services that people in rural communities just don't access because it takes too long, whether that's referrals or even just the driving time to get to places," says Hamilton. "With this model, they can get on with their lives. It's not such a disruption in their day-to-day, which is the goal. We want to keep their quality of life high."
The key to the puzzle is improving convenience and quality of life for patients, without sacrificing the quality of care they receive. The use of video conferencing technology is invaluable, says Hamilton. It helps build a more personal rapport compared to a regular phone call, allowing Hamilton to see how her patients are doing.
"I can assess them. I can see the whites of their eyes, I can see the colour of their skin and see how they're walking, so that really helps me with their care."
Hamilton herself is very familiar with how technology can help navigate time constraints. She took her master of nursing remotely through Athabasca University while continuing to work as an emergency nurse at three hospitals: Sherwood Park's Strathcona Community Hospital, the Fort Saskatchewan Community Hospital and Northeast Community Health Centre in Edmonton.
"It helped me be able to work full-time while being in school because it meant I didn't have to sit in a classroom," says Hamilton. "With
TRUE CALLING myleapmagazine.ca FALL 2023 LEAP 37
PHOTOGRAPHS BY JOHN ULAN
remote learning, and even virtual care now, it's definitely more self-directed and it's a constant learning process. It's okay not to know everything. You just have to know where to go to ask questions and get that support."
Hamilton's passion for health care came from an altogether different source. While studying political science as an undergrad, she joined the military and became a medic in the Canadian Army Reserves.
"I loved being a medic, being a grunt in the military and dealing with whatever came at you. It just sort of evolved from that," says Hamilton. She worked in post-operative cardiac surgery and emergency medicine after earning her nursing degree before switching to oncology after graduating with her master's degree. "I very much enjoy the acute, urgent aspects of medicine. I now find that in oncology, because anything can truly happen in oncology."
Though she was never deployed overseas, Hamilton worked as a medic during field operations all over Canada and says that some of the lessons from her time in the military have helped her succeed in her current role.
"Virtual care is not a one-person show. You have to empower your whole
TRISTIN HAMILTON'S CAREER HIGHLIGHTS
2007 to 2012
Works as a medic with the Canadian Armed Forces with 11 Field Ambulance in Victoria, B.C.
June 2012
Graduates from University of Victoria with a bachelor of science in nursing and begins working in post-operative cardiac surgery at Edmonton's Mazankowski Alberta Heart Institute.
August 2015
Is hired at the Strathcona Community Hospital as an emergency department registered nurse.
December 2019
Graduates from Athabasca University with a masters of nursing — nurse practitioner.
March 2020
Is hired at the Cross Cancer Institute as an oncology nurse practitioner.
December 2020
Initiates the nurse practitionerled virtual community cancer clinic in Lloydminster, the first clinic under this model in Alberta.
October 2021
Panellist at the International Foundation of Integrated Care Conference.
team to make it work. And you can't be on a pedestal — you have to be reachable and approachable," says Hamilton. "Cancer care has really changed for the better for a lot of people in rural Alberta and I'm proud of what we are able to accomplish for our patients."
As for the future of virtual care in Alberta, Hamilton thinks a hybrid model with some in-person visits and some virtual care is the way forward. If done right, she thinks it can help deal with the shortage of specialists in rural communities across the province.
"The Llyoyminister clinic has shown its ability to provide a sustainable solution for a lack of rural providers and specialists specifically," says Hamilton. "It takes thinking outside of the box and adjusting your traditional view of how patient care is delivered, but it is entirely doable."
38 LEAP FALL 2023
A Tale of Two Survivors
Tyra Langille and Rick Campbell share their experiences with oral cancer
by MICHAELA REAM
In September 2021, the last thing Tyra Langille expected to hear as a healthy, then-25-year-old was that she had stage 2 oral squamous cell carcinoma, a cancer typically seen in older men with a history of drinking or smoking. Thankfully, her surgery and radiation treatments were successful and, now in complete remission, Langille is an advocate for oral cancer, raising awareness of its impact and the need for more screening. She also encourages others to advocate for themselves.
Langille says her doctor told her she is part of the 25 per cent of cases where the cause for this cancer is unknown — but she isn't alone in her experience.
Earlier this year, when Rick Campbell was driving to the office one morning, he heard Langille on the radio sharing her oral cancer story. It took Campbell back 40 years to his experience with the same diagnosis when he was 19. He is also in remission today.
Because of the similarities between their stories, Campbell reached out to the Alberta Cancer Foundation, which helped Campbell connect with Langille.
Here, they share their stories:
TL: "Like anyone who hears [they have cancer], your world crumbles in front of you, but I refused to think that my life was over because of this cancer. I went into extreme fight mode, but still, the hardest part of it all was how much it altered me. I had to reteach myself how to eat, swallow and speak all over again. To this day, I have issues speaking and, sometimes, I choke on my food."
RC: "Hearing Tyra's story on the radio took me back 40 years [to my own oral cancer diagnosis] as she went down her list of challenges that sounded very familiar, like relearning how to eat and speak. [For me], in 1983, with no longterm case studies or similar patients to reference, answers surrounding my future were cautious and reserved. It was one day at a time, moving forward on a roller coaster of emotions, questions and uncertainties. I felt a duty to somehow let Tyra know that someone else was out there with the same personal experience of what she was going through. We were able to contact each other via email thanks to the Foundation. Tyra mentioned that, as she was going through her ordeal, she felt very alone, considering she knew no one in Alberta (or even Canada) that had a similar experience to share. Now she does."
TL: "I loved that he reached out. I love that we have a special friendship where we understand what it's like after everything. Hearing how he is today — living a normal life, being cancer-free — gives me hope."
RC: "Tyra and I recently had a chance to meet in person for the first time, and it was wonderful and therapeutic for us both. Within minutes, we were comparing scars, holding back tears and laughing about our common experiences. With occurrences and feelings that we could both relate to, we chatted nonstop about the past, present and future. We discussed the advancements in our treatments but also recognized the procedures that have remained unchanged over 40 years."
TL: "The Alberta Cancer Foundation's impact on all Albertans is heartwarming, especially for myself. The Foundation was extremely selfless and compassionate in the way they went about connecting Rick and I. Because of the Foundation, I have gained a new friend that understands me on a different level."
IMPACT myleapmagazine.ca FALL 2023 LEAP 39
PHOTOGRAPH BY JOHN ULAN
Leaving a Legacy
After witnessing the support a friend received during their cancer journey, EVA WONG became both a monthly and legacy donor to the Alberta Cancer Foundation
by KARIN OLAFSON with files from DEBBY WALDMAN
Eva Wong and her husband moved to Edmonton from Hong Kong in 1995 because they were looking for a different life — specifically, one that would offer better educational options for their daughter. But Wong would come to learn that the health-care system is a huge part of what makes Alberta a great place to call home. A couple of years ago, Wong was a caregiver and support person for a friend experiencing cancer. She accompanied them to their appointments at the Cross Cancer Institute and was blown away by the compassion and care she witnessed. She will always remember how the volunteers walked the halls with their cookie carts, offering treats and hot drinks to make the cancer experience just a little more peaceful. She will remember how all the health-care providers went above and beyond to make her friend feel comfortable and get them back to their regular life. Most of all, she was amazed that cancer
patients had access to cutting-edge clinical trials without having to pay a dime. Wong says, in Hong Kong, cancer patients have to pay out of pocket for access to the latest treatments and was amazed this isn't the case in Alberta.
To express her gratitude, Wong became a monthly donor to the Alberta Cancer Foundation in 2020. "We want to contribute more and regularly, so we decided to make a monthly donation," Wong says. Monthly donors are invaluable as they help to provide sustained and ongoing support.
"Eva's monthly donations are directed to patient financial assistance. She wants to make sure that anybody who needs care has access to care, even if
they are struggling financially," says Christy Soholt, the Alberta Cancer Foundation's director of legacy and strategic philanthropy.
The Foundation learned that Wong is also leaving a generous gift from her estate to the non-profit. "If I provide some donation, it might be able to help one more person," she affirms.
Says Soholt: "Eva told me it's a nobrainer to give back to this community. I know quality of life is meaningful to Eva, and she really wants to help cancer patients have the best experience possible. Eva thinks it's really important to do her part because she's seen the value of philanthropy for cancer patients."
WHY I DONATE 40 LEAP FALL 2023 PHOTOGRAPH
STOCK
BY ROLANDTOPOR, COURTESY i
The Best and the Brightest
Innovative cancer research happens every day at the University of Calgary and the University of Alberta, and endowed chairs are integral contributors to this research.
Endowed chairs are research and teaching positions at universities, and are the direct result of generous philanthropic contributions made by community members and organizations. By supporting endowed chair positions, philanthropists help attract and retain the very best research talent from around the world. All endowed chairholders provide leadership and expertise that has the potential to prolong and save the lives of those with cancer.
The Alberta Cancer Foundation is grateful to the families and organizations that have made these endowed chair positions possible, as are the patients and families who receive the highest standard of care in our province and the chair holders whose Alberta-based research only happens because of this philanthropy.
CHAIR NAME
"Over the last 10 years, my lab and I have been able to do some really incredible [research] with your support. We've been able to identify novel metastatic cancer gene targets we can use to either develop novel drugs against cancer or novel diagnostic tests to predict cancer earlier. Now, my lab and I are focused on translating that research from the bench to the clinic, so our innovations can make a real impact on the quality of life of patients in Alberta and the rest of the world. Thank you for your early and ongoing investment in our team. It really means the world to us."
Dr. John Lewis
Chairholder for the Bird Dogs Chair in Translational Oncology
CURRENT CHAIRHOLDER
"Philanthropy really lets [cancer research] be cutting-edge and stay ahead of the curve. Donors and philanthropists are the only reason I was able to be hired in Edmonton, to continue on a very rich tradition of research. Thank you very much for your contributions."
Dr. Adam Kinnaird
Alberta Cancer Foundation Chair in Palliative Care
Allard Research Chair in Oncology
Bird Dogs Chair in Translational Oncology
Dianne & Irving Kipnes Chair in Radiopharmaceutical Sciences
Dr. Murray E. Mickleborough Research Chair in Interfacial Biomechanics*
Enbridge Research Chair in Psychosocial Oncology
Engineered Air Chair in Cancer Research
Frank & Carla Sojonky Chair in Prostate Cancer Research
Kids Cancer Care Foundation Chair in Pediatric Oncology
Mary Johnston Chair in Melanoma Research*
Sawin-Baldwin Chair in Ovarian Cancer
Chairholder for the Frank & Carla Sojonky Chair in Prostate Cancer Research
Dr. Vickie Baracos
Dr. Frederick West
Dr. John Lewis
Dr. Frank Wuest
Vacant
Dr. Linda Carlson
Dr. Paola Neri
Dr. Adam Kinnaird
Dr. Jennifer Chan
Vacant
Dr. Cheng-Han Lee
*In case of a chair vacancy, the Alberta Cancer Foundation works closely with endowment representatives to reallocate funds to advance cancer research.
APPLAUSE, PLEASE myleapmagazine.ca FALL 2023 LEAP 41
PHOTOGRAPHS BY (TOP) AARON PEDERSEN; (BOTTOM) JOHN ULAN
Ensuring Care Close to Home
Not even two years ago, cancer patients living in Grande Prairie who needed radiation therapy had no choice but to drive to Edmonton. Now, the cancer centre at Grande Prairie Regional Hospital is home to two radiation vaults, so the four-and-a-half-hour trek to Edmonton is no longer required — a big relief, particularly during formidable Alberta winter storms. Grande Prairie's cancer centre — which has a specialized staff including a radiation oncologist and therapists — is the fifth in the province and the only facility in northern Alberta to offer radiation therapy.
While the facility itself is a huge boon for the community, so too is the partnership between the Grande Prairie Regional Hospital Foundation (GPRHF) and the Alberta Cancer Foundation. This partnership aims to support cancer care to serve the Grande Prairie region, and it's a great example of how charities
coming together makes life better for Albertans.
"After raising some funds jointly over the last few years, we now have a more solidified agreement to be partners in cancer care in our region," says Keith Curtis, GPRHF's executive director. The partnership makes it simpler for GPRHF to provide support in a bigger and more substantial way by directing donations straight to regional cancer care initiatives, such as the mobile mammography unit and other patient-
centred services. In fact, through the partnership, GPRHF committed $100,000 this February — and donated the funds in April — specifically to support cancer patients at Grande Prairie Regional Hospital.
"A big outcome of this partnership, and it's one of our overarching tenets, is to keep people as close to home as possible," says Curtis. The GPRHF raises funds for specialized equipment and programs so, as much as possible, patients can stay within Grande Prairie or the Peace Region for their care. Not having to travel for treatment has huge benefits, mentally, physically and financially. When patients can receive care near the comfort of their homes, they can also remain closer to support networks and their entire cancer journey can be more manageable.
"The partnership offers a stronger means of ensuring that support is given where it's needed locally," affirms Curtis. "It helps ensure the best health care is provided in Alberta, as close to home for patients as possible. That's really what we're trying to do — work with other agencies, such as the Alberta Cancer Foundation, in order to help make services available closer to people or to get them home faster. These partnerships work, and it's what's best for the overall health of Albertans."
GAME CHANGER 42 LEAP FALL 2023
PHOTOGRAPHS COURTESY ALBERTA HEALTH SERVICES
587-224-5865
in
The Alberta Cancer Foundation's community philanthropy team is focused on growing its local presence in communities all across Alberta through meaningful conversations and rewarding partnerships. Contact Martine GrenonLafontaine, Manager, Community Engagement at Martine.Grenon-Lafontaine@albertacancer.ca or
to start a partnership conversation in support of cancer care
your community or region.
A charity partnership ensures that Grande Prairie and area patients can receive cancer care without travelling
BY COLLEEN SETO
(LEFT) OUTSIDE THE GRANDE PRAIRIE REGIONAL HOSPITAL. (RIGHT) SYSTEMIC THERAPY CHAIRS IN THE CANCER CENTRE AT GRANDE PRAIRIE REGIONAL HOSPITAL.
Bright Minds
WORLD-LEADING CANCER CARE Introducing the Arthur J.E. Child Comprehensive Cancer Centre BY THE NUMBERS A peek inside the largest cancer centre in Canada STAND TOGETHER How we will OWN.CANCER
Meet 18 of Calgary's trailblazers shaping the future of cancer treatment, research and care
Introducing the newly named Opening in Calgary 2024 owncancer.ca Celebrating a historic gift to Albertans facing cancer
you to the Arthur J.E. Child Foundation for its remarkable $50 million donation to the OWN.CANCER campaign, accelerating cancer care and research in Calgary.
Thank
3 Welcome Message 4 Stand Together 7 18 Trailblazers Changing the Cancer Journey 8 Mannat Bansal 10 Arrow Big Smoke 10 Dr. Pierre Billon 11 Dr. Jeffrey Cao 12 Dr. Julie Deleemans 12 Sandip Dhaliwal 13 Dr. Nicolas Jacquelot 14 Dr. Safiya Karim 14 Charlotte Kessler 15 Dr. Jose Monzon 16 Dr. Dustin Pearson 16 Dr. Robert Puckrin 17 Dr. May Lynn Quan 18 Iqra Rahamatullah 18 Dr. Fiona Schulte 19 Dr. Heewon Seo 20 Dr. Matt Warkentin 20 Dr. Lin Yang 21 By the Numbers 23 Contents The OWN.CANCER campaign is a joint fundraising initiative between the Alberta Cancer Foundation, the University of Calgary and Alberta Health Services to raise funds for the improved prevention, detection and treatment of cancer at the Arthur Child. OWN.CANCER is more than a slogan — it's a call to action to make cancer a memory. Cover images by Jared Sych and Jason Dziver Flip OWN.future over to read the fall 2023 issue of Leap.
Welcome Message
As Co-Chairs of the OWN.future Committee, we are passionate about engaging with bright minds and talent in Calgary to support the OWN.CANCER campaign.
OWN.CANCER is an ambitious fundraising campaign actively raising $250 million for cancer care and research at the Arthur J.E. Child Comprehensive Cancer Centre in Calgary, bringing researchers, medical teams, prevention experts, patients and families together in ways never before possible.
As young leaders in Calgary's business community who are navigating cancer journeys ourselves, we're part of a generation of Albertans who are putting cancer on notice, right now.
It's why we're thrilled to be included as a special insert in Leap magazine to introduce you to some of cancer's next trailblazers helping to OWN the future of cancer care and research in Alberta.
Beginning in 2024, our world-
Learn more by visiting owncancer.ca.
renowned experts in cancer research, education and patient care will work shoulder-to-shoulder under one roof at the new Arthur J.E. Child Comprehensive Cancer Centre, the largest comprehensive cancer centre in Canada. Alberta Health Services and the Arnie Charbonneau Cancer Institute will bring researchers, cuttingedge technology and clinicians together to solve some of the most challenging questions.
Calgary's cancer trailblazers are OWN-ing cancer by decreasing cancer in the population, improving cancer treatment, improving cancer outcomes and forming the worldclass team we need to change the trajectory of this disease.
With one in two Albertans facing a cancer diagnosis in their lifetime, we'll all experience cancer, whether personally or through a loved one. We're stepping up to OWN. CANCER through OWN.future. Are you with us?
ALBERTA CANCER FOUNDATION EDITOR
Breanne Kraus
UNIVERSITY OF CALGARY EDITOR
Mia Sosiak
DIRECTOR, STRATEGY & CONTENT
Meredith Bailey
MANAGING EDITOR
Karin Olafson
ART DIRECTOR
Veronica Cowan
STAFF PHOTOGRAPHER
Jared Sych
CONTRIBUTORS
Sarah Comber, Jennifer Dorozio, Jason Dziver, Stephanie Joe, Nathan Kunz, Jaelyn Molyneux, Michaela Ream, Lynda Sea
PUBLISHED FOR Alberta Cancer Foundation
Alberta Health Services
University of Calgary
PUBLISHED BY RedPoint Media Group
cSPACE Marda Loop
1721-29 Ave. S.W., Suite 375
Calgary, Alberta T2T6T7
(Letter mail only)
Tel: 403-240-9055
Toll free: 1-877-963-9333
Fax: 403-240-9059
info@redpointmedia.ca
CEO Roger Jewett
PRESIDENT
Käthe Lemon
Katie Smith-Parent
Jil Macdonald
OWN.CANCER Campaign Cabinet Members & OWN.future Committee Volunteers
4
6 The Arthur J.E. Child Comprehensive Cancer Centre opening 2024
Together, we will OWN.CANCER.
The largest comprehensive cancer centre in Canada is coming to life in Calgary this very second. When it opens its doors in 2024, the Arthur Child will shelter 1.3 million square feet of world-leading cancer care, research and education.
In response, Alberta Health Services, the University of Calgary and the Alberta Cancer Foundation have come together with one mission: to OWN.CANCER and we are asking all Albertans to answer the call. We are already more than half way towards our goal of raising $250 million in support of the Arthur Child but we need your help.
Bricks and mortar are only the beginning. We're bringing together researchers, medical teams, prevention experts, patients and families in ways never before possible.
Together, we will OWN.CANCER with will, by reducing the number of people receiving a cancer diagnosis in the first place.
By gathering the right people with the right tools under one roof, this is a once-in-a-generation opportunity to transform cancer care and treatment.
It's our chance to OWN.CANCER once and for all.
We will OWN.CANCER with research, by developing new diagnostic tools and precision medicine to identify, target and weaken cancer before it can take hold.
We will OWN.CANCER with determination, by improving the patient experience through customized support programs that lift up the whole family throughout a cancer journey.
We are calling on champions in all of our communities to make this possible by donating online or making gifts that have the impact to change and save lives.
It's time to shine a light on this devastating disease and take back some of the power cancer has taken from us.
To make cancer a memory, we need everyone in Alberta to stand together.
Right here.
Right now.
OWN.CANCER with us.
7
owncancer.ca
18 Trailblazers Changing the Cancer Journey
Trailblazers Changing the Cancer Journey
Meet some of the bright minds shaping the future of cancer treatment, research and care
by SARAH COMBER, JENNIFER DOROZIO, STEPHANIE JOE, NATHAN KUNZ, JAELYN MOLYNEUX, KARIN OLAFSON, MICHAELA REAM and LYNDA SEA
photography by JARED SYCH and JASON DZIVER
8
On June 28, 2023, the OWN.CANCER campaign received the largest cancer donation in Alberta's history. The Arthur J.E. Child Foundation donated $50 million to the centre, which is now officially named the Arthur J.E. Child Comprehensive Cancer Centre (the Arthur Child).
CALGARY IS ON A MISSION TO OWN CANCER.
It's a city where innovative cancer research drives change, top-tier treatment is accessible to all and patient experiences come first. Calgary's reputation as a world-class hub for cutting-edge cancer care will further soar when the Arthur J.E. Child Comprehensive Cancer Centre opens in 2024.
From researchers at the University of Calgary, to volunteer patient advocates, to physicians and nurses working on the frontline, these 18 individuals influence the next generation of cancer research and treatment. By shaping the future of cancer care here in Calgary and beyond, these groundbreakers will help transform what the cancer journey looks like.
Here is a glimpse into the critical work taken on by these 18 bright minds to make an impact — now and when the Arthur Child opens.
9
Mannat Bansal
Exercise Oncology PhD Student
Faculty of Kinesiology, University of Calgary
Bansal is working towards a future where more Calgarians have access to exercise oncology programs and resources as part of standard cancer care.
Inspired by the world's big challenges — specifically, uncured diseases — Mannat Bansal dressed as a scientist for her third-grade career day. Today, Bansal is pursuing her
dream while helping Calgarians combat treatment fatigue, maintain fitness levels and reclaim their cancer journeys through her doctoral research in exercise oncology.
While exercise's physical, mental and social benefits for cancer patients are proven, access remains unequal. Bansal's research, supervised by Dr. Nicole Culos-Reed, focuses on
Arrow Big Smoke
Big Smoke supports and advocates for Indigenous cancer patients and families.
Indigenous Cancer Patient Navigator
Alberta Health Services
Arrow Big Smoke, a member of the Blackfoot Confederacy and registered with the Piikani Nation in Southern Alberta, knows that her Indigenous patients have existing support systems. Her job is to listen, find answers and help them build relationships with their health team.
Big Smoke says she learns so much from her clients by spending time with them, celebrating their wins and sharing a laugh. "My best days are when I'm able to help someone access services when they would otherwise leave," she says. "Clients with complex lives need more time, patience, understanding and a team of support."
She says the most challenging part of her job is overcoming systemic barriers. "Cancer is hard, the treatments are hard, and life is harder for those struggling with homelessness, addiction, stigma and a health-care system that isn't trauma
10
improving access to resources for Calgary's under-served South Asian community.
Work so far has largely surrounded understanding exercise oncology barriers and facilitators for South Asian populations. Partnerships with religious organizations and appearing on Punjabi radio stations have also been explored as effective avenues for outreach and awarenessbuilding. Next, she's tailoring programs and resources to better serve participants.
Ultimately, Bansal and her colleagues are working towards exercise becoming part of standard cancer care, helping more Calgarians during treatment and beyond.
"We want to see these amazing benefits from exercise available to everyone," says Bansal. "This is something that would improve lives and improve the health-care outcomes of a lot of people." —NK
Dr. Pierre Billon
informed," says Big Smoke. "If we can make health care safer, it will decrease fear, promote autonomy, and empower others to enter into care and get screened earlier." —SJ
DNA is the very complex blueprint of how we develop and function. A single change in that blueprint can lead to genetic diseases and cancer.
In his laboratory, Pierre Billon develops new technologies to promote precision genome editing. By correcting the underlying genetic causes of human diseases, genome editing can cure or even prevent lifethreatening conditions.
When a child in Britain became the first patient to be successfully treated for a highly aggressive, relapsed cancer in part because of a geneediting approach Billon established, he knew that his lab work was impacting lives.
Billon has worked and studied
Researcher
Genome Stability and Editing Laboratory, Robson DNA Science Centre, Arnie Charbonneau Cancer Institute
Assistant Professor
Department of Biochemistry & Molecular Biology
Cumming School of Medicine, University of Calgary
in the United States, France and Switzerland. He came to Calgary to join the momentum of cutting-edge genomic and therapeutic research at the Cumming School of Medicine's Robson DNA Science Centre and the Arnie Charbonneau Cancer Institute, and contribute to the international movement to rapidly advance gene therapies into powerful life-saving treatments. It's a treatment approach that will immediately impact patients of the Arthur Child as it becomes available.
"The pace is incredible," says Billon. "We are really revolutionizing health care." —JM
11
Billon explores how to precisely, accurately and safely edit human DNA to enhance the potential of using genome editing to fight cancer and correct the underlying causes of human genetic diseases.
Dr. Jeffrey Cao
Cao is
Radiation Oncologist
Tom Baker
Cancer Centre
Provincial Breast
Tumour Team Lead
Cancer Care Alberta, Alberta Health Services
Clinical Associate Professor
Department of Oncology, Division of Radiation Oncology, Cumming School of Medicine, University of Calgary
Jeffrey Cao is the man behind a few ongoing clinical trials for breast cancer patients, including the ELISA, RHEAL and RAPID 2 trials. The ELISA trial gives patients access to genomic testing of their tumours to determine whether they need radiation. The RHEAL trial looks at whether patients can have their radiation treatments in just five days, as
opposed to 15 days or three weeks. And the RAPID 2 trial looks at focusing radiation to just the specific surgery spot, as opposed to giving radiation to the whole breast, to minimize side effects.
"Opening a lot of clinical trials is making that difference to patients because it gives them innovative options," he says, adding these trials
Dr. Julie Deleemans
When Julie Deleemans was 18, the last thing she expected was to have advanced stage 4 laryngeal cancer. She was given two choices: have her voice box removed and receive high doses of chemoradiation, or die before her 19th birthday.
Canadian Institutes for Health Research
Postdoctoral Research Fellow
Department of Oncology, Cumming School of Medicine, University of Calgary
Co-founder and Vice Chair
Deleemans was left with a permanent vocal disability and a disfiguring scar from a tracheotomy (an incision in the front of the neck where a breathing tube is placed into the trachea). She also suffered from gastrointestinal (GI) problems, PTSD, anxiety and severe clinical depression. Despite the challenges she experienced, Deleemans turned to research to help others affected by cancer.
Many survivors of cancer experience chronic GI symptoms and mental health challenges after treatment ends, yet they don't always get the help they need. Deleemans' research strives to find solutions to address these chronic GI and psychosocial symptoms by using microbiome-based therapies, like nutrition or probiotics.
"The research we're doing will change lives, helping to ensure that those with cancer don't just survive, but thrive." —MR
12
Can — Canadian Cancer Advocacy
AYA
advancing national and international clinical trial research in radiotherapy so that breast cancer patients can access the latest treatment techniques. In his leadership roles, he ensures policies and structural frameworks are in place so patients get care in an equitable and timely manner.
Using her personal cancer experience as a catalyst, Deleemans helps people find solutions for sometimes debilitating gastrointestinal and psychosocial symptoms after cancer treatment.
can help improve patients' quality of life and overall survival.
Cao wants the donors of the Arthur Child to know that irrespective of the amount donated, it's all meaningful.
"It's hard to accomplish things individually," says Cao. "But collectively, we have the power to make a significant contribution to cancer care." —LS
Sandip Dhaliwal
Registered Nurse
Foothills Medical Centre
Doctoral Candidate
Faculty of Nursing, University of Calgary
Over the last six and a half years, Sandip Dhaliwal has worked as a registered nurse and cared for patients diagnosed with blood cancer. During this time, she noticed that emerging adults — those aged 18 to 29 — often fall through the cracks of the dichotomized health-care system, which treats populations as either pediatric or adult.
This gap in care inspired Dhaliwal to pursue her PhD. Her doctoral
research focuses on how a blood cancer diagnosis changes the role family plays in an emerging adult's life.
"Emerging adults face a variety of developmental transitions," says Dhaliwal. She explains how a cancer diagnosis disrupts these transitions — particularly when it comes to gaining independence from an emerging adult's family. Emerging adults are often forced to remain reliant on their families' support.
"My ultimate goal is to make more space and place for families in adult health-care settings, so the emerging adults' needs are addressed and acknowledged," she says. —SC
13
Dhaliwal's research looks at how a cancer diagnosis reshapes family dynamics for emerging adults, and how to better address family needs in adult health-care settings.
Dr. Nicolas Jacquelot
Jacquelot is building a better understanding of how we can harness the immune system to combat cancer.
Assistant Professor
Departments of Biochemistry & Molecular Biology and Microbiology, Immunology & Infectious Diseases, Cumming School of Medicine, University of Calgary
Discovery, in its truest form, drives Nicolas Jacquelot.
"I really enjoy being at the forefront of the field — asking questions that nobody has answered before," says Jacquelot.
Jacquelot, who is originally from France, was recruited to lead his own Calgary lab space and research at the Arnie Charbonneau Cancer Institute in the Cumming School of Medicine in winter 2023. The lab focuses on innate lymphoid
cells (ILC) — a family of immune cells that shows promise in shrinking tumours. Working with non-human models in early stages and human samples, Jacquelot is building an early foundation for future immunotherapy treatment development.
Jacquelot's lab will move from UCalgary's Foothills Campus into the Arthur Child when it opens. Having worked in similar comprehensive centres in the past, Jacquelot says collaborating with fellow field-leading professionals and connecting with patients is endlessly inspiring.
"It's not only about communication or collaboration. It's also to remind us why we are doing this," says Jacquelot. "It's important to see why we are working every day — to try to provide patients a better cure."
Dr. Safiya Karim
Karim is improving cancer patients' treatment experience by pairing therapies like mindfulness and exercise with conventional treatments, like chemotherapy.
Clinical Associate Professor
Department of Oncology, Cumming School of Medicine, University of Calgary
Medical Oncologist and Fellowship Program Director
Tom Baker Cancer Centre
As both a clinical oncologist with a focus on gastrointestinal and genitourinary cancers and an oncology researcher, Safiya Karim wants patients to thrive. That's why her research focuses on integrative oncology — complementary evidence-based approaches to cancer care that support the mind and body.
Currently, she is running a two-year pilot integrative oncology clinic that
started in August 2022, through the Alberta Complementary Therapy and Integrative Oncology Centre. With promising results, the clinic could continue to be offered at the Arthur Child.
Using "whole person care," the pilot clinic blends integrative oncology practices into cancer care by connecting patients to resources on nutrition, exercise and mind-body therapies. This can help improve the symptoms patients feel during
14
—NK
treatment, like cancer-related fatigue and mood changes, and lead to improved patient outcomes during the process from diagnosis to discharge.
"That's really the most meaningful part," says Karim. "Having the privilege to be involved in patients' lives at such a critical and vulnerable time."
She adds that the innovations in cancer research made at the Arthur Child will benefit cancer care into the next century.
"There's going to be so many opportunities for research and collaboration," says Karim. "I think the impact is going to be huge." —JD
Charlotte Kessler
While navigating cancer treatment in 2014, Kessler joined the Patient and Family Advisory Council for the Arthur Child and provided insightful feedback on the centre's design and operations from the beginning. Once it opens in 2024, Kessler will continue to provide insight and improve the patient experience as part of this council.
In October 2013, Charlotte Kessler learned in an earth-shattering way that she had a rare, highly recurrent brain cancer. She was expecting a simple follow-up appointment about a benign tumour; instead, she was brusquely told she had just two years to live.
Despite the challenging news, Kessler advocated for herself and found a supportive care team. She joined the two-year CATNON drug trial, which has added years to her life by stabilizing her tumour. Kessler was also inspired to become an advocate for other cancer patients.
Kessler joined the Patient and Family Advisory Council for the
Arthur Child — consisting of patients, family members, Tom Baker Cancer Centre staff and Calgary Cancer Project staff — when it was formed in 2014. Since then, she has been an integral player in helping shape the Arthur Child's design, building and operations, improving the patient experience.
"We wanted the centre to inspire hope with lots of light and warmth, so that as soon as you walk in, you feel welcomed and embraced. The team took our feedback wholeheartedly and turned it into a building for patients designed by patients," says Kessler. "It's beyond anything I could have imagined." —KO
15
Volunteer and Co-Chair, Patient and Family Advisory Council for the Arthur Child
Dr. Jose Monzon
Monzon is changing how cancer is treated in Calgary through innovative trials and cuttingedge treatment opportunities.
Medical Oncologist
Alberta Health Services
Medical Lead
Clinical Research Unit, Tom Baker Cancer Centre
Clinical Associate Professor
Department of Oncology, Cumming School of Medicine, University of Calgary
Jose Monzon wants clinical trials to be a standard of care for cancer patients. Clinical trials look at new ways to prevent, detect and treat disease,
Dr. Dustin Pearson
Pearson is a research scientist working to reduce the prevalence of radon-induced lung cancer and save lives by getting more people into early lung cancer screening programs.
Researcher
Robson DNA Science Centre, Arnie Charbonneau Cancer Institute, Cumming School of Medicine, University of Calgary
Operations Lead
Evict Radon National Study
It's a common misconception that only smokers will get lung cancer. In truth, about 16 per cent of all lung cancers in Canada are due to radon exposure.
Canada's soil is rich in radioactive elements, like radium and uranium. As these elements decay, they become an odourless gas that leeches out of the soil. Radon becomes problematic
when it gets trapped in our homes and we breathe it in. (Every home, condo and apartment — in every region of Canada — has the potential to be high in radon.)
Dustin Pearson regularly presents his research to the public in an approachable way, as education and awareness can help reduce the prevalence of radoninduced lung cancer.
"I've found talking about my work has an immediate impact: people will buy a kit [through the Evict Radon National Study or from other reputable sources] and test their homes' radon levels. Something that simple can prevent a lung cancer case," says Pearson.
16
PHOTOGRAPH: JASON DZIVER
offering patients access to the latest treatment options.
"I want to have a trial offered to every patient," says Monzon, who's led the Tom Baker Cancer Centre's Clinical Research Unit since 2019.
Monzon's vision comes with lofty numbers, including surpassing the national average of patient trial participation at the Arthur Child. Part of the goal includes doubling phase 1 trials — when research is often first tested in patients — and using novel immunotherapy, such as CAR T-cell therapy, putting Calgary at the forefront of research.
Monzon says with the Arthur Child's opening approaching, donors have the opportunity to invest in the infrastructure and team necessary to make these trials happen, and to make the city a true world leader.
"Calgary is going to be a place to come and be innovative," says Monzon. "And we need to build these clinical trial opportunities to foster that reputation."
—NK
Dr. Robert Puckrin
Puckrin is improving patient outcomes today and into the future by researching and deploying advanced treatment methods to combat blood cancers and other blood disorders.
Hematologist
Alberta Health Services
Clinical Lecturer
Department of Medicine, Cumming School of Medicine, University of Calgary
He is also developing a diagnostic tool to measure lifelong radon exposure. He hopes this would make otherwise ineligible, high-radon exposed individuals eligible for early lung cancer screening and improve patient outcomes. (Currently, only those with a history of heavy tobacco smoking are eligible.)
As part of his research, Pearson works closely with medical physicists at the Tom Baker Cancer Centre and is excited to continue this collaborative relationship when the Arthur Child opens.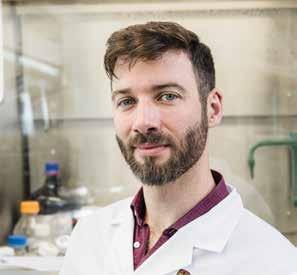 —KO
Both on the frontlines and behind the scenes, Robert Puckrin is making a difference for Albertans facing cancer.
Puckrin was originally inspired to pursue hematology by the emergence of futuristic and potentially life-saving advancements. Today, his focus lies in treating lymphoma patients with similarly innovative methods, such as CAR T-cell therapy — where immune cells are modified to better fight cancer — alongside chemotherapy and stem cell transplantation.
Following 11 years of training, Puckrin recently completed
his subspecialty in stem cell transplantation and cellular therapy. As he begins a new chapter leading his own work as an independently practicing physician, he remains focused on improving treatments, increasing access to Alberta-made CAR T cells and, ultimately, helping patients live longer and better lives.
"The best part of my job is that I get to care for so many wonderful patients and caregivers," says Puckrin. "To bring comfort, hope and promising new treatments to patients is my greatest honour as a physician."
—NK
17
Professor
Departments of Surgery, Oncology and Community Health Sciences,
Cumming School of Medicine, University of Calgary
Medical Director
Calgary Breast Health Program
Scientific Director
SPHERE (Strategies for Precision
Health in Breast Cancer)
Site Lead, General Surgery
Foothills Medical Centre
Dr. May Lynn Quan
Quan works directly with breast cancer patients and also leads collaborative research projects to study and implement improvements in the breast cancer journey, from diagnosis to survivorship.
Iqra Rahamatullah
Second Year MD Student
Cumming School of Medicine, University of Calgary
A three-time cancer survivor, and currently a medical student, Rahamatullah believes that leading with empathy and centring the patient during care will lead to improved patient experiences.
Iqra Rahamatullah never dreamed of being an oncologist. But after becoming a cancer patient, she realized her own experiences gave her a unique perspective to empathize with patients.
Rahamatullah was first diagnosed with Ewing sarcoma as a Grade 12 student in 2013, and again in 2019. After her second bout with cancer, she was overcome with worry that it might return. It took a conversation with an oncologist who was also a former cancer patient to address her fears in a meaningful way.
That chat stuck with her, and after she finished her degree in kinesiology, she applied for medical school. Despite a cancer recurrence in 2021, undergoing chemotherapy and having a lung removed, she got into the Cumming School of Medicine.
18
May Lynn Quan thinks of herself as kind of a Swiss Army knife of breast cancer care. Her multi-tool approach includes working as a surgeon, administrator and researcher. As a surgeon, she works directly with
patients. As a researcher, she evaluates what is working in breast cancer care and what isn't. And as an administrator, she helps improve cancer care by streamlining processes, filling gaps and changing policy for the better.
Quan strives to understand the entire scope of a woman's breast cancer journey. That understanding will become even clearer when the multidisciplinary Breast Health Clinic settles into its new homebase at the Arthur Child. There, nurse navigators, clinicians, researchers and others specializing in breast cancer will have direct access to each other and the wider oncology community.
"We can evaluate how we're delivering care, see where the gaps are from patients themselves, develop interventions and test them right there," she says. "We want to address the needs of breast cancer patients right here in Calgary and tailor it for them."
—JM
Dr. Fiona Schulte
Schulte, a clinical psychologist and researcher, studies the psychological and social aftereffects cancer treatment has on children, adolescents and young adults. Her goal is to improve the post-treatment experience for survivors and their families. For patients and their families, the cancer experience isn't over when chemotherapy and radiation ends.
"In the research that I've done, we've found that 50 per cent of adolescents and young adults report significant mental health difficulties more than six years after cancer treatment completion," says Fiona Schulte. Depression, anxiety, PTSD and fear of recurrence are all common in patients and their family members post-treatment. "We can't laud impressive survival rates and cancer cures without considering the psychological impact that cancer has on people. There needs to be a greater focus on youth with cancer, more resources — like psychosocial intervention support groups — and advocacy for the emotional needs of these young people following their cancer treatment to improve survivors' quality of life."
Now, her mission is to better integrate patient-centred care practices into medicine; Rahamutallah is strongly considering becoming a pediatric oncologist when she graduates medical school in 2025.
"I'm very motivated to live and carry out what I feel like is my purpose in life," says Rahamatullah.
—JD
Schulte has published over 100 research papers on this topic and is excited to continue her research out of the Arthur Child when it opens, closely connecting her to patients.
"The support for the OWN.CANCER campaign acknowledges that there is expertise here in Calgary, and that support gives us the power and the resources to make real change," says Schulte. "Thank you to the donors of the campaign. I'm looking forward to making a difference."
—KO
Associate Professor
Department of Oncology, Division of Psychosocial Oncology, Cumming School of Medicine, University of Calgary
Bioinformatician
Arnie Charbonneau Cancer Institute, Cumming School of Medicine, University of Calgary
Heewon Seo sees himself as a "hidden figure," referencing the 2016 film Hidden Figures as he explains his behind-thescenes work to provide hope for individuals living with brain cancer. Seo uses data gathered by a team of pathologists and clinicians, statistics and computerbased methods to create models that demonstrate the effectiveness of alternative drugs, so the most effective drugs can be prioritized.
"Brain cancer progresses really fast, so we have limited time [to treat it]," says Seo. "But in the bioinformatics area, we can move quickly to help clinicians with decisions."
Integral to Seo's work is spatial transcriptomics, a process that uses cutting-edge technology to map out the different components of a brain tumour. It breaks down which cells within a tumour are malignant, vascular or part of the immune system. Seo then uses this data to gain a better understanding of how each cell within a tumour works together as an "ecosystem," along with knowledge
Dr. Matt Warkentin
As a research analyst, Warkentin uses big data to generate real-world evidence that informs ways of improving cancer prevention, screening and treatment.
Molecular Epidemiologist and Postdoctoral Associate
Department of Oncology, Cumming School of Medicine, University of Calgary
Senior Research Analyst
Oncology Outcomes
Matt Warkentin uses big data and real-world evidence (RWE) to answer questions
that will help prevent cancer diagnoses each year, catch cancers earlier and improve patients' outcomes. Big data refers to using massive amounts of realworld information from various academic and clinical health-care databases, such as the Alberta Health Services' database, to inform research, while RWE provides clinically rich insights into what actually happens in everyday practice and why.
20
Seo uses data technology to derive a better understanding of how brain tumours and tumour microenvironments interplay to determine more effective drug therapies.
Dr. Heewon Seo
supplied by oncologists, immunologists and biologists.
Previously, technology was not advanced enough to look at tumours in such detail. This opens up the potential for what is known as precision oncology.
"Even though people may have the same brain cancer diagnoses, brain cancers are different from person to person," says Seo. "What bioinformatics can do is profile patients individually, so that clinicians treat them with different solutions patient to patient." —SC
Dr. Lin Yang
Research Scientist and Epidemiologist
Department of Cancer, Epidemiology and Prevention Research with Cancer Care
Alberta, Alberta Health Services
Adjunct Assistant Professor
Departments of Oncology and Community Health Sciences, Cumming School of Medicine, University of Calgary
another, she's exploring if intensive exercise interventions before bladder cancer surgery can help reduce surgical complications.
"Very often, we are dealing with terabytes of data and we are trying to find order in the chaos," says Warkentin. To that end, some of his work focuses on machine learning and how artificial intelligence can improve cancer control initiatives throughout Alberta and Canada.
Real-world data will also have a significant impact in clinical decision making. For example, integrating big data into patient treatment allows clinicians to gain a more comprehensive and longterm look at how a patient's illness and treatment progresses. "Realworld data is about using data from previous patients — which therapy was used and when to produce the best outcomes — to inform care and decisions for current patients, so that their survival and quality of life are the best possible," says Warkentin. "We leverage real-world data to make sure the right person is offered the right treatment at the right time." —SC
There's a window for cancer patients, after diagnosis but before treatment begins, that's often a waiting game. For Lin Yang, this period of time is an opportunity for prehabilitation. Her research examines how exercise, lifestyle modifications and psychological mental health supports can positively set patients up for their treatments. In one study, she developed a virtual tai chi program for prostate cancer patients to participate in before surgery. In
"The cancer journey is really like running a marathon. Running the cancer race demands physical and psychological endurance. We aim to build up endurance from prehabilitation," she says. "When we think about this long journey of cancer survival, it's not just the treatment outcome. It's how the treatment outcome may affect their long-term survival."
Yang was recruited to Calgary from Vienna, Austria, and says the Arthur Child was a reason for her move. She's most excited about the space bringing together patients, clinicians and researchers.
"The new cancer centre will be able to provide this opportunity, in a physical way, to put everyone together to solve a common problem." —LS
21
Yang conducts research to provide evidence that prehabilitation with personalised lifestyle interventions, particularly noninvasive approaches like exercise and mental health support, can improve the readiness of patients for cancer treatment as well as improve long-term cancer survivorship.
22
The Arthur J.E. Child Comprehensive Cancer Centre opening 2024
The Arthur J.E. Child Comprehensive
Cancer Centre – by the numbers
One of the largest comprehensive cancer centres in North America
160 in-patient beds
100+ patient exam rooms
1.3m square feet in area
90+ chemotherapy chairs
12 radiation vaults for radiation therapy services
The largest comprehensive cancer centre in Canada
Bricks and mortar are only the beginning. We're bringing together researchers, medical teams, prevention experts, patients and families in ways never before possible. But big dreams need big support. That's why we have committed to OWN.CANCER by raising $250 million to accelerate research innovations and provide world-leading cancer care and treatment at the Arthur Child when it opens its doors in 2024.
Are you with us?
110k square feet of dedicated research space
Help us OWN.CANCER: owncancer.ca
23
WE'RE READY TO
Are you with u s?
Calgary is already a recognized hub for cancer research, treatment and care. That's nothing compared to what we are poised to become when the Arthur Child opens its doors in 2024.
We're more than half way towards reaching our goal of raising $250 million to accelerate research innovations and provide world-leading cancer care and treatment.
But big dreams need big support and we need your help to get there. Help
us OWN.CANCER: owncancer.ca