PIE DIGEST | PART 11 | $16 PIEMEDIAGROUP.COM
Minimalism FRIDAY HARBOUR
A
Infusing the Focus MARC ANDREW SMITH All in the Family LAKEWOOD RANCH DOODLES
Katie Hunt
WALLPAPERING ODYSSEY
400chryslerdealer.com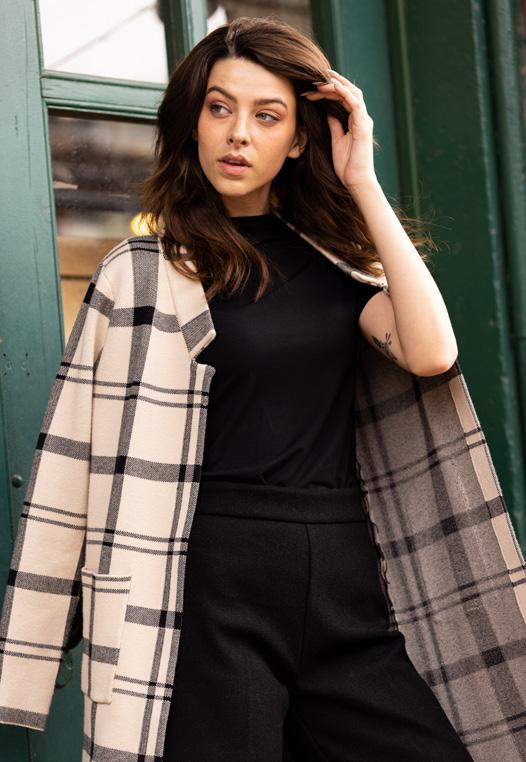 EMPOWER THROUGH CHIC AND SUSTAINABLE FASHIONS TO CONTINUE TO LIVE LIFE IN COMFORTABLE LUXURY.
PINKMARTINICOLLECTION .COM
WE
Here it is, another piece of the Pie! This piece is as tasty as ever, with flavours of art, community, fashion, style, philanthropy, and home. It is with great pride this issue gets to you after navigating our rapidly-changed world. I love that so many of our clients and friends have collaborated with me to support charities and the arts in our community. Thank you Julie Woolsey, Christy Fines, United Roofing, The Doctor's House and all the sponsors. Inspiration comes in many forms, and I celebrate both maximalism and minimalism in this issue. The sparseness of Dana Walton's art and space. The lushness of Friday Harbour. The extremes of the rugged landscape against the warmth of the hospitality in Newfoundland's Battery Bluff Cottages on Airbnb. It's about contrast for me. Then there's the throwback to the photoshoot in downtown Barrie that's been sitting in the archive. Our small team was ready to put on an immersive fashion show when the lockdown cancelled our plans. Instead, we created our own art. The BIA, Audi Barrie, Danielle May, Alley Nightclub and Katie Meyer were the glue that kept this together for David Hou to create imagery in unique circumstances so that we were still able to support Girls Inc. We were inventive and resourceful as a team.
I am following the careers of so many artists like Marc Andrew Smith. He was only 21 when we first met. He modelled for me and acted in a fashion film that we created. Now we are showcasing his fashion styling, and I am proud of his accomplishments. Immersive fashion theatre came to Kleinburg as my friend Melissa Protomanni and I merged our contacts and communities to create a night of magic called The Wonderer. It was without hesitation that Marc Graci and his team at The Doctor's House said yes to this collaboration knowing the attention it would bring to the town.
This issue is just scratching the surface of what is coming in our next offering: more unexpected features, unusual wellness destinations and, as always, inspiring artisans. I have to confess, though, I am excited to share this Pie with you. Enjoy.
In search of the authentic. With grace, Sandra Roberts publisher publisher@piemediagroup.com
Publisher
PHOTOGRAPHY SCOTT COOPER