1 Readers Choice 2023 | Friday, July 28, 2023 Bennington Banner | BenningtonBanner.com Trim Target 2022 2023 A special publication of the Bennington Banner and the Manchester Journal | Friday, July 28, 2023
Bennington Banner | BenningtonBanner.com Friday, July 28, 2023 | Readers Choice 2023 2 Thankyou forvotingforus! BestIceCream 344NorthStreet Bennington Gassaway'sTASTEE•FREEZ TheFreeze akaTasteeFreez 321ParkStreet Bennington,Vermont05201 (802)445-4926 pupright@swtech.org BestChildCare THANKYOU U BenningtonCountyforvotingthe VermontVeterans'Homethe Reader'sChoicefavoriteNursingHome 2023! vvh.vermont.gov•(802)447-6510 802-442-9070 Route7 DepotStreet Bennington, VT05201 SERVINGTHEAREA FOROVER77YEARS 2022 2023 Table of Contents Automotive 3 Dining 4 Education 8 Home Improvement 9 Travel & Entertainment 13 Professional Services 14 Sports & Recreation 20 Retail 21 Community Life 26 Winner Index 29 Thankyoutoallour patientsforvotingus THEBESTfor2023! Itistrulyhumblingandtellsus thatwecontinuetodorightbyour patientsandcommunity. Wearehonoredtobe THEBEST! Thankyouagain! ~Dr.Sullivan-Bol&Team mon9-5p,tue&thu7-5p,wed9-7p,fri9-12noon 345ElmStreet-Bennington 802-753-7930 www.cmrehab.net Thankyoutoourclientsandvoters foryourunwaveringsupport! HealingArtsforInspiredLiving 469MainSt.Suite1 Bennington,VT05201 (802)447-2900 www.greenmountainoasis.com
AUTOMOTIVE
BEST AUTO PARTS
Advance Auto Parts
113 Northside Drive, Bennington 802-442-0779 • advanceautoparts.com
BEST AUTO REPAIRS AND SERVICES
All Service Citgo
All Service Citgo's ASE-certified technicians offer a full menu of services for imported and domestic vehicles of all shapes and sizes, as well as towing, transport and state inspections.
212 Lincoln St., Bennington 802-447-8918 • allservicecitgo.com
BEST CAR WASH
Bennington Express
Lube & Car Wash
Vermont roads can be rough on a vehicle's paint job and underside. A good car wash is more than just cosmetic — it's preventative maintenance at its most basic. Our readers prefer to have Bennington Express Lube & Car Wash on their side in the battle against corrosion.
124 Northside Drive, Bennington
802-442-9665 benningtonlubeandwash.com
BEST GAS STATION
Apollo Fuels
99 Benmont Ave., Bennington 941-922-8700
BEST NEW CAR DEALER
Coggins Auto Group
The locally owned Coggins Auto Group — made up of Coggins Ford of Bennington, Coggins Toyota of Bennington and Coggins Honda of Bennington — combines an expansive inventory with comprehensive maintenence and repair services.
Coggins Ford of Bennington: 897 North Bennington Road, Bennington • 888-693-1687 cogginsfordofbennington.com
Coggins Toyota of Bennington: 751 North Bennington Road, Bennington • 888-687-0387 cogginstoyotaofbennington.com
Coggins Honda of Bennington: 699 North Bennington Road, Bennington • 802-440-0604 cogginshondaofbennington.com
BEST TIRE DEALER
Wassick Tire Service
Quality tires are important for performance and safety. Now in their
74th year, Wassick Tire Service has you covered with new tires from all major brands, as well as related repair services including wheel alignment, tire and wheel services, tire pressure monitoring system repairs and roadside assistance.
322 North St., Bennington 802-442-9070 • wassicktireservice.com
BEST TOWING
Walt's Service Center
Walt's is a AAA-approved 24-hour towing and roadside assistance service, offering quick, quality service no matter when trouble strikes.
220 Benmont Ave., Bennington 802-442-6897
BEST USED CAR
Loomis Auto Exchange
With an award-winning service department standing behind every car and truck they sell, Loomis Auto takes the worry out of the used car buying experience.
133 Northside Drive, Bennington 802-447-2226
loomissalesandservice.com
3 Readers Choice 2023 | Friday, July 28, 2023 Bennington Banner | BenningtonBanner.com Afamily-ownedindependentbookstore inManchester,VT.Since1976. 4869MainSt ManchesterCenterVt 802-362-2200 www.northshire.com ArtShop& FrameGallery AlsoCards&Gifts ThankYou ForVotingJay's DowntownBennington #1ArtGallery #1ArtSupplies #1Framing Over50Yearsof Excellence Largest SelectionofArtSuppliesin OpenDaily 802-447-2342 Rte.7SouthStreet, Downtown Bennington,VT www.jaysartshop.com Winner 12 Years InA Row!
DINING
BEST ATMOSPHERE
The 421 Craft Bar & Kitchen
With upscale takes on classic favorites like gouda and fontina mac and cheese, and a full menu of creatively-topped (and named) brick oven pizzas, 421 Craft Bar & Kitchen has already made an impression on downtown Bennington.
421 Main St., Bennington 802-440-5972 • the421craftbar.com
BEST BREAKFAST
The Blue Benn
A Bennington icon, the Blue Benn provides all the classic diner grub with a wealth of specials to boot, open seven days a week. Stop in for brunch, spring for the Vermont maple syrup and turn up the jukebox to enjoy an idyllic New England morning.
314 North St., Bennington 802-442-5140
BEST BREWERY/ DISTILLERY/CIDERY
Village Garage Distillery
Located in the former Bennington highway garage, Village Garage Distillery produces Vermont inspired whiskey, gin and vodka. Stop by to take a tour of the craft distilling facility, and taste the final product for yourself.
107 Depot St., Bennington Manchester Tasting Room: Inside the Orvis Flagship Store, 4180 Main St., Manchester 802-447-7663 • villagegarage.com
BEST CANDY
The Village Chocolate Shoppe
At the Village Chocolate Shoppe in downtown Bennington, you can savor the wide selection of candy and chocolate while you watch it being made. Stop by and meet Benny and Molly, a pair of solid chocolate moose weighing 100 pounds each, or partake in the number of community events held at the store throughout the year.
471 Main St., Bennington 802-447-3789 thevillagechocolateshoppe.com
BEST CATERER
Pangaea
Pangaea's team of caterers brings the fine dining establishment's signature culinary excellence to your event, with an expertly curated menu sure to impress.
3 Prospect St., North Bennington 802-442-7171 • vermontfinedining.com
BEST COCKTAIL
The 421 Craft Bar & Kitchen
See Best Atmosphere
BEST COFFEE/TEA
The Coffee Bar
Located in a former courthouse building in the historic Putnam Block, The Coffee Bar serves Mocha Joe's coffee, brewed in nearby Brattleboro, alongside cafe treats, local art and live entertainment.
109 South St., Bennington 802-500-2741 • tpwcoffeebar.com
BEST DELI
The Elm Street Market
Offering sandwiches, soups, salads and more delectable delicatessen goodies, the Elm Street Market specializes in Boar's Head meats and cheeses on sandwiches or by the pound. Take the time to explore the bevy of unique goods available at the market, or consider their catering services.
251 Elm St., Bennington 802-753-7366 • esmbennington.com
BEST DELIVERY SERVICE
Ramunto's Brick Oven Pizza
Whether you're looking for pizza by the slice, garlic knots or award-winning wings, Ramunto's is the place to go for lunch, dinner or a late night snack. Wash down the pizza with beer from one of their 20 taps, and be sure to check out their daily specials.
519 Main St., Bennington 802-442-6622 • ramuntos.com
Bennington Banner | BenningtonBanner.com Friday, July 28, 2023 | Readers Choice 2023 4 Abigthankyoutoallofourdevotedclientsandour communityforvotingus BestHair&NailSalon AthankyoufromCatherineDickson, RobinHollister,LisaPierce,andCarl Demarcofor4greatyearsinbusiness ontheWestend. PoshPlaceSalonandGifts 1496WestRd.,Bennington,VT•802-440-5986 Reader'sChoice BestHomeFuelService 802-442-2705 Familyownedandoperated ServingBenningtonCountysince1946 RobertGreene,Inc.|675NorthBranchSt.|Bennington,VT GreenesOil.com Veteran's DISCOUNT askus aboutour Offeringfueloil & kerosene deliveries onanautomatic orwill-callbasis. 24hour EMERGENCY SERVICE
5 Readers Choice 2023 | Friday, July 28, 2023 Bennington Banner | BenningtonBanner.com Sat,Sept.2nd2023|10am-5pm GARLICTOWN,USA! DowntownBennington,VT VOTEDBESTEVENT GarlicTownUSA.Com @GarlicTownUSA EarlyTickets FollowUs! THANKYOUBENNINGTONCOUNTY!
BEST ETHNIC CUISINE Island Flavor
Experience authentic Jamaican cuisine in the heart of Bennington at Island Flavor, which opened in 2022 to offer something a little different to hungry southern Vermonters.
512 Main St., Bennington 516-884-9130
BEST FINE DINING
The Publyk House
The Publyk House features fine dining with fantastic views of Mount Anthony and the Bennington Battle Monument during the dat and a warm, inviting ambiance at night. They are also the perfect venue for weddings, funerals and birthday, retirement and office parties.
782 Harwood Hill Road, Bennington 802-442-7500 • thepublykhouse.com
BEST FRENCH FRIES
Madison Brewing Company
Classic bar food and a lively atmosphere perfectly complement Madison Brewing Company's range of house craft brews.
428 Main St., Bennington 802-442-7397 madisonbrewingco.com
BEST HAMBURGER
Kevin's Sports Pub and Restaurant
A North Bennington fixture since 1995, Kevin's continues to wow with a cozy atmosphere, a menu packed with delicious comfort food and daily specials.
27 Main St., North Bennington 802-442-0122 kevinssportspubandrestaurant.com
BEST HOT DOG
Double D's Burgers & More
Double D's serves up the very best Nathan's All Beef hot dogs — with or without cheese — plus burgers, fries and other roadside classics.
24 Performance Drive, Bennington 802-214-2647 facebook.com/DDsBurgersnMore
BEST ICE CREAM
Gassaway's Tastee Freeze
Gassaway's Tastee Freeze is the quintisential roadside food stand, serving up burgers, fries, wings, clam rolls, fish fry and, of course, soft-serve ice cream.
344 North St., Bennington 802-379-4354 facebook.com/tasteefreezbennvt
BEST NEW RESTAURANT
The Angry Egg 2
"Come Hangry, Leave Happy!" is the motto of The Angry Egg 2, the quirky downtown breakfast and lunch spot that opened its Bennington location in 2022.
467 Main St., Bennington 802-753-7811 • angryeggcafe.com/-vt
BEST OVERALL RESTAURANT
Madison Brewing Company
See Best French Fries
BEST PASTRIES
moon scones
Gourmet scones in a bevy of unique flavor combinations are the stars of the show at moon scones, but baked good afficianados will also find cakes, cookies, blondies and more to enjoy. Owner Wendy June Marie proudly uses local ingredients in her creations, which are also available to order in bulk for parties, weddings and other special events.
66 Main St., North Bennington 802-440-1612 • moonscones.com
BEST PIZZA
Benner's Bagels
Pizza 'N What Nosh
Alongside pizza parlor classics like pepperoni and sausage, Benner's offers a collection of specialty pies with ingredients ranging from linguine and marinara to gyro meat and tzatziki sauce.
640 Main St., Bennington 802-753-7772 • facebook.com/ bennersbagelspizzanwhatnosh
BEST VEGETARIAN/ VEGAN OPTIONS
Bennington Community Market
Founded with the mission of supporting local farmers and Bennington's downtown, and providing healthy, fresh food options to all, the nonprofit Bennington Community Market offers groceries and prepared meals using ingredients sourced from local food producers.
239 Main St., Bennington 802-474-2051 • benningtonmarket. com
FAVORITE WAITER/WAITRESS
Jamie Joly, Village Garage Distillery
See Best Brewery/Distillery/Cidery
FAVORITE BARTENDER
Kylee Lockwood, Ramunto's Brick Oven Pizza
See Best Delivery Service
FAVORITE BARISTA
Angelica Harrison, The Roasted Bean Espresso Bar
259 Benmont St., Bennington 802-430-9323 • facebook.com/getrstd
Bennington Banner | BenningtonBanner.com Friday, July 28, 2023 | Readers Choice 2023 6 OPENEVERYDAYEXCEPTWEDNESDAY 10AM-4PM ANDUNTIL7PMONFRIDAYS benningtonmuseum.org
7 Readers Choice 2023 | Friday, July 28, 2023 Bennington Banner | BenningtonBanner.com ThankyouforvotingusBestBank&MortgageLender! WecelebrateVermontandthosewhochooselocal. TM YourMoneyStaysHere,WorksHere, andthatMakesaDifference.TM AsaVermont-basedmutualbank,wecan't bebought,weworkforourcustomers, andwefocusoncommunity. CelebratingVermont StayingInVermont TheBankofBennington.com Bennington 802-442-1640 Manchester 802-362-4760 Arlington 802-375-2319 Rutland 802-774-5085 PRACTICEAREAS: EstatePlanning,Tax,Probate, Trusts&Business AdmittedtoPracticein Vermont,NewYork,& Massachusetts (802)442-9800•WCDESQ.COM THANKYOUFORVOTINGUSBESTLAWYERAGAIN!! 2022 2023 WILLIAM C DEVENEAU ATTORNEYATLAW
EDUCATION
BEST COLLEGE Bennington College
Founded in 1932 as an experiment in self-directed, experience-focused education, Bennington College remains at the leading edge of academic innovation. Bennington students chart their own course of study with the help of close faculty guidance and annual internships.
1 College Drive, Bennington 802-442-5401 • bennington.edu
BEST CHILD CARE Growing Up Right
Growing Up Right provides preschool-age children with a structured daily routine including arts and crafts, outdoor play, music, storytime and other activities designed to aid social, emotional and cognitive development.
321 Park St., Bennington 802-447-0220 ext. 451
BEST DANCE/MARTIAL ARTS Berkshire Dance Theatre
Berkshire Dance Theatre is a non-profit organization founded in 1982 to promote and advance the art of dance. With classes in ballet, jazz, tap, modern dance, acrobatics and more, Berkshire Dance Theatre provides instruction for children and adults, from the basics to
BEST
Myers
Children's Campuses
Bennington Banner | BenningtonBanner.com Friday, July 28, 2023 | Readers Choice 2023 8 307SchoolStreet|Bennington,VT05201|802.442.2446|sacredheartbennington.org Thisrecognitionwouldn'thavebeenpossiblewithoutthe unwaveringsupportofouramazingparents,thecommitment ofourdedicatedteachers,andthehardworkofour exceptionalstaff.Thankyouallformakingadifferenceinthe livesofourstudents! VOTEDBESTEARLYEDUCATION(K-12)
pre-professional training 46 Holand Ave., Adams, Mass. 66 School St., Williamstown, Mass. 12 Union St., Bennington, Vt. 413-743-4645
• 802-447-8855 berkshiredance.org
DAYCARE
262northst.bennington,vt•802-447-0488•hawkinshouse.com•opendaily T h a n k y o u t o o u r c u s t o me m e r s ! BestJewelry Store freegift wrapping
Prouty
With six campuses across southern
Vermont, Myers Prouty serves children of all backgrounds and abilities, with a focus on developing strong families for long-term success.
Main Street Campus: 901 Main St., Unit 2 and 3, Bennington
Monument Campus: 1 Monument Circle, Old Bennington
North Bennington Campus: 9 School St., North Bennington
Shaftsbury Campus: 95 Grange Road, Shaftsbury
Forever Friends Playschool: 1735 East Road, Bennington
Lil' Peeps Preschool: 79 Grange Road, Shaftsbury
802-733-0212 • myersproutycc.org
HOME IMPROVEMENT
BEST CARPENTRY
Jonathan G.
Hoff man Builder
With over 30 years of experience in the building industry, owner/operator Jonathan Hoffman is an expert on all things construction, from groundup conventional and modular home builds, to fine cabinetry and woodwork. 802-379-4517 vermontbuildcontractor.com
BEST CHIMNEY SWEEP
window washing and power washing services to keep your exterior looking fresh.
569 N. Branch St., Bennington 802-442-5122
BEST ELECTRICIAN
Monument Electric
Since 1978, Monument Electric has provided electrical construction and maintenance services to commercial and residential customers of all sizes.
1030 Water St., North Bennington 802-447-0784
In business since 1979, Bennington Cooling & Heating has focused on doing one thing and doing it well, and has become a leading mechanical contractor in the process. The firm prides itself on staying on top of the latest HVAC technology and meeting the latest energy efficient requirements.
303 Depot St., Bennington 802-442-3519 • benncool.com
BEST HOME FUEL SERVICE
Greene's Oil and Propane
BEST
EARLY EDUCATION
(K-12) The School of Sacred Heart Saint Francis de Sales
The School of Sacred Heart St. Francis de Sales provides an academically rigorous, individualized Catholic education to students from pre-kindergarten to eighth grade.
307 School St., Bennington 802-442-2446 sacredheartbennington.org
Darren D. Sharp, Inc.
Darren D. Sharp's chimney services extend well beyond basic cleaning. The company provides expert installation of flue liners, chimneys, gas inserts, pellet stoves and more, as well as inspections and free estimates.
127 River St., Bennington 802-442-3964 • darrendsharpinc.com
BEST CLEANING SERVICE
Monument Window
Cleaning
Monument Window Cleaning offers
BEST GREEN ENERGY PROVIDER
Power Guru Solar Energy
Serving customers in Vermont, New York and Massachusetts, Power Guru provides NABCEP and NYSERDA certified installation of renewable energy systems, as well as maintenence and repairs, design assistance and more.
160 Benmont Ave, Bennington 802-379-9973 • power-guru.com
BEST HEATING/AC
Bennington Cooling & Heating
Green's Oil earned their award by providing great service to customers in Bennington County. The company specializes in heating fuels, 24-hour burner service and commercial and residential heating services.
675 N. Branch St., Bennington 802-442-2705 • greenesoil.com
BEST KITCHEN/INTERIOR DESIGN
Attention to Details
Whether you're a do-it-yourselfer of not, Attention to Details has you covered, offering materials and installation for cabinets, countertops,
9 Readers Choice 2023 | Friday, July 28, 2023 Bennington Banner | BenningtonBanner.com BenningtonHannafordSupermarket&Pharmacy 141HannafordSquare Bennington,VT05201 (802)442-1521•Hannaford.com ThankYou! We'reproudtobevoted BESTLOCAL GROCERYSTORE inthe2022BenningtonBanner Reader'sChoiceAwards.
Bennington Banner | BenningtonBanner.com Friday, July 28, 2023 | Readers Choice 2023 10 ThankyouforvotingBenningtonHouse ofTile&CarpetBestFlooringStore! Forthe bestflooringstoreinBennington,looknofurtherthan Bennington HouseOfTile&Carpet.WiththeBestSelectionandour experiencedstaff we canhandleallofyourfloorcoveringneeds. 1267HarwoodHillRd,Bennington,VT05201 802-442-2494 www.benningtontile.com AutoExchangeSales&Service Thankyou forvotingusthe #1Quality Pre-OwnedCar Dealer 14YEARSINA ROW!!!! Qu yV A R b P 133NorthsideDrive,Bennington,VT05201 loomissalesandservice.com L MIS Brakes•Exhaust•Inspection•Struts 802-447-2226 2022 2022
11 Readers Choice 2023 | Friday, July 28, 2023 Bennington Banner | BenningtonBanner.com AvailableonDoordash 467MainStreetBennington,VT05201 Dinner Fri-Sun7am-5pm Open7am-3pm ClosedWednesdday Nowserving Mimosas,BloodyMarysandCraftBeer. Thankyouforvotingus BestNewBusiness! 8027537811-angryeggcafe.com A B U E L A ' S Thank you to my entire village, community, and incredible humans that voted for Abuela's Plant Boutique and Floral Design Studio as their #1 BEST FLORIST!!
kitchen, bath and laundry room items and more. As the name implies, these folks are detail-oriented, professional and affordable.
485 Harwood Hill, Bennington 802-442-7081 • atdvt.com
BEST LANDSCAPING
Callaert Construction
In addition to extensive building, remodeling and snow removal offerings, Callaert Construction provides reliable, award-winning landscaping services.
110 Webb St., Bennington 802-753-7017
BEST MASONRY
Madrus Masonry
Bennington
madrusmasonry@outlook.com
BEST MOVING SERVICE
Manchester Movers
Manchester Movers' fully insured team has over 30 years of experience transporting precious cargo for residential, professional and commercial clients.
2546 Sunderland Hill Road, Sunderland 802-375-2900 manchestermoversvt.com
BEST PAINTING
Luxbrush Painting
For interior, exterior and decorative painting needs, readers turn to LuxBrush. Other services include color consultation, window washing and a carpentry division.
254 Taconic Business Park Road,
Manchester Center 802-366-1119 • luxbrush.com
BEST PAVING
Mintrone Paving
Established in 2002, Mintrone Paving of Pownal builds driveways, sidewalks and parking lots from a variety of materials including asphalt and gravel. Pownal 802-823-5665 • mintronepaving.com
BEST PLUMBING
Hayden Plumbing & Heating
Family owned and operated since 1986, Hayden Plumbing and Heating specializes in providing plumbing and mechanical services for commercial, residential and industrial properties.
They pride themselves on personal service and attention to detail.
268 Benmont Ave., Bennington 802-442-2130 • haydenph.biz
BEST ROOFING
Vermont Roofing
Serving Bennington and Rutland counties and the Berkshires since 1957, Vermont Roofing offers commercial and residential services and is fully licensed and insured.
1325 Harwood Hill Road, Bennington 802-442-2899 • vermontroofing.com
BEST WINDOWS/GLASS
C L White Glass
105 Gage St., Bennington 802-442-3155
Bennington Banner | BenningtonBanner.com Friday, July 28, 2023 | Readers Choice 2023 12 •Celebratingour126thAnniversary •2023GolfMemberships •Renovated18Hole-Par71 •GolfInstruction&Clinics •18&9HoleLadiesLeague •Stay&PlayPackages •ServingLunch&Dinner 180 Countr yClub Rd.Bennington V T.•mtanthonycc .com•802 .4 42 .261 7 471MainSt.,Bennington,VT•802-447-3789•VillagePeddlerVT.com Ifitbeginswithchocolate…Itendswithasmile ThankyouforvotingusBestCandyStore Thankyoutoeveryonewho'scomeout tolistentotheband! Weappreciateyoursupport! Authentic FRESH Take-outonly on 512MainStreet,Bennington,VT (516)884-9130 islandflavor22@gmail.com findusonDoordash BestEthnic Cuisine Thankyoufor voting for us
TRAVEL & ENTERTAINMENT
BEST BED AND BREAKFAST South
Shire Inn
Built in 1887 as the estate of Louis
A. Graves, the South Shire Inn has retained plenty of historic Victorian charm, with each of its nine rooms featuring its own mix of period details like ornately carved fireplaces and elegant antique furniture.
124 Elm St., Bennington 802-447-3839 • southshire.com
BEST HOTEL/MOTEL Knotty
Pine
Clean, cozy and friendly, the Knotty Pine offers a fine place to rest a weary head.
130 Northside Drive, Bennington 802-442-5487 • knottypinemotel.com
BEST LOCAL BAND
The Throwbacks
Made up of high school aged musicians, The Throwbacks bring their youthful energy, tight harmonies and instrumental prowess to old school favorites from Doo Wop to classic rock. thethrowbacksband.com
BEST MUSIC VENUE Little City
Cider Co.
Little City Cider's commercial hard cidery serves as the backdrop for an eclectic mix of live music.
139 Shields Drive, Bennington 802-242-1611
BEST TOURIST LOCATION
Bennington Museum
Readers love this museum showcasing the art, history and innovation of Bennington and the surrounding region. Permanent exhibitions include favorites like Gilded Age Vermont, Bennington Modernism and the largest public collection of Grandma Moses works in the world.
75 Main St., Bennington 802-447-1571 • benningtonmuseum.org
BEST TRIVIA/BINGO/KARAOKE
Bennington Performing Arts Center
BPAC's Tuesday night team trivia nights were a reader favorite for some brain-based entertainment.
13 Readers Choice 2023 | Friday, July 28, 2023 Bennington Banner | BenningtonBanner.com ...AlwayssomethingbrewingatMadison's www.madisonbrewingco.com 428MAINST. BENNINGTON,VERMONT 802-44B-REWS MADISON BREWING CO. BREWPUB&RESTAURANT LUNCH&DINNERDAILY 13BEERSONTAP•BEERTOGO! •VERMONT'SONLYOPENBREWHOUSE BestOverall Restaurant &thebest FrenchFries! 2022 2022 Mon-Sat11:30-9:00PM Sun11:30-4:30PM THANKYOUFOR INBENNINGTONCOUNTY! 2023 2023
212LincolnSt.•Bennington,VT 802-447-8919 ThankyouBennington County ForVoting AllService CITGO the BEST for AutoRepairs&Service! Wetakeprideinour workandwearehappy you'venoticed! SERVICESWEOFFER: OilChange•BrakeRepairs A/CRepairs•Tuneups•Towing Andmore!
331 Main St., Bennington 802-447-0564
benningtonperformingartscenter.org
BEST SKI RESORT
Bromley Mountain Ski Resort
Nicknamed "sun mountain" for its southern exposure, Bromley Mountain features 47 trails offering skiing terrain for all skill levels.
3984 Vermont Route 11, Peru 802-824-5522 • bromley.com
PROFESSIONAL SERVICES
BEST ASSISTED LIVING
Centers for Living and Rehabilitation
Offering both short- and long-term care, the Centers for Living and Rehabilitation are conveniently located on the SVHC Bennington campus. A full staff of on-site medical professionals provide top-notch care, while amenities like wi-fi internet, activity rooms and a
restaurant-style dining room make for a comfortable, stress-free stay.
160 Hospital Drive, Bennington 802-447-1547 svhealthcare.org/services/ centers-living-rehabilitation
BEST BANK/CREDIT UNION Bank of Bennington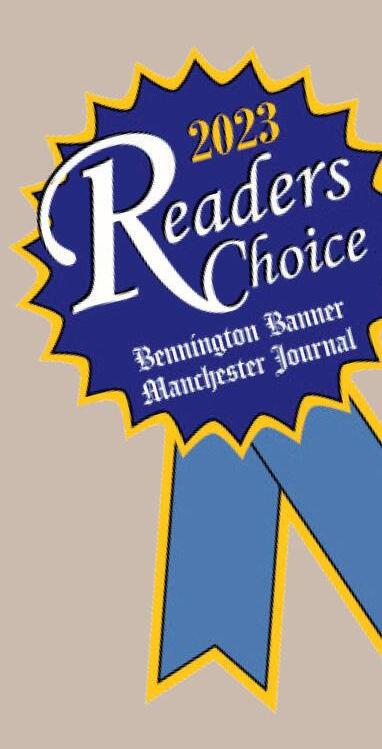 Serving the Bennington area for over
100 years, Bank of Bennington is not just a premier provider of personal banking, business banking, lending and financial services. They are also a large presence within the community, donating roughly $650,000 and over 3,000 employee volunteer hours annually to local nonprofits.
Main Branch: 155 North St., Bennington 802-442-8121 thebankofbennington.com
BEST BARBER/HAIR SALON
Posh Place Salon & Gifts
Posh Place Salon was our readers' top destination for hair cuts, coloring services and a variety of mani/pedi options including dip powder and shellac techniques.
1496 West Road, Bennington 802-440-5986 facebook.com/poshplacesalon
BEST CHIROPRACTOR
Chiro-Med & Rehabilitation
Opened in 2010, Chiro-Med offers chiropractic medicine, orthopaedic rehabilitation and sports medicine. Dr.
moonsconesisaVermontlicensed& inspectedhomecaterermicrobakeryrunbyonewoman. Thankyoufromthebottomofmy sconeslingerheartforyourkind support.Iappreciateallofyou
HandmadePastry
Bennington Banner | BenningtonBanner.com Friday, July 28, 2023 | Readers Choice 2023 14
everythingsweetenedwithmaplesuga
Saturdays8am-12pm
moonscones 66MainStreet NorthBennington,VT05257 802-440-1612 moonscones.com ar
ThanksforchoosingBromleyas BenningtonCounty'sFavoriteSkiArea! 3984VTRoute11,Peru,VT,6milesfromManchester,VT•bromley.com•802-824-5522 MakeBromleyyourwinterhomethisyear! SeasonPassesonsalenow. PurchasebyOctober15forbestprices!
15 Readers Choice 2023 | Friday, July 28, 2023 Bennington Banner | BenningtonBanner.com | |
Kenneth Sullivan-Bol and his staff treat a wide range of joint- and spine-related ailments in patients of all ages.
345 Elm St., Bennington 802-753-7930 • cmrehab.net
BEST DENTIST
Salem Dentistry
Readers Choice regular Salem Dentistry was launched over four decades ago by Dr. Charles G. Salem. His son, Dr. Justin Salem, now heads the practice, which offers high quality dental care to those in need of everything from bonding to cosmetic fillings. 107 Elm St., Bennington 802-447-7147 • benningtondentist.com
BEST DOCTOR
Allison Neimi, MD
Southwestern Vermont Medical Center Pownal Campus
7237 Rte. 7, Pownal 802-681-2780 svhealthcare.org/locations/ pownal-campus
BEST EYE CARE
Advanced Eyecare
Advanced Eye is dedicated to providing personalized eye care with
the most innovative techniques in the field. With location in Bennington and Manchester Center, the practice offers a variety of surgery and general ophthalmology treatments to help restore and maintain vision health.
322 Dewey St., Bennington 802-447-8700
5222 Main St., Manchester Center 802-366-8050
77 Hospital Ave. #110, North Adams, Mass.
413-664-6736 •adveyecare.org
BEST FAMILY PRACTICE
Southwestern Vermont Health Care
With offices in Wilmington, Manchester and Pownal, SVHC's family practices provide routine and preventitive care for every life stage.
Deerfield Valley Campus: 30 Rte. 100 South, Wilmington 802-464-5311
Northshire Campus: 5957 Main St. — Rte. 7A, Manchester 802-362-4440
Pownal Campus: 7237 Rte. 7, Pownal, 802-681-2780 svhealthcare.org/services/ family-practice
BEST FUNERAL HOME
E.P. Mahar and Son Funeral Home
Having served the communities of southern Vermont for over 70 years, this family business will help you handle loss and organize a fitting service to remember your loved one. If you have immediate need of their services, they're available 24 hours a day to lend a hand in your time of need.
628 Main St., Bennington 802-442-2516 maharandsonfuneralhome.net
BEST INSURANCE
The Richards Group
The Richards Group is a family-owned, indepent group providing insurance and financial services to clients in Vermont, New Hampshire and Massachusetts since 1867.
116 South St., Bennington 802-442-5414 therichardsgrp.com/wills-insurance
BEST INVESTMENT
D.B. McKenna & Co.
People in this area work hard for their money, and according to our readers, there's no better place to go for finan-
cial advice than D.B. McKenna. These folks understand how important your finances are and bring years of experience and expertise to the table.
207 Main St., Bennington 802-447-1538 • dbmckenna.com
BEST LAWYER William C. Deveneau, Esq. PLC
WCD Law puts an emphasis on specialization, providing expert services in a few areas of focus, including elder law, estate administration, taxes and business law.
160 Benmont Ave., Ste. C3-80A, Bennington 802-442-9800 • wcdesq.com
BEST MASSAGE
Green Mountain Oasis
Imagine walking in the relaxation lounge before your appointment and being handed a cup of green tea as you await a relaxing massage or spa treatment.That's just one of the perks at Green Mountain Oasis, which offers facials, hot stone massage, foot and hand treatments and more.
469 Main St., Bennington 802-447-2900 greenmountainoasis.com
ApremierphotoandvideostudiobasedinBenningtonVT.
Wearededicatedtogiveyouphotographsandfilmsthatcelebrateyourlife, inspireyourfriendsandserveastimemachinesforyoursoulformanyyearstocome. Itwouldbeajoyandhonortoshareyourstorynext.
Forourlastestadventures,photographsandfilmspleasefollowushere:
lnstagram @thestudiovt @idenabeachphotography visitusat thestudiovt.com
Bennington Banner | BenningtonBanner.com Friday, July 28, 2023 | Readers Choice 2023 16
BEST
MORTGAGE BROKER
Bank of Bennington
See Bank/ Credit Union
BEST NAIL SALON Posh
Place Salon & Gifts
See Best Barber/Hair Salon
BEST NURSING HOME Vermont
Veterans Home
With a five-star rating from the Centers for Medicare and Medicaid Services, the Vermont Veterans Home offers residential, clinical and rehabilitation services to U.S. military veterans. The home admitted its first residents, veterans of the Civil War, in 1887, and has become one of Bennington's most respected institutions.
325 North St., Bennington 802-447-6510 • vvh.verrmont.gov
BEST PEDIATRICIAN
Meghan E. Gunn, MD
Dartmouth Hitchcock Clinics Bennington
140 Hospital Drive, Bennington 802-447-3930 dartmouth-hitchcock.org
BEST PET BOARDING/DAYCARE Pawnal Pets
Readers know their furriest loved ones are in good hands at Pawnal Pets, a state-of-the-art facility offering boarding, daycare and grooming services.
5993 Rte. 7, Pownal 802-823-1489 • pawnalpets.com
BEST PHARMACY The Pharmacy
The Pharmacy, Inc. is a full-service pharmacy, offering everything from immunization and medical supplies to orthopedic supports and even veterinary supplies. They also provide deliver service to ensure all their customers have access to the best possible care.
205 North St., Bennington 802-442-5602 • pharmacyinc.net
BEST PHOTOGRAPHER
The Studio on Main Photographer and videographer Idena Beach specializes in capturing the important moments with beautiful, evocative images. A fixture on the southern Vermont wedding scene, she has the experience and connections to guide you through the perfect wedding experience.
Bennington • idenabeach.com
BEST PHYSICAL THERAPY Bennington Physical Therapy
Bennington Physical Therapy treats orthopaedic and neurological conditions with a focus on educating patients and preventing future injury. The friendly staff and light-filled facility provide a relaxing space to heal.
328 Dewey St., Bennington 802-447-2101
benningtonphysicaltherapy.com
BEST PRINTING/GRAPHICS
Crae Printing & Mailing
Family owned and operated since 1999, Crae helps customers get their message out through paper brochures and screen-printed t-shirts, with graphic design and embroidery services also available.
108 Union St., Bennington 802-442-6711 • craeprinting.weebly.com
BEST REAL ESTATE COMPANY
Maple Leaf Realty
Serving homebuyers and sellers in southern Vermont and eastern New York, Maple Leaf Realty operates on the principle that, "everyone deserves a home." They are avid supporters of the local community, working with the
Bennington Coalition for the Homeless and the Second Chance Animal Center.
311 North St., Bennington 802-447-3210 mapleleafvermont.com
BEST SPA
Green Mountain Oasis
See Best Massage
BEST STORAGE & RENTAL FACILITY
Bennington Self Storage
If you need a clean, secure, climate controlled space to store your prized posessions, our readers recommend Bennington Self Storage, with convenient locations in both Bennington and Hoosick Falls, N.Y. 25 Morse Road, Bennington 4736 NY-7, Hoosick Falls, N.Y. 802-447-3238
benningtonselfstorage.com
BEST TANNING SALON Village Salon
Give yourself a sunkissed glow at Village Salon, which offers both 12-minute tanning beds and spray tan services.
530 Main St., Bennington
17 Readers Choice 2023 | Friday, July 28, 2023 Bennington Banner | BenningtonBanner.com 417MAIN STREET BENNINGTON, VT05201 [802]442 6252 FACEBOOK. COM/ KNAPPSVT THANKYOU! THANKYOU! VotedBestMusic&ToyStore! SCREENPRINTING•EMBROIDERY•TEESHIRTS•POLOS SWEATSHIRTS•HATS•PRINTING&COPIES Thankyouforvotingusbestprinter! 108UnionSt. Bennington,VT 802.442.6711 printer@sover.net LocallyOwned& Operatedfor30years!