Midwest Herdsman
SEPTEMBER 2023
PRODUCTS PRODUCTS custom + personalized
Cowherd Record Books
Keep track of your operation with this cowherd record book. forget the days of trying to remember who you treated or where you put that piece of paper. This cowherd record book will provide organization to your herd.
Details: 200+ pages of record sheets
8x6 sprial bound record book
Breeding, calving treatment, pasture + grazing, feeder performance, Individual cow records, notes, gestation table + more.
Water proof + tear proof covers
general cover - $25
Custom cover - $30
*shipping not included
Branded wild rags
Rep your brand with these custom designed wild rags. Both fashionable and functional, a custom wild rag is a perfect gift for friends and family! order before October 15th for christmas delivery.
Details: two sizes available
100% real silk material
Semen tank tags
Never lose track of your semen or embryo inventory again. These semen tank tags hang right on the handle of your tank and include refillable sheets made to write directly on. The Ultimate semen tank organization achieved.
Details:
Plastic tank hanger with magnet
Refillable sheets
Completely custom design specific to you and your brand
Custom design - $55
*shipping not included
Semen tank inventory, embryo inventory, tank refill records + gestation tables.
additional sheets available for order refills - vary on qty
bundle - $20
*shipping included
*7 day turnaround
*2 week turnaround *4-6 week turnaround 42" x 42" or 54" X 54"
$40
MH Brand -
is the limit when considering colors and design elements scan here to shop now!
Sky
www.midwestherdsman.com
In this issue... Staff
Reilly Owner/ Graphic Designer Cuba City, WI "A marketing solution for good people and good livestock."-Sue Finley New MH Products to Order page 2 15 social media topic ideas to use Upcoming issue info This issue is available online at www.midwestherdsman.com don'tforget! Tear the semen tank inventory sheets from the center fold of the magazine to use at home! 3 page 20-21 4 tips for your next online sale page 26 page 38
Jayde
upcoming events
Genetic Reflections
Open house
09.16.23 - 09.17.23
Carrousel Farms
hosted by sc online sales 09.17.23
Wedig Cattle
Hosted by Steerbidder 09.17.23
Weigel's Steer Pit
Hosted by Sc Online Sales 09.17.23
Marda Angus Farm
Live sale in Lodi, WI
11.18.23 12.01.23 - 12.03.23
Badger brawl
Show in madison, WI
Platinum Sale
December 2023
WBIA Bull Sale
Live sale in Platteville, wi 04.06.24
Sandrock Ranch Herefords
Live sale in benton, wi 04.06.24
Backroad Creative marketing Services Available
Spengler Cattle
Hosted by sc online sales
Tibbits Livestock Bid-off sale 09.18.23 steers -09.25.23 Heifers - 10.06.23
World Beef Expo west Allis, wi 09.28.23 - 10.01.23
Badger Select Sale
live sale in darlington, wi 10.08.23
Out of the northwoods sale
Hosted by Sc online sales Steers - 10.08.23 Heifers- 10.09.23
bernard show cattle
live sale in grand ridge, IL 10.10.23
generations sale
Live sale in endeavor, WI 10.15.23
Boo Bash show at Jefferson Co, wi 10.29.23
Coney Creek Farms
Hosted by sc online sales 11.10.23
Primetime Performance
Year-round services available
Schmitt show cattle
calves available private treaty
Final Drive Group see ad for sale details
Vyvyan cattle co
calves available private treaty
Great lakes belted galloway assn now accepting memberships
ADM
Feed & Supplements available
Hueber show feed
feed & supplements available
Reilly Ranch
Calves available private treaty
SVS REPRO
NOW BOOKING 2024 BREEDING SEASON impact hampshires
Semen available
Brodie Abney Photography
Now booking 2024 clients
Moll Cattle Company
Pasture sale this fall
SC Online Sales
booking sales now
Lime Ridge Ag Supply
various products available now
Meister's Forest Products
various options available now
midwest herdsman
thank you!
From the editor:
This September marks the FIVE YEAR ANNIVERSARY of my purchase of Midwest Herdsman. What a wild ride! Midwest Herdsman has evolved into a publication and a marketing service which truly serves its clients in almost all capacities. We have done this together and I am so proud of how we have gotten here. Through blood, sweat and literal tears, you are holding the 9TH ISSUE of the magazine on the 5TH ANNIVERSARY of closing my eyes and jumping in. We did it.
I will admit there has been some hard days... being a business owner is not for the weak (as many of you know all too well.) One defeated night a couple years ago, my husband said, "Stick with it. You're playing the long game." In hindsight, we should have written that date down because that may be the first (and last) time I've listened without a rebuttal. But, he was right. After five years of showing up, this business has blossomed which is synergistic for everyone involved. As I take on more projects, I continue to sharpen my skills and build new relationships which helps me offer my clients the highest quality products, services and partnerships.
So here is your reminder to "play the long game" as Calvin would put it. The hard work and elbow grease that you are putting in today may not show instant results. But keep showing up, keep pushing forward, and keep doing the damn thing.
Reilly
5
Jayde
6
Marda Asti
Dam: Marda Asti 944
Sire: Ellingson Three Rivers 8062
Grand Champion PGS Heifer
Eastern Regional Angus Show
Division IV PGS Champion
National Junior Angus Show
Sold in 2022 Production Sale!
Her maternal sister sells in our 2023 sale; plus many more like her!
Guest Consignors: Cornerstone Livestock, Premier Angus, Johnson Family Cattle, Lone Oak Angus and Spring Creek Cattle Company
MARDAANGUSFARM.COM
11.18.23 11.18.23 at the farm in Lodi, WI THE QUAM FAMILY N706 State Road 113 Lodi, WI 53555 Terry Quam: 608.575.9261 Cody Quam: 608.575.9237
220 fall production
7
Sale
8
10.08 10.09 STEER SALE HEIFER SALE Viewing October 7 & 8 ELS Acres & Hidden Paradise Ranch RHA Farms Devine Cattle Company Diamond Creek Farms DEVIN: 715.271.5018 JEFF: 715.225.8569 TED: 715.651.5891 JADEYN: 715.644.8476 KEITH: 715.703.0974 AUSTIN GILES: 715.642.4335 Follow us for sale updates & information! Our Consignors: Viewing Location Two sales - One weekend S8020 HILLVIEW RD EAU CLAIRE WI 54701 FARM IS DIRECTLY NORTH OF THE HOUSE 9
10
11
SC ONLINE SALES SEPTEMBER 17 BRAD BADER farm: 608-328-1885 evening: 608-328-4225 cell: 608-558-3024 CAMERON BADER cell: 608-558-4650 TIM DONOVAN phone: 608-325-8165 cell: 608-214-1180 W6859 HWY 81 • MONROE, WI 53566 3.5 miles West of Monroe, Wisconsin on Highway 81 West; Monroe Airport EFT
We don't skimp on mineral. We use VitaFerm because we need our cows to come into heat consistently and timely. Mark, Rita, Miles, Matt, Lexi, Kohen, Zade, and Witten Weigel 12653 SALES BARN ROAD •CUBA CITY, WI 53807 mattsteerpit@gmail.com • MARK 608.732.2445 MATT 608.732.1983 • MILES 608.732.1504 14
RODEO AUSTIN CHAMPION RED AOC SOLD BY TUSA - RAISED BY TIBBITS MN BEEF EXPO GRAND CHAMPION STEER SOLD WITH KENNEDY BROTHERS STATE FAIR OF TX BRITISH STEER CLASS WINNER SOLD BY TUSA - RAISED BY JAMES OHIO AGR CHAMPION SHORTHORN STEER SOLD TO GUYER - RAISED BY YELINEK MANY TIME CHAMPION SHORTHORN STEER-WI RAISED BY JAMES BOO BASH CHAMPION AOB STEER SOLD TO TOEYNES - RAISED TIBBITS BOO BASH 5TH OVERALL STEER RAISED BY TIBBITS MANY TIME TOP FIVE STEER RAISED BY HALBACH - SOLD BY TIBBITS CHAMPION CHAROLAIS HEIER RAISED BY GRADERT TAG 16 IN 2022 SALE EXIT 69 HEIER RAISED BY GRADERT CENTRAL WI SPRING FLING RESERVE GRAND HEIFER RAISED BY MEAD - SOLD BY CEG & TIBBITS BOO BASH CHAMPION MAINE ANJOU STEER SOLD TO TOEYNES - RAISED BY ROBINSON MANY TIME CHAMPION SHORTHORN STEER-IN BRED BY POLYOCK/RAISED BY TIBBITS SOLD BY CALDWELL SAN ANTONIO 6TH MIDDLEWEIGHT CHAROLAIS SOLD BY GEVELINGER - RAISED BY DEPIES TAG 31 IN 2021 SALE SEPT 16&17 Open House 2076 CTY RD A - MINERAL POINT, WI JUSTIN, ASHLEY, LANDRY & MADDOX TIBBITS CONTACT JUSTIN 608.574.5809 TAG 9 IN 2021 SALE TAG 9 IN 2022 SALE TAG 18 IN 2022 SALE TAG 28 IN 2022 SALE TAG 13 IN 2022 SALE - BIDS CLOSE MONDAY SEPT 18SALE CATTLE LOCATION 15
PRIVATE TREATY calves available this fall CALVIN, JAYDE & LARAMIE Reilly 25732 HAMMER LANE, CUBA CITY, WI 53807 CALVIN: 608.482.4647 - JAYDE: 815.997.4171 GRAND CHAMPION SHORTHORN STEER THE MELTDOWN - WI RES CHAMPION MARKET STEER PREBLE CO FAIR - OH OPEN HOUSE - SEPTEMBER 17
S A L E P R E P
P r o t e i n 1 2 % , F a t 3 % , F i b e r 1 5 . 8 %
C U S T O M E R R E V I E W
W e h a v e u s e d H u e b e r S h o w F e e d s S a l e P r e p f o r
o v e r a y e a r a t H e n n i n g F a r m s . S i n c e s t a r t i n g t o
f e e d S a l e P r e p , o u r c a l v e s h a v e i n c r e a s e d t h e i r
c o n d i t i o n a n d o v e r a l l c o v e r . T h e i r b l e n d o f f i b e r
s o u r c e s c a n b e a c c r e d i t e d f o r o u r i m p r o v e m e n t
o f p r e s e n t a t i o n c o m e s a l e d a y .
Danny Zehr, Henning Farms - Janesville, WI
S a l e P r e p i s a c o m p l e t e t e x t u r i z e d f e e d d e s i g n e d t o d e v e l o p c a t t l e a n d g i v e t h e i d e a l a m o u n t o f f l e s h a n d f i l l f o r s a l e t i m e .
F o r i n c r e a s e d c o n d i t i o n , f i l l a n d c o v e r - t r y o u r S a l e P r e p P l u s !
w w w . h u e b e r f e e d . c o m
17
18
19
social media post ideas
for your ag business or farm.
by Jayde Reilly, Owner of Midwest Herdsman
1 Your Story
Introduce yourself, your operation and what you do! You gain new followers over time. Be sure to re-introduce yourself occasionally to make connections.
2 Your Team
Large or small, introduce your team to your followers. There are many key players that make the wheels turn every single day. Highlight them with a post.
3 Tips and Tricks
You want to be seen as an "expert" in your field to your customers. Share a helpful tip with them that pertains to your product or industry.
4 An Upcoming Event
Do you host an annual sale? Maybe there is a farmer's market happening in your area? Share details of the event with your followers to spread the information.
5 Updates
Something happening around the farm today? Share pictures or videos of daily activities as well as special events.
6 Quotes
Share your favorite inspirational quote. Include it in a post with a captivating picture.
7 Say "Thank You"
Your customers are the most important part of your business. Make sure to occasionally thank them for their support and loyalty.
8 Your Products
Education surrounding your product line up is essential in not only building trust with your customers but generating more revenue through sales. Share your products in posts and stories.
9 Behind the Scenes
Your followers like to see what you are up to! Share photos and videos of what you are doing and the behind the scenes processes in getting your product or service to them.
20
11
A giveaway post is a great way to encourage follower engagement with your accounts and to increase your brand awareness with swag.
Poll or Vote
Get your followers talking! Ask them to participate in a poll on social media. Red or green tractors?
12 Recipes
Share a recipe using ingredients that you produce or sell. This is a great way to inspire your followers to take action.
13
Popular Products
Post a popular product and how you utilize it. This can be one of your own products or someone else's product that you find useful.
14
National Holidays
Wish your customers and followers well during the holidays with a social media post. But don't forget...all of the smaller "holidays" give us great reasons to post as well!
15 A Story
Did something funny happen on the farm today? Sharing stories with your followers will help them relate to you as a real person behind the account.
Put it into practice!
1. Utilize the scheduling feature to post across platforms and into the future.
2. Post to your stories on Instagram and Facebook for more views on your content.
3. Engage with your followers through comments and likes.
21
10 A Giveaway
21
22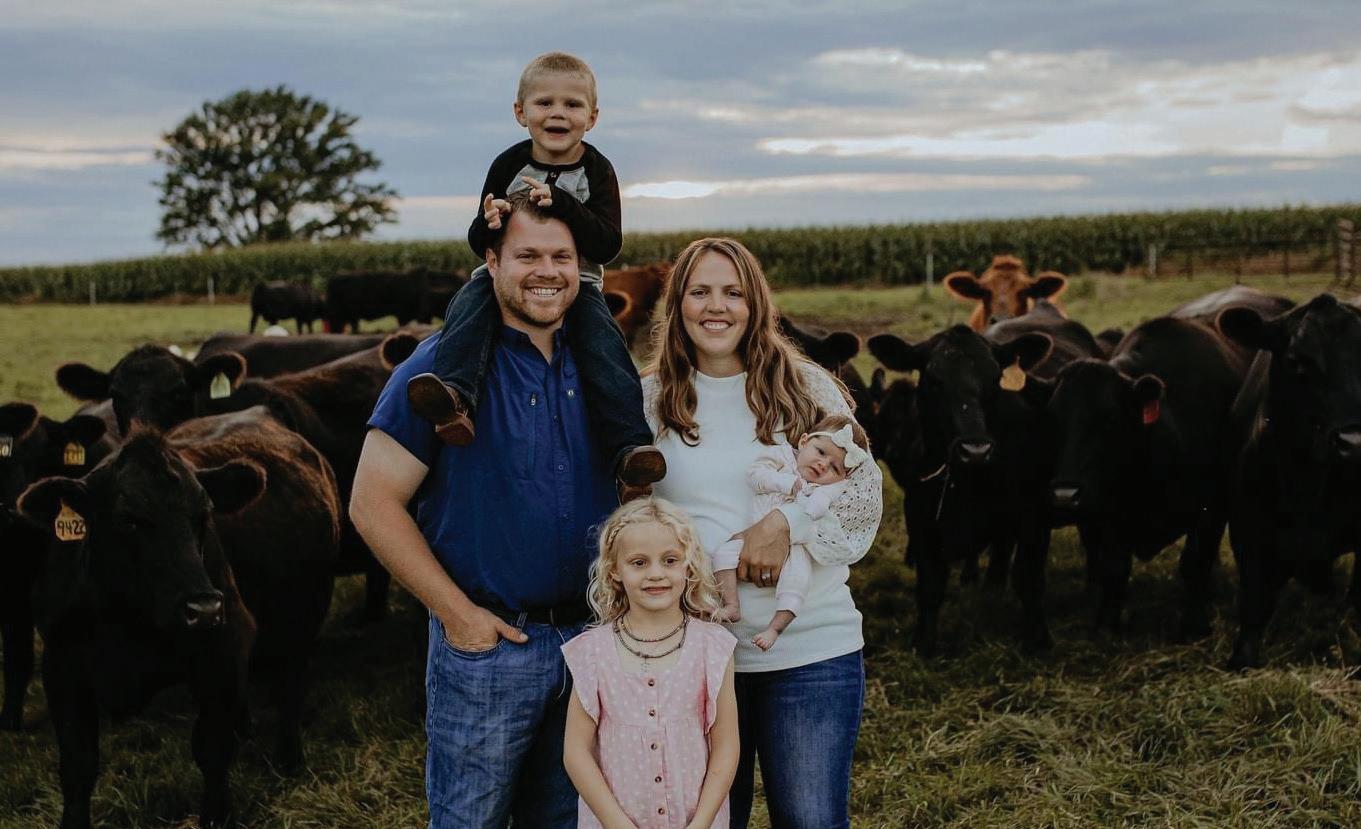 Private Treaty calves available this fall yvyan 13447 E Lake Shore Rd, Clinton, WI | Dan: 262.939.3285 Dan, Mal, Jayde, Brady & Saige contact us V find us on Facebook Vyvyan Cattle Company congratulations to our families for another successful year firstfirstcomeserve 23
24
J ones Family Darlington, WI BJ 608-482-2961 bj@wildcatcattle.com Ev an Espenscheid, 6 41-691-0798 w ww.wildcatcattle.com FIND YOUR DREAM AT THE BADGER SOUTHERN SELECT SALE • OCTOBER 8, 2023 SALE LOCATION • WILDCAT CATTLE CO. • DARLINGTON, WI REQUEST YOUR SALE CATALOG TODAY! BADGERSOUTHERNSELECT.COM Dreams Dreams start here start here Sold as Lot 13: Wildcat Vivid 2384 ET 4th Overall Iowa Beef Expo Owned by Kinnick Paulsen, IA Sold as Lot 1: Wildcat Pristine 2605 ET OKC Reserve Junior Calf Champion Owned with Maddie Smith, TX 25
Tips for preparing for your Online Livestock Sale 4
With cattle sale season upon us in the Midwest, you may be busy preparing for your upcoming online sale. If so, here are some tips from SC Online Sales that may help the process be more efficient and effective for all involved!
1. Schedule your date! Your sale date depends on a few different factors – timing, age of the livestock you're selling, and most importantly making sure your livestock looks the part! Planning and getting a game plan established regarding a feed program and daily management is vital to your sale date. You want to make sure you give yourself plenty of time to get them on a high-quality ration and looking their best in regards to condition and hair quality. Presenting your product well and displaying their potential will certainly help in getting them sold for their full value!
2. Find a photographer and book them! We highly recommend hiring a photographer that specializes in taking livestock photos (more specifically, the species you are selling). Now, if photography is something you are gifted at, by all means utilize that talent (and feel free to skip to the next step!) However, if you are not comfortable behind the camera, there are many talented photographers out there who do this full-time. The cost of hiring a photographer can sound a bit daunting, but this is how I look at it: I wouldn't hire just some random person to do my taxes and I know darn well I am NOT good with numbers and I have NO idea what I am doing and I want it done RIGHT so maybe (just maybe) I can get a tax refund or don't have to pay anything. So, I hire a professional – a certified CPA. The same concept goes for hiring a professional photographer. Capturing high-quality photos and videos that represent each animal well is EXTREMELY important. Since this is an online business, this is how most of your buyers are making their
purchasing decisions – off of the pictures you have provided! Our team has found that sellers who hire this service to be done have had much more success with their online sales and positively affected their bottom line! If you need help finding a professional livestock photographer, your SCO Rep will gladly point you in the right direction — or you can check out the "Resources" tab on our website.
3. Promoting your sale! Now that you have booked your sale date and scheduled your photographer, it is time to PROMOTE YOUR SALE! We offer multiple options to help with this. Our homepage offers two different ad sizes for you to optimize your views on our page. Our graphic designer will happily design this for you. We also offer targeted text message marketing. Our team will help you put together a list of recipients that are interested in bidding on whatever it is you're selling. We can break the demographics down by bidders' location, the sex and breed of the animals you are selling, and much more! With the convenience and popularity of social media, promoting and marketing your sale on social media is also a valuable option. Facebook, Twitter, Instagram, and Snapchat provide a high volume of reach to potential buyers. If social media is not your thing, you can always reach out to your SCO Rep, who will be happy to help share content through our SCO social media channels. Not only is the internet a great way to promote your sale, but investing in print ads with publications specific to the show industry is also another avenue we highly recommend. i.e. The Show Circuit magazine OR what you are reading now - The Midwest Herdsman, which reaches more than 3,000 livestock producers and exhibitors in the Midwest.
4. Organizing & sending sale materials! Now that you have your sale date established and your photographer has come, it is time to send in all of your sale materials. At SCO, we provide an easy-to-complete Excel spreadsheet that is specifically designed for your type of
sale which is sent to you via email approximately 2-3 weeks before your sale. This is where you will provide your lot and consignor information as well as your comments/footnotes. In regards to photos, it is important that they are all labeled accordingly (I always suggest labeling them by tag number or lot number, and if you have multiple pictures for one lot, name them in the order you would like them to be posted – EXAMPLE: Lot 1 A.jpeg, Lot 1 B.jpeg, Lot 1 C.jpeg.) Once the spreadsheet is filled out and pictures are labeled –the next step is sending them in. We recommend sharing all pictures and files via Dropbox. It's a cloud storage service that allows you to share any file or folder easily with anyone! We usually encourage sellers to get their sale materials submitted at least 5-7 days before their sale date to ensure the sale is posted with plenty of time for viewers to look!
SC Online Sales prides itself on its customer service and more combined years of industry experience than any other online sales platform. So, whether you are selling cattle, sheep, goats, or swine, let the "Best Team in the Business" help you sell your stock. Feel free to contact any of our SC Online Sales Reps to book your next online sale!
by Deven Wilson, Social Media and Digital Marketing Director. www.sconlinesales.com
26
26
Article
7 W Beloit St Darien, WI 53114 \\ 262.749.1441 svsrepro@gmail.com \\ facebook.com/svsrepro Contact Us: BLUEPRINT GENETICS LLC SVS REPRO MOBILE LAB Service Sites MAPLE-LEIGH FUTURES in partnership with We take time to understand your production goals and help you maximize your donor's reproductive potential. TIME We at SVS Repro are a tight knit team of ET professionals focused on quality embryo production. QUALITY We pride ourselves in providing great service at competitive pricing. PRIDE STEVE, JANN & MATT MERRY 414-881-5274 STEVEN.MERRY@AURORA.ORG MGMPOLLEDHEREFORDS.COM VANGUARD SERVICE & PROGENY SELL! SELLING BRED FEMALES, COW/ CALF PAIRS, SELECT OPEN HEIFERS and Elite Genetic lots! and Elite Genetic lots! Bid in Person or Online FEATURING THE (ALMOST) MATURE COW HERD DISPERSAL of Next Gen! of Next Gen! TOD, SONDRA, BLAKE & BRYCE BRANCEL 608-697-9026 · 608-617-6949 BRANCEL@NEXTGENERATIONGENETICS.COM NEXTGENERATIONGENETICS.COM OCTOBER 15, 2023 ENDEAVOR, WI NOON
OCTOBER 10th Annual Fall Production Sale BSC 4102 J LO 101 ET Full Sibs Sell PERKS 172P QUEEN OF TIME 4034 PayPal and Highroller Daughters Sell Bred Heifers and Show Heifer Prospect Sell! New this year - Steers will be sold private treaty on a first come first serve basis Hosted by Jimmy - (779) 771-4687 28
29 www meistersforestproducts com FLEXIBLE SIZING FIND US ON FACEBOOK!
Cedar is offered various sizing and packaging to fit your needs. Available in super sacks and bulk Bulk loads can be delivered in 12, 30, or 100 yard loads SHIPPING OPTIONS LTL, local delivery and pick up options are available Contact us for current pricing options HIGH QUALITY PRODUCTS
cedar we offer other bark, wood chips, and saw dust
material does great for livestock bedding and show ring footing depending upon your individual needs. LIVESTOCK BEDDING WE OFFER CONTACT US NOW (608) 393-1964 (608) 587-2050 melissa.mfp@maqs.net 101 Industrial Lane Endeavor, WI 53930 SHOW RING FOOTING & New Size Available! 34lb bag (4.2 cubic feet)
The
Besides
Each
2023 DECEMBER COLLECTION female sale ELITE BRED FEMALES DUE JANUARY - MARCH JEROD SCHMITT - 262-492-1131 FOLLOW US FOR AN OFFICIAL SALE DATE AND OFFERINGS! 30
31
www.MoorMansShowTec.com • 800-217-2007 • AN_ShowFeedHelp@adm.com SHOW FEED SPECIALIST Krisha Geffert – 307-760-0327 Congrats to our ShowTec
of Champions KADEN BUTTS COOPER WILLIS CHASE CHERNEY KATIE WALKINGTON MORGAN SQUIRES KARMIN KILPIN LOGAN BENNETT CATE CHERNEY KATIE WALKINGTON KATIE WALKINGTON CADE WILLIS KADEN BUTTS CATE CHERNEY 2022 WI STATE FAIR RESERVE GRAND CHAMPION GILT 2022 WI STATE FAIR CHAMPION LANDRACE BARROW 2022 WI STATE FAIR CHAMPION DUROC GILT & 3RD OVERALL GILT 2022 WI STATE FAIR GRAND CHAMPION MARKET LAMB 2022 WI STATE FAIR RESERVE CHAMPION SHROP MARKET LAMB 2022 WI STATE FAIR CHAMPION TAMWORTH BARROW 2022 WI STATE FAIR CHAMPION CHESTER BARROW & 5TH OVERALL BARROW 2022 WI STATE FAIR CHAMPION YORK GILT & 5TH OVERALL GILT 2022 WI STATE FAIR SUPREME CHAMPION BREEDING EWE 2022 WI STATE FAIR RESERVE CHAMPION SPECKLE FACE EWE 2022 WI STATE FAIR RESERVE CHAMPION BERK BARROW 2022 WI STATE FAIR CHAMPION DUROC BARROW & 3RD OVERALL BARROW 2022 WI STATE FAIR RESERVE GRAND CHAMPION BRED AND OWNED CLAIR DUCH 2022 WI STATE FAIR GRAND CHAMPION MARKET BARROW AMANDA MIKLASZEWSKI COOPER WILLIS CHASE CHERNEY WYATT NIXON 2022 WI STATE FAIR CHAMPION BERK BARROW & 4TH OVERALL BARROW 2022 WI STATE FAIR RESERVE CHAMPION CHESTER BARROW 2022 WI STATE FAIR GRAND CHAMPION BRED AND OWNED 2022 WI STATE FAIR CHAMPION CROSS MARKET LAMB BRADY BRANDT 2022 WI STATE FAIR RESERVE GRAND CHAMPION COMMERCIAL DOE HALIE SCHWAB 2022 WI STATE FAIR 7TH OVERALL MARKET LAMB
Family
PASTURE SALE first come - first served MOLL CATTLE CO & SLEEPY HOLLOW RANCH CALVIN 608-445-7812 - NATE 608-445-7813 - AUSTIN 608-445-7886 FOR SALE UNTIL 10.01.23 - VIEWING BY APPOINTMENT ONLY - POYNETTE, WI STYLE MEETS PRODUCTION frozen genetics available - calves out of industry leading females 33 EMBRYos available Golden Genetic Opportunity Pick of "Annie" Embryos Moll Cattle Company Full Sib to Annie Maternal Sib to Annie Available matings Annie x Broker Class on Class Shocker Lazy JB Edge Gateway Follow Me High Regard x Black Blaze Lock N Load x Black Blaze Lock N Load x Black Blaze ASA#: 2837659 Granddam
5T
to Annie Black Blaze II
PERFORMANCE BULL SALE SAVE THE DATE | APRIL 6TH, 2024 Hosted by DV Auctions at UW-Platteville in-person, phone & internet bidding 608-342-1119www.wisconsinbeef.com VARIETY OF HIGH QUALITY BULLS ON TEST follow us for updates
1. Be on the forefront of new marketing trends with our quality newsletter and Beltie Briefs 2. Participate in association educational events and annual field day 3. Attend training camps for families interested in raising, marketing, and showing 4. Support our juniors with educational programs and training to prepare for a livestock career 5. Participate in and attend multiple Midwestern cattle shows 6. Gain knowledge on topics to become more profitable and successful with Belted cattle 7. Utilize promotional handouts and displays provided by the GLBGA 8. Be part of the most active regional Beltie group in the United States 9. Utilize networking opportunities with other breeders and owners 10. Advertise your outstanding genetics on the GLBGA website, in flyers and the newsletter Membership Dues: Adult $40.00 Junior (under 21 years of age) $20.00 Make checks payable to: GLBGA and mail to: Terry Etheridge 4746 Burnell Dr. Eau Claire, WI
GLBGA: C U S T O M F E E D M I X E S F L O O R S T O C K E D F E E D S P I C K U P + D E L I V E R Y A V A I L A B L E F I N D U S O N F A C E B O O K ! 115 Minor Street | Lime Ridge WI Proudly carrying Sullivans Supply, ADM Showtec, Hubbard Show Rite, VitaFerm, SmartLic, Big Gain, FurstMcNess + more! Family Owned Since 1982!
Top 10 Reasons to Join the
midwest herdsman Details & Dates
Future issues:
Spring Issue 2024
Ads due: January 1st
Published: February 1st
Fall Issue 2024
Ads due: August 1st
Published: September 1st
All ads need .125" bleeds included. No crop marks or bleed marks Necessary.
Sizes & Specs:
Full page: 8.5 x 11
Half Page: 8.5 x 5.5
Business card 2 x 3
Ad Pricing Packages
*See new tiered ad package structure on page 37
Special ad placements may result in higher rates. Design services also available for an additional charge.
Contact Information: jayde.midwestherdsman@gmail.com | 815.997.4171 38
SEPT 17 09. SEPT 17 15482 DUBLIN RD | DARLINGTON, WI 53530 JUSTIN - 608.482.3124 LEVI - 608.482.4185 MITCHELL - 608.482.4123 JOE - 608.482.3121 FOLLOW WEDIG CATTLE ON FACEBOOK FOR INFORMATION ON UPCOMING SALES! Follow Us!
Midwest Herdsman 25732 Hammer Lane Cuba City, WI 53807 FOLLOW JEROD FOR SALE UPDATES 21807 Bennett Rd, Union Grove, WI - Jerod: 262.492.1131 GRAND CHAMPION SIMMENTAL HEIFER simmental junior nationals GRAND CHAMPION MARKET STEER minnesota youth expo GRAND CHAMPION HEIFER minnesota state fair back in backaction in action