FREE ISSUE 16 | JANUARY, 2023 FREE to rural people in South West VIC & South East SA 130 ANGUS BULLS FROM THE AWARD WINNING HERD BOONAROO ANGUS Auction: Friday February 17th, 11.30am (vic time) Field days: Friday February 3rd, "Clifton", Hamilton & Monday February 6th, "Boonaroo", Casterton Fully vaccinated, registered, genomics tested, birth weighed, fertility tested, structurally guaranteed. Enquiries to Shane and Jodie Foster 0407 811 656 or 0408 587 780 www.boonaroo.com.au Pictured Lot 2 Boonaroo Katapault S178
Established in 1979, Oak Downs has been breeding quality Poll Hereford cattle for 44 years and this year's draft of 40 bulls shows just how far their breeding programme has come.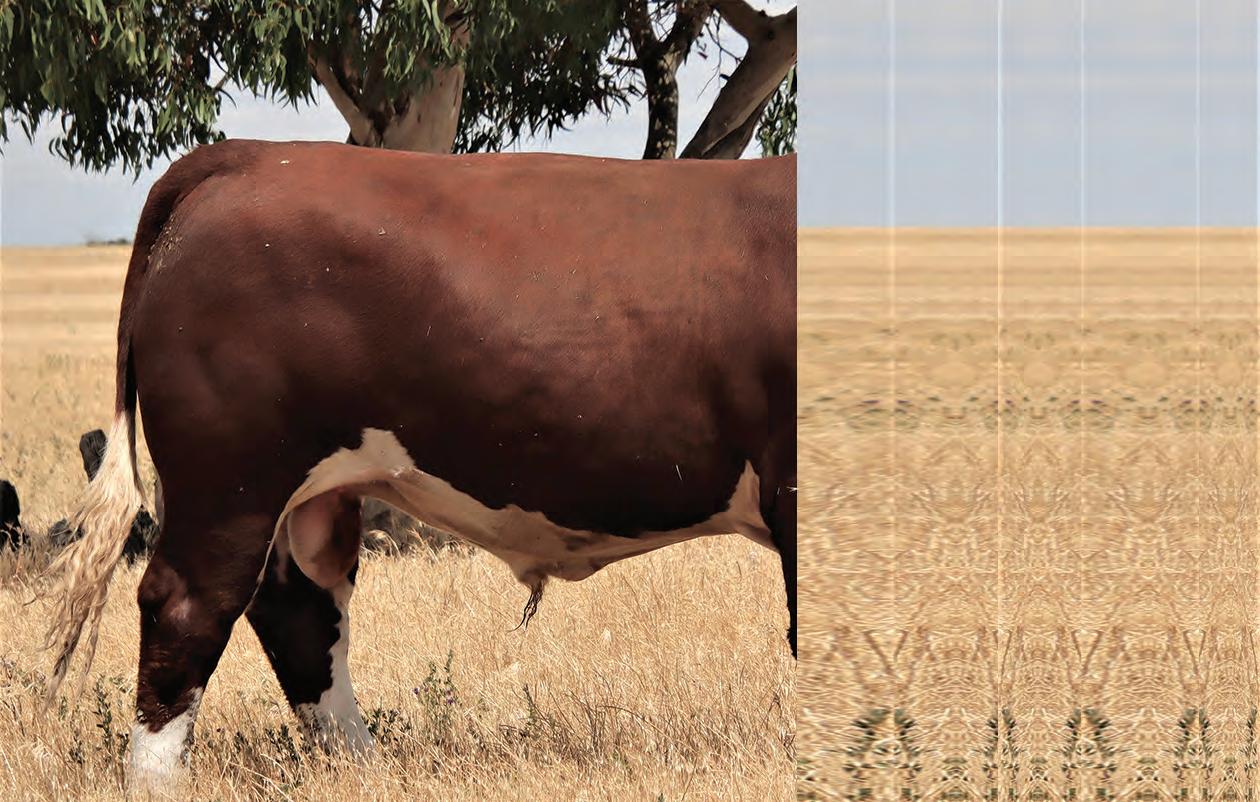 Moderate framed, soft skinned, well pigmented, structurally correct and excellent weight for age justifiably describes the 2023 line up of sire prospects.
Reared their entire lives on dryland pasture, with no grain feeding or irrigation and only being supplemented with cereal hay
during the high bloat risk period, these bulls show the excellent muscle expression and do ability that they will pass onto their progeny.
After excellent feedback from last year, the buyer friendly method of the Helmsman Selling System will again be used this February which will see all bulls up for sale simultaneously, removing the high pressure often felt in a traditional open cry auction. The sale will also be interfaced with Auctions Plus.
All bulls are fully vaccinated, have
been semen tested by Nationwide Artificial Breeders and have full genomic enhanced Breedplan figures.
Bulls can be inspected during the Stock Journal Beef Week open day on February the 7th, or at any other time via appointment with Andrew Schwarz; 08 87542041 or 0428341735.
Links to the online sale catalogue, photos and videos can be found at herefordsaustralia .com.au or on the OakDowns Poll Hereford Stud facebook page.
With 58% of last years' catalogue selling for under $8,000, buyers can confidently attend the sale knowing that not only will they be able to purchase top quality bulls but also at a good value for money price.
Mark your calendar: Date: 17th February
Venue: Oak Downs – via Bordertown , SA
Sale Format: Helmsman System
BELOW: Oak Downs 2023 sale bulls
2
OAK DOWNS
12th ANNUAL SALE Friday 17th February 2023 1pm; Helmsman System Free delivery within 400km All bulls vaccinated under star breeder program and semen tested Sale venue: Oak Downs, 25km north Bordertown Inspect bulls at the SA Beef Week Field Day Tues 7th Feb Andrew & Vanessa Schwarz 08 8754 2041 / 0428 341 735 40 QUALITY BULLS Dryland pasture reared, NO GRAIN or irrigation
2023 sees 130 of the most consistent bulls ever produced at Boonaroo to be offered in our 19th Angus production sale. We aim to breed bulls with perfect phenotype, soft, deep, with structural strength and docile temperament. We are focusing heavily on fat cover, muscling and carcase quality in our breeding program, combining these traits to produce cattle which can run at higher stocking rates without losing their ability to finish and be fertile. Our genetics aim to assist grass finishing producers to breed an animal which can be efficiently finished year-round on grass. Generations of New
Zealand genetics provide a robust, sound, and deep-bodied line of bulls, many years of dedication to performance recording creates performance predictability. Our bulls are guaranteed sound and fertile.
The 2023 sale bulls consist of new outcross genetics including the legendary Rennylea L519 who is producing sound, docile growthy calves with outstanding carcase quality. An L519 son, Prospect P550, is producing early maturing calves with great finishing ability. Karoo Realist N278 another super sound, docile bull with great phenotype. Our walking bulls Lawsons Charlie, Hardhat Nebraska, Kidman Gunsmoke and Boonaroo Genius
Q63 all have great lines of high growth and calving ease bulls throughout the sale.
2022 has seen Boonaroo calve down 480 stud cows and join 520 females and seen further investment in purchasing outright some of the best bulls in the country. At Boonaroo we focus investment into genetics that make cattle versatile and suited to all markets. TeMania Reaves R574 $130 000, Cluden Newry R214 $49 000, Lawsons Quantum R238, Lawsons Quantum R652, and TeMania Resolution in collaboration with Seven Hills Angus, New Zealand. These bulls aim to increase marbling without compromising type.
Boonaroo started breeding Angus cattle back in 2003, concentrateingon structure and phenotype, we retain females which thrive in our sandy soils, with
good feet and temperament being number 1. Focusing heavily on combining fat cover and muscling in our breeding program, along with marbling to produce cattle which can finish easily on grass or the feedlot meeting MSA targets. Over half of the 2023 sale group are "curve benders", bulls which offer calving ease without compromising growth and quality. Sires we use boast excellent hoof shape, growth without losing softness and finishing ability and exceptional temperament. We hope that you can join us to inspect them at either of our field days Vic Beef Week at 'Clifton', Hamilton, Vic, on Friday, February 3 where 40 sale bulls will be displayed and Monday, February 6 at 'Boonaroo', Casterton, Vic; and our sale on Friday, February 17, at Boonaroo at 11.30am EST. Inspections will begin from 9.30am.
3
BOONAROO Boonaroo Sire Power Grantley Muller Mobile: 0428 572 354 vjmuller@bigpond.com Creek Livestock - Dave Fraser Mobile: 0428 557 170 Follow us on Facebook • All polled • Predominantly homozygous • Semen tested SIMMENTAL BULLS THAT DO THE JOB • Pestie tested • Docile • Performance • PROFIT - Junior Champion + Grand Champion Simmental Bull | Melbourne 2022 - Breeders Group | Melbourne 2022 - Most Successful Simmental Exhibitor | Melbourne 2022 ALL SALE BULLS ON DISPLAY AT LIMESTONE COAST COMBINED FIELD DAY FRIDAY 3RD FEBRUARY 2023 MT GAMBIER SHOW GROUNDS BULLS SELLING AUCTIONSPLUS WEDNESDAY 15TH FEBRUARY 2023 LIMESTONE COAST INVITATIONAL ALL BREEDS BULL SALE SA 134949
In what's a first for Goolagong Angus stud it will hold two bull sales this year due to such high demand for quality bulls and to provide ease of purchase for its South East buyers.
The stud's Inaugural South East Bull Sale will be held at Heath and Brian Tiller's South East property, Fernbank, at Reedy Creek on Friday, February 10 at 4pm.
The stud will offer 40 Angus stud bulls at the sale, featuring progeny from sires such as; Esslemont Lotto L3, KO Pandemic P107, Texas Quantum Leap Q29 and Merdeduke Quarterback Q11.
The first crop of calves coming through from Merdeduke Quarterback Q11 and KO Pandemic P107 in this year's sale bull draft are looking impressive and are likely to gather some attention.
There will also be an exciting young AI bull by Rennylea L519 on offer at the South East sale, Goolagong Rennylea
S157 out of Coorong Skye H233. This bull has birth weight +3.9, 600 day weight +131, and IMF +5.2.
Goolagong stud will also hold its 7th Annual Mid North Bull Sale at its selling complex at Warnertown on Friday, February 17 at 1pm. The stud will offer 60 Angus stud bulls and 30 Sangus bulls at its Mid North-based sale.
Bulls on offer at both sales will range in age from 16 months to 23 months old and catalogues are available online.
Purchases can also be made via AuctionsPlus on the day of sale and QR codes are located in the catalogue which link directly to videos of each animal.
Breeding quality beef is something which comes naturally for the team at Goolagong, with Brian and son Heath being involved with beef cattle their whole lives.
Not only do they run the successful Goolagong stud, but also have a
strong understanding of feedlot needs due to also operating HB Rural Feedlot and supplying weekly loads of cattle.
Heath is a fifth-generation farmer on the original selection property at Warnertown, South Australia and has continued to work hard to introduce the right bloodlines to continue to improve the herds confirmation, growth for age and fertility.
Heath aims to breed structurally correct bulls with ideal growth for age and strong phenotype. He prides himself on selecting strong sire lines and powerful cow families to back up the data and performance which flows back into a feedlot situation or on grass.
Over the past two years Goolagong stud has invested heavily in Stoney Point Angus, purchasing 80 females across the two dispersal sales. These females have hit the ground running, producing quality offspring, some of which are being offered in this year's
ABOVE: 2023 draft of sale bulls
draft of bulls.
Goolagong stud purchased a new sire, Pathfinder Lakewood R861, last year for $50,000. This bull is a son of Kenny's Creek Intensity L123 and has moderate birth weight figures with plenty of growth and thickness. The first Lakewood calves are expected to land on the property later in the year.
Each year Goolagong undertakes an extensive AI and ET program to ensure the very best of the latest genetics are included in its breeding program. Heath puts a lot of time into ensuring embryos are paired with the most ideal sires available in the marketplace to produce the type of bulls required by his buyers.
If you'd like to view some of the Goolagong sale bulls prior to sale day, they'll be on display during Beef Week on Monday, February 6 at Fernbank, Bowaka Road, Reedy Creek.
4 Pic No 148224 2023 GOOLAGONG SANTA &
ANGUS STUD
5
The Woonallee draft for 2023 will feature 122 industry focussed bulls comprising of Traditional, Black Simmental and SimAngus bulls. An extremely consistent line of bulls with capacity, length and muscle with unsurpassed doing ability, they are sure to impress come sale day.
Due to the popularity of the Traditional bulls over the past few years we have increased the number of these bulls to allow greater selection. They again will feature industry leading sires with the emphasis on proven predictable genetics that will increase the profitability of your herd. There are many feature lots and with over 80% polled we are confident they will suit the most discerning cattle breeder.
exciting new sire groups will be represented including sons of Mader Walk This Way who is breeding exceptionally well.
The SimAngus bulls are always a feature and with the first of the Millah Murrah Quixote sons on offer, they are clearly the
best draft we have offered. The performance of these bulls is a feature and with the ability to use many in heifer programmes, they offer unique diversity and flexibility.
Beef Week field day on the 6th of February with the sale being held on-property on the 9th of February.
Once again, our bulls will be available for inspection at our SA BELOW: Consistency at its best
WOONALLEE
6 • Superior treatment • Sourced from sustainable forests • Fire resistant • Environmentally friendly • Dry to touch with low odour • Australia's only carbon neutral fencing product • Now supplying 50x150x6m rails The cleanest and greenest posts on the market. Simply CREOSOTE done better. Enquire Now www.roundwoodsolutions.com.au P | sales 08 8723 2511 E | sales@roundwoodsolutions.com.au
7