landscapeinstitute.org
Specification in the age of climate emergency
Material matters: Spring 2023 £15.00
The Plus
The world's most environmentally friendly furniture factory
DESIGN TANK FOTO EINAR ASLAKSEN vestre.com
PUBLISHER
Darkhorse Design Ltd
T (0)20 7323 1931 darkhorsedesign.co.uk tim@darkhorsedesign.co.uk
EDITORIAL ADVISORY PANEL
Saira Ali, Team Leader, Landscape, Design and Conservation, City of Bradford Metropolitan District Council
Stella Bland, Head of Communications, LDA Design
Marc Tomes CMLI, Landscape Architect, Allen Scott Landscape Architecture
Sandeep Menon, Landscape Architect and university tutor, Manchester Metropolitan University
Peter Sheard CMLI, Landscape Architect
Jaideep Warya CMLI, Senior Landscape Architect, BBUK Studio Limited
Jenifer White CMLI, National Landscape Adviser, Historic England
LANDSCAPE INSTITUTE
Editor: Paul Lincoln
paul.lincoln@landscapeinstitute.org
Copy Editors: Jill White and Evan White
Immediate Past President: Jane Findlay PPLI
CMLI
CEO: Sue Morgan
Head of Marketing, Communications and Events: Neelam Sheemar
Landscapeinstitute.org
@talklandscape landscapeinstitute landscapeinstituteUK

Long-term advocacy works
On 31 January, Landscape Institute CEO Sue Morgan chaired the launch of the Natural England Green Infrastructure Framework. Described as "a powerful tool to help deliver the Nature Recovery Network by planning for and investing in space for nature in our urban areas…. [it] provides clear guidance about the quantity and quality of greenspace required to unlock multiple benefits for climate, health and prosperity."
In tandem with this, the Secretary of State for the Environment published the Environmental Improvement Plan 2023, outlining the government's approach to halting and reversing the decline in nature. And just a few weeks earlier, DEFRA announced that SuDS would be made mandatory for new developments from 2024.
materials. Biodiversity in the shadow of the Tower of London; a city extension at the Floriade; a new park in Manchester; reimagining the landscape in Galway; and evaluating the carbon impact of tree planting, all demonstrate the power of the landscape architect to have a huge impact on tackling climate emergency. We illustrate how materials will change to meet net zero; go organic in the Building Centre, and look at the lessons to be learned from living bridges and floating agriculture in India and Bangladesh.
Print or online?
Landscape is available to members both online or in print. If you want to receive a print version, please register your interest online at: my.landscapeinstitute.org
Landscape is printed on paper sourced from EMAS (Environmental Management and Audit Scheme) certified manufacturers to ensure responsible printing.
The views expressed in this journal are those of the contributors and advertisers and not necessarily those of the Landscape Institute, Darkhorse or the Editorial Advisory Panel. While every effort has been made to check the accuracy and validity of the information given in this publication, neither the Institute nor the Publisher accept any responsibility for the subsequent use of this information, for any errors or omissions that it may contain, or for any misunderstandings arising from it.
Landscape is the official journal of the Landscape Institute, ISSN: 1742–2914
© 2022 Landscape Institute. Landscape is published four times a year by Darkhorse Design.
Green Infrastructure became a key part of Landscape Institute advocacy in 2009 with the publication of the first position paper on this subject. Sustainable drainage has been championed by Past President Sue Illman since 2011 when she visited Portland, Oregon and met their local authority pioneering team, utilising the approach to the new drainage system, named SuDS; devised by their landscape architect Tom Liptan.
It is through the persistence of members of the profession, that these issues have been pushed up the agenda.
In this edition, we continue the agenda of advocacy and examine the link between tackling climate emergency and specification of
The Skills for Greener Places report was launched at the Jellicoe Lecture. It identifies "a moment of opportunity for landscape." As we implement its outcome, it is important to remember that it is through persistent long-term advocacy that the niche ideas of fifteen years ago have become mainstream thinking.
Paul Lincoln Editor
Spring 2023 £15.00
landscapeinstitute.org
Material matters:
Specification in the age of climate emergency
Cover: Made in Manchester. Image of Mayfield Park, Mancheser, designed by Studio Egret West. Image © Martin Malies.
WELCOME
3
Contents 4 Biodiversity in the shadow of the Tower of London 6 Superbloom Traditional materials provide an inspiration for tackling climate emergency 33 Living bridges and floating agriculture in India and Bangladesh The Building Centre celebrates the organic 13 Material World Decarbonising the supply chain 37 Climate change resources Reshaping landscape imaginaries 44 Radical practice Should the focus remain on building performance? 30 A place-led approach to carbon reduction How an industrial legacy has influenced design materials Made in Manchester 23 FEATURES Surprise, serendipity and fun in a new part of the city The Floriade 2022 19
55 Planning for the future of cities BRIEFING Ecocity World Sumit OBITUARY 65 In memory Jonathan Watkins PPLI Making the world inclusive using landscape design 46 Choosing the right materials FEATURE Comparing carbon emissions with carbon sequestration 50 Are street trees worth their weight in carbon? TECHNICAL Connecting people, place and nature 57 UK Campaign report LI LIFE REPORT 48 Counting Embodied Carbon New report from the LI due in the Spring 68 LI LIFE CAMPUS: Learn from anywhere 5
FEATURE
Superbloom: Reflections on 2022's historic project at the Tower of London 6
It is hard to imagine a more challenging landscape brief than Superbloom: not only the challenge of delivering a spectacular display of annual flowers from early June to September, but to achieve this in the full glare of publicity surrounding the late Queen's Platinum Jubilee and all within a sunken moat in the heart of London that is overlooked by thousands of passers-by and which just happens to be part of a World Heritage Site and a Scheduled Ancient Monument. Oh, and that's before you take into account Historic Royal Palaces' (HRP, the client) desire to deliver a climate and biodiversity responsive project, the unpredictability of climate along this stretch of the Thames, poor existing soils, the lack of access to the site for large vehicles and the significant constraints of archaeology and limited availability of irrigation water supply.
Fortunately, the project managed to meet the majority of these challenges and ended up delivering a wonderful experience during the summer of 2022 for over 250,000 visitors, as well as for countless passers-by and those who caught the spectacle on TV or other media. The following is a summary of some of the technical challenges we had to address and an acknowledgement of some of the aspects that did not go quite to plan.
Soil
The original soil was unsuitable for sustaining Superbloom due to its varied and limited depths, fluctuating conditions and its potential as a weed seed bank. This required the importing and laying of an entirely new soil profile above the existing ground level to provide optimum conditions for germination and the healthy growth of the intended flowering species. Over 10,000m3 of specially engineered top and sub soil was introduced to the moat to a soil specification by Tim O'Hare. The logistics of installing the soil was one of the greatest challenges of the project, not least the physical constraints on access alongside the absolute need to have it all in place by the end of March 2022.
Microclimate
The scheme had to respond to the different microclimates of each side of the moat through the design of topography and species mixes. These differences became more apparent through the period of Superbloom when the cold and dry spring impacted heavily on early germination and coverage of the west and north moat display and when the extremely hot and dry late summer impacted on the intended duration of the flowering display.
Seeding
Over 20 million seeds from 48 species and 16 different seed mix combinations were distributed across the moat to designs by Nigel Dunnett. The intent was to create an impressionist field of flowers that gently transitioned in colour and impact throughout the summer. Trials in the moat and in Sheffield during 2021 provided important information on the seeding, soil and seeding requirements and the watering regime.
FEATURE
1. Layers of texture in the east moat to create a rich visual experience
© Alister Thorpe
From celebrating the Platinum Jubilee to addressing biodiversity in the shadow of the Tower of London, Superbloom had to meet some astonishing challenges.
7
Andrew Grant
Biodiversity
LUC ecologists provided a baseline survey of biodiversity during 2021 and throughout the event in 2022. Unsurprisingly, Superbloom massively increased the diversity and numbers of species using the moat. The significant enhancement of the moat for biodiversity created by Superbloom is attributed to a combination of the following factors:
– Notable increase in flower abundance, species richness and variety of form, favoured by different invertebrates. Whilst most planting was non-native, there was also a significant local native component to the increased species-richness. Native floral species generally provide greater opportunities for native invertebrates than do nonnative flora.
Increased diversity of substrate form, aspect and compaction increasing niche variety; with more bare ground favoured by invertebrates such as burrowing Hymenoptera (a species group of generally small to medium-sized insects with shared features).
– Introduction of new potential refugia and shade for larvae (taller stand heights, willow structures).
– Notable new faunal colonists has been the Toadflax Brocade Moth
Calophasia lunula - a relatively recent colonist to the UK (found on-site as caterpillars).
Drainage + Irrigation
The original site was prone to waterlogging, so additional drainage was introduced into the moat alongside new pathways. The water supply to the moat was very limited and had few hose connection points, so a new irrigation main was laid along the main path route with multiple hose connection points to strategic locations within the moat. During the
dry germination and subsequent heatwaves, this system was barely able to cope with the need to water seedlings and the pre-grown turf and required considerable extra labour to manage the hoses.
Services + Infrastructure
Superbloom incorporated LED lighting along the pathways and a soundscape system within the north moat. These each required service routes along the new pathways alongside new ducts for power and water supplies and adjacent to the new drainage routes. A compact services trench was incorporated within the pathway with service chambers positioned as needed.
Special details/artworks
A number of installations were planned within Superbloom to add moments of interest and experience. These included: a large multi-lane slide which acted as an optional entrance into the moat; a distinctive woven willow sculpture ('The Nest' by Spencer Jenkins) forming a focal point at the north east corner of the moat; a series of immersive gardens along the East moat including a collection of copper insects by Quist; a soundscape composed by Erland Cooper within the north moat; and a collection of glass artworks by Max Jaquard and Dawn Bendick associated with the Queen's Garden.
2. Sketch image of the moat slide into the field of flowers from Tower Hill © Grant Associates.
3. Rendered plan illustrating the different experiences visitors will have as they journey around the moat © Grant Associates.
This was a lovely experience. Amazing to see the moat filled with beautiful wild flowers. So pleased it will be a permanent garden.
–
FEATURE
2.
8
3.
Materials
All materials were chosen to complement and enhance the natural character of the Superbloom flower display. Woven willow edges, barriers and artworks provided a unifying theme across the site along with a consistent path surfacing of Breedon (self-binding) gravel.
A new permanent access ramp was required to ensure inclusive access into the moat and this was designed to be consistent with the historic fabric and materials of the Tower using Purbeck stone quarried in Dorset, handmade bricks crafted by the Bulmer Brick and Tile Co in Suffolk and cast iron balustrades fabricated in Hampshire. Willow was harvested from Somerset and Oxfordshire.
As a general principle, we wanted the overall atmosphere of Superbloom to be calm and relaxed, and this approach informed the selection of materials from an aesthetic perspective, but as the project was a temporary installation, we felt that delivering a project with strong environmental credentials was paramount. We were after a palette that would complement the stonework: colours, textures and form found around the Tower, yet were low in energy in terms of construction, were low carbon and (where possible) were from a renewable resource. As a principle, the use of concrete was banned across the project; the foundations for the new ramp in the west moat were built from stock bricks held together with lime mortar, a more sustainable and sympathetic traditional solution to modern cement mortar. The use of steel was minimal, limited to providing internal support to some of the willow structures and some secondary structure to secure the slide to the supporting modular framework.
FEATURE
4. Visitors sliding into the moat from Tower Hill © Alister Thorpe.
5. Visitors engaging with the flower field © Alister Thorpe.
6. The woven willow nest framing Tower Bridge © Alister Thorpe.
7. Sketch studies of material texture and floral colour © Grant Associates.
4.
5.
6.
9
7.
The slide, made of stainless steel in Sheffield, was gifted to the project by The National Trust after it had been used at Cliveden House. Following a safety check by the original fabricators, it was recycled for the project and will be safely stored, ready for reuse again.
Planning, including Historic England (SAM and WHS) Approvals
Planning permission was required for the event alongside approval from Historic England, given the status of the site as a Scheduled Ancient Monument (SAM) and World Heritage Site (WHS) and the client's intention to retain certain aspects of the project after the Superbloom period. These include the permanent ramp and some of the new pathways and associated infrastructure, plus the intention to retain the new soil profile within the moat subject to final resolution of legacy landforms and levels.
Operations and visitor management
The interface of Superbloom with the normal visitor management of the Tower of London plus the need to manage peak days of visitor attendance required detailed analysis of visitor flows and management infrastructure which was undertaken by movement specialists Crowd Dynamics. This guided the planning of Tower Hill and all aspects of access and egress from the moat.
Typically, the Tower of London is not the easiest of environments to negotiate for ambulant disabled visitors, however it was essential that safe and inclusive access was provided to all for Superbloom. The short steep ramp that took people from the Causeway to the moat that had existed for many decades (and was lethal in winter) was replaced with a beautifully crafted compliant one to facilitate inclusive access for all guests. This investment would also serve the moat well into the future, enabling HRP to use the moat more flexibly for a wider visitor demographic. For Superbloom, a long but temporary exit ramp was installed
and conceived as part of the experience, rising above the planting and providing views back along the east moat. As part of the legacy proposals, Grant Associates have been commissioned to look at a permanent means of exit out of the moat and on to the Wharf.
Construction
The timescales for delivery of the construction stages were nonnegotiable: if the soil was not laid before the end of March to allow ample time for seeding then the Superbloom simply would not have happened. If the pathways and all the various installations were not complete by the Jubilee Bank Holiday, and the site could not be opened to the public, the project would have failed. Landform, acting as the main contractors, took on these challenges and delivered an exemplary project to the highest quality.
Visitor experience
Being able to walk freely around the moat is a unique experience that has not been possible prior to Superbloom, with the exception of small numbers of guided walks. Combined with the very real sense of immersion within the flowering display and the vibrancy of colours and sense of nature, Superbloom provided a very special memory for all those who ventured
8. Sketch cross sections exploring topographical arrangements to vary the visitor experience in the moat © Grant Associates.
9. Construction of the beautifully crafted new ramp access into the west moat © Grant Associates.
10. Woven willow and shredded rubber flooring in one of the east moat garden spaces with emergent planting appearing in late May © Grant Associates.
11. Superbloom entrance with slide entry with completed ramped into moat © Alister Thorpe.
12. Floating boardwalk in the east moat © Grant Associates.
FEATURE
9. 11.
12. 10
10.
It was a really heady experience. I was blown away by the beauty of the masses of flowers, the waves of colour. Walking among them made me feel part of the display, being able to pause and appreciate individual and groups of flowers.
into the moat. Here are two comments from visitors:
"It was a really heady experience. I was blown away by the beauty of the masses of flowers, the waves of colour. Walking among them made me feel part of the display, being able to pause and appreciate individual and groups of flowers."
"This was a lovely experience. Amazing to see the moat filled with beautiful wild flowers. So pleased it will be a permanent garden."
Rhiannon Goddard, Head of Public Engagement, Projects and Business Management, Historic Royal Palaces said:
"Superbloom was a unique and ambitious undertaking for HRP. It was a significant achievement to install a new landscape in the historic moat and to grow from seed a mass display of flowers as we emerged from the pandemic. Despite facing unprecedented weather conditions, the blooms looked beautiful especially during July. We have learned a great deal about the microclimate of the
moat which will take us forward into developing the landscape as a future attraction for visitors and home for pollinators and other wildlife."
Climate and Biodiversity
Emergencies – lessons learned For over 100 years, the landscape of the Tower of London moat has principally been one of mown amenity lawn; the definitive nature depleted landscape under human control. Superbloom peeled away that veneer of turf and allowed us to witness a landscape that is much more responsive to the natural environment, much more interesting as a human experience and significantly more valuable for biodiversity.
The next challenge at the Tower site is to learn from the lessons of the last year and to shape a new legacy landscape for the moat, optimising these benefits and creating an inspiring example of a biodiverse and climate resilient landscape. These lessons include having a greater awareness of the specific microclimates of the moat
through the year and ensuring the future habitats are suited to these unique environments. In addition, to build on the understanding of local biodiversity and to fine tune habitats to better support species in the neighbourhood and not just within the moat itself. Finally, to recognise that the human experience of being within the moat was significantly enhanced by detailed immersion and proximity to the scale and detail of the flowering plants and all the birds and insects that visited the spaces.
Ultimately, Superbloom has been a dramatic illustration of how traditionally-managed urban green spaces can be reimagined as more beautiful and multi-functional landscapes that rise to the challenges of climate change and biodiversity loss whilst still offering joy and delight for human use. We hope it inspires many more projects to be as ambitious and impactful in the future.
FEATURE
Andrew Grant is the founder and director of Grant Associates.
13 11
13. The west moat in full colour © Grant Associates.
www.solusdecor.co.uk info@solusdecor.co.uk 0208 819 1495 Fire & Water Fire and water products designed to make the most of your outdoor space UK Showroom now open at Cedar Nursery, Horsley Road, East Horsley, Cobham, KT11 3JX
Carol Kurth Architecture & Interiors
Material World
The Building Centre was founded in order to understand the impact of materials –Vanessa Norwood introduces its new exhibition which celebrates the organic.
FEATURE
13
1.
Vanessa Norwood, Maria Dragoi
In 1925, the architect George Grey Wornum asked Frank Yerbury, then secretary of the Architectural Association, for space in the school's basement to show a client for whom he was designing a house three brick samples. The client left but the bricks stayed, with materials added to form a growing collection. The materials bureau became a resource for the school's students, flourishing until it became apparent that a larger space was needed. The Building Centre was born. 158 New Bond Street became the Building Centre's first home and where it opened its doors to the public on Wednesday 7 September 1932.
Frank Yerbury became the first Managing Director, and held the ambition that the Centre would connect the world of manufacturing with the practice of architecture, with the aim of demonstrating the best contemporary products and materials available. In a unique offering, the Centre urged visitors to 'discover here how to create useful and beautiful structures' with product displayed in sections ranging from floor coverings to glass. Yerbury was a passionate advocate for new architecture. It's easy to trace his influence in the early output of the Building Centre. A 1936 exhibition 'Women in Architecture' made manifest Yerbury's intention that the Building Centre should use its platform to expand further discussion and inclusion in the profession. An enthusiastic photographer, Yerbury was one of the first to publish photographs of the work of Le Corbusier in the UK. In 1959, Yerbury was able to share his admiration for the architect with an exhibition first shown at the Walker Art Gallery, Liverpool. The show featured models,
drawings and photographs of works by Le Corbusier. In just five weeks, over 37,000 people visited the exhibition at the Centre.
Materials use was central to the Centre's output. An ambitious early project saw the Centre secure support from the Prince of Wales to launch a low-cost housing competition that asked entrants to design threebedroom cottages. The winning proposal by one Mr N.E Leeson was built in London's Aldwych, with the pair of brick cottages visited by over 20,000 people before being closed in September 1933. In response to the project's success, the Building Centre introduced a low-cost housing section in its materials library. In 1937, Yerbury stated: 'The basis of the Centre must always be an Exhibition of Materials and the policy should be that only such things are shown are of value to the building industry and the public'. During the decades that followed, the Building Centre expanded its materials library, with the intention of appealing to both a professional audience and the public.
Yerbury understood the need to see and touch materials to best understand their role in the built environment. In my four-year tenure as Creative Director at the Building Centre, the public programme created a platform for contemporary
architecture's leading practitioners to showcase materials that are both beautiful and sustainable. Commissioning and curating a series of exhibitions focusing on the materials that make up our built environment referenced and honoured Yerbury's intention that the Centre would exist to 'stimulate public interest in building'.
The public programme became a place to see, learn and discover more about how best to responsibly make our built environment. In 2019, 'Forest of Fabrication – dRMM: pioneers of timber architecture' demonstrated the possibilities of modern timber construction through the lens of Stirling Prize-winning architectural practice dRMM. The exhibition featured twenty-four of dRMM's projects that pushed design boundaries through their exploration of the opportunities and challenges of timber structures. The show had a second iteration at RIBA North in Liverpool.
'The New Stone Age' exhibition of 2020 – featured in the Landscape Journal of the same year – shone a light on stone's serious sustainability credentials. With the ability to reduce a project's embodied carbon by an incredible 90% compared to typical steel or concrete frames, 'The New Stone Age' was a celebration of structural stone, of its potential and
1. "Domestic timber use has continued to outstrip domestic supply: currently, 80% of timber and timber products used in the UK are imported, and the UK has continued to demonstrate reluctance to reckon with this imbalance. Despite the continued efforts of the Forestry Commission, established under the 1947 Forestry Act by the post-war government, the UK's forest cover remains well below the European average." - Extract from the exhibition film on timber.
© Ben Cruise
2. An image of the low-cost housing competition that asked entrants to design threebedroom cottages. The winning proposal by one Mr N.E Leeson was built in London's Aldwych.
© The Building Centre
The basis of the Centre must always be an Exhibition of Materials and the policy should be that only such things are shown are of value to the building industry and the public.
FEATURE
2.
14
© Ryan Prince
4.
"For timber to play a meaningful part in the future of construction, we will have to get into the habit of using it sparingly, treating material-hungry mass timber products as rare luxury, rather than a standard part of the construction palette."
- Extract from Timber film
© Material Cultures
beauty as well as its inherent sustainability. Curated by Amin Taha of Groupwork, Steve Webb of Webb Yates and Pierre Bidaud from The Stonemasonry Company Ltd, the exhibition surveyed the contemporary use of structural stone, helping to become a catalyst in the conversation about stone.
More than ever, there is a pressing need for the materials that make up our built environment to adhere to best practice with regard to environmental impact, labour issues and transparency of supply chain. The new show I have commissioned at the Building Centre is: 'Homegrown: Building a Post Carbon Future'. This features three
specially commissioned films made by Material Cultures, reimagining how we use land at a local, regional and national scale. Material Cultures' brilliant and timely investigations into how material and industrial cultures shape our world are more relevant than ever. A not-for-profit organisation led by Summer Islam, Paloma Gormley and George Massoud, Material Cultures' work aims to demonstrate that low carbon local materials can be more affordable and durable that globally-sourced, petrochemicalderivative materials.
Material Cultures note that our fertile landscape is constrained by pressures from farming, woodland and
housing, all of which need reimagining as we move into a post- carbon future.
'Homegrown' asks how we can critically reassess our relationship with the built environment by engaging with our landscape and its materials holistically. The project explores the
FEATURE
3.
4.
3. Exhbition curators George Massoud, Summer Islam, Paloma Gormley
Hazel stump after coppicing.
15
relationship between materials and supply chains, and addresses the opportunity and potential of locally grown, plant-based construction materials that are cultivated across the UK. Reorientating the construction economy towards plant-based materials is going to be critical to transforming the industry for a post-carbon-built environment.
Uniquely, this exhibition exposes the consequences of the biobased material supply chains that exist today, envisioning how they might impact our landscapes, cultures of building and ways of organising.
The exhibition presents a holistic view of sustainable construction,
rethinking our relationship to each other and our landscapes. In a nod to the Building Centre's origins, Homegrown displays a miniature materials library of UK grown biomaterials alongside those made with agricultural waste from UK farms or waste by-products of national industry.
Climate change and the awareness that our planet's resources are finite necessitate a radical shift in thinking. Were Frank Yerbury here today, I imagine he would be concerned about the challenges of the climate emergency and aware of the vital role materials play in building a better and fairer future for us all.
The exhibition presents a holistic view of sustainable construction, rethinking our relationship to each other and our landscapes.
"Growing trees actively regenerates the land they take root in, creating above and below ground habitats, contributing to soil health and terrestrial water storage."
© Material Cultures
FEATURE
5. Insect community thriving on Fungi within Oxleas Woods, South London.
- Extract from Timber Film.
16
5.
We focus on straw and timber, and their operative role in a decarbonised future from the scale of the molecular to the territorial by producing three commissioned films all of which explore the impact of our material cultures on our land.
Maria Dragoi interviews
George Massoud one of the members of Material Cultures
You just released a book, 'Material Reform'. How does it sit amidst your upcoming exhibition at the Building Centre and continuing practice?
Our upcoming exhibition at the Building Centre expands on some of the themes in our book – how the construction industry is complicit in our environmental and social crisis, through its extractive systems of design, production and inhabitation of buildings, and how a shift to biobased regenerative construction materials is necessary to repair the damage we have done. We focus on straw and timber, and their operative role in a decarbonised future from the scale of the molecular to the territorial by producing three commissioned films all of which explore the impact of our material cultures on our land. We also plan on exhibiting a prefabricated thatched building fragment that demonstrates the potentials for using bio-based materials at scale.
The book is a series of ongoing conversations we are having in the studio – themes, questions and concepts we engage with to address the degenerative impact of our industry. The work we do in design, education and research rejects extractivist economics and rethinks our relationship to the land for the benefit of all life.
There seems to be a trend in associating sustainable materials with downscaling and moving local – do you agree? What does this mean when competing with big industry?
Not necessarily – there needs to be a cultural shift to see the systemic transformation we are advocating for – its goals, power structures and rules need to change. It is difficult to imagine a regenerative future without reimagining our relationship to land – access to it, how we use it and
its management. A shift away from the extractive models and cultures of consumption that have proven to be destructive for people and the integral ecosystems we are part of. I don't think a low-impact approach and industry are in opposition to each other. Smaller scale industries that can be replicated everywhere create a more resilient biosphere in our regional environments.
Inherently, locally manufactured materials build value into the economic and social systems in the places in which we build. The shorter supply chain also means less energy is spent in transporting materials. It also requires the distribution of construction and manufacturing skills across an economy, not just in urban or manufacturing centres. These are all things that are good for rural economies, but they are also good for our buildings – the less energy we spend in building the better, and a more resilient construction skills economy can coalesce around more locally sourced natural materials.
Having the option to specify sustainable materials is crucial for practitioners – how do you see these techniques being implemented on a larger scale? How does that shift happen within industry?
Well, we first need to move away from a "sustainable" mindset to a regenerative one – we should expect much more than mitigating negatives. Architects should be held accountable for the materials they are specifying, and their long-term implications. If a product is branded "green" or "sustainable", we should interrogate its networks of extraction and production – rebranding certain products, or offsetting carbon emissions is not enough.
The entire industry and its supply chains need to be involved in a transition to more circular and biobased construction economy, from contractors to policy makers, saw-mills to construction skills academies. The most effective levers, however, are in the hands of the state – policy level
change is one of the strongest tools we have to incentivise change in what is an otherwise conservative industry.
Architects are uniquely engaged with different actors along the supply chain and across the industry. Through our own work and the way we engage with other actors we can demonstrate both best practice and also demand better practice from our collaborators.
What are some common misconceptions about working with sustainable materials?
People think that buildings made of natural materials do not last. This is ironic considering some of the oldest buildings in the world are made of natural materials. It is difficult to move away from this mindset – modernism did a very good job at using materials such as glass, steel or concrete to represent permanence, durability, power and control.
What do you hope to see for the future of mainstream material culture?
Scaling-up is impact – we are developing building systems that facilitate the application of biobased materials at a larger scale, taking advantage of developments in fabrication technology.
What can people not involved in industry or architecture do to take steps towards a more sustainable future?
Untangle, learn and expose the destructive cultures of our current modus operandi!
'Homegrown: Building a Post Carbon Future' was made possible by the kind support of Built by Nature.
Vanessa Norwood is a curator, writer and consultant, and was the Building Centre's Creative Director from 2018 to 2022
Maria Dragoi is a writer, curator, and painter. She is interested in the intersections between technology and material cultures, housing, and ecology.
FEATURE
17
The Future is Green
Regardless of frequent media coverage and a wealth of climate data and information, there was an element of shock and surprise as Britain recently sweltered through 40°C temperatures. Suddenly the impact of environmental change feels very real and very closeto-home. Climate change, pollution and overdevelopment are among the threats that have contributed to declining biodiversity in recent years and there is now a tangible sense of urgency when we consider biodiversity loss. Why? Because biodiversity provides us with food directly and via pollination, supports intrinsic medical advancements and has been shown to positively impact on mental wellbeing. Rewilding is key to supporting biodiversity loss reversal. The eradication of wildflower meadows, botanically richer than any other habitat, has been staggering, with 97% of meadows lost in the UK since the 1930's.
At a local level, communities and organisations are working together to return wildflower meadows to the UK landscape. 'Grow Wild' is the national outreach learning initiative of the Royal Botanic Gardens, Kew. It is the UK's
While BNG mandatory targets will apply mainly to developers, other sectors can apply similar best practice strategies to support biodiversity loss renewal by simply adopting the goal of the framework. As an example, Kent County Council (with funding support from Natural England) has recently commissioned a strategic viability assessment of BNG in Kent in order to understand whether an adoption of a 20% target for BNG within the county is viable.
BNG is an important development for landscape professionals; with enhanced planning and design comes many additional ecosystem benefits that have long been advocated for.
Whether local or national, mandated or voluntary, we should now all have biodiversity loss reversal at the top of our agenda.
England, it will be necessary for developers to leave the natural environment in a measurably better state than it was pre-development.
To discharge the condition, the relevant planning authority must approve the development's Biodiversity Net Gain plan, with 10% the minimum statutory target.
Rewilding initiatives have provided focus and an opportunity for governments, local authorities and developers to invest in long-term, sustainable strategies that will minimise the impact of biodiversity loss.
"Improving and protecting biodiversity is essential and plays an integral part of sustainable development. Biodiversity net gain provides us with an exciting opportunity to deliver landscape-led developments whilst continuing to provide high quality places for people and nature."
Sam Brittain, Landscape Architect, Croudace Homes
The UK's most prominent wildflower experts are now offering a premium seed solution for wholesalers. With state-ofthe-art germination testing and cleaning, the purity and viability of our UK provenance single species seed is industry leading. For all enquiries please contact:
wildflower@wildflowerturf.co.uk
T: 01256 771 222
www.wildflowerturf.co.uk
We only have to reflect on last summer to truly understand the challenges that lie ahead for us all and how we might now consider the impact of climate change through a different lens.
Advertorial
Wildflower meadows can contain 40 species in one square metre.
The Floriade 2022
A place of surprise, serendipity and fun, or the starting point for a brave new part of the city –the Floriade festival continues to be controversial.
Almere
60 hectares
FEATURE 19
©
1. Floriade 2022 Aerial View
Peter Sheard 2022
Home of Floriade 2022 and Netherlands' newest city
The total Floriade 2022 site size
The 'Floriade 2022' is the seventh of a series of ten yearly festivals directed at showcasing good urban design and park planning in the Netherlands where innovation and pragmatism are necessary components of all landscape interventions. These Floriades are often influential and ambitious exercises which have left a legacy of open spaces and parks; the first being in Rotterdam in 1960 which has then been followed in each decade since in locations such as Amsterdam and Venlo. This year's model is in Almere, coincidentally the Netherland's newest city, and represents a return to the objectives of these festivals.
In the past, the 'Parkhaven' in Rotterdam, the 'Amstel Park' in Amsterdam and the 'Flora District Park' in Zoetermeer all paid homage to previous Floriades' ambition to make new parks, launch them with a six-monthly festival of horticulture, then redevelop the site with appropriate structures now adorned with shiny new open spaces. Funded by both the state and the formidable Dutch horticultural industry, their primary aims have been to address both short-term commercial issues and increasingly, long-term environmental issues of more pressing urgency. As such, this promotion of human and natural ecology is then intended to be valued by the local constituency, the inheritors of the new spaces, and should improve the wider environment. Additionally, Almere's Floriade explores new responses to human impact on the natural world head-on under the banner of 'finding systematic innovations and solutions for sustainable, liveable cities', which respond to the consequences of an evolving climate, water management,
1960
First Floriade in Rotterdam
7th Floriade in the series
90,000 shrubs planted
200,000 perennials planted
500,000 bulbs planted
resiliency and responsibility. The Floriade's moniker defines this as 'Growing Green Cities' under the headings of food, health, energy, and green.
So, what of Almere? Anecdotally described as 'boring' or 'like Milton Keynes' (both of which are slightly
FEATURE
2. Experimental Hemp Site Bridge © Peter Sheard 2022
2.
20
Peter Sheard
Almere's experiment with innovation, sustainable technologies and social enrichment is attempting to avoid an atmosphere of faceless suburbanism
unfair), the city lies East of Amsterdam on the Flevoland polder, the largest artificially-made island in the world, connected by the A6 highway and surrounded by lakes and waterways. The Floriade site itself is a partial peninsula, lying on the Weerwater lake, directly opposite the growing city and its commercial centre with its 200,000 inhabitants. There are plans to house another 130,000 people in over 600 homes with new standards of sustainable building and open space provision by 2030 so the pressures on the land are considerable. And Almere faces lots of pressures. Not least being exposed and largely featureless, lying as it does in what 40 years ago was sea. Nothing about the city has a patina of age or familiarity, so 'placemaking' as well as the environmental objectives have been at the forefront of the planners' thoughts.
A significant aspect of Almere itself (and its Floriade) is that it is something of an innovation hub in terms of town planning, architecture, and landscape interventions. Various new neighbourhoods are testing new methods of planning, like the 'Oosterwald' district and its urban agriculture, mixing housing and growing plots; or the 'Regenboorgbuurt' rainbow neighbourhood, using colour and form to provide identity including imposing red apartment blocks echoing the silos of old; or the Almere port with its mix of low-cost homes, urban woodlands and inland beaches. Almere's experiment with innovation, sustainable technologies and social enrichment is attempting to avoid an atmosphere of faceless suburbanism with the adoption of Ebenezer Howard's Garden City principles, fused with the Dutch planners' deep respect for the landscape and its challenging natural systems. The Floriade therefore fits with this spirit of newness and
verve: oft quoted as 'Almere is not an experimental city exactly but a city where experiment can happen'.
The layout of the Floriade is certainly uncompromising (by Rotterdam based master planners and architects MVRDV). It is a Mondrianlike grid of orthogonal plots, paths and routes extending out as a peninsula into the water organizing the various plots, events, and future districts. Both above and below ground, the supporting technologies for energy and water are thus disposed, creating the future residential district ('Hortus'), a
2400 sq kms
Flevoland polder is the largest artifically-made island on earth
university ('Flevo Campus') and commercial space. Sustainable energy in the form of an efficient district energy system is then integrated across this 'smart-grid' heating and cooling network, ensuring that the city's future expansion is balanced.
The grid is overlaid by an ambitious arboretum, an alphabetically arranged library of trees and plants across its 45 hectares, turning the whole site into a living laboratory. It's a little like a green barcode and is the most striking element of the Floriade. The principal aim is to help define how a green city should evolve and behave: a city which protects and enhances ecosystems and biodiversity and, as it grows and develops, can also be monitored and assessed to predict change and ensure resiliency. As such, Almere's expansion is taking on a new form and purpose, which in turn will inform future decisions in a changing world. Other innovations defined by the
FEATURE
© Peter Sheard 2022
© Peter Sheard 2022 40 + Countries hosting national gardens Almere
of
on the west
of Flevoland polder 2012
3. Mycelium or Living Pavilion Detail
4. Wool and Dyeing Pavilion Detail
City
Almere is
edge
City of Almere awarded Floriade
3.
4.
21
grid are the 'Flevo Campus', an arrangement of experimental buildings promoting sustainable food technologies and helping start-ups all centered around the stunning 'Aeres' university building a shining example of its type.
Additionally, on a site with so much water, bridges are vital; at Almere they are all constructed in recycled concrete and other materials; incorporating solar panels and use materials like hemp and rebar in an innovative way, all of which are monitored for long-life suitability. Many of these are striking and have a beauty all of their own.
Even the connecting A6 highway is the Netherlands' first energy-neutral road, generating energy for its own needs and offering extensive habitat enhancements.
The blue/green framework is of course significant in such a locality adopting an extensive district heating system combined with monitored
water run-off and areas of flooding. Green zones penetrate deep into the site and are linked to habitat enhancement, planned future blue zones and urban forests extending way beyond the Floriade's boundaries.
Within the Floriade plots themselves are the usual festival jollities (national pavilions, horticultural displays, and the like) all of which have a slightly serious, though wellintentioned educational quality to them and help promote an understanding of what Almere is doing and, what is more, trying to be.
My own personal reflections on the Floriade are mixed. Past Floriades left an obvious legacy: a beautiful park. Almere's legacy will be a city district. The expo is just a little short on surprise, serendipity, and fun; the innovative arboretum has yet to mature fully so its full impact appeared a little subdued; the strong plan form, so evident in the promotional imagery,
Hortus arboretum contains 2500 trees
With 750 varieties 2 million+ visitors expected
didn't always have the same impact on such a board-flat site; and the absence of site features (the 'Green Island' woodlands being the exception) rather crystalized the Floraide's (and indeed Almere's) challenges. I longed to come across a sweeping landscape gesture to lift the heart (like 2002's pyramidal hill and grand lakes) but found instead another avenue. Paradoxically, the temporary festival was almost lacking, overwhelmed by its legacy factor: it was a 'pop-up' festival with no waste and few unnecessary frills. At this point, it is worth stating that this probably represents my anachronistic expectations at play. This Floriade is setting a new agenda where a legacy park alone does not cut it anymore.
The Floriade was brave and unique, helping to carry on Almere's desire to become a place in its own right and not just an adjunct to Amsterdam, which is a challenge indeed. The expo was only a part of what the city is trying to do, and explaining and promoting its ambitions are a very important part of getting Almere's residents to understand and embrace its future. This requires the spirit and integrated planning that are embodied in the Floriade execution: namely, putting landscape and the natural world at the heart of the place. Almere potentially represents a bold sea change in future expos where long-term legacy is considerably more overt and integrated from inception rather than a mere zone once the festival is long gone. Almere's long-term ambitions are very much in evidence in its exposition, which, given the objectives of the whole event, was probably exactly what it needed to be.
Peter Sheard CMLI is a landscape architect and a member of the Landscape Institute Editorial Advisory Panel.
My own personal reflections on the Floriade are mixed. Past Floriades left an obvious legacy: a beautiful park. Almere's legacy will be a city district.
FEATURE
5.
6.
5. Mycelium or Living Pavilion Detail © Peter Sheard 2022
6. Upcycled Site Bridge Detail © Peter Sheard 2022
22
Made in Manchester
FEATURE
1. Drone image of Mayfield Park, Manchester
23
© Jarrell Goh
Mayfield Park in the heart of Manchester is built on the site of a textile printing and dye works. It has attracted huge interest as the first park to be built in the city for over a hundred years. Landscape architects Duncan Paybody and Max Aughton from Studio Egret West explained to Paul Lincoln how the industrial legacy of the site had influenced not only the approach to design, but also the choice of materials.
Designed by Studio Egret West (SEW), Mayfield Park is a six-acre park built just minutes from Manchester's Piccadilly Railway Station. SEW were landscape architects working through to RIBA Work Stage 4, they then became client-side designers with Gillespies supported by Layer Studio (brought in as the contractor's landscape architects).
The site, which has been derelict for thirty years, was once essential to Manchester's textile industry. Based around the River Medlock, it included a range of industrial buildings and was originally the dyeing centre for the textile trade and the home of Thomas Hoyle's printworks. Mayfield depot was built as a relief railway station for the nearby Piccadilly Station. None of the former station buildings are listed. The development of the park however pays respect to this heritage. Paybody and Aughton explained that the use of
reclaimed bricks, structural steel beams and the retention of river walls have contributed not only to the aesthetic of the park, but also to significant saving. Their design has led to the reuse of the steel from a former culvert over the River Medlock that runs through the site to make pedestrian bridges in the park. A 350-metre stretch of the River Medlock has been uncovered and remediated with wetland planting and sustainable interventions to form faster-flowing areas designed to
FEATURE
2. View over Mayfield Park © Martin Malies
2.
24
Paul Lincoln
oxygenate the river and maintain a constant flow of water at all times.
The overall concept for the park envisioned a sequence of different spaces. The intention is to create a strong sense of nature in the city centre and to create a movement from urban landscape to wild landscape as users move from west to east. The west of the park is associated with the streets and spaces that connect to London Road, Fairfield Street and the city centre, whereas the eastern end of the park is designed to be connected with the wider Medlock Valley. This also responds to the building uses planned for the site. Baring Street is a commercially focused campus, and Hoyle Street East and West a more residentialfocused community with future connections to Ardwick.
There are different microclimates within the park, as well as a variety of character areas. Generally, the west
end of the park supports recognisably distinctive spaces; a terraced garden, a large lawn space and a large Southfacing seating area. The east end of the park becomes more homogeneous with planting and habitat provision, blurring the boundaries between one space and another. As part of this sequence of space, the character areas are distinguished as: Terraced Garden; The Depot; Seating Steps; The May'field'; Boardwalk; Play Yard; Wildscape and Riverside Walkway.
The approach taken by the developers has been one of 'landscape first'. Martyn Evans, creative director of developers U+I, said: "All too often green space is an afterthought in development. We wanted the city to feel an instant connection with this place, so we began with a park. As a new neighbourhood grows around the park, the stunning views and tranquil spaces will be a key reason why people choose to live and work here."
Key to the masterplan has been the retention of heritage buildings. There is also a celebration of decay, as the designers put it, of 'nature finding its way'. The river had been culverted and canalised. This has now been opened up and naturalised. Existing walls along the river were retained but lowered, and the heritage brick and stonework has become a significant part of the design. Many of the surviving heritage aspects have been saved and recycled, with 70% of materials repurposed or recycled on site, an excellent example of which are the hog-back beams. Where materials have not been recycled, there has been an attempt to complement the surviving heritage buildings, such as paths which are generally made of concrete and Staffordshire clay paving. Adjustments made to the river channel encourage new water movement which helps to improve water quality and encourage wildlife.
There is an 8m difference in heights across the site linked to the need for attenuation space, a consequence of deculverting the river. This is a floodable park which includes four rain gardens, a floodable wildscape and horticultural interpretations of brownfield ecology. The design uses a climate change scenario of a once-in-one-hundredyears chance of flooding. There is also a significant play area, including six play chimneys and several slides.
FEATURE
3. Mayfield Park before construction
© Luke Hayes
4. Existing river walls
© Duncan Paybody
5. Mayfield Park before construction
© Luke Hayes
6. Mayfield Park Play Yard © Luke Hayes
3.
6.
4.
5.
25
We wanted the city to feel an instant connection with this place, so we began with a park.
Details from around the site
Details of features and materials used in the Mayfield Park site
FEATURE
Repurposed existing pedestrian bridge creating an informal walkway through planting
Galvanised and powder coated site wide balustrades in filled with stainless steel mesh set against planting
Retained iron hog-back beams placed amongst planting beds
Driftwood timber seat and back rest with weathered Riffles, river edges and rip rap formed with locally sourced rocks and boulders
Stainless steel and powder coated chimney inspired play towers
© Jarrell Goh Images marked with * : © Martin Malies
Self bound gravel plateau
Recycled rubber tyre permeable play surfacing
Combed exposed aggregate concrete surface against self bound gravel
Repurposed iron hog-back beam to form pedestrian bridge across the River Medlock
Weathered steel fins projecting off from the retained section of the existing culvert to form a pedestrian bridge*
Weathered steel raised walkway across the wildscape area
Reclaimed heritage brick gabion wall and perforated weather steel cladded river wall*
Retained heritage river walls with in-situ exposed and polished concrete capping beams providing a new continuous datum
26
Varied river walls retained with in-situ exposed and polished concrete capping beams
The key design principles are:
– Make it Mayfield
– Celebrate decay
– Nature finding its way
– Open up the river
– Step, sculpt, soften
– Climate change resilience
There are 11,000 sq metres of soft landscape (of which 5000 square metres is riverside habitat) where 140 new trees of 43 species have been planted, together with 120,000 plants comprising 250 species. The park opened in the summer of 2022, with work due to start on two office buildings and a car park early this year. A strategic regeneration partnership was signed between Manchester City Council and The Mayfield Partnership in December 2018. The Partnership brings together developers U+I, Manchester City Council, Transport for Greater Manchester and LCR who developed King's Cross Central. In addition to the six-acre park, there will also be 1.5million sq ft of commercial space, 1,500 homes and 300,000 sq ft of food, drink and leisure facilities to be built over a ten-year period.
FEATURE
Paul Lincoln is editor of Landscape.
Low concrete retaining wall with exposed aggregate vertical face and polished horizontal face
Rebar bridge balustrade with galvanised handrail
Reclaimed heritage brick accessible play tunnel Robina timber play structure
Feathered Staffordshire diamond chequered blue brick paving*
Staffordshire pink aggregate chips within asphalt surface providing temporary interface with Mayfield Depot building
Repurposed iron hog-back beam to form asymmetrical pedestrian bridge across the River Medlock
Weathered steel jetties projecting over the River Medlock*
Low concrete wall with polished horizontal face and exposed aggregate vertical face and fillet
27
Sinuous sloping resin-bound footpath
Inspiring action for urban wildlife habitats
Urbanisation has caused significant habitat loss and fragmentation in the UK. Urban development has rarely paid much attention to biodiversity and natural habitats at buildout. Even where it is considered, the ongoing maintenance of habitats is frequently forgotten.
The built environment has a responsibility to safeguard and enhance urban habitats to protect the future of our wildlife, and precious ecosystems.
Habitat Matters
Formed through a collaboration of 19 industry partners, the 'Habitat Matters' initiative aims to inspire the creation and long term resilience of nature in the urban environment. Our aspiration is to help the UK construction sector and the public to understand the intricate relationship between humans, infrastructure and nature, to ultimately help tackle Biodiversity decline.
www.habitat-matters.com
Habitat Matters Mapping System
With expanding cities and increasing threats of climate change, landscape architecture serves a vital role in both preserving and enhancing the natural environment.
Our new tool enables users to share projects which have not only connected urban areas with nature but has made a positive change to the environment. The tool allows users to contribute to vital biodiversity and habitat records, ensuring long-term monitoring and maintenance of spaces and substantially enhancing the natural environment that we live, work and play in.
www.habitat-matters.com
A campaign striving to protect and restore habitats throughout the UK
Search Records
An extensive database of habitat records, including data from the UK Centre for Ecology & Hydrology, and the Biological Records Centre.
Create a Site
Add your own site using the polygon tool and create a unique QR code, allowing observational data to be collected for years to come
Record Habitat Data
Collect and submit data pertaining details about habitats and environmental protection solutions in your area.
Monitor Biodiversity
Enter valuable observational data regarding biodiversity and wildlife to help monitor species and preserve nature.
Delivered by aco.co.uk
your first site record today at www.habitat-matters.com
Enter
A place-led approach to carbon reduction
How we plan and design for new communities has a huge impact on future carbon emissions. So, why does the focus remain fixed on building performance?
David Wesselingh
That we still have so much poorquality housing in the UK, including new build, is a tragedy. In a recent survey, Place Alliance found that 75% of new housing developments were mediocre or poor.¹ Isolated and designed for car dependency, with roads dominating and limited local amenities, many new settlements lock residents into carbon-intensive lifestyles.
So, while the UK has declared a climate crisis, we are continuing to plan and design places that will put more carbon in the atmosphere. The focus for change is still largely on building performance. Whilst important, this overlooks how impacts can be managed in relation to shared infrastructure, embodied carbon within the land, and future mobility. CREDS, the Centre for Research into Energy
1. The masterplan for East Cullompton in Devon by LDA Design requires a carbon reduction and lowemission strategy that goes well beyond the carbon footprint of the buildings to create a local economy in a way that supports lowcarbon consumption, with food growing, recreation, play and nature on the doorstep. © LDA Design
1 Place Alliance. A housing Design Audit for England, Findings and Recommendations. https://placealliance.org. uk/research/nationalhousing-audit/
FEATURE
1.
30
2 CREDS. Why we built a Place Based Carbon Calculator. https://www.creds. ac.uk/why-we-built-aplace-based-carboncalculator/
3 RTPI. Cracking the Code, How design codes can contribute to net-zero and nature recovery. https:// www.rtpi.org.uk/ media/11054/designcodes-report-final.pdf
4 RTPI. Net Zero
Transport, The role of spatial planning and place-based solutions. https:// www.rtpi.org.uk/ media/9233/rtpinet-zero-transportjanuary-2021.pdf
5 UKGBC. Building the Case for Net Zero: A case study for low-rise residential developments.
https://www.ukgbc. org/ukgbc-work/ building-the-casefor-net-zero-low-risedevelopments/
Demand Solutions, has found that the highest carbon emitting neighbourhoods have an average per person footprint more than eight times larger than the lowest carbon areas.²
LDA Design's report for the Royal Town Planning Institute (RTPI), Cracking the Code³ argues that design codes should direct the location and form of development, making it easier to live a low-carbon life. Research by City Science reinforced this when it identified that carbon emissions from daily life is likely to be four to six times larger than the impacts associated with Whole Life Carbon assessments of the development itself.
Spatial planning and place-based measures to reduce carbon need to be overt drivers for masterplanning. Transport is the single largest contributor to the UK's greenhouse gas emissions. Net Zero Transport ⁴, another RTPI report authored by LDA, demonstrates how places can be planned to minimise these emissions
through planning for carbon-negative growth zones and creating connected neighbourhoods where most daily needs can be met with a short walk or bike ride.
The UK Green Building Council provides a case study that analyses the shared infrastructure of a 750-home masterplan, including the roads, hard surfaces, utilities and the heat network.⁵ It shows how simple and cost-effective shared infrastructure design interventions, such as reducing parking areas, and replacing hard materials and energy-intensive grey infrastructure with nature-based solutions and sustainable drainage, could reduce the embodied carbon of the original masterplan by over 20%.
Masterplanning solves problems, but when these problems are defined too narrowly, the land cannot be utilised to deliver a broad range of outcomes. A masterplan which is landscape-led is more holistic and is a powerful way to deliver against net-zero commitments. It synthesises carbon management with other ecosystem processes, from preserving and regenerating soil to controlling flooding. Viewing the landscape as one living system makes it easier to design
infrastructure to secure positive outcomes for energy, food or travel.
Designing out carbon and enhancing biodiversity are both increasingly data driven, and science allows us to understand the future environment with climate change scenarios. But solutions also have to be rooted in social and cultural change. At LDA Design, we use the original definition of landscape – "land" meaning home and "skeip" meaning to create. We see masterplanning as a social endeavour that should result in places where people belong.
In delivering a new community for East Cullompton in Devon, LDA's landscape architects have developed a masterplan which seeks to minimise all potential carbon emission sources. It makes the River Culm a central connecting feature of the community, with existing buildings, tracks, trees and hedges incorporated as positive placemaking features. Farm buildings will be retrofitted to become community hubs, ensuring local shops, leisure, work and social infrastructure are in place from the beginning. The masterplan considers how to avoid emissions, reduce consumption, replace high-carbon activity with
FEATURE
31
2. Where we locate and how we plan new settlements is fundamental to reducing emissions. The success of East Cullompton and the future prospects for the town of Cullompton in Devon will be determined by optimising their interdependence. The masterplan by LDA Design thinks about them as two halves joined together by the River Culm. © LDA Design
low-carbon alternatives, and absorb residual carbon emissions through nature-led solutions.
The vision is not for East Cullompton to be a standalone community, but instead for it to be integrated with neighbouring Cullompton, with complementary land uses. This will mean East Cullompton can offer greater choice for its future residents in terms of working, living, learning and training and be more resilient in the face of climate breakdown.
Currently there is a river, railway and motorway corridor between east and west parts of Cullompton, but active and shared travel crossings can be prioritised in the reconfiguration of strategic infrastructure. Working with environmental consultancy Environment Systems and City Science, we have developed a carbon and low-emission strategy for East Cullompton that goes well beyond the buildings to create a local economy that supports low-carbon consumption, with food growing, recreation, play and doorstep nature.
The plans look at the benefits provided by nature, from pollinators to soil health, natural water management and carbon storage. At East Cullompton, this approach has guided plans for nature recovery and carbon reduction measures which include avoiding soil disturbance in areas of high carbon storage and creating new areas of woodland and wetland in parts of the site that can deliver the greatest network benefits.
There is a growing choice of tools available to designers and planners, including the place-based carbon calculator from CREDS, which makes a huge amount of free-to-use data available to understand carbon emissions across the UK and contributes to the baseline understanding of an area.⁶ There is however currently no single assessment tool to use, and we therefore need collaboration and generous knowledge sharing within the built environment professions to bring the pieces together.
The quest to reach net-zero carbon is urgent. As an ambition, it is
comparable to the post-WWII programme to deliver new homes and new towns, the only time in the last 70 years when the target of 300,000 homes per annum was reached.
For that scale of tangible result, above all we need systemic change to the way the public sector and relevant professions are trained and educated, structured and organised. We need development corporation-style bodies, properly resourced, that put landscape architects, engineers, designers, ecologists and scientists in the same room as anthropologists, economists, land managers and agronomists, to work creatively together towards the best possible placemaking.
Taking this kind of holistic approach will help to secure not only net zero but also nature recovery and social equality. Place-led solutions promote healthy living and are rich in other associated benefits, delivering quality of life alongside housing supply. More focus on growing food locally, for example, can build community and cut food miles.
Some measures that can help the UK reach its net-zero targets make a limited contribution to the creation of better places. The switch to renewable fuels for private vehicles is one. It improves local air quality which is highly significant for public health, but the switch doesn't make streets any safer, or more playable, or support active travel. It does nothing to provide equitable access to jobs and services through reliable shared transport networks. It could even become an excuse for resource intensive, car-dependent development to persist.
Place-based carbon management is the way to deliver the improvements we need to see, so that in the future we create neighbourhoods where people thrive, rather than development which is judged mediocre or poor.
Some measures that can help the UK reach its net-zero targets make a limited contribution to the creation of better places. The switch to renewable fuels for private vehicles is one.
6 CREDS. Why we built a Place Based Carbon Calculator. https://www.creds. ac.uk/why-we-built-aplace-based-carboncalculator/
FEATURE
David Wesselingh is a landscape architect, urban designer and director at LDA Design
3. The wheel diagram illustrates the benefits of nature or 'ecosystems goods and services' that have been used to shape the masterplan at East Cullompton. © LDA Design
3. 32
Revisiting indigenous knowledge-based practices
Living root bridges in India and floating agriculture in Bangladesh provide inspiration for ingenious responses to achieving resilience in the climate emergency.
FEATURE
1.
33
1. Living root bridges in Meghalaya, India are made using the technique of training the aerial roots of Ficus elastica trees (Indian Rubber Fig) planted on the banks. © Sketch by Sandeep Menon based on Josiah Wood Whymper's original illustration published in 'Himalayan Journal: Notes of a naturalist in Bengal, the Sikkim and Nepal Himalayas', The Khasia Mountains, p.269, J. Murray,1854
Landscape architecture has traditionally been seen as a field of practice that is primarily concerned with designing and beautifying open spaces. The advancements in scientific knowledge in the last century have allowed both the professional practice and the pedagogy of landscape architecture to include intra-disciplinary subjects from the social and environmental spectra.
However, the act of construction and the knowledge of materials in landscape architecture still seem to originate primarily from the architectural industry and are often modified to suit landscape applications. The focus on 'state-of-the-art' technology and 'innovation' seems to
be the buzzwords that drive this discourse, the aims of which are either to find 'solutions' for issues encountered with traditional materials or to allow for spatial exploration which may not be restricted by the inherent limitations of traditional building materials. This quest for innovation has also taken on an added significance in light of the current climate crisis and the growing global worldview regarding the dependence on nonrenewable resources. Many studies point out to the embodied carbon content of construction materials which are commonly used world over. The United Nations Environmental Programme's 2020 Report on 'Resource Efficiency and Climate Change: Material Efficiency Strategies for a Low-Carbon Future' confirms that the emissions from material production globally are comparable to those from agriculture, forestry, and land use change combined, yet they have received much less attention from the climate policy community¹.
In the increasingly urbanised world of today, material usage is mostly
dictated by the complementary forces of 'desired aesthetics' and 'economic profitability'. Many of the modern landscape projects may also be scrutinised through the filters of sustainability and ethical suitability. However, most of the materials used in these projects could be traced to standardised, industrially-produced origins. This may seem as an acceptable practice for our profession having been shaped by the market forces for the past two centuries or so since the industrial revolution. But it is interesting to note that there are many unrecognised yet ingenious ways in which indigenous communities across the world have experimented with 'unconventional' materials to adapt and survive in the biogeographic peculiarities of the regions they inhabit. These practices are encoded into their collective memories through centuries of coping and adapting to the ecological conditions especially climate and its consequences on their habitats.
Indigenous philosopher and climate justice scholar Kyle Whyte (University of Michigan) defines indigenous
2. The floating agricultural beds in the highly flood prone lowlands of Bangladesh have been identified by the Food and Agricultural Organisation of the UN as a 'globally important agricultural heritage system'. © Sectional sketch by Sandeep Menon
1 IRP (2020). Resource Efficiency and Climate Change: Material Efficiency Strategies for a Low-Carbon Future. Hertwich, E., Lifset, R., Pauliuk, S., Heeren, N. A report of the International Resource Panel. United Nations Environment Programme, Nairobi, Kenya.
2 Whyte, Kyle Powys, "Indigenous Climate Change Studies: Indigenizing Futures, Decolonizing the Anthropocene" (February 28, 2017). English Language Notes, Duke University Press, Page 153-162
FEATURE
Sandeep Balagangadharan Menon
2.
34
3. Eichhornia crassipes (syn. Pontederia crassipeswater hyacinth) is an aquatic plant native to the Amazonian basin, imported to the Indian subcontinent during the British raj as an ornamental water garden plant. Also known as the 'Terror of Bengal' for its highly invasive nature and devastating socioecological consequences in its introduced habitats. © Sketch by Sandeep Menon
knowledge as "systems of monitoring, recording, communicating, and learning about the relationships among humans, non-human plants and animals, and ecosystems for the society to survive and flourish in particular ecosystems subject to perturbations of various kinds."² The material outcomes of such indigenous knowledge-based practices can be found around the world reflecting a reciprocal sense of belonging of the indigenous cultures to the larger environment.
In the Eastern edge of the mighty Himalayas, lies one of the wettest spots on the face of the earth –Meghalaya, India. (The name Meghalaya in ancient Sanskrit language literally translates to 'the abode of clouds'). Some areas in Meghalaya receive about 11000mm of
rainfall, gushing into torrential rivulets and streams rendering the communities living in the steep terrains of the mountains cut off from the rest of the state. This geographic isolation, as well as the innumerable drainage channels crisscrossing the terrain, have made construction of bridges a necessity to survive in this region. The native Khasi Tribes, aware of the challenges posed by the soft hill slopes already eroded by the heavy rains have shaped an ingenious technique of planting Ficus elastica (Indian rubber tree or Rubber fig) trees and training their prop roots to form 'living bridges' that can conduct pedestrian travel across the waterways.
The chief crop of this region is Arecanut (Betel nut palm, Areca catechu). The various settlements are connected to the nearest accessible
Agriculture is the backbone of the economy, yet about 50% of the population does not own land of their own, making them highly vulnerable and also pointing at a future food crisis.
3 Watson, Julia, "Lo-TEK: Design by Radical Indigenism", Taschen, Italy, 2019
4 Sunder, Kalpana, "The remarkable floating gardens of Bangladesh", BBC Future Planet published on the 11th September 2020. The webpage can be accessed at https://www. bbc.com/future/ article/20200910the-remarkablefloating-gardens-ofbangladesh referred to on 03-12-2022
market through such living bridges. Ficus elastica trees, like many other species in their genus, have distinctive prop roots which are strong aerial roots that eventually touch the soil and act as an additional support to the main trunk in holding up the heavy branches. These roots are pliable when young and can be trained on a primary structure of logged Areca palm trunks tied together and laid across the channels. The prop roots are woven along the Areca palm trunks encouraged to grow over decades to form strong living bridges. The bridge develops over a generation but once established will live for hundreds of years. The logged arecanut trunks may eventually decompose due to the high moisture and constant wetness but the woven prop roots form a strong exoskeleton-like reticulate structure with increasing load-bearing capacities over time since the Ficus trees keep maturing. They stabilise the soil on the edges of the river as well as provide refuge for the local biodiversity. Julia Watson in her book 'Lo-TEK: Design by Radical Indigenism'³ refers to these bridges as imitable, sophisticated examples of human-nature symbiosis offering resilient solutions for areas threatened by increased flooding due to the climate crisis.
3.
A couple of hundred miles south west of Meghalaya, is Bangladesh which lies in the deltaic mouth of two mighty rivers –The Ganga and The Brahmaputra, both snow-fed from the Himalayas. Almost two-thirds of the extent of Bangladesh is covered by water or wetlands. The geographic location of Bangladesh and its topographical character of dynamic deltaic clusters renders it highly vulnerable to frequent floods either due to snow melt in the echelons of the Himalayas or due to the Monsoonal variations in the Bay of Bengal region. A recent report by the BBC predicted that climate change related reasons will displace one in seven Bangladeshis by the year 2050⁴ (BBC Future Planet, 2020). Agriculture is the backbone of the economy, yet about 50% of the population does not own land of their own, making them highly vulnerable and also pointing at a future food crisis.
FEATURE
35
While most of the traditional farming communities affected by flooding have migrated en masse to urban centres for alternative occupations, there are communities in the south-central wetlands of Bangladesh which have revived a centuries old farming technique of 'floating agriculture' locally known as 'Baira' or 'Dhap'. Such planted floating rafts can swell up and subsist on the surface of the water during floods thereby eliminating the fear of losing the crops on inundated land. The technique involves creating rectangular floating island like rafts of paddy straw, locally spun jute strings and an invasive species Eichhornia crassippes (syn. Pontederia crassipes - water hyacinth). This is an Amazonian import to the Indian subcontinent as water garden ornamental plants during the time of the colonial Raj. The plant is often referred to as "the terror of Bengal" due to its aggressive invasiveness.
The natural adaptation of the water hyacinth includes a certain level of brackish water tolerance and the presence of buoyant bulb-like nodules at the base of the leaves which help it to stay afloat. These plants when beaten and tied together in layers to form the raft, eventually decompose and form an organic substratum for the crops to take root in and grow. This also eliminates the need for artificial fertilising. Moreover, this technique uses an invasive plant which is abundant in the region for the benefit of the local communities. These rafts are used for cultivating locally consumed leafy vegetables and shallow rooted vegetables like tomatoes, okra, cabbage, cauliflowers and even in some cases rice paddy.
The Food and Agricultural Organisation of the United Nations has identified these Dhap gardens as one of the "Globally Important Agricultural Heritage Systems (GIAHS)", giving it global attention. This nature-based practice is now being revived by the active involvement of both local and international NGOs and governmental support.
These are excellent examples of how nature-based indigenous knowledge could be used for
addressing the current challenges faced by humanity and provide a counterpoint to the discourse about 'innovation in materiality' by shifting the focus from a 'lab-tested' and 'industrially' manufactured imagination of material production to one that is an outcome of ingenuity shaped by generations of indigenous communities trying to innovate with naturally abundant local resources and nuanced knowledge of their biogeography. These could easily be construed as unconventional or even unsafe in a 'tried-and-tested-safety-standards' obsessed world. But they have been successful in addressing the infrastructural challenges faced by these communities. It is also imperative to note that these practices are based on locally available resources and hence could be argued as not being feasible to be replicated elsewhere but the possibility of use
of such practices can definitely push for radical shifts in new imaginaries for the future of landscape architectureone that can be resilient in the true sense of the word and be ethically rooted to the nature-cultural continuum of the place.
Further details of living root bridges in Meghalaya and floating agricultural beds in the lowlands of Bangladesh can be found on the Landscape Institute blog: www.landscapeinstitute.org/blog/
4. Ficus elastica trees, native to South Asia have thick, shiny, oval shaped leaves. They often develop sturdy aerial roots to support the heavy branches. The plant when injured oozes out a thick milky white latex giving it the name 'Indian Rubber Fig'. Often used as an ornamental indoor plant, in its natural habitat the tree can grow up to 50 metres in height.
Sandeep B. Menon is a practising landscape architect and university tutor at Manchester Metropolitan University. His research interests include ecological urbanism, socioecological resilience of communities in the global South and wetland ecologies.
The Food and Agricultural Organisation of the United Nations has identified these Dhap gardens as one of the "Globally Important Agricultural Heritage Systems (GIAHS)", giving it global attention.
FEATURE
36
© Sketch by Sandeep Menon
Climate change resources — decarbonising the supply chain
To meet the aims of the Paris Agreement and achieve net zero carbon emissions by 2050, we will need to remove almost all carbon from our supply chain. Claire Thirlwall looks at the prevalence of fossil-fuel derived elements in the materials we specify, and the issues we need to be able to resolve as we move towards zero carbon landscapes. Illustrations by Anna Gibb.
FEATURE
37
Despite a post-pandemic reduction in the overall demand for oil, petrochemical production is predicted to continue to grow in the medium term1. Bans on single use plastics and nonrecycled packaging have had only moderate impact on overall plastic consumption and the demand for plastic products continues to increase. The products created by this sector have revolutionised the modern world, allowing innovation in medicine, agriculture, transport and construction. The wipeable vinyl paint on our walls, the inexpensive synthetic carpet on the floor and the lightweight pipes that bring water to our homes –they all begin with crude oil.
The petrochemical sector, an industry worth an estimated $460.7 billion globally in 2021, is reliant on the extraction of fossil fuels2. However, to meet climate change targets our reliance on fossil fuels, not only for our energy needs but also the materials we use day to day, will need to
reduce. For landscape architects one of the first steps in this process is to understand the prevalence of fossilfuel derived ingredients in the products we specify.
Walking along a typical street it is hard to find components that are not derived from fossil fuels. Our imaginary road shows just how prevalent they are.
1. The colourful playgrounds and sports facilities that we design would not exist without fossil fuels. The plastic seats on swings or hand-holds on climbing walls are easy to identify, but there are also petrochemical derived materials in less obvious elements. The brightly coloured waterproof panels on climbing frames are often made of High-Pressure Laminates (HPL), which include resins derived from methane and petroleum derived benzene.
Often described as rubber surfacing, the wet-pour surfacing used in play areas is not made of natural rubber but is typically made up of Styrene Butadiene Rubber
(SBR) and a polyurethane binder. According to ROSPA more sustainable options such as sand, wood chip and shingle achieve high levels of impact attenuation but are not widely used in the UK.³
2. Tree planting is central to the UK Government's plan to combat climate change and to achieve net zero carbon emissions by 2050.⁴ However, there are fossil-fuel derived elements in products used in urban and rural tree planting. The soil cells used to allow root space for urban trees are made from polypropylene,⁵ tree ties are made of polycarbonate,⁶ and typically tree guards are made from polypropylene.⁷
Alternatives to plastic tree guards are available, made of material including cardboard and wool, but the majority of schemes use degradable polypropylene which breaks down and releases micro-plastics into the environment. Recent research by the Woodland Trust and the National Trust found that, based on a Life Cycle
FEATURE
Playgrounds and sports facilities Trees
1 2 38
Assessment (LCA), planting without tree shelters is "the most preferable option across most environmental impact categories." However, the report also found that survival rates with tree shelters were 85% and 50% without, and that the carbon emissions of tree guards "are negligible when compared to the amount of carbon sequestered by a tree in 25 years."⁸ This one example shows the level of complexity for landscape architects when comparing the available options – should we opt for higher planting densities to compensate for trees lost to browsing animals, plant older trees that are more resilient or stick with plastic tree tubes and ensure they are recycled at end of life?
3. Tarmacadam, bitmac and asphalt
The creation of these inexpensive, flexible materials for roads, footways, cycleways and playgrounds has transformed the our world. Without surfaced roads travellers face deeply rutted roads impassable in heavy rain and choked with dust in the summer.
As countries become more wealthy, surfaced roads are often part of their plan for prosperity and mobility.
Great Britain has 247,800 miles of surfaced road, all of which includes bitumen, most commonly sourced from the distillation of petroleum. National Highways, the agency responsible for England's motorways and major A roads, is one of the UK's largest buyers of construction materials. The Agency has set out a road map for zero carbon concrete, asphalt and steel by 2040. To date, innovations have included updating standards to require lower temperature asphalt, asphalt recycling and the use of recycled plastics in surfacing but their reports include no mention of carbon-free processes. The intention is to aim for zero carbon construction but with hard-todecarbonise materials such as asphalt there appears to be an acceptance that carbon capture and storage will be part of the solution⁹ – for such a ubiquitous product the work to offset the impact will be significant and is a useful
reminder that reaching zero emissions is not yet a viable option.
4. Other surfaces that we specify as landscape architects, such as resinbound surfacing also include fossil fuels. Whilst the main component is aggregate, the durability is provided by polyurethane resins and highdensity polyethylene.
5. As well as the surfacing we specify we also need to look at street furniture The main components, such as timber and steel, are fossil-fuel free, though the production of steel is a high-energy process. However, the coatings and paint finishes used often contain polymers.
6. Changing to LED street lighting provides significant energy savings, and using existing technologies it is possible to decarbonise the energy supply. However, the components inside the lamp, such as the wire casings, and any polymer coating, are all reliant on fossil fuels.
FEATURE Road surfaces Other surfaces Lighting Street furniture
3 4 5 6 39
7. The tree and shrub stock we specify utilises substantial amounts of plastic during the growing process and whilst being transported to site. The horticultural sector uses plastic plant pots, plant labels, tree tags, tree ties and polytunnels, and plastic wrap is used to protect plant stock during transport. The sector is looking at alternatives to plastic, especially for the hard to recycle black plastic pots, but suitable replacements are yet to become commonplace.
Another type of fossil fuel is peatthough used in landscape as a growing medium rather than an energy source, it is a non-renewable product which releases carbon when extracted. Peat bogs are an important store of carbon, and metre for metre they store more carbon than any other terrestrial ecosystem.10 The UK Government plans to ban the sale of peat in England and Wales by 2024 but only for retail use.
8. Another hidden aspect of our work is the geotextiles and geogrids used
to line ponds, stabilise paths and create access routes. Both products are made of polymers, such as polypropylene, polyethylene or polyester.
9. One final point for consideration is the carbon cost of site maintenance. For areas of lawn the initial carbon impact is low, but if they are managed as close mown grass and mown with a petrol mower, the lifetime impact can be significant. The choice of grass seed mix can impact on how often the site needs to be cut, and machinery can be run via rechargeable batteries or biofuels.
As our first steps towards net zero landscapes, we need to ask manufacturers to list the materials and processes they use in production and maintenance. Some manufacturers provide Environmental Product Declarations (EPDs)11 which include information about the materials and processes used, including the use of fossil fuels, but these can be difficult to understand.
We also need to understand that we are aiming for net zero, not zero – future unknown technologies may resolve this, but for now there is an acceptance that not all issues will be resolved, that some processes are hard to decarbonise and that carbon capture will be needed to mitigate these processes.
However, once we understand the elements in the materials we specify we can begin work to phase out all unsustainable products from the landscape supply chain.
FEATURE
40
Tree and shrub stock
7
Claire Thirlwall
1 International Energy Agency,Oil 2021.
2 Petrochemicals Market | Global Industry Report, 2031 https://www.transparencymarketresearch.com
3 'Play area surfacing - RoSPA', <https://www.rospa.com/play-safety/advice/surfacing> [accessed 22 November 2022].
4 'Tree planting - Environment, Food and Rural Affairs Committee', <https://publications.parliament.uk/pa/ cm5802/cmselect/cmenvfru/356/report.html#footnote-291-backlink> [accessed 29 November 2022].
Claire Thirlwall is director of Oxfordshire based landscape practice Thirlwall Associates. Her book "From Idea to Site: a project guide to creating better landscapes" is published by RIBA Books.
Anna Gibb
5 'Pavement Support System - RootSpace®', in GreenBlue Urban, <https://greenblue.com/gb/products/ rootspace/> [accessed 23 November 2022].
6 'Rainbow Buckle Tree Tie - Tree Ties & Support | Green-tech', <https://www.green-tech.co.uk/tree-plantingproducts/tree-ties-and-support/rainbow-buckle-tree-tie> [accessed 23 November 2022].
7 'Vigilis Tree Shelters', <https://www.sure-green.com/standard-tree-shelters.html? msclkid=caec8fc9ccd91c527fbcecb7810c0114> [accessed 23 November 2022].
8 C Chau et al., 'The environmental performance of protecting seedlings with plastic tree shelters for afforestation in temperate oceanic regions: A UK case study', in Science of The Total Environment, vol. 791, 2021, 148239.
9 N Highways, 'Net zero highways - National Highways', National Highways, 2021, , p. 18, , Worldwide <https://nationalhighways.co.uk/our-work/environment/net-zero-highways/> [accessed 28 November 2022].
10 BJM Robroek et al., 'Taxonomic and functional turnover are decoupled in European peat bogs', in Nature Communications, vol. 8, 2017, 1161.
11 'Environmental Product Declaration (EPD) EN 15804 | BRE Group', , 2018, <https://bregroup.com/ services/testing-certification-verification/en-15804-environmental-product-declarations/> [accessed 22 November 2022].
Anna Gibb is an architect and illustrator. Her hand drawings have been exhibited both in the UK and internationally, including at the 2012 Venice Biennale.
FEATURE
Geotextiles Site maintenance 8 9 41
Next generation paving.
Lunar is an innovative, contemporary block paving range carefully curated range of four colours and five sizes.
Developed with UK designers, the unique granite-inspired blends are brought to life through a patented colour application - creating a multi-hued, subtle and elegant aesthetic.
Manufactured using MaxiMix Technology™for looks that last and stay true to your design.
Ice Rosa Silver Dust Shadow
A pioneering three-stage colouration process combines harmonious tones of on-trend greys, pastel pinks and earthy blue-green hues to deliver a distinctive range of four complementary colours: Ice, Rosa, Silver Dust and Shadow. Each colour combination is inspired by the elegance and enchantment of the moon.
Perfect for both pedestrianised and trafficked areas, Lunar block pavers are available with a smooth finish and pencil-chamfered edges.
Maximise the potential for every project
Lunar is locally manufactured in Britain using Marshalls MaxiMix Technology™to lock in colour and lock out the elements. The high-quality blend of pigments, aggregates and binders creates a high performing, bonded surface that stands the test of time.
Featuring 30% more pigment and 30% more water-proofer than a standard concrete block product, Maximix combines durability with enriched colour to give Lunar a greater resistance to UV fading and weather damage, protecting the finished aesthetic of your scheme for years to come.
marshalls.co.uk/lunar to start designing with Lunar today
Visit:
Radical practice: reshaping landscape imaginaries
The purpose of this article is to reflect on the ways landscape architects and landscape managers make and reinforce landscape imaginaries through material specification choices and landscape management practices. By landscape imaginaries, I mean the dominant and collective understandings of how landscapes ought to be. These imaginaries may be expressed through a range of everyday behaviours – from the types of meals consumed, to the way the land is managed, or the policies which receive support.
In all of these activities and behaviours exist a vision for how the landscape is, and perhaps more importantly, how it might be. As landscape practitioners shape the surface of the Earth through management and design processes – whether through direct manipulation of the ground or extraction from it – we intervene directly into these shared understandings, producing particular visions for the future.
In a recent paper published in the Landscape Research journal, 'Grass-power: the political ecology of the grass crop in Ireland'¹, I show how the grass crop is at the centre of agricultural interest networks: from private and state-sponsored food marketing campaigns to food policies and landscape management practices. Simply put – the grass crop is a powerful agent that dominates in the making of
Ireland's landscape imaginaries. To be sure, I do not aim to attribute intention to the crop, but rather to focus on how an imaginary attaches itself to it and becomes organised around it. The ways in which this happens in one place versus another helps to illustrate the force of landscape imaginaries.
Orla Shortall in her research on forms of dairy production in Ireland versus the UK, for example, finds that pasture-based dairy production is understood as superior in Ireland by dairy farmers, in comparison to its indoor equivalent. Across the UK, on the other hand, dairy farmers do not see either of these forms of dairy farming as clearly better than the other². In regions with climates and geographies not widely dissimilar, this difference points to the central role of the grass crop within Irish landscape imaginaries – Ireland is grass country.
FEATURE
Andrew Ó Murchú
Our ability to directly intervene in the living world through our material and managerial specifications can give form to new landscape imaginaries: by showing how things could be different.
1. 44
1-4. 'Through Thinning Landscapes' installation, Galway, Ireland, 2020. © Both And Group
In the Irish context, the grass crop is increasingly deployed as a symbol of sustainability and localised food production. This not only conceals the environmental devastation of, for example, intensive pasture-based dairy production – such as carbon emissions and nitrogen and phosphorous pollution of water systems – but it is also misleading. Recommendations from Ireland's semi-state agricultural and food development authority (Teagasc) advocate for the reseeding of 10% of Ireland's pastures annually. Not only would this require a significant increase in the use of glyphosate across hectares of farmland to prepare the ground, but the seed mixtures for Ireland's grass pastures are also grown from Japan to the Netherlands, and all the way to New Zealand. Landscape imaginaries shape the global environment, so we ought to take them seriously.
1 Ó Murchú, A. (2022). Grass-power: the political ecology of the grass crop in Ireland. Landscape Research. doi:10.108 0/01426397.2022.212
1810
2 Shortall, O. (2019). Cows eat grass, don't they? Contrasting sociotechnical imaginaries of the role of grazing in the UK and Irish dairy sectors. Journal of Rural Studies, 72, 45–57. doi:10.1016/j. jrurstud.2019.10.004
3 Fogarty, P. (2017). Whittled Away. Cork, Ireland: The Collins Press. Location 385 of 6396.
4 as cited in Hutton, J. (2017). Reciprocal Landscapes: Stories of Material Movements. Abingdon, UK: Routledge. p.2.
Seed origin aside, so much of the framing of Ireland's landscape relies on the imaginary that the intensiveness and extensiveness of the grass crop is somehow natural, inevitable, and very much of the place. Rather it is increasingly synthetic, globalised, and requiring of intensive management. Whether through landscape design, management or critique, challenging these collective ways of seeing the world are needed – to open opportunities to admit other forms of land use.
What sort of analytical purchase does this have for the practical work of landscape architects and landscape managers? Well, as landscape practitioners, even the smallest decisions can either reinforce or challenge these existing paradigms. Whether in the context of landscape design and planting, landscape management or planning – and at whatever scale – our ability to directly intervene into the living world through our material and managerial specifications can give form to new landscape imaginaries: by showing how things could be different. This is a radical form of individual agency in the climate emergency, uniquely available to all those practicing in the landscape professions.
To really demonstrate and publicise our thinking around this I worked with colleagues to create 'Through Thinning Landscapes' which ran as a temporary installation in September 2020 in the town of Loughrea (Galway, Ireland). Designed together with my colleagues at BothAnd Group (Jarek Adamczuk, Alice Clarke and Kate Rushe) and appointed by design competition, we provided a critique of the relentless greening of the Irish landscape. Responding to an open brief which asked to activate a local park, our submission offered an invitation to the local community to work with us in hosting a conversation about Ireland's biodiversity crisis.
Situated in a T-shaped park between a field and cattle market, the project challenged the apparent inevitability of the grass crop's expansive presence and its collaborative role with agribusiness
in the destruction of living systems. Commissioned as part of the European Capital of Culture –Galway 2020 – the project aimed to have maximum impact on visiting participants' landscape imaginations through the curation of an awareness-shifting experience. The installation gave form – at the scale of the human body – to contemporary patterns of development in the Irish landscape described by the ecologist Pádraic Fogarty as a 'duoculture' of cows and grass, with opportunities for life 'squeezed into . . . thin ribbons of treelines and hedgerows'³
Designed as a 20-metre narrow corridor and hemmed in on both sides by sloped monocultures of perennial ryegrass, the installation ends with a mirror – aiming to position participants within, and to confront, Irish landscape imaginaries which centre the grass crop.
Assembled as an open timber framework the installation was designed to read as a constructed landscape, uncovering the synthetic nature of the Irish countryside. With this we also aimed to articulate the links to the global landscapes upon which the work of landscape design and material production depends.
Robert Smithson communicated this most effectively when considering the work of Olmsted: 'A park can no longer be seen as "a-thing-in-itself," but rather as a process of ongoing relationships existing in a physical region'.⁴ This is essential.
Transforming landscape imaginaries for a warming world will require more than new aesthetic constructs, but a reimagining of the material processes of landscape practice itself.
This project was commissioned by the Irish Architecture Foundation and funded by Galway County Council, Galway 2020 and Creative Ireland.
Andrew Ó Murchú is a co-founder of the landscape research and spatial design collective 'BothAnd Group'. He is a senior lecturer in architecture at Ravensbourne University London where he leads year two of the undergraduate programme. Previously, he has taught at both TU Dublin and the Bartlett School of Architecture, UCL.
FEATURE
2.
3.
45
4.
The impact of choosing the right materials
Tom Webster
Embodied carbon has become the most talked about issue in the built environment in recent years, and rightly so. However, it is often easy to overlook in the design of landscapes, whether rolling countryside estate or inner-city public realm. Often it is not considered in the same way as flood risk or sustainable drainage, meaning that landscapes can actually have high levels of embodied carbon, much of which is buried below the surface.
Unfortunately, embodied carbon makes its way into schemes in many
ways, especially through materials that aren't as low carbon as you would expect. For example, one of the most commonly specified hard landscape finishes is stone, in particular Chinese granite, which has grown in popularity in recent years as it's attractive, hardwearing and cost effective. Stone as a raw material is of course very low in embodied carbon, but what many people don't realise is the carbon generated from transporting it from China means that it can actually be more carbon intensive than concrete sourced and manufactured in the UK and Europe.
Stone is also problematic in terms of waste. A high proportion (50% +) of quarried material may not meet design specification (in terms of uniformity, dimensional properties, inclusions, fossils and fractures etc) and goes to waste, normally by being crushed, even though fundamentally there is nothing wrong with it. So
stone is not always a low carbon option, especially if there is a lot of transport and waste involved.¹
Concrete is a material so prolific and problematic in landscape infrastructure that it really deserves its own article. Engineers exacerbate the issue as we specify concrete as if it grows on trees when, unfortunately, it is extremely high in embodied carbon. However, the majority of its carbon comes from the production of cement. If you can reduce or remove the cement through an intelligent and considered specification, then you can actually create a comparatively low carbon material. Cement replacements are readily available but are not often specified in landscape works, and there are also new concretes coming to market which use graphene and other materials to reduce the amount of cement required. An example of this is GEN3 concrete, which is typically specified in landscape applications
Materials specification is at the heart of moving towards net zero, an obligation shared between engineers and landscape architects.
FEATURE
databrowser/view/ env_wasgen/default/ table?lang=en) Reference is to mineral waste. 1. 46
1 (https://ec.europa. eu/eurostat/
and comes straight from the standard highways specification. It has a high minimum cement content which could be reduced to achieve a more durable product using cement replacement such as GGBS.
Changing the perceptions of our clients is key to minimising embodied carbon. Kerbs, planters, sculptures and benches formed in locally sourced stone or timber are more than durable enough and create more opportunities for biodiversity (especially when you factor in the degradation of timber).
We also need to move away from the idea that we can build something and leave it unmaintained, as this leads to the specification of inherently high embodied carbon materials such as concrete and steel. I once asked a landscape architect why they always specified steel plate for border edging, as steel is inherently high in carbon. The response was that the client doesn't want to do any maintenance. This bemused me – if
you follow the argument through to its logical conclusion, then the landscape architect should not have specified any plants either, as these would need to be watered in hot months and protected in cold months. Maintenance, alteration and repair should be part of the toolkits we use to make our designs lower carbon. This will require a change in client mindsets, but we are not far away from a time where embodied carbon will have significant financial implications that inevitably will force their hand.
Finally, we come to the circular economy. Specifying materials which can be reused or come from an existing source such as paving, kerbs and stonework is a very low carbon way of creating new landscape infrastructure. Unfortunately, it is not necessarily cheaper than specifying new products, as the labour costs involved in reclaiming, storing and relaying these materials can be quite high.
So, how can we move towards net zero with our specifications?
Source locally
Do we need to import materials from the other side of the world, where the financial success of our projects relies on either economies of scale or low paid workers to keep costs down?
Sourcing local natural materials like timber and stone will always be lower carbon than sourcing the same products from the other side of the world.
Be responsible
We need to ensure as designers that we are doing our own due diligence on embodied carbon figures quoted in product literature – you wouldn't specify a material or product without undertaking your own due diligence on its durability or strength, so why wouldn't this extend to embodied carbon?
Specify intelligently
Carefully consider the materials specification and whether you really need the durability, strength, tolerance and uniformity you have specified. Review the information you have been using for the last ten years. Does it align with current best practice and technologies? Are you overspecifying or are expectations on quality of finish far too high?
Specify re-used or for re-use
Specify reclaimed materials where possible, and where it isn't, specify those that could be reclaimed in the future.
Tom Webster is a Director at Webb Yates and has extensive expertise in practical engineering design and project management, particularly in the sports and leisure sectors.
FEATURE
1. Clerkenwell Close Exterior © Agnese Sanvito
2. St Alphage Garden © Agnese Sanvito
Changing the perceptions of our clients is key to minimising embodied
carbon.
47
2.
Counting Embodied Carbon – new report from the Landscape Institute and BALI to be published in the spring
With the urgent need for action on climate change by our sector, the focus of work this year for the Landscape Institute Policy Team will be the challenges and opportunities of carbon reduction. An Advisory Group is working to provide up to date advice for members, including a briefing report due for publication in the spring.
Alan Howard
FEATURE
1. Aerial image of a gravel quarry. © Tracielouise
Embodied carbon refers to the entire greenhouse gas emissions generated in order to create a project. This includes carbon in the materials specified in the design and delivery of landscape schemes.
In June 2019, the Landscape Institute declared a climate and a biodiversity emergency. One of the first steps following the declaration was the publication of a Climate and Biodiversity Action Plan, committing the LI to take the following steps:
– Equipping the profession to provide solutions to the two emergencies
– Regulating and monitoring the sector to encourage greater sustainability
– Advocating for measures to address the emergencies with governments and industry
– Leading through our own sustainable business operations.¹
An important aspect of this work was an acknowledgement of the sector's role in reducing the levels of both embodied and operational carbon in landscape schemes.
Embodied carbon refers to the entire greenhouse gas emissions generated in order to create a project. This includes carbon in the materials specified in the design and delivery of landscape schemes. It has significant implications for manufacturers and suppliers as there are carbon emissions at almost every stage of their processes, from the materials they use to grow plants or manufacture materials to the transport methods taking items to site. To fully understand the impact of this work, including the carbon emitted and the carbon potentially stored, it is important to address Whole Life Carbon Assessments. These consider the mitigation of carbon impact through the entire project lifecycle, from inception to demolition.
than landscape, and mainly rely on data provided by the manufacturers of building components. Landscape design and construction doesn't always match this formula – trees and plants aren't exclusive to one supplier, but the research to assess the carbon emissions and any subsequent carbon sequestration is complex and a huge undertaking for small suppliers. At present, there is no single source or universal standard for data.
There are several emerging tools for the landscape sector and whilst the Institute cannot endorse any of these, we are keen to hear from practices and suppliers on their experiences of using them. One such tool is Pathfinder. Designed by San Francisco based landscape architect Pamela Conrad the free, web-based tool Pathfinder from Climate Positive Design allows practitioners to assess the carbon footprint of their project and the time expected for the scheme to become carbon neutral. Users enter the quantities and materials and the results are presented in an easy-to-understand format. Based on the design, the app provides recommendations for improving levels of carbon storage, such as creating wetland areas. As with other applications, there is a lack of UK suppliers or data for generic components, but the number of items is gradually increasing.
include carbon calculator tools, but again this relies on one standard used throughout the sector and work by suppliers to provide product data in this format.
To date, most of the tools are free to use, so there is no barrier for smaller practices which are disproportionally impacted by software costs. This should be a consideration with any future recommendations by the LI.
Landscape architects are wellplaced to play a central part in the work to reduce carbon emissions, mitigate climate impacts and to find opportunities to store carbon. Some landscape practices, manufacturers and suppliers have already embraced embodied and operational carbon considerations within their work and processes. Clients, particularly those who have embedded sustainability elsewhere within their businesses, will increasingly be turning their attention to carbon counting on scheme and onsite, with publicly-funded procurers likely to be amongst the first to stipulate whole-life carbon considerations as a condition of contract.
Quantifying and reducing the amount of embodied carbon within schemes will be both a challenge and opportunity for the entire landscape sector and could conceivably transform our working practice.
1 'Climate and biodiversity action plan', Landscape Institute, May 2020, <https:// landscapewpstorage 01.blob.core. windows.net/wwwlandscapeinstituteorg/2020/05/12284climate-biodiversityaction-plan.pdf>.
Choices made at the design and delivery stage of a scheme need to be calculated. For example, if a product has a low embodied carbon score but lasts for only three years, it may well be less effective than another product which may have a much higher carbon count but has been proven to enjoy a 30-year lifespan. At present, there is no single agreed process to follow to make this evaluation. Although guidance has been provided by organisations including RIBA, RICS and the Greater London Authority, this is not currently the case across the landscape sector.
Most tools currently in use focus on buildings and infrastructure rather
This one-way workflow, whilst providing valuable data, will add more time to the design process, in turn adding costs. If the data is required by the client or by legislation, then this will be a cost to all those bidding for the work and not create a financial disadvantage. However, when the decision to assess embodied carbon is made at practice level, the benefit of assessing the data needs to be understood by the client as part of the tender process.
The ideal for assessing embodied carbon within landscape design would be for the data to be generated as plans are created, calculating the embodied and sequestered carbon directly from the various elements, allowing early concepts to be tested and refinements made as the design evolves. This is already achievable for costings, using BIM, and some drafting packages are beginning to
The Landscape Institute's report briefing on embodied and operational carbon, produced in conjunction with the British Association of Landscape Industries (BALI), will be published in March 2023. The advisory group has plans for further deliverables later in the year and is keen to hear from practices, manufacturers, clients and contractors. What impact will reduce carbon counts have on the schemes you design, the products you manufacture, and the schemes you commission? If you have already started to incorporate embodied or operational carbon considerations and calculations within your work, or have ideas or experiences you'd like to share, we'd love to hear about your experiences at policy@ landscapeinstitute.org
Alan Howard is Policy Manager at the Landscape Institute
FEATURE 49
Are street trees worth their weight in carbon?
Trees are always a good thing – or are they? Jai Warya argues that it is necessary to try to quantify and compare the carbon emissions of planting a typical street tree with its anticipated carbon sequestration before claiming it is 'good for the environment'.
FEATURE
Jai Warya
50
1.
1. Trees in hard paving require extensive below ground infrastructure
© Jai Warya
2.
© Jai Warya
In August 2021, in the middle of the COVID pandemic, the New York Times published an article about the harm caused by the production of cotton tote bags; the crop's water intensiveness, the challenges faced in recycling them due to PVCbased logos, the carbon footprint of textile mills, and the connections with forced labour in major cotton-producing economies. As someone who has at least half a dozen tote bags, I read the article with a growing sense of alarm and eventual dismay. Was nothing sustainable? Is there nothing we can do as consumers that is not harmful to the environment?
Around the same time, with the fourth Extinction Rebellion protests in London reaching a crescendo, I began coming across several articles, podcasts and talks by prominent practitioners exhorting fellow architects and landscape architects to plant more (and more diverse) trees. Indeed, a recent study by Forest Research and DEFRA valued existing UK trees planted outside woodland as providing benefits worth £1.39 billion and £3.83 billion annually.¹ What's not to like?
Well, as it was with the cotton tote bag, the devil lies in the details.
1 https://www. endsreport.com/ article/1807177/treesplanted-outsidewoodlands-valued38-billion-annually 2 https://assets. publishing.service. gov.uk/government/ uploads/system/ uploads/attachment_
3 https://deframedia. blog.gov. uk/2022/09/30/ daily-mail-andindependentcoverage-ongovernment-treeplanting-targets/
Apart from their sturdiness, the popularity of cotton tote bags can also be attributed partly to the sense they created in users of 'doing the right thing for the planet' by eschewing fossil fuel based, single use, non-recyclable plastic bags that have contributed significantly to the 'plastification' of the oceans and the killing of marine life. Now, however, it has become clear that the picture is much more complicated; cotton totes may not find their way into the stomachs of fish, but they also tend not to find their way to recycling plants.
In the period between 2021-2022, the UK Forestry Commission recorded an estimated 2,255 hectares of new woodland planting in England, of which 2,022 hectares (approximately 3.4 million trees) was supported by Government funding.² Defra claims to have increased tree planting and woodland creation in England to c.2,700 hectares in 2021-22, corresponding to approximately 4.5 million trees.³ Big numbers, and potentially big carbon sequestration.
Compare this with the UK Government's Urban Tree Challenge, launched in May 2019 with the stated goal of planting 130,000 trees across England's towns and cities by 2021. Smaller numbers, and therefore a smaller amount of carbon sequestration, one would think. Yet this would only be the case if one assumes that planting urban trees actually involves net negative carbon emissions, something that has not actually been proven in any study. In fact, with a significant percentage of urban trees being planted in plastic-based structural soil cells underneath pavements, I suspected that the net result of extensive tree planting in urban areas might be to add to atmospheric carbon rather than sequester it, at least in the short term. In order to test this hypothesis, it became necessary to try and quantify and compare the carbon emissions of planting a typical street tree with its anticipated carbon sequestration.
Planting trees within hard surfacing requires extensive underground and above ground infrastructure, a lot of which is ultimately invisible to
the public. This includes plastic soil cells, stone aggregate, geosynthetic membranes, metal guying wires, anchor plates, irrigation and aeration pipes, grilles, pavers, metal or mineral edging and sometimes metal guards. Each of these elements is manufactured separately, transported to suppliers, procured by the contractor, transported to the site and then assembled; a process involving significant amounts of carbon emission. With a number of these items being petroleum-based products, the actual carbon footprint of the process is likely much higher, starting the moment the ground is disturbed to extract oil from it. Consider also that a large percentage of trees planted in the UK are transported from European nurseries along with the soil they are grown in, entailing further carbon emissions. If the street tree being planted is of a larger variety, there are additional emissions from mechanical forklifts. Furthermore, proper relocation of a tree from any nursery to a tough urban environment should involve a very healthy watering regime, especially if occurring in summer time, thereby increasing the tree's carbon footprint even more.
And that's leaving out many things a tree actually needs to survive and thrive; soil, water, nutrients in the form of compost, additives such a mycorrhizal fungi and biochar. It is not always easy (or possible) to quantify the amount of carbon involved in using these products. Apart from biochar, perhaps, it is safe to assume that procuring, supplying and applying these items to a tree pit results in net positive carbon emissions.
On the other hand, trees do sequester substantial amounts of carbon as well. Quite how much they do is not very clearly established in research, as it depends greatly on the species, foliage type, age and health of the tree. While mature trees with larger canopies can sequester more carbon due to their greater surface area, younger trees that grow rapidly may photosynthesize faster and therefore sequester more carbon per square metre of canopy. Evergreen trees can photosynthesize (and thus
FEATURE
Avenue of Trees in soft margins, Manzanares Park, Madrid
51
2.
sequester) all year round, while deciduous trees can only do so from spring through autumn, and both drop plant material in the form of either leaves or needles which, when they biodegrade, add carbon back into the atmosphere. In short; it's complicated, and there is no definitive figure one can attach to how much carbon a typical tree sequesters per year or in a lifetime.
The most common figure that crops up when researching the subject is approximately 20kg CO2 per annum, for a mature broadleaf tree. But this figure is by no means universally accepted. The European Environmental Agency estimates sequestration at 22kg per annum; the United States Department of Agriculture cites the Arbor Day Foundation's figure of 48 pounds (21.8kg) per annum; Ecotree, a Danish B-Corp Company focused on sustainable forestry, states 25kg per annum; and Viessmann, a UK boiler company, states 21kg per annum. All these figures are contested and should be taken with a massive pinch of salt. For the calculations in this article, I used the figure of 25kg CO2 per annum because the purpose was to compare the best-case sequestration scenario with the best-case emissions scenario.
As a control case, I decided to calculate the carbon emissions of a hypothetical tree planted in a pavement using structural soil cells. I assumed the pavement to be three metres wide and the street trees to be planted in hard paving at 10m centres, allowing each to grow to a canopy size of 10m diameter. For the tree species I selected Platanus x hispanica (London Plane); a fast growing, long-lived, stately species resistant to pollution and tolerant of most soil conditions, making it a very popular and commonly planted urban street tree. A Plane tree growing to and being maintained at a canopy size of 10m diameter would require, as per advice from the two most commonly specified soil cell suppliers, approximately 50 cubic metres of soil to enable its survival and growth, equating to about 333 plastic soil cells measuring 0.6 x 0.5 x 0.5m. Having the space to accommodate such a high quantity of cells is very
rare unless one is designing a plaza or squares, so one has to ultimately settle for what will fit in the available area. In this case, a three-metre-wide pavement would only allow for a 3m x 10m wide grid for each tree, consisting of 120 cells providing 18 cu.m of soil.
In a nutshell, with a single plastic soil cell emitting 38kg of Carbon per installation according to a Building Research Establishment (BRE Group) calculation⁴ in 2017, this Plane tree would require approximately 180 years to sequester the carbon that was emitted to put it in the ground. While this estimate includes the manufacturing, moulding and transportation emissions of the soil cell, it does not include the carbon emitted in transporting the tree itself from a nursery, the imported topsoil, the paving around it or any of the other products and activities mentioned earlier that are required to successfully install a tree in a pavement, so the actual situation is likely to be even worse. Information about carbon emitted for many of these products and processes is difficult to come by, but it is safe to assume it would add significantly to the 'break even' sequestration figure for a tree. Note also that the 25kg per annum carbon sequestering figure used here is for a mature broadleaf tree, while street trees are rarely, if ever, planted larger than semi-mature specimens.
How, then, should landscape architects be thinking about the argument for planting street trees? Trees provide many benefits other than carbon sequestration; they create shade, cool micro-climates, provide habitat and food to wildlife, help reduce flood risk, reduce air pollution, provide visual amenity, connect people to nature, and they do all of this without significant costs to councils and developers. Thus, despite it seeming nearly impossible for a tree planted in hard paving to sequester enough carbon to balance out the carbon emitted during its installation, it is still essential that we redouble efforts to plant more street trees. While plastic cells remain the best way of providing street trees sufficient soil volume because they most closely approximate natural soil mixes
below ground, it is clear that trees planted in soft beds will always be environmentally more sustainable than those planted within paving. However, urban street configurations rarely allow adequate space for such a scenario, so it is essential we find alternative ways of minimising carbon emissions. One way would be to explore substitutes like structural soil wherever feasible, though this approach brings its own limitations that are beyond the remit of this article. Another possibility would be for local authorities who are responsible for street tree planting to commit to offsetting the carbon emissions of street trees by planting a commensurate number of trees in soft beds, be it in urban parks and gardens or in the countryside. Either way it is of the utmost importance that the profession is clear with its clients and collaborating professions about the benefits as well as harms of street tree planting. Yes, it provides multiple benefits to the local urban environment and to us as urban residents, but carbon sequestration is not necessarily one of them.
FEATURE
Jai Warya is a Landscape Architect at Allies and Morrison.
4 This figure will vary for each manufacturer, and could be brought down through the adoption of more sustainable supply chains, renewable energy use at factories and the use of recycled or upcycle raw materials
3. Trees in soft beds, Tate Modern, London © Jai Warya
52
3.
for
Product: Solid Serif Top Seats

The Solid Serif Top Seats combine a seat made of Solid slats (7x7 cm) with a Rough&Ready locking beam (7x15 cm). The seat are installed invisibly onto the base structure. The linkable modules of FSC® hardwood are mounted onto a stone or sheet metal base. The sturdy and solid slats are fitted by using the Streetlock® comb system with stainless steel theft-proof flange nuts.
STREETLIFE BV enquiriesUK@streetlife.com I www.streetlife.com I t. +44 (0) 20 30 20 1509 I FSC® license number: C105477 Drifter Bench with USB Charger Lava Grey (recyclate) TWIN
Location: Manchester, UK Architect:
Architects
Studio Egret West Extraordinary
Landscape
Rough&Ready Curved Bench Green Screen System & cantilevered Rough&Ready Benches53
A 100% FSC Manufacturer www.factoryfurniture.co.uk design+ make+ collaborate
Photo - Macgregor Smith
54
Quay Loungers in FSC Redwood and galvanised steel
Ecocity World Summit and the London Festival of Architecture come together in June
The Ecocity World Summit comes to London's Barbican Centre in June 2023. Taking place at the same time as the annual London Festival of Architecture, the three-day event will invite participants to formulate and implement plans for the future of cities.
The London Festival of Architecture regularly features a range of landscape projects. Each year, the Festival chooses an overarching theme. For 2023 the Festival Theme is "In Common".
The organisers say: 'We have more in common than we know. But how do we create and shape the space we share: our city? How do we make the
most of what we have in common – and explore the things we don't? When it comes to physical and digital space, we have our own spaces, but we also have space in common.
Can thinking about what we share help us to develop more responsive and inclusive forms of practice, ones built on principles of collaboration, equity, and sustainable design and ongoing management? There are always questions around how accessible, free and safe the spaces
around us are. The 2023 theme of 'In Common' allows us to rethink how we create, reclaim, maintain and govern our city to create a city which is truly open, accessible and safe to all, by looking specifically at what connects us and what doesn't.'
This year the Festival is joined by the Ecocity World Summit.
The Summit takes place from 6th–8th June at the beginning of the month-long London Festival of Architecture. The Director of the
FEATURE 1.
Resilient landscape on the Barbican High Walkway designed by Nigel Dunnett © Nigel Dunnett
1.
55
Paul Lincoln
Summit is Gonzalo Herrero Delicado, a curator, educator and architect based in London.
Gonzalo is also a Design Fellow at the University of Cambridge and an Associate Lecturer at Central Saint Martins, University of the Arts, London. From 2016 to 2021, he was Curator of the Architecture Programme at the Royal Academy of Arts in London, where he organised EcoVisionaries (2019-2020) and Invisible Landscapes (2018-2019), among many other exhibitions, displays and public programmes. Previously, he has been a curator at the Design Museum and The Architecture Foundation.
The festival aims to bring together thinkers, innovators, and urban stakeholders from across the globe to discuss the future of cities at a time of climate emergency, and define the next steps towards building more ecological cities.
First held in 1990, the Ecocity World Summit is the first and longestrunning global conference on ecology and cities. Every two years, it brings together urban stakeholders from across the globe to focus on key actions cities and citizens can take to rebuild the human habitat in balance with living systems.
Ecocity World Summit was set up by Ecocity Builders, which was founded in 1992 by a core group of ecologists and activists to further a set of goals outlined at the first International Ecocity Conference in Berkeley in 1990. Making use of ecological urban planning, design, ecology, education, advocacy, policy and public participation to build healthier cities for both people and nature, Ecocity Builders started with local projects in the San Francisco East Bay. These included the Codornices Creek Project in 1994, that removed the water channel from its cement culvert along the Albany/ Oakland border to create a mile-long park. Another example is a series of 'depaving' projects in Berkeley. Other projects included shared space and traffic calming features In the mid2000s, Ecocity Builders first began employing GIS mapping techniques to identify active urban areas that could serve as Eco Districts. Ecocity Builders believe that the form of the city matters, and that it is crucial to reshape and restructure cities to address global environmental challenges.
The chosen theme for the London summit is Connecting Communities. This will look at how collaboration,
participation, democratisation of design and transdisciplinary approaches can create better cities and communities. This will be explored through four areas:
– Biodiversity: how can we best focus on locally and globally restoring and sustaining ecological integrity through species, ecosystem and genetic diversity?
– Regenerative design: how can we design, build, and operate our buildings and urban places to have a net-positive impact on our environment?
– New lifestyles: how can culture, new technology, urban design, and governance enable sustainable behaviours, and a happy, healthy, and equitable future?
– Healthy ecosystems: how can we find ways to manage our natural and material resources to sustain healthy and restorative systems? The organisers plan to create a network of urban stakeholders supporting sustainable futures; disseminate learning between cities and city markers; provide a forum to challenge existing urban systems, policies, and priorities; inspire and support professionals and citizens to take action to meet key targets; and leave a legacy in London through a series of partner pilots and a learning programme.
Ecocity takes place from 6th–8th June at the beginning of the monthlong London Festival of Architecture, a celebration of architecture and city-making.
The festival aims to bring together thinkers, innovators, and urban stakeholders from across the globe to discuss the future of cities at a time of climate emergency, and define the next steps towards building more ecological cities.
Booking for the Ecocity World Summit is now open: https://www.ecocitysummit.com
The London Festival of Architecture has an open call for ideas for the festival: https://www. londonfestivalofarchitecture.org/
FEATURE
Paul Lincoln is editor of Landscape
2.
56
2. Gonzalo Herrero Delicado © LFA
LI LIFE People Place Nature 57
In October 2022, the Landscape Institute (LI) launched Campaigning to Connect People, Place and Nature. The campaign aims to engage with LI members, non-members, partners and stakeholders in a programme of activity across the UK, developing the vision for the new corporate plan, celebrating best practice and collaborating through a series of inclusive learning events.
The theme is based upon bringing together a multidisciplinary, inclusive community of stakeholders to harness knowledge and thinking to develop solutions to the current challenges we face. The vision of the initiative is to promote the landscape profession as well as build a progressive and inclusive professional body for the future.
At the end of the campaign, the outcomes are designed to build confidence amongst members, elevate the landscape profession's relevance and signpost case studies that support solutions to current and future challenges. It is also hoped to highlight clear priorities for the corporate plan and programmes of work that are important to our members, partners and external stakeholders.
A key element was a series of site visits that were open to all. Brief information on each is given here.
Birmingham Belfast
Bristol London Cardiff Glasgow Leeds Newcastle Manchester
LI LIFE 58
a Grade II listed statue of Abraham Lincoln, giving the Peace Gardens a new home here in the form of a softer space within the square, and honouring with an artwork (showing threads of cotton) the integrity and self-sacrifice of Manchester's cotton workers who made a stand to support Abraham Lincoln's fight to abolish slavery.
Bristol
No site too small Glassfields in Bristol brings nature and beauty to the centre of a wider development area in a busy city, that required a flexible design that can be moved and adapted as the scheme progresses. B|D Landscape Architects showed their approach to meanwhile space, from focusing on a strong brand and identity with bespoke furniture and even hoarding – thus creating a sense of place – to incorporating planting that delivers biodiversity in an area lacking in greenery.
Manchester
Transforming a cherished civic space Albert Square is the setting for Manchester's Grade I listed Town Hall, a landmark of international significance, known for its exceptional craftsmanship and architectural quality. Both the building and civic space are being restored as part of a seven-year programme, and Planit-IE undertook wide-ranging and intense engagement to understand which challenges needed a design response. Connectivity is a key principle driving the design, with the landscape architects securing approval to remove all traffic from Albert Square, which realises the team's strong ambition to create an inspiring space that is defined by its building edges and not by the highway that currently dominates it.
Manchester
A new city centre park
Mayfield Park is Manchester's first city centre park in nearly 100 years which uses as its inspiration the existing state of post-industrial deterioration with planting having taken over the site. Studio Egret West interpreted this state through the retention of existing structures and through their material choices, detailing and approach to planting design. Water management is fundamental to the design, with the de-culverting of the River Medlock resulting in softened edges forming a 'wildscape area' that can accommodate flood water should the river burst its banks.
Manchester
Planting for the future
At Kampus, a new urban quarter in Manchester, the design from Exterior Architecture, creates new communal spaces within lush greenery. The brief asked for a tropical oasis and the planting was specified to give a woodland feel while also being resilient to climate change. The landscape architect tested growing ferns in their own garden to ensure this resilience (in the winter they will be wrapped for protection). The Listed buildings on site were referenced and given expression externally by using some beams from the interior for benches.
Manchester
A place for peace and contemplation
As the world's first industrial city, Manchester is renowned for promoting peace and social justice through progressive movements and individuals who played important roles for the good of the city. Planit-IE's approach to the redevelopment of Lincoln Square is informed by this history and theme of peace. This included relocating
LI LIFE
1. 2.
4.
3.
5.
59
All pictures on location taken by LI staff.
Manchester
Creating a green viaduct
Part of the National Trust's Urban Places programme, Castlefield Viaduct is the temporary creation of a green space on a viaduct that has not been in use since 1969. Described as a 'sky park', the project has converted a Victorian cast iron and steel railway structure into three distinct spaces while celebrating Castlefield's industrial heritage. The project is a 12-month pilot to test what this place could become in the future, with a project that includes rigorous trialling, testing, feedback and evaluation.
The developer, Citu, is driven by a passionate desire to help cities become genuinely zero carbon while also creating places that support people to live zero-carbon lives and engaged Civic Engineers and Layer Studio to deliver this vision. From day one the development was structured as a Community Interest Company, which also owns data and power on site. Data is bought in bulk for £6/home and the excess sold for £20, creating a £100K profit for the CIC. In addition, the landscape contributes to a reduced flood risk, surface water is managed at source through a combination of tree planting, permeable paving, rain gardens and ponds.
Glasgow
Where landscape and health and wellbeing meet:
The Claypits, by LUC, is a transformational scheme in the northwest of Glasgow that turns a disused claypit into a nature reserve, addressing issues of connectivity from the city centre to this area. The 1 km route along the Glasgow Canal branch of the Firth of Clyde provides people access to green and blue infrastructure from which they were previously disconnected. The Claypits project has contributed to creating a "20-minute neighbourhood" for local residents.
Glasgow
The landscape comes first: Dundashill
Leeds
The UK's largest sustainable project
The Leeds Climate Innovation District turns a central brownfield site into a resilient, green, mixed-use neighbourhood of 516 low energy homes with integrated amenities for everyday life.
Dundashill is a residential scheme creating a mix of 600 new apartments and terraced houses on 27 acres of land, 17 of which are developable. The scheme is part of a wider drive from Scottish Canals to deliver development on brownfield sites under the organisation's ownership. Dundashill is of relatively high density, making the green space a vital element of the scheme. In recognition of this, and as a departure from the norm for Scottish built environment projects, the landscape framework by rankinfraser was developed as the first phase. This meant the landscape was not delivered within a high-pressure environment when project timescales are inevitably overrun.
Birmingham
Learning from Birmingham's trees
In Birmingham, field trip attendees were treated to a tour of the city centre, including Centenary Square, Paradise Forum, Colmore Row and everything in between. Mathew Haslam of Hardscape gave context to Centenary Square's deceptively simple design. Howard Gray of Green Blue Urban then provided insight into supporting healthy tree growth across the city. A key piece of advice was that where there is green infrastructure, there needs to be blue infrastructure and it is easier to make a case for the latter when designing projects.
LI LIFE
6.
7.
8.
9.
60
10.
results of their work to the Council, which used emergency powers to pedestrianise the street within two weeks. To preserve the historic character of the street, LDA Design is identifying and maintaining key views and sightlines for this ongoing project.
Cardiff
Transforming Grangetown
Grangetown is one of the most densely populated parts of Cardiff that has historically been subject to flooding and was characterised by a scarcity of greenery. The Greener Grangetown project - designed by Arup with City of Cardiff Council, Dŵr Cymru Welsh/ Water and Natural Resources Wales/ Cyfoeth Naturiol Cymru as client –aimed to deal with rainwater in the area. It has transformed Grangetown into a place that is more attractive; supports cycling, walking and connectivity to the wider city; and enhances health and wellbeing – all while still achieving the original intent by removing more than 40,000m3 from the public sewer annually.
Newcastle
The world's first high-tide floating ecosystem: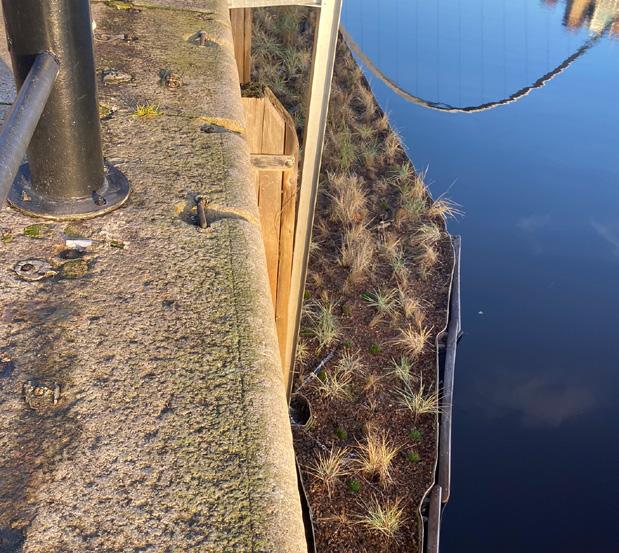 Newcastle Quayside Floating Ecosystem is Groundwork North East's new floating nature island and part of its Revitalising our Estuaries (RoE) programme. It is a world first and a pilot scheme, developed by Biomatrix Water specifically for this site, and will be a vital hub for wildlife such as invertebrates, pollinators, birds, molluscs and fish in an area where natural habitat has been lost. RoE has created new green jobs, including employing 38 young people as part of the programme. Within this five River Estuary Ranger Trainees will gain qualifications in landscape and outdoor environment management.
to members of the public, one is more formal in character and can support events and exhibitions while the other has a more natural character, includes 5,500 plants, and supports quiet reading and individual enjoyment. The spaces, designed by Applied Landscape Design and Frosts Landscapes, had a brief that included an edible planting area. The produce is used by the library kitchens while also providing educational value, as school and local groups can learn about planting, especially at roof level.
Bristol
Reimagining a popular destination:
King Street is one of Bristol's most attractive and favoured areas. While there had long been a desire from businesses along the street to pedestrianise, LDA Design identified the opportunities for permanent benefits from doing so and led the plans, establishing the King Street Collective in July 2020, to make them a reality. LDA Design delivered the
Birmingham
Growing in the sky:
The Library of Birmingham has two outdoor terraces. While both are open
Newcastle
Newcastle's Future Places: Across Newcastle, igloo Regeneration is implementing its 'footprint' methodology as a model for development. The approach has six dimensions: circular, climate, community, place, wellbeing and nature. The city's upcoming developments, Stephenson Quarter in the city centre and Malmo Quay and Spillers Quay in Ouseburn, focus on these as priorities to not just deliver best practice but also to track these projects across their lifespan. Stephenson Quarter, is prioritising the site's heritage and working with BBUK on the landscape, which aims to reference Victorian pleasure gardens in the planting scheme. In Ouseburn, the project's previous phases comprise of The Malings and Steenberg's Yard developments.
LI LIFE
11.
13.
14.
15.
61
12.
Leeds
Where landscape is the cornerstone for regeneration:
Due to adverse weather, the field trip did not include this site, but its significance in the city's key regeneration project meant Wellington Place in Leeds is an important project to include in this list of sites. A new mixed-use community and business quarter in the heart of Leeds City Centre, Gillespies drew inspiration from the site's history, taking into account changes on site from the 17th century to a Brian Clouston and Partners design in the 1970s. As part of this, a Grade I listed lifting tower is a focal point of masterplan.
anti-social behaviour, especially after dark. Set in the heart of Bloomsbury, the square was originally designed by Humphry Repton in 1801 for the 5th Duke of Bedford. Today, it is Grade II listed and included on the English Heritage Register of Historic Parks & Gardens. The Square, with its refurbished café, has become an extremely popular destination for visitors and residents alike, providing an important refuge and green oasis within this dense urban setting. Gordon and Woburn Square Gardens form part of the extensive network of largely Georgian garden squares in Bloomsbury, although they were some of the later squares to be developed in the district. Improving access and safety were primary concerns for the redesign of the squares.
Working with Westminster City Council, LDA Design has reimagined Aldwych Strand to become a fantastic new civic space which better meets the needs of visitors, workers and residents. Pedestrianisation of a large section of the Strand has created, for the first time, a place where people can stop and pause, and space for nature. It also creates an exciting, flexible and democratic outdoor space that the institutions along Strand can use and share for fashion parades to exhibitions to performances, supporting a new type of activation where art is made not just displayed, where knowledge is exchanged.
London
Restoring the heart of LondonBloomsbury Squares
Prior to its restoration, Russell Square was a lacklustre garden square in poor condition that was attracting serious
London
Creating new public spaceAldwych Strand
Strand has been an important east/ west route in London since AD190, when it was called Strond, meaning edge of the river. Today, it remains a key processional route between Westminster Abbey and St Paul's Cathedral. Aldwych, on the other hand, is much younger. Completed in 1905, the street was inspired by Parisian boulevards.
London
Housing and green infrastructure at Elephant Park
Elephant Park is a mixed-use development by Lendlease and Southwark Council, just a short walk from Elephant & Castle's train stations. It is built on the site of the former Heygate Estate and is designed to open up the area, creating new, accessible, throughways for pedestrians and cyclists, over 3,000 new homes and over 50 new retail spaces, including affordable retail provision. The project is over halfway through its timeline, with an estimated completion date of 2026. Green infrastructure plays an important role in helping to mitigate the climate emergency and for its positive contribution to biodiversity. 128 mature plane trees were retained from the original Heygate Estate, with a further 1,300 being planted in and around Elephant Park.
LI LIFE
16.
17.
18.
62
19.
Jellicoe Lecture
Campaigning to Connect People, Place and Nature culminated with the Jellicoe Lecture, back again as a live event after two years of being held online. The event took place in London at Brixton's Department Store building, home to architects Squire and Partners, and a hub for creative, retail and community uses.
Ben Brown, former Head of Policy and Insight at the Landscape Institute, presented the results of the industry-wide Landscape Skills and Workforce Survey.
– The annual Gross Value Added (GVA) of the landscape sector is £24.6bn – Biodiversity and nature recovery came out on top (82%) for the top five reported outcomes that the landscape industry believes will drive growth in the sector
– More than 50% of businesses have a hard-to-fill vacancy
– The landscape workforce is significantly older and whiter than the average UK workforce – 40 years of age and 51.3% is female
This launch was followed by a discussion with guest speakers about the current state of the landscape profession.
Guest speakers were:
Peter Freeman, Chair of Homes England and co-founder of the property developer Argent.
Siraaj Mitha, architect and Head of Accelerate at Open City, a programme that encourages young people from underrepresented backgrounds to explore careers in the built environment.
LI LIFE
Continued »
© Smart UP Visuals 63
The Jellicoe event was recorded by a live scriber who outlined some of the key themes of the discussion.
Binki Taylor, GLA commissioner for diversity in the public realm and founding partner of the Brixton Project, a community placemaking organisation.
The discussion was chaired by Victoria Thornton OBE, Founder of Open House/Open City, Founder of the Thornton Educational Trust and former President of the Architectural Association Panel.
A key theme was how to attract a new generation of landscape architects to the profession.
Binki Taylor suggested one approach would be to identify simple steps that will help people connect to the profession.
Peter Freeman identified playgrounds as an ideal entry point for this discussion with young children, especially as it is a designed space that a majority of children have access to from a very young age.
Charlotte Glazier talked about the Islington Greening Together programme, which engages residents by asking them to submit their ideas for greening their neighbourhoods. The Greener Together Champions scheme trains and supports residents to manage
and maintain spaces and act as local community organisers.
Siraaj Mitha commented on the relevance of the skills survey statistic that the landscape sector is worth almost £25 billion – should some of that funding not be channelled towards promoting the profession? If there is value to this work, then it should be paid for.
Victoria Thornton talked about the Thornton Education Trust's Inspire Future Generations awards scheme. The awards aim to 'recognise people and initiatives that have been working with children and young people –helping them to engage in and advocate for a better built environment.'
While understanding and identifying with local places was clearly important, audience member and incoming Landscape Institute independent trustee Deborah Nagan, pointed out the importance of showcasing iconic projects, such as the Queen Elizabeth Olympic Park (London) and Gardens by the Bay (Singapore). These projects are not just glamorous and exciting but tangibly address the climate crisis.
Audience member Richard Goldthorpe brought up the importance of an integrated ecosystem of landscape architects, local authorities
and community groups working together within a designed and managed system, rather than a fragmented one. Charlotte Glazier supported this recommendation and further emphasised the role that good project management can play in making this a reality.
The panel discussion moved on to focus more specifically on attracting people from underrepresented backgrounds, particularly important given the ethnic diversity statistics revealed by the sector skills survey.
In terms of client-side advocacy, Peter Freeman pointed out the value of landscape to developers, demonstrated by Argent's redevelopment of King's Cross. He said the project could have saved approximately £100m by delivering a mundane hard and soft landscape but made a deliberate decision to make this investment, in recognition of the value it brings to the place.
Binki Taylor talked about the importance of a strategic approach to communications campaigns. Pinning down answers to questions about a campaign's ambition, vision, what it aims to change and where shared purposes can be identified are all critical to creating change from local level to creating connections at global level. This approach could, and should, intersect with the clear way in which young people are incentivised to save the planet and mapping that desire to a career in landscape architecture.
Find out more and join the conversation
The campaign is ongoing and LI member participation is welcome and encouraged. Members can find out more at www.landscapeinstitute.org and share their thoughts at campaigns@landscapeinstitute.org
The Landscape Institute thanks its sponsors Hardscape, Hillier and Wildflower for their sponsorship of the events. We also thank Arup and Design Commission for Wales for hosting us at their offices in Manchester, Leeds and Cardiff respectively.
LI LIFE
Charlotte Glazier CMLI, Programme Manager –Greening the Public Realm, Islington Council.
21.
21-22. Jellicoe Lecture. © Ron Gilmour
22 64
1. At the Presidents' Reception 2012 on the completion of his presidency which took place at the Charterhouse, City
In memory: Jonathan Watkins PPLI
1.
David Withycombe, CMLI, Chair of the Awards Committee, writes:
outset.
Shortly after Jo died, I got in touch with old friends and colleagues from the Institute. I received numerous responses expressing sadness and condolences at the loss of such a great friend, colleague and ambassador for our profession. It was the value of his friendship that came across most strongly in those messages; his sense of humour, calmness, warmth of spirit and ability to put those he met at ease from the outset.
Jo was born in Swansea on 31st July 1956. His father's family were Quakers, and the sense of equality, fairness and peace associated with Quaker beliefs was something all
those who knew Jo would recognise. After leaving school (through a window, apparently!), he worked locally in a number of jobs, including a sports shop in Sketty, before taking the decision in 1979 to enrol on the Landscape Architecture diploma course at Thames Polytechnic. During his time at Thames, he spent his year out at the Glasgow Development Agency, a city he loved. It was soon after completing his post graduate diploma in 1985 that Jo met Carolyn (an architecture graduate from Thames) who was to become his lifelong partner.
After graduating, Jo spent a short time working with Philip Cave Associates before joining the
Landscape Partnership, running a small London office in Docklands. He played a key role in many projects including the early days of the award-winning Kings Cross Estate Action Project.
After leaving the Landscape Partnership, Jo set up his own practice, setting up in partnership a few years later with Des Dally, forming Watkins Dally in 1999. They worked on a number of award-winning schemes across parks, education and public spaces. He had particular affection for their involvement in the Dartford Stadium Masterplan; an opportunity to combine his joint loves of football and landscape. After retiring from his professional career in 2009, Jo continued to work as a Director, then
LI LIFE
of London.
© Robert Taylor
65
It was the value of his friendship that came across most strongly in those messages; his sense of humour, calmness, warmth of spirit and ability to put those he met at ease from the
Vice-Chair of a family business in Swansea.
Jo's contribution in a voluntary capacity to the Institute and our profession was huge. He sat on Council for 12 years and became President in 2010. He took up this role at a time when climate change and localism were emerging on the political agenda. Jo saw both the need and the opportunity for our profession to sit at the heart of these debates, providing a pivotal role in engagement across professions and society. He also saw the importance of gaining influence across other disciplines in the construction industry. In 2012, Jo was elected to the Construction Industry Council Board chaired by Nick Raynsford MP, becoming Honorary Treasurer in 2015. He saw this role as recognition of the emerging influence of Landscape Architecture and the importance of landscape as "a necessity and not a nice to have".
Jo instigated one of the first regional exhibitions of the work of landscape architects: 'Landscape Matters' in 1994. He was central to the growth of the Institute Awards and remained on the Awards Panel until late in 2022. I remember Jo was
particularly thrilled to meet one of his literary heroes Bill Bryson at the Awards in 2018 – and to make him laugh. He was also a member of the Landscape journal's Editorial Advisory Panel for many years.
Jo also made a substantial contribution to education. In 2010, he became a member of the newly created Advisory Board to the School of Architecture, Design and Construction at Greenwich University, helping to shape courses and how they were taught. He was also a visiting critic and thesis supervisor on architecture courses at the Bartlett, again reflecting his view of the importance of influencing those we work with. His desire to encourage and mentor the next generation of landscape architects both through teaching and support to those working with him was immense.
Jo was also very active in his local area. He was a trustee of Twinkle Park in Deptford and a member of the Friends of Sutcliffe Park. He was a school governor at Brooklands Primary School, becoming chair of governors in 2014 at a challenging time with pressures to form academies.
Jo's other great passions included
sport in the form of cricket, football and rugby (mostly involving a discussion over a pint), and travel (he had a particular affection for France, where he travelled widely with his family and friends). He followed the Swans far and wide and was a season ticket holder at his adopted London club Charlton Athletic. He played cricket for Ash village and in his later years, the Ashburnham Arms in Greenwich.
Jo was a gentle giant of a man. In recent years, illness began to affect his mobility and fitness, but never his good humour and generosity of spirit. His wife Carolyn and their boys Billy and Jamie have strong support from their many friends and family. For landscape architecture, his legacy lies perhaps not in grand statements but in his influence on how we are perceived as a profession and for the support he provided to those beginning their careers. For those who knew him, it was simply the pleasure that he was part of our lives.
Donations to Crisis, in memory of Jo, can be made through Just Giving. Visit justgiving.com and search for jowatkins2022
remember Jo was particularly thrilled to meet one of his literary heroes Bill Bryson at the Awards in 2018 –and to make him laugh.
LI LIFE
2.
2. Meeting writer Bill Bryson who became a Fellow of the Landscape Institute in November 2017, at that year's Landscape Institute Awards ceremony. © Credit required
66
I
GreenBlue Urban is the worlds leading urban greening specialist. With more than 30 years of experience in creating healthier urban spaces in harmony with nature. Visit greenblue.com/circular-economy Creating healthier urban spaces in harmony with nature T: +44 (0)1580 830 800 E: enquiries@greenblue.com W: greenblue.com Manufactured in the UK. #MadeInBritain The GreenBlue Circular Economy noitubirtsiD UK gnirutcafunaM Re-use/Recycle RecyclingSector laniF su e A new podcast from Landscape and Open City. Available on: Listen to Talking Landscape 67
– CPD, Conferences and webinars – free of charge for members.
– Five years of Landscape Institute training events and conferences are available on demand on LI Campus.
– LI Campus is a compendium of educational content for landscape professionals. The platform gives users immediate access to a huge range of content, encompassing the past five years of LI events, conferences and CPD days.
– All members get access to Campus as part of their member benefits, except the specialist masterclasses.
– Campus is viewable on phones, tablets and PC browsers.
– For more information, see campus. landscapeinstitute.org.
ADVERTORIAL
68
Jupiter Play
LI Webinar: Environments
without bias: Designing Gender Neutral Spaces
Available to download on LI Campus
In the summer of 2022, a group of women made history winning the UEFA European Women's Football Championship, inspiring a generation of young girls to play football. It was a particularly emotional experience for not only the players and fans, but for parents seeing their daughters faces light up imagining themselves achieving something similar. The Lionesses achieved something their male counterparts have failed to do for over
50 years, but the real achievement was shifting the narrative around women's football, gaining a new level of respect.
At Jupiter Play, this incredible achievement touched the whole team, but none more so than Creative Lead Rosie Mayer, who grew up as a huge football fan but due to various factors lost the love for the sport. Rosie has spent the last year listening and learning about the issues young girls face spending time and being active in our public spaces. The Euros win brought on a significant reflection for Rosie, thinking about the reasons and factors that led to a disillusion with football, and seeing a correlation with the feedback coming from the workshops around young girls feeling safe in parks and being active in public spaces.
Studies have shown that teenage
girls are significantly less active than teenage boys, with only 10% of girls aged 13-16 meeting the recommended daily guidelines of 60 minutes of physical activity per day (Sport England, 2018). In addition to this, a new study into how teenage girls use parks and green spaces for recreation has found twice as many girls as boys feel unsafe exercising in their local park (49% compared to 26%) (Yorkshire Sport 2022).
Landscape Architect, Jennifer Tindsley also sees the significance of the Lionesses' Euros win as a mother of a young girl who hasn't yet found a love for sport but saw the match and asked for a football. Jennifer has joined Rosie to discuss the processes and interventions Jupiter have adopted to design more welcoming spaces for young girls.
ADVERTORIAL
1. Play equipment. © Jupiter
69
1.
Green Blue Urban LI Webinar: Has SuDS become mainstream?
Available to download on LI Campus
The public are rightly horrified that most of our British watercourses are not fit for swimming in, and that untreated sewage spills have occurred so often – but not all of us are aware that we ourselves can be contributing to the problem.
By simply reducing the amount of rainwater entering the combined sewer from our properties, we can help reduce the overall problem. If nothing else, emptying your water butt prior to a storm event means that less water will be flowing down the drain during the rainstorm and there are many other opportunities now available to householders.
The Government recently announced that it is minded to enact Schedule 3 of
the Flood and Water Management Act 2010 in England; Wales did so in 2019. This also removes the automatic right to connect new developments to the mains drainage system (in most cases) thus forcing developers to consider SuDS early in the design process. In addition to the attenuation provided by the soil, plants and trees take water from the ground via evapotranspiration through their leaf structure, reducing the water flowing through the system.
The inclusion of SuDS at the master planning or development site planning stage has a significant effect on the viability and cost-effectiveness of SuDS integration and the ability of SuDS to deliver multiple benefits.
Whilst introducing SuDs to developers gently, it is widely considered not to have worked; many developments have poor sustainable drainage solutions which can even be detrimental to the value of the properties. The new legislation will help to improve the
delivery of these essential features, to the benefit of all.
Our most recent webinar, aired on LI campus on 31st January, introduces Laura Bigley, Principal Flood Risk Manager at Lancashire County Council and Chair of Association of SuDS Authorities, joining Howard Gray. They discuss preliminary surveys to reveal topographical opportunities for SuDS, using rainfall data to calculate volumes of water for attenuation and of course the use of green infrastructure to attenuate and treat rainwater.
GreenBlue Urban continues to innovate and manufacture solutions such as the ArborFlow SuDS-enabled tree pit, and the HydroPlanter range of adaptable rain garden solutions to make implementation simpler and cheaper, creating healthy urban spaces in harmony with nature.
ADVERTORIAL
1.
70
2. SuDS scheme. © Green Blue Urban
GUIDED BY NATURE
Guided by Nature
Schellevis® produces concrete paving and elements to connect architecture with nature. Always supporting and respecting the outdoor space they are placed in.
The above picture shows the entrance forecourt of Sycamore House a multi- tenant building, located on the Stevenage BioScience Campus.
For the outside area Owers Warwick Architects was asked to not only design an inviting entrance, but also to create an area which also serves as a communal space. They designed a lush soft landscape scheme combined with Schellevis® block pavers, slabs and seating elements in different colours.
Visit our website to see more of our products used in a variety of outdoor spaces.
For UK enquiries: Ryan Burge | 07960 988 327 | ryan@schellevis.co.uk
www.schellevis.co.uk
Green Green Grass Paving, Blue Blue Sky Thinking. For further information on all our grass paving and green infrastructure products please visit: www.hardscape.co.uk or telephone: 01204 565 500. Climate-Proofing the Future with Hydro Lineo and Square Grass Paving Solutions.
Starley Gardens, Coventry.
Frederick House, York.
Material
Spring 2023
matters: specification in the age of climate emergency Landscape The Journal of the Landscape Institute Spine 5.2 mm TBC