Headline sponsor Category sponsors See you next year at the…
Supporters
T he evolution of parking
The 20th anniversary British Parking Awards celebrated all that is best in a sector that keeps our world moving, writes Mark Moran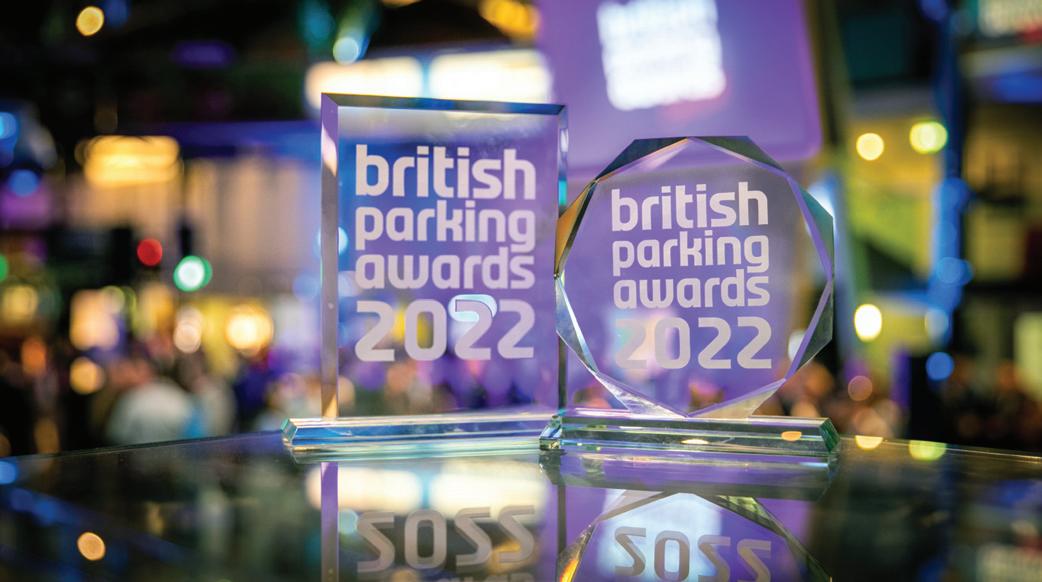 Innovative thinking, excellent management practice and a commitment to providing an excellent public service were all recognised at the British Parking Awards. This year marked the 20th anniversary of the competition which recognises achievement in the design, planning and management of parking across both the public and private sectors. Over 600 people attended a gala lunch at the Royal Lancaster London on 19 October. The ceremony was hosted by the comedian Kerry Godliman, who was presented with a special trophy because she is 'Really Good at Parking'!
Besides recognising Kerry's achievements as a driver, the dazzling awards show also honoured the work of professionals and organisations working across the parking sector. A total of 25 trophies were presented, with recipients taking to the stage to a soundtrack of music by Queen and applause by an audience of friends, family and colleagues.
There were key prizes for the building of car parks, and development of innovative technology, as well as a raft of awards for the teams and individuals who make this such a vibrant sector. The awards also recognised the changing remit of parking teams, reflected in the many entries that addressed issues such as the regulation of moving traffic, low traffic neighbourhoods and air quality schemes. To mark the 20th anniversary, three special 'Parking Rosettes' were awarded to projects and people who are playing a key role in the rethinking of parking. Many entries reflected how the worlds of parking and electric vehicle charging are ever more interconnected, recognised in a set of trophies presented by EVolution Magazine.
The role of parking in mobility was explored in an opening address by Paul Moorby OBE, managing director of Chipside, creator of the headline sponsor MiPermit: "My message is that we must all dedicate our cores to delivering a cleaner Britain, with cleaner air, cleaner water and better education for all on net zero. We have to go out there and provide leadership to anybody that will listen. To those of you in parking who are designing the future, give yourselves a round of applause."
Mark Moran is editor of Parking Review
BRITISH PARKING AWARDS THE WINNERS | 3
Mark Moran and Kerry Godliman
MATTHEW WALKER PHOTOGRAPHY
Mark Moran
Paul Moorby OBE
The trophies
Putting parking in the picture
The British Parking Awards 2022 took place at the Royal Lancaster London and also in cyberspace, with entrants and delegates sharing the moment on Twitter, LinkedIn and other social media channels. To see who posted what check out the hashtag #britishparkingawards
BRITISH PARKING AWARDS 4 | THE WINNERS
WALKER PHOTOGRAPHY
MATTHEW
Q-Park take a selfie
The British Parking Awards 2002 were hosted by comedian and actor Kerry Godliman. The star of TV series such as After Life and Whitstable Pearl received a special 'Really Good at Parking' trophy, having explained that she was very good at parking, actually!
Professional opinions
Entries to the British Parking Awards are assessed by a jury drawn from across the parking, transport and motoring sectors.
There were over 120 entries to the 2022 competition, plus a series of nominations for special awards such as those for the Lifetime Achievement and 'Parking Rosettes'.
Mark Moran, editor of Parking Review and jury chair, said: "One of the reasons that the British Parking Awards trophies are so coveted is that from the competition's inception , the winners have been selected by an independent jury. The judges assess, discuss, argue over and then agree on the shortlist and eventual winners in a series of meetings that are truly fascinating and informative."
The British Parking Awards 2022 jury
Chair and organiser: Mark Moran, editor, Parking Review
Jason Benjamin, independent consultant
Harry Clarke, director, Arlander
John Elliott, Local Government Technical Advisers Group (TAG)
Elisabeth Gilliard, independent consultant and vice president, Chartered Institute of Logistics & Transport (CILT)
Phil Grant, principal, Professionals in Parking
Nick Lester-Davis, director, Nick Lester-Davis Consulting
John McArdle, independent consultant
Chris Naylor, membership and operations manager, IPC
Paul Necus, independent consultant
Angela O'Shea, independent consultant
Anjna Patel MBE, parking professional
Andrew Potter, director, Parking Perspectives
Manny Rasores de Toro, principal, MR Parking Consultancy
Kelvin Reynolds, director of policy & public affairs, BPA
Mahmood Siddiqi, president, Local Government Technical Advisers Group (LGTAG)
Richard Talbot, director, The Railway Consultancy
BRITISH PARKING AWARDS
The Winners
Inspiration Award
Harrison Woods and YourParkingSpace
Parking Rosettes
Parking for a Better World
Nottingham City Council
Parking Futures Award
EF International Parking Services
John Galsworthy and the London Borough of Hammersmith & Fulham
Reinventing the Street Dan Hubert and AppyWay
People and teams
Parking Person of the Year
Sarah Randall
Lifetime Achievement Award
Carol Gibson
Rising Star Award
Jake England
The Front Line Award
Conduent Transportation team, Oxfordshire County Council
Communication Award
Oxfordshire County Council
The Back Office Award Welfare Team, CDER Group Parking Team of the Year
Liveable Places traffic order team, WSP
The Business of Parking Parking Partnership of the Year Q-Park and RingGo Parking Operator of the Year Q-Park
Outstanding Car Park Award B4 Car Park, Birmingham Parking Technology Award Barbour Logic
The Car Parks Best New Car Park
Broad Marsh Bus Station & Car Park, Nottingham Car Park Design Award
Watford Riverwell Car Park
Car Park Renovation Award Grand Central, Birmingham –Cemplas, Sika and Vinci Construction
Electric Vehicle Infrastructure
The EVolution Award
Westminster City Council, Siemens and Ubitricity
Leeds City Council and BAM Nuttall Parking in the Community Award
JustPark
Special Jury Prizes
Stansted Airport Newcastle City Council and the Great North Run Company Barry Johnson and Taranto Systems
THE WINNER | 5
A man on a mission
MiPermit Inspiration Award
Harrison Woods, co-founder of YourParkingSpace, leads a company that has evolved from being a peer-to-peer marketplace renting out driveways into a leading parking technology provider and, most recently, operator.
Harrison Woods has been one of the parking world's most dynamic and innovative business people for over a decade. While still a student he launched a parking services company that was pitched on the BBC Dragons' Den show. Then in 2013 he became chief executive of YourParkingSpace.co.uk, a company enabling people to generate an income by renting out their driveways.
YourParkingSpace has expanded to help the owners of both private and commercial car parks market their spaces. The company has also formed partnerships with peer-to-peer car rental companies, retailers and hotel chains wanting to offer prebooked spaces. Via YourParkingSpace Solutions, they have developed range of cashless parking systems for use. The company is also evolving into an operator, running a growing number of car parks directly.
The past year has proven to be a landmark one, with street parking technology provider Flowbird acquiring the business in a deal worth around £120m. Bertrand Barthelemy, then president of Flowbird Group, said: "With this strategic acquisition, Flowbird will benefit from YourParkingSpace's off-street and marketplace technology. Bringing on board its technology and proven track record of delivery is very positive news for all our stakeholders: motorists, cities and parking operator partners."
Key clients were effusive in their praise. James Latham, senior manager and ancillaries partnerships at Whitbread, says: "Arrival and parking is the first step on our customer journey post-booking so it's critical our car parking strategy is built on delivering the
optimal experience for all our guests and non-residents who use our 600-plus car parks. We've been working closely with YourParkingSpace, led by Harrison, to drive parking revenue and digitalise our parking operation. Harrison's energy, passion and dedication is remarkable, he has an infectious enthusiasm for the parking sector and the value he's bringing to Whitbread is evident."
Callum Board, head of diversified income at Capital & Regional, says: "I think the experience with working with YPS has been really positive. We see it as a very collaborative partnership, there has been continual open dialogue both ways as to how the product itself can improve and how we can optimise, again the performance from an income and an operational perspective of our car parks."
His colleagues were keen to share their feelings. Chief financial officer Chris Woods said: "Harrison is what you want in a CEO, someone who regularly challenges assumptions and demands that the business pushes itself through making funds available to rapidly scale, whilst actively leading fundraising discussions before the finance department take over during the due diligence phase."
Sales director Scott Allis said: "Through the use of technology Harrison has helped numerous partners quickly adapt allowing car parks to remain operational and deliver a safer driver experience. As always his unique ability to see positives in a generally negative year has resulted in a more improved industry for all."
YourParkingSpace co-founder Charles Cridland adds: "During COVID, rather than act powerless Harrison adopted the mentality of thriving rather than surviving. Today coming out of the other side of the pandemic the business has more clients, a better product, bookings hitting record highs, and the funds to drive growth over the next year. The key metrics of the business are stronger than they were pre-COVID, this is a testament to Harrison's drive, ability and desire to succeed."
Jury comment
Over the past decade Harrison Woods has been short listed several times. This year is his year. His unwavering belief, drive and ability has helped to navigate the business through many challenges, helping both the business and individual team members to reach their potential.
BRITISH PARKING AWARDS 6 | THE WINNERS
Award sponsored by
Harrison Woods, YourParkingSpace
Chipside's Paul Moorby OBE and awards
host Kerry Godliman with Harrison Woods
Building a better world
Parking for a Better World
Nottingham City Council
Nottingham City Council received a Parking Rosette in recognition of its workplace parking levy scheme.
In 2011 Nottingham faced increasing levels of congestion across the city and an ageing public transport infrastructure. It was estimated that congestion was costing the city around £160m per year, with at least 50% of that being incurred by the businesses operating in the city. It was estimated congestion would rise by 15%, and continue to rise thereafter if no changes were made.
Nottingham also had a high level of income inequality which was reflected by the levels of car ownership. In 2007, 45% of households in Nottingham did not own a car compared to the national average of 22%. The lack of car ownership and ageing public transport infrastructure meant that some areas of the city had difficulty accessing jobs, education and healthcare.
Nottingham City Council thus decided a step change in public transport was required to break the downward spiral of deteriorating services, so took the bold step of being the first UK local authority to implement a workplace parking levy (WPL). The levy is a demand management scheme which discourages commuter parking by charging employers who provide parking to their staff while encouraging sustainable travel options by ringfencing the revenue to pay for improvements highlighted in the Local Transport Plan.
Jason Gooding, head of parking, fleet and transport operations at Nottingham City Council, says: "Ten years of an active WPL has seen Nottingham transformed into a city which is recognised as a pioneer in tackling climate change and urban deprivation."
Awarded Go Ultra Low City status in 2016, the WPL is the cen-
trepiece of the council's transport strategy. The projected income over the life of the WPL scheme in Nottingham is £360m. By law, revenue generated from a WPL scheme must be ring-fenced for the delivery of Local Transport Plan policies and objectives. The additional revenue comes at a time of austerity and shrinking grants from central government, providing a vital source of revenue for investment in to encouraging a "green economy".
Gooding says: "The reliable WPL funding stream has allowed Nottingham City Council to borrow and match fund to access grants, securing a further £200m of investment that has delivered one of the largest fleets of electric buses in Europe and the world's largest fleet of bio-gas double decker buses."
Investment has been made in cycling infrastructure, providing bike lanes and secure parking. Meanwhile Citycard Cycles is a 24 hour bike hire service funded by the WPL.
The WPL package of transport improvements has created jobs, infrastructure and investment. Over £100m has been invested back into Nottingham businesses through contracts generated by the tram and Nottingham Station construction works, with the tram extension scheme alone employing 1,200 people.
Academic evaluation has concluded that the WPL scheme has constrained the rate of congestion growth. Gooding explains: "Discouraging car use reduces the need for parking space; releasing valuable city centre land for other uses, such as green space as well as new residential and commercial opportunities. For example, Nottingham Trent University repurposed land previously used for parking before the WPL was introduced."
As a result of the WPL and the wider infrastructure investments it allowed, Nottingham was the first English city to have its Air Quality Action Plan approved by the UK government and avoided the need to impose a charging clean air zone.
Jury comment
Nottingham's WPL is a highly effective parking and transport policy which, through careful planning and development and working collaboratively with local businesses, has been able to overcome the challenges faced when delivering wide-ranging transport infrastructure improvements.
BRITISH PARKING AWARDS THE WINNERS | 7
Award sponsored by
Nottingham's Jason Gooding, Matt Ralfe and Karen Day flanked by DCBL's Darren Connor and Kerry Godliman
Putting data to work
Parking Futures
A Parking Rosette was awarded to John Galsworthy for his pioneering work on the use of data.
With over 25 years of experience within the parking sector, John Galsworthy has played a significant part in shaping the industry through collaboration with partners, residents, and road users alike. He has pushed the boundaries, bringing in new technological initiatives to the industry that became the norm years later, from first introducing 'e-parking' 20 years ago, to clean air and traffic reduction schemes introduced in west London.
Galsworthy started his career in transport and parking at Camden Council in 1995 and has remained focussed on the importance of data to inform intelligent decision making. This approach was deepened throughout his time at Islington Council, where in 2019 he spearheaded working with Google to map out the borough's assets. In his current role as assistant director for parking services in the London Borough of Hammersmith and Fulham (LBHF), his vision has directly led to the reduction of 8,000 vehicles and more than 8,000 tonnes of carbon per year from the local network. This, in turn, has had a direct relationship back to improving educational achievement, life expectancy and social value outcomes for communities in LBHF.
Hammersmith and Fulham's initial deployment of air quality monitoring (AQM) sensors is the densest deployment in Europe and the largest network in a city environment in the world. The AQM network helps the council to understand sources of pollution entering the borough as well as pollution generated within the borough. This enables LBHF to make informed decisions based on real-world evidence and assess the impact of those decisions.
When combined with other data, it can manage traffic in realtime and develop dynamic traffic and parking policies, moving away from a 'broad brush' approach that targets a wide range of traffic and parking types.
Galsworthy's data-driven strategy is now delivering outcomes for stakeholders and residents further afield. He recently commissioned a region-wide assessment using data science to see the breadth of impacts and drivers for traffic and, therefore, emissions across Greater London and how locally made decisions in LBHF can affect the city as a whole. Commissioning dashboards correlating previously disparate data sets to measure relationships between compliance, air quality and vehicle movements has provided insights in to the way in which authorities can interact with and use data to deliver transport strategy.
Bram Kainth, LBHF's chief officer of public realm, says: "Over the last few years, John has proven and demonstrated to be a very forward thinking innovative and inspiring strategic leader and manager. He has clear vision to future proof the parking service over the next ten years."
Mark Fanneran, LBHF's head of service development, says: "John provided our service with a clear vision for the future: to be a service which tackles air quality issues head on and provides innovative technical solutions for all those who drive and park in our borough. John encourages his colleagues to make changes which 'move the needle', to take calculated risks through the introduction of new technology that improves service delivery."
Andrea Jones, director of strategic accounts, Marston Holdings, says: "John once said to me that he will be the person people won't even realise has left a legacy of safer streets and cleaner air, and that is how he happy to 'not be remembered'. This nomination is testament to the fact that we do recognise his contribution and that needs to be celebrated."
Jury comment
Throughout his career, John Galsworthy has delivered a transformative approach in how parking data and policy can come together to support altruistic outcomes for London and its residents, benefits that extend beyond transport as they support real improvements in public health.
BRITISH PARKING AWARDS 8 | THE WINNERS
Award sponsored by
John Galsworthy
John received his trophy from DRP's Stewart Clure and Kerry Godliman
A brand new service
Parking Futures
EF International Parking Services
New market entrant EFIPS wants to transform the off-street sector by running parking as an experience.
Ethos Farm is a global customer experience consultancy that made a name for itself designing and delivering service strategies and front line customer operations for superbrands including British Airways, Heathrow Airport, Irish Rail and LaGuardia Airport New York. It has now entered the parking sector with a new company called EF International Parking Services.
EFIPS runs the car park management contracts at Westfield London and Westfield Stratford City, Europe's largest and second largest shopping centres with approximately 10,000 parking spaces between them.
Westfield London and Westfield Stratford City's estate managers, Michael Nicholson and Chris Mitchell, say: "In late 2021, Westfield underwent a competitive tender process for the car park management contract at both UK sites inviting the incumbent, NCP, and other competitive bids from car park operators. It was our desire to elevate the customer experience in our car parks. With that in mind we included, what some might have considered a 'wild card', Ethos Farm, the business that runs our guest services operations and their subsidiary company EF International Parking Services. We had seen the work that Ethos Farm was delivering for organisations around the world – the transformation of New York's LaGuardia Airport and the service scores at Heathrow. From the point of announcement we saw a marked change in the team who would ultimately TUPE transfer over."
Sally Alington, EFIPs founder and chief executive officer, says: "Although a new face to the industry, we know that EFIPS is set
to be a positive disruptor, bringing customer & employee-centric strategies and the associated target operating models and governance structures to car park management. The markets we serve at both car parks range hugely from guests who have come to enjoy our retail, leisure, entertainment and food and beverage offering inside the mall, to those who come for special events at the Queen Elizabeth Olympic Park or the Exhibition London.
"We have local residents who use our car parks for long term storage of their vehicles and, in line with our collective focus on sustainability, we now have an electric vehicle partnership with Tesla where guests can visit our in-car park showroom and enjoy a test drive. We offer car-rental through Sixt, our own inhouse valet parking service, car valeting with H20, car wrapping and redesign with Atelier Automotive Art and have many more commercial partnerships in place.
"We know some guests see Westfield as a pillar and focal point of the community and specifically come to us by car to spend some time with friends and family. Moreover, we have aimed to really become a destination that is recognised as being one of the most accessible anywhere in the UK and, as you will discover further on, the work that we have done to support guests with physical and non-visible disabilities is significant. For those who find the shopping experience challenging, we know that offering a totally accessible car park is the first opportunity to gain the trust and loyalty from guests who need a little extra support.
"We actively monitor the guest profile at both Westfield destinations through customer interactions, proactive monitoring of all feedback channels and exit surveys conducted in partnership with CACI. In doing this we get to understand more about the ACORN profiles of our guests, catchment areas for drivers and how we can continuously improve for our customers."
Jury comment
With roots in the world of customer experience, EFIPS has recognised that car parks offer the first and last impressions that visitors have of a destination. The jury were impressed by the company's use of data and surveys to understand and improve the parking experience it delivers.
BRITISH PARKING AWARDS THE WINNERS | 9
Award sponsored by
Andrew Phillis, Michael Nicholson, Sally Alington, Darren Gardner, Josie Barton and Holly Neufville receive the trophy from DRP's Stewart Clure and Kerry Godliman
The man on the street
Reinventing the Street Dan Hubert, AppyWay
Dan Hubert received a Parking Rosette for rethinking how harnessing data can transform street parking.
Dan Hubert is self-taught across the parking spectrum. Having studied at Central St Martins in Art, Design and Advertising, and spending some years in the advertising world, he learned how to raise capital investment, create a business and work with local governments to navigate the intricacies of regulation and unlock the potential of creating a digital kerbside.
In 2013, after a less than favourable experience parking in London, Hubert decided to create a London driver app to show where you could and could not park. He soon realised that no data was available. However, instead of giving up ,Hubert took to his bike and cycled around the whole of London mapping over 1,500 controlled parking zones. After six months he had enough data to launch the Yellow Line Parking app, but knew he could not be responsible for maintaining such a large dataset.
It was then he embarked on a mission to raise investment and build a parking platform where the data was maintained by the managers of the kerbside – local authorities. Nearly 10 years on and AppyWay's platform is recognised as the industry leading solution to connect cities to vehicles via one API (application programming interface). The platform possesses a dataset of digital traffic regulation orders (TROs) that simplifies the parking rules of over 110,000 parking signs into single 'yes' or 'no' answer for drivers.
Hubert's work has drawn admiration from across the parking and transport sector. Sunil Budhdeo, transport innovation manager
at Coventry City Council, says: "Dan and I have worked together on numerous occasions over the years on a number of innovative parking projects. It's been thrilling to watch Dan on his quest for better parking data and the better management of parking data. His sheer determination to improve things for local authorities and for drivers has resulted in innovative solutions that are being used up and down the country. It's been a pleasure working with Dan and the wider AppyWay team and I look forward to collaborating with Dan in the future."
Paul Campion, chief executive of TRL, says: "A lot of people talk about the future of transport and how we need to revolutionise parking: Dan gets on with making it happen. Dan has been tirelessly pursuing a vision of how we can do parking better for years and the company he has built is a leader in real-world, installed parking solutions. But not content with just making life better for drivers and parking operators, Dan sees a whole new world of intelligent kerbside management that reflects the way that society is adopting new technologies and ways of working. If you ever wanted to find a way to safely and efficiently support and monetise the new ways of travelling and delivering goods that we see happening around us then Dan's yer man!"
Anthony Ferguson, deputy director, traffic and technology, Road Strategy Directorate at the Department for Transport, says: "Parking needs disruptive forces and Dan Hubert has been a force for change. His creative and dynamic approach has already delivered concrete successes, such as the project in Harrogate. In his dealings with the Department, Dan is stubbornly persistent but in a charming way, and as a result he is always a positive and valued contributor to policy discussions about things that really matter like digitising TROs and making the kerbside into an asset to be managed rather than a headache."
Jury comment
Dan Hubert's commitment and passion for the industry is clearly displayed by his contributions to a range of initiatives. Over the past decade he has emerged as a thought leader who works across the public and private sector, championing the smarter use of data to improve driver experiences.
BRITISH PARKING AWARDS 10 | THE WINNERS
Award sponsored by
Dan Hubert flanked by Dean Fennell-Connell of Conduent and Kerry Godliman
Programming the future
Special Jury Award
Barry Johnson and Taranto Systems
Barry Johnson and his team at Taranto Systems have embraced cloud-based approaches to service delivery. Having begun writing software as a teenager, in 2000, Barry Johnson and a group of colleagues formed a business called Traffic Support which focussed on developing parking enforcement software. Today, Johnson leads a team of more than 25 software developers at Taranto Systems. They are focussed on delivering innovative technology solutions that support the enforcement and management of parking and traffic contraventions, parking permits, civil enforcement, clamping and removal, and more.
Over more than 20 years, Johnson has established himself as a true industry leader. In recent years his career reached yet new heights as his work underpinned the delivery of the world's first low emission zone (LEZ) in London, and supported its subsequent successful expansion into ULEZ in October 2021.
Johnson had the vision for, and led development of, Taranto's next generation True Cloud Parking as a Service (PaaS) solution, a new technology platform designed to unlock significantly greater scale and improve access to new functionality. Taranto PaaS was originally conceived in response to the requirements for the expansion of London's ULEZ because it offered a framework upon which applications could be built, with all servers, storage, and networking managed by a third-party provider (Microsoft Azure). PaaS was chosen over other forms of hosted delivery which would not offer the same level of benefits.
One potential 'stop gap', moving to an Infrastructure as a Service (IaaS) model, was rejected during 'discovery' as, while it may have been less challenging to transition to, it would not offer
the benefits provided by PaaS. The PaaS solution has also helped to deliver specific projects such as London's Direct Vision Standards and ULEZ, which are directly improving people's lives by introducing new forms of safety and reducing congestion and emissions. Johnson has also led on the launch of .GOV structures as a framework for Taranto's self-service permits portals, and extensive development of Taranto's new solution for the Private Parking market.
Lewis Wray, managing director of Taranto Systems, says: "Barry constantly challenges the status quo, ensuring processes are reviewed and adhered to in line with the latest industry standards. His hunger for continuous improvement and focus on driving efficiencies within the industry pioneered the adoption of PaaS, as well as highly innovative modules such as Fleet Bureau, Permits, and Blue Badges. He works hand-in-hand with clients to ensure solutions meet local needs and is held with utmost respect in Taranto and across its client base."
Jury comment
BRITISH PARKING AWARDS THE WINNERS | 11
Barry Johnson has been at the forefront of parking enforcement technology for two decades. His hunger for continuous improvement drives those around him; promoting the adoption of new technologies to maintain the integrity, security and future appeal and usability of solutions.
Award presented by
Taranto's Darren Turpin and Chris Murphy with jury member Andrew Potter and Kerry Godliman
Barry Johnson
A positive influence
Parking Person of the Year
Sarah Randall, assistant director at London Borough of Newham, was named Parking Person of the Year in recognition of her championing of new technologies and smarter ways of working.
Sarah Randall has been in parking since 2008, starting in Croydon Council as the general manager of operations. She moved between operational, policy and performance and infrastructure, before become the parking manager and then head of parking for Croydon. During her time at the south London borough Randall oversaw the development of innovative school street schemes. She also led parking policy and strategy for addressing the organisation's Corporate Plan and Clean Air Strategy, the London Mayor's Road to Zero Strategy and Transport Strategy.
Randall joined the London Borough of Newham in 2021 during the COVID pandemic as the assistant director for parking and traffic. At Newham she has gone back to basics to ensure that policy and procedures are documented and followed. In particular the car pound has cleared a five-year backlog of over 500 vehicles. The traffic and parking team outperformed expectations by £2m during her first year in post. There have also been improvements in service delivery, with response times for penalty charge notices reduced from over 56 days to just five days.
She is currently overseeing the roll-out of school streets across the borough. Since the introduction of the first phases of the 'Healthy School Streets' and low traffic neighbourhood (LTN) schemes, air quality monitoring outside 99 schools showed an
average 8% reduction in NO2 with a traffic reduction scheme in place compared with schools without a scheme
Randall collaborates with various governing bodies and organisations looking for efficiencies, challenges traditional practices that may benefit the wider parking sector. She regularly speaks at conferences and seminars, and plays an active part within the British Parking Association and chairs the Technology Transformation Forum, whose main projects involve the process of creating, issuing and implementing of parking standards and the National Parking Platform.
Randall has a wealth of experience and leadership qualities, which she has complemented via qualifications such as PRINCE 2 Foundation and Practitioner and is scheduled to undertake PRINCE2 Agile. She is also working towards achieving her AAT (Association of Accounting Technicians) course.
Her colleagues provided excellent testimonials. Project manager Bruce Lazaro says: "Sarah has consistently demonstrated excellent leadership qualities throughout her career. She is a successful, confident and powerful female leader who balances compassion and competence with officers of different levels."
Daniel Oates, general enforcement manager, says: "Sarah is an excellent leader in a challenging and complex environment, with a well-developed leadership toolkit and the ability to relate effectively with employees at all levels. She really cares for the wellbeing of those employees. She brings a high integrity approach to all aspects of her work and is a difference maker. A valued member of any leadership team, she demonstrates a strong commitment to results, terrific business acumen and great insight into the workforce. Sarah understands that you need to understand the system in order to solve a problem, and not just focus on immediate issues at hand."
Jury comment
Sarah Randall has gained a high level of respect from fellow employees and the various tributaries of the parking society. She achieved this by her hard work, consistency, an open-minded approach and commitment to collaboration, which in turn has gained her trust from others.
BRITISH PARKING AWARDS 12 | THE WINNERS
Award sponsored by
Sarah Randall
Rabina Iqbal and Sarah Randall speaking the Enforcement Summit
Inspiration in Lewisham
Lifetime Achievement Award
Carol Gibson has become Lewisham Council's much valued 'go to' person on all things parking.
During a career spanning nearly three decades Carol Gibson has made the journey from office temp to running contracts and developing highly regarded training schemes. Gibson joined Lewisham Parking Services as a temp but soon made it her permanent workplace. In the 28 years since then she has taken on various roles such as representations and appeals officer, parking contract monitoring officer and senior supervisory positions. Most recently she has taken up a post of senior parking operations officer.
Parking services manager Kyki Kim-Bajko, says: "Carol has always been an incredibly reliable colleague, always willing to go above and beyond the call of duty for all stakeholders. She has worked relentlessly to achieve the milestone from an appeals officer to her current role as a senior parking operations officer.
"Being a strong team player, Carol has trained newcomers into the business and helped to build an excellent pool of talent. Over the years, she has played an instrumental role in keeping the team spirit up through strength and resilience in some of the toughest periods, inspiring her colleagues in the service as a true role model. It is a pleasure to work with such an inspirational and strong female colleague in a highly male dominated industry and we hope this award will inspire and motivate many of our fellow female colleagues in the industry for the years to come."
Gibson has become the 'go-to' person for most things parking, meaning she receives daily enquiries from offices throughout the council who go to her for experience, information and advice.
"Carol has never been afraid of going the extra mile to help others or to complete tasks at hand," says Dorota Lejman, senior parking operations officer. "She provides exceptional support and service to staff and contractors she works with. She quickly recognises their individual needs and moves efficiently to provide key information, recommendations or directions.
"Beyond this, she is a very caring individual and is committed to provide opportunities for further development to others. Only recently she single-handedly developed and delivered a series of training sessions to our contractors aimed at broadening their understanding of parking issues. Needless to say, these proved to be very successful."
Liz Brooker MBE, road safety and sustainable transport manager, says: "I have had the 'pleasure' of being part of the Parking and Road Safety Team. During this time I witnessed first-hand the commitment Carol shows to the parking profession. She displays a passion and commitment to parking services with a forthright, no-nonsense approach.
"Despite the last two years being hard on everyone, Carol has been a valuable support to me and my team. A staggering 37 school streets have been delivered in an 18 month period. The majority are enforced by ANPR. Carol has helped to ensure the school street enforcement is working as it should. When a problem arises she will help to find a solution. Carol has certainly helped me to understand the role parking has in day-to-day council work. She is a font of all knowledge when it comes to Lewisham and the parking services.
"Carol is Lewisham born and bred, she has supported many colleagues sometimes as an ally, sometimes as a critical friend, but always with a passion for delivering the best outcomes for the council."
Jury comment
BRITISH PARKING AWARDS THE WINNERS | 13
Carol Gibson has demonstrated an extraordinary commitment to Lewisham Council, as well as to the residents and general public. Carol's skills, knowledge and her willingness to help others make her a worthy recipient of the Lifetime Achievement Award.
Award sponsored by
Carol Gibson
Carol Gibson with BPA president Jade Neville and Kerry Godliman
Making the connections that are transforming our world As headline sponsor, we look forward to welcoming you again in 2023 Congratulations to all winners and finalists of the mipermit.com
England wins the day
Rising Star Award
Jake England, group operating manager of NEPP, is a young man forging a promising career in parking.
The North Essex Parking Partnership (NEPP) is a body that brings together the parking operations of six different local authorities. Jake England joined NEPP in 2013 as a civil enforcement officer. Since then, he has held various positions across the service – in the business unit as a specialist where he helped improve business processes and data clarity, then helping out during a later secondment to area manager of the West Area for NEPP operations.
England then attained the post of operations manager of NEPP's new Data Led Services (DLS) team. The DLS team was created to effectively utilise innovative technology to gather data and information from various sources and analyse the results to identify areas where optimisations and improvements can be found. He initiated the use of Power BI and Power Automate to design, extrapolate and analyse information from multiple sources including Park Safe, bay sensors, car park occupancy and back-office statistics. A vast amount of anonymised data and information is generated through operational activities across the partnership, and even more will become available in future.
England led development of the Park Safe initiative, including adopting electric vehicles for patrolling and the use of static cameras. He has managed and developed the 3PR safer school streets scheme across the NEPP area, while also initiating and developing the partnership's Revenue Protection Service to tackle permit, season ticket and Blue Badge fraud.
England was promoted to group operating manager in March 2022, and all whilst studying at university. He is planning to take
on additional training and development and is currently undertaking a Chartered Management Degree as an apprentice.
Richard Walker, NEPP group manager, says: "Jake has a capacity and outlook on business that belie his years; a wise head on young shoulders. I am pleased that he has been able to support the service throughout the recent transformation. He has a keen eye for detail and demonstrates genuine care, often going the extra mile to support his colleagues. Jake is always ready to take on a new challenge and helped secure our new operating agreement with the county council. Part of this includes work on staff communication through Teams and SharePoint, setting up appropriate technology to help internal communications.
"Keen to create an even better culture, Jake is now working on the NEPP future vision, brand values and communications as part of our next development plan. Jake is a truly inspirational gentleman, and undoubtedly a future leader in the making. I'm certain that our partnership will be in safe hands long after my own time here."
Rory Doyle, assistant director, environment, Colchester Borough Council, says: "Across a directorate of 350 staff delivering vital operational local government services Jake stands out to me as an exceptional talent, someone I have no doubt will be a senior leader of the highest calibre in the not-too-distant future.
"Jake is an enabler, someone who is passionate about developing others. He is caring and empathetic and his people management and communication skills are exceptional for someone so young. Our people and our organisational culture are so important to us in NEPP. Jake is playing an instrumental role developing the future vision for the business, developing our brand, and everyday demonstrating and articulating the values we hold dear. He is an authentic young man, a pleasure to work with and a true rising star."
Jury comment
BRITISH PARKING AWARDS THE WINNERS | 15
Jake England is a young man who works tirelessly to deliver better outcomes for communities across North Essex, and is also emerging as a confident advocate of best practice in the wider parking sector.
Award sponsored by
Jake England, NEPP
Jake England received his Rising Star award from 2021's winners Joel Hughes and Annie Oliver and Kerry Godliman
Talking to the people
Communication Award Oxfordshire County Council
Oxfordshire County Council crafted an effective launch campaign for new Special Parking Areas.
In December 2020 elected members at Oxfordshire County Council approved the commencement of a new application to the Department of Transport for the authority to take on powers for civil parking enforcement in the remaining districts of Cherwell, South Oxfordshire and Vale of White Horse.
The Special Enforcement Areas (SEAs) received approval in April 2021 and the new enforcement regime came into effect in November 2021. From the outset, officers and members placed great importance on raising awareness of the move to civil enforcement and the need to challenge pre-existing behaviours.
Parking enforcement manager Jim Whiting says: "Our communications strategy set out to promote the clear benefits of civil parking enforcement. Our objective in developing the media campaign was to ensure that the core message was clear and a simple slogan was chosen: 'Observe the lines, avoid the fines.'"
A working group represented by Oxfordshire County Council and the district councils for Cherwell, South Oxfordshire and Vale of White Horse was put in place to monitor the project and make key decisions. During the campaign, the regular input from the working group ensured the core message was targeted in the right areas. There was also close working with partners such as Thames Valley Police and contractor Conduent Transportation.
The marketing and publicity campaign was coordinated through internal marketing and press teams at Oxfordshire, with the support of teams at the district council level.
Award sponsored by
The campaign included countywide coverage and communication exercises reaching over 1 million users through various media channels, including direct communications (leaflets, warning notices), social media, TV and radio advertising and site placements at key locations (bus stops, petrol stations, supermarkets).
"A transparent and open approach to rolling out civil enforcement meant very few complaints were received throughout the transition to civil enforcement," says Whiting. "An extended period of using warning notices and heightened publicity at launch, reinforced the message that civil enforcement is needed to better manage the road network, not to generate revenue. The county has maintained its communication exercises after launch supported changing of behaviours with month-on-month improvements in compliance with restrictions."
Jury comment
Oxfordshire's interaction with users throughout the campaign helped to highlight areas where the public was most concerned about parking contraventions. Building the campaign around a single slogan helped send a clear message that was easy to understand across different media.
BRITISH PARKING AWARDS 16 | THE WINNERS
Kerry Godliman and Celina Herbert of ZatPark presented the award to Alan Whiting, Emma Liptrot, Keith Stenning, Vicki Neville and Phil Whitfield
Working with the public
The Front Line Award Conduent Transportation
and Oxfordshire County Council
Conduent Transportation is delivering decriminalised parking enforcement for Oxfordshire County Council.
Conduent Transportation's enforcement contract for Oxfordshire County Council has followed a different approach in the county's district areas. Some of these areas have not seen much or any enforcement by the Police for some time, so the team recognised that reaction to enforcement would be mixed. There would be those that embraced the need for parking control and there would be those who personally benefitted from the absence of control and would therefore be resentful of enforcement.
In preparation for these divergent reactions the front line team, supported by the communication strategy of Oxfordshire County Council, went on a charm offensive to win over local residents, stakeholders, and the motoring public, through a period of onstreet interaction, leaflet distribution and warning notices.
A key success, which was initiated from listening to the feedback from the front line team, was to ensure the same individuals were deployed to the same districts and towns before and after the go-live enforcement periods. That allowed the front line team to demonstrate personal accountability for the delivery of parking enforcement whilst engaging with local representatives. There were a number of instances where individual team members regularly liaised with Town Council councillors and county councillors whilst patrolling the districts.
Conduent deploys some civil enforcement officers (CEOs)
straight from home to beat rather than requiring them to undertake unnecessary travel to and from the base, and deploys them in or around their home locations. Jade Neville, Conduent's head of user experience, says: "The deployment of the same team members to the same areas is contrary to traditional operational practices. However, Conduent has complete confidence in our front line team to deliver enforcement safely and consistently. Having put the effort into pre 'go-live' engagement to educate local stakeholders, businesses and residents, the team were confident that when enforcement commenced it would not come as a surprise. A measure of this success is that there have been no 'Code Red' incidents across the districts over the seven months of operation."
Training for the CEOs and wider team provided them with a set of competencies and standard processes to deal with, and alleviate, customers questions, issues and concerns. Ongoing training allows the team to continue to improve their skills and acquire new ones by enhancing their communication, listening and problem-solving abilities.
Neville says: "As part of both our initial and ongoing training, Conduent ensured that the team understood the importance of positive engagement with our customers… members of the public. Their role was not just about enforcing parking but taking on the bigger aspect of being ambassadors for Oxfordshire County Council and Conduent alike. Customer service and conflict management training were key to making this happen."
The training was delivered using a blended learning experience. Neville explains: "By utilising as many learning delivery methods as possible – video, face-to-face, e-learning and practical – we are able to fill in any knowledge gaps left by approaches that were less than optimal for the specific topic or learner."
Jury comment
BRITISH PARKING AWARDS THE WINNERS | 17
Oxfordshire County Council adopted a creative and sensitive approach to the roll out of civil parking enforcement across the county, recognising the benefits of harnessing the local knowledge of Conduent's front line staff, including local liaison with politicians and relevant stakeholders.
Award sponsored by
Dean Fennell-Connell, Jade Neville, Trevor Taylor, Emma Liptrot, James Whiting, Martin Hill, Emma Moses, Keith Stenning and Filipe Valinho received the trophy from PayByPhone's Adam Dolphin and Kerry Godliman
Helping those in need
The Back Office Award
Welfare team, CDER Group
CDER Group's welfare team works to alleviate the stresses faced by vulnerable debtors.
Operating across the UK, CDER Group provides enforcement and debt recovery services for over 100 clients, including local authority Parking Services teams and national transport agencies such as National Highways and Transport for London.
The company processes around 1.5 million cases and recovers £250m each year. Because customers with outstanding penalty charge notices (PCNs) may not interact with their local authority for other services, CDER Group is in a position to identify 'hidden' vulnerability because it sees a slightly larger proportion of vulnerable customers on parking and road traffic cases than Council Tax and sundry debts.
The company's welfare team seeks to listen to vulnerable individuals and understand their circumstances. CDER thus coordinates support from creditors, welfare services, multi-agency safeguarding hubs and the advice sector to ensure immediate and long-term support required for people to experience lasting positive change.
The CDER welfare team is responsible for assisting in the identification of vulnerable customers. For instance, they review incoming letters, e-mails and calls from customers who claim that they cannot pay their debts or require support. If CDER's propensity to pay modelling process – which is conducted immediately upon case receipt – identifies potential vulnerability indicators, the case will immediately be referred to the welfare team to review. The welfare assistants engage with customers to obtain
supporting evidence of vulnerability (e.g. proof of benefits, income/expenditure details, medical information). They then conduct assessments using empathetic questioning, reviewing evidence, and following CDER Group's vulnerability procedures to determine appropriate action and support; The team provides guidance to vulnerable customers, for example, on how to access benefits and where/how to find specialist local support. They also help debtors assess their finances using their award-winning online self-help budget calculator.
The welfare assistants work with debtors to develop bespoke repayment and support plans, providing reasonable adjustments where necessary. They conduct regular reviews to ensure the plan reflects the debtor's latest circumstances, and manage the case to successful resolution. The welfare assistants have authority to take payments, set up payment plans, place cases on hold, recommend assistance from the advice sector or return cases to the clients (following approval). Senior members of the welfare team also make free home visits to provide assistance and conduct assessments and host 'Debt Surgeries', both online and in-person, where they discuss suitable benefits, debt management plans and personal budgeting with customers. They also train contact centre staff on vulnerability considerations.
CDER director John Mason says: "We find that many of those who do not pay their parking or road user charging fines, simply cannot afford to, and struggle to make ends meet with barely enough money for food or for heating their homes. The pandemic and current cost-of-living crisis has exacerbated these issues, with 22% of the UK population currently living in poverty. Many vulnerable residents 'slip through the net' of local support networks/services. We are often first to come face-to-face with vulnerable people."
Jury comment
BRITISH PARKING AWARDS 18 | THE WINNERS
CDER Group's welfare team are the caring face of debt recovery, adopting a principled, ethical approach to recovering payment, supporting vulnerable customers and showing consideration, understanding and flexibility in addressing recovery planning.
Award sponsored by
John Mason, David Newman and Sally Nicholas were presented with their trophy by Michael Line of JTR Collections and Kerry Godliman
Comet lights up the day
Special Jury Award
Team Comet, Stansted Airport
Stansted Airport's landside operations team makes sure car park users are cared for and kept safe.
The Stansted Airport landside operations team is led by Charmaine Sweeney, who has been control room manager for over three years, having previously worked in various roles at the airport.
When Sweeney took over management of the control room, one of her first priorities was to unify five very separate teams. With the other key six teams at the airport codenamed after Ford cars, such as Cortina, Granada and Capri. The team chose to become identified under one banner and became Team Comet.
The role of Team Comet is to ensure the smooth running of one of the largest surface car park operations in the Europe – over 44,000 car parking spaces spread across 14 car parks that are in use 24 hours a day. This is achieved using the APT Skidata Sweb Control solution that links up over 330 devices such as intercoms, CCTV and parking systems.
Alongside overall responsibility for 16 team members in the control room, Sweeney also manages a team of 15 customer facing patrol officers in the car parks that are the first and last touch point for travellers. The team of control room operators and patrollers regularly receive commendations via Stansted's Customer Feedback Channel where guests can comment on the service they receive whilst at the airport.
The airport sector was heavily impacted during the travel restrictions that were imposed during lockdown. The landside operations team ensured the successful management and maintenance of these critical assets during the lockdowns. With travel now
happening again, the role of the team has changed and evolved to include administrative roles and other aspects that would normally sit within other teams at the airport. For example, the controllers support a local resident scheme where the airport provides discounts to local people. The team originally simply responded to intercom calls from residents, but processes have been introduced where the residents apply for the discount scheme, ensuring the landside operations team have visibility of the entire process.
Sweeney regularly works as an airport duty manager, with responsibility not only of the smooth operation of the car park, but the airport itself. She says: "As a parking professional, I feel there is always something to learn. As a member of the British Parking Association I regularly meet the specialist airport group to share my experiences and to learn from industry colleagues."
Jury comment
Taking over from a fragmented approach, the new Team Comet provides an integrated approach to running parking at Stansted Airport. There has been a real commitment to training and team building. This is proven by excellent testimonials that show the team is 'going the extra mile' for customers.
BRITISH PARKING AWARDS THE WINNERS | 19
Award presented by
Stansted Airport's Charmaine Sweeney and Massimo Grimoldi
Stansted Airport received its trophy from Parking Person of the Year 2021, BBFI's Paul Slowey, and Kerry Godliman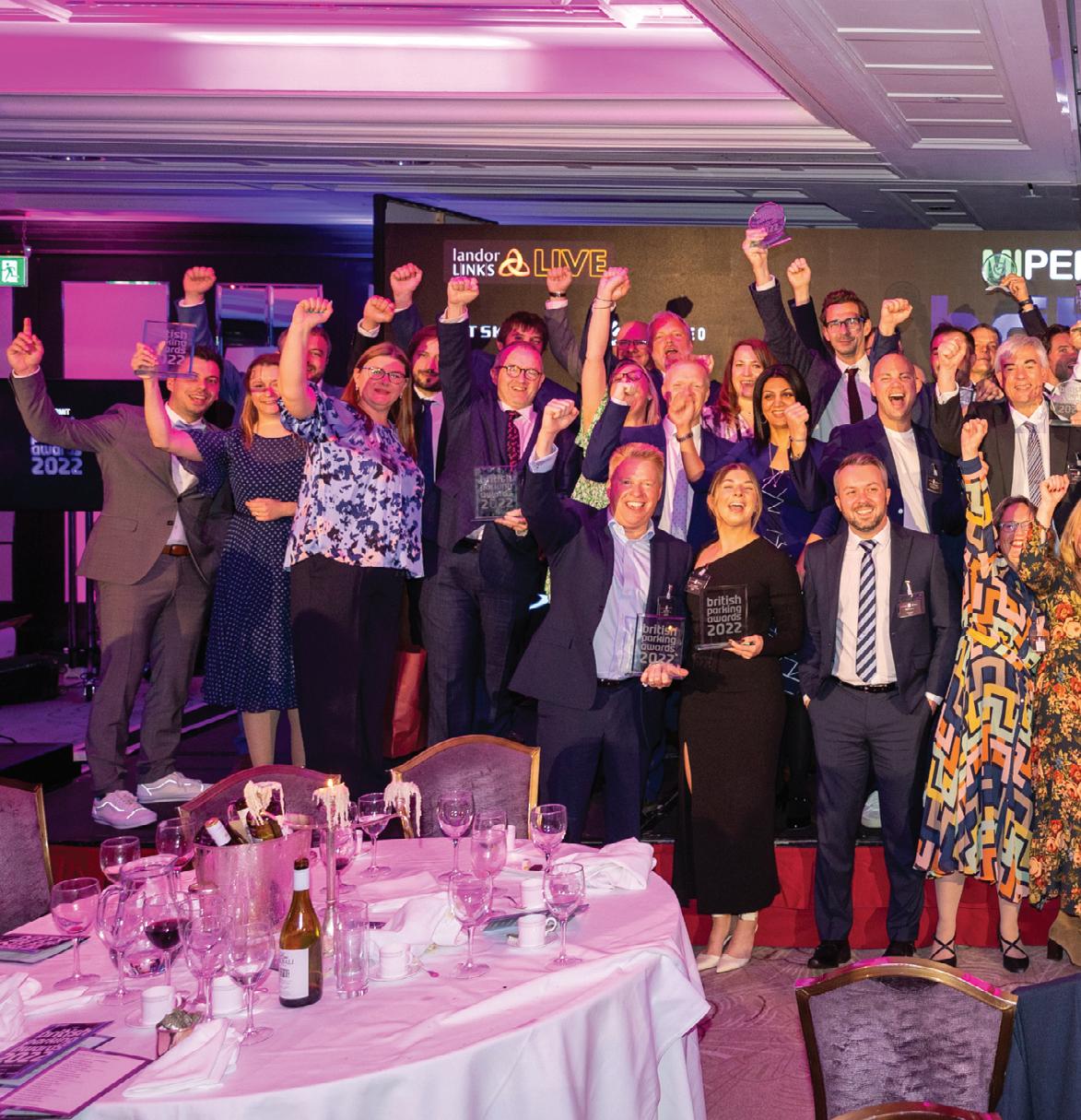 GALLERY 20 | THE WINNERS
GALLERY THE WINNERS | 21
PHOTOGRAPHY
ALL PICTURES BY MATTHEW WALKER
Everything is in order
Parking Team of the Year
WSP Liveable Places traffic order team
Creating traffic orders is an often overlooked art which has been mastered by WSP Liveable Streets.
The WSP Liveable Places traffic order team brings together a wide range of specialisms including traffic engineering, public realm transport planning, road safety and parking to offer clients a one-stop shop service helping to drive forward transport's contribution to the sense of place in an area.
Ollie Miller, technical director for Liveable Places, says: "The traffic order team is a large, highly talented and very hard working team within WSP's transportation area. Relatively low profile and somewhat unsung due to the technical challenging work, the Liveable Places traffic order team plays a critically important role in the background, getting all kinds of high profile, important and neighbourhood transforming schemes on the ground quickly, legally, and safely. The team makes a real sustainable, and positive difference to the communities their traffic orders relate to."
The traffic order team is led by Nishar Damhar, who has worked with Ollie Miller to identify opportunities for efficiency in the ways that the team delivered some of its work. The entire team was brought in to the change process so are positively committed to new approaches. For example, for the team's work with Westminster City Council, Damhar devised reporting queries and various tracking spreadsheets, reports and minutes so that the team can more efficiently extract data on key performance to be reported to Westminster. While a seemingly small example, it has saved the team time and delivered an improved service to the client. Damhar also introduced an innovation spreadsheet
where team members can contribute ideas and suggestions for improvements which may streamline the service and/or cut costs for Westminster. To ensure there is tangible benefit in implementing any of the suggested innovation improvements, Damhar introduced a ranking system which considers a range of criteria, including cost and complexity, risk and dependency to identify those concepts that are most likely to be delivered.
The traffic order team adopted a collaborative approach that achieves the best possible outcomes. An example of this is from the team's work on a Westminster City Council traffic reduction scheme in Covent Garden that aims to reduce motorised traffic, enhance the public realm, and improve public and road safety in the piazza and surrounding streets.
The team built positive relationships that were vital to delivering a high-profile traffic reduction scheme in the Covent Garden/Seven Dials area, advising the city council's third party consultant designers and correcting signage within their designs to eliminate loopholes in enforceability which may otherwise have compromised the ability to deliver on the ambitions of the scheme. The team also liaised across neighbouring Camden's traffic order service as the scheme was partly within its authority area.
The team's expertise and collaborative approach has been praised by clients such as Helen Taverner, parking services at Reading Borough Council, who says: "The WSP Liveable Places traffic order team is a small, but perfectly formed, team who are able to support and advise across a range of traffic and parking projects. The support I received in applying for the new moving traffic enforcement powers was excellent, with the level of knowledge and understanding of the relevant legislation superb. Traffic orders are the golden thread that allow the implementation of restrictions as well as enforcement. This team understands how to make sure the sewing is perfect."
Jury comment
The WSP Liveable Places traffic order team undertakes the legal and consultation work vital to the successful operation of parking schemes. The team is also increasingly involved in research projects that seek to improve the way in which parking is planned, which is a public good.
BRITISH PARKING AWARDS 22 | THE WINNERS
Award sponsored by
WSP's Peter Knight, Ollie Miller, Nisha Damhar, Hayley Welling-Bishton and Alex Sargent received the award from CDER's John Mason and Kerry Godliman
Winning the race
Special Jury Award Newcastle City Council
Newcastle City Council's parking team were key to the Great North Run's triumphant return.
The Great North Run is one of the most high-profile events to be held in the North East and showcases the region and highlights all that is good about the North East. As a result of the pandemic, the race could not be held in 2020, the first time it was not held in almost 40 years. By 2021, organisers the Great Run Company, Newcastle City Council and people of the North East were very determined to see it run again, so it was staged in a way which ensured everyone was able to stay safe with the ongoing pandemic.
The Great Run Company determined that they needed to change the route to prevent everyone trying to get back to Newcastle from the traditional finish point in South Shields. They called upon Newcastle's parking services team to develop a system which allowed everybody taking part in the race to arrive and park in a way which would ensure that social distancing was preserved.
Just weeks before the race, several members of the Newcastle City Council notice processing and enforcement teams joined the project to support the Great North Run. As the start and end points of the run were to be based in Newcastle city centre, the council offered pre-paid pre-booked parking spaces in three major city centre car parks to support run participants.
At short notice, an online application and payment system was devised and built with support from the council's ICT team that allowed the parking service to provide booked spaces for over 1,000 customers. Meanwhile the enforcement team would not only facilitated the parking arrangements but also to offer
guidance on people arriving for the run.
Newcastle's parking services team manager Steven Foster says: "We worked to communicate with the Great North Run organisers to highlight that the booking facility was available, and they in turn rolled out the booking system to the registered runners. Staff also responded to many customer queries regarding parking arrangements on the day of the event.
"Our enforcement staff were visibly present at all car parks on the day and were able to help people who attended the event from across the country. Parking services also worked with the traffic management section who were responsible for closing and reopening roads and diverting traffic to other more suitable routes. This ensured that vehicles arrived and were able to park efficiently and without any concern."
Over 1,000 customers were able to pre-book parking as soon as the system went live, which helped minimise the stress of getting parked in the city centre on a busy day. Foster says: "It was clear, however, that there was even greater demand than anticipated and so we built on the original allocation and made additional car parks available. This allowed for hundreds more customers to be able to utilise the pre-booking system and distribute people attending the event to car parks across the city.
"This bespoke pre-booking system is something that we will look to use at multiple events where we identify a need to prebook vehicles into car parks in advance of an event taking place. We will also continue to work in very close partnership with the Great Run Company to support the Great North Run. We have already began working on the arrangements that we are putting in place for the 2022 event. Whilst this may not involve pre-booked payment systems it will involve staffing car parks to support people attending the event as well as reserving car park spaces to facilitate welfare facilities and race resources."
Jury comment
Newcastle City Council's parking services team are proud of what they do, and rightly so. The team really rose to the occasion when asked to help deliver a revised approach to staging the iconic Great North Run, delivering traffic control and parking solutions that guaranteed a successful event.
BRITISH PARKING AWARDS THE WINNERS | 23
Award presented by
David Craker, Steven Foster, Joanne Ayre and Alison Senior received their trophy from jury member Anjna Patel MBE and Kerry Godliman
Per fect parking partners
Parking Partnership of the Year
Q-Park and RingGo
Q-Park and RingGo have developed a seamless way for drivers to pay for their stays in car parks.
Paying for parking is a painful necessity for drivers. Often perceived as a hassle, and even a source of anxiety, motorists' sensitivity around parking is surpassed only by the frustration of having to understand the location's restrictions, find the right change to pay and suffer long queues at payment machines that are often slow, clunky or broken.
Cashless parking specialist RingGo thus teamed up with European car park operator Q-Park to create AutoPay, a system that automates payment in off-street locations. There are no buttons to push, no coins to collect, no machines to queue at. Drivers sign up once in the app, then payment is automatic.
AutoPay integrates automatic number plate recognition (ANPR) parking technology with the RingGo app to allow easy, contactless entry and exit to barrier-controlled Q-Park car park locations. With AutoPay, the parking transaction starts and ends completely autonomously, bypassing parking payment machines, allowing for a quick and effortless experience for drivers so consumers can park, pay and get on with their day. Motorists wanting to automate parking payments slide the AutoPay toggle in the app to opt in.
As the first digital on-demand parking solution available at Q-Park locations, AutoPay is an integral part of Q-Park's new Parking as a Smart Service (PaSS) system, which seeks to provide automated, safe and secure parking to drivers in the UK.
RingGo and Q-Park collaborated on the AutoPay technology digitally, an approach reinforced by the remote working policies
put into place during the pandemic. To support smooth ways of working, the companies put in place joint access to a sandbox test environment to stress-test the solution. Finance teams from each company worked together to put in place effective reporting tools for reconciling payments, ensuring compliance and quality standards are consistently maintained.
Q-Park has developed an API (application programming interface) that allows RingGo and Q-Park technologies to talk to each other. It works by collecting data: when a RingGo customer signs up to AutoPay; when they then park in a Q-Park car park, the data is shared with Q-Park to cross-reference with PaSS/season tickets, ensuring the user is linked to the correct payment flow.
Peter O'Driscoll, managing director of RingGo, says: "Now more than ever, the requirement for simple, intuitive technology that removes friction from everyday tasks is a fundamental consumer expectation. After all, an entire adult generation have grown up with digital services and mobile technology playing a central role in their lives, having never known the sound of dialup internet. We're now so used to solving everyday problems with digital solutions that technological innovation is an essential requirement for creating the experiences desired by consumers.
"To help our operators evolve their parking strategies, meet the ongoing demand for digital parking payments post-pandemic, and offer the flexibility of choice to motorists through innovative payment options, we partnered with Q-Park to imagine, develop and deliver a seamless automated parking solution for tomorrow: RingGo AutoPay. By bringing cashless options to more off-street parking spaces, systems like AutoPay can ensure that people are still drawn to towns and cities to work, play and stay – while the requirement for parking machines is reduced, as is the number of journeys required for people collecting cash, and the number of pay & display tickets printed."
Jury comment
By bringing cashless options to more off-street parking spaces, systems like RingGo AutoPay can ensure that people are still drawn to towns and cities to work, play and stay, while the requirement for parking machines and their requisite upkeep is reduced
BRITISH PARKING AWARDS
24 | THE WINNERS
Award sponsored by
RingGo's Sarah Hubbard and Q-Park's Jason Pollock received the trophy from APT Skidata's Steve Murphy and Kerry Godliman
THE WINNERS | 25
Leader of the pack
Parking Operator of the Year Q-Park
Q-Park is working to enhance and, ultimately, reinvent the town centre car park.
Q-Park is one of Europe's leading parking operators, with more than 640,000 parking spaces in over 3,300 commercial parking facilities across seven Western European countries. In the UK it operates clusters of car parks in cities such as London, Birmingham, Edinburgh, Leeds and Manchester. The company mainly operates off-street cars parks that it owns, or spaces run under concessions and long-term leases from public and private landlords.
The company's car parks have a distinctive house style that offer a secure environment and additional services. Q-Park has received 75 Park Mark awards as well as three Park Mark Plus accreditations. Adam Bidder, Q-Park's managing director UK and Ireland, says: "Q-Park stands for 'Quality in Parking' and is the service that they are well-known for providing. Q-Park injects quality into every single area of its business, this can range from external design that is sympathetic to its surroundings or the fabric of the previous structure right through to parking spaces that are wider than the UK average and the latest technology in LED lighting to eradicate any dark corners."
Customers who need assistance when they arrive at a Q-Park can either speak to a parking host on-site or a customer service centre. "Having a physical presence also helps provide peace of mind to customers about the security of their vehicle," says Bidder. "Q-Park does not believe that simply having a parking host in the car park office 24/7 provides the best value to both customers and the wider business. This means that the hosts are
fully mobile within the facility undertaking cleaning tasks and also removing any person who should not be there. Should a customer require assistance and are not able to locate a parking host, they can simply press the assistance button on any barrier, pay machine or help point. This will transfer them through to our 24/7 customer service centre based in Leeds. The operatives can assist the customer with most queries or can call the local response number to request that a parking host urgently attend to provide customer support."
Q-Park is a champion of the mobility hub concept, and aims to develop parking facilities into places that realise urban accessibility, sustainability and liveability. Q-Park is thus making space for shared mobility schemes, electric vehicle charging, last mile delivery and retail space at a growing number of its facilities. For example, the Park Lane Mobility Hub in Central London is a large car park underneath Hyde Park where, as well as parking, tenants include BP, DPD, Enterprise, UFODrive and ByBox.
Q-Park has also been investing in technological innovation to provide a more seamless customer journey. For example Q-Park are currently in the process of installing PaSS (Parking as a Smart Service) technology across all of its facilities. This innovation is a combination of automatic number plate recognition parking technology and PlatePay, a digital payment solution. Bidder says: "Q-Park creates a seamless customer journey by allowing access to the car park and taking payment for parking simultaneously. This takes place by reading the number plate of a vehicle. Use of a debit/credit card while at the parking facility is no longer required. This integration leads to a fair, transparent and seamless parking experience with customers no longer needing to visit a pay machine before they depart. The new system has delivered instant demonstratable improvements in customer experience."
Jury comment
Q-Park has long set a benchmark for providing high quality parking facilities, but it does not rest on its laurels. Q-Park recognises that the world around its car parks is changing and, therefore, must transform the way parking facilities are operated to keep pace with the changes to city centres.
BRITISH PARKING AWARDS 26 | THE WINNERS
Award sponsored by
James Pollock, Monanza Salam, Callum Morris and Mark Pawson received their trophy from Solutionlabs' Duane Hodges-Stubbs and Kerry Godliman
T he model car park
Outstanding Car Park Award B4 Car Park, Birmingham
The very swish B4 Car Park offers its growing number of members a safe and comfortable stay.
The B4 Car Park is located within the Post & Mail Building, which is located on part of a site previously occupied by the printing works of the Birmingham Post and Mail newspapers. Chatham Billingham bought the former printing works building and developed the site including a state-of-the-art public car park that opened in 2015.
With its prime location, B4 is the gateway to Birmingham city centre. Being in the heart of the Central Business District and Snow Hill area, B4 is used by office workers who commute to the city as well as people working at or attending any of the numerous law courts located within a four minute walk of B4.
The car park offers range of season and exclusive flexi-tickets that are popular with local businesses who can save money on their staff parking and manage their B4 account online.
Darryl Veness, car park manager, says: "B4 Membership has been available from day one. For those who sign-up, at no charge, the benefits include a discount on the standard parking tariff: no need to pay at the pay machines; access to an online account; and free Wi-Fi. B4 members are able to pre-book a wider parking space in advance for a nominal fee. The extra wide parking spaces are particularly attractive to those drivers who have large cars, and/or perhaps have children and pushchairs with them.
"Here at B4, our customers can take advantage of the car valeting service which is conveniently located on the first level of the car park. Offering a choice of services ranging from a quick
wash and polish to a comprehensive full valet including engine bay clean, customers can leave their cars in the capable hands of the valet staff while they go about their business. More than 44,000 people have signed up to become B4 members as a result of the service we offer," said Veness.
B4 is particularly well placed to meets the needs of visitors to Birmingham Children's Hospital, which is a two-minute walk away. Veness says: "We are open 24/7 and offers family friendly amenities such as wider parking bays to assist in getting pushchairs in and out of the car and a platform lift for pushchairs and wheelchairs. For those having to make frequent visits to the hospital, parking at B4 can be cheaper for those who sign-up for membership. B4 offer discounts of up to 50% off the standard parking tariff to B4 members – and it's free to join!"
Jury comment
'hotel
BRITISH PARKING AWARDS THE WINNERS | 27
The B4 Car Park has been a consistent winner at the British Parking Awards since its launch. It is a well designed facility managed by a team committed to providing a quality service to customers who are signing up to become members in ever increasing numbers. This really is a
for cars'.
Award presented by
The B4 Car Park
B4's Darryl Veness and Havina Barton with jury member Manny Rasores de Toro and Kerry Godliman
Contact us for a demo: info@barbourlogic.co.uk Working with 60 UK councils Parking Technology Award Two years running Make the PCN process accessible to the 1 in 6 who struggle with literacy.
A challenging solution
Parking Technology Award
Challenge Writer by Barbour Logic
Barbour Logic is helping motorists write their appeals against penalty charge notices.
The Parking Technology Award was won for a second year running by Barbour Logic. This year's successful entry was Challenge Writer, a piece of software that assists people with literacy problems to write challenging parking penalties.
Everyone has a right to challenge a penalty charge notice (PCN). Around 3 million people do this per year. But 16.4% of UK adults are deemed 'functionally illiterate' with 'very poor literacy skills'. Jason Barbour, managing director of Barbour Logic says that means that of these 3 million people, about half-a-million will be barely able to exercise their right to challenge their PCN. Among this group, literacy levels range from 'may not be able to read bus or train timetables or understand their pay slip' down to 'may not be able to read a label on a medicine bottle', or even 'may not be able to write short messages to family'.
Barbour says for these people writing a PCN challenge is an immensely difficult task. "Writing a challenge will be an immense struggle for 500,000 people – the functionally illiterate – and doubtless too daunting for some," he says. "For motorists as a whole, even people with strong literacy skills have a frustrating experience. They struggle to know what information to mention in their challenge or don't realise they need to provide documentary evidence. The problem for councils is that challenges are often long, unstructured and without documentary evidence. They are time-consuming to read and often require another round of correspondence to request evidence."
Addressing this challenge led to Barbour Logic devising Challenge
Writer, a piece of software that offers to help drivers compose a letter when engaging with a local authority using the Chatbot Max system, which won a British Parking Award in 2022.
Challenge Writer assists drivers write letters that are concise, structured and to the point; which list the key points that staff need to check, are typed and in plain English.
Barbour explains: "Development was an iterative, agile process, starting with a smaller product and building up to a fuller one. We worked closely with a small number of councils and had very few hitches after go-live. And of course we're continually developing the product. Nine councils are now live with Challenge Writer, with more in the pipeline."
Sarah Randall, assistant director of traffic and parking at Newham Council, says: "'Challenge Writer supports residents and businesses in Newham in writing representations, particularly those where English is not their first language."
Garry Hoyle of North Tyneside Council, says: "Challenge Writer corrects a major social injustice. The disadvantaged no longer need to struggle writing a challenge or get left out. Thanks to Challenge Writer they can now exercise the same right to challenge as everyone else. It's a welcome breakthrough for the sector and for motorists. It shows motorists that the council cares about them, that it's a friend not foe. Which is great for the council's reputation. And it's great for the wider reputation of the parking sector too."
As the system was intended to be an aid to the public, Barbour Logic piloted the Challenge Writer with real people such as William O, who explains: "Appealing a parking fine is stressful. To dispute a PCN, it's hard to know what to say or what documents you need to provide. The appeal it wrote for me told me what evidence to supply, so my case was resolved first time. A really helpful service. I'm very impressed the council offers it."
Jury comment
Barbour Logic stood out in the Parking Technology section because it had devised a system that seeks to address a real human need – helping people who have literacy issues or lack confidence in writing to engage with the parking representation and appeals process.
BRITISH PARKING AWARDS
THE WINNERS | 29
Award sponsored by
Matt Turner, Kishan Hickman, Janice Wigglesworth, Cordelia Barbour, Olivia Eves, George Thomas and Jason Barbour received their trophy from Go2SIM's Simon Powley and Kerry Godliman
The next level car park
Best New Car Park
Broad Marsh Bus Station & Car Park, Nottingham
Nottingham's new multi-storey car park and coach station acts as a modern gateway to the city centre. The original Broad Marsh Bus Station & Car Park was a 1970s concrete and brick structure constructed alongside the now demolished Broad Marsh shopping centre. Having demolished the old car park in 2018, Nottingham City Council has built a new car park which opened to the public in November 2021.
The new Broad Marsh facility was a capital funded project by the city's parking, fleet and transport operations team. The project cost approximately £50m, a sum that covered the demolition of existing buildings, the construction of the new bus station and car park, along with retail units, the Central Library, pedestrian walkways, landscaping and a cycle hub.
The car park was built by main contractor Galliford Try, which worked closely with the city council to design and build a multimodal facility that is a key part of the wider £2bn Southside redevelopment programme, which aims to transform the southern area of the city centre into an attractive, safe and aestheticallypleasing environment.
The car park has 1,304 spaces spread across six floors. The spaces are wider than the minimum regulatory parameters to provide drivers with more manoeuvrability, which not only helps to ensure that all spaces are accessible, but also reduces the potential for accidental collisions. The lower level houses the city' s new bus station, which accommodates both local and national
bus services. The ground floor is home to a new cycle hub.
To help customers with finding an available parking space, Nottingham City Council has implemented an automatic parking management system. The parking management system works by indicating whether a space is available or occupied with a green or red light respectively. This system was implemented to reduce the amount of time vehicles spent cruising, which in turn reduces congestion, air pollution and carbon emissions.
The car park's façade is made up of 12 different materials which were carefully selected to be environmentally considerate, durable and reflective of local architecture within the city centre. The façade features vertical aluminium fins, as well as terracotta and glass panels to allow natural light into the car park. A standout feature is a series of laser-cut panels that show images representing the local area and the diversity of the community.
The public realm around all four elevations features tree-lined pedestrian zones with views to Nottingham Castle, amphitheatre seating, soft landscaping and high-quality granite paving.
In line with Nottingham City Council's ambition to become the first carbon neutral city in the UK by 2028, the building houses one of the greenest car parks in the country with 81 electric vehicle charging points, and 720 roof-mounted solar panels, which will provide renewable electrical energy to power the car park and bus station, saving over 53 tonnes of carbon annually.
Nottingham City Council leader, Cllr David Mellen, says: "I think it is better than I could have imagined. The environmental credentials of this building are bang on for what we want to do about being carbon neutral by 2028. It's also a high-quality finish, it speaks to the people of Nottingham that we value them, whether they are parking their car here or getting on the bus, they are going to do it in a smashing environment. I think it's brilliant."
Jury comment
Broad Marsh Bus Station & Car Park is example of architectural, construction and collaboration excellence that provides the people of Nottingham with a welcoming, safe and user-friendly multi-storey car park, new civic services and an attractive, vibrant public realm.
BRITISH PARKING AWARDS 30 | THE WINNERS
Award sponsored by
Valentin Scheltow of Compleo and Kerry Godliman flank Philip Johnson, Alistair Branch, Jason Gooding, Matt Ralfe and Karen Day
BRITISH PARKING AWARDS THE WINNERS | 31
Big yellow car park
Car Park Design Award
Watford Riverwell Car Park
Watford General Hospital's staff and visitors can now use a truly impressive facility.
Watford Riverwell is a multi-storey car park that provides much needed new parking capacity for Watford General Hospital and for a major regeneration of the Hertfordshire town. When designing the project, HUBER Car Park Systems was conscious of the client's requirement that the new facility be a vital link in the overall development and growth of the Watford Riverwell area. The new car park thus allows direct access to Watford General Hospital via a pedestrian bridge providing easier access for patients and visitors, as well as an access way leading to neighbouring Watford FC's Vicarage Road Stadium.
A lot of work was put into creating a façade that fitted in with its surroundings but also had an iconic landmark quality for one of the earliest buildings in a wider masterplan. What is striking about the car park is its scale. It has six levels and 1,455 spaces. These are attributes the design team decided to celebrate. The levels are counted out on the tower element, and the car park is unmissable on account of it being yellow.
HUBER's design team worked closely with the local planning authority to develop an exterior design that uses L-shaped coloured profiles at different depths and lengths. The intricate cladding plays with perspective and shadow, giving the building a stunning and distinctive external look.
Internally the façade maximises natural light, which gives the car park's interior an airy, safe and comfortable atmosphere. All the levels easily accessed and clearly numbered, designed to keep
walking and driving distances to a minimum. There are four stair cores with four lifts having been installed in the main core to provide a swift and reliable service. The disabled parking bays are located close to the main core for ease of access.
The building is accessed via a newly built road (Shrodells Road) off Thomas Sawyer Way, which means traffic flow is smooth and fluid, with multiple entrance and exit lanes to reduce queuing. Once inside, the use of vertical circulation module (VCM) featuring a continuous ramp means the car park is column-free. A parking management system signals the location of free spaces on each level.
The top floor is covered by a full metal sheet roof, protecting the structure and users from the weather. The roof also carries is an array of 1,248 photovoltaic panels that is able to provide the car park with full power and even supply the grid with its oversupply. The car park provides 144 electric vehicle (EV) chargepoints. Watford Riverwell has its own substation, which offers the possibility to providing additional EV points. HUBER's proprietary LED lighting system features daylight and motion sensors so as to be as environmentally and economically efficient as possible.
At ground level there is new public plaza and flexible space to accommodate coffee shops, retail units and a parking office that enables any queries to be dealt with immediately. The parking office has a kitchenette and high quality staff welfare facilities, while the public are provided with amenities and disabled toilets.
HUBER's managing director Tomer Meirom says: "The design and build of this car park was particularly interesting, challenging and ultimately extremely rewarding. It combines our vision of multi-storey car parks as mobility hubs with our aspirations to create greener and more sustainable."
Jury comment
Many car parks are designed in a manner that seeks to hide their purpose, but this big yellow building shouts its presence. And Watford Riverwell's bold exterior wraps an interior engineered to provide a safe, hassle-free parking experience, which is much appreciated at a busy hospital site.
BRITISH PARKING AWARDS 32 | THE WINNERS
Award sponsored by
Naoum Karikas, Juan Molina, Marco Reifert, Fiona Petch, Dominik Webster, Craig Copp, Tomer Meirom and Dan Gullock received the trophy from Scott Allis of YourParkingSpace and Kerry Godliman
BRITISH PARKING AWARDS THE WINNERS | 33
Ramping things up
Car Park Renovation Award Grand Central, Birmingham
Cemplas and Sika developed a way of stopping cars grounding on ramps at a shopping centre car park. The Grand Central shopping centre is a key part of the reimagined New Street station in Birmingham. Interconnected with Birmingham's Bullring, Grand Central is home to shops, restaurants, bars and leisure facilities.
While a comparatively new development, a problem emerged with its multi-storey car park. As vehicles were moving between levels, the profile and geometry of the ramps were causing damage to the underside of the cars, which were 'grounding' on the concrete. This became a major cause of concern.
The car park sits above the stores. The structure's steel frame and precast concrete floor provide approximately 12,000m2 of parking. It became clear that a total of 17 ramps required reprofiling to precisely finish the floor levels because they were not performing adequately to accommodate construction tolerances of the high trafficked car park.
Cemplas Waterproofing & Concrete Repairs was appointed by Vinci Construction UK to undertake the £1.7m ramp refurbishment. The car park was a challenging working environment for a construction site as it was built above live railway lines. Cemplas divisional director Mike Wood says: "Grand Central is right in the heart of Birmingham city. It is extremely busy so timely, effective solutions needed to be developed to address the operational issues. The building links to the train station as well as the multilevel shopping and leisure complex, so our refurbishment innovation needed to ensure we completed the project on time."
Cemplas worked with material supplier Sika to develop a solution. The product selected was part of the SikaScreed range. SikaScreed HardTop-60 has a soft plastic consistency, fast curing, rapid load bearing and is over-coatable, being designed for application in a minimum layer thickness of 8mm. It is almost shrinkage-free during the curing process and has very high abrasion resistance and compressive strength.
During the first product trial, Cemplas developed a purposebuilt ramp at its Midlands office to recreate the car park structure. This allowed Cemplas to create a number of ramp angles to show how the SikaScreed HardTop-60 could perform under the different variables. The design mix ratios were extremely tight and had to be developed to precise tolerances to the millimetre, as the client had to ensure the issue was resolved once and for all.
During the second product trial, Cemplas hired an entire warehouse and contracted carpenters to build three ramps to simulate the desired levels required to stop cars from 'bottoming out' at the top and bottom of the ramps. The trials gave the structural engineer and the client confidence in the materials being used.
Once the trials were complete, the car park refurbishment was undertaken on a strict 32-week programme of works. "Because this project was all about the uneven levels, tolerance and geometry of the ramps, we were continually working with millimetre precision," explains Mike Wood. "The innovative nature of the screed solution meant we could work this precisely, compared to some other car park refurbishment products on the market. The product could also be laid in a minimum thickness of 8mm, which is extremely thin and precise. The results of this showed the tolerance levels were within a 1mm range – so our innovative product and site application solutions were extremely precise and effective for this refurbishment. An incredible achievement!"
Jury comment
The re-profiling of ramps at the Grand Central car park was an engineering project that required working to truly fine margins. The teams at Cemplas and Sika adopted a very methodical and practical approach to testing their solution and then applying it to the real world.
BRITISH PARKING AWARDS 34 | THE WINNERS
Award presented by
Nic Collins, Callum Marks, Grace Roden, David Hockley, Phil Hosier, Kenny Dittman, Mike Wood, Tom Revett, Mike Elrin and Jo Burton received their award from jury member John Elliott and Kerry Godliman
BRITISH PARKING AWARDS THE WINNERS | 35
The new look ramps
Full size mock-ups of the ramps Job done
Material test beds Preparing
the site
evolving
EVolution is an independent source of news and analysis for organisations planning, creating and operating electric vehicle and zero-emission charging infrastructure.
Space for infrastructure
Existing magazines, websites and events covering EVs focus on the vehicles themselves. What makes EVolution different is that is the first content space dedicated to the emerging business of developing the infrastructure required to support electric vehicles.
EVolution makes the business of providing electric vehicle infrastructure its core mission.
In parallel to the website and print version there are:
Digital editions
Webinars
Conferences and exhibitions
The EVolution Awards.
Independent news, expert views
EVolution is produced by the highly regarded Landor LINKS editorial team, along with expert contributors, that bring knowledge and expertise grounded in the worlds of transport, parking, traffic management and urban development.
Send your story ideas to: mark.moran@landor.co.uk
The key issues
EVolution covers themes such as:
The planning and operation of EV charging
Designing EV infrastructure for car parks, motorway service areas, workplaces and the home
Decarbonisation policy
The development of EV charging networks
Chargepoint technology
The creation of EV hubs
Kerbside charging provision
The enforcement of EV charging bays
Connecting EV infrastructure with payment services
The uptake of EVs by drivers, commercial fleets and car-sharing providers
Vehicle design and powertrain R&D
The distribution of zero and low-emission fuels
Vehicle-to-grid (V2G) technology
Sourcing green energy for EV charging
Legal and regulatory developments
The role of EVs within clean air schemes
Managing fire safety in EV charging areas
Developments in the energy sector
Advertising and sponsorships
To help us tell promote your organisation via print and online advertising, or a presence at Landor LINKS events contact Jason Conboy on jason@landor.co.uk
www.EVolutionMagazine.co.uk
flicks the on switch Energy Superhub is now live 10 Researching public attitudes to parking and EV apps 13 Forget range anxiety,charging anxiety is here! 14 Just how secure is your chargepoint service? 15 Putting wireless charging concepts through their paces Powering the transition to electric and hydrogen road tra www.EVolutionMagazine.co.uk Issue: June 2022 www.EVolutionMagazine.co.uk Issue: M y 2022 At your service Gridserve's Norwich Electric Forecourt 5 Mapping the rapid rise of public chargepoints 6 Volvo pilots wireless technology in Gothenburg Powering the transition to electric www.EVolutionMagazine.co.uk Meet the Generation Alpha family Predicting the future with parents, kids and Spot the dog 07 Britain needs to shift out of second gear reports PwC 08 Volkswagen is tracking the EV adoption curve 14 WiCET trial will see taxis go wireless in Nottingham 15 Self-driving cars could be road legal in UK by 2025 Powering the transition to electric and hydrogen road transport 08/09/2022 07:10 Page1
An
story www.EVolutionMagazine.co.uk Oxford
Power to the residents
The EVolution Award
Westminster City Council
Lamp columns have been turned into EV charging points to help residents transition to electric vehicles.
Air quality is a critical issue for everyone who lives, works or visits Westminster, which suffers from some of the worst air pollution in the UK. Consequently, in 2019, City of Westminster Council declared a Climate Emergency and committed to being a net zero emissions council by 2030 and a net zero city by 2040.
The City of Westminster devised an Electric Vehicle Charging Infrastructure Strategy that set out a five-year plan to enable transition to electric vehicles (EVs) through the provision of charging infrastructure. It was recognised that much of this would have to be on-street as 90% of Westminster residents do not have access to off-street parking.
In 2019 Westminster was relatively well provisioned in terms of chargepoints, with around 200 made up of a mix of fast and rapid chargers and also some lamp column chargepoints that had been trialled by its street lighting team. The new chargepoints are primarily units attached to lamp column alongside resident parking bays. Utilising lamp posts meant the council was able to deliver charging infrastructure at a much lower cost, with reduced highway disruption from installation, whilst also ensuring that this resulted in negligible levels of additional street clutter.
Damon Budd, Westminster's parking services contracts manager, says: "The city council's strategy determined that it was key to ensure good levels of resident engagement, as well as good use of multiple data sets, in order to best understand current demand for charging infrastructure and its future profile. As a result, we set up a web-form on the city council's website that invited residents with an EV to signal their interest in having charging
infrastructure close to where they live. This provided results as to where demand definitively existed and this could be used, in addition to various other datasets, as a basis on which to install charging infrastructure. We also conducted a survey on our website and held a series of focus groups with both potential and existing EV drivers to understand the concerns of both groups in Westminster to better inform our decision making."
The council has used a framework offered though the Go Ultra Low Cities Scheme (GULCS) to fund the roll out 1,500 chargepoints in three waves between 2019 and 2022. The council partnered with Siemens and Ubitricity to deliver the programme. The city council has recently been successful in securing a large award of external funding that will result in a further 1,000 resident charging points, delivered through a Round 4 installation programme, to add to the 1,500 that are already on the public highway in Westminster, including 1,250 specifically for residents.
Jury comment
The UK government's desire to see a transition to electric vehicles by the mid-2030s will require innovative and deliverable charging solutions. The pioneering approach that Westminster City Council has developed is one that should serve as an exemplar for towns and cities across the UK.
BRITISH PARKING AWARDS THE WINNERS | 37
Award presented by
David Bagwell, Michael Starkey, Rahid Rad, Earl Fairclough, Damon Budds, Neil Muscroft and Kevin Costigan
Take pride in park & ride
The EVolution Award Stourton Park & Ride, Leeds
Leeds has created solar-powered park & ride site that provides plenty of space for electric vehicles.
Leeds City Council's Stourton park & ride (P&R) site is an attractive, well lit, secure surface level car park with a striking green-roofed terminus building surrounded by trees, shrubs, footpaths and cycleways.
The facility provides 1,200 parking spaces, with direct access from the M1, M621, A61 and A639. There are 30 electric vehicle (EV) charging bays, along with dedicated disabled, family and motorcycle bays, as well as secure cycle storage and mobility scooter parking with charging.
The car park is free to use for park & ride customers, with a 1-hour limit for non-park & ride customers. P&R users can buy a bus ticket either in the terminus building or on the bus. There is also a payment structure for the electric vehicle charging points run by Electric Blue where app payments are used to cover the cost of charging an EV.
Stourton P&R is the UK's first fully solar powered park & ride. It uses a smart energy system to provide all of the sites power needs, supporting electric vehicle charging and the fully electric bus fleet serving the P&R. There are 26 fast vehicle charging ports and four rapid chargers. Inclusion of automatic gates and an ANPR system, allows 24-hour access to electric charging.
Fully electric, zero emission buses serve the site every 10 to 15 minutes, from early morning into the evening. These high frequency electric buses into the city centre have short journey times, due to the bus lane improvements which were made as
part of the wider Leeds Public Transport Investment Programme. The scheme was delivered as part of the investment programme, supported by £173.5m of Department for Transport (DfT) funding. The scheme also received a grant from the European Regional Development Fund, to create a smart energy grid. The P&R car park cost a total of £39.3m to create.
A diverse group of partners from the public and private sectors came together to create the Stourton P&R. These included: Leeds City Council (project management, programme coordination and part funder); West Yorkshire Combined Authority (funding partners, budget holders, business case development and project assurance); development partner WSP; the DfT (funder); Mott MacDonald (design partner) and BAM Nuttall (construction partner).
The P&R also provides 2,150 metres of new footway and cycleway, to encourage walking and cycling instead of car use. The scheme now attracts cyclists who can use the Wakefield to Leeds Corridor, via safer routes through the P&R site. Secure cycle storage also helps to promote 'cycle and ride'.
Stourton P&R has removed up to 1,200 cars from the Leeds city centre corridor, reducing congestion and improving air quality, while its sustainable engineering has created a scheme that supports Leeds City Council's Carbon Neutral Commitment.
Sean Hewitt, Leeds City Council group engineers, says: "The scheme was designed and modelled for future expansion, with spare solar power generation and battery storage capacity, 84 additional electric vehicle charging bays, and spare ducting throughout the site. By taking a 'once through' approach the scheme removes the carbon which would be associated with additional future works, and proactively plans for future lowemission vehicles."
Jury comment
The Stourton park & ride site in Leeds sets a benchmark for future transport interchanges. The sensitively landscaped car park has been designed to harness solar power, support the transition to electric vehicles and encourage drivers to switch to public transport for travel into cities.
Award presented by
BRITISH PARKING AWARDS 38 | THE WINNERS
Jury member Jason Benjamin and Kerry Godliman with BAM Nuttall's Gareth Farrier and Leeds City Council's Sean Hewitt and Gary Bartlett
BRITISH PARKING AWARDS THE WINNERS | 39
It 's power to the people
JustPark's Anthony Eskinazi
Parking in the Community Award
JustCharge by JustPark
JustPark is boosting the adoption of electric vehicles by marketing a network of driveway chargepoints.
Electric vehicle (EV) registrations grew five time faster than the growth of public charging locations during 2021. This means there are now fewer public chargers per driver today than there was in 2018. And in hundreds of towns and villages there is still not a single public charger. Parking provider JustPark carried out research to find out what consumers perceive as the biggest barrier to EV charging. The answer was that 62% of those surveyed said EV charging infrastructure is the biggest barrier to EV adoption. This result got JustPark thinking. The company, which was a pioneer of driveway rentals, saw that nearly 400,000 EV charging points already exist on people's driveways.
Anthony Eskinazi, founder and chief executive of JustPark, says: "If we combine the two together, we have the ability to create the largest charging network in the UK, using the power of the community. We just need the help of the community to make it happen. It's really simple. Those with a home electric vehicle charging point can make it available for others in their community that don't have the ability to charge at home.
"Drivers in the local community are able to book and pay to use it, via the JustCharge network. JustCharge can unlock the potential for millions more drivers to switch to an EV, by providing reliable, bookable and convenient charging for those who can't do so at home. Bookability of chargers is key to the success of a scheme such as JustCharge. You no longer have to fear driving around, looking for a charging point, risking an empty battery. Instead, you can find and book a charger in advance: it only takes a few minutes and removes all that hassle."
Award sponsored by
JustPark has partnered with a range of businesses to promote the JustCharge concept, including: Vauxhall; elmo; Right Charge; Octopus Energy; and Visa. JustPark has also launched an alternative to the government's OZEV grant. The JustCharge Grant invites people to apply for £350 off the cost of a charger and installation in return for listing their charger on the JustCharge network.
Eskinazi says: "The UK is facing an EV charging crisis. Today, over 50% of UK drivers can't charge an EV at home. They may live in a flat, or a house without a driveway, or in shorter term rental accommodation. To make matters worse, the public onstreet charging network is limited, especially outside of London. So without a regular place to charge near home, owning an EV for this group is not feasible, especially for those outside of a major city. JustCharge enables drivers to switch to an electric vehicle by unlocking the power of home charging for everyone. We are using our superpower of sourcing spaces within the community, to support the transition to EV."
Jury comment
JustCharge offers a smart way to harness domestic chargepoints to boost the adoption of electric vehicles. And with driveway chargers typically being unused for 90% of the time, the scheme is also a handy way for EV charger owners to make some extra cash whilst helping their neighbours.
BRITISH PARKING AWARDS
40 | THE WINNERS
JustCharge