FALL 2022 Fall A FRESH APPROACH TO HOME & LIFE THE ISSUE
00000 Retailer Ave City, State RETAILER000-000-000000000 LOGO Stressless ® Stella Wood *See sales associate for details. Right now, buy Stressless® recliners, sofas or office chairs and get up to $1,500 credit towards the purchase of more. Or, save $400 on Stressless® Signature base recliners and ottomans and Classic Power™ recliners.* LEAN BACK AND SAVE GET UP TO $1,500 CREDIT OR $400 OFF RECLINERSSELECTSEPTEMBER 2 - OCTOBER 17 www.scandesignnd.com scandesign110 n broadway fargo, north 701.365.0900dakota 1803 s washington grand forks, north 701.757.2444dakota
Relaxation Made BeautifulChoose the style, size and comfort that is right for you. FALL INTO COMFORT SALES EVENT September 2 - October 10, 2022 SAVE UP 20% ON ALL FURNITURE*FJORDS TO scandesign
www.brekkecustomhomes.comofficembch@gmail.comCALLMIKEBREKKE:701.730.4385 by Brekke Custom Homes Enjoy Life... Fully Landscaped with Lawn Sprinkler System | Quiet Street $369,900 live in a quiet neighborhood in our luxury homes starting at THE HALLI PLAN 3 BED • 3 BATH THE EMILY PLAN 2 BED • 2 BATH OUR HOMES INCLUDE: • One Level Living • Open Floor Plan • Vaulted Ceilings • Custom Cabinets • Stone Countertops • Custom Closet Systems • Fireplace • Abundant Natural Light • Large Heated Garage, 21' x 27' • Front Porch • Back Patio TAKE A TOUR! Stop by to meet us and view our beautiful homes on Sept. 12th and Sept. 19th, 6 pm - 8 pm.
CONTENTS FALL 2022 VOLUME 3, ISSUE 9 IRISCERAMICA
Experience the beauty of The North Country National Scenic Trail, in our own North Dakota backyard. Stretching 4,800 miles from here to Vermont, you'll be amazed.
74 INGREDIENTS Harvesting and drying lavender for future baking is a dream come true for this baker. Learn how to appreciate the fragrant, sunny flavor of lavender all year.
12 ESSENTIALS
58 TRAVEL
Laughter, common goals, and positive relationships built this home in Minnesota lake country. Tour the beautiful end results of mutual trust, hard work, and quick wit.
Positive energy abounds in this local sunlit home. Surrounded by the hardworking beauty of the proper window treatments, this New England-style cottage home shines.
22FALLELEMENTS
6 | FALL 2022 INSPIREDHOMEMAGAZINE.COM IN EVERY ISSUE 8 MUSINGS 10 CONTRIBUTORS 82 WINE WISDOM FEATURE STORY
52 LIFESTYLE
32 HOME SHOWCASE
42 KITCHEN We love our kitchens. They're not all perfect but we love imagining the ideal one. No matter where you are on the culinary spectrum, enjoy these trends.
Do you suffer from chronic pain? Restorative sleep is a true necessity. Learn why your sleeping position and the proper mattress may be the answer.
Setting the table is much more than just another mealtime chore. It reflects our culture and fosters the way we interact with each other. Try these tips.
66 CUISINE Fall is a celebration of the bounties from our gardens. Learn about the beauty and versatility of the family of squash. Butternut squash stars in Mexican pork stew.
LUXURYCARPETTILEHARDWOODVINYL PLANK COMMERCIALRESIDENTIALINSTALLATION SHOP IN-STORE OR ONLINE! lavalleflooring.com • contact@lavalleflooringinc.com TWO LOCATIONS! 624 Main Avenue, Suite 12 • Fargo, ND • 701.212.3183 • lavalleflooring.com HOURS: Mon, Wed, Fri, Sat: By Appointment Only • Tues & Thurs: In-Store Staff Available, 9am- 6pm • Sunday: Closed 2435 West Main Street • Valley City, ND • 701.845.9380 • lavalleflooring.com HOURS: Mon-Fri: 9am-6pm • Sat: 9am-4pm • Sunday: Closed Inspirational... per sq foot.
8 | FALL 2022 INSPIREDHOMEMAGAZINE.COM Inspired Home Associate Publisher Terri Ferragut Phone: 701.866.4405 Email: terri@inspiredhomemagazine.comterri.ferragut@gmail.com Production representative 30600 Northwestern Hwy, Suite 105 Farmington Hills, MI 48334 (313) 510-4429 Editorial Director Terri Ferragut Creative Director Terri Ferragut Art Director Deborah Schultz Director of Operations Scott Drzewiecki Contributing Photographers Gerry Berg Jill Ockhardt Blaufuss Lauren Ferragut Carlson Bailey Hovland Dan Koeck Chelsey Malstrom Tom Moberg Contributing Writers Lauren Ferragut Carlson Terri Ferragut Rennae Gruchalla ChelseyGranvilleMalstromWood Copy Editor Keri Guten Cohen Social Media Director Bailey Hovland Find us on (Inspired Home Magazine) this label only applies to the text stock Terri Ferragut Associate Publisher Editorial terri@inspiredhomemagazine.comterri.ferragut@gmail.comDirector North Dakota Hiking, Photography by Tom Moberg My mind spins about this time of year because I am slightly mortified and mystified simultaneously, that I am addressing the beauties of autumn. Publishing makes the wheels of time accelerate substantially and it is with this issue in a wink-of-an-eye we celebrate my favorite time of year– Fall. So here we go… We don't need to remind you that our fall season is a time of regeneration, refocus, and a time marked by new and inspired changes. Fall is an exhilarating time of year. The season ushers in a cavalcade of events and new beginnings for young and old alike. We settle back into a familiar pattern that brings nature's colorful splendor to our trees, wood smoke wafting through our neighborhoods, and the comfort of cool fresh air. Our lives become scheduled and a bit more routine. Events, school sports and activities begin to fill our calendars. There's a rush to finish construction projects in an attempt to beat the next round of events–winter on the plains. With all the scurrying about we begin to settle into the fact, that our homes have once again, become the epi-center of our lives. In the Inspired Home Fall Issue, we'll explore topics that again ring familiar and true. Our focus turns to entertaining, special gatherings with friends and family, and the cultural importance of a table setting. Our kitchens will again hum with activity, and you may find yourself wishing your kitchen was a technological wonder, but not to worry– in this issue, we'll share all the latest kitchen products and design trends. One final thought. We are fortunate to live in a state that has richly been blessed with nature's beautiful handiwork. For those of you in doubt, be sure to read "Dakota Wanderlust," a story on fall hiking on the North Country National Scenic Trail which stretches over 4,800 miles across North Dakota to Vermont. Not sure what that even is? Read it to find out. And remember, we do this all for you! Enjoy our Fall Issue!
9 | FALL 2022 INSPIREDHOMEMAGAZINE.COM 1750 45th Street S. | Fargo, ND | 701.893.9300 www.homeandhearthfireplaces.comHours:Mon-Fri8AM-5PMandSat-9AM-1PM Model Shown: The Cosmo Linear Indoor Gas Fireplace Visit our showroom to view the beauty of a f ire.
WOODGRANVILLE Wood is Toronto,Stockholm,London,workedchefinternationalanwhoinVancouver, Palm Beach and Houston before moving to Fargo with wife Susie, a doctor with Sanford Health. Most recently he operated The Blue Goose Café in the Plains Art Museum.
Every issue, we take great pride in presenting this beautiful local home and lifestyle guide we call Inspired Home. From design to great food our goal is to provide you with relevant information you value. Truth of the matter is, without the heart and dedication of this talented and professional team, this publication would not be possible. Issue after issue, their creativity brings Inspired Home to your doorstep or area business. They inspire me.
BLAUFUSSOCKHARDTJILL
DOLYNIUKSARAH
MALSTROMCHELSEY
HOVLANDBAILEY
TERRI FERRAGUT
contributors 10 | summer 2022 INSPIREDHOMEMAGAZINE.COM
Jill andarchitectureforphotographerBlaufussOckhardtisainteriordesign. Her clients range from designers and builders, both commercial and residential. When she's not working she enjoys spending time with her family and friends, cooking, traveling and entertaining.
ASHLEY JOHNSONF. JohnsonAshley loves her home city of Fargo. She works as a nurseregisteredatSanford Medical Center and shares her happy home with her husband, 2 children and a rescue cat. She loves traveling with her family, cooking, entertaining and good wine. She can't wait to show her children the world.
writingBeforeearninganEnglishdegreeatConcordiaCollege,Hovland dreamed of being an interior designer. Now, serving Inspired Home Magazine as a writer and social media director, she has the best of both worlds— pairing the power of words with innovative interior design.
Born country.thingsenjoysMN,DetroitraisedandinLakes,ChelseyalllakesFinding her love for wine working at Epcot Food and Wine Festival in 2012, she was thrilled to move back to Detroit Lakes to help run the family business. Today you can find her at Seven Sisters Spirits, planning events and helping people find the perfect wine.
WALLACEKINSEY A dogs,enjoyingtimethatadmission,renovation,withalongandsayKinseyFMbasedphotographeragentreallicensedestateandinthearea,canwholeheartedlyshefoundhercallinghasmetamazingpeopletheway!Obsessedinteriordesignandhomesheis,byherownatrueintrovertenjoysspendingherfreetraveling,reading,andtheoutdoorswithherFinleyandMurphy.
Having an interior design degree and her genuinealongestatereallicense,withainterest in connection; working for Inspired Home became the perfect addition to Sarah's career path. She loves date nights with her boyfriend, time in nature/walks with her dog, kissing on her rescue kitties, reading, yoga, binging a good TV show, and enjoying a citrusy IPA (or glass of wine).
LAUREN CARLSONF. recently moved back home to Fargo with her inafterandhusbanddaughterlivingUpstateNew York for 8 years where she worked at Cornell University as a research technician. There she worked with hemp for CBD/grain/fiber and willow for bioenergy. After having a baby she took some time off to be a mom. She loves knitting, running, cross-stitch, and of course, Scandinavian baking.
www.carpetworldfargo.com460117thAveS.Fargo701-235-7525 Carpet | Vinyl | Ceramic Tile | Hardwood | Laminate Full Installation Service | Free In-Home Estimates Life happens on our floors Providing Comfort yrs overfor50
ESSENTIALS BY TERRI FERRAGUT PHOTOGRAPHY BY KINSEY WALLACE and personal UP CLOSE 12 | FALL 2022 INSPIREDHOMEMAGAZINE.COM
n immediate sense of calm and serenity greets you at the door of this local home. A soft palette of harmonious colors gently beckons you to explore every room. As you enter the sitting room, flanked by floor-to-ceiling, transomtopped windows, the summer sun bathes the space with its cheery disposition.
continued on page 14 INSPIREDHOMEMAGAZINE.COM INSPIRED HOME | 13
Design projects are personal to Anderson. "I have always loved design for as long as I can remember," she says. "Art and design have been the filter through which I see all elements of everyday life. Scale, proportion, balance, and color are the first things I see at every glance." Her eyes see the design in everyday objects and situations that reveal an opportunity to shape and create art to live with. Every project is a new experience for Anderson because each client has different design ideas, creating unique situations to "explore and shape."
As Karen Anderson, owner/designer of The Little Blind Shop by Rose Creek Design enters the sun-lit space, she beams with pride and a sense of satisfaction. Anderson was entrusted by the homeowner to create perfect design partners for this sun-kissed project — beautiful and protective window treatments. The floral full-length draperies became the crowning glory of the sitting room, which emits English country cottage charm.
Working in a retail environment for a good portion of her career, she learned business basics: customer service, listening skills, and understanding the homeowner's goals.
Over the years, Anderson has shifted The little Blind Shop by Rose Creek Design's emphasis from total design services to nearly all window coverings — shades and draperies.
"Their softness and functionality elevate a room. Window coverings can be the supporting cast to other elements of a room or they can be the star of the show," she adds. The window covering industry is always changing, trends come and go, but Anderson believes each new turn is an adaptation of a classic style. Draperies and side panels are back. Roman shades remain a popular soft shade choice. They are a stunning way to add height to a room and are available Positive energy abounds in this sunlit room surrounded by the hardworking beauty of the window treatments. Bright light softens and envelopes the entire space.
ESSENTIALS in a multitude of textures, bold to demure. Technology, Anderson's favorite change, has revolutionized the industry. Durable fabric, sun-deflecting screen fabrics, automation, or power shades offer many options to make a home beautiful and functional. Anderson focuses on energy-efficient options for homeowners. "The right shade at the window can make a 30% difference in heat loss during winter," she explains. "In the summer heat, about 76% of the sunlight that falls on windows becomes heat in your room. Window coverings will reduce heat loss in the winter and heat gain in the summer, dramatically reducing energy bills.
"Homeowners doing new builds need to consider meeting with a window covering specialist early in the planning stage," she suggests. "Hardwiring for shades, especially high and hard-to-reach windows is a must if you want to utilize power shades or integrate with your smart home systems." This recent project was a challenge to Anderson due to the large expanse of floorto-ceiling windows. Although the homeowner had no idea how to tackle the drape function in the room, she had a definite design style she was looking for. "I understood the need for privacy and sun control," she says. "The
continued on page 17 14 | FALL 2022 INSPIREDHOMEMAGAZINE.COM
Karen Anderson, owner, designerandof The Little Blind Shop at Rose Creek Design stands with a humble sense of pride amidst the finished project. The cottage-stylethisgreens–softwithanWaterdraperyselectedpattern,Color,addsairy,naturalnesswhispersofbluesandperfectforEnglishhome. Delivering value with prompt, reliable service and quality products Refrigeration | Heating | Air Conditioning | Geothermal Residential/Commercial | 24/7 Service 1106 8th Street SE, Detroit Lakes, MN 218.847.7537 | 888.847.7537 | tweetoninc.com The homeowner had a true sense of how she envisioned the design style of her New England cottage-style home. This new build by Dave Anderson Construction became a perfect blank canvas for her personal tastes to shine. INSPIREDHOMEMAGAZINE.COM INSPIRED HOME | 15
The successful interplay of multiple patterns, textures, and colors make the room come alive with personality and charm. Anderson had a committed understanding with the homeowners to accomplish their goals.
16 | FALL 2022 INSPIREDHOMEMAGAZINE.COM
In seconds, Anderson changes the lighting in the room from tempered to brighter light. Transom-topped windows create stunning top to bottom glass window walls with southern exposure.
ESSENTIALS
www.customplasticsfargo.com Steel Frame Acrylic Frame 800-380-1993701-280-1993 2310 3rd Avenue N. Fargo, ND 58102 From window well covers to displaying fine art... trust our service and product knowledge for your custom plastic projects. Clear acrylic allows maximum light Unique design keeps water out Fits galvanized, cement & timber egress frames Collectibles custom display cases. Tired of cleaning out egress wells? Art and design have been the filter through which I see all elements of everyday life. Scale, proportion, balance, and color are the first things I see at every glance. — KAREN ANDERSON, DESIGNER AND OWNER, THE LITTLE BLIND SHOP BY ROSE CREEK DESIGN " " drapes are set up as two pairs with handdrawn options that allow multiple opening options as the sun moves through the course of the day."
on page 18 INSPIREDHOMEMAGAZINE.COM INSPIRED HOME | 17
The New England-style cottage home needed to reflect the homeowner, cozy yet sunny. The selected drapery pattern, Water Color, with a sateen finish creates an airy, natural freshness. Whispers of blues and green like a perpetual spring day, draw you into the charming kitchen. Wendt Custom Cabinets finished in Sherwin Williams color Rainwashed, are a soft green defining peace and serenity. The kitchen dinette nook, the continued
Roman shades with the same pattern in a linen fabric style grace the table creating the perfect ambiance needed for a cozy meal. A cozy transition from the living room to the kitchen is seen here. Charming Wendt Custom Cabinets painted in Sherwin Williams color, Rainwashed, complete the room. The transition from the kitchen to the quaint look of the pantry/workstation to the dining table beyond the door results in well-planned efficiency for entertaining.
perfect spot for relaxed Roman shades, reflects the same sitting room drapery pattern but with a linen texture. Anderson has a real and honest connection with her clients. "I love working with homeowners. Some know what they want, but don't know how to execute the project," she says. "Some have no idea what they want or need, and rely on me to help them visualize." Her favorite collaboration is with clients who want her to "push the envelope" yet stay within their design and budget parameters. Her most important consideration in a successful client relationship? Listening. Her personal goal? To make sure projects reflect client wishes, not hers. By the looks of it, she has superb listening skills.
CONTRIBUTORS : WINDOW TREATMENTS
Rose Creek
18 | FALL 2022 INSPIREDHOMEMAGAZINE.COM ESSENTIALS
HomeownerINTERIORDaveBUILDERWendtCABINETRYDesignCustomCabinetsAndersonConstructionDESIGN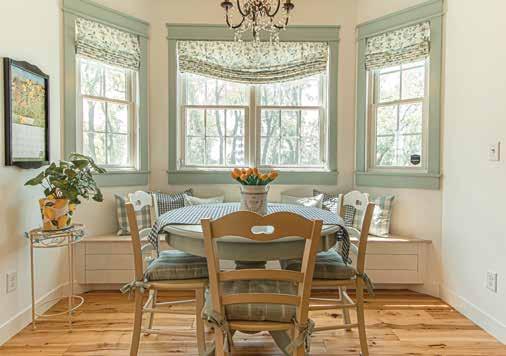 FULL-SERVICE | CABINETRY | COUNTERTOPS | LIGHTING | FLOORING TILE | PLUMBING FIXTURES | NEW CONSTRUCTION/REMODELING 205 E Lincoln Ave, Ste B, Fergus Falls, Minnesota 218.998.3889 • CALLALILYDESIGNS.com Jamie owner,Wallace,CKD BY APPOINTMENT INSPIREDHOMEMAGAZINE.COM INSPIRED HOME | 19
SHOWROOM: 300 43RD STREET NW, FARGO, ND • 701.232.4717 1365 TACOMA AVE., UNIT 6, BISMARCK, ND • www.redriverglazing.com701.751.0694 THE BEAUTY OF GLASS IN EVERY ROOM...
Stacy
Pellett Sales and Installation Manager, RRG, LICENSEDInc. AND INSURED INCONTRACTORNDANDMN CUSTOM DESIGN & GLASS FABRICATION RAILINGS • SHOWER DOORS • COMMERCIAL/RESIDENTIALMIRRORS
elements BY TERRI FERRAGUT PHOTOGRAPHY BY KING'S COURT CREATIVE PERFECT place a 22 | FALL 2022 INSPIREDHOMEMAGAZINE.COM
Setting the table is so much more than just another mealtime chore. They represent our family traditions and welcome our loved ones to gather and share a special moment in time. INSPIREDHOMEMAGAZINE.COM INSPIRED HOME | 23
S continued on page 27 24 | FALL 2022 INSPIREDHOMEMAGAZINE.COM
etting the table is so much more than just another mealtime chore. Cultures around the world set their tables in distinctive ways. The way we set our table not only reflects our culture, but also fosters the way we interact with each other at mealtimes and, ultimately, influences how we receive our food.
Ever since humans first came into being, the sharing of food over a communal table has been a part of our shared story — the oldest evidence was found in Israel more than 300,000 years ago. The Romans and Greeks were no strangers to a well-equipped table. Hand-painted pottery, embossed silver and engraved glass survived to give us an idea of how wealthy ancients set their tables. Whether a form of routine socializing or a way of marking important occasions, coming together to eat is one of the oldest markers of society. The way we achieve that importance has naturally evolved over the centuries.Today,at its most elaborate, the set table is a celebration of holidays and life events. Seated dinner at a gala or a dear friend's wedding becomes reflections of personal taste, whether extravagant or simple, and helps us celebrate happiness and abundance. Traditional family gatherings at a holiday table create a perfect opportunity to reflect upon stories of our past and a hopeful future. Not only does the table provide a forum for teaching young ones and remembering our traditions, but it also Thanksgiving is a celebration appreciationoffor the abundance in our lives. What better way to convey that message than with what nature has provided us? Here, pomegranates, grapes, miniature greenstangerines,pumpkins,andfreshgracethetable.
elements
Whether extravagant or simple, creating a special feeling helps us celebrate happiness and abundance. Here, rich copper colors and fresh greens create an inviting atmosphere. Karen Anderson, Designer, Owner Rosecreek Designkaren@thelittleblindshop.com | thelittleblindshop.com Locally Owned by Karen since 2008. SHOWROOM: 4631 40th Ave S, Fargo • 701.893.5134 Monday - Sunday by appointment onlyCertified Installers Manage your shades with precise control from your pebble remote or your smart devices. Voice activate when integrated with smarthome systems like Amazon, Alexa or Siri. Energy efficiency through preset schedules that control solar heat gain or loss. Two battery options or hard wire options for new Carryconstruction.outcommands from in or around your home. INSPIREDHOMEMAGAZINE.COM INSPIRED HOME | 25
elements Complementary colors of blue and orange flatter this table with charm and elegance. The use of beautiful colors presents your guests with a warm and embracing, "We're happy you are here!" 26 | FALL 2022 INSPIREDHOMEMAGAZINE.COM
INSPIREDHOMEMAGAZINE.COM INSPIRED HOME | 27
The way we set our table not only reflects our culture, but also fosters the way we interact with each other at mealtimes and, ultimately, influences how we receive our food. " " Rustic, rough-hewn, and perfect is the theme at this fall table setting. Fresh greens and artichokes, black and white plaids equal perfection.
FARGO MOORHEAD VISUAL ARTISTS fmva.org OCTOBER 1 & 2, 2022 • NOON – 6 PM ALL STUDIOS ARE OPEN TO THE PUBLIC FREE OF CHARGE
Traditional fall colors are beautiful here with natural trimmings in the center. A great addition: Each guest is welcomed with a different Thanksgiving themed plate. shows our families that we hold each other, as well as our history, dear. This season, elevate your dining experience by combining beautiful items that complement each other and establish a special feeling. The act of creatively arranging a table so it conveys a specific mood is enjoyable to create and appreciated by your guests. From festive table runners and flowers to intricately designed trays, colorful table placemats and the added use of color — your tabletop will pop. Experiment with different colors; they continued on page 29
28 | FALL 2022 INSPIREDHOMEMAGAZINE.COM elements
Simplicity and nature in all its glory claim the beauty of this table setting. Plated bay leaves and a wondrous display of pumpkin colors create a soft color theme your guests will enjoy.
A beautiful and serene scene in soft greens and white surrounded by interesting textures is a perfect way to begin a delicious Thanksgiving gathering. Charm and comfort are the results here. These non-traditional colors gracing this Thanksgiving table are breathtak ing and will long be remembered by your guests. A soft palette of color and fresh flowers are perfect partners.
Shown: Reverie by Fredrick Ramond boutique small-townstyleservice!
Sonia Roberton, owner,
lighting designer Jon lightingMattson,designer Hayley lightingErickson,designer 1200 South Washington Grand Forks, North Dakota shopthelightinggallery.com701.772.2402the lighting gallery
opulence Fanciful » lighting » home decor » lighting systems & technology » gifts » unique furniture » shop online
INSPIREDHOMEMAGAZINE.COM INSPIRED HOME | 29
lateopeningshowroomNEWinFall! can add a vibrant element to your table. Use a complementary color wheel to help you mix hues. Any two colors opposite each other on the wheel are complementary and will work well together. Try pastels to provide a comforting and peaceful setting. It's a soft approach that uses its subtlety to embrace your seated guests. Incorporate other unexpected colors. Set a fall tablescape with a cozy, autumn vibe using an unexpected sage green and white color scheme you can enjoy from September all the way through Thanksgiving!Includeplates and glasses with at least one color found throughout the rest of the tablescape to tie it all together. Balance colors, patterns and textures for a polished look. Add natural or edible items to your table such as berries, grapes, or other fruits and vegetables to create life and color. This year, surprise your guests by making wonderful memories. Celebrate the fall season and your Thanksgiving gathering with an inviting table. Pretty in pink and orange sherbet. This is a stunning theme inviting every guest to this Thanksgiving table. These non-traditional colors add graceful charm to the day.
COUNTERTOPSBAROFFICEBATHKITCHENCOMMERCIALRESIDENTIAL 5475 51st Avenue South, Fargo, ND 701.541.2511 • swensoncabinets.com Inspired by integrity and craftsmanship
Handcrafted with care... UNIQUEHOMEFURNITUREDECORAND INDIVIDUALIZED CUSTOM RESIDENTIALORDERS&COMMERCIAL From humble beginnings and a love of woodworking, Fargo Woodworks was born. Handcrafted to order by local artisans in Fargo, North Dakota. 3431 4TH AVENUE SOUTH, SUITE D FARGO, NORTH DAKOTA CALL OR TEXT: FARGOWOODWORKS.COM701.248.0603 Check out our MelissaFargowoodworks.comwebsite,toshopourentirelineofproductsortocustomizeyourorder!Owners,andJake
HOME SHOWCASE
This homeowner, living on a Minnesota lake,"Asagrees.achild, I loved spending time at various area lakes and I knew, if given the chance, I would want to have my own lake home. I absolutely love the beauty, serenity, the changes of views due to the BY
ost have experienced the solace and tranquility that a summer day at a lake has to offer. As if you're an entire world away, cares and stress dissipate. Your breathing slows to a relaxed rhythm as you gaze contently across glistening waters. Changing seasons at the lake are welcomed as brilliant tree colors and the fresh, crisp air of fall soon beckon winter.
Winter's soft blanket of snow creates an indescribable soundlessness that you need to "hear" to appreciate.
TERRI FERRAGUT PHOTOGRAPHY BY KINSEY WALLACE Live,BuildLaughand M 32 | FALL 2022 INSPIREDHOMEMAGAZINE.COM continued on page 35
Designer Kris Carlson smiles while standing in this stunning kitchen. Lighting by Revelation® above the island is one of her favorite design elements. Vertically placed glass tiles for the backsplash and ventilation pipe are another. The crowning glory is the island designed by Carlson and fabricated by Northern Stone. Two different textures, leather granite, and quartz create the unique "river runs through it" effect.
continued on page 30
INSPIREDHOMEMAGAZINE.COM INSPIRED HOME | 33
HOME SHOWCASE
Although mutual trust and respect guided all parties on this build, humor and quick wit became a welcomed adhesive throughout the entire process.
Natural light floods the spacious room allowing the stunning view of the lake and the seasons as they change. This loft overview reveals a well-planned multifunctional space.
34 | FALL 2022 INSPIREDHOMEMAGAZINE.COM " "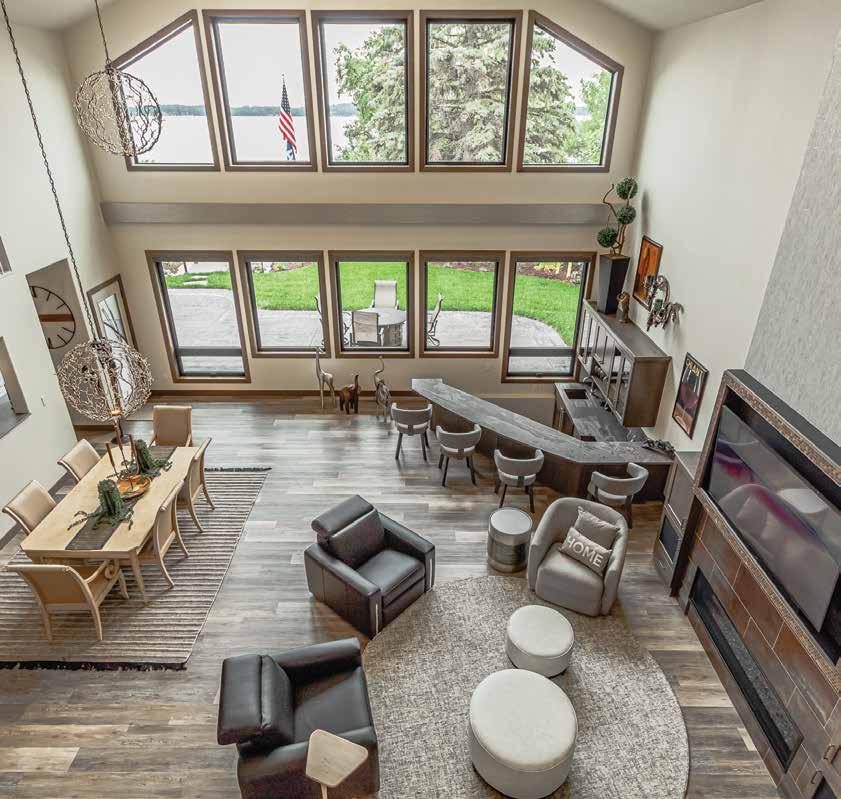 The lake view is an important factor in planning and architectural execution. Here the living space is beautifully expanded by the oversized deck above the boathouse. Valley Landscaping created a beautiful path toward the deck below.
Special bonds were formed during the build.
INSPIREDHOMEMAGAZINE.COM INSPIRED HOME | 35 continued on page 37
"The best part is the relationship that is built along with their dream home," Lindburg says.
In the new home construction, Lindburg was extremely creative in determining options for situations that arose during the course of the project. "As he was working one day, he had an idea he wanted to discuss with us. That 'idea' turned into our loft, rather than 10 square feet of wasted space," adds the homeowner. Lindburg believes that "giving the customer a variety of options to change things as they progress is vital during construction. Things look different on paper than they do as the actual footprint takes shape once the framing is completed."
With the architectural design expertise of Jon Anderson of Dream Builder Inc. of Fargo, and the build by Chris Lindburg, CNL Construction, Detroit Lakes, the dreamlike project began to take shape. Anderson designed the perfect home with the exact floor plan for their lifestyle. "After living in the space for four or five months, I wouldn't change a thing!" adds theTalenthomeowner.andinsight are crucial in a build and it takes a "village" to bring a big project to successful fruition. The new build was a second project completed by CNL Construction for the homeowners. The homeowners add, "He is a masterful builder, who remodeled our boat house the year before we built our new home so we would have a place to live."
weather and the changing seasons throughout the year. I am extremely grateful to now have thatHeropportunity."husband,who has lived in California and also in Fargo, enjoyed coming back to visit family and friends during the summer. Renting a summer lake cabin over the years encouraged him to buy an older lake home in 1989. After the two eventually retired, thoughts of building a new home on the same site began to surface.
A step-down sunken bar is an extraordinary sight to behold in the great room area. Entertaining was important to the homeowners and welcoming family and guests was a priority in the planning of this project. A beautiful task completed by Mill Creek Custom Cabinets.
HOME SHOWCASE
A beautiful dining area directly off the kitchen is the perfect scenario for these social homeowners. A meal under the beautiful lighting by Revelation® seen here is destined to make any dining guests feel special.
36 | FALL 2022 INSPIREDHOMEMAGAZINE.COM
Lindburg and Anderson both recommended an acquaintance of the homeowner, Kris Carlson of designingwomen2, to assist on the project. Though close friends with the homeowner at a point in time, life had diverged their paths until the call was made to Carlson for her professional opinion on the design track chosen thus far. After their first consultation, their design "collaboration" continued until the completion of the home. Their friendship reignited. Laughing, the homeowner adds, "I began calling Kris my 'Jedi Master,' Obi for short, for her creative sense of style
Another overview represents a beautiful workhorse kitchen designed to meet the needs the homeowners requested in the planning stages of their new home.Here, a close-up of the kitchen island reveals a better look at the intricacies carefully planned and executed by Carlson and fabricators, Northern Stone. The third such "river" stone top is an original pattern designed by Carlson and is a beautiful design success endeavor.
INSPIREDHOMEMAGAZINE.COM INSPIRED HOME | 37 continued on page 38
"I always have discussions, phone time and get-togethers after a lot of projects — in particular, this one — and that's enjoyable." Whenitcame to the interiors, the homeowner had definite ideas. Determined to manage it herself, she chose flooring, cabinets, plumbing, and most of their tile and countertops.
and her attitude — 'For every problem, there is a solution.' We truly appreciate everything she has done for us — her product knowledge, the investment of time and, most importantly, she loves this house as much as we do. You cannot ask for more than that. " Quick wit and mutual respect are still enjoyed by both parties. The homeowner adds, "In fact, we now call it 'our house' as in, it's partly hers, and she has her own set of 'keys to the kingdom.' She's planning several parties to be held here and, luckily, my husband and I are invited. Kris thought it might be awkward to exclude us."   Carlson admits to having fun but takes her job seriously. The furnishings and design are meant to complement the homeowner's way of life. It is meant to speak to who they are and how they want to live and share their home. Carlson knew what was important and her goal was to help create a home that represented them. "They wanted their home to be welcoming to every visitor — be it family, friends, neighbors and friends of friends," she explains. "They love to cook and entertain, serving fabulous wine and cuisine from around the world. They have traveled extensively and wanted home to be a reflection of their cherishedAlthoughmemories."mutualtrust and respect guided all parties on this build, humor and quick wit became a welcomed adhesive throughout the Comfort and quiet is evident in the master bed room. The homeowners are avid world travelers and artifacts from across the globe are personal and represented in many areas of the home. The native American Indian picture seen here is a treasured piece painted by the homeowner's cousin.
38 | FALL 2022 INSPIREDHOMEMAGAZINE.COM HOME SHOWCASE
CONTRIBUTORS ARCHITECTURAL DESIGN: Jon Anderson, Dream Builder Inc., Fargo, ND BUILD: Chris Lindburg, CNL Construction Inc., Detroit Lakes, MN INTERIOR DESIGN: Kris Carlson, designingwomen2 MILL CREEK CUSTOM CABINETRY Terry Braaten, Sales and Design • Classic Concrete, DL, MN • Tweeton Refrigeration and Heating Inc., DL, MN • T and T Plumbing Inc., Menagha, MN • Lund Roofing, Lake Park, MN • Roerick Drywall, Frazee, MN • Mill Creek Custom Cabinets, Moorhead, MN • Valley Landscaping, Fargo, ND • Northern Stone, Fargo, ND Jon Owner,AndersonDreamBuilderInc. Kris designingwomen2Owner,Carlson ChrisOwner,LindburgCNLConstruction Terry Braaten Sales and Design Mill Creek CabinetsCustom INSPIREDHOMEMAGAZINE.COM INSPIRED HOME | 39
His and her bathrooms were personally designed and integrated into the building plans of the new home. Both uniquely different, and both designed to compliment their needs and personalities. entire process. The homeowner shares, "One day I was at Kris' office and she showed me a tile sample that I absolutely loved. I asked, 'Did we always have the exact same taste?' She replied, 'Oh please, we're raccoons, we love anything shiny.' We both started laughing and literally have not stopped ... now we just call each other to be entertained."
I have a feeling the fun is just beginning.
In the homeowner's words, "We feel blessed to have hit the trifecta with the fabulous team of Jon, Chris and Kris, which made the entire process a great deal of fun, with many situations and a million laughs to look back on. Now the hard work is behind us."
40 | FALL 2022 INSPIREDHOMEMAGAZINE.COM Concrete Beauty. 35151 Adams Point Ln Frazee, 218.849.4744MNConcrete Driveways | Garages | Patios | Sidewalks Classic DEDICATED TO PROVIDING PROFESSIONAL, TIMELY AND FRIENDLY SERVICE ROOFING | SOFFIT | FASCIA | SHINGLING | GUTTERS | RESIDENTIAL | COMMERCIAL CALL 701.238.2531 17083 COUNTY HIGHWAY 5 LAKE PARK, MINNESOTA LUND ROOFING
Book your appointment for either location! 714 Lake Avenue, Detroit Lakes, MN Continue to enjoy the convenience of our Fargo Showroom (inside Showcase Floors) 3499 39th Street South, Fargo, ND designingwomen2 Home & Office Interior Design desginingwomen2.com • 701.476.0938 • info@designingwomen2.com Linda Birmingham Kris Carlson Visit our new Detroit Lakes TuesdayShowroom,10:00 - 4:00 Get to know us! LINDA'S PROJECT KRIS'S PROJECT
design 42 | FALL 2022 INSPIREDHOMEMAGAZINE.COM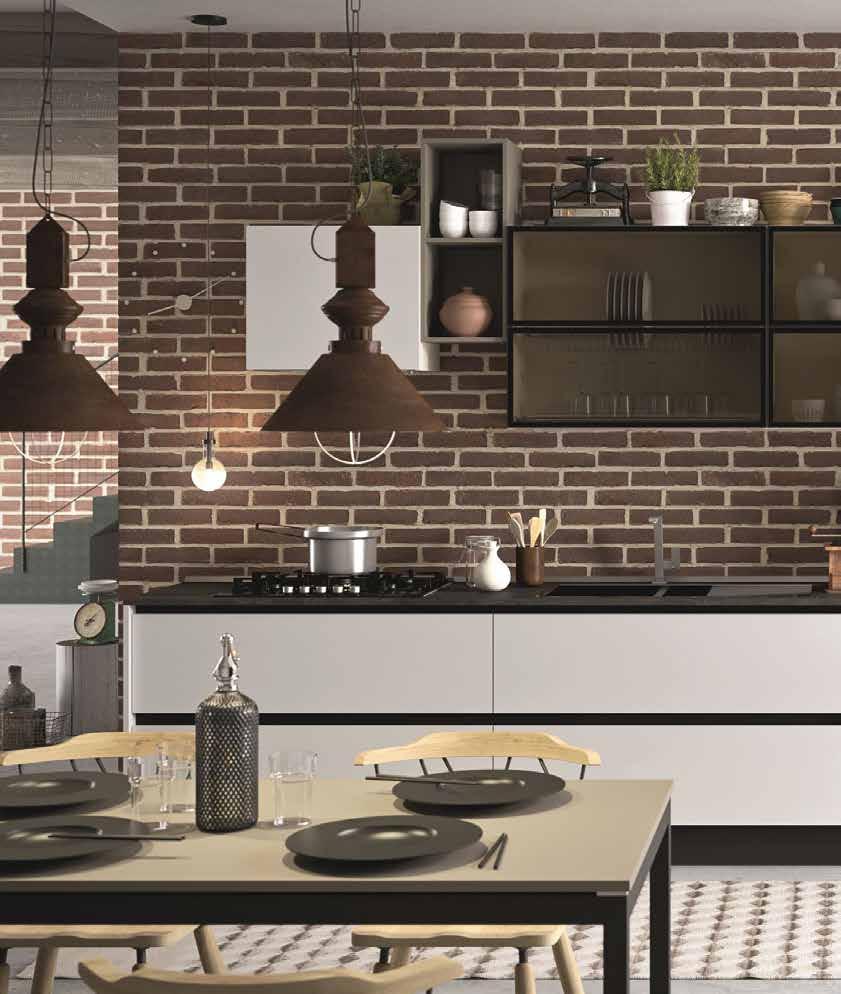 INSPIREDHOMEMAGAZINE.COM INSPIRED HOME | 43 KITCHENS at workBY TERRI FERRAGUT PHOTOGRAPHY BY ARAN CUCINE Metropolitan and versatile, this kitchen incorporates harmony, color, texture, and living practicality for the homeowners.
44 | FALL 2022 INSPIREDHOMEMAGAZINE.COM continued on page 46
e love our kitchens. They are absolute and required. We cook, converse, fuel our bodies and jettison ourselves from there, prepared for the day ahead. They have the power to give our households focus and direction. Regardless of the type of home you live in — large or small — no home is complete without one. As our lifestyles have become faster-paced, we congregate there to work, cook, meet and entertain. Life is lived in our kitchens, and they are being designed to be multifunctional living spaces. More thought is being given to the natural flow of people coming and going from them. Not all kitchens are perfect, however; and we love to imagine creating an ideal one. No matter where you are on the spectrum of culinary expertise, Inspired Home has discovered amazing products and trends you're going to love! BLACK GermanBEAUTYdesign and engineering at its finest. The Grohe Essence® singlehandle dual spray boasts a regular to high-performance spray with 360˚ spout rotation and a flexible hose spout. Available in 11 interchangeable colors. Good looks and power — what else do you need? grohe.com GO FOR THE GOLD Now that faucets are available in a wide choice of colors and finishes, sinks are following, too. Sinks have moved up on the scale of importance in planning your kitchen design. In addition to being purely functional, sinks today make a definitive style statement.
ForAMAZINGgrohe.comFIRECLAYcenturies,fireclay clay has been celebrated for its strength and practicality in European kitchens. Made in Italy by skilled craftsmen, Fiamma® by Ruvati commands respect for its beauty as well as durability. Now Ruvati brings this timeless farmhouse classic to the modern American kitchen. northernstone.com
Enjoy! W 1 2 3123
design
Making your memories beautiful... Serving the community with sustainable & eco-conscious floral design. 402 Demers Avenue, Suite 120 Grand Forks, North Dakota jalennicolefloral.com701.740.2216 FLORAL & EVENT PLANNING Kallod Carpet 2420 S University Drive • Fargo, ND 701.235.7507 laminate | carpet | hardwood | area rugs | tile INSPIREDHOMEMAGAZINE.COM INSPIRED HOME | 45
Inspired by Mid-Century modern art with its contrasting shapes, the Orbel Pyramid® pendant features metal triangles that encompass a frosted sphere of light. Beautiful when displayed in multiples. Available in Aged Brass or Matte Black. techlighting.com
ARTFUL GEOMETRIC LIGHTING
46 | FALL 2022 INSPIREDHOMEMAGAZINE.COM
CONQUER YOUR KITCHEN Epic design and functionality combine to create the Ruvati® epiStage workstation. Messy prep work is a breeze over this sink complete with a solid-composite cutting board, textured finish, portable drying rack with stainless steel bars, and a food-safe silicone grid. northernstone.com
LINEAR SOPHISTICATION
The new Falmec Elle® suction hood wears a sophisticated matte black finish with striking perimeter LED lighting — perfect for prepping on the worktop. Moisture and odors are eliminated with powerful suction and a filtration system combining natural charcoal and zeolite. falmec.com
design 1 2 3 4 1 2 3 4
WONDER WATER Lenova® faucet houses a small ozone generator that naturally produces ozone water. Ozone, a powerful antibacterial agent, destroys harmful micro-organisms on contact —100 times stronger than chlorine, 3,100 times faster. Eliminates salmonella, Norovirus, E-coli and pesticides from fresh produce, hands and surfaces. lenovagroup.com
FUSING COLOR, DESIGN, AND WithTECHNOLOGYcharming
5 6 7 8 65 78 MERGING INNOVATION + FUNCTIONALITY & INSPIRING ELEGANCE To serve you better, appointments are preferred! wendtcustomcabinets.com | 218-227-0440 We've moved! New Address: 2210 26th St S, Mhd, MN
Italian shapes and chrome metal accents, Smeg's nod to the '50s-era aesthetic past is the star of today's kitchen — incorporating current advances in technology for high-powered performance. Shown: Toaster and electric kettle in Matte Champagne. creativekitchen.com
DETAILED CABINETRY
Plaster, glamorous stone and rough concrete are no longer limited to countertops, but instead are making their way to kitchen cabinetry. Sleek, furniture-like cabinetry and the rise of luxurious metals create stunning cabinets, shelving and doors. arancucine.com
GEOMETRY REVISITED A backsplash is just the place to get creative and central enough to get noticed. A backsplash lends itself to playing with patterns and textures without dominating the entire space. Try an artful mosaic, away from a typical square or rectangle to create a dynamic composition. zangerwalker.com
A SEASON OF DRAMATIC STONE
Welcome the trend toward vibrant natureinspired shades from Indian marbles and Brazilian granites to onyx. There's an array to explore like the incredible bottle green, khaki and fresh lime tones in this Marinace green granite, a Precambrian-aged stone from eastern Brazil. stoneholding.com
INSPIREDHOMEMAGAZINE.COM INSPIRED HOME | 47 continued on page 48
shapes,
STATEMENT BACKSPLASH
Like wallpaper, tile can act as artwork. Instead of creating a repeating pattern out of matching individual tiles, try interjecting randomization with complemen tary geometric motifs. The organic and "flawed beauty" of this pattern will add a poetic touch to any room. irisceramica.com A METAL STATEMENT Adding a striking range hood to a kitchen scheme is a perfect way to interrupt the shape and sculpture of all the angular lines of cabinets and tiles in the kitchen. This crafted black metal hood throws a design spotlight on itself and the surrounding horizontal tile. irisceramica.com
1 2 12 48 | FALL 2022 INSPIREDHOMEMAGAZINE.COM DESIGN
MAKE
STAY Yes, it is, and that's especially true for the kitchen. Color is making a powerful statement with bolder hues for cabinetry and integral use of textures including metals, concrete, wood, stone patterns color and dramatic stone veining, as well as interesting slab backsplashes. irisceramica.com
GO FOR GLAZED
433 4 Join our team: EssentiaCareers.org *Not all patients are candidates for joint procedures or robotic technology. Our specially trained surgeons use this technology to personalize the approach to total knee replacement - offering a solution that works for you and your unique anatomy. TO LEARN ORTHOPEDICSMORE:INNOVATIONLIKENOWHEREELSE 701-364-HURT | EssentiaHealth.org WE'RE HERE WITH A NEW WAY TO KEEP YOU MOVING: Robotic technology. INSPIREDHOMEMAGAZINE.COM INSPIRED HOME | 49
COLORwalkerzanger.comISHERETO
A tiled backsplash is nothing new, but consumer interest in gloss over matte is increasing. Glazed tile is easy to clean and will reflect light around the room, with lovely results regardless of color. These glazed clay tiles, with their irregular surface and varying tones, bring texture and artisan character.
GRAND FORKS | MINOT TheAmishGallery.com CALL TODAY! 800-950-8222 STUNNING.IMPECCABLE.AMISH. Old world craftsmanship meets contemporary design. Custom built to your exact specifications. Place your order today.
BETTER MOBILITY FOR LIFE AT HOME INDUSTRY LEADERS IN HOME MEDICAL EQUIPMENT & SERVICE | FAMILY OWNED RESIDENTIAL & COMMERCIAL ELEVATORS | STAIR LIFTS | CPAP SUPPLIES | SCOOTERS WHEELCHAIRS | RAMPS | HOSPITAL BEDS | RESPIRATORY EQUIPMENT 1201 CENTER AVENUE W | DILWORTH, MINNESOTA | 218.359.2122 | CORNERHOMEMEDICAL.COM
LIFESTYLE BY TERRI FERRAGUT BedtimeStoryA 52 | summer 2022 INSPIREDHOMEMAGAZINE.COM52 | summer 2022 INSPIREDHOMEMAGAZINE.COM
BACK SLEEPING – THE BEST? Only a small percentage of us are back sleepers so count your lucky sheep if you are. Back sleeping is good for pain management. It allows your body to rest in a neutral position, which is great for reducing aches. It also cuts down on heartburn, as it keeps your head elevated above your chest. If you are a back sleeper, rest your head on a pillow that's thick — or thin — enough to keep your skull exactly level with your body. This position, however, is not great for snorers. "Elevating the head of the bed may be helpful if someone snores," Dr. Khosla says, adding a word of caution: "Back sleeping can exacerbate an existing condition of sleep apnea." continued on page 54
ou may have purchased every pillow on the market to alleviate an aching neck or had physical therapy to keep shoulder pain in check. Despite supportive mattresses and pliable pillows, you still feel sore and stiff in the morning. According to the Centers for Disease Control in Atlanta, an estimated 20.4% (50 million) of U.S. adults cope with chronic pain every day. While pain can result from many things, "how" you sleep plays an important role. According to experts, it might be time to consider changing the position in which you sleep. Inspired Home spoke with Dr. Seema Khosla, Medical Director at ND Center for Sleep, for some of her thoughts.
SIDE SLEEPING Most Americans sleep on their sides, according to the National Sleep Foundation. While painless for many, it can cause shoulder and hip pain. Right-side sleeping may aggravate heartburn with science proving that lying in that position loosens your lower esophageal sphincter. These involuntary muscles keep acid from rising from your stomach into your throat. Left-side sleeping seems to keep the trap door between the throat and stomach shut, so leftie sleepers are less likely to experience acid reflux. If you are waking up with muscle or joint pain, try these options: Buy pillows thick enough to support the head, taking pressure off your shoulders. Tucking a pillow beteen your knees will support your lower back. Dr. Khosla adds, "If you just can't get comfortable, it might be time to consider a mattress topper or a new mattress. That often allows people to sleep on their side without experiencing hip or shoulder pain."
STOMACH SLEEPERS
Though they're rare, stomach sleepers can experience a world of hurt. Turning the head to one side or another to breathe further increases the possibility of muscle and joint pain. If you're a stomach sleeper, try using a flatter pillow to reduce strain on your neck. Doctors suggest putting a pillow underneath your forehead to elevate your mouth and nose. This allows you to sleep with your face straight down, eliminating that crick in the neck altogether.
INSPIREDHOMEMAGAZINE.COM INSPIRED HOME | 53 Y
lifestyle
54 | summer 2022 INSPIREDHOMEMAGAZINE.COM
A WORD Changing your sleep position may seem odd, but comfort is key. If your current sleep position is working for you, there's no reason to change. If you're in pain or uncomfortable, your sleep quality can be affected. When changing your sleep position makes you feel better, that's great; but if trying to sleep differently starts disrupting your circadian rhythms, it might not be worth changing. In terms of good sleep hygiene, Dr. Khosla reminds us to be intentional about our sleep environments. "Tossing and turning is often due to the inability to get comfortable — it might be worth investing in a better bed because we spend more time in bed than our vehicles — yet spend far less on our sleep space. Oftentimes your mattress will play a role in sleep position. Is it too soft? Hard? Does it make you sink in too much and place your spine out of alignment? Is it supportive enough to allow for side sleep?"
As a side and stomach sleeper, you may still wake up sore. Consider training yourself to sleep on your back. When you're ready for bed, put pillows on both sides of your body and one under your knees. This should hold you in place and keep you from flipping to one side. Dr. Khosla adds an important consideration: "Surgery sometimes forces us to change sleep positions — such as knee surgery, which may force people to sleep on their backs. Sometimes, that's when we see sleep apnea." Be patient with yourself and with the change. If you aren't sleeping well and it's not alleviated by simple measures, a visit to your doctor might be in order to rule out underlying sleep disorders. Questions?
Pay attention to your sleep quality. It is extremely important to your overall health, including your memory, mood and energy.
info@medbridgegroup.comtelemed@medbridgegroup.comPhone:NDCenterMedicalMD,SEEMAContact:KHOSLA,FCCP,FAASMDirectorforSleep,LLCCenterforSleep701.356.3000
Sweet dreams! WANT INFORMATION?MORE
SWITCH YOUR SLEEP POSITION
Seema Khosla, MD, FCCP, FAASM Medical Director
Come visit our showroom to see the latest bath and kitchen trends! Studio® S Beautifully Crafted. Carefully Curated. Envisioning a bathroom that combines contemporary beauty and superior functionality inspired our designers to create the Studio S Suite. Whether a petite powder room or grand master bath, Studio S offers a variety of design options to refresh your space and rejuvenate your spirit. 3333 39th Street South, Fargo | www.BathandKitchenIdeaCenter.com701-282-2309 INSPIREDHOMEMAGAZINE.COM INSPIRED HOME | 55
ONE-STOP SHOPPING! Locally LinensBedPillowsMattressesOwnedBases OFFICIAL SLEEP SPONSOR AT NDSU ATHLETICS NOW! Sale On MEET THE TEAM
HOW DID YOU SLEEP LAST NIGHT? You're going to withsleepingloveus! Shop mattresses,exclusiveourpillows,andlinens 4360 13th Avenue South (Across from Olive Garden) • Fargo, ND 701.532.2438 • accordsleep.com WHO ARE HeadquarteredWE?inFargo, we are a locally owned, North Dakota, 3rd generation family business focused on the quality of your sleep. WHY SHOP ACCORD SLEEP SYSTEMS? We handcraft each of our products to specifically cater to each type of sleeper. We offer customizable sizes and a 60-night sleep guarantee! Find the perfect fit for your budget and your body! Features & Benefits
Some may have concluded that North Dakota is nothing more than flat fields and empty spaces. However, tucked along the Sheyenne River Valley you will find stately wooded forests, gently rolling hills, graceful golden prairie grasses, numerous rippling bodies of water, and panoramic views from high points that tower over the surrounding landscape. These lakes, ponds, and sloughs, are home to a wide variety of birds, including cackling geese and the lonely coo of the mourning dove.
DakotaWanderlust VICE-PRESIDENT,GRUCHALLA,DAKOTA
travel
BY RENNAE
PRAIRIE CHAPTER, AND NORTH COUNTRY TRAIL LONG-DISTANCE HIKER TRAVEL
58 | FALL 2022 INSPIREDHOMEMAGAZINE.COM
INSPIREDHOMEMAGAZINE.COM INSPIRED HOME | 59 continued on page 60
The beautiful red sumac is seen along the North Country National Scenic Trail near Kindred, North Dakota.  These are the melodies and images of nature, beautiful to the ears and eyes. I've witnessed these natural wonders and learned the history of North Dakota while hiking on the North Country National Scenic Trail (NCT). These sights and sounds fill my heart and soul with peace and joy. The NCT is one of 11 National Scenic Trails in America. It enters our state from Minnesota, where it crosses the Red River near Fort Abercrombie. It reaches its conclusion at Lake Sakakawea State Park, 475 miles to the northwest. This is not only the end of the trail in North Dakota but also the Western Terminus of the entire 4,800-mile national trail. This trail is the longest of all the National Scenic Trails and is located right here in our state. How fortunate we are to have this natural wonder pass through our own backyard. I hiked the entire 475 miles of the NCT in North Dakota when I participated in the Dakota Challenge. On this trek, I experienced a combination of awe and gratitude at the beauty of my state. During a hike, when turning around PHOTOGRAPHY BY DAN KOECK, TOM MOBERG, AND GERRY BERG
to view the scenery behind me, I saw the meandering ribbons of the trail as it cut through the hills and valleys. The trail made its way through native trees displaying blazes of red, orange, and yellow against the bird-egg blue sky. What a beautiful scene that was! I encourage you and your family this fall to go for a hike on the NCT and experience the picturesque sites hidden away in North Dakota.TheNorth Country National Scenic Trail features a wealth of natural, scenic, cultural, and historic sites as it passes through eight northern-tier states, from North Dakota to Vermont. The Western Terminus is located at Lake Sakakawea State Park in North Dakota and the Eastern Terminus is in Vermont, where it meets the Appalachian Trail. By beginning your hiking adventure in North Dakota and connecting to the Appalachian Trail in Vermont and continuing to Georgia, you will have reached a total of 7,000 miles. It's an amazing challenge.
MOBERGTOMBYPHOTO
KOECKDANBYPHOTO 60 | FALL 2022 INSPIREDHOMEMAGAZINE.COM continued on page 63
A group of hikers is seen hiking on the NCT at Biesterfeldt National Historic Landmark.  A Cheyenne Tribe once occupied this site from 1726-1780.  Hikers trek on the trail at what is commonly called "The Big Ditch" located near Kindred, North Dakota.
The Dakota Prairie Chapter, which is the chapter of the NCT that extends 100 miles from Abercrombie, North Dakota, to the Sheyenne State Forest near Fort Ransom, travel
The North Country Trail etches a path through a patch of red sumac. MOBERGTOMBYPHOTO SPONSORSHIPS NOW AVAILABLE. CONTACT JODY HUDSON JODYH@RACCFM.COM TICKETS AND TABLES: bidpal.net/hmf22 PROCEEDS BENEFIT MORE THAN 3,000 CHILD AND ADULT SURVIVORS SUPPORTED BY RACC AN EVENING FILLED WITH WINE TASTING, FOOD, SILENT AUCTION, AND FUNDRAISING Hiking trails in North Dakota is a beautiful experience that everyone should experience. INSPIREDHOMEMAGAZINE.COM INSPIRED HOME | 61 INFORMATION Want more information on National Trails Day, June 3, 2023, or on great hiking areas in North Dakota? Contact Rennae Gruchalla at rgruch@aol.com with your name, email address, and phone number to sign up for the National Trails event or more North Dakota hiking information.
PHOTO BYBY TOM MOBERG
Rennae
62 | FALL 2022 INSPIREDHOMEMAGAZINE.COM
The blue blazes on the tree indicate which direction a hiker should turn. The higher blue blaze indicates a left turn ahead. Gruchalla sits and smiles as she takes a break during a grueling hike on the NCT.
travel
GERRY BERGPHOTO
•
To have FUN! We'll see you on the trail!
North Dakota. This event will take place on National Trails Day, June 3, 2023. Our mission is to engage enough participants to hike the entire 475 miles of the NCT in North Dakota in a single day. We hope to have hundreds of people out on the trail with that goal in mind. Participants can hike one to ten or more miles, whatever they choose or more — as many as you would like. We'd like to involve as many hikers as possible. Why? Here are five great reasons.
•
•
MOBERGTOMBYPHOTO Landscape Design Installation of Trees, Shrubs and Perennials Rock and Mulch | Sod Maintenance Plant Care & Health Consulting Hardscape Achieve Beautiful Gardens with tips from Master Gardener, Tony Randall FREEWest701.476.0491CallESTIMATESTonyFargo,ND See our work at tony@gardenprofm.comgardenprofm.com years! Celebrating 20 406 Broadway North, Fargo. ND glasswareShop701.282.0421stabo-imports.cominstoreoronline.|linens|woolens | rosemaling | traditional bakeware | cook books Velkommen til Stabo! The beauty of Scandinavia awaits you. INSPIREDHOMEMAGAZINE.COM INSPIRED HOME | 63
To help citizens become healthier, both mentally and physically, by immersing themselves in nature and participating in physical activity.
The North Contry Trail cuts a path tthrough the beautiful Fort Ransom State Park.
• To connect hundreds of hikers on the NCT all in one day for a common goal.
To help us accomplish the goal of "Hiking Every Mile" across our beautiful state.
• To educate North Dakotans that it is an honor to have one of America's 11 National Scenic Trails right here in our state.
Stone is our World 3002 39th Street South, Fargo ND • 701.364.0940 • stoneholding.com Sioux Falls, SD 605.213.3330 Monday-Friday 9:00-5:00 Saturday by Appointment Only Fargo, ND 701.364.0940 Monday-Friday 9:00-5:00 Saturday by Appointment Only Twin Cities, MN 952.697.3405 Monday-Friday 9:00-5:00 Saturday by Appointment Only St. Cloud, MN 320.251.1540 Monday-Thursday 8:00-4:30 Friday 8:00-3:00 Nature's Finest Sarah Dolyniuk Fargo Showroom Lead We are now distributors! Vanity Sinks | Enameled Cast Iron Stainless Steel | Neoroc
ow that the trick-or-treat, Jack-o'-lanterns, pumpkin spice lattes and pumpkin pie season is upon us, it is time for winter squashes and that great orange field pumpkin to take center stage at farmer markets.
Most think of the great pumpkin as having the starring role. But it is also time for the other delicious squashes (yes, pumpkins are squash) to replace those thin-skinned zucchinis and yellow crooknecks with meaty, sweet butternut, nutty acorn and kabocha winter squashes.
66 | FALL 2022 INSPIREDHOMEMAGAZINE.COM 'TIS PUMPKINSEASONTHEOFTHEGREAT
N
Bright and bold pumpkins come with romance and mystery. A carriage for the beautiful Princess Cinderella and the head of the rider in The Legend of Sleepy Hollow. They entertain us at giant pumpkin festivals with some weighing in at a thousand pounds and others at "Chunking" competitions where pumpkins are shot through the air from makeshift catapults with distance being the goal. Cucurbita is the genus of all squash covering five common species: Maxima, Hubbard, Lakota, buttercup and winter, wherein lay the 45 distinct types of winter squash. The summer squashes yield tremendous crops in a brief period of time, as anyone who has grown zucchini will tell you. Winter squash and pumpkins are different and they take longer to produce finished fruit. Squashes like tomatoes are not technically a vegetable but a fruit. It takes up to 100 days for the thick, heavy rind to form, protecting the flavorful meaty pulp inside. Even with a heavy rind, a good majority of winter squash rinds can be eaten as well as its prolific number of seeds. BY GRANVILLE WOOD on page 69
cuisine continued
A hearty fall meal, Mexican pork stew with butternut squash. INSPIREDHOMEMAGAZINE.COM INSPIRED HOME | 67
68 | FALL 2022 CHEESELONGJARRAHDALEBUTTERCUPMARINAKABOCHASQUASHACORNSQUASHDICHIOGGIAPUMPKINHUBBARDSQUASHFAIRYTALEPUMPKINSQUASHPUMPKINISLANDPUMPKINBUTTERNUTSQUASHQUEENSLANDBLUEPUMPKIN cuisine
Open
Hot Summer Day by Beverly Benda, Acrylic 2022
Rosebud by Barbara WatercolorBenda,2022
Narrow is the Gate by Barbara Benda, Acrylic 2022
October
I See Farmthe by WatercolorBarbaraBenda,2022
November
Of my three favorites, I find butternut the most versatile, readily available and easiest to use. Butternut, with its long "neck," yields a bounty of firm, nutty meat that when roasted becomes sweeter with a luxurious silky texture. This soft pulp is perfect for blending along with a few other ingredients to make a beautiful warming soup for cool autumn days. Mashed and seasoned, it makes for wonderful ravioli, or have it boiled and finished with butter and sage leaves. My chef friend Enrico Ravelli from Locarno, Switzerland, turned me on to that simple ravioli years ago and it has become a family favorite
It would seem pumpkins should be our national treasure and ours alone, with Hallows Eve and the all-American pumpkin pie. We share this ancient earliest domesticated crop with countries far and away. Australia, France, Hungary, Mexico and Japan all cultivate their regional favorites. Australia has the Jarrahdale, along with the Queensland Blue, a flavorful heirloom boasting a blue outer shell with a creamy pale-yellow inner pulp. The French have Marina di Chioggia and the Japanese have the cross-pollinated kabocha, one of my favorites, along with Mexico's calabaza. Here it is easy to find popular varieties such as butternut, acorn, delicata, Long Island cheese and another chef favorite, fairytales. All squashes share a few common characteristics. They are chock full of vitamins, minerals and fiber. They are a superfood and can be cooked in a variety of ways. Roasted, baked, pureed, boiled and added to soups and stews. Their seeds make a great antioxidantfilled snack or give additional texture in salads and soups. I like to use butternut squash for soup, ravioli and hummus. Kabocha and calabaza are excellent in stews or braises and, of course, fairytales for pies and cakes.
Double Trouble Gallery
Fall Event and Classes Calendar 1-2, 12-6 pm Studio Crawl, Mourning Dove Studio, 809 20th Street North, Moorhead, MN/ Hourly demonstrations 2 and 16th "Seeing Things Differently" Sketching I and II Classes through Moorhead Community Education
Double Trouble by Mondayappointment-Saturday
For updates and to sign up for e-letter, go to www.barbarabendanagle.com
Breadbasket by Barbara Benda, Acrylic 2022
Double Trouble Gallery offers original watercolors, acrylics, and mixed media collages by professional artist and educator Barbara Benda and twin sister Beverly Benda. This unique home-based gallery features affordable and uplifting art for your home or business. To make an appointment to shop the gallery, call 218-443-1126 or email: barbara@barbarabendanagle.com
INSPIREDHOMEMAGAZINE.COM INSPIRED HOME | 69
— LINUS " " continued on page 71
809 20th Street North, Moorhead, MN www.barbarabendanagle.com
GALLERY
There are three things I have learned never to discuss with people — religion, politics and the Great Pumpkin.
MEXICAN PORK STEW WITH BUTTERNUT SQUASH
70 | FALL 2022 INSPIREDHOMEMAGAZINE.COM cuisine
3 poblano peppers, charred and peeled*
6 garlic cloves, smashed, peeled and coarsely chopped
½ lb. fresh tomatillos, husk removed and cut into quarters
1 lb. butternut squash, skin removed and cut into 1-inch dice
1 28 oz. can plum tomatoes, diced
1 cup fresh orange juice
2½INGREDIENTS:lbs.boneless pork butt, cut into 2-inch cubes
1 cup cilantro, coarsely chopped
BraiseMETHOD:inoven or slow cooker. Char poblano peppers over an open flame or under a broiler on high. Char all over. Cover loosely with a kitchen towel until cool to handle. Rub off skin and remove seeds. Rinse under cold water, if necessary, to eliminate seeds. Cut into medium-sized pieces. Heat ¼ cup vegetable oil on high in a heavy pot with lid and brown pork on all sides. Add onion, red peppers, garlic and jalapenos. Lower heat to medium and soften. Stir in poblanos and chipotle chilies. Add tomatoes, orange juice and stir well. Add tomatillos and butternut squash. Add enough water to just cover. Bring to a simmer. Cover with the lid and place in 350-degree oven and braise for 2 hours. Remove. Add salt to taste and stir in cilantro. Serve with warm flour tortillas.
2 chipotle chilies in adobo sauce, chopped
2 red peppers, seeded and cut into large dice
1 large yellow onion, peeled and coarsely chopped
INSPIREDHOMEMAGAZINE.COM INSPIRED HOME | 71 We are a coffee & food experience - the perfect place to chill with friends or meet for business. • coffee & tea drinks • homemade pastries • breakfast•lunch EXCITING NEWS! OPENING SOON Babb's 2nd location at the Historic Ford Building 505 Broadway. 604babbscoffeehouse.com701.271.0222MainAvenue,Fargo, ND The best coffee in town! FALL 2022 CLASSES STARTING! Oil Painting: Sept.10, Oct. 8 & Nov.12 Decoupage & Transfer: Sept. 24 Furniture Painting: Oct. - To be announced. r HOME DÉCOR r FRESHLY DESIGNED FURNITURE r CUSTOM PROJECTS WELCOME r WISE OWL PAINT AND REDESIGN PRODUCTS r PAINTING CLASSES 3301 13th Ave South, Suite 102, Fargo, North Dakota 701.200.5029 vintagegypsyllc.com ever since. Sometimes the simplest recipes are the Whenbest.itsouter rind is peeled and cut into large chunks, it works well in long-braised dishes like my Mexican Pork Stew. I use the term large chunks — unlike its counterpart, calabaza, which tends to break down during slow cooking, adding a whole new dimension to the dish. That silky sweetness plays a good counterpart to the chilies and mild heat of the stew. Served with warm flour tortillas on the side, you will be hard pressed to find a more satisfying hearty dish. As we gather for the fall harvest, it is time to cook and relax. Be bold and make a large pot of my braised pork stew. It takes time but what else are you going to do on a blustery autumn day, rake leaves? CALABAZZASQUASH
Whether you're just starting out in the kitchen or aiming for a spot on the Food Channel Network, using the right tools can make your culinary creations better. INTRODUCING Emile Henry ceramic cookware – It's a family matter. From the young French potter Jacques Henry in 1850 to Emile, six generations have passed the torch from father to son, each driven by two passions: ceramics and home cooking. Deep in the heart of Burgundy, France, there is a small French town of Marcigny, home to people who have long shared a passion for ceramic and home cooking. Proud to be a part of a multi-generational legacy, driven by strong convictions, you can now also experience this artisan family-quality cookware tradition.
Kitchen Smarts
The Emile Henry Tagine makes it easy to prepare a variety of tantalizing Moroccan meals. The tall, conical lid locks in aromatic steam and continuously bastes cooking foods in their own juices. Available in Charcoal, Figue, Burgundy, and Ocean.
» Resists chipping, cracking, and scratch cheese Baker
This incredibly versatile baker creates groupsized portions of everything from casseroles and baked pasta to brownies and fruit cobblers. Vibrant, colorful exterior for oven-to-table presentation.
» Expertly fired with 100% food-safe glazes
The beauty and performance of this iconic pie dish elevate pie baking from ordinary to extraordinary as it insulates and evenly distributes heat during baking. The graceful ruffled edge is inspired by vintage French bakeware. Pizza stone, 16" Finished with Emile Henry's proprietary glaze, this pizza stone produces perfectly crispy crusts and doubles as a cutting surface. It withstands exceptionally high heat it may be used in the oven or on your grill.
» Extraordinary thermal shock properties allow bakeware to go from the broiler to microwave to freezer.
West Acres Mall, Fargo, www.CreativeKitchenFargo.comND
WHY CHEFS CHOOSE EMILE HENRY BAKEWARE
Made in France since 1850 of high-fired Burgundy clay. Oven, broiler, and microwave safe and can go directly from freezer to oven, to table. Dishwasher safe. Bake and serve cheese- Perfect for Brie, mozzarella or goat cheese. Mini Pie dish Great for baking classic apple pie to savory dishes. Burgundy clay's superior heat conduction ensures gentle, even cooking and beautifully browned crusts. Perfect size for two. square dish, 9" x 9"
rectanGuLar BakinG dish
Limestone-rich Burgundy, France, clay-fired ceramics bake evenly and slowly diffuse heat to the center of bakeware.
» Superior heat retention properties keep food hot on your table.
»
Extremely durable, use for everything from layered casseroles, gratins, fruit crisps, side dishes and more. Shaped from Burgundian clay, which absorbs, distributes, and retains heat evenly so contents cook and brown to perfection.
» Cleaning is easy and they are dishwasher safe.
701.282.8694 LeGrande, 12" Pie dish
74 | fall 2022 INSPIREDHOMEMAGAZINE.COM ingredients
get a lot of inspiration for baking by looking out my windows. In summer, the flower gardens are in full bloom and the vegetables are ripe for picking. Pops of peach from roses, the pink hues from cosmos and bursts of bright red from tomatoes surround me. Since I started gardening, I've always incorporated lavender. It is great for pollinators, color, long blooms and its intoxicating smell when the breeze blows it just right. In late summer, I enjoy harvesting and drying my lavender to use in candles and soaps. Incorporating it dried, into my baking, is a perfect way to enjoy the fragrant floral days of summer well into the fall and winter seasons.
LAVENDER continued on page 76
INSPIREDHOMEMAGAZINE.COM INSPIRED HOME | 75
If you don't have dried lavender, don't let that stop you! You can purchase dried lavender online, at specialty stores and in grocery stores. This cake is simple to make. My favorite component about this cake (besides the lavender) is the dried figs, mostly their seeds. The fig itself is chewy and the seeds add a delicious crunch. One baking tip for chopping the figs is to first coat them in flour. This will help keep the figs from sticking together (and on your knife)
STORY AND PHOTOGRAPHY BY LAUREN FERRAGUT CARLSON I For the Love of
Lavender is simple to process. Just after this year's bloom, I harvested the stems, rinsed them well, and hung or laid them flat to dry. That's it! It will only take a couple of days, depending on the humidity. My favorite way to use this fragrant natural flavor is in fig and lavender cake with goat cheese frosting.
Native to western Asia and the Middle East, figs commonly found dried, are delicious when eaten fresh. They are packed with vitamin A, C, calcium, iron, potassium, and
ingredients
2 large eggs, separated ²∕ ³ cups whole milk 2 cups all-purpose flour 2 tsp. baking powder ¼ tsp. salt 6 or 7 dried figs, dusted in flour and 1choppedTbsp. crushed lavender
There are several options I have tried when baking. I have used loaf pans, round cake pans, and cupcake pans – all work perfectly. Goat cheese frosting is the crowning glory.
FIG AND LAVENDER CAKE WITH GOAT CHEESE FROSTING
In another bowl, mix flour, baking powder and salt. Alternating with the milk, add dry ingredients to the butter mixture. Beat well. Whip egg whites until stiff peaks form. Fold gently into the cake batter until well incorporated.
softened
Line a 9-inch cake pan with a parchment round. Butter and flour. You can also spray well with a baking spray. This recipe also makes about 12-15 cupcakes. Bake at 350 degrees F. for approximately 40 minutes or until golden brown. One baking tip for chopping figs is to first coat them with flour to prevent them from sticking together. This will also hinder the figs from sinking to the very bottom of the baking pan.
when you chop them. It will also hinder the figs from sinking to the bottom of your cake batter.Thefrosting for this cake is similar to cream cheese frosting but one level up because I use goat cheese. It is the perfect blend of tang and sweetness. I like the frosting to be soft.
page
½INGREDIENTS:magnesium.cupsaltedbutter,
1 cup granulated sugar
BeatMETHOD:softened butter with sugar until pale yellow, 2-3 minutes. Add in egg yolks and chopped dried figs.
76 | fall 2022 INSPIREDHOMEMAGAZINE.COM
It is somewhere between a frosting and a very thick glaze. You can dollop it on top of the cake, smear it over to the sides and let gravity take over. If you like a thicker frosting, you may add more powdered sugar and omit the tablespoon of whole milk. The texture is soft and almost pillow-like, thanks to the addition of the beaten egg white, which you gently fold in at the end just before baking. This cake does not require a special occasion to be made. It is a humble cake with a sophisticated twist. The fragrant flavor of a summer garden, all year long. continued on 78
INSPIREDHOMEMAGAZINE.COM INSPIRED HOME | 77 CHECK OUT MELISSABUTCHEREVANS'S LOCALLY SOURCED BEEF FOR YOUR NEXT BARBEQUE!SINKYOUR TEETH INTO THIS! 2103 5TH AVENUE NORTH MOORHEAD, SHESAIDBUTCHERSHOP.COM701.219.8142MINNESOTA FIRST AREA FEMALE BUTCHER LOCALLY SOURCED BEEF WEEKLY BUNDLES ONLY $30 BUILD YOUR OWN ONLY $25 BUY BY THE POUND 4th Street East & Main, West Fargo, ND 701.281.1539 | hildebrantfarm.com "For 38 years, the Hildebrant family farm has proudly served the FM area with fresh, naturally grown fruits, vegetable and flowers." — Trina Hildebrant Kalm, third generation farmer naturallyfresh Hildebrant Farm
Lavender is a bushy, lovely-scented perennial plant that originates from the Mediterranean. Prized for its fragrance, medicinal properties, and beautiful color, lavender is a valued plant across the world. We associate lavender with its fragrance and color, but the essential oil derived from the flower provides a multitude of purposes. The fragrant oil has antiseptic and anti-inflammatory properties and can be used as a natural mosquito repellant. The sweet overtones of the oil are desired for fragrances, balms, salves, perfumes, and cosmetics. For culinary applications, its notable taste of lemon and citrus notes is highly desired as a spice for teas, pasta, salads, dressings, and desserts. The flower buds, processed by bees, are an essential ingredient in honey. Lavender flowers yield abundant amounts of nectar, from which bees make high-quality honey. A member of the mint family, lavender is also cultivated as an ornamental plant to be enjoyed in our gardens. An added benefit? Its fragrant addition to our landscapes provides a strong attraction to pollinators.
78 | fall 2022 INSPIREDHOMEMAGAZINE.COM
THE FROSTING: ½INGREDIENTS:cupsalted butter, softened 8 oz. plain goat cheese 1 vanilla bean, scraped (or 1 tsp. vanilla extract) 1 Tbsp. whole milk 2-4 cups powdered sugar ¼ tsp. WhipMETHOD: saltbutterand goat cheese together with vanilla bean until smooth. Add in milk, powdered sugar and salt, and beat until fluffy. Add more sugar if you prefer a thicker frosting. Dollop and smear on top of the cake. What is Lavender? ingredients 3 minutes south of We Fest on Hwy. 59 Detroit Lakes, Minnesota 218.847.BEER (2337) I 218.846.WINE (9463) www.7sistersspirits.com FREE 5 lb. bag of ice with purchase Expires November 30th, 2022 WineTime!
INSPIREDHOMEMAGAZINE.COM INSPIRED HOME | 79 WE WHATLOVEWE DO! • FAMILY BUILT & FAMILY RUN • CRAFTSMANSHIPCUSTOM • LOCALLY OWNED • millcreekfm.com218.284.0400Moorhead,2828TECHNOLOGYSTATE-OF-THE-ART24thAvenueSouthMinnesota Make a beautiful Statement SalesBRAATEN,TERRY&Design
INSPIRED BY DESIGN... BUILDING QUALITY WITH INTEGRITY FOR OVER 35 YEARS POSSWOODWORKS.COM Craftsmanship Innovation Excellence 3211 Fiechtner Drive Showroom, Fargo, nD 701.478.7238








Countertops | Fireplaces| Windowsills| Showers GRANITE & QUARTZ Unique Designs y Stunning color selections in granite & quartz y Stock stone inventory selection and remnant inventory viewable from our website y In-stock sinks for kitchen, laundry and bath vanities y Countertop service & repair 1126 Main Avenue W, West Fargo, ND (NE of the Red River Valley Fairgrounds) NorthernStone.com | 701-297-2255 Convenient Location! --––––-–––––––
Bonanza Cabernet Sauvignon
Rowen Red Blend
valleylandscaping.com701.232.7782North Landscape Landscape Design CommercialResidentialInstallation perfection Est. 1996
An extension of the Caymus wine family, winemaker Chuck Wagner sources fruit from their most underrated vineyards across California. Rich and fruity, leading with plums, blackberries, and blueberries, this wine is consistently smooth and dependable. It's great all by itself and it pairs perfectly with any slow-cooked meal. Curl up with this incredible wine, your favorite movie, a piece of great chocolate, and enjoy.
This Bordeaux blend exemplifies all the best juice that Rodney Strong Vineyards of California are known for producing. This wine is earthy but does let through some of that flirtatious, rich juice that makes it known that it hails from Sonoma County. It is a perfect pairing for rib-eye, but it also shows incredibly well with a nice lamb stew. 4401 12th Avenue
Chelsey Malstrom, Seven Sisters Spirits, Detroit Lakes,
82 | fall 2022 INSPIREDHOMEMAGAZINE.COM
Minnesota Wine WisdomCheers!Chelsey Malstrom
KOCHMANN BROTHERS HOMES, INC www.kochmannbros.com701.235.2525 3209 Fiechtner Dr., Fargo, North Dakota We'll build your refuge as if it were our own. Custom Homes • Lake Homes • Remodeling
SERVING THE LAKES AREA FOR OVER 30 YEARS www.bhhmn.com | 218.346.4505 Distinctive Commercial & Residential Design SERVING THE LAKES AREA FOR OVER 29 YEARS www.bhhmn.com | 218.346.4505