Best Steak Best Chef Best Wait Staff Best Steak Best Chef Best Wait Staff Same Day Call Ahead Seating
We know real trust can't be bought. It's hard to earn and even harder to keep. You're trusting us with your future and the future of your loved ones – and we don't take that responsibility lightly. You need an advisor, someone who shares your values and understands the magnitude of what's most important to you. Commerce Trust Company has a team of advisors and in-house resources who help you achieve your personal and financial goals through comprehensive wealth management, investments, and planning services.
Contact a Commerce Trust Advisor today. Lyle Johnson - 573.886.5275 commercetrustcompany.com Commerce Trust is a division of Commerce Bank. Investment products: Not FDIC insured – May lose value – No bank guarantee. © 2022 Commerce Bancshares, Inc. A DIFFERENT KIND OF TRUST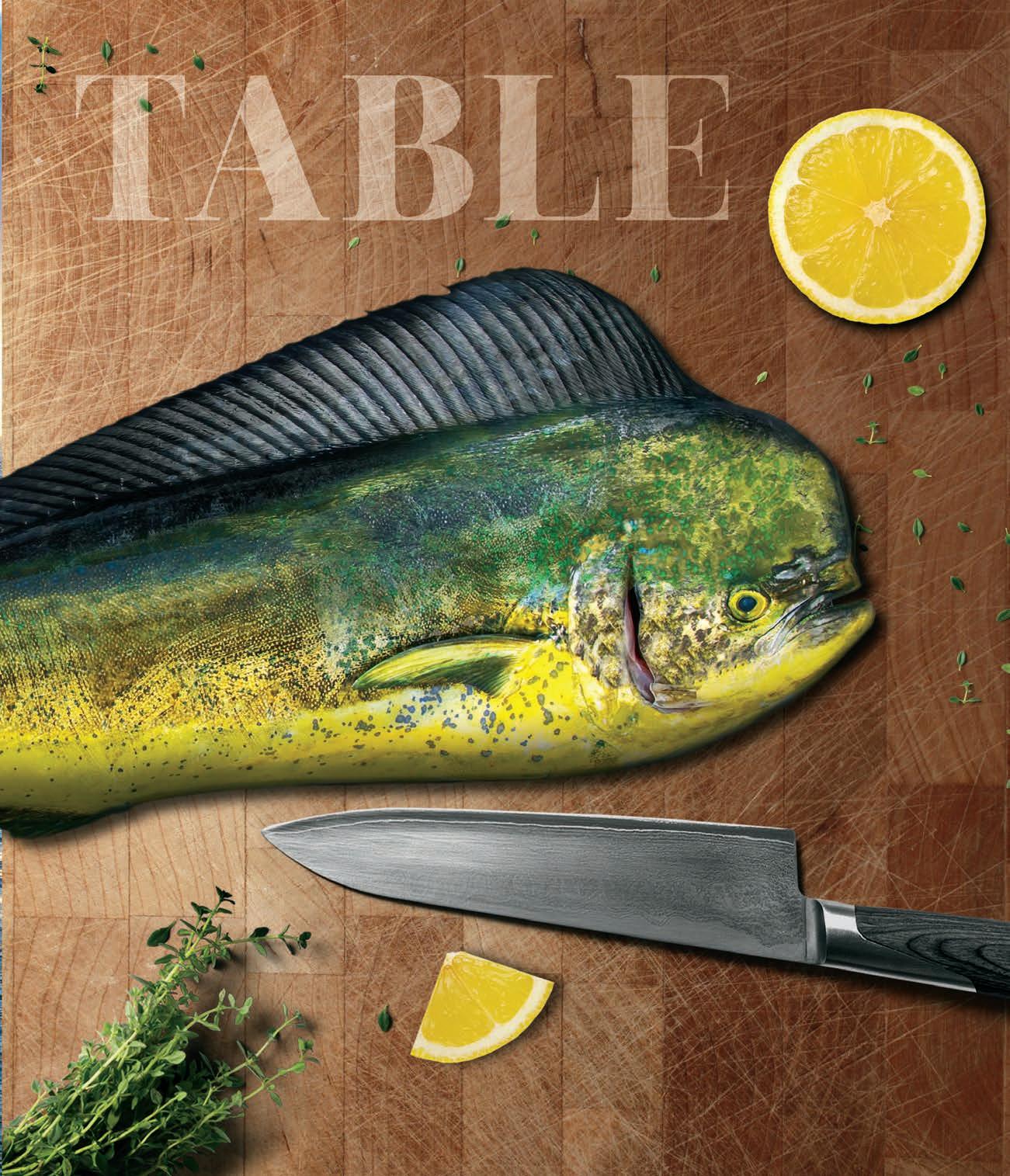 8 INSIDE COLUMBIA DEC/JAN 2023
Chris McD's seafood program starts with a weekly call to "Hawaii Mike," the restaurant's supplier in the islands. As boats arrive in the islands, "Hawaii Mike" lets owner and head chef Tyler Spurgeon know what's available.
After making his selections, Spurgeon begins constructing a dish around each fish, keeping in mind fresh, seasonal produce to incorporate.
The selected fish are packed on ice and overnighted to Columbia to be served on the nightly menu.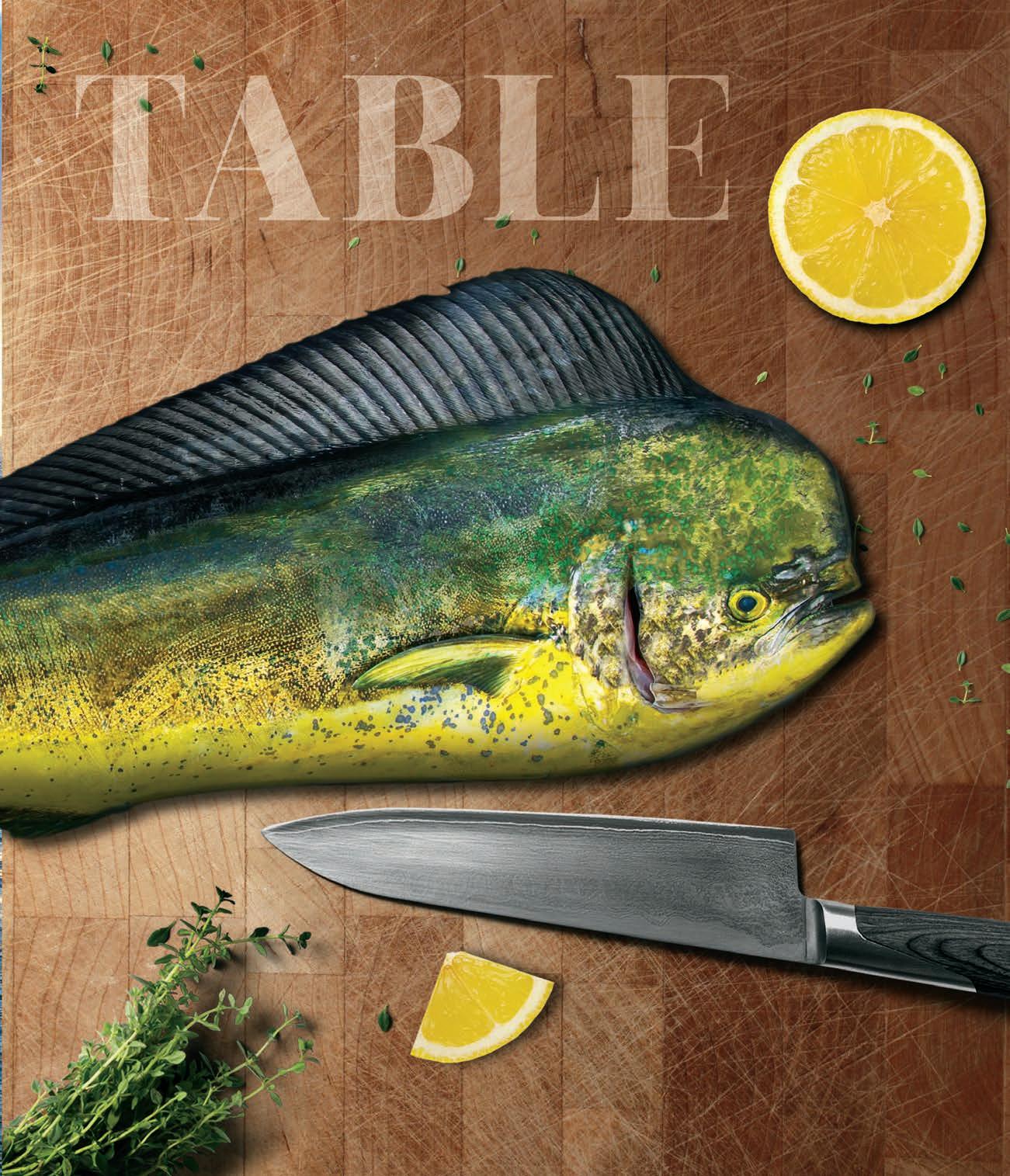 All fish specials at Chris McD's are truly fresh, being grabbed right off the boat and quickly transported to the restaurant, arriving the very next day.
The variety of fish used allows customers to try native Hawaiian species they may not be able to try otherwise without a visit to the islands themselves.
Grilled Beef Tenderloin Filet
There's a reason Chris McD's has become known as a destination for the ultimate dining experience, and that goes beyond the food itself. It's the dedication of the staff, both front and back of house, to providing guests with the absolute best experience.
Front of house staff members learn every item on the menu, from taste to preparation to suggested wine and drink pairings, giving each the knowledge to guide customers through the flavors, textures and profiles of every dish.
Back in the kitchen, the staff creates each dish from scratch using only fresh produce and amazing proteins, making everything to order. Every ticket includes course breaks, which means that as a guest is finishing a salad or appetizer, the server will go back to the kitchen to have the next course started. This process ensures that food is served hot and fresh, instead of sitting in a window waiting to be served. It's why owner and head chef Tyler Spurgeon would say his cooks are better than most. "There are no shortcuts to how we cook," he says. "Everything we do is by the book and executed to perfection, or it doesn't touch your table."
The end result is exactly what you'd expect from the lifetime of culinary experience and excellence of Chris McD's namesake and founder, Chris McDonnell, and why the restaurant is always packed. "We have developed a family here where everyone is on the same page," Spurgeon says about the Chris McD's staff. "Everyone works together so well here because we look out for and take care of each other, which makes it an amazing place."
Plan your visit today and find out what the ultimate dining experience can bring.
Chris McD's Warm Spinach Salad
Tossed in a bacon sherry vinaigrette with candied walnuts and apple wood smoked bacon.
Ahi Poke Napoleon
Made with sushi grade Ahi tuna and layered with crispy wonton chips.
Split Roasted Amish Chicken
Served with pan seared new potatoes and grilled asparagus, as well as an amazing white wine sugar garlic demi-glace. The sauce makes the dish!
Grilled Beef Tenderloin Filet
Served with sauteed rock shrimp and asparagus tips in a gorgonzola cream sauce. A local favorite!
Faroe Island Salmon
A beautiful and much nicer cut than anything found in stores and accompanied with Chris McD's famous garlic cream potatoes and fresh vegetable of the day. It's a dish that has brought people back to Chris McD's for more than 30 years! Faroe Island Salmon
CHECK OUT THE ULTIMATE DINING EXPERIENCE FAVORITE DISHES FROM CHEF/OWNER TYLER SPURGEON (573) 446-6237 1400 Forum Blvd, Columbia, MO chrismcds.com
13 features DINING WITH DOGS FIND THE PERFECT SPOT TO ENJOY WITH YOUR PUP. DISTINCTLY DELECTABLE TIPS TO MAKE YOUR HOLIDAY COOKIES STAND OUT features Inside Columbia CONTENTS 74 70 STAY TOASTY ACCESSORIES TO KEEP YOU CUTE AND COZY WHAT TO DO THIS WINTER THE SNOW DAY LIST FOR COLD WEATHER FUN 60 GOOD TIMES ROLL CHECK OUT SOME OF OUR FAVORITE LOCAL SPOTS 64
INSIDE COLUMBIA DEC/JAN 2023 15 In every issue OM THE EDITOR njoy a Healthy Sweet Treat xplore Columbia 100 Different Ways ting Up a New Location TH & WELLNESS ve a Holly, Healthy Holiday OBINSON'S RAMBLINGS oving Through Mid-Missouri's Museums 47 WEDDINGS Columbia Couple Ties the Knot 48 ULTIMATE WATCHLIST Sit Back, Relax and Stream Flavor 122 DINING OUT A Fresh Start at the Old Neighborhood Cafe 124 F OUGERE'S FAVORITES Mix Up the Perfect Party Snack 128 C OOKING WITH BROOK Finding the Sushi Fit for You 133 COCKTAIL A Wistful Winter Warmer Views 139 DUELING DJS 141 ON THE TOWN 151 A NEW VIEW 152 DARKOW DRAWS 154 THE FINAL WORD Dec/Jan 122 47 CONTENTS