A Magazine That Highlights "All of Us" KULANU January/February 2023 Tevet/ Shevat ~ Shevat/ Adar 5783
At a Glance: January & February Highlighted Calendar of Events
View our most up-to-date calendar on the IHC website at ihcindy org
Tot Shabbat-Tu BiSh'vat Friday, February 3 at 5:30pm
A family-friendly service for our youngest friends that is interactive with themed activities to take home.
Shabbat Shira Scholar in Residence- Cantor Sarah Sager, February 3 & 4
Cantor Sager was the cantor at Fairmount Temple for 40 years before her recent retirement. She was instrumental in the development of the Women's Torah Commentary- the first Torah commentary to focus on women's stories as well as female commentators. She will be leading us in worship and in study throughout the weekend including a special program after Saturday morning Torah Study. More details will be shared in the coming weeks. You won't want to miss the opportunity to learn from Cantor Sager and to hear her sing alongside Cantor Marer.
IHC Music presents pianist Dr. Clare Longendyke and her premiere performance of Requiem for the Adrift and Shattered on Sunday, February 5 at 4:00pm Read more on this inspiring performance in Cantor Marer's clergy message on pages 3-4.
IndyChai Tu BiSh'vat gathering Sunday, February 12 4:00pm-6:00pm at Half Liter BBQ Branch out, meet new people, and plant the seeds of friendship at this gathering aimed at young professionals.
Community Dinner Friday, February 24 following Shabbat. The Engagement Committee will provide drinks and desserts. Meals will either be 'bring your own' or come from a local restaurant. Watch your inbox for more details.
Adult Education
Love is a Many Splendored Thing: Love Stories in the Jewish Tradition, Tuesdays, 7:00-8:00pm
Come learn about different examples of love in Jewish texts. In this class, we will study a variety of love stories in Jewish tradition and discuss how the insights from our ancient texts are still relevant to our lives today.
Jan. 17, 24, & 31
Kids Today: Using Jewish Tradition to Support Each Other in a Challenging World with Rabbi Chernow-Reader, Sundays from 10:00-11:00am. Raising children in the world today can be stressful. Come learn from Jewish tradition about how we can support each other as we face challenges together. The January 22 session will focus on supporting LGBTQ+ youth and build caring communities with an expert from Indiana Youth Group. On January 29, an expert from Riley Children's Hospital will teach us about developing healthy habits for our children. Jan 22 & 29
Hiddur Mitzvah: Beautifying the Mitzvah; Shabbat Candle Dipping on Sunday, February 12 from 2:00-3:30pm at IHC Come learn how to dip your own tapers in order to create beautiful Shabbat candles. Supply charge for members/active conversion students is $10 per person. For not yet members, it is $20 per person. (designed for adults, please contact if you are wanting a teen to attend with an adult.) RSVP by February 1 to BethMH@IHCindy.org
Megillat Esther: The Scroll of Esther on Thursdays, 12:00-1:00pm
In this class, we will learn to chant verses of the Megillah and will plan to chant for the congregation during our Purim service. While experience chanting is not necessary, participants should be able to read or sound out Hebrew letters and vowels. Feb. 9, 16, 23 & Mar. 2
You Want Women to do What?: An Exploration of Jewish Teachings Concerning the Role of Women Thursdays, 7:00-8:30pm
Depending on where you look, Jewish tradition offers high praises and utter belittlement of women. How are we to understand the wide range of commentary? Join us for this exploration and discussion - all leading us to consider the role of women then and now. Co-sponsored by IHC Sisterhood. Mar. 16, 23, & 30
All classes are included with IHC membership If you are not yet a member, see the guest fee on the class listing. You can view the full list of classes at ihcindy.org/learn. To register for all nonweekly classes, contact our assistant to the Office of Lifelong Learning Beth Meade-Hession at 317-255-6647
1
We Celebrate the B'nai Mitzvah of:
Evie Ancel, who will be called to the Torah on January 28, 2023. She is a seventh grade student at Eastwood Middle School. Evie enjoys art, photography, as well as playing cello and soccer. She is a 4.0 GPA student. Her parents are Sarah and Marc Ancel. She has a younger brother- Jude.
We Mourn with:
Walter E. (Joan) Wolf Jr. and the family of Elizabeth Bodner z''l
Laurie, Eddie, Sarah, and Max Freeman, family of Jack Bronicki z''l
Barbara Chapman, wife of Cliff Chapman z''l
The family of Marion Garmel z''l
Dan Spitzberg & Susanne McAlister Spitzberg, family of Eleanor Eisenberg z''l
We Celebrate with:
New members:
Amanda Bennie
Rachael Goldman Tobi & Joseph Navratil Celia Ristow & Julian Toumey ~
Lexie & David Leightner, who welcomed baby girl Margot Mae, on September 9. Margot's grandparents are Amy & Dwayne Isaacs.
Eli and Stacy Isaacs, who welcomed baby girl Sadie Laurence, on October 24. Sadie's grandparents are Beverly Harrison and Amy & Dwayne Isaacs.
Patti Freeman Dorson & Roland Dorson, parents of Daniel Dorson, who married Collen Hollern on October 29.
Kenneth (Phyllis) Kaplan and the family of Myrna Kaplan Fang z''l
The family of Lawrence A. Greenwald z''l
z''l stands for stands for zichronam livracha, which means "may their memory be for blessing"
The best efforts were taken to create these listings since the last issue of the Kulanu. Please reach out to communications@ihcindy.org if you believe there was an omission or error
IHC Family News
2
A Message From Your Clergy
Marer
On Sunday, February 5 IHC Music is thrilled to be hosting pianist Dr. Clare Longendyke for a premiere performance of her newest work, Requiem for the Adrift and Shattered. I had the opportunity to sit down with Dr. Longendyke, and have shared the interview below. We hope you will join us on February 5 at 4:00pm for what is sure to be a thrilling concert.
Tell us a little bit about yourself and your career
The short answer is that I am a classical concert pianist. The long answer: I am a pianist, chamber musician, orchestral soloist, recitalist, entrepreneur, fundraiser, network builder, advocate, new-music pianist, old-music pianist... and the list goes on! I grew up in Chicago and Minneapolis and have lived in Paris, Boston, Los Angeles, and now, Indiana. I moved to the Hoosier State in 2011 to do my Master's and later Doctor of Music at Indiana University's Jacobs School of Music. I straddled the line between performer, college professor, and arts administrator for several years before taking the leap in 2022 and dedicating my career full time to performance. Some highlights that I am most proud of and looking forward to this season are my four performances with orchestras in Tennessee, Virginia, and Minnesota, and the premiere of my newest large-scale performance piece, Requiem for the Adrift and Shattered, which is the result of the Faith, Justice, and the Arts grant from St. Paul's Indy.
What can audiences expect to hear at your performance at IHC on Sunday, February 5? Requiem for the Adrift and Shattered is an hourlong multimedia work that involves four newlycommissioned solo piano pieces by living composers Rex Isenberg, Emily Koh, Reinaldo Moya, and Nkeiru Okoye; a new film by Indianapolis filmmaker Deonna Weatherly and Weatherhouse Company; and spoken word readings.
The premise of the project is to create a multimovement work that includes multiple artistic forms and perspectives to address issues of social justice/injustice. To that end, I chose five collaborators for whom social advocacy is an integral part of their creative process. The new works of music and film that have resulted from the project individually synthesize grief, hope, the silencing of immigrants, and the search for solace in a troubled world, and together create a thoughtprovoking and captivating work of art that I hope will speak to each listener in a unique way.
My goal for Requiem audiences is that the performance experience opens a safe space to listen deeply, to learn from new and potentially unfamiliar perspectives, and to reflect on our actions, decisions, and self. By using music performance as a vehicle for education and transformative change, I hope that each performance of Requiem for the Adrift and Shattered inspires listeners to care more deeply about the individual members of their communities and the issues that prohibit every human from being treated equally. I hope that experiencing the piece compels listeners to act in ways that foster a more inclusive, just, and peaceful society for every human.
3
Cantor Aviva
What inspired you to put together this program?
Grief was the inspiration for this project: The grief I felt when I was deep in thought, the grief I felt while I was practicing, or in conversation with my husband, or speaking with colleagues and collaborators during the pandemic. The feeling of uselessness that overwhelmed me when I would open my New York Times app every morning, and then question how my life as a concert pianist was making any difference in a world filled with hatred, unkindness, violence, and destruction. We all saw it happening around us during the pandemic the rotating media cycles that sparked fear, the growing distance between humans, the crumbling of our planet with no clear direction for how to stop or slow it down. I needed a way out, a spark of inspiration, during that time, and it came in the form of creating new work.
I have been actively commissioning new works from living composers since I was a student at Indiana University, with renewed fervor since the 2020 pandemic shut-down of live performances. My response to the shut-down was to commission a pipeline of new piano works that I would eventually be able to premiere and perform as part of my regular programming. Since March 2020, I have commissioned 11 new pieces from femaleidentifying composers and composers of color. Why composers from these groups? Because a large part of my platform involves sharing the space that I am granted on the stage with composers who have historically been excluded from the classical music arena. As a Jewish American woman, I feel this imbalance as I fight for my rightful place in a field that is dominated by men. I have found my "tribe," so to say, amongst other creators who call out injustice and inequity as freely as I choose to.
When I commission composers, I offer them carte blanche to compose that which feels most pressing and right for that moment. To that end, I offered Rex, Emily, Nkeiru, Reinaldo, and Deonna the parameters within which my Requiem was being constructed, but asked them to speak to an issue or feeling that resonated most deeply with them. The results of that approach have been pure and authentic collaborations in which each creator was able to synthesize their own grief of the events of the past three years both global and personal in a way that felt right for them. That the composers trusted me to bring these deep feelings to life in my performances is a meaningful acknowledgement to me as an artist.
Having known you for a couple of years now, I am in awe of your commitment to social justice through the arts. How are your selections influenced by fair representation of all backgrounds?
Since 2020, I have been intentional in ensuring that every program I perform, no matter the audience or time of year, is balanced in terms of gender, race, and cultural representation. This has meant that much of my programming highlights unfamiliar composers and living composers, which can be exciting, if daunting, to audiences who are only familiar with music from the classical canon: Bach, Beethoven, Brahms. But by including great works by these wonderful composers of the past alongside a more representative body of classical music by composers and creators of color, female composers, queer composers, and more, I believe that I am able to make a difference in my audience's understanding of the make-up of classical music creators. As classical musicians, we are fighting against the stigma that our genre was created only by dead white men (sort of true), for elite, rich audiences (only sometimes true), and created by white performers (absolutely untrue). I believe that when classical music programs offer more representation, they will be more likely to draw more diverse audiences We are far from making that a reality, but I am proud that this program, and many others that I perform, illustrate the beautiful diversity of artists working in the classical music and film industries
See Clare perform Requiem for the Adrift and Shattered at Indianapolis Hebrew Congregation on Sunday, February 5 at 4:00pm.
4
Celebration Weekend Re
More than 500 people helped our temple celebrate 166 years since its founding as well as IHC's 12+ year partnership with Rabbi Krichiver in November It kicked off with Celebration Shabbat services and Oneg Shabbat on November 4
Mother nature had different plans when it came to the second part of our celebration, Stand Up for IHC on November 5 Initially scheduled for Goldman Union Camp Institute, it is fitting that this night of comedy, charity, and community ended up being held within the walls of IHC
Rabbi Krichiver joined comedian Joel Chasnoff to emcee the evening, which raised more than $75,000 All of that money supports IHC as it continues to be a Jewish co congregants matter, are ins through Jewish values, and in a meaningful way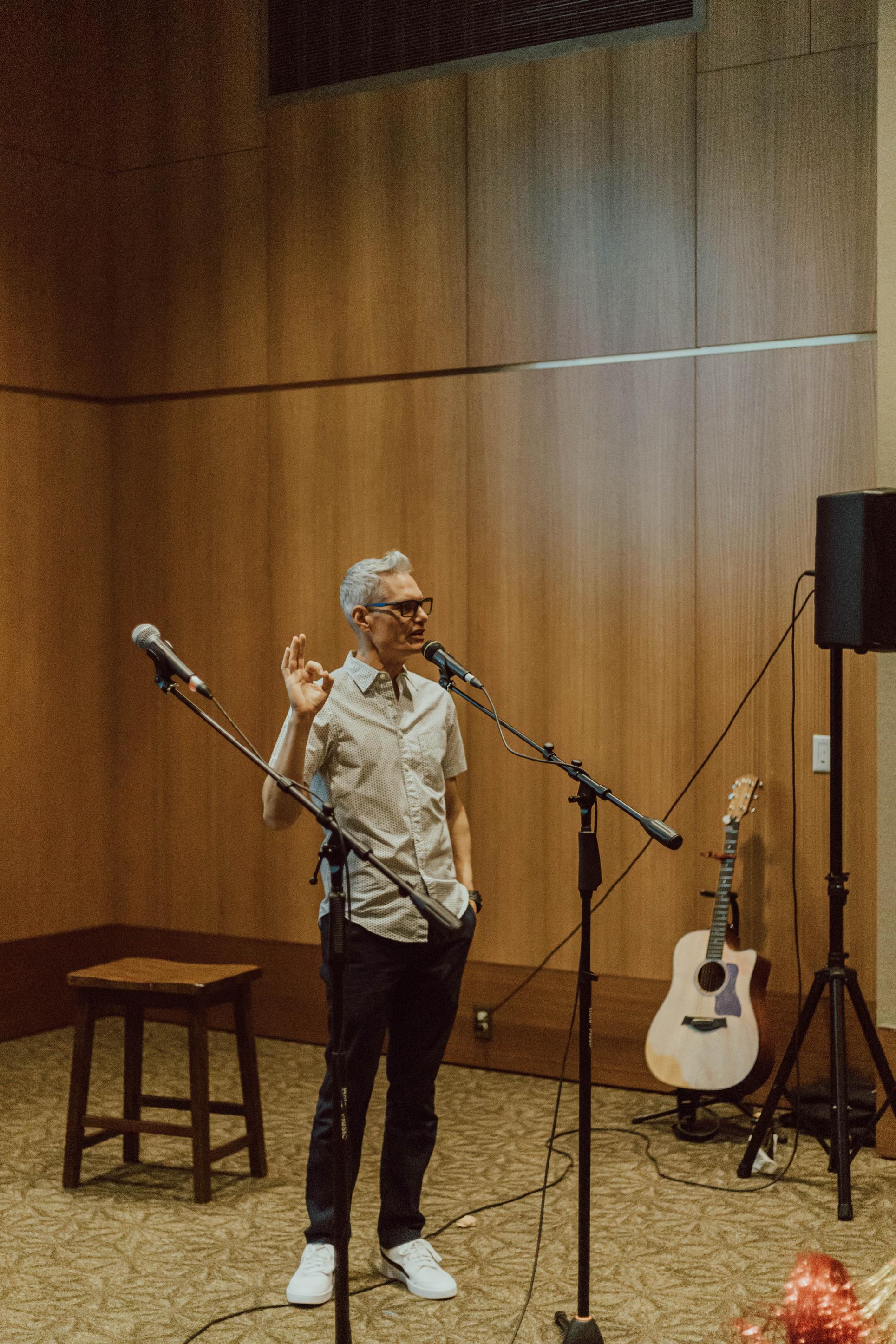 Sarah Freeman presented Rabbi Krichiver with a proclamation declaring November 4 "Rabbi Brett Krichiver Day" in Indianapolis.
After Celebration Shabbat, our community schmoozed while noshing on some of Rabbi Krichiver's favorites, including the ever-divisive creamed herring.
Cantors Marer and Roger and Rabbis Chernow-Reader and Krichiver came together to lead Havdalah services.
Not only did comedian Joel Chasnoff emcee the evening, he performed his stand up act.
5
Our community enjoyed a delicious meal from Jacqui's Catering. All tables also took part in a dessert auction, which was one of several fundraising elements that night.
Special Thanks to:
Our Premier Sponsor
Karin Glass at DinnerDivine com
Katherine Soskin
Larry Cohen
Lynn Levy
Marcia Fisch
Marilyn Smith Massage Envy
Our Partners at:
Aaron York's Quality Air
Gregory & Appel
Hagerman Koorsen
L D Smith Plumbing
Priority Communications
Reis-Nichols Jewelers
Schahet Hotels
Stifel
IHCBay Auction Item Donors:
Amy & Dwayne Isaacs
Andy Ball
Bagel Fair
Barbara Feltman
Betsy Backe
Brows by Megan & Co
Cantor Aviva Marer
Cara & Michael Berg Raunick
Carmel Center for the Performing Arts
Carol Bogar
CBD Jubilee
Chez Michelle Spa
Classic Cleaners
Colleen and Scott Shapiro
Conner Prairie
Crew Car Wash
Dance Kaleidoscope
Diane Evans
Ed Martin Gift Certificate
Esther & Randy Fishman
Fast Park & Relax
Gayle Bernstein
Ginger Odom
Golf Club of Indiana and Jeff & Jennifer Rubenstein
Goodman Shoes
Graeter's Ice Cream
Greg & Joan Miller
Howard Friedman
IHC Sisterhood
Indiana Chamber Orchestra Tickets
Indianapolis Ballet
Indianapolis Repertory Theatre
Indianapolis Symphony Orchestra
Indianapolis Zoo
Integrity Automotive
Jackie & David Barrett
Jay Jaffe
Jean Lee
Jeff Abrams
Joe's Butcher Shop
Jon Domont
Julian & Dawa Shepard
Karen Katz
Celebration Weekend Fund Donors:
Congregation Beth Torah, Overland Park, KS
Barbara Levy
Mayor Jim Brainard/City of Carmel Miriam & Dave Dant
Newfields (Indianapolis Museum of Art)
Patti & Roland Dorson
Peter & Christine Smithhisler
Phoenix Theatre
Rabbi Brett & Tami Krichiver
Rabbi Jordana Chernow-Reader
Rabbi Roxanne Shapiro
Rhonda Gerson-Hurwitz & Audrey Gerson
Rob Chinsky
Roger Hurwitz and Valerie Goldblatt & Family
Sarah Skwire
Scott Abrams Landscape Company
SlapFish
SoChatti
Sonja Kantor and Henry Efroymson
Stefanie Shapiro
Stephen & Nicole Kofkoff
The Schiffer Family
Toby Stark
Victoria Hyatt Cahn Visit Indy Vogue Nail Spa
Dessert Auction Donors: Lynn Abrams Betsy Backe
BlueBakes
Andrea Burnett
Cunningham Group
Rabbi Jordana Chernow-Reader
Lisa Freeman
Homemade Cafe
Illinois Food Emporium
Jacquies
Sonja Kantor Kahn's Catering
Lee Kleiner's Dairy Queen
Rabbi Brett Krichiver
Cantor Aviva Marer
Nothing Bundt Cakes
Occasions Divine at The Golf Club of Indiana
Cantor Janice Roger
Rabbi Roxanne Shapiro
Shapiro's Delicatessen
Bennie Silver
Chris Smithhisler
Polly Spiegel
Heavenly Sweets
Kenneth & Phyllis Kaplan
Elaine Klineman
Rabbi Paul Kipnes and Michelle November, Rabbi Julia and David Weisz, Cantor Doug Cotler and Gail Pettler, and everyone at Congregation Or Ami
Karen & Chuck Rossen
Phillip & Joyce Rose Weisberger
~
A big thank you to all the volunteers including the Celebration Committee who helped make this weekend possible!
6
IHC Circles are Growing
IHC Circles are a fantastic way to connect with others in our community who share similar interests, hobbies, stage of life, profession, and more.
Our Current Circles
Euchre Global Dining Explorers
It's Wine O'Clock Somewhere Mahjongg Mavens Mental Health Newish to Jewish Take a Hike... Together Young Couples Young Family Adventure
IHC members Monica Allardt and Paula Reiss lead two of these groups- Young Family Adventure Circle and Newish to Jewish Circle. Read as they explain the inspiration behind leading their prospective Circle.
"
and establishment of this circle goes to my amazing co-lead, Lily Zurkovsky She began this Circle at a time when the pandemic seemed as though it would never end. I know, for myself, this Circle gave me and my family a way to get out of the house in a safe way. This was so important, at the time. I know I wasn't alone when I say it was a time when we were craving human connection, but it was also still anxiety inducing to leave the house We were able to get to know other members of congregation and made us feel a sense of normalcy again
Paula Reiss- Newish to Jewish "I was inspired to create the Newish to Jewish Circle because of all the wonderful people at IHC who helped me navigate my own journey It occurred to me that I was probably not alone in this! Being a connector sort of person, I thought I'd like to try connecting interested people on their journeys (whatever that looks like) with some of the people who helped me along the way. It's a Circle that welcomes folks who are curious about Jewish customs and traditions - and maybe would like to make some new friendships along the way! Our first gathering was at Roland and Patti Freeman Dorson's home Patti led a cooking class where we made latkes and homemade applesauce We also learned how to light the menorah Some attendees were in the process of converting or had recently converted; some were spouses or partners, and a few came just to find out what it was all about. This Circle is important to me because I started my own journey at Patti's house doing exactly this a few years ago! I simply wanted to find out what Hanukkah was all about I was so warmly welcomed that I just kept signing up to learn more, and now, here I am a member, leading a Circle!"
When Lily identified that the congregation had more of a need for activities geared toward young children/ families, I was happy to step in and help out. I hope this Circle continues to provide families with opportunities to get out of the house, play, explore and socialize. This Circle has certainly helped me feel more connected to the IHC community and I hope it can provide that sense of belonging for someone else "
Upcoming Circle Gatherings
Mahjongg Mavens in IHC's Youth Activity Center (YAC)
Jan 6 & 20th 2:30-4:30pm
Jan 13 & 27th 10:00am-12:00pm
Feb 3 & 17th 2:30-4:30pm
Feb. 10 & 24th 10:00am-12:00pm
If you have questions or want more information about the IHC circles, please contact Rabbi Chernow-Reader, Amy Isaacs, or Patti Freeman Dorson.
You can find full descriptions of each Circle and contact information for each Circle leaders at ihcindy.org/ihc-circles/
Monica Allardt- Young Family Adventure Circle
First and foremost, all the credit for the creation
7
Up Next at IHC...
PURIM- March 7
Hamantaschen Baking
Sundays 9:00am-1:00pm
from January 8 to February 26
It takes a village of rollers, fillers and folders to bake Sisterhood's hamantaschen for our annual fundraiser. We will be baking Sunday mornings and need your help! No experience necessary, we will teach you our secrets.
Click here to sign up
Sip & Bake
Thursday, March 2 from 6:30-8:30pm
Calling all women (whether you can bake or not) to join us in the IHC Kitchen to prepare and taste test some savory hamantaschen in preparation for our IHC's adult Purim Shpiel. Sips and snacks will be provided. Watch your email for the sign up, no experience necessary, just a fun night of baking and socializing.
Purim Shpiel & Carnival Sunday, March 5 Jewish Learning Program 10:30am: open to the community
Adult Purim Shpiel Monday, March 6 from 7:00-9:00pm
The planning is in the works for a festive evening of merriment for our 21+ crowd with a Mad Hatter Megillah reading, sweet and savory hamantaschen samplings, and Purim Punch! For now, mark your calendar and watch for more information.
Hamantaschen Ordering
These sweet Purim treats are delicious and every order supports Sisterhood in all the ways it helps our IHC community. Please place your order by February 10. You can order online or print an order form by clicking here.
PASSOVER- April 6-11
IHC's plans for Passover are in development. In the meantime, we ask you consider saving a spot or two at your seder table this year. We will have more details on our seder match program as we get closer to April.
M
UI IHC SC
May 21 at 4:00pm
Celebrations: An Indianapolis Children's Choir performance
The ICC's Master Chorale joins the Anderson Area Youth Chorale to present two uplifting major choral works accompanied by an orchestra.
Vincent Persichetti's Celebrations sets Walt Whitman's poetry to music as it explores the resilience and optimism of the human spirit. Leonard Bernstein's Chichester Psalms is an exciting composition based on text from the Hebrew Psalms. This concert also honors ICC's graduating seniors as the choir dedicates and performs some of their favorite choral pieces to celebrate the fun, friendships, and experiences that the ICC offers its singers over the years.
8
Temple Library
The Jewish Book Club is a great way for book lovers to enjoy getting to know each other through lively discussion about great books with Jewish and literary value.
The book club meets on Zoom, and occasionally in person, at 12:00pm on the second Tuesday of each month. If you would like to take part, please email IHC librarian Evelyn Pockrass for additional details.
Read below to learn more about the selections for January- June in 2023.
January 10
One Hundred Saturdays: Stella Levi and the Search for a Lost World
By Michael Frank Artwork by Maira Kalman
February 14
Atomic Anna
by Rachel Barenbaum
The Italian Ballerina
by Kristy Cambron
A Half-Built Garden
by Ruthanna Emrys
During a period of six years, starting in 2015, when Stella Levi was 92 years old, Michael Frank visited her on 100 Saturdays while she recounted excerpts from her extraordinary life: growing up in the Juderia (the Jewish community on the Aegean island of Rhodes), through the beginnings of World War Two, the 1944 Nazi deportation of more than 1,600 members of the Juderia, the concentration camps, and later her long life in the United States.
Anna, Molly, and Raisa – they are the mother, daughter, and granddaughter affected by an unusual attempt to reverse the 1986 meltdown of the Chernobyl nuclear reactor. Barenbaum writes of nuclear physics, comic books, folklore and pop culture in a saga spanning several locations and decades. This is a time travel novel so be prepared to go back and forth in time and place.
Set mostly in New Orleans and New York City, and based on the heritage of the authors, "threads" is an insightful story of Black and White experiences during the Civil War. Stella weaves maps for enslaved men, including her beloved William, to escape and join a Union army camp in Louisiana. In New York City, Lily makes quilts and rolls bandages in support of her husband, Jacob, and other Union soldiers. Eventually the couples meet and look toward a brighter future.
Featuring an Israeli intelligence officer as the main character, here is a contemporary twist on the Dead Sea Scrolls and religious fringe groups. Frankel, who had been a longtime editor-in-chief of the Jewish Publication Society, combines ancient history about the Copper Scroll with modern Israel, evangelical beliefs in the messiah, and life in the Jewish state then and now. In this fast-paced work of fiction, the author's note may be read first as it provides important historical background.
In occupied Rome during World War Two, an American soldier, Courtney, saves the life of a young, traumatized Jewish girl. The soldier is from the small town of Starlight, Indiana. Several decades later (after Courtney died), Courtney's family learns about his connection to this child, who later became a famous ballet star, and her appreciation of his life-saving action. They also learn of an outstanding English ballerina and the role of Syndrome K, an invented disease that Italian medical personnel used to prevent the Nazis from going to certain hospital wards where Jewish "patients" were in hiding.
A sci-fi novel, taking place in 2083, when aliens arrive in Chesapeake Bay, Maryland, with a mission to convince humans to leave the climate-ravaged earth or die, has a diverse cast of characters and locations. Emrys' human world includes an America of divided watersheds and networks. Judy Wallach-Stevens is tasked with trying to keep the peace among the humans while negotiating with the aliens, some of whom are trying to kidnap human children. Among other contacts cited, Emrys imagines a creative, introspective Passover seder hosted by humans with aliens in attendance.
March 14
The Thread Collectors by Shauna J. Edwards and Alyson Richman April 11 The Deadly Scrolls by Ellen Frankel May 9
June
13
9
May Their Memory Be for Blessing...
January Yahrzeits
January 1
Carl Ambery
Marjorie Bradford
Bessie Kopelov
Agnes Korthy
Gertrude Krauthamer
Joseph Lauricella
David Lewis
Anna Platt
Leonard Roth
Jerry Shlensky
Louise Sirkus
Max Weil
January 2
Diane Cook
Robert Fischer
Joseph Moheban
Robert Schaefer
January 3
Isabelle Burman
Louis Greenberg
Helen Harris
Harry Osipowitz
Rose Schneider
Selma Simon
Milton Simon
Nathan Stein
Bobbi Wimberly
January 4
Harry Burack
Harrison Ball
Caroline Goldbach
Naoom Haimson
Seymour Kaplan
Louis Schmuckler
Selma Shlensky
Robert Smith, Jr.
Louis Weiss
January 5
Ida Fishman
Max Gold
Fryda Gurwitz
Jack Halberstadt
Milton Hellman
Paul Hene
Robert Horstein
Kathryn Jackson
J Frank Knight
Morris Leve
Bruce Nelson
Robert Reiter
Thomas Richardson
Ninfa Winkler
January 6
Matthew Chatterton
Maurice Cooper
Milton Fettner
Arlene Goldhamer
Mack Henry Seymour Kolten
Irene Romer
January 7
John Anderson
Judith Arenson
Myron Ball
Blanche Cohen
Bonnie Cohen
Gertrude Drexler
Ellen Goldberg
Molly Mirkin
Diane Organ
Sara Reuben
Sarah Salle
David Shaw
Marilyn Spitzberg
Sidney Tuchman
January 8
Oscar Alpert
Samuel Cohen
Molly Dorfman
Hymen Drevno
Leon Levi Morris Lichtman
Patsy Schwartz
January 9
Barbara Abrams
Elaine Arffa
Ruby Berridge
Julia Bodner
Jim Fleck
Fritz Goldbach
Louis Harris Stanley Henry
Eva Heffron
Richard Kopfstein
Rosalind Kramer
Eleanor Marvin Arthur Schwarz
Ron Stevenson Linda Winstead Nathan Zoll
January 10
Constance Fenwick
Dora Goldsmith
Stanley Herman Nettie Lappin
Osias Pauker
Faye Pikelny
Linda Poper Julius Shmookler
Sally Rubenstein
January 11
Joan Atlass
Henry Heimansohn
Jack Jaffe
Frances Lazar Alfred London
Robert Netzorg
Harry Neumann
Patricia Rothman Charlotte Sider Harvey Wilkoff Albert Wishne
January 12
Shirley Baron William Byrd
Agatha Dessau
Susan Erickson
Bernelle Few
William Jacobson
Ann Levine
Isadore Litwack
Ira Markwood
Nathan Marmelstein
Ida Miller
Selma Paul Daniel Shander Jennie Wolf
January 13
Julius Cohen Miriam Fineberg Hilda Fishbein Etta Frankel
Rebecca Greenberg Jeanne Kaufman
Howard Lazar
Marcie Linder Gerald Rediger Irwin Rivlin Hannah Rosen Bernard Silver Herbie Valinetz Sydney Zaban
January 14
Tony Auerhann Betty Brook Sue Butcher Lolla Cohen Irene Goldsmith Louis Gutin Ruby Hendelman Morton Koor Elaine Lichtenfeld Mary Mishelow Betty Stewart Hyman Wagman Shirlee Yale
January 15
Herman Abrams Steve Becker Richard Brindle Rose Feuerlicht
Joseph Kroot
Naomi Levenstein Jean Morris Richard Moss
Phillip Rappaport Burton Shapiro Lillian Simon Leah Traugott Agnes Vogel
January 16
Rose Bobinsky
Leonard Frankel Grace Friedland Jerry Herman Sidney Jacobs Bernice Kempler Miriam Klasky
Martin Leitz Albert Lischin
Sylvia Lyon William Meyers Leo Michaels Etta Platt William Rosenthal Idamae Sablosky Rhea Schroeder Florrie Sussman Beatrice Zellers
January 17
Stephen Bailie Jessie Finkel Maggie Harry Bessie Kaufman Florence Leshnover Oscar Margolis Harry Richter Gilbert Salle Faye Skolnik Lillian Steinberg Milton Zwirn
January 18
Shirley Backer Virginia Doehrman Samuel Kroot Bernice Linker Pearl Lucas Bertha Newmark Eva Peale Barbara Rosenbaum Margie Silver David Stiefler Leah Traugott
January 19
Rose Cohen Sandra Feldman Anna Reich Gabe Wagman
January 20
Katherine Cohen Norman Cohen Victor Eichler Syd Greenberg Ida Herman Ruth Lazarus Alex Levenstein Nate Winski
January 21
Harold Cohen Bernard Cohen Jeanette Dorman Jack Leffel Francine Memberg Sadie Rothbaum Iris Waxman Marcia Wolf Eugene Zuckerman
January 22
Anna Binzer Edward Cohen Charles Efroymson, Jr Lana Funkhouser Jerry Gould David Hurwitz Saul Jacobson Harold Leopold Frieda Liebowicz Catherine Parker Kelley Pearson Doris Richman Dione Tisius
January 23
Freda Burstyn Nancy Chalfie Abe Friedman Bradley Goble Paul Kulback
Max Lapides Gertrude Lowestein Mike Mustin Frieda Paul Morris Redish Anna Roth Marvin Rubin Robert Sering Joyce Shaw Tully Stonehill Irma Warram Douglas Weingard
January 24
Birdie Abrams Mortimer Furscott Jonah Greenfield Fannie Hassan Julian Kiser Liebert Mossler Kisel Peysekhman Virgil Pitzer Lena Pretzfelder Louis Stricker
January 25
Anna Arkin Bonnie Christensen Bertha Glazer Harry Jaffe Ethel Lencheck Phyllis Millikan Michael Nelson Dale Pryweller Leopold Selig Sophie Wohlfeld
January 26
Jeremy Bank Isador Cohen David Holzman Mae Jacobson Susan Klein William Klein Abraham Lipman Rose Schneider Wendy Schroeder Gladys Winter
January 27
Sarah Baerncopf Barbara Breskow Douglas Brown Yetta Feldman
William Greenwald Tina Lambert Evelyn Levine Harriet Liebman Rachel Litt Genya Medalie Esther Pianin Carolyn Solomon
January 28
Pauline Bartfield Dorothy Benjamin Sanford Goldshine Sidney Lenke Carl Sanders Bernard Sands
January 29
David Eskenazi Bonnie Gerstell Samuel Hahn Sidney Kallman Rosalind Kramer Salvatore Miceli Robert Miller Morris Nahmias Harold Rappaport Helen Shady Jeanne Shaffer Bea Soifer Jane Yolles Ira Zukina
January 30
Sally Cannon Carolyn Cohen Stanley Jacobs Philip Marder
Joseph Nemirovsky Paul Piazza Gertrude Podaloff Martha Speyer Morris Talesnick
January 31
Michael Blonder Diane Buckler Ella Oppman Ruth Rockmore Edward Sobel Carolyn Steinberg Rachael Valentine Clarine Webster Alice Yalowitz
Reading the name of a loved one on a yahrzeit is a way to honor them, their lives and their memory. Jewish tradition teaches that the memory of one who has lived righteously lives on for blessing We hope the memories of your loved one will bring you consolation and lighten your grief on their yahrzeit When a yahrzeit is observed, there is a Jewish custom to give tzedakah This can be a donation to your favorite charity If IHC is the charity of your choice, there is a full list of our tzedakah funds at ihcindy org/give
10
May Their Memory Be for Blessing...
February Yahrzeits
February 1
Archie Aronstam
Martha Back
Ellen Banks
Ann Butler
Charles Fitzgerald
Kate Friedman
Gerald Leonards
Bertha Lieberman
Leon Mordoh
Sigurd Rosenfield
Dean Sablosky
Ann Slivka
February 2
Michael Bratnick
Frances Coraz
Crossen
Sol Grant
Sophie Katz
Meta Kleiman
Max Kligerman
Bella Rosinus
Marilyn Samuels
Shirlee Schuchman
Harriet Selig
Aline Traugott
Edward Weiss
February 3
Melvin Adams, Sr
Margaret Ancel
Gilbert Chavkin
Jerome Dintenfass
Claire Dworkin
Frank Goldsmith
William Herman
Darrel Isaacs
Jody Kerschner
Mildred Klineman
Dorothy Miceli
Albert Rothbaum
Aaron Rubin
Bertha Shampansky
Daniel Tisius
February 4
Theresa Bricker
Julius Hersh
Frida Kantin
Frieda Kolten
Ida Levy
Rachael Mishoulam
Lindsey Pearson
Jack Shady
Tudor Van Hampton
February 5
Marilyn Chernoff
David Efroymson
Raymond Garmel
Alexander Hardie
Abraham Pomeranz
Jane Rothbaum
Irving Silver
Harold Weil
Irving Yaross
February 6
Anne Alliss
Morris Bernstein
Beth Brown
Andy Calderon
Ann Greenstein
Harry Karsch
Bernard Lefko
Elsie Mazzarella
Harry Peale
Eve Perlstein
Robert Romer
Alana Spitzberg Elliot Sussman
February 7
Helen Chalfie
Leonard Farber
Fannie Gray
Doris Haimson
Opal Hill William Julian Alan Krasnoff
Donald Parker
February 8
Abe Borin Hedwig Breisacher
Isadore Kalishman
Harry Laptook
Florence Schoff
February 9
Frederick Aptowitz Carolyn Berman James Efroymson Margot Hene William Keck Wilma Leventhal Robert Voightmann
February 10
Harold Breitbart Harold Cohen Pearl Goldberg Fred Golden Joseph Schulman Arline Signer David Tisius Joachim Traugott Joseph Weiner
February 11
Marian Goldsmith Moredechai Greenberg Rubin Karsh Simon Kochman
Regina Krieger
Rose Platt Ruthie Rifkin Albert Schwartz Leonard Sirota Molly Welber
February 12
Sandy Ambery Gladys Bennett Warren Brown, Jr
John Burnsworth Murray Butler Jacob Efroymson Michael Gradison Reuben Herman Leonard Larman Geneva Lawrence Morris Levy Morton Lipkowitz Anna Lucas Cyrl Moss Robert Rosenberg Paul Solomon
February 13
Louise Bellman Nathan Hellman
Alan Klein
Saul Koby Lenora Lebin Barbara Longo Daniel Lyons, Jr. Sylvia Morris Lester Pfeffer Lottie Schwartz Paul Sirkus
February 14
Esther Byron Mathilda Calderon Jessie Davis Vera Falender David Fisch Leo Ginsburg Paul Goldstein Esther Greenman Jeanette Jaffe Steve Rosenbaum Rose Scheffler Hugo Siegal Maude Solomon Howard Solomon Louis Wolf, Sr Rosalie Wormser
February 15
Louise Brimer Kenneth Goldblatt
Henrietta Henry Betty Krumsieg Hortense Lasky Fannie Osipowitz Dora Shorr Abe Tavel
February 16
Naomi Buckler Mose Freiberg Fay Glick Sarah Henry Maurice Hurwitz Carrie Jaffe Jean Lieberman Anna Miceli Naomi Perlstein Fanny Ress
February 17
Charles Brinkley Rose Goodman Morris Graff Martin Grossman Arlene Heimansohn
Samuel Kaplan Sam Lefkovitz Nathaniel Lenchner Leslie Mears Esther Nahmias Walter Wolf, Sr
February 18
Jack Beiman Joseph Cohen Abraham Epstein Audrey Grossman Bonnie Guilford Eric Herman Francine Hurwitz
Irene Kagan Adele Kline Frank Lahr Natalie Paul Fanny Rappaport Berthold Rothholz
February 19
Marvin Arffa Molly Gotthelf Dorothy Harrison Leon Himelstein J William Julian Efraim Kantin Jacob Platt
Julia Roseff
Louis Rosenberg Karen Rosentraub Phillip Sachs Beatrice Shepard Eric Taylor Jane Teixler Louis Traugott Faunya Weiss
February 20
Emma Frankel Rita Gradison Sylvia Hillman Oscar Marder Alice Miller Donald Moorin Michael Weiss
February 21
David Arden Steven Block Bertha Goldfarb Marian Kochman Dolores Rety Lewis Rothbard Joseph Schneider Tosia Schwartzbaum Bertha Seipp Paulette Weinfield
February 22
Reuel Bennett Maureen Bronicki Thomas Gould Harry Greenberg Vicki Griffin Anne Harry Andrew Katz William Lockman Fay Schechter Paul Stark Goldijean Turow
February 23
Howard Rubens Alan Rubenstein Linda Shapiro Harold Weiss Sanford Wieder Shirley Zeinfeld
February 24
Suzanne Friedman Sidney Goldfarb Gertrude Kaplan Catherine Kupke Howard Linker Morris Marer Gladys Nisenbaum Karen Platt Florence Rubin Arthur Schwartz Morris Simon Douglas Weiss Lillian Zabronsky
February 25
Adele Alpert Rose Arnow Bertha Bauer Elsie Blitz Irwin Cooperman Nathan Harris Jerome Jacobson S Carroll Kahn Edna Pardo
Madeleine Polayes Harry Roger Lila Rosentraub Eva Segal Joan Wurzman Beth Wynn
February 26
Mary Cohen Moie Cook Evelyn Feldman
Ida Fielder Selma Jacobs Jay Kramer Minnie Leve Bert Roth Joseph Rothbard Belle Shapiro Ethel Weil Gertrude Wolf
February 27
Edward Bartick Charlotte Epstein Lena Koby Mollie Moskowitz Jules Rheaume Nancy Steele David Vaprin Wilhelm Stern
February 28
Semen Beyzerov Leo Blonder Arthur Borinstein Lorna Harbaugh Herbert Heiman Morris Karmen Simon Kochman Myron Manders Ida Rheins
11
Temple Donations
CONFIRMATION PROJECTS FUNDS
DEAN SABLOSKY YOUTH SCHOLARSHIP
Memory of Leon R. Cohen Dona & Larry Cohen
YOUTH PROJECTS FUNDS
SPITZBERG FAMILY YOUTH FUND FOR ISRAEL
Memory of Irv Katz Laura & Dennis Carafiol Memory of Marilyn Weinberg Laura & Dennis Carafiol
DR. MORRIS STONER RELIGIOUS EDUCATION
Memory of Stanford Falender Phyllis & Stanley Herman
MAX STRASHUN TEMPLE TOTS
Memory of Mildred Dansker Anita Dansker
ARTHUR J. AND HELEN R. BARRETT FUND
Memory of Elizabeth Bodner Ellen & Jamie Gray
LIBRARY & ARCHIVES FUND
JOSEPH CANTOR LIBRARY
Honor of Patti Freeman-Dorson & Roland Dorson Dodie M. Stein
Honor of Rabbi Brett Krichiver Karla Yale Memory of Myrna Kaplan Fang Dodie M Stein Memory of Myrna Fang Evvy Moss & Steve Medias
LIBRARY BIRTHDAY BOOK
CLUB
Honor of Monroe Barefoot Erin O'Leary & Jon Barefoot
IHC FOUNDATION FUNDS
FOUNDATION GENERAL FUND
Antonio Paolo Zavattini
Honor of Burke Blumenthal Lynn & Jeff Abrams
DISCRETIONARY FUNDS
SENIOR RABBI'S DISCRETIONARY
Honor of Wrigley Rubenstein
Bobby Rubenstein
Honor of Rabbi Brett Krichiver Rabbi Robert Nosanchuk Honor of Zach Berebitsky Kim & Doug Berebitsky Memory of Jack Bronicki
Laurie Freeman Memory of Ruth Feinberg Marilyn Smith & Marcia Sheehy
CANTOR'S DISCRETIONARY
Honor of Zach Berebitsky Kim & Doug Berebitsky Memory of Marjorie Goodman Rose-Marie & Bob Goodman
TEMPLE GENERAL FUNDS
TEMPLE GENERAL FUND
Anonymous Anonymous
Honor of Amy & Dwayne Isaacs
Diane Lutz Memory of Elizabeth Bodner Jackie & Richard Brooks Patti & Roland Dorson Anita & Michael Levin Memory of James "Jimmy" R. Glanzman
Fred Tishler Memory of Marion Garmel Marcus, Rachel, Emily & Zach Simon
THE CANTOR JANICE L. ROGER MUSIC AND CULTURAL ARTS FUND
Memory of Iosif Malyovanny Yevgeniya & Mikhail Malyovanny Memory of Marion Garmel Lynne Goldstein
YAHRZEIT MEMORIAL FUND
Memory of Philip Welber Barbara Asher
CEMETERY FUND
Memory of Elizabeth Bodner Amy & Jimmy Becker Memory of Chuck Cohen Karen Cohen
Memory of Marion Garmel Lynn & Bruce Cohne Memory of William R. & Shirley D. Frank Rae Ellen Frank James & Charles F James, II Memory of David Falender Phyllis & Stanley Herman
SOCIAL JUSTICE
CHEVRAT CHESED – CARING COMMUNITY
Memory of Marion Garmel Amy & Dwayne Isaacs Memory of Elizabeth Bodner Amy & Dwayne Isaacs
GLEANERS FOOD BANK
Memory of David Coraz Tobi Weinstein Memory of Diane Goldberg Lori Hollander & Karen Zimmerman
SHELLEY SHANE SOCIAL ACTION
Memory of William "Pete" Rose Sandi Werner
12
IHC Front Office
ECC Office
Our Website Facebook Instagram
with Us
317-255-6647 317-254-2186 www.ihcindy.org www.facebook.com/IhcIndy @ihc.indy
Worship Schedule
All services, unless otherwise noted, can be viewed live on IHC website or on the IHC Facebook page.
Kabbalat Shabbat service Fridays at 6:15pm
Nefesh Shabbat Service
Every third Friday at 6:15pm
Shabbat Morning Service Saturdays at 10:30am when there is a b'nai mitzvah service
Join us for Oneg Shabbat following our Friday evening services.
It is a mitzvah to sponsor an Oneg Shabbat, whether it is for a special occasion (b'nai mitzvah/baby naming/anniversary) or just because you want to step up to help! You can host alone, as a family, or get a group together to co-host Sign up to host an Oneg Shabbat.
Our Staff
Rabbi Brett Krichiver
Cantor Aviva Marer
Rabbi Jordana Chernow-Reader
Rabbi Roxanne Shapiro
Cantor Janice Roger
Peter Smithhisler
Jodi Kaseff
Adrienne Aronson-White
Emily Kaufmann
Stefanie Shapiro
Evelyn Pockrass
Kendra Steele
Beth Meade-Hession
Brigid Maguire
Mitch Katz
Learn with Us
Torah Talk Select Wednesdays at 9:30am
Join Rabbi Krichiver to discuss Jewish sacred source texts in a non-intimidating way. Unless otherwise noted, you can attend in person or online. Proudly presented by Sisterhood. You can find the Zoom link to participate on ihcindy.org/online
Shabbat Morning Torah Study Saturdays at 9:00am
Led by IHC clergy, the group is guided through the weekly Torah portion text seeking understanding of the teaching for the time and discussing its message for today. Unless otherwise noted, you can attend in person or online. No prior knowledge is necessary and all are welcome. You can find the Zoom link to participate on ihcindy.org/online
Senior Rabbi Cantor Associate Rabbi
Director of Lifelong Learning Cantor Emerita Executive Director ECC Director Accounting Manager Communications Specialist
Learning Experience Coordinator Librarian
Receptionist/Administrative Assistant Assistant to Office of Lifelong Learning Clergy Assistant IHC Board President
Sisterhood Gift Shop
Thank you to our volunteers and shoppers for a successful Hanukkah shopping season!
The Gift Shop will reopen with regular hours on Tuesday, January 10.
Come visit us:
Tuesday-Friday 10:00am-2:00pm Friday evening 5:15-6:15pm Sundays 9:30am-12:00pm when Jewish Learning Program is in session.
Interested in volunteering or need a special appointment?
Email ihcsisterhoodgiftshop1@gmail.com
Connect