History in the Making
A LOOK BACK AT
The Winter Olympic Games Squaw Valley 1960 defied so many odds. They were held in an unknown corner of California, beating out Austria in the bid for host. Exceptionally low snowfall that year threatened to derail the entire event until a last-minute storm brought feet of snow. The Men's U.S. Ice Hockey team was made up of entirely nonprofessional players, yet it pulled off a miracle upset no one thought possible. It was also an Olympics that saw multiple firsts. From asking Walt Disney for a bit of his magic, to becoming the first Olympics to be nationally televised, to female athletes competing in more events as they broke records and set new standards. All of this turned the eyes of the world to the Sierras, which would be forever changed.
Let the games begin! OLYMPIC
Grand Pacific Resorts has a long-standing tie to the region. We manage four unique resort properties in the North Lake Tahoe area, including Olympic Village Inn located in Olympic Valley. Long before this property was ever a resort, it housed athletes who came from around the world to participate in the Winter Olympic Games that year. As we mark the anniversary of the Winter Olympic Games, we're celebrating by highlighting influential figures, moments in history, and fun facts. Each article includes trivia questions with the correct answers located in the margins.
1
2 OLYMPIC 03 | 04 | 05 | 06 | 07 | 08 | 09 | 10 | 11 | 12 | Jean Vuarnet Olympic Innovator 1960 U.S. Men's Ice Hockey Team The First Miracle On Ice Walt Disney Brings His Magic to the Olympics Penny Pitou Downhill & Giant Slalom Silver Medalist Live! Bringing the Olympics to Television Let it Snow! Meteorologist Irving P. Krick Carol Heiss Hall of Fame Figure Skater Andrea Mead Lawrence Olympic Gold Medalist & Environmentalist Alpine Ski Racing Not for the Faint of Heart Making Fast Strides in Speed SkatingValley
1.
b.
3
a.
JeanVuarnet
b.
INNOVATOROLYMPIC
Trivia QUESTIONS:
/2
2.
Answers:
French alpine skier and Olympic Gold Medalist Jean Vuarnet broke the mold from the start. He was the first competitor to pioneer the "tuck" position to increase his speed, a technique he unveiled at the Olympic Winter Games Squaw Valley 1960 and one that has been adopted by nearly every downhill skier since. Jean Vuarnet's innovativeness didn't stop there: That same Olympic year, the French ski manufacturer, Rossignol, supplied the national team with wooden skis that Vuarnet found to be far too flexible. So he traveled to their factory and looked around before coming across a pair of discarded skis made from a metal composite. He decided they were perfect for him, started competing with them, and then went on to become the first skier in Olympic history to take home gold on metal composite skis. Vuarnet's unconventional approach to skiing and his stunning victory at Squaw Valley brought him international fame. Upon returning to France, he launched a successful line of sunglasses and founded two major ski resorts in the French Alps, continuing to take on endeavors that reflected his fearless approach to life. Which skiing technique did he adopt before anyone else? Tuck Snowplough c. Parallel Turn 1Tuck(c)MetalCompositeSkis What kind of skis did he use to win his medal? Wood Fiberglass c. Metal Composite Skis
(a)
a.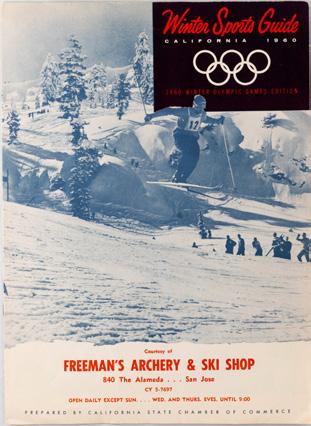 Despite support from a fervent home fan base, not many believed the American underdogs had any real chance of winning, especially when squaring up against hockey giants like the USSR, Sweden, Czechoslovakia, and Canada.
Nobody expected much from the U.S. Men's Ice Hockey team at the Olympic Winter Games Squaw Valley 1960, especially given that the team was comprised of a few minor league players along with an insurance salesman, a couple of carpenters, and a fireman.
However, in front of a packed crowd inside Blyth Arena and Answers:1(c)Czechoslovakia/2(b)5
1960 U.S. Men's Ice Hockey Team with millions more watching on TV, the U.S. Men's Ice Hockey Team proved everybody wrong. The U.S. beat Russia in the semifinals before facing off against Czechoslovakia in the finals. They were trailing 4-3 entering the third period and they were clearly fatigued. However, the U.S. team rallied and pulled off a stunning 9-4 last-minute victory. In one of the biggest surprise upsets in hockey history, the 1960 U.S. Men's Ice Hockey Team won its first-ever gold medal and became hockey legends.
4 Trivia QUESTIONS: 1. Who did the U.S. team play in the hockey finals? a. Russia b. Canada c. Czechoslovakia 2. By how many points did the U.S. team win the final game? a. 3 b. 5 c. 1
THE FIRST MIRACLE ON ICE
Squaw Valley 1960 celebrated a lot of firsts: Nestled in a remote corner of the state, it was the first Winter Olympics held in California, it was the first to be nationally televised, and it was the first in which Walt Disney was asked to lend his flair for Bringingentertainment.theWinter Games to California required tapping into Tinseltown talent. When the Olympic Organizing Committee President met with Walt Disney to convince him that the event needed some Disney magic, Walt cheerfully agreed. He was already no stranger to the skiing world: Mount Disney in the Sierras was named after him when he helped fund Sugar Bowl Resort in 1939, and 20 years later, he would reveal his own man-made mountain in the form of the Matterhorn at Disneyland. Walt Disney set out to undertake an Opening Ceremony that would stretch the creative bounds of Olympic fanfare. Despite nearly blizzard-like conditions on Opening Day that threatened to derail the entire event, it went off with a level of pageantry never seen before. From marching bands to flag parades and daytime fireworks, the event forever set a new standard for the way the Olympic Games would be presented.
QUESTIONS: 1. Squaw Valley was the first location in California to host a Winter Olympic Games
5 Trivia
a. True – the Summer Games of 1932 were held in Los Angeles b. False 2. The mountain peak named after Walt Disney and formerly known as Hemlock Peak is located at which resort: a. Alpine Meadows b. Northstar c. Sugar Bowl Answers:1(a)True–theSummerGamesof1932wereheldinLosAngeles/2(c)Sugar
TheBowl Olympic Winter Games
BRINGS HIS MAGIC TO THE OLYMPICS
Walt Disney
PennyPitou
Penny Pitou first started skiing at age four, and by the time she was eight, she was racing the boys she grew up with and beating them. As a high school freshman, she ignored the nogirls-allowed rule, tried out for the boys' ski team, and made it.
DOWNHILL & GIANT SLALOM SILVER MEDALIST
Trivia QUESTIONS:
At age 16, Pitou won the slalom, downhill, and alpine combined championships at the Junior Alpine Championships in Montana. The following year, she made the U.S. Olympic Ski Team but did not race well in the Olympic Winter Games Cortina d'Ampezzo 1956. After the Olympics, Pitou decided to stay in Europe and refine her skiing skills. Her efforts paid off, and four years later at the Olympic Winter Games Squaw Valley 1960, she took home silver medals in the downhill and giant slalom events. After her Olympic wins, Pitou became a ski coach and founded two ski schools. To this day, she personally leads guided ski tours across Europe. She was elected to the U.S. National Ski Hall of Fame and the New England Women's Sports Hall of Fame. Answers:1(a)GiantSlalomand(b)Downhill/2(a)SquawValley 1. In which two events did Penny Pitou win silver medals?
6
a. Giant Slalom b. Downhill c. Alpine 2. In which Olympics did she win silver? a. Squaw Valley b. Cortina d'Ampezzo c. None of the above
7 Answers:1(b)CBS/2(a)InstantReplay
The Olympic Winter Games Squaw Valley 1960 was groundbreaking in several ways. In addition to many other firsts, it was also the first Olympic Games to be nationally televised, catapulting the Olympics from an in-person spectator or radio broadcast event to a visual medium that could reach hundreds of millions of viewers.
1. Which network obtained the airing rights: a. NBC b. CBS c. ABC 2. This technique of sports officials collaborating with video producers came about at the 1960 Winter Games: a. Instant Replay Augmented Reality Trivia
When Olympic officials were unsure if a skier had missed a gate, they asked CBS if they could review the videotape footage, and almost by accident, the technique known today as the "instant replay" was born.
The remarkable strides in television that took place at the Olympic Winter Games Squaw Valley 1960 revolutionized the way the world comes together to watch athletes perform.
b.
QUESTIONS: BRINGING THE OLYMPICS TO TELEVISION Live!
CBS obtained the exclusive airing rights for $50,000 with Walter Cronkite as the head news anchor. Cameras lined the Opening Ceremony, and sports reporters headed to Squaw Valley to conduct event play-by-plays and host live interviews with medalists and dignitaries.
Both the U.S. Weather Bureau and American Meteorological Society considered him a fraud. Despite Krick's predictions and promises, the region remained bone dry as the Winter Games drew nearer. With all eyes on Squaw Valley and no storms on the horizon, organizers grew nervous. They invited Native Americans to come perform snow dances, but no luck. Krick arrived on the scene, positioning 20 cloud-seeding generators around Squaw Valley. Still, nothing happened. Then weeks later, storm clouds finally rolled in. Krick immediately fired up his generators, pumping silver iodide particles into the sky, and it began to snow!
The organizers of the Winter Olympic Games Squaw Valley 1960 had weather worries top of mind heading into the events. Meteorologist Irving P. Krick was named "weather engineer" of the Winter Games. Two years earlier, he predicted that the second half of February would bring the best weather for the Winter Games. Krick also declared that if the snowfall turned out to be inadequate, he would come to Squaw Valley to produce more.
Answers:1(b)SilverIodide 8 Trivia QUESTION: 1. Krick's Ingredient for Winter Weather was: a. Snow Dances b. Silver Iodide
By January 10, over three feet of snow covered the valley floor, and over seven feet had accumulated in the mountains. Krick claimed credit, but weather experts conclude that the snowstorms would have arrived anyway.
Let it Snow!
CarolHeiss
FIGURE SKATER Carol Heiss was already a star on the international figure skating scene by the time she was a teenager. She was the first female figure skater ever to land a double axel jump at the age of 13 and went on to win five straight World Championship titles between 1956 and 1960. Heiss made the 1956 U.S. Olympic Team and won silver at the Olympic Winter Games Cortina d'Ampezzo 1956. Four years later, she skated her way to a gold medal performance at the Olympic Winter Games Squaw Valley 1960, with all nine judges ranking her in first place. Since her historic wins, Heiss has coached a number of successful figure skaters. She was elected to the World Figure Skating Hall of Fame and the U.S. Figure Skating Hall of Fame.
a.
Trivia QUESTIONS:
HALL OF FAME
9 Answers:1(c)DoubleAxel/2(b)SquawValley
1. Carol Heiss was the first female figure skater to land which jump? a. Axel b. Toe Loop c. Double Axel 2. In which Olympic Games did she win a gold medal? Cortina d'Ampezzo b. Squaw Valley c. St. Moritz
Andrea Mead Lawrence
QUESTIONS: 1. In which Olympics did Lawrence win her first gold medal? a. St. Moritz b. Oslo c. Cortina d'Ampezzo 2. In which event did she set a record? a. Slalom b. Giant slalom c. Downhill
Answers:1(b)Oslo/2(a)Slalom 10
Two-time Olympic Gold Medalist and environmentalist Andrea Mead Lawrence never graduated from high school, but she got her education on the slopes. She started skiing at age three, racing at age 10, and made the U.S. Ski Team by the time she was 14 before making her Olympic debut at the Olympic Winter Games St. Moritz 1948 the following year. Four years later, Lawrence became the first American alpine skier to take home two Gold Medals at the Olympic Winter Games Oslo 1952 while also setting a slalom record that would remain unbroken for six decades. Between 1952 and 1956, she had three children. Her third child was born just four months before the Olympic Winter Games Cortina d'Ampezzo 1956, and she still placed fourth in the giant slalom event. At the Olympic Winter Games Squaw Valley 1960, Lawrence skied the Olympic Torch into the Opening Ceremony before passing it off. After retiring from competition, she became an environmental activist dedicated to preserving the Sierra Nevadas and established the Andrea Lawrence Institute for Mountains and Rivers.
Trivia
NOT FOR THE FAINT OF HEART
Trivia QUESTIONS: 1.
a.
11 Answers:1(c)Onethird/2(b)OnKT-22
c.
a.
Alpine skiing, also commonly referred to as downhill skiing, takes place on ski runs that span a range of difficulty ratings. The primary factor in determining ski trail difficulty is slope gradient. When it comes to Olympic ski racing, alpine skiing is one of the most popular events—and one of the most dangerous. Steep slopes, narrow runs, and icy conditions make alpine ski terrain potentially hazardous. Throw in racing speeds of up to 95mph, and it's easy to see why the International Ski Federation reports that nearly one third of all competitive skiers suffer at least one serious injury during the winter season.
One of the sport's most dangerous ski runs is located at Squaw Valley, host of the Winter Olympics Games Squaw Valley 1960. The fabled Fingers sits on KT-22 and consists of a sheer outcropping of rock that plunges into a nearly vertical drop. The alpine skiing competitions of the Olympic Winter Games Squaw Valley 1960 took place across the
Alpine Ski Racing What fraction of competitive skiers suffer injuries during the winter season? One half b. Two thirds c. One third 2. Where is the Fingers ski run located? Squaw Valley On KT-22 Both a and b valley at Squaw Peak (men's downhill), KT-22 (women's downhill and the other men's events), and Little Papoose Peak (women's slalom and giant slalom).
b.
1. When did female speed skaters first compete? 1960 b. 1936 c. None of the above 2. What made that year's ice skating rink notably fast? Artificially frozen ice b. High altitude c. Both a and b
The other historic first was that the speed skating events took place on man-made ice rather than on a natural lake or pond. The artificially frozen ice combined with Squaw Valley's high altitude turned the rink into one of the fastest in the competitive skating world. Despite high winds that interrupted several of the races, several Olympic speed skating competitors broke multiple previously-held world records that year.
a.
Answers:1(a)1960/2(c)Bothaandb
Speed
Skating MAKING FAST STRIDES IN
a.
The most significant news in speed skating at the Olympic Winter Games Squaw Valley 1960 was that women participated in the event for the first time, making their official Olympic speed skating debut.
Although female speed skaters had been competing internationally since 1936, it wasn't until 1960 that they would compete on an Olympic level.
Trivia QUESTIONS:
12
grandpacificresorts . com thesnowmuseum . org Experience the Area!
Photos courtesy of: The SNOW Sports Museum, Robert M. Reid, Bill Briner, Mark McLaughlin, David Reddick, Eddy Starr Ancinas, and Gatekeeper's Museum, provided by SNOW Museum Foundation and used with permission.
The spirit of the Winter Olympic Games Squaw Valley 1960 lives on. The legacies its Olympians left and the roads forward it helped paved forever left their mark on the Tahoe region. If you enjoyed learning about the remarkable Winter Olympic Games, please consider showing your support for The SNOW Sports Museum and its ongoing efforts to help preserve the rich history of the Olympic Valley.
MAKE A DONATION
To experience the area firsthand, book a stay at one of our four resorts in the North Lake Tahoe region, located just minutes from where many of the Olympic events took place!
The Sierra Nevada Olympic & Winter Sports Museum, The SNOW Sports Museum, TheSnowMuseum.org, and MoSNOW are trademarks of The SVSMF. All other trademarks, registered trademarks, product names and company names or logos mentioned in the Site are the property of their respective owners. This piece is for editorial purposes only.