HarlechCastle ConwyCastle
BeaumarisCastle
CaernarfonCastle
Pontcysyllte
Aqueduct
Slate Landscape of North West Wales
WELCOME CROESO
For the more adventurous why not v sit Adventure Parc Snowdonia, a 400metre surf lagoon rough y the size of s x footba l pitches and exper ence the adrenal n thril s and spills, SUP safaris and kayaking Or why not relax n the g ass fronted Café Bar that sits right on the edge of the Wavegarden Lagoon Golfers ove our links and parkland courses too And not forgetting our incredible water sports activ ties where we take fu l advantage of our sea, lakes & rivers
Our fresh air will make you hungry But that's ok –dining out in our fabulous restaurants and cafes w ll surprise and delight
When it comes to accommodation, there's someth ng for everyone n North Wales w th luxury, traditional, seaside and town-centre hotels, perfect for groups of all sizes so why not take your group on a quest to find out more about our region and choose North Wales as your next Group Travel Dest nation?
IS
If you ' re a group organiser why not contact a member of our friendly team for information about itineraries, familiarisation visits, or how to get to North Wales. Phone 01492 539058 email
ENOUGH TO EXPLORE, YET VARIED ENOUGH TO VISIT AGAIN AND AGAIN
North Wales makes a big impression on v sitors with its spectacular views and unparalleled beauty, with its range of diverse attractions, good quality hotels, conference and meeting venues and of course a warm Welsh welcome –we have it a l here in North Wales
The culture and identity of North Wales has been influenced by the legends, myths, and magic that are associated with almost every lake, hill, mountain and village throughout the region. so why not take your group on a quest to find out more about our region
CONTENTS YOU CAN TRAVEL FROM ONE END TO THE OTHER IN TWO HOURS... ...BUT WHY DO THAT AND MISS SO MUCH?
Coach
For nformat on or assistance in arranging your group v s t www groupsnorthwales com For informat on or assistance in arranging your group v s t www groupsnorthwales com 2 3
A
CHOOSE NORTH WALES AS YOUR
DESTINATION TO VISIT? Explore our rich heritage and culture. Immerse yourself n local language, cuisine and custom See a Nationa Park by tra n or ascent a limestone headland by tram Browse independent shops in our towns and villages or climb aboard a steam train for a memorable tranquil, scen c view of the reg on Why not take a wa k on the wild side at the Welsh Mounta n Zoo, Co wyn Bay cover ng an area of 37acres Home to a variety of an mals, many of which are parts of the European Breed ng Programmes, such as Sumatran tigers and snow leopards The We sh Mountain Zoo is making an increasingly important contribut on to the conservation and education work of zoos, nationally and worldwide Step back in time to uncover the secrets of slate and the people who quarried t at the Nat onal Slate Museum, Llanberis with slate sp itt ng demonstration A v sit around the waterwheel and quarrymen ' s houses w ll give you an authentic taste of what home ife was like during buoyant and leaner times Welcome / Croeso 2-3 For Heritage Lovers 4 Legends of Old 5 It's Language 6 It's
REGION ON THE MOVE SO WHY NOT
NEXT
All About the Taste 7 Welsh Food and Drink 8 Accommodation 9 - 13 Attractions 14 - 20
Refreshment Stops 21 Meet North Wales 22 Out and About 23
Multilingual Guides 24 Choirs 25
Parking 26 How to Get Here 27
NORTH WALES
SMALL
info@groupsnorthwales.co.uk www.groupsnorthwales.co.uk
FOR HERITAGE LOVERS LEGENDS OF OLD
EXPLORING THE MYTHS AND LEGENDS THAT HAVE SHAPED THE LANDSCAPE OF WALES WILL TAKE YOU SOME TIME, AND TO SOME FASCINATING PARTS OF THIS ANCIENT LAND. ABOVE OR BELOW GROUND - THE CHOICE IS YOURS
MABINOGION
THE WELSH LOVESPOON
A handcrafted gift made of a solid b ock of wood, the tradition of a male adm rer craft ng a lovespoon for a young woman ind cated to the woman s family that he was skilled and capab e w th his hands The oldest existing lovespoon in Wales dates back to 1667 Each specific carving on the spoon is symbolic, from the eterna ove of the Celtic knot, to the tw sted stem ndicating togetherness
The National Slate Museum tells the story of the Slate industry in North West Wales Attractions include a living workshops museum with exhibitions, slate splitting demonstration, quarrymen ' s houses and giant water wheel. From strikes and suffering to craftsmanship and community, this is an un que opportunity to glimpse the l ves of the slate workers and their families Cafe and large gift shop on site Guided tours available on request
The Stream in the Sky Exhilarating and exciting are not words you normally associate with a canal, but you will at Pontcysyllte Aqueduct They call it 'the stream in the sky' for a reason and here's why: it ' s 126ft high and 1,007ft long, with 19 stone arches carrying the Llangollen canal - and many intrepid visitors - high across the River Dee You can walk it (use the handrail!) or take a leisurely barge trip, and feel like you ' re floating on air
The Great Orme Tramway is Britain's only funicular, or able-hauled, tramway that travels on public roads. Re-live the experience of travel more than 100 years ago n the lovingly restored original tramcars, each named after a Saint The unique journey begins at Victoria Station, a short distance from Llandudno's seaside and pier The Great Orme's dynamic beauty, rich history and natural splendour are well worth the journey
Wales has a rich her tage of magical and myst cal tales including the Mabinogion (a famous co lection of stories taken from medieva Welsh manuscripts wh ch were compiled in the 12th and 13th centuries ) They describe the ives and the heroic and magica achievements of a group of interrelated characters and recount the encounters between the morta and underworlds These fables embrace aspects of a pagan era and the medieval world of the Arthurian age; there is also the famous myths and legends of Gelert, Rhys a Me nir, Pr nce Madoc and profi es of famous bards and writers to name a few.
ST DWYNWEN'S DAY
This is celebrated in Wales on 25 January each year But who was St Dwynwen? St Dwynwen is the We sh patron saint of lovers, which makes her the Welsh equivalent of St Va ent ne
FACT OR FICTION YOU DECIDE
The Story of Gelert is set n Beddgelert It s sa d to be the grave of a brave hound commanded by h s owner, Llewelyn, to guard his baby son while he is away A wolf comes, and Ge ert fights it to the death, overturning the cradle n the batt e
Llewelyn returns to find the cradle upturned and blood on the floor He k lls Ge ert with his sword, before seeing the dead wo f, and hears the baby cry under the cradle Overcome w th guilt and sorrow, he bur es Gelert, and has a stone placed on the grave to remember him
It took until 1959 for the We sh national f ag to be officia ly unfurled for the first time The signif cance of the dragon in We sh culture is believed to date back to Arthurian legend when Merlin had a vis on of a red dragon (representing native Britons) f ghting a white dragon (the Saxon invaders) The use of green and white refer to the colours of the House of Tudor, the 15th century royal fami y of We sh origin The red dragon won the battle ust n case you were wondering
THE HARP
The harp is the on y trad tional instrument in Wa es with an unbroken h story up to the present day It is also the nstrument most often cited in Welsh l terature through the ages
For informat on or assistance in arranging your group v s t www groupsnorthwales com For nformat on or assistance in arranging your group v s t www groupsnorthwales com 4 5
WELSH NATIONAL FLAG
IT'S LANGUAGE
THE NATIVE LANGUAGE OF WALES, WELSH, IS SPOKEN BY THREEQUARTERS OF A MILLION PEOPLE - MOST IN WALES, BUT ALSO IN ENGLAND, THE USA, CANADA & ARGENTINA
HERE ARE SOME USEFUL WELSH PHRASES... WHY NOT HAVE A GO?
WELSH ENGLISH PRONOUNCE IT
Bore da Good morning Boh-reh dah
Prynhawn da Good afternoon Prin-houn dah
Noswaith dda Good evening Noss-why-th tha
Nos Da Good night Noss dah
Croeso Welcome Croy-so
Os gwelwch yn dda Please Os gwel oowch un tha
Diolch Thank you Dee-olch
Sut mae? How are th ngs? See-my
Da Good Dah
Da iawn Very good Dah ee-awn
Da iawn diolch Very well thank you Dah ee-awn dee olch
Iechyd da! Good health/cheers! Yeh-chid dah
Bendigedig Great Ben-dee-ge dig
Coffi Coffee Coffee
Te Tea Teh
Hwyl fawr Good bye Hoo-il vowr
KNOW?
IT'S ALL ABOUT THE TASTE
North Wa es is a true food heaven and is especially well known for its legendary freshly caught fish off the boat, Welsh Lamb, We sh Black beef and even Honey Wine Mead There are just so many great local flavours waiting to tickle the taste buds.
Our fruit and veg are as fresh as the air Our meat and dairy as healthy as the grass our herds chew on. Food has rarely tasted this good!
We a so have more breweries and vineyards than ever before The surge is on y recent, but we comed Exper ence a unique guided vineyard tour followed by some wine tasting, or how about a tour of a gin or whisky disti lery Test your own f avours and pick up a few bottles at the end
But l ke all good hosts, we like to share North Wales s b g on food and local produce so come and vis t our shops and restaurants Pull up a cha r or grab a basket!
Bodnant Welsh Food is one of several that w ll have you licking your lips Bodant Welsh Food Centre s a beaut fu stone-bu lt farm set n the heart of the Conwy Val ey at the foothills of Snowdonia The perfect place to eat, s eep and create perfect memories Bodnant Welsh Food s a m is to have a cookery school that s accessible to everyone Set in a
THEY SAY WE ARE WHAT WE EAT. WHICH EXPLAINS WHY WE'RE A HAPPY LOT HERE IN NORTH WALES.
relaxed and fun environment that can be enjoyed by al of the family
Whether you are a beginner or a budding master chef, there is something for everyone!
Rhug Estate Farm Shop is a 12,500-acre organ c farm s market, restaurant & dr ve-thru sell ng & serving ts own goods. The shop has over 3,000 hand-selected products with a real focus on Welsh, local and organic On the A5 near Corwen a Michelin startrained chef has taken charge of the homemade dishes at the Rhug Estate s Bison Gri l bistro
This histor c estate has become a food pilgrimage for many Its takeaway has been made famous thanks to its organic burgers and bacon, cooked on charcoal gri ls and ready to eat!
Here you'l find a memorable foodie experience at one of the largest organic farms in the UK Penderyn Distillery Llandudno located in the Grade 2 listed former Old Board School in Lloyd St, which was built in 1881. Penderyn started out in the Brecon
Beacons in 2000, the first d stil ery n Wales for over 100 years, and is the home of Welsh wh sky They opened this new distillery in Llandudno in May 2021, and the bu lding has been fully restored retain ng many original features, includ ng the parquet floors, wall t les, roof beams and the o d stee banisters The shop is open 7 days a week, and tours are available
During the hour-long tour you wi l learn about the founding of Penderyn, the new d stillery build ng, how their award-w nning whisky is made and what makes it so un que See the mill, the mash tun, and the innovative single copper-pot Penderyn Faraday st ll This produces a spirit at an industry high of 92%, which makes Penderyn's whiskies light, fruity and flavoursome At the end of your tour sample some of their products in the wonderful Tasting Bar Two-and-aha f hour Masterclasses are also avai able
For nformat on or assistance in arranging your group v s t www groupsnorthwales com 7 For informat on or assistance in arranging your group v s t www groupsnorthwales com 6
The letters K, Q, V and Z do not appear in the Welsh alphabet
in Patagonia 'Y Wladfa', South America
one
the fastest
languages on Duolingo in the UK
DID YOU
Welsh is one of the oldest languages in Europe Welsh is spoken
Welsh is
of
growing
WELSH FOOD AND DRINK
Aber falls D stillery aberfal sdistillery com
Aberffraw Biscuits aberffrawbiscuits com
Afallon Gin afallonmon com
Anglesey Sea Salt halenmon com
Anglesey Spir t Company Condessa condessa co uk
Fudge Without L mits fudgewithoutlimits.com
Gwinllan Conwy Vineyard gwinllanconwy co uk
Henllan Bread henllanbread co uk
Llaeth y Llan villagedairy co uk
Pendragon Drinks pendragondrinks co uk
Purple Moose Brewery purplemoose.co.uk
Tan Lan Bakery tanlanbakeryltd co uk
The Little Cheesemonger thelittlecheesemonger co uk
Wild Horse Brewery wildhorsebrewing co uk
Wrexham Lager wrexhamlager co uk
FOOD & DRINK FESTIVALS
HERE
ARE JUST A FEW...
ACCOMMODATION NORTH WALES
Our hotels come in all varieties. Why not experience our luxury, traditional, seaside and towncentre hotels - perfect for groups of all sizes. Some of our smaller hotels could be ideal for that special interest group too.
Caernarfon Food Festival May gwylfwydcaernarfon cymru
Menai Food Festival August menaifoodfestival com
Conwy Honey Fair September conwybeekeepers org uk
Mold Food and Dr nk festival September moldfoodfestival co uk
Wrexham Feast Food fest val September wrexhamfeast com
Llangollen Food Festival October llangollenfoodfestival com
Denbigh Plum Festival October
Portmeirion Food and Craft Fair December portmeirion wales
For nformat on or assistance in arranging your group v s t www groupsnorthwales com 9 For informat on or assistance in arranging your group v s t www groupsnorthwales com 8
ABERGELE
A collection of high-quality hotels in popular leisure locat ons
• Wrexham/Chester
• Llangollen
• Llandudno
All hotels are experienced in welcoming group, indiv dual and corporate travel ers and are open throughout the year. A l hotels offer ensuite accommodation qua ity d ning bars/lounges, meeting rooms and e ther a l ft or ground floor bedrooms
Rossett Hal Phone 01244 571000 Emai reservat ons@rossettha lhote co uk
The W ld Pheasant Phone 01978 860629 Emai recept on@w dpheasanthote andspa com
The Be mont Phone 01492 499600 Emai recept on@belmont-hote -l andudno co.uk
L andudno Bay Hote Phone 01492 499500
Emai am@everbr ghtgroup co uk
c/o Rossett Ha l Hote , Chester Road
Rossett WREXHAM LL12 0DE
The Kinmel & Kinspa
Set amongst rol ing parkland with spectacular views.
Offer ng splendid accommodat on, extensive gardens & award-winn ng spa faci ities
Brasser e 1786 is our two-rosette awarded restaurant, serving modern Brit sh and European cuisine
Breaks offered
Special
ncent ves
Driver
St George's Hotel is situated on the Victorian promenade and overlooks the
beaut
• Commiss on pa d to travel agents 8%
• Driver incent ves
• Commiss on offered to group buyers
Net Group Rates B&B £65 00 pppn
Dinner
Dunoon Hotel
Best Hote North Wa es, National Tourism Awards 2018. AA Two Rosettes Vis t Wales Gold Award The mu t award-w nning Dunoon is a splendidly o d-fash oned V ctorian gem awash w th period character and elegance sl ghtly formal but nevertheless intimate and fr endly.
The hote s ce ebrated for persona and attent ve service quietly mag nat ve and extremely tasty food as well as wonderful attent on to detai and appreciation of the understated luxuries that separate the grand from the bland. Many walk in showers avai ab e.
AA 4 Star Two Rosette.
Evening entertainment
Phone 0 492 860787
Ema dunoonhotel@gma l com www dunoonhote co uk
The Quay Hotel and Spa
Just under an hour from Chester Our luxurious hotel has 77 a l recently refurbished bedrooms.
Our conference and banquet ng facil ties can host from 2 to 180+ people with 100 car park spaces
Our innovative Ebb & F ow restaurant menu specia ises in quality local ingredients ensur ng a fantastic d ning experience.
Our Cove Bar offers the perfect setting to relax and unwind, weather permitted, you wi l en oy our Terrace to take in the stunning views of the Conwy Estuary and Castle that surrounds us.
To relax we have wonderful Spa and Leisure faci ities
Spec a Breaks offered
• Theatre breaks
• W nter warmers
• Dr ver Incent ves
• Commiss on to Group Organ sers
• Commiss on pa d to Travel Agents Open M d January - December
Net Group Rates B&B rom £67 00 pppn Dinner B&B from £85 00 pppn No. of bedrooms
En-su te 66 Doub es 22 Twins 23 S ngles 11
Hotel • Warm welcome • True taste menu featur ng We sh products • Coach car park • We sh entertainment on request other anguages Open Al year Net Group Rates B&B £149 pppn D nner B&B £179 pppn No of bedrooms Number of en su te bedrooms 77 Doub es 77 Tw ns 24 Fam ly 16 Deganwy Quay DEGANWY Conwy LL3 9DJ Phone 01492 564 100 Emai reservat ons@quayhotel co uk www quayhote .co uk LLANDUDNO
For informat on or assistance in arranging your group v s t www groupsnorthwales com For nformat on or assistance in arranging your group v s t www groupsnorthwales com 10 11
Free dr ver place per 20 pay ng guests
entertainment f requ red we can arrange at an addit ona cost Open Al year Net Group Rates B&B £59 50 pppn D nner B&B £89 50 pppn Fu l Board £
pppn No o bedrooms Number of en-suite bedrooms - 42 Doub es 28 Tw ns 1 S ng es 1 Fam ly 2
In our Oak Lounge bar you can relax and have a dr nk with oved ones co uk www thekinme .co uk
Evening
14.50
St George Road ABERGELE Conwy LL22 9AS Phone 01745 832014 Emai recept on@thekinme
Everbright Hotel Group
•
•
•
•
poss b e on
Evening entertainment f requ red we can arrange at an addit ona cost Open Al year Net Group Rates P ease contact each hotel No o bedrooms Number of ensu te bedroomsn a l rooms Number of bedrooms- p ease contact each hotel Hotel WREXHAM / CHESTER / LLANGOLLEN / LLANDUDNO
Emai andrew@everbr ghtgroup co uk www everbr ghtgrouphotels co uk
Spec a Breaks o feredChristmas Tw xmas and ndividua requests considered
Comm ssion paid to trave agents
Dr ver ncent ves
Evening enterta nment f
request
The Be mont
Rossett Ha l The W ld Pheasant
DEGANWY
Llandudno Bay Hotel
?
Hopefully, you will be lucky to see one of our spectacular sunsets during your stay w th us
ful bay of L andudno. The hote s a two minute walk from the town centre and a short
Hote
St George's Hotel
strol to Venue Cymru
Ensu
Doub es
Tw ns 35 S ng es 3 Fami y
• Even ng Enterta nment on request Open A l year
B&B £95 00 pppn Ful Board £ 15 00 pppn No of bedrooms
te 82
62
8
LLANDUDNO
The Promenade, LLANDUDNO Conwy, LL30 2LG Phone 01492 877544 Emai sa es@stgeorgeswa es co uk www stgeorgeswa es co uk
Fami y 10 Gloddaeth Street LLANDUDNO Conwy LL30 2DW
Royal Oak Hotel
In the heart of Betws-y-Coed at the gateway to Snowdon a Th s former Victor an coaching inn provides comfortable accommodation w th her tage décor and modern faci ities With three dining venues high ight ng
produce we offer the perfect choice for any occasion
Waterloo Hotel
An dea base for d scovering the endless array of what beaut fu North Wa es has to offer.
Private dining and conferencing avai ab e. Al guest rec eve comp imentary use of le sure faci ities Free onsite coach parking
e 22 Twins 20 Fami y 3
Road BETWS-Y-COED Conwy LL24 0AY
0 690 710219
Ho yhead Road BETWS-Y-COED Conwy LL24 0AR
Ema reservations@waterloo-hote info www waterloo-hote nfo
BANGOR
The Management Centre
Located in the heart of Snowdonia, our unique grade II listed building offers stunning v ews of the Menai Straits and Anglesey, the perfect location to explore the beaches, mountains and heritage sites of North Wales
Our select on of guest bedrooms nclude en-suite bathrooms and are fully equipped including free WIFI and on-site parking
Guest Accommodat on
• Free Parking
• Accessib e park ng
• Non-smok ng faci ties • Free W FI • Fam y Rooms
• Tea/Coffee n a l rooms
• Bar Lounge
• Coffee Shop
• Restaurant
• Packed Lunches (on request)
• Ear y Breakfast (on request
• 24-hour secur ty
• Fac l t es for d sabled
The Royal Victoria Hotel
Situated in the Snowdonia National Park, at the foot of Snowdon within 30 acres of gardens and woodlands. We are ideally located for groups to explore Llanberis and North Wa es
A l bedrooms en-su te w th tea/coffee making facilities, television ha rdryer and telephone
• No sing e supplement - 6 singles
• Drinks inclusive packagesNovember - March
• Evening enterta nment - 2 nights from November- March
• We also welcome meal stops and coffee stops
• On site coach parking for res
groups
For informat on or assistance in arranging your group v s t www groupsnorthwales com For nformat on or assistance in arranging your group v s t www groupsnorthwales com 12 13 S ver Hotel BETWS-Y-COED
Hotel • Warm we come • Menu featur ng We sh product • Welsh enterta nment avai ab e other languages • Commiss on pa d to travel agents • Dr ver Incent ves • Commiss on of ered to group buyers • Even ng entertainment on request • Months open
Except Chr stmas) Open A l year Net Group Rates B&B from £60 pppn Dinner B&B from £80 pppn No of bedrooms Ensuite
reservations@roya
www
BETWS-Y-COED Spec a Breaks offered • Dr ver incent ves • Even ng entertainment on request • Months open Al year Open M d January - December Net Group Rates B&B £70 00 pppn Dinner B&B
No. of bedrooms Ensuite 45 Doub
oca
1-12
47 Holyhead
Phone
oakhote net
roya oakhote net
£90 00 pppn
guests
24-hour
Meet
(Add
• Vend
• Coach
• No S
• Menu
Open A year Net Group Rates B&B from £44 59 pp D B&B £65 42 pp No o bedrooms En-su te 54 Doub es 37 Tw ns 4 S ng es 7 Fam ly 1 Execut ve 3 D sab ed 2 Co ege Road BANGOR Gwynedd LL57 2DG Phone 01248 365900 Emai groups@themanagementcentre co uk www themanagementcentre co uk LLANBER S
•
front desk •
ng/banquet faci it es
tional charge
ng mach ne (snack/dr nks)
park
ngle room supplement
featuring We sh product
Hotel Special Breaks offered • Dr nks inclus ve packages • Christmas packages • New Year packages • Easter packages • Wa k ng groups • Team bu d ng • Coach car park • Warm we come • Menu featur ng We sh product • Comm ssion pa d to travel agents • Dr ver ncent ves • Comm ssion offered to group buyers • Even ng Enterta nment Winter on y Open Al year Net Group Rates B&B from £40 00 pppn D nner B&B from £49 00 pppn No of bedrooms 04 Doub es 50 Tw ns 33 S ng es 14 Fam ly 7 LLANBER S Gwynedd LL55 4TY Phone 01286 870253 Emai groups@theroya v ctor a co uk/ enqu r es@theroyalvictoria co uk www theroyalvictor a co uk MENAI BR DGE Chateau Rhianfa Nestled away n Ang esey with breath taking views overlook ng Snowdon a, our stunning Grade 2 isted French style; stunning chateau s ful of enchanting stories and unforgettable surpr ses Dream the night away n one of our 27 styl sh bedrooms Chateau is located near a l of Anglesey's attract ons Hote • Dr ver Incent ves • Comm ssion o fered to group buyers • Warm We come • Menu featur ng We sh Product Open A l year Net Group Rates per person per night shar ng a twin or doub e room B&B from £79 00 DBB from £124 00 No. of bedrooms Doub es 20 Tw ns 5 Fami y 2 Beaumar s Road MENA BR DGE Anglesey LL59 5NS Phone 01248 880090 Emai hel o@chateaurh an a com www chateaurhianfa com Need help with planning your visit to North Wales? MAKE A GOOD EXPERIENCE GREAT There is so much to see, do and talk about when you visit North Wales, why not contact our Group desk to help to guide you and tailor make your tour For more infor mation please contact the group travel line on 01492 531731 or email marketing@nwt.co.uk
dential
ATTRACTIONS NORTH WALES
For a small place North Wales has a big list of attractions. Taste our activities and attractions to suit all types of groups. Whether it's visiting elegant historic houses and gardens, seeking out the best adrenalin activities on offer, visiting industrial sites or simply walking, relaxing and enjoying the flora and fauna in the Areas of Outstanding Natural Beauty. There really is something for everyone here in North Wales. Whatever you choose to do, it's easy to see what makes North Wales so…well, attractive.
Boat trips f rom Llangollen Wharf
Llangollen Wharf
Aqueduct B oat Cruises
V sit us for an exciting 2 hour cruise across Telford s m ghty aqueduct at Pontcysyll e For your comfort and safety our motor trip boat is weatherproof and heated Snacks availab e and a full bar on board Commentar y throughout the trip. Lunches and Welsh Cream Teas can be provided either on board the trip or in our earoom Group rates avai able for parties of 0 or more on both our A ueduct cruises or our
Home of the famous Horse Drawn Boats
Experience 45 minutes of peace and tranqui ity on a horse drawn boat trip along the beautifu Llangol en Canal with the oldest horse drawn pass nger boat company st ll operating in the UK and possibly the world
Watch the f sh sw m azily in the crystal water as the boat glides silent y, pul ed by one of our gorgeous heavy horses
As well as the 45 minute tr p, we operate a 2 hour pub ic trip the famous Hor eshoe Falls every Saturday and Sunday
Welsh Mountain Zoo
For nformat on or assistance in arranging your group v s t www groupsnorthwales com 15 For informat on or assistance in arranging your group v s t www groupsnorthwales com 14
COLWYN BAY
Wild n Wa es for a great day out n a fr endly caring conservation zoo in lovely garden surround ngs. Spend a perfect day at the Nat onal Zoo of Wales in the company of rare and endangered an ma s from around the world nc ud ng Snow Leopards, Sumatran Tigers and Cal fornia Sea L ons Special Events See website for detai s Open A year except Christmas Day Open ng T mes Check website for seasona opening t mes Nearest train stat on: Co wyn Bay ( 1 7m es) Spec a Events Visit webs te for events Net Groups Rates* Visit webs te for group pr ces Over 15 + Please check webs te for more deta s Dr ver incentive Hot dr nk and ro O d H ghway, COLWYN BAY Conwy LL28 5UY Phone 0 492 532938 Ema nfo@we shmounta nzoo org www welshmountainzoo org Hercules Llangollen Wharf 01978 860 702 | www.horsedrawnboats.co.uk
Go
Horsedrawn boats
Delighting visitors since 1902, the Tramway is a unique attraction for all ages. Climb aboard one of our beautifully restored tram cars and begin your ascent through the winding roads of the Great Orme to the summit.
At the Halfway Station you can observe the powerful funicular railway system in action.
Jump onto another heritage tramcar to complete your journey to the summit, where you can sit and relax while taking in the stunning views of North Wales and beyond.
S U R F & R E L A X S U R F L E S S O N S P A D D L E B O A R D I N G EAT & S TAY E X P L O R E O U T D O O R S P U M P T R A C K M O U N TA I N B I K E S G O R G E WA L K I N G A D R E N A L I N E I N D O O R S C L I M B I N G WA L L S A E R I A L A S S A U LT T H E C AV E S & L O A D S M O R E H O M E O F A D R E N A L I N E I N D O O R S & S U R F S N O W D O N I A THE BEST ADVENTURES IN THE WORLD ARE RIGHT HERE IN NORTH WALES Check in with us for perfect man-made waves and discover daring new adventures Conway Rd, Do garrog Conwy, LL32 8QE 01492 353 123 nfo@adventureparcsnowdon a com ADVENTUREPARCSNOWDONIA.COM For informat on or assistance in arranging your group v s t www groupsnorthwales com 16
Victoria Station, Church Walks, Llandudno, LL30 2NB 01492 577 877 tramwayenquiries@conwy.gov.uk www.greatormetramway.co.uk Open April to October 7 days a week 10am - 6pm Special discounts for families and groups www.go-below.co.uk FOR GROUPS DISCOUNT QUOTE GB123
Anglesey Sea Zoo
We welcome groups of al sizes. Add tiona bespoke packages avai ab e ncluding tours, presentations and hands on activit es
Ample park ng for severa buses Ful disabled access throughout Adventure playground bouncy cast e and crazy golf. Wheelchairs avai able to oan. Superb gift shop w th oca ly and ethica ly sourced produce souven rs and gifts
Môr
BRYNS ENCYN L an a rpw l Ang esey LL61 6TQ Phone 01248 43041
Emai
Nearest ra lway station L an a rpw l 6 m les away
Open Every day a year round
Adm ssions:
Open 10am - 4 45pm
March - September and
0am - 3 45 pm
October - February
Special events Da ly talks feeds and hands on sess ons and craft act v ties or kids
Group net rates
Adu ts £7 60
Ch dren £6 25 Seniors/ students £7 00
Groups rates Pr ces app y or groups of 10 or more Even ng v s ts by arrangement
For informat on or assistance in arranging your group v s t www groupsnorthwales com For nformat on or assistance in arranging your group v s t www groupsnorthwales com 18 19 www.cat.org.uk enquiries@cat.org.uk +4 4 (0) 165 4 7 05950 Unique group travel experiences 4 s tar group accommodation Dedicated group visits team Free coach parking Fully accessible attraction Award winning eco conference facilities Outdoor adventures for groups of all ages Think outdoor activities... think Plas Menai. Enjoy the host of activities both on and off the water. www.plasmenai.wales / 0300 3003112 LLANBER S National Slate Museum Step back in time to explore the fascinating story of slate! Groups can enjoy a s t-down ntroductory fi m and l ve slate splitting demonstrat on before vis t ng our quarrymen s houses and eng neer ng workshops Open Al year (Apri - October Da ly 10am - 5pm/ November - March Sunday - Friday 10am - 4pm) Nearest train stat on Bangor Specia Events Vis t webs te for events Net Groups Rates* Adu ts Free adm ss on for al Group Rates: Free adm ss onBook ng essential for groups Dr ver ncent ve Free tea/ co fee and cake for dr vers Padarn Country Park LLANBERIS Gwynedd LL55 4TY Phone 02920 573700 Emai s ate@museumwa es ac uk www museum.wa es/s ate BRYNSIENCYN
Ample toi et fac lit es and seating throughout s te Dates
post@angleseyseazoo
www angleseyseazoo
Driver ncent ves we prov de fu l re reshments for al bus and coach dr vers and off c a guides accompany ng groups
co uk
co uk
Môn
Sea Zoo Anglesey Sw
Others: free water ref l stat ons secure shaded dog pens w th water bowls Dogs welcome everywhere outdoors on s te except for the chi drens play area
GOLF PASSES
We have highlighted a small selection of venues with great facilities and coach parking for groups of all sizes - so why not stretch your legs and have a break
IT'S OFTEN SAID THAT NORTH WALES
OFFERS THE BEST VALUE GREEN FEES IN EUROPE.
It's often said that North Wa es offers the best value green fees in Europe
Whatever your standard of go f you'll find courses to en oy in North Wales. In fact North Wales has over 60 of them, many of them steeped in history. The golf courses in North Wales offer you a variety with courses ranging from challenging championship courses, beautifu inks courses, demanding parkland courses to modern and sty ish golf resort courses.
You can book individual tee times at each of the go f clubs in North Wales or why not purchase one of our golf passes (valid for 12 month) wh ch allows you to play at some of North Wa es ' best courses for one incredible price? Enjoy some of the finest links and parkland courses in the country at one great pr ce: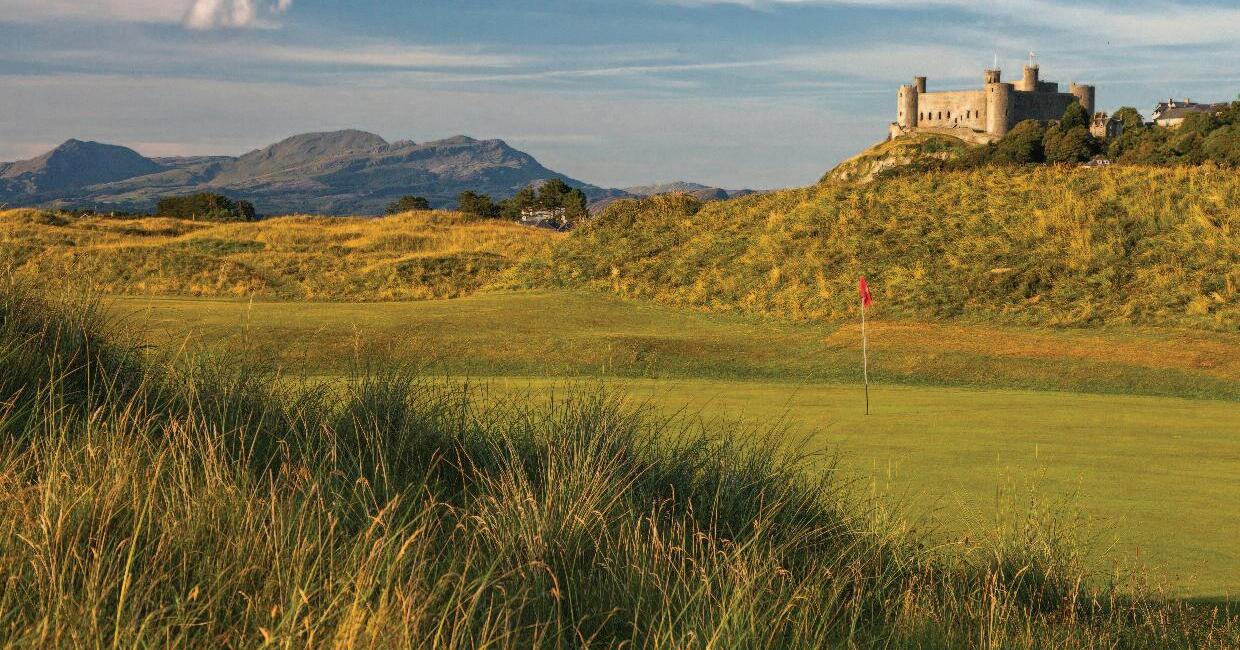 WREXHAM
LLANGOLLEN
LLANDUDNO
Rossett Hall Hotel
Qua ity dining with great sea views n our refurb shed dining room. We can cater for any menu and have a flexible approach to unch, l ght snacks, d nner and afternoon tea
Wild Pheasant Hotel & Spa
Dining in e ther our restaurant or the Glasshouse is a great experience regardless of menu cho ce. We welcome many groups al year round and can offer many flexible options
Llandudno Bay Hotel
Qual ty d n ng w th great sea v ews in our refurbished d n ng room. We can cater for any menu and have a f ex b e approach to lunch ight snacks dinner and afternoon tea
Chester Road, Rossett WREXHAM LL12 0DE Phone 01244 571000
www everbrightgrouphote s com
BETWS-Y-COED
GOLF COAST NORTH WALES
Conwy • North Wales • Maesdu
Abergele • Penmaenmawr
ANY 3 COURSES FROM £110
NORTH EAST WALES COAST
St Melyd Rhuddlan • Abergele
£90 FOR 4 ROUNDS OF GOLF
THEATRES
ACROSS NORTH WALES
VENUE CYMRU
Llandudno
t 01492 872000
venuecymru co uk
PAVILION THEATRE
Rhyl t 01745 330000
rhylpav lion co uk
THEATR COLWYN
t 01492 577888
theatrcolwyn co uk
PONTIO
Bangor
t 01248 382828
pontio co uk
GALERI
Caernarfon
t 01286 685250
galericaernarfon com
ISLE OF ANGLESEY GOLF
Ang esey • Baron Hill • Bull Bay Holyhead • Henllys • Storws Wen
ANY 4 COURSES ONLY £95
Waterloo Hotel
Set in the heart of Snowdonia, in the beaut fu v llage of Betws-Y-Coed, The Waterloo Hote is the idea place to stop Restaurant and bar w th free ons te coach parking
Ho yhead Road BETWS-Y-COED Conwy LL24 0AR
Phone 01690 710411
Emai reservat ons@water oo-hotel nfo www water oo-hotel in o
LLANBER S
CLWYD THEATR CYMRU
Mold
t 01352 701521
theatrclwyd com
STIWT THEATRE
Wrexham
t 01978 841300 stiwt com
The Royal Victoria Hotel
Refreshment stops avai ab e advanced book ngs required.
We a so welcome mea stops and coffee stops It s adv sab e to book n advance for arge groups refreshment stops
LLANBER S Gwynedd LL55 4TY Phone 01286 870253 Emai groups@theroya v ctoria co uk/ enqu r es@theroyalvictor a co uk www theroya victor a co.uk
Berwyn Street LLANGOLLEN LL20 8AD
Phone 0 978 860629
www everbr ghtgrouphote s com
CAERNARFON
East Parade, LLANDUDNO Conwy LL30 BE
Phone 01492 499500
www everbr ghtgrouphote s com
Plas Menai
P as Menai, The Nat onal Outdoor Centre for North Wales is based on the Mena Strait and offer water and and based activ t es throughout the year There s accommodation and catering faci ities ons te Contact 0300 3003112 or e-ma l nfo@plasmena wa es for more information
CAERNARFON Gwynedd LL55 UE
Phone 0300 300 3112
www p asmena wales
Celtic Royal Hotel
A h storic hote s tuated on the edge of Snowdonia Nationa Park, w thin walk ng d stance of Caernarfon s wal ed town and castle, a UNESCO World Her tage s te
Bangor Street, CAERNARFON Gwynedd LL55 1AY Phone 01286 674477 Emai reservat ons@ce tic-royal co uk www ce t c-royal co uk
Anglesey Sea Zoo
Home to the Nat onal Welsh Language and Her tage Centre - a mag ca place ocated in a former quarrying vi lage on the northern coast of the L yn Pen nsula in North Wales LL
Fu ly icensed Rockpool Cafe serv ng the best loca ly sourced hot and cold food and dr nks and cakes Amp e indoor and outdoor seating w th amazing Snowdon a views Free water refil stations
Llanfa rpw , Anglesey LL61 6TQ Phone 01248 4304 1
co.uk
For informat on or assistance in arranging your group v s t www groupsnorthwales com For nformat on or assistance in arranging your group v s t www groupsnorthwales com 20 21
golfnorthwales.co.uk REFRESHMENT LL THFAEN
Nant Gwrtheyrn
www
THFAEN Pwl he , Gwynedd LL53 6NL Phone 01758 750334
nantgwrtheyrne cymru BRYNSIENCYN
www.angleseyseazoo
Sea
Anglesey Sw Môr
BRYNSIENCYN
Zoo
Môn CAERNARFON
MEET NORTH WALES
OUT AND ABOUT
These tour ideas are just the thing for groups who like to be flexible. Now here's the hard bit – coast or mountain? Heritage or sightseeing?
NORTH WALES: WHERE THE MOUNTAINS MEET THE SEA. EVENTS IN BEAUTIFUL SURROUNDINGS CLOSE TO NATURE.
A region on the move – that's North Wales and rapidly growing in its dest nation as a Conference end Bus ness Events Venues From hotels, academic conference venues to team building activities, we have it all in North Wales
Already an established ho iday destination, North Wales is also an ideal location for events, with premium accommodation and conference venues, and team bu lding and incentive experiences under one roof, or in the great outdoors
W th an excellent selection of venues, accommodat on and experiences, North Wa es wi l truly inspire your delegates North Wa es is a renowned area of outstand ng natural beauty, with mounta nous backdrops and sweep ng bays, this rich natural landscape provides the most tranqu l yet except onal setting for our venues and activit es These
natural features stand a ongside anc ent world heritage sites that are truly insp rational The myths and egends that enrich the North Wa es culture can be seen everywhere from the service to the food and even the greetings at a hotel North Wales is enriched by these legends and thus making it a destination like no other.
North Wales boasts a purpose-built conference and events centre; a university wor d-renowned for research n env ronmental sciences, engineering and human sciences; ncentive exper ences ranging from the sedate to adrena ine-pumping; accommodat on in beautiful natural surroundings; and innovat ve food and dr nk suppliers
With beautiful surroundings c ose to nature and offering competitive pricing and ncreased value for money, North Wales is easily accessible from both the north of
Eng and and the Repub ic of Ireland, and by rai n under two hours from Liverpoo , Manchester and Birm ngham and under three hours from London
The team at Meet North Wales prov des expert knowledge of North Wales and all it has to offer We work c osely with you to understand your requirements and source the ideal location, accommodation, and exper ence for your next business event, providing a timely response to enquiries
North Wales is a dest nation like no other and your delegates will be sure to receive a truly memorable exper ence
Email contact: info@meetnorthwales.co.uk
Website address: www.meetnorthwales.co.uk
LLANGOLLEN
V sit the picturesque town of Llangollen, on the river Dee and the famous venue of the Internat onal Musical E steddfod (1st week July) A must do' is a 10 mile journey on the Llangol en Steam Railway through an area of outstand ng natural beauty
PLAS NEWYDD
Another must visit s Plas Newydd – the famous home of the Ladies of Llangol en ' who eloped from Ireland to this unpretent ous l tt e cottage n 1778 and transformed it nto a gothic fantasy entertaining the rich and famous including the Duke of Wellington
DEE VALLEY
Experience the beauty of the Dee Valley and learn about its industria heritage on a canal boat tr p across the 126 ft h gh Pontcysyllte Aqueduct now a designated World Heritage Site.
HORSESHOE PASS
The scenic Horseshoe Pass wil lead you to the historic market town of Ruthin w th ts V ctorian Gaol, the only Pentonv lle style prison now open in the UK followed by a tour of Nantclwyd y Dre bu lt in 1435 and probably the oldest timbered town house n Wa es
GREENFIELD VALLEY HERITAGE PARK AND MUSEUM
The heritage n the County of Flintshire can be experienced by visiting the Greenfield Valley Heritage Park and Museum as well at St Winefride's We l, a p ace of pilgr mage and one of the 7 wonders of Wales A v sit to the Gladstone' Res dent al Library founded in 1889 by Prime Minister S r Wil iam G adstone, s a fascinating end to a tour of histor c North East Wales
BODRHYDDAN HALL
Flora and Fauna of North Wales A Garden Break for the Connoisseur Bodrhyddan Hall is a Grade I listed build ng and has been the home of Lord Langford and his fam ly for over 500 years The gardens cover some e ght acres of land, including the formal parterre, flowing awns and the extens ve p easance The Woodland Walk area was reclaimed in the early 2000's. The grounds are home to dozens of species of birds, amph bians and mammals
PLAS CADNANT
Plas Cadnant recent y d scovered Hidden Gardens Descr bed as one of North wales best kept secrets Picturesque Valley Gardens, dramatic rock format ons river, waterfalls and wood and w th red squirrels Many interesting and rare plants; beautiful herbaceous borders; colourfu d splays through the seasons Traditional Tea Room and Visitor Centre
BODNANT GARDEN
Bodnant Garden, one of the UK's finest garden, spread over 80 acres and famous for its Rhododendrons, Camellias, Magnolias and Laburnum Arch An open area of parkland featuring meandering grassy paths and 20 species of old grasses have now opened and with the garden now open during the winter months there has never been a better time to visit
PLAS BRONDANW
Plas Brondanw, the home of Sir Clough W lliams-Ellis which is an arch tectura garden w th statuary, terraces and yew topiary The gardens at P as Brondanw are on des gned axial views, which term nate with the surrounding mounta n peaks Mature Yew hedging forms the vistas to draw the eye Some regard the gardens and sculptures as his most marvellous creation and given the magic of Portmeir on that's some claim!
For informat on or assistance in arranging your group v s t www groupsnorthwales com For nformat on or assistance in arranging your group v s t www groupsnorthwales com 22 23
MULTILINGUAL NORTH WALES GUIDES
We have information on North Wales in numerous languages including Japanese, German, Mandarin, French, Inidi and Spanish
Why not visit our website to find out more brochures.gonorth.wales
CHOIRS
ADVENTURES IN NORTH WALES PODCAST
Whether you ' re planning a day-tr p or a staycation in North Wales, this travel guide will give you a peek nto some of the great things to see and do North Wales has some truly wonderful h storic bu ldings and structures – it has more castles per square mi e than anywhere else in the World! Don t take our word for hit why not listen to our podcasts at www gonorthwales co uk/exp ore/podcast
CAERNARFON MALE VOICE CHOIR
Rehearsa s Tuesday from 7 45pm
Venue Ga eri Phone 01286 675333
CAERWYS MALE VOICE CHOIR
Rehearsa s Wednesday from 6.45pm - 8pm
Venue Bethe Chape , Caerwys Phone 01745 369094
COLWYN MALE VOICE CHOIR
Rehearsa s Wednesday & Sunday, 7.30pm - 9pm
Venue Commun ty Centre, O d Colwyn phone 01492 548670
CÔR MEIBION LLANDDULAS
Rehearsa s Tuesday (during tour st season) from 8pm
Venue The Gloddaeth United Church Phone 01745 823791
MAELGWYN MALE VOICE CHOIR
Rehearsa s Monday from 7 30pm - 9pm
Venue Awel y Mynydd School Llandudno Junction
Phone 01492 580272
PENRHYN MALE VOICE CHOIR
Rehearsa s Monday from 7 15pm - 9 15pm
Venue Neuadd Ogwen, Bethesda Phone 01248 680471
RHOS MALE VOICE CHOIR
Rehearsa s Monday & Thursday from 7 15pm
Venue Stiwt Theatre, Rhos and Bethel Chapel Ponc au Phone 07811 379291
DENBIGH MALE VOICE CHOIR
Rehearsa s Tuesday 7 30pm
Venue Eirianfa, Denbigh
Phone 01824 703832
DYFFRYN CONWY MIXED VOICE CHOIR
Rehearsa s Tuesday from 7.30pm - 9 30pm
Venue St Paul s, Aberge e and Penie Chapel Deganwy Phone 01745 583543
FLINT MALE VOICE CHOIR
Rehearsa s Wednesday & Sunday from 7pm to 9:15pm
Venue F int Mounta n Park Hotel
Phone 01352 734058
HOGIA'R DDWYLAN
MALE VOICE CHOIR
Rehearsa s Thursday from 7.30pm - 9 30pm
Venue Tabernacl Chapel Mena Bridge Phone 01248 724159
RUTHIN CHOIR
Rehearsa s Thursday (except August) from 8pm
Venue The Tabernac e Vestry We l Street Phone 07724 112984
THE FOEL MALE VOICE CHOIR
Rehearsals Tuesday from 7.30pm Venue Cape Ifan Phone 01407 830815
TRELAWNYD
MALE VOICE CHOIR
Rehearsals Tuesdays, 7pm - 9pm
Venue Memoria Hall Trelawnyd Phone 01745 339475
To listen to the singing of a genuine Welsh choir is a unique and moving experience. Most choirs welcome groups to drop-in on rehearsals. We recommend that you contact the choir before your visit.
MALE VOICE CHOIR CONCERTS
St John's Methodist Church, Llandudno (every Tuesday and Thursday from May to mid October). Concer ts star t at 8pm with doors opening at 7:15pm. St Mary's Church, Betws-y-Coed (every Sunday from July to September). Concer ts star t at 8pm.
For informat on or assistance in arranging your group v s t www groupsnorthwales com For nformat on or assistance in arranging your group v s t www groupsnorthwales com 24 25
Co wyn Ma e Vo ce Cho r
Le chemin du Nord du Pays de Ga les
Der North Wa es Way
El Camino del norte de Gales
AFFORDABLE COACH HIRE WITHOUT COMPROMISE
HOW TO GET HERE
BY RAIL
Fast rail services l nk London (Euston) with the coast and serve the Un versity C ty of Bangor and Ho yhead, the gateway to Ireland Rail services from London Euston and local train enqu ries
PHONE 03457 48 49 50
NORTH WALES BY RAIL
Crewe to Holyhead - 123 min Manchester to L andudno Junction - 120 min London to Fl nt - 163 min
BY SEA
BY ROAD
B rmingham 131 mi es
2 hour and
119 miles
2 hour
50 miles Time: 1 hour
38 miles
45 min
254 miles Time: 4 hours
Manchester 77 m les
Time: 1 hour and 30 min
Nottingham 145 m les
Time: 2 hours and 28 min
COACH HIRE ★ MINIBUS HIRE ★ DESTINATION MANAGEMENT ★ ENTRANCES GUIDES ★ CITY SIGHTSEEING TOUR ★ GREAT ORME MARINE DRIVE TOUR
Contact us 01492 879133
Sales@alpine-travel.co.uk www.alpine-travel.co.uk
COACH PARKING
BALA
The Green BARMOUTH
B ack Patch
BEAUMARIS
Drop off/pick up opposite Spar shop in Castle Street Coach Park s 300yds past the castle on the eft
BANGOR
Setting down and p ck ng up at The Clock park ng n Dean Street and Garth Road opposite sw mm ng pool
BEDDGELERT
Close to the Royal Goat Hote parking on the left hand s de
BETWS-Y-COED
Turn right off Ffordd Caergyb nto Stryd yr
Orsaf Drop off and pick up bay near the shopping arcade
BLAENAU FFESTINIOG
Yr Orsaf
CAERNARFON
Drop off at Cast e Square and Bangor Street
Parking at Victor a Dock on y Beside Castle
Coach Parks Ffordd Balaclava Road
COLWYN BAY
Builders Street West Llandudno Conwy LL30 1HH
PORTHMADOG
Irish Ferries 0818 300400 Stena Line 08447 707070
Stoke-on-Trent 90 miles
Time: 1 hour and 30 min
You might be surprised, but we ' re really easy to get to from anywhere in Britain Just over an hour from Manchester, and four from London.
Turn right off A547 Abergele Rd onto main entrance of E r as Park
CONWY
Setting down/picking up at V carage Gardens n Rosehi Street Long Stay coach park at Morfa Bach Park ng fees app y
CRICCIETH
Y Maes
DENBIGH
Setting down and p ck ng up in Lenton Poo
HOLYHEAD
Parking fac l ties on Newry Beach for coaches
LLANDUDNO
Mostyn Broadway coach park is used on y for coach drop off and co lection Short stay/ Long stay park ng s ava lab e at Bui der Street coach park
LLANFAIRPWLL
James Pringle Weavers - Free parking
LLANGOLLEN
Smithf e d Market in Market Street
MOLD
New Street Car Park Drop off and p ck up in Chester Street opposite V ctoria House
Iard yr Orsaf
PRESTATYN
Drop off & pick-up at the bus stat on Long stay - Nova Car Park
PWLLHELI
Near the harbour at North Quay drop off- p ck up po nts
RUTHIN
FREE park ng ava lab e at Ruthin Craft Centre P ck-up/drop-off po nts Park Road car park
RHYL East Parade Car Park
WREXHAM
Drop-off/pick-up point on High Street n centre of ma n shopp ng area Secure free park ng ust 200 yards away at Eag es Meadow (by pr or arrangement)
Amlwch
L angefn
Rhosneigr
Caernarfon
Conwy Rhy Aberge e
Be hesda
Co wyn Bay
Presta yn Fl n
Ho ywe l
St Asaph
Penmachno Pentrefoe as
Denbigh
Ruth n
Porthmadog Corwen Llango len
Y Bala
Pw lhe i Criccieth
Snowdonia
Abermaw
Aberdyfi
Pontarfynach
Towyn Rhudd an Ew oe Mo d Ruabon
Newtown
Isaf
Ch rk
Oswestry
Welshpool
Montgomery Trefaldwyn
Trefyclo Devil's Bridge
For informat on or assistance in arranging your group v s t www groupsnorthwales com For nformat on or assistance in arranging your group v s t www groupsnorthwales com 26 27
M56 M62 M58 M53 Rhyd-Ddu Waunfawr Llanfairfechan Dinas Groeslon Glyn Ceiriog Llanarmon Dyffryn Ceiriog Tal-y-Llyn Llanrwst Trefriw Beaumaris Moelfre Queensferry Betws-y-coed Dolwyddelan Blaenau Ffestiniog Beddgelert Llanberis Nefyn Aberdaron Barmouth Harlech Abersoch Llan Ffestiniog Trawsfynydd Bala Dolgellau Llanrhaeadr ym Mochnant Glyndyfrdwy Llanfyllin Llanfair Caereinion Machynlleth Corris Aberdovey Tywyn Llangurig Llanidloes Maghull Cerrigydrudion Menai Bridge Porthaethwy Biwmares Y Ferri
K rkby Formby Crosby Bae Colwyn Y Rhy Llanelwy Rhuthun Rh wabon Yr Wyddgrug Ewlo Y Ffl n Tref ynnon Y Waun Y Trallwng Cric e h Y Drenewydd Dinbych Llandudno Wrexham Bangor Aberystwyth Wrecsam
Holyhead Chester Liverpool Y Felinheli Llanfairpwll Llanddeusant Ynys Môn Anglesey
National Park
Eryri Ceiriog Betws-y-coed Ffestiniog Beddgelert K Bay Cr c Y Drenewydd Shrewsbury Amwythig Holy Island Ynys Enlli Bardsey Island Great Ormes Head Bae Tremadog Bay Dee Estuary LlynPeninsula SnowdoniaNational Liverpool B4368 B4386 B4397 B5152 B5130 B5393 B4386 B5476 B4392 B4354 B4422 B4417 B5111 B5112 B5109 B4418 B4413 B4405 B4518 B4569 B4391 B 4389 B4391 B4500 B 5 1 13 B4501 B4401 B5105 B 5106 B 4501 B5381 B4407 B4396 B4580 A56 A540 A488 A528 A488 A5025 A4080 A4120 A490 A525 A5104 A548 A543 A548 A4212 A493 A496 A497 A499 A498 A4086 A4085 A5025 A525 A 54 1 A495 A489 A514 7 A49 A5 A458 A5 A53 A525 A49 A41 A534 A 4 1 A51 A41 A458 A 5 A470 A 4 7 0 A55 A483 A494 A5 A55 A494 A5 A5 A487 A458 A494 A487 A470 A 4 7 0 A495 A458 A483 A470 A470 A4 A483 A487 A44 A5 A55 A55 A565
Caergybi
Parc Ce n e dlaethol
Time:
m n Leeds
12
Time:
Liverpool
Chester
Time:
London
Ho yhead F s g ard Pembroke wansea Cardiff Exeter Southampton ristol Heathrow Gatwick Portsmouth Newhaven oulogne Calais Folkestone Dover Ramsgate Harwick Felixstowe Luton Birmingham h ewsbury h ster Manchester Newcastle Edingburgh G asgow M74 M6 M180 M1 M54 M5 A470 A5 A55 A69 A A63 A 4 A 2 A74 A7 A68 M1 M6 M40 M4 M11 M3 M25 M20 M5 M62 A M Leeds H LL Motorway Main Road Railway Ferry Channe Tunnel A po t L erpool LONDON P m u
For information or assistance in arranging your group visit www groupsnorthwales com 28 Imagery - Visit Wales © Hawlfraint y Goron / © Crown copyright (2019) All the information included in this brochure is correct at the time of print (2023) produced by North Wales Tourism Ltd Registered Office 2565721 WHAT WILL YOU DO NEXT... Go North Wales gonorthwales co uk Golf North Wales golfnorthwales co uk Great Days Out greatdaysoutnorthwales co uk Meet North Wales meetnorthwales co uk