Welcome to the January 2023 issue of
Fair
equipment guide recording & storage devices www.tvtech.com | January 2023 GEAR ON THE GO • EDUCATING YOUR STAFF ON NEXTGEN TV • CLOUD BASICS 5GFOR BROADCAST p.16
Play Broadcasters look to Capitol Hill to level the playing field with streamers
By James O'Neal
By Michael Silbergleid
contents 10 Media & Entertainment Best in Market Awards 2022 11 40 Years of TV Tech The month of January
12 What Can Broadcasters Do for 5G? Acquisition and distribution take on new meanings
14 Battle Among Networks, Affiliates and Streamers Heats Up Broadcasters want more FCC oversight on vMVPDs
16 Dependable Rugged Gear for 'Run and Gun' News Crews From lighting to power supplies and camera support, gear is getting lighter, more affordable nd reliable By Craig Johnston 19 Hailing That Storage in the Sky The evolution of archiving in the cloud By Susan Ashworth 22 Learning ATSC 3.0, On the Web or On the Bench Great resources to get you started on your NextGen TV journey By Doug Lung 24 A Brief History of the Cloud The concept of 'cloud computing' originated in the 1950s By Karl Paulsen January 2023 volumn 41, issue 01 6 in the news 26 eye on tech 34 people 16 14 12 11 twitter.com/tvtechnology | www.tvtech.com | January 2023 3 equipment guide user reports storage & recording devices • AJA • Blackmagic Design • ATOMOS 29 29 10
By Gary Arlen
Nineteen eighty three was not a bellwether year for the TV industry; it doesn't occupy the honored realm of milestones in U.S. television history, like 1948, 1969 or 2009. But it did mark the beginning of this publication, launching a four-decade journey of documenting the technical landscape that defines television in 2023.
When Steve Dana launched TV Technology 40 years ago (September, actually), cable television was beginning to attain the promise of the multichannel universe it eventually became. ESPN, CNN, The Weather Channel and HBO were all becoming more commonplace in American households that were just beginning to get used to the concept of paying for TV.
That year also marked the widespread launch of mobile TV with Sony's Watchman making its debut at the Consumer Electronics Show in January (it had already been introduced in Japan the prior year). In the first of what will be a monthly feature marking our 40th anniversary, we have enlisted James O'Neal, TV Tech historian extraordinaire to review the highlights of the past four decades; you can find his first feature focusing on the Sony Watchman on p. 10.
What were some of the other technology issues back in 1983? "Stereo TV" (aka multichannel television sound) was one of the burgeoning new developments on the minds of broadcast engineers when Chicago public TV station WTTW launched the audio format in the fall of that year. Throughout our four decades, we have showcased the promise of new technologies, some of which were truly dogs that never fully materialized (3DTV anyone?).
A common thread running through the evolution of TV technology (the thing, not this magazine) over the past 40 years has been mobility: We talked about it with the Watchman in 1983; ten years ago, we were lamenting the slow rollout of of the first (failed) iteration of digital "mobile TV" via ATSC 1.0 and in 2023, we're focused on the development of ATSC 3.0, a standard that will finally bring the promise of true robust mobile reception (if the manufacturers follow through).
As we enter our fifth decade, TV Tech has rededicated ourselves to provide the latest news, expert insight and tips and techniques that have helped our readers navigate the ever-changing media and entertainment technology landscape. We couldn't do it without your help and value your feedback!
Tom Butts Content Director tom.butts@futurenet.com
PREDICTING
2023... 20 YEARS AGO
In 2003, in commemoration of TV Tech's 20th year, we enlisted the Masked Engineer to take a peek at what TV would look like 20 years hence. In their usual style, Mario Orazio pulled no punches in the trends they were seeing back in 2003 and what they thought would continue into 2023. We'll leave you with a sample of their prognostications (fortunately for us, they didn't come to pass!):
"The Federal Communications Commission announced today that it has granted the 43rd six-month extension of time to construct digital television transmission facilities to 303 of the 304
stations that requested them. The 304th was chastised by e-mail using moderately strong, but neither obscene nor indecent, language..."
"TiVo, the largest exhibitor at the NAB Show, announced a breakthrough in magnetic recording. The company calls it LDT (linear disk technology)..."
"NHK, the Japan Broadband Corporation, has called upon western governments to create new alphabetic characters. After the company developed HDTV, it moved on to ultra-HDTV, with twice the resolution of HDTV in each direction. Then came very-HDTV, with twice the UHDTV resolution. Whoppingly-HDTV came next, followed by eXtremely-HDTV a few years ago, with 32k x 16k resolution…"
FOLLOW US www.tvtech.com twitter.com/tvtech
CONTENT
Content Director
Tom Butts, tom.butts@futurenet.com Content Manager
Terry Scutt, terry.scutt@futurenet.com
Senior Content Producer
George Winslow, george.winslow@futurenet.com
Contributors Gary Arlen, Susan Ashworth, James Careless, Kevin Hilton, John Maxwell Hobbs, Craig Johnston, Bob Kovacs and Mark R. Smith
Production Managers Heather Tatrow, Nicole Schilling
Managing Design Director Nicole Cobban
Senior Design Director Cliff Newman
ADVERTISING SALES
Vice President, Sales, B2B Tech Group Adam Goldstein, adam.goldstein@futurenet.com
SUBSCRIBER CUSTOMER SERVICE
To subscribe, change your address, or check on your current account status, go to www.tvtechnology.com and click on About Us, email futureplc@computerfulfillment.com, call 888-266-5828, or write P.O. Box 8692, Lowell, MA 01853.
LICENSING/REPRINTS/PERMISSIONS
TV Tech is available for licensing. Contact the Licensing team to discuss partnership opportunities. Head of Print Licensing Rachel Shaw licensing@futurenet.com
MANAGEMENT
Senior Vice President Group Elizabeth Deeming Chief Revenue Officer, B2B Walt Phillips VP, B2B Tech Group, Carmel King Head of Production US & UK Mark Constance Head of Design Rodney Dive
FUTURE US, INC.
130 West 42nd Street, 7th Floor, New York, NY 10036
All contents © 2023 Future US, Inc. or published under licence. All rights reserved. No part of this magazine may be used, stored, transmitted or reproduced in any way without the prior written permission of the publisher. Future Publishing Limited (company number 2008885) is registered in England and Wales. Registered office: Quay House, The Ambury, Bath BA1 1UA. All information contained in this publication is for information only and is, as far as we are aware, correct at the time of going to press. Future cannot accept any responsibility for errors or inaccuracies in such information. You are advised to contact manufacturers and retailers directly with regard to the price of products/services referred to in this publication. Apps and websites mentioned in this publication are not under our control. We are not responsible for their contents or any other changes or updates to them. This magazine is fully independent and not affiliated in any way with the companies mentioned herein.
If you submit material to us, you warrant that you own the material and/or have the necessary rights/permissions to supply the material and you automatically grant Future and its licensees a licence to publish your submission in whole or in part in any/all issues and/or editions of publications, in any format published worldwide and on associated websites, social media channels and associated products. Any material you submit is sent at your own risk and, although every care is taken, neither Future nor its employees, agents,subcontractors or licensees shall be liable for loss or damage. We assume all unsolicited material is for publication unless otherwise stated, and reserve the right to edit, amend, adapt all submissions.
Please Recycle. We are committed to only using magazine paper which is derived from responsibly managed, certified forestry and chlorine-free manufacture. The paper in this magazine was sourced and produced from sustainable managed forests, conforming to strict environmental and socioeconomic standards.
TV Technology (ISSN: 0887-1701) is published monthly by Future US, Inc., 130 West 42nd Street, 7th Floor, New York, NY 10036-8002. Phone: 978-667-0352.
Periodicals postage paid at New York, NY and additional mailing offices.
POSTMASTER: Send address changes to TV Tech, P.O. Box 848, Lowell, MA 01853.
January 2023 | www.tvtech.com | twitter.com/tvtechnology 4
Vol. 41 No. 1 | January 2023 Future plc is a public company quoted on the London Stock Exchange (symbol:
Chief Executive Zillah Byng-Thorne Non-Executive Chairman Richard Huntingford Chief Financial and Strategy Officer Penny Ladkin-Brand Tel +44 (0)1225
FUTR) www.futureplc.com
442 244
editor's note Future plc is a public company quoted on the London Stock Exchange (symbol: FUTR) www.futureplc.com Chief Executive
Financial and Strategy
Ladkin-Brand Tel +44 (0)1225 442 244
Zillah Byng-Thorne Non-Executive Chairman Richard Huntingford Chief
Officer Penny
Pearl TV Provides NextGen TV Progress Report
WASHINGTON—In advance of the 2023 International CES, Pearl TV provided a progress update on NextGen TV milestones in 2022. In addition to recent deployments in New Orleans and Dayton, additional launches are planned in Boston and Miami for this month, producing a 5% NextGen TV market penetration increase by the end of January.
And with more than a dozen additional markets planning their transition to NextGen TV services later in 2023, the standard is expected to reach to 75% of the U.S. population, Pearl said.
Pearl also reported that 40 stations across 21 markets are now using RUN3TV—a 33% increase since April—and have created unique applications, including three PBS
stations. RUN3TV's web-based platform architecture enables stations to easily develop, innovate, and differentiate at the application services layer, allowing a consistent viewer experience across all NextGen TV devices, according to Pearl TV.
MediaTek, a partner in the "FastTrack to NextGen TV,'" a program that accelerates and streamlines the path for adoption of NextGen TV technology by consumer electronic makers producing smart TVs and related devices at volume, has moved into commercial production of its TV System on
Chip (SoC) ATSC3 demodulators.
A second partner, software maker iWedia, joined the MediaTek and Pearl TV partnership, creating a product that includes MediaTek's latest SoC and iWedia's leading-edge NextGen TV software stack. It will be pre-certified for compliance with the Consumer Technology Association's (CTA) NextGen TV logo requirements, A3SA Security and the RUN3TV Application platform.
Available in Q1 2023, MediaTek and iWedia's total solutions will help to expedite scale among its customers for high-volume, low-cost televisions, according to Pearl.
George WInslow
update
Deployments
Albuquerque-Santa
Birmingham,
Champaign
Honolulu:
New
Scripps Launches Sports Division
CINCINNATI—The E.W. Scripps Company is launching a new Scripps Sports division as part of a plan to expand its presence in sports and to build on its local and national reach to develop new relationships with sports leagues for sports distribution.
Brian Lawlor, who has led the company's Local Media division since 2009, will take over as president of the new division.
In announcing the launch, Scripps noted that its acquisition of ION Media last year gives it unparalleled national reach through over-the-air broadcast, pay TV and connected TV and that changes in the television landscape and in the sports marketplace are open opportunities for new models to partner on live sports distribution.
"There is no better way to reach every generation of sports fan than through live broadcast television," said Adam Symson, Scripps' president and CEO. "Scripps is working
with the leagues and teams that recognize the role our assets can play in increasing reach and visibility for audience engagement. In addition, Brian Lawlor is a highly regarded broadcast executive who has transformed our local media business – building the division from 10 TV stations in 2009 to 61 today. For the last year, he has already been leading the Scripps sports plan, bringing the same commitment to entrepreneurship and creativity for the company."
In addition to the market depth of 61 local stations, ION boasts the fifth-largest national broadcast viewership and reaches 100% of U.S. television households through broadcast, cable/satellite and connected TV platforms. It can run localized, regionalized and national programming since Scripps controls all operations, the company said.
George WInslow
6 in the news January 2023 | www.tvtech.com | twitter.com/tvtechnology
Fe, N.M.: KOAT-TV (Hearst), KRQE (Nexstar), KWBQ and KASY-TV (Mission Broadcasting)
Ala.: WABM and WTTO (Sinclair), WDBB (Cunningham Broadcasting), WIAT (Nexstar), WBRC (Gray), WVTM-TV (Hearst), and WSES (Howard Stirk Holdings)
and Springfield-Decatur, Ill.: WICS and WICD (Sinclair), WCIA and WCIX (Nexstar), WBUI, WRSP-TV and WCCU (GOCOM Media of Illinois), and WAND (Block Communications)
KIKU and KITV (Allen Media Group), KGMB, KHNL and KHII (Gray), and KHON (Nexstar)
Orleans: WUPL and WWL (Tegna), WVUE (Gray), WDSU (Hearst), and WGNO and WNOL (Nexstar)
OPINION
Seer, Sage, Soothsayer Looks At 2023
Take a hike Nostradamus. Step aside Jeanne Dixon. Move over Miss Cleo. With a reverential turban tip to the late Johnny Carson and Ed McMahon, Kurznac the Magnificent is in the house.
What follows are my 2023 predictions for the television industry, especially when it comes to technology. Of course, I'm not really psychic—these predictions are based on equal parts of my observations and conversations with broadcasters throughout the year and my sense of humor. I'll leave it to the reader to decide which is which.
In no particular order:
A broadcaster earns additional revenue from ATSC 3.0: Expect to see early, incremental deployment of 3.0-based data delivery over vast geographic areas and revenue from companies eager to leverage over-the-air broadcast to transmit their data.
Broader adoption of the cloud for production, master control and playout: Whether it's a reporter in the field accessing files and footage for a story, a production company covering a sporting or entertainment event or a station looking for greater master control and playout efficiencies, the cloud will be where it's at in 2023. That cloud, however, might be public, private, on-prem or a combination of any or all.
Cracks widen in traditional relationships: Sports— à la "Thursday Night Football"—will continue to find new homes over the top. Networks and local broadcasters also will
continue to jockey as FAST channels and VOD OTT services chip away at the ties that bind.
Early indications of a TV news reboot emerge: As ties loosen, local broadcasters will give serious consideration to how they devote time during their broadcast day. Some will conclude there's simply no viewer appetite for more news and will look for new spins on news presentation or entirely new ways to inform and entertain local audiences.
Rumbles grow in D.C. for Repack 2.0: I personally know of two occasions when those in the know have thrown out the prospect—one by no less than former FCC Commissioner Michael O'Reilly. With the wireless industry's insatiable appetite for spectrum; the clear demonstration that multiple 3.0 broadcasters can successfully share the same stick (and channel assignment); and the perennial funding shortfalls of the federal government, look for "Repack 2.0" rumbles to intensify. Don't be surprised if someone proposes paying for millions of consumer 3.0 dongles for 1.0 sets with a portion of auction proceeds.
Broadcast engineering availability crisis continues: Broadcast engineers keep getting older, more are deciding to retire every day, especially now that the repack is in the rearview mirror. Efforts continue on multiple fronts to recruit new talent. But on the whole, it appears those leaving the industry far exceed those entering.
Trade show/industry gathering attendance continues to grow: While a far cry from yes-
Comcast Completes World-First Live 10G Connection Delivering Multi-Gig Symmetrical Speeds
teryear, attendance at major trade shows this year reminded tens of thousands of people of how important face-to-face meetings and networking are, even though video conferencing was and continues to be useful. Short of some unexpected calamity, look for attendance at these events to grow in 2023.
A deep fake slips by: Somehow, somewhere a deep fake slips by, making it to air, ultimately causing a good deal of embarrassment and soul searching once the falsehood becomes widely recognized.
Local FAST channels gain traction: Experience with Free, Ad-Supported Television channels streamed to viewers grows, unlocking new revenue streams for stations. Content ranges from live coverage of popular high school and small college sports and repurposed library footage of local news and events to special interest channels and popup political and weather/disaster channels.
Sustainability concerns become unsustainable. It's not that a clean environment or greater efficiency and the cost savings available aren't important. It's just that the U.S. Department of Energy announced in mid-December that Lawrence Livermore National Laboratory on Dec. 5, 2022, achieved breakeven from a fusion reaction, paving the way for "clean fusion energy [in the future], which would be a game-changer for efforts to achieve President Biden's goal of a net-zero carbon economy."
In other words, small, incremental steps to achieve sustainability will pale in comparison to limitless clean energy. Ultimately, they will be regarded as futile. l
business location in the Philadelphia region to its live network including a DOCSIS 4.0-enabled 10G node and multiple cable modems to deliver high speed data service to the site. Comcast engineers tested symmetrical speeds over the connection and will continue trialing 10G technologies for the next several months in preparation to offer 10G-enabled services to customers in the second half of 2023.
PHILADELPHIA—
Comcast says it has successfully demonstrated the world's first live, multigigabit symmetrical Internet connection powered by 10G and Full Duplex DOCSIS 4.0.
10G technology is designed to revolutionize the availability of ultra-fast speeds, by delivering multigigabit symmetrical services over connections already installed in hundreds of millions of homes worldwide, without digging up yards or installing new connections, Comcast said.
For the world-first live trial, Comcast connected a
"This live trial combines years of technology innovation and versatility to create a clear path to next-generation speed, reliability and performance for all the homes in our footprint, not just a select few," said Charlie Herrin, president, technology, product, experience at Comcast Cable. "What excites us most about 10G technology is the ability to continue our longstanding commitment to delivering our best technologies to everyone we serve."
George Winslow
8 in the news
Phil Kurz
January 2023 | www.tvtech.com | twitter.com/tvtechnology
tv tech best of 2022 January 2023 | www.tvtech.com | twitter.com/tvtechnology 10
V Tech ended 2022 by recognizing excellence and innovation in media and entertainment technology with the Best in Market Awards. All nominees are featured in an ebook available free for download at tvtech. com. Congratulations to the winners! Adobe Premiere Pro Audio Design Desk Audio Design Desk Digital Nirvana MetadataIQ Haivision Haivision Pro460 Harmonic VOS360 Cloud SaaS Platform Bitcentral FUEL+Powr OTT Platform BZBGEAR BG-MAESTRO Interra Systems VEGA Media Analyzer JVC Professional Video KY-PZ510 Series PTZ Cameras Canon Canon DP-V2730 Professional Display Blackmagic Design Ultimatte 12 AJA Video Systems AJA ColorBox Alteon Alteon Cloud
T
Nextologies
Auto
January
In celebration of our 40th anniversary in 2023, TV Tech takes a look back at the past four decades of technology advances.
1983: The big buzz at CES surrounds Sony's U.S. debut of a truly personal portable TV, the "Watchman." It was
made possible by the development of an ultra-thin 2-inch black-and-white CRT, and easily fits within an owner's pocket.
1993: There's concern about the cost of going digital, as the Advisory Committee on Advanced Television Service estimates that broadcasters will each likely need to pony up nearly $1.8 million to deploy DTV. Also, "buy in" to digital technology for remote production is going slowly, with many truck owners taking a "wait and see how it works out in the studio" attitude.
Although portable TV sets are nothing new, Sony broke the size barrier with the introduction of its "Watchman" line in 1983. A specially-engineered CRT with its electron gun at a right angle to the phosphor screen made the tiny sets possible.
2003: In its second review of the DTV transition, the FCC seeks comment on "whether any adjustments to rules and policies are needed to ensure that the introduction of digital television and the recovery of spectrum at the end of the transition fully serve the public interest." In particular, the commission is looking for input regarding selection of new channels, service replication and service maximization requirements.
2013: CES producers promise "sensory overload" for attendees, with the rollout of 4K UHD video topping the list. Visitors will also get a look at the latest in 3D television and voicecommanded channel selection. Elsewhere, with the success of ENG channel bonding, broadcasters are now assessing the need for conventional sat/microwave ENG vehicles.
James O'Neal
11
twitter.com/tvtechnology | www.tvtech.com | January 2023 LTN LTN Arc MediaKind MK Engage
Commercial Detection TAG Video Systems Media Control System
Triveni Digital StreamScope XM Monitor TVU Networks TVU Channel
Ross Video Ross Ultrix FR12 Software Defined Routing System Planar Planar Venue Pro VX Series Shure AD600 Axient Digital Spectrum Manager
What Can 5G Do for Broadcasters?
Acquisition and distribution take on new meanings
By Michael Silbergleid
FORT MYERS, Fla.—5G cellular service is widely available in populated areas and starting to have an impact on broadcasters from acquisition to distribution. Think "5G" and you'll most likely think of fast smartphone downloads, home internet service or 5G bonded (or aggregated) cellular systems in a way similar to 4G bonded/aggregated cellular. But 5G is different and will be much more different as standards evolve.
5G FOR ACQUISITION
Using mobile network operator (MNO) cellular networks for acquisition is nothing new. 4G was, and in some areas, still is how a remote signal gets back to home base. However, 5G offers advantages in data rate and latency to enable 4K UHD, but not as much as you would think. Cellsmart's mid-2022 "Global Cellular Performance" study of real-world conditions found that, globally and on average, 5G upload speeds only showed an increase of 55% to 31.27 Mbps over the 4G global average. This is in contrast to 5G download speeds of 241.61 Mbps. "5G is prioritized for downloading—upload
speeds are not significantly maximized," said Rob Waters, global director of sales at Dejero. "For our 5G bonded systems, it's all about the lowest latency with the highest bandwidth, that's where multiple antennas per modem really comes in as a powerful weapon."
However, Dan Pisarski, CTO at LiveU adds that "there's still a few other tricks up 5G's sleeve. "The 5G protocol's fixed deterministic latency of the network is an overlooked gem," he said. "With MEC [multi-access edge computing], for example, latency can go from 60 ms to below 10 ms. The challenge is the entire latency budget. But taking the first hop to sub 10ms, we can increase redundancy by adding a bit more latency. This provides exciting applications for broadcasters."
The Cellsmart study also showed that the cellular frequency being used has a significant impact on upload speeds. "Where results have been taken in areas with mmWave, there are dramatically different results including downloads in excess of 800 Mbps, uploads in excess of 250 Mbps and latencies of sub 10 ms."
According to TVU's founder and CEO Paul Shen, the upload speed you get depends on where you are. "Unless you're in a populated area, you won't see 5G mmWave deployment.
Suburban and rural areas don't present a financial incentive for telcos to use mmWave. Plus, some versions of 5G with sub-6 Ghz deployment use the same spectrum as 4G/LTE."
While LiveU, Dejero and TVU have different technologies for 5G, there's one thing all three agree on: For the end-user, operating 5G is basically the same as operating 4G, whether it's someone acquiring footage or the organization receiving that footage. All three are seeing interest in 5G from similar populations. "Both existing 4G customers and those producing sports in 4K are looking strongly at 5G," said Shen. "Existing customers are beginning to notice performance degradation using 4G, especially in mission critical situations."
It is a sentiment echoed by Waters. "Our existing 4G users are looking to upgrade and future-proof themselves. While 5G doesn't give all advantages now, potentially it will as more 5G is rolled out. Plus, sports producers want to use 5G instead of satellite."
5G offers greater reliability than satellite with 5G at over 95% vs. traditional satellite at 90%, according to Shen. There's another consideration for high-profile events: a private 5G stand-alone non-public network (SNPN). "Millimeter wave is very wide spectrum, so cell phone operators can easily dedicate service to a private network on an ad hoc basis," said Shen. "We did that for an 8K project."
Waters adds that private networks are the easiest to set up. "There's no cable runs, giving you very short setup time."
It should be noted that MNO-based SNPNs are not the only type of private network—and most are in test and trail phases, according to Pisarski. "A real private network means
As in most things in life, there are obvious tradeoffs when using 5G for professional applications, including broadcasting.
12 cellular connection
January 2023 | www.tvtech.com | twitter.com/tvtechnology
somebody with their own hardware on a frequency they have access to."
Pisarski is referring to CBRS (Citizens Broadband Radio Service), spectrum from 3.5 GHz-3.7 GHz the FCC set aside for private 5G networks. This spectrum, along with SIM cards, can be leased from third parties that are licensed (priority access license or "PAT") or used unlicensed (general authorized access or "GAA"), which is subject to the most interference. "All that's needed is a popup antenna and a few computers to run the network," he said.
5G FOR DISTRIBUTION
This is where the phrase "5G Broadcast" comes into play, and it's not the best term to describe how 5G can be used for distribution. Does "5G" mean the technology or the device?
As MNOs' 5G are unicast networks, there's a difference between "a connected device" that sporadically sends requests for data needing to be downloaded and a significant number of connected devices that are all streaming content at the same time. The more devices simultaneously connected to a 5G cell downloading data, the less bandwidth each device gets, as they all have to share that unicast data capacity.
Enter "5G Broadcast" from DTT broadcasters to 5G devices with an ATSC 3.0 (aka "NextGen TV") receiver chip.
"Today, the number of commercial smartphones with an ATSC 3.0 chip is 0%," said Mark Aitken, senior vice president of advanced technology at Sinclair Broadcast Group and president of ONE Media. "But ATSC 3.0 will find its way into billions of devices that
PAUL SHEN, TVU NETWORKS
require data of some sort: cars, phones, smart cities and more." Aitken is a true believer in what ATSC 3.0 can bring to quality of life.
Aitken does, however, have a Mark One Android smartphone evaluation sample with an ATSC 3.0 receiver chip, giving him the ability to watch stations broadcasting ATSC 3.0. "We wanted a chip that could live in a mobile device, with its operation and power needs," he said. "We wanted efficient web app coding, for it to draw less power and run on lower level devices."
Watching an ATSC 3.0 station is as simple
as tapping on an app. Sinclair has their own open source app, another is the NextGen Broadcast App. In addition to live TV, stations provide frequently updated weather, news or other content.
ATSC 3.0 receiver apps are simple. "It's A/344 of the ATSC 3.0 standard," says Aitken. "It's nothing more than a uniform ATSC 3.0 browser with HTML5." According to the standard, "A Broadcaster Application is used herein to refer to the functionality embodied in a collection of files comprised of an HTML5 document, known as the Entry Page and other HTML5, CSS, JavaScript, image and multimedia resources referenced directly or indirectly by that document, all provided by a broadcaster in an ATSC 3.0 service."
According to Aitkin, "Sinclair's app has the same features as TV sets with ATSC 3.0 tuners, except it's been adapted to the small screen with gesture swipes and wipes for navigation. This is really about a more ideal user experience. There's less friction to the nature of access to services available...there is a quality aspect to the user experience."
BROADCASTERS AS 'PSEUDO' 5G MNOS?
Graziano Casale, senior sales manager for transmitters at Rohde & Schwarz agrees with Aitken that it's all about a better quality of experience for the consumer. "ATSC 3.0 plays into the 5G ecosystem and vice versa," he said. "The main benefit is that [MNO] 5G broadcast technology is in the same chip already in the device, while ATSC requires an additional chip."
Casale is referring to "5G Broadcast/ Multicast," which R&S and Qualcomm demonstrated at IBC 2022, but is not yet commercially available. It uses UHF spectrum to broadcast to 5G smartphones. While there's potential for revenue, it comes at a cost.
ATSC 3.0's 6 MHz does not comply with those in the current 3GPP 5G specification, the lowest being 3 MHz—that's half your spectrum.
Simply, 5G Terrestrial Broadcast shares the DTT spectrum to provide other services. You could sell that 3 MHz of spectrum to an MNO to deliver media from your transmitter using the 5G chipset already present in smartphones. Of course, that leaves you with 3 MHz for actual television, which today could be a 720p signal. But in the 3.0 future, 3 MHz should deliver more.
There must be a reason for manufacturers and MNOs to want a 3.0 chip in 5G smartphones and other mobile devices. There will need to be more work done on 3GPP and a reason for MNOs to lease your spectrum.
When it comes to 5G for broadcasters, it just depends on what you want to do and when you'll be able to do it. l
cellular connection 13
twitter.com/tvtechnology | www.tvtech.com | January 2023
"Both existing 4G customers and those producing sports in 4K are looking strongly at 5G."
ONE Media's Mark One Android smartphone allows users to view ATSC 3.0 broadcasts using an embedded ATSC 3.0 receiver chip.
Battle Among Networks, Affiliates and Streamers Heats Up
Broadcasters want more FCC oversight on vMVPDs
By Gary Arlen
WASHINGTON—Sometimes in Washington the best indicator that something big is brewing is when suddenly everyone clams up.
Such is the case with the long simmering effort to impose retransmission consent regulations on streaming video carriage of local stations. Recent sub rosa negotiations are not very well hidden, since affiliate groups and lobbyists (including the National Association of Broadcasters) have submitted ex parte filings about their Federal Communications Commission meetings on the topic. Both FCC Chair Jessica Rosenworcel and NAB President Curtis LeGeyt have acknowledged that decisions are overdue on streaming retransmission policies for video via virtual multichannel video programming distributors.
10 P.M. UP FOR GRABS?
Moreover, the issue is bubbling up as the entire nature of the network/affiliate relationship is undergoing major revisions— from chatter about ceding the 10 pm (ET) programming hour back to affiliates (the network has decided to keep it for now) to the intense appeals from NBC, CBS, Fox and ABC for viewers to tune in directly to their streaming services, such as Peacock, Paramount+ and Hulu, thus bypassing local affiliates entirely. In addition, stations' adoption of ATSC 3.0 and its IP implications could affect the retransmission requirements.
The current chatter about vMVPD revenues comes amid forecasts that traditional retrans revenue to affiliates may drop from 50% to 39% of station income in the next few years, according to research firm BIA. Adding to the clout of networks' (and other) streaming services is their libraries of off-network syndicated content, formerly a mainstay of independent stations (e.g. episodes of popular series such as "Seinfeld," "The Office," "NCIS" and "Friends"). Analysts wonder if audiences will tune into broadcast reruns if they can choose what to watch via streaming platforms.
Yet, NAB, NCTA – The Internet & Television Association, Ameri-can Television Alliance (ATVA), the FCC and attorneys for stations and affiliate groups have all ducked TV Tech's queries about what what's going on, sometimes after initially agreeing to share updates on their negotiations but later saying that they couldn't discuss activities because of current, unspecified conditions.
NAB declined to respond to TV Tech's questions about its streaming stance, but later that same week the association submitted an ex parte filing at the FCC describing its meeting at which it urged the commission to examine "current streaming advancements [that] may affect the Commission's calculus in determining whether virtual MVPDs should be deemed to be MVPDs."
At the same time, LeGeyt asked the FCC to classify vMVPDs as carriers that are subject to program-negotiation obligations. NAB took that message directly to commissioners and their staffs in a series of November meetings.
Some advocates had hoped that Congress would address the issue via new laws for retransmission fee guarantees, but those dreams were dashed by the mid-term election.
A divided House and Senate are considered unlikely to agree on any communications financial issues and will "not pass much legislation," a veteran media lawyer/lobbyist told TV Tech.
Much of the current effort is focused on the 2014 FCC proposed rulemaking that thenFCC Chairman Tom Wheeler initiated, which sought to determine if video services that are not facilities-based should be subject to the agency's rules for traditional MVPDs, such as cable or telco systems. In an interview with Politico Pro, LeGeyt said the NAB's board wants the FCC to collect new feedback on the Wheeler proposal given "changes in the marketplace."
Separately, Rosenworcel told Congress in November that she would welcome the chance to become involved in retransmission consent issues, particularly in disputes that affect viewer's access to programs during blackouts of broadcast signals on MVPD systems. She said the FCC would work with Congress, but emphasized that the FCC's role would be to protect consumers if vMVPD fees or terms are excessive—with no mention of helping affiliates.
14 industry outlook
Credit: Getty Images
January 2023 | www.tvtech.com | twitter.com/tvtechnology
AFFILIATE RIFT
The retransmission situation also puts the spotlight on the growing rift between affiliates and networks. In a presentation to the FCC, four major networks' affiliate groups pointed out that, "Unlike negotiations with traditional MVPDs where local television affiliates negotiate directly for the carriage of their FCC-licensed signals, the national Big Four broadcast networks have asserted neartotal control over carriage negotiations with vMVPDs." The group emphasized that deals are conducted "without any meaningful input from its non-owned Affiliate stations."
Affiliates' dissatisfaction with how networks are treating them is surfacing from multiple sources. There are unconfirmable reports that the networks have negotiated retransmission consent agreements with YouTube TV on behalf of the affiliates, but affiliates contend that their slice of that payment is too small. Other reports indicate that Comcast recently loaded all the NBC affiliates onto its Peacock streaming platform, after which NBC affiliates' leadership issued a supportive statement. Analysts told TV Tech that lethargic support suggested that Comcast/NBC offered a goodenough deal, but no match to conventional cable retransmission fees.
The network vs. affiliates tension regarding vMVPD deals was especially vivid at the Big Four networks' affiliate associations session at the FCC. When executives of the groups met virtually with FCC Commissioner Nathan Simington and his staff earlier this year, they urged the commission to consider making online video distributors abide by the same retransmission consent rules as traditional MVPDs, according to the subsequent report of their law firm, Brooks Pierce.
A new retransmission analysis by financial firm Matthew Lochte of Bond & Pecaro concludes that overall retrans fees have reached "mature equilibrium" thanks to cable cord cutting. The analysis, distributed by the Media Financial Management Association (MFM), points out that especially "for smaller broadcast companies" the affiliation fees could "exceed total retrans revenues" from MVPDs and vMVPDs."
Emily Barr, former president/CEO of Graham Media Group and a vigorous defender of local stations and network/ affiliate collaboration, acknowledges the complications because "there are so many players in streaming." She said she'd like to see a "more cooperative relationship" as vMVPD develops since the network/affiliate relations is based on local stations receiving retransmission revenue.
"If the networks want to keep a relationship with affiliates, they [must create} a way to let the affiliates partake in the revenue," Barr says, noting that, "There have been some discussions in that direction on behalf of some of the networks," but that nothing conclusive has emerged.
Barr concedes that cord-cutting will continue to affect cable/satellite retrans revenue, but she foresees considerable revenue as the process unfolds, pointing out that networks are playing both sides, with investments to nurture some streaming services. "They're trying to have a little bit of both [traditional retransmission plus direct-toconsumer streaming]" she said. But Barr stops short of predicting how the game will play out.
SLOWING RETRANS FEE GROWTH
Rick Ducey, managing director of BIA, underscores affiliates' growing reliance on retransmission fees, which "will continue to be a substantial" factor, now accounting for more than 50% of local stations' revenue. BIA's forecasts envision that retransmission revenues could go down to 39% by 2026, and that local stations will receive a "decreasing share of it" as networks demand higher reverse compensation fees because of everincreasing programming rights costs.
As for the current quiet ballet between broadcasters and digital platform operators,
Ducey believes that "networks and affiliates boards have to negotiate what goes on the platform and determine what the split is." He expects that affiliates will get "some economic benefit from vMVPDs" but notes that some major TV groups are already making such deals, much as they've done for their conventional retransmission agreements. Obviously, no details are being made public yet.
Ducey acknowledges that the networks have taken the lead in vMVPD negotiations on behalf of affiliates and "are probably not doing the best job for their affiliates." He points out that local stations see cord cutting as impacting transmission fees, which will lead to "things getting more out of balance in favor of the networks." Ducey agreed that when he probed into FCC or Capitol Hill involvement in this streaming retransmission issue, he also got "don't want to talk about that" responses, which he characterizes as "a non-denial denial that's probably an affirmation of an underlying issue that is brewing. No one said, 'it is a non-issue.' Semantics matter."
Ducey envisions that there will be changes as broadcast affiliates complete deals with local MVPDs. "At some point the cable industry has to say 'our ability to pay has been in decline, so we have to re-adjust fees,'" he predicts. "Margins are being compressed; looking ahead [there are] different businesses" taking shape.
GROWING RECOGNITION OF UNFOLDING PROBLEMS
NAB's meetings with top FCC Media Bureau officials and commissioners' staff emphasized that "significant developments in the streaming marketplace may impact the Commission's continued consideration of its pending proposal 'to modernize [its] interpretation of the term … [vMVPD] by including' … services that make available for purchase, by subscribers or customers, multiple linear streams of video programming, regardless of the technology used to distribute the programming," according to the follow-up by Rick Kaplan, NAB's chief legal officer and executive vice president, Legal and Regulatory Affairs.
Kaplan also pointed out that current streaming advancements may "affect the Commission's calculus in determining whether virtual MVPDs should be deemed to be MVPDs." And he emphasized that "must address certain critical implications of its proposal, including how to ensure broadcast signals carried by vMVPDs are protected from piracy, material degradation, and distribution
industry outlook
twitter.com/tvtechnology | www.tvtech.com | January 2023 15
"If the networks want to keep a relationship with affiliates, they [must create} a way to let the affiliates partake in the revenue."
EMILY BARR
Dependable, Rugged Gear for 'Run And Gun' News Crews
From lighting to power supplies and camera support, gear is getting lighter, more affordable and reliable
By Craig Johnston
SEATTLE—The natural condition of TV news is "run and gun"—get to the story as fast as you can, get it on the air, and off to the next one. The problem is, the gear has to keep up.
Makers of ENG equipment work long and hard to make theirs fast to deploy and rugged enough to take a licking. Here's a sample of what's keeping news crews humming these days
LIGHTING
ARRI touts its Orbiter LED lighting as ideal for ENG crews because of its color sensor control capabilities. The operator can match the Orbiter's color to ambient light at the click of a button, saving time not having to dial in color temperatures for exteriors or adjusting +/- green to match existing lighting on locations.
The lighting fixture also provides changeable optics, which provide for quickly switching from hard-edge light to a flattering softbox wrap, and everything in between. A removable control panel and built-in wireless means there's no need to worry about lowering the light stand to make small adjustments. Simply connect the control panel via its 5m wire or go full wireless with industry standard CRMX wireless control.
The Orbiter's IP 24 water resistance rating means that it can be used rain or shine. ARRI offers heavy-duty pelican cases and reinforced fabric cases with customized padding for the Orbiter and its Open Face Optics.
While Litepanels' Astra has been the choice of many news crews for awhile, now the company also offers its Gemini lineup for
Litepanels Gemini 1x1 LED
more power, according to Michael Herbert, product manager for lighting, Vitex Product Solutions.
"We've seen ENG crews buying our Astra fixtures for years and years," he said. "You can take them out of the back of the van, put them on a stand, plug them in and you're ready to go. It's got a 46 degree concentrated beam angle to get the throw of light you need. You can choose to soften it, but if you just need to get something going straight away, you go out, plug it in, switch it on and you're in business."
Crews that want to step up to a more powerful light with a more featurerich menu for their ENG operation can look to Litepanels Gemini fixtures. It provides 3000 LUX of brightness at 10 feet at full intensity. And when speed is of the essence, the operator can simply turn it on, adjust intensity and color temperature, and shoot the story.
beyond a station's local market."
Bolstering broadcasters' expectations that they can reach deals with vMVPD operators are recent reports from Park Associates analytics firm that emphasize the continuing appeal of conventional video programming.
"Adults 55 and older disproportionately favor a linear experience while viewers 1824 prefer watching content from YouTube, social media, and the like," Parks Research Vice President Jennifer Kent told TV Tech. "Consumers value live content because it is engaging, sometimes interactive, and personal to their interests."
She cited a recent 50:50 joint venture between Comcast and Charter Communications (the two largest cable operators in the U.S.), to develop a nationwide streaming platform. Although the competitive strength of such a unified service may affect broadcast network initiatives, Kent says that the arrangement "may help Comcast and Charter pull ahead in subscriber growth and gain an edge in the crowded OTT market."
FINANCIAL CONSIDERATIONS
Amid this regulatory rigamarole, Wall St. is also monitoring the impact of the vMVPD relationship with local broadcasting.
Laura Martin, senior entertainment and internet analyst at Needham & Company, doesn't believe streaming is undermining local affiliates, contending that stations "will get paid if they have viewership," but is not specific about how those payments will be made.
"The affiliate has value," Martin said, but adding that direct-to-consumer viewing is all about generating specific data, so "local TV will be forced to compete on the local data." It has to be "really good data about what kind of content attracts and keeps a viewer. It must pull its weight." l
Gary Arlen is president of Arlen Communications and a long-time observer and commentator on converging intermedia and telecom technology and policy.
16 gear
on the go
January 2023 | www.tvtech.com | twitter.com/tvtechnology
"At some point the cable industry has to say 'our ability to pay has been in decline, so we have to re-adjust fees.'"
RICK DUCEY, BIA
A convenient battery plate on both the Astra and Gemini allows on-light mounting for Gold Mount or V-mount battery packs.
For news crews looking for flexibility in balancing light wherever they're shooting, Craig Chartiar, business development marketing manager at Bold Distribution, recommends Lupo.
"I would go with a 1x1 ULTRA hard panel that Lupo has come out with because it gives you the most punch to balance with the natural light that you're fighting out-of-doors," he said. "If I was going to do that same interview indoors, I wouldn't necessarily use the hard panel. I would probably go with the SUPER 300 panel with a soft bank on it."
The ULTRA panel has twice the output as a SUPER panel, according to Mark Mather, director of sales North America, Bold Distribution. "The reason this was able to be produced is that the technology of the raw LED lights have been getting better and better. It puts out twice the light," he said. "Both of these lights and others in the Lupo line all have an app you can download into your phone that allow you to turn the light off and on, brighter or darker, and you can change the color temperature."
Toby Sali, co-founder of BB&S Lighting, looked to a pair of his company's light fixtures as the solution for fast working ENG crews. "You could go with either the compact beamlights or the compact beamlights Fresnel," he said. "Those are the two lights that you can put on a stand, and they put out a beam to 15 or so feet to the announcer. With the Fresnel it's adjustable. And the Bi-Color is color temperature adjustable."
The Fresnel fixture provides for more flexibility. "It goes from 12 to 15 degrees, so you're able to make an adjustment with it," Sali added. "You can have a narrow beam and be out there 15 to 20 feet. Or you can have them up closer but lighter."
The fixture's optical system is designed to be free of light spill, and is designed to do all the things that a reflector-based downlight will not. The light is available in a variety of fixed beam-angles (7-degrees to 14- degrees).
A 140W brick battery pack can run a compact beamlight all day long.
POWER SUPPLIES
"When you think ENG, you think speed and quickness to respond," said Bob Carr, sales director for PAG America, "so obviously weight and the ability to deploy and power many things for many uses is critical. PAG batteries, using the linking technology allows you to use the batteries for all the mobile needs such
as cameras, audio, lighting, streaming and whatnot."
PAG's linking technology lets camera operators to stack several PAG battery packs
together on the back of the camera. "Because we have the linking and combine that with the Micro Charger, it allows you to get a charge into your batteries whether you're by a wall outlet, in the car or on the run," Carr said. "And because ours have two USB ports, you can use it as a power bank. Power your computer, your phone, and whatever as well. We believe that lightness and the smallest package allows people to carry the right gear for the right time."
Carr adds, "our design is set up in such a way that it can take any direct drop. And the good news is that if you were able to break the housing, the modular design allows you to save the cells and the electronics, I can just pop on a new cover."
For ENG crews who depend on professional batteries for professional solutions, Anton Bauer offers several options.
"Our batteries have very high outputs," said Andrew Hutton, product manager for batteries with Vitec Production Solutions, parent company of Anton Bauer. "We can provide a continuous 12V output, which is quite handy when people are using the battery to power not
17 gear
go
on the
ARRI Orbiter
just the camera but possibly lights and other equipment as well."
To provide even more power capability, Anton/Bauer provides shark fins or hot swap plates. "You would buy a plate to go on the back of the camera, and it looks very much like a shark's fin," Hutton added. "With two battery packs mounted on the back of the camera, it will deplete battery one completely before switching over seamlessly to battery two, with no dropoff. That then allows the operator to remove battery one and replace it with a
new battery." This allows the camera to shoot continuously.
"All of our batteries have to pass the drop test, which is specified by UN 38.3. It's normally three feet as the minimum you need to pass. Across all of our ranges we do have the ability to work in extreme temperatures in ENG. Ours will work from minus 20C to plus 60C at 100 percent output."
CAMERA SUPPORT
Shotoku Broadcast Systems developed its SE tripod range to provide support and high functionality for the ENG and documentary shooter. "The SE80 and SE150 both feature a high-quality drag system to ensure smooth onair moves, and a multiple level counterbalance system to provide accurate balancing for a wide range of cameras," said Kembu Makino, deputy head of overseas sales group for Shotoku Broadcast.
To meet the flexibility required in this category, the SE systems are available in either an aluminum two-stage tripod, or a carbon fibre two-stage tripod configuration. "Large, easy to reach lock-in levers allow positive and smooth deployment of the tripod and an integrated leveling bubble guarantees fast, accurate system setup," Makino said.
All SE models are supplied with either ground or mid-level spreaders and a foldable dolly with directional wheel locks is also
available for studio applications, and both are shipped standard with a single panbar with a large ergonomic rubber grip. A second panbar is offered as an option on both.
Sachtler's Flowtech tripod is for crews looking for quick setups, according to Barbara Jaumann, product manager for Vitec Production Solutions.
"The Flowtech has just one lever to control two sections of the tripod; the lever is at the top on the bowl, so you don't have to bend down to control the middle section," she said. "The difference between it and all other tripods is that the Flowtech gives you really nice control of the weight, because it's high up, and closer to the camera. This makes a big difference in setting the camera up."
To complement the Flowtech tripod, Sachtler has developed its Aktiv fluid head— the Aktiv12T and 14T heads have a greater payload range and more counterbalance steps than the DV12 and Video15 heads they replace, allowing the operator to work faster when mounting, leveling and locking the tripod system.
"As far as ruggedness, we've tested the Flowtech and Aktiv systems all over the world," said Jaumann. "We tested it with buckets of sand, dirt, and water. And we have a temperature chamber in the factory where we did hot tests and cold tests, just to make sure it works in a wide range of circumstances." l
18 gear on the go
January 2023 | www.tvtech.com | twitter.com/tvtechnology
Sachtler's Aktiv head on a slider
Anton Bauer battery packs
Hailing That Storage in the Sky
The evolution of archiving in the cloud
By Susan Ashworth
SAN FRANCISCO—It's a technology that continues to prove its worth and defy its detractors, boasting of speed and touting reliability as a high-capacity storage vault, a means of disaster recovery and a way to share content.
And now, as archiving in the cloud continues to mature, the technology continues to win over large broadcasters and small production houses alike. It has proven to be secure, the capacity to handle massive amounts of data, and support for collaboration between geographic locales separated by continents.
The next steps: Driving long-term value, improving search functions, meeting the needs of different types of customers and addressing thorny issues like cost of egress and long-term adaptability.
NOT JUST A SIMPLE MIGRATION
"People have become much more comfortable with the reliability, security and affordability of the cloud for content archives," said Geoff Stedman, chief marketing officer of SDVI. "But what people are also realizing is that simply lifting and shifting an archive to the cloud is not [always] the right approach."
While the explosion of SVOD, AVOD and FAST channels offers new opportunities to monetize content, that scenario only works if the content can be found, accessed and transported through a media supply chain and then prepared for a distribution partner, Stedman said. "[Migration to a cloud archive] presents an opportunity to standardize and normalize content file formats, clean up and enrich metadata and create an archive of golden masters that can be monetized across many different distribution outlets."
In addition, it's not just important how
you migrate your content into the cloud, but rather if you have visibility into cloud—and the ability easily retrieve it.
"An organization's cloud environment can be a bit nebulous," said Brett Beers, vice president of technology for TMT Insights, a professional services and software development company. "I predict there will need to be more of a focus on investing in productivity and operational tools that will widen the net in terms of the user type that can both interact and manage cloud technology."
Plus, customers moving their archives to the cloud are not just looking to migrate a tape library; they are looking to derive more long-term value from their assets by applying meaningful metadata during the ingest process, said Evan Statton, senior principal architect of M&E for Amazon Web Services.
"When cloud archiving first came on the scene, simply moving massive amounts of content to and across clouds was the clear challenge," said Jon Finegold, chief marketing officer for Signiant. "The tools provided by those early cloud systems simply weren't cut out for massive media archives."
Today's software can now effectively move petabytes of content into and out of cloud platforms like AWS, Google Cloud Platform (GCP), Microsoft Azure and Wasabi.
19
Credit: Getty Images
twitter.com/tvtechnology | www.tvtech.com | January 2023 cloud archiving
cloud archiving
MIGRATION TRENDS
Across the content creation marketplace, there is new, significant interest for companies of varying sizes to consider migration to the cloud. For some, a liftand-shift approach might be the right step, particularly for an organization new to the technology. For others, designing a digital supply chain from scratch is a more valuable approach.
"Regardless of the path you pick, the first step is visibility," said Beers. "What do you have, and then the next step is action: what am I going to do with it?"
TMT Insights faced such a scenario when working with a post house in Burbank, Calif., that was moving from a fully on-premise operation to a 100% cloud-native digital supply chain. "For this engagement, they were able to decrease the time to market and enable rapid innovation by not having the challenges that come with having reliance or integration [with] their legacy systems," Beers said.
The next challenge: How to help customers easily find and access content archived in the cloud. Several companies, including Signiant, have solutions that automatically index assets and create preview files so customers can perform simple searches across their archives— whether those be on-prem or cloud—without having to move the assets. "Archives need to be actionable," Finegold said about the company's Media Engine software. "Accessing them must be quick, easy and cost-effective. When asked for a clip, users need to be able to search, preview and send those assets anywhere, fast."
TMT Insights also sees increased demand for this type of functionality. The company's Polaris operational management platform allows users to manage their endto-end cloud-based media supply chains via a file manager module within Polaris. That module enables enhanced visibility and gives users controls to manage their ingest and prequalification workflows. By providing users access to the cloud in a purposeful way, one of TMT Insight's clients was able to increase their on-time delivery from an average of 65 percent to 99 percent, Beers said.
MINING YOUR VALUE
Another key trend in the cloud movement: Ensuring customers derive additional longterm value from their assets by applying meaningful metadata during ingest. AWS helped Formula One (F1) achieve this using
the AWS Media2Cloud solution when it migrated more than 4 petabytes of archived video content to Amazon S3 and now uses artificial intelligence/machine learning services to reduce the time it takes to catalog content.
"Additionally, we've learned from our customers that 'one size does not fit all' for archive retrieval patterns," Statton said, referring to the Amazon S3 Glacier Instant Retrieval storage class and Flexible Retrieval storage class, which are designed to help customers fine-tune retrieval performance based on the needs of archive usage.
The cloud is proving attractive to organizations of all sizes. Giving small creative groups the ability to easily access the cloud was the impetus behind a new release from Quantum that integrates a
media asset management module and shared storage software. The goal was to remove the complexity that can often hamper a smaller creative group when it comes to configuring separate devices and setting up separate production workflows.
Quantum's H4000 Essential provides a standard set of features—automatic context indexing, shared storage—but doesn't require specialized IT skills to support. That was the case for the creative agency Switch, which works on multiple projects simultaneously via the StorNext collaborative shared storage system and the Quantum cloud-based analytics software.
The benefit: A small creative company can quickly deploy production-ready shared storage in the cloud, allowing for collaborative, remote video editing in the cloud.
SDVI is seeing this as well, as companies of all sizes realize they can become more efficient and agile when they take advantage of cloud technologies, Stedman said. "Moving their archives and media processing to the cloud, even at a relatively smaller scale, frees them up to focus on their core creative business because they no longer have to spend time procuring, deploying and managing on-premise infrastructure."
AWS is seeing demand from all types of customers, from TV stations to larger broadcasters looking to migrate hundreds of linear channels to AWS. The company was recently awarded an Engineering Excellence Award from the Hollywood Professional Association (HPA) for its "Color in the Cloud" cloud-based remote service that enables customers of all sizes to perform high-fidelity color grading in the cloud.
20
January 2023 | www.tvtech.com | twitter.com/tvtechnology
"People have become much more comfortable with the reliability, security and affordability of the cloud for content archives."
GEOFF STEDMAN, SDVI
Quantum H4000
EGRESS COSTS


Challenges remain, however. While the cloud has proven its mettle at handling shared content with speed and reliability, there are instances where a cloud gateway linked to a high-capacity storage infrastructure may be a better fit. As veteran media and entertainment tech companies have long known, storage on LTO data tape can be lower in cost per terabyte than primary disk storage.
And in some instances, the best archiving solution is a combination of the old and the new. Software from companies like XenData can be used to create a hybrid archive that links together on-premise storage with the cloud so that file-based applications can write to and read from cloud storage. Using a XenData S3 Server interface with a XenData LTO archive creates a private cloud storage solution allows an organization to keep the attractive aspects of LTO storage onsite. In this scenario, files can be remotely downloaded free of any egress charges. And that's another lingering issue for archiving in the cloud to address: The cost of egress.
Though the industry is moving in that direction, workflows requiring heavy visual effects and editing work are still not fully realized within the cloud to run at scale. So files sometimes must be pulled down and worked on outside of the cloud, with a heavy price tag to boot.
Understanding those types of cloud economics continues to be a key challenge
for customers when it comes to archiving in the cloud. "Customers are capturing so much more content and want to preserve all of it," Finegold said. "But for how long? How much content will be retrieved? When will it impact things like egress costs? These and other questions make predicting costs a real challenge."
Others say the cost of egress is generally not an issue for content companies moving their archives to the cloud since content deals can be struck between content owners and cloud-based streaming services that are fulfilled without content ever leaving the cloud—with a majority of local, on-premise editing accomplished using proxy files that are a fraction the size of the original master in the cloud.
The most important priorities in an archiving system will be familiar to anyone navigating the modern content creation space: Agility. Adaptability. Visibility. Ideally, as Beers from TMT Insights put it, "Our goal is to make the shift to the cloud less intimidating, to show clients the way and give them the tools they need to navigate that path themselves." l
cloud archiving
Jon Finegold, chief marketing officer, Signiant
Learning ATSC 3.0, On the Web or On the Bench
Great resources to get you started on your NextGen TV journey
In my last column I took a look at the future of ATSC 3.0 broadcasting. This month I'll talk about resources to learn more about ATSC 3.0 and revisit 5G broadcast.
Early in the development of the standard, I wrote about how ATSC 3.0 works by explaining how guard intervals protect data from multipath, describing tools for calculating the tradeoffs between robustness and data capacity, exploring layered division multiplexing, and discussing the basics of OFDM (orthogonal frequency division multiplexing).
Rather than repeat myself, I'll share some websites and tutorials for more detailed, up-to-date and practical knowledge about ATSC 3.0.
ON THE WEB
The Pearl NextGen TV "Host Station Manual" (pearltv.com) describes how to begin broadcasting ATSC 3.0, from program delivery to transmission. This guide has been used to successfully launch many of the ATSC 3.0 stations on the air today. The Pearl TV website also includes webinars on launching ATSC 3.0 that are available on request to broadcasters.
For more in-depth technical information, SBE offers on-demand tutorials for SBE members (search for "ATSC 3.0" on sbe. org for details). Members may also want to consider certification as an ATSC3 specialist (Google "Specialist Certifications" and SBE for details).
The ATSC 3.0 standard is very complex. If you want to understand the intricate details on how ATSC 3.0 works, dig into the ATSC 3.0 Technical Documents on the ATSC website (atsc.org) for standards and recommended practices.
ATSC 3.0 Recommended Practices lists documents dealing with ATSC 3.0 Field Tests (A/326), Guidelines for the Physical Layer (A/327) and more. The Physical Layer Guidelines (A/327) provides an excellent overview of how the ATSC 3.0 signal is generated and
the trade-offs between different physical layer parameters.
Google the "ATSC Implementation Guide: Emissions Testing Process" for a checklist for ensuring ATSC 3.0 transmissions are functional and steps for dealing with receiver interoperability issues.
WITH YOUR TRANSMITTER
After learning how ATSC 3.0 signals are generated and about the different options for modulation and coding, you may want to do some experiments to see how they work.
Experimenting with an on-air ATSC 3.0 station broadcasting the signals from multiple stations will likely be frowned upon. The solution is to set up your own ATSC 3.0 lab. This can be done using the Dektec DTU-315 USB-3 all-standard, all-band modulator or similar devices as I described in previous columns but there is a lower cost option for
experimenters, albeit with some major compromises.
Ron Economos, aka "drmpeg" researched the ATSC 3.0 standards and documents and built an ATSC 3.0 transmitter with a software-defined radio. I know it works because I was able to generate an ATSC 3.0 signal with his GNU Radio software and my Ettus B200 SDR and receive it on my HDHomerun ATSC 3.0 tuner. If the Ettus B200 is not available or too expensive, Chinese clones are available on aliexpress.com for under $600 and claim compatibility. Other lower-cost SDRs may also work with modification of the GNU Radio Companion flow graph.
Ron's github site, https://github.com/drmpeg/gr-atsc3, has the software and some test streams. The software includes an option to add a second PLP using LDM. I had no problem getting that to work. As configured, the SDR will transmit on 429 MHz, or cable Channel 58. It can be changed to any frequency in the B200's range. View the signal with the HDHomerun ATSC 3.0 receiver and the "hdhomerun_config" and "hdhomerun_config_gui" programs. Step-by-step details on how I installed it on my Fedora 36 Linux laptop are in the winter edition (2022–2023) of the IEEE Broadcast Technology magazine.
In the version I tested in December 2022, the software does not transmit LLS, which provides the signaling necessary for a receiver to recognize the signal, and it uses ATSC 1.0-formatted transport stream packets. It won't work on TV receivers looking for the LLS and IP packets. The HDHomerun won't find the signal in a channel scan but can be manually tuned.
If you have access to an MPEG-2 or MPEG4 encoder that can add the basic ATSC 1.0 PMT and PID information, you can create your own ATSC 1.0 transport stream files. There should be a way to generate a compatible transport stream multiplex in software with gstreamer or ffmpeg but I haven't found any examples on how to add the PMT and PID tables.
At some point, after I add a Morse code IDer or figure out how to create a program stream with my ham call sign on it, I may
22 January 2023 | www.tvtech.com | twitter.com/tvtechnology
rf technology
Doug Lung EXPERTISE
Ettus B200 SDR and Ch. 36 ATSC 3.0 spectrum display
hook this up to my outdoor discone antenna and see what the coverage looks like with a few milliwatts of ATSC 3.0.
I'm especially interested in seeing how well the LDM robust layer works. While the SDR transmitter is based on the A/322 standard, using it with a full-power or Class A TV station probably isn't legal, at least in the spirit of the law, as it won't be compatible with existing ATSC 3.0 receiver designs. LPTV stations may have more flexibility in this area. Take a close look at the FCC rules and don't forget the signal will have to meet FCC emission mask requirements.
If you want to learn more about ATSC 3.0 inner workings, adding LLS and IP input capability (at least STL-TP input) to the program would be a great contribution.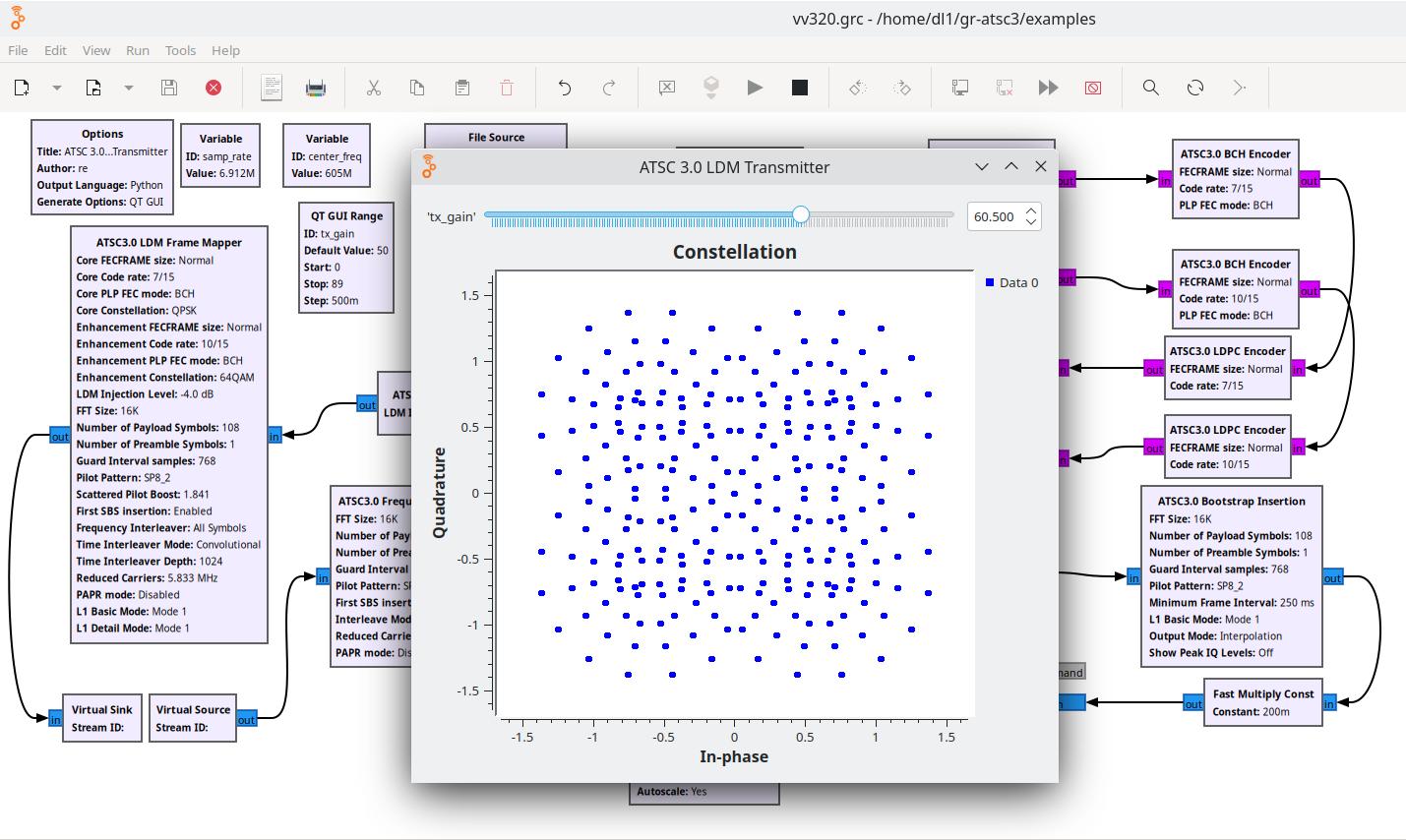 ATSC 3.0 AND 5G
In my last column I mentioned work being done by Rohde and Schwarz and Qualcomm on broadcasting content using 5G (3GPP) standards on UHF TV stations. (See Michael Silbergleid's feature on 5G on p. 12)
I was overly optimistic about the ability of a TV station to transmit both an ATSC 3.0 A/322-compatible signal and a 5G broadcast
signal on the same channel at the same time. Rohde and Schwarz has been participating in 5G broadcast demos at events such as IBC and Mobile World Congress so I asked them about this.
The company said none of their tests have involved such a combination and while it is possible in a test bed configuration, such a combination is not currently supported by 5G broadcast and is not likely to be in the near future. These are two distinct and different physical layers.
Qualcomm has been working to include 5G broadcast in its latest RF modem chips. The
Qualcomm vision is outlined on its website (www.qualcomm.com), which had this comment on the 3GPP Release 16 enhanced TV standard: "It can be deployed in existing UHF spectrum (i.e., 470 to 698 MHz) that broadcasters already own or have access to, and its design allows the reuse of existing cellular modem building blocks." More support for standalone 5G enhanced broadcast is planned for 3GPP Release 17 and 18 standards.
If a system isn't available that allows use of a channel for both ATSC 3.0 and 5G standalone broadcast, then at a minimum the FCC would have to eliminate the requirement for compliance with ATSC A/322 and any simulcast requirements before it could begin in the United States. It may be possible for LPTV stations to transmit 5G broadcast signals but depending on the characteristics of the signal, that might require a waiver.
Over the next few years, if 5G broadcast is deployed on UHF TV stations it will be interesting to see its impact on free over-the-air TV and today's TV broadcast system. l
I welcome your comments, questions, and observations on the future of broadcast TV. Email me at dlung@transmitter.com.
rf technology
GNU Radio ATSC 3.0 Transmitter and LDM Constellation Diagram
23 twitter.com/tvtechnology | www.tvtech.com | January 2023
Experimenting with an on-air ATSC 3.0 station broadcasting the signals from multiple stations will likely be frowned upon. The solution is to set up your own ATSC 3.0 lab.
A Brief History of the Cloud
The concept of 'cloud computing' originated in the 1950s
Cloud architectures may include a few definitions that surround the overall concept of what the "cloud" is as well as "when" or "how" it began. Some have conveyed the expression that "the cloud is really only somebody else's computer," which may be a bit shy of reality and more of a tongue in cheek colloquialism.
According to the Journal of Accountancy and IBM, the concept of "cloud computing" first arose in the 1950s in the form of dumb terminals connecting to a mainframe computer.
We hear more of the term "cloud computing," which is mostly related to cloud as a service, and not an architecture. The term "cloud computing" was coined within a 1996 Compaq Computer Corp.'s internal document (by George Favaloro), with the term "cloud" originally linked to the concept of "distributed computing." In May 1997, Sean O'Sullivan of NetCentric, attempted to trademark the
phrase "cloud computing," but abandoned that effort in April 1999. The term went mainstream at Apple-spawned software and electronics company General Magic in the early 1990s, with even earlier mentions in academic work before that.
The "where" of the term is purported to be when the British computer scientist Christopher Strachey (National Research Development Corp., London) published an academic paper at the International Conference on Information Processing, which was also about the shared use of mainframes, called "Time Sharing in Large Fast Computers" (1959-06-15) available for download at archive.org. The paper covered several of the initial issues that had to be addressed in the very early stages of compute processing and operations.
When it comes to the origin of cloud computing, the public generally believes that Eric Schmidt, the former CEO of Google, was the
first proponent of the concept when on August 9, 2006, at the Search Engine Conference (SES San Jose 2006), he proposed the concept of "Cloud Computing." In its early stages, circa late 1990s, the cloud was used to express "the empty space between the end user and the provider," per a brief "History of Cloud Computing" by Keith D. (Foote 2021-12-17). Additionally, Professor Ramnath Chellapa of Emory University defined cloud computing in 1997 as the new "computing paradigm, where the boundaries of computing will be determined by economic rationale, rather than technical limits alone."
NOT FULLY DEFINED
As mentioned earlier, in its simplest of terms, the cloud (operations-wise) is truly the "use of someone else's computer." As the evolution evolved into the early 2000s, five key cloud characteristics emerged: on-demand self-service, broad network access, resource pooling, rapid elasticity and measured service. Industry-recognized companies and other authors have also concluded that "a [cloud]
24 January 2023 | www.tvtech.com | twitter.com/tvtechnology
Karl Paulsen
cloudspotter's journal
EXPERTISE
Credit: Getty Images
solution must exhibit these five characteristics to be considered a true cloud solution."
This doesn't mean it must possess all five characteristics, however, some or more of these topics are anticipated in some structure to represent cloud and cloud computing. A graphic depiction of services in a cloud computing environment is shown in Fig. 1.
CLOUD DEPLOYMENT MODELS
We have further established that there are four familiar types of cloud deployment models: public, private, community and hybrid; each quite similar but separated by who or what entity provides those services. NIST also defines these four cloud deployment models according to where the infrastructure for the deployment resides and who has control over that infrastructure.
Deciding which deployment model you will engage is one of the most important cloud deployment decisions you will make. Cloud deployment models satisfy different organizational needs, so it's important that you choose the right model to satisfy the needs of your organization.
Most important is that each cloud deployment model has a different value proposition and different costs associated with it. In many cases, the choice of a cloud deployment model may simply come down to economics.
PRIVATE POPULARITY
Although initiated in the 2008-timeframe, "private clouds" were still undeveloped and not very popular—but public opinion began to change once companies like AWS and Microsoft solved many of the public's security concerns.
Hybrid clouds began to pop up around 2011—a concept that required an interoperability model be established, which allowed private and public clouds to shift workloads between two (or more) clouds. Business systems lacked the ability to accomplish this until the now ubiquitous three structures— created in part and recognized by Oracle Cloud in 2012—created Software as a Service (Saas), Platform as a Service (PaaS) and Infrastructure as a Service (IaaS) foundations that nearly all clouds employ for their functionality in part or in whole.
Multi-clouds arose once organizations began as SaaS-developed services such as HR and CRMs, and supply chain management became optimized for cloud services around mid-2010–2020. Multi-cloud let users select the best-of-breed cloud to perform specific services while allowing those independent clouds the ability to interchange data and
DEVELOPER-DRIVEN
Cloud began to shift from developer-friendly to developer-driven practices around the 2016time frame. Application developers started to take realistic advantage of the cloud because of the tools the cloud had available. Services strive to be developer-friendly to draw more customers. Realizing the need, and the potential for profit, cloud vendors developed (and continue to develop) the tools apps developers want and need. Practices that include containers (e.g., Docker, Kubernetes and other open-source capabilities) are driving the resource-needs capabilities, which all clouds—irrespective of the structures—are moving toward.
APPLICATIONS AND RESOURCES
Many are familiar with cloud-computing resources, yet it sometimes comes with the uncertain knowledge of "what" those resources
are. Essentially, cloud computing is "a method of delivering computing resources." First, those evolving cloud-computing services supported the needs for data storage and processing, and eventually moved on to software. Cloud-computing business systems, such as Customer Relationship Management (CRM), have become available instantly and on demand—changing the dimensions of those services traditionally dedicated to mainframe-like computing or application-specific packages provided by Oracle and others in their heyday.
These low-cost-of-ownership models for cloud computing have gotten lots of attention and are seeing increasing global investment. In times of financial and economic hardship, this approach becomes more affordable on a OpEx (pay-as-you-go) model instead of up-front investing in hardware (CapEx) and fixed-priced applications that strain budgets and become valueless as technology capabilities increase.
From a generalized perspective, cloud computing provides users with implementation agility, lower capital expenditure, location independence, resource pooling, broad network access, reliability, scalability, elasticity and ease of maintenance. Each of these topics will play differently into your business needs. And similar perspectives can be applied to entertainment-based media from an operations (or OpEx) model, but will generally be applied with differing practices and payloads (i.e., media content and not monetary hardware-centric considerations). l
is chief technology officer at Diversified and a frequent contributor to TV Tech in storage, IP and cloud technologies. Contact him at kpaulsen@diversifiedus.com.
operational solutions among each other.
Karl Paulsen
25 twitter.com/tvtechnology | www.tvtech.com | January 2023
As the evolution evolved into the early 2000s, five key cloud characteristics emerged: on-demand selfservice, broad network access, resource pooling, rapid elasticity and measured service.
cloudspotter's journal
Fig. 1: Depiction of the services and capabilities associated with cloud computing in SaaS, IaaS and/ or PaaS.
Sony New LUTs
Sony and Picture Shop have released a set of LUTs designed with the Sony VENICE 2 digital cinema camera.
The LUTS were designed with color scientists Chris Kutcha, whose credits include "Kill Bill" and "Pirates of the Caribbean," and Josh Pines, chief color scientists at Picture Shop whose credits include "Saving Private Ryan," "Forrest Gump" and "The Revenant." Pines has worked on color grading on dozens of Academy Award-winning movies.
Among the new LUTs is a low-contrast base LUT that is intended to be modified and graded. It offers a low-contrast starting point and has a built-in S-curve. It is designed for DITs and DPs who want to create their own LUT or look development for each project.
z For more information visit www.pro.sony/ue_US/technology
Sanus
8K and 4K HDMI Cables
Sanus 8K Ultra High Speed and 4K Premium High Speed HDMI cables provide a throughput for home theater audio and video in a single-cable solution. Offering an ideal way to connect devices such as streaming boxes, Blu-ray players, and gaming consoles to HDMI-enabled displays and projectors, the cable options include 8K, 4K, and in-wall-rated versions to fit any project.
Sanus' new 2.1 8K Ultra High Speed HDMI cables support 8K at 60Hz and 4K at 120Hz, providing the fastest refresh rates and highest resolution, while the 2.0 4K Premium High Speed HDMI cables transmit 4K at 60Hz.
z For more information visit www.sanus.com.
Cooke Optics
Varotal/i FF 19-40mm Lens
Cooke Optics has released a new 40mm zoom lens for its Varotal/i FF range that also includes the 3095mm medium and 85-215mm long zooms that were launched at the end of 2021. The launch of the 19-40mm zoom completes the Varotal/i FF series, enabling Cooke to offer broad focal length coverage for the majority of production needs.
The Varotal/i FF T2.9 spherical zoom series offers superb resolution, constant optical speed and minimal breathing throughout the range. With the 19-40MM lens, The Varotal/i FF series offers focal length coverage from 19mm to 215mm. The new 19-40mm lens is the widest of the three Varotal/i FFs, and slightly lighter at 3.5kg (7.7lbs), with 3095mm and 85-215mm lenses both weighing 4kg (8.8lbs).
z For more information visit www.cookeoptics.com
Blackmagic Design
DaVinci Resolve 18.1 Blackmagic Design has released DaVinci Resolve 18.1 with new support for editing vertical resolutions and the ability to lock timelines automatically within bins for multi-user collaborations. The release also adds DaVinci Neural Engine-enabled AI dialog leveler and AI voice isolation tools to the cut, edit and Fairlight pages. Vector keyframing for Fairlight automation curve editing is a part of the release.
Newly added Fairlight grid support enables users to position clips on a grid based on timecode or musical tempo. With added support for vertical resolutions used for social media, such as 1080 x 1920, users can choose square and vertical resolutions directly in project settings, thereby making it fast to set up a timeline to produce videos.
z For more information visit www.blackmagicdesign.com
Comrex BRIC-Link III IP
Comrex's BRIC-Link III is the latest addition to the company's BRICLink family of codecs first shown at the 2022 NAB Show. BRIC-Link III is an updated version of the codec that takes advantage of the latest improvements in IP audio transmission technology.
A true codec, BRIC-Link III offers a full-duplex stereo encoder and decoder in each box. A jitter buffer manager automatically balances delay and stability, dynamically increasing and decreasing delay based on network performance. BRIC-Link III offers a wide range of encoding algorithms, including stereo and mono linear mode, FLAC modes, AAC/HE-AAC modes, Opus, G.722 and G.711. Compatible with all Comrex IP audio codecs, BRIC-Link III also works with Gagl, a new audio contribution service available for purchase.
z
For more information visit www.comrex.com.
Chyron PRIME 4.6
PRIME 4.6, the latest release of Chyron's software-based live production platform, now offers enhanced capabilities to support uncompressed production workflows in the cloud. The latest release also leverages data in real time to drive productions, introduces interactive graphic elements to online streams, enables a true CG quality experience for online viewers and unlocks greater flexibility in the cloud.
The solution powers virtually every aspect of live production. Different modules provide broadcast-grade production functions through a common interface. v4.6 includes updates across PRIME Platform, PRIME CG and PRIME Edge. Key enhancements include: greater flexibility with PRIME Platform via Chyron's AWS Cloud Digital Interface (CDI) integration; greater control and ease of use with PRIME CG; and multichannel interactive graphics streams with PRIME Edge.
z For more information visit www.chyron.com
26 XXXXXXXX 2021 | www.tvtechnology.com | twitter.com/tvtechnology 26
eye on tech | product and services January 2023 | www.tvtech.com | twitter.com/tvtechnology
on tech
Playbox Neo Playbox Neo Suite EAS
Integration
Playbox Neo has optimized integration of emergency alerts into its latest PlayBox Neo Suite, providing broadcasters with more flexibility when airing alerts and reducing the need for possible advertiser make-goods. Customized settings for EAS visual crawls and audio are received by PlayBox Neo Suite, which extracts the data directly within the AirBox Neo-20 streaming and broadcast playout module and the TitleBox Neo20 character generator. Typically, a Digital Alert Systems DASDEC-III is connected to a broadcaster's local network. When it receives an EAS message, the EAS data is extracted and sent to the TitleBox Neo-20 system to be displayed on-screen as a text alert. The audio stream is decoded and sent to the AirBox Neo-20 where it is delivered on-air, overriding the current program audio. .
z For additional information, visit www.playboxneo.com
Orban Labs Orban AtmoSphere
Orban Labs's new Orban AtmoSphere Dolby Atmos upmixer is designed to deliver a consistent surround sound experience. The Orban AtmoSphere automatically upmixes any legacy content, including mono, stereo and 5.1 audio to Dolby Atmos in real-time. "Our Orban AtmoSphere upmixer enables television broadcasters to provide their viewers with consistent immersive audio programming without image collapses caused by legacy non-Atmos content." said David Day, president of Orban. "The U.S. patent-protected AtmoSphere technology also alleviates the costs of remixing legacy content to accommodate Dolby Atmos mixes."
Dolby Atmos adds overhead action effects as well as subtle atmospheric and object-based locational effects that places the listener in a '3D sphere of sound' for a more realistic sense of acoustic space than provided by traditional surround 7.1 systems. Orban AtmoSphere is available as standalone hardware and on the Ross softGear platform.
z For additional information, visit www.orban.com.
MTI Film Cortex 5.5
Cortex 5.5, an upgrade to MTI FIlm's transcoding and workflow solutions, introduces two new options: MTai Frame Rate Conversion and MTai Super Resolution Uprez. Both apply artificial intelligence to these common tasks to improve results. It also offers many new features and improvements to the core software that boost productivity, support new formats and delivery requirements and address workflow issues ranging from the set to the screen.
MTai Frame Rate Conversion uses machine learning to interpolate between frames, increasing or decreasing the frame rate without ghosting, stutter or distortion. MTai Super Resolution Uprez uses a similar process to analyze adjacent pixels within a single frame to produce intermediary pixels in a smooth transition. Both MTai tools will be available to Cortex users for an annual subscription fee and current users can access the tools for free for a limited trial period.
z For additional information, visit www.mtifilm.com.
Blackmagic Design Cintel Scanner G3 HDR+
The new Cintel Scanner G3 HDR+ features a redesigned light source to enable real-time HDR film scanning in Ultra HD. The new high-intensity LED grid array light source captures betterquality images from scanned film at higher film scanning speeds. It retains many features of the Cintel Scanners, such as digital servos, gentle capstan drives, advanced color science, 35mm and 16mm film support and an elegant architectural design that can be mounted on a wall.
Well-suited for unlocking archived film libraries for conversion into new Ultra HD masters for uploading and streaming, the Cintel Scanner G3 HDR+ features a light source 6x more powerful than previously available. The RGB LED grid array illumination source has a square array of 576 high-power LEDs arranged in a grid pattern. More light is focused onto film with a new light cylinder.
z For additional information, visit www.blackmagicdesign.com
Sony DWT-P30 Digital Wireless Plug-On Transmitter
Sony's DWT-P30 digital wireless plug-on transmitter is part of its DWX series of professional wireless mics/ transmitters. Designed for studio, ENG and location sound, the transmitter complements Sony's slot-in receiver and bodypack transmitters to create an allinclusive digital wireless microphone system that can be used with Sony's cameras, in addition to UniSlot standard devices. 375kHz spacing high-density simultaneous multi-channel operation and wideband tuning at a maximum of 148MHz.
Features include: Allows tuning to frequencies as mandated by the FCC Spectrum guidelines UHF-TV Ch. 14-36 and 38 UHF-TV; High sound quality with CODEC MODE4; Prioritizes audio quality; Ensures faithful reproduction; Maintains transmission stability; Provides low delay time; Selectable RF outpower power (2mW/10mW/25mW); Battery life up to 6 hours; Remote control of transmitter settings with Cross Remote function.
z For additional information, visit www.pro.sony/audio.
Studio Technologies
Model 342 Intercom Station
The Model 342 Intercom Station is a two-channel compact intercom user station that supports Dante Audio-over-Ethernet (AoE) workflows. It integrates seamlessly with other Studio Technologies Dante-based intercom system products to create flexible and great-sounding intercom resources.
The Model 342 is designed to be used in a variety of broadcast and live events, including education, theater, sports, entertainment, HoW, corporate, and aerospace. Data and power for the Model 342 requires only a standard Power-over-Ethernet (PoE) network connection. Hardware features include a dual-channel (stereo) headphone output, two headset connectors, integrated sidetone support, call signal receive display, and remote mic kill ("talk off"). With both 5-pin XLR and 3.5 mm TRRS headset connectors, the Model 342 is compatible with professional broadcast headsets, gaming headsets, and mobile phone earbuds. The microphone input circuitry supports both dynamic or electret microphones and the unit's two LEDilluminated talk pushbutton switches can be independently configured.
z For additional information, visit www.studio-tech.com
27
|
services twitter.com/tvtechnology | www.tvtech.com | January 2023
eye
product and
IDC Taps AJA to Automate Media Processing Workflows
By Rosanna Marino Chief Operating Officer IDC-LA
LOS ANGELES—There is no shortage of entertainment today, yet consumers always seem to want more. As content providers create and package content for live and on-demand viewing at an unprecedented rate, they face new challenges – from handling sizable data-rich media files to managing cybersecurity threats.
To this end, secure digital media processing and post production workflows like those we develop at IDC have never been more crucial. On average, we process and deliver more than 20,000 files globally each month, using custom workflows built on tools like AJA Diskover Media Edition.
IDC launched in New York in 1984 and, in 2019, strategically expanded to Los Angeles, where I'm currently based.Being an end-toend post facility, we handle massive volumes of media processing for projects that run the gamut from film and episodic series to other content and services. AJA Diskover Media Edition software has been integral to helping automate and streamline our media processing business since, for most projects, our job is to find any issues with files in post and fix the content before it reaches the client.
ACCELERATED WORKFLOWS
As client projects arrive, they go through a series of standard steps. First, we need to know where project files live and what they contain. We use AJA Diskover Media Edition and MediaPulse to help determine a file's path until a person is needed to develop profiles, create files, or complete QC. As we receive files, the technologies clue us into the folder where they will land, and we create proxies. Successful proxies are automatically sent to another folder and second proxies are made, but if any proxies fail, the system stops.
To accelerate the workflow, our team
also creates profiles for each file that we can access from our Telestream Vantage System, in addition to using the Colorfront Transkoder. Depending on the file locations, our workflow might generate an automated cloud backup for disaster recovery.
AJA Diskover Media Edition then helps our producers confirm files have arrived, signal to the team that it's time to move the files and alert the team when it's completed.
It's been an excellent addition to our media processing workflow with built-in automation tools and ties to MediaPulse. The software also automatically indexes our file systems every half hour and makes file scanning quick and straightforward.
ELASTICSEARCH BACKEND
Automating these processes has helped give our customer service reps the data insights they need to better serve clients. The ElasticSearch backend in AJA Diskover Media Edition lets us look for just about anything, from tags to file names or parts of file names—our team doesn't have to bug the
IDC-LA's tech teams use AJA Diskover Media Edition to handle massive volumes of media for processing.
client constantly about file locations. Plus, we can access and review all the file metadata we could ever need in one central location—from the audio configuration to run time, bit depth, frame rate, and more.
It's quite the contrast to our previous setup, which required a lot of manual labor and back and forth to find the necessary info. The software also scans our cloud for disaster recovery, so our client service reps can search the cloud index, and easily find an asset they might need to pull back down from the cloud.
Automating our workflow where possible in such a way has become increasingly crucial in recent years, as more companies are leaning on us for remote editorial sessions and spot checks. In terms of operation, having an efficient, secure infrastructure built on technology like AJA Diskover Media Edition allows us to take on more work, and focus on the aspects of the job we love most, vs. wasting time and energy tracking down file information and extracting the necessary info. l
Rosanna Marino serves as chief operating officer of International Digital Centre. She oversees the day-to-day operations, sales and marketing of IDC LA and is based in International Digital Centre's new state of the art Los Angeles facility. In this role she brings over 20 years of media & entertainment experience with a focus on post-production in features and television. She can be reached at info@idc-la.com
For more information about AJA Diskover Media Edition, visit www.aja.com/aja-diskover-media-edition.
29 equipment guide | storage & recording devices
USER REPORT
twitter.com/tvtechnology | www.tvtech.com | January 2023
PhotoJoseph Collaborates Worldwide With Blackmagic Cloud Store Mini
By Joseph Linaschke aka PhotoJoseph Founder PhotoJoseph YouTube Channel
ASHLAND, Ore.—I started the PhotoJoseph YouTube channel back in 2016 as a resource for aspiring photographers and filmmakers. With more than 30 years of experience in the creative industry, I use my channel as an outlet to discuss the techniques and gear behind the industry, producing on average, one to five videos and live streams per month, all from my studio (aka "playground!").
The world of content creation is incredibly fast-paced. To keep up with the demands of my growing YouTube channel, I've expanded my team to include assistant editors located in Ukraine, and a Spanish language localization team in the United States and Colombia. Collaborating with my global team, I rely on a Blackmagic Cloud Store Mini network storage solution and Blackmagic Cloud to share my large project libraries in a seamless remote workflow.
CLOUD COLLABORATION
As a DaVinci Resolve Studio user, incorporating the Cloud Store Mini—in hand with Blackmagic Cloud—was the natural next step in my workflow. I initially made the switch to DaVinci Resolve Studio after being drawn to its color grading features. DaVinci Resolve Studio is incredibly powerful and I've been able to uplevel the quality of my videos—all from a single program. When I expanded my team, I knew that I would need a tool that would integrate seamlessly with my existing DaVinci Resolve workflow. I can say that the Cloud Store Mini has been a gamechanger.
For nearly all of my videos, I use a multicamera setup to shoot along with an ATEM 2 M/E Production Studio 4K live production switcher and six HyperDeck Mini decks for recording. I transfer ProRes files captured to the HyperDecks over a 10G network to the Cloud Store, and use the Blackmagic Proxy Generator App to create proxies which automatically sync to Dropbox for my remote team to access. From shooting to editing, the whole process is incredibly fast thanks to the Cloud
Store Mini's high-performance speed.
MORE MOBILE
Depending on the project, my assistant editor may begin editing a rough cut of the video on Blackmagic Cloud, and then cut promo pieces of my projects. I'm able to review their edits and make changes myself from my laptop wherever I'm located, which is something I've never been able to do before. And now with DaVinci Resolve for iPad, I'm looking forward to making this process even more mobile!
On the Cloud Store Mini, the live status feed allows me to see what's happening in real time. I have a SmartView Duo monitor in my rack, and monitors all over the studio including at my desk, and using a Smart Videohub router, I can route any video to any destination—including the Cloud Store Mini status. The HDMI monitoring output on the Cloud Store Mini allows me to see important stats like storage maps, speed graphs and
active users. Not only are these statuses fun to watch, but it also gives me peace of mind knowing what's happening.
As my team continues to grow, I know that my workflow will run smoothly and efficiently thanks to Blackmagic Design. I can't wait to see what I can create and who I can collaborate with! l
PhotoJoseph is a content creator, educator and YouTuber—he shoots photo and video for corporate brands, works with schools globally integrating photography into the classroom, leads workshops around the world, has several photography training courses on LinkedIn Learning and runs an educational YouTube channel. You can find him online as @PhotoJoseph just about anywhere—mainly Twitter, Facebook and Instagram—or at joseph@photojoseph.com.
For additional information, contact Blackmagic Design at 408-954-0500 or visit www.blackmagicdesign.com.
USER REPORT
January 2023 | www.tvtech.com | twitter.com/tvtechnology 30 equipment guide | storage & recording devices
When PhotoJoseph YouTube operations expanded, the channel turned to Blackmagic Cloud Store Mini for global collaboration.
Shooting the Big Apple for YouTube With ATOMOS Ninja V+
By Sidney Diongzon Founder Story Chasrss
DALLAS-FORT WORTH –I love to tell stories through my camera, and over the years I have discovered that I love to help others do the same. I started my YouTube channel ( www.youtube.com/@SidneyDiongzon ) as a way to do this, through practical tutorials, cinematic visuals, gear reviews and behindthe-scenes vlogs. In doing so I've had the opportunity to meet some amazing people, work with some great brands and go to some incredible places.
Recently I went to New York City to hang out with my YouTube friends to film some content and of course, film each other, as YouTubers do. For his shoot, I took the ATOMOS Ninja V+ to help me capture what life is like in New York City (at least from a tourist filmmaker's perspective).
PRORES RAW RECORDING
I've been using the Ninja V+ for several months now, to film different projects in a variety of locations and settings, and I thought this New York trip would be a great way to show off the Ninja V+ as an extremely useful yet relatively minimalist film accessory.
If you don't know what an ATOMOS Ninja V+ is, it's both a monitor and a recorder, so you get to record ProRes RAW video straight from your camera, even though it doesn't support RAW output on its own.
While the Ninja V+ has many image control features, I mainly use it to help me nail my exposure, but I also use the focus peaking and waveform monitor. I've installed my own LUT as well, so I can see what the final result will look like without having to do all that stuff in post. Typically, I'll rely on just a handful of options.
For this trip I took my Sony A7SIII paired with the Sony FE 24-70mm f 2.8 G Master Mark II lens. With that combo you can film pretty much everything, from a wide shot at 24mm to a close-up at 70mm. But I did say "pretty much." Shooting in Times Square requires a wider lens (as we've all seen on
TV and in movies), so I also brought my Sony 16-35 f2.8 G Master Mark II. I also recommend a variable ND filter to help control your exposure. I use a PolarPro 95mm Peter McKinnon Signature Edition II Variable ND filter and I love it.
I think one of the coolest things about using a large display / monitor, like the ATOMOS Ninja V+, is the fact that you can see things a lot better. The extra screen real estate really is much better than the tiny little camera screen.
LIGHT ENOUGH FOR TRAVEL
I know that's a weird thing to say, but strangely the Ninja's big screen helped me slow down and be more intentional with every shot that I took in New York. The grid lines helped me level out the scene, the exposure tools like false color and zebras helped me make sure that my shots looked great. The focusing tools like focus peaking
and the zoom tool help me nail the shot, and overall, it was just super easy to use.
The touchscreen display is bright at 1,000 nits. So bright, in fact, that in daylight I found that I never needed to use the Ninja's sunhood. But keep in mind that this was New York City, with lots of skyscrapers shielding me from direct sunlight. If I were in a much more open outdoor setting with direct sunlight, that sunhood accessory would definitely come into play. And while the Ninja V+ is large enough to see what you're filming and view playback, it's small and light enough that I can pack it in my bag and take it to a place like New York. l
Sidney Diongzon is an accomplished video producer and editor skilled in effective storytelling, with over 10 years' experience. He can be reached at hello@sidneydiongzon.com. More information is available at www.atomos.com.
31
Sidney Diongzon used the ATOMOS Ninja as a key part of his camera setup during a New York City shoot for his YouTube channel.
USER REPORT
twitter.com/tvtechnology | www.tvtech.com | January 2023 equipment guide | storage & recording devices
buyers briefs
Grass Valley Elastic Recorder X
The Elastic Recorder X is designed to let users produce any event from anywhere, instantly. As a cloud-based ingest tool, Elastic Recorder X captures any input, in any format, to any storage, and makes the input immediately available to users wherever they are. Thanks to no limit on the number of simultaneous ingests and the ability to edit files within seconds of record start, the Elastic Recorder X makes it easy to produce highlight reels and secondary content while an event is still taking place. Since Elastic Recorder X is AMPPbased, there is no need for a large hardware purchase to cover peak demands; users pay only for what they use.
z For more information visit www.grassvalley.com.
360 Systems
Instant Replay 3
Rohde & Schwarz
SpycerNode
As a highly scalable and secure storage solution built for demanding media and entertainment environments, R&S SpycerNode features HPC technologies to protect content and keep it accessible, even in worst-case situations. With its industry-compliant ethernet architecture, R&S SpycerNode easily integrates into existing environments and works with hundreds of compressed broadcast data streams as reliably as with a multitude of uncompressed 4K post-production streams. For seamless workflow integration, it provides hybrid file and block storage access and avoids complicated management and isolated pools of data. With its user-friendly management and monitoring UI, R&S SpycerNode allows users to put the focus back on creative work.
z For more information visit www.rohde-schwarz.com.
The new Instant Replay 3 builds on the fact that for over 25 years, 360 Systems' Instant Replay, has been known for its ease of use and functionality as a completely self-contained audio clip player that has established itself as the world's go-to audio clip player. Used globally in theme parks, live performances, sports venues, mobile vehicles, radio and television production facilities, it provides users 2,500 audio cuts
EditShare
EFS 60NL
Storage
for instant playout. Unlike PC's, the Instant Replay3  features physical buttons for immediate tactile feedback during audio clip playout. Its built-in file management system allows the users to organize media and obtain information about clips and playlists. 360 Systems also offers an optional integrated Dante module.
z For more information visit www.360systems.com
In many applications, media storage needs to be readily accessible, but without the extreme speed required in an online production workflow. Traditionally moving content from this nearline storage to the online network needed management and time. EditShare's EFS 60NL is designed to streamline and accelerate those processes. Capable of storing a petabyte in a 4U chassis, replication routines can be established with online and cloud storage using EditShare Swift Sync; it also provides very fast transfers to park content to free online storage space. It uses native erasure coding to provide high resilience without the need for hardware RAID. FLEX Cloud Sync extends the capabilities of Swift Sync to cloud storage, providing added flexibility in access as well as security in archiving.
z For more information visit www.editshare.com.
32
January 2023 | www.tvtech.com | twitter.com/tvtechnology equipment guide | storage & recording devices
Avid Avid NEXIS F-Series and Avid NEXIS | VFS
Avid NEXIS F-series is designed to raise the bar on media storage performance by allowing media production teams to work from anywhere by providing secure, remote access to media and metadata across online, nearline, cloud and archive storage. New storage engines combine with Avid NEXIS | VFS virtual file system, featuring built-in intelligence to automate administrative tasks, enabling Avid NEXIS F-series storage to adapt to changing workloads without user intervention. Available via subscription, the powerful combination provides better performance and scalability for collaborative on-premises and cloud workflows, while accommodating business growth, new projects and remote collaboration without disruption.
z For more information visit www.avid.com.
EVS XT-ViA
The XT-VIA next-generation live production server is designed to help users transform live action into memorable stories. Engineered to meet high demand live broadcast production requirements, it handles all new formats and protocols, from HD to 8K, SDR to HDR, and SDI to IP, in a single versatile product. Built from EVS' live engineering expertise, XT-VIA guarantees an unmatched level of control and precision and offers a capacity of up to six channels of UHD and 12 channels of Full HD. Core benefits include: full flexibility for UHD or HD operations; live HDR production; advanced connectivity; high speed media sharing network; high quality motion replays; fast and reliable.  z For more information visit www.evs.com.
products & services marketplace
33 buyers briefs
twitter.com/tvtechnology | www.tvtech.com | January 2023 equipment guide | storage & recording devices
people on the move
For possible inclusion, send information to tvtech@futurenet.com with People News in the subject line.
SUSAN GOLDBERG President and CEO
GBH
Susan Goldberg, the new president and CEO of GBH, is the first woman to hold the office since GBH was founded in 1951. Goldberg served as editor-in-chief at National Geographic from 2014 to 2022, including the additional role of editorial director in 2015. She and her team transformed the newsroom and its editorial strategy by diversifying staff, expanding coverage, and executing a multiplatform plan to include social and digital platforms.
MICHAEL SAFFELL Regional Director of Engineering
Hearst Television
Michael Saffell, who was director of engineering for Hearst Television's WMUR-TV in Manchester, N.H., since 2015, has been promoted to regional director of engineering for Hearst Television. He will share direct engineering oversight across the station group with fellow regional director of engineering Greg Turner. Before joining Hearst in 2014 he served for seven years as director of technology for New Hampshire Public Radio,
MICHAEL STROBER Chief Revenue Officer
Nexstar Media
Nexstar Media Group has appointed Michael Strober to the new position of EVP and CRO where he will lead what Nexstar calls "the reimagination and execution of a new advertising sales and go-to-market strategy." Since 2019, he has served as founder and president of Topwater Advisory Group. Prior to to that, he was a member of the leadership team that revamped Turner Broadcasting's advertising sales division.
K. DANE SNOWDEN Senior Advisor
Wilkinson Barker Knauer LLP
K. Dane Snowden, former president/CEO of the Internet Association and COO of NCTA-The Internet & Television Association, has joined D.C. law firm Wilkinson Barker Knauer LLP as a senior advisor. Before this, he was chief of the FCC's Consumer & Governmental Affairs Bureau, connecting with consumers on (among other things), disability rights, consumer education and outreach to state, local, and Tribal governments.
COLLIN GASTON Senior
Vice President
Gray Television
Gray Television has promoted Collin Gaston to SVP. He will oversee TV markets in the South, Texas and Colorado. For the past nine years he served as regional VP and GM of WBRC FOX6 in Birmingham, Ala. During this same time, he also oversaw additional markets as a regional vice president. With 30 years of experience, he began his career as an intern at WTXL while completing a degree in Media Communications at Florida State University.
JOE ADDALIA VP, Broadcast Technology Hearst Televison
Hearst Television has promoted Joe Addalia to VP of broadcast technology, a role in which he will have expanded responsibilities for sourcing and implementing new technology to meet the station group's TV operations requirements. Addalia joined Hearst Television in 2006 when the group acquired WKCF-TV in Orlando, Fla., from Emmis Communications. At Emmis Communications, Addalia was corporate director of engineering technology.
SCOTT SHAPIRO
EVP of Corp. Dev't. and Strategy Sinclair Broadcast Group
Sinclair Broadcast Group, has promoted Scott Shapiro to executive vice president, corporate development and strategy. He is responsible for managing and executing large strategic investments and acquisitions, and formulating and facilitating organic opportunities. Previously, Shapiro served as Sinclair's senior vice president, chief development officer and CFO/COO of Diamond Sports Group. He joined Sinclair in 2011.
HARAHAN , VP, Sales SIMON ADLER , Senior President, Sales
SDVI
SDVI has hired Mark Harahan as VP of sales and promoted current sales VP Simon Adler to SVP of sales, both for North America. Adler and Harahan will lead its customer outreach in the U.S. and Canada. Harahan held sales roles with Grass Valley, Miranda Technologies and Sony. Adler expanded the roster of SDVI customers to include A+E Networks, Comcast, NBCUniversal and Sony Pictures.
34
January 2023 | www.tvtech.com | twitter.com/tvtechnology
MARK
9000
WHAT COMES NEXT Join us at NAB Show, THE GLOBAL EVENT for the broadcast, media and entertainment industry. Preview powerful technology, best-in-breed products and innovative solutions for your every next. And — it's our Centennial… an incredible, must-not-miss celebration! Exclusive international benefits and private-access perks are all yours. REGISTER NOW with code MP02. ONE EXHILARATING EXPERIENCE. FOUR UNIQUE DESTINATIONS. CREATE. All things preproduction to post. CONNECT. All things distribution and delivery. CAPITALIZE. All things reach and ROI. INTELLIGENT CONTENT. All things data, AI and automation. NABShow.com
SEE
aveco.com On-Prem | Cloud | Hybrid New Generation Production Automation & MCR Playout Automation INTRODUCING We love to play! PRODUCTION | PLAYOUT | MAM