folio.yvr
ISSUE #16 2022 Holiday Edition
T A B L E O F C O N T
002
T E N T S Rolls-Royce Spectre EV Royal Ranthambore Whisky Habitat by Aeon Rado Collection Ann Goldberg Birks High Jewellery Birks x Greta Constantine Chopard Cashmere Collection Wuxly x Bryan Adams Roden Gray Marimekko 006 014 016 024 026 028 034 040 042 048 052 054
#holidayseason
Welcome to Folio YVR Luxury Lifestyle M agazine's first Holiday Edition - a delightful collaboration with Retail- Insider, Canada's most read retail industry news source Not intended as a definitive shopping guide but more of a sneak peek into the 'ecoluxury' products in Vancouver
Curious about this term - ecoluxury? It is relatively new and describes objects and experiences that are both high-quality, expensive and created with a sensitivity for the environment, the well-being of those involved in the production process, and sustainability
An ecoluxury object could be a couture gown created by a high-end design house of earth-friendly fabrics or repurposed materials. Such fabrics might be natural fibres grown and harvested without pesticides, using sustainable practices and without human/ animal exploitation.
An ecoluxury getaway may take travellers to a five-star resort that has been built and organized so that facilities, amenities, and guests make the smallest possible carbon footprint This may mean that the resort runs on solar power, uses water efficiently, offers cruelty-free beauty items, and promotes non-exploitive off-site adventuresYou get the idea. Do as little harm as possible while using the resources to keep the environmental cost as low as possible. Taking a beat and stepping backwards to when we valued a 'slow process' of creation.
In this Holiday Edition issue, we share the incredible Rolls- Royce Spectre, the marques first electric motor car, and a promise from Torsten M üller- Ötvös that all RRs will be electric by 2030!
Entrepreneur and luxury furniture purveyor Shama Gupta launched a gorgeous new showroom for Aeon by Habitat on West Pender and Howe Streets.
I invite you to visit and explore the new-to-the-city brands like Giorgetti, Lasvit, and M oroso and swoon over the interior design by M cKinley Studios
Looking for some ice? When agency owner and fashionista Audrey Hyams Romoff of Overcat PR extended the invitation to the M aison Birks Snowflake Collection launch, I could not say 'Yes' fast enough! The frosty symbol of our Canadian winters crafted in white gold and diamonds? Please!
Also in our Accessories offerings is the collaboration between Maison Birks and Canadian glam designers Greta Constantine and the relaunch of Chopard in the Luxury Zone Their new location and range of exquisitely crafted pieces are worth a visit
These stories and more are wrapped up with a big bow in this issue with a beautiful cover by Ann Goldberg A little more about her and the Canadian Perennials exhibition on pages 26-27
During this holiday season, please take a moment to consider those organizations who are making change in our city, our communities, and in our hearts with their hard work - more than likely volunteeredand consider donating to those who need it most.
I invite you to look beyond the galas, flashy ballroom events, smiling celebrity faces, flowing Champagne, and tax receipts Let us also support those who tirelessly struggle to protect the most vulnerable around us, feed the hungry, and shelter the marginalized 365 days a year
Compassion is super sexy and if you are unsure where to begin, visit CanadaHelps org and search All listed are legitimate, vetted, and provide tax receipts You will be shocked at how many there, but the amount of change you can make with a donation is incredible, and they also accept cryptocurrency!
004
E D I T O RI NC H I E F / P u b l i s h e r ' s M e s s a g e
R O L L S -R O Y C E S P E C T R E E V
006
R O L L S -R O Y C E
S P E C T R E E V
In 1900, Rolls-Royce co-founder, Charles Rolls, prophesied an electric future for the motor car, recognizing the clean, noiseless alternative to the internal combustion engine ? providing there was sufficient infrastructure to support it.
Today, more than 120 years later, the time has come for Rolls- Royce M otor Cars to fulfil the prophecy of its founding father with the first fully electric Rolls-Royce, Spectre
Spectre marks the start of Rolls-Royce Motor Cars full electrification. Technology has reached a standard that can deliver the iconic Rolls-Royce experience - enhance the Rolls-Royce experience. The instant torque, silent running, and the sense of one imperceptible gear have defined the characteristics of an extraordinary canon of products dating back to the very first motor car Due to these developments, Rolls-Royce has confirmed that by 2030 its entire product portfolio will be fully electric
In unveiling Spectre, Rolls-Royce sets a new precedent in the creation of an entirely original class of motor car, the Ultra- Luxury Electric Super Coupé This designation refers to Spectre?s indulgent proportions, specified in response to a commitment that there is no greater luxury than that of space.
008
L U X U R Y IN S P IR A T IO N
The marque?s designers are deeply rooted in the context occupied by their motor cars Therefore, their inspiration is drawn from worlds far beyond automotive, including haute couture, modernist sculpture, nautical design, tailoring, and contemporary art
In conceiving the principal sketches for Spectre, the marque?s creatives were drawn to modern yacht concepts, specifically the clarity and precision of line, intelligent use of reflection and application of taper to emotionalize silhouettes
From the front, Spectre?s split headlight treatment is intersected by the widest grille ever bestowed on a Rolls-Royce
The vanes of the Pantheon grille are now smoother in section and a flusher fit, designed to help guide the air around the motor car?s front. Along with an aero-tuned Spirit of Ecstasy figurine the grille delivers Rolls-Royce?s most aerodynamic motor car, ever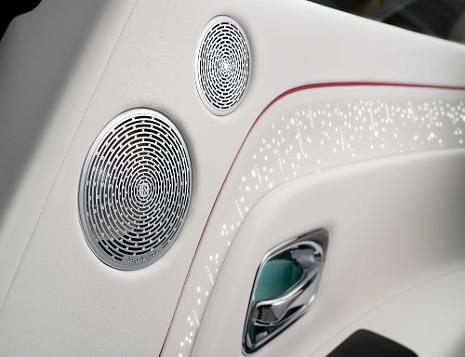 The grille is softly illuminated, with 22 LEDs lighting up the sandblasted rear side of each of the vane
The silhouette?s most dramatic feature is Spectre?s fastback. The proportional demands of Spectre?s scale required Spectre to be the first production two-door coupé to be equipped with 23- inch wheels in almost one hundred years This design treatment marries the iconography of Spectre?s spiritual successor, the Phantom Coupé to a contemporary Rolls-Royce design.
010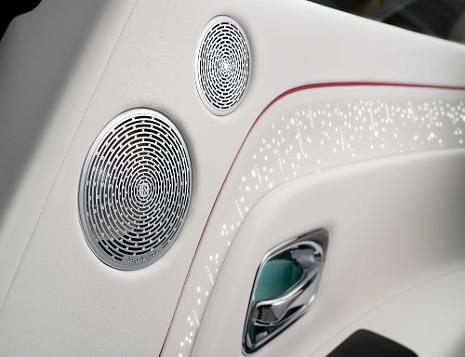 012
B E S P O K E F E A T U R E S
Inside, Spectre is provisioned with the most technologically advanced Bespoke features yet For the first time on a series production Rolls-Royce, Spectre is available with Starlight Doors, which incorporate 4 796 softly illuminated ?stars?in the interior and that is excluding the Starlight Headliner
As with all Rolls-Royce motor cars, Spectre?s interior suite offers clients near-infinite Bespoke possibilities The all-new front seat design has been inspired by British tailoring, with lapel sections that can be rendered in contrasting or matching colours to the main base.
Spectre delivers the iconic Rolls-Royce drive as it is built on the ?Architecture of Luxury?- a new, highly flexible all-aluminium spaceframe architecture, tailored for electric drive It also underpins today?s Phantom, Cullinan and Ghost, and Coachbuild projects Royce 2 0 The electric drive technology is advanced enough to fulfil the Rolls-Royce experience
?This is the start of a bold new chapter for our marque, our extraordinary clients and the luxury industry. For this reason, I believe Spectre is the most perfect product that Rolls-Royce has ever produced.?
Torsten M üller- Ötvös, Chief Executive Officer, Rolls- Royce M otor Cars
014
R O Y A L
R A N T H A M B O R E W H IS K Y
On your holiday list to try and new to the west coast is a unique whisky channelling the majestic royalty of India.
Royal Ranthambore Whisky is crafted with various blended malt scotches. The Scotch grain is made from 100%malted barley, carefully blended with oak-infused Indian Grain Neutral Spirit.
The tasting notes include the warm and intense orchard fruit aromas, followed by sweet floral notes and hints of citrus and finishing off with subtle forest honey and spicy dried fruits. Additionally, a rich flavour similar to English muffins, melted butter, plum cakes, apple pie, cocoa and a hint of spicy peaty smoke
As sipping and innovative cocktail culture continues to flourish, patrons demand a taste of sophistication and exploration in the blended whisky market, which has inspired Royal Ranthambore to create and share their blended whisky It can be enjoyed as a beverage neat or in craft cocktails. The possibilities are endless!
The company, alongside the executives, is dedicated to supporting the Ranthambore Tiger Reserve at the Ranthambore National Park by designing the Royal Ranthambore whisky?s logo and packaging to raise awareness in the Save the Tiger initiative They want to preserve the tiger population as they are the most majestic animals on earth
Being one of India?s largest and oldest distilleries, Radico Khaitan is the parent company of Rampur Distillery, producing one of the first in its series in the Heritage Collection, the Royal Ranthambore Whisky.
The offerings are already garnering accolades internationally, with the distribution of this fine product in Canada, Europe, UAE, Africa, SE Asia, and the USA.
016
H A B IT A T B Y A E O N
Downtown home furnishings and decor shopping just got
a little more exciting with the launch of the new Habitat by Aeon location at the corner of West Pender and Howe Street
With 18-foot ceilings, tall open walls, and beautifully designed furniture, the space is compelling with its modern yet majestic look The vertical and horizontal slat architectural elements add a dimensional perspective, and the different sections convey a warm and inviting vibe, like walking through an inviting yet sophisticated home.
After the success of Aeon Stone & Tile and Poliform, Shama Gupta, Aeon Group?s President, decided to push the envelope of interior design and luxury by creating a space that epitomizes finesse and luxury
018
G L O B A L V IS IO N R E A L IZ E D
Influenced by her extensive travels through Europe and visiting various design shows and events, Shama envisioned the future of how modern design should be represented on the west coast. With the launch of the new Habitat by Aeon, she has brought together a curated list of high-end global brands in one glorious new space
Designed by Walker M cKinley of M cKinley Studios, the showroom allows connoisseurs of contemporary design to lose themselves in its visual richness The philosophy behind the new store is to show how furniture enhances the overall experience of a space.
With this new addition to Vancouver?s downtown, the brand also brings unique and iconic global luxury interior design brands to the west coast It adds sophisticated glamour to the Vancouver design industry. By introducing brands like Giorgetti, Lasvit, Sollos, Bomma, and M oroso, Habitat by Aeon has created a space that compliments the thriving real estate industry in Lower Mainland
While Giorgetti is an Italian furniture brand specializing in luxurious contemporary furniture, Moroso is another Italian brand known for using textured fabrics and bold upholstery with many pieces designed by the renowned Patricia Urquiola.
N E W B R A N D S S H O W C A S E D
020
022
N E W O P T IO N S F O R Y O U R H O M E
Sollos by Jader Almeida is a well-respected Brazilian high-end furniture brand famous for its curve-inspired designs that will appeal to the diverse market serviced by Vancouver?s design community.
Lasvit and Bomma are renowned lighting brands famous for using the Bohemian technique of hand-blown glass to create spectacular lighting for any space Among its different areas, the showroom features the most expansive flagship kitchen of the luxury Italian brand M inotti Cucine while also hosting state-of-the-art kitchens by Aster Cucine.
With this perfectly placed location, Habitat by Aeon aims to redefine the Design District of Vancouver with neighbouring brands like Poliform, M ajor Interiors, Roche Bobois, Avenue Road, and Turri.
024
R A D O C O L L E C T IO N
We have arrived at a magical season of light, love, and sparkling joy. A time to celebrate the people and moments we care about most On this precious occasion, Rado presents two enchanting versions of its well-loved True Square Open Heart timepieces. For everyone in black and white, they are a perfect expression of love and light, and a celebration of life together
With its injection-moulded monobloc case and bracelet in glossy white or black high- tech ceramic, this model presents a compelling version of the brand?s iconic square designs, with gently curved corners, sleek dial visuals, and fascinating views of the automatic movement in motion within
The gleaming black surfaces appear in powerful contrast to the lightweight, hypoallergenic model, executed in immaculate white high-tech ceramic. With golden hands and gilt-edged cut-outs, the dials on both models add an exclusive touch of class Designed for those with a taste for elegance, the glittering white version features 12 top-class diamonds set to mark the hours
At the heart of these iconic square watches is Rado?s calibre R734 automatic movement, easily admired through the intricate pattern of windows in the dial The movement and movement holder also feature a number of Swiss watchmaking?s exquisite decorative finishes, with finely crafted balance, gears, and polished components at centre stage The 80-hour power reserve also makes the True Square Open Heart a watch with staying power for everyday life.
The holiday season brings a special light from the diamonds on the dial, from precious memories and present moments With the True Square Open Heart in black and white, we celebrate our time together
026
P E R E N N IA L C A N A D IA
F A N N G O L D B E R G
or her 8th solo exhibition, Vancouver artist Ann Goldberg presented a series of paintings exhibited at the Pendulum Gallery in downtown Vancouver (until January 12, 2023).
The subjects primarily consist of Canadian perennial flowers The works include original oil paintings on canvas with photographs on Dibond (aluminum) and white framed inkjet premium paper. The pandemic isolation caused Ann to consider the human connection to flowers and, more broadly, the collective connection to nature She began to see anthropomorphic qualities in these flowers
Human emotions in these plants were revealed as the multitudes of tragic pandemic stories were reported She observed these subjects in more detail than usual, with all her senses Colours, sounds (and silence), smells, and textures were all experienced with heightened sensitivity.
Canadian Perennials / 54x60 / Oil on Canvas 2021
Right: Tree Peony in Victoria / 24x36 / Oil on Canvas 2021
Tree Peony on Vancouver Island / 24x36 / Oil on Canvas 2021
Kim Steven' s Dahlia / 48x36 / Oil on Canvas 2021
N S Left:
Top
Centre:
Bottom:
IR K S
028
B
H IG H J E W E L L E R Y
Behold the beauty of Birks High Jewellery, celebrating nature's splendour with unparalleled artistry.
With over 140 years of savoir-faire, Birks creations are masterful pieces to treasure through generations.
With its signature creativity and craftsmanship, Birks now marries radiant diamonds and precious white gold, giving life to the exquisite Birks Snowflake Collection
These glistening pieces are heartwarming tributes to the beauty of winter in Canada, with designs that softly twinkle like falling snowflakes. Each one is perfectly unique, each a timeless natural wonder
"With over 140 years of expertise, we are thrilled to showcase our impeccable craftsmanship and meticulous artistry with this new collection," says Jean- Christophe Bédos, President and CEO of Birks
030
T H E C H IL L F A C T O R
The Birks Snowflake Collection diamond-set white gold pendant features a single 18-karat white gold snowflake, a signature design element of this collection, set with round and pear-cut diamonds. The pendant is made of 91 diamonds and has a total carat weight of 2 78 carats
The Birks Snowflake Collection diamond-set white gold necklace features a beautiful snowflake that falls gracefully from a smaller snowflake pendant. The 18-karat white gold necklace is set with pear and round-cut diamonds, and the white gold chain is decorated with diamonds The necklace is made with 283 diamonds and has a total carat weight of 12 carats
The Birks Snowflake Collection white gold and diamond earrings are symmetrical and feature a single large diamond snowflake of 170 dazzling pear and round diamonds weighing 4.49 carats.
Birks Snowflake collection white gold and diamond drop earrings feature a snowflake hanging from a cluster of smaller, round diamonds The snowflake in 18-karat white gold incorporates pear-shaped diamonds and features 196 diamonds for a total of 5.31 carats.
The white gold ring set with diamonds from is a version of modernity of a classic fancy ring. It features an oversized snowflake made of 105 pear and round-cut diamonds The glimmering snowflake is suspended in 18-karat white gold weighing a total of 2.85 carats.
032
P E R F E C T F O R Y O U
Exquisite artistry Uncompromising craftsmanship Luminous creations In a heartfelt tribute to the wonders of Canadian nature, the master jewellers at Birks High Jewellery meticulously design and craft each piece by hand The new Snowflake Collection brings you diamond and white gold rings, pendants, and earrings that are true works of art. The collection is available in M aison Birks stores, including West Hastings in Vancouver, St. Catherine Street in M ontreal, Carrefour Laval, Sherway Gardens, Bloor Street, and Yorkdale Mall in Toronto
034
B IR K S
X G R E T A
C O N S T A N T IN E
B
irks, Canada?s premier wedding and fine jewellery brand, has partnered with Canadian Design House Greta Constantine to create a one-of-a-kind collection of four wedding looks inspired by Birks engagement rings.
?Partnering with Birks was a fantastic experience,?says Kirk Pickersgill, Co-Founder and designer of Greta Constantine ?Our one-of-a-kind bridal looks riffed on modern and classic elements while retaining the inherent elegance that defines both of our brands?
?Birks and Greta Constantine share the same commitment to craftsmanship and design,?says Kat ie Reusch, Birks-Marketing Director. ?As a Canadian brand, we wanted to collaborate with a Canadian designer and Greta Constantine was the perfect fit.?
The Birks Dare to by the tri-gold Bi Engagement Rin features rose, yel pavé diamond ri diamond. The Bir Greta Constantin individuality, with overskirt that can jumpsuit underne motif of the ring, ceiling design in incorporated into mesh detailing. The Birks Blue dr neckline and an waist, takes inspi Diamond Engag engagement ring surprise element nestled in the set plays upon this m trim woven into t colour blue plays Birks heritage, as recognizable bo at their flagship s
036
o Dream look was inspired irks Dare to Dream ng. This unique design low, and white gold and ngs with a solitaire ks Dare to Dream gown by ne celebrates bold h a detachable ruffle-trim n be removed to reveal a ath. The signature mesh which is inspired by the the first Birks store, is o the overskirt with visible ress, with a strapless asymmetrical dropped ration from the Birks Blue ement Ring Like this g, which incorporates a - a sapphire gemstone ting - Greta Constantine mesmerizing detail with blue he tiers of the dress. The s an important part in the s the colour of their highly x and the iconic blue doors store in Montreal.
Established in 187 from the late 19th the Birks 1879 en design elements setting and deta the past and pre 1879 gown captu its modern silhou sleeves and train architectural ele The Birks North S the brightest star modern mini with diagonal ruffles b echoes the adve star captured in setting of the Birk ring
Founded in 2006 Pickersgill and S collection is avai worldwide, spann Al- Othman, the E and Selfridges, a Operandi and Fa
038
79, Birks takes inspiration h century for the design of ngagement ring. Structural are seen in the rings unique ils that take inspiration from sent. Greta Constantine ures this same sentiment with ette and classic gathered n, highlighting the ments of the era. Star dress is an homage to r in the night sky. The h bow detailing and by Greta Constantine nturous spirit of a shooting the signature five-prong ks North Star engagement
6 by designers Kirk Stephen Wong. The lable in over 45-doors ning 15 countries, including Etoile Group, Holt Renfrew , as well as both M oda arfetch online
040
C H O P A R D
Swiss watch and jewellery brand Chopard operates an exquisite boutique at 1108 Alberni Street in the city?s Luxury Zone.
The store?s design includes light wood floors, wall panelling, and luxurious fabrics and furnishings that the brand says artfully reflect the feeling of a family home The store features Chopard?s Haute Joaillerie and Precious Lace creations alongside the iconic L?Heure du Diamant, Happy Diamonds, and Ice Cube collections. There is a private area at the back of the store that features rich shades of leather and an extensive library.
Caroline Scheufele, Co-President and Artistic Director of Chopard said ?Chopard is proud to unveil a beautiful jewel in Vancouver. We?ve been welcomed with open arms and remain committed to this important, growing, and vibrant market in Canada We look forward to welcoming friends of the Maison to our new home, one that embodies and showcases the creativity, innovation and craftsmanship Chopard is known for.?
The Vancouver store is Chopard?s only standalone streetfront boutique in Canada The brand also has a boutique presence at CF Sherway Gardens in Toronto at jewellery retailer L?Oro
042
C A S H M E R E
C O L L E C T IO N
International fashion star Jay M anuel presented 12 top Canadian designers and their Vision of a Future Without Cancer to kick-off Breast Cancer Awareness Month as part of the 19th Annual Cashmere Collection With a themeCelestial Awakening: A Celebration of Strength, Hope, and Compassion - at The Symes in Toronto.
Twelve brilliantly talented designers from across Canada created their unique and breathtaking visions of a future without Breast Cancer at a one-of-a-kind show of original couture ? all entirely crafted in sheets of soft and luxurious Cashmere UltraLuxe Bathroom Tissue.
More than 240 top Canadian designers have taken part in the Cashmere Collection, now celebrating its 19th year. Produced by Kruger Products, it serves as the annual kick-off to October Breast Cancer M onth "Canada has an amazing wealth of fashion talent, and seeing these creative visionaries bring their show-stopping designs to life as a collection on the runway is truly an epic spectacle," says a proud Jay M anuel, who is curating the collection for the first time.
"Our 2022 theme, Celestial Awakening, is a Celebration of Strength, Hope, and Compassion and asked our designers to look to the heavens for inspiration. I am totally blown away by the creativity, skill, and craftsmanship that went into each and every design," he says
Founded in 2004, the international award-winning Cashmere Collection is an ardent supporter of Canada's fashion design community and the Breast Cancer cause Many of the greatest names in Canadian fashion have contributed to the collection, including Vancouver's Jason M atlo, Grandi, Carly Wong, Alex Yu, and the much beloved Greta Constantine Internationally recognized fashion photographer Justin Wu captured the collection Justin is an award-winning Toronto-based photographer and director and is best known for shooting world-renowned fashion and beauty campaigns; and has worked with Vogue, ELLE, and GQ.
Long-time collection partners M AC Cosmetics and FLOW Haircare created ethereal, on-theme looks for editorial photography and runway Elegant accessories were by SALT Fine Jewelry, and L' intervalle provided exquisite footwear.
044
046
PAGE 42: WINNER OF THE CASHMERE COLLECTION COMPETITION: DEMASCARE PAGES44-45: CLOCKWISE: L'UOMO STRANO KENSEY ERIN DOCH TRISTAN REHEL KYLE GERVACY KAELA KAY PAGE 46-47: CLOCKWISE: MIMIELA SAM STRINGER MADALEINE NELSON CHELIEL AFFLATUSHIJAB
048
T H E B A D C O L L E C T IO N
ustainable and proudly Canadian outerwear brand
S W U X L Y x A D A M S
Wuxly has collaborated with vegan Canadian music icon, Bryan Adams
Loved for its animal-free, fashion-forward outerwear, Wuxly?s latest limited edition collection garners even more adoration among music enthusiasts. This season, the sustainable brand announced the launch of its collaboration with unabashedly vegan Canadian rocker, Bryan Adams
?I?m so proud to have collaborated on this kick ass collection with WUXLY ? a brand I have personally admired for years and whose core values, I share ? and I can? t wait to see how people make it their own and rock these pieces,?says Adams.
To the team at Wuxly, Bryan was an obvious choice for their first collaboration as he has been a committed vegan for over three decades The brand's animal-free and eco-friendly ethos aligns with the musician?s dedication to protecting the ever-so-vulnerable planet.
?Meeting Bryan for the first time was awesome He was down-to-earth and cool as a fan,?shares James Yurichuk, former football player and CEO of Wuxly Movement ?I could see why he is so accomplished. He would always be ready to work on the collection, whether on the road, if it was late at night, or on the weekend I could see the pride that goes into his work when he puts his name on it? there is a lot of passion in this project ?
Bryan?s close relationship with the outerwear brand started back in 2019. And now, four years later, the partnership is redefining warmth by creating the first tech- led, animal- free Canadian parka? tried and tested to help Canadians brave the country?s cold winter elements
?The BAD Collection is an homage to an all-time rock legend that spans generations. My son's in elementary school listening to Bryan just as I did when I was their age and still do,?says Yurichuk ?The Kick Ass silhouette is something we wanted to capture in this collection Bryan rocks the house when he is on stage, and we wanted our customers to be able to express their inner rocker So the logo accomplishes that.?
Bryan, one of the best-selling artists of all time, directed and stars in the campaign that was shot in his studio in London. He created his interpretation of the collection with his team using a blank slate.
?The end result was wicked,?reveals Yurichuk
As the only vegan and sustainably made outerwear brand in Canada, Wuxly?s popularity continues to grow organically. There is yet to be another Canadian outerwear label that shares the same commitment to local production and animal-free fabrics.
By producing the outerwear collections locally, Wuxly helps strengthen the Canadian company while reducing transportation-related carbon emissions.
?We are incredibly focused on product quality and brand integrity? being the best we can be is at the forefront of everything we do,?he says. ?Radically sustainable by design continues to be a north star for Wuxly, and we will never stray from that ?
050
052
R O D E N G R A Y
With its CF Richmond Centre launch, Roden Gray, a luxury designer boutique, expanded into a new market and celebrated its 15th year!
Known for its luxury designer brands, including Fear of God, Dries Van Note, Jil Sander, and Marni, the Richmond boutique is 1,700 square feet and not short on style and unique offerings.
The boutique features similar brands as its first location in historic Gastown (8 Water Street) while expanding to include unisex and lifestyle options
Established in 2007, and now 15 years later, it has continued to expand its brand names. In 2017, its brand list was around 38 - now Roden Gray carries over 50 brands.
Visitors can find various products, including clothing, outerwear, footwear, apothecary, home goods (like Gufram), and accessories
Selling clothing is not the only priority at Roden Gray, as it also focuses on educating and making customers feel comfortable in a luxury environment.
Visit the CF Richmond Centre boutique, which features new designers and will include pop-up brands to cycle in new creative looks to the store
054
M A R IM E K K O
Vancouver is home to the only Marimekko concept store in Canada Known worldwide for its luxurious, colourful, and unique designs, Marimekko was established in 1951by Armi Ratia in Finland. They have 150 stores, including locations in Norway, the United States, Denmark, Japan, China, Australia, Hong Kong, and Thailand.
Celebrating its 70th anniversary last year, Marimekko is recognizable by the iconic poppy and "is an established brand that has great quality that everything is made to last decades and to be passed on," says Nateish Wilman, the General Manager of the Marimekko store in Vancouver
"We know our client's names, and there are only three of us who work here, but we carry the most beautiful brands So it is a lovely balance for us that we have this incredible design with all of this history, but it is still just a neighbourhood shop," says Wilman
Choosing to launch in Vancouver was because of the large Finnish population. "I think it is kind of funny. You might not think Finland and Vancouver are similar, but Finland can be so rainy and grey, and so you bring in all these happy-looking colours and that is the same here," says Wilman.
"So much of what we consume is so disposable and that is really the opposite of Marimekko," says Wilman "It is about getting that classic beautiful design that will last forever, and every piece has the name of the artist who made it, so it is a cool connection to the history or Marimekko when you get a new piece."
Shop Marimekko at 851Homer Street, Vancouver, BC
056
Editor-in-Chief & Publisher Helen Siwak, EcoLuxLuv Comms Assistant Editor: Rachel Moore Retail Insider Collaboration: Chopard by Craig Patterson Roden Gray by Shelby Hautala M arimekko by Shelby Hautala PHOTOGRAPHY CREDITS: FRONT COVER: ANN GOLDBERG TOC: GUFRAM 005: KUNA PHOTOGRAPHY 006- 013: ROLLS- ROYCE 014- 015: ROYAL RANTHAM BORE WHISKY 016- 023: AEON BY HABITAT 024- 025: RADO WATCHES 026- 027: ANN GOLDBERG 028- 039: M AISON BIRKS 040- 041: CHOPARD 042- 047: JUSTIN WU 048-051: WUXLY MOVEMENT 052-053: RODEN GRAY 054-055: MARIMEKKO 056-057: HELEN SIWAK / MT OLYMPUS All rights reserved No part of the material protected by this copyright notice may be reproduced or utilized in any form or by any means, without written permission from EcoLuxLuv Communications FOLIOYVRdoes not accept unsolicited materials or accept any responsibilities for incorrect information as all information is deemed to be accurate as of date of publishing FOLIOYVRis published by EcoLuxLuv Communications and is a marketing tool of sponsored content designed to augment services provided by EcoLuxLuv Communications. Queries regarding collaboration, sponsorship, marketing, consulting, and/or inclusion in FOLIO.YVRshould be directed to the publisher via email: helen@ecoluxluv.com or text to 778.847.3011.