City of Lancaster the Design Thinking issue An enthusiast's guide to local shopping, dining, arts, and community. ISSUE N o 67 | FALL 2022
AT JOSEPHINE'S
Fall in love with fine dining
JOSEPHINESDOWNTOWN.COM
ISSUE 67 / FALL 2022 / CITY OF LANCASTER, PENNSYLVANIA / THE DESIGN THINKING ISSUE 3 COVERTHEON ExperienceProcessofFounderKrzemienski,Joe leaderstalentedtheofonejustis(pxd),Design theandthinkingdesignontaketheirsharing issue.ThinkingDesignourinprocesscreative Tennison.MatthewbyPhoto
Art palette by Jerome Hershey. 33-47 Reach High Be inspired by stories of local leaders who are leading with innovation and giving back with a heart for their community. Brought to you by High Foundation. 12-13, 82-83
IN THIS ISSUE
Contents
Celebrate art in all its forms (including art you can peel & take with you!) in our annual art section.
Be inspired by creative thinking, brilliant leaders, fall fun, and ways to connect with the creative culture in Lancaster. As the air begins to chill and the city is filled with the colors of fall, Fig, as always, is your local-loving guide to finding what you love and what you need to know.
Fresh Faces Meet new Lancaster City businesses 9, 23, 31 Bring the Family Fall adventures in the city brought to you by Garden Spot Village 101-103 Learn more about our 2022 Social Partner:MissionSACA 98 Masters of the Trade Experts in their fields brought to you by Warfel Construction 75-77 Get creative, Lancaster A tour of Lancaster's art scene brought to you by Discover Lancaster 96-97 Community Supporters 108-123
Creative City
Design Thinking Get to know some of the passionate leaders who are creating positive change and leaving their mark across creative industries here in Lancaster. 57-71
And of course great anddining,shopping,arts,events,community. Keep Reading F
Fig Industries, LLC has made every attempt to ensure that all information contained in this publication has been obtained from reliable sources, but all such information is provided "as is" with no guarantee of completeness or accuracy. The views of contributors do not necessarily reflect the views or policies of Fig Industries, LLC.
WRITERS
ADVERTISING IN FIG Own a business and want to share your story? Contact studio@figindustries.com.
Fig Industries, LLC cannot be held responsible for errors or omissions contained in, or reliance made upon the contents of, this publication. Copyright: Copyright 2022 © Fig Industries, LLC. All rights reserved. Photography or page layout contained in Fig shall not be reproduced, in whole or in part, without the specific written permission of Fig Industries, LLC. Contact 717.394.7737 or studio@figindustries.com.
Discover Lancaster SOCIAL MISSION PARTNER SACA ISSUE SPONSORS
FINANCE Matt Brandt SOCIAL MEDIA Cara Walker Kylie Stoltzfus
SUBSCRIBE Have Fig sent to your home and 10% of your subscription will go to our 2022 Fig Social Mission Partner, SACA. Subscribe at Giftfiglancaster.com/subscribe.subscriptionsavailable.
4
ALL THINGS SOCIAL Look for Fig Lancaster on Facebook and Instagram for daily coverage of loving local in Lancaster City.
Janine James Cara Walker Kylie Stoltzfus PRODUCTION Lisa Farina-Lopez Bill MindyLisaForreySideLapp
INDUSTRIESFIGBYPRODUCED&CREATED believewhomakersandthinkersofteamcreativecuriouslyaareWe brandsdeliveranddesignWeeverything.changecanideabigonethat figindustries.com.atteamourMeetlove.peoplethat
ISSUETHINKINGDESIGNTHE
PUBLISHER Fig Industries DIRECTOR Deborah Brandt MANAGING EDITOR Cara Walker CREATIVE DIRECTOR Jason James DESIGNERS Emily Kerschner Will KayleeTeodoriMasullo PHOTOGRAPHERS Matthew Tennison Eric JennyForbergerFoster
High LancasterFultonLancasterFoundationCityAllianceTheatreCountyCommunity
Thank you to our editorial sponsor, the High ® companies. Committed to community leadership, sustainable building and business practices, and advancement through the preservation of local heritage.
COMMUNITY PARTNERS
Foundation
High ArmstrongCompaniesWorld Industries Garden Spot Village Henrietta Heisler Interiors Inc. MAROTTA/MAIN Architects Damon Myers and Dr. Efram Magtagnob
Fig Industries is redefining success through social impact and environmental accountability in the communities we serve. Learn more about our B-Corp certification at figindustries.com/b-corp.
Credits
As you will see, there are a lot of exciting ideas taking root right here in Lancaster City, bubbling up and making way for innovation. And as we have for nearly 17 years, Fig is here as your guide to the entrepreneurs who are taking a leap and bringing their new ideas to life right here where we call home.
AS THE RHYTHM OF THE SEASONS guides us into fall, we are excited to once again celebrate creativity in our magnificent city in our annual arts issue. This year, our focus has turned to those who are thinking differently about the world around them. The creators and innovators who are responding to changing needs and finding solutions—Lancaster's Design Thinkers as we like to call them. Meet them starting on page 57. Here at Fig Industries, we believe in the transformational power of thinking deliberately and creatively. My coach and friend Kedren Crosby of Work Wisdom says, "When we start with human-centered design and deep empathy as we consider the end-user's experience, we are far more likely to find design solutions that positively transform people's lives." You can find more inspiration in this issue from Kedren as well as Pedro Rivera of Thaddeus Stevens College of Technology in our continuing Reach High leadership series sponsored by High Foundation. We will also introduce you to visual artists and craftspeople in our special artists section, which features a surprise gift. Ten custom stickers designed by Lancaster artists—a collectible first in Fig. Thank you to our sponsors Henrietta Heisler Interiors Inc., Armstrong World Industries, and MAROTTA/MAIN Architects, for making our sticker dreams come true.
FIGINDUSTRIES.COM 5 FigfromnoteA
Embracing the good that change and newness can bring, I could not be more excited to announce a promotion here at Fig Industries. Jason James, who is featured in our Design Thinking section on page 59, has been promoted to Creative Director. His thoughtful leadership and exceptional talent will help guide our way into the future.
Creatively yours, Deborah Brandt & The Fig Team Sketchbook of artist Jerome Hershey: studies from his recent Breath series
Creativity to Explore
6 222 WEST ORANGE STREET #2 717.299.3433 PUFFERMORRIS.COM home sweet home WITH DEEP ROOTS IN THE LOCAL COMMUNITY and a wealth of knowledge, the Puffer Morris team has everything you need to help you find your perfect home or workspace. TheF Puffer Morris Team captured on Mary Street From left to right: Mary Tribble, Scott Haverstick, Wendy Jo Hess, Jeremiah Eastep, and Brian Altimare
58 NORTH QUEEN STREET 717.392.7305 REAMJEWELERS.COM 7 Lancaster's Family Owned Jeweler Since 1935 of brilliance A bounty
8 20 WEST ORANGE STREET 717.394.4328 SPICEANDTEA.COM/LANCASTER Cup of cozy AUTUMN EVENINGS are made for a hot cup of tea. From tea kettles, infusers, and mugs to cinnamon sticks, handcrafted sugars, and a sweet drop of honey—The Spice and Tea Exchange has all the ingredients to help you cozy in with some of their freshest fall flavors. Featured: Vanilla White Sugar, Warm Bread Pudding Tea, Korintje Cinnamon Sticks, Bourbon-infused Honey, and Made-in-Pennsylvania Tea Nest
"To be able to repackage my physical therapy skillset and point that in the direction of the golf world was such an awesome way to combine personal passions and professional passions," Andrew said. Andrew hopes to see inJoy continue to become a place where golfers can strengthen their game and where anyone can gather to spend time with friends, have some drinks (it's BYOB!), and discover the joy of the game he first experienced as a child.
In November 2021, inJoy Golf opened its doors, welcoming Lancaster golfers into a unique twist on the golfing experience they were accustomed to. At inJoy, the traditional golf green is replaced by synthetic turf and a floor-toceiling screen that creates an immersive experience for the player. Powered by state-of-the-art technology, inJoy's digital golfing experience makes it possible for skilled players to strengthen their abilities, beginners to improve their game, and non-golfers to have fun trying out the sport. inJoy's on-site gym facility makes it possible for Andrew to continue using his physical therapy background, providing athletes with workouts tailored to help them meet their specific goals for growth on and off the green.
454 NEW HOLLAND AVENUE, SUITE 102 717.617.2684 INJOYGOLF.COM 9 Fresh Face | Welcoming new businesses to Lancaster City
Since day one of his opening, Andrew says he has been welcomed with open arms into not just the golfing community, but the vibrant small business community that is a fundamental part of Lancaster culture.
Fresh Face: inJoy Golf
"The support has been unbelievable, and I am so thankful we are in this community," Andrew said. "We're going to work hard to give them a place that they love to be in."
ANDREW LALLY'S love of golf began at the age of seven when his grandfather taught him how to play. His passion for the game continued throughout his life while he pursued a career in physical therapy. Although he loved his job as a physical therapist, the thought of pivoting his career excited him. After drawing up a business plan and crunching numbers with his SCORE mentor, Andrew called his wife and said it was time to quit his job and pursue a new dream—opening an indoor golf facility.
Delicious Dishes ONE BITE of any dish at Yuzu Asian Cuisine will send your tastebuds on a delightful journey crafted by owners Harry and Jessica and their talented staff. From wok dishes and hibachistyle entrees to fresh-made sushi and Thai dishes, their menu will satisfy all your cravings. Don't forget to snag an order of crab rangoons and BYOB for an extra special treat to top it off. F Online ordering has never been easier at yuzuasian.com. 10 12 EAST MCGOVERN AVENUE 717.509.8488 YUZUASIAN.COM Crab Rangoon and Mango Seafood
202 NORTH DUKE STREET 717.299.2232 SHOPFESTOON.COM 11 OFFERING A FRESH perspective on style and urban fashion, Festoon keeps you looking good for every season. Cozy into an elevated fall wardrobe with a shopping experience like no other. Visit in store at the firehouse or shop online at shopfestoon.com. Open 7 days a week Photo captured at Historic Rock Ford Bold & beautiful Revered Jewelry Market of Stars Kimono
EDUCATIONEmpowering
PEDRO
A. RIVERA President of Thaddeus Stevens College of Technology 12
By empowering the faculty and staff he leads, and partnering with individuals and organizations in the Commonwealth, Pedro is creating a legacy of leadership that will transform the community of Lancaster and beyond.
As the president of the College, Pedro connects with employees, community partners, businesses and organizations, and donors across Pennsylvania to support student success, including helping them meet their basic needs (like housing, food, clothing, and transportation).
The Reach High series is brought to you by High Foundation. Find out more about their mission to be a Bridge to Opportunity for the Lancaster community at highfoundation.org. Visit figlancaster.com/articles to read Pedro Rivera's advice for aspiring leaders.
REACH HIGH : STORIES OF LEADERSHIP 13
Thaddeus Stevens College is a holistic mission college that connects students to resources, and Pedro sees the impact investing in his students can make. "If we as a collective community can help our families become self-sufficient, whether it's with affordable housing, access to childcare, addressing food insecurity, or training through a traditional two-year program, we're creating the conditions that allow them to invest in themselves, their families, and their community. That's how you create generational wealth and transform communities," he added.
"If we as a collective community can help our families become selfsufficient…we're creating the conditions that allow them to invest in themselves, their families, and their community."
P edro A. Rivera is passionate about education's role in creating pathways to success, especially for students from underserved and underrepresented communities. Pedro, the President of Thaddeus Stevens College of Technology, has first-hand knowledge of the barriers to education. Raised by a single mother in a lower-income section of Philadelphia, he experienced some of the same struggles his students face—poverty, homelessness, and food insecurity. "Even as fortunate as I was—having a great family supporting me—the educational system was difficult to navigate. Those experiences made me want to become an educator," Pedro said. After getting his education, he taught and became an administrator in the community where he grew up before moving to Lancaster to become the superintendent of schools. He then went on to become Pennsylvania's Secretary of Education and was named President at Thaddeus Stevens College in 2020. Almost 15 years into his career, Pedro is still committed to facilitating a holistic approach to education. "To have this opportunity to lead an institution whose sole mission is to provide a pathway to prosperity through education and training for a highly skilled job is a culmination of everything I've dedicated my life to and everything I've experienced," he said.
REACH HIGH A series brought to you by High Foundation that introduces you to business and nonprofit leaders who are thoughtfully innovating with a spirit of servant leadership.
WHETHER YOU ARE CREATING a mini-masterpiece at the terrarium bar or choosing plants to design your interior gardens at home—everyone is an artist at Gallery Grow. No matter what your vision may be, their expert staff is ready to help you bring it to life. Plant People 14 150 NORTH PRINCE STREET GALLERYGROW.COM717.869.6547
AT THE NORTH MUSEUM of Nature and Science, curiosity flourishes and kids of all ages are invited to engage with the world around them. Create a new invention in the Coding Corner, get your hands dirty in the Slime Lab, or conquer your fear of snakes in the Live Animal Room. No matter what activity you choose, your family will leave in awe of the world we live in. Visit the North Museum of Nature and Science on the corner of College and Buchanan Avenue in Lancaster's Chestnut Hill neighborhood.
400 COLLEGE AVENUE 717.358.3941 NORTHMUSEUM.ORG 15 Dare Wonderto
16 1265 LITITZ PIKE 717.393.4777 ALICIAALEXANDERSF.COM Alicia Alexander Life Insurance Car Insurance Pet Insurance Homeowners & Renters BusinessInsuranceInsurance IS YOUR FAMILY CHANGING AND GROWING? New cars, new babies, new homes, new puppies—whatever it is, Alicia and her expert team can help you navigate all the ins and outs of adding policies with each new addition. Got you covered
FILL YOUR BAGS with adorable finds from BellaBoo's curated collection—home to creative toys, quality clothing, and unique gifts for all the little people in your life. New little one 32 NORTH QUEEN STREET 717.509.5700 LGH WOMEN & BABIES: 690 GOOD DRIVE 717.544.3311 BELLABOOONLINE.COM 17
18 309 NORTH QUEEN STREET 717.824.3090 LANCLIVING.COM DID YOU KNOW LANCLIVING REALTY hosts an art gallery—LancGallery—in their Downtown Lancaster office to highlight the work of local emerging artists? It's just one way their team takes pride in the community they help people call home. LancLiving is a Certified B-Corp, recognized for meeting the highest standards of verified social and profitaccountabilitytransparency,performance,environmentalpublicandlegaltobalanceandpurpose. Art to Bring Home Lancaster's Indie Brokerage
101 NORTH QUEEN STREET, SUITE 111 717.490.6673 LAURAZTAI.COM 19 VIBRANT GEMS AND PRECIOUS METALS are a thing of beauty, especially when they are crafted into the stunning jewelry you can find at Laura Z Tai. Glisten and gleam with a standout piece that you'll pass down for generations. Spectacular sparkles Laura Z Tai carries watches and jewelry by: Dinh Van, Maria Tash, Moritz Glik, Mizuki, Meira T, Messika, Shihara, Vhernier, William Henry, Laura Z Tai
From left to right: Julie Kennedy, Tim Stuhldreher, Maddie Seiler, Olivia Smucker, and Kyle Gamble Not pictured: Heather Hutsell
Truth with CONTEXT
20 1910 HARRINGTON DRIVE, SUITE A 717.394.0731 UWLANC.ORG
ONE UNITED LANCASTER started in April 2020 as a way to update the community about COVID-19. Since then, One United Lancaster has flourished into a reputable news source, with over 2,300 posts about Lancaster's nonprofit community, social justice scene, and more. Led by Editor-In-Chief Tim Stuhldreher, the threetime Keystone Media Award winning team is committed to providing Truth With Context in all the stories they tell. Take a scroll through what's happening in your community and sign up for their weekly news highlight email at OneUnitedLancaster.com.

144 EAST CHESTNUT STREET 717.947.3850 CHESTNUTSTREETIC.COM 21
AS MANAGING PRINCIPAL of Chestnut Street Investment Counsel, Beth Vulopas advises her clients with the primary belief that knowledge is power. Beth explained, "The more you understand how your money is invested, the better we are, as partners, in managing your assets to help meet your long-term goals." Chestnut Street Investment Counsel is a Registered Investment Advisor. As such, Beth and her team serve as fiduciaries— investing with your best interest in mind. Investing based on value. Their investment process is transparent and based on fundamental analysis. Through rigorous research, they invest in undervalued, high-quality companies that you know and trust. This is just one thing that sets them apart. As a partner in building your financial future, Chestnut Street customizes your portfolio and offers sound counsel to help you meet your individualized goals.
"We are mindful of each client's unique needs, with the knowledge that preserving their wealth is essential and the growth of these assets is crucial when working towards long-term financial security." KNOW YOUR POWER Invest in your future.
Beth Ann Vulopas MANAGING PRINCIPAL
22 190 WEST ROSS STREET 717.397.5264 PENNSTONE.COM Create your oasis F Irregular PA Bluestone paving, Cane-line lounge chair, and Fermob accessories—all available at Penn Stone Shot on location at Sickman's Mill in Pequea BrickOutdoorHardscapingKitchens&Stone Outdoor LandscapeFireplacesFurniture&FirePitsLighting UPGRADE NIGHTS SPENT around the fire with a trip to Penn Stone. Whatever your outdoor space looks like, they have seating, fire solutions, and the accessories you need. Specializing in masonry and hardscaping materials as well as design-focused outdoor furniture and solutions for outdoor kitchens, outdoor fire, landscape lighting, and shade, Penn Stone helps you create a place to make memories. Connect with their trusted design professionals to start transforming your vision into reality today.
Jess, Julie, and Austin have seen firsthand how reading catalyzes connections and builds community, and they have big ideas for bringing the people of Lancaster together in the shop and celebrating their newfound community's love of literature.
Fresh Face: Pocket Books Shop
"It's really our dream to spend all day in this bookstore," Jess added.
"This is a space for [everyone, even] folks who aren't necessarily at home in other mainstream spots," Julie said. Each book elevates the voices of people who have previously been underrepresented in the publishing world—including women, nonbinary people, transgender people, authors of color, and first-time authors. Between the three of them, Jess, Julie, and Austin read hundreds of books a year, carefully choosing which books make it to their shelves. Above all, they believe reading should be fun.
JULIE ROSS, AUSTIN CARTER, AND JESS CALLAHAN are the dreamers behind Lancaster's new independent bookstore, Pocket Books. Both Jess and Austin previously had successful careers in academia while Julie worked in tech, but as the pandemic made waves of impact, the trio realized they didn't want to wait any longer to build the life of their dreams. By fusing their love of literature and a desire to use books as a form of activism, the idea for Pocket Books began to take shape. They had one lingering question: Where does Pocket Books belong? The three were living in Columbus, Ohio when Austin, originally from Lititz, proposed they take a weekend trip to Lancaster City. Within 15 minutes of arriving, they had a gut feeling Lancaster was the place where their dreams would come to life. In spring 2022, the trio moved to Lancaster, officially opening Pocket Books in April. On the corner of Wheatland and West End Avenue, Pocket Books is an idyllic neighborhood bookshop. The building's wrap-around porch is decorated with plants and wicker furniture, and inside, floor-to-ceiling shelves are full of vibrant book covers. Special touches like handwritten staff recommendations and a kids' corner with picture books and stuffed animals make the space feel warm and inviting. Pocket Books is a place where everyone is welcome—even pups.
903 WHEATLAND AVENUE 717.517.7990 POCKETBOOKSSHOP.COM 23 Fresh Face | Welcoming new businesses to Lancaster City
"We are decidedly uninterested in the idea that reading universally, or reading books by women, people of color, trans people, queer people, is the equivalent of eating your vegetables," Austin explained.
24 26 EAST CHESTNUT STREET 717.399.4040 THEIMPERIALRESTAURANT.COM SEE ARTISTRY IN ACTION as you dig into a culinary creation from The Imperial's new Executive Chef Phillip Ponticelli. Their new menu is serving up all the flavors of fall along with a brand new Sunday Brunch on The Imperial Terrace—delish! Flavorful fixings Phillip ExecutivePonticelli,Chef Enjoy Champagne Brunch on the Imperial Terrace from 10 AM–2 PM throughout the fall.
75creatives strong!
PROVIDING QUALITY SERVICE for 35 years, Two Dudes Painting Company is known for excellence in painting as well as the iconic VW bus they continue to drive as part of their fleet. From residential and commercial painting projects to the most elaborate, beautiful murals, Two Dudes is committed to taking the time and care needed to ensure each customer achieves their vision. They built their brand around a commitment to the community, and they have many more roads to travel as they continue to raise the bar across the industry. Schedule a free estimate for your commercial painting needs.
750 POPLAR STREET 717.396.1207 TWODUDES.COM 25
BLAKINGER
through
across
26 28 PENN SQUARE 717.299.1100 BLAKINGERTHOMAS.COM
E From left to right: Attorneys Seth Hiller, Grace Nguyen Bond, Aaron Hollis, and Jill Laskowitz
THE ATTORNEYS AT THOMAS foster a client-centered culture and provide high-quality legal services collaboration with their clients and with each other. The firm recognizes the growing complexities of the community's legal needs and is well positioned to meet those needs by offering experienced counsel a broad spectrum of areas.
Culture of collaboration
practice
Hundreds of neighbors like Carol give monthly, helping Water Street build a firm foundation for their work. Consistent giving allows Water Street to plan ahead, be better equipped, and prepare to serve men and women who will lose their housing in the coming months. Each Monthly Hero has their own story and unique reason for giving. What will yours be? To join the growing family of Monthly Heroes, check out wsm.org/monthly-heroes !
"The more people come and see the work that's being done at Water Street, the more they are naturally moved to donate their time or treasure to the Mission."
THREE YEARS AGO, Carol received a letter from Water Street Mission. Struck by the range of services they provided, she decided to take a tour of their campus. From there, she got involved in about every way you can—volunteering all over campus, attending events with her family, and even using her marketing background to help the fundraising team. While getting to know Water Street, Carol also became one of their Monthly Heroes, automating her giving on a monthly "Honestly,basis.once I decide to support a nonprofit organization, I'd rather set up an automatic donation," she said. "I don't have to remember to send a check or use my credit card each month."
– CAROL ESCH , Monthly Hero at Water Street Mission
210 SOUTH PRINCE STREET 717.393.7709 WSM.ORG 27
28 28 PENN SQUARE, SUITE 160 717.413.0254 TREADHOUSE717.COM TREAD HOUSE RUNS ON THREE PILLARS: The Experience. The Community. The Coaches. Their nationally accredited team of trainers have all the energy, motivation, and hype to help you reach your fitness and wellness goals. Your first Tread House class is always free! F Meet the Tread House team! Back row, left to right: Kristen Fickes, Marylyn Lamourt, Peyton Thompson, Ruby Mundok, and Chelsea Charles Front row, left to right: JoEllyn Poff, owner Megan Fessler-McCarthy, Chelsea Christmas, Keara Patrick, and owner Justin McCarthy WORTH HYPE!THE
THE WYNDRIDGE FARM LANCASTER TASTING ROOM was made for gathering. You can enjoy family brunch in the skylit upstairs space, signature ciders and craft cocktails with friends at the bar, or dinner for two on the terrace. No matter the occasion, their team is ready to serve you delicious brews and bites all year long. 398 HARRISBURG PIKE 717.296.8102 WYNDRIDGE.COM Raise a glass
THE HAMILTON CLUB. Connecting the people of Lancaster through excellent events, exceptional dining, and diverse programming. BRINGING LANCASTER TOGETHER FOR 133 YEARS AND COUNTING Interested in learning more? Join us at our Hamilton Club Discovery Event September 22, 2022 from 5:30-7:00pm For info@hamiltonclub.orgreservations: 30 106 EAST ORANGE STREET 717.397.6296 HAMILTONCLUB.ORG I n the heart of Lancaster City, the historic is a top 20 Five-Star Platinum Club of America.
Whether you have experience behind the handlebars of an electric bike or are looking to satisfy your curiosity, Let's Roll is ready to welcome anyone and everyone into the community of bike lovers they are building.
"We are trying to get people to stash the keys and take a bike more often," Tim said. "We're just trying to help people out and spread positive vibes."
Co-owner Tim Hill
Fresh Face: Let's Roll
While they discovered a mutual love for riding electric bikes, they didn't expect to find a larger community of people who shared their interest —but they did. Without a spot in Lancaster for people to rent, buy, or repair electric cycles, the pair saw a need and jumped to fill the void.
When Ryan's father bought an electric bike several years ago, the guys couldn't wait to take it out for a spin. They loved how riding brought back memories of childhood days spent riding dirt bikes, and they purchased their own cycles the next day.
The shop has space for people to browse the increasing brands and models they have to offer and a designated space in the back for you to stop in for repairs. Their spot on the corner of Walnut and Christian Street even has the perfect alley for a quick test drive.
"The bikes are for everyone," Ryan added. "Even if you didn't buy your bike here, you can bring it here to get fixed."
TIM HILL AND RYAN FINGER are brothers-in-law, business partners, and owners of Lancaster City's new electric bike shop, Let's Roll.
Let's Roll opened its door in May 2022, giving electric bike enthusiasts a place within city limits where they could talk shop, ask questions, and geek out about the latest models.
The duo has big ideas for how their business could change the way Lancaster residents commute. As gas prices rise and traffic becomes increasingly more congested, Let's Roll wants to offer an alternative way to get around.
23 EAST WALNUT STREET 717.490.3194 LETSROLLLANCASTER.COM 31 Fresh Face | Welcoming new businesses to Lancaster City
32 66 NORTH QUEEN STREET 717.394.6977 YORGOSLANCASTER.COM ENJOY THE CRISP FALL AIR and a view of the city from Yorgos recently renovated third-floor rooftop terrace—the perfect backdrop for dinner and cocktails. Or come and enjoy Yorgos casual pub fare and craft beer on the first floor, or authentic Greek-influenced dishes at Kefi on the second floor. Yorgos serves lunch and dinner, with breakfast on the weekends. Their kitchen is open late seven days a week! Dine-in or carry-out. Call for reservations now. ELEVATE EXPERIENCEYOUR
Sunday
am Saturday
CASUAL PUB FARE MEDITERRANEAN TAVERNA TERRACE & LOUNGE
am
am
Monday–Friday 10:30 am –2 & 8 –2 Kitchen open until midnight
FROM PRECISE DESIGNS by artists like Jerome Hershey to the sweet sounds of musicians like the Lancaster Symphony Orchestra, art—in all its forms—is woven into the fabric and hung on the walls of Lancaster City. That's why our arts & culture issue is an annual favorite here at Fig. We invite you to flip through the pages and find out just why we love our very creative city.
P.S. Don't miss our first-ever collection of Lancaster-made stickers made by 10 talented local artists, thanks to sponsors Henrietta Heisler Interiors Inc., Armstrong World Industries, and MAROTTA/MAIN Architects.
33
JANUARY 21-29 | THE TRUST GREAT HALL Emme Dance Collective
OCTO BER 27 |
PIANIST DANIEL MA
This regional all-star piano quintet will perform works by Schumann and Shostakovich. In partnership with LIPF.
Beyond Ourselves is a collaborative chamber music project that promotes the global work of Mennonite Central Committee. Led by Grammyaward winning clarinetist Doris Hall-Gulati, the group programs guest artists and a wide variety of music, from Baroque to Contemporary.
OCTOBER 30 |
The Reverie Actors Company presents a unique 45-minute adaptation of C. S. Lewis' beloved story in which all the roles are performed by two actors.
Metropolitan Opera star Eric Owens will perform a variety of masterpieces including Brahms' Neue Liebeslieder Waltzes with Curtis on Tour.
THE TRUST GREAT HALL GABRIEL CHAMBER ENSEMBLE
34 Arts & Culture The Trust Performing Arts Center 2022/2023 Season Box Office: 717.560.8241 37 North Market lancastertrust.comStreet
NOVEMBER 11 |
Lancaster's own Emme Dance Collective, The Durang Dance Collective, and New York-based A-Y/ Dancers, throughout two weekends of dance. Community MasterClasses also available.
BENEFIT CONCERT
Theatre & Dance
Concerts
THE TRUST GREAT HALL THE LION, THE WITCH & THE WARDROBE
THE TRUST GREAT HALL KINGS RETURN
MAY 5 |
The acclaimed Philadelphia-based string quartet performing works by Villa Lobos, Ramírez, and Tchaikovsky. APRIL 22 | THE TRUST GREAT HALL Dalí Quartet
THE TRUST GREAT HALL BEYOND OURSELVES
THANKSGIVING–CHRISTMAS
An a capella quartet who gained fame during the height of the pandemic singing in stairwells on social media.
FEBRUARY 26 |
The Trust is proud to partner with Lancaster International Piano Festival (LIPF) to present award-winning virtuosic prodigy Daniel Ma. He will be performing works by Beethoven and Chopin.
CELLIST HAI-YE NI AND PIANIST XUN PAN Philadelphia Orchestra's principal cellist Hai-Ye Ni, praised by the Washington Post as being "soulfully expressive," in concert with Steinway Artist, pianist Xun Pan, to perform Brahms's Cello Sonata in E minor. In partnership with LIPF.
THE TRUST GREAT HALL
FEBRUARY 4 |
THE TRUST GREAT HALL Eric Owens DALÍ QUARTET
THE TRUST DANCE FESTIVAL
THE TRUST BLACK BOX THEATRE Artists and dates subject to change ERIC OWENS | CURTIS ON TOUR
View Jerome's new paintings at his studio on First Friday, October 7 and Second Saturday, October 8, or by appointment. Jerome Hershey in his studio with new paintings about breathing
Jerome Hershey abstract painter 34 ¹/₂ north queen
LIFE HAS MANY TWISTS and turns and Jerome Hershey's journey is often reflected in his art. In his new Breath paintings, Hershey pictorializes the dynamics of breathing.
To show his gratitude to the team at Penn Medicine Lancaster General Health, 20% of all art and book sales in September and October will be donated to the hospital.
Inhale/Exhale CREATIVE CITY
35
H
jeromehershey.comjeromehershey@msn.comstreet@jeromehersheystudio@jerome.hershey
138 north prince street redravenartcompany.com717.299.4400 Fall Exhibits 36 SEPTEMBER 2022 Lost & Found Susan J Gottlieb (left) A solo exhibit OCTOBER 2022 Supporting Lancaster Conservancy Featuring Jenny Germann (right), Steve Wilson (center), and Robert Andriulli
DavidChristianeGallery
WITH A PERSONALITY as vibrant as her paintings, Belgium born artist Christiane David brings people into her enchanted world of color through her paintings. Her Prince Street gallery is filled with an eclectic array of watercolor, acrylic, and oil paintings, and it's usually where you can also find Christiane herself painting her next piece.
Open Saturdays and every First Friday, by appointment for the rest of the week. Studio, by appointment only. fine art 112 north prince street christianedavid.com717.293.0809
CREATIVE CITY 37 The John J. Snyder, Jr. Gallery of Early Lancaster County Decorative Arts at Historic Rock Ford brings the rich history of early Lancaster County to life with gallery exhibits along with the elegant collections in the Hand Mansion. Lovers of history and the arts should make plans to visit before the 2022 tour season and the special exhibit "Long Rifles of the American Revolution" ends on October 30. Tickets are available online! Historic Rock Ford 881 rockford road historicrockford.org717.392.7223 Artful artifacts Gustavus Hesselius, Faithful Richardson Slaymaker, c. 1775 (coming in 2023) John Hesselius, Judge Henry Slaymaker, c. 1776 (coming in 2023) Lancaster silversmith Charles Hall, Silver Coffeepot, c. 1770s Miniature Chest, c. 1790, Manheim, Lancaster County Lancaster Tall Case Clock, c. 1780. Movement by John Eberman Jr.
38
Nicole Duquette is an allaround creative who loves to explore different media. She runs Hello Niccoco, where she focuses on light-hearted designs for illustrated map prints, greeting cards, home accessories, and stickers. Co-owner of curio. Gallery & Creative Supply, she also loves to engage with every customer who steps foot in the shop.
Salina Almanzar
Salina Almanzar is a Puerto Rican and Dominican muralist, visual artist, and educator. Her art examines the intersections of Latinidad, feminism, decolonial practice, and Taino spirituality. Through community based art activations, Salina creates murals that capture the essence of the communities she works in. Salina is the co-initiator of the Seed Project, lead artist of Taller Pa'lante, and President of the Latino Empowerment Project Board of Directors.
After retiring from a 34-year career as an art teacher, Art Harrington built a studio in his home in Willow Street. Inspired by a former principal and fellow art teacher and with encouragement from a friend, he began to enter art shows in 1999. Art is a partner at Red Raven Art Company and is very active in supporting emerging artists.
Nicole Duquette Libby Modern Art Harrington
That was the question that inspired a collection of one-of-a-kind stickers in this issue of Fig—designed and created by ten professional artists who call Lancaster their home and creative workspace. We invite you to get to know these artists and be inspired by their work as you peel, stick, and spread love for Lancaster through this collection of collectible art.
"
Special thanks to the above sponsors who support arts & culture in Lancaster and who made this project possible.
salinaalmanzarart.comhelloniccoco.com@helloniccoco@salina_almanzar_art
redravenartcompany.com/artist/art-harringtonitsmodernart.com@itsmodernart@redravenartcompany
INTERIORSHENRIETTAHEISLERINCRESIDENTIALCOMMERICIALOFFICEPLANNING
What does community mean to you?"
Libby Modern is the founder of Modern Art, an art and design studio in Lancaster's West End. She works alongside other artists, neighbors, and community organizations to create projects that use curiosity, empathy, and humor to encourage us to confront complex issues from a new perspective— and inspire us to live better, collectively, in our community.
Fine artist Gail C. Gray has lived and worked in Lancaster since 1972. Her downtown studio, where she has worked since 1991, is close to Lancaster Central Market and the Griest Building, and these landmarks represent her sense of place. They are the heart of what her home means to her: community, the arts, farming, business, and historical character.
Adam Serrano is a graphic designer born in Brooklyn, New York and raised by the creative community of Lancaster, Pennsylvania. For more than 10 years, he has helped launch successful bands, businesses, and non-profits with dynamic digital art. Although Adam is mostly known for his logo work and album design, he recently started producing mixed media work both on canvas and walls.
Fred Rodger
Ann DeLaurentis, a regional artist working in watercolor and etching, is primarily known for her color intensive "postprecisionist" urban structural paintings, many of Lancaster City where she lives and works. She has had more than 20 solo exhibits and is a signature member of the Pennsylvania and Philadelphia Watercolor and a member of the Echo Valley Art Group.
Jeremy is a lettering artist and custom typography designer living and working in the Lancaster, York, and Baltimore areas. His clients include Hershey's, YouTube, Coach, Entertainment Weekly, and McCormick as well as many small business clients. In addition to his lettering and typography work, he also teaches lettering and type at The Pennsylvania College of Art & Design (PCA&D), Towson University, and The Maryland Institute College of Art (MICA).
jeremyfriend.comgailcgray.comlancastergalleries.com/artists/jeff-geib@jeremyfriend
39 CREATIVE CITY
Gail JeffJeremyGrayFriendGeib
anndelaurentis.com@anndelaurentisadamserrano.com@ifstagramredravenartcompany.com/artist/fred-rodger@redravenartcompany
Jeff Geib lives and works in Lancaster, where he has been drawing and sculpting most of his life. He enjoys the rich community of artists and musicians here and is especially crazy about the community of dogs and dog lovers here too. He is lucky enough to share his life with his dog, Monkey.
Adam Serrano Ann DeLaurentis
After 33 years of teaching art and science, Fred Rodger left to pursue a career as an artist. He still teaches art history part-time but spends most of his time painting in his home studio alongside his wife and fellow artist. Over the years, Fred has participated in group and solo exhibitions throughout Southeastern Pennsylvania, Delaware, and New York.
COMING TO LANCASTER MENNONITE SCHOOL September 16 - October 2 Set in the volatile melting pot of New York City, this epic Broadway musical captures the American experience at the turn of the 20th century. Ragtime will be Servant Stage's largest show to date, weaving together the stories of three diverse communities in a truly unique and powerful portrait of America. ALL SHOWS PAY-WHAT-YOU-WILL SEE THE FULL PERFORMANCE SCHEDULE AND RESERVE TICKETS AT SERVANTSTAGE.ORG OR CALL 717-455-025540
725 HAMILTON ROAD 717.392.2916 LANCASTERCOUNTRYDAY.ORG 41 ticketsPurchasehere A SPECIAL EVENING AT LANCASTER COUNTRY DAY SCHOOL with Grammy Award-winning Pacifica Quartet featuring LCDS alumnus Austin Hartman as well as pianist Christopher Shih. The quartet will perform selections from Florence Price Quartet No. 1, Prokofiev: Quartet No. 2 and Dvorak Piano Quintet. SATURDAY, OCTOBER 15, 2022 AT 8:00 P.M. Tickets will be $25 for general admission and $10 for students. THEATREGARDNER presents
42
Ware Center 42 north prince street artsmu.com717.871.7018lancaster Winter Center 60 west college avenue artsmu.com717.871.7018millersville EXPLORE HIGHLIGHTS FROM THE COMING SEASON of music, art, cultural events, and more at two state-of-the-arts centers. 43 CREATIVE CITY H Entire season on sale now! Scan to learn more. Sandeep Das & The Hum Ensemble FRIDAY | SEPTEMBER 16 ware center World Music Old Friends: A Dogumentary TUESDAY | SEPTEMBER 27 ware center On Screen / In Person Brandee Younger Quartet SATURDAY | NOVEMBER 5 ware center Club 42 Art Heals: The Jingle Dress Project FRIDAY | NOVEMBER 4 ware center We The People First Fridays Soweto Gospel Choir SATURDAY | NOVEMBER 19 World Music winter center The Silhouettes –Love Happens SUNDAY | NOVEMBER 13 Family Fun Fest winter center 717.871.7018 | artsmu.com
44
Front: Lapis Split Shank Ring and Hand-carved Sterling Bands—all hand-made in the store by designer Jude Sharp
Demuth
Back: Jewelry by local artists and wax carving tools used by Jude Sharp
Timeless treasures DOWN TO THE SMALLEST FEATURE, every piece of jewelry tells a story, revealing details of ourselves and the artists that create them. That's why J.A. Sharp has spent the last 40+ years handcrafting jewelry and offering a diverse selection of ethicallymade pieces meant to consciously project your style to the world.Andrea Amey owner and artist
120 east king street322demuth.org717.299.9940northqueen street jasharp.com717.295.9661 Foundation
JASPER F. CROPSEY (1823–1900), AMERICAN AUTUMN
DRAWING ON THE SUSQUEHANNA: FOUR CENTURIES OF ARTISTIC INSPIRATION AND COMMERCE includes over 60 works and examines the influence of the Susquehanna River as an artistic muse and commercial driver for prominent American artists. Curated by artist Rob Evans, this special exhibition presents a unique portrait of a single subject over four centuries—documenting through the eyes of artists the River's many moods and manifestations, as well as the progression of human habitation and development along its shores. Visit the Demuth Museum at 120 East King Street in Lancaster City to view this exhibition until October 30. open hours: Tuesday, Thursday, Friday & Saturday | 10 am –4 pm Sunday | 12–4 pm Admission by donation
Aly Bloom as Fancy Nancy in the original production of "Fancy Nancy The Musical."
A COMMUNITY OF ARTISTS who believe in the profound impact of a shared theatrical experience, Vital Theatre Company
717.297.3900vitaltheatre.org@vitallancaster 45 CREATIVE CITY
Imagination Awakened
City and with tour stops across the country, Vital Theatre Company is proud to bring their magic to the Lancaster community. Their new season debuts in October with Fancy Nancy The Musical. Follow Vital Lancaster on social media or visit vitaltheatre.org for tickets and details.
Foundedkidsone-hournationally-recognizedprofessionally-cast,producesmusicalsforandtheirfamilies.inNewYork
Photo Credit: Steven Rosen
Stephen Sunderlin, Artistic Director
46 lancastersymphony.org/ticketsseasonlancastersymphony.org717.291.6440tickets:
CONCERT TIMES Fridays at 7:30 pm Saturdays at 2 pm & 7 pm LOCATION First Presbyterian Church, 140 East Orange Street
MUSIC AWAKENS OUR SOULS, evokes connections, and nurtures a greater understanding of ourselves and our community. Lancaster Symphony Orchestra is thrilled to announce Michael Butterman as the orchestra's new Music Director, taking the stage for his inaugural season. As one of the country's leading symphonic visionaries, Butterman's appointment will help solidify and expand the Lancaster Symphony's commitment to inviting and entertaining programming—uplifting the community with innovative educational and engagement programs as well as collaborations with Lancaster's many vibrant performing arts organizations. Enjoy the upcoming season overflowing with mystery, intrigue, joy, and new adventures! View the 2022–2023 concert schedule at lancastersymphony.org.
47 CREATIVE CITY FRIENDSHIP HEART GALLERY & STUDIO believes in empowering every individual that enters its doors with the confidence to express their capabilities through artwork. Tucked behind the gallery on Water Street is a studio space where these heart artists gather to create works infused with joy, imagination, and whimsy. Friendship Heart Gallery & Studio 118 north water street friendshipart.net717.945.6933 Art with heart Artist, Michelle B. Artist, Vincent W.
BEERS + HOFFMAN ARCHITECTURE has been creating spaces across Central Pennsylvania for 40 years. Now the firm is making Lancaster City its home-base with newly renovated office space on Harrisburg Avenue. For the past four decades, Beers + Hoffman projects have become pillars in the Lancaster community, and their move will help them better serve their clients and establish themselves in the city they are proud to call home.
Space to Grow
Peter Kerekgyarto, AIA, LEED AP, and Scott Shonk, AIA, LEED AP, principals of Beers + Hoffman Architecture, with their team inside their new office.
48 250 HARRISBURG AVENUE 717.625.0400 BEERSHOFFMAN.COM
WHETHER YOU'RE A SEASONED ARTIST or curious about creativity, curio. owners Matt Allyn Chapman and Nicole Duquette invite you to join in their community of artistic exploration. In addition to the carefully curated storefront and gallery space, they have a designated space for workshops, artist events, and a weekly sketch club. Find their full line-up of fall workshops on their website and social media channels! Owners Nicole & Matt with their original art pieces
Cultivate Creativityyour
106 WEST CHESTNUT STREET 717.874.4482 CURIOLANCASTER.SQUARE.SITE 49
"We've been serving Lancaster for 30 years by providing access to credit to entrepreneurs who want to make a positive change in the community," said Daniel Betancourt, President and CEO of Community First Fund. "With the credit union, our mission is to provide a pathway to financial stability for families. We're excited to expand our service in the community and celebrate this milestone."
"We're offering our members the tools to understand their current financial situation and help guide them towards achieving financial success, however they define it."
50 51 SOUTH DUKE STREET 833.888.0978 COMMUNITYFIRST.COM COMMUNITYFIRSTFUND.ORG
"That's why we are in this neighborhood,"
In addition to personal and business checking and savings accounts, the credit union also offers personal and auto loans, money market accounts, and share term certificates with terms meant to be fair and transparent, and all advertising and account information is printed in both Spanish and English.
Dan PresidentBetancourt,&CEO of Community First Fund, and Marilyn Brown, Board Chair of the Community First Fund Credit Union
WITH A GRAND RIBBON
A pathway to Financial Peace
CUTTING in June of this year, Community First Fund officially opened the doors to its first Credit Union on the corner of Duke and Vine Street.
"In this community, many people have not had access to financial education. We are trying to teach the importance of banking—what credit is, how you manage it, why it's important, and why a savings account is important." he said.
Marilyn Brown, Board Chair of the Credit Union, said. "Because the best thing is to be among the communities we need to Joinerserve."Olivier, Branch Manager of the Community First Fund Credit Union, came onboard because of his desire to help the community with financial services as well as education paired with those services.
The mission behind Community First Fund Credit Union is to create financial equity and economic mobility for individuals and families. Twenty-seven percent of U.S. households don't have bank accounts or are using alternative financial services, and that number is nearly fifty percent among the African American population and forty-six percent in Latino households. As a continuation of Community First Fund's commercial lending legacy in the Lancaster area, the Credit Union is an additional resource aimed at helping to foster financial equity and economic prosperity while providing financial literacy education for the community.
51 The Common Wheel Executive Director | Adriana Atencio The Common Wheel is a nonprofit bicycle community center, shop, and co-op that revolutionizes people and places using the energy and equity of bicycles. QUEEN STREET COMMUNITY CENTER & SHOP | 324 NORTH QUEEN STREET KING STREET CO-OP & DONATION CENTER | 701 EAST KING STREET THECOMMONWHEEL.COM Zoetropolis Cinema Stillhouse &Lancaster Distilleries Managing Partners | Leigh Lindsay, Cheila Huettner, Nate Boring, Matt Hosttetter, and Todd Smith Silent Partners | Taylor, Trent & Adam Kinney, Greg & Sarah Ganse, and Steve Witmer The theatre at Zoetropolis offers a diverse lineup of film, live music, comedy, story, and poetry slam. All of their programming is carefully curated to represent local demographics with the ultimate goal of being a Cultural Community Center where important conversations begin. 112 NORTH WATER ZOETROPOLIS.COMSTREET&LANCASTERDISTILLERIES.COM Morton's Dance Center Owner | Elijah Morton Morton's Dance Center offers an elite style of hip hop & contemporary dance training. A safe space to all, they pride themselves on keeping their doors open for all walks of life—no matter your race or gender identity. 301 MAIN STREET, LANDISVILLE MDC.DANCE Community First Fund is proud to sponsor a special page for a few Lancaster County businesses they have worked to support. Community First Fund SPOTLIGHTEntrepreneur
Reynolds High School, Lancaster, PA Boys & Girls Club of Lancaster 52 1.877.ARMSTRONG ARMSTRONGCEILINGS.COM KANOPIBYARMSTRONG.COM
ARMSTRONG WORLD INDUSTRIES... GROWING STRONGER WITH LANCASTER
We're proud to call Lancaster home where over 800 of our 2,800 employees live and work on our Columbia Avenue corporate campus in Roherstown and in our manufacturing facility in Marietta. In 2016, we became a publicly-traded company focused on ceilings and walls. Since, we have grown profitably, acquiring seven companies in the U.S. and Canada and launching innovative, new ceiling solutions such as Total Acoustics®, Sustain®, DesignFlex®, AcoustiBuilt® and AirAssure™. We also introduced a new full-service, online platform called kanopibyarmstrong™ where smaller business and facility owners / managers can order new or replacement ceiling tiles and have them installed through our network of contractors. We've never been more excited about our future and the many opportunities we have to make a difference in spaces where we all live, work, learn, heal and play, with health, safety and sustainability at the forefront of our operating model and business strategy.
As a leader in the design and manufacture of acoustical ceiling and walls, Armstrong World Industries (AWI) is a strong and vibrant billiondollar company that's been in business for more than 160 years.
We look forward to another hundred years in Lancaster and continuing to grow this thriving community together.
StockUp
LOCATED AT LANCASTER CENTRAL MARKET: 26 NORTH MARKET STREET 717.874.5998 CROWDEDFOODS.COM 53
GRAB A SCARF AND A MARKET BAG take a walk down to Crowded Kitchen in Lancaster Central Market this fall. Drew and his team will be there to greet you with stocks and broths on tap that will help you craft the perfect autumn recipe. time to whip something up yourself? They also have a selection of tasty seasonal soups to take home.
to
Left right: Kirsten, Drew Moore (owner), and Kate
No
Lancaster maker
and
perfection. Three Locations: 135 East
2018,
color,
to help you choose a more
to Lancaster
have been
Organic
expert
Street, Lancaster | 1387
Mount
|
Owner
IT'S TIME TO FIND YOUR NEWEST LOOK in The Green
organic and ethical
Left to right: Liz Fleurant, Courtney Whipple, Kristen Lobb, Brianna Audette, Danielle Shelly, and Sasha Masi Photo credit: Erin Ehrhart @philterphoto Room Salon's newest space. Kristen Lobb and her stylists bringing passion for products City since and they are here holistic approach to care at their salon on East King Street. a chair in their signature cozy, let them cut, and style your hair to King East Main Street, Joy 105 Warwick Street, Suite 104, Lititz
self
laidback environment, and
Grab a chair
54 135 EAST KING STREET 717.844.1051 THEGREENROOMLANCASTER.COM
Grab
a
535 DRYTOWN ROAD, HOLTWOOD 717.723.3770 CEDARMEADOW.FARM 55 Better Soil. Better Oil. E President Cheri Groff and COO Megan Steinruck with Cedar Meadow Mom F Steve Groff E Nutrient-rich soil at Cedar Meadow Farm Lancaster maker
SOIL HEALTH might be an unconventional thing to associate with CBD, but that's exactly what health-conscious consumers are starting to dig in to.
Farmer, author, and speaker Steve Groff has carefully cultivated the soil on his third-generation farm for decades. As a result, it yields more nutrient-dense produce and better-for-the-planet products—including the hemp oil extract used to make Cedar Meadow Farm's line of CBD oils, lotions, and salves. Derived entirely from the plants grown on his farm, these products are rooted in Steve's regenerative expertise. His passion for giving people a natural alternative for balanced, healthy living comes through in every bottle. Visit Cedar Meadow Farm online to explore these products—plus find more information about Steve's farming methods and their special brand just for moms.
Henrietta Heisler in a kitchen she designed for her clients, Damon and Efrem
Cheers! INTERIORSHENRIETTAHEISLERINCRESIDENTIALCOMMERICIALOFFICEPLANNING 56 217 WEST WALNUT STREET, SECOND FLOOR 717.295.0324 HENRIETTAHEISLERINTERIORS.COM
Damon and Efrem (Dr. Mag), Lancaster
"WE MOVED TO LANCASTER from a one bedroom apartment in Brooklyn seven years ago. We found a great house, but the project before us felt daunting. One beautiful fall morning we walked into Henrietta's studio and that has made all the difference. The HHII team helped us develop our vision into a plan, and then expertly executed with artistry, creativity, attention to detail, and professionalism. The most recent project, our dream kitchen, is yet another triumph. Their team is family now, and we cannot recommend them enough."
[dih-zahyn / thing-king] (noun) a human-centered approach to creative problem solving
In this special section, we're featuring creative thought leaders from across Lancaster and their take on the concept of creativity and design.
57
Thank you to our editorial sponsor—the High® Companies: celebrating the City of Lancaster and committed to innovative community leadership, sustainable building practices, and advancement through the preservation of local heritage.
DESCRIBE
"There's a definite energy transfer that takes place between me and every project. I'll walk into a room and almost immediately begin to mentally map out the possibilities. I like the spaces I design to feel personal, timeless, well balanced, and assembled in a way that doesn't feel forced or overly decorated. It's always about my desire to get inside the client's head to understand who they are and how they want to live. From there, it's really just about developing an interior plan that elevates personal style in the most thoughtful & tasteful way possible."
David Lyall Home & Design
58
HOW WOULD
CREATIVE
DAVID LYALL Principal Designer & Team Leader YOU YOUR DESIGN PROCESS?
– David Lyall, IDS K Learn more about David Lyall Design at davidlyalldesign.com
– Jason James K Learn more about Fig Industries at figindustries.com 59
HOW DO YOU APPROACH YOUR CREATIVE DESIGN PROCESS?
Fig Industries
JASON JAMES Creative Director
"Design thinking is creative problem solving. My creative process begins with understanding the gaps, or the problems, of the project. Far too often, designers start by asking themselves, 'How can I make this project cool or innovative? How do I make it unlike anything else in the marketplace?' That's a mistake. A designer must first seek to meet project objectives. I do my best to be curious about the subject, to put time into research, to identify what has been done to solve this problem previously. From there, it's about identifying new and novel ideas—asking, 'What connections have been made before now? Should I continue down that road or try a new way?' These are the creative steps that lead to something beautiful, meaningful, and resonant."
–
HOW DO YOU APPROACH YOUR CREATIVE DESIGN PROCESS?
"At The H&H Group, our approach to Design Thinking is to hone in on the best solution for your project—whether that's a 16-page booklet, an outdoor sign, a wall installation— by understanding what you really value and the physical nature of the materials available. creatively-thinking team believes there is something beautiful about seeing an idea come to life, and we help people actually touch their dreams." Mike Williams K Learn more about The H&H Group at thinkHH.com
Our
The H&H Group MIKE WILLIAMS Vice President The H&H Group, our approach to Design Thinking is to challenge ideas in order to really hone in on the best solution to bring your project to life in a unique and creative way."
At
60
61
Reverie
TERRANOVA Producer/Director
HOW DO YOU APPROACH YOUR CREATIVE PROCESS?
"Our process always begins with listening—listening to our clients and our subjects/characters. Something that's important to us is creating a collaborative environment between ourselves, clients, and subjects. This helps ensure the stories we're telling are done so in an engaging and truthful way. Most of the films we produce focus on the stories of real-life people, and it's important for us to genuinely and quickly connect with these folks in order to create trust, which in turn, helps showcase their stories in an organic way. At the end of the day, this is what brings our work to life."
– Joseph Terranova K Learn more about Reverie at itsreverie.com JOSEPH
"In our world of creating meaningful places, we employ design thinking through a holistic and integrated process. Fundamentally, we are seeking to improve the quality of the broader environment, but we do this one project opportunity at a time. Often, we are challenging conventional thinking and asking our clients and partners to do the same. Better solutions can only come from a better process, and we have zero tolerance for complacency—we cannot get comfortable with status quo. That means at TONO, everyone has a voice, and we welcome an imaginative, thoughtful, and genuine approach to our collaborative and innovative work."
– Hunter Johnson K Learn more about TONO Group's construction and architectural design at tonogroup.com
62
Fundamentally, we are seeking to improve the quality of the broader environment, but we do this one project opportunity at a time."
TONO Group HUNTER JOHNSON CEO
WHAT IS YOUR COMPANY ETHOS AND HOW DOES IT SUPPORT DESIGN THINKING?
JOSEPH KRZEMIENSKI Co-founder and CXO K more about connecting art and technology through design at pxd.studio
63
– Joseph Krzemienski Process Experience Design (PXD)
HOW WOULD YOU INTERPRET THE PHRASE DESIGN THINKING?
Learn
"Design thinking describes how humans have effectively solved problems since the beginning. The creative process is a framework for literal and metaphorical pathfinding. If you can correctly identify and diagnose a problem, you can hypothesize a path to a solution and test against it. Being wrong and adjusting is far more important than being right straight out of the gate. For our team, approaching every problem with this process allows us to cut through bias, arrive at real solutions, and focus on delivering world-class design for our partners."
Founders & Filmmakers
– Andrew and Carley Bilindabagabo K Learn more about INGOMA at ingomafilms.com We look at every project as a chance to address a realworld issue."
64 INGOMA Films ANDREW & CARLEY BILINDABAGABO
WHAT IS YOUR COMPANY ETHOS AND HOW DOES IT SUPPORT DESIGN THINKING?
"INGOMA is an uncommon company—we've produced national and local ads, documentaries about Africa, and feature films right here in Pennsylvania. We've worked all over the world, but we've learned that the way to speak to global questions is to get specific. That means we look at every project as a chance to address a real-world issue. First, we have to understand the problem holistically. Then, we apply our storytelling sensibilities to solve it. To us, that's design thinking— believing that every project can make the world a little better as we design a solution."
K Learn more about
ALISON MCINDOE Owner and Principal Designer
HOW DO YOU APPROACH YOUR CREATIVE DESIGN PROCESS? AK Interiors
65
"I believe all creative design processes begin with good communication and the need to tell a story. Taking the time first to get to know our clients builds trust and enables us to step beyond our client's initial focus in order to bring their dreams into reality. At AK Interiors, our philosophy is that interiors should reflect the needs and the lifestyles of the individual—that's what makes each space uniquely distinct. We approach each project with the intention of creating memories, while focusing on functionality and a design that will stand the test of time."
– Alison McIndoe AK Interiors at akinteriorsllc.com
K Learn more
ZAK POLETT & RYAN GRIFFITH about Cornerstone Design-Architects at cornerstonedesign.com
– Ryan Griffith
– Zak Polett
66
Zak Polett, Principal Architect (left) and Ryan Griffith, President and Principal Architect (right)
WHAT IS IN YOUR ETHOS WHEN YOU THINK ABOUT DESIGN?
HOW WOULD YOU DESCRIBE YOUR CREATIVE DESIGN PROCESS?
"I like to start with what I know works. Staring at a blank page can be intimidating, but studying precedents and asking, 'How can I make this better?' and trying a different approach can lead to creative solutions. From there, move on to the next problem, try out different solutions, and keep adapting."
"The best creativity is never scheduled. When I'm inspired, I need to capture it in the form of a sketch. Sharing that sketch or a 3D model view of part of their building created from that sketch allows our clients to see how their vision and our impression of their vision align."
Cornerstone Design-Architects
"I believe design is both art and science. Understanding the science behind design is what our team uses to create a framework that a client will love, both functionally and aesthetically. Every design we approach starts with a discovery conversation with our clients because getting to know our clients—their personalities, sense of style, how they use their spaces—is the backbone to any design we create. From there, we work hand in hand, guiding them throughout the entire process—from creating floor plans and renderings, to developing design boards and specific product recommendations to match our clients with pieces that work best for them." Rebecca Addington K Learn more about Ville & Rue at villeandrue.com believe design is both art and science."
I
HOW DO YOU APPROACH YOUR CREATIVE DESIGN PROCESS?
–
Ville & Rue REBECCA ADDINGTON Owner and Designer
67
Elizabethtown College MATT SKILLEN Dean of Faculty and Associate Provost for Student Learning
– Matt Skillen J Learn more about Elizabethtown College at etown.edu
"Elizabethtown College, at its core, is dedicated to Educate for Service—how we serve one another and everyone we meet outside of our organization through our knowledge, talents, and energy. Design thinking has amplified this important mission and identity. By adopting design mindsets like focusing on human empathy & values and supporting radical collaboration, we're creating a community of belongingin-action. With great intentionality we've used the design process to develop and refine academic programs, recognize meaningful opportunities for our co-curricular centers, and set a five-year community strategic plan for the college to create deep social impact. In each opportunity to design, we invite as many stakeholders to the table as possible to build on our range of expertise, diverse backgrounds, and enthusiasm for progress and growth."
WHAT IS YOUR ETHOS AND HOW DOES IT SUPPORT DESIGN THINKING?
68
HOW DO
Splints & Daisies TARA FOLKER Owner and Floral Designer
– Tara Folker K Learn more about Splints & Daisies at splintsanddaisies.com
PROCESS?CREATIVEAPPROACHYOUYOURDESIGN
"Sustainability in floral design is of utmost importance to my process, but I often don't know my plan of design until that plan is executed. I typically just begin, and let the flowers decide where they belong. Being a part of nature, I feel flowers can evoke certain feelings and emotions, and that a design can be a work of art versus an object of consumerism. Because working with local flowers is an intrinsic part of what I stand for, each design changes with inspiration and the season—so each bride and client get a completely unique creation."
69
WHAT IS YOUR ETHOS AND HOW DOES IT SUPPORT DESIGN THINKING?
– Chad Hummel
K
Thaddeus Stevens College of Technology CHAD HUMMEL Masonry TechnologyConstructionInstructor
Learn more about Thaddeus Stevens College of Technology: stevenscollege.edu
"Thaddeus Stevens College of Technology creates opportunities for all to learn a trade and begin a career. Our students come to us from urban, suburban, and rural towns and cities across Pennsylvania. In a program like Masonry—where art and structure meet—we coordinate projects where ideas about overall design can flourish. For example, my second-year students design and build elaborate fireplaces individually and in groups. As an instructor, my goals are to equip our learners with an understanding of how to design one-of-a-kind, interesting spaces while expanding their knowledge and supporting them on their unique paths forward."
"Our ethos at Lancaster Mennonite School is characterized by our gospel-centric mission, promoting innovation, and encouraging students to be lifelong learners, which is a capability endowed by God in each student. I am thrilled our students get to learn in a school environment that prioritizes each student's interests and passions in designing and learning skills to help make the world a better place. The current generation is eager to solve the problems our world is facing in a responsible, collaborative way. Let's find hope in that!"
– Dr. Michael Badriaki K Learn more about Lancaster Mennonite at lancastermennonite.org
71
WHAT IS ETHOS,ANDYOURHOW DOES IT SUPPORT DESIGN THINKING?
Lancaster Mennonite School DR. MICHAEL BADRIAKI Superintendent
LANCASTER, PA TOP 5 PLACES TO RETIRE U.S. News & World Report
Here you are, ready for life's next adventures. But with a new kind of ease that frees your day for more, well, adventure. Perfect. Welcome to a fresh view of 55+ living at Mosaic, a residential hub coming to Downtown WhatLancaster.todo is never a question in this elegant high-rise of 2- and 3-bedroom residences. Make friends at the rooftop terrace (what's more neighborly than cocktails at sunset?). Share a fitness or art class. A foodie-worthy meal. Get your furry families together at the dog park. Just outside your door is a walkable city of historic streets buzzing with cafés, galleries, boutiques and cultural events, too. And not only is there fun in your future, there's peace of mind. Mosaic is part of Willow Valley Communities' innovative Lifecare program — a seamless continuum of care, should you ever need it. For information and invitations to exclusive preview events, visit: mosaiclancaster.com | 888.459.0580
More of youwhatlove
73
. Artist renderings for illustrative purposes. Downtown 55+ living IN LANCASTER, PA
THE WAY WE WORK IS EVOLVING.
Breaking Barriers BuildingNeighborhoodsWorkplace Contact the helpful team at Benjamin Roberts today to design your office space from thousands of products made in the USA.
Changing times and shifting priorities have taught us that we must design our workplaces for greater inclusivity, flexibility, and community. The team of contract workplace furniture and architectural interiors products experts at Benjamin Roberts partners with top manufacturers across the United States and beyond to help you craft a workplace that reflects your organization's culture and values with an eye to the future. 74 240 NORTH PRINCE STREET 717.291.1001 BENJAMINROBERTSLTD.COM F Women in welding is a small but growing trend. They are proud to source from many US-based manufacturers creating jobs for women in the industry
BEHIND EVERY PROJECT is a long line of people and partners working to bring it to life and add the final touches. The tradespeople who live and work in Lancaster bring their unique approach in the way they creatively solve problems in the midst of moving these projects toward completion.
75
masterstrade
Sponsored by Warfel Construction, this special section showcases four of these experienced tradespeople who have been bringing expertise to their field for decades. ® of the
"My father would do a lot of renovation work when I was a child and always wanted to instill a good work ethic in my brother and me, so we would work with him when we weren't in school. After a while of working with my father, I started to enjoy the hard work and really liked looking at our finished project. This helped me decide to get into the construction business where I can utilize the skills I've gained throughout the years to do what I love doing."
Specialty: Finish carpentry
"My father started the business in 1986. I chose to get into the plumbing trade full-time after high school, and I started my Apprenticeship followed by four years of schooling with the Associated Builders and Contractors the following year. After successfully completing my Apprenticeship, I tested to earn my Journeyman's License, and then took my Master's exams two years after that. I have been a licensed Master Plumber in the City of Lancaster for the last 20 years, and my wife Becky and I have owned the company since 2013."
76
Jon Wile Wile Plumbing Specialty: Commercial plumbing for senior living, apartments, restaurants, medical and dental offices & residential and commercial plumbing services and maintenance Experience: 31 years Misael "Mitch" Figueroa Warfel Construction P.O. Box 187, Silver office@wileplumbing.comSpring | 717.522.1161 1110 Enterprise Road, East Petersburg info@warfelcc.com | 717.299.4500 Experience: 18 years 1110 ENTERPRISE ROAD, EAST PETERSBURG 717.299.4500 WARFELCC.COM

Steve Showalter B.R. Kreider & Son
Specialty: Site excavation project coordination and project management Experience: 28 years 63 Kreider Lane, Manheim brkreider.com | 717.898.7651 77
"[My career] started when I was 16 and started working at a hardware store. To help customers, I needed to know how to wire electrical devices, so I bought a how-to electrical book and learned how to do it using the diagrams on electrical device boxes. That was my first experience with the electrical field. Then, during my senior year of high school, I started at a career tech school, and on the weekends I worked with an electrical inspector, helping him upgrade services on Lancaster county farms. This inspired me to take on my first full-time contractor job after high school, and 26 years later, I'm still in the trade."
Specialty: Electrical Experience: 26 years 360 Hostetter Road, mhartman@gardenspotelectric.comManheim | 717.821.1763
Matt Hartman Garden Spot Electric
"My interest in heavy machinery and beginnings in excavation was influenced by my dad. He was a self-employed skid loader operator, and I always enjoyed watching him shape the ground exactly how he wanted it to be—a smooth and precise machine operator is addictive to watch! After high school, I started working for B.R. Kreider & Son and have worked for this great company ever since. I started as a general laborer and worked up through equipment operator, project supervisor, and into my current role as a project manager."
Call Gil at 717.295.9995 for a list of active listings and tips on when to sell your home. 78 717.295.9995 GILLYONS.COM GIL@GILLYONS.COM Ranked CountyAgentandinRE/MAX#15AgentPennsylvania,#1RE/MAXinLancasterin2021 IN THIS EXTRAORDINARY market, rely on the expertise of Gil Lyons who has been successfully navigating the buying and selling of homes in Lancaster County for 38 years. Gil will help you navigate this important life decision and will be your advocate and guide every step of the way. Serving all of Lancaster County and specializing in School Lane Hills, Chestnut Hill, and West End Lancaster. Fall in Love with Lancaster GilH Lyons Re/MaxRealtor, Pinnacle
IDEAS AND INNOVATION FLOURISH at Solvit Academy. If you're looking for a creative and relevant approach to education, their newly renovated learners space in the heart of Lancaster City may be just the place for your child. Schedule a tour to see if Solvit Academy is the right fit! Wheregrowscreativity 354 NORTH PRINCE STREET 717.435.9498 SOLVITACADEMY.COM 79
STAY CONNECTED: "MEET JUST A FEW of the talented women who lead at First Presbyterian. They impact our congregation in many ways—from teaching to planning our future to individually caring for those who need a thoughtful ear. We are thankful for the care they bring to our church family and our community." 80 140 EAST ORANGE STREET 717.394.6854 FPCLANCASTERPA.ORG
From left to right: Pastor Claire, Deacon Julia Snyder, and Clerk of Session Ginny Landis Starting September 11, three ways to do Sunday morning worship • 9am in-person with praise band • 10:30am with organ and choir • 7am online service airs on YouTube
She leads
Savoring
Gather with family and friends, pull up a chair and raise a glass–the table is set for you. At Lombardo's, you're part of the family. worth
Since its origin, Lombardo's has served up classic Italian-American cuisine prepared from family recipes passed down for generations.
There are few things as comforting as a home-cooked meal—a table set with the special dishes, a heaping plate of spaghetti and sauce, and enough place settings to
Fueled by the belief that some of life's richest connections are born out of meals shared together, Lombardo's staff make your dining experience their top priority.
Tradition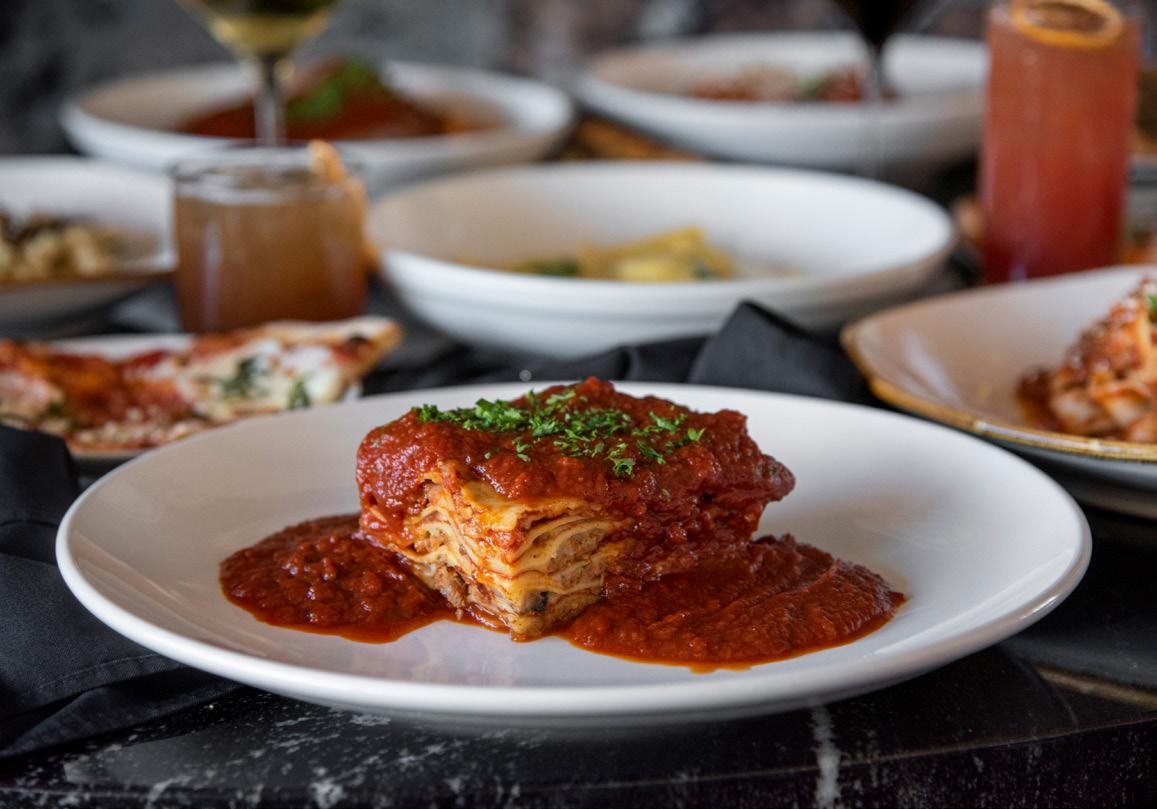 Wisdom C ultivating high-performance C ulture 82
KEDREN CROSBY Founder and President, Work
"
A series brought to you by High Foundation that introduces you to business and nonprofit leaders who are thoughtfully innovating with a spirit of servant leadership.
"At Work Wisdom, we help individuals, teams, and companies grow in selfknowledge. And we do that in many ways—looking at the enneagram, learning about emotional intelligence, discussing conflict management. We believe as we grow in self-knowledge, it seeps into our awareness and allows us to try different behaviors, which give us better results," she said.
The Reach High series is brought to you by High Foundation. Find out more about their mission to be a Bridge to Opportunity for the Lancaster community at highfoundation.org.
"At Work Wisdom, we help individuals, teams, and companies grow in self-knowledge.
consulting has expanded to a firm with a core team and associates who bring their unique expertise to the Work Wisdom model. She advises aspiring leaders to look for role models who lead well, crediting her personal leadership development to watching the legacy of leaders like S. Dale High. "He leads well, and he is extremely humble. He's always shining the light on other people, but he's doing amazing work," she said. Her own leadership model is evident in the abundance of testimonials of people who Work Wisdom has positively impacted. "We might not be doing huge things, but to quote Mother Teresa, 'We can do small things with great love.' And the culmination of all those smaller interactions can change the world," she added.
Kedren started coaching because she saw the need for personal integration in the workplace. Some people have successful careers, but the gap between who they are and how they have to perform at work is so significant that they can't live authentically purposeful lives. What began as one-on-one
Kedren is helping industry leaders adopt mindsets, behaviors, and communication methods that lead to higher performance and more diverse, inclusive, and equitable andachievementorganizations—revolutionizinginawaythat'ssustainablehelpseveryoneflourish.
REACH HIGH : STORIES OF LEADERSHIP 83 K edren Crosby and her team at Work Wisdom are revolutionizing achievement. As the B Corporation's founder and president, Kedren uses her extensive knowledge of emotional intelligence, positive organizational behavior, and positive psychology to help leaders live authentically and work effectively.
REACH HIGH
Visit figlancaster.com/articles to read the full article and get Kedren Crosby's perspective on healthy leadership.
84 SUPERIOR CARPENTRY & PROJECT MANAGEMENT 717.653.2327 EBERSOLEBROTHERSCONSTRUCTION.COM Transforming Lancaster's finest homes! Something In The Way They Build THE ROAD to get your home the way you want it can be challenging. That's why Ebersole Brothers takes pride in taking the stress out of construction projects. With a commitment to excellence and expert project management, their team will be with you every step of the way. Dale Shenk Director of DevelopmentBusiness Gary DirectorZimmermanofOperationsGary DirectorEbersoleofDentalConstructionRon Good Director of Estimating
ENJOY MODERN, LUXURIOUS LIVING in the heart of Lancaster City. With large windows for natural light and outdoor terraces with spectacular views, this one-of-a-kind location is city living at its best. The Point offers 15 residences, including two 2-story penthouses, with open floor plans ranging from 1,800 to over 4,000 square feet. The condos boast crisp interiors, soaring ceilings, and luxury finishes with bonus features like private elevator access, a beautiful community room, and private parking. Just a few units remaining! Call Anne Lusk at 717.271.9339 to learn more and save your spot. 100 FOXSHIRE DRIVE 717.291.9101 (OFFICE) 717.271.9339 (MOBILE) ANNELUSK.COM 85 City-living with a view
Dave
86 480 NEW HOLLAND AVENUE #7203 717.869.3877 MMCCUEN@PHCUNITY.COM ELIANCEHEALTHSOLUTIONS.ORG/HEALTHPLAN
ELIANCE HEALTH SOLUTIONS, a local health plan serving Lancaster employers since 2016, really stands out. Employers enrolled with Eliance Health Solutions can now choose to get even more from their health plan. Health plans now include membership to the Penn Medicine HealthWorks network of employer-sponsored primary care practices located throughout Lancaster County. The network of clinics provides members with a variety of benefits including access to same-day appointments, free commonly prescribed medications and virtual visits with a provider at no cost to the employee.
Healthcare your way
Penn Medicine
Eliance
Clinic membership includes a HIPAAprotected texting app that allows instant communication with providers, sameday access to quality care, an on-site medication dispensary and friendly and informative staff. Primary care services at the clinics include wellness, sick, virtual and minor procedure visits; bloodwork and rapid testing; flu shots; and vaccines. Eliance Health Solutions members now have even more power when choosing how to receive innovative, personalized and convenient healthcare. They can decide to make one of the community clinics their primary practice, or continue visiting their current doctor and use the convenient clinic when needed. The integration of Penn Medicine HealthWorks clinics into Eliance Health Solutions health plans is another way the team is working to help employers manage medical costs and keep employees healthy. Are you ready for convenient care and customized coverage that meets the needs of you and your employees? Contact our Manager of Broker Relations, Mike McCuen, at 717-869-3877 or mmccuen@phcunity.com to learn more about our health plans or set up a tour of the clinics!
From left to right: Keith Fox, HealthWorks Jani, Health Murr, McCuen,
Solutions Amber
Penn Medicine HealthWorks Mike
Eliance Health Solutions
717.299.9000 BLOSSOM-MEDSPA.COM 87LOCATED IN 101 NORTH QUEEN STREET, SUITE 93 AFTER A SUMMER of hot, sunny days, treat yourself to a rejuvenating hydrafacial from Blossom Med Spa. Their specialists are ready to help your beauty blossom with some much-need hydration—and they guarantee your skin will thank you. CosmeticCorrectiveServicesSkinTreatmentsLaserInjectablesBodySculpting Jennifer Meglic, Medical Aesthetic Specialist Feeling fresh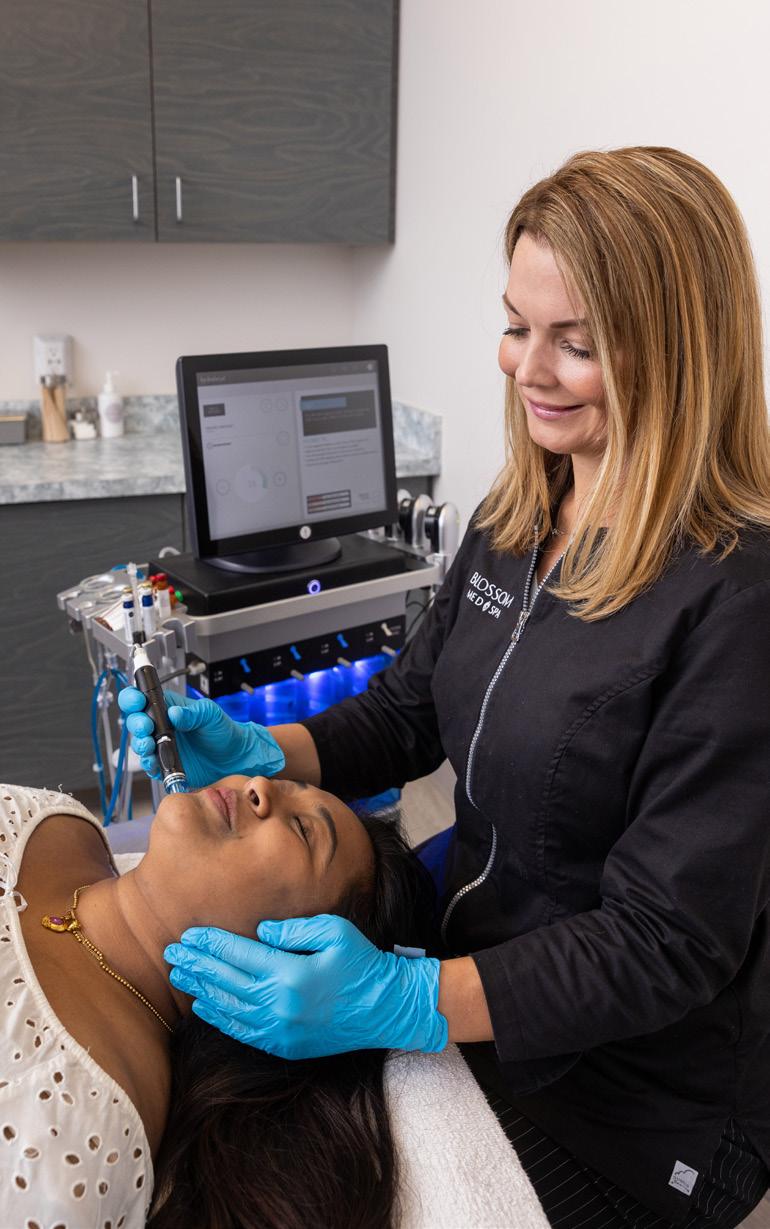 The College for Financial Planning Institutes Corp. owns the service marks Chartered Retirement Planning CounselorSM, CRPC®, and the CRPC® logo, and the certification marks Chartered Retirement Planning Counselor™, CRPC™, and the CRPC™ logo.
The Bull Symbol and Merrill are registered trademarks of Bank of America Corporation.
© 2022 Bank of America Corporation. All rights reserved. MAP4746398 | TEMP-03-22-0108 | 472538PM-0522 | 05/2022
Dana E Herr, CRPC® Senior Vice President Wealth Management Advisor Merrill Lynch Wealth Management The Ellenberg-Herr Team
Advice for what matters most, when you need it most Congratulations to Dana Herr for being named to the Forbes America's Top Women Wealth Advisors Best in State list, Feb 2022 . 88 110 NORTH DUKE STREET 717.295.5611 FA.ML.COM/PENNSYLVANIA/LANCASTER/ELLENBERG_HERR/
Source: Data provided by SHOOK® Research, LLC. Data as of 6/30/21. Source: Forbes.com (April, 2022). Forbes Best-in-State Wealth Advisors ranking was developed by SHOOK Research and is based on in-person, virtual, and telephone due diligence meetings to measure best practices; also considered are: client retention, industry experience, credentials, review of compliance records, firm nominations; and quantitative criteria, such as: assets under management and revenue generated for their firms. Investment performance is not a criterion because client objectives and risk tolerances vary, and advisors rarely have audited performance reports. SHOOK's research and rankings provide opinions intended to help investors choose the right financial advisor and are not indicative of future performance or representative of any one client's experience. Past performance is not an indication of future results. Neither Forbes nor SHOOK Research receive compensation in exchange for placement on the ranking. For more information, please see www.SHOOKresearch.com. SHOOK is a registered trademark of SHOOK Research, LLC. Merrill Lynch, Pierce, Fenner & Smith Incorporated (also referred to as "MLPF&S" or "Merrill") makes available certain investment products sponsored, managed, distributed or provided by companies that are affiliates of Bank of America Corporation ("BofA Corp."). MLPF&S is a registered broker-dealer, registered investment adviser, Member SIPC and a wholly owned subsidiary of BofA Corp. Banking products are provided by Bank of America, N.A., Member FDIC and a wholly owned subsidiary of BofA Corp. Investment products: Are Not FDIC Insured | Are Not Bank Guaranteed | May Lose Value
CreativeCommunity
Trunk-or-Treat October 31, 6–8 pm First Music,FridayArtand More November 4, 6–8 pm Allegro Orchestra Lancaster Christmas Music in the Round Friday December 2, 7:30pm (ticketed)
Come grow with them!
29 EAST WALNUT STREET 717. 394.7231 ENGAGEGODFIRST.ORG LOVING LANCASTER, LOVING THE WORLD 89
AT FIRST UNITED METHODIST , they believe "church" is you—the community of people invited to join them as they love Lancaster and love the world. From expressive kids activities to authentic small groups to Christ-centered worship services, they want you to know all are welcome.
FUMC Cantata December 11, 8:15 and 10:45 am Allegro Orchestra Lancaster Christmas, a City in Song, Saturday December 18, 3 and 7:30pm (ticketed)
MUSIC HEALS. When a parent goes to prison, children are more likely to suffer physically, mentally, and emotionally. SWAN (Scaling Walls A Note at a Time) provides life-changing intervention for school-aged children in Lancaster who have an incarcerated parent. By offering free music lessons, ensemble training, and performance opportunities, SWAN is harnessing the power of music to empower children during some of life's most significant challenges. SWAN intervenes at a time when a child is most vulnerable, providing experiences that offer hope, improve the life of the child, and strengthen our community at large. Learn more at swan4kids.org.
INFO@SWAN4KIDS.ORG SWAN4KIDS.ORG Sweet
Photo captured at Carter and MacRae Elementary School during 2022 summer camp 90 music
Ron and Virginia know the profound difference that having access to the world of art can make. Born in 1943 with what would later be diagnosed as dyslexia, Ron struggled through school until he discovered his salvation in the world of commercial and fine art. After meeting and falling in love with Virginia, a Cuban refugee, they became partners in marriage and in business. Their frame shop and gallery thrived in Mountville for over 40 years, and they started a donor advised fund that supports various creative and local causes in Lancaster County. Learn more about giving options with Forever Lancaster and get inspiration from other community members at LANCFOUND.ORG 201, 397-1629
24 W KING ST, SUITE
LANCASTER (717)
LANCFOUND.ORG "WE ARE PROUD AND HONORED TO BE ABLE TO SUPPORT VARIOUS DESERVING INSTITUTIONS THROUGH LANCASTER COUNTY LANCASTERBACKFOUNDATIONCOMMUNITYANDGIVETOOURBELOVEDCOUNTY!" RON & ETTELMANVIRGINIA SUPPORTING OUR CREATIVE COMMUNITY 91
Forty-three thousand square feet of Fabulas!
DID YOU
IT
ADA accessible and stroller friendly Bright, open, Workinvitingrooms for and small organizationsspacesLargergroupsmeetingforcommunity young adult Outdoorlibrariesbook lockers for easy pick-up outdoor terrace overlooking Ewell Plaza
717.394.2651
G From left to right: Board President Aaron Sherman, Executive Director Lissa Holland, and Fabulas Campaign Chair Henrietta Heisler in the new library space
92 125 NORTH DUKE STREET 717.394.2651 LANCASTERPUBLICLIBRARY.ORG
An
Lancaster Public Library is responsible for fundraising over 60% of its annual operating costs. The Library relies on financial support from people like you.
children'sDesignatedseatingComfortableareasand
Specific ways the new library will be Fabulas: ALL STARTED WITH A DECISION. Lancaster Public Library had to decide—continue to put operating dollars into maintaining the aging infrastructure of the Duke Street building? Or find a solution that would create a 21 st century library with upgrades that modern library users deserves? Lancaster Parking Authority stepped in with a fabulous offer—two stories of rent-free space adjacent to its new parking garage facing Ewell Plaza. Help write this exciting next chapter for Lancaster Public Library and our community. Your donation to the library's capital campaign will bring it closer to making this new library a reality—that will be Fabulas! Contact Jamie Hall to learn more about the library ' s amazing new home and how you can help make it possible. Ext jhall@lancasterpubliclibrary.org119 KNOW?
and
individuals
Assistant Director of Business Development oharas02@moravian.edu
Assistant Director of Moravian Lancaster dimperioc@moravian.edu
Stephanie O'Hara
FOR You
Chris D'Imperio
Stephanie leads Moravian's efforts to work with organizations throughout the Susquehanna Valley to be an educational partner providing unique solutions to benefit their employees, Moravian students, and the entire community.
555 WEST JAMES STREET 610.861.1320 GRADUATE@MORAVIAN.EDU MORAVIAN.EDU/LANCASTER 93
Chris is the on-campus resource for those interested in Online Graduate Business programs or Online Adult Degree Completion programs. Chris will work with individuals to design a degree program that works for them.
Meet the two locals who are leading the new programming at Moravian University's new location at Lancaster Theological Seminary. Here
Wealth Manager for Seller: Jeff Emrich, CFBS Financial Advisor Liberty Financial Strategies; LINK: Joseph Guarino, Principal/ President & CEO LINK; Attorney for Seller: Phil Caramenico, Blakinger Thomas; Seller: Scott Peppler; Buyer: Larry Gassert; Buyer: Angela Salabsky; Buyer: Jenna Kaufman (not pictured)
"[Raub Supply] taught me everything I needed to know about the plumbing and heating business," Scott said. "And I was ready to get started in my own business with the skills I had learned."
From left to right:
SCOTT PEPPLER WAS JUST 27 YEARS OLD when the owner of Lancaster Plumbing and Heating was ready to retire, and Scott was ready for the opportunity to buy the business. A business graduate from Franklin and Marshall College, Scott had started his career at Raub Supply—a well-known Lancaster wholesaler that offered a sales training program that piqued Scott's interest. It was there that he got connected with Lancaster Plumbing and Heating as one of his sales accounts.
After 42 years of true delight in his job, Scott decided it was time to bring new energy into the business and sell it to the next generation. "I was fortunate to have two daughters and a General Manager that wanted to step up and be the next owners," he said. "They have worked for the company Plumbing and Heating
94
Over the next several decades, Scott and his team grew Lancaster Plumbing and Heating, giving customers what he calls a five-star experience. "We have a special group of employees," he said. "They really care about what they do every day, and I am proud of the people who worked for me."
Lancaster Legacies: Lancaster
"
"Joe was with me every step of the way," Scott added. "It would have been very difficult for me to achieve what I did if it wasn't for his help."
Maureen, employee for 11 years, cheerfully answers every call.
SELLER SCOTT PEPPLER on working with Joseph Guarino and the LINK Business team
If you want to learn more about LINK Business and the merger and acquisition division, LINK Enterprise, visit linkenterpriseusa.com.
"For Lancaster Plumbing and Heating, we helped them to determine the value of the business, set the appropriate deal structure, and bring other advisors in to make sure everything was done correctly and efficiently," Joseph said.
for many years and believed in the culture that we had. It was the perfect fit for me to be able to pass the company on to them."
313 WEST LIBERTY STREET #351 717.740.5496 LINKENTERPRISEUSA.COM 95
Bob, employee for 33 years, preparing for a job.
Walt, employee for 34 years. Lancaster Legacies Sponsored by LINK Business, Lancaster Legacies celebrates companies in Lancaster known for their work ethic and commitment to the community. In this series, Fig is highlighting the history and future of these legacy businesses.
Joe was with me every step of the way. It would have been very difficult for me to achieve what I did if it wasn't for him."
Joseph Guarino, Principal, President, and CEO of LINK Business, said selling businesses to the next generation can be the most complex sales and the most exciting. He is passionate about carrying these Lancaster legacy businesses forward through his work at LINK.
But buying and selling a business was much simpler in the 1970s when Scott became the owner. When he decided it was time for the sale, his wealth planner and lawyer referred him to LINK Business.
FIRST FRIDAY EMBODIES what we stand for as a community in Lancaster City. The doors are open and welcoming to every finger painter, novice, or art connoisseur. Many galleries boast family-friendly artistic activities for children while parents can explore the talent featured. It's also an incredible time to learn about up-and-coming creative events that can be enjoyed locally as a family. View participating galleries and shops visitlancastercity.com/city-events/first-fridayat
Fulton Theatre
First Friday in Lancaster City 96 Get creative, Lancaster
THE FULTON THEATRE is a culturally enriching experience for all ages. The beautiful architecture and molding added to the wow factor right as you walk in, and the balcony seating transported us back 150 years. We loved that this historic treasure offers shows children can relate to as well. Shrek was the perfect first theatre experience for our toddlers. The cast interacted with them and kept them engaged the whole way through. Find the 2022/2023 season starting this fall at thefulton.org
LANCASTER CITY is located in the heart of beautiful Lancaster County—a national destination for fine art, creative outlets, and family-owned businesses. In collaboration with Discover Lancaster, we invited Kendra Wolfe, Founder of Unique Lancaster Experiences, and her son Ivey along with their friends Brooke and Esiah to explore some of Lancaster's most exciting arts & culture experiences.
Old Mill AntiqueLancasterStore Mural Tour
DISCOVER LANCASTER 501 GREENFIELD ROAD 1.800.723.8824 DISCOVERLANCASTER.COM 97 content sponsored by Discover Lancaster is the official destination marketing organization for Lancaster County, working with more than 500 industry partners to generate almost $3 billion in economic impact through tourism. Discover even more fall fun in Lancaster County at these events rounded up by Discover SEPTEMBERLancaster. Whoopie Pie Festival Hershey Farms September 10 Hot Air Balloon Festival Bird-in-Hand September 16  – 18 Lititz Craft Beer Fest Lititz September 24  – 25 OCTOBER Yummie's Boo Bash Kitchen Kettle Village October 29 NOVEMBER Pumpkin Demolition Day Barnyard Kingdom November 5 THIS FAMILY OWNED and operated antique shop in Strasburg is a wonderful opportunity to take your family on a stroll down memory lane. Our toddlers loved playing in the old antique vehicles outside and seeing all the vintage toys inside, and we appreciated the quality and preservation of their antique furniture and vintage pieces throughout the two floors. Find them at 215 Georgetown Road, Strasburg, and oldmillantiquestore.comat
EVERYONE SHOULD TAKE the self-guided mural tour around Lancaster. Discover Lancaster made it so easy to find them with their interactive map. We took part of the tour through Lancaster City from east to west and found colorful and vibrant wall murals that sparked our children's curiosity. We loved that the murals were diverse and represented a variety of skill levels, demographics, and historical eras. Plan your tour at blog/murals-lancaster-padiscoverlancaster.com/
How Can You Help?
•
98 453 SOUTH LIME STREET 717.397.6267 SACAPA.ORG WLCHRADIO.ORG
•
• Public CommunitiesBroadcastingsupported by SACA are all-inclusive, empowered to prosper through sustained social and economic transformation and the belief that diversity is to be embraced and celebrated.
Among the most important and impactful ways to support SACA and its mission is through financial support. Contact Jose R. Lopez at 717.509.2011 or jrlopez@sacapa.org.
• Workforce Development Human Services Behavioral Health • Affordable Housing and Community Development
HOME TO RADIO STATION WLCH (91.3 FM/ Lancaster and 100.3 FM/York) and a brand-new podcasting studio, SACA's Radio Centro brings interviews, education and cultural programming, and Latin music to the Lancaster community through public broadcasting. As the only Latino, full-time public and community station serving this region, WLCH began broadcasting in 1987 with the goal of keeping the Hispanic Community informed about news and cultural events. For the past 30+ years, listenership has expanded, a podcast has launched, and Radio Centro has become a vehicle for greater interaction between English and Spanish speakers, challenging both to become one community. You can also listen to Radio Centro via live streaming apps on Live365, my Turner Radio, Radio Garden, TuneIn Radio, and AppleMusic, and by listening to the WLCH Podcast, available on Anchor, Google Podcasts, PocketCasts, RadioPublic, and Spotify.
At Fig, we believe in the power of a community that works together to identify needs and find solutions—one that creates connections and is passionate about helping its neighbors. Each year, Fig partners with a nonprofit organization working to transform our community. Meet our 2022 Social Mission Partner, SACA.
SACA programming focuses on five key areas:
As our 2022 Social Mission Partner, 10% of every Fig subscription in 2022 goes directly to the work of SACA. Scan or go to figlancaster.com/fig-magazine to subscribe.
Social Mission Transforming the Community Together
Left to right: Hector Valdez, Producer Aleish Molina, Production Assistant, On Air Personality Marlyn Barbosa, Tec Centro Director Lazaro Delgado, Associate Producer
Lancaster, PA 99
southernmarketlancaster.comLancaster at the corner of Queen and Vine. Queen Street
Take your taste buds around the world at Southern Market's world class food hall. All in one place, explore 10 globally-inspired chef vendor stands, a pizzeria, Bar 1888, featuring specialty cocktails and a rotating beer and wine selection, and a full service coffee and pastry shop. Plus, now's the perfect time to enjoy outside seating.
100 South
Food, Friends, and Fun at Southern Market
Downtown
Visualize 888.846.1970 PEOPLESBANKNET.COM LOCATIONS THROUGHOUT SOUTH CENTRAL PENNSYLVANIA AND NORTHERN MARYLANDMember FDIC
THE FINANCIAL MENTORS at PeoplesBank have developed a tangible way to help clients achieve their dreams and live confidently. Using their awardwinning technology, visitors can create a vision board through an interactive touchscreen. Select images that resonate with your goals from a large selection of vibrant photos to easily create your personalized vision board. 100 The vision board exercise is especially dynamic for business owners, helping you identify what you are hoping to achieve now, within a year, and in the future. You can choose from several categories—like asset acquisition, money management, or employee benefits—and prioritize them based on your own timing. You can then print your vision board, and a financial mentor can identify your top three goals and make a plan to help you achieve them through deeper conversation.
Lindsay with Brittany Csoka, Lancaster City Connections Center Manager
your dreams
The vision board experience is available at all PeoplesBank locations, including their Lancaster City Connections Center located in 101NQ. Whether you create your vision board on the large screen in the lobby or in the palm of your hand in a more private setting, financial mentors are ready to help you move forward.
Bring the Family
AS LEAVES BEGIN TO CHANGE and cozy wardrobe staples are slowly reemerging, there are still plenty of beautiful days left in the year for adventuring. It's time to take a stroll and experience the culture that abounds in Lancaster City—we're featuring five fall stops that you can enjoy with the whole family. Bring the Family is a special section sponsored by our friends at Garden Spot Village, who are passionate about living life to the fullest. They believe in offering opportunities to live and thrive in community because creating a meaningful future never ends.
101
You're always the perfect age to enjoy Lancaster.
1. The BeadWorks Create something you can take home and save the memories at The BeadWorks. Their colorful collection of beads and materials offers endless options for everyone to create their own jewelry masterpieces. 2. Demuth Museum There's beauty to be seen inside and out at the Demuth Museum. Their rotating exhibits can be a wonderful introduction to art for growing kids, and their outdoor garden will enchant the whole family. 52 NORTH QUEEN STREET | 717.490.6551 | THEBEADWORKS.COM 120 EAST KING STREET | 717.299.9940 | DEMUTH.ORG GARDEN SPOT VILLAGE team member Colleen Musselman and her husband Mark took their grandchildren to explore five spots you can add to your list for family fun. Looking for a few ways to spend crisp autumn days with the family? Escape. On ThisQueenspecial section is sponsored by 433 SOUTH KINZER AVENUE NEW HOLLAND | GARDENSPOTVILLAGE.ORG717.355.6000
4. The Ware CenterMillersville University From concerts to theatrical performances to art exhibits, the Ware Center's programming upholds its mission to foster creativity, learning, and understanding. Gather the family and find something that piques your interest or try something new. 5. Escape. On Queen It's a race against the clock at Escape. On Queen, and their adventure-inspired rooms will have the whole family working together to follow the clues, solve the puzzles, and escape in the nick of time. (The minimum age to play is six years old.) 3. Sweetish Introduce the sweets-lovers in your family to treats from across the pond at Sweetish. Their recently expanded storefront is stocked full, and the pick-n-mix wall will make everyone's eyes widen with delight. 43-45 NORTH QUEEN STREET | 717.435.8049 ESCAPEONQUEEN.COM 301 NORTH QUEEN STREET | 717.621.2920 717.871.701842SWEETISHCANDY.COMNORTHPRINCESTREET|ARTSMU.COM 103
TRANSFORMING WASTE INTO A RESOURCE IN COUNTYLANCASTER 104 1299 HARRISBURG PIKE 717.397.9968 LCSWMA.ORG
TogetherWorking
DID YOU KNOW the average American creates 4.4 pounds of trash per day? That translates into one ton per person annually. We live in a throwaway society, where people don't keep things for very long even if those things still work or have value. When we generate replacement items, we increase our use of natural resources and energy, which impacts the health and vitality of our planet. Although the Lancaster County Solid Waste Management Authority (LCSWMA) manages and processes Lancaster County's waste responsibly, we need to work together to minimize the amount of waste we generate.
E Lancaster Habitat ReStore, located at 155 Independence Court, is a home improvement store and donation center for gently used furniture, appliances, cabinets, home accessories, and building materials. Proceeds from ReStore sales support Habitat's building and repair programs.
to Minimize Lancaster County Waste
LancasterLebanonHabitat.org
Once something is truly ready to be thrown away, LCSWMA is here to manage your waste. Their Integrated System includes a consolidation and transfer complex, county-wide recycling program, Household Hazardous Waste Facility, waste-to-energy site and landfill. For tips on how to reduce, reuse, and repurpose items and to access a list of local donation options, visit lcswma.org.
Before you throw it away have you considered... • REDUCING: Don't buy something new unless you absolutely need it • REUSING: Think about selling or donating unwanted items • REPURPOSING: Get creative by determining other ways to use the item LancasterFacilityWaste-to-EnergyinBainbridge
The mission of Lancaster Creative Reuse at 1865 Lincoln Highway East is to connect community excess to those who can use it creatively. Offering unique and affordable art, craft, and sewing supplies, this thrift store is fully supported by generous donations. LancasterCreativeReuse.org The 300 Block of North Queen Street in Lancaster is lined with shops and boutiques offering an eclectic mix of vintage and repurposed items. The300BlockShops.com
105
E
E Located at 342 North Queen Street, Building Character is comprised of 70+ shops of vintage, recycled, and handmade merchandise under one roof—making it Downtown Lancaster's largest retail destination. BuildingCharacter.biz
E
left to right: New Partners Megan Senkowski, CPA, and Randall Weaver, CPA alongside Managing Director of Transaction Advisory Services Andrew Rice, CPA, CVA and Director of Advisory Services Robert Pozesky
106 160 EAST KING STREET 717.569.2900 TROUTCPA.COM TROUT CPA is toasting to continued growth—two new partners, two new directors, and their rapidly expanding downtown location. With their deeply rooted history in Lancaster, the team loves enjoying the city they call home and bringing personalized accounting, tax, and advisory services to the people they call neighbors.
From
Growing with the community
YOUR WARDROBE should be just as unique and special as you are—that's why the Charlotte Shoppe has contemporary and upscale womenswear that is anything but ordinary. Shop their collection of footwear, apparel, and accessories to create a stunning look from head to toe. Beauty simplicityin NEW LOCATION: 9716 THIRD AVENUE, STONE HARBOR 609.796.5203
Owners David and Mikaela Delgado
Drywall and patching, custom colors, unique finishes, and tailored cabinetry—whatever you need, they offer personalized service that will help you realize your vision.
108 717.587.1789 DCPROFESSIONALPAINTINGLLC.COM HIC-PA143742
"Explore the shades of happiness" and call for a personalized consultation and quote today. of happiness
A FAMILY-OWNED BUSINESS of fourth generation painters, DC Professional Painting prides themselves on craftsmanship and traditions that have been passed down for more than 100 years. Are you starting a new beginning, transforming a living space, or preparing to put your home on the market? They want to put a smile on your face when you make a great impression, maximize your return on investment, or simply make a space your own.
Explore the shades
DON'T LET YOUR FLOORING BE AN AFTERTHOUGHT. The team at Floors 2 Buy knows there is an art to picking each and every piece that goes into your space, and their beautiful Design Center has something for everyone. Visit floors2buy.com to learn more. Hardwood Flooring Luxury Vinyl Large Porcelain Tiles Custom Kitchens Custom Bars Live Edge Tables Barn Doors Wall HomeBoardsGymFlooring The very best for your home Monday–Friday, 10 am –5 pm | Saturday by Appointment Showroom Hours: Let Floors 2 Buy help you choose from over 100,000 square feet of flooring specials in stock and ready for pickup. They can also design and build your custom kitchen. Sales HannahAssociate Selection superior 245 CENTERVILLE ROAD, SUITE 4 717.371.2040 HANNAH@FLOORS2BUY.COM 109
110 ORRSTOWN.COM A reputation for ORRSTOWN BANK knows that business owners are essential to the vibrant Lancaster community. As your trusted advisor, they are enthusiastic about helping you build your business, strengthen your community, and realize your dreams. Their experienced and knowledgeable team is local and invested in your success—that's why they go the extra mile to find solutions you need to perform exceptionally. Call them and experience their white glove relationship banking. Excellence Give them a call today! David Hornberger Market 717.869.0069President Kaliopi Karomfily Private Banking Advisor 717.869.0068 Keith Herr Commercial Team Leader 717.690.7112 Kelly Kopelman Business 717.299.6262Banker
JURA HOSPITALITY CENTER 134 SHELLYLAND ROAD, BUILDING 6A, MANHEIM 717.492.4433 SHOPJURA.COM 111
Did You Know?
The JURA Hospitality Center is right here in Lancaster County. Family-owned and operated, it is one of the few places on the East Coast where you can test and experience JURA machines—including the latest models—or purchase factoryserviced machines at special pricing. We invite you to stop by and experience delicious bean-to-cup taste with JURA.
For Hot & Cold Brew Specialties
A WORLD FIRST, the groundbreaking JURA Z10 prepares both hot and cold brew specialty coffees—freshly ground, not capsuled. At the touch of a button, it brews the full spectrum of hot drinks, from intense espresso to on-trend flat white. It also opens up a whole new dimension of coffee enjoyment with the introduction of cold brew specialties, thanks to the Product Recognizing Grinder (P.R.G.) that recognizes the chosen specialty and adjusts the grind accordingly. Experience a completely new way to enjoy coffee. JURA—if you love coffee.
112 3529 OLD PHILADELPHIA PIKE, INTERCOURSE 717.768.8261 KITCHENKETTLE.COM Spreading even more happiness KITCHEN KETTLE VILLAGE is home to more than 40 unique shops, eateries, and lodging in the heart of Lancaster County, and they are excited to announce two more shopping experiences opening this October. Grand Openings for the two shops are on Saturday, November 19! Or visit during regular hours: Monday–Friday 9 am –5 pm Saturday 9 am –6 pm Visit the expanded taproom where you can sample premium olive oils & balsamic vinegars while exploring a new line of 90 different spices, salts, and sugars. The Olive Basin Discover the beautiful new boutique featuring a sterling silver bar where you can put together your own unique jewelry creations, along with exclusive Lancaster Pandora ® charms, quality Brighton ® handbags, and accessories. The Jewelry Bar
"I FEEL AS IF I'm in an entirely different world, and I really lose consciousness of time and surroundings as I paint. My wife can attest to that," Bart Dunlap, an artist and Woodcrest Villa resident, said. Seated at his painting table in his home studio, Bart continues his latest inspiration, a lighthouse. In the background on an easel is an interior painting of a train, for which he won first place in a county fair. His home that he shares with his wife, Mary, is filled with years of paintings—commemorating events, milestones, and moments. A Bucks county native, Bart has devoted 40 years of his life to the arts through teaching, exhibitions in both Bucks and Lancaster counties, and serving as chairman and member of the Bucks Mont Art League. Also in his repertoire is his involvement with stage sets for the Miss Pocono Mountain contest and as a designer for the Masland Duran Vinyls.
Bart's passion, however, is painting a variety of murals, landscapes, and portraits. Whether he is creating en plein air or in his home studio, his gift of being able to find beauty in one focal point or in a single moment is captured forever on canvas.
2001 HARRISBURG PIKE 717.390.4103 WOODCRESTVILLA.ORG 113
Artist BartVillaWoodcrestandresident,Dunlap
Artful memories
I am always happy to see people appreciating my paintings in my home or in theirs." – Bart Dunlap " Vibrant Lifestyle. Fantastic Location. Connected to Community.
WHY MAGEEWOMENS? we've been caring for women and their families for more than 110 years. With the region's largest network of ob-gyn experts, UPMC Magee-Womens provides comprehensive care for women of all ages. And with many locations close to home in central Pa., women can easily find the routine or specialized care they need when they need it. To learn more, visit UPMC.com/WhyMageeCPA.
Because
114
Step into Gish's, where traditional quality meets modern sensibilities.
WHEN MICHAEL AND TERESA GISH founded Gish's Furniture 20 years ago, the pair wanted to offer furniture that would serve as the foundation for families to create memories and anchor their stories for generations to come. With that dream now a reality, shoppers can browse custom-made pieces showcasing the work of Amish craftspeople.
FOUR LOCATIONS INCLUDING 2191 LINCOLN HIGHWAY EAST 717.392.6080 GISHS.COM 115
Gish's Furniture modern approach to design is matched with unmatched quality, offering a wide array of choices to fit every style and taste. Their large selection of wood options includes cherry, oak, maple, and walnut to name only a few—but the options don't stop at solid wood furniture. Gish's also offers American made upholstery options too! As a certified dealer of Smith Brothers upholstery, Gish's offer even more options for custom furniture, with every product rooted in a heart for people and good practices.
Make it Yours
From left to right: Pia andCristinCyrulnik,Blake,RichWarner
116

1500 GILBERT WAY, SUITE B-116 717.560.2120 117 WITH A COMBINED 70 YEARS of design experience backed by 90 years of Ethan Allen quality, the Design Team at the Lancaster Design Center can help you create the look you'll love for your space. From classic to contemporary and every style in between, they have the know-how and the beautiful furniture and accessories to pull it all together. Meet the Design Team! From left to right: Julie Meinert, Elizabeth Riddle-Hash, Carolyn Wood, Chelsea Logan, and Linda Stabinski Dream design Book a designcomplimentaryconsultation!
THE OLDE MILL HOUSE has been committed to helping customers decorate their homes with unique furniture and furnishings since 1976. Stocked with a wide variety of locally crafted and curated decor items and conveniently located on Strasburg Pike in Lancaster, it serves as a one-stop shop for any home decorating enthusiast. Make your house the home of your dreams with some help from the Olde Mill House Shoppes.
118 105 STRASBURG PIKE 717.299.0678 OLDEMILLHOUSE.COM
LocallyCrafted
608 MILTON GROVE ROAD, MOUNT JOY 717.368.3526 CHRIS.SIMON@WOODBURYFINANCIAL.NET 119 Simon,Christopherlutcf F Investment RepresentativeAdvisor Proudly serving Lancaster County and beyond for over two decades. SERVICES Tax-Efficient Retirement Strategies Pensions/401(k) Plans Fixed Annuities Life Insurance Securities and investment advisory services offered through Woodbury Financial Services, Inc. (WFS), member FINRA/SIPC. WFS is separately owned and other entities and/or marketing names, products or services referenced here are independent of WFS. Marketing support provided by TruChoice Financial Group, LLC (TruChoice). TruChoice is not affiliated with Simon Financial Services or WFS. THE UNEXPECTED HAPPENS. Simon Financial Services can help with the expected and the unexpected, preparing your game plan for financial success with care and compassion. Build your financial foundation
120
433 SOUTH KINZER AVENUE, NEW HOLLAND 717.355.6000 GARDENSPOTVILLAGE.ORG 121
GenerationNext
THIS PAST SUMMER, Mark and Colleen Musselman hosted their son, daughter-in-law, and grandkids who live in Thailand. As Director of Life Enrichment at Garden Spot Village, Colleen coordinates fun for residents and their families. Her role offers her flexibility and work-life balance, allowing her to spend time making incredible memories when her family is in town. Find a job with work-life balance at wearegsc.org.
Investinginthe
— Tom McPhillips "
The sculpture is situated beside a walking and cycling trail so I wanted to incorporate an athletic theme. I chose the idea of a human pyramid to suggest not only strength, exercise, and fitness, but also the mutual support required to create that pyramid. The leaf motif the figures are balancing on represents new growth and the natural environment while also giving a nod to Greenfield's logo."
122 1853 WILLIAM PENN WAY 717.293.4477 GREENFIELDLANCASTER.COM @greenfieldlancaster forGroundworkGrowth
COMING IN 2023 , Greenfield will have an artful new entrance from Walnut Street, connecting the city with Greenfield's extensive walking trails as well as the Greater Lancaster Heritage Trail. The project is anchored by an intricate roundabout sculpture designed and crafted by Tom McPhillips of ATOMIC, commissioned by High Associates, Ltd.
your
ADDRESS ###.###.#### WEBSITE 1231100 GRANTHAM ROAD, MECHANICSBURG ASHCOMBEMANSION.COM 717.638.4348 EVENTS@ASHCOMBEMANSION.COM
for your
for an
our
offers an
that is sure to charm and delight your
or
The
Booking now for 2022 and beyond. Let's make some
Whether
or
SEATED ON 22 LUSH ACRES of manicured and native gardens, Willows at Ashcombe Mansion is the ideal location for special event. you are searching for a magazine-worthy setting dream wedding, a unique and sophisticated backdrop upcoming corporate event milestone celebration, Wonderland of an event venue atmosphere guests.
figuspresortedstandardpostagepaidindustries17604103 South Duke Street Lancaster, PA 17602 Fig Industries is redefining success through social impact and environmental accountability to the communities we serve. Please pass this Fig on or recycle it.Thank you to our editorial sponsor, the High ® companies. Taking Cocktails to 25 SOUTH QUEEN STREET, LOCATED ATOP THE MARRIOTT 717.207.4096 EXCHANGEROOF.COM NEW HEIGHTS