BELGIAN
FURNITURE & DESIGN
BELGIAN
FURNITURE & DESIGN
2
Index DESIGN AP Collection 6 Bulo 8 Castle line 10 Crest 14 &DEZ 16 Dôme Deco 18 Durlet 20 Ethnicraft 22 Evolution 21 26 Extremis 28 Gardeco 30 Gommaire 32 Heatsail 36 Heerenhuis 38 Indera 40 Joli 42 Jori 44 Leda 46 Mathy by Bols 48 Mobitec 50 Moome 52 Muuze by Gerlin 54 Passe-Partout 56 Per/use 60 PR Living 62 Roolf living 64 Royal botania 66 Saunaco 70 Serax 72 Stolz 74 Thothem 76 Toon De Somer 78 Unit 14 80 Vincent Sheppard 82 Vonk 86 Walfilii 88 Wünder 90 POPULAR Confortluxe 92 De Eiken Zetel 96 Evan 98 GBO by Bauwens 102 Hima 104 Jati & Kebon 106 Lee & Lewis 108 Lievens 112 LIGNA 114 MDR By Bauwens 116 MECAM 118 Meubar 122 Modulax 126 NEO-STYLE 128 Neyt 130 Perfecta 132 Recor 134 Theuns 136 Varam 138 Verdon 140 Vipack 142 HEALTH CARE Moments Furniture 146 Otium Care 148 SLEEP Beka 150 Equilli 152 GBO by Bauwens 154 MDR by Bauwens 155 Polypreen 156 Recor bedding 158 Revor 160 Sofabed 164 Styldecor 166 Van Landschoot 168 Veldeman Bedding 172 OFFICE Drisag 176 MDR Office By Bauwens 180 BATH & KITCHEN / TAILOR-MADE Frako 182 Kinno Kitchens and Cabinets 184 Vika Badkamers 186 Vika Keukens 188 Neves 190 3
Kevin Snyders BelgoFurn • Fedustria
EXPORT DIRECTORY Foreword
From the skilled craftspeople of Antwerp's diamond quarter to the high-end chocolatiers of Brussels and the many specialist brewers across the country producing fine beers, Belgium is known around the world for exquisite craft and premium quality.
We are a country of both tradition and modernity. Some of our best creative talents are inspired by the great art and designs of the past, adding their own new ideas. They embrace the latest developments in both materials and production technology.
Our furniture and design industry embodies these values. Those who choose Belgian designs do so because they appreciate luxury, professional workmanship, and the most creative and elegant designs.
Whether making cutting edge products or crafting more traditional style pieces, Belgian manufacturers focus on providing both practicality and visual style. They do it hand in hand with an emphasis on sustainability, making every effort to source materials that are renewable and recyclable, and aiming to keep their energy use and carbon footprint to a minimum.
All of this explains why a relatively small country is such a powerhouse for exporting premium design to our discerning clients around the world.
Belgian furniture and design companies understand that visionary design and outstanding manufacturing is not the only aspect of being a leading supplier. The best also add value by providing exceptional service every step of the way from initial enquiry to final delivery.
We are incredibly proud to represent this highly professional, imaginative, and skilled industry. Within this latest edition of our directory, you will find an unparalleled range of products for every part of a residential or commercial building. Classic or modern; indoor or outdoor: it is all here for you.
The directory is divided into six themed sections: Design, Popular, Health Care, Sleep, Office and Bath/Kitchen/Tailor-made.
We thus hope to be your guide in the search for your ideal furniture or design object that suits your purpose and for the perfect partner companies that can deliver it to you.
Thank you for choosing Belgian design and furniture.
4
EXPORTGIDS Woord vooraf
Van de bekwame ambachtslui in de Antwerpse diamantwijk over de chique chocolatiers in Brussel tot de vele gespecialiseerde brouwers die in het hele land verfijnde bieren produceren: België staat wereldwijd bekend om zijn uitmuntende vakkennis en topkwaliteit.
Wij zijn een modern land dat van tradities houdt. Sommige van onze creatiefste talenten laten zich inspireren door grootmeesters en ontwerpers uit het verleden en voegen daar hun eigen nieuwe ideeën aan toe. Zij omarmen de nieuwste ontwikkelingen in zowel materialen als productietechnologie.
Onze meubel- en designindustrie is een toonbeeld van die waarden. Wie kiest voor Belgische creaties, doet dat vanuit een voorliefde voor luxe, professioneel vakmanschap en creatief, elegant design.
Of het nu gaat om geavanceerde producten of om stukken in een meer traditionele stijl, Belgische fabrikanten hechten veel belang aan de functionaliteit en het visuele aspect. Daarnaast leggen ze de nadruk op duurzaamheid en trachten ze vooral te werken met hernieuwbare en recycleerbare materialen, zodat ze hun energieverbruik en hun CO2voetafdruk tot een minimum kunnen beperken.
Dit alles verklaart waarom een relatief klein land als het onze zo'n kampioen is in de export van kwalitatief design naar veeleisende klanten over de hele wereld.
Belgische meubel- en designbedrijven begrijpen dat visionaire ontwerpen en hoogwaardige productietechnieken niet de enige kwaliteiten zijn die hen tot toonaangevende leveranciers maken. De toppers bieden ook een meerwaarde via een uitzonderlijke service in elke fase, van eerste schets tot oplevering.
We zijn onvoorstelbaar trots die uiterst professionele, vindingrijke en vakkundige sectoren te mogen vertegenwoordigen.
In deze nieuwste editie van onze gids vindt u een ongeëvenaard aanbod voor elk vertrek in huis of in uw commerciële ruimte. Klassiek of modern, indoor of outdoor: we hebben u alles te bieden!
De gids omvat zes thematische hoofdstukken: Design, Popular, Health Care, Sleep, Office en Bath/Kitchen/Tailor-made.
We hopen zo uw gids te zijn in de zoektocht naar uw ideale meubilair of designobject dat aansluit bij uw wensen én naar de perfecte partnerbedrijven die het u kunnen leveren.
Bedankt om voor Belgisch meubilair en design te kiezen!
RÉPERTOIRE D'EXPORTATION Avant-propos
Des artisans chevronnés du quartier des diamantaires d'Anvers aux chocolatiers haut de gamme de Bruxelles, en passant par les nombreux brasseurs spécialisés qui produisent d'excellentes bières dans tout le pays, la Belgique est connue dans le monde entier pour son artisanat raffiné et ses produits de qualité supérieure.
Nous sommes un pays à la fois de tradition et de modernité. Certains de nos meilleurs talents créatifs s'inspirent des grandes œuvres d'art et créations du passé, en y apportant leurs propres idées nouvelles. Ils y intègrent les derniers développements sur le plan tant des matériaux que des technologies de production.
Notre industrie de l'ameublement et du design incarne ces valeurs. Les personnes qui optent pour des créations belges apprécient le luxe, le travail professionnel et les designs les plus créatifs et élégants.
Qu'ils réalisent des produits d'avant-garde ou des pièces de style plus traditionnel, les fabricants belges tiennent compte à la fois de l'aspect pratique et du style visuel. Ils le font en mettant l'accent sur la durabilité, en s'efforçant de trouver des matériaux renouvelables et recyclables, et en cherchant à réduire au maximum leur consommation d'énergie et leur empreinte carbone.
Tout cela explique pourquoi notre pays relativement petit est un acteur majeur de l'exportation de design haut de gamme vers des clients exigeants dans le monde entier.
Les entreprises belges du secteur de l'ameublement et du design savent qu'un design visionnaire et une fabrication exceptionnelle ne sont pas les seuls aspects à prendre en compte pour être un fournisseur de premier plan. Les meilleurs y ajoutent encore de la valeur en fournissant un service exceptionnel à chaque étape du processus, de la demande initiale à la livraison finale.
Nous sommes incroyablement fiers de représenter ce secteur extrêmement professionnel, imaginatif et compétent.
Dans cette nouvelle édition de notre répertoire, vous trouverez une offre inégalée pour chaque pièce de la maison ou du bâtiment commercial. Style classique ou moderne, pour l'intérieur ou l'extérieur : vous y trouverez tout ce qu'il vous faut.
Le répertoire est divisé en six sections thématiques : Design, Popular, Health Care, Sleep, Office et Bath/Kitchen/Tailor-made.
Nous espérons ainsi être votre guide dans la recherche du meuble ou de l'objet design idéal et des entreprises partenaires parfaites pour vous le fournir.
Merci d'avoir choisi les meubles et le design belges.
5
AP COLLECTION
6 DESIGN
LOVE LIES AT THE HEART OF
THE BEAUTIFUL STORY
In love, sometimes distance is good. Love lies at the heart of the beautiful story of Belgian brand AP COLLECTION. To compensate for the lack of physical hugs and affection, (A)lexis and (P)auline started sending each other all kinds of cuddly toys. Once reunited, Alexis and Pauline, who share the same passion for originality, decided to design furniture with beautiful stuffed animals in a stylish way and with a good dose of glamour. And so AP COLLECTION was born.
AP COLLECTION's unique creations are a tribute to vintage and to innovative design. With the utmost care and respect for animals and the environment, AP COLLECTION designs and manufactures premium chairs, on which endearing stuffed animals with lifelike expressions are mounted one by one. Each of these creations is unique. They evoke tenderness, emotions, poetry and sometimes humour…
AP COLLECTION's chairs can be placed in any decorative environment. Sofas, seats or poufs: let yourself be seduced by these unique creations.
LIEFDE LIGT AAN DE BASIS VAN HET MOOIE VERHAAL
In de liefde is afstand soms goed. Liefde ligt aan de basis van het mooie verhaal van het Belgische merk AP COLLECTION. Om het gebrek aan fysieke knuffels en genegenheid te compenseren begonnen (A)lexis en (P)auline elkaar allerlei knuffels te sturen. Eenmaal herenigd besloten Alexis en Pauline, die dezelfde passie voor originaliteit delen, meubelen te ontwerpen met mooie, opgezette dieren op een stijlvolle manier en met een flinke portie glamour. Zo werd AP COLLECTION geboren.
De unieke creaties van AP COLLECTION zijn een eerbetoon aan vintage en aan innovatief design. Met de grootste zorg en respect voor de dieren en het milieu ontwerpt en vervaardigt AP COLLECTION topstoelen, waarop vertederende opgezette dieren met een levensechte expressie één voor één worden gemonteerd. Elk van deze creaties is uniek. Ze roepen tederheid, emoties, poëzie en soms humor op…
De stoelen van AP COLLECTION kunnen in elke decoratieve omgeving worden geplaatst. Banken, zetels of poefs: laat u verleiden door deze unieke creaties.
L'AMOUR EST AU CŒUR DE CETTE BELLE HISTOIRE
En amour, parfois la distance est bonne. L'amour est au cœur de la belle histoire de la marque belge AP COLLECTION. Pour compenser le manque de câlins physiques et d'affection, (A)lexis et (P)auline ont commencé à s'envoyer toutes sortes animal en peluche. Une fois réunis, Alexis et Pauline, qui partagent la même passion pour l'originalité, ont décidé de créer des meubles avec de belles peluches de manière élégante et avec une bonne dose de glamour. Ainsi, AP COLLECTION est née.
Les créations uniques d'AP COLLECTION sont un hommage au vintage et au design innovant. Avec le plus grand soin et le plus grand respect pour les animaux et l'environnement, AP COLLECTION conçoit et fabrique des chaises haut de gamme, sur lesquelles sont montés un par un des animaux en peluche attachants aux expressions réalistes. Chacune de ces créations est unique. Ils évoquent la tendresse, les émotions, la poésie et parfois l'humour…
Les chaises d'AP COLLECTION peuvent être placées dans n'importe quel environnement décoratif. Canapés, sièges ou poufs : laissez-vous séduire par ces créations uniques.
AP COLLECTION Rue de la croix du Maïeur 18 7110 Strepy-Bracquegnies Belgium T +32487207020 +32474467072 @ info@apcollection.be 7 DESIGN
BULO
8 DESIGN
Since 1963 the Belgian brand Bulo develops and manufactures furniture that enhance the quality of working and living in both your office and home. Bulo offers a wide range of timeless and elegant collections, created by renowned belgian and international architects and designers such as Vincent Van Duysen, Bataille-ibens Léon Stynen. The link to production is nearby: a veneer studio where all the furniture is manufactured as well as customised with skill and love for the profession.
Sinds 1963 creëert het Belgische merk Bulo meubelen die meer bieden dan de invulling van louter functionele en ergonomische behoeften, en die bijdragen tot de kwaliteit van de werken leefomgeving. De eigen ontwerpstudio staat garant voor duurzame producten en inrichtingen. De samenwerking met externe ontwerpers zorgt voor een veelheid aan benaderingen. De link met de fabricage is vlakbij: een fineeratelier waar met kunde en liefde voor het vak alle meubelen worden vervaardigd, ook op maat.
Depuis 1963 le fabricant belge Bulo crée des meubles qui dépassent les aspects fonctionnels et ergonomiques et qui attribuent à la qualité de l'environnement de travail et de votre maison. Avec des collections intemporelles dessinées entre autres par Vincent Van Duysen, Batailleibens, Jean Nouvel, Ann Demeulemeester, Bulo assure une multitude d'approches. Le studio de conception garantit des produits et des aménagements durables.
Bulo nv HQ Blarenberglaan 6 2800 Mechelen T 015 28 28 28 @ info@bulo.be W www.bulo.com 9 DESIGN
CASTLE LINE
10 DESIGN
HOW A BASKET CONQUERED THE WORLD
The story of Castle Line begins with Marc and Claire Vandecasteele who, in 1976, founded a business dealing in woven baskets. Their speciality: import of materials, smart assemblies and export of a finished, refined basket. Marc and Claire very quickly built up a successful international network that extended all the way to the Far East.
The Vandecasteeles knew the market and, with their nose for trends and design, they rapidly expanded the offer and customer base. What began with baskets, and later rattan, is today a comprehensive offer of indoor and outdoor furniture. Vandecasteele was officially renamed Castle Line several years ago, but the philosophy has remained the same. Just as in its early days, the Vandecasteele family wants to create added value. Thus, furniture and interiors with an extra touch, for customers who are looking for stylish quality.
HOE EEN MANDJE DE WERELD VEROVERDE
Het verhaal van Castle Line begint met Marc en Claire Vandecasteele die in 1976 een business in geweven manden uit de grond stampen. Hun specialiteit: import van materialen, slimme assemblages en export van een afgewerkte, veredelde mand. Al snel bouwen Marc en Claire een succesvol internationaal netwerk uit dat reikt tot het verre Azië.
Vandecasteele weet wat er leeft en met hun neus voor trends en design breiden ze het aanbod en klantenbestand verder uit. Wat begint bij manden en later rotan is vandaag een totaalaanbod meubelen voor indoor en outdoor. Sinds enkele jaren is Vandecasteele officieel omgedoopt tot Castle Line maar de filosofie blijft behouden. Net als in haar begindagen wil de familie Vandecasteele toegevoegde waarde creëren. Meubelen en interieurs met een extra touch dus, voor klanten die op zoek zijn naar stijlvolle kwaliteit.
COMMENT UN PANIER A CONQUIS LE MONDE
L'histoire de Castle Line commence avec Marc et Claire Vandecasteele, qui se sont lancés en 1976 dans la commercialisation de paniers tissés. Leur spécialité : l'importation de matériaux, des assemblages intelligents et l'exportation de produits finis et ennoblis. Très vite, Marc et Claire ont créé un réseau international fructueux allant au-delà de l'Extrême-Orient.
Vandecasteele est au courant des derniers développements et son flair pour les tendances et le design lui permet d'élargir son offre et sa clientèle. Après les paniers et le rotin au début, l'entreprise propose aujourd'hui une offre complète de meubles pour l'intérieur et l'extérieur. Il y a quelques années, Vandecasteele a officiellement été rebaptisée Castle Line, mais la philosophie reste la même. Comme autrefois, la famille Vandecasteele souhaite créer une valeur ajoutée. Des meubles et des intérieurs avec une touche en plus donc, pour les clients en quête de qualité et d'élégance.
11 DESIGN
12 DESIGN
Castle line
Ambachtenstraat 47
8870 Izegem - België
T +32 51 30 40 82 M info@castle-line.be
13 DESIGN
CREST
Crest BV Koning Albertlaan 86 9080 Lochristi W www.crest.be 14 DESIGN
Founded in 1985, Crest stands for innovative and high-quality Belgian design.
Our Yumè and Karat collections are fully modular and offer unlimited possibilities to put together your own furniture.
The newly launched Ereganto collection is an extremely sleek and refined range available in both oak and walnut. In a market where the demand for personalised furniture is becoming increasingly important, we also offer 100% customisation.
Our furniture collections offer virtually unlimited possibilities to combine. That is why Crest does not keep any stock,we only produce by order.
Opgericht in 1985 staat Crest voor innovatief en kwaliteitsvol Belgisch design.
Onze Yumè en Karat collecties zijn volledig modulair en bieden ongelimiteerde mogelijkheden om een eigen meubel samen te stellen.
De net gelanceerde Ereganto collectie is een uiterst strak en verfijnd programma verkrijgbaar in zowel eiken als noten. In een markt waarin de vraag naar gepersonaliseerd meubel steeds belangrijker wordt bieden we hier tevens 100% maatwerk aan.
Onze meubelcollecties bieden een quasi onbeperkte mogelijkheid tot combineren. Daarom legt Crest geen voorraad aan, we produceren enkel op bestelling.
Fondée en 1985, Crest est synonyme de design belge innovant et de qualité.
Nos collections Yumè et Karat sont entièrement modulaires et offrent des possibilités illimitées pour assembler vos propres meubles.
La nouvelle collection Ereganto est une gamme extrêmement élégante et raffinée, disponible en chêne et en noyer. Sur un marché où la demande de meubles personnalisés est de plus en plus importante, nous proposons également ici une personnalisation à 100 %.
Nos collections de meubles offrent des possibilités de combinaison pratiquement illimitées. C'est pourquoi Crest ne garde pas de stock, nous ne produisons que sur commande.
15 DESIGN
&DEZ
16 DESIGN
BELGIAN FLAIR, CASUAL FEELING …
&dez. stands for contemporary good design with a casual feel. Cosy, fresh, smart and well thought. Not with a sky-high price tag but affordable. Anyway, our furniture makes memories, sometimes expect otherwise unusual. We challenge you to combine and be surprised ....
&dez. was founded in 2020 by Cedric and Nicolas Willems, two brothers from Flemish town Eeklo. The town, with a rich furniture past, was reawakened by the Belgian design label. Its ambition is to create designer furniture pieces that are not merely beautiful but also cleverly conceived. Always with the same flair and common thread "flemish casual". A mix of northern hip, Flemish warmth and sultry southern touches.
BELGIAN FLAIR, CASUAL FEELING …
&dez. staat voor eigentijds goed design met een casual feeling. Gezellig, fris, smart en goed bedacht. Niet met een torenhoog prijskaartje maar betaalbaar. Hoe dan ook onze meubelen maken herinneringen, soms verwacht anders ongewoon. We dagen je uit om te combineren en je te laten verassen ….
&dez. werd in 2020 opgericht door Cedric en Nicolas Willems, twee broers uit Vlaamse stadje Eeklo. De stad, met een rijk meubel verleden, werd opnieuw wakker geschud door het Belgische design label. De ambitie is om een design meubelstukken te creëren die niet louter mooi zijn maar ook slim zijn bedacht. Telkens met dezelfde flair en rode draad "flemish casual". Een mix van Noordelijk hip, Vlaamse warmte en zwoele zuiderse toetsen.
BELGIAN FLAIR, CASUAL FEELING …
&dez. est synonyme de design contemporain de qualité et d'ambiance décontractée. Confortable, frais, intelligent et bien pensé. Pas avec un prix exorbitant, mais abordable. Quoi qu'il en soit, nos meubles créent des souvenirs, parfois attendus ou inhabituels. Nous vous mettre au défi de combiner et d'être surpris ....
&dez. a été fondée en 2020 par Cedric et Nicolas Willems, deux frères originaires de la ville flamande d'Eeklo. La ville, dont le passé mobilier est riche, a été réveillé par le label de design belge. L'ambition est de créer des meubles design des pièces qui ne sont pas seulement belles mais aussi intelligemment conçues. Toujours avec le même flair et le même fil conducteur "flemish casual". Un mélange de hip nordique, de chaleur flamande et de touches sulfureuses du sud.
&DEZ. Mandeweekgsen 76 9900 Eeklo
+32-9-3774511
info@dez.be
www.andez.be 17 DESIGN
België T
@
W
DÔME DECO
18 DESIGN
Interior label Dôme Deco is specialized in the design and production of cosmopolitan interior collections. Clients are interior architects and the contract market directly working on hotels, restaurants, co-working spaces and residential projects. Additionally, the label is distributed by retailers worldwide. Our concept stores being at the center of it all.
Throughout the years, our team has passionately studied all details of the production process, from the first sketches to the final product. This experience allows us to deliver a complete concept with a strong identity.
At Dôme Deco, we aim to inspire people throughout their personal journey of life. Creating memorable experiences through cosmopolitan interior concepts worldwide.
Interieurlabel Dôme Deco is gespecialiseerd in het ontwerpen en produceren van kosmopolitische interieurcollecties. Klanten zijn interieurarchitecten en de contractmarkt die rechtstreeks werkt aan hotels, restaurants, co-working spaces en residentiële projecten. Daarnaast wordt het label gedistribueerd door retailers wereldwijd. Onze concept stores staan hierbij centraal.
Door de jaren heen heeft ons team gepassioneerd alle details van het productieproces bestudeerd, van de eerste schetsen tot het eindproduct. Deze ervaring stelt ons in staat om een compleet concept te leveren met een sterke identiteit.
Bij Dôme Deco willen we mensen inspireren tijdens hun persoonlijke levensreis. Het creëren van memorabele ervaringen door middel van kosmopolitische interieur concepten wereldwijd.
Le label d'intérieur Dôme Deco est spécialisé dans la création et la production de collections d'intérieur cosmopolites. Les clients sont des architectes d'intérieur et le marché contractuel travaillant directement sur des hôtels, des restaurants, des espaces de travail et des projets résidentiels. En outre, le label est distribué par des détaillants dans le monde entier. Nos concept stores sont au centre de tout.
Au fil des ans, notre équipe a passionnément étudié tous les détails du processus de production, des premières illustrations au produit final. Cette expérience nous permet de livrer un concept complet avec une identité forte.
Chez Dôme Deco, nous avons pour objectif d'inspirer les gens tout au long de leur parcours personnel de vie. En créant des expériences mémorables à travers des concepts d'intérieur cosmopolites dans le monde entier.
Dôme Deco
Meerkensstraat 42
3650 Dilsen-Stokkem
T +32 (0) 89 75 20 77
@ info@domedeco.com
W www.domedeco.com
19 DESIGN
DURLET
20 DESIGN
Since the founding of the family business in 1966, Durlet has established its reputation as a manufacturer of durable, comfortable, design seating furniture. The collection consists of armchairs, sofas, chairs, recliners, benches and separate seating elements.
High-quality textiles and the best leathers are carefully processed with an eye for detail in the workshops in Izegem. Craftsmanship and modern technology go hand in hand, with unparalleled quality, and great flexibility as the end result.
Design for Durlet is not about following fashion or hypes, but is a motive and a business philosophy. Durlet has been working with internationally renowned designers for over 50 years. It consistently succeeds in translating their vision of seating furniture into contemporary, innovative and timeless designs. This resulted in several international nominations and awards. Durlet is also active on the contract market since the 1980s, resulting in cooperations with many well-respected names from the design and architecture world.
Al sinds de oprichting van het familiebedrijf in 1966, verwierf Durlet naam en faam als fabrikant van duurzame, comfortabele, design zitmeubelen. De collectie bestaat uit fauteuils, canapés, stoelen, relaxfauteuils, zitbanken en losse zitelementen.
Hoogwaardig textiel en de beste leersoorten worden zorgvuldig en met oog voor detail verwerkt in de ateliers in Izegem. Vakmanschap en moderne technologie gaan er hand in hand, met ongeëvenaarde kwaliteit, en grote flexibiliteit als eindresultaat.
Design is voor Durlet geen modegril maar een drijfveer en een bedrijfsfilosofie. Durlet werkt al meer dan 50 jaar samen met internationaal gerenommeerde designers uit binnen- en buitenland. Het slaagt er steevast in hun visie op zitmeubilair te vertalen in hedendaagse, innovatieve en tijdloze ontwerpen. Het leverde diverse nominaties en prijzen voor internationale onderscheidingen op. Durlet is ook al sinds de jaren '80 actief in de projectmarkt en werkte met tal van grote namen uit de design- en architectuurwereld.
Depuis sa fondation en 1966 l'entreprise familiale Durlet a acquis une réputation de fabricant de meubles d'assise durables, confortables et design. La collection se compose de fauteuils, canapés, chaises, fauteuils inclinables, tables et tables basses.
Des textiles de haute qualité et les meilleurs cuirs sont traités avec soin et avec le souci du détail dans les ateliers à Izegem. L'artisanat et la technologie moderne y vont de pair, avec une qualité inégalée et une grande flexibilité comme résultat final.
Pour Durlet le design n'est pas une mode mais un motif et une philosophie d'entreprise. Depuis plus de 50 ans Durlet collabore avec des designers de renommée internationale. La société réussit invariablement à traduire leur vision en des designs contemporains, innovants et intemporels. Cela a résulté en divers prix et nominations internationaux.
Durlet est également actif sur le marché des projets depuis déjà les années 80. Des collaborations avec nombreux grands noms du monde de l'architecture et du design en ont émergé.
15
Izegem België
info@durlet.be
www.durlet.com 21 DESIGN
Durlet Werkhuizenstraat
8870
@
W
ETHNICRAFT
22 DESIGN
Established in Antwerp more than 25 years ago, Ethnicraft quickly found its identity. Our collections go back to the essence of what we believe is good design: pieces full of character, made from quality materials that age beautifully. Today we continue to broaden our creative palette, developing and extending a collection that remains true to our character. Centred around aspects of quality and warm materials, alongside form and function, we create collections for every room or space: from the furniture that defines the purpose of an area, to the accessories that layer it with meaning.
Our company's headquarters are situated in Boom, Antwerp and feature a 1200 sqm showroom showcasing collections from furniture to accessories. Open to professionals only, the showroom welcomes retailers and distributors from all over the world, as well as architects in search of inspiration.
Ethnicraft werd meer dan 25 jaar geleden opgericht in Antwerpen, en straalde al snel een duidelijke identiteit uit. Onze collecties gaan terug naar de essentie van wat volgens ons goed design is: karaktervolle stukken, gemaakt van kwaliteitsmaterialen die tijdloos zijn. Tot op heden blijven we ons creatieve palet verbreden en een collectie ontwikkelen en uitbreiden die trouw blijft aan ons karakter. Met kwaliteit en warme materialen als uitgangspunt - naast vorm en functie -, creëren wij collecties voor elke kamer: van de meubelen die de functie van een ruimte bepalen tot de accessoires die er extra diepgang aan geven.
Het hoofdkantoor bevindt zich in Boom en beschikt over een showroom van 1200m² waar een breed assortiment van meubels en accessoires te bezichtigen is. De showroom is alleen toegankelijk voor professionals en verwelkomt retailers en distributeurs van over de hele wereld, evenals architecten die op zoek zijn naar inspiratie.
Fondée il y a un peu plus de 25 ans à Anvers, Ethnicraft a rapidement su se forger sa propre identité. Nos collections renouent avec l'essence de ce qui fait un bon design : des pièces au caractère affirmé, fabriquées à partir de matériaux de qualité qui s'embelliront avec le temps. Depuis, nous n'avons eu de cesse d'élargir notre répertoire créatif pour proposer une offre toujours plus large et diversifiée dans le respect de nos valeurs. Pensés autour de la qualité et des matériaux, autant que la fonction et la forme, nous créons des produits pour tous les espaces : des meubles qui définissent la fonctionnalité d'une pièce, aux accessoires qui la complètent.
Notre siège social est situé à Boom près d'Anvers, où l'on retrouve un showroom de 1200 mètres carrés présentant nos collections de meubles et accessoires. Ouvert aux professionnels, le showroom accueille les revendeurs et les distributeurs du monde entier, mais aussi les architectes en quête d'inspiration.
23 DESIGN
24 DESIGN
ETHNICRAFT
Scheldeweg 5
B-2850 Boom
T +32 (0)3 443 01 00
@ info@ethnicraft.com W www.ethnicraft.com
25 DESIGN
EVOLUTION 21
26 DESIGN
You will find Evolution21 in the Belgian city of Mechelen, located halfway between Brussels and Antwerp. The city has long been established as a centre of artistic significance and has a rich history of textile and furniture making.
In the late 15th century, as the Renaissance swept across Northern Europe, Mechelen became a prosperous and politically significant destination. Craftsmen and patrons from across the continent flocked to the area, benefitting from the robust trade along the River Dyle that flows through the city. This influx of population and skills gave birth to a thriving artistic scene of lace makers, furniture producers and architects.
To this day, Mechelen retains precedence for high-quality craftsmanship and production. Evolution21 is here to continue the story, blending the beauty of the past with modern technologies and design, to create something truly unique for your home.
Evolution21
Wayenborgstraat 24
2800 Mechelen, Belgium
BE - 08 307 976 74
T +32 15 31 33 63
@ info@kb-evolution21.com
W www.kb-evolution21.com
Evolution21 is gebaseerd Mechelen, België, halverwege Brussel en Antwerpen. De stad is al lang gevestigd als een centrum van artistieke betekenis en heeft een rijke geschiedenis van textiel- en meubelproductie.
Op het einde van de 15e eeuw, toen de Renaissance door Noord-Europa raasde, werd Mechelen een welvarende en politiek belangrijke bestemming. Ambachtslieden en opdrachtgevers van over het hele continent stroomden naar het gebied en profiteerden van de robuuste handel langs de rivier de Dijle die door de stad stroomt. Deze toestroom van bevolking en vaardigheden leidde tot een bloeiende artistieke scene van kantwerksters, meubelfabrikanten en architecten.
Mechelen loopt tot op de dag van vandaag voorop in hoogwaardig vakmanschap en productie. Evolution21 is hier om het verhaal voort te zetten, waarbij de schoonheid van het verleden wordt gecombineerd met moderne technologieën en design, om iets echt unieks voor uw huis te creëren.
Vous trouverez Evolution21 dans la ville belge de Malines, située à mi-chemin entre Bruxelles et Anvers. La ville est établie depuis longtemps comme un centre d'importance artistique et possède une riche histoire de fabrication de textiles et de meubles.
À la fin du XVe siècle, alors que la Renaissance balayait l'Europe du Nord, Malines devint une destination prospère et politiquement importante. Des artisans et des mécènes de tout le continent ont afflué dans la région, profitant du commerce robuste le long de la rivière Dyle qui traverse la ville. Cet afflux de population et de compétences a donné naissance à une scène artistique florissante de dentellières, de fabricants de meubles et d'architectes.
À ce jour, Malines conserve la priorité pour l'artisanat et la production de haute qualité. Evolution21 est là pour continuer l'histoire, en mélangeant la beauté du passé avec les technologies et le design modernes, pour créer quelque chose de vraiment unique pour votre maison.
27 DESIGN
EXTREMIS
Extremis
Couthoflaan 20b
B-8972 Poperinge, België
T + 32 57 346020
@ info@extremis.com
W www.extremis.com
COMMITTED TO CONNECT
In a world where design changes in an instant and interactions get reduced to screened messages, Extremis is glad to go against the flow. With one goal in mind – bringing people together – the Belgian company makes timeless designs that lift the word 'furniture'.
Equally exceptional is the design methodology used, where "why" is always the starting point. Each piece merges multifunctionality, necessity, quality, and timeless design, but foremost, each design is something to love for a lifetime and to pass on to next generations: they are tools for togetherness.
Timeless yet brand new
Saying that Extremis creates immortal pieces is not an empty statement. Even after 25 years, Gargantua brings joy to every garden, while the iconic Hopper still shows that a picnic table can be both elegant, clever and playful at once.
With the same strong desire to inspire, Extremis continues to create game-changing designs with a positive impact. Their newest masterpiece, AMAi, adapts to each experience thanks to a flexible tabletop. Dynamically standing or comfortably seated? Just slide the tabletop to your desired height!
Extremis was founded in 1994 by Dirk Wynants, and soon the brand became popular in all corners of the world.
MEUBELS DIE VERBINDEN
In een wereld waar design continu verandert en interacties teruggebracht worden tot online berichtjes, zwemt Extremis graag tegen de stroom in. Met één doel voor ogen – mensen samenbrengen – ontwerpt dit Belgische design merk tijdloze stukken die het woord 'meubel' naar een hoger niveau tillen.
Ook de manier waarop ze hun designs vormgeven is uniek. Elk ontwerp begint namelijk met een eenvoudige vraag: «waarom?». In elk stuk vinden multifunctionaliteit, noodzaak, kwaliteit en tijdloosheid elkaar, en vooral, elk ontwerp is er een waar je je hele leven lang van houdt en dat doorgegeven wordt aan de volgende generaties. Extremis, dat zijn tools for togetherness.
Tijdloos actueel
De meubels van Extremis zijn onsterfelijk – en dat zijn geen holle woorden. Zelfs 25 jaar later zorgt de allereerste designklassieker Gargantua nog steeds voor genot in elke tuin. En dat picknicktafels zowel elegant, speels als slim ontworpen kunnen zijn, bewijst de iconische Hopper.
Extremis wordt gedreven door een sterk verlangen om te inspireren, een verlangen dat hen er keer op keer toe aanzet baanbrekende meubels met een positieve impact te ontwerpen. Hun nieuwste meesterwerk, bijvoorbeeld, de AMAi, past zich aan elke situatie aan dankzij het flexibele tafelblad. Wil je dynamisch rechtstaan? Of toch liever in alle comfort zitten? Geen probleem! Zet het tafelblad gewoon op jouw ideale hoogte.
Extremis werd in 1994 opgericht door Dirk Wynants en werd al snel overal ter wereld een geliefd design merk.
28 DESIGN
L'AMBITION DE CRÉER DES LIENS
Dans un monde où le design change en permanence et où les interactions se réduisent à des messages sur écran, Extremis se fait une joie d'aller à contre-courant. Avec un seul objectif en tête – réunir les gens – l'entreprise belge élabore des designs intemporels qui vont jusqu'à faire oublier le mot « meuble ».
La méthodologie employée pour le design est tout aussi exceptionnelle : le « pourquoi » en constitue toujours le point de départ. Chaque pièce allie multifonctionnalité, nécessité, qualité et intemporalité du design, mais avant tout, chaque design est un ouvrage que l'on aimera pour la vie et que l'on transmettra aux générations futures : ce sont des outils pour la convivialité – nos tools for togetherness.
À la fois intemporel et flambant neuf Dire qu'Extremis crée des pièces immortelles n'est pas une affirmation vide de sens.
Même au bout de 25 ans, Gargantua apporte de la joie dans les jardins, tandis que l'emblématique Hopper continue de montrer qu'une table de pique-nique peut être à la fois élégante, intelligente et ludique.
Avec le même désir impérieux d'inspirer, Extremis continue de créer des designs qui changent la donne et ont un impact positif. Son tout dernier chef-d'œuvre, AMAi, s'adapte à toutes les situations avec son plateau de table modulable. Une discussion dynamique en restant debout ou un déjeuner assis en tout confort ? Il suffit de faire glisser le plateau à la hauteur souhaitée !
Extremis a été fondée en 1994 par Dirk Wynants et la marque est rapidement devenue populaire aux quatre coins du monde.
29 DESIGN
GARDECO
To introduce art and design to a broader audience, that's Gardeco's main objective. By partnering up with the world's most exclusive interior stores, renowned museum shops, art galleries, architects and interior designers, they wish to let people take part in their art. The Belgium-based company was established in September 1999 by Sonja Crevits and Jan Simaey and can be considered an art publisher, specialized in handcrafted decorative design objects.
Each Gardeco-product is manufactured in small family owned studios worldwide who understand the importance of a sustainable and ethical production process. They are made by the hands of skilled craftsmen who use small batch production techniques. Traditional manufacturing methods combined with contemporary experimental approaches result in high quality, one-of-a-kindproducts that meet any aesthetical and technical requirement. Each studio is since many years specialized in their craft, being the production of objects in ceramics, bronze, glass or even soapstone.
30 DESIGN
Gardeco Objects is een Belgisch bedrijf dat actief is vanuit Zedelgem en in september 1999 werd opgericht door Sonja Crevits en Jan Simaey. Naar eigen zeggen worden ze best beschouwd als een kunstuitgever met een specialisatie in kunst en designobjecten. De primaire drijfveer achter de opstart van het bedrijf was het verlangen om kunst en design tot bij een breder publiek te brengen. Door samenwerkingen aan te gaan met exclusieve interieurwinkels, vooraanstaande museumshops, kunstgalerijen, architecten en interieurontwerpers, trachten ze mensen te betrekken in hun artistiek universum.
Het concept van Gardeco Objects grijpt steeds terug naar vakmanschap. De studio zet zich onverbiddelijk in voor het garanderen van exclusieve en verfijnde stukken. Het merendeel van de collecties die het bedrijf samenbrengt, is afkomstig uit ambachtelijke familiestudio's van over de hele wereld. De collecties die bij Gardeco Objects verzameld worden, combineren traditie met moderniteit. Steeds opnieuw is authenticiteit de gezamenlijke factor tussen de stukken en stelt Gardeco Objects hun collecties samen op basis van het technische karakter en de esthetische identiteit van de werken. De materialen van de collecties omvatten onder andere keramiek, brons, glas, papierstof en natuurlijke steen.
Gardeco est une société belge créée en septembre 1999 par Sonja Crevits et Jan Simaey. Elle peut être considérée comme un éditeur d'art qui travaille avec des designers et artistes renommés des quatre coins du monde. Rendre l'art accessible à un public plus large, voilà l'objectif principal de Gardeco.
Ses objets d'art et de design sont présentés dans des boutiques d'intérieur les plus exclusives, des boutiques de musées renommés comme le Guggenheim à New York, des galeries d'art… . L'entreprise se porte garante non seulement de la créativité artistique, mais aussi de la durabilité et du bienêtre des communautés en soutenant des projets locaux.
Gardeco Objects
Molendamstraat 12
8210 Zedelgem, België
T +32 50 82 77 62
M info@gardeco.eu
31 DESIGN
GOMMAIRE
32 DESIGN
GOMMAIRE brings you a timeless collection of interior and exterior furniture, as well as a wide range of decorative items. Our signature organic accent can be found in all our designs and materials. It will add a specific touch to any setting, from traditional to contemporary design. We offer a wide range of indoor and outdoor furniture made of solid teak and oak, upholstered chairs and sofas, handwoven baskets and chairs. On top of that, there is a selection of glassware, lighting fixtures and ceramic objects that complete the collection. Visit our showroom in Antwerp and experience our Organic Living concept yourself - for professionals only.
GOMMAIRE staat voor een tijdloze collectie van binnen- en buitenmeubelen, met daarbovenop een aanbod aan woondecoratie. Ons kenmerkende, organische accent kan in al onze designs en materialen worden teruggevonden. Het geeft een unieke uitstraling aan zowel een traditionele als hedendaagse inrichting. Onze collectie bestaat uit een groot assortiment aan massief houten meubelen, gestoffeerde zetels en sofa's, handgeweven manden en stoelen. Een uitgebreide selectie aan glaswerk, verlichting en keramieken objecten vervolledigen de collectie. Bezoek onze showroom in Antwerpen en dompel jezelf onder in ons Organic Living concept – enkel voor professionele klanten.
GOMMAIRE vous propose une collection intemporelle de meubles d'intérieur et d'extérieur, complétée par une large gamme d'articles de décoration. L'accent organique, se retrouve dans tous nos designs et matériaux. Il apportera un aspect unique à peu importe quel cadre, allant du design traditionnel au design contemporain. Nous proposons une large gamme de meubles en bois massif, de sièges et canapés rembourrés, de paniers et chaises tressés à la main. Une large sélection de verrerie, de luminaires et d'objets en céramique complète la collection. Visitez notre salle d'exposition à Anvers et découvrez par vous-même notre concept de vie organique - réservé aux professionnels.
33 DESIGN
34 DESIGN
T
Gommaire Schijnpoortweg 123 2170 Antwerp Belgium
35 DESIGN
+32 3 288 19 40 @ info@gommaire.com W www.gommaire.com
HEATSAIL
Established in 2012, we implemented our Belgian craftsmanship in the fullest sense of the word, as a true way of life. It is about fully engaging our heads, hands and hearts in our work. These principles of engagement produce objects that are functional and beautiful, whilst also making for a sustainable lifestyle. Our DOME, DISC and  GLOW collections are real furniture pieces not only providing you with a warm glowing light, but also give you that extra bit of warmth on a chilly day or evening. Our BEEM collection are unique solutions for open or covered areas. They provide a combination of lighting, heating and misting with lengths up to 5.2 meters. Providing needed shade is what our LEAF collection does best – supplying protection from the sun and rain, it heats, cools and enlights with undeniable style. The elegant leaf-shaped design of this future-proof solution allows it to blend harmoniously into its surroundings. All our products create a sense of exclusivity in a relaxed and enjoyable outdoor environment.
"Sinds onze oprichting in 2012 werken we met hart en ziel aan onze creaties. Onze terrasverwarming is op en top Belgisch en dat uit zich in hoge kwaliteit en duurzaamheid. Deze principes van betrokkenheid produceren objecten die functioneel en mooi zijn, terwijl ze ook zorgen voor een duurzame levensstijl. Onze producten staan voor luxe, elegantie en exclusiviteit. Ze zijn een blikvanger voor elke aangelegenheid – of het nu privé of professioneel is. Met onze DOME, DISC, BEEM en GLOW collecties kunt u bij elke temperatuur van uw mooiste momenten genieten. Het bieden van de nodige schaduw is wat onze LEAF collectie het beste doet – het biedt bescherming tegen de regen en de zon, het verwarmt, verkoelt en verlicht met een onmiskenbare stijl. Het elegante blad-vormige ontwerp van deze toekomstbestendige oplossing gaat harmonieus op in zijn omgeving. Ons design is daarmee de finishing touch voor uw terrasinrichting en geeft een gevoel van exclusiviteit in een ontspannen en plezierige buitenomgeving."
"Depuis notre fondation en 2012, nous travaillons sur nos créations avec cœur et âme. Notre chauffage de terrasse est entièrement belge et cela se reflète dans la qualité et la durabilité. Ces principes d'implication produisent des objets fonctionnels et beaux, tout en assurant un mode de vie durable. Nos produits sont synonymes de luxe, d'élégance et d'exclusivité. Ils attirent le regard en toute occasion, qu'ils soient privés ou professionnels. Avec nos collections DOME, DISC, BEEM et GLOW, vous pouvez profiter de votre plus beau moment à n'importe quelle température. Fournir l'ombre nécessaire est ce que notre collection LEAF fait de mieux – fournissant une protection contre le soleil et la pluie, il chauffe, refroidit et illumine avec un style indéniable. La conception élégante en forme de feuille de cette solution évolutive lui permet de fusionner harmonieusement dans son environnement. Notre design est donc la touche finale pour la conception de votre terrasse et donne une sensation d'exclusivité dans un environnement extérieur détendu et agréable."
36 DESIGN
Heatsail NV Prins Boudewijnlaan 7, A08 2550 Kontich (Antwerpen) Belgium T +32 (0)3 502 99 88 @ sales@heatsail.com W heatsail.com 37 DESIGN
HEERENHUIS
38 DESIGN
Het Heerenhuis Antwerpen NV Van Praetstraat 140 2660 Antwerpen (Hoboken) Belgium T +32 3 238 66 03 @ info@heerenhuis.be W www.heerenhuis.be
39 DESIGN
"WE MAKE TABLES. THAT'S WHAT WE DO."
INDERA
Indera
Vilvertstraat 1
BE - 3650 Dilsen
T +32 89 79 82 98
@ made@indera.be
W www.indera.be
MODULARITY & PERSONALITY
With Indera, the focus will always be on the users and their habits, in the design as well as in the development and production of our ultra-modular sofa's. Through intense and inspiring cooperation with well-known designers surprising modular mechanisms are being developed. This extensive flexibility offers freedom to the user, as you can make up your own perfect and unique sofa.
OUR FURNITURE IS MADE WITH LOVE SO FALL IN LOVE WITH IT
Our sofa's combine strong design with solid seat comfort of the highest standard. The passion and craftsmanship are passed from generation to generation. INDERA is part of the Mecam-group, a Belgian family business that manufactures for more than 40 years upholstered furniture of the highest standard in Dilsen-Stokkem (Belgium). By doing this, we create beautiful and also long-lasting furniture for your living room. Contemporary furniture that grows with you and your family.
40 DESIGN
MODULARITEIT & PERSOONLIJKHEID
Indera-sofa's combineren sterk design met uiterst hoogstaand zitcomfort. Door een inspirerende samenwerking met designers uit binnen- en buitenland worden verrassende modulaire mechanismes ontwikkeld. Ze laten vrij spel aan de gebruiker die zelf zijn/haar perfecte sofa kan samenstellen.
LIEFDE
Het vakmanschap in de productie van sofa's en de liefde voor het vak wordt bij INDERA van generatie op generatie doorgegeven. INDERA is onderdeel van de Mecam-group, een Belgisch familiebedrijf dat al meer dan 40 jaar hoogwaardig zitmeubilair produceert in DilsenStokkem (België). De meest ervaren meubelbouwers maken gebruik van handwerktechnieken en houtbewerking waarbij alleen de beste materialen worden gebruikt. Al de stof- en lederkwaliteiten worden intern nagetest op lichtechtheid, pilling en slijtweerstand. Er worden geen compromissen gesloten op het vlak van comfort en kwaliteit.
MODULARITÉ & PERSONNALITÉ
Les canapés Indera associent un design solide à un confort d'assise extrêmement élevé. Grâce à une collaboration inspirante avec des designers nationaux et étrangers, des mécanismes modulaires surprenants sont développés. Ils permettent de jouer librement à l'utilisateur qui peut composer son canapé parfait.
AMOUR
L'artisanat dans la production de canapés et l'amour pour le métier est transmis à INDERA de génération en génération. INDERA fait partie du groupe Mecam, une entreprise familiale belge qui produit des sièges de haute qualité à Dilsen-Stokkem (Belgique) depuis plus de 40 ans. Les constructeurs de meubles les plus expérimentés utilisent des techniques artisanales et le travail du bois en utilisant uniquement les meilleurs matériaux. Toutes les qualités de tissu et de cuir sont testées en interne pour la résistance à la lumière, le boulochage et l'abrasion. Aucun compromis n'est fait en termes de confort et de qualité.
41 DESIGN
JOLI
42 DESIGN
Since its foundation in 1996, quality has been at the core for Joli. This is reflected not only in the tables, which are suitable for both indoor and outdoor use because of their choice of materials. But also in the other high-quality furniture, such as chairs, loungers, cabinets and accessories. Thanks to its durability, the furniture is more than just an object. It becomes the place where lifelong experiences are created. Both indoors and outdoors.
Joli manufactures furniture that meets current material and stability standards, all aligning with the newest design trends.
Furthermore, we also offer customization upon request. Thanks to a wide range of finishes in various styles, a great eye for detail and an ear for the latest developments in the market, Joli succeeds in offering designs that are both timelessly modern and trendy.
Sinds de oprichting in 1996 staat kwaliteit centraal bij Joli. Dit komt niet alleen tot uiting in de tafels, die omwille van hun materiaalkeuze geschikt zijn voor zowel binnen- als buitengebruik. Maar ook in de andere hoogwaardige meubels, zoals stoelen, loungers, kasten en accessoires. Dankzij de duurzaamheid zijn de meubels meer dan een object. Het wordt de plek waar levenslange ervaringen gecreëerd worden. Zowel binnen als buiten.
Joli vervaardigt meubilair dat voldoet aan de huidige materiaal- en stabiliteitsnormen, geheel in lijn met de nieuwste designtrends.
Bovendien bieden we op verzoek ook maatwerk. Dankzij een brede waaier aan afwerkingen in diverse stijlen, veel oog voor detail en oor voor de laatste ontwikkelingen in de markt slaagt Joli erin ontwerpen aan te bieden die zowel tijdloos modern als trendy zijn.
Depuis sa création en 1996, la qualité est au cœur de Joli. Cela se reflète non seulement dans les tables, qui conviennent aussi bien à l'intérieur qu'à l'extérieur grâce au choix des matériaux. Mais aussi dans les autres meubles de haute qualité, comme les chaises, les chaises longues, les armoires et les accessoires. Grâce à sa durabilité, le meuble est plus qu'un simple objet. Il devient le lieu où se créent les expériences de toute une vie. Tant à l'intérieur qu'à l'extérieur.
Joli fabrique des meubles qui répondent aux normes actuelles en matière de matériaux et de stabilité, en parfaite adéquation avec les dernières tendances du design.
En outre, nous proposons également des meubles sur mesure sur demande. Grâce à une large gamme de finitions dans différents styles, un grand sens du détail et une oreille attentive aux dernières évolutions du marché, Joli réussit à proposer des designs à la fois intemporels, modernes et tendance.
Joli Industrielaan 5
B-8520 Kuurne, België
T +32 (0)56 37 27 16
@ info@joli.be
W www.jolie.be
43 DESIGN
JORI
44 DESIGN
JORI works with international designers to create ergonomic, personalised sofas and reclining chairs, manufacturing them with the greatest care in its Belgian workshops. This traditional craftsmanship and the use of materials of the very highest quality guarantee the sublime finish and long service life of every item of JORI furniture. These key ingredients have been at the heart of JORI's success for 60 years, offering all customers unparalleled seating comfort, each and every day: designed for dynamic seating.
JORI creëert, samen met internationale designers, ergonomische, gepersonaliseerde zitmeubelen en vervaardigt deze met de grootste zorg in zijn Belgische ateliers. Het traditionele vakmanschap en de hoogwaardige materialen garanderen de sublieme afwerking en de lange levensduur van elke JORI sofa of relax. Ze vormen reeds 60 jaar het JORI-succes en schenken elke klant, elke dag, ongeëvenaard zitcomfort: designed for dynamic seating.
JORI crée des sièges ergonomiques et personnalisés en collaboration avec des designers internationaux, et les fabrique avec un savoir-faire dévoué dans ses ateliers belges. Artisanat traditionnel et matériaux de haute qualité garantissent la finition irréprochable et la longue durée de vie de chaque canapé ou relax JORI. Des sièges qui font le succès de JORI depuis 60 ans et qui offrent chaque jour, à chaque client, un confort d'assise inégalé: designed for dynamic seating.
JORI
Hoogweg 52
B-8940 Wervik
T +32 (0) 56 31 35 01
@ jori@jori.com
W www.jori.com
45 DESIGN
LEDA
46 DESIGN
LEDA Collection is a leading belgian manufacturer of timeless qualitative seating furniture. Since 1978 LEDA Collection has been producing customized timeless top quality furniture at an excellent price/quality rate.
The Collection consists of contemporary seats & sofas with a large assortment of high end fabrics. Most of the collection is available custom made and every piece of furniture is made to order. We choose for maximum quality control with great flexibility and that is why we keep our manufacturing partially in Belgium. Our mix of passion, craftsmanship, quality and focused service is your ultimate guarantee for an exceptional product. Our customers like us and trust us. That is why they buy from us.
LEDA Collection is een toonaangevende Belgische fabrikant van kwalitatief zitmeubilair en produceert reeds sinds 1978 Belgische kwaliteitsvolle en op maat configureerbare zitmeubelen.
De collectie bestaat uit zitmeubelen die tijdloos zijn, hoogkwalitatief en een uitstekend comfort bieden. De meeste modellen uit de collectie zijn bovendien op maat verkrijgbaar. Door onze Belgische productie kiezen wij voor optimale kwaliteitscontrole en een grote flexibiliteit. Onze missie is om zitmeubelen te ontwikkelen die tijdloos zijn, hoogkwalitatief en een uitstekend comfort bieden. Wij zijn fier op onze producten en willen het zo te houden: daar zorgt onze mix van passie, vakmanschap, kwaliteit en alerte service voor.
LEDA Collection est un fabricant belge de meubles d'assise d'un style intemporel. Depuis 1978, LEDA Collection fabrique des meubles sur-mesure de grande qualité et d'un excellent rapport qualité/prix
La collection consiste de meubles contemporains avec une large gamme de tissus de haute qualité. La plupart des meubles sont en outre disponibles sur mesure. Nous avons choisi d'opérer un contrôle de qualité maximal et d'assurer une grande flexibilité. C'est pour cela que nous préférons continuer à fabriquer nos produits partiellement en Belgique. Notre passion, conjuguée à notre savoir-faire, au souci de qualité et à un service personnalisé vous garantissent un produit exceptionnel. La satisfaction et la confiance de nos clients en sont la preuve.
LEDA NV
Beekstraat 9
BE – 8820 Torhout
T +32 (0)50 32 01 41
@ info@ledacollection.be
W www.ledacollection.be
47 DESIGN
MATHY BY BOLS
CREATE YOURS
Eco design and circularity: our furniture is :
- designed to meet users' needs
- evolving to grow with the child
- with a unique and original design
- customizable, many possibilities of custom-made
- pre-assembled in the workshop and easy to assemble
- actually made in Belgium
- strong and durable to know several lives
- low environmental impact: PEFC, water-based varnish, etc.
TEKEN DIE UWE
Ecodesign en circulariteit: onze meubels zijn :
- ontworpen om aan de behoeften van de gebruiker te voldoen
- schaalbaar om met het kind mee te groeien
- met een uniek en origineel design
- aanpasbaar, veel mogelijkheden op maat
- voorgemonteerd op fabriek en gemakkelijk te monteren
- echt in België gemaakt
- sterk en duurzaam om meerdere levens te kennen
- lage milieu-impact: PEFC, lak op waterbasis, enz.
create your desk
CRÉER LE VÔTRE
Eco design et circularité : nos meubles sont :
- étudiés pour répondre aux besoins des utilisateurs
- évolutifs pour grandir avec l'enfant
- avec un design unique et original
- personnalisables, nombreuses possibilités de sur mesures
- pré-assemblés en atelier et faciles à monter
- réellement fabriqués en Belgique
- solides et durables pour connaître plusieurs vies
- à faible impact environnemental : PEFC, vernis à base d'eau,…
48 DESIGN
Mathy by Bols sa Chaussée de Roly, 26, 5660 Mariembourg, België
T +32 (0) 60.31.30.30
@ info@mathy-by-bols.be W www.mathy-by-bols.be
create your treehouse 49 DESIGN
MOBITEC
50 DESIGN
Based in Eupen, Mobitec is a brand of high-quality chairs and tables. Its speciality? Ultra-customisable models that can be adapted to match your interior, your style and your personality. Every year, Mobitec's designers create new collections in line with the latest trends in the world of interior design. A wide range of customisation options is available for each model.
MADE-TO-MEASURE PRODUCTION
There are so many possible variations that Mobitec does not keep a stock of models, but produces them on request. To help you make your choice, Mobitec has developed an online configurator that can be accessed on its website.
HIGH QUALITY IN EVERY RESPECT
Mobitec distinguishes itself by its manufacturing quality. Raw materials are selected with meticulous attention to their quality and environmental impact.
Mobitec, gevestigd in Eupen, is een kwaliteitsmerk van stoelen en tafels. Specialiteit? Uiterst personaliseerbare modellen die matchen met uw interieur, stijl en persoonlijkheid. Elk jaar creëren de Mobitecdesigners nieuwe collecties in lijn met de laatste trends. Voor elk model is een brede waaier aan personalisatiemogelijkheden beschikbaar.
PRODUCTIE OP MAAT
Er zijn zoveel mogelijke combinaties dat Mobitec geen stock aanlegt. Ze vervaardigen enkel op bestelling. Een online configurator op de website van Mobitec helpt u bij het kiezen.
TOPKWALITEIT OP ELK NIVEAU
Mobitec onderscheidt zich ook door zijn productiekwaliteit. Grondstoffen worden zorgvuldig geselecteerd met aandacht voor hun kwaliteit en impact op het milieu.
Basée à Eupen, Mobitec est une marque de chaises et de tables de haute qualité. Sa spécialité ? Des modèles ultrapersonnalisables, adaptables à votre intérieur, à votre style et à votre personnalité. Chaque année, les designers de Mobitec imaginent de nouvelles collections en lien avec les dernières tendances. Pour chaque modèle, une large palette d'options de personnalisation vous est proposée.
PRODUCTION SUR MESURE
Les variations possibles sont tellement nombreuses que Mobitec ne constitue pas de stock mais fabrique les modèles à la demande. Pour vous aider à faire votre choix, Mobitec a mis au point un configurateur en ligne accessible sur son site internet.
HAUTE QUALITÉ À
TOUS LES NIVEAUX
Par ailleurs, Mobitec se distingue par sa qualité de fabrication. Les matières premières sont choisies avec une attention méticuleuse sur leur qualité et leur impact environnemental.
mobitec Stockbergerweg 11 B-4700 EUPEN T +32 (0) 87 59 69 69 F +32 (0) 87 55 37 08 @ info@mobitec.be W www.mobitec.be 51 DESIGN
MOOME
COMPACT AND AFFORDABLE BELGIAN DESIGN
MOOME stands for compact and affordable contemporary design and offers both high quality design furniture and functional home accessories. MOOME targets a self-aware audience and offers high quality, quirky but timeless design. MOOME works with talented designer from Belgian and abroad and chooses both established names and young talents. The MOOME-collection is anything but mainstream and offers durable, flexible furniture and multifunctional home decoration that can be easily moved. A must for a practical modern-day interior! MOOME doesn't compromise on comfort or quality in the production facility in Dilsen-Stokkem, Belgium.
COMPACT EN BETAALBAAR BELGISCH DESIGN
MOOME staat voor compact en betaalbaar hedendaags design en brengt naast kwalitatief designmeubilair ook functionele interieuraccessoires. MOOME richt zich tot een eigenwijs publiek en biedt hoge kwaliteit in combinatie met een eigenzinnige maar tijdloze vormgeving. Voor haar collectie meubels en accessoires werkt MOOME samen met getalenteerde designers uit binnen- en buitenland en kiest daarbij zowel voor gevestigde namen als voor jong talent. De MOOME-collectie is allesbehalve mainstream en biedt duurzaam, flexibel meubilair en multifunctionele woonaccessoires die je makkelijk kan verplaatsen. Een must in een praktisch hedendaags interieur! In de fabriek (in DilsenStokkem, België) worden geen compromissen gesloten op het vlak van comfort en kwaliteit.
COMPACT ET ABORDABLE DESIGN BELGE
MOOME est synonyme de design contemporain compact et abordable et, en plus, de meubles design de haute qualité, propose également des accessoires d'intérieur fonctionnels. S'adresse MOOME à un public exentrique et offre une haute qualité en combinaison avec un design original mais intemporel. MOOME s'associe pour sa collection de meubles et accessoires avec des designers talentueux du pays et de l'étranger, en choisissant aussi bien des noms établis que de jeunes talents. La collection MOOME est tout sauf mainstream et propose des meubles durables et flexibles et des accessoires de maison multifonctionnels que vous pouvez facilement déplacer. Un must dans un intérieur contemporain pratique ! Dans l'usine (à DilsenStokkem, Belgique) aucun compromis n'est fait en termes de confort et de qualité.
52 DESIGN
MOOME
Vilvertstraat 11
B-3650 Dilsen-Stokkem
T +32 (0) 89 79 82 98 @ made@moome.be W www.moome.be
53 DESIGN
MUUZE BY GERLIN
MUUSZE by Gerlin
Zeemeeuwstraat 27
8480 Ichtegem
T +32 (0) 50 22 14 48
@ info@gerlin.be
Export:
Kristof Hindryckx
54 DESIGN
As a Belgian family business, the sofa manufacturer Gerlin has grown into a strong international player over the past 40 years and it now has multiple production facilities in Europe. In 2017, Gerlin introduced the MUUSZE collection at the furniture fair in Brussels. In the meantime, this collection has been greatly expanded. The brand image is fashionable, sophisticated and international in character and is distinguished by an excellent price-quality balance. Complete integration of the production process makes this possible. The possibilities within the collections are endless. The luxurious fabric and leather collection ranges from warm velvet, beautiful bouclés to vintage leather. The aim is to use creative styling, with self-invented combinations that are supported at the point of sale with the necessary marketing tools.
Bankstellenfabrikant Gerlin is als Belgisch familiebedrijf de laatste 40 jaar uitgegroeid tot een sterke internationale speler met meerdere productievestigingen in Europa. In 2017 introduceerde Gerlin op de Meubelbeurs in Brussel de collectie MUUSZE. Deze werd ondertussen sterk uitgebreid. Het imago is modieus, hoogwaardig en internationaal en kenmerkt zich door een uitstekende prijskwaliteitverhouding. Een volledige integratie van het productieproces maakt dit mogelijk. De mogelijkheden binnen de collecties zijn eindeloos. De luxueuze stof- en leercollectie varieert van warme velvets, mooie bouclés tot vintageleder. De bedoeling is om creatief te stylen, met zelfbedachte combinaties die in de verkooppunten met de nodige marketingtools ondersteunt worden.
Gerlin, le fabricant de canapés et entreprise familial renommée, est devenu, au cours des 40 dernières années un acteur international important avec plusieurs sites de production en Europe. En 2017, Gerlin a présenté au Salon du Meuble de Bruxelles, la nouvelle collection Muusze. Depuis la collection s'est considérablement enrichie. L'image est à la mode, de haute qualité, internationale et caractérisée par un excellent rapport qualité-prix. Cela est rendu possible par l'intégration complète du processus de production. Les possibilités offertes par cette collection sont infinies. La luxueuse collection de tissus comprend des velours chaud, de magnifiques bouclés et des cuirs vintage. L'idée est d'adopter un style créatif, avec des combinaisons conçues soi-même et soutenues dans les points de vente par les outils marketing nécessaires.
55 DESIGN
PASSE-PARTOUT
56 DESIGN
LIFE IS WHAT YOU MAKE OF IT
...But if you can do that with a lot of passion, with only positive energy and surrounded by things that make you happy, then you are fully following the philosophy of Passe Partout. With their Home Stories collection, a passionate team of furniture makers brings you a particularly charming selection. Many a retailer in Belgium, the Netherlands and beyond has been captivated by their strength and has even chosen for that unique atmosphere in their own shop concept. Sofas, armchairs, chairs, tables, but also carpets, poufs and other accessories find their way to happy customers. And that is exactly what team Passe Partout does it for!
HET LEVEN IS WAT JE ER VAN MAAKT
…Maar als dat kan met heel veel passie, met alleen maar positieve energie en omringd met spullen waar je blij van wordt, dan volg jij helemaal de filosofie van Passe Partout. Met hun Home Stories collectie brengt een gepassioneerd team van meubelmakers een bijzonder sfeervol aanbod. Menig winkelier in België, Nederland en daarbuiten is gebeten door hun kracht en kiest zelfs voor die unieke sfeer in hun eigen winkelconcept. Zitbanken, fauteuils, stoelen, tafels, maar ook tapijten, poefs en andere accessoires vinden zo hun weg naar blije klanten. En dat is nu net waar team Passe Partout het voor doet!
LA VIE EST CE QUE VOUS EN FAITES
...Mais si vous pouvez le faire avec beaucoup de passion, avec seulement de l'énergie positive et entouré de choses qui vous rendent heureux, alors vous suivez pleinement la philosophie de Passe Partout. Avec leur collection Home Stories, une équipe passionnée de fabricants de meubles vous propose une gamme particulièrement élégante. De nombreux détaillants en Belgique, aux Pays-Bas et au-delà ont été séduits par leur force et ont même choisi d'intégrer cette atmosphère unique dans leur propre concept de vente. Canapés, fauteuils, chaises, tables, mais aussi tapis, poufs et autres accessoires trouvent leur chemin vers des clients heureux. Et c'est exactement ce que fait l'équipe de Passe Partout !
57 DESIGN
58 DESIGN
PASSE-PARTOUT
Wilfordkaai 10 b/c
B-9140 Temse
T +32 (0) 38 89 20 68
@ info@passepartoutnv.be
W www.passepartoutnv.be
59 DESIGN
PER/USE
60 DESIGN
We are a Belgian brand that offers high-end functional design objects, created by international designers. In a world dominated by mass production and consumption, an object becomes more desirable when it is made with craftsmanship and love.
The complete PER/USE collection is produced in Europe, guaranteeing the high quality of materials used. With respect for the environment and according to high social and sustainability standards. PER/USE stands for long-lasting pleasure by contemporary classics.
Wij zijn een Belgisch merk dat high-end functionele design objecten aanbiedt, gemaakt door internationale ontwerpers. In een wereld die gedomineerd wordt door massaproductie en consumptie, wordt een object aantrekkelijker als het met vakmanschap en liefde is gemaakt.
De volledige PER/USE collectie wordt geproduceerd in Europa, waardoor de hoge kwaliteit van de gebruikte materialen wordt gegarandeerd. Met respect voor het milieu en volgens hoge sociale en duurzaamheidsnormen. PER/USE staat voor langdurig plezier door eigentijdse klassiekers.
Nous sommes une marque belge qui propose des objets design fonctionnels haut de gamme, créés par des designers internationaux. Dans un monde dominé par la production et la consommation de masse, un objet devient plus désirable lorsqu'il est fabriqué de manière artisanale et avec amour.
L'ensemble de la collection PER/USE est produite en Europe, garantissant ainsi la haute qualité des matériaux utilisés. Dans le respect de l'environnement et selon des normes sociales et de durabilité élevées. PER/USE est synonyme de plaisir durable grâce à des classiques contemporains.
Per/Use
Industrielaan 5
B-8520 Kuurne, België
T +32 (0)56 37 27 16
@ info@peruse.be
W www.peruse.be
61 DESIGN
PR LIVING
62 DESIGN
PR LIVING
DESIGNS AND PRODUCES
CONTEMPORARY FURNITURE WITH A FOCUS ON THE RETAIL & HOSPITALITY MARKET.
Today we export our furniture to more than 50 countries. Our head office is located in Belgium with production entities located in Europe, America and Asia.
PR LIVING ONTWERPT EN PRODUCEERT HEDENDAAGS MEUBILAR MET FOCUS OP DE RETAIL & HOSPITALITY MARKT.
Vandaag exporteren we onze meubels naar meer dan 50 landen. Ons hoofdkantoor bevindt zich in België, onze productie entiteiten zijn gevestigd in Europa, Amerika en Azie.
PR LIVING PRODUIT DES MEUBLES CONTEMPORAINS SUR LE MARCHÉ DE L'HÔTELLERIE ET DÉTAIL.
Aujourd'hui, nous exportons nos meubles dans plus de 50 pays. Notre siège social est situé en Belgique, nos entités de production sont situées en Europe, en Amérique et en Asie. PR
T
Living
www.pr-living.com
info@pr-living.com
+32 56 62 51 90  63 DESIGN
Vijfseweg 84 8790 Waregem, Belgium W
@
ROOLF LIVING
UNIQUE TEXTILE STRUCTURE
Indoor rugs, outdoor rugs and an extensive range of high-quality pouffes. The Dotty collection has only been on the market for five years and already in the first year, the company was awarded for a German Red Dot Award. Thanks to the 100% thin-spun and UV-stabilised polypropylene, our fabrics are highly resistant to the sun and the rain. The fibres we use are also unique because they are multi-coloured, which gives that little extra effect. We strive to make our products look great!
UNIEKE TEXTIELSTRUCTUUR
Indoor tapijten, outdoor tapijten en een ruim gamma aan kwalitatieve poefs. Pas vijf jaar is de Dotty collectie op de markt en reeds in het eerste jaar werd het bedrijf met een Duitse Red Dot Award bekroond. Dankzij het100% dun gesponnen en UVgestabiliseerd polypropyleen zijn alle stoffen bestand tegen de zon én de regen. Er wordt gebruik gemaakt van unieke multicolored garens, wat net dat beetje extra effect geeft. Dé streling voor het oog, daar streeft men bij Roolf Living naar!
STRUCTURE TEXTILE UNIQUE
Tapis d'intérieur, tapis d'extérieur et une large gamme de poufs de qualité. Cela ne fait que cinq ans que la collection Dotty est sur le marché, et l'entreprise a reçu un Red Dot Award allemand dès la première année. Tous les tissus sont résistants au soleil et à la pluie grâce au polypropylène finement filé et stabilisé aux UV à 100 %. Nous utilisons des fils multicolores uniques, qui donnent ce petit effet supplémentaire. Chez Roolf Living, nous cherchons à vous offrir un régal pour les yeux !
64 DESIGN
Dotty
This year, we are presenting our new Silky collection. A totally different concept, but still with the same basis. With the Silky collection, we want to make a significant upgrade by introducing a silk-look fabric that has a much softer feel. We also work with the noble English stitching in the finishing and the seats are provided with an inner pocket that makes the covers removable. A treat for the eye and a great added value for terrace or interior.
Dit jaar pakken we uit met onze nieuwe collectie Silky. Een totaal ander concept, doch nog altijd met dezelfde basis. Met de Silky collectie willen we een beduidende upgrade maken door het introduceren van een zijde-look stof die een veel zachter gevoel heeft. Ook bij de afwerking werken we met de edele Engelse stikking en zijn de zitmeubelen voorzien van een binnenzak waardoor de hoezen afneembaar worden zijn. Een streling voor het oog en een grote meerwaarde voor terras of interieur.
Cette année, nous présentons notre nouvelle collection Silky. Un concept totalement différent, mais toujours avec la même base. Avec la collection Silky, nous voulons apporter une amélioration significative en introduisant un tissu à l'aspect de la soie qui a un toucher beaucoup plus doux. Nous travaillons également avec les nobles coutures anglaises dans la finition et les sièges sont pourvus d'une poche intérieure qui rend les housses amovibles. Un plaisir pour les yeux et une grande valeur ajoutée pour la terrasse ou l'intérieur
ROOLF-LIVING
Wantestraat 16
8780 Oostrozebeke, België
BE-0423 832 887
T +32 56 66 94 61
@ info@roolf-living.com
W www.roolf-living.com roolfliving_original
65 DESIGN
Silky
ROYAL BOTANIA
66 DESIGN
Royal Botania designs and produces iconic, luxury outdoor furniture and lighting, for discerning clientele. Sleek, striking collections, both stylish and sustainable, for patios, poolsides, gardens and homes, using only the highest quality materials combined with top craftsmanship.
Each Royal Botania design is based on three key elements: aesthetics, ergonomics, and engineering. They determine the DNA of every single concept of our trendsetting design. Blending these ingredients together, while fine-tuning their balance, is our basic recipe to produce the best in outdoor furniture design.
With this formula and an eye for detail, the in-house design team, led by founder Kris Van Puyvelde, has earned international appreciation and won multiple design awards on both sides of the Atlantic.
Royal Botania ontwerpt iconische luxe buitenmeubels voor cosmopolitans met een passie voor finesse. Door het gebruik van enkel de meest hoogwaardige materialen en top vakmanschap, garandeert Royal Botania de beste kwaliteit. Met een samenspel van fraai design, duurzaamheid en techniek, zet Royal Botania wereldwijd de toon. De stijlvolle outdoor meubelen zijn al jaren een begrip en sieren talrijke tuinen.
Elk ontwerp van Royal Botania is gebaseerd op drie belangrijke elementen: esthetiek, ergonomie en techniek. Zij vormen het DNA van elk afzonderlijk concept binnen hun trendsettend design. Het samenvoegen van deze ingrediënten en het perfectioneren van hun balans is het basisrecept om de beste ontwerpen van buitenmeubilair te produceren.
Met deze formule heeft het designteam onder leiding van oprichter Kris Van Puyvelde internationale waardering gekregen en meerdere designprijzen gewonnen aan beide zijden van de Atlantische Oceaan.
Royal Botania conçoit et produit des meubles et des luminaires d'extérieur de luxe emblématiques, pour une clientèle exigeante. En utilisant seulement des matériaux de qualité supérieure associés à un artisanat de haut niveau, Royal Botania produit des collections de mobilier élégant et remarquable. Royal Botania dirige le monde en créant du superbe mobilier extérieur pour les patios, les piscines, les jardins et les maisons, qui est à la fois stylé et durable. Chaque création Royal Botania est basée sur trois éléments clé : esthétique, ergonomie et technologie. Ils déterminent l'ADN de chaque concept de notre design qui donne le ton. Le mélange de ces ingrédients et le réglage précis de leur équilibre, est la recette de base pour produire le meilleur design de mobilier extérieur.
Avec cette formule, leur équipe de conception interne, dirigée par fondateur Kris Van Puyvelde, a obtenu une reconnaissance internationale et a remporté de nombreux prix de design des deux côtés de l'Atlantique.
67 DESIGN
68 DESIGN
ROYAL BOTANIA Elsendonkstraat 146 B-2560 Nijlen België T +32 (0) 3 411 22 85 @ info@royalbotania.com W www.royalbotania.com 69 DESIGN
SAUNACO
BELGIAN TOP DESIGN AND PRODUCTION
The collections Cas and Nyro combine the fine Belgian craftsmenship of Saunaco with the innovative design of Studio Segers. These lines are a guarantee for the best quality and authenticity in a geometric balance. Pure architectural basic shapes go hand in hand with a very fine high level finish, as for example warm oak details with scratch resistant powder coating. Saunaco's furniture offers unlimited modularity; the customer builds the cabinets together like Lego blocks in different materials and colors. Everybody can create an unique construction according to their preference and adapted to the size of their living room. The furniture is supported by Furnplan's software.
70 DESIGN
BELGISCH TOPDESIGN EN PRODUCTIE
Collecties Cas en Nyro combineren het Belgische vakmanschap van Saunaco met het innovatieve design van Studio Segers. Beide lijnen garanderen kwaliteit en authenticiteit in een geometrisch gestroomlijnd geheel. Uitgepuurde architecturale componenten gaan hand in hand met een geraffineerde afwerking, zoals bijvoorbeeld warm eikenhout en krasbestendige poedercoating. De meubelen van Saunaco bieden een weelde aan mogelijkheden om een eigen kast samen te stellen. Persoonlijke wensen komen zo tot leven in een unieke constructie. Dit systeem is specifiek ontworpen om ruimtelijke composities te maken in functie van de beschikbare ruimte. Deze flexibiliteit laat Cas of Nyro perfect opgaan in het interieur, ondersteund door de tekensoftware van Furnplan.
EXCELLENTE CONCEPTION ET PRODUCTION EN BELGIQUE
Les collections Cas et Nyro associent le savoir-faire belge de Saunaco au design innovant de Studio Segers. Ces deux lignes garantissent la qualité et l'authenticité dans un ensemble géométrique et épuré. Les éléments architecturaux distinctifs vont de pair avec des finitions raffinées, comme le chêne très chaleureux et le revêtement en poudre résistant aux rayures. Les meubles Saunaco offrent une multitude de possibilités pour composer votre propre armoire. Les souhaits personnels prennent ainsi vie dans une construction unique. Ce système est spécifiquement conçu pour créer des compositions spatiales en fonction de l'espace disponible. Cette flexibilité permet à Cas ou Nyro de s'intégrer parfaitement à votre intérieur, avec l'aide du logiciel de dessin de Furnplan.
SAUNACO Dijkstraat 7
B-3950 Bocholt
T +32 (0) 11 62 10 24 @ info@saunaco.com W www.saunaco.com
71 DESIGN
SERAX
Serax enhances your home, adds personality to your interior, and creates unforgettable moments at the dining table. Relying only on the most passionate designers from all over the globe, they produce traditional handicraft. From Vietnam through Antwerp to Portugal, their items are manufactured by skilled craftsmen who respect the basic idea of each design. The collections are unique for their shapes, materials and style.
RUDOLPH BY VINCENT VAN DUYSEN FOR SERAX
After successful collaborations on tableware and outdoor furniture, Serax and Vincent Van Duysen join forces again to create a sofa collection representing the DNA of both institutions. "I thought it would be a nice idea if we could translate a custom-made product I very often produce in my projects into an edition piece. That's how this collection started to take shape."
Serax Veldkant 21 2550 Kontich Belgium
@ info@serax.com
W www.serax.com
72 DESIGN
Serax voegt eigenheid toe aan je intérieur, creëert een huiselijke sfeer en zorgt voor onvergetelijke momenten rond de tafel. In nauwe samenwerking met enkel de meest gepassioneerde designers van over de hele wereld worden hun collecties ambachtelijk geproduceerd. Ambachtslieden uit alle uithoeken van de wereld, van Vietnam over Antwerpen tot Portugal, vervaardigen deze objecten vakkundig, zonder ooit het kernidee van het ontwerp uit het oog te verliezen. De collecties zijn stuk voor stuk uniek in vorm, materiaal en stijl.
RUDOLPH BY VINCENT
VAN DUYSEN FOR SERAX
Na succesvolle samenwerkingen rond tafelgerei en buitenmeubilair slaan Serax en Vincent Van Duysen opnieuw de handen in elkaar voor een collectie sofa's die het DNA van beide instellingen illustreert. "Het leek me een leuk idee als we een op maat gemaakt product, dat ik heel vaak in mijn projecten gebruik, kon opnemen in een reeks. Zo begon deze collectie vorm te krijgen."
Serax ajoute de la personnalité à votre intérieur, crée une ambiance cocoon et forge d'inoubliables moments à table. Toutes nos collections sont produites de façon artisanale, en étroite collaboration avec les designers les plus passionnés du monde entier.
Du Vietnam à Anvers en passant par le Portugal, nos artisans des quatre coins du monde confectionnent nos objets avec soin et habileté, sans jamais perdre de vue la ligne maîtresse du concept originel. Tous les articles de nos collections sont donc uniques en leur genre, par leur forme, leur style et leurs matériaux.
RUDOLPH BY VINCENT VAN DUYSEN FOR SERAX
Après des collaborations réussies axées sur des articles de table et du mobilier d'extérieur, Serax et Vincent Van Duysen unissent à nouveau leurs forces pour créer une collection de canapés exprimant l'ADN des deux institutions. "Je me suis dit que ce serait une chouette idée si nous pouvions traduire en produit édité une pièce sur mesure que j'utilise très souvent dans mes projets. C'est ainsi que cette collection a commencé à prendre forme.
73 DESIGN
THE NATURAL CHARACTER OF LEATHER
STOLZ
Leuvensesteenweg 80
Kortenberg T +32 (0)2 759 85 64 @ sales@stolz.be W www.stolz.be 74 DESIGN
Stolz
BE-3070
STOLZ – THE NATURAL CHARACTER OF LEATHER
Stolz deliveries numerous types of leather and colours for many of Europe's leading furniture manufacturers and design companies. We strive to bring out products which will take the lead technologicaly and design-wise with due consideration of the environment around us.
• Delivery from stock in any quantity
• A gift from nature
• Reliable
STOLZ – THE NATURAL CHARACTER OF LEATHER
Stolz levert tal van ledersoorten en kleuren voor tal van toonaangevende Europese meubelfabrikanten en designbedrijven. Wij streven ernaar producten op de markt te brengen die op technologisch en designgebied toonaangevend zijn en uiteraard worden geproduceerd met respect voor mens en natur.
• Levering uit voorraad in elke hoeveelheid
• Een geschenk van de natuur
• Degelijk, betrouwbaar en milieuvriendelijk
STOLZ – THE NATURAL CHARACTER OF LEATHER
Stolz livre de nombreux types de cuir et de couleurs à de nombreux fabricants de meubles et sociétés de design de premier plan en Europe. Nous nous efforçons de proposer des produits qui seront à la pointe de la technologie et du design, tout en tenant compte de l'environnement qui nous entoure.
• Livraison de stock en toute quantité
• Un cadeau de la nature
• Durable et fiable
Office
75 DESIGN
Home Yachting
THOTHEM
THOTHEM Postbaan 75 B-2910 Essen T +32 (0) 35 759 099 @ info@thothem.com W www.thothem.com
76 DESIGN
Export: Philip Thuys Elke Theuns
DESIGN BRAND THOTHEM
Thothem is a 100% Belgian design furniture brand. In the tables, closets, chairs and sofas, the solid oak's energy meets the refined, sophisticated pure forms. The pieces are strongly present in the room, but never obtrusive. They fit in with various interior design styles and contexts.
DESIGNMERK THOTHEM
Thothem is een 100 procent Belgisch merk designmeubelen. De energie van massief eikenhout wordt gecombineerd met verfijnde en gedistingeerde pure vormen in de tafels, kasten, stoelen en banken. De stukken zijn sterk aanwezig in de ruimte, maar nooit opdringerig. Ze passen in verschillende interieurstijlen en contexten.
MARQUE DESIGN THOTHEM
Thothem est une marque 100 % belge de mobilier design. L'énergie de bois du chêne massif est combiné avec des formes épurées et distinguées dans les tables, armoires, chaises et bancs. Les meubles s'exposent pleinement sans alourdir la pièce. Ils s'intègrent facilement dans différents styles et contextes d'intérieur.
77 DESIGN
TOON DE SOMER
78 DESIGN
After more than 30 years in the office furniture business we are seeing a shift in the perception of the workplace. People work at home, on sofas, on the go, in co-working spaces and in offices. The possibilities are endless. Flexible working has led to a redefinition of the workspace. Classic office areas are making way for hip spaces with a homely feel. The beating heart of the home is the kitchen table, where people cook, eat and even work. Professional time and personal time flow seamlessly together. It is our mission to bring personal and professional life together through new solutions. Our strong, multidisciplinary team consistently releases new products that live and breathe our motto: Live Smart Work Modern.
Met meer dan 30 jaar ervaring in de kantoorinrichting, zien we een shift in de invulling van werkplekken. Zo zijn de mogelijkheden eindeloos geworden: er wordt van thuis uit gewerkt, maar even goed vanuit een co-workingspace of een vast kantoor. Flexibel werken heeft ervoor gezorgd dat 'de werkruimte' een andere definitie heeft gekregen. Oude klassieke kantoren worden vervangen door ruimtes die dankzij groen, leuke zithoeken en recreatieve ruimtes zorgen voor een thuisgevoel. De keukentafel wordt gebruikt als het kloppend hart van een huishouden waar gekookt, gegeten én gewerkt wordt. Werk en privé vloeien naadloos in elkaar over. Het is onze missie om oplossingen te bedenken waarin het werk- en privéleven kunnen samenkomen. Met ons sterk, divers en bovenal jong team brengen we dan ook voortdurend moderne en slimme producten op de markt die ons motto uitademen: Live Smart Work Modern.
Forts de plus de 30 ans d'expérience dans l'aménagement de bureaux, nous constatons une évolution dans l'occupation des lieux de travail. Les gens travaillent de la maison, dans le fauteuil, en déplacement, dans un espace de coworking ou encore dans un bureau. Les possibilités sont infinies. Ce mode de travail flexible nous a poussés à redéfinir le cadre de travail. Les anciens bureaux classiques cèdent la place à des endroits branchés qui donnent l'impression d'être à la maison. La table de la cuisine constitue le centre névralgique du ménage : en plus d'y cuisiner et d'y manger, on y travaille également. Le travail et la vie privée s'imbriquent harmonieusement. Notre mission consiste à imaginer des solutions permettant de concilier travail et vie privée. Avec notre équipe solide et diversifiée, nous mettons constamment sur le marché des produits modernes qui reflètent notre devise : Live Smart Work Modern.
Toon De Somer
Live Smart Work Modern
Bredastraat 125
2060 ANTWERPEN
W www.desomer.be
T +32 3 633 33 33
@ info@desomer.be
79 DESIGN
UNIT 14
80 DESIGN
Unit 14 is a Belgian furniture brand with a collection of dining tables, coffee tables and chairs. The collection stands out because of minimalistic designs and a good balance between price and quality. The designs are created with a love for minimalistic Belgian design, high quality materials and a timeless look.
Unit 14 is een Belgisch meubelmerk met een collectie van eettafels, salontafels en stoelen. De collectie blink uit door de minimalistische designs en een uitstekende prijs en kwaliteitsverhouding. De ontwerpen worden gemaakt met liefde voor sober, Belgisch design, kwalitatieve materialen en tijdloze looks.
Unit 14 est une marque de mobilier belge qui propose une collection de tables à manger, de tables basses et de chaises. La collection excelle par ses design minimalistes et son excellent rapport qualité-prix. Les designs sont réalisés avec l'amour du design belge sobre, des matériaux de qualité, et des looks intemporels.
Unit 14
satenrozen 6a / unit 14
2550 kontich, BE
T +32 3 434 49 22
@ info@unit14.be
W www.unit14.be
81 DESIGN
VINCENT SHEPPARD
82 DESIGN
WHEN ELEGANCE, DURABILITY AND COMFORT MEET
Vincent Sheppard has been designing and manufacturing indoor and outdoor furniture with exceptional seating comfort since 1992. The company is worldwide market leader in 'Lloyd Loom' furniture, a technique where kraft paper is twisted around a metal wire and woven into unique furniture pieces. Today, Vincent Sheppard furniture is exported to more than 50 countries. Their headquarters are in Belgium, while their main production plant is located in Indonesia. Through the years, they have extended their product range with other natural and durable materials.
Moreover, Vincent Sheppard organizes its company with an ecological mindset and is very conscious about the consumption of resources. In 2013, they received the FSC-label by the Forest Stewardship Council: a symbol of environmental, social and economic sustainability. Their designs always start from the material and they aim to provide timeless, elegant designs with a surprising and modern touch. All designs combine beauty, quality and comfort.
ELEGANTIE MET OOG VOOR NATUUR EN COMFORT
Vincent Sheppard ontwerpt en produceert binnen- en buitenmeubels met uitzonderlijk zitcomfort sinds 1992. Het bedrijf is wereldwijd marktleider in 'Lloyd Loom'-meubelen, een techniek waarbij kraftpapier rond een metalen draad wordt gedraaid en zo tot unieke meubelstukken wordt geweven. Vandaag exporteert het bedrijf haar meubels naar meer dan 50 landen. Het hoofdkantoor bevindt zich in België, terwijl de belangrijkste productiefabriek gevestigd is in Indonesië. Door de jaren heen is het assortiment uitgebreid met andere natuurlijke en duurzame materialen.
Vincent Sheppard is een bedrijf met een ecologische mindset. Ze zijn zich zeer bewust van de consumptie van grondstoffen. In 2013 ontvingen ze daarom het FSC-label van de Forest Stewardship Council: een symbool van ecologische, sociale en economische duurzaamheid. De ontwerpen vertrekken altijd vanuit het materiaal zelf en er wordt steeds gestreefd naar tijdloze, elegante ontwerpen met een verrassende en moderne uitstraling. Duurzaamheid en zitcomfort vormen daarbij steeds twee belangrijke pijlers.
QUAND L'ÉLÉGANCE, LA DURABILITÉ ET LE CONFORT SE RENCONTRENT
Depuis 1992, Vincent Sheppard conçoit et fabrique des meubles d'intérieur et d'extérieur offrant un confort d'assise exceptionnel. L'entreprise est le leader mondial du marché des meubles "Lloyd Loom", une technique qui consiste à enrouler du papier kraft autour d'un fil métallique et à le tisser pour créer des meubles uniques. Aujourd'hui, les meubles Vincent Sheppard sont exportés dans plus de 50 pays. Leur siège social se trouve en Belgique, tandis que leur principale usine de production est située en Indonésie. Au fil des ans, ils ont étendu leur gamme de produits à d'autres matériaux naturels et durables.
De plus, Vincent Sheppard organise son entreprise avec un état d'esprit écologique et est très conscient de la consommation des ressources. En 2013, ils ont reçu le label FSC du Forest Stewardship Council : un symbole de durabilité environnementale, sociale et économique. Leurs designs partent toujours du matériau et ils visent à fournir des designs intemporels et élégants avec une touche surprenante et moderne. Tous les modèles allient beauté, qualité et confort.
83 DESIGN
84 DESIGN
VINCENT SHEPPARD
Industriepark 5
B-8587 Spiere België
T +32 (0) 56 46 11 11
@ info@vincentsheppard.com
W www.vincentsheppard.com
85 DESIGN
VONK
86 DESIGN
VONK MOODS FOR OUTSIDERS
VONK lives, works and celebrates. You never have to worry, our furniture collection endures a lot. Whatever your mood, you are always welcome at our table. Design pieces that perfectly match the imperfection of life, beautiful things for those who seek joy the whole year round. In the foreground if you choose, invisible if needed. A continuous selection process takes place in our production. We choose the wood and weigh quality and motif motif in our Belgian based production, so every piece of furniture gets a natural pattern. We love things that last a long time, that prove their service ... that stay beautiful.
VONK MOODS FOR OUTSIDERS
Bij VONK wordt geleefd, gewerkt en gefeest. Je hoeft je nooit zorgen te maken, onze meubelcollectie verdraagt veel. In welke mood je ook bent, altijd welkom aan onze tafel, onze bank. Design-stukken die perfect passen bij de imperfectie van het leven, mooie meubels voor wie het hele jaar wil genieten. Op de voorgrond als je ervoor kiest, onzichtbaar als het nodig is. In onze productie in België speelt zich een voortdurend selectieproces af. We kiezen het hout en wegen kwaliteit en motief af, zo krijgt elk meubel zijn natuurlije uitstraling. We houden van dingen die lang meegaan, die hun dienst bewijzen...die mooi blijven.
VONK MOODS FOR OUTSIDERS
VONK vit, travaille et célèbre. Vous n'avez jamais à vous inquiéter, notre collection de meubles est très résistante. Quelle que soit votre humeur, vous êtes toujours le bienvenu à notre table, notre banc. Des pièces design qui correspondent parfaitement à l'imperfection de la vie, de belles choses pour ceux qui recherchent la joie tout au long de l'année. Au premier plan si vous le souhaitez, invisible si nécessaire. Un processus de sélection continu a lieu dans notre production en Belgique. Nous choisissons le bois et pesons la qualité et le motif, de sorte que chaque meuble reçoit un motif naturel. Nous aimons les choses qui durent longtemps, qui prouvent leur utilité ... qui restent belles.
Lusthoflaan 66a
9032 Wondelgem, Belgium
@ info@vonk.furniture
W www.vonk.furniture
Vonk Furniture
87 DESIGN
88 DESIGN
WELCOME TO THE WORLD OF WALFiLii
WALFiLii presents you probably the most beautiful and durable planters on the market. For interior and exterior. Created in trendy corten steel or powdercoated stainless steel. Our design planters are delivered with or without plants: olive trees, palms, fruit trees, herbs, vegetables… Do you want mood lighting and a watering system? We are happy to arrange that. WALFiLii also offers a complete range of atmospheric fire plates and water elements. Worldwide shipping.
WALFiLii presenteert u wellicht de mooiste en duurzaamste plantenbakken op de markt. Voor interieur en exterieur. Gecreëerd in trendy cortenstaal of gepoedercoated roestvast staal. Onze designplantenbakken worden geleverd met of zonder planten: olijfbomen, palmen, fruitbomen, kruiden, groenten… Wil je sfeerverlichting en een bewateringssysteem? Dat regelen wij graag. WALFiLii biedt tevens een compleet assortiment sfeervolle vuurschalen en waterelementen. Wereldwijde verzending.
WALFiLii vous présente probablement les jardinières les plus belles et les plus durables du marché. Pour intérieur et extérieur. Créé en acier corten et acier inoxydable laqué. Nos jardinières design sont fournies avec ou sans végétaux: oliviers, palmiers, fruitiers, herbes, légumes… Vous souhaitez un éclairage d'ambiance et un système d'arrosage ? Nous sommes heureux d'organiser cela. WALFiLii propose également une gamme complète de braseros d'ambiance et éléments aquatiques. Livraison internationale.
WALFiLii
Antwerpen - Knokke
T 03 605 18 84
T 0475 28 00 82
@ info@walfilii.com
W www.WALFiLii.com
89 DESIGN
WÜNDER
90 DESIGN
Fresh, inspiring, and Belgian. Wünder offers innovative, elegant and characteristic outdoor design.
Conceived and made in Belgium, we excel in elegance and timelessness. By serving you a combination of durable and colourful materials and attention to even the slightest detail, we are committed to make your day.
We believe that fresh, Belgian design, crafted locally and with high-end materials, will put a proud and happy smile on your face. That's why we create elegant products who fiercely pierce fleeting fads. We deliver sharp lines and remarkable details that'll charm for life.
Every day we consciously opt for a sustainable and short production chain. Wünder conceives and creates al its products in Belgium and only engages the best local craftsmen to execute them. High-end raw materials are thus formed into pieces for you to enjoy over and over again.
Fris, inspirerend en Belgisch. Wünder brengt vernieuwend, visueel vederlicht en herkenbaar outdoor design.
Bedacht en made in Belgium, blinken we uit in elegantie en tijdloosheid. Met duurzame, kleurrijke materialen en aandacht voor het kleinste detail maakt Wünder buiten zo steeds het mooie weer.
We geloven dat fris Belgisch design, lokaal vervaardigd met kwaliteitsvolle materialen jou trots en happy maken voor lange tijd. Daarom creëren we elegante producten die de tanden tonen aan vluchtige modegrillen. We leveren scherpe lijnen en opmerkelijke details die een leven lang blijven charmeren.
Wij kiezen heel bewust en altijd weer voor een duurzame en korte productieketen. Wünder bedenkt en maakt al haar producten in België en werkt daarvoor samen met de beste lokale ambachtslui. Kwaliteitsvolle grondstoffen worden zo gevormd tot stukken waar jij elke dag opnieuw kan van genieten.
Original, inspirant et belge. Wünder propose des produits design d'extérieur innovants, visuellement légers et reconnaissables.
Conçus et fabriqués en Belgique, nous excellons dans l'élégance et l'intemporalité. Avec des matériaux durables et multicolores et une attention portée aux moindres détails, Wünder sublime nos espaces de vie extérieurs.
Nous sommes convaincus qu'un design belge original, fabriqué localement avec des matériaux de qualité, contribuera à votre fierté et à votre bonheur pendant de longues années. C'est pourquoi nous créons des produits élégants qui bravent les modes éphémères. Nous livrons des lignes nettes et des détails remarquables qui charmeront toute une vie.
Nous optons consciemment et toujours pour une chaîne de production durable et courte. Wünder invente et fabrique tous ses produits en Belgique et travaille avec les meilleurs artisans locaux. Les matières premières de haute qualité sont ainsi transformées en pièces originales qui vous offriront du plaisir au quotidien.
Wünder Ovenhoek 5 8800 ROESELARE @ info@wunder.be W www.wunder.be 91 DESIGN
CONFORTLUXE
92 POPULAR
Confortluxe stands for contemporary, commercial sofas at competitive prices. By closely monitoring our sales markets regarding styles, fabrics and colors, our product development is directly directed to develop and market new models that meet the latest trends. These sofas are then produced in the various locations in and outside of Europe, according to the quality requirements of Confortluxe. All goods are collected centrally in Wervik-Belgium, after which they are delivered to our 1,300 distributors, mainly in France, Belgium and the Netherlands.
Confortluxe staat voor hedendaagse, commerciële zitbanken aan concurrentiële prijzen. Door onze afzetmarkten nauwlettend te monitoren betreffende stijlen, stoffen en kleuren wordt onze productontwikkeling direct aangestuurd om nieuwe modellen te ontwikkelen en op de markt te zetten die voldoen aan de laatste trends. Daarna worden deze salons geproduceerd in de verschillende vestigingen in en buiten Europa, volgens de kwalitatieve eisen van Confortluxe. Centraal worden alle goederen verzameld in Wervik-België, waarna ze geleverd worden naar onze 1.300 verdelers, hoofdzakelijk in Frankrijk, België en Nederland.
Confortluxe est synonyme pour des canapés commerciaux contemporains à des prix compétitifs. En surveillant de près nos marchés de vente en ce qui concerne les styles, les tissus et les couleurs, notre développement de produits est directement orienté vers le développement et la commercialisation de nouveaux modèles qui répondent aux dernières tendances. Ces salons sont ensuite fabriqué dans les différents sites en Europe et hors Europe, selon les exigences de qualité de Confortluxe. Toutes les marchandises sont collectées de manière centralisée à Wervik-Belgique, après quoi elles sont livrées à nos 1 300 distributeurs, principalement en France, en Belgique et aux Pays-Bas.
93 POPULAR
94 POPULAR
Confortluxe Menensesteenweg 40 8940 Wervik België W www.confortluxe.com 95 POPULAR
DE EIKEN ZETEL
LIVE - DREAM - RELAX
Make no mistake, De Eiken Zetel no longer makes oak sofa's. Back in the sixties we were well-known for our classic Belgian massive furniture. Nowadays we offer furniture collections and interior design concepts. The tradition has been passed on from father to son for three generations. This continuity results in a warm corporate culture. We have a heart for people. Our mission is to create a cosy home. Comfortable living contributes to a happy life, doesn't it?
De Eiken Zetel is famous in Belgium for its large collection of recliners. The Collection includes both classic and modern models. Ranging from trendy velvet to high quality leather. More than 40 models can be delivered from stock. Our latest new concept is entitled: "à la belge" which emphasizes the Belgian roots of our products. In the clay, on the field, between the cows. A nice nod to the often idyllic images that go with relaxing comfort.
96 POPULAR
WONEN - DROMEN - LEVEN
Vergis je niet, De Eiken Zetel maakt geen eiken bankstellen meer. We bieden meubelcollecties en interieurconcepten aan. De Eiken Zetel bestaat sinds 1960, dus al 63 jaar. Het stokje wordt van vader op zoon doorgegeven en dat al drie generaties lang. Die continuïteit resulteert in een warme bedrijfscultuur. We hebben hart voor de mens. Onze missie is een gezellige thuis creëren. Comfortabel wonen draagt bij aan een gelukkig leven, nietwaar?
De Eiken Zetel is wereldberoemd in België voor zijn grote collectie aan relaxen. Zowel klassiek als modern op draaivoet en in trendy kleuren. Meer dan 40 modellen kunnen uit voorraad worden geleverd. Onze laatste nieuw concept is getiteld: "à la belge" die de Belgische roots van onze producten benadrukt. In de klei, op het veld, tussen de koeien. Een leuke knipoog naar de vaak idyllische plaatjes die bij relaxcomfort horen.
HABITER - REVER - VIVRE
Ne vous trompez pas, De Eiken Zetel ne fait plus de salons en chêne. Nous offrons des collections de meubles et des concepts d'intérieur. De Eiken Zetel existe depuis 1960, donc depuis 63 ans déjà. Le relais est passé de père en fils. Cette continuité se traduit par une culture d'entreprise chaleureuse. Nous avons une passion pour les gens. Notre mission est de créere unemaison chaleureuse. Le confort contribue à une vie heureuse, n'est-ce pas ?
De Eiken Zetel est célèbre en Belgique pour sa grande collection de fauteuils relax. Aussi bien classique que moderne sur son pied pivotant et dans des couleurs tendance. Plus de 40 modèles peuvent être fournis de stock. Notre dernier concept s'intitule : "à la belge" qui souligne nos racines belges de campagne.
De Eiken Zetel nv Mandeweekgsen 76
9900 Eeklo
BelgiëBelgium
T +32-9-3774511
F +32-9-3780079
@ info@dez.be
W www.dez.be
97 POPULAR
EVAN
98 POPULAR
"The" specialist by excellence for comtemporary, affordable dining rooms. Different styles from modern, design to industrial with a large choice of possibilities of sidebords, tables TV-units etc.
All products are delivered pre-assembeled with an excellent price/qualitiy balance, thanks to the used innovative materials as honey comb panels, melamine surfaces and laser technology.
"DE" specialist bij uitstek voor eigentijdse, betaalbare woonprogramma's. Diverse stijlen van modern, design tot industrieel met een uitgebreide keuze aan mogelijkheden voor dressoirs, tafels, TV-units etc.
Alle producten worden voor gemonteerd geleverd, met een uitstekende prijs/kwaliteit verhouding door de gebruikte innovatieve kwaliteitsmaterialen, zoals melamine, honinggraat panelen en lasertechnologie.
"LE" spécialiste par excellence pour des collections séjour au goût actuel et a prix abordable. Des styles différents comme contemporain, design ou industriel avec un choix important, des différentes dimensions  pour les enfilades, tables, meubles télé etc.
Le fabriquant livre ces produits en version pré-monté avec un excellent rapport qualité/prix par l' usage de matériaux qualitatifs (mélamine) et innovatifs (panneaux alvéolaires et technique laser).
99 POPULAR
100 POPULAR
EVAN
Albert 1 laan 29
B-8630 Veurne
T + 32 (0) 58 31 41 51
@ jeanclaude.neirynck@evan.be
W www.evan.be
Export: Jean-Claude Neirynck Jannick Pattyn
Nederland:
VDM Agenturen
Dubbelhof 120
NL-6715 EJ Ede
T +31 (0) 318 50 45 70
101 POPULAR
GBO BY BAUWENS
Bauwens
Nijverheidstraat 7
B-8730 Beernem
T +32 (0) 50 79 90 80 @ luc@bauwens.be W www.bauwens.be
Export: Luc Vercruysse luc@bauwens.be
102 POPULAR
AFFORDABLE CONTEMPORARY FURNITURE
The Bauwens company is best known for its wide variety in its range of models. The range under the GBO brand includes dining rooms, bedrooms, seating and chairs. In recent years, particular attention has been paid to styling, new decors with embossed structures and special finishes. The result is a top-quality product range that always takes into account a realistic price/quality balance. In addition, the company always ensures fast delivery.
BETAALBARE ACTUELE MEUBELEN
De firma Bauwens staat vooral bekend voor zijn grote verscheidenheid in zijn modellen assortiment. Het aanbod onder de merknaam GBO gaat van eetplaatsen, slaapkamers, zitmeubilair en stoelen. De laatste jaren zijn bijzondere inspanningen gedaan qua modellering, nieuwe decors met reliëf structuren en bijzondere afwerkingen. Hierdoor wordt een kwalitatief aanbod voorgelegd waarbij steeds rekening wordt gehouden met een eerlijke prijs-kwaliteitverhouding. Verder zorgt de firma steeds voor korte levertermijnen.
GBO PAR BAUWENS
GBO par Bauwens, cela représente des mobiliers design, dans l'air du temps et à prix attractifs.
La société est connue pour sa grande variété de gamme de modèles telles que des salles à manger, chambres ainsi que des chaises et salons. Ces dernières années, des efforts particuliers ont été fait en termes de modelage, de nouveaux décors avec des structures en relief et des finitions particulières. Bauwens propose des offres de qualités tout en tenant compte d'un juste rapport qualité-prix. L'entreprise garantit toujours des délais de livraisons courts.
103 POPULAR
HIMA
EXCELLENT AND AFFORDABLE DESIGN
As a family company, upholstery manufacturer Hima is a strong player on the international field. Hima is able to guarantee an excellent quality-price ratio thanks to a full integration of its production process. It means the entire production chain, from reception of the order until the final delivery, is done by Hima's staff. The possibilities of the Hima collection are almost endless. A wide range of models is practically custom made, in a fixed or corner set, with or without recliner options. All of this can be done in a wide range of fabrics and leather. Even a combination of different covers is possible. Moreover, there is much attention for POS-material and other forms of shops assistance.
HIMA
Makeveldstraat 7a
B-8610 Kortemark
T +32 (0) 51 56 79 01 @ sales@hima.be W www.hima.be
Export: Kristof Hindryckx
104 POPULAR
UITSTEKEND EN BETAALBAAR DESIGN
Zitmeubelfabrikant Hima is als familiebedrijf een sterke speler op het internationale vlak. De collecties van Hima kenmerken zich door een uitstekende prijskwaliteitverhouding. Een volledige integratie van het productieproces maakt dit mogelijk. Hima maakt alle zitmeubelen stuk voor stuk zelf. De volledige productieketen is onder controle, waarmee de onderneming zich onderscheidt van importproducten. De mogelijkheden binnen de collecties zijn eindeloos. Bij Hima kan de klant zijn bankstel nagenoeg op maat gaan samenstellen. Zowel in vaste als hoekopstelling, met of zonder relaxfuncties. En dit alles in een brede waaier van stoffen en leder. Ook de combinatie van verschillende bekledingen is mogelijk. Daarnaast wordt er veel aandacht besteed aan POSmateriaal en andere vormen van assistentie op de winkelvloer.
UNE CONCEPTION EXQUISE ET ABORDABLE
En tant qu'entreprise familiale, le fabriquant de canapés Hima est un acteur important sur la scène internationale. Les collections Hima se caractérisent par un excellent rapport qualité-prix. L'intégration complète du processus de production rend cela possible. Hima fabrique elle-même tous les salons. l'ensemble de la chaîne de production est sous contrôle, ce qui distingue l'entreprise des produits importés. Les possibilités offertes par cette collection sont infinies. Chez Hima, le client peut composer son salon personnalisé, aussi bien en composition fixe qu'en composition d'angle, avec ou sans fonction de relaxation. Et tout cela dans un large éventail de tissus et de cuirs. La combinaison de différents revêtements est également possible. En plus, une grande attention est accordée au matériel publicitaire et aux autres moyens d'assistance pour accompagner les points de ventes.
105 POPULAR
JATI & KEBON
TRENDY & PREMIUM OUTDOOR LIVING
Jati & Kebon is a manufacturer and wholesaler of high-quality outdoor furniture since the early nineties, with its headquarters in Belgium. The production takes place at the company-owned facilities in China and Indonesia. There they transform the design with skilful craftsmanship into beautiful and durable products. Today, Jati & Kebon furniture is sold and distributed in more than thirty countries.
Jati & Kebon's trendy and durable furniture turns every outdoor space into a comfortable and inspiring place to relax. Our products are made with first-class and weather-resistant materials such as powder coated aluminium, fine A-grade teak wood, rope, wicker, and fabrics for outdoors. The product range includes lounge sofas, dining tables and chairs, benches, sun loungers and accessories – everything for a functional and attractive outdoor oasis.
Jati & Kebon is een producent en groothandelaar van hoogwaardig buitenmeubilair sinds begin jaren negentig, met het hoofdkantoor in België. De productie vindt plaats in de eigen fabrieken in China en Indonesië. Daar wordt het ontwerp met vakkundig vakmanschap omgezet in mooie en duurzame producten. Vandaag worden de meubelen van Jati & Kebon verkocht en verdeeld in meer dan dertig landen wereldwijd.
De trendy en duurzame meubelen van Jati & Kebon maken van elke buitenruimte een comfortabele en inspirerende plek om te ontspannen. Onze producten zijn gemaakt van premium en weerbestendige materialen zoals gepoedercoat aluminium, A-grade teakhout, touw en wicker vlechtwerk en stoffen voor buitengebruik. In het assortiment vind je loungesets, eettafels en stoelen, banken, ligstoelen en accessoires - alles voor een functionele en aantrekkelijke buitenoase.
Jati & Kebon est un fabricant, d'origine belge, de mobilier de jardin haut de gamme, présent sur le marché du plein-air depuis le début des années 90. Nous concevons nos produits alliant qualité et design et les fabriquons dans nos propres usines en Chine et en Indonésie, en sélectionnant avec la plus grande attention la qualité des matériaux utilisés, pour offrir à nos clients des produits solides et durables. Aujourd'hui, les meubles Jati & Kebon sont vendus à travers le monde entier et distribués dans plus de trente pays.
Les meubles tendances et durables de Jati & Kebon transforment votre espace extérieur en un lieu de détente confortable, convivial et inspirant au bien-être et à la relaxation. Tous nos produits sont fabriqués avec des matériaux de première qualité et résistants, pour permettre leur usage parfaitement adapté dans un environnement extérieur, tels que l'aluminium laqué, le teck de qualité A, la corde, la résine tressée ou encore les toiles et tissus techniques spécifiques pour l'extérieur. Nous proposons des collections complètes de meubles à la fois esthétiques, fonctionnelles et séduisantes, aussi bien pour l'univers du repas, du repos, de la relaxation ainsi que les accessoires indispensables pour agrémenter votre jardin.
106 POPULAR
Jati & Kebon Nijverheidstraat 3 9810 Nazareth T +32 9 236 30 30 @ info@jati-kebon.com 107 POPULAR
LEE & LEWIS
108 POPULAR
SURPRISING IN FURNITURE
LEE & LEWIS specializes in the production of living room furniture, manufactured in various types of solid wood and has also an extensive collection of chairs and bathroom furniture.'
The collections of LEE & LEWIS are not only country style and timeless, but above all diverse and extensive and often presented as an attractive concept.
View our catalogue on lee-lewis.be or email us at info@lee-lewis.be
VERRASSEND IN MEUBELEN
LEE & LEWIS is gespecialiseerd in de productie van eetkamermeubelen, vervaardigd in diverse houtsoorten en heeft daarnaast ook een uitgebreide stoelen- en badkamermeubel collectie.'
De collecties van LEE & LEWIS zijn niet alleen landelijk en tijdloos, maar vooral divers en uitgebreid en meestal gepresenteerd als een sfeervol concept.
Bekijk onze cataloog op lee-lewis.be of mail ons info@lee-lewis.be
SURPRENANT EN MEUBLES
LEE&LEWIS est spécialisé en production de meubles de séjour, fabriqués en divers types de bois, et a également une vaste collection de chaises et meubles de salles de bains.
Les collections charme, campagne chic de LEE & LEWIS ne sont pas seulement intemporelles, mais surtout très diverses et étendues, généralement présentées en un concept attrayant.
Vous pouvez consulter notre catalogue sur lee-lewis.be ou nous contacter info@lee-lewis.be
109 POPULAR
110 POPULAR
Lee & Lewis
Transportstraat 7 (5319), 3980 Tessenderlo Belgium
T +32 13 67 31 00 @ info@lee-lewis.be
111 POPULAR
LIEVENS
112 POPULAR
Monitoring the market developments and meeting the needs of the potential customer is always the starting point of Lievens. For generations, a passionate team ensures that every customer finds his own style in the Lievens range. The contemporary dining rooms are made of high-quality melamine. Lievens uses her former specialization in solid wood to make the furniture even more durable. A carefully picked selection of chairs and tables that look great in a modern or industrial home can also be found in her wide range.
Volgen van marktontwikkelingen en inspelen op de behoeften van de potentiële klant is altijd het uitgangspunt van Lievens. Al generaties lang zorgt een gedreven team ervoor dat elke klant zijn eigen stijl terugvindt in het Lievens gamma. De eigentijdse eetkamers zijn gemaakt uit hoogwaardige melamine. Hierin gebruikt Lievens haar vroegere specialisatie in massieve houten om de meubelen nog duurzamer te maken. Een zorgvuldig samengestelde selectie stoelen en tafels die prachtig staan in een moderne of industriële woning zijn ook te vinden in haar ruime aanbod.
Surveiller l'évolution du marché et répondre aux besoins du client potentiel est toujours le point de départ de Lievens. Depuis des générations, une équipe passionnée veille à ce que chaque client trouve son propre style dans la gamme Lievens. Les salles à manger contemporaines sont faites de mélamine de haute qualité. Lievens utilise son ancienne spécialisation dans le bois massif pour rendre les meubles encore plus durables. Une sélection soigneusement organisée de chaises et de tables qui ont fière allure dans une maison moderne ou industrielle peut également être trouvée dans sa large gamme.
Meubelfabriek Lievens
Kanegemstraat 11
b-8700 Tielt
T 0032 51 72 94 70
@ info@lievensnv.be
W www.lievensnv.be
113 POPULAR
LIGNA
114 POPULAR
YOUNG LIVING
LIGNA targets to a young audience with its extensive furniture collection. The fresh and sleek seating furniture is suitable for any interior. From modern and industrial to retro and contemporary. Thanks to our many years of experience, we respond quickly to trends and the expectations of our customer.
Trough our attention to quality and our constant progress in the field of developments and innovations, we guarantee many years of seating comfort.
JONG WONEN
LIGNA speelt met zijn uitgebreide meubel-collectie in op een jong publiek. De frisse en strakke zitmeubelen zijn geschikt voor elk interieur. Van modern en industrieel tot retro en eigentijds. Dankzij onze jarenlange ervaring spelen we vlot in op trends en de verwachtingen van onze klant.
Door onze aandacht voor kwaliteit en onze constante vooruitgang op het vlak van ontwikkelingen en vernieuwingen, verzekeren wij u jarenlang zitcomfort.
VIVANT JEUNE
LIGNA s'adresse à un jeune public avec sa collection complète de meubles. Le mobilier d'assise frais et élégant convient à tous les intérieurs. Du moderne et industriel au rétro et contemporain. Grâce à nos nombreuses années d'expérience, nous répondons rapidement aux tendances et aux attentes de nos clients.
Notre attention à la qualité et nos progrès constants dans le domaine du développement et de l'innovation vous garantissent des sièges confortables pendant des années.
Ligna Vilvertstraat 11 B-3650 Dilsen-Stokkem
T +32 (0)89 79 82 70 @ office@lignacollection.be W www.lignacollection.be
115 POPULAR
@mecamgroup
MDR BY BAUWENS
116 POPULAR
PREMIUM BRAND
MDR is Bauwen's premium brand. Bedrooms, dining areas and office suites are available in refined decors and contemporary designs. The outstanding user-friendliness, made possible by the use of the latest material techniques and carefully selected melamine decors, is particularly appreciated by our customers. The collection is supplied fully assembled or partly assembled in the case of bedrooms. The latest creations will be on display at the Cologne furniture fair.
PREMIUMMERK
MDR is het premiummerk van Bauwens. Hier worden slaapkamers, eetplaatsen en bureelprogramma's aangeboden in verfijnde decors en eigentijds design. De hoge gebruiksvriendelijkheid mede door inzet van de laatste materiaaltechnieken en zorgvuldig uitgekozen melaminedecors worden door het cliënteel bijzonder gewaardeerd. De collectie wordt vooral gemonteerd aangeleverd of deels in het geval van slaapkamers. De laatste creaties zullen te zien zijn op de meubelbeurs van Keulen.
BAUWENS A FAIT DE MDR SA MARQUE PHARE.
MDR représente une finition raffinée de meubles de chambres à coucher et de salles à manger dans un décor chaleureux et un design contemporain. La clientèle apprécie particulièrement l'ambiance conviviale due en partie à l'utilisation des dernières techniques de matériaux et de décors mélaminés soigneusement sélectionnés mais aussi à la facilité de montage. En effet, une grande partie de la collection est livrée montée.
Bauwens
Nijverheidstraat 7 B-8730 Beernem T +32 (0) 50 79 90 80 @ luc@bauwens.be W www.bauwens.be
117 POPULAR
MECAM
118 POPULAR
INNOVATIVE AND DISTINCTIVE
MECAM stands for high-quality and comfortable seating furniture for more than 40 years. As a pioneer, we maintain our exclusive position in the Belgian and Dutch market, partly thanks to our patented and innovative relaxation systems. In addition to contemporary seating furniture, we also offer timeless, modern and authentic seating furniture that is designed by pure craftsmanship to create the ultimate seating experience.
INNOVATIEF EN ONDERSCHEIDEND
MECAM staat al meer dan 40 jaar garant voor hoogwaardig en comfortabel zitmeubilair. Als pionier behouden we onze exclusieve positie in de Belgische en Nederlandse markt, mede dankzij onze gepatenteerde en innovatieve relaxsystemen.
Naast hedendaags zitmeubilair bieden we ook tijdloze, moderne en authentieke zitmeubelen die door puur vakmanschap zijn samengesteld om zo naar de ultieme zitervaring te streven.
INNOVANT ET DISTINCTIF
Depuis plus de 40 ans MECAM garantit des sièges confortables de haute qualité. En tant que pionnier, nous maintenons notre position exclusive sur le marché belge et néerlandais, notamment grâce à nos systèmes de relaxation brevetés et innovants. En plus des sièges contemporains, nous offrons également des sièges intemporels, modernes et authentiques qui sont conçus par l'artisanat pur pour créer l'expérience de siège ultime.
119 POPULAR
120 POPULAR
MECAM
Vilvertstraat 11
B-3650 Dilsen-Stokkem
T +32 (0)89 79 82 99
@ info@mecam.be
W www.mecam.be
@mecamgroup
121 POPULAR
MEUBAR
122 POPULAR
Meubar has an extremely wide range of living rooms. Different styles like modern, industrial or rural. Thanks to it's unique production system, Meubar can offer lots of variants on existing models, to offer exclusively. All of the collections are R.T.A., but an important number of these collections can be delivered pre-assembeled as well, with a small additional cost.
Meubar heeft een uitermate groot aanbod aan woonprogramma's in diverse stijlen, zoals modern, landelijk of industrieel. Door het unieke productiesysteem, kan Meuabr steeds varianten op bestaande programma's exclusief aanbieden. De meeste collecties zijn in kit versie, echter voor een groot deel van deze collecties kan de klant ook voor de opgebouwde versie kiezen, mits een kleine meerprijs.
Meubar propose un vaste choix de collections séjours dans des styles différents comme moderne, campagne, charme ou industriel. Grâce à son procédé spécifique de fabrication unique, Meubar peut proposer des variantes exclusives des ces gammes. La majorité des collections est en kit, mais pour certaines gammes vous avez aussi la possibilité de commander en version pré-monté.
123 POPULAR
124 POPULAR
Meubar
Industriestraat 9
B-8211 Aartrijke
T +32 (0) 50 22 04 04
@ jeanclaude.neirynck@meubar.be W www.meubar.be
Export: Jean-Claude Neirynck Jannick Pattyn
Nederland: VDM Agenturen Dubbelhof 120
NL-6715 EJ Ede T +31 (0) 318 50 45 70
125 POPULAR
MODULAX
126 POPULAR
PASSION FOR FURNITURE
Building on our rich history, we aim for continuous improvement through fresh and innovative ideas. At Modulax we actively look for ways to create products that fulfil our customers' needs, whilst maintaining a focus on reducing our environmental impact. To achieve this, we carefully manage every step of the production process. This begins with product design, which is led by Bram Vandendriessche, the 3rd generation in our family business, to production and assembly at our premises in China and Europe. It is this passion for furniture that has given Modulax more than half a century of success and we embrace that in everything we do. Above all, at Modulax we believe we should make a positive impact on everyone and everything connected to our business.
PASSIE VOOR MEUBELEN
Voortbouwend op onze rijke historie richten wij ons voortdurend op verbetering dankzij frisse, vernieuwende ideeën. Bij Modulax kijken we actief naar manieren om producten te maken die voldoen aan de wensen van onze klanten. Tegelijkertijd richten we ons op het verminderen van onze impact op het milieu. Om dit te bereiken besturen we zorgvuldig iedere stap in het productieproces. Dit begint bij het productontwerp onder leiding van Bram Vandendriessche, de derde generatie binnen ons familiebedrijf, en loopt tot en met de productie en assemblage in onze fabrieken in China en Europa. Het is deze passie voor meubelen waardoor Modulax al meer dan een halve eeuw lang succesvol is. Het komt naar voren in alles wat we doen. Boven alles geloven we bij Modulax dat we een positieve impact moeten hebben op alle zaken en iedereen die te maken heeft met onze business.
UNE PASSION POUR LE MOBILIER
Forts de notre riche histoire, nous nous concentrons continuellement sur l'amélioration grâce à des idées nouvelles et innovantes. Chez Modulax, nous recherchons activement des moyens de fabriquer des produits qui répondent aux besoins de nos clients. Nous nous concentrons également sur la réduction de notre impact sur l'environnement. Pour y parvenir, nous contrôlons soigneusement chaque étape du processus de production. Cela commence par la conception du produit dirigée par Bram Vandendriessche, la troisième génération de notre entreprise familiale, et se poursuit par la production et l'assemblage dans nos usines en Chine et en Europe. C'est cette passion pour les meubles qui a fait le succès de Modulax depuis plus d'un demi-siècle. Cela ressort dans tout ce que nous faisons. Chez Modulax, nous pensons avant tout que nous devons avoir un impact positif sur toutes les affaires et toutes les personnes impliquées dans notre activité.
UP2DATE - MEDALOUNGER - MODULAX
Puursesteenweg 399
B-2880 Bornem
T +32 (0) 37 40 00 90
@ info@medalounger.com
W www.medalounger.com
Export: Bram Vandendriessche
127 POPULAR
NEO-STYLE
128 POPULAR
COMFORT & TRADITION
NEO-STYLE strives for the ultimate seating experience and guarantees high-quality and comfortable seating. We offer contemporary and timeless as well as modern and authentic seating furniture. You will undoubtedly find a sofa or relax that perfectly suits you in terms of design and comfort.
COMFORT & TRADITIE
NEO-STYLE streeft naar de ultieme zitervaring en staat garant voor hoogwaardig en comfortabel zitmeubilair. Wij bieden zowel hedendaagse als tijdloze, moderne en authentieke zitmeubelen. U vindt ongetwijfeld een zetel of relax die op het vlak van design en comfort perfect bij u past.
CONFORT & TRADITION
NEO-STYLE s'efforce d'offrir une expérience d'assise ultime et garantit des sièges confortables de haute qualité. Nous proposons des sièges à la fois contemporains et intemporels, modernes et authentiques. Vous trouverez sans aucun doute un canapé ou un relax qui vous conviendra parfaitement en termes de design et de confort.
Neo-Style
Vilvertstraat 11
B-3650 Dilsen-Stokkem
T +32 (0)89 79 82 60
@ sales@neostyle.be
W www.neostyle.be
@mecamgroup
129 POPULAR
NEYT
NEYT Heistraat 12
B-9080 Beervelde
T +32 (0) 93 53 92 00
@ info@neytfurniture.com
W www.neytfurniture.com
Sales: Sara Neyt
T +32 492 31 98 06
@ sn@neytfurniture.com
Rio is a new modular desk program in melamine humus oak and melamine spring oak. The desk, with metal or wooden legs, is available in three sizes. There are 5 storage cabinets.
Homespace is a small desk of 120 cm in three melamine colors. The metal leg can be assembled left or right.
The dining set Como is provided in melamine golden oak and melamine humus oak. The sideboard and table are available in two dimensions. The metal legs give this dining set a contemporary look.
All concepts made by Neyt are aiming for high quality. We at Neyt do what we do best: designing and manufacturing high quality, affordable knock down furniture.
Rio is een nieuw modulair bureau programma in melamine humus eik en melamine lente eik. Het bureau bestaat in drie maten, verkrijgbaar met metalen of houten poten. Er zijn 5 bureaukasten beschikbaar.
Homespace is een thuisbureau van 120 cm breed en komt in drie melamine kleuren. De metalen poot kan links of rechts gemonteerd worden.
De eetplaats Como komt in melamine golden oak en melamine humus eik. De dressoir en tafel zijn in twee afmetingen verkrijgbaar. De zwarte metalen poten geven de eetkamer een eigentijdse look.
Bij alle programma's van Neyt wordt gestreefd naar de hoogste kwaliteit. Wij doen waar wij het beste in zijn: het ontwerpen en leveren van kwalitatieve en betaalbare meeneem meubelen.
130 POPULAR
Rio est un nouveau programme de bureau modulaire en mélamine chêne humus et mélamine chêne de printemps. Le bureau existe en trois dimensions, avec pieds en métal ou pieds en bois. Il y a 5 armoires dans ce programme de bureau.
Homespace est un petit bureau de 120 cm et est disponible en trois couleurs (mélamine). Le pied en métal peut être monté gauche ou droite. La salle à manger Como est disponible en mélamine golden oak et mélamine chêne humus. Le dressoir et la table existent en deux dimensions. Les pieds en métal donne un look contemporain à cette salle à manger.
Chez Neyt, nous faisons ce que nous faisons le mieux: concevoir et livrer des meubles en kit d'une haute qualité pour un prix abordable.
131 POPULAR
PERFECTA
PERFECTA Baaigemstraat 154 B-9890 Gavere T +32 (0) 93 84 25 41 @ sales@perfecta.be W www.perfecta.be
132 POPULAR
TUBULAR STEEL FURNITURE
Perfecta has been producing both lacquered and chrome-plated tubular steel furniture for the modern sector for more than fifty years. The fast and reliable delivery of chairs, tables and beds is their greatest strength. The products are used in the living environment (dining rooms, kitchens and bedrooms), catering facilities, communities and offices. The tabletops are available with HPL, Fenix or a Halifax topcoat. Most tables are available in different heights and with tabletop dimensions from 60 x 60 cm to 300 x 100 cm. The seats are available in fifty different shades of artificial leather and fabric. The 65 cm bar stools are compatible with the 90 cm tables. The 80 cm bar stools are compatible with the 110 cm tables. The frames of most models of tables, chairs and beds can be supplied in no less than sixteen epoxy colours. Perfecta also has both single and double beds with sizes ranging from 90 cm to 180 cm.
STALEN BUISMEUBILAIR
Perfecta maakt al meer dan vijftig jaar gelakte en verchroomde stalen buismeubelen voor het moderne segment. De snelle en correcte levering van stoelen, tafels en bedden vormt de grote kracht. De producten komen terecht in de woonsfeer (eetkamer, keuken, slaapkamer), horeca-inrichting, collectiviteiten en kantoren. De tafelbladen zijn verkrijgbaar met HPL, Fenix of een Halifax-toplaag. De meeste tafels zijn verkrijgbaar in verschillende hoogtes en met afmetingen van 60x60 cm tot en met 300x100 cm van het tafelblad. De stoelen zijn verkrijgbaar in een vijftigtal kleuren kunstleder en stof. De barkrukken met een hoogte van 65 cm sluiten aan bij de tafels met een hoogte van 90 cm. De barkrukken op 80 cm hoogte, passen bij de tafels van 110 cm. De frames van de meeste modellen van tafels, stoelen en bedden kunnen in niet minder dan zestien epoxykleuren worden geleverd. Ook heeft Perfecta zowel één als tweepersoonsbedden met maten die uiteenlopen van 90 cm tot en met 180 cm.
MEUBLES EN ACIER TUBULAIRE
PERFECTA, entreprise familiale belge, créée en 1960, 100 collaborateurs, 40000m², pour un chiffre d'affaires de près de € 19 millions, réalise environ 35% à l'exportation, la France assurant le gros du chiffre, garanti par des visites systématiques et un suivi actif auprès des distributeurs. Disposant d'unités de production intégrées, en Belgique, regroupant le métal, la menuiserie, le garnissage et l'assemblage (https:// www.perfecta.be/fr/perfecta-en-images), la société offre un vaste choix de modèles, couleurs, dimensions, et dispose de toute l'expertise nécessaire pour les attentes du marché résidentiel et contract.
Reconnue pour son excellent rapport qualité/prix en tables, chaises et tabourets à piétements métalliques (hauteur normale, hauteur plan de travail et hauteur bar), et forte de sa production propre, proche de la France, PERFECTA assure des livraisons ponctuelles et rapides (3 semaines en moyenne), bien rodées par une présence de plusieurs années sur le marché français, suisse et luxembourgeois. La plupart des références sont configurables et relayées par des photos d'ambiances dans l'air du temps. La distribution s'effectue par le canal de distributeurs de meubles (résidentiel) et les agenceurs (contract).
133 POPULAR
RECOR
TURNING HOUSES INTO HOMES SINCE 1949
134 POPULAR
For more than 70 years, Recor has been known for its handmade, high-quality seating comfort. As the Belgian recliner specialist, Recor succeeds in seamlessly integrating recliner technology into both classic and modern sofas and armchairs.
Most models are developed with a modular system, so that the customer can determine the configuration, the dimensions and the look.
Hoogwaardig handgemaakt zitcomfort, daar staat Recor al meer dan 70 jaar voor garant. Als Belgische relaxspecialist slaagt Recor erin om relax technologie naadloos te integreren in zowel klassieke als moderne modulaire salons en fauteuils.
De meeste modellen zijn ontwikkeld met een modulair systeem, zodat de klant zelf de opstelling, de afmeting en de look kan bepalen.
Depuis plus de 70 ans, Recor est connu pour son confort d'assise artisanale. En tant que spécialiste belge de relax, Recor réussit à intégrer subtilement la technologie relax dans les canapés et fauteuils classiques et modernes.
La plupart des modèles sont développés avec un système modulable, de sorte que le client peut déterminer lui-même la configuration, les dimensions et l'apparence. Recor
Melbergstraat 6
3600 Genk
T +32 (0) 11 28 98 44
W www.recor.be
135 POPULAR
THEUNS
THEUNS
Postbaan 75
B-2910 Essen
T +32 (0) 36 700 020 @ info@theunsmte.be W www.theunsmte.be
Export: Philip Thuys philip@theunsmte.be
Nederland: Continue Meubelagenturen Continue@planet.nl
136 POPULAR
EXPERIENCED TRENDSETTER
Because of the combination of craftsmanship and the customer focus MTE has grown into a trendsetter when it comes to the production of solid oak wood furniture, and that for over 85 years! The wood has undergone a special treatment and has been finished with a brush or scratch technique, which gives it a warm and deep structure. These extra steps in the production process are combined with contemporary colors. Every collection is very extensive; all the ingredients to make up a complete program are present.
ERVAREN TRENDSETTER
Door een combinatie van vakmanschap en klantgerichtheid is Meubelfabriek Theuns (MTE) te Essen uitgegroeid tot een trendsetter in het produceren van massief eikenhouten meubelen, en dat al meer dan 85 jaar. Het hout heeft een speciale behandeling ondergaan en is afgewerkt met een borstel- of scratchtechniek, waarmee het een warme en diepe structuur heeft. Deze extra bewerkingen zijn samengebracht met hedendaagse kleuren. Elke collectie is zeer uitgebreid, alle items zijn aanwezig om een programma compleet te maken. Dat is eveneens bij de tafels terug te vinden: diverse afmetingen zijn verkrijgbaar.
EXPERIENCES TENDANCES
Grâce à une combinaison de savoir-faire et d'orientation au client, l'usine de meubles Theuns (MTE) à Essen est devenu un pionnier dans la production de meubles en chêne massif depuis plus de 85 ans. Le bois obtient un traitement spécial et est fini avec une technique de brossage ou un effet de sciage, ce qui lui donne un aspect chaud et profond dans sa structure. Ses traitements supplémentaires se marient avec des teintes contemporaines. Chaque collection est très vaste. Tout les éléments y sont représentés pour proposer une gamme complète. Ce choix est également réparti sur nos tables : différentes dimensions et systèmes d'allonges sont disponibles.
137 POPULAR
VARAM
138 POPULAR
A CONTEMPORARY LOOK
Affordable and reliable quality. This is what seating manufacturer Varam promises. The wide collection consists of distinctive designs in recliners and sofas. Some things that Varam stands for: comfort, functions, modern, relaxing, quality, good price. Varam has over seventy years of experience under its belt. Varam's seating has a contemporary look. The company shows itself in the commercial section of the market. The development takes place in Belgium, which guarantees a high level of service.
EEN EIGENTIJDSE UITSTRALING
Betaalbare en betrouwbare kwaliteit. Dat garandeert zitmeubelfabrikant Varam. De uitgebreide collectie bestaat uit opvallende modellen in relaxfauteuils en bankstellen. Enkele kernwoorden van Varam: comfort, functies, modern, relaxen, kwaliteit, goede prijs. De onderneming heeft ondertussen al meer dan zeventig jaar ervaring in de productie van zitmeubelen. Varam profileert zich in de commerciële sector van de markt. De ontwikkeling gebeurt in België, wat een hoge mate van service garandeert.
UN LOOK ATTRACTIF ET CONTEMPORAIN
Une qualité fiable et abordable. C'est ce que garantit le fabricant de sièges VARAM. Une vaste collection de modèles composables en relaxation et canapés d'angle contemporains. Confort, fonctionalité, moderne, relax, qualité et prix corrects, voilà les mots -clés de VARAM. L'entreprise familiale dispose d'une expérience de plus de 70 ans dans la production de sièges. Elle opère dans le segment commercial du marché. Le centre de developpement se trouve en Belgique, ce qui garantit un service très réactif.
VARAM
Industrielaan 105
B-8930 Menen
T +32 (0) 56 51 13 75
@ info@varam.be
W www.varam.be
Export: Alexander Vanraes
139 POPULAR
VERDON
When it comes to fashionable, creative and durable furniture, Verdon is the place to be. Combining our passion for design, purity of raw materials and our craving for perfection enables us to create truly unique, commercial furniture collections. Verdon's strength in combining materials and the fact that we control both the supply of raw materials as well as the entire production line, makes our business model responsive to any need in the market as well as versatile to cover any space in the home. From patio to bathroom, Verdon can cover every product category in between.
With our extensive experience in the worldwide furniture business we are able to work closely together with our trade clients to create tailor-made products, all committed to high standards of design and quality that help them grow their companies.
Our European based R&D plus Sales/Marketing team allows us to respond precisely to new trends and developments in the market, whilst our offices close to production partners worldwide allow full control over our supply chain, including production and logistics. The combination of both makes Verdon the perfect partner for your retail needs, as well as any personalised project you want to develop with us as a partner. These development & sourcing skills in combination with our ability to ship both ex-warehouse as well as directly from our factories, allow us to offer tailor made solutions for any project you are working on.
140 POPULAR
Als het om modieuze, creatieve en duurzame meubelen gaat, ben je bij Verdon aan het juiste adres. Door onze passie voor design, kwaliteit van grondstoffen en de zoektocht naar perfectie, kunnen we unieke en zeer commerciële meubelcollecties creëren. De kracht van Verdon zit hem in het combineren van kwalitatieve materialen en het feit dat we zowel de aanvoer van grondstoffen als de volledige productielijn beheersen. Hierdoor spelen we in op de trends en noden van de markt, en met ons gevarieerd productgamma richten we elke ruimte in huis in . Van terras tot badkamer, Verdon kan elke productcategorie dekken.
Met onze uitgebreide ervaring in de wereldwijde meubelbranche zijn we in staat om nauw samen te werken met onze B2B klanten om op maat gemaakte producten te creëren. Onze producten zijn onderhevig aan hoge kwaliteitsnormen wat betreft design en material, zodat onze klanten samen met ons mee kunnen groeien.
Ons in Europa gevestigde R&D plus Sales/Marketing-team stelt ons in staat om precies in te spelen op nieuwe trends en ontwikkelingen in de markt, terwijl onze kantoren dicht bij productiepartners over de hele wereld volledige controle over onze toeleveringsketen mogelijk maken, inclusief productie en logistiek. De combinatie van beide maakt Verdon tot de perfecte partner voor uw retail behoeften, maar ook voor elk gepersonaliseerd project dat u met ons als partner wilt ontwikkelen.
Deze ontwikkelings- en inkoopvaardigheden in combinatie met ons vermogen om zowel vanuit het magazijn als rechtstreeks vanuit onze fabrieken te verzenden, stelt ons in staat om op maat gemaakte oplossingen te bieden voor elk project waaraan u werkt.
Lorsqu'il s'agit de mobilier à la mode, créatif et durable, Verdon est le rendez-vous incontournable. En combinant notre passion pour le design et la pureté des matières premières avec notre désir de perfection, nous pouvons créer des collections de mobilier commercial uniques. La force de Verdon réside dans la combinaison des différents matériaux ainsi que dans le fait que nous contrôlons à la fois l'approvisionnement en matières premières et l'ensemble de la chaîne de production, ce qui rend notre modèle d'entreprise capable de répondre à tous les besoins du marché. Polyvalent, Verdon pour couvrir tous les espaces de la maison, du patio à la salle de bain, en passant par toutes les catégories de produits intermédiaires.
Grâce à notre expérience approfondie dans le secteur mondial de l'ameublement, nous sommes en mesure de travailler en étroite collaboration avec nos clients pour créer des produits sur-mesure qui répondent à des normes élevées de design et de qualité qui les aident à développer leurs entreprises.
Notre équipe européenne de R&D et de vente/marketing nous permet de répondre précisément aux nouvelles tendances et aux développements du marché, tandis que nos bureaux situés à proximité de nos partenaires de production dans le monde entier nous permettent de contrôler entièrement notre chaîne d'approvisionnement, y compris la production et la logistique. La combinaison de ces deux éléments fait de Verdon le partenaire idéal pour vos besoins de vente au détail, ainsi que pour tout projet personnalisé que vous souhaitez développer avec nous en partenariat avec nous. Ces compétences en matière de développement et d'approvisionnement, combinées à notre capacité à expédier des produits à partir de nos entrepôts ou directement depuis nos usines, nous permettent d'offrir des solutions sur-mesure pour tout projet sur lequel vous travaillez.
VERDON T +32 78 07 73 31 @ contact@verdonretail.com 141 POPULAR
VIPACK
142 POPULAR
FINE FURNITURE FOR YOUNG PEOPLE!
Vipack is a company specialized in development and distribution of ready-to-assemble furniture for young people. The company is focusing exclusively on professional domestic and foreign b2b dealers. The strength of the company is the continuous development of new products, following today's newest trends. This to offer a wide range of commercial products with a contemporary look at an affordable price. By keeping permanent stock level of all the products, Vipack guarantees a swift and punctual service to all their customers. Service is a major key to their success. All models have been registered. Vipack is an FSC certified company.
FINE FURNITURE FOR YOUNG PEOPLE!
Vipack is gespecialiseerd in ontwerp en distributie van flatpack meubilair voor jonge mensen. Het bedrijf richt zich uitsluitend op de professionele wederverkoper in binnen- en buitenland. De kracht van het bedrijf is het continu ontwikkelen van nieuwe producten die aansluiten op de nieuwste trends van vandaag. De collectie is daarom breed, commercieel, actueel en dat alles voor een goede prijs. Omdat alle meubels vanuit voorraad geleverd worden, garandeert Vipack een snelle en punctuele service aan al haar klanten. Service is een belangrijke factor voor het succes. Alle modellen zijn gedeponeerd.
FINE FURNITURE FOR YOUNG PEOPLE!
Vipack est une entreprise spécialisée dans le développement et la distribution des meubles pour les jeunes. La société se concentre exclusivement sur les concessionnaires b2b professionnels nationaux et étrangers. La force de la société réside dans le développement continu de nouveaux produits, suivant les dernières tendances actuelles. Ceci pour offrir une large gamme de produits commerciaux avec un look contemporain à un prix abordable. En maintenant un niveau de stock permanent de tous les produits, Vipack garantit un service rapide et ponctuel à tous ses clients. Le service est une clé majeure de leur succès. Tous les modèles ont été enregistrés. Vipack est une entreprise certifiée FSC.
143 POPULAR
144 POPULAR
Vipack Meulebeeksestraat 51 B-8710 Ooigem T +32 (0)56-32 30 79 @ rvi@vipack.be W www.vipackportal.be 145 POPULAR
MOMENTS FURNITURE
146 HEALTH CARE
Moments Furniture offers a wide collection of care furniture. Since 1935 we develop, manufacture, upholster and assemble all our seating furniture in Belgium. We believe that people are able to feel and experience that our furniture is made by passionate experts. Each piece is designed and manufactured with the utmost care, perfectly combining form and functionality. Our ergonomic design furniture provides a total experience. Delivering the highest level of comfort, tailored to the needs of users. They are made from high-grade sustainable materials. And last but not least: they look fantastic. Our stylish care relax chairs, heavy duty tables, ergonomic sofas and accessories strengthen the warm, cosy, hospitality feel of the interiors in which they are placed.
Moments Furniture biedt een gevarieerde collectie zorgmeubelen aan. Sinds 1935 produceren, stofferen en assembleren wij al onze zitmeubelen in België. Wij geloven en hebben er vertrouwen in, dat mensen kunnen 'voelen en ervaren' dat ons meubilair is gemaakt door gepassioneerde vakmensen. Elk meubel is met de grootste zorg ontwikkeld en verzoent op onnavolgbare wijze vorm en functionaliteit. De ergonomische designmeubelen bieden een totaalervaring. Ze leveren het hoogste comfort en zijn aangepast aan de noden van de gebruikers. Ze zijn gemaakt van duurzame en kwalitatieve materialen. En, last but not least: ze zijn een lust voor het oog. Onze care relax zetels, tafels, sofa's en accessoires hebben stijl en versterken zo mee het warme, gezellige en uitnodigende karakter van de interieurs waarin ze staan.
Moments Furniture offre une collection variée de mobilier de soins de santé. Depuis 1935, nous fabriquons, garnissons et assemblons tous nos sièges en Belgique. Nous croyons et sommes convaincus que les personnes peuvent "sentir et expérimenter" une fabrication artisanale passionnée de notre mobilier. Chaque meuble est développé avec le plus grand soin et concilie inimitablement forme et fonctionnalité. Le mobilier ergonomique et design offre une expérience totale. Ils offrent le plus grand confort et sont adaptés aux besoins des utilisateurs. Ils sont fabriqués à partir de matériaux durables et de haute qualité. Enfin, et surtout, ils sont agréables à regarder. Nos fauteuils relax médicaux, tables, fauteuils et accessoires ont du style et contribuent ainsi à renforcer le caractère chaleureux et accueillant  des intérieurs dans lesquels ils sont placés
Moments Furniture NV
Deefakkerstraat 2
B-8770 Ingelmunster
T +(32)(0)51 489258
@ info@momentsfurniture.com
W www.momentsfurniture.com
147 HEALTH CARE
OTIUM CARE
WE GIVE COLOR TO YOUR INTERIOR
OTIUM CARE has built up a solid reputation in the healthcare world for 7 years. We adapt armchairs and sofas to everyone's needs, focusing on seating comfort for the user and functionality for the care provider.
Our wonderfully comfortable range can be used at home as well at residential care centers and hospitals. Because functionality and comfort comes first for us, we offer, among other things, modular relax chairs that can evolve with your personal situation.
Our reclining armchairs on a swivel base are adaptable to everyone's mobility. Easily switch from a standard swivel base to a wheeled swivel base (without patient) or multi-foot (with patient). We distinguish ourselves by the sublime comfort and stylish design of our relax chairs.
We do not just sell a chair, but a tailor-made solution in which we combine comfort, design and craftsmanship.
148 HEALTH CARE
WIJ GEVEN KLEUR
AAN UW INTERIEUR
OTIUM CARE heeft sinds 7 jaar een stevige reputatie opgebouwd in de zorgwereld. Wij passen fauteuils en banken aan ieders noden aan met het oog op het zitcomfort van de gebruiker en de functionaliteit voor de zorgverstrekker.
Ons heerlijk comfortabel gamma kan toegepast worden in zowel een thuissituatie als in residentiële zorgcentra en ziekenhuizen. Omdat functionaliteit en comfort bij ons op de eerste plaats komt bieden wij onder andere modulaire relaxzetels aan die mee evolueren met jouw persoonlijke situatie.
Onze relaxfauteuils op draaivoet zijn aanpasbaar aan ieders mobiliteit.
Schakel eenvoudig over van een standaard draaivoet naar een verrijdbare draaivoet (zonder patiënt) of multi-voet (met patiënt). We onderscheiden ons door het subliem comfort en stijlvol design van onze relaxen.
We verkopen geen stoel, maar een oplossing op maat waarbij wij comfort, design en vakmanschap combineren.
NOUS DONNONS DE LA COULEUR À VOTRE INTÉRIEUR
OTIUM CARE s'est forgé une solide réputation dans le monde de la santé depuis 7 ans. Nous adaptons les fauteuils et les canapés aux besoins de chacun dans une optique de confort d'assise de l'utilisateur et de fonctionnalité pour le soignant.
Notre gamme merveilleusement confortable peut être utilisée à la maison ainsi que dans les centres de soins résidentiels et les hôpitaux. Parce que la fonctionnalité et le confort sont les plus importantes pour nous, nous vous offrons, entre autres, des fauteuils relax modulables qui évoluent avec votre situation personnelle.
Nos fauteuils relax sur piétement pivotant s'adaptent à la mobilité de chacun. Passez facilement d'une base pivotante standard à une base pivotante à roulettes (sans patient) ou à une base multi-pieds (avec patient). Nous nous distinguons par le confort sublime et le design élégant de nos fauteuils relax.
Nous ne vendons pas une chaise, mais une solution sur mesure dans laquelle nous combinons confort, design et savoir-faire.
Otium Care
Vilvertstraat 11
B-3650 Dilsen-Stokkem
Christel Heymans:
T +32 (0)475 64 54 01
@ otiumcare@mecam.be
W www.otiumcare.be
@mecamgroup
149 HEALTH CARE
BEKA
150 SLEEP
Beka® is a Belgian manufacturer of mattresses and boxsprings. Since 1935, Beka® has merged innovative sleeping technology, master craftsmanship and elegant finishing to create the ultimate in sleeping comfort.
BEKA, THE BEST PLACE IN THE WORLD
Beka® promises its customers more than a bed. It creates together with them 'The best place in the world'. A unique place where you like to recharge your batteries, read some more, cuddle, love, doze, dream away and… enjoy a deep and restorative sleep.
COURT SUPPLIER
Beka® has been an official supplier of the Belgian Court since 1998. A privilege because the title, awarded by His Majesty the King, is a proof of trust and quality. Moreover, a Supplier to the Belgian Court must strive for perfection in every aspect of its business.
Beka® is een Belgische fabrikant van matrassen en boxsprings. Al sinds 1935 laat Beka® innovatieve slaaptechnologie, meesterlijk vakmanschap en elegante afwerking samenvloeien tot het summum van slaapcomfort.
BEKA, DE BESTE PLEK TER WERELD
Beka® belooft zijn klanten meer dan een bed. Het creëert samen met hen 'De beste plek ter wereld'. Een unieke plaats waar je graag herbront, nog-eventjes-wat-leest, knuffelt, bemint, indut, soest, snoezelt, wegdroomt en … geniet van een diepe en herstellende slaap.
GEBREVETTEERD HOFLEVERANCIER VAN BELGIË
Beka® mag zich sinds 1998 Hofleverancier noemen. Een voorrecht omdat de titel, toegekend door Zijne Majesteit de Koning, een bewijs is van vertrouwen en kwaliteit. Een Gebrevetteerde Leverancier aan het Belgische Hof moet bovendien voor elk aspect van zijn onderneming de perfectie nastreven.
Beka® est un fabricant belge de matelas et de boxsprings. Depuis 1935, la marque réunit sans relâche une technologie innovante, un savoir-faire précieux et une finition élégante dans un confort de sommeil inégalé.
BEKA, LE PLUS BEL ENDROIT DU MONDE
Beka® promet plus qu'un lit à ses clients. Elle crée avec eux « Le plus bel endroit au monde ». Un lieu unique où vous aimez vous ressourcer, lire encore un dernier chapitre, où vous réfugier pour de petits bisous, de gros câlins, où somnoler, où vous envoler aux pays des rêves et... surtout vous endormir profondément pour une nuit réparatrice.
FOURNISSEUR BREVETÉ DE LA COUR DE BELGIQUE
Beka® porte depuis 1998 le titre de Fournisseur de la Cour de Belgique. Un privilège car le titre, attribué par Sa Majesté le Roi, est une preuve de confiance et de qualité. Un Fournisseur Breveté de la Cour de Belgique n'a de cesse de rechercher la perfection dans chaque aspect de son entreprise.
Aquinos Bedding
Diebeke 20
9500 Geraardsbergen
Belgium
@ info@beka.be
W www.beka.be
151 SLEEP
EQUILLI
152 SLEEP
PZZZT ... YOUR SLEEP PROFILE IS UNIQUE
Equilli stands for science-based, ergonomic sleep comfort. After obtaining his PhD on ergonomic sleep, dr. ir. Vincent Verhaert founded Equilli in 2014. The goal? To create sleep comfort tailored to the customer, with the service to match. A very accurate and user-friendly measurement (Personal Sleep Scan) determines what unique support is needed at the level of shoulders, waist and hip. Thanks to its modular design, the mattress can be quickly personalized. In addition, the mattress can be adjusted even after purchase. Equilli makes all mattresses and box springs in its own manufacturing facility in Boortmeerbeek (Belgium).
PZZZT … JOUW SLAAPPROFIEL IS UNIEK
Equilli staat voor wetenschappelijk onderbouwd, ergonomisch slaapcomfort. Na het behalen van zijn PhD over ergonomisch slapen, richt dr. ir. Vincent Verhaert in 2014 Equilli op. Het doel? Slaapcomfort creëren op maat van de klant, met de service die daarbij past. Een erg nauwkeurige en gebruiksvriendelijke meting (Personal Sleep Scan) bepaalt welke unieke ondersteuning nodig is ter hoogte van schouders, taille en heup. Dankzij het modulaire ontwerp kan de matras snel gepersonaliseerd worden. Bovendien kan de matras ook na aankoop nog aangepast worden. Equilli maakt alle matrassen en boxsprings in haar eigen productie-atelier in Boortmeerbeek (België).
PZZZT ... VOTRE PROFIL DE SOMMEIL EST UNIQUE
Equilli est synonyme de confort de sommeil ergonomique et scientifique. Après avoir obtenu son doctorat sur le sommeil ergonomique, dr. ir. Vincent Verhaert a fondé Equilli en 2014. Le but ? Créer un confort de sommeil adapté au client, avec un service à la hauteur. Une mesure très précise et conviviale (Personal Sleep Scan) détermine quel soutien unique est nécessaire au niveau des épaules, de la taille et des hanches. Grâce à sa conception modulaire, le matelas peut être personnalisé rapidement. En outre, le matelas peut être ajusté même après l'achat. Equilli produit tous ses matelas et sommiers dans son propre atelier de production à Boortmeerbeek (Belgique).
Equilli
Loobeekstraat 6
3190 Boortmeerbeek
Belgium
T 0032 16 79 53 08
@ info@equilli.com
W www.equilli.com
153 SLEEP
GBO BY BAUWENS
Bauwens
Nijverheidstraat 7
B-8730 Beernem
T +32 (0) 50 79 90 80
@ luc@bauwens.be
W www.bauwens.be
AFFORDABLE CONTEMPORARY FURNITURE
The Bauwens company is best known for its wide variety in its range of models. The range under the GBO brand includes dining rooms, bedrooms, seating and chairs. In recent years, particular attention has been paid to styling, new decors with embossed structures and special finishes. The result is a top-quality product range that always takes into account a realistic price/quality balance. In addition, the company always ensures fast delivery.
BETAALBARE ACTUELE MEUBELEN
De firma Bauwens staat vooral bekend voor zijn grote verscheidenheid in zijn modellen assortiment. Het aanbod onder de merknaam GBO gaat van eetplaatsen, slaapkamers, zitmeubilair en stoelen. De laatste jaren zijn bijzondere inspanningen gedaan qua modellering, nieuwe decors met reliëf structuren en bijzondere afwerkingen. Hierdoor wordt een kwalitatief aanbod voorgelegd waarbij steeds rekening wordt gehouden met een eerlijke prijs-kwaliteitverhouding. Verder zorgt de firma steeds voor korte levertermijnen.
GBO PAR BAUWENS
GBO par Bauwens, cela représente des mobiliers design, dans l'air du temps et à prix attractifs. La société est connue pour sa grande variété de gamme de modèles telles que des salles à manger, chambres ainsi que des chaises et salons. Ces dernières années, des efforts particuliers ont été fait en termes de modelage, de nouveaux décors avec des structures en relief et des finitions particulières. Bauwens propose des offres de qualités tout en tenant compte d'un juste rapport qualité-prix. L'entreprise garantit toujours des délais de livraisons courts.
154 SLEEP
MDR BY BAUWENS
PREMIUM BRAND
PREMIUMMERK
Bauwens
Nijverheidstraat 7
B-8730 Beernem
T +32 (0) 50 79 90 80 @ luc@bauwens.be W www.bauwens.be
MDR is Bauwen's premium brand. Bedrooms, dining areas and office suites are available in refined decors and contemporary designs. The outstanding user-friendliness, made possible by the use of the latest material techniques and carefully selected melamine decors, is particularly appreciated by our acustomers. The collection is supplied fully assembled or partly assembled in the case of bedrooms. The latest creations will be on display at the Cologne furniture fair.
MDR is het premiummerk van Bauwens. Hier worden slaapkamers, eetplaatsen en bureelprogramma's aangeboden in verfijnde decors en eigentijds design. De hoge gebruiksvriendelijkheid mede door inzet van de laatste materiaaltechnieken en zorgvuldig uitgekozen melaminedecors worden door het cliënteel bijzonder gewaardeerd. De collectie wordt vooral gemonteerd aangeleverd of deels in het geval van slaapkamers. De laatste creaties zullen te zien zijn op de meubelbeurs van Keulen.
BAUWENS A FAIT DE MDR SA MARQUE PHARE
MDR représente une finition raffinée de meubles de chambres à coucher et de salles à manger dans un décor chaleureux et un design contemporain.
La clientèle apprécie particulièrement l'ambiance conviviale due en partie à l'utilisation des dernières techniques de matériaux et de décors mélaminés soigneusement sélectionnés mais aussi à la facilité de montage. En effet, une grande partie de la collection est livrée montée.
155 SLEEP
POLYPREEN
156 SLEEP
POLYPREEN, MORE THAN HALF A CENTURY OF SLEEPING COMFORT
This mattress manufacturer has been known for its quality and personal service since 1966. In Lommel, Belgium, 170 employees are active in the manufacture of mattresses. With its own laboratory, full continuous durability and quality tests are carried out.
Few people know that the production site, with its 32,500 m² of buildings, also has its own foam production. On a gigantic production line, large foam blocks are produced for third parties. When developing both its own mattresses and foam products, sustainable initiatives are always a top priority.
Polypreen is an organisation 'close to the people', they always have been and to this day that still ensures the benefits of short delivery times and flexible solutions every day.
POLYPREEN, MEER DAN EEN HALVE EEUW SLAAPCOMFORT
Reeds sinds 1966 is deze matrassenfabrikant gekend om zijn kwaliteit én persoonlijke dienstverlening. In het Belgische Lommel zijn 170 werknemers actief in de vervaardiging van matrassen. Met een eigen laboratorium worden full continu duurzaamheids- en kwaliteitstesten uitgevoerd.
Tevens, en dat weten weinigen, heeft de productiesite met zijn 32.500 m² gebouwen ook zijn eigen schuimproductie. Op een gigantische productielijn worden grote schuimblokken geproduceerd voor derden. Bij de ontwikkeling van zowel eigen matrassen als schuimproducten, zijn duurzame initiatieven steeds een topprioriteit.
Polypreen is een organisatie 'dicht bij de mensen', dat zijn ze altijd geweest en tot op heden zorgt dat nog dagelijks voor de voordelen van korte levertermijnen en flexibele oplossingen.
POLYPREEN, PLUS D'UN DEMI-SIÈCLE DE CONFORT
DE SOMMEIL
Ce fabricant de matelas est connu pour sa qualité et son service personnalisé depuis 1966. A Lommel, en Belgique, 170 employés sont actifs dans la fabrication de matelas. Grâce à son propre laboratoire, des tests complets de durabilité et de qualité sont effectués en continu.
Peu de gens savent que le site de production, avec ses 32 500 m² de bâtiments, possède également sa propre production de mousse. Sur une gigantesque ligne de production, de grands blocs de mousse sont produits pour des tiers. Lors du développement de ses propres matelas et produits en mousse, les initiatives durables sont toujours une priorité absolue.
Polypreen est une organisation "proche des gens", qui l'a toujours été et qui, aujourd'hui encore, garantit chaque jour les avantages de délais de livraison courts et de solutions flexibles.
Polypreen
Kerkhovensesteenweg 88
3920 Lommel
T +32 11 54 90 00
@ info@polypreen.com
W www.polypreen.com
157 SLEEP
RECOR BEDDING
QUALITY SLEEP SINCE 1949
158 SLEEP
With a passion for craftsmanship and an obsession for quality, Recor Bedding creates innovative sleeping systems that combine technology and aesthetics.
The mattresses, box springs and slatted bases of Recor Bedding are handmade in Belgium with high-quality, sustainable materials.
Met passie voor ambacht en obsessie voor kwaliteit creëert Recor Bedding innovatieve slaapsystemen die techniek en esthetiek combineren.
De matrassen, boxsprings en lattenbodems van Recor Bedding worden met de hand vervaardigd in België met kwalitatieve, duurzame materialen.
Avec une passion pour l'artisanat et une obsession pour la qualité, Recor Bedding crée des systèmes de couchage innovants qui allient technologie et esthétique.
Les matelas, boxsprings et sommiers à lattes de Recor Bedding sont fabriqués en Belgique avec des matériaux durables de haute qualité, depuis plus de 70 ans.
Recor Bedding
Melbergstraat 6
3600 Genk
T +32 (0) 89 51 11
@ sales.rb@recor-group.com
W www.recorbedding.com
159 SLEEP
REVOR
160 SLEEP
REVOR BEDDING, SINCE 1971
At Revor we go that extra mile to optimise your sleeping experience because we know how vital sleep is for your quality of life.
We combine more than 50 years of experience and craftsmanship with continuous product research and the use of high-quality materials to develop healthy, qualitative sleeping systems. The quality of a Revor bed is a vital aspect of its appeal, as is its look and feel. Our beds take pride of place in every bedroom.
REVOR BEDDING, SINDS 1971
Omdat slapen essentieel is voor de levenskwaliteit, zet Revor alles in het werk om de nachtrust te optimaliseren. Meer dan 50 jaar vakmanschap, continu product-onderzoek én het gebruik van hoogwaardige materialen, zorgen voor gezonde, kwalitatieve slaapsystemen. Niet enkel de kwaliteit is essentieel bij een Revor bed maar ook de looks zijn van groot belang. Onze bedden vormen het pronkstuk van elke slaapkamer.
REVOR BEDDING, DEPUIS 1971
Parce que le sommeil est essentiel à notre qualité de vie, Revor met tout en oeuvre pour optimiser le repos nocturne. Plus de 50 années de savoir-faire, d'étude permanente du produit et d'utilisation des meilleurs matériaux ont abouti à des systèmes de sommeil sains et de qualité. Non seulement la qualité est essentielle dans un lit Revor mais le look revêt également une grande importance. Nos lits sont le fleuron de toute chambre à coucher.
161 SLEEP
REVOR Noordlaan 2 8520 Kuurne Belgium T +32 56 54 12 00 @ sales@revor.be W www.revor.be 162 SLEEP
163 SLEEP
SOFABED CREATE SPACE TO LIVE
164 SLEEP
Discover how Sofabed seamlessly integrates design and function and experience the ultimate combination of seating and sleeping comfort. A one-seater, a two-seater with a long chair or rather a large corner? Sofabed has a smart solution for every room.
Sofabed's convertible sofas are equipped with a high-quality mechanism and a Belgian-made spring mattress
Ontdek hoe Sofabed design en functie naadloos integreert en ervaar de ultieme combinatie van zit- en slaapcomfort. Een eenzit, een tweezit met longchair of liever een grote hoekopstelling? Sofabed heeft een slimme oplossing voor elke ruimte.
De slaapbanken van Sofabed zijn uitgerust met een hoogwaardige mechaniek en een verenmatras van Belgische makelij.
Découvrez comment Sofabed intègre harmonieusement design et fonctionnalité pour créer la combinaison ultime de confort d'assise et de sommeil. Un canapé deux places, avec ou sans méridienne, un aménagement spacieux en angle ou un fauteuil compact ? Sofabed propose une solution intelligente pour chaque espace.
Les canapés-lits de Sofabed sont équipés d'un mécanisme de haute qualité et d'un matelas à ressorts de fabrication belge.
Sofabed
Melbergstraat 6
3600 Genk
T +32 (0) 11 28 98 43
@ sales.sofabed@recor-group.com
W www.sofa-bed.be
165 SLEEP
STYLDECOR
Styldecor Noordlaan 2 B-8520 Kuurne België T +32 56 54 12 00 F +32 56 54 12 99 @ info@styldecor.be W www.styldecor.be 166 SLEEP
BELGIAN LUXURY BEDS
A bed is a dream! The beauty of a Styldecor bed is in the details! That is why each Styldecor bed is made by hand, time after time, by the best craftsmen with many years of experience. From the joinery to the studs. From painting to upholstering... This is the only way we can guarantee that everything is finished down to the smallest detail. After finishing, each product undergoes a final quality check. Only then is it delivered to your home. Only in this way can we also end our day in beauty.
BELGIAN LUXURY BEDS
Van een bed moet je dromen! De schoonheid van een Styldecor bed zit 'm in de details! Daarom wordt elk Styldecor bed keer op keer met de hand gemaakt door de beste vaklui met jarenlange ervaring. Van het schrijnwerk tot de noppen. Van het schilderen tot het stofferen... Alleen zo kunnen we garanderen dat alles tot in de puntjes is afgewerkt. Elk product ondergaat na afwerking een finale kwaliteitscontrole. Pas dan wordt het bij jou thuis afgeleverd. Enkel zo kunnen ook wij onze dag eindigen in schoonheid.
BELGIAN LUXURY BEDS
Un lit doit faire rêver! La beauté des lits de Styldecor se cache dans les détails! C'est la raison principale pour laquelle chaque lit de Styldecor est fabriqué à la main par les meilleurs artisans de l'industrie. De la menuiserie au capitonnage, de la peinture au garnissage, tout est fait par des professionnels avec de nombreuses années d'expérience. Ce n'est que de cette façon que nous pouvons garantir une finition parfaite de chaque détail. Une fois la production terminée, chaque lit subit un contrôle de qualité. Question d'également finir notre journée en beauté... Ce n'est qu'après cette dernière vérification du lit qu'il sera livré chez vous.
167 SLEEP
VAN LANDSCHOOT
168 SLEEP
Happiness comes while you sleep. We, at Van Landschoot, are sure of that. That's why we provide topnotch sleep.
Since 1925, Van Landschoot has been a close-knit family business that makes quality products in a traditional way in its Belgian atelier.
Our craftsmanship is based on more than 90 years of knowledge and passion for optimal sleeping in the best bed.
Geluk komt tijdens je slaap. Daar zijn wij, bij Van Landschoot, zeker van. Net daarom zorgen we voor nachtrust van de bovenste plank.
Sinds 1925 is Van Landschoot een hecht familiebedrijf dat op ambachtelijke wijze kwalitatieve producten maakt in zijn Belgische atelier.
Ons artisanaal vakmanschap berust op meer dan 90 jaar kennis over én passie voor optimaal slapen in hét beste bed.
Le bonheur vient en dormant. Chez Van Landschoot, nous en sommes convaincus. C'est pour cette raison que nous nous efforçons de proposer un repos nocturne haut de gamme.
Depuis 1925, Van Landschoot est une entreprise familiale solide, qui propose des produits de qualité à des prix abordables.
Notre passion de l'innovation et du progrès nous pousse chaque jour à développer et consolider notre entreprise.
169 SLEEP
170 SLEEP
Van Landschoot
Aalterbaan 119 9990 Maldegem, België
T +32 050 71 12 38 @ info@vanlandschoot.be W www.vanlandschoot.be
171 SLEEP
VELDEMAN BEDDING
172 SLEEP
GOOD MORNING, EVERY MORNING
A good night's sleep makes a world of difference! Your sleep quality colours your life. Waking up every morning full of energy is the kickstart for a healthy and happy life. This way every morning is a 'good' morning. That's what we do it for.
Since 1954 we have strived to provide sustainable and quality sleep comfort for everyone. Specially designed to combine healthy and stylish sleep. We work with high-quality, durable materials and continue to innovate in order to offer you optimal comfort. And all this for everyone's budget.
Sleep is very personal and intimate. Find the sleep solution that matches your sleeping needs and lifestyle using our 4 Velda Moods: Essential, Icon, Sense and Omni.
Discover the Moods and their collections on our website velda.net.
GOEDEMORGEN, ELKE MORGEN
Een goede nachtrust maakt een wereld van verschil! Je slaapkwaliteit kleurt je leven. Elke ochtend vol energie wakker worden, is de kickstart voor een gezond en gelukkig leven. Zo wordt elke morgen een 'goede' morgen. Daar doen we het voor.
Sinds 1954 streven we naar duurzaam en kwaliteitsvol slaapcomfort voor iedereen. Speciaal ontworpen om gezond en stijlvol slapen te combineren. We werken met kwalitatieve, duurzame materialen en blijven innoveren om optimaal comfort te bieden. En dat voor ieders budget.
Slaap is heel persoonlijk en intiem. Vind eenvoudig de slaapoplossing die matcht met jouw slaapbehoeftes en levensstijl aan de hand van onze 4 Velda Moods: Essential, Icon, Sense en Omni.
Ontdek de Moods en hun collecties op onze website velda.net.
BONJOUR, TOUS LES JOURS
Une bonne nuit de sommeil fait toute la différence ! La qualité de votre sommeil conditionne votre vie. Se réveiller chaque matin plein d'énergie est le point de départ d'une vie saine et heureuse. Ainsi, chaque jour devient un "bon" jour. C'est pour cela que nous le faisons.
Depuis 1954 nous nous oeuvrons pour assurer un confort de sommeil durable et de haute qualité pour tous. Spécialement conçu pour combiner un sommeil sain et stylé. Nous travaillons avec des matériaux durables et de haute qualité et continuons à innover pour vous offrir un confort optimal. Et cela pour le budget de tous
Le sommeil est une chose très personnelle et intime. Trouvez facilement la solution de sommeil qui correspond à vos besoins et à votre style de vie grâce à nos 4 Velda Moods : Essential, Icon, Sense et Omni.
Découvrez les Moods et leurs collections sur notre site web velda.net.
173 SLEEP
Fylds' 174 SLEEP
Discover our Focus box spring collection in the Mood 'Icon'. Create a true relaxation space in your bedroom with the new, shell-shaped headboard Noah with its comfortable cushions. It gives your boxspring the look it deserves.
Ontdek in de Mood 'Icon' onze Focus boxspringcollectie. Creëer een ware relaxruimte in je slaapkamer met het nieuwe, schelpvormige hoofdbord Noah met zijn comfortabele kussens. Het geef je boxspring dé uitstraling die het verdient.
Découvrez notre collection Focus dans le Mood 'Icon'. Créez un véritable espace de détente dans votre chambre à coucher avec la nouvelle tête de lit Noah en forme de coquille et ses coussins confortables. Il donne à votre boxspring le look qu'il mérite.
FYLDS': LUXURIOUS SLEEPING COMFORT HANDMADE IN BELGIUM
Fylds' brings together the best home-grown natural ingredients to create a new concept in sleeping comfort: The Belgian Bed. Each box-spring bed is handmade in our own workshops, by master bed makers who live for their craft. Made to measure and sometimes even taken a step further. Fylds', where superior quality and natural materials come together.
FYLDS': LUXUEUS SLAAPCOMFORT HANDGEMAAKT IN BELGIË
Fylds' brengt de beste natuurlijke ingrediënten van eigen bodem samen tot een nieuw begrip in slaapcomfort: Het Belgisch Bed. Elk boxspringbed wordt met de hand vervaardigd in onze eigen ateliers, door meester-beddenmakers die voor hun ambacht leven. Op maat en soms zelfs nog een stapje verder. Fylds', waar superieure kwaliteit en natuurlijke materialen samen komen.
FYLDS': LITERIE DE LUXE ARTISANALE EN BELGIQUE
Fylds' réunit les meilleurs ingrédients naturels cultivés sur place pour créer un nouveau concept de confort de sommeil : le lit belge. Chaque lit à sommier tapissier est fabriqué à la main dans nos propres ateliers, par des maîtres-littiers qui vivent de leur métier. Fabriqué sur mesure et parfois même poussé un peu plus loin. Fylds', où la qualité supérieure et les matériaux naturels sont réunis.
Veldeman Bedding Industrieweg-Noord 1155
B-3660 Opglabbeek
T +32 (0) 89 36 66 60
@ info@veldeman.com
W www.velda.net
Export: Kris Nouwen Kris.nouwen@veldeman.com
175 SLEEP
Headboard Velda Noah
DRISAG
176 OFFICE
VAN WERKPLEKKEN NAAR PLEKKEN DIE WERKEN
Drisag is een familiebedrijf met 50 jaar expertise. Sinds 1970 faciliteren ze kantoren van bedrijven, zorg- en overheidsinstellingen. Het bedrijf evolueerde samen met de nieuwste trends en is uitgegroeid tot expert in het creëren van inspirerende interieurconcepten, van werkplek tot lunch- en ontvangstruimte. Bovendien houden ze de ecologische voetafdruk klein. Drisag gaat steeds op zoek naar recycleerbare maar ook gerecycleerde grondstoffen. Zo kwamen ze uit bij vilt dat voor de helft bestaat uit gerecycleerde PET-flessen. Het meubilair van Drisag wordt met de hand vervaardigd door vakmensen in het Belgische Herentals. Producten reizen dus niet de hele wereld rond, maar ze komen gewoon vanuit je eigen achtertuin. Kortom, het bedrijf levert werkplezier en is bekommerd om de planeet.
Op zoek naar jouw perfecte oplossing? Onze experten creëren je ideale werkomgeving, met persoonlijk advies. Ga met ons in gesprek.
TURNING WORKPLACES INTO PLACES THAT WORK
Drisag is a family-run business with 50 years of expertise. Since 1970, they have facilitated offices for private companies, healthcare and government institutions. Throughout the years, Drisag has evolved along with the latest trends and has become an expert in creating inspiring interior concepts, from workplaces to lunch and reception areas. In addition, the company keeps its ecological footprint small. They always look for recyclable but also recycled raw materials. So they ended up with felt made of half recycled PET bottles. Drisag's furniture is handcrafted by craftsman and women in Herentals, Belgium. The products don't travel around the world, but simply come from your own backyard. In short, the company provides job satisfaction and cares about the planet.
Are you looking for your perfect solution? Our experts will create the best working environment fit for you. Let's talk.
LES LIEUX DE TRAVAIL DEVIENNENT LES LIEUX QUI FONCTIONNENT
Drisag est une entreprise familiale avec 50 ans d'expertise. Depuis 1970, ils facilitent la vie des bureaux des entreprises, des établissements de santé et des institutions gouvernementales. L'entreprise a évolué au rythme des dernières tendances et elle est devenue experte dans la création des concepts d'intérieur inspirants, qu'il s'agisse de lieux de travail, d'espaces de déjeuner ou de réception. En outre, ils permettent de maintenir une empreinte écologique faible. Ils recherchent toujours des matières premières recyclables mais aussi recyclées. Ils se sont donc retrouvés avec un feutre fait de bouteilles en PET à moitié recyclées. Les meubles de Drisag sont fabriqués à la main par des artisans à Herentals, en Belgique. Les produits ne font pas le tour du monde, ils viennent de chez vous. En bref, l'entreprise offre une satisfaction professionnelle et se soucie de la planète.
Vous cherchez la solution parfaite ? Nos experts créent votre environnement de travail idéal, avec des conseils personnalisés. N'hésitez pas à nous contacter.
177 OFFICE
178 OFFICE
Drisag Office Inspirators Diamantstraat 4-8 2200 Herentals België T +32 (0) 1423 1111 @ welcome@drisag.be W www.drisag.be 179 OFFICE
MDR OFFICE BY BAUWENS
ALTIS 180 OFFICE
Office solution from MDR.
MDR's lifeblood is always based on flexible, quality office solutions in contemporary decors with numerous possibilities.
ACCESS
Het bureel programma van MDR.
In het DNA van MDR zijn er steeds flexilbele hoogwaardige bureelprogramma's in actuele decoren verwerkt met tal van mogelijkheden.
Le programme de bureau de la marque MDR.
Ce qui sous-entend, un programme de bureau de haute qualité dans un décor actuel et proposant de nombreuses options d'agencement. Son décor en mélamine est sobre et facile d'entretien.
Bauwens
Nijverheidstraat 7
B-8730 Beernem
T +32 (0) 50 79 90 80
@ luc@bauwens.be
W www.bauwens.be
181 OFFICE
FRAKO FRAKO NV Welvaartsstraat 8 2381 Weelde, België T +32 (0) 14 65 59 62 @ info@frako.be W www.frako.be Frako nv __frako 182 BATH / KITCHEN
BESPOKE INTERIORS DOWN TO THE SMALLEST DETAIL!
As an expert in kitchen production, we have grown into specialists of bespoke interior for every space. Whether it's bespoke furniture for the kitchen, bathroom, dressing rooms, bedrooms or desks and office furniture as well as medical and professional shop furniture. You design, we'll manufacture, customized in any style. Nationally and internationally, we focus on strong B2B relationships & partnerships. By designing locally for the B2C market, we maintain a close relationship with the end customer, so that we know what is required as well as what the trends are. Whether it's in laminate, veneer, lacquer, high gloss or solid. It's all possible at FRAKO, down to the millimetres!
MAATWERK TOT IN HET KLEINSTE DETAIL!
Vanuit onze expertise als keukenbouwer zijn we uitgegroeid tot specialisten in totaalinrichting. Keukens, badkamers, dressings, slaapkamers, bureaus of professionele & medische winkel- en kantoorinrichting. U ontwerpt en wij maken, in elke stijl en op maat. Nationaal en internationaal focussen we op sterke B2B-relaties & partnerships. Door lokaal zelf op de B2C markt in te zetten behouden we de vinger aan de pols en zijn we goed op de hoogte van de trends & innovaties in de sector. Of het nu laminaat, fineer, lak, hoogglans of massief is. Bij FRAKO kan het allemaal, tot op de millimeter!
DES INTÉRIEURS SUR MESURE JUSQUE DANS LES MOINDRES DETAILS!
Grâce à notre expertise en tant que constructeur des cuisines, nous sommes devenus des spécialistes de l'intérieur sur mesure pour chaque espace. Cuisines, salles de bains, dressings, chambres à dormir, des bureaux et du mobilier de bureau ainsi que du mobilier de magasin médical et professionnel. Vous concevez et nous fabriquons, dans tous les styles et sur mesure. Nationale et internationale, nous nous concentrons sur de solides relations et partenariats B2B. Localement nous déployant nous-mêmes sur les relations B2C, comme ça nous prenons le pouls de ce qui se passe, quelles sont les exigences et nous surveillons de près les tendances. Qu'il s'agisse de stratifié, de placage, de laque, de brillant ou solide. Chez FRAKO, tout est possible, au millimètre près!
183 BATH / KITCHEN
KINNO KITCHENS AND CABINETS
184 BATH / KITCHEN
'THE KITCHEN IS WHAT YOU BAKE OF IT'
Kinno is producent van keukens en interieurkasten, ontworpen voor de projectmarkt. Kinno kasten voelen zich thuis in elk appartement, project, sociale woningbouw of publieke ruimte. Zij bieden interieuroplossingen doorheen de woning en staan voor kwalitatieve opbergruimte. Kinno staat voor stipte service & afhandeling, maatwerk, trendcollecties, 50 jaar ervaring, Made in Belgium en een uitstekende prijs-kwaliteitverhouding.
CUISINES POUR LE MARCHÉ DES PROJETS
Kinno est un fabricant des cuisines et armoires d'intérieur pour le marché des projets. Les armoires de Kinno s'intègrent bien dans les appartements, les projets, les logements sociaux et l'espace public. Kinno vous offre des solutions d'intérieur pour toute la maison et vous donne la garantie de ranger d'une qualité supérieure. Kinno est le synonyme de bon service, personnalisation, collections en tendance d'aujourd'hui et 50 ans d'expérience. Fabriqué en Belgique avec l'équilibre excellente entre prix et qualité.
'THE KITCHEN IS WHAT YOU BAKE OF IT'
Kinno is a manufacturer of kitchens and interior closets for the contract market. Kinno closets feel right at home in appartements, contract projects, public housing and public spaces. They offer interior solutions for every room in the house and guarantee high quality storage. Kinno means precise service and handling, made to measure, trendy collections, 50 years of experience, Made in Belgium and an excellent balance between price and quality.
KINNO
Europark 2027
3530 Houthalen
België
T +32 (0) 11 57 90 40
@ hello@kinno.be
W www.kinno.be
185 BATH / KITCHEN
VIKA BADKAMERS
186 BATH / KITCHEN
VIKA NV
Drieslaan 39 8560 Gullegem België
T +32 (0)56 433 733
@ nv@vika.be
W www.vika.be
QUALITY BATHROOM FURNITURE IN YOUR STYLE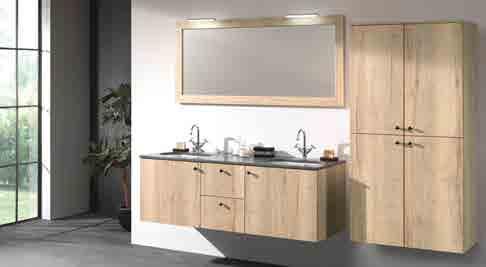 Vika bathroom furniture is an eyecatcher because of its solidity, wide choice of models and the possibility of being made to measure. We have furniture available in many different styles and colours. Vika offers storage solutions for both small and larger bathrooms. Being a Belgian manufacturer we follow the current interior trends very precisely with a team of experienced employees. Since Vika produces also kitchens and wardrobes as well, a particular style can be maintained throughout the house. This results in harmony in the entire interior. An asset appreciated by interior architects and our customers.
KWALITATIEVE BADMEUBELS IN JOUW STIJL
Vika badmeubels springen eruit door hun degelijkheid, ruim assortiment, goede prijs en mogelijkheid tot maatwerk. Wij hebben meubels in alle maten en kleuren. Zo bieden onze praktische meubels met zeer veel opbergruimte een oplossing voor kleine badkamers. Maar ook voor ruime opstellingen bent u bij Vika aan het juiste adres. Als Belgische fabrikant volgen wij met een team ervaren medewerkers nauwgezet de trends op de interieurmarkt. Gezien Vika naast badkamerkasten ook keukens en andere interieurkasten maakt, kan de gekozen stijl worden doorgetrokken in de gehele woning. Dit zorgt voor rust en een doordachte samenhang in het interieur. Een troef die bijzonder door de interieurarchitecten en onze klanten gewaardeerd wordt.
MEUBLES POUR LA SALLE DE BAINS DE HAUTE QUALITE DANS TON STYLE
Les meubles de salle de bains Vika se démarquent grâce à leur solidité, un très grand choix, un prix attirant et la possibilité de personnaliser. Nous offrons des meubles en toutes dimensions et en toutes les couleurs. Vika présente des solutions pratiques pour une salle de bains compacte avec beaucoup d'espace pour ranger. Mais aussi pour une salle de bains spacieuse il y a plein de possibilités. Comme un fabricant Belge nous suivons les tendances d'intérieur de près avec notre équipe d'experts. En plus des meubles de salle de bains Vika fabrique également des cuisines en des armoires d'intérieur. Le style choisi peut donc revenir dans tout l'intérieur. Cette harmonie et la cohérence réfléchie sont fortement appréciées par nos clients en les architectes d'intérieur.
187 BATH / KITCHEN
VIKA KEUKENS
188 BATH / KITCHEN
UNIQUE KITCHENS MADE TO MEASURE
Vika Keukens is the company for kitchens made to measure. We are specialized in manufacturing kitchens both with or without any handles. There is a wide choice of varieties available in many different styles: from classic to modern, from rustic to minimalistic without any visible handles. At Vika industrial perfection is paired with craftmanship with a lot of experience. The unity in style of your Vika kitchen, bathroom and built-in closet results in harmony and serenity. That is why Vika offers not only kitchens and bathroom furniture, but made to measure solutions that are perfectly in line with your personal taste and available space.
UNIEKE KEUKENS OP MAAT
Bij Vika Keukens kunt u terecht voor dé leefkeuken op maat. Wij zijn specialist in zowel greeploze keukens als keukens met greep. Er is keuze uit tal van modellen, van klassiek tot modern, van landelijk tot strak greeploos. Bij Vika gaat industriële perfectie hand in hand met ervaren vakmanschap. De eenheid in stijl van uw Vika keuken, badkamer en interieurkast zorgt voor harmonie en rust. Daarom biedt Vika in het assortiment naast keukens en badmeubels ook maatwerk dat piekfijn is afgestemd op uw smaak en ruimte.
LES CUISINES UNIQUES, ENTIEREMENT PERSONNALISEES
Les cuisines toutes personnalisées pour vivre bien, c'est la caractéristique des cuisines Vika. Nous sommes les experts de cuisines avec et sans poignées. Il y a un très grand choix qui diverge de style classique jusqu'à le style moderne, du style campagnard jusqu'à le style minimaliste sans poignées. Chez Vika la perfection industrielle va de pair avec l'artisanat expérimenté. L'unité de style de votre cuisine, salle de bains et armoire d'intérieur de Vika assure l'harmonie et la détente. Vika vous offre les cuisines et les meubles de salle de bains, toujours parfaitement personnalisés à vos goûts et à votre espace.
VIKA NV
Drieslaan 39
8560 Gullegem
België
T +32 (0)56 433 733
@ nv@vika.be
W www.vika.be
189 BATH / KITCHEN
NEVES
PROFESSIONALISM DOWN TO THE LAST MILLIMETRE
Neves is the Belgian manufacturer of made-to-measure walk-in closets, built-in cabinets, wall units and sliding doors. Always perfect made to measure. With creative and personalised solutions, Neves provides you with the freedom to design any space exactly the way you want it. From the entrance hall to the roof in every home, flat or office. Neves does not think in 3D but in 4D: our made-to-measure wardrobes and sliding doors adapt to everyone's taste and space, not the other way round.
STRONGER TOGETHER
Customisation is a craft that requires many hands. That is why Neves works together with local partners. Shops, carpenters, installers, interior designers, ...: driven professionals who strive for made-to-measure work. Neves shares its knowledge and expertise with them. For more than 30 years. This makes working together fast, easy & fun: cooperation with a smile. Now even supported by the Neves Online quotation and order configurator.
190 TAILOR-MADE
PROFESSIONALITEIT TOT OP DE MILLIMETER
Neves is de Belgische fabrikant van dressings, inbouwkasten, wandmeubelen en schuifdeuren op maat. Alles altijd mooi op maat. Met creatieve en gepersonaliseerde oplossingen geeft Neves je telkens opnieuw de vrijheid om élke ruimte in te richten precies zoals jij dat wilt. Van in de inkomhal tot boven onder het dak. Dit in elke woning, appartement of kantoor. Neves denkt niet in 3D maar in 4D: onze maatkasten en schuifdeuren passen zich daarbij aan aan ieders smaak en ruimte, niet omgekeerd.
SAMEN STERKER
Maatwerk is een stiel waar vele handen aan te pas komen. Daarom werkt Neves samen met lokale partners. Winkels, schrijnwerkers, plaatsers, interieurarchitecten, …: gedreven professionals die ook voluit gaan voor maatwerk. Neves deelt met hen haar kennis en expertise. Al meer dan 30 jaar lang. Zo wordt samenwerken fast, easy & fun: snel, duidelijk en met de glimlach. Nu zelfs ondersteund door de Neves Online offerteen bestelconfigurator.
UN PROFESSIONNALISME
SUR MESURE AU MILLIMÈTRE PRÈS
Neves est le fabricant belge de dressings, d'armoires encastrées, d'unités murales et de portes coulissantes sur mesure. Toujours parfaitement sur mesure. Avec des solutions créatives et personnalisées, Neves vous donne la liberté de meubler chaque espace exactement comme vous le souhaitez. Du hall d'entrée au dernier étage. Et ce dans chaque maison, appartement ou bureau. Neves ne pense pas en 3D mais en 4D : nos armoires et portes coulissantes sur mesure s'adaptent aux goûts et espaces de chacun, et non l'inverse.
PLUS FORTS ENSEMBLE
Le sur-mesure est un savoir-faire qui implique de nombreuses mains. C'est pourquoi Neves travaille avec des partenaires locaux. Magasins, menuisiers, installateurs, décorateurs d'intérieur, etc. : des professionnels motivés qui se donnent eux-aussi à fond dans le travail sur mesure, et avec qui Neves partage ses connaissances et son expertise. Et ce depuis plus de 30 ans. La coopération est ainsi « fast, easy & fun » : rapide, claire et avec le sourire. Tout cela est désormais assisté par le configurateur de devis et de commandes Neves Online.
NEVES
Ten Beukeboom 26
BE-9400 Appelterre-Eichem (Ninove)
@ info@neves.be
W www.neves.be
T 054 32 92 52
191 TAILOR-MADE
IMMERSE YOURSELF IN THE WORLD OF EXCLUSIVE CREATIONS AND STATE OF THE ART INNOVATIONS FROM BELGIUM #BELGIANFURNITURE Created by Vakblad Interior Business Magazine, Business Content Media b.v. 192
FEDUSTRIA • BELGOFURN www.belgianfurniture.be www.belgofurn.com • info@belgofurn.com www.fedustria.be belgianfurniture