THE OFFICIAL MAGAZINE OF THE CRUISE INDUSTRY
SECOND QUARTER 2023
The British Virgin
Islands
Beyond Sailing & Hidden Gems
Norwegian Cruise Line President David Herrera: "It's great to be in the cruise industry right now"
Cayman Islands Minister of Tourism Kenneth Bryan on how to "ensure that this relationship continues to… grow even further"
P&O Cruises President Paul Ludlow explains why the Caribbean is a "highlight for U.K. consumers"
Sinaloa Secretary of Tourism Estrella Palacios Domínguez: "We look forward to welcoming and seeing all the cruise line executives"
St. Maarten Minister of Tourism Leo Lambriex shares ways the destination is "making sure that the guests are happy"
U.S. Virgin Islands Commissioner of Tourism Joseph Boschulte: "No one destination makes an itinerary in the cruise business"
FCCA & CLIA Events Embark on Mutual Success Seatrade Cruise Global Coverage
Cruise Lines' Environmental Efforts, Booking Records & Newbuilds Destinations' Tourism Records, Developments & Goals Aquila's Lessons for Inspiring Improvements
STEP OFF THE SHIP AND INTO OUR HOME.
Boricua [boh-ree-kwah] is more than a word to identify a person from Puerto Rico. It's a way of life that finds joy and beauty in the unexpected. So let yourself wander our Island and discover amazing places around every corner. Book your trip today. DiscoverPuertoRico.com/LiveBoricua
REQUIRED NOPA SSPOR T FOR U.S. CITIZENS
WELCOME TO PORT ST. MAARTEN
NO1 CRUISE & SHOPPING PORT IN THE CARIBBEAN.
YOUR GATEWAY TO MEMORABLE EXPERIENCES.
FOCUSED ON COMMUNITY, INNOVATION, COLLABORATION AND SUSTAINABILITY.
MOVING TOWARDS ESG IN 2023!
#CRUISESXMSTYLE
37 WHITE SAND BEACHES – WORLD MOST FAMOUS PLANE-SPOTTING AT MAHO BEACH – DUTY-FREE DESTINATION OF THE CARIBBEAN – DELICIOUS CARIBBEAN CUISINE – SECRET ESCAPES TO RECOVER & RELAX ST. MAARTEN, THE 'FRIENDLY ISLAND' OF THE CARIBBEAN WWW.PORTSTMAARTEN.COM @PortStMaarten PortOfStMaarten
SECOND QUARTER 2023 WWW.TRAVELANDCRUISE.COM
10 P&O Cruises President Paul Ludlow Gives a U.K. Perspective of the Caribbean on FCCA Webinar Ludlow discusses the popularity of the Caribbean with P&O Cruises guests and the company – evidenced by homeporting and inaugurating Arvia in the region – and explores everything from his history to P&O Cruises' current booking records and beyond, looking to future needs like fuel supply in the region and partnerships
14 Norwegian Cruise Line President David Herrera Optimistic in FCCA Webinar
Herrera is upbeat about the industry's post-pandemic recovery while discussing the concept of "revenge travel" – where many people are vacationing as an act of defiance after isolating during the pandemic – and emphasizing the importance of partnerships and the Caribbean's role
British Virgin Islands
Meeting and Events
DEPARTMENTS
7, 9 CEO's Letter
Travel & Cruise Magazine © 2023. All Rights Reserved. Reproduction in whole or in part, in any form, electronic or otherwise, without written permission of the FCCA is prohibited.
To subscribe or change your address, please send requests to info@f-cca.com
Florida-Caribbean Cruise Association (FCCA) 10390 USA Today Way Miramar, FL 33025
Phone: (954) 441-8881
Fax: (954) 441-3171
Published by: In Partnership with:
20 Seatrade Cruise Global Plus FCCA Equaled Opportunities for Mutual Success Networking events, meetings and more maximized the opportunities for FCCA Platinum Members and Member Line executives at the cruise industry's premier annual event
21 'Decarbonization' the Buzzword of Seatrade's 'State of the Industry' Cruise industry brass took the stage to discuss their current and future at Seatrade's feature workshop
22 Quality Over Quantity Driving Cruise Tourism and the FCCA PAMAC Summit in the Cayman Islands While preparing to host FCCA Platinum Members and Member Line executives, Minister of Tourism Kenneth Bryan and Director of Cayman Islands Department of Tourism Rosa Harris discuss partnerships, destination initiatives and more
26 Mazatlán to Showcase Rich History, Build Towards Bright Future at the FCCA Cruise Conference & Trade Show Excitement is building for the association's keynote event, and Estrella Palacios Domínguez, Secretary of Tourism of Sinaloa, showcases some things attendees and executives can expect
28 CLIA Welcomes
1,700 Travel Advisors, Trade Executives and Cruise Line Partners to Sold Out Cruise360 in Fort Lauderdale
29 CLIA Pays Tribute to Hall of Fame Honorees at CLIA Cruise360
The information in this publication is provided "as is." FCCA, CLIA and its Member Lines disclaim all representations and warranties, expressed or implied, with respect to any information, services, products and materials contained herein. FCCA, CLIA and its Member Lines will in no event be liable for any damage or losses as a result of your use of this publication.
30 Join CLIA for a Ports & Destinations Dialogue in Hamburg
30 Travel + Leisure Cruise Summit 2023
ON
THE COVER CONTENTS Features
Spotlight
10 14 Second Quarter 2023 | Travel & Cruise 3
THE PERFECT CRUISE DOCKS HERE. AND HERE. AND HERE.
Stop at any of our ports for unique culture, white sand beaches, turquoise waters, and picturesque towns with shopping and attractions that offer all the Caribbean experiences you're could ever ask for. visitUSVI.com.
ST. ST. T H O M A S J O H N ST. C R O I X
On Board
32 Cruise Industry's Rising Tide to Lift Benefits for Destinations
With projections calling for this year to surpass pre-pandemic levels and continued growth on the horizon, destinations and stakeholders can benefit by the increased focus on communication and collaboration
35 Cruising's Top 15 Trends
36 Vista Gives Oceania Cruises a New Vantage Point
36 Virgin Voyages Toasts 'Yamas' to Resilient Lady
37 Princess Keeps Shining with Star and Sun
37 Carnival Jubilee Celebrates the Sea and Shores
37 Queen Anne's Momentous Milestone
38 Silversea Cruises Moves Forward on Two Nova-Class Ships, New Standard for NetZero Cruising
38 Disney Cruise Line Debuts New Experiences on Disney Magic
39 MSC Cruises' Whole New World of Net-Zero Emissions 39 Celebrity
On Land
42 Explore the British Virgin Islands: Beyond Sailing and Hidden Gems You won't find any franchises in this sailor's paradise harboring enchanting secrets waiting to be discovered
44 St. Maarten Keeps Sight of Continued Growth Minister of Tourism Leo Lambriex, Director of Tourism May Ling Chun and Port St. Maarten CEO Alex Gumbs all give their perspective on the destination and potential for growth
46 U.S. Virgin Islands' Unexpectedly Quick Cruise Recovery Buoying the Economy
Joseph Boschulte, the U.S. Virgin Islands (USVI) Commissioner of Tourism, discusses results that are surpassing projections, future plans and more, including destinations working together to develop itineraries
47 Puerto Rico Talks Rebuilding, Revamping, Revolutionizing Alexandra Ruíz, Puerto Rico Tourism Company Chief Marketing Officer, shares the destination's initiatives and goals
48 Partnerships Key to Cruise Success, Jamaican Tourism Leaders Say Mark Hylton, Port Manager of The Port Authority of Jamaica, and Joy Roberts, Executive Director of Jamaica Vacations Limited, give a scoop on the surging destination
49 A New Era for the Dominican Republic and Minister of Tourism David Collado
49 Antigua Moving Full Steam Ahead
49 Dominica's Cruise Industry on the Rebound, Plans for Record-Breaking Attraction
50 ProColombia's New Vice President of Investment
51 MSC Cruises' Successful Start to Recruitment Drive in Trinidad and Tobago
51 Royal Caribbean's Environmental Plans for First Royal Beach Club
52 Port of New Orleans Sets Cruise Record
52 Port of Los Angeles Executive Director Receives Prestigious Award
52 Carnival Bringing 3 Million Guests to Mexico This Year
53 CLIA Updates on Fit for 55
Members & Travel Agents
54 Three Steps to Inspire Improvements in Your Destination Beth Kelly Hatt, President of Aquila's Center for Cruise Excellence, examines consistent factors that will ensure continuous improvements in destinations
56 Chukka Caribbean Adventures: Celebrating 40 Years of Unforgettable Experiences
58 FCCA Platinum Member Highlights
to
Engine
Cruises Expands the Use of Shore Power 40 Sustainability Reports Showcase Environmental Progress CONTENTS 56 42 Second Quarter 2023 | Travel & Cruise 5
Cruises
Launch New Flex Fuel
40 AIDA
SAMANÁ
sailor Be a
YOU CAN BE ALL YOU WANT IN THE PLACE THAT HAS IT ALL
EXECUTIVE COMMITTEE
Micky Arison
FCCA Chairman
Chairman Carnival Corporation
Michael Bayley President & CEO
Royal Caribbean International
Thomas Mazloum President Disney Signature Experiences
Richard E. Sasso Chairman MSC Cruises (USA) Inc.
Harry J. Sommer President & CEO Norwegian Cruise Line Holdings
FCCA STAFF
Michele M. Paige Chief Executive Officer
Adam Ceserano President
Terri Cannici
Vice President, Operations
Omari Breakenridge
Director, Digital Strategy & Creative Services
Mario Aguirre
Director, Membership Events & Programs
Justin Paige
Director, Communications
Bruna Milazzotto
Manager, Research & Data
Jessica Lalama Executive Assistant
Vanessa Gutierrez
Membership Administrator
Welcome to this issue of Travel & Cruise, which is reaching some of you in sunny Cayman Islands for our FCCA PAMAC Summit. This is fitting on many levels. I think anyone reading is aware that cruising is officially back, with projections calling this year to exceed pre-pandemic levels and record bookings indicating an even brighter future on the horizon. You probably also know – but I cannot say enough – that this was only possible through the constant communication and collaboration between destination stakeholders and cruise lines, with the Caribbean, Central and South America, and Mexico truly stepping up during an unprecedented event to allow cruising to not just restart but thrive. This increased level of synergy only seems to be increasing, so I am confident the growth has only just begun – and being in the Cayman Islands with our Platinum Members and Member Line executives to continue developing mutual benefits, with a further focus on our initiatives aimed on amplifying the number of citizens hired by cruise lines and local goods purchased by cruise ships, is beyond appropriate and a symbol of growing better together. This issue will show plenty other signs of this theme. David Herrera, President of Norwegian Cruise Line, and Paul Ludlow, President of P&O Cruises, both praised partnership with destinations while discussing their plans in our continued series of webinars open to all interested in learning about the industry, with both detailed in the following pages.
Partnership and opportunities are only increasing as live events continue, and this issue features previews of the FCCA PAMAC Summit and the FCCA Cruise Conference & Trade Show, along with recaps of Seatrade Cruise Global and FCCA's meetings and events aligned with it. Seatrade gave us another vital chance to reconnect – and in the case of Travel & Cruise, to interview, with articles in this issue driven by talks to Joseph Boschulte, the U.S. Virgin Islands (USVI) Commissioner of Tourism; Kenneth Bryan, Minister of Tourism of the Cayman Islands; Alex Gumbs, Port St. Maarten CEO; Rosa Harris, Director of the Cayman Islands Department of Tourism; Mark Hylton, Port Manager of The Port Authority of Jamaica; Leo Lambriex, St. Maarten Minister of Tourism; May Ling Chun, St. Maarten Director of Tourism; Estrella Palacios Domínguez, Secretary of Tourism of Sinaloa; Joy Roberts, Executive Director of Jamaica Vacations Limited; and Alexandra Ruíz, CMO, Puerto Rico Tourism Company (PRTC).
Thanks again to all of you who have been vital for cruising's comeback. I am confident we will continue to work together to route the itinerary for a better future. FCCA remains open to facilitate this in any way and particularly thanks the destinations that have shown their faith in the industry and FCCA by joining our highest level for strategic partnerships: the British Virgin Islands (BVI), the Cayman Islands, St. Maarten, and the U.S. Virgin Islands (USVI).
See you all in Mazatlán, Mexico from November 7-10 for the FCCA Cruise Conference & Trade Show!
Respectfully yours,
Michele M. Paige President FCCA
CEO'S LETTER
Second Quarter 2023 | Travel & Cruise 7
Michele (left) with Jan Swartz, Executive Vice President, Strategic Operations, Carnival Corporation, and (middle) Carol Cabezas, President of Azamara, at FCCA's Presidential Reception at Seatrade Cruise Global
CLIA GLOBAL EXECUTIVE COMMITTEE
Pierfrancesco Vago
CLIA Global Chairman Executive Chairman MSC Cruises
Micky Arison Chairman
Carnival Corporation & plc
Richard D. Fain Chairman Royal Caribbean Group
Jason Liberty President & CEO Royal Caribbean Group
Thomas Mazloum President Disney Signature Experiences
Charles B. Robertson President & CEO American Cruise Lines
Harry J. Sommer President & CEO
Norwegian Cruise Line Holdings
Josh Weinstein President & CEO Carnival Corporation & plc
CLIA STAFF
Kelly Craighead President & CEO
Caroline Johnson
Senior Vice President,  Membership Operations
Brian Salerno
Senior
With summer fast approaching, we find the industry energized in anticipation of a busy season, along with families heading to enjoy the beautiful Caribbean. One of the true joys of cruising is that it brings friends and families closer together through all the incredible experiences that are available to travelers of all ages. There is something for everyone.
CLIA's latest research shows that 73% of cruise travelers are sailing with family members that represent at least two generations. Many families represent three generations, with grandparents sharing their love of ocean travel with their children and grandchildren. Sometimes we even see four generations sailing together!
The future of cruise is the younger generations. Interestingly, it is the Millennial guest who is most enthusiastic about cruising. In fact, 88% of past Millennial cruisers plan to cruise again –that's more than Gen Xers and Baby Boomers. And there is even more great news to share from CLIA's recently released 2023 State of the Cruise Industry Report Cruise tourism is rebounding faster than international tourism arrivals, with 85% of past cruisers intending to cruise again – 6% higher than in 2019. Even among those who have never cruised before, interest in taking a cruise is higher now than in 2019.
This strong vote of confidence in cruising is vital to support future growth. Passenger volume in 2023 is forecast to reach 106% of 2019 levels in 2023, with 31.5 million passengers sailing. By 2027, our forecasts show the industry will reach nearly 40 million passengers, or 30% more than in 2019.
The ship order book through 2028 shows 62 new ships set to join the global fleet, representing more than $40 billion worth of investment from the cruise lines. Each one brings with it new technology, new creativity in design, new innovations in the passenger experience, and advancements in sustainability. Cruise lines are increasingly offering environmental education and sustainable tour experiences for passengers, and these efforts are working – 84% of cruise travelers are now more aware of the responsible nature of cruise travel and the importance of the environment, all important considerations for the younger generation in travel.
We all know that sustainability is vital for our future, and cruise has a strong story to tell. Your voice is powerful – the more people that understand the industry's positive contributions, the stronger the cruise community becomes and the more each of our efforts will thrive.
I encourage you to join us in spreading the positive messages around cruise – our economic impact and the investments being made to lead the way to a zero-carbon future and responsible tourism in destinations.
Vice
President, Maritime Policy
Joshua S. Good
Senior Vice President, Global Finance and Operations
Anne Madison
Senior Vice President, Marketing and Strategic Communications
We welcome your participation in CLIA and encourage you to visit cruising.org to check out key industry messaging and the latest research.
Wishing you a joyous and successful summer!
Together in cruise,
Kelly Craighead President and CEO
CEO'S LETTER
Second Quarter 2023 | Travel & Cruise 9
P&O Cruises President Paul Ludlow Gives a U.K. Perspective of the Caribbean on FCCA Webinar
Paul Ludlow, President of P&O Cruises, embarked on FCCA's series of webinars open to all. He joined FCCA President Adam Ceserano on March 7 to discuss the popularity of the Caribbean with P&O Cruises guests and the company not just homeporting Arvia – its newest, largest and most contemporary ship – in the region alongside its flagship, Britannia, but even inaugurating Arvia in Barbados, the first ever ship inauguration for the Caribbean.
Ludlow also explored everything from his history to P&O Cruises' current booking records (with the Caribbean's "aspirational" nature helping draw newto-cruise guests) and beyond, looking to future needs like fuel supply in the region and partnering for the future, with relationships helping guide the way through the pandemic and Ludlow and Carnival Corporation being open to ideas and opportunities, even from those reading now (and possibly attendees of the FCCA Cruise Conference & Trade Show in Mazatlán, Mexico from November 7-10). A lightly edited transcript follows.
AC It's great to see you again. Thank you for joining us in our next installment of webinars open to all – we have a big audience joining today. Paul, can you give us your history in the industry?
PL I've worked with Carnival Corporation now for just over 21 years, and I don't think anyone ever sets out to work within the same organization for such a long time – but I've been very fortunate.
As most viewers know, Carnival Corporation represents nine of the world leading cruise brands, and throughout my time at the corporation, I've worked for many of them, including Princess Cruises, Cunard, and even at times Seabourn – now I find myself working for P&O Cruises.
I've worked my way up from the bottom. Came out of university, started in a
junior role and fortunate to work through the business in different departments, different brands, to where I found myself as brand president – which I've been doing for five years.
[P&O Cruises is] a UK market leader, a brand that is very well-known in the U.K. – and of course the Caribbean is a very important destination for us.
AC I love to hear that the Caribbean is important for you – and hopefully it will be growing for P&O Cruises. If your WAVE season results are any indication, things are going well. What do you think is driving these record results?
PL Our WAVE season has been phenomenal – we were proud to announce that we had four out of five of our biggest booking days in history.
We've all been through a difficult few years. In the U.K., holidays were taken from us all as we hunkered down…and as we've come out the other side, whilst we're in a cost-of-living crisis in the U.K. and have economic headwinds, what consumers have done is really protect their holiday spend.
They've been prepared in the U.K. to trade down in lots of aspects of their lives – whether it be supermarkets or their cars – but holidays are sacred, and what we've seen in January and February was that bookings came back in a resurgent fashion.
We opened the gates, and people really were booking at record levels we haven't seen for years. There has been a really strong demand for people to book holidays.
For P&O Cruises in the U.K., our three biggest destinations in that WAVE period have been the Caribbean, the Western Mediterranean and the Norwegian Fjords.
So, the Caribbean proved itself yet again as a highlight for U.K. consumers.
AC In the Caribbean, are Europeans looking for specific destinations or experiences? What can our partners do to entice Europeans to visit their destinations or be part of your itineraries?
PL In the U.K., the Caribbean is an aspirational holiday – people have that on their bucket list. [People] save up to visit the Caribbean, which is seen as a marquee destination.
It's an incredibly attractive destination for new-to-cruise guests, and many people would come to the Caribbean on their first holiday on a cruise.
For your first holiday in the Caribbean, a typical British consumer wouldn't differentiate the region at all –
Spotlight
10 Second Quarter 2023 | Travel & Cruise
Paul Ludlow
they would think that all the islands were the same.
What people realize after their first visit is that there are huge differences through the region and each island has its own culture and identity.
I think for the British consumer, they therefore come back time and time again because they start to realize why they like certain parts of the region.
So, what we see with the British consumer is they book once, and they come back many times again in the future.
AC Something we often talk about at FCCA is the importance of each destination having a brand and identity. With P&O Cruises, are you mainly seeing repeat customers coming back now, or is it first-time cruisers in this new world?
PL P&O Cruises takes around 150,000 customers per year to the Southern Caribbean, primarily. We have over 75 itineraries in the region, and P&O Cruises in 2023 has introduced a lot more capacity into the region.
Our fleet has grown by about 40% compared to 2019. We've introduced two
new Excel class ships, and one of them, our newest ship in the fleet, Arvia , is now traveling to the Caribbean.
We have two ships that are permanently based out there.
Of the guests that we generate in the region, around 50% are new to cruise each year and 50% repeat – and as I've said, once people have done it once, they tend to come back many times in the future.
So, the new to cruise market is really important, and the reason why we put our newest ship Arvia into the Caribbean region is the point I made earlier – it's the aspirational nature of the region that draws people in to take their first cruise.
Part of the challenge, though, is when we advertise the destinations within our itineraries, we must highlight why each of those islands is different from the last –otherwise the Brits will just think it's a pic-
ture-perfect postcard rather than understanding the true identity and culture.
What we try to do with the region is understand the differences so we can pull out some of those stories and create them in our marketing content to win over even more people into booking their first cruise in the Caribbean.
AC What kind of onshore products and activities are they looking for? How can destinations and stakeholders help you here?
PL You could probably say there are a couple broad camps – you'll always have the people looking for that perfect beach in the Caribbean…but increasingly important is where culture could be showcased, where people could recognize the true identity of the island.
The Caribbean has such rich history, and our guests really enjoy learning about that.
What we've seen is that anything that feels authentic in its creation – and hasn't just been created for a tourist – really does win a lot of positive sentiment from our guests.
We try to create a shore excursion program which offers both – and one day a guest might want to do something different, but we are seeing that people really want authentic experiences.
AC Have you seen the demographic of a cruise guests change – their spending habits, what they're looking for, etc.?
PL We really have. The Caribbean region, for us, is one of the younger destinations –so when we look at the average age across all the places we visit, the Caribbean is one of the youngest.
That does change throughout the season, so if we were to visit the Caribbean in November or December, perhaps the demographic is slightly older compared to January to March.
But generally in the U.K., the average age of the consumer is reducing by about a year every year, so we are seeing us open into new markets – and I think the reason for that is the overwhelming value for money that we offer.
When you look at what you get on a cruise holiday and you compare that to a land-based vacation, we're winning lots of new guests because they recognize there's no comparison.
Second Quarter 2023 | Travel & Cruise 11
"…four out of five of our biggest booking days in history."
And when you add that to the variety of destinations that we showcase, people really are viewing cruise like a holiday to look forward to.
Of course, we have the new ship in the region as well, which in the U.K. has generated a lot of media interest because it's such a great news story.
That was a long answer to your question, but the short answer is: yes, the average age is reducing.
AC I was trying to save the best for last, but you keep talking about it. You recently launched Arvia, and it's the first time a ship will do an inaugural in the Caribbean. It will be massive, with millions of views and a spectacle not just for Barbados, where the inaugural will be and the ship will homeport, but also for the entire Caribbean. This is a massive marketing push and an amazing experience that you will be giving. PL I'll try to give you all a bit of context. So, we've launched this brand-new ship, Arvia , one of the largest cruise ships in the world – certainly the largest cruise ship ever built for Britain – and she's positioned in Barbados for her winter season.
For our 190-year history at P&O Cruises, we've actually only ever named ships in Southampton in the U.K. – and in fact no cruise operator has ever named a brand-new ship in the Caribbean.
So, we're doing something very different here with our naming event [on
March 16]. We're going to be naming Arvia just off the shores of Heywood's Beach in Barbados.
We have a global superstar Godmother in Nicole Scherzinger of The Pussycat Dolls and vast talent well-known to our U.K. audience – and we're looking to set a world record for the largest watch party.
We're going to be streaming it live on YouTube, and I think the imagery that will be showcased just will be really enticing, the beautiful beaches, the Caribbean sun whilst everyone back in the U.K. has a dark winter's evening with rain, most probably. So, we're painting this beautiful, aspirational image, and our intent is to get to millions of people. We think there will be hundreds of thousands of people watching the event live, and of course through our partnerships with social media influencers, celebrities and marketing interests generally – and the interest that the media is showing to this event, we think millions
of people will see the event in the few days that follow.
It's an incredible opportunity – as you said, not just for Barbados, because yes, our ship will be just off the coast of Barbados, but for the region in its entirety. It will really showcase that the Caribbean is somewhere people must travel to.
I want to thank everyone from the region, actually, because it's an incredibly complex logistical challenge that we're undertaking – something we have never done internationally before – and we're really excited, and I hope everyone will prosper.
AC This is an amazing event for the Caribbean – a global event in the Caribbean with millions of views – and the ship is amazing. Tell us a little about that. PL The ship is our largest yet – she'll have around 5,500 guests onboard and just over 2,000 crew. So, she's a big ship, we often think of her as a floating city.
First of all, she's our greenest ship yet. She operates on LNG, the cleanest possible fuel available in which is a great green credential and I think another good thing for the Caribbean region to be seeing that we're operating our greenest tonnage in the region.
But Arvia herself is an incredible destination for a holiday – over 30 places to eat and drink, so on a 7-14-night trip you probably can't even get around to all the options, which will mean that people will want to come back.
She's designed to be our sunshine ship – we have a retractable SkyDome roof and incredible pools and entertainment options. Wherever she goes, she'll be a real icon.
For us to put our newest ship yet into the Caribbean is a testament to why that part of the world is so important to us.
AC That seems like a sign that the Caribbean is doing well – that it's performing and providing the kinds of margins you need.
PL I should call out as well. We really appreciate all our Caribbean partners. The pandemic was really difficult, but throughout the pandemic, we had great relations with everybody in the region.
I want to say thank you to the Caribbean region, which really held their arms open to us.
Spotlight
12 Second Quarter 2023 | Travel & Cruise
"…they come back time and time again because they start to realize why they like certain parts of the region."
They welcomed us back and worked with us to make cruising happen again, so thank you to everybody because we couldn't have done it without you.
AC I second that. The Caribbean came in strong when needed – they're great partners. We at FCCA also want to thank Mexico and Latin America. Getting back to the event and people watching in the cold – is the demand stronger in the winter for the Caribbean? How can it support being a year-round destination?
PL That's a great question – you have to remember the mindset, in P&O Cruises' case is the British consumer, and Brits love the sunshine.
I think it's because we don't get a lot of it naturally in our own country, but what it means is we look to find the easiest opportunity to get to the sun.
In the winter, flights can get you to the Caribbean in 7-8 hours, which is attractive. When you move to April through October, the Brits can access the sunshine more locally with just a couple hours within Europe.
When you look at the difference between medium-haul and short-haul flights, the market generally will go for the closer destinations.
What we've started to do – because I think there's an opportunity to elongate the winter season – is work with options to introduce 7-night itineraries out of Antigua, and that's helped us to stretch the season.
That's meaningful for P&O Cruises in the Southern Caribbean because that in itself is worth tens of thousands of guests.
Of course, my sister operating companies are equally supporting of the Caribbean region in the summer, so we have to look at it from a holistic perspective.
AC One question that came from our viewers – with Arvia's inaugural in the Caribbean and considering the Caribbean's growth, could this be the forefront of other ships homeporting in other destinations, such as St. Maarten. PL Never say never. I was recently in the region with Marie McKenzie, and we had conversations with local governments and port operators about that very prospect.
For us, we have to look at it from multiple perspectives: airlift, port logistics and destination appeal.
There are a lot of factors that enter our decision making around what's possible, but what I would say is: 'Never say never.'
If we have to build the demand for the winter season, I have in P&O Cruises' fleet 5 other ships I operate in the winter, and for me, it's always about ticket price and net yield.
So, if I can get a better net yield in the Caribbean than I can, for example, out of the Canary Islands, then for me it makes absolute sense to move another ship over to the Caribbean.
But we have to build that demand and create that consumer appeal to start to lift ticket prices, offset that slightly longer flight, and then make those types of strategic moves. Events like next week will only strengthen that demand.
AC You mentioned green tonnage. Do you think having LNG facilities like bunkering will be important for the Caribbean? Should they be looking at these types of investments for the future?
PL As it stands today, [LNG] is the best option that we have, and many ships are being built and operated on LNG.
For us, it's our medium-term future, and what I think the Caribbean needs to think about is how they can support that fuel need.
The pandemic was a challenge for us because it set things back. We've had logistical challenges from then on, but we are looking for fuel supply options in the region.
At the moment, we are having to bunker some of that fuel in from further afield. It comes back to your earlier point about homeporting and where we want to position our ships – fuel is a big consideration for us.
We have to think about where we can refuel our ships in the region because it's so pivotal to our itinerary planning.
We've had some of these conversations already, but if destinations want to talk to us about investments that they would like to make, come and talk to us at Carnival Corporation, and we will give you our insight to those types of strategic moves.
AC We also have amazing events coming up focused on providing those kinds of opportunities – are you going to meet with our partners at the FCCA Cruise Conference & Trade Show in Mazatlán, Mexico from November 7-10?
PL I'll make every effort to be there.
As I said, we recently toured the region, which was fantastic, and I really enjoyed getting to meet some of the stakeholders, so I think I'd love to.
Second Quarter 2023 | Travel & Cruise 13
"…people really want authentic experiences."
Norwegian Cruise Line President David Herrera Optimistic in FCCA Webinar
David Herrera, President of Norwegian Cruise Line, is upbeat about the industry's post-pandemic recovery. Continuing FCCA's series of open access webinars and speaking to FCCA President Adam Ceserano on May 4, Herrera declared that "cruising is back," discussed the concept of "revenge travel" – where many people are choosing to take trips as an act of defiance after having to isolate and avoid travel during the COVID19 pandemic – and emphasized the importance of partnerships and the Caribbean's part of the industry, where Norwegian has set up homeports in Puerto Rico, Panama and the Dominican Republic. Herrera and Ceserano also discussed that unique experiences are what consumers consistently seek. A lightly edited transcript is below.
AC I know a lot of people want to get to know you better – can you tell us a little about yourself?
DH I appreciate that – and looking forward to getting to meet everybody, as well. Been with NCL for about 8 years, but I'll go a little further back. I'm a local, I grew up in Miami, my family immigrated from Cuba in the 60s.
My sister and I were born here, and my brother was born in Cuba.
Grew up in Miami, went to college at a place called Stetson University, joined the Army, served in the Reserves for a long time, went to business school, and then I was an investment banker on Wall Street for a little bit – and that's really where my career kicked off.
I went from investment banking to advising clients and eventually opened up my own investment firm.
Over those years, I built relationships with folks at Apollo as well as some of the management team at Oceania, and I think many folks here are familiar with
acquired by Apollo, the private equity firm, and then also acquired Regent as part of the Prestige Cruise Holdings group, where I first started working as a consultant and advisor to the executive team there.
I got a taste for the business – it was great. When you stop and look at the team, and I think many on the call are familiar with them: Harry Sommer, Frank Del Rio, Jason Montague, and Bob Binder. These are all leaders and have been leaders in the industry for a long time.
Back then, they all worked at Oceania, and I got a chance to learn directly from them.
It was a great learning experience. Eventually when PCH merged with Norwegian, Frank asked me to join, so I joined NCL initially on the international side running strategy. Became the president of our China business, I moved to Shanghai with my wife and our three kids for a couple years to launch our business there.
When I came back, I led our finance team, our direct sales channels, our CMO for a while. They kept pushing me around this business, making me do stuff over and over again.
It's been a great career, and I'm very proud to lead what I think is the best team in the cruise industry.
Spotlight
David Herrera
14 Second Quarter 2023 | Travel & Cruise First Quarter 2023 | Travel & Cruise
AC Congratulations on your new role. There have been a lot of changes in the industry lately – a lot of new Presidents, CEOs, etc. What do you think about that? DH It's funny, it did all happen at the same time. I'll talk for a minute about what we saw at NCLH.
Frank [Del Rio] has been in the industry for 30 years. Harry [Sommer] started working for Frank almost 30 years ago, back at Renaissance Cruises for those of you that remember those days.
So, for us it's been a planned transition.
Frank got us through COVID. It was a rough couple of years and exhausting on all of us. I don't think anyone predicted the challenges and the level of energy that we would all need to spend to get through to the other side – but we did.
So, Frank had originally intended to retire a little bit prior – he extended. He's comfortable where we are as a management team – we all are.
For us, it was just an organic transition. Harry and I were at Frank's house last week – so it's not one of those where Frank is out the door and we never talk to him again. In fact, Harry and Frank on the Oceania Vista for the inaugural we're having next week – I'll be flying out there tomorrow.
So, at NCL it was an organic evolution – at Regent, Jason [Montague] had signaled that he wanted to retire as well, and Frank Jr. stepping in at Oceania, these are all folks that we know.
Andrea DeMarco, she's fantastic. She's the new president of Regent.
These are all folks that are insiders. We've worked together for a long time. Very excited about our future.
As far as the other brands, yeah, I think there's a generational shift there as well. With Josh [Weinstein] taking over for Arnold [Donald], Jason [Liberty] taking over for Richard [Fain] – you got the three public cruise lines all changing leadership within a year.
I think it's a little bit coincidental, candidly. I think everyone else had the same COVID experience where it was a lot of work, a lot of energy – and now we're excited about our future because cruising is back!
So, we're looking forward and moving forward, but it is interesting how it all happened around the same time.
AC It is an amazing coincidence, but I think it will only make the industry stronger and help us grow together. You said cruising's back, so let's jump into that. How's it looking for your brands –what can you privately share to the hundreds listening?
DH If you promise to keep it a secret – we had our earnings call last week. Royal had their earnings call today. Both of us are presenting a similar storyboard. Occupancy is back. Load factor is back. Pricing is solid.
I recently presented at another conference, and I talk about 'revenge travel' – I love that, that is awesome.
I love that whole idea that we're getting back at COVID for making us stay home, and there's revenge travel.
If you think about it, COVID taught us a lot – but what are the two things that people miss the most? They miss doing what they really enjoy doing, and they miss spending time with their family and friends.
When you think about what a cruise does, it gives you the ability to do what you want. On an NCL cruise, whether you're staying in The Haven or an inside cabin, you have access to all the different facilities on the ship, all the different restaurants, the bars, the racetracks, the obstacle courses.
You can do anything that you want to do, and then at the end of the day you get together with your family and friends –and even if you didn't do anything together, you can talk about it.
It's a great value proposition. I think all leaders in the cruise industry have to remind ourselves and everyone that we talk to that we're not competing against each other; we're competing against landbased vacations.
But we're back. We see it in the numbers. Our investors see it. Our morale is high. It's great to be in the cruise industry right now.
AC Norwegian has always been nimble, regarding itinerary planning, and pioneered Freestyle Cruising, among other innovations like your onboard racetrack – which I've done a few times. What are some things you can share about what comes next?
DH New ships are always something to get excited about, and we just launched Prima last year. It was an amazing success.
And we're launching a sister ship, Norwegian Viva , at the end of November. At the beginning of December, she'll be partly homeported partially in Miami and also in San Juan.
We're excited about the evolution of the brand. Our goal is to not only innovate, but also to evolve.
You see it, our guests experience it, we get the feedback all the time from our travel partners, from our guests, from our crew – the goal is to make every ship a little bit better, and I think we've
Second Quarter 2023 | Travel & Cruise 15
People are willing to pay for a unique experience.
taken a big stride forward with Prima and Viva
When we think about innovation, it's things like the racetrack. The first racetrack we ever did was on Norwegian Joy in 2017.
It's a great track and the ship we took to China – she is near and dear to my heart, but guess what, the racetrack we have on Prima is now a three-story track, twice as long, you're able to do things with technology that we didn't have available just a few years ago.
So, the goal is to always try and get a little bit better.
On Norwegian Prima , we have the Indulge Food Hall – awesome, you got a dozen different venues, you can walk in and just try all these cuisines. It's automated, with ordering done via iPad.
These little enhancements that we see in our everyday world as well – all of us as consumers, we see how technology has had a positive impact on our lives.
AC I have to say that Prima is amazing, and our Platinum Members loved it. Anything special on Viva for our members?
DH Of course, you were going to ask. Yeah, I think we have a few cabins available for you guys.
We've got our inaugural on I believe December 2, and we also have another sailing where we'll have a few folks on from FCCA Platinum Members sailing out of San Juan in early December.
We appreciate everything the FCCA does. We love our partners. We are a partners-first organization – not just with travel agents and vendors we use, but if you're not a good partner today in any business, you're going to have a harder time succeeding than if you appreciate the folks who work with you and help you deliver the product and deliver our guest experience – it's critical for us.
AC Speaking of partners, let's talk about our partner destinations and stakeholders – they're always hungry for more: longer stays, summer traffic, etc. How can they appeal to you?
DH I think that's an important question. When we stop and look at how you characterize a good partner knowing there are some limitations, whether due to ESG and trying to optimize fuel emissions – that could have an impact on the amount of time that you are in each port or the frequency you can call on the port given any itinerary over a season.
Having that dialogue with your partners, talking to our itinerary planning team, talking to our destinations team, getting a sense of what we can highlight around the destination for our guest.
We talk about this all the time – the itinerary has the biggest impact on yield. As a cruise line that is trying to optimize yield and work with our destination partners for that, an itinerary that is not as appealing will not garner the same price in the market as one that does.
Our goal is always to optimize not only the itinerary, but also the time in port and offer the right mix, the right value, something that's appealing to our guests.
At the end of the day, it's around our guests. We need to make sure that we're providing our guests the best experience that we can to garner the best yield possible.
I think that serves all of us and what makes partnership the right word here because we cannot succeed without one another.
AC A happy consumer spends more money. DH It goes both ways. We want to make sure we're providing support to our destinations. We need to be good corporate citizens and local partners as well.
It's not a one-way street, and it never should be. Our philosophy is to work together, to find ways to do better together.
I'm excited about that, I know we have multiple teams here – Dan Farkas, who's our general counsel [and chair of the FCCA Operations Committee] is as passionate about this as I am.
It's the right relationship, it's the right approach, and we look forward to doing more.
AC FCCA is always open to help. NCL is now homeporting around the Caribbean – something we've talked for years about. Do you want to talk about those destinations and why you decided to do it?
DH The Caribbean is obviously a critical part of any cruise business. The Caribbean is the origin of cruising – and for us today at NCL, it's no different.
We have 500 different ports around the world. I don't know the specific number in the Caribbean, but it's a big number.
For us, we try to create the right experiences and the right combination of experiences for our guests.
We have homeports in San Juan, Panama, and the Dominican Republic –not a huge number, we see that it's appealing to our guests. It's something relatively new for us, even though we've been to San Juan a few years.
It all comes down to sales and marketing. It comes down to creating that momentum.
The experiences in all these homeports obviously are amazing, and when you sail out of Miami, it takes you a minute to get there – but if you're already in the Caribbean, you're able to access more ports and provide more port content.
As most of you know, when you have a traditional 7-night cruise, you can only realistically call at most five ports. With a focus on ESG, emissions, and impact and optimizing fuel consumption, you're limited.
One of the things that's appealing about having a Caribbean homeport, it enables us to mix up the port content and provide our guests new and exciting experiences.
Spotlight
16 Second Quarter 2023 | Travel & Cruise
Our goal is to not only innovate, but also to evolve.
AC FCCA is always pushing for homeporting and longer calls – summer traffic will be a huge topic coming up. What do you think about having more capacity in the Caribbean during the summer?
DH We're actually moving away from the short threes and fours – we've reduced that from our inventory significantly. We have some longer cruises, but candidly, the core of our Caribbean business is seven-night cruises out of Miami.
I can see that continuing to be the backbone of the cruise industry. When we first relaunched in July of 2021, people weren't as excited about flying. They wanted to stay closer to home, so it was a boost for the Caribbean market.
Now we're seeing that same level interest is there because revenge travel is bringing a lot of new to cruise, and usually your first cruise is a Caribbean cruise.
I think what COVID has done for the cruise industry is elevated the interest that people have in cruising – and because new to cruise is usually a Caribbean cruise, I think the demand is there.
They have smart guys at the other cruise lines, and they took all the same classes –when you see an uptick in demand, eventually there's an uptick in supply, and you've got a lot of new tonnage coming on board.
I think the future is very bright for the Caribbean cruise market in general.
AC You mentioned revenge travel, what about revenge spend? Have you seen spending change?
DH More in the past couple months. I think that you see a shift, especially when you look at the demographics as Millennials and Gen X are the fastest growing of the segments in the cruise market today, they're willing to pay for experiences.
They're not acquiring stuff to the same extent that the consumer has up until now. People are willing to pay for a unique experience. People are willing to take that helicopter ride, go parasailing and swim with the dolphins – people are willing to do stuff that, let's be honest, they can tell their friends they did. They can put it on Instagram.
I think that's great. When I was living in China, I saw that very early on – there was a lot of, okay, let's try to do something different and be unique.
That's what's exciting about cruising – you can make each cruise your own, especially on Norwegian. You mentioned Norwegian Freestyle, part of the Free at Sea experience is to design what you want and make it your own – not only on our ships, but at our destinations as well.
I think the spend is solid because honestly there has been this pent-up demand, but also people are willing to pay for new experiences.
AC When we talk to destinations, we try to amplify that and give examples of matching experiences such as high-end products aligning with your guests in The Haven and other suites that your brands have. If destinations and tour operators come out with exclusive products, would you be interested?
DH Absolutely. We have Regent, Oceania and Norwegian as part of the NCLH family – from contemporary all the way up to luxury brands.
Specifically, within Norwegian, when you have 4,000 people on Norwegian Encore, there are a lot of traditional excursions and experiences, but we have 100 cabins in The Haven, which is a ship within a ship concept with a butler, concierge, private dining – it's a great experience.
I would tell you that those guests, who pay top dollar to go on the cruise, they are
Second Quarter 2023 | Travel & Cruise 17
…if you're already in the Caribbean, you're able to access more ports and provide more port content.
willing to pay top dollar for a unique experience. I'm not saying it's only The Haven guests that are willing to pay for something unique and different, but candidly, that's your target market right there.
Even though it's a small percentage of our ship, depending on the destination, there's critical mass there. I really do believe if we're able to work together, get creative and offer unique experiences, that will be a win-win proposition across the board.
AC Talking about partnership and circling back to your ESG goals – how can destinations and stakeholders help?
DH ESG is one of the most important topics that we have in our organization – I'm sure in most boardrooms – and definitely is top of mind with our consumer.
It is important to us not just because it's a current topic, but because it's important to our guests and our team members. It's the right thing to do.
We have a lot of different efforts in place right now. For example, by 2025 we're targeting to have 70% of our fleet equipped with shore power. By 2050, we have committed to being net zero emissions across our operations and value chain.
Knowing that this is top of mind for us, knowing that it's top of mind for our
guest, we have to be thoughtful in the way we approach any of these new ventures or partnerships.
It has to be a key talking point and have a row in the equation. Should it be the number one factor? I don't know. I think it's an important factor.
I also think it's important for us as an organization to tailor the product around what our guests are asking for, and our guests are focused on ESG…focused on not only what we say, but what we do. That's why it's important to work with our destination partners to provide something that is amenable to all.
AC Should destinations be looking at things like LNG and other environmentally friendly options?
DH It's early. No one knows the exact technology.
We think methanol has a bright future. In fact, in '27 and '28, our Prima 5 and 6 – the last ships of the
class – we've announced that they're going to be configured to accommodate green methanol.
That's four, five years from now. If tomorrow Elon Musk figures something else out, then there's going to be a shift.
I think before anyone commits full board to any one specific technology, they really need to do a market assessment.
I will tell you from a partner perspective, that's absolutely a conversation that we would want to engage in. We would want to better understand what the plans are and what the impact would be.
Again, it's top of mind for not only us in the boardrooms, but for our consumers, our guests, and we have to be conscious of it.
AC Well, we're running out of time, but many here will have more of your insight at the FCCA Cruise Conference & Trade Show in Mazatlán, Mexico from November 7-10.
DH I appreciate it, always a pleasure. I look forward to meeting more folks in Mexico. For those wondering what to talk to me about when they see me in Mexico – hey guys, whatever you want to talk about.
Spotlight
18 Second Quarter 2023 | Travel & Cruise
…work together, get creative and offer unique experiences…
A new partner on board brings more choices on shore.
Two paths coming together with a steady goal can broaden horizons for all. Through a shared vision and passion for the cruise industr y, Florida-Caribbean Cruise Association (FCCA) and ExcursionInsurance.com have joined paths.
As the new administrator of the FCCA Global Tour Operator Insurance Program, ExcursionInsurance.com provides tour operators with the coverage they need to grow their business—and enhance the destination experience.
To lear n more about how this partnership can benefit you, contact our experts today.
Ken Furlow Global Development Officer
M: 786.351.3408
ken@excursioninsurance.com
Seatrade Cruise Global Plus FCCA Equaled Opportunities for Mutual Success
The highly anticipated return of Seatrade Cruise Global certainly lived up to the hype, with everyone reporting extremely high interaction between cruise executives and attendees, leading to bountiful opportunities to renew and create business partnerships, discuss ideas and tackle issues.
FCCA again multiplied the chances for its partners by programming a robust schedule to pencil in business and relationship development between destination stakeholders and cruise executives, including networking functions and numerous prescheduled meetings.
"FCCA is crucial to maximizing time and opportunities during this busy week," said Micky Arison, Chairman, Carnival Corporation & plc and FCCA. "Time becomes extremely limited, and FCCA makes it possible to meet with some of the industry's most important stakeholders."
It began the Sunday evening, when FCCA Platinum Members and a dozen cruise executives embarked on the annual welcome event hosted by FCCA – and sponsored by Port Everglades, ExcursionInsurance.com and Bacardi – at the Riverside Hotel in Ft. Lauderdale, FL. The group prepared for the week ahead while taking in the water views and fresh catches of both fish and business.
"The welcome reception again proved successful in bringing together destination stakeholders and cruise executives to foster relationships and understanding – a feature throughout most of our functions, and one that becomes increasingly important during Seatrade Cruise Global's prolific executives and opportunities," said Michele Paige, CEO, FCCA.
When Seatrade moved full steam ahead and even more cruise executives were in tow, FCCA made it easy to target high-level executives who decide where ships call, what is used and sold on board, and how to invest in destinations and infrastructure.
FCCA's booth itself served as a hotbed of activity and hub for meetings and events. FCCA had arranged numerous meetings between cruise executives and various destinations, Presidential Partners and Platinum Members, along with other private and public sector representatives, to provide the platform to discuss everything from operational matters to potential new products.
There were also cases of spontaneous conversation, with numerous impromptu meetings breaking out in the booth space – and showcasing how open to ideas and partnerships people were at the event.
Some of those were not too unplanned, as the entire space was geared to promote exchanges – and networking events brought Platinum Members and Member Line executives closer together to help close deals.
'FCCA President's Reception' took place Tuesday, March 28 from 4-5:30 PM, and 'FCCA Platinum Member Reception' welcomed the group back on Wednesday, March 29 from 3:30-5 PM – both taking place at the FCCA booth and exclusively for Platinum Members and cruise executives.
Additionally, FCCA held an event so private and exclusive that no details can be shared.
"The more things change, the more they stay the same – and despite the revolutionary changes throughout the industry, Seatrade showed cruising has stayed true to its roots, with person-to-person exchanges being even more vital," said Paige.
"We want to again thank Seatrade for coordinating this necessary event that, in a way, encapsulates our theme at FCCA: working and growing together. By continuing to build on the progress in communication and collaboration since the pandemic, all the figures about new ships and record bookings will become true benefits for our partners throughout the Caribbean, Central and South America, and Mexico."
"…FCCA makes it possible to meet with some of the industry's most important stakeholders"
Meeting and Events 20 Second Quarter 2023 | Travel & Cruise
—Micky Arison, Chairman, Carnival Corporation & plc
'Decarbonization' the Buzzword of Seatrade's 'State of the Industry'
Gathering at Seatrade Cruise Global with the cruise industry not just expecting to surpass pre-pandemic levels, but also chart continued growth supported by surging demand and record bookings, it would have been fitting to expect Leonardo Di'Caprio towering over the ship's bow, exclaiming, "I'm king of the world!"
However, the keynote panel discussion at Seatrade, the State of the Industry, took a more somber and subdued note.
Surprisingly, yet fittingly enough, the conversation centered mostly around a new kind of growth (and a reduction), i.e., goals to go net carbon neutral by 2050.
After a back and forth from fuels to batteries, Frank Del Rio, CEO of Norwegian Cruise Line Holdings, had to redirect the course – "…let's not forget what the real purpose of our business is… to provide great vacations…'
Josh Weinstein, President, CEO and Chief Climate Officer of Carnival Corporation, pointed out that cruises are 25% to 50% cheaper than a land-based vacation, and "We've got to do a better job communicating the value proposition of what a cruise is."
According to Pierfrancesco Vago, Executive Chairman of MSC Cruises, "better story-telling is needed" for other facets of the industry, with the wider public often unaware about progress on the sustainability front and seeing "the big ship" as an easy scapegoat on tourist-packed days and possibly influencing political decisions.
"We should be proud of what we've done so far…[through] the geopolitical [issues], safety and security, the pandemic, we've done incredible things as an industry," he reminded.
So, what about those decarbonization efforts?
"We will achieve net zero by 2050 because we must," said Vago in his opening remarks.
He continued that the industry could get 70% of the way there through various emissions reduction efforts and technological innovation – with cruising is leading
the way in decarbonization efforts in the maritime industry despite being a minor player in the larger industry – but the remaining 30% is running on fuel.
"We need new fuels, sustainable fuels."
He told that that 10 years ago, nobody believed LNG would be acceptable for cruise ships – and now CLIA announced 60% of the newbuilds set to debut between 2023 and 2028 will use LNG as their primary fuel.
However, LNG isn't the solution, but instead a transition until other alternatives become available, according to Vago.
"We need to have our ships prepared to take on the alternative energy as it becomes available," said Jason Liberty, President & CEO of Royal Caribbean Group, which announced at Seatrade that it is developing a flex fuel engine with
the ability to use methanol for Celebrity Cruises' next Edge-class ship.
He added that it's important to think about retrofitting older vessels along with making sure new ones are adaptable to future technology – and that there is collaboration between shipyards, engine manufacturers and other suppliers "broader than cruise."
That sentiment also applies to achieving net zero carbon, which Weinstein told the industry doesn't need to do on its own: "There's no choice but to collaborate more so we can pool resources to have our voice heard…"
He pointed out that all the companies are doing things individually, including LNG and retrofitting engines to accommodate different types of fuel.
"We're all moving in the right direction. The biggest unknown is what are we preparing for…until we have more clarity, it's going to be difficult to satisfy people with an answer."
Weinstein added that the industry will continue to collaborate, and companies will keep reducing carbon intensity.
"One thing that's certain, whatever the technology is, whatever the fuel is, if you use less fuel, you'll emit less carbon… and we are very focused on that."
"…the real purpose of our business is… to provide great vacations…"
Second Quarter 2023 | Travel & Cruise 21
Frank Del Rio, CEO, Norwegian Cruise Line Holdings
Quality Over Quantity Driving Cruise Tourism and the FCCA PAMAC Summit in the Cayman Islands
Travel & Cruise was eager to get the scoop on the Cayman Islands at Seatrade Cruise Global, as Kenneth Bryan, Minister of Tourism, and Rosa Harris, Director of the Cayman Islands Department of Tourism, joined to discuss everything from the days, meetings and partnerships behind to the years, plans and events ahead (including getting a taste of it all at the FCCA PAMAC Summit, where you may be reading this now).
The past couple of days behind were "amazing days," according to Bryan, who praised the opportunities for meetings with "each one of the Member Lines."
"The Cayman Islands, like many of our brothers and sisters within the Caribbean, are working closely with the cruise lines to ensure that this relationship continues to get back to where it once was and grow even further," he said.
However, that growth must be measured, as there is something of a "balancing act" in Cayman looking for a "sustainable number…where it doesn't harm our environment or overstimulate our tourism product so we can deliver a great experience for each and every one of the people who come to our islands."
Cayman (and the cruise executives) also considered the priorities (and successes) of all
parties, including the people of the Cayman Islands, during the meetings, which led to a "very good, positive dialogue."
On the 'balancing act,' the good news is "…most of the cruise lines respect our positions of quality over quantity…They understand that we're coming from a place of sustainability and focus on our environment, as well as our product delivery so that each customer has an amazing experience in the Cayman Islands."
Looking forward, Bryan and the Cayman Islands keep their eyes on evolving technology and traveler research data – actually, he wrote the speech on it, delivering a powerful address at Seatrade.
He summed it up briefly with us: "Understanding the trends is the best way for you to be successful. If you don't know what your customers want, you can't give them that great experience."
Humble as well was his acknowledgement of involvement, as he credited his team within the Department of Tourism.
More excitement – and Travel & Cruise coverage – is in store, as the Cayman Islands Department of Tourism is hosting FCCA Platinum Members and Member Line executives from June 20-23 for the FCCA PAMAC Summit, which will offer a series of meetings and
Meeting and Events
"Our partnership is essential to bridging connections…"
22 Second Quarter 2023 | Travel & Cruise
—Rosa Harris, Director, Cayman Islands Department of Tourism
networking events, as well as a private executive agenda that includes a pre-trip and more to experience the destination and provide input on possible products and developments.
In fact, the cruise executive agenda includes a working lunch, reception and dinner with government authorities on Tuesday, June 20, followed by a private breakfast meeting with Minister Bryan and Port Authority representatives, with site inspections of new and planned destination products and experiences on Wednesday, June 21.
The overall agenda for Platinum Members – whom receive complimentary event registration and a hotel room as part of the FCCA Platinum Membership program – features a group meeting where all members can partake and present any subject to a cruise executive panel, prescheduled one-on-one meetings with cruise executives of their choice to help drive business, and multiple opportunities to get to know each other and the Cayman Islands better through networking functions and destination experiences.
"Cayman has always been the host of many of these conferences because we are a great host location, our standards are amazing, and it's a pleasure to be able to host the FCCA and their stakeholders again in the Cayman Islands," said Bryan.
"Our hope and goal is to open up the dialogue so all the Caribbean region can hear and understand what is current, what is the future, [and hold] any discussions about how to better ourselves – and that's what we're going to offer, while at the same time loving our weather and the environment that the Cayman Islands people can offer."
There might be a not-so-hidden agenda, as the event follows a recent landmark partnership with FCCA, which was discussed with a long-time partner of FCCA, Rosa Harris.
"We are an esteemed Presidential Partner of the FCCA," she said. "Our partnership is essential to bridging connections here at Seatrade, as well as the wider cruise industry. So, we're ecstatic about our Presidential Partnership."
So, is there some kind of secret plan afoot for the FCCA PAMAC Summit, any horned masks and orchestral music?
"You know, everyone's still in recovery," she responded to a similar question about Cayman's objectives for the event.
"We're still trying to figure out what's the best mix of capacity, managing traffic flows with cruisers – and I believe hosting the [PAMAC Summit] gives us an intimate connection with cruise executives to talk about business in Cayman, but also hosting the wider membership…to show them what Cayman does on a daily basis…"
What should they – along with cruise guests and all travelers – expect to find in Cayman?
"We are blessed to have wonderful natural beauty…we capitalize on that every day by showcasing our beaches, underwater
marine life with snorkeling, diving, etc., as well as our flora and fauna with our botanic gardens, and our natural historic sites."
For cruisers in particular, Harris emphasized the importance of businesses offering a "true Caymanian experience," which she called "essential to ensuring that they come back, explore something new and actually bring more persons with them to visit the Cayman Islands."
Asked about how Seatrade is going for her, she lauded the panel discussions and learning:
…what's going on in the industry, how they're trying to be a better managed sector…and also some of the challenges and new things that we can anticipate as those that partner with cruise lines and associations.
The one thing about hospitality and travel is that you learn from others that are doing it first, and it's wonderful to be able to sit in the conference sessions and to learn.
It's great to be exhibiting and promoting the destination here in our booth, but the professional development and education is key so that we can get home and implement some of those best practices in the Cayman Islands.
"…ensure that this relationship continues to get back to where it once was and grow even further."
Second Quarter 2023 | Travel & Cruise 23
—Kenneth Bryan, Minister of Tourism
@ j a m a i c a v a c a t i o n s l t d
Mazatlán to Showcase Rich History, Build Towards Bright Future at the FCCA Cruise Conference & Trade Show
The beautiful coastal city of Mazatlán, Sinaloa, Mexico is gearing up to host the 29th FCCA Cruise Conference & Trade Show this November 7-10.
FCCA Member Line executives, government officials, port and destination representatives, tour operators, suppliers and numerous cruise industry stakeholders will gather at the Mazatlán Convention Center for the annual forum that blends meetings and workshops with social functions.
"We are very pleased that the FCCA Conference is coming to Mexico to see all the beautiful things we have to offer: our gastronomy, our culture, and our traditions. We have the largest aquarium in Latin America, which is about to open," stated Estrella Palacios Domínguez, Secretary of Tourism of Sinaloa.
Located along the Mexican Riviera on the Pacific Ocean, Mazatlán is a colonial city as well as a beach resort tourist town. Known for its near-perfect, year-round weather and vibrant culture, it is home to one of the world's largest carnival celebrations, with more than one million people heading to the city for the festivities each year.
Travelers and adventurers have been visiting Mazatlán by sea since pre-Columbian times. Its large cruise ship port welcomes numerous cruise lines each year and from its modern cruise terminal, passengers can easily walk to the "Old Town" which is also known as "Old Mazatlán".
Beaches, history, culture, restaurants, architecture, nature, entertainment, and adventure are just a few of the reasons that travelers from around the world long to visit this unique destination. Popular highlights include: Malecon, the scenic oceanfront beach promenade that offers stunning views
of the Pacific Ocean; Cero de la Neveria, for enjoying spectacular views of the city; Las Gaviotas, Playa Camaron, Playa Olas Altas, beaches in different parts of the city; Teatro Angela Peralta; Mercado Central, central market in "Old Town"; the Cathedral, featuring a neo-Gothic exterior and Baroque interior; churches; and offshore islands.
"FCCA is excited to bring our signature event to the charming and captivating city of Mazatlán in November," said Michele Paige, CEO of FCCA. "The city's incredible beaches, rich culture and history, and abundance of unique attractions are the perfect setting for the unique forum designed to drive understanding and potential deals for all attendees."
Attendees will have a unique opportunity to develop relationships with, promote products to, and learn from approximately 100 executives from FCCA Member Lines who decide where ships call, what is sold and used onboard and how to invest in destinations and infrastructure.
"We look forward to welcoming and seeing all the cruise line executives in November to visit Mazatlán, and hope they enjoy it very much," said Palacios Domínguez.
In addition to enjoying and experiencing the destination – and Mazatlán having the spotlight to showcase its offerings to the prestigious audience – the executives will participate in an agenda including one-on-one meetings with preregistered delegates; various workshops discussing developing trends and information that can impact attendees; evening receptions to allow all to get closer and close deals; and a "Heads of Government Meeting" with Ministers of Tourism and cruise line presidents and above to review increasing summer traffic and passenger/crew spending, improving experiences, investment opportunities, and development of new ports.
For more information and registration, please visit www.FCCAConference.com.
"We look forward to welcoming and seeing all the cruise line executives…"
26 Second Quarter 2023 | Travel & Cruise
—Estrella Palacios Domínguez, Secretary of Tourism of Sinaloa
CLIA Welcomes 1,700 Travel Advisors, Trade Executives and Cruise Line Partners to Sold Out Cruise360 in Fort Lauderdale
CLIA Cruise360, the Cruise Lines International Association's largest travel trade professional development and training event of the year, attracted a sold-out crowd to Fort Lauderdale in April. Nearly 1,700 travel professionals were in attendance, with some 530 travel advisors attending for the first time – and 57% of agents at the conference either were already CLIA Certified or are actively working on their certification.
Speaking at the opening Premier Summit meeting, Kelly Craighead, President and CEO of CLIA, applauded the certified advisors: "Of all the myriad things CLIA does, we are very proud to be creating stronger and well-trained travel advisors."
Craighead noted CLIA's travel advisor membership has grown every year, now with more than 75,000 member advisors globally.
It's important for travel advisors to help CLIA champion the industry and to speak with "one voice" in key areas such as sustainability and the environment, Craighead said. This includes sharing the positive stories of cruise around sustainability efforts, economic impact and managed tourism in ports of call.
Craighead said among the messages travel advisors should share is that "cruise
is responsible travel," noting the industry leads when it comes to advancing environmental technologies and practices, as it looks towards achieving net-zero carbon cruising by 2050.
"Cruise tourism is managed tourism –it allows cruise companies and destinations to work together to manage traffic flows and educate cruise passengers to be culturally sensitive and environmentally aware," Craighead told the travel advisor gathering. "The more people that understand the many positive contributions cruise makes, the stronger the cruise community becomes and the more your business will thrive."
Craighead said an increasing number of cruise passengers and new-to-cruise travelers care about sustainability. She announced the launch of a new video series featuring Pierfrancesco Vago, Global Chair of CLIA, designed to keep travel advisors updated on a regular basis about the latest developments in the industry
including positive stories about cruise they can share with their clients.
"As everyone in this room knows, cruise has a good story to tell, and we need everyone to get out there and tell it," Craighead said.
Another highlight of Cruise360 was the General Session conference opener, which featured a CLIA keynote followed by a President's Panel. Joining the opening general session were Broward County Mayor Lamar P. Fisher, Visit Lauderdale President & CEO Stacy Ritter and Port Everglades Chief Executive and Port Director Jonathan Daniels.
The President's Panel was moderated by Signature Network President/CEO Alex Sharpe, and featured leaders of five major cruise lines: Michael Bayley, President and CEO of Royal Caribbean International; Carol Cabezas, President of Azamara; Ruben Rodriguez, President of MSC Cruises USA; David J. Herrera, President of Norwegian Cruise Line; and Nirmal Saverimuttu, President of Virgin Voyages. Among topics was the strong demand for cruises in 2023 and 2024, new ships, investments in destinations and industry growth.
In addition to a variety of CLIA Professional Development training and sponsored informational sessions, the Cruise360 trade show featured more than 200 cruise line partners and destination representatives. The highly successful week wrapped up with a series of 11 live ship inspections in Port Everglades and Port Miami along with several FAMs offered by the host city.
Meeting and Events
"Cruise tourism is managed tourism…"
—Kelly Craighead, President & CEO, CLIA
CLIA President & CEO Kelly Craighead opens CLIA Cruise360 to a sold-out audience of travel trade professionals.
28 Second Quarter 2023 | Travel & Cruise
(L-R) CLIA Cruise360 President's Panel Moderator Alex Sharpe, President & CEO of Signature Travel Network, talks with industry leaders Michael Bayley, President & CEO of Royal Caribbean International; Carol Cabezas, President of Azamara; David J. Herrera, President of Norwegian Cruise Line; Ruben Rodriguez, President of MSC Cruises USA; and Nirmal Saverimuttu, President of Virgin Voyages.
CLIA Pays Tribute to Hall of Fame Honorees at CLIA Cruise360
At its annual Cruise360 conference, held in Fort Lauderdale, the Cruise Lines International Association (CLIA) honored several innovators, visionaries, and extraordinary leaders with induction into the CLIA Hall of Fame.
The award winners were recognized for their efforts and accomplishments, and they each represent a significant contribution to the cruise industry. They were inducted during the CLIA Hall of Fame Cruise Industry Awards & Gala Dinner during the CLIA Cruise360 conference in Fort Lauderdale, Florida on Thursday, April 20th, 2023.
Lifetime Achievement Awards were presented to Michael Bayley, president and CEO of Royal Caribbean International and Gloria Bohan, president and CEO of Omega World Travel.
At the helm of the world's largest and most innovative cruise line, Michael Bayley leads a global team of more than 50,000 employees who deliver memorable family vacations to more than five million international guests on 26 ships that sail to more than 290 destinations.
Bayley is responsible for the cruise line's entire operation, which also includes private destinations Labadee, Haiti, and Perfect Day at CocoCay in The Bahamas. A key focus of his is to inspire every team to deliver the unrivaled and award-winning Royal Caribbean experience of innovation and excellence from ship to shore. Bayley's responsibilities also include overseeing destination and port development for Royal Caribbean Group, the cruise line's parent company.
Gloria Bohan has had a lifetime of groundbreaking impact on the travel industry, facilitating exciting new trends and shaping how the industry conducts business. She founded Omega World Travel in Fredericksburg, Virginia in 1972. Over the past 50 years, Ms. Bohan has transformed Omega's initial one-person office into an international full-service travel management company.
Now based in Fairfax, VA, Omega's sales revenues have exceeded $1 billion a year. Ms. Bohan also owns Cruise.com, one of the largest online cruise sellers, and TravTech, a travel technology company dedicated to providing innovative solutions for the industry. In addition, Omega's M.I.C.E. division offers an events department with hybrid meeting software that achieves maximum attendance numbers.
his travels. Each year, Consoli curates several invitation-only trips, which he personally escorts for his clients.
Honored with a CLIA Travel Agency Innovator Award was Michael Consoli, owner of Cruise Planners/Michael Consoli & Associates. A Cruise Planners franchise owner for 20 years, he is the #1 producing agent in the network and had a record sales year of $24 million in 2022.
Consoli has been on more than 250 cruises and strives to share these experiences with his clients through social media, video, and first-hand accounts of
Diane Mason, ECCS, CSS, Owner of The Cruise & Travel Planner (Nexion Travel Group) received the Elite Cruise Counsellor of the Year Award which goes to a CLIA agent member who has demonstrated their career commitment to professional development through achievement of Elite Cruise Counsellor or Elite Cruise Counsellor Scholar status.
Mason's journey towards becoming a million-dollar corporate agent began in the 1990s with companies such as Uniglobe, Travel One and SAIC. These experiences set her up for success and were instrumental in creating The Cruise Planner, LLC (aka–The Cruise & Travel Planner), now based in Gulf Breeze, Fla.
(L-R) Charles Sylvia ECC, CLIA Vice President, Industry & Trade Relations, and Michael Bayley, President & CEO Royal Caribbean International and CLIA Hall of Fame Lifetime Achievement Award honoree.
CLIA Hall of Fame Lifetime Achievement Award was bestowed on Gloria Bohan, President & CEO, Omega World Travel, presented by Charles Sylvia ECC, CLIA's Vice President, Industry & Trade Relations.
(L-R) Charles Sylvia ECC, CLIA Vice President, Industry & Trade Relations, and Michael Consoli owner of Cruise Planners/ Michael Consoli & Associates and winner of CLIA's Travel Agency Innovator Award.
Second Quarter 2023 | Travel & Cruise 29
Diane Mason, ECCS, CSS, Owner of The Cruise & Travel Planner (Nexion Travel Group) received the Elite Cruise Counsellor of the Year Award, presented by Charles Sylvia ECC, CLIA's Vice President, Industry & Trade Relations.
Join CLIA for a Ports & Destinations Dialogue in Hamburg
The Cruise Lines International Association (CLIA) is excited to unite the port and destination cruise community prior to Seatrade Europe, which takes place in Hamburg, Germany this September.
CLIA's Ports & Destinations Dialogue will kick off on Monday, September 4, with a Welcome Reception exclusively for CLIA members and partners, followed by an engaging line-up of one-on-one meetings, sessions and interactive content tailored specifically for the wider port and destina-
tion community on Tuesday, September 5. Participants will have the opportunity to interact with industry peers, discuss ideas and issues impacting the community, and plans for working together.
CLIA Diamond Elite & Diamond partners are invited to the CLIA Diamond Partner Reception & Dinner taking place on the evening of September 5.
Please save the date and stay tuned for full details of the schedule and registration coming soon. If you have any questions, please email cliaevents@cruising.org.
The professional team of CLIA content experts, alongside CLIA members and partners, will also be front and center throughout the Seatrade Europe conference, September 6-8, leading panels, facilitating connections, and making important contributions to the cruise industry.
CLIA Executive Partners receive a 10% discount on Conference Delegate passes using the code CLIA10. For more information and to register, visit www. seatrade-europe.com.
Travel + Leisure Cruise Summit 2023
The inaugural Travel + Leisure
Cruise Summit took place from Wednesday, May 10 to Thursday, May 11 at Baha Mar in the Bahamas, bringing together more than 80 leaders from the cruise industry, travel advisors (including Travel + Leisure Travel Advisory Board members), and members of the Travel + Leisure team for a mix of presen-
tations, workshops and panel discussions featuring the latest cruising insights and covering topics such as debunking cruise myths and the benefits of selling cruise to the challenges ahead.
Kelly Craighead, President & CEO of Cruise Lines International Association (CLIA) was the keynote speaker. Speakers and presenters throughout the two-day
event included Jacqueline Gifford, Editor in Chief of Travel + Leisure; Katy Bano, Publisher of Travel + Leisure; John H. W. Pinder II, Parliamentary Secretary to the Bahamas Ministry of Tourism, Investments & Aviation; and travel advisors Kimberly Wilson Wetty, Anne Scully, Rob Clabbers, Steve Orens, Sandy Schadler, Gina Gabbard, and Kemi Wells; among many others.
30 Second Quarter 2023 | Travel & Cruise
Cruise Industry's Rising Tide to Lift Benefits for Destinations
The cruise industry continues to be one of the fastest-growing sectors of tourism and is on track to surpass 2019 levels, with potential passenger volume rising to up to 33.6 million oceangoing guests globally (projections range from 27.9 million and 33.6 million, with the baseline projection of 31.5 million)*.
That represents 106% of 2019 levels – and significantly outpaces international tourism, with 2023 tourist arrivals expected to be 80% to 90% of 2019 levels according to the UN World Tourism Organization's forecast.
Plus, the intent to cruise is higher than it was in 2019. About 85% of those who have taken a seagoing vacation say they plan to cruise again, compared to 80% pre-pandemic.
Now the focus is on continued (and sustainable) growth, and the next four years are expected to see that in spades, with Cruise Lines International Association (CLIA) predicting that the annual global passenger count will climb to 36m in 2024, 37.2m in 2025, 38.5m in 2026 and 39.5m in 2027.
"The future is bright," said CLIA President/CEO Kelly Craighead in her opening remarks at Seatrade Cruise Global. "We're seeing a new era of cruising: resilient, innovative, relevant to concerns about the environment and tourism management."
To support this, CLIA member lines' global capacity is set to grow 19%, to more than 746,000 lower berths, between 2022 and 2028.
Cruise company earnings reports reflect this progress and positive outlook. Carnival Corporation's first quarter 2023 revenue represented 95% of 2019 levels, and the company experienced the highest booking volumes for any quarter in its history, breaking booking records for both the North America and Australia ("NAA") and Europe segments.
Norwegian Cruise Line Holdings' first quarter 2023 results showed that Sequential Occupancy improved to approximately 101.5% and cumulative booked position for the remainder of 2023 continues to be at record levels and at higher pricing. That follows record launches for WAVE offers and highest-ever booking months in November 2022 and January 2023. Additionally, capacity is expected to increase approximately 19% compared to 2019 including the delivery of three newbuilds in 2023: Oceania Cruises' Vista, Norwegian Viva and Regent's Seven Seas Grandeur.
Royal Caribbean Group's first quarter 2023 results featured stronger than anticipated demand that led to a record-breaking and extended WAVE season, which has and continues to translate into a robust booking environment – driving high-
er load factors and higher prices. These factors, combined with the continued strength in onboard spending, have led to a significant improvement. Additionally, load factors in the quarter were 102%.
What This Means for Destinations
The industry is also again becoming a highly competitive, globalized environment, but some destinations seized the silver lining in the pandemic by embracing the constant communication and collaboration with the cruise industry.
The Caribbean, which enabled the cruise industry's restart, accounted for 44% of passenger volume from 2018-2020 – up from 34.4% in 2018 and showcasing the region's ability to support cruise tourism through swift and proactive work with between the destinations, cruise lines, medical officials and associations including Florida-Caribbean Cruise Association (FCCA).
As always, FCCA is abiding by its other acronym coined by MSC Cruises North America Chairman Richard Sasso: "Friendship + Communication + Cooperation = Advancement" to further buoy cruise tourism's benefits for desti-
* - baseline projection On Board 32 Second Quarter 2023 | Travel & Cruise
nations and stakeholders in the Caribbean, Central and South America, and Mexico.
The prominence of Zoom meetings has made joining for any topics, along with introductions and relationship building, quicker and easier, and FCCA has also coordinated a regular schedule of open registration webinars with Member Line executives discussing key subjects so that all interested parties can learn more about the industry and its ongoings.
Of course, live events continue to be the best proven way to develop mutual understanding and success, and FCCA has a full slate of events this year, in addition to engaging in numerous in-person meetings and site visits, which include Town Hall Meetings, evaluations of products and education of private and public sectors.
The 29th FCCA Cruise Conference & Trade Show will be held in in Mazatlán, Mexico from November 7-10 and feature meetings, workshops and networking opportunities with an expected 100 Member Line executives, including representatives from the restructured FCCA Employment Committee and FCCA Purchasing Committee.
As the cruise industry's only official tourism and conference in the region, and FCCA's only open registration event to offer all the opportunity to learn from and interact with key executives who can drive business, it is sure to serve as a hub for the Caribbean and Latin America to build back better with the cruise industry.
Additionally, FCCA Platinum Members – members of FCCA's Platinum Membership
group that provides events, meetings and more throughout the year to give direct access to cruise executives – have had a jampacked schedule already, including the FCCA Platinum Cruise, Virgin Voyages Experience aboard Scarlet Lady from January 25-29; the FCCA Platinum Cruise Summit aboard Holland America Line's Eurodom from February 15-18, 2023; and private receptions during Seatrade Cruise Global, where FCCA also coordinated meetings for government officials and other entities.
Next up on the agenda is the Cayman Islands, which will host the FCCA
PAMAC Summit from June 20-23. With a high level of participation expected from cruise executives, the event will offer invaluable opportunities for Platinum Members to meet with cruise lines, featuring one-onone meetings with cruise executives, an overall group meeting hosted by a panel of cruise executives, and networking opportunities, while displaying the Cayman Islands to attendees and a working group of cruise executives that will engage in site visits, meetings and more with Cayman Islands' private and public sector before the event's opening.
FCCA also has remained focused on the restructured FCCA Employment Committee and FCCA Purchasing Committee – along with the initiatives tied to those in increasing the citizens hired and local goods purchased from destinations in the Caribbean, with Michael Bayley, President and CEO of Royal Caribbean International, taking an active role in the committees and planned meetings.
Plus, FCCA is once again co-sponsoring the Business Research & Economic Advisors (BREA) economic impact study across the region after a hiatus since 2017/2018. FCCA is currently securing destinations' participation, as well as working with Member Lines through the newly formed FCCA Research Committee to find the best onboard survey method. As in the past, this two-year study is being conducted by BREA and will take place across 2023 and 2024.
Second Quarter 2023 | Travel & Cruise 33
Cruising's Top 15 Trends
Growing demand and interest from younger travelers and increased awareness of the environment and sustainability among cruise passengers are among 15 trends currently being tracked by Cruise Lines International Association (CLIA), the leading voice of the global cruise industry.
Using data from the 2023 State of the Cruise Industry report, released in late April at Seatrade, CLIA highlighted key findings to its members – including cruise lines, ports of call, industry suppliers and more than 75,000 travel agents – as well as the general public.
The in-depth report features economic impact data, critical insights around the industry's resumption, the value cruise tourism brings to local communities and advancements in environmental sustainability and marine practices. (For the complete report, download a copy at www. cruising.org).
Among trends of particular interest to the Caribbean region, more than 60% of travelers who first visit a location by cruise return for a longer, land-based holiday –extending that experience further.
Even with most cruise markets closed in 2021, the industry contributed $155 billion and 1.2 million jobs to the global economy.
Here are 15 key takeaways from the report.
Passenger Trends
1. Younger generations are heading back to sea. CLIA found that a large majority of travelers who have cruised plan to cruise again – with 88% of Millennials and 86% of Gen-X travelers who have cruised before planning to cruise again.
2. There's increased interest among young first-timers. Most Millennials (77%) and Gen-X travelers (73%) who have never cruised before say they would consider a cruise vacation.
3. Cruises appeal to multi-generational families. Today, 73% of cruise travelers are sailing with family members that represent at least two generations.
4. The length of cruise is increasing. More cruise travelers (43%) plan to book longer cruises for their next holiday.
5. Family and friends are an important referral source. Most cruise travelers (86%) say family and friends had either some influence or significant influence in their choice to cruise.
6. Younger cruisers are booking through travel advisors. More younger cruise travelers—from Gen Z to Millennials to Gen X— are booking cruises through travel advisors than previous generations.
7. Traveler interest in expedition cruises is higher than ever. Across all age groups cruisers are seeking more immersive, responsible, bucket-list travel experiences. The number of passengers sailing on expedition cruises more than doubled from 2016 to 2022.
Product Trends
8. Options for cruise length have expanded. While the average cruise length continues to be around 7 days, the range of options has expanded with both short and longer cruise itineraries.
This is significant in attracting both repeat and first-time cruisers.
9. There are more options for solo cruisers. With the number of solo travelers on the rise, cruise lines are adding more cabins designed for one person.
10. The number of accessible cabins in the CLIA-member fleet is increasing. Cruise travelers who have or are traveling with someone with limited mobility say a cruise vacation is the only travel option to meet their needs.
11. Cruise lines are offering more immersive travel opportunities. The lines are scheduling longer stays, including overnight stays, in select ports of call.
Environmental and Sustainability Trends
12. The CLIA-member fleet is increasingly focused on the environment. As the cruise industry pursues net-zero carbon cruising by 2050, there's been an acceleration of environmental technologies and practices with CLIAmember cruise ships and operations becoming more sustainable and efficient every year.
13. Travelers care about sustainability. Both cruise travelers and new-to-cruise are more committed to making travel decisions based on environmental impact than they were three years ago.
14. CLIA-member lines are helping with awareness. With CLIA-member cruise lines increasingly offering both environmental education and sustainable shore experiences most cruise travelers (84%) say they are more aware of the responsible nature of cruise travel and the importance of the environment.
Fleet Expansion
15. The CLIA-member cruise line fleet will add 14 ships this year and is expected to top 300 ocean-going ships for the first time in 2024. The timing couldn't be better as the CLIA forecast is for 31.5 million cruise passengers in 2023, which is 106% of 2019 passengers. The research also shows that cruise travel is accelerating faster than international tourist arrivals.
Second Quarter 2023 | Travel & Cruise 35
More than 60% of travelers who first visit a location by cruise return for a longer, land-based holiday
Vista Gives Oceania Cruises a New Vantage Point
Oceania Cruises christened its newest ship, Vista , at a glittering ceremony in Valletta, Malta on May 8. The first of the line's Allura Class vessels, the stunning ship made her debut with a star-studded celebration headlined by her godmother, celebrated ItalianAmerican chef, author, restaurateur and Emmy award-winning food personality Giada De Laurentiis, and an exclusive performance from legendary Grammy and Emmy award-winning musician Harry Connick, Jr.
"We have been eagerly awaiting this historic day as we christen our first new ship in more than 10 years and pave the way for an exciting future," said Frank A. Del Rio, President of Oceania Cruises. "The world-class experience of this beautiful ceremony perfectly aligns with Vista's impeccable onboard experience, which features a stunning design, exceptional entertainment, top-notch service and innovative culinary delights."
At 791 feet (241 meters) long and more than 67,000 tons with capacity for 1,200 guests at double occupancy, Vista offers a market-leading staffing ratio with two crew members for every three guests. She also boasts the most spacious standard staterooms at sea, which measure more than 290 square feet, plus new Concierge Level Veranda Staterooms for solo travelers. Setting new standards for comfort and residential-style luxury, she features
all-veranda accommodations. Vista's elevated variety of onboard activities include eight bars, lounges and entertainment venues plus the luxurious Aquamar Spa + Vitality Center and Aquamar Spa Terrace.
Vista also serves up 11 onboard culinary venues, including three which are new to Vista: Aquamar Kitchen, offering an array of wellness-inspired dishes with a hint of indulgence; The Bakery at Baristas, serving tempting freshly baked pastries; and new signature restaurant, Ember.
With an emphasis on innovating for drinks, as well as all things culinary, Vista is also introducing The Casino Mixology Bar, a new concept for the line, focused entirely on the art of the cocktail.
As godmother, De Laurentiis will create two signature dishes to be served in Toscana, Oceania Cruises' authentic Italian specialty restaurant evolved from rich family traditions, as well as The Grand Dining Room, the luxurious grand dame of the line's culinary venues.
Vista sailed her maiden voyage on May 13 from Rome to Venice before embarking on a sold-out summer in the Mediterranean. In September, she will sail to Canada and New England before heading south for a series of winter itineraries exploring Mexico, Bermuda and the Caribbean from her homeport of Miami.
Virgin Voyages Toasts
'Yamas'
to Resilient Lady
Virgin Voyages' third ship, Resilient Lady, made her much-anticipated debut on May 14. As the newest Lady Ship to join the award-winning fleet, Richard Branson's cruise travel brand expanded its list of irresistible vacation destinations with Resilient Lady's inaugural summer season from its new homeport in Athens, Greece.
"Virgin Voyages' delivers an amazing experience and has been recognized by hundreds of thousands of happy Sailors with the awards we've won for our service, food, design, entertainment and more," said Sir Richard Branson. "We have shown the world all that we have to offer when it comes to having the holiday of your dreams, and I can't wait to show off our lovely new Resilient Lady in one of the most magical places in the world as she sails around the Greek Isles, Croatia, Turkey and more."
"I'm thrilled this day is finally here and that Resilient Lady has officially joined our award-winning fleet," said Tom McAlpin, CEO of Virgin Voyages. "Since our launch just a few years ago, we have received the travel industry's top awards and have experienced a very high rate of return with up to 40% of our Sailors rebooking their next cruise while they're still on-board with us. I know people are going to love voyaging with Resilient Lady as much as they have with Scarlet and Valiant Lady, and I look forward to sharing this five-star experience with even more Sailors this summer."
After her inaugural season in Greece, Resilient Lady will set off on a trans-continental voyage, arriving at Station Pier in Port Melbourne, Victoria, setting sail through Australia and New Zealand from Dec. 11, 2023 - March 27, 2024.
On Board 36 Second Quarter 2023 | Travel & Cruise
Princess Keeps Shining with Star and Sun
Princess Cruises' largest ship ever – Sun Princess – will make her U.S. debut in October 2024, sailing to the Caribbean on seven- and 14-day itineraries out of Ft Lauderdale. The ship is the first in the line's new Sphere class, and will homeport at Port Everglades for the winter, following a season of Mediterranean and Europe cruises when she launches in February 2024.
"We are thrilled about the expansion of the Princess fleet and know that homeporting Sun Princess in Ft. Lauderdale offers a convenient option for guests to explore the most elevated experience ever from the Love Boat," said John Padgett, Princess Cruises president. "The warmth, pristine beauty, and crystal-clear waters found throughout the Caribbean form an idyllic backdrop for our iconic new ship and create the perfect setting for Princess guests to enjoy the stunning views and playful adventure that are magnified on this beautiful, iconic new ship."
Currently under construction at the Fincantieri shipyard in Italy, the 175,500ton, 4,300-guest Sun Princess will offer an array of exciting new dining, entertainment and activity offerings, as well as luxurious staterooms and suites across a broad spectrum of categories.
With the most balconies on any Princess ship, guests can take in the sunshine and crystal-clear waters of the Caribbean from the comfort of their cabin. The Dome, a transformational entertainment venue inspired by the terraces of Santorini, is the perfect place to relax and the three-story Horizons Dining Room is sure to have everyone talking.
Additionally, she will soon have a sister, as more details about the second Sphere-class ship have been announced. Princess Cruises revealed her name – Star Princess – and that she will sail an inaugural season of Mediterranean voyages when she debuts in August 2025.
Currently under construction at the Fincantieri shipyard in Italy, Star Princess joins Sun Princess as the largest ships ever built for Princess at 175,500 tons and carrying 4,300 guests. The new ships are built on a platform distinctly different and unique to Princess, designed to simultaneously embrace the Princess heritage while celebrating the romance of the sea by offering more dynamic, outward views.
including a fun Ferris wheel- inspired ceiling feature, and casual seating areas, both inside and outside. Guests can enjoy a fresh hot pizza at Coastal Slice or try a tasty sandwich or hot dog at Beach Buns. Marina Bar features fun nautical designs and comfortable lounge seating for enjoying coffee and cocktails inside by the boardwalk or outside by the sea. Rudi's Seagrill and Cucina del Capitano return with indoor and al fresco seating.
Carnival Jubilee Celebrates the Sea and Shores
Carnival Jubilee, the next new ship in the Excel class, will debut fun, unique and immersive ocean-themed experiences in two new zones: Currents and The Shores, along with guest favorites and, of course, the fleet's third roller coaster at sea when she debuts later this year.
Currents, encompassing Deck 6 and Deck 7, is an awe-inspiring, immersive and transformative space that takes guests below the waves with a playful vibe featuring innovative technology, new and exciting bar and dining venues and live music. When guests step into Currents, they will be transported to mesmerizing underwater worlds, both realistic and fantastical, in a beautiful space that changes from day to night and throughout the cruise. The portals to the sea comprise six huge LED windows which, along with a massive wave-shaped LED ceiling, theatrical show lighting and captivating sound design will create a variety of immersive environments for guests to enjoy as they try new, unique cocktails and flavorful dishes.
On Deck 8, The Shores is the place where the ocean meets land, a zone that's inspired by the ways people enjoy the seaside including piers, boardwalks and beaches. An impressive three-deck-high fish school art installation rises from Deck 6 all the way to Deck 8 to bring guests up from the Currents below to the surface.
Guests will stroll along the boardwalk alongside colorful and playful designs,
The other four zones of Carnival Jubilee will be home to spectacular activities and venues that guests have gotten to love on both Mardi Gras and Carnival Celebration Carnival Jubilee first sails from Galveston on Dec. 23, 2023, joining Carnival Breeze and Carnival Dream operating from Galveston year-round, offering week-long Western Caribbean cruises. In 2024, Carnival will increase its deployment in Galveston to four ships when Carnival Miracle begins operating a new series of longer cruises from the port.
Queen Anne's Momentous Milestone
Cunard celebrated a momentous construction milestone on May 3 with the float out of Queen Anne at the Fincantieri Marghera shipyard in Venice, Italy. The 249th ship to sail under the Cunard flag, Queen Anne officially touched water for the first time exactly 365 days before she will set sail on her maiden voyage to Lisbon on May 3, 2024.
Queen Anne's design concepts have been founded on heritage, craftmanship, style, storytelling, and innovation. The 113,000-ton, 3,000-guest Queen Anne, which spans 14 decks, will offer travelers several breath-taking moments, including the largest curated art collection at sea.
For more than 180 years, Cunard has constantly refined the definitive experience of ocean travel, and Queen Anne will be bursting with Cunard's signature experiences, including world-class dining, exceptional entertainment, and luxurious accommodation.
Second Quarter 2023 | Travel & Cruise 37
Entering service in May 2024, Queen Anne will make up a remarkable quartet for Cunard alongside Queen Mary 2, Queen Victoria, and Queen Elizabeth It will be the first time since 1999 that Cunard will have four ships in simultaneous service.
Regent Seven Seas Cruises Reveals Design Inspiration for Prime 7 on Seven Seas Grandeur
longtime dedication to minimizing its impact on the environment. When available at the port, this will allow the Disney Magic to "plug in" to the port's electrical grid, reducing the ship's emissions.
Silversea Cruises Moves Forward on Two Nova-Class Ships, New Standard for NetZero Cruising
Silversea Cruises' new Nova class not only had momentous milestones to celebrate during the quarter – with the float out of Silver Nova and keel laying of Silver Ray – but also heavy accolades and expectations already.
In fact, during the keel laying of Silver Ray on March 23, Jan Meyer, Managing Director of MEYER WERFT, said: "The Nova class will set new standards on the way to net zero emissions cruising."
"Anticipation is building for the introduction of our pioneering Nova class ships, with Silver Nova set to join the fleet this summer," said Barbara Muckermann, President and CEO, Silversea Cruises.
"In addition to being two of the most sustainable ultra-luxury cruise ships ever launched, the Nova class ships will introduce an asymmetrical design and a horizontal layout for the first time in our cruise line's history, as well as all-new public venues that are among the most spacious at sea.
"Silver Nova and Silver Ray represent important milestones on Royal Caribbean Group's journey to achieving a net zero newbuild, and I thank the entire team at MEYER WERFT, as well as those involved at Royal Caribbean Group and Silversea, for their invaluable collaboration."
The 728-guest Silver Nova is set to become the most sustainable ultra-luxury ship ever launched when she joins Silversea's fleet this summer. The 728-guest Silver Ray is expected to enter service in summer 2024, joining her sister ship as one of the most sustainable ships in her class.
Regent Seven Seas Cruises has revealed the inspiration behind Prime 7, the signature steakhouse aboard Seven Seas Grandeur due to set sail in November 2023. Designed by Studio DADO, the fully re-imagined venue takes its cues from the classic New York steakhouse at the turn of the 19th to 20th century, while celebrating design touches and surprises to confirm this is a dining experience very much of the moment. Prime 7 may embrace its roots but this is a restaurant designed to cater directly to Regent's sophisticated, worldly guests who expect only the finest culinary experiences.
Disney Magic is currently sailing a summer of cruises from Miami to The Bahamas and Caribbean including the "Silver Anniversary at Sea" celebration in honor of Disney Cruise Line's 25th anniversary. This fall, Disney Magic will head west for its inaugural season sailing out of San Diego.
Disney Cruise Line Debuts New Experiences on Disney Magic
From the magical mountains of Colombia to the bustling streets of New York City, the colorful worlds of two fan-favorite Disney films – Walt Disney Animation Studios' "Encanto" and Disney and Pixar's "Soul" – have come to life for the first time on the high seas with the debut of new family-friendly experiences aboard the Disney Magic. In addition to "Encanto"themed entertainment and a "Soul"inspired lounge, the ship's concierge accommodations were enhanced with new theming and spacious refurbishments during a three-week dry dock project in Freeport, The Bahamas.
Shore power technology was also installed as part of the ship's dry dock project, continuing Disney Cruise Line's
Carnival Cruise Line's New Restaurant Concept 'Il Viaggio'
Carnival Cruise Line will debut a new specialty restaurant on board its most recent addition to the fleet, Carnival Venezia , which is aptly named Il Viaggio – Italian for "The Voyage" – since it promises a journey across Italy through the country's rich and diverse cuisine. Il Viaggio's food and beverage offerings are curated to showcase distinct culinary regions of Italy. Each menu item, from "antipasti" starters to "dolce" desserts, is representative of a regional specialty, so guests can create elevated meals that bring together different tastes from all areas of Italy.
Carnival Venezia is the first ship to showcase Carnival Fun Italian Style. It underwent an enhancement project in Spain before embarking on a 15-day Carnival Journeys transatlantic sailing on May 29 from Barcelona. The ship arrived at her new home at in New York City and begin operations from the Manhattan Cruise Terminal on June 15. The ship accommodates more than 5,000 guests and will offer 10 different cruise durations and 22 unique itineraries featuring visits to 25 ports across 14 countries.
On Board 38 Second Quarter 2023 | Travel & Cruise
MSC Cruises' Whole New World of Net-Zero Emissions
On the heels of celebrating MSC World Europa's – MSC Cruises' innovative new ship powered by LNG and the best performing large cruise ship operating in the world in terms of CO2eq emissions per passenger – first season in Europe, which the company called a major step forward in its journey towards achieving net-zero emissions by 2050, it quickly made leaps headed in that direction.
Just weeks later, MSC World Europa made history when successfully completing the first LNG bunkering operation at the Port of Marseille.
TotalEnergies Marine Fuels' chartered LNG bunker barge, the Gas Vitality, refueled the vessel via a ship-to-ship transfer of 2,500m of LNG at the port on April 22, while guest operations continued as normal – marking the start of the LNG bunker supply contract expected to supply approximately 45,000 tons per year of LNG to MSC Cruises' vessels at Marseille.
Then MSC Euribia , the flagship and line's most environmentally advanced ship to-date, showed that net-zero emissions cruising is possible today when the LNG-powered MSC Euribia left her shipyard in SaintNazaire, France on June 3. She sailed for four days from Saint-Nazaire to Copenhagen and achieved net-zero greenhouse gas emissions.
"This industry-first net zero gas emissions voyage of our latest flagship
MSC Euribia heralds another significant step on our decarbonization journey and demonstrates more than anything the extent of our commitment," said Pierfrancesco Vago, Executive Chairman of the Cruise Division of MSC Group.
MSC Cruises purchased 400 tons of bio-LNG to show its commitment to the deployment of drop-in renewable fuels and energy transition measures towards the pioneering net zero gas emissions voyage. The line is the industry's first deep sea ocean cruise operator to buy bio-LNG as a fuel source that has significant lifecycle emissions reductions.
"We cannot do this alone, however," continued Vago. "Given the absolute importance of alternative fuels for our industry as well as for other sectors across civil society to achieve decarbonization, we all need to work together to increase their availability at scale. Our purchase of bio-LNG will send a clear and meaningful signal to the market that there is demand from cruise lines and the broader maritime industry for cleaner fuels, but we need governments, producers and end-users to collaborate and scale-up the availability of these much-needed and new sources of power."
MSC Cruises' newbuilds are fuel flexible ships that can accommodate a variety of renewable fuels both available today and expected in the future.
Celebrity Cruises to Launch New Flex Fuel Engine
When Celebrity Cruises introduces the fifth ship in the revolutionary Edge Series, it will feature the collaborative efforts of its parent company Royal Caribbean Group, technology group Wärtsilä and shipyard Chantiers de L'Atlantique (CdA) to advance the use of alternative fuels for the cruise industry. The ship continues the innovation that debuted with the Edge Series but will also be equipped with a new engine model, along with storage and delivery systems, that will give unmatched fuel flexibility, with the ability to use three types of fuel, including methanol.
"As we innovate our ship design and offerings, we're also focused on equally evolving the fuel and technology landscape that powers them," said Jason Liberty, president and CEO, Royal Caribbean Group. "By incorporating tri-fueled engines, we are ensuring that as alternative, low-carbon-based solutions become more viable, our ships will be ready to adapt and drive the industry forward to a more sustainable and net zero emissions future."
To allow for the ship's fuel flexibility, Wärtsilä will deliver two converted 8-cylinder Wärtsilä 46F engines to allow them to utilize three fuel sources, including methanol. These changes not only advance carbon-free cruising, but by adding methanol as a fuel option, local emission like sulphur oxides (SOx), nitrogen oxides (NOx), and particulate matter are significantly reduced.
Second Quarter 2023 | Travel & Cruise 39
AIDA Cruises Expands the Use of Shore Power
Thanks to the growing shore power infrastructure in Northern Europe, AIDA Cruises has reached another milestone on its decarbonization path with AIDAsol, the first cruise ship in the AIDA fleet that could be connected to shore-side facilities in four out of five ports during its voyage from April 16 to 21 in RostockWarnemünde, Aarhus (Denmark), Kristiansand (Norway) and Hamburg.
"AIDA shows what can already be possible today," said AIDA President Felix Eichhorn. "Our goal is to be able to use shore power in all ports in the future where port infrastructure is available. With our investments in this clean technology, we are actively supporting the goals of the EU's 'Fit for 55' program to build a corresponding infrastructure in all major EU ports by 2030, because we can only achieve the energy transition together."
AIDA Cruises has been investing in sustainable cruising for many years. As a part of the Carnival Corporation & plc family of cruise brands, the company aspires to achieve carbon-neutral ship operation for its fleet by 2050. In addition to the use of low emission liquefied natural gas (LNG) as an important bridging technology, AIDA Cruises is further expanding the use of alternative energy sources such as shore power and batteries. Jointly with various partners, AIDA Cruises is intensively working on solutions for the usage of fuel cells or regenerative and synthetic fuels.
NCLH Charts a Path to Net-Zero Greenhouse Gas Emissions
Norwegian Cruise Line Holdings Ltd. has launched its revamped climate action strategy along with short- and near-term greenhouse gas ("GHG") targets to support the Company's ambitious pursuit of net zero by 2050. These actions underscore the Company's robust commitment to decarbonization as part of its global sustainability program, Sail & Sustain.
Key components of the Company's new interim GHG reduction targets include: Reduce GHG intensity by 10% by 2026 and 25% by 2030, compared to a 2019 baseline.
The targets cover the Company's emissions from its fleet of ships, islands and facilities (Scopes 1 & 2) as well as upstream fuel- and energy-related activities, including well-to-tank emissions (portion of Scope 3). As such, the targets will capture the full well-to-wake emissions impact of the Company's fuel consumption.
Interim targets provide a roadmap to support the Company's existing net zero by 2050 ambition. The scope of this commitment expands to the Company's entire greenhouse gas footprint, including its vast network of suppliers and partners across its value chain.
and governance focus areas. The report also describes significant progress made by the company toward its aspirations of carbon neutral operations by 2050 and a circular economy model focused on waste reduction, recycling and management. The full 2022 report is available on the company's sustainability website at www.CarnivalSustainability.com.
Carnival Corporation's Significant Sustainability Advances
Carnival Corporation & plc has released its 13th annual sustainability report, detailing industry-leading initiatives and momentum across environmental, social
Royal Caribbean Group's Annual Seastainability Report
Royal Caribbean Group released its 15th annual Seastainability Report, providing an in-depth update on the company's corporate responsibility strategy and performance across its three wholly owned brands. Defining events for 2022 included the 30th anniversary of the company's first environmental program, Save the Waves, and the publication of the first Task Force on Climate-Related Financial Disclosures (TCFD) report.
With a sustainability journey that began over 30 years ago, Royal Caribbean Group has remained steadfast in its commitment to innovate and advance the solutions necessary for a better future. Building on a robust portfolio of technologies that improve energy efficiency, water treatment, and waste management, it has worked to introduce environmentally friendly ships that move the company closer to achieving Destinations Net Zero, the company's vision for net zero emissions by 2050.
Visit www.royalcaribbeangroup.com/ sustainability to dive deeper into Royal Caribbean Group's 2022 Seastainability Report and learn more about the company's positive impact activities.
On Board 40 Second Quarter 2023 | Travel & Cruise
For fly-in convenience, culture, non-stop entertainment, or simply relaxing in the warm Southern California sunshine, nothing beats a cruise vacation out of the Port of Los Angeles. Our world-renowned home-ported cruise lines offer exceptional accommodations and itineraries to suit any passenger preference. And when your clients are back on land, there's no limit to the fun they can have in greater LA – one of the world's most popular vacation destinations. So book them on a one-of-a-kind experience that they'll truly love.
For more information, visit www por toflosangeles.org or www.lawaterfront.org
Follow us on
Explore the British Virgin Islands: Beyond Sailing and Hidden Gems
The British Virgin Islands (BVI), renowned as a sailor's paradise, holds many enchanting secrets waiting to be discovered. Beyond the allure of yachting, this Caribbean destination boasts a vibrant culture, tantalizing cuisine, and a commitment to sustainable practices that safeguard its pristine environment. Prepare to be captivated as we delve into the wonders of the British Virgin Islands, a destination that offers far more than meets the eye.
Let's embark on a culinary adventure, where the BVI's unique flavors take center stage. Unlike other tourist hotspots, you won't find any franchises here. Instead, you can savor authentic BVI cuisine and indulge in the warm hospitality of the locals.
Journey just outside the capital, Road Town in Tortola, and you'll discover Crandall's Pastry Plus, a hidden gem renowned for its delectable offerings. Transporting you back to a time when coal pots were used for cooking, Crandall's serves up a variety of mouth-
watering treats, including savory patties, fresh local fish, and invigorating bush tea brewed with lemongrass.
Imagine savoring fish tacos while the gentle surf playfully tickles your toes. Welcome to Paradise Club Lounge Bar and Restaurant in Cane Garden Bay, Tortola.
On Land 42 Second Quarter 2023 | Travel & Cruise
Located just a short taxi ride away from Road Town, this delightful eatery promises an unforgettable dining experience that is well worth the journey.
For those seeking adventure, a world-famous destination awaits: the Willy T. Situated off the coast of Norman Island, this unique floating restaurant is legendary for its tempting libations and delectable grilled fare. Picture yourself aboard this extraordinary vessel, savoring mouthwatering dishes while surrounded by the vast ocean. It's an experience that will leave an indelible mark on your memory.
But the wonders of the British Virgin Islands don't stop there. Embrace the opportunity to immerse yourself in the crystalline blue waters that extend far beyond the visible spectrum of colors. Whether you participate in one of the 20 regattas held annually, hop on a ferry to explore the various islands, or embark on a world-class diving adventure, there are endless ways to experience the mesmerizing beauty of these waters.
Join us during the Emancipation festival, a time of celebration and reflection that you simply cannot miss. Feel the rhythm of live music pulsating through the streets as you partake in early morning street parties, reminiscent of the Pied Piper
leading a joyous parade. This unscripted and unpretentious revelry offers an unparalleled experience that will forever hold a special place in your heart. And when the moon casts its enchanting glow, prepare for the destination to come alive with vibrant parties that ignite the night.
It doesn't end there; the British Virgin Islands also invite you to get involved and make a difference. Participate in activities such as turtle tagging, contributing to the conservation efforts aimed at protecting these magnificent creatures and their habitats. Engage with local initiatives that promote sustainable practices and support the BVI's commitment to preserving its natural treasures for generations to come.
The British Virgin Islands, a sailor's paradise renowned for its hidden gems, is an extraordinary destination waiting to be explored. From the tantalizing flavors of BVI cuisine to the unparalleled beauty of its azure waters, this enchanting archipelago offers an experience that goes far beyond your expectations. So, set sail for the British Virgin Islands and embark on an unforgettable journey filled with awe-inspiring moments and cherished memories.
Second Quarter 2023 | Travel & Cruise 43
…you won't find any franchises here.
St. Maarten Keeps Sight of Continued Growth
Numbers starting to exceed pre-pandemic figures, new projects on deck including the largest waterpark in the Eastern Caribbean in collaboration with a cruise brand, and much more were on the agenda for St. Maarten at Seatrade Cruise Global as Travel & Cruise sat down with Minister of Tourism Leo Lambriex, Director of Tourism May Ling Chun, and Port St. Maarten CEO Alex Gumbs.
According to Minister of Tourism Leo Lambriex, numbers are "pretty good for 2022, look even better for 2023, and we're looking forward to 2024, where we're way past where we were before Irma."
The winter itineraries are similar to pre-pandemic ones, per Alex Gumbs. "I think in certain instances, with certain brands, we've actually surpassed the pre-pandemic numbers," he continued. "Much of our focus right now is looking at the off season, trying to fill those gaps…but also look at incredible homeporting opportunities starting cruises out of Port St. Maarten."
Supporting that growth are new projects, with Minister Lambriex highlighting upgrades to the Philipsburg area and emphasizing the need of "making sure that
the guests are happy, keeping that expectation level high."
The Philipsburg upgrades include an entirely new marketplace and extra benches, and Minister Lambriex mentioned they are also looking at a new bus terminal and tour operator training to "step up the game."
"As a destination, after the pandemic, we've revamped and re-strategized our product," said May Ling Chun. "I like to call it 'peeling off the layers' so we're not only sun, sand and beach."
She told the focus is now on highlighting the cultural, historical, wellness and outdoor activities while still stirring up the appetite for the destination's culinary acclaim.
"We speak about the word 'immersing' into the culture and history, we've
done that. We're highlighting persons so it's more personable. People are seeking that experience."
Alex Gumbs saw the silver lining in the pandemic for having a chance at that revamp: "I think the pandemic has given a lot of operators the opportunity to reset, look at their product, benchmark and reinvest."
"We're highlighting persons so it's more personable."
On Land 44 Second Quarter 2023 | Travel & Cruise
—May Ling Chun, Director of Tourism
He pointed out that there are numerous new products coming online, many from existing operators looking to expand their services.
"We've also had an introduction of new operators coming to the island," Gumbs continued and teased a major project in collaboration with a cruise line: a water park in St. Maarten – "I think it's going to be the largest waterpark in the Eastern Caribbean."
It will also align with other attractions within the port – and have a timeline of 18 months with groundbreaking expected this summer.
All of this is important for attracting repeat guests, as May Ling Chun pointed
out almost 63 percent of visitors are repeat guests, which is why she said it is vital to have a "diverse product so people can keep coming and do something else every time" – including interchanging between cruising and coming back for a stayover visit, what she called "the perfect combination."
She continued that St. Maarten also accurately predicted another traveler trend, which is paying off: "It's not your classic passengers anymore, it's solos and couples, which works perfectly for our product because we've seen that trend coming…I think we're starting to match what is needed."
That is leading to St. Maarten having one of the highest spending per passenger and high satisfaction rates.
"So, we're happy as a destination, and we want to be more involved as far as knowing what our customers like, so we're going to continue with our satisfaction surveys as well and of course what we do with FCCA."
The significance of that partnership with FCCA was unanimous between the three.
Minister Lambriex praised the "family type of vibe" before telling, "We highly depend on you guys to make sure that
everything continues going good for us… we're proud to be part of the FCCA."
"We've been a long-standing partner, we were one of the first," said May Ling Chun. "It's been great, it's been a relationship where we learned a lot from each other, but also as a destination I think it's a great support where you can rely on, but you get also great feedback. And it's all about communication."
She continued that it isn't always good news – "You can also agree to disagree, but you learn from each other. I think that is what the relationship has been with FCCA. You know, it's a family. It's been great."
"The partnership is amazing, "said Alex Gumbs after mentioning the more than 20-year relationship. "I do see the value as a destination and port authority in terms of them being able to facilitate us with getting the decision makers at the table. I think the events that they host also bring people together because we all know this industry is also based on relationships, and that gives us a great opportunity not only to socialize, but also to talk good business and think about the future."
"…the pandemic has given a lot of operators the opportunity to reset…"
Second Quarter 2023 | Travel & Cruise 45
—Alex Gumbs, Port St. Maarten CEO
U.S. Virgin Islands' Unexpectedly Quick Cruise Recovery Buoying the Economy
Joseph Boschulte, the U.S. Virgin Islands (USVI) Commissioner of Tourism and winner of 'Caribbean Tourism Executive of the Year' by Caribbean Journal in December 2022, joined Travel & Cruise at Seatrade Cruise Global, and it was truly being in the presence of greatness.
After all, over the past few years, the USVI — and its three stunning islands, St. Thomas, St. Croix, and St. John — has been on the world's stage for not only the inimitable destination offerings, but also its smart tourism strategies and tactics spearheaded by Boschulte himself.
During the pandemic when cruising, which accounted for 70 percent of USVI's tourism income, stopped overnight, Boschulte knew a change was in order – and keyed into the digital world. In addition to amplifying hotel and airline partnerships, USVI implemented an online travel screening portal and worked closely with all local partners, including restaurants, hotels, tour operators, and other tourism-related businesses, to make visitors and local businesses feel safe and protected.
Boschulte also supported USVI's new branding campaign, "Naturally in Rhythm," promoting hotel recovery and designed to inspire visitors to fall naturally in rhythm with the diverse culture, natural wonders, and beautiful hotels and resorts of St Thomas, St Croix, and St John.
The multifaceted strategies and digital tactics, unwavering networking with airlines and industry partners, and laser focus were worth it – with new hotels, record
stayover numbers and revenues to match, but all good things must come to an end.
"We had an opportunity to see great growth on the overnight guests during COVID, [but] we expected a correction," said Boschulte, referencing the flights coming into the country.
Fortunately, one thing was unexpected, what Boschulte called a "blessing" – the meteoric return of cruise tourism.
"We've seen occupancy rates on our ships to be above 90 percent over the last few months, which is ahead of schedule," he said.
That has stemmed the tide of the 'correction' – "so the economy's still doing really well."
Perhaps better yet, now USVI's tourism engine is firing on all cylinders from both the overnight and cruise tourism sides. Boschulte brought up the "burgeoning sharing economy" with the addition of Airbnb, VRBO, etc. fueling overnight accommodations before dropping another bombshell about USVI's cruise tourism:
"We're actually projecting to be ahead of 2019 numbers this year. I think we're going to be one of the few destinations in the region that are going to be able to say that."
Looking to the future, he told for 2024-2025, cruise tourism is expected to be "well in advance of where we were in 2019," including St. Croix, which is forecasted to be up 300 percent.
Boschulte believes one way to improve for the future is to have islands work together in forming itineraries. "No one destination makes an itinerary in the cruise business," he said and pointed out
that the cruise industry's rising tides can lift the destinations.
"All the lines have many ships coming out, so they have to find places for them to sail – and there's no better place to sail than the Caribbean. "
There also may be opportunities in working with FCCA, which had just hosted Boschulte for a meeting before the interview.
"We've been partners with the FCCA for as long as I can remember. Been a great partner for the territory and the region, quite frankly. Michele Paige has been a strong supporter of the USVI in good times and bad."
He brought up past disasters like Hurricanes Irma and Maria, where "the FCCA has stepped up and come to the rescue of the territory in the sense of assisting us in rebuilding" – adding that cruise was the first industry back in 2017.
"They helped get our beaches back, they helped bring people back when our hotels were years away from being rebuilt."
Speaking to how "that relationship has continued," Boschulte pointed out the strategic partnership between USVI and FCCA – "…we've been doing it for a few years, and that has proven to be invaluable because it allows us to stay connected with the industry and executives, and it affords us the opportunity to have very direct conversations about the trajectory of our cruise business in the territory."
On Land 46 Second Quarter 2023 | Travel & Cruise
Puerto Rico Talks Rebuilding, Revamping, Revolutionizing
Reflecting on Puerto Rico's remarkable experience over the winter cruise season, Alexandra Ruíz, Chief Marketing Officer of the Puerto Rico Tourism Company (PRTC), noted that the "Live Boricua" destination was extremely pleased by the successful rebound of its cruise sector.
"Our winter season has been great, and we are proud to report that we have been able to surpass some of the months from our previous record-breaking year in 2019," Ruíz shared. "Thanks to our incredible partners and the support of the FCCA, we have been able to rebuild and revamp the cruise industry and the sector in Puerto Rico."
As destinations around the world continue to regroup following the pandemic, tourism stakeholders are witnessing the steady return of demand for cruise experiences. Puerto Rico has consistently demonstrated its commitment to continuously evolve and reinvent itself. Recent examples include working with cruise partners to offer pre-and post-cruise packages that amplify the visitor experience in Puerto Rico.
"Our focus on enhancing the visitor experience extends to our marketing efforts, where we encourage visitors to immerse themselves in our vibrant culture, music, cuisine, and mixology. We have strategically capitalized on enhancing the visitor experience within the cruise industry, resulting in the growth of our homeports and a promising future with more to come," Ruíz shared.
Ruíz, her PRTC colleagues and
to recognize the importance of industry partnerships, collaboration and professional networking at events such as Seatrade Cruise Global, which was held in Fort Lauderdale in March.
"Seatrade has been an amazing event for us this year," she expressed. "Being able to connect with colleagues and industry players in person after the challenges of the past year has been truly gratifying."
Having hosted FCCA's in-person conference in San Juan last June, Puerto Rico
tourism leaders understand the importance of building and maintaining strong industry relationships.
"The FCCA has been an amazing and invaluable partner," Ruíz declared, adding that her team has developed a strong bond with the FCCA team.
"Under the leadership of Michele [Paige] and the entire team, we have been able to achieve remarkable milestones together. This relationship is not only about fostering connections, but also about the development of strong strategic commercial partnerships."
By all indications, Puerto Rico's cruise sector is heading towards more growth and continued positive transformation, an outcome Ruíz credits to multilayered collaboration.
"The FCCA and our other key partners have been instrumental in our journey. The support we have received has not only facilitated our recovery, but also sparked a revolution for the better. Without their contributions, this significant progress would not have been possible," the tourism executive stated.
"…we encourage visitors to immerse themselves in our vibrant culture, music, cuisine, and mixology."
Second Quarter 2023 | Travel & Cruise 47
—Alexandra Ruíz, CMO, Puerto Rico Tourism Company (PRTC)
Partnerships Key to Cruise Success, Jamaican Tourism Leaders Say
Jamaica's cruise industry is bouncing back, and its partnership with Florida-Caribbean Cruise Association (FCCA) has been a key element in the destination's success.
"There's excitement about Jamaica," said Joy Roberts, Executive Director at Jamaica Vacations Limited, speaking at Seatrade Cruise Global 2023. Held annually, this year's Seatrade brought together more than 500 exhibitors, a new event dedicated to cruise food and beverage, and more than 1,200 confirmed industry matchmaking meetings.
"It's just amazing to see people from all over the world and the interest that there has been in the cruise industry," Roberts said of the event.
She noted that in the wake of the COVID19 pandemic, there has been a surge in tourism-related businesses popping up in Jamaica, thanks in part to residents recognizing new business opportunities and the government offering funding for certain initiatives.
"You can choose what you want to do," said Roberts, explaining that the ports have divided their attractions into categories such as health and wellness, sports and entertainment, gastronomy, and knowledge.
"We have five ports, and our focus is to offer five unique experiences. There's
Montego Bay, Falmouth, Ocho Rios, Port Antonio, and the newest, Port Royal," added Mark Hylton, Port Manager of The Port Authority of Jamaica.
Each of the five ports offers something different, he explained. Ocho Rios, for example, has a 600-foot waterfall. Falmouth offers a mix of heritage attractions. Montego Bay has a fun party vibe and the world-famous Doctor's Cave Beach. Kingston's Port Royal is all about history. And in Port
Antonio, it's all about relaxing and being conscious of the environment while experiencing an unspoiled Jamaica.
Both Roberts and Hylton emphasized the value of their destination's relationship with FCCA. They noted their experience with FCCA has been supportive and collaborative, with Hylton describing the FCCA team as "always willing, always helpful, always ready."
"The relationship with the FCCA is amazing. We could not do what we do without them," said Roberts. "We saw a unison between the cruise lines and the countries in the FCCA [during the pandemic]. We worked together to find solutions, and we continue to work together.
"Coming out of the pandemic, I don't think the relationship will ever change because we really were brothers and sisters…I think there's a greater good coming out of the pandemic, especially for this industry
because we're together in finding solutions, in doing what needs to be done to ensure that all guests have the best experience."
Hylton added: "Coming back from COVID-19 is also a demonstration to us and to everyone in the industry that relationships are key, they're critical, and that relationship with the FCCA is important to us. We look forward to moving ahead with that partnership and strengthening that partnership, and we're delighted to be a part of the FCCA."
"We worked together to find solutions, and we continue to work together."
On Land 48 Second Quarter 2023 | Travel & Cruise
–Joy Roberts, Executive Director, Jamaica Vacations Limited
A New Era for the Dominican Republic and Minister of Tourism David Collado
The Dominican Republic seems to be breaking tourism records every week, and announcements for new hotels and attractions might be even more frequent. Clearly, the destination is speeding along, but it still might have another gear.
Minister of Tourism David Collado gave a glimpse of some of the current success and future goals while leading the destination's most important tourism fair, the Dominican Annual Tourism Exchange (DATE) 2023 in Punta Cana.
He said that between January and March, the Dominican Republic received 2.8 million tourists, confirming the boom for tourism, which represents 25% of the nation's economy, and continued that the Dominican Republic has become an international benchmark in the sector with more than 8.5 million tourists in 2022, of which 7.1 million visited by air (surpassing previous record of 6.5 million).
"The dream of the Dominican Republic is to reach 10 million tourists, and it will be a reality because we are planning to reach 9.8 million," he said – and assured that the Dominican Republic increasingly seeks to be a more environmentally friendly destination by implementing a vital resolution with which hotels will gradually eliminate the use of plastics.
Another of its key strategies is to reduce the price of air tickets with the signing of the Open Skies Treaty with the United States, and the Dominican Republic has increased American tourists by more than 10 percent in the first quarter of 2023 compared to the same period in 2019.
They are also evaluating the reduction of the tax on airplane fuel and the fuel price, which Collado said will be effective over the next month because of the European market – vital for summer tourism – and the need to lower costs for long-haul flights.
Plus, Collado mentioned some of the developments on the agenda, including
the restoration of the Colonial City, Santo Domingo, which includes churches, neighborhoods, streets, and emblematic places of the Dominican Republic's culture.
"This transformation includes art, fashion, and gastronomy. We will leave the Colonial City as a polished jewel because it is a treasure and heritage of humanity," he said, adding that the government is promoting a project to improve beaches through a heavy investment focused on ending prostitution and abuse of young people.
Security is one of Collado's top priorities, and the proof is in the funding. The Dominican Republic is investing more than $3 million to strengthen the tourist police. The proof is also in the results, as Collado noted, "In December, when more than 1 million tourists arrived by air and by cruise, we didn't have a single incident to regret, and the same happened in Easter Week."
Additionally, he reported that the Dominican Republic is leading specific meetings to solve the sargassum problem. To that end, $6 million has been invested, of which $1 million has been sent to various universities for research.
Port (ACP) General Manager, Dona Regis Prosper. "Not only is the destination strategically located but has excellent airlift from both the United States and Europe.
"Our investment in the fifth berth provides us with added capacity to efficiently facilitate multiple cruise ships and related services both for vessels homeporting or on a transit call. We are pleased with our performance this winter season as we continue to successfully rebound after the effects of COVID-19. We look forward to a record summer season and the upcoming winter season 2023/2024."
That record summer season features 19 calls, more than double last year's figures and a clear sign of major growth in Antigua's cruise tourism.
Antigua also displayed that it's on cruise lines' radars when Virgin Voyages announced plans to start calling in January 2024 – with Antigua serving as a new stop for the soon-to-launch ship, Brilliant, until 10 PM during each call. Brilliant plans to visit Antigua every other week, with a total of eight calls in the 2024 season.
Antigua Moving Full Steam Ahead
Over half a million cruise passengers visited Antigua during the winter season 2022/2023, a sign of its continued cruise tourism recovery. Most cruise passengers arrived between January and March 2023 – with over 332,000 during that period or more than 100,000 arrivals each month.
Homeporting played a considerable role in increasing passenger numbers for the quarter, underscoring its importance to the local sector. P&O Cruises' Arvia made four partial turnaround calls during this time while luxury yacht Star Clipper conducted two full homeporting operations – with at times over 800 people flying into Antigua to start their cruise.
"Antigua checks many boxes as a homeport, and this season is certainly a testament to this fact," said Antigua Cruise
Additionally, during Caribbean Travel Marketplace, Dean Fenton, U.S., director of tourism for Antigua and Barbuda, shared news on a Royalton resort coming to Antigua. The existing Halcyon Cove will be transformed into a nearly 300-room Royalton Chic Antigua – with completion by the spring of 2024. It will be located along Dickenson Bay near the existing Sandals Grande Antigua. Fenton said an over-the-water restaurant and other "shabby chic" amenities will create a "very Miami south beach kind of vibe" – adding that there will be lively nightlife and a "hip, young" crowd as part of Antigua's efforts to attract more Millennials.
Dominica's Cruise Industry on the Rebound, Plans for Record-Breaking Attraction
Dominica's 2022/2023 cruise season yielded 244,280 visitors, exceeding the 2021/22 season by 71%. Tours to the island's signature sites such as the Emerald Pool,
Second Quarter 2023 | Travel & Cruise 49
Trafalgar Falls, an 89% chance to see whales, breathtaking snorkeling tours off Champagne Beach, the island's Kalinago heritage and the exciting port welcome on every cruise call to destination Dominica are among the repeated testimonies of cruise visitors to the island.
Now a new – and record-breaking –attraction might work its way up the list, as 'The Nature Island' is aiming for new heights with plans for the longest cable car in the world. It will bring guests to Boiling Lake, a lake enveloped by swirling clouds of vapor, the second largest of its kind in the world at a width of 200 feet and a depth unknown.
Tourism Minister Denise Charles announced the $54 million project at the CHTA Marketplace in Barbados. The 4.1mile ride will take passengers from Roseau Valley to the top of the Boiling Lake in just 20 minutes, compared to the six-hour hike – and is expected to be completed in 2024.
ers, where he had the opportunity to outline strategies for growth, diversification, and reorganization of their portfolios.
Puentes will oversee the execution of the new investment attraction strategy focused on the following strategic pillars: contributing to Colombia's reindustrialization process through foreign direct investment; contributing to the development of the regions; and attracting foreign investment for the transfer of knowledge with a focus on R&D&I; in line with the reindustrialization policy of the Ministry of Trade, Industry and Tourism.
Martinique a diver's dream. But, to ensure that we remain a marine paradise, we have to do our part to conserve our natural resources. Enter the Dive & Conservation Fest – a week of diving, learning and environmental stewardship on both land and sea. This year's festival runs from May 29 – June 5.
ProColombia's New Vice President of Investment
Julio César Puentes took on the position of Vice President of Investment at ProColombia to attract foreign investment projects of impact, with a sustainable vocation and that contribute to the efforts to achieve total peace. In his career of more than 24 years, he has worked as a manager of public-private initiatives for the economic development of the territories and in managing projects and companies in the private sector.
He led the conceptualization and implementation of Invest in Bogota, the first public-private initiative achieved at the city level in the world. During his time at Ecopetrol, he led and made viable one of the most strategic assets of the plain's basin CPO-09, given its location and contribution in reserves for the country. Finally, he has worked for family group companies in the energy, oil and gas, transportation, logistics, and mobility sectors, among oth-
Turks and Caicos' New Destination Marketing and Management Organization
"Experience Turks and Caicos, our new Destination Marketing and Management Organization, is committed to revolutionizing tourism in our islands," said Hon. Josephine Connolly, Minister of Tourism. "Utilizing data-driven decisions, we will enhance the customer journey at every touchpoint. By carefully developing each area of the Turks and Caicos Islands based on natural resources and market research and providing representation for all sections of the tourism industry, we'll elevate our multi-island destination to even greater heights."
Special Summer of Fun Events in St. Kitts
This summer, St. Kitts is heating up with an array of thrilling experiences that promise to make it a memorable season. Dubbed the "Summer of Fun," travelers are invited to immerse in the island's vibrant music, cuisine, sports, and culture. The exciting lineup of events includes, but is not limited to, the St. Kitts Music Festival (June 22-24), St. Kitts and Nevis Restaurant Week (July 13-23), and the CPL 20 Cricket tournament (August 31-September 30).
Pure Grenada's Dive & Conservation Fest
Colorful reefs, epic wreck dives, and the world's first underwater sculpture park make Grenada, Carriacou and Petite
Holy Week in Guatemala
UNESCO declared the Holy Week in Guatemala as "Intangible Heritage of Humanity" during a ceremony held on February 26. The Holy Week stood out for its extraordinary richness and cultural diversity, being one of the most representative expressions of the country and which has achieved its permanence over time
On Land 50 Second Quarter 2023 | Travel & Cruise
for several generations. The declaration was based on cultural manifestations such as: processions, vigils, funeral marches, seasonal gastronomy and the creation of sawdust carpets, orchards and altars.
services and galley positions.
Meridian Recruitment Agency
Limited handled the over 3,000 online applications from interested nationals when seeking to recruit 200 suitably qualified nationals on behalf of MSC Cruises. Prescreened and registered candidates were then physically interviewed at Queen's Hall over the three-day period.
nies focused on recycling and innovative waste reduction programs.
Exceptional Number of Inaugural Cruise Calls in the 'Island of Flowers'
Martinique has welcomed an exceptional 16 inaugural calls this 2022/2023 season: the superyacht Evrima from the Ritz Carlton Yachting collection, the LNG-powered Arvia from P&O Cruises, the explorer-class ship Le Bellot from Le Ponant, the Royalclass Enchanted Princess from Princess Cruises, and the ultra-luxury expedition ship Seabourn Venture from Seabourn Cruises, just to name a few. MSC Seaside also started her series of 20 turnaround calls on December 3, 2022. For the occasion, the Martinique Tourism Authority and all its cruise industry partners have rolled out the red carpet to welcome the ship for her maiden call. And for the very first time, AIDA Cruises has launched turnaround calls from Martinique, with AidaDiva at Les Tourelles cruise terminal.
Mitchell was pleased with the outcome:" I extend congratulations to all the successful applicants and wish them well on their new journeys. I also want to thank MSC Cruises and Meridian Recruitment Agency Ltd. for recognizing the talents of our citizens and helping them to monetize their skills."
He anticipates that discussions will continue with MSC Cruises and other cruise lines to conduct more recruitment drives in Trinidad and Tobago following this and the past successful drive by Royal Caribbean Group.
100% Renewable Energy by 2030 – Royal Caribbean is committed to a net-zero carbon footprint for the Royal Beach Club by 2030. The project will incorporate smart design considerations during construction, including natural shade, low flow filters and more. The line will also invest in renewable green energy production – solar, wind and hydro – both onsite and through innovative, new partnerships.
No Dredging and No Overwater Cabanas
– Royal Caribbean will conserve the ocean environment, including coral, and will not dredge the area in and around Paradise Island. In addition, the cruise line will not build overwater cabanas on the property. It also plans to minimize the impact on marine life through monitoring and adjusting the location of the limited structures, such as the floating pier, in place during construction.
Royal Caribbean's Environmental Plans for First Royal Beach Club
Royal Caribbean International has outlined the cornerstones of its environmental plans to responsibly build and run its new beach experience – The Royal Beach Club at Paradise Island in Nassau, The Bahamas. At the foundation of Royal Caribbean's plans is a combination of its rigorous companywide sustainability principles and proven practices as well as the requirements of The Bahamas' stringent environmental process. Highlights of the plans' cornerstones include:
MSC Cruises' Successful Start to Recruitment Drive in Trinidad and Tobago
MSC Cruises held a recruitment drive at Queen's Hall, Port-of Spain from May 10-12, 2023, and according to Tourism Minister Randall Mitchell, over 90% of applicants interviewed will receive letters of intent to fill vacancies in food and beverage, housekeeping, entertainment, guest
Zero Waste-to-Landfill – The beach club will be free of single-use plastics and offer compostable service ware at food and beverage venues. In addition, it will be equipped with biodigesters to reduce food and other organic waste, and process cooking oil into biodiesel for energy production. The cruise line will also develop partnerships with local Bahamian compa-
Best-in-class Wastewater Treatment – The beach club will have a dedicated and bestin-class wastewater treatment plant that will process 100% of the wastewater generated onsite. More than 95% of the treated wastewater is intended for beneficial reuse, and the remaining byproduct will be composted for landscaping and vegetation.
Protecting the Island's Habitat – The western end of Paradise Island has fallen into disrepair, with several former residential properties neglected or abandoned. The company will restore this area by adding native plants and vegetation, removing invasive, non-native species of plants and only constructing buildings on previously altered property or property that contains significant invasive or non-native species of plants. In addition, Royal Caribbean plans to continuously study and protect wildlife during construction and eventual operation.
Local Environmental Monitoring – When building and operating the beach club, a Bahamian company will conduct environmental monitoring and publicly report information through an environmental scorecard.
Crafted in close collaboration with the
Second Quarter 2023 | Travel & Cruise 51
Bahamian government, the new project will feature a first-of-its-kind, public-private partnership in which Bahamians will be invited to own up to 49% equity. The experience also creates opportunities for local businesses and entrepreneurs to manage the vast majority of the experience as well as hundreds of jobs for Bahamians across its construction and long-term operation. The 17-acre beach club will be made up of 13 acres of land owned by the cruise line and 4 acres of Crown Land. The Crown Land will be contributed as equity in the new venture to ensure a share of the profits return to the government and the Bahamian people in a first-of-its-kind agreement in The Bahamas. This, in addition to a new tourism levy, will go into reinvesting in the local community.
one or two days in New Orleans either before or after their cruise. That generates more than 300,000 hotel room nights in New Orleans and more than $125 million in local spending each year.
Carnival Cruise Line was the first to resume oceangoing cruises in New Orleans after the pandemic in September 2021. In 2022, Carnival celebrated their 50th anniversary year with an average 110% occupancy on their sailings out of New Orleans. Norwegian Cruise Lines continued their commitment to New Orleans by returning Port NOLA's largest homeported vessel, Norwegian Breakaway. Royal Caribbean returned for the 2022-2023 season in November, and Disney doubled their cruises from Port NOLA in 2023 with 12 sailings.
River cruises resumed successfully from the Port in March 2021 and are now at record levels with 9 river cruise vessels cruising from New Orleans. Port NOLA was thrilled to welcome Viking Cruise Line's first homeported cruise in North America to New Orleans last year. The vessel was built in Louisiana.
presence," said Kenneth Wengrod, Vice President of Global Trade and Foreign Investment for the Los Angeles Area Chamber of Commerce. "He goes above and beyond the call of duty to expand world trade opportunities that ensures the competitiveness of the Los Angeles Port in the world market. His ability to navigate through turbulent times is based on extensive knowledge of the issues, a profound ability to listen to all sides and treating all stakeholders fairly and with respect."
"This award is presented each year to a single individual. But in a larger sense, it is given in recognition to the spirit of this city," Seroka said. "That spirit is the reason Los Angeles is the world's third largest municipal economy. It's the spirit of diversity that encompasses 400 different neighborhoods. The impact we make in each of those neighborhoods does not just make a difference locally. It makes a difference around the world."
Port of New Orleans Sets Cruise Record
The Port of New Orleans (Port NOLA) set a passenger record this March for oceangoing and river cruises, topping pre-pandemic levels with 155,225 passenger movements and 39 cruise vessel calls at the Port for the month – surpassing the previous monthly high set in February 2020 with 154,409 passenger movements and 31 vessel calls just prior to the cruise industry's halt due to the COVID-19 pandemic. At that time, Port NOLA had been on track to meet a record 1.4 million passenger movements in 2020. Now, the Port is on pace to welcome a record number of annual passengers.
"These record numbers highlight how demand for cruising from New Orleans never went away, as people from all over the world returned to our vibrant city to launch their cruise vacations as soon as they were able," said Port NOLA President and CEO Brandy D. Christian. "As a result, our cruise line partners continue to commit to the New Orleans market, and that's good news for Louisiana tourism and hospitality."
At Port NOLA, 90% of cruise guests travel from out-of-state with 73% spending
Port of Los Angeles Executive Director Receives Prestigious Award
Port of Los Angeles Executive Director Gene Seroka recently received the esteemed Stanley T. Olafson Award from the Los Angeles Area Chamber of Commerce, recognizing his work in the world trade industry and leadership of the nation's busiest container port.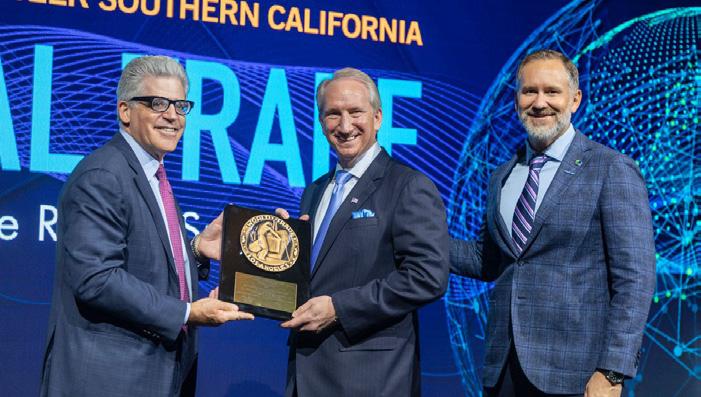 Seroka accepted the award, one of the oldest and most prestigious chamber awards, at the 97th annual World Trade Week Conference in Downtown Los Angeles. Historically, the award honors individuals who have contributed above and beyond their job requirements to create a positive impact on the Southern California economy through international trade.
"Mr. Seroka has demonstrated a lifetime of achievement and is a driving force in Los Angeles' economic global
Seroka has worked in maritime and global trade for over three decades. He has led the Port of Los Angeles through unprecedented challenges and record-breaking success over the last nine years. His exemplary record, tireless advocacy to keep and grow good-paying jobs in the L.A. region, and deep understanding of supply chain issues continue to benefit the economic growth of the L.A. region and beyond.
Carnival Bringing 3 Million Guests to Mexico This Year, to Grow To 3.5 Million in 2024
Carnival Cruise Line marked this Cinco de Mayo by highlighting that it expects more than three million guests to sail to Mexican ports this year on its ships, with projections growing to 3.5 million by 2024. Cozumel is Carnival's most popular destination in Mexico, with an estimated 1.6 million guests visiting the port this year. Additional ports in Mexico that Carnival ships visit regularly include: Progreso, Costa Maya, Puerto Vallarta, Cabo San Lucas, Ensenada and Mazatlan.
On Land 52 Second Quarter 2023 | Travel & Cruise
CLIA Updates on Fit for 55
The Cruise Lines International Association (CLIA) continues its active role in representing the cruise industry in developments that are part of the European Union's Fit for 55 proposals. The EU's climate goal is reducing net greenhouse gas emissions by at least 55% by 2030, with revised and updated legislation in line with that goal.
In March, the EU Institutions reached provisional agreement on revision of the Renewable Energy Directive. The co-legislators agreed to raise the share of renewable energy in the EU's overall energy consumption to 42.5% by 2030. The Council and Parliament also agreed on sector-specific targets in transport, giving Member States the possibility to choose between a binding target of 14.5% reduction of greenhouse gas intensity in transport from the use of renewables by 2030, or a binding target of at least 29% share of renewables with-
in the final consumption of energy in the transport sector by 2030.
Among the latest developments, in April the European Parliament adopted in Plenary the final text of the EU Emissions Trading System (ETS) Directive, which includes shipping within its scope. The final text was later adopted by the Council and the law will be implemented on January 1, 2024. The phase in period will occur between 2024 and 2026 and will apply to all ships operating between EU ports (100% of emissions to be reported for intra-EU voyages) and to ships operating to or from European ports (50% emissions reporting for extra-EU voyages). Methane and Nitrous oxide will also be included in the Monitoring, Reporting and Verification (MRV) reporting requirements as of 2024 in addition to the current CO2 reporting, and in the ETS as of 2026.
Provisional agreement on Alternative Fuel Infrastructure Regulation (AFIR) &
Fuel EU Maritime (FEUM) were approved by member states at the Committee of Permanent Representatives meeting in April. The agreed texts are now expected to be adopted by the Transport Committee in late May and in plenary session in July. AFIR will require all ports with more than 25 calls annually (averaged over 3 years) to have shoreside electricity by 2030.
CLIA Europe, in coordination with the European Community Shipowners' Associations (ECSA), responded to two draft environmental delegated regulations published by the European Commission under the EU Taxonomy Framework in April. The first seeks to amend the first environmental delegated act (TDA1), which defines technical screening criteria, including for maritime transport. The second seeks to define a new set of technical screening criteria for some industrial sectors (currently not including shipping) under the remaining four environmental objectives (TDA2).
Second Quarter 2023 | Travel & Cruise 53
Three Steps to Inspire Improvements in Your Destination
By Beth Kelly Hatt, President,
As we see needs evolve and change, Aquila continues to build relevant new programs and customized training strategies for destinations and tour operators. In the first half of 2023, two FCCA partner destinations have continued to invest in long-term strategies that include everyone from their stakeholders to their frontlines: Puerto Rico Tourism Company and Cayman Islands Tourism Authority.
Gail Henry, Deputy Director, Tourism Product Development at Cayman Islands Dept of Tourism said, "Cayman has been collaborating with Aquila Center for Cruise Excellence for the past few years to upskill our cruise tourism stakeholders with concurrent knowledge of customer service excellence, tour operations, tour guiding, storytelling, and other key elements of providing unforgettable wow experiences. Beth and her team of trainers not only deliver excellent content, but also know how to connect with different types of stakeholders to affect this valuable knowledge transfer for the benefit of themselves and making their businesses more competitive."
From tour guide certification and tour operator designation, to frontline, vendor and driver specific training, the investments that FCCA partner destinations are making in their people are to be applauded. With all the training Aquila did through the pandemic, helping destinations and operators prepare for the return of cruise, and then through 2021 and 2022 to help the recovery, we have found there are a few consistent factors that will ensure continuous improvements in destinations:
Secret Shopping
Mystery or secret shopping is an ideal way to improve and to make the necessary changes to keep products and services at the highest level.
When was the last time you were on your own destination's or tour operator's tours?
When was the last time you walked around the pier or the town or visited attractions while cruise guests were visit-
ing to see it through their eyes, to gauge the level of interest, the challenges, to see what works and what doesn't?
Sometimes it is these site visits that help make things better, and it is often small things that need to be tweaked to improve an experience. This costs little but your time!
Best Practices
Have you traveled to another port destination with the purpose of seeing or experiencing first-hand how they handle ships, how they deliver tours and experiences, to see how things work with the dispatch, the vendors, the taxis? This may cost you more than just your time, yet you can learn so much from others.
When was the last time you went on a cruise to see how other destinations perform? To experience how it feels to be a guest on a cruise in your own port? For the first time, Aquila will be hosting a Best Practice Mission in their 'Living Lab', in Saint John, Canada for the Puerto Rico Tourism team and ACE Designated tour operators.
Crystal J. Bell, Air and Cruise Access Director at Puerto Rico Tourism Company said, "For almost a decade, our fruitful partnership with Aquila has been a cornerstone to ensure service excellence in Puerto Rico's cruise industry. The trainings offered by Beth and her amazing team have made a measurable difference: improving our port ratings and bolstering desirability of our destination in the context of the
Caribbean, the industry's most competitive area. We are eager to continue this partnership for years to come."
Ask Your Frontlines
Have you brought in your frontlines for a focus group to get their view on the challenges and opportunities? Your frontlines are the eyes and ears of your destination, and we often forget to ask them about what is happening in the center of the guest experience.
This applies whether you are a tour operator who wants more information on your guests by asking your tour guides, or a destination who wants to better understand what guests are buying or complaining about, by asking your vendors, drivers or ambassadors. Asking your frontlines will not only give you a better understanding of the needs and challenges, but it will give you frontlines who feel heard. It is the people in your destination that make the biggest impact on guest satisfaction.
Many of your frontlines have been on cruises – what did they like and dislike? What did they see that they thought they could add in your destination?
Let's all embrace the philosophy of continuous improvement. No matter how great we are, we can always get better! "We are what we repeatedly do. Excellence, then, is not an act, but a habit."
Beth Kelly Hatt is the President of Aquila's Center for Cruise Excellence, the FCCA's official training partner who celebrated 40 years in business in 2022. Contact Beth for more information about this FCCA Frontline program and other training at Beth@CruiseExcellence.com.
Members & Travel Agents 54 Second Quarter 2023 | Travel & Cruise
Aquila's Center for Cruise Excellence, FCCA's Official Training Partner
Revolutionizing Waste Management in Ports: Innovative Circular Solutions to Combat Climate Change and Marine Pollution.
PS Maritime Sustainability Solutions is committed to making a significant impact on the United Nations' 2030 Sustainable Development Goals, particularly in the area of climate action. Our innovative circular economy solutions for waste management, combined with our waste carbon impact traceability model, enable us to track the carbon impact of each waste stream's management, promoting responsible consumption and production while reducing greenhouse gas emissions associated with waste disposal.
Our approach to ship generated waste management not only helps prevent marine pollution but also supports the reduction of greenhouse gas emissions, helping to combat climate change. By promoting the circular economy, we aim to reduce waste generation, increase recycling rates, and prevent marine pollution, supporting the United Nations' Life Below Water goal.
At the same time, our approach also supports the Decent Work and Economic Growth goal by creating new jobs and supporting economic growth, while also contributing to the Industry, Innovation and Infrastructure goal by promoting innovative waste management practices and developing sustainable infrastructure for managing waste.
Join MPS Maritime Sustainability Solutions in the fight against climate change and marine pollution by partnering with us today. Together, we can create a more sustainable and resilient waste management system that supports economic growth while reducing environmental impacts.
Contact +52 55-8897-6969
Email info@maritimeps.com
DECENT WORK AND ECONOMIC GROWTH 8 1 NO POVERTY RESPONSIBLE CONSUMPTION AND PRODUCTION 12 9 INDUSTRY, INNOVATION AND INFRASTRUCTURE LIFE BELOW WATER 14 13 CLIMATE ACTION Exclusive strategic partners to promote sustainability solutions within the cruise industry
www.maritimeps.com
Chukka Caribbean Adventures: Celebrating 40 Years of Unforgettable Experiences
By Khristina Rose, Group Marketing Manager, Chukka Caribbean Adventures
In the heart of the Caribbean, where sun-kissed beaches meet lush rainforests, Chukka Caribbean Adventures has been transforming dreams into reality for four decades. This year marks a monumental milestone as Chukka celebrates its 40th anniversary, a testament to the company's unwavering commitment to providing unforgettable experiences, authentic adventures, and a deep love for the Caribbean.
It all began in 1983, when founder Danny Melville set out on a mission to share the wonders of his beloved homeland with the world. With a single horseback riding tour in Jamaica, Chukka Caribbean Adventures was born. Little did he know that this humble beginning would blossom into a Caribbean tourism powerhouse, captivating the hearts of millions of adventure seekers.
The birth, growth, and development of Chukka would not be possible without the AMAZING partnership we have had with the various global cruise lines. You, and your Shorex product teams, believed in Chukka, and challenged us to grow (in both number of tours and countries) and
focus directly on the guest experience, which is the most important indicator for a successful tour – from the bottom of our collective hearts, THANK YOU!
From that pivotal moment in 1983, Chukka's growth has been nothing short of extraordinary. Embracing the spirit of innovation, the company expanded its offerings to include a diverse range of exhilarating experiences in five countries, from zip-lining through rainforests and tubing down lazy rivers to exploring historical caves and swimming with stingrays. Chukka became synonymous with thrilling adventures that showcased the natural beauty, vibrant culture, and rich heritage of the Caribbean.
With a firm belief in responsible tourism and sustainable practices, Chukka Caribbean Adventures has been a champion for environmental conservation and community development. We have implemented various initiatives to protect the delicate ecosystems we operate in, promoting the preservation of coral reefs, rainforests, and marine life. Chukka's commitment, through its Foundation, to giving back to the local communities is
evident through its support of education, healthcare, and social programs, empowering and uplifting the lives of countless individuals across the Caribbean.
As Chukka celebrates its 40 th anniversary, we reflect upon the countless stories of joy, adventure, and personal growth that have unfolded throughout the years. Stories of families bonding over thrilling zip-line adventures, friends spending a day sailing and snorkeling the beautiful Caribbean Sea, and couples rekindling their love amidst the tropical beauty of the islands. Each experience has left an indelible mark on the lives of those who have had the privilege to embark on a Chukka adventure.
Behind Chukka's success are the incredible individuals who have dedicated themselves to providing exceptional service and creating remarkable moments for every guest. From the knowledgeable guides and passionate staff members to the visionary leaders, Marc Melville and John Byles, who have shaped the company's path, their collective dedication and commitment have been the driving force behind Chukka's growth and success.
Looking ahead to the next 40 years, Chukka Caribbean Adventures remains committed to its core values of adventure, innovation, sustainability, and community. With new destinations, exciting experiences, and technological advancements on the horizon, Chukka continues to push boundaries and set the standard for adventure tourism in the Caribbean.
As we celebrate this momentous occasion, let us raise a toast to Chukka Caribbean Adventures – 40 years of transforming dreams into unforgettable journeys. Here's to the next chapter, filled with thrilling adventures, cherished memories, and a continued commitment to showcasing the Caribbean's beauty and wonder to the world.
Members & Travel Agents 56 Second Quarter 2023 | Travel & Cruise
BVI's Cyril B. Romney Tortola Pier Park Adds WiFi Services
At the Cyril B. Romney Tortola Pier Park, we prioritize our guests' satisfaction and convenience. That's why we've introduced our new WiFi services, allowing you to stay connected while you enjoy your time at our park. For just $3, you can access WiFi for one hour, or opt for the great value of $5 for eight hours. Stay connected, share your experiences, and keep in touch with your loved ones effortlessly.
Introducing Chukka's Electric Bicycle Country Ride in Falmouth, Jamaica
Introducing the Electric Bicycle Country Ride at Chukka Good Hope in Falmouth, Jamaica. Cruise passengers from both the Falmouth Port and Montego Bay Port will have a chance to be among the few to see Jamaica's "real country," a stunning 200-sq-mile-wide conservation area called Cockpit Country. Ride along 300-year-old paved roads laid atop original tracks made by the original inhabitants some 2500 years ago and see today's thriving farming communities at work.
and conservation. The crowning moment is an encounter with the free-roaming parade of flamingo beauties National Geographic has called "Ballerinas in Pink."
Cayman Turtle Centre's New Milestone
Cayman Turtle Centre, the Cayman Islands' #1 land-based attraction, achieved a new milestone recently with the number of Green Sea Turtles they have released into the wild, reaching over 36,000 since their release programs began in 1980. The Centre is dedicated to protecting and conserving sea turtles, as well as other native species, and their captive breeding program has played an essential role in the recovery of the Cayman Islands' wild Green Sea Turtle population.
Atlantis Paradise Island, Bahamas Launches Conservation-Focused Experience
Atlantis Paradise Island, Bahamas has launched a new conservation-focused experience: Rescue Tails & Tales, A Wildlife & Conservation Walk. From Atlantis Paradise Island to Ardastra Gardens Wildlife & Conservation Centre, this expedition brings you behind the scenes of two of Nassau's most iconic attractions to learn from the experts who are working to protect native endangered species, and are committed to marine and terrestrial wildlife rescue, rehabilitation,
ElNet Maritime and Inchcape Shipping Services Partner on Cruise and Superyacht Services
ElNet Maritime and Inchcape Shipping Services recently announced a strategic partnership naming ElNet as Inchcape's exclusive Port Agent for all Cruise and Superyachts services in The Bahamas. Ellie Hepburn, President and CEO of ElNet, signed the agreement at Seatrade Cruise Global with Inchcape's John Willemsen, Area General Manager Central American Region, and Grant Holmes, Global VP Cruise & Superyacht Sector.
H.H.V Whitchurch & Co. Ltd.: Your Trusted Port Agents!
With a fervent passion for the cruise industry, and the tourism sector on a whole, Whitchurch has had the distinct pleasure of being Port Agents for all cruise lines that visit the majestic shores of Dominica. In the role of port agent, Whitchurch ensures that the needs of the cruise lines are met, with the highest level of professionalism.
Members & Travel Agents 58 Second Quarter 2023 | Travel & Cruise
Aviomar Wrestles Up Mexican Lucha Libre Experience
Ever wondered what would be like to experience Mexican Lucha Libre – where masked luchadores showcase vibrant athleticism and theatrics – in Cozumel? Immerse in tradition, witness high-flying moves and dazzling costumes in a unique island setting. This captivating cultural encounter, set against Cozumel's stunning backdrop, creates an unforgettable Mexican highlight. This is the new and exciting product Aviomar brings to Cozumel, beginning this September.
Among them, three have been new ships at the Port of Ensenada: Insignia from Oceania, Seven Seas Splendor from Regent Seven Seas, and Brilliance of the Seas from Royal Caribbean International.
making you feel protected while you are away from home. Info: newscostamed@ costamed.com.mx
Starboard Cruise Services Brings Italian Flavor and Flair to the Caribbean
Celebrating Italian lifestyle, Starboard launched Carnival's First Luxury Boutiques at sea as well as Exclusive Venezia Branded Collection aboard Carnival Venezia. Showcasing the best of Italian culture, traditions and style, guests are also in for an immersive shopping experience at The FUN Shops. Whether shopping for resort wear or unique gifts from island destinations, the lifestyle retail spaces offer a diverse selection that caters to all guests' shopping preferences and needs.
Amerimed Opens Quintana Roo's Only Dedicated Inpatient Psychiatry Ward
Amerimed Hospitals is proud to announce the opening of the only dedicated inpatient psychiatry ward in the state of Quintana Roo in our flagship Hospital in Cancun. Amerimed has been a pioneer in offering psychiatric inpatient care for the past 10 years, and this new unit embodies our commitment to drive the development of healthcare infrastructure in the region including mental health services. Please visit www.amerimedhospitals.com for more information.
Yucatan and the Ports of Mexico at Seatrade Cruise Global
We at Port of Progreso were excited to be participating within the booth Ports of Mexico into the Seatrade Cruise Global 2023, together with other Mexican destinations: Port of Chiapas, Port of Ensenada and Puerto Vallarta. We are sure that all joint work will continue and improve the promotion of Yucatan and Port of Progreso within the cruise industry.
Hutchison Ports ECV Celebrates Three Inaugural Calls
At Hutchison Ports ECV, we are pleased to announce that from January to April 2023, we have received a total of 126 cruises.
COSTAMED: Homelike Protection When Visiting
COSTAMED is the largest medical group in the Mexican Caribbean; with 6 medical facilities and 5 dental units, located 2 of them in Cozumel and Costa Maya ports with over 25 years of experience, wide range of specialties and a full catalog of services available 24/7, bilingual physicians and crew. We work alongside with almost all international insurance companies
Blue Halo Validated by EPA and FDA
Guests and crew deserve the best protection against easily transmitted, airborne viruses. The EPA and FDA have validated the effectiveness of Blue Halo's solutions. In laboratory testing, our UV-C solutions inactivate 99% of airborne virus with an exposure time of .5 seconds. Blue Halo Lighting and cruise ship service leaders are partnering up to design, engineer, supply, install and commission UV-C for you. Reach out to learn how we can disinfect your cruise ships today.
PortMiami's Recent Updates
PortMiami completed upgrades to Terminal F, opened Terminal B (The Pearl of Miami), and started constructing MSC's new mega terminal (the largest in North America) this past year. Passenger counts continue to rebound, with just over four million cruise passengers last year. The Port's plans for shore power enter Phase 1 as Miami embraces cleaner energy. The Cruise Capital of the World continues to come back bigger and better in 2023.
Second Quarter 2023 | Travel & Cruise 59
Port of Galveston's $53 Million Renovation for Carnival Jubilee
A $53 million renovation is underway at Port of Galveston's Cruise Terminal 25 to accommodate the new Carnival Jubilee. The LNG-powered ship will homeport in Galveston beginning in December. Galveston, the only Texas cruise port, is on track to set new records this year with more than 350 cruise sailings and more than 1 million cruise passengers.
Cruise service provided by Carnival Cruise Line at JAXPORT continues to run at 100% occupancy. JAXPORT also hosts port-of-call visits from additional cruise ships. Norwegian Cruise Line's Riviera and Regent Seven Seas Cruises' Seven Seas Navigator called JAXPORT this spring, supporting tourism-related jobs and economic growth for the city.
Pacific Northwest Transportation's Stellar Certification
As the 2023 Alaska cruise season begins, Pacific Northwest Transportation, a division of SSA Marine and the exclusive provider of bus services for cruise ship guests and crew in Victoria BC, is proud to announce they are the first and only B-Corp certified bus company in North America. They have met the highest standards of verified performance, accountability, and transparency across their organizations business practices and have been recognized for their holistic approach to sustainability.
Cruise Service Remains Strong at JAXPORT
Cruising from Jacksonville, Florida, provides a seamless experience for travelers looking to get away to the Caribbean.
Cruising from Port Tampa Bay
Cruising from Port Tampa Bay has attractive choices for everyone! From Tampa, guests can set sail on Carnival Cruise Line, Royal Caribbean International, Celebrity Cruises or Norwegian Cruise Line to a variety of locations in the Caribbean. Port Tampa Bay offers the convenience of a nationally ranked airport, adjacent secure parking garages, and award-winning customer service from our partners. Steps from cruise terminals are new hotel offerings, a variety of dining options, breweries and family-friendly attractions including Sparkman Wharf, Water Street and the Tampa Riverwalk.
Destination Discovery Zone to Return at Seatrade Europe
The Destination Discovery Zone will return at Seatrade Europe this September! The Destination Discovery Zone is designed for all global destinations, tour operators, shorex providers, port engineering firms, transport/logistics companies and more to showcase their destination to the European cruise market. Secure your booth today: www.seatrade-europe. com. Seatrade Europe will take place in Hamburg September 6-8, 2023.
Members & Travel Agents 60 Second Quarter 2023 | Travel & Cruise
SANTA MARTA CRUISING BEYOND THE CARIBBEAN.
White sands that lead into warm azure waves. A city deeply embedded in Colombia's history. A charming culture and delectable gastronomy. Lush greenery inhabited by colorful species and ancient knowledge. All of it backdropped by a snow-capped mountain.
There are many theories as to what earned Colombia's oldest city the lovely nickname of "the Pearl of the Americas", and although a quick visit might not suf ce to unravel all its secrets, it certainly does to make you fall in love with it.
Scan the code to embark on this adventure.
COLOMBIA.TRAVEL
VISIT
Santa Marta, GREATER COLOMBIAN CARIBBEAN