SEP 2–OCT 2, 2022 ALLIANCE THEATRE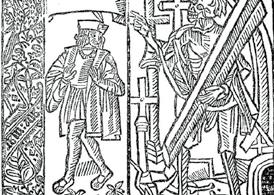 encoreatlanta.com | 1 EVERYBODY FROM THE ARTISTIC DIRECTOR Between Us 4 FEATURE "Make It Matter": Bringing Everybody to the Coca-Cola Stage ............ 6 Co-Directors Susan V. Booth & Tinashe Kajese-Bolden discuss Everybody's unique staging, timeliness, and challenge for its audiences Story by Ashley Elliott Program Highlight 12 Onstage & Off ................... 14 Program Notes .................. 15 Synopsis 23 Your Story, Your Stage ........... 24 DEPARTMENTS About the Alliance Theatre 26 Board of Directors ................ 27 Sponsors 28 Annual Fund ..................... 30 Alliance Theatre Staff 37 Page 6 Page 12 Page 24
ENCOREATLANTA.COM PUBLISHER Brantley Manderson brantley@encoreatlanta.com SENIOR ACCOUNT DIRECTOR Donna Choate donna@encoreatlanta.com — CREATIVE — EDITOR-IN CHIEF Robert Viagas robert@encoreatlanta.com GRAPHIC DESIGNER Tamara Hooks tamara@encoreatlanta.com DIGITAL MEDIA DIRECTOR Allie Johnson allie@encoreatlanta.com PROGRAM PRODUCER Ashley Elliott ashley.elliott@alliancetheatre.org CONTRIBUTING WRITER Mary Welch ENCORE ATLANTA is published monthly by B2 MEDIA, LLC. P.O. Box 1377 | Columbus, Georgia 31902 Phone 678-837-4004 Copyright © 2022 Encore Atlanta. All rights reserved. Reproduction in whole or in part is strictly prohibited. Encore Atlanta is a registered publication of B2 Media, LLC. The publisher shall not be liable for failure to publish an ad, for typographical errors, or errors in publication. Publisher reserves the right to refuse any advertising for any reason and to alter advertising copy or graphics deemed unacceptable for publication. encore As one of the region's largest Marketing Solutions Providers, Communicorp handles everything from print to digital to emerging technologies like clickable print or eCommerce storefronts. We guide clients through the maze of new marketing technologies and methodologies with a unique approach that always looks beyond yesterday's solutions. Based in Columbus, GA, Communicorp is a wholly-owned subsidiary of Aflac. To learn more about our award-winning solutions, visit Communicorp.com. Printed exclusively by Communicorp Our audience is your audience. Advertise with Encore and reach a targeted group of performing arts lovers. CONTACT Donna Choate 678-778-1573 donna@encoreatlanta.com
Coming Soon in the 2022/23 SEASON One of Atlanta's most treasured holiday traditions, featuring a completely reimagined set design and stunning new costumes.. By CHARLES DICKENS Adapted by DAVID H. BELL Directed by LEORA MORRIS NOV 12–DEC 24 Winner of the 2021 Pulitzer Prize for Drama A fierce new comedy about the risks and rewards of celebrating who you are. Written & Directed by KATORI HALL FEB 10–MAR 5 2023 Plus many more! Tickets and memb erships available a t alliancetheatre.org
So here I am, writing the piece that shows up in the front of each program, where the Artistic Director tries to offer a little more context around the play you're about to see.
And here you are reading it. (Bless you.)
And here's what's different about this particular "Between Us." It's actually the last one I'm going to write. After a whole lotta years, I'm leaving the Alliance to head to Chicago's Goodman Theatre. And in a completely serendipitous bit of programming magic (had no idea I was going anywhere when we picked this play), Everybody turns out to be more perfect than I thought. And I thought it was pretty perfect.
My co-director, Tinashe Kajese-Bolden, speaks to this eloquently a few pages into your program, when she talks about the very particular gift this play gives us. Everybody dives deep and hard into the notion of memento mori — the Stoics philosophy that we must always remember that we will die. Because only by sitting authentically with our own mortality do we come to a full appreciation of the beauty and possibility of our life. And while a job and city change isn't a life or death transition, it is an inflection point that offers the same invitation. Be here now. And see fully all for which you ought be grateful, and make the most of every moment.
I have loved being here.
I am loving being here.
And I will always be grateful for this time, this city, this theatre, and all of the people who love it.
Susan V. Booth Jennings Hertz Artistic Director
alliancetheatre.org | @alliancetheatre 4
| betweenus
CONTACT Donna Choate 678-778-1573 donna@encoreatlanta.com