AUSTRALIA & NEW ZEALANDAugust/September 2022 We are opening our first Sydney store New Store in Gladesville Independent conversion incentives available nationally ! 1800 016 016 or visit andersens.com.au
Design
There are endless possibilities when it comes to using Karndean's durable luxury vinyl flooring in commercial and residential spaces. The beauty of our ranges is that they're so versatile, with your creativity and imagination you really can enhance any space. Once you've selected the format and colour that's right for your project... you can define the space and add interest to any layout. If you need any help with designs or products, please visit karndeancommercial.com or call us on 1800 331 170
is an endless journey.
Launch Digital Specification Library ViewSelectorProduct Inspiring interior design trends Karndean Designflooring o ers beautiful, design-led floors in gluedown, rigid core and loose lay formats. So you can choose the design you want, in the format you need.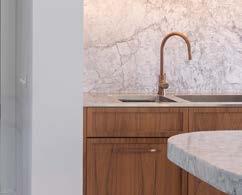 3 Flooring August/September 2022 www.flooringmagazine.com.au Contents
Editor Front Cover Andersens Floor www.andersens.com.auCovering vol 40 no 4 Spotlight On 12 Andersens hits the big smoke Company Profile 14 Karndean Designflooring Feature 16 Resilient CarpetFlooringMatters 28 Hot carpet trends and tips for 2023 Waterproofing 30 Curing of concrete – make the right choice Training 34 Flooring – it gets into your blood Technical Bulletin 37 Truly adhesive free flooring A Sustainable Future 50 Are you ready for Australia's circular future? Flooring Magazine is @flooringmagazine@flooringmagazineaustraliaon:
Our Company Profile in this edition features Karndean Designflooring. From the ancient forests of Europe to the remote Australian outback and beyond, the team at Karndean seek out expressive and intriguing forms in the natural world to influence their designs. Philip Ashley talks to Dan Lovell and Christine Weaver about how Karndean sees flooring Pleasedifferently.feel free to contact me directly regarding any industry news and or product information by email at UntilInstagram.communityDon'tmichelle@elitepublishing.com.au–forgettojoinourgrowingonlineandvisitusofFacebookandnexttime,enjoyyourread. Cammiade
Michelle
Editor's Note
Welcome to the August / September 2022 issue of Flooring Magazine. Inside this issue you will find our Feature on Resilient Flooring. We ask the experts at the Australian Resilient Flooring Association (ARFA), an industry association that acts as the collective voice for companies in the resilient flooring industry, to discuss the market growth over the last two decades, driven by innovative design, development, and uptake of new products, particularly Luxury Vinyl Tiles (LVT) and more recently, Hybrid products.
Armstrong Flooring announces new Australian owner
News
CBG was established by the McKendrick family with Kim McKendrick as the Managing Director. The McKendrick family are known for their extensive experience in the manufacturing and distribution of residential and commercial flooring products and the purchase of related assets in the flooring industry across Australia and New Zealand. Kim was the former chairman and owner of Godfrey Hirst. In 2018, the Godfrey Hirst business was acquired by Mohawk Industries, the world's largest flooring company. At the time of sale, the McKendrick Family had successfully grown Godfrey Hirst to be the largest manufacturer and exporter of residential and commercial carpets, and distributor of other flooring products in Australia and New Zealand.
Australia's only manufacturer of commercial vinyl flooring, Armstrong Flooring will continue its operations in Australia as an Australian owned, independent business, following its purchase by Cowes Bay Group (CBG). Previously a subsidiary of the US listed global leader in resilient flooring, Armstrong Flooring, the Australian business is now entirely Australian owned and will operate independently as Armstrong Flooring.
4
Kim, along with son Hamish and the CBG team, are excited to be involved with Armstrong Flooring and look forward to further developing the business with the acquisition of new plant equipment and expansion of the product range. After 53 years of local manufacturing, Armstrong Flooring continue to be the only manufacturer of resilient flooring in Australia. They are excited to be continuing to serve the Australian market, local community, and economy as an Australian owned business.
P
6 Flooring August/September 2022 www.flooringmagazine.com.au Product Update
Protecting the environment through intelligent design
Above: SV25 Supervac and SV30 Supervac Vaccuum Sanders
They know that finding the right sander that performs tough sanding jobs without creating a dusty mess is a challenge. To solve this problem, they have introduced the Slow-speed SV25 Supervac and the Highspeed SV30 Supervac Vacuum Sanders. These machines are packed with features that aid in executing tough sanding jobs. The slow-speed SV25 Supervac Vacuum sander is powered with 1.1 kw, four pole motor and 188 rpm pad speed. The High-speed SV30 Supervac Vacuum sander is powered with a 1.5 kw, two pole motor and 364 rpm pad speed. Both these Vacuum sanders are equipped with a 400-watt long life motor which is fitted into the vacuum canister along with a by-pass dust separator for superior dust extraction, now there is no need to vacuum after your tough sanding job; these machines clean the dusty indoor mess while sanding to help you breathe Alleasier.Polivac sanders are fitted with extra weight that offer ideal downward pressure to ensure sanding work is done effectively. These features allow the sanders to provide the high performance required to satisfy the rigorous demands of floor sanding applications. Operators can use both Supervac sanders for scrubbing after switching off the vacuum motor. SV25 Slow-speed Supervac Sander can also be used for stripping applications, getting multiple jobs done with just one versatile Themachine.Oscillating Polivibe Sander is a new generation machine designed after extensive research for changing industry requirements. This sander is powered with a 1.1 kw motor and provides an oscillating speed of 2850 oscillations per minute. In addition, it is equipped with a pivot point design to suit operators of all heights and fitted with removable weights so you can adjust the downward pressure to your application. All Polivac sanders are ergonomically designed to provide supreme operator comfort. Polivac products are manufactured keeping in mind four core concepts safety, productivity, quality, and sustainability. A cornerstone of their commitment to the environment is 'The Polivac Conservation Cycle' protecting the environment through intelligent design.
Above: Polivibe – Oscillating Floor Sander
olivac International is Australia's leading manufacturer of commercial sanding and cleaning equipment. All machines are designed and manufactured in Australia, hence ensuring quality and reliability of each product. With over 70 years of knowledge and expertise, they have meticulously designed heavy-duty sanding machines. Currently, they offer seven different products under their sanding range, each incorporated with features for diverse working requirements.
Inspired by the aerial view of farm fields where sheep graze, Natural Terrain sets a warm foundation for commercial environments. Australian Made Carpet Tiles from NZ Wool, these loop pile carpet tiles are naturally insulating for cooler summers and cosier winters, made from renewable fibres, fire resistant and commercially rated. Natural Terrain tiles feature our trusted Enviro Bac ® backing, are Declare Red List Free and come with Level 4 ECS top graded certification. Available in four colourways, Natural Terrain makes choosing a natural flooring solution easy. Natural Terrain New & Exclusive Natural Terrain 760 Drysdale New Australian Made Carpet Tiles from NZ Wool AU: 1300 444 778 | NZ: 0800 500 WWW.GHCOMMERCIAL.COM210In stock now for a quick turnaround. Contact your local GH Commercial representative to order sampling and discuss your next commercial project.
I
Above: The wood here is Australian Cypress. Snow stone is used to create a highlight. The tiles simply clip together.
Hexidek – creating beautiful balconies
8 Flooring August/September 2022 www.flooringmagazine.com.au Product Update
f you have a balcony or patio that could do with a facelift, read on. Over the last 30 years the number of Australians living in apartments has grown by over 80%, and if townhouses are included the number is significantly higher. The choice to live in an apartment is sometimes driven by budget, but it is increasingly a life-style choice because apartments offer convenience, the opportunity to live in more vibrant areas, and often cut commuting time. The disadvantages of apartment living include space constraints, less garden and limited areas to enjoy the sun and fresh air. For those living in apartments, the desire for a bit of green does not diminish, it just gets a bit more creative. A growing trend in recent years has been the balcony garden phenomenon. A quick search of Google or Instagram serves up a host of great ideas. Pot plants and lattices are prominent. For the floor, artificial grass, ceramic, and wooden deck tiles are common choices.
Now there is a new and unique option which really leaves all the other outdoor flooring choices looking decidedly mundane. You could think of it as outdoor parquetry. Called Hexidek, it quickly creates a beautiful and natural canvas upon which to paint your own ideal Garden of Eden. The product is an award-winning Australian innovation from Ecquality Timber Products. The company is currently looking for distribution channels throughout the country. The inventor of the product conceived it as a way to avoid the terrible waste of wood that irritated him as the owner of a flooring and decking factory. The offcut material normally ends up as boiler fuel, which is a waste of a precious resource. One day while on a long flight he began doodling and came up with the idea for this product. He tested it for 10 years before commercialisation. 10
www.kenbrock.com.au.kenbrock.com.au
VIC 17 Cato Street Hawthorn East VIC 3123 T 03 9765 2222 F 03 9765 2233 QLD 2 Kingsbury Street Brendale QLD 4500 T 07 3881 1000 F 07 3881 3287 WA-NT T 1800 674 145 F 03 9765 2233 TAS-SA T 1800 674 145 F 03 9765 2233 NSW-ACT T 1300 785 000 F 07 3881 3287
Hybrid Flooring has proven itself to be the superior solution in countless applications throughout Australia. With the Coreflex range, we have taken this successful product type to the next level by introducing an advanced multi-layered system. Two added LVT layers give Coreflex its superior flexibility, to better hug the subfloor and minimise footfall noise. The first LVT layer delivers a more authentic timber feel whilst the second LVT layer, located underneath the core, provides additional stability and comfort.
Above: An otherwise drab balcony has been turned into an ideal relaxation space.
Above: Recovered wood and vegetable dyes can be used to make fantastic wall art. The wood can be placed on the base in numerous ways creating many patterns, that when combined with coloured tiles or different woods, make new and unique designs. web www.hexidek.com
The first thing about it is how visually striking it is. There is nothing else that looks remotely like it. That is because it really is a fresh idea. Hexidek is protected by Australian and international patents. It is a DIY product that can be as simple or as complex as you like, depending on the style and arrangement of tiles. Installation is quick and easy, requiring about 10 minutes per square metre of balcony space. There is no need to use a tradesman. It is easy to keep clean because it can be squirted gently with the hose and water can flow away underneath unimpeded to the existing drain. The decking material sits above the concrete on a polypropylene base, so it dries quickly and cannot mould. It can be wiped occasionally with any low-odour, low VOC decking oil to preserve its natural colour, and protect the surface of the wood.
10 Flooring August/September 2022 www.flooringmagazine.com.au Product Update
Hexidek sets the new standard in outdoor decking and beautiful balconies. If you want to see the product for yourself, the team will be at Design Show Australia at ICC in Sydney from the 20th to the 22nd of October. Look for Daniel and Kiri at Ecquality Timber Products, Booth No.339.
ordering on high wealth areas such as Hunters Hill, Huntleys Cove, Balmain and Birchgrove, Andersens' first Sydney store in Gladesville is about to open its doors. Within an 8km radius of the store, the average house price sits well above 3.5 million and are very active in renovations, so the need for new floor coverings, window treatments and interior design consultations, sees the store very well placed. Richard Friedrichs, the owner of the Gladesville store, is no beginner when it comes to owning a franchise. With his 22 years' experience, across 22 stores, the catalyst for choosing Andersens was through the positive reviews from long standing Andersens franchisees, Richard asked franchisees who were selling their stores, the reasons behind them leaving and was happy report that the answers generally centered around retirement. "Something not heard that often in the franchised retailing environment," said Richard.
Richard is impressed with Andersens' strong customer service ethics, Peace of Mind and Laying Guarantees and the family nature of the Richardbusiness.wasactively looking for a new business prospect when the opportunity to be a part of the Andersens family came about. "I was looking for an opportunity in a growth industry, that was internet proof," Richard explained, "… people research online but I don't know of anyone who would be bold enough to purchase floor coverings online, without coming into the store and checking selections and colours."
As the Sydney Flagship store, Richard is ready to challenge his fellow franchisees, with his goal to be in the top three Andersens stores in ForAustralia.hisSydney customers, "… we want to be recognised as providing the best possible advice for crafting the interior look of a person's home, through the product we sell."
12 Flooring August/September 2022 www.flooringmagazine.com.au Spotlight On
Andersens hits the big smoke B
Customer service of course is on the top of Richard's list with his aim, "… to be regarded as number one in the market in providing exemplary customer service."
Andersens has undertaken an entire new store fit out for all new stores with all existing stores working towards their own remodels by 2025. The new store design is based around a Hamptons inspired retail space which makes a customer feel more at home adding colour and an experience for our customers. Andersens is looking to talk with existing flooring stores, installers looking to open their own store or even complimentary businesses looking to expand their business into flooring, window furnishings, shutters, and Existingblinds.stores converting to Andersens are offered financial incentives and support, whilst maintaining their local brand identity and Andersenslegacy.offer unequalled benefits to its franchisees including connections to exclusive flooring products, colours and brands, a world class training portal, a great community of family business owners and a household name in floor coverings. ❚
13Spotlight On
Luxury Vinyl Tiles (LVT) is a multi-layer product with unique characteristics and features. Karndean supply this product in a wide range of designs replicating natural creations of wood or stone as a plank, or tile. Each design bears all the individual characteristics of the natural material that inspired it. Colours are defined with variable shades and tones, just as they are in original wood or stone. LVT allows the customer to create and design a floor that is unique to their personal style and space by arranging planks or tiles in various patterns, or by adding detailed features like a border or a natural-looking grouting effect.
From the ancient forests of Europe to the Australian outback, DesignflooringKarndeanseeks out the finest natural designs the world has to offer. From stunning timbers to exquisite stones, slate and even concrete, Karndean faithfully reproduces the organic features in their luxury vinyl flooring to inspire and delight.
Karndean Designflooring can accentuate any space. It is extremely hard-wearing and comes with a lifetime guarantee. Karndean offers their flooring product in three formats. 'Gluedown' where individual planks and tiles are adhered using permanent adhesive. 'Loose lay' features a friction grip backing which helps hold the product in place. 'Rigid core' hybrid contains a click-lock system that allows installation over most existing hard floors.
The Karndean Story Karndean began when in 1973 Mike Walker, a former flooring installer in Birmingham, United Kingdom, – made the decision to start his own business. To put the value of Karndean, See Flooring Differently Article by Philip Ashley Karndean's lifetime of history into context, here in Australia the Sydney Opera House opened. Karndean will celebrate 50 years in 2023 and has been serving Australian customers for 40 years. After a family trip to Australia, Mike came up with the idea of starting Karndean's first overseas branch of the company right here in Australia. So, in 1983 Mike took on the licence to distribute Flotex in Australia. In the 1990s. Mike recognised the underlying benefits of the relatively new and original LVT flooring, taking on the product that would change the business and set Karndean on an exciting path of exploration and development.
Karndean Design Christine Weaver is Head of Product & Marketing for Karndean Designflooring for Australia and New Zealand. Christine said of her job, "We listen, we're receptive to local and international trends, commentary, customer feedback and changing lifestyles. We don't just sell flooring, we offer inspiration."
14 Flooring August/September 2022 www.flooringmagazine.com.au Company Profile
Karndean is a truly international company in which every person works together to achieve an outcome where everyone benefits. Christine is in weekly contact with Karndean's design professionals based around the world, working on the development of Karndean's unique and everchanging portfolio of design flooring.
Karndean People Karndean is a people-first company, everyone is committed to the customer, to their fellow employees, and to their product. Many of Karndean's people have worked with the company for decades, and it's experience like this in a growing market that sets Karndean apart. The most visible evidence of the family orientation is Smokey, the Great Dane whose profile dominates the Karndean company logo. Smokey is very much a part of Karndean's history and even now, there are some employees who fondly recall Mike's dog.
To protect the environment, Karndean do everything they can to continuously improve manufacturing processes to ensure the lowest possible impact on the environment whilst delivering the best value for the end user. Performance has never been sacrificed to achieve compliance with international environment and quality standards. Karndean Designflooring products are manufactured and certified to the ISO 14001 Environmental Standard and ISO 9001 International Quality Standards. Karndean Designflooring is a longstanding member of the Green Building Council Australia (GBCA) and Green Building Council New Zealand (NZGBC). They contribute to indoor environmental air quality; reduce energy and greenhouse gasses and come with a transferable lifetime residential warranty.
Karndean and the Environment
Having started his career with Karndean 23 years ago in the United Kingdom, Dan Lovell has been Australia and New Zealand Managing Director for 10 years. Dan is passionate about the Karndean range of LVT that he says, "Is the fastest growing flooring product, both here and overseas. Our product looks and feels like the natural material with the added benefits of durability, comfort underfoot and ease of cleaning. What's different about a Karndean floor is the visual and tactile realism, coupled with the practicality and reliability of a consistent quality product."
15 Flooring August/September 2022 www.flooringmagazine.com.au Company Profile
Karndean Designflooring products are focused on both the global and local markets Christine calls 'Glocal'. Some recent outstanding local Karndean installations include the Microsoft offices in Sydney and the Mercedes Benz showroom in Brisbane.
Karndean in Your World Christine said, "The last few years have been a great leveller. The World stayed home; it has always been our private retreat, but it became our sanctuary, a place where we found comfort. It also became a place for work, for schooling, for entertainment and a place to explore new interests. Our design professionals see people seeking a life that is more authentic, simpler and closer to nature. For Karndean, this was a key driver in the emerging design trends, and we sought to deliver practical and versatile functionality without compromising comfort or Danstyle."adds,
"Design is a fundamental element of our philosophy. Our product will be part of the family dream home; it should provide a 'wow' moment that continues through the life of the floor. We aim to provide that wow moment, to deliver a consistent and reliable product. Our vision is to be the most trusted, people-focused, innovative flooring brand; to remain the leading supplier of LVT flooring and to have a market-leading environmental record of achievement through the development of sustainable products and processes. At Karndean we speak about inspiring the world's interiors. We understand how important the home or workplace environment can be. We offer solutions that inspire and delight our commercial and domestic customers. And like our customers, the family culture is so important to the way we operate. Whether our people have been here for decades or only a few weeks, whether they are employed here or overseas, whether they work in our offices, in our distribution centres, or as our retailers, they are all part of the Karndean family, just like Smokey was, all those years ago." ❚
Resilient flooring is made from materials that have some elasticity, such as vinyl, linoleum, or rubber. This gives the product a degree of flexibility and/or cushioning, delivering floors that are comfortable to stand and walk on, are durable and have acoustic benefits. Used in forms such as tiles, sheet, and planks, they are suitable in both residential and commercial settings - from kitchens, living rooms and bathrooms to healthcare, schools, retail, offices, and sports facilities. With the success of LVT and Hybrid, a growing number of companies from the wider floor covering industry have commenced distribution of resilient products, and tiles now account for some 60 percent of the resilient flooring market.
16 Flooring August/September 2022 www.flooringmagazine.com.au
Feature Advancing a resilient
Tindustryheresilientfloorcovering market in Australia has grown steadily over the last two decades, driven by innovative design, development, and uptake of new products, particularly Luxury Vinyl Tiles (LVT) and more recently, Hybrid products. Australia today consumes an estimated 22 million sqm or 95,000 tonnes of these products each year. Nevertheless, there is growing recognition that a resilient industry is one that meets it social licence to operate – that is, it meets the long-term approval of its stakeholders. Today, this necessitates addressing expectations of delivering on not just product functionality and aesthetics, but also sustainability performance, including facilitating a circular economy. In this, the local industry is stepping up by embarking on a game-changing project, ResiLoop, to drive forward its ambition for a national recycling system for resilient floorcoverings.
17 Another innovative solution from the team at T: 1800 242 931 www.rlapolymers.com.au European Technology | Locally Made R48 UniversalLevellingPrimerGeneraleCompoundR2000Universal AdhesiveResilient Floorcovering Substrate Introducing Roberts new reseilient floorco vering system. Allowing an efficient, economical installation with minimal down time.
Feature
The Australian Resilient Flooring Association (ARFA), formed over 30 years ago, is an industry association that acts as the collective voice for companies in the sector to advance and protect the interests of the industry in Australia. Its members represent leading companies and global brands that manufacture, import and/or distribute resilient flooring to the Australian market.
RESILIENT
SYSTEMFLOORING
ARFA's sustainability strategy aims to engage in relevant actions that support the industry in addressing and meeting stakeholder expectations of sustainability priorities. This includes educating members to develop a common understanding of product sustainability and stakeholder expectations; improving transparency through factual information and common terminology, metrics and standards; and developing the pathway to a circular economy for members' products in Australia.
Led by an active executive committee, ARFA engages in advocacy in relevant government regulatory matters, industry sustainability, standards development, and market data collation. It collaborates with a range of relevant entities and stakeholders to support industry training initiatives in the TAFE and private sectors. The association recently led the process of updating the relevant technical standard for installation practices of resilient floorcoverings, AS1884: 2021. ARFA's current strategic focus now includes participating in other relevant Australian Standards committees such as that for AS4586 Slip Resistance Protocols and coordinating industry-wide sustainability initiatives through its Sustainability sub-committee.
Named 'ResiLoop,' this 12-month project involves research and field trials to test various approaches in both residential and commercial sectors and inform the design and development of a national, commercially viable, waste recovery and recycling scheme.
ARFA hopes that ResiLoop will influence sector-wide behaviour changes to advance product circularity by engaging manufacturers, distributors, specifiers, flooring contractors, recyclers, and ARFAconsumers.President, Dan Lovell, explains: "This project, ResiLoop, presents an opportunity to create new collaborations along the entire supply chain for resilient floorcoverings and to advance a circularity mindset that will be welcomed across the marketplace.
Advancing a circular economy for resilient flooring products means not only improving how we source raw materials and manufacture the products – aspects well covered by third party ecolabel schemes such as Best Practice PVC, Global Green Tag and GECA – it also means retaining resources in productive use for as long as possible. This means improving upfront product design to enable long service life, repairability, reuse or repurposing, and ultimately, recyclability.
The policy package also included the establishment of the National Product Stewardship Investment Fund (NPSIF) to support an increase in the number of industry-led product stewardship schemes in Australia and increase the recycling rates of existing schemes. To date, 24 projects have been funded by the NPSIF, with a government investment totalling $18.6
web www.arfa.org.au ❚
A number of ARFA's members have developed company-based initiatives to take-back installation waste or flooring at end of first use for recycling. However, there has been growing recognition that whilst these are important steps in diverting waste from landfill, to achieve scale requires greater industry collaboration and investment in infrastructure in Australia.
Tomillion.advance its sustainability strategy, in early 2022, ARFA secured a $1 million grant from the Australian Government through the NPSIF to develop a product stewardship scheme for resilient flooring.
18 Flooring August/September 2022 www.flooringmagazine.com.au Feature
At the same time, the Australian Government has sought to stimulate research and investment to divert waste from landfill and expand Australia's capacity to sort, process and remanufacture key recycled materials. A National Waste Policy Action Plan was introduced in 2019 which included developing regulations to restrict waste exports, plans to stimulate domestic demand for recycled materials and a national resource recovery target of 80 percent by 2030.
It is about moving away from a linear 'take, make, waste' approach in industry to thinking about – and taking responsibility for – a wholistic, circular system where 'waste' is virtually designed out and parties along the supply chain collaborate to retain resources in use, reduce environmental footprint and optimise value.
"Given limited existing options for recycling these products in Australia, ARFA will be exploring all avenues to identify suitable technologies and partners in order to develop a viable system of recovery, reprocessing and reuse. We welcome companies engaged in the sector as well as wider industry to connect and engage with us in finding the solution."
Some of the biggest names in Australia's resilient flooring industry are committed to the RESILOOP initiative.
The RESILOOP project received grant funding from the Australian Government.
RESILOOP is a significant, government-funded project created to design a national, industry-supported scheme to recover and recycle resilient flooring waste in Australia. RESILOOP will help deliver real recycling results at scale and advance a circular economy for these products - but we need input from everyone to ensure success. You can play your part too. We are seeking participants for recycling trials, consultations and the Stakeholder Reference Group. Contact ARFA today: info@arfa.org.au
ARFA MEMBERS ARE IN THE LOOP!
Beaumont Tiles' National Buyer, Dean Booker, said the expansion into hybrid flooring was in response to customer feedback that showed they wanted Beaumonts to be their go-to for product and technical guidance for their project, from concept to completion.
"Hybrid flooring is ideal for spaces where pre-existing floors need to be covered, or you want to spruce up a room.
The new category achieves this by combining pleasing aesthetics, superior technical performance, and helpful resources you can trust, like our AI-led What's My Style quiz and BeVizual Live augmented reality tool.
Mr Booker said the range included several detailed timber and stone emulated flooring options that celebrate the aesthetic look of natural material while having the benefits of being easier to clean and maintain.
"Our decision to offer hybrid flooring was specifically made to meet the voiced demand of our customers," Mr Booker said.
Beaumonts' Hybrid Collection comprises two core technologies – SPcore and Isocore. Each provides a lightweight, easy to handle and install floor covering option, making them perfect for fast-moving projects.
National retailer answers demand and introduces hybrid flooring
"What's more, our range caters to various styles and project price points.
"It is easy to install and forgiving for firsttime renovators or those without access to professional trades. It is a DIYer's dream product, at a great price point."
"The new range of hybrid flooring is great for both the DIY as it is, lightweight, durable and comes with an easy-to-install locking system," Mr Booker said.
Taking on the best features of most other flooring categories, such as laminate floating floors and vinyl planks, Beaumonts' Hybrid Collection showcases what state-of-the-art manufacturing technologies can achieve.
• Temperature resistance, suitable for extreme temperature fluctuations.
• Wide range of 60 decors across 12 styles in timber and stone look.
Beaumont Tiles' hybrid flooring collection is available nationwide. To find out more, visit the website. web www.tile.com.au
"After three years of product development and collaboration with our trusted manufacturing partners, Beaumonts is proud to offer a beautiful range of hybrid products that reflects the quality and diverse selection expected of us."
Beaumont's ethos has always been to exceed the industry standard regarding product offering and technical guidance.
• Odour-proof, Low VOC, scratch, stain, and water-resistance – perfect for homes with pets and kids.
• Antibacterial surface that protects from harmful bacteria and reduces mould formation and mildew – perfect for kitchens and laundry areas for improved hygiene.
Key features of the range include:
A s part of its commitment to helping Australians create their dream home with high-quality and affordable flooring and bathroom ware, Beaumont Tiles has launched a new hybrid flooring collection available across its 114-strong retail network and online e-store.
The decision marks a milestone for this 62-year-old Aussie business success story, which started as a single premise on Grote Street in Adelaide. To now be the nation's largest tile retailer, adding an extensive bathroom ware range over the last decade and now also Hybrid flooring with more than 110 stores nationwide.
20 Flooring August/September 2022 www.flooringmagazine.com.au Feature
ANTI-BACTERIAL FINISH ULTRA-FRESH PROTECTION FIRE TESTED TO ISO 9239 Beaumont Tiles are delighted to launch our New & Exclusive Hybrid Collection. Available for retail customers and builders, our range has been designed with quality, style and budget in mind. Scan to see the variety of colours, styles and finishes! Neptune Vogue Agate SPcore Stone Impressions Marengo ISOcore Neptune HG River Gum SPcore
Important factors can determine a successful resilient flooring installation are using the correct adhesive, sufficient adhesive, correct trowel size, and the use of the correct roller. The greater the transfer the better the bond. Laying flooring into a wet film of vinyl adhesive will give a better result than laying into a dry film.
Innovation and evolution are paramount at RLA
RLA RL1000 SMP Hybrid Resilient Flooring Adhesive is a One Part, VOC compliant isocyanate free water resistant adhesive suitable for bonding vinyl and rubber in wet RLAareas.also has a High Temperature Resistant Water Based Adhesive for the installation of vinyl planks and tiles for areas where vinyl planks and tiles are installed in areas such as bay windows, and other areas that are exposed to sun light.
22 Flooring August/September 2022 www.flooringmagazine.com.au Feature
RLA has a variety of Resilient Flooring Adhesives available for technical and commercial reasons. It is important to consider the chemistry of both the adhesive and the floorcoverings being bonded and also the environmental landscape of the Theinstallation.term'resilient coverings' generally refers to flooring materials such as linoleum, rubber, and vinyl. One of the characteristics from the floorcovering is a firm resilience and you will often find these types of floorcoverings in domestic and commercial environments. For the domestic market, resilient floorcoverings are usually found in kitchens, bathrooms, recreation rooms, laundry, and entryways.
I
n a Resilient Flooring sector that is evolving to the latest trends and the requirements of a market that is attentive to detail, choosing the right adhesive is fundamentally important in achieving a quality flooring installation.
Innovation and continuing to evolve is paramount, technological advances in both organic and inorganic technologies have enabled RLA to provide a high quality, diverse range of Australian made and developed Resilient Adhesives that can tolerate high RH (Moisture) and pH A(alkalinity).commonissue amongst the fast pace building and construction industry is high moisture in concrete substrates. Adhesives such as Roberts 2000 Universal Resilient Adhesive offer a universal solution for wide range of resilient floorcoverings.
Davide (RLA Group Technical Manager) and his innovative team, including Richard Clinch the flooring R&D Technical Manager have and continue to design, develop, and engineer Adhesives that provide ground breaking solutions to fast track installations by pioneering low VOC products for the Australian market. web www.rlapolymers.com.au
For commercial applications, it is a similar approach with resilient floorcoverings found in commercial buildings, healthcare facilities, schools, hospitality, government buildings, and other public establishments. The range of RLA Resilient Adhesives provide a complete universal approach with excellent plasticiser resistance and non staining properties and cure to provide a permanent hard bond securing a range of resilient floorcovering to the substrate.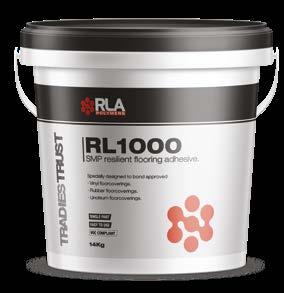 All of your needs covered Resilient Flooring T: 1800 242 931 www.rlapolymers.com.au DOWNLOAD IT TODAY APPMyRLA Project & Product Advice Data Sheet Downloads Usage calculators APPLE STORE DOWNLOAD ON GOOGLE PLAY DOWNLOAD ON RangeVinylSheet&PlankVCTTilesTextileFlooring Rubber HighLinoleumFloorcoveringsFloorcoveringsTempApplications RLA's resilient flooring range has solutions for all applications and resilient floorcoverings. Contact us today to find out today why Tradies Trust RLA.
24 Flooring August/September 2022 www.flooringmagazine.com.au Feature
12mm Structapanel H2 timber flooring underlay is made with the same durable materials used in Yellow Tongue Structflor. It is a 12mm thick, high-performance panel primarily designed for timber flooring underlay over concrete where it provides a consistent, flat, and durable alternative to other products in the market with superior nail and staple holding capability. The panel is double sided with no internal delamination due to the resin and wax enriched substrate making it easy to cut leaving smooth clean edges and having excellent adhesion.
12mm Structapanel H2 termite treated underlay is available in sheet size of 2400 x 1200mm and exceeds AS1859.1 – High performance particleboard requirement. This product can be sourced from the following distribution partners who have facilities located all over the country: • Hurford Wholesale • Upton Building Supplies / The Bunker • Forest one web www.australianpanels.com.au
H2 Timber Flooring Underlay – Simply the best A ustralian Panels is one of Australia's leading manufacturers of melamine and engineered board products investing in state-of-the-art machinery and manufacturing techniques. The business has grown on the back of significant capital investments in automated technologies and a commitment to product innovation and Australiandevelopment.Panels produces the iconic Yellow Tongue Structaflor range of products which the market has trusted for over 50 years as well as the market leading 5.5mm High Performance Hardboard Underlay.
With a commitment to sustainability Australian Panels has various programs in place to reduce carbon emissions, minimise waste and maximise efficiencies to create a closed-loop industrial ecosystem where the reuse of by-products of any process is an important part of the product cycle.
Significantly, Australian Panels have been investing in solar power since 2018. Over the last 2 years, the company has installed 54,000 solar panels across its network of facilities, thereby becoming more energy efficient and avoiding 10,500,000kg of Co2 emissions per year. Australian Panels raw board products are manufactured from certified sustainably grown pine sourced through Plantation Pine Products, which offers bespoke forestry management services from leasing and buying land, purchasing of trees, logs, and residues, transportation, plantation management, and harvesting. The stewardship of local pine plantations creates a renewable resource that provides positive and long-lasting social, environmental, and economic benefits. Plantation Pine Products is highly aligned with sustainability and has adapted vertical integration through the association with Australian Panels into every aspect of the business. All Australian Panels products are officially Australian Made and Owned and the recent investment in Australia's newest particle board line in Oberon NSW, as well as their exposure to the timber subfloor and resilient underlay market, has resulted in the current development of a new product - Australian Panels is proud to announce the new 12mm Structapanel H2 Timber flooring underlay.
Structapanel
Scan the QR code for more information Australian Panels is proud to introduce a brand new panel concept to the marketSTRUCTApanel H2 12mm Timber Flooring Underlay. Made with the same durable materials used in our market leading STRUCTAflor particleboard flooring products and 5.5mm High Performance Hardboard Underlay. STRUCTApanel H2 12mm is a 12mm thick high performance panel primarily designed for flooring underlay where it provides a high performance, consistent, flat and durable alternative to other products in the market, with superior nail and staple holding capability. Criteria STRUCTApanelH212mm Plywood12mm Density - kg/m3 707458.73 Thickness Swell - % 3.044.25 MOR - MPa 25.5624.44 MOE - MPa 33421556 Surface water absorption - g/m226.2534.46 Nail Holding - N 560502 Surface Hardness – N 45503665 FEATURES & BENEFITS Australian made from sustainable certified plantation forestry Highly durable with resin/wax enriched surfaces High fixing capacity H2 Treated for termite resistance ConsistentlyDouble-sidedflat with no internal delamination Easy to cut leaving smooth, clean edges Excellent adhesion to the sanded surface APPLICATIONS Used as an underlay for timber strip flooring on top of the concrete SHEET SIZES Sold as 2400x1200mm (actual size approx. 2420x1215mm) TECHNICAL DATA Typical minimum results when measured by a nata accredited third party testing facility Exceeds AS1859.1 – High performance particleboard FormaldehyderequirementEmission-E1 PERFORMANCE CRITERIA BLUE PATRON MEMBERatfa.com.au www.australianpanels.com.au

The best of both worlds Hybrid Flooring also known as SPC (Stone Plastic Composite), incorporates the mixed attributes of waterproof vinyl planks and durable laminate floors.
DecoLine Hybrid flooring provides the ultimate solution of laminate floors and luxury vinyl planks. One of the unique features of the DecoLine Hybrid flooring range is that each board out of twenty is individually patterned with an authentic timber grain look, delivering a natural aesthetic feel to any home.
DecoLine - quality in every step
D
26 Flooring August/September 2022 www.flooringmagazine.com.au Feature
ecoLine is a national provider of premium commercial and residential floor coverings with an extensive and stylish range of high-quality vinyl floors (LVT) and SPC hybrid floors (Stone Plastic Composite). DecoLine offers a luxury solution for the ultimate naturallooking flooring.'
With its latest 5G click locking system, DecoLine hybrid is so easy to install and requires minimal equipment. Its durability and combined features of laminate and vinyl along with its rigid core technology are ideal for high traffic areas. The high-density core and tough surface of hybrid flooring is scratch resistant, stain resistant and pet DecoLinefriendly.
The multi-layered limestone composite floor ensures stability and longevity against any harsh temperatures in Australia, and it is easy to install over most existing subfloors thanks to its built-in underlay.
With its quiet acoustic qualities DecoLine Vinyl is perfect for when you want to reduce noise levels in rooms such as playrooms, bedrooms, and garage/loft conversions, without the need for an underlay. It is low maintenance and replacement and is easy to repair. Should a plank get damaged it can easily be lifted and replaced with a new one. With its softer and warmer underfoot benefits it minimizes the environmental impact through heat retention.
DecoLine Vinyl is so quick and easy to install, as they can be fitted over most existing hard floors as soon as your subfloor is dry, smooth, dust free and in sound condition. Durable and adaptable DecoLine vinyl planks are also easy to cut to size, lock securely into place and lay perfectly over most flooring surfaces. The sturdiness and flexibility ensure the longevity of your flooring for years to come.
DecoLine flooring is available in a wide variety of colours, textures, and patterns to suit any project or home. web www.decoline.com.au
hybrid is 100% waterproof and swelling-free from any spills or moisture and easy to maintain. All you need is a vacuum/ broom and because DecoLine hybrid flooring is waterproof, it can be mopped/ steam mopped. Luxurious and natural With its authentic timber feel DecoLline Vinyl is a premium and elegant option with a realistic wood look. One of the main benefits is that it is100% water resistant, making it an ideal solution for all commercial and domestic environments which may experience frequent spills or wet areas. With its minimal movement capabilities, it remains stable even when exposed to extreme temperatures thanks to its premium fiberglass layer.
Nature's colour and texture influence Earthy tones are on trend for those that want to make a bolder carpet choice.
Carpet Matters
"Homeowners are bringing the serenity of nature indoors through the shades of sage, olive green, clay and terracotta, with the desire for a more natural living space also being reflected in the popularity of textured carpets," says Lily. Bremworth's Galet range is the perfect culmination of on trend colours and texture. Galet is a gorgeous chunky loop pile made with 100% felted New Zealand wool that makes for a thicker, stronger, and more luxurious yarn. Soft and safe options include the popular warm neutrals of Galet in colours 'Skarn' or 'Kaolin.' In contrast, this season's trendy shades are reflected in Galet colour 'Sage' that brings the lush leafy greens of the outdoors in, or 'Sienna,' a beautiful burnt-orange reminiscent of a warming winter fire.
Hot Carpet Trends and Tips for 2023
A neutral colour palette is ever popular as a way of creating timeless, calm, and comfortable interior spaces. "There's been a shift away from cool-toned greys. Warm neutrals are in - think beige, greige, taupe, sand, or warm grey," says Lily.
A fter spending more time at home these last couple of years, homeowners are looking to create cosy cocoons to retreat to that reflect their personal style and are easy to live in. Enter wool carpet. Apart from being noticeably soft underfoot, wool carpet also has a host of practical benefits including stain, odour, and fire resistance. Wool is also being embraced by conscious consumers who want a more natural carpet option in their home.
A useful resource While wall to wall carpet is making a comeback, texture can also be achieved by creating those interesting transitions from a lush wool carpet or rug to hardwood flooring. "This wall, hard and soft flooring trifecta can be overwhelming for consumers," says Lily. To solve that, Bremworth teamed up with one of Australia's most renowned stylists, Megan Morton to create a colour matching guide designed to make your floor and wall selections effortless. web www.bremworth.co.nz
Bremworth Product Developer, Lily Ng, shares her top carpet trends and tips.
Don't ignore the floor
Considering how much real estate the floor takes up in a home, Lily suggests picking the carpet you love first and working your interior around that. "Carpet will most likely be your biggest ticket item in the room, invest time and budget in selecting the right one," says Lily.
Brought to you by Bremworth
The new neutrals
28 Flooring August/September 2022 www.flooringmagazine.com.au
NATURALWARMUPTO
Waterproofing
Curing is designed primarily to keep the concrete moist, by preventing the loss of moisture from within the concrete within a set temperature range, during the period in which it is gaining strength.
Article by Oxtek Solutions 32
Curing compounds available in the market can be formulated from wax emulsions, chlorinated rubbers, synthetic and natural resins, and from PVA emulsions, and are normally sprayed directly onto concrete surfaces and then allowed to dry, forming a relatively impermeable membrane that retards the loss of moisture from the concrete. Their properties and use are described in AS 3799:1998 Liquid Membrane-forming Curing Compounds for Concrete. They are deemed to be an efficient and cost-effective means of curing concrete and may be applied to freshly placed concrete or that which has been partially cured by some other means. That noted, it is extremely important to check the subsequent floor finish, as most membrane forming curing compounds require removal before the application of any applied floor finishes such as direct stick carpet and vinyl, epoxy or polyurethane coatings and ceramic tile adhesives. Membrane forming compounds may affect the bond between concrete and subsequent surface treatments, so special care in the choice of a suitable curing regime needs to be exercised in such circumstances. The residue from some products may prevent the adhesion of flooring products and tiles onto the surface of concrete substrate and can contribute to failure of the installed flooring system if not successfully removed in their
Curing of Concrete – Make the Right Choice
Theentirety.removal of these from the substrate surface can be costly in both time and money, not forgetting, the environmental and health impacts of dust generation and noise from the grinding process to remove them. Whilst here are UV degrading curing compounds on the market, these normally require in the region of 56 days continuous exposure UV to breakdown effectively, which during a typical construction schedule and on-site practice is unlikely to happen.
Curing of concrete is undertaken in a number of ways; air, water ponding, plastic sheet, membrane forming compounds or by chemical means, however, the most appropriate means of curing is often dictated by the site or the construction Watermethodology.ponding is widely regarded as the preferred methodology for curing of concrete; however due to the logistical and economic difficulties associated with water ponding on most construction sites, it is often replaced with less effective membraneforming compounds.
S electing an appropriate curing regime for concrete is critical to the successful outcome of a project, especially when the concrete itself is to be overcoated or have a topically applied flooring system installed. This article will provide clarity and raise awareness of the potential risks involved, and an alternate option to existing methods.
Concrete that is allowed to dry out too quickly, will not achieve its desired strength and may undergo considerable early age drying shrinkage. Inadequate or insufficient curing is one of main factors contributing to weak, powdery surfaces with low abrasion resistance
30 Flooring August/September 2022 www.flooringmagazine.com.au
Concrete Curing MakeThe Right Choice Oxtek Solutions Pty Ltd are the trusted brand in the flooring industry, offering a range of quality products that can be used as a curing regime and internal moisture barrier. • 4 benefits with 1 easy application • Internally cures concrete equivalent to water ponding • Densify, Harden & Waterproof Concrete • Non membrane forming - After trade friendly • Colloidal Silicate technology – fills capillaries and voids • Reduces Shrinkage Cracking, Efflorescence & Reo Corrosion • Included in AS1884:2021 • Environmentally Friendly & HACCP Certified – 0.0g/l VOC • 15 year warranty available with a project prepared specification Single Pack, safe and easy to apply: Time Of Pour & Existing Applications X200 Densi-Proof Curing Compound & Internal Moisture suppressant Spray Only Application X220 Moisture Fix Curing Compound & Internal Moisture suppressant. Spray or Pour and Broom Application For advice or technical information, contact us on 03 9798 7534 or visit www.oxtek.com.au
Oxtek Solutions have manufactured an effective product range to address complex moisture and bacteria related issues within concrete for over 24 years. All products are VOC free, user friendly, with a range of that are anti-microbial and HACCP approved.
32 Flooring August/September 2022 www.flooringmagazine.com.au
The goal of curing of concrete, is to ultimately achieve the intended hardened properties of concrete that the structure has been designed for. Oxtek Solution's product range for the curing of concrete utilise the pore-filling ability of colloidal silicate technology, that is proven to be equal to that of water ponding and improve the hardened mechanical properties of concrete.
By contributing to a denser, less permeable, and porous structure, concrete treated with Oxtek Solutions proprietary colloidal silicate treatment have demonstrated increased compressive strength (both early and later age), reduction in drying shrinkage, and improved surface hardness and abrasion resistance.
Oxtek Solutions
Our products are single pack, one application, spray on systems that deeply penetrate new concrete, providing curing, permanent waterproofing, and surface protection. Topically applied following the finishing phase of concrete placement, the colloidal silicate penetrates the concrete leaving no film or residue on the surface of the concrete, therefore having no adverse effect on the subsequent floor finishes or coverings, providing improved flexibility and efficiencies to the project. This option removes the need for additional mechanical preparation of the substrate surface to remove curing compound residue, and the resultant environmental and health hazards from dust generation, noise, and waste Furtherdisposal.timeand money will be saved on the project, as the introduction of this technology following the concrete finishing phase, will eliminate the requirement for further treatment of the concrete substrate to address moisture retained within the concrete matrix and the significant risk this poses to premature failure of installed coating and flooring systems.
Waterproofing
Project warranties of up to 15 years are available on new construction projects, when supported by a Oxtek Solution's prepared Oxtekspecification.Solutions are members of both the Concrete Institute of Australia and New Zealand Concrete Contractors Association and actively committed towards best practice and environmentally friendly systems and procedures within the concrete and flooring industries. Reference CCAA Guide to Curing CIA Z-09 Curing of Concrete CCANZ TR15 – Guide to Concrete Production and Concrete Construction ACI – 308.1-11 Specification for Curing Concrete. web www.oxtek.com.au
A flooring system friendly option to curing reducing your exposure to failure
After speaking with both Andy and SarahJane, what really came through was their love for this industry and being able to work with family and create a legacy for years to come.
Sarah-Jane loves working in an industry that never stops and is always evolving. New products as well as new techniques means you are always learning new skills which keeps you fresh and on your toes.
Article by Fiona Wischnewski, FCIA
Over the years, Andy has moved from his apprenticeship, to installations, store ownership and now he is transitioning into apprenticeship training and assessing. He loves this trade and teaching the apprentices and feels it is time to give back to an industry which has been good to him and his Thefamily.flooring industry has always been a huge part of Sarah-Jane's world. From a very young age she remembers going out to jobs with her dad and helping where she could and later helping out in the shop. It appears she was destined to end up in flooring. After finishing high school, Sarah-Jane completed an accounting course and now manages the store with her father.
Traditionally the flooring industry has consisted of people who have learnt their trade through family or friends who have spent years in the industry. In fact, for many businesses the flooring industry has created a wonderful pathway to employment and business expansion. Over the next few months – we will be meeting a number of companies where flooring business's/trade are now made up of one- or two-family generations.
Flooring – it gets into your blood
Southern Highlands Carpet Court – Andy and Sarah-Jane Deaville Andy has been in the flooring industry now for 39 years and a business owner for 14 of those years. Like many in this industry, Andy did not plan a career in flooring it really found him. He hated school (or it hated him) and he was asked to leave. His parents made it clear he was not going to sit around doing nothing and needed to get an apprenticeship and the only one available at the time was flooring. He completed his apprenticeship in Canberra then moved to New South Wales. He worked long hours and more often than not weekends too. He discovered he really enjoyed the learning the trade and the industry. As his skills grew, he spent time learning to lay flooring products that people did not like or want to lay i.e., Sisal and marmoleum. He learnt very early on in his career, that flooring is a very secure career to be in as everyone always needs a flooring installer.
34 Flooring August/September 2022 www.flooringmagazine.com.au Training
The industry does not come without it challenges; from customer expectations to lack of installers and the difficulty in finding people who want to work, makes every day in flooring a different and interesting challenge.
None of this would be possible without the support of our members, suppliers, manufacturers, North Metropolitan TAFE, Parkerville Children and Youth Centre and employers – thank you for all your assistance and support. For further information on the FCIA Apprentice Charity Workshops and dates please contact Fiona fwischnewski@fcia.org.auWischnewski, ❚
We are extremely grateful to our members who very kindly donated their product and time to this workshop: Kevmore, Armstrong Flooring, Mapei, Signature Floors, Forbo and Airstep.
36 SureTrim® Vinyl Ramps 2 / 75 Zenith Road, Dandenong, VIC, 3175, Australia Tel: +61 3 9793 2244 EMAIL: info@bbsfp.com BBS Flooring Products Honest. Australian. Quality * Supplied countersunk with screws and plugs 5mm to 12mm Ramps for 2mm to 6mm vinyls #230, Carpet Tile Diminishing Strip 70mm 6mm 2.8mm 70mm 8mm 2.5mm #242, 8 x 2.5mm (C/S)* 85mm 10mm 3.5mm #254, 10 x 3.5mm (C/S)* LENGTH LM/CTN STOCK COLOURS #230, Carpet Tile Diminishing Strip 3.66 36.6 Matt Silver #232, Carpet Tile to Vinyl Ramp 3.66 36.6 Matt Silver #242, 8 x 2.5mm (C/S) 3.66 36.6 Matt Silver #244, 8 x 3.5mm (C/S) 3.66 36.6 Matt Silver #246, 8 x 5.5mm 3.66 36.6 Matt Silver #252, 10 x 2.5mm (C/S) 3.66 36.6 Matt Silver #254, 10 x 3.5mm (C/S) 3.66 36.6 Matt Silver #256, 10 x 5.5mm (C/S) 3.66 36.6 Matt Silver #262, 12.5 x 2.5mm (C/S) 3.66 36.6 Matt Silver #264, 12.5 x 3.5mm (C/S) 3.66 36.6 Matt Silver #266, 12.5 x 5.5mm (C/S) 3.66 36.6 Matt Silver 75mm 12.5mm 5.5mm #266, 12.5 x 5.5mm (C/S)*
FCIA 2022 – the first six months Training
The FCIA held its first Apprentice Charity workshop in WA for over 2 years. The workshop was held from the 24th to the 29th of July at Parkerville Children and Youth Centre in Parkerville WA. This wonderful charity has been supporting vulnerable children, young people and their families with specialist advocacy, therapeutic services, education, and employment training as well as out of home care for over a century. During this workshop, six apprentices came together to replace the floors in one of the care houses. This included removal of old coverings, grinding, flood coating, ramping, laying of dual bond carpet, vinyl planks and hybrid. These remarkable flooring apprentices relayed the floors in the kitchen, family/dining area, lounge, study and four bedrooms. North Metropolitan TAFE was the partnering RTO at this workshop and the previous one held in 2019. North Metropolitan TAFE has extensive training knowledge and experience and has been delivering the Flooring Technology qualification to apprentices for many years. Their trainer/assessor, John Centracchio was present at the workshop to train and guide his apprentices. John brings with him over 30 years of flooring experience and knowledge and has a fantastic rapport with his apprentices.
– by Forbo Article by
•
•
The loose-lay sheet products have integral glass fibre reinforcement to provide inuse dimensional stability and the tiles are manufactured with market-leading innovative secure interlocking systems to ensure a troublefree installation and peace of mind during use. How much time can be saved by installing Fast Flooring products?
37 Flooring August/September 2022 www.flooringmagazine.com.au Technical Bulletin
Truly adhesive free
On an initial installation, using 100 m² of Fast Flooring products rather than conventional 'stick down' vinyl can reduce your installation time by over 50% and save up to 2.5 days of downtime for your customer for areas up to 100 m².
•
•
The future of flooring installation has arrived and it's fast and adhesive-free. Forbo's family of Fast Flooring solutions are adhesive-free floor coverings, which are quick and easy to install whilst also being sustainable due to their reusable and/or recyclable nature. Quick turnaround with minimal disruption Floors can be walked on immediately Easy to remove and replace, without subfloor damage Available in a large choice of formats, a portfolio to help overcome various commercial project challenges, from problematic subfloors to demanding project timelines. Which specific products are in Forbo's adhesive-free Fast Flooring collection? The products available within the Fast Flooring collections include: Modul'up vinyl sheet Allura Puzzle interlocking tile Allura Colour Plus interlocking tile (indent) Colorex Plus EC | Plus Basic | Plus R10 interlocking tile (indent) Surestep Safety Fast Fit vinyl sheet Why can these products be installed without adhesive? These tile and sheet products have been specifically developed and engineered to provide robust hard wearing flooring options suitable for all types of commercial areas.
Developeddesignsas
•
•
•
•
When the time comes to renovate Fast Flooring on a like-for-like basis, the savings in costs and downtime are even more remarkable as the examples opposite clearly show. flooring Forbo Flooring Systems
•
When the time comes to replace a Fast Fit floor, there's no adhesion or residue to worry about and the subfloor is left clean and sound for repeat installation. Can any of the Fast Flooring products be used in areas of high point loading and where forklift trucks operate?
Allura Puzzle, Allura Colour Plus, Colorex Plus EC, Plus Basic and Plus R10 are all high-performance flooring systems suitable for installation in locations where heavy wheeled traffic such as forklifts is in use. Please visit www.forbo-flooring.com.au/ installation to download the installation guidance notes for the Fast Fit collection. For any questions on our Fast Fit products contact us on 1800 224 471 or info.au@ forbo.com.
What tools are required onsite for a Fast Flooring product installation? You will only need standard the floor coverings in this collection, with the Is Fast Flooring truly adhesive-free? Yes! There is no need for any type of adhesive for any of the Fast Flooring products. This is good news as it is in the area of adhesive application that most installation issues tend to YES!occur.There is no need for any type of adhesive where most installation issues tend to occur for any of the Fast Flooring products – which is great for those who are looking for an easy, hassle-free, and quick installation process.
addition of a mallet for Allura Puzzle, Allura Colour Plus and Colorex Plus, a roll of Modul'up unique single-sided tape system when fitting Modul'up products and a roll of Forbo's doublesided tape when fitting Surestep Fast Fit. You won't need to bring any heavy rollers on site either as they are not required.
38 Flooring August/September 2022 www.flooringmagazine.com.au Technical Bulletin
Standard
The go-to vinyl sheet ooring collection for any project where impact sound reduction and downtime need to be minimised while maintaining design options.
New XtremPUR™ R10 nish
The Modul'up variant uses a unique tape system with a non-slip coating that holds the floor in place. A lay flat stay flat floor that can handle heavy traffic. Subfloor and substrates are less of an issue for Modul'up and can be laid over existing ooring if required. Allowing installation times to be reduced by over 50% and the floor can be walked on immediately. PUR surface protection XtremPUR™ surface protection
Our acoustic collection features our new XtremPUR™ finish, which is an extremely high-performance protection that provides the best possible resistance against stains, scuffs and scratches. This new finish also enhances the slip resistance and offers best in class chemical resistance with certified anti-bacterial properties. XtremPUR™ shows excellent scratch resistance performance after an abrasive sand test (300 cycles) compared to standard PUR surface protection. To find out more about our acoustic collection, visit www.forbo- ooring.com.au/acoustic 9309 | dark kubik 4804 | copper stardust Modul'up 19 dBSarlon 19 dB creating better environments Modul'up Fast Flooring
The Sarlon acoustic collection brings together Sarlon 19 dB exceptional acoustic properties, in both a glue down or no hassle adhesive free option. The adhesive free Modul'up 19 dB version has been designed to save time and reduce costs, with easy installation, excellent dimensional stability and easy removal for replacement and re-use opportunities. Both Sarlon and Modul'up are available in 94 attractive colourways. Fast and easy installation with Modul'up Education, office, retail and multi-level buildings can be renovated with ease.
FAST. SOUND. EFFICIENT. ATTRACTIVE DESIGNS WITH OUR NEW ACOUSTIC COLLECTION sarlon® 19 dB | modul'up® 19 dB
40 Flooring August/September 2022 www.flooringmagazine.com.au
As one of Australia's leading underlay companies, Airstep is dedicated to helping create a greener future for society. This is particularly important to them as part of a country that relies heavily on having a thriving natural environment to support society – we would be nowhere without our waterways, farmers, and unique ecosystems after all – that's why they've invested so heavily in sustainable practices and are continuing to strive for constant Withimprovement.thatinmind, they are pleased to be able to discuss two important initiatives that are being built right here at their headquarters in Dandenong. Scanning for greener solutions
To give you a quick reminder of what else is so fantastic about Scan Underlay, this 90% recycled 2mm thick rubber underlay provides both acoustic and thermal benefits and can be installed in traditionally difficult places.
If you'd like to learn more about Helix 700, you can refer back to the 'Happy, Healthy Foundations – Eco-Friendly Underlay for Aussie Homes' piece which was published in the April/May edition of Flooring Magazine. There you will find a case study that showcases this fantastically eco-friendly underlay as well as more information about the environmental commitments of NordicBuilt, Scan Underlay, Airstep Australia and Imagine Floors by Airstep.
The product gives off zero VOCs and does not have any odour, making it ideal for almost any application.
The entire underlay is also 100% upcycled as this is a core pillar of NordicBuilt's strategy for a greener future and is far lighter than many contractors will be used to, which means not only does its transport have a lower carbon footprint, but you'll also find it a lot easier to lift and install on sites.
For further information, please direct your enquiry to info@airstep.com.au.
As regular readers may be aware, Helix 700, a highly innovative underlayment solution, has made its debut on the Australian market through a partnership between creators, Scan Underlay, and iconic underlay manufacturers, Airstep Australia.
Airstep
NordicBuilt's Director, Claus Oustrap made the following statement: "We strive towards constant development within our teams as well as our portfolio. At heart, we are inventors and do our best to shape an everimproving built environment… Together with Airstep we plan to transfer our unique cross-linked technology to Australia. This will greatly assist with a cleaner and more sustainable Pacific through local recycling and Todayupcycling."wethought we would dig a little deeper into the environmental benefits of this partnership, which connects Denmark and Australia in a wonderfully sustainable Thecollaboration.inclusion of Helix 700 within their offering fits perfectly with Airstep's recycling program and brings rubber and natural latex into the fold of recycled materials included within the brand's range. When we consider how notoriously difficult it is to recycle these types of materials, the invention of Scan
Feature
Step into a greener future withmoreofferingUnderlay'sAirstepHelixbecomesanevenimpressiveadditiontothe collection, as these products may have otherwise not been able to find sustainable homes once they reach the end of their first purpose in life.
41Airstep Feature Your carpet's best friend www.airstep.com.au1800803545 Residential • Commercial • Hard Flooring Underlays
Paddle towards cleaner manufacturing with two iconic Aussie brands
A sustainable and socially supportive ethos has always been at the heart of Rip Curl's operation, and although they're mainly known for being a market leader in surfing products, they also place a strong emphasis on protecting our oceans and planet. This is particularly exciting when we consider how much waste is actually produced by fashion brands globally, as a 50% reduction in landfill contribution is a massive win for the environment. This is why the Rip Curl team sought collaboration with a recycling partner, and they are pleased to be able to bring the expertise of two leading Australian companies together for a great cause.
Airstep Australia is excited to announce their latest sustainable initiative - a partnership with Rip Curl which is designed to drastically reduce the amount of waste that ends up in landfill due to their wetsuit production. This initiative sees approximately half of their neoprene offcuts recycled by Airstep and the team is incredibly pleased to be able to shine the spotlight on this Generalproject.Manager, Paul Verschaeren, had this to say on the collaboration: "As a proud and growing recycler, Airstep is constantly looking to new sources and methods of growing our extensive recycling program, remembering that approximately 90% of our PU foam underlay is created by various recycled materials… We have managed a process of taking in [Rip Curl's] manufacturing wastage and converting it to an underlay material input. Like much of our other constituent elements in Airstep underlay, without this option, this would likely end up in landfill. A great outcome for both companies, a great outcome for the wider environment."
Adam Brissenden, the Global Wetsuit Product Manager for the iconic brand, had this to say on the matter: "We're super stoked to be partnered with an Australian company like Airstep as a way to make good use of our waste from manufacturing our wetsuits. On one of my first supplier visits, well over a decade ago, I saw the super confronting image of excess neoprene offcuts being piled up, some as big as houses, in open fields next to a lot of finished goods factories. And although we haven't had that same situation happen in our own manufacturing facility, it is epic to see the partnership with Airstep giving neooffcuts a second life into carpet underlay, and we hope this can help set an example for others to be encouraged to do similar. At the end of the day, we make Rip Curl products for crew to live their Search, either in the oceans or the mountains, so the more we can do to help keep those parts of the world clean is epic." As the companies progress with this program, there is a view for Airstep to take even more of Rip Curl's offcuts, with the end goal being 100% of all neoprene waste finding its way into Airstep underlays, therefore further improving sustainability for both companies.
42 Flooring August/September 2022 www.flooringmagazine.com.au Software
Improve your business – Own ownership
Article by Chris Ogden A s business owners, we have rights and responsibilities. We are made very aware of our responsibilities. So much so that we sometimes lose sight of our rights. When we start a business, we take significant risks, make a large investment, make personal sacrifices, and have sleepless nights. When we employ people, we similarly take a risk and make an investment, assuming responsibility to treat employees as we are obliged to by law and as we should if we wish to keep them as employees. In fulfilling our responsibilities as employers, we sometimes lose sight of the right to operate our business as we see fit for the future of our investment. As owners, we sometimes choose not to make even incremental changes because of the resistance we get or anticipate we will get from our staff. When we started our business, did we anticipate it would be the same forever, or did we expect it would change over time? To an extent, the reluctance to make big sweeping changes to a business is understandable. It is less understandable when the change is relatively minor and Inincremental.thisarticle, we will discuss the difference between our perspective as owners and that of our employees. We will also discuss how we create an environment where incremental change is expected, setting the platform for more significant change. Your employee has a quite different view of your business than you do as the owner. Sure, they hope the business does sufficiently well that it will continue to employ them, but generally, their view of your business is 44 When we started our business, did we anticipate it would be the same in five years, or did we expect it would change over time?
Australia: 1800 229 427 New Zealand: 0800 643 012salesau@rfms.comwww.rfms.com YOUR MANAGEMENTBUSINESSSOFTWARESOLUTIONS FOR YOUR FLOORING BUSINESS Layers Diary Mobile Sales Financials Measuring Debtors Reporting Quotes Projects Stock Sales Integration with New Customer Relationship Management App Every sales team needs a way to manage the relationship with past, current, and potential customers. CRM provides an efficient and mobile tool to focus on retaining existing customers and gaining new customers with lead workflow and customer communication to drive sales growth. ✓ Lead Management & Workflow ✓ Communication ✓ Visibility
When we make changes in our business, it makes sense to be mindful of any negative feedback, but we have to remember we are making changes for a benefit beyond the horizon seen by our staff. Sometimes we will institute change for our benefit as owners, maybe a benefit our staff won't see immediately or ever see. This is not a reason not to make the change.
On the other hand, business owners are in it for the long haul; our view of our business extends years, not weeks or months.
44Software
short-term; payday to payday. So long as you can continue to employ them, the business's profitability is not something that occupies their thoughts. Also, employees are more mobile than owners; when an opportunity arises, they can change employers locally or move elsewhere to take up employment.
Nobody
When we encounter resistance, it will help our resolve if we ask ourselves a couple of questions. First, do our employees often volunteer suggestions to improve the business, or do we only hear from them when they push back? Secondly, when they push back, do they come up with alternative suggestions, or do they just want to stick with the status quo? Nobody likes change, and we will resist it where we can. If we don't overcome this resistance, we will find it challenging to continually improve our business. We should create an environment where change is the norm. We should encourage our staff to put forward suggestions and constantly look at our process to see where we can make incremental improvements.
An example might be requiring our salespeople to modify their sales process. The salespeople might complain this will take them more time, but you know the business will benefit downstream from their small investment of time. Do we fold at the first sign of resistance, or do we explain why the change is good for the business and proceed with implementing the change?
BE ACCURATE. BE EFFICIENT. BE PROFITABLE. MEASURE MOBILE • Draw Scale Plans • Add, Delete and Move Seams • Include Doorways and Stairs • Calculate Material Quantities • Create and Email Quotes • Take Signed Acceptance on Tablet • Take Payments Australia: 1800 229 427 New Zealand: 0800 643 012 www.rfms.com salesau@rfms.com
likes change, and we will resist it where we can. If we don't overcome this resistance, we will find it challenging to improve our business.
As responsible employers, we want our staff to be happy in their work, and we don't want to put obstacles in their path. Equally, we must continually interrogate how we are doing business and take opportunities to improve it. It can feel like a narrow line to walk, but the alternative is a business trapped in time.
Software
Creating an environment of Kaizen (Toyota's culture of constant improvement) sets up a platform for larger change.
Chris Ogden is a consultant and Managing Director of RFMS Australasia (rfmsANZ.com), a supplier of IT solutions specific to the flooring industry. Chris has an extensive background in all aspects of the flooring industry, and he can be contacted at cogden@rfms.com.
Not everything will work, but so long as the change is not being sabotaged, we can always revisit and fine-tune the changes we make. Creating an environment of Kaizen (Toyota's culture of constant improvement) sets up a platform for larger change. To be clear, our people are a crucial factor in the success of our business, so I am not suggesting we ignore their feedback; being the business owner doesn't make us infallible. Give and take is needed, and we should listen to concerns. If we haven't done so, we should explain the reason for change and the benefit to the business. A helpful strategy is to establish a trial period for a change, maybe three months, at the end of which everyone can contribute to a discussion on how the change has impacted each role, and you can assess whether or not it has achieved your goal.
Modifying a real-life environment, Augmented Reality (AR) technology digitally enhances parts of users' physical world by adding holographic elements via computergenerated input. Rather than immersing you in a completely artificial environment like virtual reality (VR), AR enhances the world you are in by superimposing 3D objects, sounds, videos, and graphics.
To put it simply, 3D technology uses computer graphics to create, analyse and display three-dimensional objects in a two-dimensional space such as your desktop screen. Producing a photorealistic digital prototype of real-life objects, such as a chair or a building, 3D technology helps to turn ideas into a visible form for further ideation and eventually, creation.
For example, architects and builders can useAbove: 3D is bringing products like stair nosings, entrance matting and tactiles to life
Bring your design and product ideas to life with 3D/AR visualisation technology. While 3D and Augmented Reality (AR) technology is already widely used in the entertainment, medical and product development industries, to name a few, it is also quickly revolutionising the architecture and construction space.
Applications of 3D technologies include:
How does AR technology work?
Combining computer vision, simultaneous localisation, mapping, light sensors, and depth tracking, augmented reality overlays digital information on top of a cameracaptured, real-world environment. These inputs work together to measure the distance to the objects, motion speed, direction and angle, and overall orientation in space. The collected data is then processed to show animation in a real-time physical location.
From choosing flooring colours and materials to conducting an immersive, virtual walk-through of a proposed site, the possibilities are endless with 3D and AR software. What is 3D Technology?
Why is 3D modelling important in architecture and construction?
Combining 3D models and real-world environments, 3D and AR technology allows building professionals to collaborate and challenge the boundaries together. Through every phase of project planning, design and construction, users will be able to virtually test designs and make improvements, facilitating a smoother decision-making process. Whether its necessary changes based on the clients' requirements, aesthetic or safety purposes, architects and builders will be able to proactively address potential issues before they become actual problems during and/or after construction. Minimising the back and forth, users can progress quickly through the stages, ensuring a win-win result for both stakeholders and clients.
46 Flooring August/September 2022 www.flooringmagazine.com.au Safety
• 3D modelling • 3D printing • 3D visualisation • 3D display • 3D Blendinganimationvirtualand real-world environments, AR provides users with 3D experiences to enhance engagement and testing.
With 3D modelling, users can combine multi-angled perspectives and additional views to easily understand a proposed structure in the context of the surrounding environment. From analysing surface patterns to rendering custom interiors, digital presentations using 3D modelling allows architects and designers to create and test different ideas while addressing any potential Facilitatingproblems.collaboration between teams involved in the construction process, 3D modelling provides users with a real view of the finished project and the ability to provide a virtual walkthrough of a proposed building.
3D/AR Technology: The Future of Architecture and Construction
What is Augmented Reality (AR)?
47 CLASSIC ARCHITECTURAL GROUP CELEBRATING 40 YEARS OF CHAMPIONING FLOOR SAFETY Call 1300 244 www.classic-arch.com377
Don't put a foot wrong, contact us today. & install Australia-wide Floor safety solution includes stair nosings, tactiles & entrance matting AS1428 & NCC compliant Quick quote turnaround Estimates & take-offs Safety AR to view a 3D model of a design within a job site, allowing them to visualise changes and address potential problems. How 3D/AR technology is changing the architecture, design, and construction landscape With 3D, AR, and VR (Virtual Reality) technology becoming widely accessible, the building industry has an incredible opportunity to grow and evolve. While architects and designers are already familiar with Computer-Aided Design (CAD) and similar tools, Professor Ning, the Deputy Director of IVE and Professor in Architecture at UniSA, aptly explains that "AR goes one step further to allow these visualisations which are virtual to be inserted into the physical reality, hence, it is augmented". He provided an example to explain the benefits of AR in design further, "we can now conduct a design review meeting on the actual development site where designs can be examined and experienced in real scale. We can also virtually see through the wall surfaces to reveal the services behind for clash detection, or live-feed data of indoor environmental indicators to be provided to the physical space when testing different layout plans. It is extremely beneficial and can significantly improve design quality and efficiency in the long term."
Above: 3D product visualisation
Supply
• Zoom in on the 3D image using the scrolling button on your mouse, enabling you to finesse the finer details
3. Place the product in your space by pointing your device to an empty area on the floor and slowly move it from left to right. You can change its size, orientation, and position by using touchscreen gestures.
Above: 3D making product selection much simpler
Augmented reality can give clients a sense of the building's flow and scale, without being limited by a computer monitor, blueprints or 2D plans. Allowing building professionals to creatively visualise their projects before commencing construction, industry experts believe that this advanced technology will not only improve their designs but also change the way we build our physical worlds. How 3D/AR can speed up your design process when making your floor and stair safety selections
1. Select your preferred product/colour combination then click the button with the 3D cube icon, "View Product in Your Space".
48 Flooring August/September 2022 www.flooringmagazine.com.au Safety
Here's how Classic's 3D/AR technology works Use the 3D technology to make your product selection, then save your configuration. Here's how: • Select your floor/stair material, choose your preferred product colour/s, then view it in 3D • Rotate the 3D image in any direction, simply click and hold the mouse button
• Take a Photo using the camera symbol*
• 'Visualise It' using AR to see your product selection in your physical world *If on a mobile device, use the touchscreen gestures. Use the AR technology to view your product selection in your physical space:
As the leading supplier and installer of stair and floor safety products, you know you are in safe hands when you choose Classic Architectural Group. See how 3D/AR technology works by visiting their website and trying it out for yourself! You can check them out at www.classic-arch.com
Classic's 3D/AR technology will speed up your design and construction process - saving you time and money. Whether you're an architect, builder or project manager, their 3D/AR technology will help you to gain an accurate sense of scale, depth and spatial understanding of floor and stair safety products.
2. Scan the QR code if on a desktop, enabling you to view the product in your physical space.
• Save my configuration by clicking the symbol on the bottom left corner. Your custom design will be emailed to you*
Enquire 02 9600 9249 sales@australianfloorstyle.com.au Would you like to be part of one of Australia 's largest flooring cooperatives? contact : sales@australianfloorstyle.com.au 02 9600 9249 SMALL JOINING FEE  LOW MONTH LY MEMBERSHIP FEES  RE TAIN YOUR INDEPENDENCE & IDENTITY  A COOPER ATIVE , NOT A FRANCHISE  NETWORKING OPPOR TUNITIES  ENHANCED BU YING POWER  ACCESS TO MAJOR SUPPLIERS  A QU IRE A BESPOKE RANGE OF PRODUCTS  MINIMAL CENTR ALISED ADMIN OVERHEADS  OWNED EQUALLY BY OUR FULL MEMBERS  SUPPORT AND ADVICE  QUARTERLY + ANNUAL REBATES PAID TO MEMBERS  The Australian FloorStyle Cooperative is an established group with 58 members and 66 stores across Australia. We offer independent flooring retailers, and those who would like to regain their independence, all the benefits of being part of a group, without you losing your independence or identity. We understand and respect that it's your business, you run it your way and we will support you as required. If you want to be part of group with low joining and membership fees, that returns its profits to its members, then Australian FloorStyle would be your perfect choice. Please quote code FMAug/Sep22 to receive 250 free Australian FloorStyle bespoke midi samples worth $1,875 + GST *offer expires 31st2022October Special Offer Your Independent Flooring Retailer Cooperative
At GECA, we're proud to have developed over 25 lifecycle ecolabel standards for various product and service categories. These are then independently assessed by our third-party Assurance Providers. We have an array of lifecycle ecolabel standards specifically for flooring, including Floor Coverings, Hard Surfacing, Carpets and Adhesives, Fillers & Sealants. These are critical materials for Australian buildings and infrastructure.
mbracing the transition to a circular economy in Australia is a significant step toward achieving a better future for people and our planet. Businesses and organisations that do not adopt a circular approach will be left behind. The good news is that environmental labels are globally recognised tools that can strengthen your circular Australianstrategies.industries, including the flooring sector, must now move beyond a benchmark of 'least harm' and toward one of adding 'more good' by designing to replenish our planet rather than merely replacing resources we've used.
Federal and State governments have also made it clear that business as usual is no longer an option by publishing circular economy policies, statements, and resource recovery strategies. At GECA, we've published our GECA Solutions for a Circular Economy action paper to showcase how we can help manufacturers, procurement, and sustainability stakeholders achieve their circular targets via three forms of environmental labelling.
According to Planet Ark's Australian Circular Economy Hub, 88% of Australian senior decision-makers think the circular economy will be critical to the future of their business.
The term 'environmental labelling' refers to a voluntary method of environmental performance certification that provides information about a product or service's overall sustainability benefits.
50 Flooring August/September 2022 www.flooringmagazine.com.au A Sustainable Future Are you ready for Australia's circular future?
The circular economy is a transformational framework that forces organisations and individuals to rethink how they work and live in this global community and on this planet. It is based on three principles, driven by design: eliminate waste and pollution, circulate products and materials (at their highest value), and regenerate nature.
E
The lifecycle ecolabel is the most impactful circular solution showcased in our action paper. A true lifecycle ecolabel follows ISO 14024 principles and is globally recognised as the most robust and credible form of environmental labelling, including by the United Nations. Lifecycle ecolabels look at multiple impacts across a product or service's entire lifecycle, from the extraction of raw materials to the end of its life.
Article by Kendall Benton-Collins, Strategic Communications Manager at GECA
The International Organization for Standardization (ISO) has created global principles and procedures for environmental labelling, which GECA follows. The purpose of voluntary labelling is the communication of verifiable and accurate information.
Demonstrate your leadership in sustainability Increase the procurement channels of your products
GECA standards include circular criteria such as recyclability, replaceable parts, design for disassembly and product stewardship or take-back services. For example, when a carpet has reached the end of its life, it should ideally be recyclable. To achieve this, the backing should be easily separable from the rest of the carpet, and the manufacturer or retailer should have takeback or recycling schemes for their products.
Since 2006, one of GECA's carpet licensees, Shaw Contract Australia, has reclaimed and recycled almost half a billion kilograms of EcoWorx carpet tile through their re[TURN]™ Reclamation Program. Another GECA carpet licensee, modulyss, uses recycled materials, including their production waste. They have also developed ecoBack, a recyclable backing which can be disassembled and recycled into new Certifiedproducts.under
Comply & be recognised with green building schemes in Australia & globally such as Green Star, WELL, & ISCA
GECA's Floor Coverings standard, REGUPOL Australia and Gerflor contribute to a circular economy by manufacturing flooring solutions using recycled materials. And Forbo Flooring Systems' GECA certified Marmoleum linoleum flooring aims to regenerate natural systems with every square meter of Marmoleum 2.5mm produced, relieving the environment of 40 grams of carbon dioxide. These are just a few examples of how flooring manufacturers and specifiers can positively impact Australia's circular economy.
A Sustainable Future
Another powerful tool, particularly for avoiding 'circularwashing', is to have environmental claims verified by an independent third party. GECA's Claims Authentication service follows ISO 14021 principles. This type of environmental label is beneficial for companies who are not ready to achieve lifecycle ecolabel certification but want to show commitment and transition toward specific circular elements such as reusability or recycled content. Third-party verified claims can help add legitimacy, specificity, and transparency to circular economy targets.
Finally, when making gains for a circular economy, Life Cycle Assessments (LCAs) and Environmental Product Declarations (EPDs) are critical supporting services. An EPD or LCA does not imply that a declared product is environmentally superior to alternatives.
Give your business a sustainability advantage Show your products meet world class standards
We actively build recognition & promote your business
However, data gathered via an LCA can provide a robust baseline for designing circular economy strategies, including product circular design improvements, identifying circular economy solutions, creating sustainable resource management and recovery, and strengthening circular business models. GECA's LCA Suite of services provide EPDs registered with EPD Australasia, which are publicly available and internationally recognised. Whether you collaborate with GECA or any other reputable organisation, now is the time to integrate trust and transparency into your organisation, products, and services.
Take advantage of the rapid growth of the green building industry & consumer demand
Be recognised for your +61deserveGetcredentialssustainabilitywithGECAtherecognitionyourproducts-contactustoday!296992850geca.eco
Nette King used flooring and window furnishings in a palette of warm and cool greys from Carpet Court to decorate five rooms in a Brutalist-style home to show you how to introduce a luxe-minimalist aesthetic.
The kitchen and dining room – two of the most hardworking spots in a busy home –required flooring that was durable and easy-toclean. "We selected Elements hybrid flooring in Onyx, which combines the best attributes of laminate and vinyl flooring to create a surface that is water-resistant, scratch - and stainresistant, and a breeze to clean. It also allows you to mimic the look of on-trend flooring, such as timber, stone, concrete and terrazzo, in and affordable and easy-to-install material.
52 Flooring August/September 2022 www.flooringmagazine.com.au
hat's old becomes new again –Brutalist design, made popular in the 1950s, is back in 2022, but with a luxury twist. With many of us seeking a sense of strength and stability in our surroundings, Brutalism has re-emerged in 2022 as a key design trend, according to Carpet Court trend forecasters. But while all the hallmarks of the classic midcentury architectural and design movement are there – an emphasis on concrete, clean lines and lashings of grey – today's iteration is less stark and more luxurious, creating altogether more liveable spaces.
W
Design & Trends
"Building or renovating is the perfect time to create this look as you can introduce many of the foundation elements, such as carpet, flooring and window furnishings, into the design and then build the rest of your scheme around them. Grey, black and white are timeless neutrals, so they won't date and will easily adapt to any new decorating style you may wish to try down the track," she says.
"We call this look Brutal Beauty – it celebrates the popular architectural and interior aesthetic of Brutalism, but in a more inviting and appealing way," says Heather Nette King, interior stylist and Carpet Court Style Ambassador. "Over the last year or so, the popularity of raw concrete as an interior finish has exploded and we're seeing it appear in new homes and extensions across Australia. It speaks of strength, authenticity and our growing desire to live more simply – the idea of building once and building well.
Basenji carpet is specially designed for busy spaces, making it a great option for living rooms in homes with children and pets. It repels spills and, if a liquid does penetrate the fibres, it can generally be washed away with just water. It's made from UltraPet fibres, which provide superior softness, elasticity and resiliency to regular PET fibres.
"Designers and architects are putting a contemporary spin on the Brutalist aesthetic by using raw concrete in new and inventive ways – think kitchen islands, furniture, benchtops, cabinetry and even home accessories. And they're introducing contrasting materials, such as beautiful, textured fabrics and luxurious metallics, to add softness and elegance.
"Finally, an increasingly important space for many of us – the home office – was given a professional lift with Gravel carpet planks in Ink. Gravel has a unique texture that resembles small, loose stones, bringing an earthy and organic feel to the space.
Raw beauty: Brutalism takes on a luxurious edge
"In the living room, poured concrete formwork walls and a monolithic concrete fireplace set a tone of refined luxury. We added softness underfoot with Basenji synthetic, twist-pile carpet in Cattle Grey – a warm, rich grey that helps accentuate the striking, low-line sofa and marble and steel coffee table," she says.
Our experience and understanding of carpet and specialty flooring retailers allows us to source policies specifically suited to your business, with no cost additional covers, superior policy wordings and outstanding claims service from dedicated account managers who understand the flooring industry. Call 1800 607 204 or email insure@floorinsure.com.au Australia's ONLY Flooring industry insurance broker floorinsure.com.au handmade insurance for flooring & carpet retailers FloorInsure – the most experienced insurance broker to the flooring industry, just like you… > ALL Flooring Contractors > Timber Floor Supply & Installation > Carpet & Flooring Retailers > Commercial Flooring Equipment Suppliers > Flooring Warehouse & Logistics > Flooring Inspectors
Advertiser Index Airstep Australia 40, 41 Andersens Floor Covering Front Cover Australian Floor Style 49 Australian Flooring Supplies Inside Back Cover Australian Panels 25 Australian Resilient Flooring Assoc.(ARFA) 19 Australian Select Timbers 5 BBS Flooring Products 36 Bremworth 29 Beaumont Tiles 21 Classic Architectural Group 47 Clever Choice 54 DecoLine Floors 27 Ecquality Timber Insert Floorcovering Institute of Australia (FCIA) 35 Forbo Flooring Systems 39 GECA Ltd 51 GMK Logistics 13 Godfrey Hirst 7, Back Cover Ian Jones (Floor Insure) 53 Integra Industries 4 Karndean Designflooring Inside Front Cover Kenbrock Flooring 9 Laser Measure 33 ELITE PUBLISHING CO PTY LTD ABN: 27 006 876 419 PO BOX 800, Templestowe Victoria, Australia 3106 Ph: + 61 3 9890 0815 Fax: + 61 3 9890 0087 Email: Website:info@elitepublishing.com.auwww.elitepublishing.com.au PUBLISHERS Georgia michelle@elitepublishing.com.auMichellegeorgia@elitepublishing.com.auGilmourCammiade EDITOR Michelle michelle@elitepublishing.com.auCammiade CONTRIBUTING EDITOR Philip philipneilashley6@bigpond.comAshley ADVERTISING SALES MANAGER Sandie sandie@elitepublishing.com.auVelkovska CIRCULATION For circulation enquiries please email: info@elitepublishing.com.au PRODUCTION For artwork and production enquiries please email: production@elitepublishing.com.au PRE-PRESS Prominent Digital PRINTED BY Prominent Group Pty Ltd ELITE PUBLISHING CO PTY LTD (established 1985) All rights reserved – No part of this publication maybe reproduced, transmitted or copied in any form or by any means, electronic or mechanical including photocopying, recording, or any informa tion storage or retrieval system, without the express prior written consent of Elite Publishing Co Pty Ltd. Viewpoints, opinions, claims, etc expressed in articles appearing in this publication are those of the authors. The Publishers accept no responsibility for the information supplied or for claims made by companies or their representatives regarding product performance, etc or for any errors, omissions, misplacement, alterations, or any subsequent changes, or for any consequences of reliance on this information or this publication. ELITE PUBLISHING CO PTY LTD PUBLISHERS OF: Supplier Woodworking Magazine, Tile Today Magazine, Discovering Stone Magazine, FB Magazine, Flooring Magazine, Finishes & Surfaces Magazine www.flooringmagazine.com.au Quality w w w . c l e v e r c h o i c e . c o m Flooring suited for your commercial & residential properties! Australian Timbers Bamboo Classic Laminate European Oak Hybrid Hydro Vinyl Acoustic & Thermal Underlay 0 7 5 5 2 6 7 3 9 9 Fashion in flooring SValue tyle
AFS CUSTOMER SERVICE | Monday to Friday 8am to 4pm 1300 737 155 shopQEP.com.au | afscustomerservice@qep.com WITHSHOPONLINEAFSOURNEWWEBSITEISLIVE! Head to shopQEP.com.au to find everything you need for your next flooring job. FLOOR PREP UNDERLAYSADHESIVES & TAPES TRIMS & STAIRNOSINGS MORE!MUCHMUCH,AND REGISTER NOW! Go andshopQEP.com.autoclickREGISTER in top right corner YOU CAN NOW: • Order anywhere at anytime • Place orders for pick up or delivery • Check stock availability in minutes • Save shopping lists for easier reoccurring orders
New SolutionsFlooringPlankVinyl Regent 1500 700 Silverton Godfrey Hirst are excited to announce the release of our updated direct stick Vinyl Plank selection. The Regent vinyl plank range has been updated with a stunning new colour pallet and is now available in two sizes. Choose from the larger format Regent 1500 which features a longer and thicker 4.5mm plank, or Regent 1200 provides a smaller 2.5mm plank Contactoption.yourlocal Godfrey Hirst account manager about new sampling opportunities today. 1300 444 778 www.godfreyhirst.com