Three New Operating Rooms Planned for Bethesda Regional Health Centre
Inter-municipal
Recreation
Agreement
Comes with a One-Time Top Up
By Dan Guetre
Although an inter-municipal long-term agreement between the RM of Ste. Anne and the Town of Ste. Anne was not set to expire until 2034, the RM of Ste. Anne has agreed to send a bit more to their neighbour.
"The RM and the Town of Ste. Anne entered into an Inter-Municipal Recreation agreement in 2019," explained RM of Ste. Anne CAO Mike McLennan. "This agreement included an annual base amount, with an annual increase to that amount over the lifespan of the agreement, which is in place until 2034. The annual contribution is to be applied towards both capital and operating expenses."
Due to the emergency work required for the Town's Maurice Chaput Arena, McLellan says the RM made an exception for this year with the potential for council to talk later about the long-term funding agreement.
Three new operating rooms will be constructed as part of a new surgery department to increase surgery capacity at Bethesda Regional Health Centre.
"The nearly $30-million new surgical centre will increase surgical capacity locally and throughout the region," said Justice Minister and Steinbach MLA
Kelvin Goertzen. "This capital project will enhance the service profile of the facility in Manitoba's third-largest city and provide the capacity for growth."
The hospital expansion project includes three operating theatres with a modern boom system for surgical and anesthesia
Continued on Page 3...
"The RM has committed to a total of $125,000 to the Town of Ste Anne for this year, with $75,000 being a one-time grant to assist with the arena work," he elaborated. "The remaining $50,000, being our annual inter-municipal agreement contribution, which was topped up following a request from the Town of Ste Anne for this year only, with rates to be reviewed moving forward."
Multiple emails to the Town of Ste. Anne for comment, including Mayor Yvan St. Vincent, were not returned.
Celebrating Over 25 Years of Service to Our Communities! Dawson Trail Dispatch May 2023
"The nearly $30-million new surgical centre will increase surgical capacity locally and throughout the region," said Justice Minister and Steinbach MLA Kelvin Goertzen. "This capital project will enhance the service profile of the facility in Manitoba's third-largest city and provide the capacity for growth." Submitted photo
"Sunrise" Woman Nominated as Rising Star for Economic Development
By Angelique Forest
The success of the economic development effort in the southeast corner of Manitoba is getting the recognition it deserves as the Economic Developers Association of Manitoba (EDAM) has accepted the nomination of the woman who is considered key to putting the RMs of Piney and Stuartburn on the map over the past few years.
Monique Chenier, the Economic Development and Tourism Manager for Sunrise Corner has been nominated for the Rising Star Award. The category celebrates an individual in the field of economic development whose accomplish-
ments have made a significant contribution in the field of economic development and demonstrates exceptional best practices.
She found out about her nomination at the end of April.
"I was nominated for the Rising Star Award by Ken Prociw, a councillor in the RM of Piney who is also the chair of the Piney Stuartburn Economic Development Board that provides oversight and guidance to Sunrise Corner Economic Development," explained Chenier.
"Ken and I are both members of EDAM," she added.
"It seems strange to be nominated
for a Rising Star Award this far into my career," she said. "Just over three years ago, I took my 25 plus years of experience in communications and marketing and leapt into economic development."
Chenier moved back to her hometown to take on the position.
"It's been exciting to build on the momentum and effect change in the region around where I grew up," she added.
Chenier is quick to highlight others when asked about her personal qualifications.
"I believe that partnerships are a big part of a successful economic development strategy," she deflected.
She is credited with establishing partnerships with the Nature Conservancy of Canada, the Piney Regional Chamber of Commerce, Eastman Tourism, Eastman Region Immigration Partnership Council, and regularly collaborates with other Eastman region economic development officers to keep on top of new ideas and promote a knowledge exchange.
"While I may be the face of
Sunrise Corner Tourism & Economic Development, I'm backed by amazing municipal councils and staff, supportive board members, local business leaders, innovative partners, and countless dedicated community volunteers," she said about the experience of being nominated and insisting that the credit had to be shared.
EDAM will host their 7th Annual Manitoba Economic Development Awards on May 11.
RM of Ste. Anne to Improve Park & Ride
By Dan Guetre
An initiative created by the RM of Ste. Anne council a few years back is getting some upgrades. A Park & Ride established at the municipal office about 4 years ago is getting some attention from council to improve the car-pooling staging service.
"Plug-ins are being added to the Park and Ride lot for up to 4 vehicles, to increase usage, as well as public safety in the winter months," explained CAO Mike McLennan.
McLellan added that the costs for the project are pretty minimal,
about $5,500, and will come out of a Green Initiative Reserve Fund.
The RM of Ste. Anne believes the Park & Ride is a cost effective service they can provide.
"We're very pleased with the use of the Park and Ride," added McLennan. "There are regularly anywhere from 3-5 vehicles parked on any given day, and we hope to increase usage with both the upgrades and by increasing awareness through the RM's social media, website, and our quarterly newsletter."
McLennan expects the added plug-
Monique Chenier in a recent meeting as a member of the Piney Regional Chamber of Commerce's visioneering committee. Left to right: John Prevost, president, Piney Regional Chamber of Commerce (PRCC); Monique Chenier, secretary, PRCC; Len Friesen, past president, PRCC; Jonathon Prevost; founder and past president, PRCC; Martin Van Osch, treasurer, PRCC. Submitted photo
A Park & Ride established at the municipal office about 4 years ago is getting some attention from council to improve the car-pooling staging service. Submitted photo
Dawson Trail Dispatch
Celebrating Over 25 Years of Service to Our Communities! May 2023
Three New Operating Rooms Planned for Bethesda Regional Health Centre
equipment; pre-operative consult room and 12 patient care treatment spots for pre/post-operative care; sterile supply room and a surgical equipment disinfection and sterilization room; reception and waiting area for patients and family; new expanded lab to meet space requirements for modern diagnostic lab equipment; new cultural space to support multi-denominational services including Indigenous cultural ceremonies such as smudging; and expanded space to support physician and resident services including three on-call sleep rooms.
"This investment towards further expansion at Bethesda Regional Health Centre will ensure this facility continues to meet the health care needs of residents in Steinbach and surrounding communities," said Jane Curtis, CEO, Southern Health-Santé Sud. "The comple-
By Dan Guetre
The 36-Hour Hockey creator has been recognized for his efforts in a sport, and this time it has nothing to do with lacing up the skates.
Chris Maxemuk is recognized in his community for starting an onthe-ice fundraiser over two decades ago creating a buzz about the need for a new recreation centre in Lorette and the RM of Tache.
What people know less of, are his activities on the slopes.
"This winter I worked at Holiday Mountain as a ski instructor," explained Maxemuck. "The owners Paul and Renée Warkentin are from Landmark and worked very hard to re-establish the ski hill as a family focused destination in southwestern Manitoba."
Maxemuck said he enjoyed instructing people of all ages at the resort using his experience to teach others.
Just recently, the Canadian Ski In-
Continued from Page 1... tion of this project will allow for an increase in surgical capacity and support better patient care and sustainability of health-care services offered now and for many years to come."
The announcement brings the total capital investment at the health centre to $64 million, one of the largest construction projects in the city of Steinbach's history, noted Goertzen. In 2021, additional acute care medicine beds were announced including fifteen new acute care medicine beds improving the site's capacity to care for patients with a wide variety of needs including palliative and end-of-life care, chronic and cardiopulmonary disease and other medical conditions; and eight surgical beds, enabling the site to support additional surgical capacity in general surgery, women's health and other targeted areas.
"This is very welcome news for the Bethesda Regional Health Centre. The expansion of surgical capacity and acute care beds will allow this facility to expand to meet the needs of the growing community it serves," said Dr. Christo Minnaar, chief of staff, Bethesda Regional Health Centre. "This project is a significant step towards achieving our goal of providing the best possible care to our patients."
The Bethesda Foundation has pledged $8 million towards the surgical unit and palliative beds in the expansion.
"The Bethesda Foundation is thrilled to be a supporting partner in this worthwhile project. Increasing surgical capacity at Bethesda Regional Health Centre will bring us one step closer to meeting the needs of this growing community," said Garth Reimer, board chair,
Bethesda Foundation. "The completion of this project will further strengthen the medical resources in our community and increase accessibility to specialized care closer to home."
Construction began in August 2022 on the first phase of the project to renovate a section of the Community Services Building to establish six treatment bays for renal dialysis along with pharmacy upgrades that support the delivery of chemotherapy services. These changes will help establish the facility as a regional hub for cancer services. The first phase of the project will be finished by this summer and new renal services are planned to launch this fall.
Construction on the overall project is expected to be complete by 2025.
36-Hour Hockey Founder Awarded Bursary
structors' Alliance (CSIA) Central Region chose Maxemuk to receive its Founder Fund.
The fund recognizes those who "gave selflessly" and have had an impact on the sport of skiing through their service and commitment.
Maxemuck will receive the $1,000 to encourage him to advance his education as an instructor.
"The scholarship will help cover the costs of educational programs and ski improvement," he explained.
"I will utilize the scholarship funds to work towards a CSIA level 3 designation," added Maxemuck. "This would include Level 3 skier development and instructor training."
Maxemuck explained that once the courses are complete he will have to pass an extensive Level 3 ski and teaching exam.
According to Maxemuck, the level 3 courses typically take place in the Rocky Mountains in Alberta and British Columbia.
Ritchot Seeking Youth Council Reps
By Dan Guetre
The Ritchot municipal council is looking for youth in their area to improve their youth oriented efforts and are invited those interested to fill out an application to represent the younger generation on council.
According to a recent announcement, "The Municipality of Ritchot is looking for enthusiastic and selfmotivated individuals to attend Council meetings and provide a voice for the youth of our community."
"By working with youth, the Mu-
nicipality hopes to develop better communications for existing opportunities, involve and familiarize them with the operations of our municipal government and listen to suggestions on what the Municipality can do to improve its youth oriented efforts," they added.
Applicants for Youth Council Representative must meet the following criteria:
- Must be a resident of Ritchot.
- Must be less than 18 years of age or enrolled as a full time student in a school (Full time student must be
enrolled in high school).
- Must be willing to attend 1 Council meeting per month from September 2023 to June 2024.
The deadline is May 26. Applications are available on their website at ritchot.com and can be sent to Municipality of Ritchot, Attention: Dominique Lemoine, 352 Main St. St. Adolphe, MB, R5A 1B9 or email dlemoine@ritchot.com. For further information call 204-883-2293.
The Canadian Ski Instructors' Alliance (CSIA) Central Region chose Chris Maxemuk to receive its Founder Fund. Submitted photo
Read the Dispatch Online at www.dawsontrail.ca
Get Your Greed Out of Our Water
sandstone aquifer water with carbonate aquifer water, The Water Protection Act that regulates our water quality standards, The Environment Act, and The Drinking Water Safety Act, the government see the little dollar signs from low hanging fruit as beneficial.
Shame on the Manitoba government for muzzling our tax funded government scientists and experts and putting us in the position of having to hire scientific experts and even further contemplating a class action against the province, and if need be, federal.
By Monica Guetre
Interestingly the Manitoba Government may be thinking of approving the Silica Sands fracking projects in eastern Manitoba despite all opposition from the water, geology and engineering core scientists that don't have their hands in the cookie jar and despite the majority of us seeing that jeopardizing our only source of drinking water and affecting our health and future generations to come is just wrong.
Despite laws that are supposed to protect us such as The Groundwater and Water Well Act that explicitly prohibits the mixing of
The majority of us who just want to protect our drinking water are slowly ripping off the duct tape the proponents have put forward in their plans. These pieces of duct tape are hiding the underlying quick fixes put forward by Sio Silca. Duct tape is only a quick fix and never addresses the fundamental problem.
Even the name change from CanWhite was an attempt to rebrand and convolute the mining company's plans for us. The root connotations of the proposal is still the same and slight of hand is just a parlour trick.
Common sense is not in abun-
dance when a mining company such as Sio Silica wants to turn a fast buck.
Common sense says that if you drill and frack thousands of times over thousands of kilometres into our limestone and shale layers to remove the silica sand means that the aquifer is bye-bye. When there is no silica sand, there is no aquifer. No aquifer means, no drinking well water.
Common sense also leads us to the conclusion that when you disturb surrounding sediments found in sand, gravel and minerals from the carboniferous (limestone and dolomite) bedrock that these will be introduced into our drinking water in abundance. Additionally, some of those rock layers contain cancer causing minerals that will be introduced into the aquifer.
Even going back as far as 1995, there was thorough Manitoba Government study, "Groundwater in Manitoba: Hydrogeology, Quality Concerns, Management" that argues against this project. The report pointed out that, there is an "extensive network of discontinuities consisting of joints, bedding planes," and that "ground waters become increasingly saline with
depth in most bedrock and some sand and gravel aquifers." Further, the study stated that saline increases from west to east in Manitoba. By fracturing the rock layers that are the naturally protecting the aquifer, an additional hazard is introduced - a higher saline level which could change access to clean well water throughout the eastern part of the province.
We need to stress there is not enough money to pay for that environmental disaster. There certainly is not enough money to pipe water from Lake of the Woods to every resident and business in eastern Manitoba or deliver enough potable drinking water.
Our message to all mining companies, particularly this one, should be clear - the people in eastern Manitoba care deeply about their right to clean drinking water. We are not in the business of lining your pockets with cash so that you can go buy another bottle of sparkling water, pay for your au couture wardrobe or another vacation home. Your ability to smile ear-toear in the presence of your shareholders is not something we want to pay for with our quality of life. Do you hear us now?
Fixing Healthcare's Staff Shortages
With spring officially in season and summer not too far away, I am eagerly anticipating the warm weather and sunny days that are just around the corner. With that being said, I am also looking forward to all of the fun local festivals and events that come along with the nicer weather, the first one being the Lorette Family Fun Days from June 2nd-4th. I am excited to attend these local events over the coming weeks and months, participate in the festivities, chat with constituents, and take part in the community fun.
On April 12, I hosted another one of my regular Coffee With Bob events. This time it was held at the Dawson Trail Motor Inn in Lorette. It was nice to chat with constituents and
just be out and about in the community. I look forward to hosting my next Coffee With Bob soon.
I'd like to take the time to highlight some important initiatives that the Manitoba government is implementing to help heal healthcare.
Healthcare staffing shortages are an issue faced by governments around the world. That's why PC MLAs support the $200 million dollar health human resources action plan, which will bring in 2,000 more healthcare professionals to Manitoba.
We are investing in rural healthcare infrastructure, and expanding the services Manitobans rely on.
Unlike the NDP, who permanently closed 16 rural ERs last time they were in government, our PC gov-
ernment is ensuring healthcare will be there when you need it.
We know healthcare can't be fixed overnight, but our team has a plan to get the job done and heal the healthcare system.
For more updates and information, visit my website at boblagasse. com. If you have any questions or concerns, feel free to contact my constituency office at ca.lagasse@ outlook.com or 204-807-4663.
Bob Lagassé, MLA for Dawson Trail
Celebrating Over 25 Years of Service to Our Communities! Dawson Trail Dispatch May 2023 Read the Dispatch online at www.dawsontrail.ca
Celebrating Over 25 Years of Service to Our Communities! Dawson Trail Dispatch
Better Health Care for Rural Manitoba
Care paramedics work their full scope of practice. While we're at it, we'll improve rural cell phone connectivity so that your emergency call doesn't drop.
We'll give health care staff like nurses and lab technologists a competitive offer to work in rural Manitoba to keep the Ste Anne's ER open.
We'll connect you with the best specialists. Our plan will bring the best health technology to rural Manitoba so you can be seen by a cardiac specialist at St. Boniface in Winnipeg without leaving your home community. This team model provides more support to rural doc-
tors and better care for you.
We'll ensure seniors get the care they need to stay healthy at home. Homecare workers shouldn't have to pay extra to work in rural Manitoba. We'll pay them properly for their mileage so seniors can get the care they need to live independently. And should seniors need another level of care, we'll deliver on the PCs broken promise to build more personal care home beds in rural Manitoba.
Brian Pallister and Heather Stefanson have done a lot of damage to rural health care. But this year we can chose better health care and a brighter future for Dawson Trail.
By Chris Wiebe
These days it seems that almost everyone in our community has a health care horror story. Maybe it's a terrifying drive down the highway because you can't afford to wait for an ambulance or the shock of finding the Ste Anne's ER closed for the evening when your loved one needs emergency care. But the reality is the impact of Brian Pallister and Heather Stefanson's health care cuts
go beyond health care. PC health care cuts make it hard for families to imagine a future here.
But it doesn't have to be this way.
This week Wab Kinew and our NDP Team announced our plan to start fixing rural health care in Virden. Our plan has common sense solutions that will deliver better health care and a brighter future for families in Dawson Trail for generations to come.
We'll bring more doctors to rural communities by restoring the rural physician recruitment fund that Brian Pallister cut. That means better primary and emergency care for families.
We'll reduce wait times for ambulances by fixing the staffing crisis that grew under Brian Pallister and Heather Stefanson. We'll pay rural paramedics the same as those in Winnipeg, and allow Advanced
Conservatives Will Give Canadians a Government that Works
Only a Liberal/NDP government could increase public service spending by 53% (or $21 billion) and still end up with the biggest federal public service strike in history.
Let's be clear, the only reason Canadians find themselves in the situation we're in is because of the ineptitude of Justin Trudeau and his government.
Whatever one's political leanings, Canadians have to agree, this Liberal Government has failed (often spectacularly so) to execute the most basic functions of government.
As I discussed in my column last week, they have failed to keep Canadians safe, and ever since they decided to send workers home in March of 2020, the government has struggled (often failing outright) to provide the basic services Canadians pay for and expect.
Most recently, Canadians' access to basic and essential services has been compromised by Justin Trudeau being incapable of coming to a deal with workers.
Increased Cases of Whooping Cough in Southern Health
By Angelique Forest
Southern Health has sent out a public notice of an increase in Pertussis (whooping cough) cases, particularly in the southern health region. Dr. Davinder Singh, Medical Officer of Health for Southern HealthSanté Sud cautions parents to prepare themselves for the recorded rise in cases.
The Southern Health region has a recorded 28 cases as of midApril.
"The most important thing people can do is to get immunized. After the first three doses of vaccine, usually given at 2, 4, and 6 months of age, the vaccine effectiveness is approximately 85%," explained Dr. Singh. "After the first booster dose is given, usually at age 18 months, the effectiveness increases to approximately 90%. And for those people who are vaccinated and who do still get an infection after being exposed, the infection is likely less severe."
Singh continued to explain that since it takes 6 months to finish the first three doses (the primary series), it is also very important for pregnant women to be immunized, usually between 27-32 weeks gestation, to protect their infants through transfer of maternal antibodies. The vaccine effectiveness does wane over time, which is why there are boosters in early childhood, adolescence, and for adults.
Justin Trudeau's terrible management of the economy, his inflationary spending and waste are having a devastating impact on all Canadians.
While many consider the wage demands of government unions to be unreasonable, it is still the government's duty to negotiate in good faith and ensure Canadians' access to timely service delivery is restored as soon as possible.
Moreover, despite increasing the size of government by 35%, the Liberals have also awarded $22 billion dollars in contracts to outside consulting firms to do work which is clearly part of the public service's core responsibilities. These high-priced consultants (some with direct ties to the Trudeau Liberals) cost every household in Canada $1400 per year and results in a demoralized public service.
A Conservative Government under Pierre Poilievre will cut back on these high-priced consultants and cut Justin Trudeau's waste that has bloated the cost and size of government and made life more expensive for Canadians.
Conservatives will bring back common sense to ensure that Canadian taxpayers are getting value for their money, which includes an effective, efficient, and motivated public service.
Conservatives are committed to giving Canadians a government that works. One that realizes the people are the masters, the government the servant.
If someone is exposed to a person with pertussis, antibiotics may be recommended to try to prevent infection. This is most important for infants (under age 12 months) and pregnant women in their third trimester. For those with pertussis, antibiotics can help treat the infection to possibly decrease the severity of the illness and help clear the infection sooner, which can prevent transmission to others. Anyone who thinks they have pertussis should contact their healthcare provider.
"Prior to the pandemic, Manitoba would usually experience a spike in cases every 4 to 5 years," said Singh. "Pertussis is not typically a seasonal infection and can occur at any time of year."
Increases in cases, whether clusters or outbreaks, tend to occur in under-immunized groups. Southern Health-Santé Sud (SHSS) has a lower rate of pertussis immunization than other regions in Manitoba, explained Singh. The vaccination rate within SHSS is also not uniform across the region. Some communities have extremely low rates of immunization and others have very high rates of immunization. They are seeing most of the cases in areas that have lower rates of immunization. These post-pandemic increases in pertussis are also being seen in some other provinces among under-immunized groups.
"This is why immunization is so important," he stressed. "Pertussis is a vaccine-preventable disease, and can cause severe outcomes, including hospitalization and death, particularly in young infants."
Pertussis (Whooping Cough) is a highly infectious disease which is commonly spread through respiratory droplets in the air formed when coughing or sneezing. It is most contagious during the initial stages of illness, and symptoms initially resemble those of the common cold.
For more information, Families with young children or pregnant women should talk to their healthcare provider, pharmacist or local public health-healthy living office about getting immunized or call Health Links-Info Santé 888-315-9257.
May 2023
Chris Wiebe (back left), nominated NDP candidate for Dawson Trail was on hand recently as Manitoba NDP leader Wab Kinew speaks about, what he calls, a failure by the current government's healthcare policy.
Submitted photo
Steinbach Family Resource Centre Launches "Bottle Drive"
By Angelique Forest
During the month of May, students and businesses in Steinbach are participating in a "Bottle Drive" geared to collect donations for the Steinbach Family Resource Centre. The campaign started in April.
"Students who wanted to participate took bottles home and asked for donations," explained Michelle Wyryha, an administrator with the Steinbach Family Resource Centre. "Though the numbers aren't in yet, the class-
room of Don Dewey in Stonybrook Middle School, as well as the Steinbach Giant Tiger are still collecting donations."
Clearspring Middle School has already exceeded expectations collecting thousands of dollars.
"Rough count is $3058.46 - the whole school participated," said Wyryha who praised teacher Dawn Gautron and the students participating.
"As we are just starting to do the bottle drive again our ex-
pectation was already exceeded with Clearspring Middle School," she added. "We are grateful to all who supported our bottle drive which in turn will help with our programming for families in our community."
2023
Celebrating Over 25 Years of Service to Our Communities! Dawson Trail Dispatch May
Clearspring Middle School jumped in on a fundraiser to help families in need.
Photos courtesy of Steinbach Family Resource Centre,
Clearspring Middle School has already exceeded expectations collecting thousands of dollars. "Rough count is $3058.46 - the whole school participated," said Wyryha who praised teacher Dawn Gautron and the students participating.
$3M to Help Seniors Stay in Home Longer May Not Be Enough
By Dan Guetre
On the heels of an announcement by the Province of Manitoba to inject $3 million into two housing programs geared to allow more Manitoba seniors to safely age in their homes and communities as long as they choose, one seniors group in southeast Manitoba is worried the financial commitment may not be enough.
The two programs announced were a home modification initiative and a Supportive Housing initiative.
Heather Dean, President of the Seine River Services for Seniors was on hand for the announcement, and while agreeing with the programs, she feels the dollar amount could fall short. She was optimistic though that with the big picture, the Seniors' Strategy announcements recently rolling out, the overall effort by the Province does show the government is listening.
"The announcement by the Minister was $3 million, a modest amount relative to the amount of total funding announced for other initiatives for seniors," said Dean.
The new home modification grant program with an annual budget of $1.5 million, will provide financial assistance to seniors over the age of 65 and/or family members who have seniors over the age of 65 living with them with a household income of $60,000. The province-wide grant will allow for home modifications that enhance safety during daily living activities.
"The home modification initiative will provide grants to seniors to afford renovations in their homes such as ramps, safety railings and grab bars in the bathroom," she acknowledged. "There are a myriad of modifications now available for homes that allow seniors to continue living safely at home but many of these modifications are costly."
With the finite amount announced, she has some advice to seniors.
"It will be important for our seniors who meet the eligibility criteria of age and income to apply early as possible as the $1.5 million funding will not go far for larger
projects such as widening interior doors, external ramps, electric lifts and curbless showers," she explained.
While the programs announced will not be managed by local Senior Resource Services, the groups positioned throughout the municipalities will still play a role.
"Neither of these announcements has a direct impact on the operation or programming of Seine River Services for Seniors," said Dean, "however both programs will have an indirect impact on the work that we do as they will both help seniors who access our services."
"Our organization can help seniors in our area to learn about this funding and help them to complete the application process," she added.
Dean will have to wait for specific details before their organization can help with applications.
"The details of the application process are not known yet, especially what modifications will be eligible," she said.
According to Dean, whose group looks after seniors in the RMs of La Broquerie and Ste. Anne, and the Town of Ste. Anne, the Supportive Housing program will add additional funding into two facilities. This program takes care of the other $1.5 million of the announcement.
"The Supportive Housing initiative will provide additional funding for congregate living settings such as those living in the independent apartments (motels) of Le Chalet and the Villa Youville," explained Dean.
According to Dean, the funds will go directly to the two facilities to increase the per diem rate given to each facility for each resident so that the facility can enhance their services such as meals, light housekeeping and laundry.
Seniors and Long-term Care Minister Scott Johnston and Families Minister Rochelle Squires noted the investment will increase the per diem rate by 19 per cent to ensure residents receive high-quality services.
Stuartburn and Piney Gear Up to Tackle Noxious Weeds
By Dan Guetre
The planned start for the Road Side Spraying Program to tackle noxious weeds along municipal right of ways in the RMs of Piney and Stuartburn is set for later in May.
The program to minimize the impact of these unwanted plants follows the criteria set out through the Manitoba Noxious Weed Act.
Both municipalities are taking precautions to minimize the effect of the spraying pro-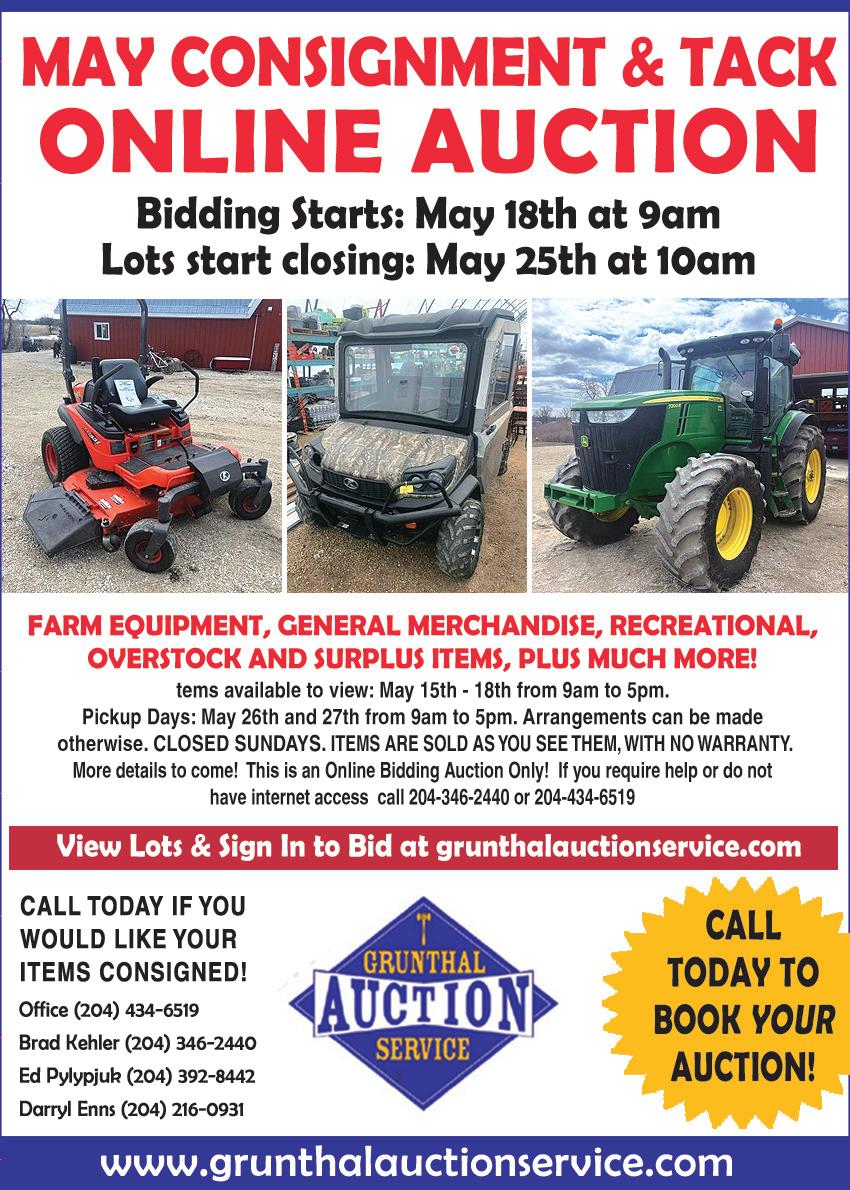 gram on organic producers asking them to register so a buffer zone can be created. This buffer zone will also be taken into account for any bee hive operations.
If you have a bee hive operation or a registered organic farm operation, please contact the Weed Supervisor so they can update their maps. You can do this by emailing supervisor@psweedbuilding.ca or calling Weed Control Supervisor Gary Hora at 204-380-9624.
Celebrating Over 25 Years of Service to Our Communities!
Dawson Trail Dispatch May 2023
Seniors and Long-term Care Minister Scott Johnston made a recent announcement that two new programs, worth $3 million will help seniors stay in their homes and communities longer. Submitted photo
Celebrating Over 25 Years of Service to Our Communities! Dawson Trail Dispatch May
2023
Sunrise Corner's Unprecedented Growth
By Angelique Forest
What started as a small initiative in 2016 to attract more people to visit the southeast corner of the Province has evolved into a tourism and economic development staple for the RMs of Piney and Stuartburn.
After its quick start in 2019, the councils of both RMs realized the need to expand the focus leading to the formation of the Piney Stuartburn Economic Development District. This new entity would soon become a guiding force behind "Sunrise Corner" and the hiring of a full-time economic development manager.
Monique Chenier fulfills that role and has seen the importance of the joint effort grow and gain recognition. She herself is nominated for an economic development award.
"These types of recognition programs give us yet another channel to raise awareness of all the great initiatives going on in our region," said Chenier. "If promotion and media coverage of the award serves to attract people to look into our region as a place to move, set up a business, invest in housing development, or come visit, then all the better."
Sunrise Corner is just one of the successful partnerships involving the neighbouring municipalities.
Key partnerships include the Piney Stuartburn Weed Control & Building Inspection District which is a long-standing partnership to share resources between the municipalities. Then there is the Buffalo Point Piney Stuartburn Waste Management Board formed to provide a home-grown solution to waste and recycling management.
Chenier believes this progressive partnership approach is important to keeping jobs in the region, and creates service levels specific to the needs of the ratepayers.
"We've done a great deal of community consultation to get a true understanding of how residents, businesses, volunteers, tourists, investors and other stakeholders would like to see our region grow," she explained. She believes formula allows the region to progressively move in the right direction.
As Sunrise Corner's first economic development manager, Chenier had a responsibility to start by focusing on foundational work that would provide strategic direction and the tools to achieve their goals.
In 2020, they undertook a five-year strategic plan for economic development following up with the implementation plan for the five priorities: business development, tourism, housing, marketing the region, and governance. The resulting matrix serves as the tool to set priorities and measure progress and success.
They have revamped the design, navigation and content of the Sunrise Corner Tourism website and created a new Sunrise Corner Economic Development site. These websites, promoted through an active social media campaign, provides current information to investors, businesses, residents, and tourists. They include a searchable business directory, event calendar, and active WorkFinder tool that connect residents seeking paid work or volunteer opportunities with local organizations. Over the past couple years they have also created several video series to share some of the highlights of the incredible people in the region both through Sunrise Corner and the very active Piney Regional Chamber of Commerce.
The "Incredible Sunrise Corner" series shares why Sunrise Corner is an incredible place to live, work, play, visit, invest and explore. They also created the "Sunrise Corner: Then & Now" series to highlight where they are today and where they came from. With the Chamber, they created the "Find Your Path" series where local workers share career opportunities with local youth that would enable them to stay in the region via three paths: direct to workforce, entrepreneurship and post-secondary. They also created the "Beyond the Pandemic" series of how the local Community Networkers, Positivity Spreaders and Growth Champions stepped up during the pandemic and beyond to help residents, organizations and businesses.
A detailed Community Profile, outlining all the reasons Sunrise Corner is an incredible place to live, work, play, visit, invest and explore was published both online and printed versions. This document is used as a tool to discuss opportunities with potential investors and attract new residents.
They have also been a key team member in developing the Shared Legacy Partnership, an initiative led by the Nature Conservancy of Canada with Sunrise Corner and Province of Manitoba. With funding provided by Environment and Climate Change Canada, their goal is to advance understanding of the wonder of Manitoba's unique and endangered Tall Grass Prairie Natural Area, its relationship with agriculture, and the natural heritage that benefits all residents.
On the tourism front, they are a founding member of Eastman Tourism's Experiential Tourism Program that helps local entrepreneurs create an experience where visitors actively and meaningfully engage with a place's history, people, culture, food, and environment.
"We will be launching one of these Legendary Experiences this summer in Sunrise Corner," said Chenier.
Chenier believes the greatest challenge she faces is simply the sheer number of opportunities that are arising as they get the word out about why Sunrise Corner. While opportunities are never taken off the table, prioritizing has become essential.
"Some initiatives will take some time to see results," she admitted.
"On a personal level, it is very satisfying to come back to my home town and be in a position to contribute to positive change by building on the momentum of community volunteers, business owners, and the municipal staff and Councils," said Chenier who confesses she loves her job and the area she grew up around. "It's actually a bit of an adrenaline rush when you meet new people moving to the area who share my excitement about the potential of our region. Again, it's all about progressively building a foundation for future growth that is sustainable and contributes to our exceptional rural quality of life."
Celebrating Over 25 Years of Service to Our Communities!
Dawson Trail Dispatch May 2023
Kismet Creek Farm Holds First Ever Adoption Event
Ste. Anne Fire Department Receives Grant Funds
The Ste. Anne Fire Department was a recipient of a Community Fire Department Grant, part of the 2023 Ag Days Gives Back 50/50 draw proceeds.
The $2,000 they were awarded will go towards the purchase of grain rescue equipment and air bags, which are used to lift heavy items in the event of an accident with entrapment.
By Angelique Forest
In a first ever of its kind for the rescue farm, Kismet Creek decided to host an adoption event for 8 puppies in need of good homes.
Karl Schoenrock, owner of Kismet Creek Farm, received a call from a woman that needed some help re-homing these puppies.
"I told her, I only take in livestock, when I can but the least I could do was offer my party room to her to hold this event," said Schoenrock.
"When I heard how stressed she was with all of these adorable beauties, I knew I had to help somehow."
"She lives in Vita, so this made it easier for her to meet people at one place at one time," he added "The plus though, was seeing how happy everyone who adopted a pup was, they definitely made my day."
Even though the event was a huge success, and all the puppies found their fur-ever homes, Schoenrock believes that if he is to host future events it would be in partnership with a proper rescue.
"This is not something I want to do all the time, it just happened that my party room was not booked that day," he explained. "In the future, I would only be more open to having a registered rescue who would hold the event at the farm."
Photos courtesy of Karl Shroenrock
Karl Schoenrock, owner of Kismet Creek Farm, received a call from a woman who needed some help re-homing these puppies.
8 puppies were in need of good homes.
Celebrating Over 25 Years of Service to Our Communities! Dawson Trail Dispatch
Richer Firehall Targeted for Paving Project
By Dan Guetre
Utilizing the Canada Community Building Fund, formerly known as the Gas Tax Fund, the RM of Ste. Anne plans to perform some minor paving work at their firehall in Richer.
"Some minor paving work will be completed this year, as work done last year left a small unpaved area in front of the new door," explained CAO Mike McLennan. The new door he refers to was a project completed late last year.
He believes the project will cost less than $15,000 if they schedule another community paving project to be completed at the same time.
"To reduce costs, this will be occurring in conjunction with another paving project… resurfacing the Hwy #1E Service Road to the west of PR 302 in Richer," he explained. "…both planned to start in late spring/early summer."
RM of Piney Receiving High Volume of Dog Complaints
By Dan Guetre
Dogs running at large and incessant barking have translated into many complaints coming into the RM of Piney municipal office recently forcing them to remind its residents that there is a by-law in place that regulated what pet owners need to adhere to.
"If you are a dog owner, you have legal responsibilities under the Animal Control By-Law," said the municipality in a statement. Those not respecting the by-law, put in place to protect relationships between neighbours, could force the municipality's hand to take additional measures.
"If these problems do not get resolved in the near future, the RM will consider a more drastic form of animal control to maintain the safety of the public," added the municipality.
The RM is hoping a reminder of the by-law in place will help so they can avoid a more drastic response.
In the municipality, all dogs must remain on the owner's property unless leashed and not be allowed to run at large off property. Also, dogs are not allowed to defecate on public property and if a dog does defecate on public property, the owner shall clean up the excrement immediately. This also applies to private property that is not your own. They add that no dog shall pursue, worry, wound or bite any person or other animal whether or not the incident is on the owner's property. Dog owners must ensure their dog is not barking or howling in any other way that unduly disturbs the quiet of any person or persons anywhere in the municipality.
According to the municipality, if there are any infractions of the by-law, the owner will be deemed to have failed or refused to comply. This includes any property damage, biting, chasing of people or other animals.
0
May
2023
In the municipality, all dogs must remain on the owner's property unless leashed and not be allowed to run at large off property. Submitted photo
Dawson Trail Dispatch May 2023
Celebrating Over 25 Years of Service to Our Communities!
Niverville and RM of Hanover Agree to Annexation Deal
Due to growth, Niverville has signed an agreement with the RM of Hanover to incorporate vacant land in Hanover to the Town of Niverville, redrawing the municipal boundaries.
Currently Niverville has limited urban commercial, industrial and institutional vacant land available to accommodate development within its boundaries and has been discussing with Hanover a proposal for annexation of land.
Without much opposition, the RM of Hanover and Niverville also agreed that the annexation would proceed expeditiously. The Town of Niverville will virtually see the land under its jurisdiction just about double in size adding over 2,500 acres.
Niverville has agreed to pay Hanover annual instalments starting the year after the planned area is annexed over 10 years. Payments will be adjusted annually being reduced by 10% each year starting with 100% in year one and ending with 10% in year ten.
In addition the Town of Niverville will be responsible for all expenses incurred within the annexed area with the exception of any commercial corridor zone. In the commercial corridor zone has both municipalities equally responsible for all costs and equally entitled to any revenue.
The final step will be a proposed public hearing in front of the Municipal Board.
The Town of Niverville will virtually see the land under its jurisdiction just about double in size adding over 2,500 acres.
Submitted photo
2023
Ritchot Approves Abattoir Despite Large Opposition
By Dan Guetre
An industrial park on the edge of Ste. Agathe will soon be home to Iman Freshest Meat, an abattoir that will focus on producing Halal meat. The plan is to build in the Riel Industrial Park.
Ritchot council hosted a public hearing to allow the public their input. Dozens packed the seats and over 50 pieces of correspondence were received opposed to or had concerns about allowing the facility.
While the majority of production will be poultry, Muuxi Adam, who represented Iman Freshest Meats, explained they may also allow others who require a provincially licensed facility to share the space occasionally.
Adam currently distributes Halal meat but explained he saw an opportunity to focus the entire supply chain in Manitoba. Currently he brings the meat in from Alberta who has a processing plant.
"The issue is, we like to buy local," he noted during his presentation and added this project could benefit local farmers.
Additionally, he predicted that the facility will create 5-8 local jobs.
Adam spoke in length to assure residents that the facility would have constant Provincial and Federal oversight ensuring that regulations spanning multiple departments were adhered to.
Logistically, the abattoir will process about 3,000 birds a week. He assured everyone that the plan includes processing the birds when they arrive so there will be no live animals stored at the site.
Despite 13 people speaking in opposition to the project, and dozen of letter, council approved the project albeit by a narrow margin of 3 votes for with two councillors voting in opposition.
Concerns expressed from residents ranged from decreased air quality, deflated property
values, an abundance of waste and increased water requirements.
Adam cited that both Provincial and Federal regulations are very restrictive and Iman Freshest Meats will not only abide by those regulations, but will also implement the latest technologies to be less impactful on the local environment.
The majority of council agreed and approved the facility with a couple of additional requirements that residents brought up.
Celebrating
of Service to
Communities!
Over 25 Years
Our
Dawson Trail Dispatch May
Ritchot Mayor Chris Ewen, along with his council and dozens of residents, listen to Muuxi Adam's proposal to set up a poultry abattoir in Ste. Agathe.
Site location of the approved abattoir plant in the Riel Industrial Park by Ste. Agathe.
Zoom / Submitted photos Archive Issues available online: www.dawsontrail.ca
Goin' Downtown
With the announcement of the new Southesast Events Centre, business owners and merchants in Steinbach are hoping for a revitalization of the downtown core and a lot more foot traffic.
By Myriam Dyck
betting on this revitalization are Amanda and Paul Lanteigne and
Andrew Schinkel, the owners of GNM Jewelry (formerly Gold 'N Memories). They are the second generation working as jewelers in the Steinbach area, and their children are now continuing the tradition into the third generation.
GNM Jewelers was originally located in the heart of downtown Steinbach when it was opened 37
ROC Eastman Chosen as Beneficiary for Tim Hortons Smile Cookie Day
By Angelique Forest
The Steinbach Tim Hortons stores have chosen ROC Eastman as their charity recipient for Smile Cookie week.
This is an honour interspersed to them a number of times over the past decade. Most recently in fall of 2021, the smile cookie campaign raised over $20,000 for the family recreation-focused group.
"As is with every fundraiser we do, we are grateful for any amount, and go in with no expectations," said Steph McLean, Development Coordinator and Family Recreation Practitioner for ROC Eastman. "Tim Hortons does an amazing job at promoting this great event, and gives us wonderful tools so we can promote it as well, so we are confident that it will be successful in raising both awareness and funds. Big or small, every portion makes an impact."
Many children and families who are just starting to find activities that they love are supported by ROC Eastman, and fundraisers like Smile Cookie Week provide ROC Eastman with funds to be able to continue to reduce barriers to these activities for these kids. In summer, common barriers are transportation, safety (access to equipment like life jackets, sport helmets, etc) and the ability to find activities that entire families can attend together.
ROC's fundraising goal for the 2023/24 year is $277,960.
"With numerous fundraisers and events on the horizon, we are excited to work towards this goal so we can continue to expand our services into more rural and secluded communities in the Eastman region, supporting new families with their individual and unique needs to reduce recreation barriers," added McLean. "ROC is surrounded by such a wonderful and supportive community!"
years ago. Then 20 years ago, the business moved uptown to the Clearspring Mall, where it has continued and grown over the years to the point where their available space was starting to feel very limited.
This year an opportunity presented itself to buy a suitable building on Main Street, and the owners decided it was a perfect time to move back to their roots in the downtown core. The new building gives them approximately three times as much floor space as they had in the mall.
"The local merchants and the Chamber have been very welcoming," said Amanda Lanteigne. "We wanted to build a legacy for our
children to continue the business into the future, and there are many advantages to being downtown."
Amanda said that with the new Steinbach Credit Union building being just down the street there are a lot more people walking around during the daytime, and that there are many people who live around the downtown area who don't drive so they really appreciate being able to walk to nearby stores for their shopping.
Additionally, the newly planned Southeast Event Centre will be located downtown, replacing the current Centennial Arena, and connecting to the existing community plaza, T.G. Smith Arena, Stein-
bach Curling Club, and Keystone Theatre. The facility will include a main venue that can be used for concerts, events, ice sports, tradeshows, and ceremonies as well as a multi-use hall/gymnasium and atrium. This is now seen as more reasons to locate a business in the core of the city.
The downtown location of the Southeast Event Centre is in line with the City of Steinbach's Official Community Plan, which maintains downtown as a dynamic public space, and realizes significant construction benefits from existing infrastructure and services. The facility design also provides for ample parking.
Dawson Trail Dispatch
Photo by Myriam Dyck
Hello readers and welcome to another spring (or should I say, springish?) month. That's right, the snow has finally melted away from all but the most hidden places, the birds have returned and my wife and I have even heard the frogs beginning their springtime serenading. It is great to feel the sun, on the days that it peeks out from behind the clouds, and to feel the warmth carried in the wind, on the rare days when it's not raining. Much like a renovation job, things need to get messy before things get better. Thankfully, like the years that have passed before, we know that things will get better.
One recent issue that my wife and I have found ourselves dealing with is with our vehicle. It seems that it had started out slowly and stealthily until the moment arrived where we realized that there was an issue and that it needed to be dealt with. It appears that both our rear struts have become worn out and need to be replaced. Thankfully, they are not to the stage where the vehicle is undriveable but they are at the stage where the back end bounces. It is almost comical in the way it bounces as we hit a bump in the road or when the tires find a pothole. Much like some cars in the movies that have an air suspension that they can engage to make their car bounce up and down, I imagine that this is what it must feel like. Not to worry, the parts are here and the bounce will be settled soon.
A joy of spring that we have once again been introduced to is our wonderfully long driveway. Having been hidden beneath a layer of snow and ice for these many longs months it is great to see it appear once again. Made of what I can only imagine being grass, dirt, clay and an a-base layer, our driveway is a challenge during the wet springtime weather. With our driveway having become a mix between a mud pit and a rutted trail that is usually only found in the most desolately located horror movies, it has become quite an adventure each time we leave home and return. On the plus side, my son, wife and myself are very good at swerving and dodging holes and have learned intuitively where the soft spots are. This is a great skill to develop in case we are ever hired by a company that needs us to race their Baja cars across the wilderness. Fingers crossed.
Despite the challenges and the issues before us, we will continue to press on. The vehicle will be fixed and the driveway will become dry and flat. No worries dear readers, it will all get better and this will be a great summer to experience. Stay tuned!
RM Sets Sights on Grand Opening for Giroux Heritage Park
Until next time, take care and keep your world spinning.
By Dan Guetre
The RM of Ste. Anne council has spent the past couple of years focusing on the park in one of their urban enclaves to make it more family friendly.
The small park in Giroux, official known now as the Giroux Heritage Park has received a facelift and the RM of Ste. Anne is planning a Grand Opening of the Park to be held on June 3 from 11am-2 pm. The public is invited.
"In 2022, fencing was installed to ensure safety along the rail line, lighting was added to the covered picnic area, and a new playground with an accessible swing, and associated landscaping was completed with an approximate total cost of $85,000," said RM of Ste. Anne CAO Mike McLennan.
McLennan noted the cost for the project was largely offset by grants through CN Rail ($20,000) and the Building Sustainable Communities Program ($42,000).
"The new ice rink lights, as well as work on the
Back End Bounce Search for Ryan Maynard has Ended
rink boards were included in the 2023 Financial Plan, with work starting in the coming weeks," he added.
More improvements could be on the table at a later date.
"Council has had some preliminary discussions for projects in 2024, though nothing is yet confirmed," he said.
Up until a few years ago, the park was owned and maintained through a private community group, noted McLellan.
"Upon acquiring the park, Council felt it important to invest each year to increase both a social and recreational space for the surrounding community," he said. "These spaces help sustain communities and can lead to improved physical and mental health for users. The RM values our residents' well-being and felt Giroux was a great area to invest in these opportunities as there are no other local options for recreation of this nature."
RCMP have confirmed that the body found near Hespeler Street in Steinbach on April 12, 2023, is that of 29-year-old Ryan Maynard, who was reported missing on November 27, 2022.
Although no criminality is suspected in his death, RCMP await the results of the autopsy.
Celebrating Over 25
of Service to Our Communities! Dawson Trail Dispatch May 2023
Years
Ryan Cody Maynard. File photo
The small park in Giroux, official known now as the Giroux Heritage Park has received a facelift and the RM of Ste. Anne is planning a Grand Opening of the Park to be held on June 3 from 11am-2 pm. The public is invited Submitted photo
Tache Approves Recreation Master Plan as Guide to Next 20 Years
By Dan Guetre
A comprehensive RM of Tache Recreation Master Plan has been accepted by the municipal council with the hope it will guide current and future Councils and administration for decision-making regarding recreation over the next 20 years.
"The creation of this document involved stake holders, public and council," said Tache CAO Christine Hutlet.
Hutlet believes the municipality can ensure a proactive approach is taken in managing changing conditions, addressing new and persistent challenges and enhancing recreation through investment in recreation opportunities within the Municipality.
She added that this can be accomplished in a sustainable and predictable manner, while promoting the community's shared aspiration for Tache moving forward.
Action is the next stage to meet and plan for the next goals.
"There has already been some movement toward meeting some of the goals such as the construction of the Tache Community Centre that will include a new arena, library and seniors centre," said Hutlet.
Hutlet also believes that the municipality can now use this document to drill down and create more in-depth master plans for other facets such as the Centre of Canada Park Master Plan and the creation of an Active Transportation Master Plan. A principal result of all of this would to set the path for short and long term budgeting processes.
were also given an opportunity to complete a survey.
Tache Rec Plan Sees Ross as Vulnerable
By Dan Guetre
The new Tache Recreation Master Plan is not all good news as the results display a weakness in recreational services in the community of Ross, the furthest urban centre on the eastern fringe.
But, a lot can happen between the time the data for the plan was compiled and the date of publishing.
"The Ross Community Centre has had an infusion of new volunteers that will be getting things up and going," said RM of Tache CAO Christine Hutlet. "The ice rink over the winter and the events being planned with the new board members show a strong revival of the community efforts."
"Council and Administration has been actively working with the Ross Community Centre and has a desire to see them succeed and provide the recreation services to members of our communities," said Hutlet. "To further show support, a Council member is designated as a Committee Representative to the Ross Community Centre Board to give that support to the volunteer committee. This has been an ongoing appointment for many years and it's important for the board and community to know the support is here."
Hutlet said Tache is currently looking at increasing recreational services across the RM, which will include Ross Community Centre, and with the strong efforts of the board, "we feel that the utilization of the facility can and will be enhanced in the future."
Additionally, the RM of Tache recently hired an Economic Development Officer that will look at Economic and Community Development as whole which will include the community of Ross said Hutlet.
Over 25 Years of Service to Our Communities! Dawson Trail Dispatch May 2023
Celebrating
Residents were invited to discuss Tache recreation at public meetings. They
The Ross Community Centre saw reduced board volunteers in the past few years.
Submitted photo
Dog Training Sessions Coming to St. Pierre-Jolys
By Angelique Forest
For the first time, dog training sessions are coming to St. PierreJolys through a 5 week program this summer. The program is hosted by Rat River Recreation and the Wellness Center, Training Loyal Companions.
Training classes are open to any dogs who are over the age of 12 weeks with two DAPP vaccines administered at 8 and 12 weeks of age. Dogs can attend as long as they are friendly with other dogs and people, and respond well to food or reward-based training.
So far, there are 7 dogs registered, with lots of room for many more! Classes are 8 dogs per session. With more demand, they could start another class at 7:30 pm as needed.
"Group dog training classes are an excellent resource for connect based training and building selfconfidence with our canine com -
panions," said Christie Golebiowski, the owner of Training Loyal Companions. Golebiowski has been a Certified Dog Trainer for over 18 years.
The training class they are offering is life skills training. It will offer the basic command responses such as sit, down, stand, stay, impulse control, self control exercises, recall or come when called.
With these training classes they will also offer emailed canine education support with jumping behaviours, chewing, biting and mouthing, and barking information. Additional their email communication education with include canine communication and understanding what your dog is communicating to you.
Final a graduation class is offered that includes nose work training and friendly doggie competitions.
Collision Closes Trans-Canada Highway for Several Hours
On May 1st, 2023 at 14:03 the Richer Fire Department responded to a motorized vehicle collision on Highway 1 at road 42E. Upon arrival, it was determined that there were two semis with trailers blocking the eastbound lane, both overturned and twisted, with both drivers needing extrication. With the help of the Ste Anne Fire Department and Dr. Hook Towing, RFD are very proud to say that after 2.5 hours of a VERY meticulous extrication process, both drivers were taken out of the wreckage and sent off with EMS/STARS. The drivers are in stable condition.
Photos RFD Facebook
May
Celebrating Over 25 Years of Service to Our Communities! Dawson Trail Dispatch
2023
The training class they are offering is life skills training.
Submitted photo
Celebrating Over 25 Years of Service to Our Communities! Dawson Trail Dispatch May 2023
Wildlife Haven Celebrates Release of "Otter Twins" Back to Wild
By Dan Guetre
The Wildlife Haven Rehabilitation Centre had the opportunity to send a pair of otters they were looking after back to the wild after determining they had a clean bill of health.
This pair of otters were brought to the rehabilitation centre sick and injured and spent the winter getting the medical attention they required. When found, their mother was discovered dead on the nearby road.
"We wanted to share some exciting news with you - the otter twin patients have been released!" said Zoe Nakata, a Wildlife Haven Team member. "It was heartwarming to watch. One otter encouraged the other to come out of the crate, and they hung tightly to each other when entering back into the wild, where they belong," she added.
She recognized the growing support the centre has received over the years to make these releases possible.
"Your generosity truly made a difference in their lives, and we are so grateful for your help!" is a message she wants the public to hear. "Thank you for your incredible support over the winter. You provided the otters with the care they needed to regain their health and strength. Your donations went a long way in providing food, shelter, and medical attention to these amazing creatures."
More information and stories are available at wildlifehaven.ca.
Municipal and Provincial Discussion Moves Forward on Intersection Safety
By Dan Guetre
As the years roll along, some headway is being made on options that could make the intersection of PR 210 and the PTH 12 safer.
Although not a formal committee, the RM of Ste. Anne Reeve, the Town of Ste. Anne Mayor and their respective CAOs have met with the Manitoba Transportation and Infrastructure (MTI) department.
"Recently, Reeve Pelletier and Mayor St. Vincent from the Town of Ste. Anne, along with both CAOs, Marc Darker and I, met with a representative from MTI about our ongoing concerns," explained RM of Ste. Anne CAO Mike McLellan. "We were informed that some concepts for interim safety measures will be available for discussion with MTI in the coming weeks, and long-term conceptual planning should commence later this year."
Residents have raised concerns about the intersection over the years noticing a high number of accidents, including multiple fatalities.
"In the fall of 2022, Council had requested that administration contact MTI for an update on planning that had already commenced surrounding this intersection," said McLellan. "This is a continuation of these efforts, which also includes ongoing advocacy from our dedicated community members."
"The RM and Town are awaiting communication from MTI in regard to both short term and long term ideas to increase safety at this intersection," he added. "MTI is engaging in a design study to look at long term solutions for this intersection, which is planned to commence later in the year. This study will have opportunity for public consultation and feedback."
In the meantime, McLennan says MPI has offered use of a speed board in the area to draw attention to speeding.
"The hope is if drivers are not speeding, this would increase reaction time and reduce collisions," he said. "Additional supports are being explored which include driver's education resources."
This pair of otters were brought to the rehabilitation centre sick and injured and spent the winter getting the medical attention they required.
"One otter encouraged the other to come out of the crate, and they hung tightly to each other when entering back into the wild, where they belong." said Zoe Nakata, a Wildlife Haven Team Member.
Submitted photos
Celebrating Over 25 Years of Service to Our Communities! Dawson Trail Dispatch
The 3rd Colour Belt Promotion Test of Aethos Taekwondo
By Lionel Bernier
Of special mention is the performance of Amelia Neufeld of Lorette, specifically her performance of pushups performed on the knuckles. Without any complaints or informing anyone on the testing committee that she was in a cast due to a fractured scaphoid bone in her left wrist, she completed the required ten push-ups asked of white belt students. For this display of determination, Melody Tardiff and Master Lionel Bernier nominated her for the Perseverance award.
Their next colour belt promotion test is scheduled for June 24.
belt/green stripe), Aubree Woodhall (yellow belt/green stripe), (Colin Kehler (yellow belt), Kodzo Tata-Deku (yellow belt), Julienne Gloria (yellow belt), Bodhi Johnson (yellow belt), and Daniel Bivol (yellow belt). Thirteen additional certificates covering a range of categories were also awarded.
For the first time in their short history, two students were promoted by two ranks. This happens when a student has previously earned a Most Improved certificate and, within a 12 month period, is nominated and presented with an Improved certificate. Such was the case for Kaiden Neufeld of Ste. Anne who earned his Most Improved award at the October test of last year and Anna Diadiun of Lorette who earned her Most Improved award at the January test of this year. This double occurrence will likely not happen again for a very long time. This is also the first time that siblings of a family were both nominated for Improved awards – Corbin and Aubree Woodhall of Ste. Anne Branch.
May
2023
Fifty-seven students participated in the test with all ranks of belts and stripes being sought.
Amelia Neufeld in foreground.
Photo by Aylee Braschuk
Photo by Evelina Wiebe
Casia Schreyer on left and Melody Tardii on right with Kaiden Neufeld.
Photo by Janelle Schreyer
Abbigail Keen and Elisabeth Fust at left and Master Lionel Bernier at right with Anna Diadiun. Photo by Rya Bernier.
Unique Mitchell Development Designed for Retirees
By Dan Guetre
A new adult residential active living development in Mitchell defines itself as being "Community Living Redefined".
The Prairie Oaks development features a modular home concept, a community centre and included maintenance services that benefit the home owners.
The modular home concept movement has been growing in popularity for anyone who wants to downsize and make life less complicated. Developer Schinkel Properties, based in Steinbach, took the concept and has applied it to the 55+ market, creating the new adult living community.
"Prairie Oaks it an adult community geared towards folks that want to transition to a 'lock and leave' lifestyle but don't like the idea of an apartment/condo shared wall," explained Mike Fast, with Royal Lepage - Riverbend Realty. Riverbend is tasked with marketing the development.
There is no shortage of amenities and services in the new development.
"We include snow cleaning, yard maintenance, a 3.5 acre lake, a 5,700 square foot club house complete with pool table, large TV's, hot tub,
fireplace and an amazing place to meet up with your friends for any occasion," noted Fast. "Prairie Oaks is designed as a master planned community and offers amenities that this type of buyer is looking for."
The concept may not be unique, but it could be considered a first with its level of quality in southeast Manitoba.
"Nothing in our area even comes close to what we're offering!" he explained referring to the quality of the development. "The vision started many years ago when we realized folks were looking for a way to leave maintenance behind but not move into a condo or apartment."
Fast, who is now ready to market this lifestyle, explained that the final concept took time to develop.
"We have been working on this project for over 3 years," he said. "It's been a lot of learning and work but we wanted to do this the right way."
Settling on the final "look" of Prairie Oaks meant understanding what was out there and infusing their knowledge into a targeted market.
"We looked at a few different ideas but a pre fabricated home in a community setting just made sense," said Fast. "We toured numerous communities and started to dream about what we could build if
we started from square one. Starting from scratch has advantages and we went with a more upscale feel for the development."
He admits this may add a bit to the cost of the home but he is confident the community will thrive.
"…we believe the modern buyers demand style and quality," he explained.
After a whirlwind tour of finding a firm to build the homes, Fast said they chose Triple M Housing in Alberta.
"The homes are built in a massive indoor plant that he says looks kind of like a car assembly line," said Fast. "They were proud to tell us that they modelled their line after Toyota and after seeing other plants, the difference in quality was clear."
Once the developer was satisfied their quality demands were met, the work began to customize the designs.
"They then worked with us and a local architect on the exterior elevations to make a stylish product," he added.
Having patience was key to all the proponents of the project.
"It was like Christmas when the first one showed up and we have been waiting patiently to show it off," he noted. "[Also] we wanted to wait until the club house was totally finished so that folks could see what will be the centre hub of this community."
The final pieces will come together before the end of summer.
"Were still missing the hot tub, asphalt, and some landscaping but that will happen this summer and we are gearing up for August 1 possessions," he said.
Prices will start around $235,000 for 1,044 square foot home which includes GST with monthly fees starting around $465. Homes available range from 960 to about 1,600 square feet and from 2 to 4 bedrooms.
May
Celebrating Over 25 Years of Service to Our Communities! Dawson Trail Dispatch
2023
The Clubhouse in the centre of the development caters to "active living". The public was invited to tour the facility recently.
Prairie Oaks promises quality in the homes located in the new development in Mitchell.
There is no shortage of amenities and services in the new development.
Planning Your Garden: Part Two
By Laura Reeves
In Part One of this series, we looked at evaluating your garden space, companion planting and starting plants indoors. So what's next? Well, you can simply put your seeds and dutifully caredfor bedding plants in the ground and hope for the best, or you can take some measures to maximize the health and productivity of your crops.
As the weather warms up and the ground thaws, it's important to prepare your bedding plants
for the big move to their summer home. Plants grown under "full-spectrum" lights, or even in a greenhouse, have limited to no exposure to UV light or wind. This makes them vulnerable to sun scald and wind damage if the move is too sudden. Therefore, it's crucial to go through the process of "hardening off". This involves gradually introducing your plants to the great outdoors over the course of about two weeks. Plan to make the final move in early June when the risk of frost is all but gone. (Too many times I've lost all of my plants to frost or spent my evenings running around covering them shortly after I put them in the ground.)
The first day or two put your plants out for a couple hours in the morning, before 10 am. The sun is strongest between 10 am and 2 pm so it's good to avoid this time period at first. Keep the plants inside during windy days until the stems have had enough gentle jostling to strengthen up. Each day, continue to increase sun and wind exposure. If any leaves turn white, it means they've been sunburned. There is no cure for sun scald or wind damage – though the plants will likely survive, it may set them back a week or more. If you have a lot of plants, moving them in and out every day can get old, so you may choose to leave them outside overnight. Keep in mind that temperatures of 10 degrees or lower will stunt their growth.
The hardening off period is a good time to prepare your garden beds and think about how you're going to manage weeds. If you have compost or manure that's aged for at least a year (no raw poop!), add it to your soil, lightly mixing it in with a rake or hoe (or your hand if you have a small space). Compost doesn't need to be deep – rain and worms do an excellent job of dispersing it. Alternatively, if you have limited compost, you can put a couple
handfuls in each hole before you put your plants in.
Weed control plays an important role in determining the success of your garden. How you go about it will be based on the size of your garden space, the amount of time you're willing or able to spend on it, and your physical ability. This is where raised beds shine. Weeds are much easier to pull from soil that's not compacted by walking on, plus they are less prone to "weed creep".
By far, the best way to control weeds is by mulching the soil (laying down a weed barrier) around your plants. Mulch shades the ground and keep weeds from sprouting. It also helps to retain soil moisture. Just make sure the soil isn't really wet or dry when you apply the mulch.
By reducing weeds, you can greatly reduce the need to till, which wreaks havoc on soil fungi. Soil fungi play a critical role in soil and plant health, creating small aggregates out of soil particles with their multitude of fine filaments. They also produce a protein called glomalin that acts like sticky glue. Soil aggregates are what create the pores and channels that air and water move through. They are also necessary for nutrient retention (sand leaches nutrients much faster than loam or clay). Tilling also damages worm populations.
There are many things you can use as mulch – straw, seed-free hay, wood chips, cardboard or thick newspaper weighed down with wood chips, shredded paper, cooked grass clippings, raw wool or black plastic. Fresh grass clippings often harbour seeds that will leave you beating back a lawn if you don't cook them first. Cooking simply involves piling them up and leaving them for a few days to a week. The high nitrogen content will cause them to heat up on their own, reaching a temperature high enough to create steam and kill any seeds. Mulches with high nitrogen content are especially attractive to worms.
Mulching may involve a lot of work up front, but it'll save you a
lot of time and stress later on. If you don't use mulch, try to keep on top of the weeds by hoeing them when they're just an inch or two tall. Anything larger will need to be pulled by hand. The benefit of pulling larger weeds is that they can be used as mulch (provided they haven't gone to seed). Lay them down on the soil like shingles, with the roots of each successive bunch overlapping the leaves of the previous bunch. This way they will shade the soil without re-rooting themselves.
Keep in mind that most weeds make excellent table fare. Lamb'squarters (wild spinach), portulaca, red root pigweed, dandelions, wild sorrel (dock), chickweed and others are great in salads and sandwiches, soups, breads and even desserts, rivalling planted crops in both flavour and nutrients. (See my book, Laura Reeves' Guide to Useful Plants – From Acorns to Zoom Sticks to learn more.)
One last thing to consider is protecting your garden from herbivorous animals and cats. Your strategy will depend on the types of critters you have (deer, raccoons, ground squirrels, pocket gophers), and what they're attracted to. Protection may be as simple as placing your potted plants out of reach, or as complex as building a fence that can keep everyone out. But chances are you'll have to employ a combination of protective measures. Scare crows, talk radio, motion sensored sprinklers and stinky water all have their place, but no matter what you do, someone is likely to find a way around it. For this reason, it's a good idea to split your crops up – put some beans here and some over there, for example – and plant more than you think you'll need.
Despite taking all of these measures, there will always be influences beyond our control – inclement weather or a visit from the neighbour's cattle. Every year is different, holding unique lessons, successes, and even losses, but it all adds up to the joy and allure of gardening.
0 Celebrating Over 25 Years of Service to Our Communities! Dawson Trail Dispatch May 2023
"Red Stalk" celery is an heirloom cultivar of celery dating back to the 17th and early 18th centuries grown for its red stalk bases and strong flavour.
Mulching may involve a lot of work up front, but it'll save you a lot of time and stress later on.
Photos by Laura Reeves
Celebrating Over 25 Years of Service to Our Communities!
How to Backyard Big, Even in Small Spaces
Backyarding is the practice of taking everyday activities – think entertaining, eating, working, and working out to name a few – into the green space around us. Even those living in an urban setting with a smaller yard – or no yard at all – can enjoy the benefits of backyarding, according to the experts.
"Thanks to smaller yards, community parks, and neighbourhood green space, backyarding big even in small spaces is possible," says Kris Kiser, president & CEO of the TurfMutt Foundation. "It takes a little planning and adopting what we like to call a 'master backyarder' mindset."
This is terrific news since a recent survey conducted for the TurfMutt Foundation by The Harris Poll indicates that backyarding is increasingly important to people. More than threequarters of people who have a yard (76%) say the family yard space is one of the most important parts of their home, according to the poll. Additionally, nearly a quarter of people who have a yard (24%) say they spend more time in their yards now than before 2020.
The TurfMutt Foundation offers this advice for getting outside and enjoying green space when you have a small yard…or no yard at all.
Plant with purpose. Plan carefully and creatively to utilize every square inch of living landscape real estate in support of your lifestyle. Need a place for your pet to do her business?
Plant a small patch of grass. Long to take work outside? Set up a table in an under-utilized side yard (complete with a living landscape backdrop, of course) that can double as an outdoor dining area. Love nature? Plant a butterfly bush.
Use plants to create privacy. Rather than putting up a fence in a small yard, consider a "living wall" of trees or shrubs. It will make your outdoor space feel bigger and offer support to backyard wildlife and insects. Win, win!
Go vertical. Don't forget to incorporate vertical space into your planting plans. You can hang flower baskets on your fence or railing. A trellis laced with living vines is a gorgeous focal point. Green walls are all the rage and utilize blank wall space to create a living landscape feature.
Utilize balconies & patios. Even if you don't have grass or any soil to plant in, you can utilize containers to plant flowers, herbs, and even fruit and vegetables. There are also many planters available that attach to balcony railings.
Remember right plant, right place. Selecting the right plants for your lifestyle and climate is key to mastering a small backyard space. Consult with your local greenhouse for help selecting the best plants for your microclimate. This will not only ensure you end up with plants that will thrive with minimal upkeep, they will also be best for supporting local pollinators.
Enjoy community green space. Take your kids to the park for a study session. Walk the dog through the community green space at the end of your road. Plan a doggie playdate at the local dog park. These are all wonderful places to get a dose of Vitamin N(ature).
Dawson Trail Dispatch May 2023
Backyarding is the practice of taking everyday activities – think entertaining, eating, working, and working out to name a few – into the green space around us. Submitted photo
Well Water Testing Days in the Seine Rat Roseau Watershed District
By Angelique Forest
Well Water Testing Days are BACK! The Seine Rat Roseau Watershed District will be assisting residents with private well water testing for the presence of E. coli and coliform bacteria.
The provincially subsidized cost of private well water testing is $25 including tax. Each legal location is eligible for one sample per well at the subsidized rate. Regular rate is $30. Payment may be submitted by cash or cheque only, with cheques made payable to Horizon Lab Ltd.
Water sample bottles and application forms can be picked up in advance at your participating RM office. Water samples must be taken on the same day as the drop-off. Drop your water sample off at your participating RM office prior to 10 am, along with your completed Chain of Custody and SRRWD Application forms. Only those samples that are accompanied by correct payment and completed forms will be accepted.
RM Private Well Water Testing Days will take place on Thursday, May 25th and Thursday, June 22nd, 2023.
Have questions? Contact them at administrator@srrwd.ca or call them at 204-326-1030.
You can also find these details on their website: https://srrwd. ca/2023/04/17/2023-well-water-testing-days/
Drop-off
How to Grow the Perfect Garden this Spring
Boundary St., Vassar
Getting
Few things say spring like a fresh garden. Getting your plot ready for the season can spark joy after months of the winter blues. Whether you grow your own fresh produce to use in the kitchen or just want bountiful blooms, here are four tips on how to grow the perfect garden this spring:
1) Know what to grow. Your environment will determine the success of your plants, so it's important that you consider things like temperature, rain patterns and the amount of sunlight in your outdoor space. Research if the environment
spark joy after months of
will allow seeds to thrive or if your garden is better suited for young plants. It's always best to grow native plants wherever possible to help nurture your natural environment.
2) Pick your plot. Not everyone has room for an in-ground garden, so building a garden box may be the perfect choice. Any fearless DIYer can fashion themselves a garden box with easy-to-use hand tools such as the ones from Benchmark. You can find plenty of design plans online to get started, but the best part about building your own DIY garden box is that you can customize it to whatever size and aesthetic fits your space.
3) Start simple. Consider how much time you can dedicate to your garden each week and don't overplant. Perennial flowers and produce such as carrots and cucumbers are a great place to start. You'll learn the dos and don'ts of growing very quickly.
4) Make sure you're well equipped. Having the right tools and supplies for your garden goes a long way. You'll need items including a watering can, proper gloves, hand shovels and mulch – all of which you can get at stores like your local Home Hardware. Expert advice paired with quality equipment will put your green thumb to work.
Article courtesy www.newscanada.com
The Benefits of the Grass Beneath our Feet
While many of us enjoy the esthetic beauty of a well-maintained lawn, sports field or golf fairway, they may not realize that there are environmental benefits of turfgrass. Next time you're playing a game of soccer, strolling through the golf course or taking in the smell of freshly cut grass in your neighbourhood, think about the power of healthy grass, which includes:
- Reducing the speed and force of flowing water runoff
- Preventing erosion by forming fibrous root systems
- Serving as a barrier to fire damage
- Reducing injuries on sports fields
- Reducing pollen production by
preventing the growth of weeds and helps keep allergies in check
- Has a cooling effect that lowers air temperature around turfgrass
to support four people for a year)
- Sequestering carbon (e.g. a hectare of golf course turf is capable of sequestering one tonne of carbon into
Celebrating Over 25 Years of Service to Our Communities! Dawson Trail Dispatch May 2023
locations
Steinbach 154 Friesen Ave., Steinbach RM of La Broquerie 123 Simard St., La Broquerie RM of Ste. Anne 395 Traverse Rd., Ste. Anne RM of Hanover 28 Westland Dr., Mitchell RM of De Salaberry 466 Sabourin St., St. Pierre-Jolys Town of Niverville 329 Bronson Dr., Niverville RM of Tache 28007 MUN 52N (Corner of Hwy 206 and PTH #1) RM of Ritchot 352 Main St., St. Adolphe RM of Stuartburn 108 Main St. N, Vita RM of Emerson-Franklin 115 Waddell Ave. E., Dominion City RM of Piney 6092
include:
Photo courtesy www.newscanada.com
your plot ready for the season can
the winter blues.
Next time you're playing a game of soccer, strolling through the golf course or taking in the smell of freshly cut grass in your neighbourhood, think about the power of healthy grass
Article
courtesy www.newscanada.com Photo courtesy www.newscanada.com
Watching Birds While Enjoying the Great Outdoors
Species at Risk Spotlight: Bobolink
By Norm Gregoire
May is a very exciting time in the tallgrass prairie, especially for birdwatchers. The spring migration is well underway, bringing new species to the area daily. At this time of year, I like to spend extra time outdoors welcoming back our feathered friends. The woods are loud with the calling of male suitors trying to entice females with their beautiful songs. After the breeding takes place, the real work begins by raising the chicks.
At this time of year, there is no denying the abundance of life in the tall-grass prairie.
When we think of tall-grass prairie birds, there may be no better representative than the bobolink. The bobolink is smaller than an American robin, with a short tail and neck.
Non-breeders and females have a mottled buffy-brown plumage similar to most sparrows and a pink bill. In breeding plumage, the male is dramatically different in colour. Breeding males are mostly black with a white back and rump, while the back of the head is a distinctive buffy, yellow colour and their bill is black. Another great identifying feature is to listen for the bubbly call of the bobolink.
Bobolink can often be seen singing in flight, or while perched on tall tufts of grass and fence posts. They are found wherever tall-grass prairie remains, plus other meadows and hayfields. These areas are preferred for nesting. The nest, which is built by the female, is found on the ground at the base of nonwoody plants. The incubation and nesting period last for two to three weeks.
As more native prairie is being lost, bobolinks are increasingly nesting in cropland. This can be an issue as their well-hidden nests can be inadvertently
damaged during harvest. I know of producers in the tall-grass prairie community that mark nests before harvest in order to avoid destroying them, an absolutely amazing effort on their part! In turn, bobolink can benefit agricultural areas as they feed on a variety of insects, including those that may be harmful to crops.
Bobolink are also one of our most spectacular songbird migrants, having an annual migration of nearly twenty thousand kilometres which may end as far south as Argentina. Throughout their lifetime, they will travel a distance that is equal to going around the world five times!
Community Bird Walk
To celebrate the incredible migration of the bobolink, and all of our other spring migrants, join me for a prairie focused bird walk on World Migratory Bird Day. This free event in taking place on Saturday, May 13, with both morning and early evening departures available. The morning walk will run 9 am - 11am and the evening walk 6:30 pm – 8:30pm, both departing from the Manitoba Tall Grass Prairie Preserves' Agassiz Interpretive Trail, which is located west of Vita. All are welcome. Please register with Norm at info@sharedlegacymb.ca. See you there!
Safety.
It's in Your Hands: What Lies Beneath the Surface Can Kill You!
Whether you're a property owner planning an outdoor project, or a contractor hired to do the work, it's essential to have underground power lines, natural gas pipes, and other utilities marked before your work begins.
If your project will disturb the ground deeper than 15 centimetres (6 inches), go to ClickBeforeYouDigMB.com or call 1-800-940-3447 to submit a locate request at least three working days ahead of your project. It's easy, and it's free!
Hitting an underground electrical or natural gas line can result in severe injury or death. It can also cause:
- A widespread power outage or natural gas disruption that may include evacuation.
- Release of natural gas that may catch fire or explode upon ignition.
- Expensive repair of utility infrastructure with the cost becoming your responsibility.
- Damage to property and excavation equipment.
After utilities are marked, follow the safety instructions, and proceed cautiously, exposing cables or pipes with a shovel, not a machine. You may need a Safety Watch provided by Manitoba Hydro. Don't put people and property at risk! Before you dig, drill, or excavate, contact ClickBeforeYouDigMB.com to know what's below. One-click or call could save your life!
Learn more at hydro.mb.ca/safety
May
Celebrating Over 25 Years of Service to Our Communities! Dawson Trail Dispatch
2023
Photo by Stacey Carnochan
Bobolink are also one of our most spectacular songbird migrants, having an annual migration of nearly twenty thousand kilometres which may end as far south as Argentina. Throughout their lifetime, they will travel a distance that is equal to going around the world five times!
May 2023
Sainte-Bernadette Returns Home to St. Malo
By Angelique Forest fibres,
A new statue is finally completed and ready to replace the previous statue of Sainte Bernadette that was stolen last June from the Our Lady of Lourdes Grotto in St. Malo thanks to John Millar, a University of Manitoba graduate in arts who volunteered for the job.
Millar volunteered for this project pulled towards the one-of-a-kind status of the original statue. He explained that mannequin-style religious statues are no longer manufactured for common retail sale unless you're in Europe or the Philippines.
"Given my Filipino background, familiarity with this type of religious art, and my artistic talents, I thought, 'if not me, then who?'" added Millar.
The statue measures approximately 4.5 feet tall, the recorded histori-
and intricate detailing such as blood veins on her hands and fingernails.
It wasn't an easy project, as Millar soon found out.
"The experience of making the statue was very labour-intensive," he noted. "There were a lot of hours spent on the project; almost 100 hours were used on sculpting the face and hands alone, and all the hours for making the entire thing combined totalled to approximately a month."
Creating the right replica of Sainte Bernadette took Millar on a journey of research in order to represent her as accurately as possible.
"There was a lot of attention to detail because I really wanted to do Sainte Bernadette justice," said Millar. "One of my intentions for the completion of the work is to have visitors feel as if they're connecting with the real Sainte Bernadette inperson; it helps to establish a sense of humanity in her, because she was
a regular person just like us."
To Millar, the experience was also very spiritual. There was a lot of contemplation towards the purposeful anatomy of the human body and its wonders, and also contemplation towards the inspirational life that Sainte Bernadette lived.
"In a sense, you kind of play the position of the Creator where you are literally sculpting the main features of the figure in clay first, like God did in Genesis," he explained.
Millar was also thinking about how a piece of Manitoban History/ Heritage was lost, so he resolved to create a new piece of history to fill in that missing link. This replica of Sainte Bernadette's incorrupt body is the first and only to exist in North America, and he didn't want what made the shrine so special to be gone forever. These factors also led him to only ask to be paid for the materials spent because giving back to the community was more important to him.
The young artist believes that the statue will be safe from thieves this time around.
"I have faith that any possible thieves will be brought to guilt and justice if they attempt to steal the statue again," he added. He added that the locks and cameras installed to deter further theft will also help.
Millar did receive a bit of help from his father who, as a profession is a carpenter, helped cut and put the wood and copper tubing together that was used for the statue's armature/skeleton.
The Manitoba Métis Federation stepped up and funded the material for the project.
When the statue was completed there were a lot of people on social media in awe, sharing the news coverage, and they were thanking John for his work. That was the most rewarding part for Millar.
"This project has garnered so much attention locally, nationally, and internationally that I have deemed
Sainte Bernadette is back home in St. Malo. myself as the Filipino version of Michelangelo," he smiled. "He was only 23 when he created his worldfamous sculpture of La Pieta, the age that I am now."
The statue will be formally blessed in a ceremony on May 31 at the shrine with plenty of time before the annual pilgrimage on August 13.
Celebrating Over 25 Years of Service to Our Communities! Dawson Trail Dispatch
Artist John Millar with Leo Roch, a member of the board of the bilingual Roman Catholic parish of St. Malo/Blessed Margaret Pole, which oversees the shrine take in Sainte Bernadette's display.
Submitted photos
Manitoba's Pharmacare Program
Did you receive your annual letter from Manitoba Health that shows what your 2023 / 2024 Pharmacare Deductible is? The letters are dated mid April 2023. The current deductible is based on the 2021 tax year.
Pharmacare is the drug benefit program for eligible Manitobans, regardless of disease or age, whose income is seriously affected by high prescription drug costs.
Pharmacare coverage is based on both your total family income and the amount you pay for eligible prescription drugs. The total family income is adjusted to include a spouse and the number of dependents.
Each year you are required to pay a portion of the cost of your eligible prescription drugs. This amount is your annual Pharmacare deductible. Pharmacare sets your deductible based on your adjusted family income.
The deductible ranges from three to seven percent of your total family income. The lower your total family income the lower the percentage.
The Pharmacare year is from April 1 to March 31. So you begin to pay for your own prescriptions every April 1 and then when you reach your deductible, Pharmacare pays for the eligible prescriptions until March 31 the following year.
If you do not receive a letter, you may not have applied. I recommend every family apply now. You will need to at some point in your life (we normally buy more prescription drugs as we get older). You can find the application form on the Manitoba Pharmacare website; it is easy to complete.
Reduce Your Deductible
If your 2023 (and/or your 2022) family income will be reduced by greater than 10% from your 2021 total family income, you can request the deductible be reduced. There is an application form to be completed and proof of your reduced income will be needed.
I help individuals and couples throughout the year complete this form and get it in to Pharmacare. So if your income in 2023 will be much lower than it was in 2021 or 2020, I recommend you complete the form and get it into Pharmacare as soon as possible.
The most common reason for a reduction in income is retirement, but it can also be semi-retirement (reduction in employment income) or other reduced income. Even in retirement, your income may drop if you no longer have RRSPs (Registered Retirement Savings Plan) or RRIFs (Registered Retirement Income Fund), or other sources of taxable income may have dropped.
You can send in the request to reduce your Pharmacare deductible any time, but the sooner the better.
Deductible Instalment
Payment Program
Another little known fact about Pharmacare is the Deductible Instalment Payment Program. In some cases, a single prescription can be as much and sometimes more than a family's annual deductible amount.
The Deductible Instalment Payment Program for Pharmacare helps reduce financial hardship for individuals and families whose eligible drug costs are a significant portion of their monthly family income.
The Payment Program is an option for eligible Manitobans to pay their annual Pharmacare deductible in monthly instalments. This option will give those who have high monthly drug costs compared to their monthly income a way to pay their Pharmacare deductible in interest-free monthly instalments as part of their monthly Manitoba Hydro energy bill.
The financing program is administered by Manitoba Health. The role of Manitoba Hydro is to withdraw monthly payments from your account with your bank for the bill payment portion of the program.
To be considered for the program, applicants and/or their families must:
- First be enrolled with the Manitoba Pharmacare program;
- Have eligible Pharmacare specified drug costs over a 30-day period that are equal to or above 20 per cent of their average monthly family income;
- Have, as of the application date for enrolment in the program, reached or gone above their benefit limit for specified prescription drug coverage through another drug insurance or benefit plan; and
- Pre-authorize Manitoba Hydro to make automated monthly withdrawals from their bank or credit union account to pay for their Pharmacare annual deductible by way of monthly instalments.
If your prescription costs are fairly high and you reach your Pharmacare Deductible fairly quickly, I recommend you check out the option of the Deductible Instalment Payment Program. If you already have a Hydro account (pay hydro monthly) it will be added to your current bill. If you do not have a Hydro account (you rent and do not pay hydro yourself), you will need to apply.
If you need more information, you can contact Pharmacare directly, or drop in at our office and see me (after May 1 of course!).
Anni Markmann is a Personal Income Tax Professional and Certified Financial Planner; living, working, and volunteering in our community. Contact Ste Anne Tax Service at 204-422-6631 or 36 Dawson Road in Ste Anne (near Clearview Co-op) or Info@SteAnneTaxService.ca.
Steinbach Arts Council Fundraising Gala Online Auction Open
Celebrating over four decades of arts and culture in the community, the Steinbach Arts Council is excited to announce its upcoming Fundraising Gala on May 5. The in-person event will be held at the Friedensfeld Community Hall and promises to be a night filled with new and unique experiences and all the fun of past events, including a jewellery raffle, auction, and cocktail bar.
Featured artists at in this year's Fine Art auction include Leslie Paulet, Shireen Douma, Dennis Fast, Kevin Friesen, Kayla Hiebert, and Melanie Penner. Guests can look forward to live painting by artist, Melanie Penner,
showcasing furniture generously donated by Steinbach's Dufresne Furniture & Appliance.
Winners of this custom painted furniture piece, other fine art and jewellery raffle will be announced during the event.
This year, the auction will feature unique items and experiences, such as a tour with Minister Kelvin Goertzen of the Vaughan Street Jail and the Manitoba legislature, local artwork, inhome dining experiences, golf packages, and custom portraits among others.
Place your bids online until May 5 at steinbacharts.ca.
David Klassen, Executive Direc-
tor at the Steinbach Arts Centre, expressed his excitement for the upcoming event.
"This event will blend celebration and fundraising into one special evening," said Klassen. "It's all about community and providing opportunities so arts and culture can be accessible to anyone. That's why we'll also be offering special opportunities to contribute to our Creative Kids' bursary fund."
In addition to the auctions, guests will take in live entertainment, featuring Luminous String Quartet's upbeat renditions of popular hits, while guests enjoy curated wines, a photo booth, and hors d'oeuvres.
Over 25 Years of Service to Our Communities!
May 2023 Did you Know??... you can list YOUR business card in the Dawson Trail Dispatch Business Directory for as little as $49 a month!! We design your ad for you, no extra charge. Just choose the number of months you want your business card ad to run, no further input required! Call us today to book your ad at 204-422-8548 or email sales@dawsontrail.ca
Celebrating
Dawson Trail Dispatch
Celebrating Over 25 Years of Service to Our Communities! Dawson Trail Dispatch May 2023
C ommunity E v E nts
Falcon Beach
Bingo – Wednesdays at 7: 30 pm, early bird games at 7 pm at the Whiteshell Community Club 20 301 Pr, Falcon Beach. Contact 204-349-2293.
Friedensfeld
Steinbach Arts Council Annual Fundraising Gala – Friday, May 5 at the Community Hall. Take part in all your favourites like the online auction, Fine Art Auction, Jewellery raffle, and enjoy an evening of entertainment, fine dining, and exquisite wine. Tickets available at steinbacharts.ca. Celebrate over 4 decades of arts and culture in our community by reserving your table today. Individual Ticket: $125, Table of 8: $925.
Grunthal
Community Paint Night – Thursday, May 11, at 6:30 – 8:30 pm, New Horizon Centre. Enjoy a fun evening out and build community spirit by joining our paint night. Sign up now, spaces limited to 20 people. Cost $40. Snacks and beverages will be provided.
Coffee Connections - All adults ages 55+ are welcome to join us at the New Horizon Centre for a time of visiting, while enjoying coffee, tea and refreshments. Join us and bring your friends. There is no cost. Contact Anita Funk 204371-9134.
Ile des Chenes
Yoga - Thursdays at 9 am and Wednesdays at 9:30 am. Gentle yet invigorating yoga for adults 55+. $5 per class. Contact yogaforyoumanitoba@outlook.com to register.
La Broquerie
Drop-in Community Bike Repair Workshop – Tuesdays, 6 – 9 pm at La Bikequerie Inc, 36016 PR 210, and (the old Southeast Vet Clinic) Come; learn how to fix your bike. Bring a friend! We also have used bikes for sale. Contact Jacinthe Wiebe, 204-346-1515 or labikequerie@gmail.com.
Farmers' Market –From June 20 until September 26. Weekly market Tuesdays 3 -7 pm and monthly market, last Sunday, 11 am -3 pm. We invite vendors to apply through our online form available at facebook.com/labroqueriefarmersmarket. Deadline for submission is Saturday, April 15, or until spots are filled. Location is the La Broquerie Hotel parking lot.
Landmark
Fire Station's Pancake Breakfast Fundraiser - Saturday, June 3, from 8 – 11 am at the Fire Station (150 Main St.). Come and view the fire station, trucks, equipment, and meet the local fire fighters. The second Hope's Cradle in Canada will also be open for viewing. Bring the whole family to this community event which will include a silent auction and kids' activities.
Lorette
Family Library Night – Wednesday, May 10 from 6 pm7:30 pm at the Tache Library.
Tache Book Club – Thursday, May 18 from 7 pm - 8:15 pm at the Tache Library. Everyone welcome.
Tache Library Colouring Draw - Monday, May 29 at the Tache Library Everyone welcome!
Fitness Classes for Active Older Adults- Every Tuesday at 10 am, until mid-June at the Les Club Bles D'or. Strengthening using body weight, bands and free weights. Sign up $9 to mid-June or $10 drop-in. Contact Laurie, laurie@rmtache. ca or Tobi Ann 204-801-3133.
Family Fun Days – Friday, June 2 – Sunday, June 4 at the community complex. Early Bird tickets on sale now until May 12. Cost $10.
Marchand/Sandilands
Eastman ATV Ride for Mom- Saturday June 3. Family event
registration 9 – 11 am. Ride starts at 9 am. Starting point Suicide Hill. Includes lunch and chance to win a Door Prize.
Rain or Shine. Limited to 600 Machines. Register online cost $50 per machine, each additional rider $10. Day of event registration costs $60 per machine and $10 per additional rider. In support of CancerCare Manitoba Foundation with breast cancer research.
Mitchell
Toast & Coffee – On Tuesdays, drop-in for toast and coffee for $2 and a menu is available with prices according to what you order at the Mitchell and Area Community Centre, 130 Ash St. Contact Jane Penner 204-346-2469, jpenner@ jantre.com.
Niverville
Manitoba Makers Market - Saturday, May 13, 10 am to 3 pm at the Heritage Centre, entrance 100C Heritage Trail.
Admission- monetary donation. An Exclusive show for handmade items. Contact Chelsea Gauthier 204-388-500, events@heritagecentre.ca.
Piney
Mother's Day Tea & Southeast Farmer's Market – Saturday, May 13, 11 am – 3"30 pm at the community Centre. Farmer's Market, 50/50 draw, free will offering for lunch, games and door prizes. Proceeds donated to Area Food Bank.
ATV Mud Run & Giant Garage Sale –Saturday, June 10.
Admission to grounds $2, kids 12 and under free. Beer gardens, hot food and camping. Contact for Mud Run registration from 9 – 11 am, Wally Gushulak 431-205-1248.
Racing starts at noon. Contact for Garage Sale registration Nancy Brown Wally 204-408-0874. $20 per station. Bring your own tables. Set up at 9 am and sale at 10 am.
Richer
Mother's Day Tea at the Museum – Saturday, May 13, 11 am – 3 pm. Limited seating, get your tickets early. Assorted mini-sandwiches, dainties, coffee and tea. Have a memory photo taken with floppy hats in a vintage setting, music and all mothers receive a special keepsake and entered to win a door prize. Cost $12 adults, $8 youth ages 6-12, and free for children under $5. Contact Anita museedawsontrailmuseum.gmail.com.
Richer High School Rodeo- Saturday and Sunday May 13 and 14. Dawson Trail Park opens 9 am daily. Featuring senior and junior high school competitors from across the Province and beyond. Free admission for spectators. Food truck on site. Everyone welcome.
Ste. Anne Lions Club - Coffee, Dessert, Entertainment Evening – Friday, May 5 at the Young at Hearts Club. Featuring Daylin James as Elvis/Tom Jones, silent auction, 50/50. Doors open at 6:30 pm. Tickets $20 available at AJ Fiola Insurance, Pam's Hair Boutique, Ste. Anne Variety or from any Lions member.
Richer Recovery AA Group - Meets every Monday from 7:30 - 8:30 pm at LUD Hall. If you would like more information, call Jeff at 204-371-5518 or Albert at 204-380-3058.
Chase the Ace - every Saturday night at the Richer Hotel. Tickets on sale from 5 pm to 7:45 pm. Organized by the Richer Community Club, see Facebook page for more info.
Monday Night Bingos - To raise funds for Stacey Pchajek Memorial Foundation Inc. The foundation provides scholarships, bursaries and prizes to students graduating grades 8 and 12. Limited seats please reserve. Doors Opent 5:30 pm at the Young at Heart Club, 22 Dawson Rd. MGCC License # BI/BO4164. Contact Doreen Pchajek at 422-5243 or doreen@spmf.ca.
RM of Stuartburn
Services to Seniors - Free Shuttle for residents of the RM the first Friday of each month. Call to book a ride and do your banking and shopping locally or book your doctor's appointment and we will get you to your appointment. Call 204-425-3701.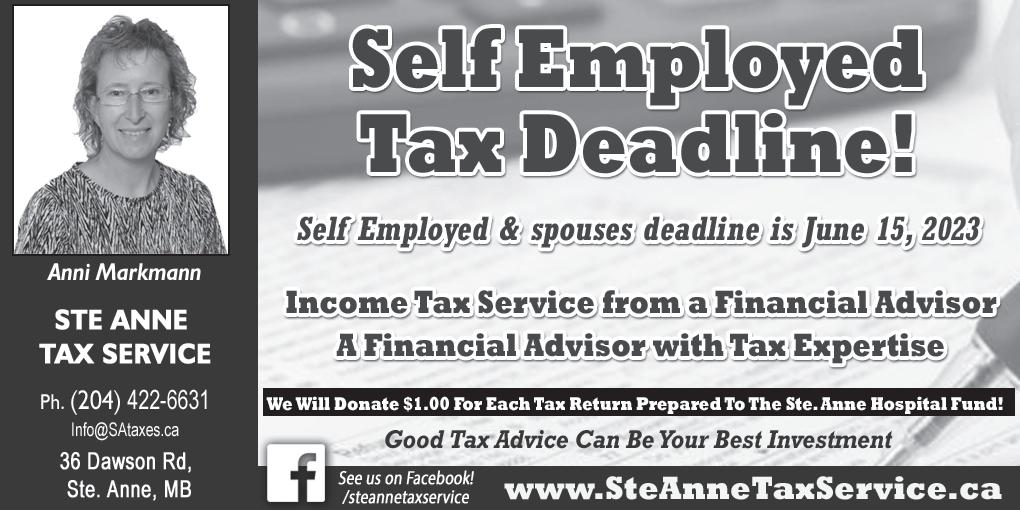 Services to Seniors Steinbach Shuttle - Subsidized cost $15/ person. Minimum of 8 participants required for the trip to take place. Departure from Shady Oaks at 9:30 am. Call 204-425-3701 to book a seat.
South Junction
Meet Your Neighbours Coffee Group- Mondays, at 1 pm, Pine Grove Senior Club, Highway 12 and Prevost St. and Thursdays at 1 pm at the Evergreens Senior Club at the Hall by railroad tracks.
Southeast Farmer's Market - Indoor Market Days at the Pine Grove Seniors:
Saturday May 13 – Mother's Day Market – 10 am -2 pm Saturday, June 10 – 10 am - 2 pm
Southeast Farmer's Market - Summer Outdoor Market held every Friday starting Friday, July 7 - Friday, September 1 form 3 to 8 pm at the Pine Grove Seniors.
Sprague East Borderland Community Housing AGM – Monday, May 15 at 7 pm, at the community hall. All are welcome.
Annual Picnic – Sprague & District Historical Museum Sunday June 11 at 2 pm. Join us and don't forget to bring your camera. Admission is free, donations accepted. Bring your own lawn chair.
Sprague Service to Seniors Seeking Volunteers - Seeking individuals to assist and to provide a few services to seniors within our community such as snow removal, transportation for a fee, volunteers in the congregate Meals Programs as well as home cleaning services to seniors for a fee. A criminal record check is required for cleaning services and transportation. Email lgdseniors@gmail.com with your rates and for information, or call 204-437-2604.
St. Adolphe Community Garage Sale – Friday, May 27 – Saturday, May 28, 9 am – 5 pm.
GP Tournament – Friday, June 2 and Saturday, June 3 Register today, spaces are limited so secure your spot. Contact Korriewatt@gmail.com or 204 981 4471.
Residents Weekend – Friday, June 2 with Live band "Doghouse". Tickets will be going on sale over the next couple of weeks. More information to come on activities.
St. Malo
Kids in the Kitchen - Dessert Decorating Edition – On Tuesdays, May 2 – May 23, 6 - 7:30 pm at Epic Smile. For ages 8-14. Cost $65. Bake and decorate cookies, cupcakes, and cakes with Martha!
St. Pierre-Jolys
Train your Dog Life Skills Level 1 – 5 week session, Wednesdays from May 1- 31, 6:30 – 7:30 pm. Learn eye contact, sit, down and stand and stay, leave it, impulse control. Cost $135 at the Community Hall. Please email info@ratriverrecreation.com with your dogs name, age, and breed. All dogs are required to be friendly with people and dogs in a group class. This is a basic life skills training class and not ideal for a reactive training class from dog to human.
3234 Manitoba Horse Cadets – Thursdays, 6:30 – 9 pm at the Community Hall from September to June. Cost is Free. Meet new friends, fun, adventures, leadership, citizenship, community service, drill band, orienteering, and more. Contact Captain Phil Atkinson 3234Army@cadets.gc.ca or phillip.atkinson@cadets.gc.ca. Website 3234manitobahorse.ca.
Community Gardens – Available for Spring. 10 x 20 plots west of the Village of St. Pierre-Jolys. Cost $50 per plot for the season. Contact info@ratriverrecreation.com
Ste. Anne
Bake Sale – May 13, 11 am – 3 pm at St. Alphonse Hall behind the Sainte-Anne-des-Chênes church. Bake Sale and try your luck at the money/gift cards/lottery tree at $2 per ticket or $3 for 5 tickets. If unable to attend, get your tickets $2 each or 3 for 5$ contact Suzanne at 204-392-5031.
Ste Genevieve Library Night – Every second Tuesday each month, May 3 and May 17 from 6 - 7:30 pm. A "mini-library" at the Community Centre. Come check out some books, exchange and request items from the library.
Steinbach
MHV Spring Gala- Friday, May 12, doors open to our newest exhibit at 5:30 pm fooled by dinner at 6 pm, at the Mennonite Heritage Centre. Cost $75/ticket. You will be treated to a lovely dinner and live entertainment while supporting the preservation and restoration of our Printery.
Steinbach & Area Garden Club – Monday, May 13 Planting Pansies for Mom at the Mennonite Heritage Village, Hwy 12. Celebrate Manitoba Day and plant a pansy pot for you Mother! All ages welcomed. Annual memberships - Individual $20; Family $30. Contact sagcnewsletter@gmail.com.
Manitoba Day Celebration – Saturday, May 13, 9 am – 5 pm at the Mennonite Heritage Village, Hwy 12. Free-admission. Flag ceremony, birthday cake, a new exhibit, horse-drawn wagon rides, new exhibit - The Russlaender, Planting Pansies for Mom, and children's activities in the Auditorium, Ox Cart stories, and free birthday cake for everyone.
Art Show and Sale – Saturday, May 13 at Clearspring Centre Mall from 10 am - 4 pm. Your chance to see local artists at work and to buy their paintings.
Steinbach & Area Garden Club Shopping Night – Tuesday, May 23, 4 – 9 pm a shopping night at Sunshine Greenhouse. Come and enjoy your membership privileges and get a discount at this exclusive evening for our garden club members. SAGC Membership has to be purchased prior to April 30 for discount applying only to plants. Annual memberships - Individual $20; Family $30. Contact sagcnewsletter@gmail. com.
Chase the Ace Fundraiser - Steinbach and Area Animal Rescue – On Mondays at Smitty's Restaurant. Tickets on sale 6 – 8 pm, draw at 8:15 pm. 2 tickets for $5.Come out and try to win cash. The jackpot goes up weekly until the Ace is drawn! Winning ticket receives 10% of ticket sales or 50% of sales if Ace is drawn.
Royal Canadian Legion Steinbach Branch - Meets first Tuesday of the month via Zoom at 7:30 pm; Ladies Auxiliary meets first Monday of each month, 7:30 pm. Steinbach Legion, 227 Main St – Unit 5. Email steinbach190rcl@outlook.com.
Al-Anon - Monday 7:30 pm Steinbach Cultural Arts Centre back door, downstairs. For information call Lloyd 204-3264365.
Creative Writers Club - Second Wednesday every month at 7 pm at the Jake Epp Library, 255 Elmdale St. This is not a class but rather a writing share group where we hope to foster and encourage our participants' love of writing. Feel free to bring 5 pages of writing (single sided, double spaced) to share with the group. Our evening will begin with an ice breaker and then move into share time. Coffee and tea will be served. Contact Madison Redekopp email mredekopp@jakeepplibrary.com.
Steinbach Professional Development Toastmasters Club – On Thursdays at 9:46 am, Eastman Education Centre, 385 Loewen Blvd. How can a person get the message across well, keep meeting participants engaged, and fully use the capabilities of videoconferencing platforms? What works? What
doesn't? What is the etiquette expected? Join us in person or by zoom on 12 pm every Wednesday. All guests are welcome! Contact Mark Hiebert 204-371-5197, email mhiebert@ barkmanconcrete.com.
Knit-Wits Fibre Craft Club- First Tuesdays of the month at 6 – 8 pm, Jake Epp Library, 255 Elmdale St. Do you enjoy knitting, crocheting, cross stitching and other types of fibre crafting? Join other adults for informal knitting, crochet, etc. circle. All skill levels welcome. Please bring your own project/supplies.
Craft Night - Wednesdays at 7 pm, Jake Epp Library, 255 Elmdale St. Ages 16 years and up join us for a free event, with coffee and crafting. Our craft for the evening will be a beaded spring wreath. There is limited space available. To sign up, email mredekopp@jakeepplibrary.com.
Book Club - Meets on the third Wednesday of each month from 7 - 8:30 pm Jake Epp Library, 255 Elmdale St. Books are available at the circ desk as well as on our Libby App (free with your library card). Please sign up by email mredekopp@jakeepplibrary.com. Limited space available.
Steinbach & Area Lions Club - Meets second and fourth Tuesday of the month, 6:30 pm, South East Helping Hands. Contact 204-326-2313.
Tolstoi
Battle at the Border Provincial Strongman Qualifier – Saturday, May 27, 12 pm at Elsie's Hotel. Registration Entry Fee $60. To register contact Devin Penner, devin@trainiggroundsym.ca or Tyler Sigurdson, tylersigurdson204@gmail.com.
Vassar
Vassar and Area Minor Baseball – Register at vassarbaseball@hotmail.com. There is a level for everyone from ages 4 - 18! It is very important that players register by this date to confirm the number of players and teams we have. 9U18U Players/Coaches/Managers will have to register through RAMP once teams are confirmed.
Vita Piney Regional Chamber of Commerce (PRCC) Monthly Meeting – May 11 at 7 pm at the RM council chambers or attend over Zoom. Guest speaker Connie Gamble CPA "The Money Side of Business".
Kindergarten Orientation and Registration Day – Monday, May 8, 9:45 – 11 am at the Schevchenko School. Prior to May 8, complete the registration package on-line or by paper by contacting school office before attending. Meet and greet for parents and fun activity stations for students. Please bring only children registering for Kindergarten. Stop by the office before or after to complete additional forms, bring birth certificate and health card so that we can take copy.
Community Library Night – Thursday, May 4, 4 pm at the Shevchenko School. All community residents are invited to sign up for a library card and check out books from 4 -6:30 pm. Books can be returned anytime during the day or at the school front office.
Highway 201 Garage Sale- Saturday, June 3, 9 am – 3 pm. To register contact RM office 204-425-3218 or inquiries@ rmofstuartburn.com my May 22.
West Hawk Lake Manitoba Wildfire Community Preparedness Day – Saturday, May 6, starting at 10 am at the Nite hawk Café parking lot. Featuring Smokey Bear Scavenge Hunt, Vegetation Management Demo 1 and 2, Story Time with Smokey Bear, Value Protection Demo, and Campfire Safety Presentation.
Woodridge
Senior Day Conference – Wednesday, May 10 starting at 9:30 am at the Hall. Lunch served at 12 pm. Activities include art therapy, Thamadoula and Wills. To register contact Kim 204437-2604, lgdseniors@gmail.com.
Car Show on the Ridge a Woodridge Firefighters Association Fundraiser – Saturday May 27, (rain date Sunday, May 28) 11 am – 4 pm. Public admission free, car registration $5 includes a souvenir dash plaque and opens at 9:30 am, at the M. A. Querel Community Park. Trophies, tail gate swap meet (bring your own table), BBQ, beer garden, music blow the engine 50/50 draw, silent auction and 50/50 draw. Fundraising net proceeds go towards thermal imager for the fire department and capital project for the community club.
Zhoda
Cinco de Mayo – May 6, 8 pm – 1 am at the community Hall. Celebrate with music, food and drinks. Taco bar included in ticket. Cost $15.
Please email events to editor@dawsontrail.ca
Celebrating Over 25 Years of Service to Our Communities!
Dawson Trail Dispatch May 2023
Ritchot Senior Services Events
Let No One Be Alone - The week of May 7 – 13 is bringing awareness to the importance of staying connected. Join Ritchot Senior Services on Wednesday, May 10, 11 am – 1 pm for a hotdog BBQ with all the fixings and an afternoon of outdoor games. If Mother Nature doesn't play along, we will still enjoy our lunch but will move it indoors. Lunch is no cost but you must pre register for this event.
Mothers Day Tea – Wednesday, May 17, 1 -3 pm. Have some fun and put on your fanciest hat, there just might be a prize. Tea (and coffee), sweet treats and fun. If the weather is nice, we will enjoy an afternoon outside on the deck and in the yard, if not we will enjoy our afternoon inside. There is no cost but you must pre register.
Annual General Meeting – Thursday, June 1 at 7 pm. Ritchot Senior Services will be accepting nominations for: Board President, Vice President, Treasurer and Members at large. Board meets quarterly except for specific projects. All board members are expected to represent and promote RSS in community and public relations. If you would like any information regarding any of these volunteer opportunities, please contact Janice 204-883-2880 or email ritchotseniors@mymts.net.
GROUp OUTiNGS:
Oakridge Greenhouse and Café
– Wednesday, May 24, 10 am – 2 pm.
Bus will be leaving from Ritchot Senior Services at 10 am. You can spend the day searching for something new for your garden, check out the boutique and gift shop for a treasure and we will be enjoying a lunch prepared just for you. Contact Janice at Ritchot Senior Services for lunch options and cost. You must pre register for this event.
Winnipeg Goldeyes vs. Chicago
Dogs – Wednesday, June 7. Take me out to the ball game. Bus will be leaving RSS by 9:45 am, gates open at 10 am, game starts at 11 am, and we will be heading home around 2:30 pm. You must pre register for this event before May 17. Cost is $25 for your game tickets and $2 for the bus.
Foot Care Clinics - By appointment only. For more information, please contact Janice at 204-883-2880.
Upcoming clinic dates:
Ste Agathe – Wednesday, May 24 and Thursday, May 25.
St. Adolphe – Monday, May 29, Tuesday, May 30 and Wednesday, May 31
Ile des Chenes – Wednesday, May 3. Heart to Home Meals -To place your order please call 1-204-816-8659 or 1888-216-1067. Call for a menu or pick
Register for Summer Arts Day Camps
The ever-popular Summer Arts Day Camps are back! Gain access to the most soughtafter creative summer camps in Steinbach. Experience music, drama, dance, visual art, games, sports, field trips, swimming, and of course, new friends.
The Summer Arts Day Camps run weekly from July 4 to August 18 and feature a variety of themes for age groups 5-8 and 9-12 to choose from.
CAMPS FOR SUMMER 2023 InCLUDE:
Knights, Castles and Dragons: July 4-5 and July 6-7. Once upon a time at the Steinbach
The Arts Council there were princesses, knights, and princes who explored their creativity! Join us for fairytale themed visual art projects, theatre, music, dance, and other activities where you can explore a magical fantasy world. This is a 2-day camp for ages 5-8 at the Steinbach Arts Council. There will be no pool day, but they will be going to the splash park.
Into the Wild: July 10-14.Put on your Explorer's hat and join us for a creative wildlife adventure in Steinbach. Our popular animal themed camp is back by demand! Learn about animals and their ecosystems with our summer art day camp staff. Create animal themed art, participate in drama, dance, make music, go swimming, and more.
Jurassic Camp: July 17-21. Travel back in time with the Steinbach Arts Council for a prehistoric adventure! Learn all about the various kinds of dinosaurs that once roamed the earth through the arts. Create art, make music, go swimming, play improv games, make a science project, and participate in other dinosaur related activities!
Out to the Sea: July 24-28. Surfs up! Join us for a gnarly week of camp filled ocean fun. Learn about our oceans and the sea creatures that call the ocean home. Participate in sea themed arts activities and have fun in the water in the splash park and pool!
To the Moon and Back: July 31-August 4. Join us for a camp that is out this world! Climb aboard spaceship SAC and explore space like Canadian astronauts Jeremy Hansen and Chris Hadfield. Create space themed art, be an astronaut or alien in drama class, and much more!
Around the World... in 4 Days: August 8-11.Travel around the world in four days without ever leaving Steinbach. Learn about all the amazing natural wonders that our earth has to offer through different arts activities. Our "Travelers" will also participate in music, dance, drama, go swimming, and much more.
Be a Hero: August 14-18. It's a bird, it's a plane, it's a superhero! Join us for a week where you will become Steinbach's very own hero. Fly to the rescue and have an amazing week of art, drama, swimming, music, and more.
Each camp offers a limited number of spaces on a first come, first served basis. Register soon as these popular camps fill up fast! For more information and to register, visit us online at steinbacharts.ca. If you have any questions, please call 204-346-1077.
one up at Ritchot Senior Services. Please call or email Ritchot Senior Services after placing your orders to let us know you have placed an order. This will assist us in organizing volunteers for delivery of meals to you.
Order your meals by: Wednesdays
May 10 and May 24. Meals ready for pick up or delivery the following day. This service is available to all areas of the Ritchot Community including St. Adolphe, Ste Agathe, Ile des Chenes, Grande Pointe, Howden and Glenlea. There are no contracts, no minimum orders.
Coffee with Friends – Thursdays, May 4, 11, 18 and 25 at 10 - 11:30 am. Open to everyone. $2 for bottomless coffee and a treat. Ritchot Senior Services, 457 Main Street, St. Adolphe. Bingo – Friday, May 26 from 1:30 – 3 pm at 457 Main Street, St. Adolphe. Play for fun prizes. $2 admission, extra card 50 cents. You must pre register for this event.
Forever Young Old Time Spring
Dance – Saturday, May 27, 1 – 5 pm, at the Pioneer Hall (upstairs of the rink), 345 St. Adolphe Rd. Live music provided by Country Pride, 5050 draw and door prizes. Show your support and help us to plan for food by reserving your ticket early. Tickets $16 including lunch and you will be entered to win a door prize. Cash bar will be available. Call Jules at 204883-2440.
Our Salvation Through Sacrifice
Easter was just celebrated last month. Have you ever considered the real significance of this holiday? 2,000 years ago, Jesus Christ was crucified on a cross. He was nailed to the cross and He gave all His life blood to redeem a sinful lost humanity. Nothing else but the blood of an innocent human could satisfy and pay for our sins before a holy, righteous, and just God in heaven. Nobody but Jesus Christ as the perfect Son of God was qualified to make that sacrifice.
Several people have called Christianity a bloody religion because we always talk of the importance of the blood of Christ. It was given as total payment for the sins of the whole world. A person is saved, born again, or becomes a Christian when they recognize their sinful condition before God in heaven and apply the blood of Christ on their sins. Isaiah 1:18 says "Though your sins be as scarlet, they shall be as white as snow." That means God forgives all your sin and accepts you as His Child, all because of the blood of His Son, Jesus Christ. How do you react when you hear about the blood of Jesus Christ? There were three different reactions in the Bible and there are still three reactions today.
1. In Matthew 27:25, the Jews wanted Christ dead, so they said, "His blood be on us, and on our children." They had no real desire for God or getting right with God. They would be like most people today who never give the things of God any serious consideration. They give no value to the blood of Christ, so they will die and go into a Christless eternity apart from God and heaven.
2. The second reaction came from Judas who betrayed Jesus. In Matthew 27:4 Judas said, "I have betrayed the innocent blood." Here was a man who recognized the value of Christ's shed blood but did not come to God in repentance. Today, a person may know about Jesus Christ, and that He has the power to save them; but if they don't come to God in true repentance, Christ's blood can't help them.
3. The third reaction is described by Peter in 1 Peter 1:19 where he talks of "the precious blood of Christ." Peter let the blood of Christ wash all his sins away. Anyone today who has come to God through the blood of Christ for forgiveness looks at that blood as precious.
How do you view the blood of Christ? There are only 3 reactions and only the third one will result in heaven for you. I trust you will give serious consideration in your life as to how you view the blood of Christ and end up coming to Christ for salvation.
Stained-Glass Workshop
Want to learn the ancient but beloved technique of making stained glass? Our skilled instructors will guide you as you learn the process of cutting glass and making something beautiful. Participants aged 16 and over will make two glass pieces during the day all while relaxing and learning a new skill! Two classes to choose from, Friday May 26 or Saturday, May 27. For more information and to register, please visit us online at steinbacharts.ca. If you have any questions, please call 204-346-1077.
Arts4Tots
The Steinbach Arts Council is excited to announce that as of May 1, our Arts4Tots preschool registration opened for the 2023-2024 year!
This is a great way to prepare your toddlers for kindergarten and get them excited about the arts. Immerse your children in music, theatre, arts, and games. Introduce them to science, math, reading, and fine motor skills. Visit our website for more information and to register!
Summer Arts Day Camp
The ever-popular Summer Arts Day Camps are back! Gain access to the most sought-after creative summer camps in Steinbach, and experience music, drama, dance, visual art, games, sports, field trips, swimming, and of course, new friends.
The Summer Arts Day Camps run weekly from July 4 to August 18 featuring a variety of themes for age groups 5-8 and 9-12. For more information and to register, please visit us online at steinbacharts.ca. If you have any questions, please call 204-346-1077.
KR Barkman Concerts in The park
Your favourite summer concert series is back! Join us for free Concerts in the Park this May and June at the beautiful KR Barkman Park on Main Street. Featuring local talent, this summer concert series is a wonderful way to enjoy live entertainment and connect with friends and neighbours in our community. For the full concert series details including dates and artists, visit steinbacharts.ca.
Volunteer at SAC
We are looking for people who are like-minded and love the arts as much as we do. As a non-profit organization, we would not have been able to thrive without volunteers who share their time, talent, and service. The Steinbach Arts Council would love to have you be part of our team.
Volunteering is a great way to build your resume, network and be part of this vibrant community. We have opportunities to help in putting up our promotional flyers, setting up for events, theatre stage production, administrative work, and many more. We are willing to train and introduce you to what our organization does. In return for your participation, we provide a volunteer certificate and a welcome packet. Go to steinbacharts.ca/volunteer.
Steinbach Arts Council Seeks Local Artists to Exhibit Their Artwork in
"The
Hall Art Gallery" for 2023-2024 Season
Are you a budding or an established local artist? The Steinbach Arts Council wants to display your artwork in our Hall Art Gallery for the year 2023-2024. We accept all kinds of Mediums. Our hall gallery can hang 15-30 pieces of artwork in an exhibit. Here's your chance to feature your work to the community and sell your art.
"We are always excited to open our doors to visual artists. Our Hall Gallery has showcased incredible artworks over the years, and the quality continues to grow," said David Klassen, Executive Director. "We are excited to see what our next season will look like and sharing the talent of artists in the region with our community."
Every year, local artists are given the platform to showcase their artwork to the public in their hall gallery and online through the Virtual Gallery which was implemented during the pandemic to give the community a new way to experience art.
The Hall Art Gallery, which is located at the Steinbach Cultural Arts Centre, can hang 15-30 pieces of artwork in an exhibit, and is changed every 2 months. They accept hung displays in all kinds of mediums.
Exhibitors are encouraged to invite their patrons to an opening ceremony as well. The hall gallery is open to the public and the artwork is available for purchase during the exhibit.
To apply and learn more about art exhibits with the Steinbach Arts Council, visit steinbacharts.ca. If you have any questions, please call 204-346-1077. Deadline to apply is June 9, 2023.
Celebrating Over 25 Years of Service to Our Communities! Dawson Trail Dispatch May 2023
Celebrating Over 25 Years of Service to Our Communities!
Author's Book "Hold Your Tongue" Adds Local Flavour
By Angelique Forest
Ste. Anne resident Matthew Tétreault has launched his second book recently, Hold your Tongue, a fictional book that incorporates and represents some of the rich history of Ste. Anne and southern Manitoba. His first book was a collection of short stories titled What Happened on the Bloodvein which was published in 2015.
The author drew upon the wealth of knowledge from his parents Maurice and Paulette Tétreault as well as the folks from the Dawson Trail Arts and Heritage Committee.
In the book, Tétreault plays around with storytelling as a celebration of the Métis cultural resurgence.
"Storytelling and the way that stories are remembered, told, and passed down are hugely important in sustaining our sense of self, both as individuals but also as members of larger communities," said Tétreault.
"I was really interested in exploring francophone Métis experiences, both in
terms of their historical and contemporary challenges and struggles, and occasional conflicts with others but also by using different languages throughout the book, from bits of Michif, and different registers of French to English, to not only show but celebrate Métis cultural persistence," he added.
"I'm a big reader and I have never really come across these places that I write about in fiction before and so I figured someone had to write about them!" said Tétreault. His story focuses on the communities of Ste. Anne, La Coulee and Ste. Genevieve.
Tétreault explained in detail how he became the author he is today starting with where he comes from.
"I grew up in Ste. Anne and lived both in the town for a while and then between Ste. Anne and Richer where my parents still live," he said. "I'm Métis on my mom's side and French-Canadian on my dad's side."
He attended to École Pointe-DesChênes in Ste. Anne and didn't really know what he wanted to do after graduating so he enrolled in university and in his words "never left."
"I earned a diploma in multimedia communications at l'Université de Saint-Boniface, but I also caught the writing bug, and so I went back to school to the University of Winnipeg and completed a Bachelor of English with a focus on creative writing," he added. "From there, I moved to Edmonton and completed a Master of Arts in the Department of English and Film Studies at the University of Alberta." As for the book?
"I wrote the first draft of 'Hold Your Tongue' there as my thesis. I also started thinking more broadly about Métis literature, and decided to do a PhD in Métis literary history," he continued. "I successfully defended my dissertation last August. I am now a postdoctoral fellow at the University of Toronto Mississauga, working on, researching, and writing about Métis writing and literature."
For his next project, Tétreault plans on releasing a Métis literary western and horror novel set in the Red River Valley, North Dakota, Manitoba and Minnesota in the 1830s.
'Hold Your Tongue' is available on Amazon.
An Unknown Humankind
Psalm 42:11… 11)
Why, my soul, are you downcast? Why so disturbed within me? Put your hope in God, for I will yet praise him, my Savoir and my God.
Yes, December 82019 will be pre-set in stone for every person in the world. None of us had experienced a COVID-19 Pandemic. For the Christians of this world, we understand that it is only by the grace of God that we can overcome our fears – our test of faith attitudes.
The Bible talks about issues unknown to humankind emerging beyond the mind of world leaders and medical leaders. There are no easy explanations when a Covid-19 Pandemic circles the globe. For the Christian Folks, there is an uneasy movement – transformation – sensing a stirring in our heart to place our faith in God. Only the grace of God can keep us from having no hope and only the grace of God can keep us from a hopeless attitude of our world.
When I lose the desire to be involved, when I do not care what happens, when my spiritual walk and talk are going nowhere, then I might just say that is restlessness. Fretfulness to me means having a selfrighteous attitude. However, may I suggest what experience has taught me is that what we are shrugging off with a "do not care" attitude is the loneliness inside our hearts. Level headedness, on the other hand, means that we can be at peace with God and other folks in every situation, whether good or bad.
For those of us who have lived awhile, we have become painfully aware that somehow material things just do not compare to the enjoyment we get when we are with family, friends and co-workers far exceeds anything that we own. When we take our journey with Christ seriously, we then have found the secret that the apostle Paul is talking about, the secret of contentment, that inner happiness, that inner peace that money just cannot buy.
There is a chance you are like me, even as a Christian, circumstances at times have a way of getting under my skin. When things are going okay, when everything is humming along simply fine and the sun is shining, I am on cloud nine. However, when everything is going nowhere, this contentment stuff seems like a mountain to overcome. It can be tough to find the peace in our heart we so eagerly desire.
Scripture does not teach that everything that happens to Christians will be good. However, Scripture does teach that God is at work, in every situation, whether we perceive it as good or bad. Now the challenge to us is to strive to understand what God is trying to reveal to us in the circumstance. Right here we can choose to go our way and lose the battle, or we can choose to trust God. The choice is ours.
Outstanding Warrants End in Apprehension
On April 3 Steinbach RCMP observed Jonah Wiens, who had five outstanding warrants, riding a bicycle in Steinbach.
According to RCMP, while officers approached Wiens to arrest him, he fled resulting in a short foot chase but was still apprehended and remanded onto custody.
Weins was on the Manitoba Most Wanted list.
Steinbach RCMP would like to thank the public's assistance in this matter.
God uses those times of difficulty in our lives to do His greatest work in us. It is true. We learn important lessons in life in our struggles, in our unpleasant times. God builds in us our character and compassion through the struggles He allows us to experience, struggles that are at times tough to understand.
I know that has been true for me and it might be true for you. We need to look at the struggles in our lives and ask what God is teaching us. We might find lessons so valuable in those struggles that, given the opportunity, we would not change those difficult moments even it we could – To God Be the Glory Great things He Has Done.
Would you pray this prayer with me…? "Lord Jesus, come into my heart. Forgive my sins. I want my life to change. My thoughts and my attitude need to change. I do not have peace in my heart. I really want that peace, joy, and happiness that I long for. Please let the Holy Spirit help me be the kind of Christian that will bring honour to Your Name." Amen.
Dawson Trail Dispatch May 2023
Jonah Wiens was on the Manitoba Most Wanted list.
RCMP photo
"Hold Your Tongue" is a fictional book that incorporates and represents some of the rich history of Ste. Anne and southern Manitoba.
Ste. Anne resident Matthew Tétreault plays around with storytelling as a celebration of the Métis cultural resurgence. Submitted photos
2023
RCMP FILES
If you have any information in regards to any item here you are asked to contact the Steinbach RCMP Detachment at 204-326-4452 or CrimeStoppers at 1-800-222-8477 or manitobacrimestoppers.com or text "TIPMAN" plus your message to Crimes (274637).
Sprague RCMP Hunt for Leads on Snowmobile Theft
On April 7, Sprague RCMP received a report of a stolen Snowmobile. The Snowmobile was stolen sometime between April 5 and April 7. The snowmobile was parked in the yard of a house located on Road 57E, in the RM of Piney, near Woodridge.
The snowmobile is described as a 2015 white Polaris 800 Switchback Pro X. Manitoba License plate at the time was 3W848 and the VIN is SN1DR8PS7FC536090. The keys were not on the snowmobile and it appeared that the culprits loaded it on a truck before leaving the property.
If you have any information in regards to the above matter, you are asked to contact the Sprague RCMP Detachment at 204-437-2222 or Crime Stoppers at 1-800-222-8477 or manitobacrimestoppers.com.
Thief Makes Multiple Visits to Liquor Store Thief Ransacks Vehicle
On three different occasions between January 16 and January 21, an unknown male entered the Steinbach Liquor Mart and stole a bottle of vodka. During one of these occurrences the male was observed fleeing the scene in a black Chevrolet Cobalt. The male responsible for the three thefts is described as a Caucasian, with distinctive tattoos on his left hand and neck.
If you have any information regarding this matter, please contact the
Owner Reports Quad Stolen
On April 10, Steinbach RCMP received a report of a stolen Quad from a residence located on 35 Road N in the RM of La Broquerie.
The Quad is described as a blue Polaris 570 Sportsman with a Manitoba license plate 2P919. The vehicle has two aftermarket seats installed on the back of it. It is believed an unknown suspect stole the quad between the evening of April 8 and the evening of April 10.
If you have information regarding this matter, please call Steinbach RCMP at 204-326-4452, Crime Stoppers anonymously at 1-800-2228477, or secure tip online at manitobacrimestoppers.com.
On March 27, Steinbach RCMP received a report of a theft from a motor vehicle. It is believed the theft occurred sometime between the evening of March 26, and the morning of March 27. The suspect stole miscellaneous electronics and vehicle registration documents worth approximately $200. The incident occurred on Road 42N in the RM of Ste Anne.
If you have any information in regards to the above matter, you are asked to contact the Steinbach RCMP Detachment at 204-3264452 or Crime Stoppers at 1-800222-8477 or manitobacrimestoppers.com.
Attempted Fuel Theft Damages Vehicle
March 19, Steinbach RCMP received a report of an attempted theft of fuel and damage to a vehicle. The registered owner advised that sometime between late evening on March 18 and early morning on March 19 an unknown suspect attempted to steal fuel from his vehicle in the parking lot of a residence on Parkview Crescent. The registered owner advised that an unknown suspect attempted to steal the fuel by drilling into the fuel tank.
If you have information regarding this matter, please call Steinbach RCMP at 204-326-4452, Crime Stoppers anonymously at 1-800222-8477, or secure tip online at manitobacrimestoppers.com.
Street Racers Nabbed by RCMP
On Friday April 14 just before midnight, Steinbach RCMP Municipal Traffic conducted a traffic stop on a BMW and a Ford Truck for street racing on Main Street in Steinbach. Both vehicles were observed racing.
Sprague RCMP Request Information Concerning ATV Theft
On April 8, Sprague RCMP received a report of a stolen All Terrain Vehicle (ATV/Quad). The quad was stolen sometime between March 19 and April 5. The quad was parked in the yard of its owner's cabin located on Road 21N, in the RM of Piney, near Woodridge.
The quad is described as a 2022 grey/black Polaris Sportsman 850 HO High Lifter. Manitoba License plate at the time was 3P972 and the VIN is 4XASXN852NB198245. The quad was stolen along with a pair of ramps and it appears that the culprits loaded it on a truck before leaving the property.
If you have any information in regards to the above matter, you are asked to contact the Sprague RCMP Detachment at 204-437-2222 or Crime Stoppers at 1-800-222-8477 or manitobacrimestoppers.com.
Smash and Grab Nets Thief Tools from Parked Car
On April 3, Steinbach RCMP received a report of a theft from a motor vehicle.
The registered owner advised he left his Toyota Corolla approximately 5 km south of the junction between Highway 302 and Highway 311. Upon returning to the vehicle, the owner discovered that an unknown suspect damaged the hatchback window and stole approximately $100 of tools from the vehicle. The tools were a set of Mastercraft sockets and extensions. A red Mac tool bag was also stolen.
It is believed the incident occurred between the evening of April 1 and the morning of April 3.
If you have information regarding this matter, please call Steinbach RCMP at 204-326-4452, Crime Stoppers anonymously at 1-800-2228477, or secure tip online at manitobacrimestoppers.com.
Vehicles pulled over and both drivers aged 22 years old, one from Brandon and the other one from Elma were charged for racing and issued fines for $672 under the Highway Traffic Act. Both drivers had their driver licence suspended for 7 days and their vehicles impounded for 7 days. Both drivers will have a license review by MPI as well. Enforcement continued throughout the weekend as other tickets were issued for speeding and other offences for a total of 16.
0
Celebrating Over 25 Years of Service to Our Communities! Dawson Trail Dispatch May
all vehicles locked.
on your neighbours.
Keep
Check
Dawson Trail Dispatch May 2023
Celebrating Over 25 Years of Service to Our Communities!
RCMP Hope to Identify Shoplifters Thieves Smash Business Door, Steal Tools
Steinbach RCMP received a report of shoplifting from a grocery store in Steinbach. On March 31, at approximately 4 pm two unknown male suspects entered the grocery store and at approximately 4:30 pm walked out with a cart of groceries without paying.
One male suspect is described as Caucasian, short brown hair, approximately in his thirties, wearing glasses, a burgundy shirt, dark coloured jacket with jeans. The other male suspect is described as Caucasian, approximately in his thirties, has a beard, and was wearing a black and green checker shirt and a black and red hat. It is estimated around $250 in groceries were shoplifted.
If you have information regarding this matter, please call Steinbach RCMP at 204-326-4452, Crime Stoppers anonymously at 1-800-222-8477, or secure tip online at manitobacrimestoppers.com.
On April 12, Steinbach RCMP received a report of a break and enter and theft that occurred on Tower Avenue in Steinbach.
The property owner advised that an unknown suspect broke into his business's door by damaging the locks. The suspect stole various tools including a Makita reciprocating saw, a Makita rotary hammer, saw blades, drill bits, a Paslode framing nailer kit, a Paslode sheathing stapler, and a Makita 18v battery. It is estimated the total value of the tools stolen is approximately $2,500.
It is believed the incident occurred sometime between April 8 and the morning of April 12.
If you have information regarding this matter, please call Steinbach RCMP at 204-326-4452, Crime Stoppers anonymously at 1-800-2228477, or secure tip online at manitobacrimestoppers.com.
Garden Statues Stolen from Steinbach Home
On April 3, Steinbach RCMP received a report of a theft of two garden statues. The theft occurred on a residence located on Northview Crescent in Steinbach. The property owner advised that one statue was a concrete lion, and the other was a plastic Buddha statue. Both items have an estimated value of $75. It is believed the theft occurred sometime between March 31 and April 1.
If you have information regarding this matter, please call Steinbach RCMP at 204-326-4452, Crime Stoppers anonymously at 1-800-2228477, or secure tip online at manitobacrimestoppers.com.
Two Young Drivers Faced with Careless Driving Charges
On Saturday April 22, Steinbach RCMP Municipal Traffic conducted a traffic stop on Red Pontiac where a 16 years-old driver was driving carelessly on Main Street.
The vehicle pulled over and the driver was issued a $672 ticket and his license was sent to MPI for a review.
On the same day, another incident was reported where an 18 years-old was doing donuts at Solomon's parking lot. Steinbach RCMP Municipal traffic located the driver and was issued a ticket for $672 for drive carelessly. His license was sent to MPI for a review.
Enforcement continued throughout the weekend and other tickets were issued for speeding, making unnecessary noise and various other offences.
Identity of Shoplifter Requested
On April 6, Steinbach RCMP received a report of shoplifting at a grocery store in Steinbach. The store's manager advised that on April 4, at approximately 3:30 pm, an unknown male entered the store, took a product off a shelf, placed it in his hoodie pocket, and then exited the store. The suspect is described as wearing dark clothing, a black toque, and a black and white facial covering.
If you have information regarding this matter, please call Steinbach RCMP at 204-326-4452, Crime Stoppers anonymously at 1-800-2228477, or secure tip online at manitobacrimestoppers.com.
Call 911 if you suspect a crime is in progress or has occured! Be aware of happenings in your neighbourhood and report suspicious activity to the authorities.
South Eastman Rotary Club Sponsors Youths for Summer Camp
By Angelique Forest
The South Eastman Rotary Club is looking to sponsor two youths in the community for 6 days of summer camp with costs completely covered.
The deadline to nominate a youth is May 15. The campers can self-nominate or be nominated by an adult in their circles through their Google form which can be found on their social media. Youth will be selected by a committee of Rotary Members based on the youth's alignment
with the values and criteria that is being sought for Rotary Youth Leadership Awards (RYLA).
Topics explored at RYLA include self-esteem, feelings and managing emotions, healthy relationships, communication skills, problem solving, risk taking, leadership skills, self-awareness, youth entrepreneurs, business planning, career planning, environmental interests, self-defense, event planning, fundraising, stewardship and service as well as raising awareness to help build
this generation of youths into the leaders of the future.
JUNIOR RYLA. July 31 – August 5, 2023 for youth aged 12-14 on first day of camp
SENIOR RYLA August 7 – August 12, 2023 for youth aged 1517 on first day of camp
The application priority will be for one male and one female camper. Priority will also be given to send one student to each camp category. Space is limited, approximately 56 total students around the district will attend
each of the two camps. The camp is held at Anglican Memorial Camp in Clear Lake, Manitoba.
"Funds from our club and the district are generated through fundraising events and campaigns, and the connection to Rotarians around the world committed to changing the world through service," said president of the Rotary Club, Jo-Anne Dalton.
Do you know a youth who demonstrates leadership experience or potential as shown by active participation in youth groups and/
or service as a youth leader? Do they have high moral character and are cooperative and willing spirit to participate in group activities? Do they have knowledge of current events and are able to communicate clearly? Are they personable and presents themselves in a respectful manner? Do they perform well in school and/or work and get involved in school or extra curricular activities?
Encourage these youths by nominating them!
RCMP Make Arrest with Help of Police Service Canine
On April 14 at approximately 12 noon, St-Pierre-Jolys RCMP responded to a report of an abandoned vehicle on Road 30N at Road 28E in the RM of Hanover. RCMP located the abandoned vehicle as well as a second vehicle beside it. A male was beside the second vehicle and when he saw police, he got into the vehicle and fled.
The officer followed the vehicle and initiated a traffic stop. The suspect vehicle came to a stop and the driver took off on foot.
The area was contained and Police Dog Services were deployed.
At approximately 2:30 pm, Police Service Dog Mocha and her handler tracked the suspect to a wooded area and he was arrested without incident.
The investigation determined that both vehicles were stolen.
Steven Wiebe, 32, from the RM of Hanover has been charged with fleeing, resisting arrest, possession of property obtained through crime, driving while prohibited and failure to comply.
Celebrating Over 25 Years of Service to Our Communities! Dawson Trail Dispatch May 2023
Police Service Dog Mocha and her handler tracked the suspect RCMP photo