Cal-Nev-Ha Magazine - Spring 2022 - 2023 see full ar ticle on page 13
Pulling out all the stops
Membership with a SMILE!
Valarie Brown-Klingelhoefer
2022 - 2023 CNH District Governor
Aloha,
It's hard to believe that DCON 2023 is almost here! We are in the sprint part of the fourth quarter of our Kiwanis year. The Cal-Nev-HA District has been doing exceedingly well in recruiting new members. I want to send out a big welcome to our new clubs around the District Kiwanis Club of Aliso Viejo California, Kiwanis Club of Downtown Las Vegas, Kiwanis Club of East Garrison, Kiwanis Club of Laguna Niguel, Kiwanis Club of Monterey County Benefiting Foster Youth, and Kiwanis Club of Redding-Sundial. We are currently bringing Kiwanis to nine more communities by the end of the Kiwanis year.
We are on the verge of having a blockbuster year of district membership growth Our Cal-Nev-HA District started the Kiwanis year on October 1, 2022, with 9,467 members in the district. As of July 15, 2023, we have 9,891 members. Many clubs have started pairing up long standing members with new members to implement the 2 for 2 membership initiative and sponsored club boost events.
There are 5 clubs in the district that have added 10 or more new members
Huntington Beach 10 new members (43%)
Old Town Clovis 10 new members (31.25%)
Greater Turlock 11 new members (22%)
South Gate 11 new members (41%)
Lincoln Foothills 17 new members (18.2%)
I want to give a special shoutout to those clubs who have shown a significant gain as a percentage of their starting membership from October 2022 to June 2023:
KIWANIS California-Nevada-Hawaii District -- Spring Edition -- 2022 - 2023 2 SMILE • 909 989 1500 • www cnhkiwanis org
SF Bay Area KYDS 40% increase Pittsburg 42% increase Huntington Park 42% increase The Verdugos 42% increase Huntington Beach 43% increase Southern California LGBT Care Team 45% increase San Jose Bay KYDS 50% increase Yucaipa Valley 50% increase West Visalia 53% increase Centennial Hills 64% increase Tehachapi 80% increase Dayton Township 88% Increase Hillcrest All-Inclusive 92% increase
M is for Membership
It's exciting to see clubs big and small have been able to significantly engage new members I can't wait to see that list grow over the next two months
September is officially Club Boost Month! The goal is to have each club in our district add one member If your club has not been adding new members, I encourage you to increase your efforts in bringing in new members during the last two months of this Kiwanis year. Spruce up your social media persona If you need a club growth grant, contact our membership team Put together a dream club roster by using the new 2 for 2 tools given to you at DCON and at Club Education sessions
Schedule an event and invite community members to the best group in their community— your club. If your club is +2 for the 2022-23 year, your club will be eligible for Distinguished Club status. Remember that dues are now prorated New members do not pay a dues penalty for joining in the last few months of the Kiwanis year You might want to incentivize new members by having them pay their 2023-24 dues at joining and your club sponsor pays the end of year dues of $26
to $13 per new member Well worth the investment.
Want to learn how to grow your club and do more service in your community? Sparks-Reno is where you want to be from August 10th to the 13th. There will be more than 30 educational sessions, several great Keynote speakers, and a lot of fun activities to put a SMILE on your face.
Come make history on Saturday. There are two innovative and groundbreaking initiatives that will be on the agenda at the House of Delegates. Registration for DCON 2023 is open until Friday, July 28th You can also register on-site to attend educational sessions and be a part of the annual House of Delegates. (Registration Link)
Mahalo for all you do for the kiddos and your communities I look forward to seeing you in Sparks-Reno!
Service with a SMILE, Governor Val "SMILE"
S = SERVICE M = MEMBERSHIP I = INNOVATION L = LEADERSHIP E = EXPERIENCE
Club Grants
Grants 101
Check out these grant opportunities from the Cal-Nev-Ha Children's Fund!
Assists clubs with seed money when the scope of a new service project exceeds the club's financial resources.
Disaster Grants
Special Olympics / Special Needs
Pediatric Trauma Program
Provides immediate disaster relief assistance in the event of a natural disaster.
Assists Kiwanis clubs and divisions in financing Special Olympics or Special Needs community projects that exceed their own resources.
Assists Kiwanis and Service Leadership Programs clubs with new service projects which seek to prevent and/or treat pediatric trauma - defined as sudden, unintentional physical injury - or for projects which seek to prevent and/or treat child/teen mental health issues.
Visit our website for the specifics of each grant program or scan this QR code to download one of our grant applications.
Executive Director
Mark McDonald
Mark W McDonald District Secretary/Executive Director
The 2023 District Convention is upon us.
Important dates are July 20, 2023, the last day to get a room at a good rate. July 28, 2023 is the last day to register for convention. You may choose to register onsite, but meals may not be available by then
On Thursday August 10, 2023 several events are planned to start your convention days. At 7am there will be a Golf Tournament, Bicycle Ride with the Kiwanis Club of Sparks Downtown, and an art walk with lunch Check out the website for registration forms and details All three events are worth the time invested.
There will be a foundation "CNH Childrens Fund" board meeting at 12:30 pm on August 10th. The 2022-2023 District Board of Trustees will meet at 2pm followed by the 2023-2024 Board of Trustees meeting. Join us to see what is happening in your District All are invited to attend and witness the work being done
Friday and Saturday, August 11th and 12th, will be filled with awards and speakers to keep you entertained and educated Saturday afternoon we will elect new officers Also we will be revising our ByLaws to match Kiwanis International after their Modernization of the ByLaws Passed in Minnesota this last International Convention
Bring a big smile, good attitude and be prepared for some fun.
KIWANIS California-Nevada-Hawaii District -- Spring Edition -- 2022 - 2023 5 SMILE • 909 989 1500 • www cnhkiwanis org
The House of Delegates will hold an election of 2023-2024 officers and conduct other business as may be submitted at the 103rd Annual District Education Convention.
Why Should I Attend? As a member you --
• Elect next year's District Officers
• Discover how to make a Positive Impact in your Community
• Learn New Ideas
• Celebrate Kiwanis
• Connect with new and old Friends
In 2005, Rady Children's Hospital-San Diego was gifted a van to support their injury prevention efforts In collaboration with Safe Kids San Diego, the hospital uses the van to travel across San Diego County, hosting injury prevention activities and events for children and their families The van has been a solid workhorse for nearly 20 years; however, the cost of maintenance, as well as the lack of active safety features that are now required in vehicles (a backup camera for example), has brought the need for a new van to the top of their priority list. The hospital will use a grant of more than $45,000 from the CNH Children's Fund to purchase a new van, ensuring more families have the education and tools needed to prevent unintentional injuries in the home, at school, and in the community As an added bonus, this new van will allow the hospital to extend its reach to two additional counties, making education more accessible to low- to moderateincome families, those that are at the highest risk of unintentional injuries.
It may surprise you to learn that research has found that 9 out of 10 drowning deaths for children younger than 14 happened while the child was being supervised From 2014 through 2018, drowning was the leading cause of death for children under 14 in Hawai'i. Another area of concern in Hawai'i is the increase of firearms registrations Between 2020 and 2021 the number of registered firearms climbed 319 3% A U S General Accounting Office study estimated 31% of accidental deaths caused by firearms might be prevented with the addition of a child-proof safety lock. That's why our friends at Kapi'olani Medical Center for Women and Children will use a $20,000 grant from the CNH Children's Fund, to purchase "Water Watcher" cards and life jackets, as well as gun locks, to promote water and firearm safety initiatives in schools.
The issue of imposter car seats being sold through online "marketplace" vendors such as Amazon is a serious concern that puts the safety of children at risk. With some systems costing upwards of $800, families are purchasing these 3rd party seats without the assurance of safety or authenticity Additionally, expired car seats or ones that have been in car crashes are being used or sold, leaving families with unsafe car seats or no car seats at all. This poses a significant risk for families with infants and children Our partners at Loma Linda University Children's Hospital will use their $24,700 grant from the CNH Children's Fund to purchase child safety seats, including medical safety seats, and provide Child Passenger Safety training and recertification to local injury prevention volunteers
PREVENTING TRAUMA
How your generosity provided nearly $150,000 in grants to our partner hospitals!
In recent years, the popularity of Off-Highway Vehicles (OHVs) has increased as families have discovered them to be an excellent way to explore the outdoors. Unfortunately, this trend has led to a rise in OHVs-related pediatric injuries Renown Children's Hospital has seen an increase in such injuries In 2021, pediatric OHVs-related injuries were the third leading cause of injury in the northern Nevada region. Additionally, injury severity was nearly double in children who were not wearing helmets compared to those who had helmets on Forty-seven percent of these injuries occurred outside a 50-mile radius from Renown Health, which is the region's only trauma center, covering 100,000 square miles With a $15,000 grant from the CNH Children's Fund, the hospital will establish an OHV injury prevention initiative aimed at reducing the number of pediatric OHVs-related injuries in the community In collaboration with the Nevada Outdoor School and the Nevada Offroad Association, the initiative will focus on raising awareness of the risks associated with children riding on OHVs; educating parents and children on safe riding practices; and responsibly distributing safety gear for children
Each year, the Trauma Administrative Team at Valley Children's Hospital reviews trauma center data to determine the most common causes of injury for children under 14 in order to guide them in their injury prevention efforts The latest data indicate motor vehicle collisions remain a common mechanism of injury, as do pedestrian and bicycle crashes. With a grant of $23,197 from the CNH Children's Fund, the hospital will purchase child safety seats and reflector/flashlights to distribute to children and families in need The reflector/flashlights will be distributed at pedestrian and bicycle safety outreach events as a way for drivers to better identify pediatric pedestrians and bicyclists while the child safety seats will be distributed within the hospital and in the community For each safety device distributed, the child and/or the adult will receive appropriate safety information on its use and additional prevention tips
For the first time in 60 years, firearm-related injuries have surpassed motor vehicle crashes among children and adolescents. Firearm-related injuries are the new leading cause of death for children under 12 years of age Currently, there are limited interventions in place to educate families about gun safety Our partners at UCSF Benioff Children's Hospital Oakland believe that questions surrounding gun safety and gun locks are not being asked often enough As a Pediatric Level 1 Trauma Center, the hospital is tasked by the American College of Surgeons to plan and implement violence intervention and screening programs To meet this need, the hospital will utilize a portion of their $20,000 grant from the CNH Children's Fund to develop a screener in the Emergency Department, purchase gun locks, as well as Stop The Bleed kits Stop The Bleed (STB) is a new curriculum that teaches the lay community how to respond to life-threatening bleeding Through the STB program, the hospital will conduct community training and provide STB kits to families and local partners as an intervention, with the goal of distributing approximately 100 kits over the next year
President's Message
With another school year now complete, I am reminded of the real impact education has on a person ' s life. Education broadens our world and exposes us to new ideas and adventures. But more importantly, it opens doors to opportunities to help us achieve greatness and fulfill our wildest dreams.
Unfortunately, education beyond high school can be very expensive and many of the young people in our district lack the resources to pursue it. I am proud of what each of you are doing through the CNH Children's Fund to help our students overcome these financial obstacles and to become all they can be.
This past spring, I had the honor of awarding more than $120,000 in scholarships to 77 of our Service Leadership Program students. Money they will use to defray the ever expanding costs of a higher education. Money that was available because of your generous donations to our YES! Initiative. Every donation to YES! helps fund leadership education, Key Leader camps, youth health and wellness programs, and scholarships for our students.
I want to thank each of you for your past support and ask you to consider making more donations to our YES! Initiative so we can continue the legacy of Youth, Education and Support [YES!]. Thank you for just saying YES!
Gary Jander, 2022-2024 President Cal-Nev-Ha Children's Fund
Take Your Volunteer Service to the Next Level!
The CNH Children's Fund has consistently recruited new directors who have introduced incredible fundraising ideas and contributed knowledge and skills that will provide long-term benefits in the years to come. If you ' re looking for a way to take your volunteer service to the next level, I invite you to consider joining the CNH Children's Fund Board of Directors. Simply complete our online application and our Board Development Committee will reach out to schedule an interview with you. Our board is best served by a diverse group of volunteers who are looking to build a better future for children by serving a larger community.
Will We See You in Reno?
We hope you ' ve made plans to join us at the 103rd Annual Cal-Nev-Ha District Education Convention, August 10-12 in Sparks, Nevada. Registration is open!
Ensure you can attend the meal sessions - including our Honors Breakfast - by registering no later than July 28th as meal tickets may not be available onsite. You won't want to miss our Honors Breakfast as we will be joined by representatives from Renown Children's Hospital who will share the impact your gifts make on children's lives.
REGISTER NOW
Cal-Nev-Ha Children's Fund
Time flies by when we aren't looking Our clubs are active and thriving, but we all know there is so much more we can do Time is not a distraction, but a motivator to contine doing the awesome work we all do throughout our district today and every day.
DIVISION 2
The Kiwanis Club of Alameda had much to celebrate with the continuation of their 100th year celebration. On May 3 the club celebrated, with 100 in attendance, their anniversary with a dinner at the Elks Club ballroom Kiwanis International President, Bert West, was in attendance giving the keynote speech The eldest member, David Denyven (member since 1953) and the newest member Becky Cusack (2023) did the official cake cutting. Fun and celebration by all Congratulatios to the Kiwanis Club of Alameda
In honor of their 100th Anniversary, the Kiwanis Club of Alameda upped their high school scholarships to $100,000, doubling their yearly amount Not forgetting the younger students, the club also awarded Hope of America awards to seven 8th grade students for clearly demonstrating kindness to others, peer inclusion, character in daily interactions and positive influence in their school
Competing in the Special Olympics Northern California Swimming Regional, the Alameda Islanders, sponsored by the Kiwanis Club of Alameda, brought home 13 gold medals and 4 silver medals. Opening ceremonies were held followed by the Special Olympics Athlete Oath: "Let me win, but if I cannot win, let me be brave in the attempt."
KIWANIS California-Nevada-Hawaii District -- Spring Edition -- 2022 - 2023 10 SMILE • 909 989 1500 • www cnhkiwanis org
DIVISION 3
A new project was created by the Kiwanis Club of Glendale -- a project to involve NEW members into a worthwhile service project. After reviewing several options of areas/organizations that could use some help, the
Alma House was selected. The Alma House is a home for adults with disabilities and managed by the Campbell Center. The project was to build three large raised bed gardens including a drip irrigation system. The project took several months to complete, but will have a lasting impression on the residents Twenty-eight members and their families worked on building the garden beds, planting flowers, vegetable seeds and seedlings. Pavers were added between the garden beds allowing those in wheelchairs to have access and help in maintaining them
DIVISION 10
Division 10 DCMs have become more enjoyable for all, starting with the new book giveaway sponsored by the Kiwanis Literacy Club Foundation Each month a member in attendance wins ten books to take back to their club to use as they see fit.The Kiwanis Literacy Club Foundation continues donating books to clubs while ensuring the donated books are plentiful and tailored to meet the educational needs of the children.
The spotlight shines on the Kiwanis Club of South Pasadena as they celebrate 100 years symbolizing a century of dedicated service to their community.
The Kiwanis Club of Rosemead established a Builder 's Club with roaring success. Their commitment to service and mentorship is commendable.
DIVISION 13
The 2023 Youth Service Award was presented to Lora Gonzalez by the Kiwanis Club of South Gate Lora is President of the South Gate Youth Football and Cheer. The presentation took place at the Governor 's visit and gathering of Division 13 and 19 members and guests. Kiwanis CNH Governor Val is always happy to present awards and acknowledge the work done by our clubs, members and community advocates
KIWANIS California-Nevada-Hawaii District -- Spring Edition -- 2022 - 2023 11 SMILE • 909 989 1500 • www cnhkiwanis org
DIVISION 19
Who ever said tennis shoes were required when working in the dirt Definitely not the Kiwanis Club of Santa Monica
On Arbor Day, the club, along with other community groups, planted New Zealand Christmas Trees. Michael Flinkman proved that gardening can be done in dress shoes
Making a difference in their community for 100 years, the Kiwanis Club of Santa Monica will receive a proclamation from the City of Santa Monica for their continued contributions as well as, most recently, the two score boards at Los Amigos Park and Belmar Park
District Education Convention
August 10 - 12 -- Nugget Casino Resort Sparks, Nevada
Every year for the last 15 years the Kiwanis Club of Torrance held their Texas Hold 'Em Charity Poker Tournament This year was a huge success with more than 150 participants Funds raised support the many organizations the club donates to each year. Scholarships are one of these projects. Again the Kiwanis Club of Torrance awarded ten different scholarships at their annual scholarship luncheon
The Kiwanis Club of Torrance continues to sponsor and support their sister club in Mazabuka, Zambia
In April the Kiwanis Club of Mazabuka did their first signature project helping flood victims who were severly affected by heavy rains The Kiwanis Club of Torrance jumped right in to help the club mobilized food and non-food relief items to assist the flood victims. A combined effort of two clubs working together to make a difference -- improving the world, one community at a time.
KIWANIS California-Nevada-Hawaii District -- Spring Edition -- 2022 - 2023 12 SMILE • 909 989 1500 • www cnhkiwanis org
DIVISION 21
A group of Kiwanis members from the Kiwanis Club of Tierrasanta, Grantville-Allied Gardens along with Key Clubs, Builders Club and student volunteers all came together to work on the Kiwanis One Day project at Mission Trails Regional Park The group, after safety guidelines, were tasked with the removal of non-native or invasive plants within the perimeter of the park
To give primacy to the human and spiritual rather than to the material values of life.
During April, the Kiwanis Club of Grantville-Allied Gardens presented five scholarships to Key Club members from Patrick Henry High School. In addition, Student of the Month Awards were presented to students from Lewis Middle School and Hearst Elementary School
DIVISION 22
Kiwanis Club of East Hawaii came out to work the Easter Egg Hunt in April after spending the previous weekend stuffing the eggs Members of the club, along with Key Club members, were scattered all over the area to assist wth the event
To encourage the daily living of the Golden Rule in all human relationships
To promote the adoption and the application of higher social, business and professional standards.
To develop, by precept and example, a more intelligent, aggressive and ser viceable citizenship.
To provide, through Kiwanis clubs, a practical means to form enduring friendships, to render altruistic ser vice and to build better communities.
To cooperate in creating and maintaining that sound public opinion and high idealism which make possible the increase of righteousness, justice, patriotism and goodwill
The six permanent Objects of Kiwanis International were approved by Kiwanis club delegates at the 1924 Kiwanis International Convention in Denver, Colorado Through the decades, they have remained unchanged
KIWANIS California-Nevada-Hawaii District -- Spring Edition -- 2022 - 2023 13 SMILe • 909 989 1500 • www cnhkiwanis org
" The Objec ts of Kiwanis"
DIVISION 30
The Orange County All-Star Baseball Game took place recently at Glover Stadium in Anaheim. The Kiwanis Club of Anaheim organizes this event every year honoring the best of the best high school baseball players This year Andrew Lamb from JSierra High School and Casey Borba of Orange Lutheran won awards at the game with the South over the North. What a game it was.
In addition to all the planning that takes place with the All-Star baseball game, the Kiwanis Club of Anaheim continued honoring young students throughout their school district with the BUG awards Each year they present more than 2,500 BUG awards to well deserving students who bring up their grades from grading period to grading period.
Remember to SMILE!
The first Little Library in La Mirada was built and displayed by the Kiwanis Club of La Mirada The neighborhood children are already claiming their books and asking for others. The club hopes this will grow nto more Little Libraries throughout the city.
The Kiwanis Club of Garden Grove and the Kiwanis Club of Greater Garden Grove both participated in the annual Strawberry Festival. The funds raised by each club helps support the club's activities and Kiwanisland An awesome event, but a lot of work Great job to both clubs
DIVISION 32
February the Kiwanis Club of Healdsburg was out in force prepping, cooking and serving polish dogs, hot dogs and even chili to the moe than 5,000 attendees. It was a solid fundraiser for the club raising more than $2,000
More than 100 pairs of socks were donated to Reach for Home putting smiles on those receiving them. Once again, the members of he Kiwanis Club of Healdsburg came out with a vengence to serve their famous pancake breakfasts which included, not only pancakes, but sausage, scrambled eggs, fruit, juice and coffee. This makes the clubs 68th time doing this event.
KIWANIS California-Nevada-Hawaii District -- Sprint Edition -- 2022 - 2023 14 SMILE • 909 989 1500 • www cnhkiwanis org
DIVISION 32 (cont'd)
Scholarships were awarded by the Kiwanis Club of Healdsburg in the amount of $558,000 to seventy-five well-deserving seniors and alumni
Annually the Kiwanis Club of Healdsburg joins the Healdsburg Museum in cleaning up the Oakmount Cemetary
In continuing their 100 Anniversay celebration, the Kiwanis Club of Healdsburg had the honor of leading the 2023 Twilight Parade Not only did Denny and Liz Bippart be the Grand Marshal, but the club also had a couple of entries including the flat bed that had members riding and waving at the crowds
Service, Membership, Innovation, Leadership, and Experience
DIVISION 35
The Kiwanis Club of Diamond Bar Young Professionals have been busy this quarter They started out hosting a "Care-oke" event for the first time in-person since the panademic In March the club hosted a booth at the Kiwanis Club of Rowland Height's Literacy Fair giving away cookbooks for kids and adults.
Division 35 has a tradition of preparing "Boxes for the Troops " This year it was decided to make it part of the Governor 's visit. Governor Val assisted in making more than 200 care packages to be donated to the Veterans Peer Access Network - Vet Hunters. Also during the Governor 's visit she presented awards to well deserving individuals
Giving back to the community, the Kiwanis Club of Duarte hosted a free face painting and rock painting activity at the City's Eggfest
KIWANIS California-Nevada-Hawaii District -- Spring Edition -- 2022 - 2023 15 SMILE • 909 989 1500 • www cnhkiwanis org
Remember to SMILE!
DIVISION 37
The Kiwanis Club of Hidden Valley (now the Kiwanis Club of Escondido-Hidden Valley) raised funds and installed a playground in the Dixon Lake and Daley Ranch in 2019. Since that time the club still had a vision to install an all-inclusive ADA compliant playground for the disabled, immediately next to the current playground The new ADA approved playground is under construction with a completion date of June/July 2023. "We can all play together."
High school students participated in "Bite of Reality" exercise presented by the Kiwanis Club of Sunrise Vista. Students were given hands-on app-based simulation giving them a real taste of the real world They walked around different tables to inquire about housing, transportation, food, clothing costs, etc It was an eye opener to these teens just how expensive real life can be. As the Kiwanis Club of Sunrise Vista celebrates it's 50th Anniversary, plans to arrange addiitonal "Bite of Reality" programs at other local high schools are underway
Not forgetting about our younger students, nine members of the Kiwanis Club of Sunrise Vista read books to the students at the Grapevine Elementary School honoring Dr Seuss
The Kiwanis Club of Del Mar, California is planning for a "Day at the Races" as their annual major fundraiser Plans are currently underway Funds raised will go to local charities
DIVISION 38
Each year the Kiwanis Club of Palmdale West sponsors a Wreath Across America service project The event has a mission to Remember, Honor and Teach, through coordinating the laying of wreaths across America
KIWANIS California-Nevada-Hawaii District -- Spring Edition -- 2022 - 2023 16 SMILE • 909 989 1500 • www cnhkiwanis org
Congratulations to the Kiwanis Club of Downey-Los Angeles and the Kiwanis Club of Huntington Beach for being honored by the California Non-Profits of the Year. Both clubs are well deserving of this fine achievement.
DIVISION 42
The Kiwanis Club of Camarillo Held several rundraisers during winter months The first one held was at Applebee's netting $700 and $150 in tips for the KIWIN'S clubs that helped out serving and busing tables. Then in March, in conjunction with the Kiwanis Club of Santa Susana, the Kiwanis Club of Camarillo held a Bunco day at kidSTREAM It just shows how two small clubs can come together to raise more than $700 per club.
During Read Across America Day, Kiwanis Club of Moorpark member Cat took time out of her busy day to read to the students at Campus Canyon.
In support of the MHS Groundhog 5K race, the Kiwanis Club of Moorpark members started their day early by helping with traffic control and cheering on the runners
The Kiwanis Club of Mo keeps busy year 'round assisting where they are needed Member Bruce helps organizing, sorting and shelving food at the Moorpark's Pantry Plus. While other members volunteer with gardening at Mrs. Snyder 's memorial garden at Campus Canyon School
In Oxnard, the President of the Kiwanis Club of Oxnard participated in Read Across America Day by reading to kindergarteners and first graders at Juan Soria K-8.
KIWANIS California-Nevada-Hawaii District -- Spring Edition -- 2022 - 2023 17 SMILE • 909 989 1500 • www cnhkiwanis org
DIVISION 42 (cont'd)
Calling all Bunco players The Kiwanis Club of Santa Susana with the Kiwanis Club of Camarillo hosted their second annual Bunco fundraiser. Family, friends and members of fellow clubs joined in the festivities.
magazine@cnh.simplelists.com
The Kiwanis Club of Santa Susana is proud of the many years, (actually 20 years) of preparing meals for the needy at the Samaritan Center. Even during Covid, they didn't miss a month.
Blood is such a premium and the Kiwanis Club of Simi Valley understands that. The club sponsored a community blood drive. It was a steady three hours of giving blood Members gave blood and assisted in various areas to make this event a huge success.
In addition, members helped out at the Simi Senior Center for their Mardi Gras Luncheon celebration Members of the club helped with set-up, decorations, lunch and attended the event with the seniors.
The Kiwanis Club of Thousand Oaks continues with their signature project -- Bikes for Youth. A collection of recyclable bikes are gathered and then fixed up to donate to students in the Oak Park Unified School District More than 300 bikes have been donated since the projects inception two years ago.
KIWANIS California-Nevada-Hawaii District -- Spring Edition -- 2022 - 2023 18 SMILE • 909 989 1500 • www cnhkiwanis org
DIVISION 42 (cont'd)
More than 1,000 pounds of pet food and other pet supply items were collected and donated by the Kiwanis Club of Thousand Oaks. The donations were donated to various animal shelters and pet rescue organizations.
The Kiwanis Family of Thousand Oaks came together for Kiwanis One Day. The activities of the day consisted of distributing items such as clothing, hygiene producs, hot food, cold sandwiches and even Easter baskets for the kids. The Kiwanis Club of Thousand Oaks with the help of their K-Kids worked along side each other making the event a huge success
Scholarships are an integral part of what our clubs do for the students in their community. The Kiwanis Club of Thousand Oaks continues to award scholarships each year This year is no difference -- the club awarded $21,000 to deserving students. It really doesn't matter the size of your club or amount you can give, every little bit helps a student realize their dream of a higher education.
DIVISION 45
The Kiwanis Club of Sierra Nevada strongly supports the veterans who have made it their mission to provide our freedom. Member Ken Beaton, has been a Kiwanian for more than 24 years. Ken, along with Steve Ranson, have collectively written numerous articles about Nevada's veterans who served in WWII, Korea and Vietnam To honor these veterans, they have written a book LEGACIES OF THE SILVER STATE: NEVADA GOES TO WAR, and is offering the book for sale. The funds raised will go to support Honor Flight Nevada
KIWANIS California-Nevada-Hawaii District -- Spring Edition -- 2022 - 2023 19 SMILE • 909 989 1500 • www cnhkiwanis org
Risk Management Is Not Just A Title
submitted by David Canady CNH District Risk Manager
Every club should have a dedicated person(s) to use Kiwanis International's supplied Risk Management Information book Clubs, please go back and find that book you so carefully filed away at the beginning of the Kiwanis year It is a wonderful resource for every club sponsored event and project. Pages 17-20 provide a great step by step review of your project to help make you aware of possible safety concerns that could lead to an injury or loss Additionally, pages 21-23 provide risk management techniques to help your club reduce the possibility of a claim.
Having to use our Kiwanis International provided insurance should be our last resort. If we all take risk management seriously we can reduce our claims frequency and cost, which in turn should reduce our insurance cost This is one significant way our clubs can help hold down Kiwanis International expenses and the need for dues increases!
Safety First!
KIWANIS California-Nevada-Hawaii District -- Spring Edition -- 2022 - 2023 20 SMILE • 909 989 1500 • www cnhkiwanis org
Let's All Do Our Part -Safety -- The First Concern When Planning A Service Project
O u r Ser vi ce Leaders h ip
Pro g rams Lead t he Way
Doing service with a SMILE is what makes our Service Leadership Programs (SLPs) shine They assist our Kiwanis clubs with their events, and yet make time to find their own projects within their community and schools. Treasure these young people as they are our future leaders
KIWIN'S
One of the KIWIN'S club took over the Kiwanis Club of Torrance club meeting in March. The KIWIN'S Club of Torrance shared the activities, both service and social activities, at the meeting.
Kiwanians were moved by the volume of participation by the 80 paid members. At the meeting, the KIWIN'S raised funds from an auction, raffle and candy jar guessing game
The Diamond Bar KIWIN'S volunteered the Kiwanis Club of Rowland Heights' Literacy Fair
Assiting the Kiwanis Club of Camarillo, the KIWIN'S from Camaillo and Rancho Campana High Schools served the guests with smiles at the Applebee's fundraiser.
TERRIFIC KIDS
The Kiwanis Club of Moorpark has been supporting Terrific Kids for decades by providing refreshments and handing out certificates for jobs well done
KIWANIS California-Nevada-Hawaii District -- Spring Edition -- 2022 - 2023 21 SMILE • 909 989 1500 • www cnhkiwanis org
BUILDERS CLUB
Who doesn't like PB&J sandwiches. The Lewis Middle School Builders Club made over 400 brown bag lunches for the homeless population of San Diego Peanut butter and jelly sandwiches were made to put in the brown bags along with fresh fruit, drink box or water bottle, dessert and a note that this free meal was courtesy of Kiwanis and Builders Club.
The Palmdale Learning Plaza Builders Club and Shadow Hills Builders Club laid wreaths at the Palmdale Cemetery in keeping with the Kiwanis Club of Palmdale West's mission to Remember, Honor and Teach.
The Builders Club sponsored by the Kiwanis Club of Camarillo kept themselves busy selling Candy Grams for Valentines Day, sending cards and stuffed animals to sixty homeless kids at the Selective Care Resource Center in Oxnard while getting their Learn & Grow project up and running again.
In Moorpark, the Builders Club decorated boxes and made Valentine cards for Seniors at Oakmont Assisted Living
The DATA Builders Club works jointly with the Kiwanis Club of Ventura providing quilts to keep cancer patients warm during chemo
KIWANIS California-Nevada-Hawaii District -- Spring Edition -- 2022 - 2023 22 SMILE • 909 989 1500 • www cnhkiwanis org
K-KIDS
Congratulations to the Hearst Elementary School K-Kids Club for their successful fundraising campaign for the Leukemia and Lymphoma Society This was their 13th coin drive collecting more than $1,000.
The Madera K-Kids stay active with their many projects. The last Friday of each month, the members of the K-Kids come out early to collect, sort, count and pack up over 450 items for the Food Bank at the Samaritan Center For Valentines Day, they signed more than 100 Valentines with special messages hidden under a scratcher heart for Meals on Wheels And on second Wednesday of each month, the K-Kids hand out ballots for students and staff to vote on items of interest
ness is cool!
5th grade sterfield School
Kids delivered Meals on Wheels and Valentines to niors in their community, bringing many smiles ong the route.
he Westerfield School K-Kids painted Kindness Rocks for Luthern Social Services, made dog toys and cleaned up enough trash to fill a whole bag! ood work.
Continuing the theme
"Kindness is Cool", the Westerfield School K-Kids
created, published and printed a cookbook. K-Kids
President Emily Smith sold ten books to the Kiwanis Club of Thousand Oaks members at one of their club meetings, but could've sold more.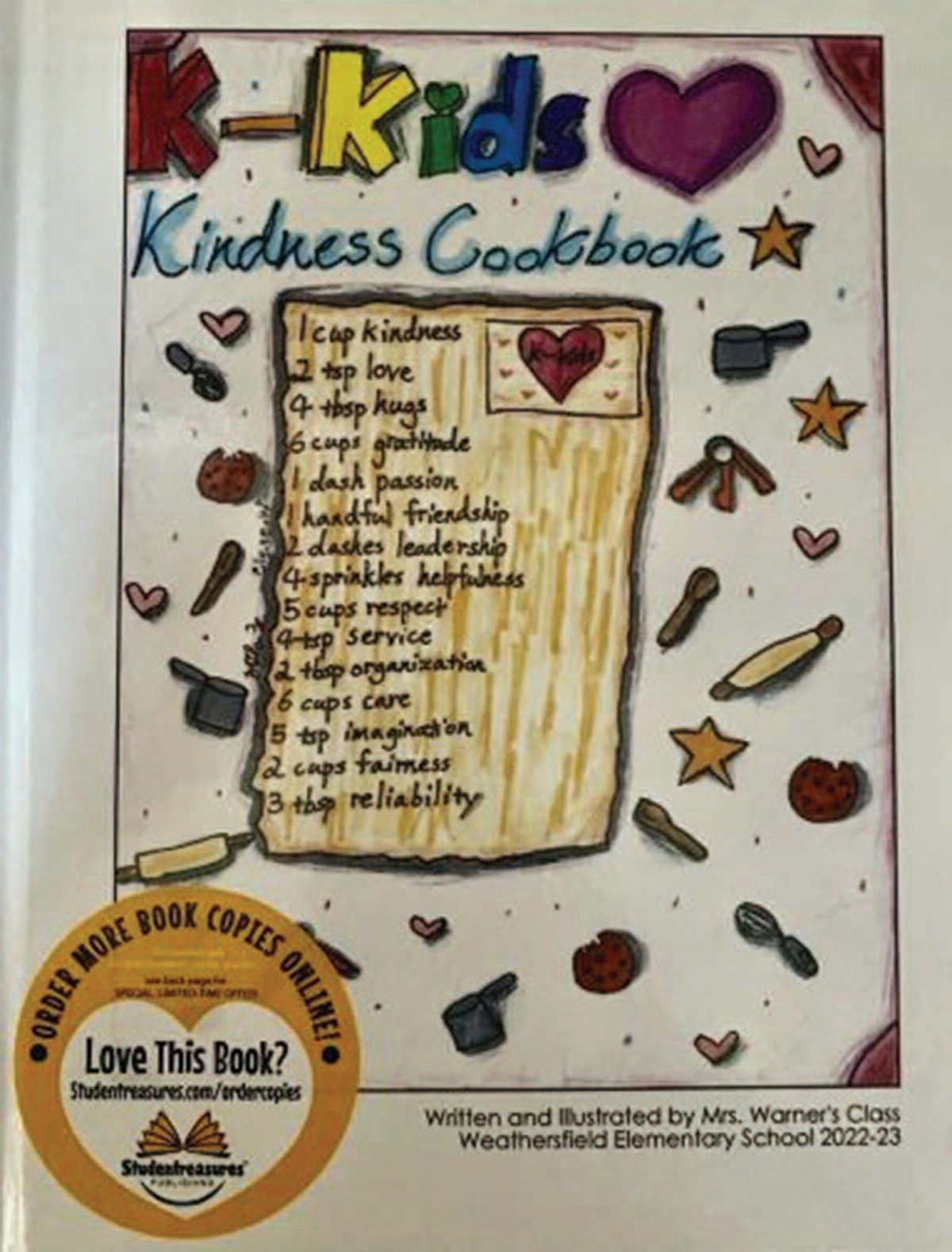 KIWANIS California-Nevada-Hawaii District -- Spring Edition -- 2022 - 2023 23 SMILES • 909 989 1500 • www cnhkiwanis org
BRING UP GRADES
In support of Bring Up Grades (BUGS), the Kiwanis Club of Santa Barbara gave out yogurts and prizes from the club to recipients at Cleveland Elementary School which has been adopted as our BUGS school in Santa Barbara.
KEY CLUB
When Key Clubbers take over the Kiwanis meetings, fun is sure to follow Recently the Bishop Montgomery High School Key Club took over the Kiwanis Cub of Torrance. The club believes in serving with passion and purpose. They have held both virtual and in-person service projects that benefit the community As officers change for the new year, goals are set for membership, fundraising and service projects. At the meeting, an amazing auction and raffle had Kiwanians digging deep in support of the Key Club.
Earlier in March, the West High School Key Club took the stage They overtook the Kiwanis club meeting sharing what they have been up to and what their plans/goals are for the upcoming months. An auction and raffle raised much needed funds for their club
Waiakea High School Key Club has participated in several service projects including assisting with Robotic Tournament, P&R Track Meet and Junior Country Fair parking and booth set-up In addition, the club participated in the Sunrise Scholarship run on Coconut Island
Homecoming week, rummage sale, traffic safety week to name a few of the projects that the Hilo High School Key Club participated in Graduation takes a lot of work and the club stepped up in style. They not only helped with set-up, but made yellow and blue leis for graduates.
The Campolido Key Club spearheaded a successful canned food collection drive
KIWANIS California-Nevada-Hawaii District -- Spring Edition -- 2022 - 2023 24 SMILE • 909 989 1500 • www cnhkiwanis org
KEY CLUB (cont'd)
The Key Club, sponsored by the Kiwanis Club of Healdsburg, attended the Kiwanis meeting with an abundance of baked goods. Kiwanians were motivated to dig deep, which they did, raising more than $700 for the Key Club Don't they look yummy?
The WHS Key Club, along with K-Kids and Girl Scouts, made Valentines for the seniors at Silverado Memory Care Residents were so happy to see these young students -made their night
The Douglas High School Key Club held a toiletry drive for Family Support Council's shelters. Members were encouraged to donate which helped the students to make the fundraiser very successful.
CIRCLE K
CNH Circle K has realigned the districts into five effective April 1, 2023 Welcome back San Diego State University Circle K. The club is back up and running, looking ahead for many service opportunities
Youth Protection
Submitted by David Hillman CNH Youth Protection Manager
Where is this 'Presidium Academy' and how do I get there?
An integral part of our Youth Protection Program is the focused training that is available to us. The Presidium Academy, a respected provider of training and education programs, is under contract with Kiwanis International to provide some of this training
Early on, there was some confusion as to how to access the Praesidium Academy. It is important to remember that access to this training is a Kiwanis process, not a Praesidium process With that said, the link/QR code below will take you to the access instructions.
https://tinyurl com/Praesidium-Training
Not everyone is required to take the Presidium training, but all Kiwanians are welcome to All Kiwanis SLP Advisors are required to take six of the seven modules, depending on the SLP program they advise All SLP Chaperones are assigned 3 modules District SLP Administrators, Youth Protection Managers and Risk Managers are required to take all seven modules.
If you have any questions or concerns, please direct then to me, through your Lieutenant Governor
The theme of the 2024 Pasadena Tournament of Roses Rose Parade is: "Celebrating a World of Music, the Universal Language". The Kiwanis 2024 Rose Float is a story of Kiwanis serving in harmony
For over 55 years, Kiwanis has presented a float that we use to portray the mission of Kiwanis Every year over 4,000 members of the Kiwanis family come together spending over 50,000 hours to decorate up to 10 floats for this community event broadcasted all over the world Every year we look for ways to cover the cost of this great event.
The float funds to build our float were raised by clubs in the Cal-Nev-HA District for years. Kiwanis International provided some funding over the past few years, but budgetary issues will prevent them from continuing that support. So, we must raise $130,000 to continue the largest SLP community service project in Kiwanis International
We will be selling seats to ride on the float again $6,000 for adults, $4,500 for our SLP members and anyone under 18 years of age.
There will be an opportunity raffle for VIP seats to the Rose Bowl, Tailgate Party and Rose Parade View.
There will be a great view party at Phoenix
Decorating Company for all their floats under construction and the Queen and her Court have been invited
Clubs can become sponsors at different levels and receive different merchandise such as pins, banner patches, challenge coins and raffle tickets. Plan on supporting the 2024 Rose Float today.
Check our website for more information: Kiwanisrosefloatclub.com
Submitted by Ernest Arnold
KIWANIS California-Nevada-Hawaii District -- Spring Edition -- 2022 - 2023 26 SMILE • 909 989 1500 • www cnhkiwanis org
2024