presented by Workday INSIDE 2023 State of the Community Fourth grade author DCRC summer camps Accessible Dublin www.dublinlifemagazine.com 48th Annual Memorial Tournament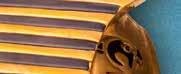 614.666.6570 - jsbrowncompany.com
dublinlife
1335 Dublin Rd., Suite 101C
Columbus, Ohio 43215
614-572-1240 • Fax 614-572-1241
www.cityscenecolumbus.com
Kathleen K. Gill President/CEO
Gianna Barrett Vice President, Sales
Jamie Armistead Vice President, Operations
Dave Prosser Chief Creative Officer
Rachel Karas Editors
Tyler Kirkendall
Claire Miller
Garth Bishop Contributing Editors
Amanda DePerro
Brandon Klein Digital Editor
Janet Cooper Contributing Writers
Colleen D'Angelo
Cassie Dietrich
Megan Brokamp Editorial Assistants
Isabelle Fisher
Lucy Lawler
Laura Pappas Advertising Director
Circulation
614-572-1240
www.dublinlifemagazine.com
CityScene Media Group also publishes:
CityScene Magazine
www.CitySceneColumbus.com
Pickerington Magazine
www.PickeringtonMagazine.com
Westerville Magazine
www.WestervilleMagazine.com
Tri-Village Magazine
www.TriVillageMagazine.com
Healthy New Albany Magazine
www.HealthyNewAlbanyMagazine.com
Discover Grove City Magazine
www.DiscoverGroveCity.com
The Publisher welcomes contributions in the form of manuscripts, drawings, photographs or story ideas to consider for possible publication. Enclose a SASE with each submission or email editor@ cityscenemediagroup.com. Publisher does not assume responsibility for loss or damage.
The appearance of advertising in Dublin Life does not constitute an endorsement of the advertiser's product or service by the City of Dublin.
Dublin Life is published in June, August, October, December, February and April. Subscriptions are free for households within the city limits of Dublin, Ohio. For advertising information or bulk purchases, call 614-572-1240.
No part of this publication may be reproduced without the written consent of the publishers. Dublin Life is a registered trademark of CityScene Media Group. Printed in the U.S.A. ©2023
4 • April/May 2023 www.dublinlifemagazine.com
T ranqui
Vibrant
l
Natural
6 City of Dublin
10 Community Calendar
12 faces
Author on the Rise Fourth grader at Dublin City Schools set to publish his third book
16 in focus
Join the Club
48th annual Memorial Tournament engages the community both on and off the course
20 Serving Summer
Dublin Community Recreation Center adds new features to its inclusive summer camps
23 2023 State of the Community
28 good AccessibleideasDublin
City drives inclusive initiatives, programs for public
30 ARTifacts
Patterns in Nature
Math and art combine to promote well-being through nature-based fractals
32 school connection Schools on Journey to Success Strategic Plan Defines New Mission, Vision for DCS
34 student spotlight
Steps to Success
How Dublin City Schools' PATHS program empowers students
36 dublin dishes
Ramen Rocks in Dublin Dublin City Schools adds cultural cuisines to school menus
38 living Living Space Luster
Recent kitchen remodel creates a vibrant atmosphere and expansiveness to the space
42 luxury living real estate guide
43 top homes sold in dublin
44 write next door Lights, Camera, Action!
Dublin City Schools offer theater opportunities and life lessons for all
46 bookmarks
April/May 2023 • 5 www.dublinlifemagazine.com
p34
On the Cover Memorial Tournament
Photo courtesy of the Memorial Tournament presented by Workday
p36
p12 inside
April/May 2023