MEETTHE
FALL 2022
Photo by Bennett Scarborough
The 2021-22 academic year at Campbell University ended in May with commencement ceremonies for 1,232 total graduates across all eight schools and colleges, including the College of Pharmacy & Health Sciences (pictured), the only ceremony held indoors this year because of rain.
THE ENDGAME
PRESIDENT J. Bradley Creed
DIRECTOR OF NEWS & PUBLICATIONS & MAGAZINE EDITOR
Alex Baumann, Ben Brown, Robin Gordon, Jessica Rigsbee, Bennett Scarborough
Best Magazine: 2013 Editorial Design: 2018, 2021 Cover: 2018, 2021
16 Gabby's Angels
Magazine: 2020 (Grand Gold) Feature Writing: 2021 (Gold), 2022 (Silver), 2017 (Bronze) Photography Series: 2021 (Gold) Photography Portraits: 2022 (Silver) Illustrations: 2020 (Gold) Cover Design: 2018 (Silver)
ACCOLADES
CONTRIBUTORS
We introduce you to 12 members of the Class of 2026, Campbell University's incoming class of young men and women who worked through the adversity of the pandemic in high school to get to this point. The class shares their hopes and goals for the next four years and has agreed to return and reflect on their experience when their journey ends four years from now.
FEATURES
Billy Liggett
CASE III Gold Awards
On the 50th anniversary of Title IX — legislation aimed at evening the playing field for women in college athletics — five coaches and athletic staff members share their love of sports and their success in athletics beyond their playing days.
COVER STORY
32 50 years of Title IX
42 A friendship, born of war
20
Founded in 1887, Campbell University is a private, coeducational institution where faith, learning and service excel. Campbell offers programs in the liberal arts, sciences and professions with undergraduate, graduate and doctoral degrees. The University is comprised of nine colleges and schools and was ranked among the Best National Universities by U.S. News & World Report in its America's Best Colleges 2022 edition.
THE COVER Photographer Ben Brown has appeared in several editions of Campbell Magazine, and his work can be found on the cover, in the cover story and throughout this Fall 2022 edition. The student featured on the front page is Jezaniah Sanchez, an incoming freshman from Fuquay-Varina and a member of Campbell's Class of 2026.
2 FALL 2022 FALL 2022 | VOLUME 17 | ISSUE 2FEATURES
Feature Writing: 2017, 2019 Illustration: 2018, 2021 Most Improved: 2013, 2014, 2015, 2016 Photography Series: 2017 Publications Writing: 2019, 2020
WRITER, DIGITAL MEDIA COORDINATOR Evan Budrovich
CASE International Circle of Excellence
Finalist: CASE International Robert Sibley Magazine of the Year (2020)
Campbell University publishes Campbell Magazine three times a year.
324216
Richard Ray and J.D. Smith didn't know they'd both attended Campbell College when they met aboard the USS Cacapon en route to Vietnam in the late 1960s. The chance meeting led to a strong friendship, one that continued when both returned to Buies Creek and graduated in 1971 and for the decades that followed.
20 The Class of 2026
VICE PRESIDENT FOR INSTITUTIONAL ADVANCEMENT Britt Davis
Campbell Baseball's most dedicated fan, Gabby Hernandez, is a fixture at every home game, and her dedication was awarded with a trip to Tennessee this spring to see her team play in the NCAA Regional tournament.
The University affirms its standing policy of nondiscrimination in employment and in all of its programs and activities, with respect to race, color, sex, sexual orientation, gender identity or expression, age, religion, ethnicity or national origin, disability, genetic information, protected veteran status, military status and any other characteristic protected by law, except where exemption is appropriate and authorized by law.
ASSISTANT VICE PRESIDENT FOR COMMUNICATIONS & MARKETING Haven Hottel
W
A JOURNEY BEGINS
I had no inkling that my involvement with institutions of higher education would extend beyond my college years and continue for the rest of my life.
s As he's done every Welcome Week since becoming president, J. Bradley Creed greets and assists new families moving their incoming freshmen into on-campus residence halls.
I wore a Texas Boys State T-shirt, and my hair was longer and darker than it is now. Somehow, I was able to fit my belongings into the trunk of the family Buick. I met my new potluck roommate who helped me haul a few boxes to our dorm room. My parents gave me a hug and headed back to East Texas, and I began my college journey.
life of the mind. I believe fervently in the promise of a college education as a gateway to a better life and an incomparable venture of personal transformation.
I still participate in the rituals of movein day, and I still live on campus. Every August, the students are the same age, but I'm a year older. Their journey begins, and mine continues. I still love learning and the
The start of a new academic year opens a 'portal of possibilities' for our incoming freshmen
President Campbell University
I remember it like it was last year.
is essential to the fulfillment of human destiny. God has a plan and purpose for each of these students to fulfill their own destiny, and our job is to guide them on a journey of discovery. They can cultivate their gifts and talents, sharpen basic life and professional skills, learn how to work with others and lead with purpose. They will study our human and Christian heritage and engage in an approach to learning that seeks the true, the good and the beautiful.
president J. A. Campbell stated, "School is the greatest opportunity in the world. Here students . . . become educated men and women, become leaders, but most of all it is their chance to improve themselves, to open the door to a new world."
hen new students arrive on campus every August, my mind drifts back to my move-in day as a freshman.
Nearly half a century has elapsed since I moved into Penland Hall on the campus of Baylor University on a sweltering Central Texas day in August, but the basic aims and purposes of the university remain. The university provided me the same opportunities we offer our freshmen at OurCampbell.founding
At Campbell, students can discover a calling, a sense of vocation. Our university mission statement affirms that learning is appointed and conserved by God and
I understand better now than I did as a freshman that college was preparing me to be someone and to do something of value and purpose. Going to college is walking through a portal of possibilities. It was for me when I stepped across that threshold as an 18-year-old.
The academic disciplines are the modes of inquiry that enable this quest. They will prepare for the world of work and employment, gaining the proficiencies that our economy requires. Here they can find a sense of belonging within a community that will shape their character and foster their moral development.
I remember the excitement and the trepidation, two emotions that always accompany the launch of any worthy and challenging endeavor. We welcome our newest Camels to our campus, a place that will be home for some of the most formative years of their lives. I am looking forward to sharing this journey with them.
MAGAZINE.CAMPBELL.EDU CAMPBELL UNIVERSITY 3 FROM THE PRESIDENT
ScarboroughBennettbyPhoto
I heard a minister speak in the past few weeks where he talked about the parable of the loaves and fishes. That story, as presented in the Gospel of Matthew, notes that more than 5,000 turned out to hear Jesus speak and as the day went on, they were hungry. While this sounds a little like tailgating at a Campbell football game, there
hen people ask me what I do at Campbell University, I typically say something like, "I work with the alumni and friends of the university," which is true, but I don't typically start with, "I raise money!" Maybe I should be more direct, but I don't like to come across as However,opportunistic.whenthe conversation does come around to giving, I frequently hear things along these lines of, "Boy, I would sure love to help Campbell, but I just can't give those big gifts like some people."
Campbell University just completed the five-year Campbell Leads campaign at the end of 2021. From a top-level review, the campaign was a tremendous success. We originally set out to raise $75 million, increased that goal to $100 million and ended up with a total of just about $106 million in gift commitments. And, equally remarkable, we received more than 60,000 contributions during the campaign with the median gift being $25.
W
Our successful Campbell Leads campaign was built on the back of donations less than $100
FOCUS | GIVING
The smallimpacthugeofgifts
BY BRITT DAVIS
4 FALL 2022
Britt Davis is vice president for institutional advancement and senior advisor to the president. In this role, he leads the university's efforts in development and fundraising, alumni relations, communications and marketing and government relations. Under Davis, Campbell has achieved record fundraising results over the past decade, including during the Campbell Leads Campaign, which raised more than $106 million in a five-year span.
• helped fund a beautiful renovation in the Wiggins Memorial library.
To those who gave a gift during the Campbell Leads campaign, thank you. Every gift matters!
From my perspective, Campbell realized a similar 21st century "miracle" in the Campbell Leads campaign. Here's how: the university received more than 60,000 gifts during the campaign totaling nearly $106 million, but 49,000 of these gifts (80% of the gifts) were $100 or less. These $100 or less gifts — nearly 50,000 of them —were directed to many wonderful things at GiftsCampbell:of$100 or less …
• provided nearly $1 million to help underwrite Campbell's operations through the Fund for Campbell.
t
• provided over $1 million in student scholarships.
I believe Jesus blessed the life of that little boy who shared the bread and fish from his lunch basket. The Lord turned that modest lunch into something bigger.
s In Febraury, Campbell University celebrated the success of its Campbell Leads campaign with a gala held in the Academic Circle, just outside of the Oscar N. Harris Student Union (the largest project funded by the campaign). Photo by Ashley Stephenson
I also believe the Lord blesses Campbell University and those who contribute to our mission and purpose. We can do great things with many gifts.
The Spring 2022 edition of Campbell Magazine celebrated the successful five-year Campbell Leads campaign, which raised more than $106 million to fund student scholarships, the Oscar N. Harris Student Union and other important programs and projects on campus. The magazine focused on some of our biggest advocates and the students whose lives have been changed because of their generosity. View this and other past editions at magazine.campbell.edu
SPRING 2022
was no food. There were no vendors selling Chick-Fil-A, there were no food trucks with Korean BBQ. Jesus's disciples looked around the crowd, and all they could find was a boy who had five small loaves of bread and two fish. Yet, we are told that after Jesus instructed the disciples to pass around the fish and the bread, it somehow multiplied over and over. That small lunch ultimately fed the 5,000 with "12 basketfuls leftover" (Matthew 14:13-20).
• contributed more than $1 million to the construction of the new Oscar N. Harris Student Union.
Does a $10, $25, $50 or $100 gift to Campbell make a difference?
Every single day it does! Put together with thousands of more gifts of that size, it becomes like the five loaves and two fish. But instead of feeding the 5,000, it helps keep promising students with financial need enrolled. It helps keep the library up to date. It helps our student athletes have the latest equipment and facilities. It helps underwrite the operations of this world-class university.
Britt Davis, vice president for institutional advancement at Campbell University, greets Distinguished Alumnus Caton "Fuzzo" Shermer at the gala celebrating the Campbell Leads campaign in February. Davis has served in his role as vice president for 11 years. Photo by Ashley Stephenson t
MAGAZINE.CAMPBELL.EDU CAMPBELL UNIVERSITY 5
• helped expand facilities for our athletes in soccer, softball, football, baseball, tennis, wrestling and more.
Celebration of Giving
CALIFORNIA LOVE
1ST ROUND, 13TH PICK LOS ANGELES ANGELS
Zach Neto was one of just eight prospects who made the trip to Los Angeles for the Major League Baseball Draft on July 17, and just 13 picks in, he became the highest-ever Campbell Fighting Camel taken, drafted by the day's host — the Los Angeles Angels. Neto played two full seasons at Campbell (and a pandemic-shortened first year) and was twice named the Big South Conference Player of the Year. In all, four Fighting Camels were chosen by MLB teams over the three-day draft. Main photo by Mary DeCicco/MLB Photos via Getty Images; photo above courtesy of the Los Angeles Angels
ZACH NETO
When Thomas Harrington was chosen by the Pittsburgh Pirates 36th overall in the first round (competitive balance picks) of the Major League Baseball Draft on July 17, he became the second-highest Fighting Camel ever drafted in the program's long history. The highest went earlier in the night — Zach Neto. Harrington, pictured above with his family, friends and teammates at his home in Sanford on Draft Night, was the Big South Pitcher of the Year in 2022 and led the nation with 12 wins. Main photo from the Pittsburgh Pirates; above photo by Evan Budrovich
THOMAS HARRINGTON 1ST ROUND (CB), 36TH PICK PITTSBURGH PIRATES
PIRATES CAPTURE AN ACE
NASA NATIONAL AWARDS
Thosesuccessfully.students
won't have to hide those animals anymore with the addition of Pet Hall, located near Barker-Lane Stadium. Formerly Stadium Apartments, the recently refurbished hall can house up to 32 upperclassmen, and each apartment is equipped with two private bedrooms (each with a twin bed and mattress), two full bathrooms, a smaller bonus room, a washer and dryer, shared living room and a shared fully equipped kitchen.
For the second consecutive year, students in Campbell University's School of Engineering earned two national awards in NASA's Human Exploration Rover Challenge in 2022. For the first time, one of those awards is in the coveted "overall" category. Campbell's human-powered rover — designed, engineered and tested by students over the last eight months — finished third overall in the college/university division, and the team also earned the Task Challenge Award, given to the team that demonstrates a 3-D print tool for sample retrieval tasks. Pictured are faculty advisor Dr. Lee Rynearson and team leaders Greeley Hibbard and Sam Sandifer, both rising seniors this fall.
UPGRADEROOMATEFIRSTON-CAMPUSPET-FRIENDLYHALLOPENSFORSTUDENTS
10 FALL 2022 AROUND CAMPUS
"One of the reasons upperclassmen choose to live off campus after their first few years at Campbell is because they want to own a pet," Nothstine said. "We've had to ask students in the past not to bring their pets inside of our residence halls, and so the idea here is we have a place where we allow it, we can regulate it and you build a community of students who have 'pets' in Nothstinecommon."hopes
Pet Hall is a step in the right direction toward enticing students to remain on campus and enjoy the benefits of being part of the Campbell residential community.
Photo by Evan Budrovich
Dogs, cats and small caged animals — even flying squirrels — will be allowed in the petfriendly block of apartments, according to Kellie Nothstine, associate vice president of campus life and Title IX coordinator.
Dogs, cats, turtles, ferrets. Even a flying squirrel. Campbell's on-campus students have tried to sneak many-a-pet into their residence halls over the years, and rarely have they done it
Recent graduate JULIANNE SANCHEZ was named co-Big South NCAA Woman of the Year was a three-year lacrosse starter
"At the start of the pandemic, there were large outbreaks at several [meat processing] facilities, and these industries haven't allowed researchers to come in and find out why," Bailey said. "These were and still are high-risk workers. We need to pay better attention to large-scale food handling procedures."
Bailey, an assistant professor of public health for the College of Pharmacy & Health Sciences, teamed with researchers from UNC-Chapel Hill and Texas Tech for the study, published in Applied and Environmental Microbiology Their research took three surrogate viruses with similar protein spikes of the COVID-19 virus and placed them in frozen meat and fish subjected to both refrigerator and freezer temperatures.
NEWS.CAMPBELL.EDU
While the surrogates reacted differently depending on food and temperature, overall, the viruses survived for extended periods of time at high concentrations at both refrigerated and frozen temperatures. Neither Bailey nor the study are suggesting everyone toss their frozen meat. Instead, she said the results are significant because they show that continued efforts are needed to prevent food contamination in packaging plants.
The Law School's TRIAL ADVOCACY PROGRAM ranks among the best in the nation, 16th overall, according to U.S. News & World Report
It's been over two years since the COVID-19 pandemic reached the United States, killing more than a million Americans and infecting just about the entire adult population at some point. A new study led by Dr. Emily Bailey suggests the virus can survive up to a month in frozen meat and fish, a finding that could explain the reason behind some outbreaks both in the U.S. and Asia in the early months of the pandemic.
Campbell football holds the nation's 89th-ranked recruiting class, making them the top FCS school for 2022 and ahead of several FBS schools, including large programs like South Florida, Washington, Arizona State, Kansas, Rice and Louisiana-Lafayette
Campbell is one of eight universities nationally taking part in the engineering project, "RESEARCH FOR ALL," organized by the Kern Entrepreneurial Engineering Network
MAGAZINE.CAMPBELL.EDU
With eight starters returning from its Big South double-winning side, CAMPBELL MEN'S SOCCER is ranked No. 25 nationally in the United Soccer Coaches' preseason poll
Campbell ranks near the top 20 percent nationally in 40-year RETURN ON INVESTMENT, according to a 2019 study that considered the "net present value" of a degree, calculated by projecting earnings 40 years later
FULL STORY:
s As has become an annual summer event, the College of Pharmacy & Health Sciences and the School of Osteopathic Medicine hosted a mock mass casualty incident in June to teach hands-on, realistic training when responding to a crisis.
PROFESSOR'S RESEARCH FINDS COVID CAN SURVIVE ON FROZEN FOODS
THE COUNT
Alexis Thompson, a rising senior pre-law major, was one of two students (along with Jaylen Gardner) who spoke at Campbell's first Juneteenth celebration on June 20. The event served as a history lesson for those in attendance, with written accounts from former Harnett County slaves in the 1800s and book displays on slavery and the Juneteenth holiday. "I can say Campbell University truly puts action behind its words, building a community for all, and it is my hope that we will continue to strive to do this work, as it truly is needed," she said.
20892516817
"The leadership team at Campbell is grateful to the [CAA] for the invitation to join this outstanding athletic conference," said Campbell President J. Bradley Creed. "Campbell's athletic teams have demonstrated that we can compete with some of the best teams in the country. This move to the CAA aligns extremely well for Campbell in terms of the profile of sports and athletics, as well as the academic reputation of these highly regarded colleges and universities."
12 FALL 2022
Campbell will become the 14th member of the Colonial Athletic Conference beginning July 1, 2023. The addition will increase CAA's membership to 14 schools, joining new members North Carolina A&T, Hampton, Monmouth and Stony Brook as schools that have all joined in the last year. CAA Football will consist of 15 teams beginning in 2023.
THETOCAMELSJOINCAA
— Acting Director of Athletics Hannah Bazemore, a two-time Campbell graduate named to the position in July after serving in various roles (including senior associate athletics director for business and finance) since 2010.
C
The conference encompasses many of the nation's largest metropolitan areas with a geographic footprint that stretches from Boston to Charleston. It has produced 18 national team champions in five different sports and 33 individual national champions.
Over the last five years, Campbell has won four Big South Conference men's all sports trophies and the Sasser Cup twice as the overall Big South all sports champion. In that same span, Campbell has won 42 league regular season and tournament titles in Big South and Southern (wrestling) conference competition.
"Academically, culturally and athletically, the CAA will be an outstanding home for [us] for decades to come. It's our goal to give our student-athletes and coaches an opportunity to compete among the nation's leaders, and joining the CAA at this time affords us this opportunity."
ampbell University has accepted an invitation to join the Colonial Athletic Association in all sports the league sponsors effective July 1, 2023.
Campbell will remain a member of the Big South Conference for the 2022-2023 season before making the move. Wrestling will remain a member of the Southern Conference.
Campbell will join a Colonial Athletic Association that has established itself as one of the nation's top collegiate conferences both athletically and academically for more than three decades. The landscape of the conference stretches along the majority of the East Coast, and includes several of the nation's top media markets — New York (1), Philadelphia (4), Washington, D.C. (7), Boston (9) and Baltimore (26). The number of television homes in the CAA market exceeds 19 million.
University.AROUND
The Colonial Athletic Association has estab lished itself as one of the nation's top col legiate conferences both athletically and aca demically for more than three decades. CAA teams have won 16 national championships and have won 43 games in NCAA postseason play since 2006, including a pair of Final Four appearances in men's basketball.
MAGAZINE.CAMPBELL.EDU CAMPBELL UNIVERSITY 13
MEET THE
s Schools representing the Colonial Athletic Association in 2023 include: The College of Charleston, University of Delaware, Drexel University, Elon University, Hampton University, North Carolina A&T State University, Hofstra University, Monmouth University, UNC Wilmington University, Northeastern University, Stony Brook University, Towson University, William & Mary and football-only schools the University of Albany, the University of Rhode Island, the University of Richmond and Villanova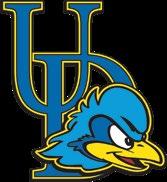 CAMPUS
"'Maladies of Infinite Aspiration': Smartphones, Meaning-Seeking, and Anomigenesis" by Dr. Justin Nelson and Dr. Christopher Piper was published on Aug. 8. Read more about their study online at news.campbell.edu.
RESEARCH
n a study published in August, researchers at Campbell and Baylor University found that users will be disappointed if they expect smartphones and social media to fill their need for purpose and meaning. In fact, it will probably get worse, according to their findings.
I
14 FALL 2022
"One of the things that Durkheim said in about 1920, believe it or not, was that modernity would open the door to what he called the 'malady of infinite aspiration,'" Pieper said. "And this would appeal to people, because it felt like they would have more and more choices, more freedom, endless pleasure and so on. But what it actually would do is probably ruin them psychologically. And so today, we begin the process thinking, 'I'll find my purpose or meaning or the group I belong to.' You had maybe
Professors from Campbell, Baylor say those who rely on smartphones for meaning, satisfaction in life are mostly finding disappointment
addiction. In this paper, they used Baylor Religion Survey data to show that while devices promise satisfaction and meaning, they often deliver the opposite. Seeking itself becomes the only meaningful activity, which is the basis of anomie and "Ouraddiction.research finds that meaningseeking is associated with increased smartphone attachment — a feeling that you would panic if your phone stopped working. Social media use is also correlated with increased feelings of attachment," Nelson said. "What is interesting though, is this association decreases for the heaviest of social media users. While we don't know how this group uses social media, it might be that normalized use at the highest levels erases feelings of attachment for the individual — as we put it, it would be like saying one is attached to their eyes or lungs."
Dr. Justin Nelson, assistant professor of sociology at Campbell University, and Dr. Christopher Pieper, senior lecturer of sociology at Baylor University partnered to understand the complex relationship between meaningseeking and technology using the most recent wave of the Baylor Religion Survey. Their research appeared this year in the journal, Sociological Perspectives
"Human beings are seekers — we seek meaning in our relationships, our work, our faith, in all areas of social life," Pieper said. "We seek purposeful lives, especially in this era where self-identity construction is so necessary and important. As researchers, we were interested in the role that smartphones — and the media they give us instant access to — might be playing in Themeaning-seeking."teamwondered if the search for meaning is connected to feelings of attachment to one's smartphone — a possible precursor to tech
Both Nelson and Pieper say their paper relates to classical social theorizing from a century ago by French sociologist Emile Durkhiem, who talked about the "limitlessness of modernity." Both say smartphones have opened a Pandora's box of unlimited searching.
SWIPING ANSWERSFOR
Image:vecteezy.com
Hammond called the news a "proud accomplishment for many at Campbell."
According to Carpenter, the accreditation is retroactive to October 2019, meaning all students who have earned degrees in the program have now graduated from an ABET accredited school.
According to ABET's website, the organization accredits "college and
"We are most grateful to our campus community, faculty, staff, students, alumni, external advisory board and industry partners, all of whom have been important partners in this process."
A key finding of the study is that the feeling of attachment is highest for those who use social media less often. When users seek solace or connection through their phones in shorter spurts, they might be exacerbating attachment, and the authors theorize, feelings of "anomie" and addiction.
university programs in the disciplines of applied and natural science, computing, engineering and engineering technology at the associate, bachelor's and master's degree levels. With ABET accreditation, students and employers we serve can be confident that a program meets the quality standards that produce graduates prepared to enter a global workforce."
The professors argue that smartphones themselves may be anomigenic — a word introduced to describe how smartphones may produce anomie because of the unstructured and limitless options they provide for seeking meaning and purpose. The study provides a sociological link to the psychological studies that point to connections between digital device and media use and feelings of loneliness, depression, unhappiness, suicidal ideation and other poor mental health outcomes.
MAGAZINE.CAMPBELL.EDU CAMPBELL UNIVERSITY 15 AROUND CAMPUS
BILLY LIGGETT
"Achieving ABET accreditation of our engineering program is a pivotal moment for the School of Engineering and Campbell University," said Dr. Mark Hammond, vice president for academic affairs and provost. "This sterling achievement comes after a multi-year process including extensive peer reviews and evaluations of every part of the curriculum, student outcomes, alignment with the University mission and ABET's framework for excellence."
Does this mean that since smartphones have barely been around for 15 years that we are doomed to become even more addicted as technology improves? Pieper thinks that if smartphone attachment gets worse, society will eventually begin to reject the technology. He compared this scenario with society's rejection of smoking over the last few decades.
ACCREDITATIONEARNSPROGRAMENGINEERINGABET
"A provost rarely gets to start a new school, so I am especially grateful for the opportunity to start a School of Engineering," Hammond said.
10 choices then, and today you have 10,000. It absolutely overwhelms a given individual and sends them in the opposite direction."
"It is the gold standard of quality in engineering education," Carpenter said. "We began implementing a robust assessment program in 2017, but institutions cannot apply for accreditation until after they have graduated their first class. That means we have been working toward this day for a long time.
"Before we knew the truth about cigarettes and nicotine, everybody smoked, including your pulmonologist and your nurses," he said. "An entire generation of young people at that time became basically nicotine addicts without ever knowing what was going on. Now, it's 40 to 50 years later, and it seems so naive and dangerous and strange to have this kind of wild west approach to chemicals that are going into your body. And I think that's very similar to what's going on now, with our general cultural approach to technology. We don't fully know what it's doing to us. We don't fully know the dangers or the benefits. It's an unstudied, uncharted territory. And that's why we're doing this work."
Campbell University School of Engineering's Bachelor of Science Engineering program has been accredited by the Engineering Accreditation Commission of ABET, the school's founding Dean Dr. Jenna Carpenter announced in August.
s Dr. Jenna Carpetner, founding dean of the School of Engineering, began her one-year term as president of the national Association of Engineering in Education in July. Photo by Ben Brown
Launched in 2016, the school saw its first graduating class in 2020, and has grown to become one of the most inclusive programs in the nation, recognized nationally for its handson curriculum. Carpenter said she is "absolutely thrilled" to see the school receive ABET accreditation for its fouryear degree program.
"[Smartphones] are not just tools, they've changed the rhythms of our life," Nelson added. "We cannot even fathom probably getting in the car without without our phone. But these things have accelerated the problems that, of course, were already there. And that's where these mechanisms of meaning and purpose really matter."
floors and in the same suites based on common majors, career goals and personal interests. The idea was that students would find support amongst their peers in these groups and not only succeed academically, but build stronger social bonds as well.
freepik.com|vectorpch
The meeting marked the second visit of the North Carolina Commission of Indian Affairs to Buies Creek in the past year, laying the groundwork for a partnership that both sides hope will continue to grow, according to Dr. Alfred Bryant (above), dean of the School of Education & Human Sciences and a member of the Lumbee tribe based in Pembroke.
Thethem.number
"When I came to Campbell, I started talking to [Executive Vice President] John Roberson about how the University can get more involved with some of our nearby American Indian tribes — Harnett and Sampson counties are home to the Coharie, so why not try to form a relationship that benefits all involved?" said Bryant. "The group first came here in December and had such a great experience on campus that they asked what I thought about hosting the June meeting as well. We would love for this to become an annual stop for them."
BrownBenbyPhoto
only climbs if you replace "yesterday" with "this week" or "in the past month," according to Pew Research Center, which in 2015 found that nearly three-fourths of teens play video games regularly or somewhat regularly. Those numbers have carried on into college, where the National Association of Collegiate Esports have reported more than 170 schools with esports programs and more popping up by the year.
Nothstine, associate vice president of campus life and Title IX coordinator, the idea was born from the launch of Residential Learning Communities in 2019, which grouped students on the same residential hall
"There's this thought that gaming isolates young people, but it can be very social, and this adds to that social element."
AROUNDN.C.BETWEENPARTNERSHIPCAMPUSFORMSCAMPBELL,INDIANTRIBES
Dean Locklear, a rising senior political science major, investigated "Historic Native American Presence on the Campbell University Campus and Land Acknowledgement" as part of the Ester H. Howard Student Research Fellows program, a program in its fifth year designed to support independent student research and inquiry. Dr. Nicole Rushing served as Locklear's mentor for the project.
16 FALL 2022
Representatives of North Carolina's eight American Indian tribes met at Campbell University in June for their quarterly meeting to discuss important issues facing Native Americans in the state and set goals and initiatives for immediate future.
Approach any student at Campbell University and ask the question, "Did you play a video game yesterday?" and you'll receive a "yes" answer from roughly half of
The commission consists of 21 representatives of the American Indian community. It was created in 1971 in response to requests from concerned tribal leaders who felt their voices weren't being heard at the state level. There are roughly 122,000 American Indians living in North Carolina, giving the state the largest population east of the Mississippi River and eighth largest in the nation.
Entering its fourth year, the program has produced five communities, according to Nothstine, and early results on GPA and retention have been promising. The gaming community, she says, is an extension of that program and offers something for incoming students that not a lot of universities have yet in terms of campus housing options.
"We have a very active gaming community on campus and a gaming club with more than 80 members," says Nothstine, who adds that Powell Hall was already equipped to handle the bandwidth surge because it formerly housed Campbell's IT department.
NEW RESIDENTIAL COMMUNITY IN POWELL HALL CREATED FOR GAMERS
The gaming option, she says, is only currently available to upperclassmen living on campus.
In a step toward building a more organized — perhaps one day competitive — gaming community at Campbell University, the Office of Student Life has converted one of its residence halls, Powell Hall, into a living area catered to students who are into video Accordinggaming.toKellie
PHOTO BY BEN BROWN
TWITTER
@campbelledu
The
INSTAGRAM
FACEBOOK
@campbelledu best-dressed father-son duo at graduation.
Campbell University Aug. 5 We fell in love in a special place.
TRENDING
"It
MAN BEHIND THE CURTAIN
@campbelledu Faithe Beam's vision as Vice President for Student Life focuses around the focus and mission of Campbell students. is the intangible quality that embodies the student experience. It shows up in how we care for and support one another." Such a good boy!
The
#Campbell22
@campbelledu Campbell family pulling for @gocamelsbsb in Knoxville, Tennessee.
MAGAZINE.CAMPBELL.EDU CAMPBELL UNIVERSITY 17
Those involved or familiar with Campbell Athletics for the past five years know Evan Budrovich, former director of digital media for GoCamels.com and current play-by-play announcer at many Camels home games. Budrovich made the jump to institutional marketing and communications this spring and is now heading the University's social media and digital media efforts. A graduate of the University of Southern California, Budrovich found his way to Buies Creek in 2016 and is now working toward his Masters in Business Administration degree.
here is no sound more synonymous with Campbell baseball than the cheers of "Let's Go Drake," belted by the Camels' most enthusiastic fan.
willing to do whatever is going to make her happy," said her mother, Joann Ayala. "It means the world to us, just to give her a chance."
The relationship began at a community service trip in 2016 to the Miracle League of Johnston County. From the moment
18 FALL 2022 AROUND CAMPUS
COMMUNITY
Campbell Baseball's road to the NCAA Regionals this year was made special by unwavering support from their biggest fan
T
s Campbell baseball rising senior and All Big South slugger Drake Pierson runs Gabby Hernandez around the bases at a home game at Jim Perry Stadium. "No matter what kind of struggle she's got going on ... she's here for us," Pierson said of the team's No. 1 fan.
For the last six years, Gabby Hernandez has rolled up to Jim Perry Stadium in her wheelchair, belting this and similar chants for her team, all as she continues to fight for her life off the field.
Hernandez suffers from a life-threatening genetic disorder on Chromosome 22q, leading to multiple physical ailments including a severe form of epilepsy called Whilemyoclonic-astatic.catchingsomething as simple as the flu could be devastating for her, you wouldn't know it by watching her cheer on her
"They'reteam.always
ANGELSGABBY'S
"No matter what kind of struggle she's got going on, she makes sure that she's here for us," said Drake Pierson, a first-team All Big South Conference first baseman this year as a redshirt junior. "And we make sure that we are here for her."
"Honestly, I just try to put on a show for her," said Pierson. "She's over there smiling and screaming for all of us to say hello, and it's really nice to see her find happiness through us."
EVAN BUDROVICH
Hernandez knows every name on the Campbell roster and is keenly aware of when to cheer. That unwavering support is deeply appreciated, according to Pierson.
she laid eyes on the team, the connection clicked. By the time the 2018 season rolled along, then freshman Ty Babin saw that splendid smile across the dugout and made sure to make Hernandez feel at home.
Hernandez turned 14 on June 27, a moment her family wasn't sure would ever happen. "I'd like to believe these moments give her a drive to keep going and keep fighting because she does have a lot of illnesses," said her mother. "And we don't know how long she has left."
Campbell Online, Air Force team up Adult & Online Education teamed up with the Community College of the Air Force to advance the academic goals of enlisted airmen through the Air University Associate to Baccalaureate Cooperative for the Bachelor of Science in Cybersecurity degree to allow Air Force professionals to transfer their credits directly into Campbell's four-year program.
CAMPBELL.EDU
Hernandez's latest miracle came from the generous hearts of college baseball fans across the country. The Ayala family traveled to Knoxville, Tenn., for the NCAA Regionals in June thanks to the baseball program and were greeted to warm support, cheers and generous donations. Her GoFundMe page exploded, raising more than $4,800 for future medical needs.
The players sign autographs for Hernandez before every game, many of them say hello during the game while in the on-deck circle or even on the field, and everyone makes sure to stick around after the game for any photo request she wants.
Expanded 'Camel Run' returns this fall
MAGAZINE.CAMPBELL.EDU CAMPBELL UNIVERSITY 19
Education's new name better represents breadth of programs
Nursing students earn DAISY awards
"I tried to talk to her every game and whenever she was here with her family, spending as much time as I could with her, because it was really obvious to see how much she truly cared about Campbell baseball," said Babin.
Belting at the top of her lungs, Hernandez made national television as a featured segment in the ESPN broadcast in Knoxville, while cherishing every moment of the three-day experience. "I'm still at a loss of words for it … We've never gotten to travel with the team, and it's been a giant family," said her mother. "This trip made us feel a part of something special."
Two Bachelor of Nursing students — recent alumna Sarah Dunn and rising senior Morgan Bass — earned national DAISY Awards in June. The award recognizes "the skillful and compassionate care nurses provide to patients and their families."
"Whatever it is, whether you got a guy in scoring position or whatever, I'm going to get it done," he said. "I want to make her smile; make her happy."
t Gabby Hernandez's relationship with Campbell baseball dates back to 2016. She is a regular presence at most home games.
After a two-year absense of the tradition, football games at Barker-Lane Stadium this fall will begin with the "Camel Run." "Our hope is that as our students feel the energy of running onto the field, that their passion for being a Campbell Camel is magnified through the experience," said Acting Director of Athletics Hannah Bazemore.
The home of Campbell University's professional education, psychology and social work programs is now the School of Education & Human Sciences, the University announced on June 1. The name change better reflects the scope of the school's offerings, according to Dean Alfred Bryant. Born from the Department of Education at Campbell in 1985, the school has grown to add majors in psychology and social work, a minor in sociology and master's programs in clinical mental health counseling and school counseling.
COVERSTORY KAILEY ELLIOTT
A resilient class of freshmen share goals and dreams for the next four years as they enter a whole new world
M E E T C L A S S 2 0 2 6 THE OF
THESE STORIES
"Man is, by nature, a social animal," Aristotle once wrote. Second to earning a degree and starting a career, this class is eager to connect socially with their peers and become part of an "experience" and a community that they mostly missed out on in high school.
are only the beginning. For this edition of Campbell Magazine ,
they're an introduction to 12 students —chosen randomly during the third of four summer orientations hosted on the main campus this year — and a documentation of expectations heading into a four-year college journey.
All 12 agreed to give us more than just the 20 minutes it took to talk and take a few photos back in June. They're allowing us to check in over the next four years to help chronicle their Campbell experience. And they've all agreed to sit down with us again in May 2026 to share their updated stories (and take a few more photos). In order to tell a story of growth and maturation, it's best to start at the very beginning.
We're excited to tell these stories. See you in 2026
CAMPBELL UNIVERSITY 21
These interviews revealed a heightened sense of hope for a group whose high school careers were defined and marred by a global pandemic. Online classes became the norm, and many of their gatherings and social events were masked or socially distanced. Proms, athletic events and milestone ceremonies were either canceled, altered or virtual.
It's our hope that all 12 of these students join us again in four years to tell us all about their Campbell experience. We're confident that those who do will return older, wiser, more confident and ready to take on the world.
BY BILLY LIGGETT PHOTOS BY BEN BROWN & EVAN BUDROVICH ILLUSTRATIONS BY JESSICA RIGSBEE
HIS SIGHTS SET on becoming an engineer in four years, Caleb Teter is ready to get his hands dirty now. That's the big reason why he chose Campbell.
SHEDECHAMPLAINNICOLETTEWASIN
"At other schools I was looking at, they make you do a lot of classroom stuff first — a lot of math before you ever step foot in a lab," he explains. "Here, you've still gotta do the math, but you can also go straight into learning to use the equipment. You get to start now."
The son of a Campbell alumnus, Teter — who grew up not far from Fort Bragg — wants to join the Army and become a combat engineer after graduation. The possibilities after that, he says, are limitless.
"I came to Campbell to grow as a person," she says. "I'm here to pass my classes, meet new people and have a new space around new people to realize who I really am."
"You see these incredible people saving someone's life, and I just knew I wanted to do that," she says. "I want to be someone who's there for others, to tell them it's going to be deChamplainOK."will study nursing with hopes of starting a career somewhere in North Carolina. She chose Campbell over other nursing schools because the school and the program felt like home.
Eastover, North Carolina
AELLIOTTKAILEYSTATECHAMPION
"I grew up on a farm, so I've always known responsibility," he says. "I hope these next four years teach me more in-depth responsibility when it comes to the real world."
hurdler from Lithonia, Georgia, Kailey Elliott is moving two states (five and a half hours) away to begin her college journey. It was a tough decision for her, but one she felt was necessary for self discovery.
Elliott will study sports management while she runs and jumps for the track team, and, at least early on, she will be shedding the nerves that come with leaving the familiarity of home and adjusting to new surroundings.
Lithonia, Georgia
elementary school when her mother suffered a stroke in 2013, and the experience had a profound effect on Nicolette deChamplain. Regular visits to the hospital showed her the impact a nurse can have on not just their patient, but their patient's family as well.
TETERCALEB
"I really feel like this is where I'm meant to be," she says.
"I'm the youngest, and I'm the only daughter, so my mom didn't really want this to happen. But we're going to make it work," she says. "Campbell felt comfortable for me [on the first visit], so I know I'm in a good place."
Sanford, North Carolina
"I HOPE four years from now I'm stronger than I am right now — that I'm the leader I know I can be. I want to show people college was worth it and inspire them to take that leap of faith."
— Nicolette deChamplain
"Everybody was so nice — the students, the professors, everybody," he says. "I came here when I was younger for football camps and always remembered seeing the stadium, the dining halls and the chapel, and that always meant a lot to me to see a school with a chapel out in the open like that. The Christian atmosphere here is important for me."
Spring Lake, North Carolina
A homeschool graduate and daughter of a Campbell alumnus, Perkins says the social part of college is one of the things she's looking forward to most — not that her "social life" was lacking during the homeschool years.
on Alicia Perkins' phone showing her and a much taller Gaylord the Camel, taken during freshman orientation in June. He was just one of several friends the Spring Lake native made during her very first college experience.
"I want to own my own firm one day," she says with a smile. "The program here not only teaches you technical skills, but also real-world skills like communication and leadership. That will be very beneficial to reaching my goals."
The other thing that has her most excited — engineering. Perkins is already signed up for clubs on campus, and she's ready to follow her career dreams.
"One misconception is we're not socialized," she says. "School isn't the only place to meet people."
Raleigh, North Carolina
His goal for the next four years is simple: "When I look back, I want to say I did everything I wanted to do in college. I want to say that I found great friends, and I did everything I wanted to do in my major. And one day, I hope to be able to give back to Campbell University."
THERE'SPERKINSALICIAASELFIE
his first tour of Campbell, Sadler Powell had already decided on another school. His Buies Creek visit had more of an "it couldn't hurt to look" vibe to it. The tour, of course, made an impact. Powell loved the environment on campus and liked what he heard about the opportunities available in the trust and wealth management program.
SADLER POWELL
"Campbell just felt like family to me every time I visited," she says. "Everybody seems so close."
Bonner says she hopes to gain leadership skills and hands-on experience in her engineering classes during her undergraduate experience. She comes in with a bit more experience than other freshmen in those areas — she was a leader on her conference champion volleyball team, and she started her own small business designing logos and artwork during the pandemic (the business flourished).
Farmville, North Carolina
Dantzler Bonner sees some of Farmville in Campbell University (which has more students than her hometown has residents).
FARMVILLEBONNERDANTZLERISTHE
kind of small town where everybody knows everybody and "word spreads pretty fast." But it's a community full of people who are quick to support each other and help out no matter what.
26 FALL 2022
"MOST KIDS just go a few hours or a few states away for college, but I moved five time zones away. But what's great is it's like I've got another family here that I stay with — just a completely different life here than I ever thought I'd have. I'm very grateful, and I feel like I'm lucky to have this."
Elijah
— Walsh
MAGAZINE.CAMPBELL.EDU CAMPBELL UNIVERSITY 27
A BIG SOUTH "Freshman of the Year" watchlist went out in July, and Elijah Walsh's name was on it. Those are big expectations for a young man who left his home in Leeds, England at 18 to play a sport he loves in the U.S. But Walsh is a grounded kid who understands he's here to learn and get better.
"I just want to be good," he says. "I know I'm not what you'd call 'amazing' at this yet, and I still have a long way to go. I like the fact that I can be here and work toward getting better in something I'm very interested in."
"It's all about becoming a better person, too," he adds. "I feel like I'm in the right place to make that happen."
"You know when you go car shopping, and you look at all these cars, and they all look the same?" she says. "But there's this one car that just feels right. Campbell just feels right to me. And it didn't hurt that they have a great physical therapy program."
HALLIE MOSS
LIKE ROUGHLY 10 PERCENT of the incoming Class of 2026, Hallie Moss is a Campbell legacy student. Her father went to Campbell and always had great things to say about his experience. Moss applied to 50 colleges while in high school and toured many of them. She landed at Campbell because she felt most welcome here.
A former barista, Moss hopes to find good coffee in Buies Creek. Her four-year plan is a bit more ambitious.
"I hope that I can make a good and leave a good impression while I'm here," she says. "More importantly, I want to set a solid foundation for my future."
His four-year goal on the court is to be a part of a winner — Campbell men's basketball hasn't been to the NCAA Tournament in 30 years. Individually, he wants to develop his skills on the court and be a leader both to his teammates and to younger athletes through camps and other coaching opportunities.
Leeds, England
WALSHELIJAH
Jefferson City, Missouri
Facemire will study biology with a pre-med track at Campbell, a school with a strong service mentality that fits well with her goals in the next four years. In high school, she worked with the Appalachia Service Project, a nonprofit that addresses substandard housing in North Carolina and surrounding states.
WHEN SHE WAS in kindergarten, Kaitlyn Facemire latched on to a book called, "When I Grow Up, I Want to be a Doctor." Thirteen years later, she's ready to write her own story.
"It was a humbling experience that made me thankful for what I have," she says. "I want to continue to give back, and I feel like I'm in the right place to do that."
NOT ONLY DID Jaidyn Ramsey's advisor at Campbell remember her name right off the bat, but even knew the unique spelling as well. It's the little things that attracted Ramsey, a state-qualifying sprinter in high school who'll run for the Camels over the next four years.
Raleigh, North Carolina
"I had a nickname in high school — they called me 'Mama,' because I just like to be there for people and take care of them," she says. "I was captain of my track team as a freshman, and I earned the respect of my teammates because I cared so much about each of them. I hope to earn that same respect here."
Mebane, North Carolina
"I've always liked the good that comes from being a doctor," she says. "My end goal right now is to be a pediatrician — I've just always had this connection with kids, and I'd love to be a part of caring for them and making this world a better place."
"Family is a big thing for me, so just being a part of a true community here and knowing my professors will know who I am, that's important," she says.
Jaidyn Ramsey
Track titles are a goal for Ramsey, but academically, she's got her eyes on law school in 2026. She's also ready to be a leader, whether it's in the classroom or on the track.
"I'm in the ROTC program, and I'll be studying engineering at Campbell, so hopefully my career path is in the Army," he says. "I want to learn to fly, further my education and one day work for NASA or SpaceX. At least that's the goal."
MAGAZINE.CAMPBELL.EDU 29
Sanchez will study nursing at Campbell, and she hopes to become part of the ROTC program and one day become a military nurse or medic. She hopes college can get her to that career, and she's excited about her
"I want to be a part of the community here," she says, "and explore what's out there."
FOR A KID
Tobaccoville, North Carolina
THESANCHEZNIAHPANDEMIC
Baker chose Campbell because he enjoys the intimacy here. He likes the smaller class sizes and having professors who know his name. He likes that he'll get to be hands-on from Day 1 in his engineering courses.
caused Jezaniah Sanchez to miss out on the "true high school experience." Virtual classes made learning more difficult, her learning experience wasn't "hands on," and her social life suffered during those two years.
"I'mfuture.still very dependent on my family right now, so in four years, I'd love to be financially stable enough to just be fully independent. I'd love that freedom."
She hopes her next four years at Campbell will make up for what she missed out on.
NOAH BAKER
Fuquay-Varina, North Carolina
Career aside, he's also here to make friends. He's counting on the advice from his parents being true. "They've told me I'll still see my high school friends and the friends I grew up with, but it's in college where you meet the people you'll carry with you through life," he says. "And I'm hoping to find a bit of individuality here. Become my own person."
surrounded by tobacco fields, Noah Baker is dreaming big.
I WANT A LIFE measured in first steps on foreign soils and deep breaths in brand new seas.
— Tyler Knott Gregson
Freshman Orientation photos by Ben Brown
I want a life measured in welcome signs, each stamped with a different name, borders marked with metal and paint.
I want a life measured in the places I haven't gone, short sleeps on long flights, strange voices teaching me new words to describe the dawn.
Show me the streets that don't know the music of my meandering feet, and I will play their song upon them.
32 FALL 2022 IX HONORING FIFTY YEARS FIVE WOMEN WHO CONTINUE TO PUSH THE ENVELOPE IN DIVISION I ATHLETICS AS MEMBERS OF THE FIGHTING CAMELS' COACHING & TRAINING STAFF PROFILES AND PHOTOS BY EVAN BUDROVICH
TITLE
"I need to push the limits of what I think is possible, because we don't know if there's ever going to be a head female football strength coach until we do it."
— Rachel Pike, assistant strength and conditioning coach
achel Pike feels empowered, not only to train athletes but to set the new benchmark for female strength coaches.
RACHEL PIKE
Assistant strength and conditioning coach
uring her formative years in the late 1960s, Wanda Watkins drove up to Chapel Hill to watch her role models
"As soon as you see that it can be done, I think we should be able to break those barriers faster and in many more places," Pike said.
Pike interacts with both men's and women's teams on campus. The buy-in process remains the same, yet she finds it extremely rewarding when those same female athletes that were in her shoes years ago find their passion training.
Jackie Knight is humbled by colleagues and students who want to model their careers after the Camels' head athletic
JACKIE KNIGHT
Director of athletic training
34 FALL 2022
"It's kind of nice to be able to break that mold," said Knight, who enters her 11th season with football. "Now I think a lot of them (studentathletes) don't really see me as being a female necessarily. It's just, 'That's my trainer.'"
trainer. Rachel Pike hopes to continue breaking down barriers in the world of strength and conditioning.
R
ackie Knight walks past the Star Wars memorabilia cluttered in her office preparing to treat just about any medical emergency in the galaxy.
When Knight took over the role, only 17.5 percent of head athletic trainer positions were women, according to the National Library of Medicine. NFL scouts would step on campus and, by habit, ask for the head "guy" as Knight would step forward.
Pike reminded Parker before the rep, "Oh yeah, it's heavy alright. But we're strong enough to do it, and you need to believe in yourself."
J
D
Vaulting into leadership positions in the (traditionally male) strength and conditioning world seemed foreign to other female trainers.
"I want to make sure that people understand if you come here, we're going to hire the best. The most important thing to me is how you can do the job."
Larry Miller and Franklin "Rusty" Clark play basketball, dreaming of her chance to one day play in college at a time when women had few opportunities in the sport.
"I do need to push the limits of what I think is possible, because we don't know if there's ever going to be a head female football strength coach until we do it."
Dawn Easley fell in love with sports by cheering on the inaugural 1996 Olympic U.S. Women's Soccer team led by Julie Foudy and Michelle Akers. That same exuberance for excellence pushed Shelby Denkert on the soccer field as a captain and all-conference standout for Campbell Women's Soccer.
To honor the 50th anniversary of Title IX, we share the stories of five Campbell Athletics coaches, trainers and administrators who continue to push the envelope and break glass ceilings for women in collegiate athletics.
On June 23, 1972, the Education Amendments Act was signed into law by President Richard Nixon. The legislation addressed gender inequality in education and the clause called Title IX provided a seismic shift for the landscape of female college sports. Fifty years later, women make up approximately 47 percent of all NCAA athletes, compared to 28 percent in 1982. While the gap is narrowing, they continue to fight for equality in terms of funding and support.
After spending her first four years at Campbell roaming the hardwood with Coach Wanda Watkins and logging 15 years of experience in the professional ranks, Knight was offered the opportunity to oversee the football program.
Fast forward a decade, Knight is humbled by the current graduate assistants who mention her pioneering efforts as the reason they entered the profession. When Knight and her team hire new trainers, they focus on culture and personality fit above all else.
Last fall, Pike was training the Campbell softball team when freshman Tyra Parker attempted to deadlift twice her body weight. The 5-foot-1, Humble, Texas product hesitated, uncertain of her abilities to complete the daunting task.
Much like Roger Bannister breaking the fourminute mile back on May 6, 1954, once the door opens — the possibilities are endless.
— Jackie Knight, director of athletic training
"I think a lot of [student-athletes] don't really see me as being a female. It's just, 'That's my trainer.'"
36 FALL 2022
— Dawn Easley, head lacrosse coach
"The goal is to set the example because [my players] want to know, what does that road even look like," said Easley. "I do know that through a lot of sacrifice and prayer, God has put me here, and that he wants me here."
"I know that through a lot of sacrifice and prayer, God has put me here, and he wants me here."
DAWN EASLEY Head women's lacrosse coach
ntering her 10th season at Campbell, Dawn Easley balances the responsibilities of raising three kids and developing a lacrosse program.
E
"I had players who understood the challenges and I think when you face challenging adversities, people really surprise you and step up."
of 2021 when Easley delivered her third child, Ryleigh, hours before an upcoming match.
In women's college lacrosse, the average age of a coaching staff traditionally trends younger as more coaches leave the business to enter the working world or raise a family. That work-life balance was put to the test during the spring
Family is the No. 1 priority for Easley — both her family at home and the young women she's raising at Barker-Lane Stadium with Campbell Lacrosse.
Easley relied heavily on her two assistant coaches along with her husband, Joe, to step up and fill the void. She wanted to be strong — both as a mother and a leader — eventually returning to the sidelines within days of leaving the hospital.
MAGAZINE.CAMPBELL.EDU CAMPBELL UNIVERSITY 37
SHELBY DENKERT Assistant director, game operations & equipment
ormer student-athlete Shelby Denkert ('18) was one of many young female athletes molded into an all-conference soccer player by her head coach, Samar Azem.
"When I Iook back at the progress that's been made, it's been amazing," she said. "It certainly didn't come overnight, but it's just something, an internal drive about you, where you just can't rest until changes are made."
As a player, Denkert climbed her way up the depth chart, elevating the Campbell program as an eventual two-time team captain on defense. She then joined the coaching staff as the director of operations in 2019 under Azem, before transitioning into game operations.
WANDA WATKINS Senior associate athletics director
Every small victory took years of persistence, as she developed trusted relationships with athletic administrators to ensure the needs of her players were met. A lifetime of progress was realized for Watkins and her staff when they traveled to the Women's Final Four in the late 1990s.
Her climb, she says, was made possible because her coaching staff stayed laser focused on the details — both on and off the field.
"Early on we would say, 'These kids work really, really hard,'" said Watkins. "They're devoted, they need that notoriety, and I'm going to help them get it."
A young girl sat in front of them wearing a Rebecca Lobo jersey. Holding back tears in her eyes, Watkins told her staff, "Oh my gosh, this little girl finally has a female athlete role model. The world's really changing for the better."
F
"I felt like I grew up a lot more during my time [at Campbell] having an empowering female pushing us every single day," said Denkert.
Watkins was the school's first female athletic scholarship recipient in 1975. She was then named a graduate assistant coach, followed by an illustrious 35-year stint as the all-time women's basketball wins leader (549) in program history.
While constantly challenged by her female head coach, Denkert said she was empowered to embrace her current duties of managing schedules, expectations and day-to-day operations for multiple head coaches across campus.
hen it comes to capturing the scope of Title IX's impact, nobody understands the trials and tribulations better than Wanda Watkins.
"Coach Azem made sure we understood the importance of standing up for what we wanted and to set our sights squarely on that."
She tells herself every day on the job: "I need to go out and be assertive. I cannot be shy or timid, because I have the power to go above and beyond for my teams."
W
SARAH SATTELBERG ('22)
38 FALL 2022
here aren't a ton of 36-year-old interns out there, and Sarah Sattelberg was keenly aware of her unique status three months prior to earning a communication studies degree from Campbell. Her career path still very much an unknown, Sattelberg took to LinkedIn to pen
"Military or not, there's a lot of people out there who are deciding they want to go for a completely different career than the one they're in or had before," says Sattelberg. "Making that transition at an older stage in life can be a little weird and very stressful. [The response] showed me I'm not the only one doing this."
a succinct, yet impactful post on the struggles of military spouses making the transition to civilian careers.
An Army veteran and military spouse, alumna shares challenging transition to civilian life, career
Sarah Sattelberg graduated from Campbell University with a degree in communication studies in May and began her full-time position as director of alumni engagement at her new alma mater the following week. A military veteran, Sattelberg says part of her role will be connecting with the many Campbell alumni with military experience.
Two days after she walked the stage at Barker-Lane Stadium on May 14, Sattelberg started her first official day as the director of alumni engagement. While she received several interview requests and even a few offers in the days and weeks following her post, Sattelberg says working for Campbell seemed like the right fit at the right time.
The post caught the attention of 2004 alumna and fellow communication studies graduate Katie Smith, a member of the Alumni Association Board of Directors. Smith shared Sattelberg's words with the Office of Alumni Engagement, who coincidentally had an opening for a new director.
"My career was dictated by where the Army sent us and how long we would be stationed there," she wrote back in February. "From 2012 to 2020, we moved five times. While I worked at every duty station, had some great positions and am a veteran, my resume doesn't necessarily make sense in the civilian world.
T
RIGHT PLACE, RIGHT TIME
BrownBenbyPhoto
"So I decided I might as well start at the Thebeginning."postconnected with both friends and strangers, topping 3,000 likes and more than 400 comments in the days that followed.
"I enjoyed the feeling I had as a student at Campbell, so when I started looking at job opportunities, Campbell aligned well with what I was looking for," says Sattelberg, who originally hoped to find communications work in the nonprofit sector. "This position also offered a lot of what I enjoy doing — working with people and engaging with them to see how we can better support them. And then
Military veterans and spouses said they empathized with Sattelberg's situation, and those who didn't were quick to offer their support and — in several cases — job offers.
our mentorship programs and the events we host — I love the idea that I won't be doing the same thing every day. This position has a little bit of everything."
When her husband retired from the military in 2020, Sattelberg was ready for her "time to shine." Her new title at Campbell is an exciting step for her and her family.
Baptist Heritage Award, which recognizes those who represent exemplary service and giving to organizations associated with the Baptist State Convention. While his service to Campbell lasted nearly 20 years, his service to the North Carolina Baptist community has exceeded 40 years. He announced his retirement from Campbell in 2021, and officially stepped down on June 30 of this year.
1980s
— Elaine Dawson, Divinity School ad ministrative assistant, on the scholarship her parents established for Christian Campaignthesheiescommunicationstudies,studandDivinitythatsupportsthroughEmployeeGiving
"Seeing the tragedy unfold, it just made me want to do something about it," she says. "And having the patriotic military family connection, I think it just fueled that desire even more."
Carolinaof2022University'sCampbellwasrecipienttheNorth
Sattelberg joined with a career in military medicine in mind. Her initial deployment took her to Korea for two years — she had expected the Middle East — and eventually she landed in Texas at Fort Hood, where she met her future husband, Sgt. Maj. Ryan Sattelberg, who served in five different deployments in Iraq, as well as Bosnia and Kosovo. His career as a non-commissioned officer sent the two and their three children all over the country — from 2012 to 2020 alone, the family moved five times before finding a home in North Carolina.
leading others to do the same. Your participation makes a big impact! NOVEMBER 9, 2022 CAMPAIGN.CAMPBELL.EDU/GIVINGDAY
Fayettevilletrainingandcustomizedindustryat
Technical Community College. Moore lives in Fayetteville with his wife, ANGELA STARLING MOORE ('85). Greg and Angela have one daughter, Alyssa, and one granddaughter, Kathleen.
"I firmly believe in education, and I've always been a friend of the library everywhere we've lived."
GREG MOORE ('85) celebrated six years in his role as director of
Go Orange. Give Back. Go Camels! On #CampbellGivingDay, proudly put on Campbell orange and make a gift! Help us reach our goal of 2022 gifts by making your gift on Campbell Giving Day. Every gift makes a positive impact on the Campbell community, now and for generations to come. Every day, every year, your gift matters to Campbell University, a place where committed students, under the guidance of caring faculty and staff, are transformed and driven to lead with purpose. Share why you give on social media using the hashtag
— Anita Brown, serials assistant for Wiggins Memorial Library, who generously supports the library through the Giving with Purpose campaign.
BILLY LIGGETT #CampbellGivingDay,
RONDA LANGDON ('82) was named one of the "50 Greatest North Carolina Athletes of the Title IX Era" in a June Fayetteville Observer article. She was a two-sport standout at Campbell, selected allstate in both basketball and softball. In addition, she was voted Campbell's Outstanding Athlete for her final three years, an unprecedented feat.
A native of Twin Falls, Idaho, Sattelberg grew up in a family with a rich military history — her grandfather and his four brothers were all pilots in the Air Force; one of them killed in action during WWII. Her stepfather is a Navy veteran, and her uncle was in the Army. Sattelberg was a sophomore in high school on Sept. 11, 2001, and that attack on U.S. soil pushed her toward joining the Army after graduation.
The moves were necessary for her husband's career, but for Sarah, it meant for a convoluted resume — a too common problem for military spouses, she says, especially when trying to transition to a "civilian career." The LinkedIn post was a combination of sharing her testimony, educating hiring managers on military resumes and a little bit of venting her own frustrations as a 36-year-old intern nearing graduation.
MAGAZINE.CAMPBELL.EDU CAMPBELL UNIVERSITY 39
ALUMNI NOTES
"Even when I didn't have a job, I was involved in my community and actively engaged with the Association of the U.S. Army [a nonprofit educational and professional development association serving the Army and supporters of a strong national defense], which has close to 100,000 members," Sattelberg says. "In the civilian world, it's hard to explain that responsibility clearly."
"I'm really enjoying my role," she says. "I love meeting new people and hearing their Campbell stories. And I like our team, which is really important. We're really trying to make connections that are meaningful to our alumni and to this institution, and it's exciting to be a part of that."
1970s DR. ('77)BAZEMOREDENNIS
MICHAEL COX ('83) was named project engineering section chief, Space Launch Delta 45 Range Management Division, Launch & Test Range Systems, Eastern Range at Cape Canaveral Space Force Station in Florida. Cox has worked for the Air and now Space Force for over 35 years.
"I feel like that's a way to keep my parents' legacy alive, because when students get the scholarship, that gives me a chance to say, 'Let me tell you about the people who started it.'"
LISA MITCHUM ('88) retired from teaching after 33 years in Wake County schools.
ceremony was held for the L. Donald Starling Sr. and Annell Daughtry Starling Lobby. Starling's generous gift to the library went toward the new Teaching Resource Center, designed to equip faculty with skills and resources to make a difference in the lives of Campbell students.
More importantly, patients receive better care.
MITCHELLJOHN-MARK('89) is the millionandtolicensedNorthonlyCarolinabrokerhavelistedsoldand
Paige Brown is a believer in this approach to teaching future health care professionals — she saw how the doctors, nurses and pharmacists treated her father during a lengthy illness when she was younger, and she saw it firsthand early in her career as a pharmacist working in geriatrics. Today, she's the assistant dean of interprofessional education for Campbell's College of Pharmacy & Health Sciences, overseeing an IPE program that has become the envy of schools across the nation.
40 FALL 2022 ALUMNI NOTES
THE APPROACHTEAM
Mitchell has appeared on Bravo and A&E and currently writes The LUX Report for LUX Lifestyle Magazine, featured all over the east coast.
BudrovichEvanbyPhoto
LEW STARLING ('87) honored his ALibraryMemorialthewithparentsagifttoWigginsinJune.dedication
the academic year. Colwell has served the school district for 20 years, starting as a P.E. teacher and climbing the ranks to principal. Before her career in education, Colwell was an assistant women's basketball coach at Campbell University after a successful career as a player. She was a three-year starter with 756 career points and was a starter on the 1989 Big South Championship team.
COLWELLTONYA ('89) was SchoolsCountySampsontheprincipalnamedofyearbyfor
Mitchell created one of the largest independent luxury real estate firms in North Carolina with five offices and brokers licensed in three states.
W
hen a doctor not only understands the roles of the nurses, pharmacists, physical therapists and physician assistants he or she works with — but has also spent a little time walking in their shoes — they become better health care providers.
That's the basic idea behind interprofessional education, and for Campbell University's growing list of health science programs, it's an important part of the curriculums of those programs.
"The ultimate goal is enhancing patient outcomes and changing the landscape of health
Pharmacy alumna has become a national voice for interprofessional methods of health care education
multi-million dollar properties across the state and will be recognized in September for marketing and closing over $1 billion in his career.
PAIGE BROWN ('06 PharmD)
MAGAZINE.CAMPBELL.EDU CAMPBELL UNIVERSITY 41
"Leaving a legacy is something that we all hope to do," she says. "I would like to think that my legacy would be a smiling, friendly face that supported students, faculty and staff alike in all of their endeavors."
She's also a member of the National Center for Interprofessional Practice and the American Interprofessional Health
('94)BROWNLEECARL thetheTeacher23namedwas2022-RegionalofYearbyMichigan
DR. IIISALAZARMANUEL('95) WilliamSchoolofassociatenamedwasthedeantheBusinessatJessup
The vision of Campbell's Interprofessional Education program: "To be nationally-recognized as a program that molds a community of healthcare providers who, through interprofessional collaborative practice, promote efforts to reduce the cost of health care, to transform the patient experience, and to improve overall population health."
('93)SPAULDINGGEORGIA principalnamedwas at East Bladen High School. She has since served as head of both elementary and middle schools and was recognized as Principal of the Year for Columbus County Schools in 2018.
University, where he is a tenured professor of accounting.
DR. MILLSBETH('92, '98 PHARMD) PracticeofDepartmentchairappointedwastheofthePharmacywithin
PAUL MICHNIAK ('90) started a new role with the IBM Instana software division as a technical account manager.
care in North Carolina and the nation," says Brown, a 2006 graduate of Campbell's Doctor of Pharmacy program who returned to Buies Creek first as an assistant professor in 2010. "At Campbell, we are training students to become practice-ready with a focus on patient care from an interprofessional team."
"AtCollaborative.Campbell, we just do a nice job of providing our students with a hands-on, collaborative education," Brown says. "It starts in their first year — where they learn the basic IPE tenants and principles — and continues throughout their experience Higher-levelhere."students work together in teams across various programs, many taking part in an Amazing Race-themed competition called QUEST, which challenges students to improve their communication and teamwork to finish specific tasks.
1990s
BILLY LIGGETT
"It's all about improving patient outcomes across any community touched by a Campbell graduate," she says. "Students aren't just being told they need to work together with other professionals, they're actually doing it here. When health care becomes a collaborative process, we all benefit from it."
the College of Pharmacy & Health Sciences at Campbell University.
Department of Education. Brownlee is a social studies teacher at Fisher Magnet Upper Academy in Detroit Public Schools Community District and was recognized as a teacher of the year for Region 10.
DR. PHARMD)LUCASKRISTY('98was named dean of the University of Pharmacy.(W.V.)CharlestonSchoolofShe
says, provided an environment that allowed her to grow and develop both personally and Inprofessionally.hercurrentrole, she works with students and faculty in multiple schools and programs. She's modeled her teaching approach from the professors she grew up with — men and women who knew her name and were approachable when questions arose.
previously served as associate dean of academic affairs.
ALUMNI NOTES
After earning her undergraduate degree from Chowan College in 2002, Brown enrolled in Campbell's PharmD program and graduated with honors in 2006. She then completed Campbell,schoolofCampbellreturnedCarolina,Garysburg,smallACampbell.pharmaciststeachingeducationtoreturning2010HospitalMemorialatfamilyspecialistservedMedicine.BrodyUniversity'sEastCampbellresidencypharmacygeriatricaccreditedanpracticewithandCarolinaSchoolofSheasaclinicalformedicinePittCountyuntilbeforehigherandfutureatnativeofthetownofNorthBrowntobecausehergraduateexperience.she
Campbell's IPE program has been described as "clinically innovative" and "grounded in valued partnerships within our community and health care systems." And Brown has become a national voice on AssociationandConsortiumLeadershipEducationInterprofessionalNorthincludingorganizations,staterolesandcommitteeAnd2019.conferencesprofessionalinternationalnationalthanvirtuallyinresearchpresentedprocess.ofonjournalonandapproach,thiswritingcollaboratingseveralarticlesthebenefitsacollaborativeShe'sherbothpersonandatmoreadozenandsinceshe'searnedseatsleadershipforseveralandnationaltheCarolinatheN.C.ofPharmacists.
Smith knew he had seen Richard (Ricky) Ray before when Ray worked at the cafeteria in Marshbanks Hall while both were students at Campbell a year prior. The two men both dropped out before their senior year to join the U.S. Navy just as the country was entering the Vietnam War. Both had three months of recruit training in San Diego — Ray with Company 207 and Smith with Company 202. On the Cacapon — a T3 fleet oiler first used by the Navy during World War II and later used during fighting in both Korea and Vietnam — both were assigned to the Supply Division.
I
42 FALL 2022
On a Sunday afternoon in 1966, two freshout-of-bootcamp sailors were standing next to each other, waiting to board the Cacapon. This was the first duty station for both.
"ImagineCreek.that,"
"I came from a family of poor tobacco farmers," he says. "The only reason I went to Campbell was because one of my dad's former preachers ["Big Miracle at Little Buies Creek" author J. Winston Pearce] was with the religion department at the time."
Richard Ray and J.D. Smith were strangers with a common bond (Campbell College) when they boarded a ship headed to Vietnam
RICHARD RAY ('71) & J.D. SMITH ('71)
A BORNFRIENDSHIP,OFWAR
As they talked, familiarity creeped in. The two men realized they had met before — both were native North Carolinians, and both attended small Campbell College in Buies
ALUMNI NOTES
says J.D. Smith. "Nearly halfway around planet Earth, Buies Creek meets the Philippine islands."
t was a usual muggy day in the tropical South China Sea when, after completing a mission of refueling U.S. Navy ships in the war zone of Vietnam, the USS Cacapon returned to its port at Subic Bay in the Philippine islands.
Richard Ray (left) and J.D. Smith share memories on the front porch of the Cornelia Campbell Alumni House. The 1971 graduates didn't know each other before they served on the USS Cacapon during the Vietnam War in 1966-1968, but the experience began a lifelong friendship that has now spanned over 56 years. Photo by Billy Liggett
An instant friendship formed between the two men, one that would continue as roommates upon their return to Campbell after the war and span over 55 years — through careers, families and eventually Smithretirement.andRay returned to a muchchanged Campbell University in 2022 to reminisce and celebrate the establishment of the Richard M. Ray School of Business Scholarship Fund, which will provide scholarships for undergraduate business students showing financial need. It's a gift that has a lot of meaning for Ray, who had to take the job serving his classmates at Marshbanks to afford his tuition at the time.
Months later, Smith and Ray connected. The friendship was instant, a welcome surprise with the uncertainty of war on the horizon.
of Second Class Petty Officer.
HURTADODIANA ('05) was named a Carolina,WGUmanagerpartnershipsstrategicforNorthan
Previously, Capozzi worked as the business manager for the Berlin Central School District in Berlin, New York.
In January, 1970 they both got an "early out" from the Navy to allow them spring enrollment back at Campbell College. During the next year and a half, they rented a small vintage mobile home a short distance north of Buies Creek.Each majored in in11ReserveactivePettythetheandtimeseaReserves.thecollege,June.andinSmithadministration.businessgraduatedJanuaryof1971,RayfollowedinWhilefinishingtheyjoinedactiveU.S.NavalRay'sactivedutyandReservetotaled20years,heretiredfromNavyin1997withrankofChiefOfficer.Smith'sseadutyandtimetotaledyears.Heresigned1977withtherank
ALUMNI NOTES
The murder capped a whirlwind two-year experience for Ray and Smith, who each would go on to serve two more years in the Navy. After two years aboard the Cacapon, Ray transferred to another ship home ported in Pearl Harbor, Hawaii (where he was part of the filming of the epic WWII movie "Tora! Tora! Tora!"). Smith remained aboard the Cacapon, ported in California. During the two remaining years of their enlistment, the two maintained contact through letters.
"Much appreciation is given to Campbell for providing an opportunity to achieve growth academically and personally," said Ray. "Campbell welcomed two young men who sought a second chance and veterans who had new dreams, desires and focus."
Perhaps what the Cacapon is most well known for in the late 60s had nothing to do with the war itself. The ship was the site of the 1968 strangulation murder of Ensign Andrew Muns, who was murdered after uncovering a theft of $8,600 from an onboard safe by shipmate Michael LeBrun. Muns was initially thought to be the thief and a deserter, but his family insisted the Navy reopen the case in 1998, and that investigation led to LeBrun's murder charge. He later confessed to killing Muns and throwing his body in one of the ship's massive fuel tanks.
CAPOZZIKAREN ('06) was named chief officerfinancialof inCityLynchburgSchoolsVirginia.
Smith was always supposed to go to college, he says, but a few years in, he says his heart wasn't in it anymore. Instead of reading books and taking tests, he wanted to hitchhike through North Carolina and find adventure. Maybe he wanted to see the world.
Richard Ray and J.D. Smith served together on the USS Cacapon during the Vietnam War from 1966-1968. Both men returned to Campbell College and graduated in 1971.
The summer of 1971 was a career starter for Ray with the N.C. Department of Revenue in Raleigh and Smith at the Randolph County Health Department in Asheboro. These careers finished in retirement for Ray in 1998 and Smith the following year. Ray started a tax consulting business, which he kept for 15 years, while Smith just enjoyed retirement.
affiliate of the national online nonprofit Western Governors University. In her new role, Hurtado develops partnerships with education, health care, business and IT industries, educational institutions and government and nonprofit entities to address North Carolina's workforce needs.
MAGAZINE.CAMPBELL.EDU CAMPBELL UNIVERSITY 43
"I just remember thinking, 'I've got to take charge of my life. I remember telling [legendary former registrar A.R. Burkot] I was dropping out. He wasn't happy, and it didn't sit well with my parents. They drove in from Albemarle to convince me to stay."
education. Moore has been recognized throughout his career by recipient.CommunityAfricanineducation,organizationsnationalwithinhighermostnotablyMarchbytheNASPAAmericanKnowledgeasaStellar50
The friendship that began aboard the USS Cacapon in 1966 continues to this day with phone calls, visits and travels to ship reunions throughout the country. Campbell College of the mid-1960s and early 70s was the nucleus for this friendship now spanning 56 years.
YearLeaderEducationtheawardedwasHigheroftheawardat the Education 2.0 Conference and named senior vice president of Ardeo Education Solutions, where he is part owner. Shores maintains his military affiliation in a reserve component as a chief master sergeant in the Air Force.
2000s DR. ('02,SHORESJONATHAN'05)
The USS Cacapon spent much of the Vietnam War supporting the Navy's 7th Fleet (Vietnam marked the ship's final hurrah, as it was coloniesorphanagesgoodwillrescuepartThefarthetakeWhileandthecombatpurposeindecommissioned1973).ItsmainwastorefuelzoneshipsinSouthChinaSeaGulfofTonkin.theshipdidn'tondirectcombat,experiencewasfromordinary.CacapontookinsearchandmissionsandmissionstoandleperinTaiwanand the Philippines.
A typhoon rocked their ship at one point while docked in Hong Kong. Smith remembered the 500-foot-long ship bobbing up and down on what he called "a mountain of waves." He said Ray saved him from certain death at one point during the storm, grabbing Smith and holding on to a rail after a wave knocked him off his feet and sent him within three feet of going off the side of the ship.
DR. STEPHAN T. MOORE ('04) joined Coppin State University with 18 years of inexperienceleadershiphigher
ALEX KIRBY KENNEY ('19, '21) and KEVIN KENNEY ('20) were married on May 21 in Wilmington.
DR. ('09CAMPBELLMANDIM.ED.) was CampbellMiddleKannapolisprincipalnamedatSchool.
joined Kannapolis County Schools in 2018 and served as principal of Fred Wilson Elementary from 2014-2022. She was instrumental in transitioning that school into a dual language and global magnet school. In 2017, she was named the school district's Principal of the Year.
MEGAN LINDLEY ('09) and husband John Lindley had their first child, Maisy Rose, born June 16, 2022.
DAVE DIXON ('06) ofVCUtenureandtopromotedwasprofessorawardedatSchoolPharmacy
D. ('09(BO)BOWENHEATHLAW) was named to JournalBusinessTriangle 's 40 Under 40 list for 2022. The annual list highlights "the new generation of business leaders in the Triangle." Heath is a partner with McGuireWoods LLP and also governmentLLC'sMcGuireWoodsleadsConsultingNorthCarolinarelationsgroup.
DASHA GRAVES ('06) became a lead teacher at Liberty STEAM Charter School, the first and only charter school in Sumter, South Carolina.
44 FALL 2022
LAUREN STONE MARTIN ('20) and her husband Kyle were married on Feb. 13.
where he is also chair of the Department of Pharmacotherapy & Outcomes Science.
WILL WATSON ('07) received a Doctor of Ministry from Duke Divinity School in May 2021. His thesis is focused on the necessity of building and enjoying holy, clergy friendships during the minister's vocational journey.
ALUMNI NOTES
LEILANI DOI MAYBIN ('14, '17) and DUSTIN MAYBIN ('17, '17) announced the birth of their daughter, Alana Noelle Ayako Maybin, on April 4.
DEVYN MCGOWAN ('20) and DAMIAN DOOLITTLE ('18) were engaged in October of 2021. Their wedding will take place in November 2023 in Wilmington.
MERCEDES TORRERO-AIZAGA ('16) married SSG Carlos Aizaga on March 26 in downtown Fayetteville.
OLIVIA BURLEY ('18) and COLE PAULEY ('19) were engaged on April 27. Their wedding will take place in the summer of 2023.
THOMAS HARPER ('10) was promoted in July to senior counsel within the Office of the General Counsel, American Red Cross National Headquarters.
Primon has been the driving force behind the internal and external communications and marketing at Catalyst Clinical Research, which provides highly customizable clinical research solutions to the global industry.biopharmaceutical
GADDYEMILY ('11), a SchoolOrangetrainerandathleticlicensedtrainerheadatHighin
Hillsborough, was named the Elton Hawley Athletic Trainer of the Year by the North Carolina High School Athletic Association. was Iowacoachbasketballheadnamedwomen'satCentral
2010s
Community College. She joined the staff as an assistant in 2018, and before that she spent two seasons as a graduate assistant at Upper Iowa University. At Campbell, she was a member of the track and field team and served as a team manager for the women's basketball program under Wanda Watkins.
MAGAZINE.CAMPBELL.EDU CAMPBELL UNIVERSITY 45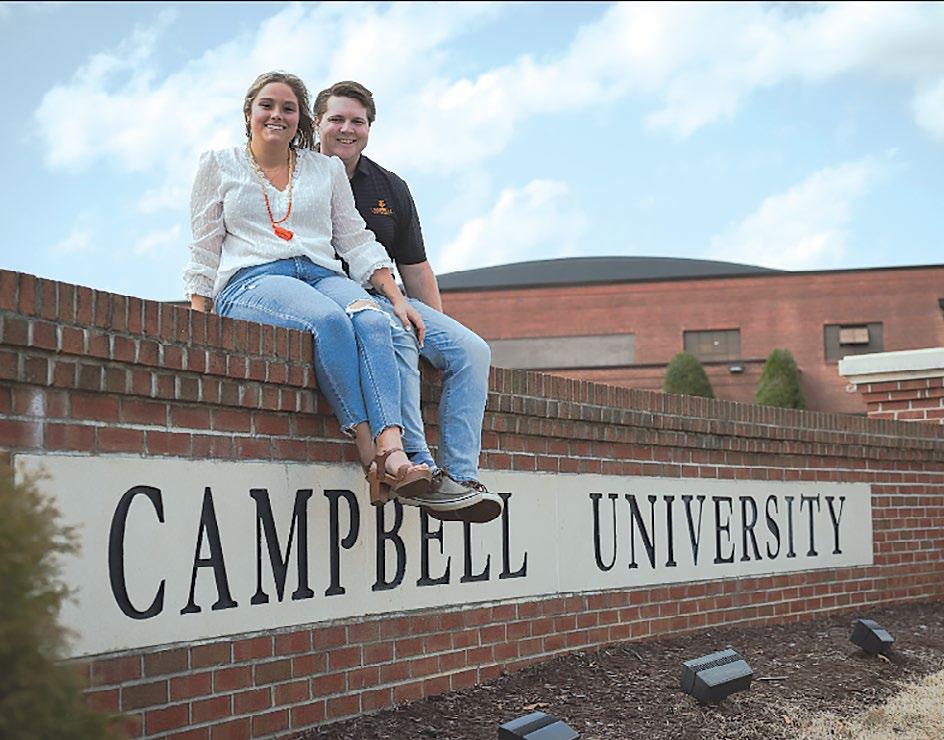 ALUMNI NOTES
EMMA PRIMON ('11, '15 MBA) was named to JournalBusinessTriangle 's 40 Under 40 list for 2022. The annual list highlights "the new generation of business leaders in the Triangle."
RYAN DUNN ('10) became the owner/director of TGA Premier Sports of Tucson, an organization that combines athletics, academics and life lessons to create fun and engaging youth programs.
('13,DICKERSONSABAH'15M.ED)
Photos by Sarah Sattelberg
46 FALL 2022CAPT.
Photo by Evan Budrovich
POSADAELIAZAR ('15) was elected to serve on the TheCouncil.(N.C.)CarrboroTownson
ALUMNIcommunities.
What is a REUNION 0? It's a chance for alumni to connect long before their five- or 10-year reunions. This year's event in May welcomed the Class of 2022 into the Alumni Association before graduation. The event included food trucks, give aways, photo ops, yard games and an opportunity for seniors to celebrate their accomplishments.
of migrant farm workers, Posada is president and founder of Posada Strategy Consulting and a community advocate. He began his work with El Centro Hispano as a community specialist and grew to be acting president and CEO, where he led the programs and advocacy efforts that impact the low income, LGBTQ and undocumented
HARRISBRITTNEE('13) created and leads a instructingcourse how to start a business, work on personal and business credit and scale to a six-figure company. Harris has been featured in more than 100 newspapers.
NOTES
based organization with a long history of support for wounded warriors, the U.S. military and public education — in 2021. Arroyo was shot in the throat at pointblank range during a mass shooting on April 21, 2014, at Fort Hood and sustained life-threatening injuries. The shooting and his improbable recovery are the subject of his book, "Attacked at Home! A Green Beret's Survival Story," published by Southwestern Legacy Press in 2020. For the Roever Foundation, Arroyo is an inspirational speaker, delivering a resilient message of hope around the country, bringing families shattered by the trauma of war back to health.
After RepairReliablestartingCreditin2009,
ARROYOJOHN('13) was —FoundationthepresidentexecutivenamedviceofRoeveraTexas-
The annual WELCOME TO THE CITY summer engagement event allowed alumni to reconnect with classmates and expand their Campbell network within their local communities. Events in July were held in Raleigh, Winston-Salem, Wilmington and Richmond. Said 2019 alumna Jessica Bee: "Being new in Richmond, it was great to connect with other alumni in my new home. I got to hear great restaurant recommendations and bond over shared experiences. I can't wait to keep attending local events and connecting with fellow alumni."
REUNION ZERO
WELCOME TO THE CITY
2022 Major League Baseball Draft in July. Chasse was a firstteam All Big South Conference player in his senior season and led the Camels with six saves in 26 total appearances.
MAGAZINE.CAMPBELL.EDU CAMPBELL UNIVERSITY 47
D
JORDAN BALLOU ('15) was named the PharmacistDistinguishedPharmacistsMississippiAssociationYounginJune.
instrumental in the health and well-being of many of our students and his patients. Dr. Elliott was a compassionate physician, integral in the teachings at the medical school, with always the student's best interest at heart."
r. Harold "Hal" Elliott, chair of psychiatry for the Jerry M. Wallace School of Osteopathic Medicine, died unexpectedly at his home in Fuquay-Varina on June 7.
FRIENDS WE WILL MISS Mary Gatton (1917-2022) was a longtime member of Presidential Advisory Board, trust supporter
CONNOR MAHONEY-ASHBERRY ('16) married Monique Sydney Murphy in Pittsburgh on Dec. 31, 2021.
MARY BRUNJES ('15) started a new position with PPD as a project manager.
Elliott joined Campbell University in 2017 after serving as psychiatry residency program director at Michigan State University and before that, East Tennessee State University. A native of Clover, South Carolina, Elliott earned his undergraduate degree from Davidson College and his MD from the Medical University of South Carolina School of Medicine. Dr. Brian Kessler, dean of the medical school at Campbell University, said Elliott made a big impact in his five years with the school.
Help us make sure you're not only getting Campbell Magazine delivered to your home, but you're also getting important updates from our Office of Alumni Engagement. If you've moved recently, changed your email address or are not receiving regular updates, visit edu/updatealumni.campbell. to share your current information.
ALUMNI NOTES
2020s
"Students and the University community will sadly miss Dr. Elliott," Kessler said. "He was
Over the years, he received several accolades for his work, particularly as a teacher of residents. His clinical interests included anxiety disorders, treatment resistant depression, PTSD, student health, psychiatry in primary care and adult ADHD. He lectured and published articles and chapters on adult ADHD and premenstrual dysphoric disorder (among others).
Hal Elliott (1963-2022) had a big impact on medical students as psychiatry residency program head
She relished visits to family in Hungary, Austria and Serbia and became fluent in her family's native language. Her family moved around a lot when she was young — Pennsylvania, Ohio and Michigan, where she earned her bachelor's degree in commercial science at Detroit Business University in 1937.
She is survived by many nieces and nephews living around the country, as well as many relatives still living in Hungary, Austria, and Serbia. She also is survived by her goddaughter, Diana Hanson Hunt.
She met the love of her life, T. Harry Gatton, while visiting a friend in North Carolina, and the two married on Sept. 12, 1942, in Detroit. They moved to Washington D.C. in 1950, where Mary worked
Harry served as executive vice president of the N.C. Bankers Association and became involved in Campbell University's trust and wealth management program. He established a scholarship for the program and eventually became a member of Campbell's Presidential Advisory Board. Upon his death in 2001, Mary took her husband's seat on the board.
RYAN CHASSE ('22) draftedwasby the Toronto Blue Jays in the 17th overall)(518throundpickofthe
An active member of Hayes Barton Baptist Church in Raleigh and a lover of reading, ballroom dancing, photography and needlework, Mary died in May a few months short of her 105th birthday.
ary Louise Gordon Gatton took immense pride in being a firstgeneration American — her father was a Hungarian Baptist missionary who immigrated to the U.S. around 1910 to establish his position in the Baptist church. The ninth of 10 children, Mary was born in Scranton, Pennsylvania, on July 30, 1917, and never forgot her Hungarian roots.
SHERIDANKYLE ('17) joined Baird Trust as a vice president and trust officer in HeGreenville.assists clients and trust beneficiaries in developing wealth transfer strategies and solutions. Sheridan earned his MBA and BBA from Campbell University and attended the Intermediate Trust & Fiduciary Program at the American Bankers Association.
SEND UPDATES!
as personal secretary to four senators and clerked on the Senate Appropriations Committee. She was offered the position of personal secretary to President-elect John F. Kennedy, but declined the opportunity to return to North Carolina with her husband. She worked for 14 years in the N.C. Senate and returned to college at 59 to earn a degree in English from NC State.
He was 58.
Elliott was a lifelton fan of college basketball and a huge fan of the UNC Tarheels and Davidson Wildcats. He was known to schedule his vacation time around March Madness, just to binge-watch the games with his wife and kids.
He will be remembered for his warm and empathetic manner, which often contrasted with a wicked, dark sense of humor and a sense of the absurd. Elliott was a gifted storyteller who could entertain a crowd once you got him going. This was a skill he brought frequently to his practice and to his teaching.
M
The great philosopher Yoda once said, "We are what they grow beyond."
Billy Liggett | Editor
Facial hair didn't arrive until my 20s. I'll be 50 before I can grow a real beard.
So, yes, the fun smiling faces, the bright colors, the frilly stickers, the nutty fonts I'll never use again — they're all about the long game. My hope is it will all be replaced by more formal fonts, confident faces and some caps and gowns when the Summer 2026 edition comes out.
Said it, you did, Yoda. Said it, you did.
The cover story to this edition of Campbell Magazine is a story I've wanted to do for a long time now. It marks an introduction to the Class of 2026 — a group of young men and women who grew up in a post-9/11 world; who've always known the internet, social media and smartphones; and who had their formidable high school years derailed by a global pandemic. Kids today are resilient. They're tech savvy. They're optimistic. But they're still kids. And there's still a lot of growing to be done.
It would be ideal if all 12 students were on hand for the follow-up. Statistics suggest that likely won't happen. But those who will walk the stage that May (or earlier) will have a chance to be a part of a story I'm excited to finally tell — a chronicle of personal growth as a result of a four-year Campbell Ofexperience.course,this requires me to also be here in four years. I've already been here for 11 of them, and unless I hit one of those near-billion lottery jackpots or the opportunity of a lifetime comes along, I don't plan on leaving any time soon. Much like the new alumni who form a bond with their alma mater after four years, I've developed a … what's the word … "love?" … for Campbell University that's grown since I first stepped on campus — slightly skinnier and with much less gray hair — back in 2011.
I
That story starts now.
48 FALL 2022 FROM THE EDITOR
THE LONG GAME
That's where this story comes in. These 12 students — picked mostly randomly during the third of four freshman orientations held on campus this summer — have all agreed to check back in with us during their Campbell journeys and sit down with us again in four years for another set of photos and interviews. The questions we asked in July — "What are your goals for the next four years?" "How would you like to see yourself grow?" "What do you hope to get out of your college journey?" — will be revisited in 2026.
All this to say that when I stepped on a college campus for the first time in August of 1994, I was still just a kid. Even more of a kid than the other kids. I struggled that first year both academically and socially, as it took me a little longer to acclimate to independence.
I've gotten to know several students along the way both as a former instructor and advisor for The Campbell Times newspaper and in my role in Marketing and Communications telling student stories. I've never viewed myself as an educator or mentor, but in my instructor role, I was a witness to growth and maturity. I've seen those same students start careers and attain levels of success I only dreamed of at that age.
was a late bloomer. Always the shortest kid in my class until my sophomore year of high school when an out-of-nowhere growth spurt finally kicked in. Even after graduation, I grew a few more inches in college to top out at "average human male height."
I think back to that skinny kid with a bad haircut — trying to figure out washing machines and swipe cards at lunch that first week — every time I see a new class of freshmen arrive at Campbell University to begin their own journeys. They always seem so much more sure of themselves than I ever was — their goals loftier than mine were and their determination more evident.
As a journalist, I'm programmed to be skeptical and cynical. But my 11 years in Buies Creek has made me a believer in Campbell University, and if I wasn't confident that 2026 wouldn't deliver a positive, compelling and inspiring story of growth, I wouldn't have touched this idea. I'm banking on a good outcome here.
I came around. Eventually. Working full-time in restaurants, gas stations and hotels while being a full-time student provided a crash course in responsibility. The friends I met in college had a huge (mostly positive) influence on me. I found my passion in college — writing. I met my wife.
Welcome home. ALUMNI.CAMPBELL.EDU Campbell University's Office of Alumni Engagement works to create meaningful engagement opportunities for our alumni. Partner with us through events, benefits, communications and philanthropy to make a lasting impact on your alma mater. Visit us online to learn more or to update your contact information. HOMECOMING OCT 8 MAKE PLANS TO JOIN US FOR A DAY OF FUN WITH YOUR FELLOW CAMELS! FOOTBALL vs. CHARLESTON SO. @ 4PM
Post Office Box 567 Buies Creek, NC www.campbell.edu27506
PPCOPAIDU.S.OrganizationNonprofitPostage
PHOTO BY EVAN BUDROVICH