HIGHER ED DIRECTORY: A LOOK AT THE STATE'S LEARNING INDUSTRY LENDINGTREE CLIMBS BACK | MAKING SENSE OF MAKERSPACES | JOHNSTON'S PHARMA PROWESS Price: $3.95 businessnc.com MAY 2023
4 UP FRONT
6 POINT TAKEN
Public-private cooperation pays for pharma giants in Johnston County.
10 POWER LIST INTERVIEW
Lawyer Mike Fox juggles key roles in development, transportation posts
12 ENERGIZERS
An Air Force pilot and Kinston dentist build a conglomerate of businesses that reflect their passions.
16 NC TREND
How the Liquid Pleasure band keeps grooving; Brewer bets on canned cocktails; Methodist University plans to produce physicians in Fayetteville; First Citizens Bank shows perfect timing; Top N.C. execs press plan to boost state's R&D investment.
72 GREEN SHOOTS
A $50 million program aims to propel overlooked N.C. businesses.
28 ROUND TABLE: BIOTECHNOLOGY
Biotech companies discuss plans to attract students and workers to their fast-growing industry.
38 NC PROFILES: BUSINESSES SUPPORTING VETERANS
Organizations across the state are focused on supporting and hiring veterans.
64 COMMUNITY CLOSE UP: UNION COUNTY
Manufacturing and aerospace add to growth in a county that also hosts a thriving agricultural sector.
COVER STORY
HIGHER EDUCATION
Our annual guide to the state's public and private colleges and universities, from enrollment, to cost, to graduation rates.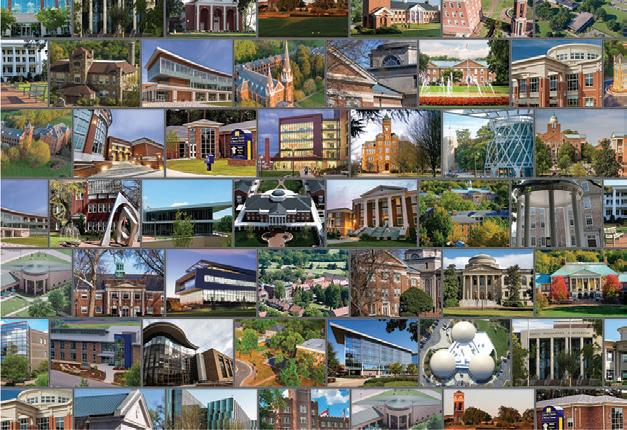 BY EBONY MORMAN
PRUNING TIME
Fintech innovator LendingTree recharges after some larger rivals stole its thunder.
BY MIKE MACMILLAN
DO IT YOURSELF
Makerspaces give Tar Heel entrepreneurs, do-it-yourself enthusiasts, and artists the tools and space to grow.
BY SHANNON CUTHRELL
3 MAY 2023 May 2023, Vol. 43, No. 5 (ISSN 0279-4276). Business North Carolina is published monthly by Business North Carolina at 1230 West Morehead Street, Suite 308, Charlotte, NC 28208. Phone: 704-523-6987. All contents copyright © by Old North State Magazines LLC. Subscription rate: 1 year, $30. For change of address, send mailing label and allow six to eight weeks. Periodicals postage paid at Charlotte, NC, and additional offices. POSTMASTER: Send address changes to Business North Carolina, 1230 West Morehead Street, Suite 308, Charlotte, NC 28208 or email circulation@businessnc.com. Start your day with business news from across the state, direct to your inbox. SIGN UP AT BUSINESSNC.COM/DAILY-DIGEST.
MAY 2023
42
56 60
David Mildenberg
W
Seriously, the settlement of a muchpublicized defamation lawsuit in mid-April raised important issues on how the media operates in 2023. My sense is that most readers don't care about the inner workings of the news business. But hang with me to consider a few key issues. We know having readers' trust is important.
Credibility based on a pursuit of accuracy is the most important concern, of course. If the sky is Carolina Blue, but we report that it is Wolfpack Red to curry favor with the N.C. State University crowd, it's a problem. Especially if someone nds an email saying I'm bbing to get tight with the Raleigh crowd.
Breathe easy, this magazine has never intentionally lied about Red versus Blue, or anything else, based on pure bias. Seems like a low bar, but it's a di erent age. Everyone has biases because of their life experience. But our predecessors made an e ort to tell the story straight, despite outside pressure. We try to continue that tradition.
It can get cloudy because of economics, however. In the 1980s journalism world, dominant media companies were among the most lucrative businesses in their communities. It wasn't cigarettes or so drinks, but a monopoly local newspaper or TV station was golden. Today, most for-pro t media groups operate on much thinner margins, while many news groups operate with subsidies from foundations, advocacy groups, wealthy individuals or government entities. ey understandably have biases. (Business North Carolina's owner is a closely held, for-pro t business.)
Given the economic pressures, it's impressive to see news organizations produce well-reported stories that challenge powerful institutions, whether one agrees with the coverage or not. Recent examples include private-equity-owned McClatchy's series
ell, our magazine made it through another month without e Brass paying any critics $787 million. Let's count that as a success.of stories criticizing North Carolina's giant poultry industry for placing too much production near low-income rural residents; or the nonpro t Asheville Watchdog's reports on how HCA Healthcare's ownership of Mission Health has a ected health care in western North Carolina.
One can nd cracks in both cases. e McClatchy stories, which target readers in vibrant Raleigh and Charlotte, understate the poultry industry's economic value in struggling regions. HCA backers contend the negativity stems from biased nursing-union organizers and does not acknowledge the tough decisions about sta ng levels across the industry because of labor shortages and margin pressures.
Fortunately, reporters still ask challenging questions of in uential enterprises and individuals. e key is for fair-minded people to eventually agree on the underlying facts and then gure out solutions. Sure, that's utopian. But on too many civic issues, the media allows extremists to gain control of the debate. In the defamation case cited above, that seemed intentional, which led to a $787 million payout.
Let's hope the big check leads to a wiser, fairer journalism environment.
•••••••••
Correcting the world's wrongs is noble. We take our shots periodically, but our magazine's mission is concentrated on sharing stories of interesting North Carolina people and enterprises. is month features an entrepreneurial couple in Goldsboro; a legendary Chapel Hill wedding band; a powerful Greensboro lawyer who in uences key development and transportation projects; and a star Charlotte tech company seeking a new growth strategy.
PUBLISHER
Ben Kinney bkinney@businessnc.com
EDITOR
David Mildenberg dmildenberg@businessnc.com
MANAGING EDITOR
Kevin Ellis kellis@businessnc.com
ASSOCIATE EDITOR
Cathy Martin cmartin@businessnc.com
SENIOR CONTRIBUTING EDITOR
Edward Martin emartin@businessnc.com
SPECIAL PROJECTS EDITOR
Katherine Snow Smith
CONTRIBUTING WRITERS
Dan Barkin, Shannon Cuthrell, Connie Gentry, Mike MacMillan, Tucker Mitchell, Ebony Morman, Emilee Phillips, Ray Gronberg
CREATIVE DIRECTOR
Peggy Knaack pknaack@businessnc.com
GRAPHIC DESIGNER
Cathy Swaney cswaney@businessnc.com
MARKETING COORDINATOR
Jennifer Ware jware@businessnc.com
ADVERTISING SALES
ACCOUNT DIRECTOR
Melanie Weaver Lynch, eastern N.C. 919-855-9380 mweaver@businessnc.com
ACCOUNT MANAGER AND AUDIENCE DEVELOPMENT SPECIALIST Scott Leonard, western N.C. 704-996-6426 sleonard@businessnc.com
CIRCULATION: 818-286-3106
EDITORIAL: 704-523-6987
REPRINTS: circulation@businessnc.com
BUSINESSNC.COM
OWNERS
Jack Andrews, Frank Daniels III, Lee Dirks, David Woronoff, in memoriam Frank Daniels Jr.
PUBLISHED BY Old North State Magazines LLC
4 BUSINESS NORTH CAROLINA UP FRONT
PRESIDENT David Woronoff VOLUME 43, NO. 5
Contact David Mildenberg at dmildenberg@businessnc.com.