Brambleton
Winter 2022-2023
Brambleton Community Association Quarterly Publication
www.brambletonhoa.com Reflect, Refocus, Renew
Growing Families. Building Community. Connecting Life.
Three Steps for Building a Great Relationship with Your Child Care Provider
Many parents agree that nding the right child care provider can be a nerve-wracking and lengthy process. Even when you've found the right provider, it can still be di cult to leave your child in someone else's care. But forming a good relationship with your child's teachers and child care team can help bring you peace of mind and even improve your child's learning experience.
"Children bene t from consistent, safe and nurturing environments, which is what we strive to provide at Primrose®. We also make every e ort to partner with parents to extend and reinforce learning at home through daily updates, weekly classroom schedules, at-home resources and more," says Mike Hummer, Franchise Owner of Primrose School at Moore eld Station. "This ultimately helps us foster mutual respect and open communication between home and school."
At Primrose School at Moore eld Station, a high-quality early education and care provider, teachers work closely with parents to support children's development and learning. However, building trusted relationships still requires some e ort from all involved. To build and maintain a great partnership with your family's child care provider or your child's teacher, consider the following:
Do your homework. To help nd the right provider for your family, spend time researching di erent options and considering factors that are important to you, like school safety and early learning approach. Primrose has a
comprehensive Safe School Plan and an exclusive approach, called Balanced Learning®, which o ers a balance of purposeful play and nurturing guidance from teachers. Choosing a provider you feel good about and trust will bring you peace of mind, and a great parent-teacher relationship will likely form more naturally.
Make communication a priority. It's important to invest in your relationship with your child care provider as they help your child learn and grow. Talk regularly with your child's teacher to provide helpful information about your child, ask what you can do at home to support your child's development and share your appreciation for what's going well in the classroom. At Primrose, parents receive reports about their child's school day, photos from the classroom, resources to use at home and reminders about upcoming activities through an electronic communications system called 360Connect.
Address concerns immediately. If you have any questions or concerns about your child's care, discuss them with the teacher or school director as soon as possible. If there is a problem, it can't be solved unless someone knows about it, and providers would prefer to know if something upsets you before it becomes a bigger issue. By sharing your concerns when they arise, you can work together to nd a solution.
High-Quality Preschool Experiences Lead to Future Success in School and Life
Brambleton Community Association Magazine
Learn about the Primrose Schools BalancedLearning approach and Primrose School at Moore eld Station by visiting PrimroseMoore eldStation.com or calling 703.726.9306.
Reflect, Refocus, Renew
There are several interpretations of the phrase "the three Rs." Years back in elementary school, I was taught that it referred to Reading, Writing, and Arithmetic. More recently, the three Rs were redefined as Reduce, Reuse, and Recycle. Some may even know them as Respect, Responsibility, and Resourcefulness. Brambleton Community Association is using a new version of the three Rs to guide us in 2023: Reflect, Refocus, and Renew.
Reflect
BCA is actively updating its Strategic Plan for the next five years. As part of this update, multiple stakehold ers – Brambleton residents, BCA staff, Committee members, and the Board of Directors – are currently reflecting on Brambleton's history and providing feedback. These stakeholders are re viewing community satisfaction, past experiences, and wants and needs to set goals for the next several years. Looking at the past with a critical eye allows our stakeholders to assess the qualities Brambleton has reflected and embraced over the years and determine what
characteristics, interests, and values remain important to our community.
Refocus
Once we have had a chance to reflect, Brambleton stakeholders will refocus their sights on the future. Our consul tant-guided discussions and analysis of surveys conducted this year will focus on the future vision for Brambleton and the actions necessary to achieve that vision. What has made Brambleton the welcoming and vibrant community it is today, and what is needed to keep Brambleton contemporary and desir able going forward? What do we do well, and what do we need to improve? What is essential to the governance of the Association, and what is important to our residents? These are just some of the questions and discussions that will take place in the coming months.
Renew
After these discussions occur and focus areas and goals are identified, it will be time to implement the new Strategic Plan. The renewed vision and mission
will align the BCA Board, Committees, and staff when approving future bud gets and performing other essential du ties. Success will occur when everyone is working together with similar and complementary goals in mind. The re newed vision will be implemented for the next five years, but it will also be reviewed annually as budgets are draft ed and membership on the Board and Committees changes.
There is never a dull moment in Brambleton. In just the past year, new cell towers were installed, discussions were held about Loudoun Airport Impact Overlay District changes, out dated rules were rewritten, safety stud ies were conducted, aging facilities were upgraded, and new facilities were planned. Needless to say, there is a lot to do moving forward as well. BCA has un limited opportunities and many desires, but its resources and responsibilities are limited. The new BCA Strategic Plan will cohesively Reflect, Refocus, and Renew the Association's efforts and actions in a coordinated manner that will set impor tant goals and bring continued success to our community.
Sincerely, Rick Stone, PCAM, LSM
2
A MESSAGE FROM THE GENERAL MANAGER
BCA Staff at National Good Neighbor Day
Brambleton Community Association
Vision & Mission Vision
Leading a high-tech community with hometown traditions where everyone can connect with life.
Mission
BCA is committed to proactively leading a quality community for its residents through stewardship of resources, advanced technology, and enhanced lifestyle opportunities.
Board of Directors
Ravi Balaram Director
Chris Cook Director
Rosemarie Linder Director
Pat Martin Director Anand Mohan Director Iain Ronis Director Brian Viola Director Management Office
42395 Ryan Road, Suite 210 Brambleton, VA 20148 (p) 703-542-6263 (f) 703-542-6266 hoa@brambleton.org www.brambletonhoa.com
Rick Stone General Manager, PCAM, LSM Paul Gentine
Communications Coordinator
Cover Photo: Bruno the Bluebird with Karis Kim. Thank you to the Kim family (Audrey, Fred, & Karis)!
To advertise in the Brambleton Magazine, contact Paul Gentine via email at communications@brambleton.org or call 703-542-6263.
The community magazine is published and mailed quarterly by Brambleton Community Association and can also be viewed on our website.
Reflect, Refocus, Renew
A MESSAGE FROM RICK STONE, GENERAL MANAGER
Brambleton Community Association is reflecting on Brambleton's past, refocusing its efforts and discussions, and renewing its goals and vision for the future while updating its Strategic Plan.
Brambleton Snow Operations
BY ISAIAH MARSH
BCA is prepared to provide winter storm services on Brambleton streets, sidewalks, trails, and common areas.
19
Rebel Taco
BY PAUL
GENTINE
Enjoy reinvented street tacos, artisan drinks, and other delicious offerings at Rebel Taco, Brambleton's newest restaurant!
Brambleton
3
Community Association Magazine Winter 2022-2023 2
9 FEATURES
DECEMBER–MARCH
Dec. 21: Holiday BRAM Bingo, 6–9 PM
Feb. 10: Wine & Charcuterie Board Night, 7–9 PM
Mar. 3: Comedy Night, 7–10 PM
MEETINGS
BCA Board of Directors: Dates TBD
Covenants Committee: Jan. 9, Feb. 13, Mar. 13 at 6:30 PM
Grounds & Facilities Committee: Jan. 11, Feb. 8, Mar. 8 at 7 PM
Financial Advisory Committee: Jan. 24, Feb. 28 at 7:30 PM
Safety & Security Committee: Feb. 21 at 7 PM
Strategic Planning Ad Hoc Committee: Dates TBD
4 2 MESSAGE FROM THE GM Reflect, Refocus, Renew 5 INSIDE BCA BCA Board of Directors 2022 BCA Board Election Recap BCA Committees Brambleton Snow Operations Winter Storm Plan
Pond Safety BCA Strategic Planning Committee Update 12 BCA BUDGET A Resident & Staff Perspective on BCA Finances 2023 Assessments & Budget 15 LIFESTYLES 2023 BCA Events Holiday
Bingo Wine &
Night Comedy Night Thank You Sponsors Volunteer in Brambleton 18 EATLOCO FARMERS MARKET 19 #BRAMLIFE Rebel Taco 21 COMMUNITY STANDARDS Strengthening Practices & Processes Love Where You Live! 23 RESIDENT RESOURCES Assessment Payment Options Connect Resident Portal Resales & PUD Questionnaires Important Contact Information 27 COMMUNICATIONS
The
Communications 33 HOW TO REACH US ARTICLES
Wintertime
BRAM
Charcuterie Board
Resident Spotlight:
DuMonts Celebrity Spotlight: Beau Applegate BCA
EVENTS
DMV Connect will return to Brambleton in 2023. Dates and registration details will be provided at www.brambletonhoa.com/dmvconnect, on the BCA Facebook page, and in the Friday Flash. DMV Connect offers: • REAL ID • Drivers' licenses
ID cards (adult and child)
Vehicle titles & registrations
Address changes
E-ZPass transponders
Disabled parking placards
Hunting and fishing licenses
Compliance summaries
Transcripts
And more! DMV Connect
•
•
•
•
•
•
•
•
•
BCA Board of Directors
The BCA Board of Directors is responsible for the overall governance and success of the Association. The Board meets regularly to discuss BCA business, set policies and procedures, and take action on various Association matters. The Board last met on August 9 & 30, October 17 & 18, and November 1, 2022; and took the following actions in accordance with its Governing Documents, state statute, and federal laws:
August, October, & November 2022 Board
ƒ
Approved the August Board Meeting Minutes.
Meetings:
ƒ Adopted the Fair Housing Principles Resolution 2022-01 and the Anti-Discrimination & Anti-Harassment Resolution 2022-02.
ƒ Approved Phase One of the BCA Operations Facility project; held informational and on-site meetings with Evermont Trace homeowners to review concepts and solicit feedback.
ƒ Approved transition of management software to the Smartwebs platform.
ƒ Approved publication of information about the proposed Airport Impact Overlay District (AIOD) on behalf of the Loudoun Aircraft Noise Mitigation Committee. Facilitated a community meeting with Chair Phyllis Randall, County staff, the Metropolitan Washington Airports Authority, and Brambleton and Birchwood residents.
ƒ Approved publication of the 2022 Strategic Assessment Findings report.
ƒ Engaged GetQuorum as the 2022 Board of Directors Election vendor and adopted the 2022 Election Guidelines.
ƒ Approved the revised Design Guidelines for fences and sheds & storage containers. Adopted definitions for front, rear, and side yards. Granted variances for window, pergola, and shed applications.
ƒ
Permitted Treasurer Jordan Crotty to remain a member on the Strategic Planning Committee; reaffirmed his membership on the Committee through the adoption of the Strategic Plan regardless of his expiring term on the BCA Board.
ƒ
Appointed Treasurer Jordan Crotty to the Executive Committee of the BCA Board for a term to expire on December 6, 2022.
ƒ Adopted HomeWiseDocs' Resale Disclosure and Document fee increase and BCA's Magazine Advertising Rates for 2023.
ƒ Adopted the 2023 Assessments and Budget as recommended by the Financial Advisory Committee.
ƒ Approved mailing of a letter of support to the State Corporation Commission for Dominion Energy's Route 5 transmission line application which provides the least impact to Brambleton residents.
ƒ
Engaged Millennium Pool Management LLC as the pool contractor for the 2023 season.
ƒ Approved the General Manager Employment Agreement between Richard Stone and the Association.
ƒ
Approved the agreement with Urban Engineering for development and submittal of the BCA Operations Facility site plan.
ƒ Approved the agreement with RH Arch to design and engineer three BCA Operations Facility buildings.
ƒ Adopted the BCA Management Office lease amendment and extension to May 2024.
ƒ Approved a former owner's balance write-off as recommended by the Association's attorney with the understanding that all existing judgements will remain in place as initially granted.
ƒ
Appointed Vice President Ravi Balaram to represent the BCA Board at the County's November AIOD Public Hearing and request the delay of AIOD adoption.
Approved versions of all Board meeting minutes can be found in the FSR Connect Resident Portal at bca.connectresident.com.
UPCOMING
BOARD MEETINGS
2023 Board Meeting Schedule TBD (set in Dec. 2022) Visit www.brambletonhoa.com for meeting schedule updates.
5
Community Association Magazine Winter
Brambleton
2022-2023
INSIDE BCA
2022 BCA Board Election Recap
Rick Stone, PCAM, LSM - General Manager
Congratulations to Anand Mohan on his reelection and to Chris Cook and Iain Ronis on their election to serve on Brambleton Community Association's Board of Directors. Directors Ravi Balaram, Rosemarie Linder, Pat Martin, and Brian Viola will comprise the remaining four of seven total seats on the Board. The Board will elect officers at their meet ing on December 6, 2022 (after issue publication).
Thank You, Jordan Crotty
Leaving the BCA Board of Directors this year is Jordan Crotty. Jordan has served as a Resident Director since 2019 and as Treasurer since 2020. During his time on the Board, Jordan brought reason, knowledge, respect, and support to the boardroom. He is well-versed in the ar eas of insurance, risk management, fi nance, and technology. He advocated for BCA staff and understood the tasks they had before them. His approach to dealing with community issues was fair and reasonable while balancing the Association's best interests.
Jordan's contributions to the Board and to the Brambleton community are sig nificant and will impact our daily opera tions for years to come. He will serve out his appointment on the Strategic Planning Ad Hoc Committee until the new Strategic Plan is adopted in
2023. He also previously served on the Community Technology Committee. He exemplified the qualities needed in a great homeowner association director. Thank you, Jordan, for all you have done for Brambleton over the years.
BCA Board Responsibilities
BCA Board members must be knowl edgeable of the duties, responsibilities, and liabilities that come with serving on the Board for the Association, which functions as a $16 million corporation. Balancing the needs and desires of an
entire community with the require ments and regulations of an association can be challenging.
As part of the transition, current BCA Board members will have the opportuni ty to attend a Board orientation course, seminars, and ongoing training provided by Community Associations Institute. An educated board, along with an expe rienced community manager, are essen tial to avoiding the financial and legal pitfalls that can occur when decisions and actions are not made in the best in terests of the entire community.
6
INSIDE BCA
BCA Board of Directors: November 2022
Back Row (l-r): Iain Ronis, Chris Cook, Ravi Balaram, Brian Viola
Front Row (l-r): Pat Martin, Anand Mohan, Rosemarie Linder
BCA Committees
COVENANTS COMMITTEE
Responsibility: Reviewing submitted design review applications, considering violations of BCA documents, and taking enforcement actions.
Meetings: Second Monday of each month at 6:30 PM. Upcoming meetings: 1/9, 2/13, 3/13 Website: www.brambletonhoa.com/covenants
GROUNDS & FACILITIES COMMITTEE
Responsibility: Advising the Board on issues related to rules, policies, maintenance, upkeep, and the use of the common grounds and facilities.
Meetings: Second Wednesday of each month at 7 PM. Upcoming meetings: 1/11, 2/8, 3/8 Website: www.brambletonhoa.com/grounds
FINANCIAL ADVISORY COMMITTEE
Responsibility: Reviewing financial reports and audits, monitoring investments, reviewing funding for capital projects, and developing financial policies and resolutions to recommend to the Board.
Meetings: Fourth Tuesday of each month at 7:30 PM. Upcoming meetings: 1/24, 2/28 Website: www.brambletonhoa.com/finance
SAFETY & SECURITY COMMITTEE
Responsibility: Serving as a resource for residents with concerns and making recommendations to the Board regarding safety and security matters in Brambleton.
Meetings: Third Tuesday quarterly at 7 PM. Upcoming meeting: 2/21 Website: www.brambletonhoa.com/safety
STRATEGIC PLANNING AD HOC COMMITTEE
Responsibility: Providing assistance with the adoption of BCA's new Strategic Plan. Reviewing goals and coordinating with the BCA Board, staff, and the Brambleton community.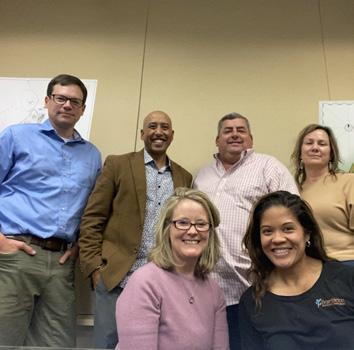 Meetings: Meets as needed. Upcoming meetings: TBD Website: www.brambletonhoa.com/spc
BRAMBLETON KIDS CARE COMMITTEE
Responsibility: Empowering the next generation of Brambleton's residents and facilitating their development and growth towards becoming compassionate, service-minded citizens.
Meetings: Meets as needed, typically during the school year. Website: www.brambletonhoa.com/brambletonkidscare
7 Brambleton Community Association Magazine Winter 2022-2023 INSIDE BCA
scan to scan to smile smile ENJOY A $25 AMAZON GIFT CARD AT YOUR FIRST APPOINTMENT! (703) 542 7000 | COSTASMILES.COM | @COSTA_SMILES 42395 RYAN ROAD, SUITE 104 ASHBURN, VA 20148
Brambleton Snow Operations
Isaiah Marsh - Operations Manager
Snow season is officially upon us! The Brambleton Community Association Operations depart ment is prepared to provide winter storm services on BCA streets and com mon areas. Seven staff members, six plow trucks, three salt spreaders, and an array of sidewalk and trail-clearing machines are ready to take on whatever this winter has in store for Brambleton.
Plowing over 200 private streets, com mon drives, and alleys; 15 miles of trails; and miles of sidewalk during each winter storm is no easy task. The Operations team creates a proactive and thorough plan for each storm to perform these duties successfully and efficiently. The Virginia Department of Transportation (VDOT) and the Brambleton Developer are also responsible for plowing many Brambleton streets.
Every winter storm is unique and will impact Brambleton differently. Therefore, BCA has developed a Winter Storm Management Plan that projects
plowing goals based on forecasted snow accumulation and weather conditions. This plan can be found on the next page and at www.brambletonhoa.com/snow.
Once winter weather is forecasted, BCA develops logistics for that storm. Plows, spreaders, and other equipment are installed the day before the event. Accumulation, timing, temperature, and staffing are just a few factors con sidered when determining the plan for each storm. Once staff members have arrived on site and snow accumulation reaches a certain threshold, plowing will begin. Each team member is assigned to plow specific sections of the commu nity. Staff and contractors often work through the night to ensure streets are reasonably safe and accessible.
After all BCA streets have been plowed, the team proceeds to plow trails and sidewalks. This process may occur the day following the completion of street plowing. BCA has also acquired a new machine for the 2022-23 winter season
to help clear more sidewalks in less time. Once all streets, trails, and side walks have been cleared of snow, the team will perform spot checks to salt any frozen areas. Continuous parking spaces will also be cleared in the days following a significant storm once ve hicles have vacated the spaces.
Please remember that Brambleton resi dents are responsible for clearing their driveways and the sidewalks in front of, adjacent to, or to the side of their prop erty. The BCA team will clear VDOT and common area sidewalks that are not ad jacent to a resident's property.
Please be reminded that it may take 6-8 hours after it stops snowing for BCA to clear its streets. Once this period has ex pired, residents can email operations@ brambleton.org regarding any missed streets or related concerns. The com plete BCA Winter Storm Management Plan can be found at www.brambleton hoa.com/snow. Be sure to stay safe out there this winter.
9 Brambleton Community Association Magazine Winter 2022-2023
INSIDE BCA
BCA Winter Storm Street Management Plan
Forecast Private Street/Alley/Common Drive Standards
0-2 inches
Sanding/salting as needed, focusing on streets with steep grades and intersections. Streets will be inspected and plowed as necessary.
2-4 inches Plowing begins at 2". Clearing of all BCA streets to be completed within 6 hours after storm ends.
4-8 inches Plowing continues throughout the storm. Clearing of all BCA streets to be completed within 8 hours after storm ends.
8-12 inches Plowing continues throughout the storm. Clearing of all BCA streets to be completed within 16 hours after storm ends.
12-18 inches Travel lanes kept open during storm. Streets plowed within 30 hours after storm ends, if VDOT declares streets are passable. Piled snow may be relocated or removed from site by loader and dump trucks in the days following plowing.
18-24 inches
Travel lanes kept open during storm. Streets plowed within 2 days after storm ends, if VDOT declares streets are passable. Piled snow may be relocated or removed from site by loader and dump trucks in the days following plowing.
24+ inches A travel lane of no more than 8' will be made for emergency vehicles only. Streets plowed within 4 days after storm ends, if VDOT declares streets are passable. Piled snow may be removed from site by loader and dump trucks in the days following plowing.
Ice/Freezing Rain
Salting of streets will occur during and/or after the storm depending upon conditions. Pretreatment of roads may occur if significant ice is predicted.
For more information on BCA winter storm responsibilities, visit www.brambletonhoa.com/snow
Wintertime Pond Safety
Brambleton has a number of ponds and water features located throughout the community. Please observe the following safety practices when near a pond or other body of water this winter:
• The best safety message we can offer is to stay away from frozen ponds. Frozen ponds should never be used for recreational purposes. Do not skate, play, ride, or step foot on a frozen pond.
• If you observe someone on one of Brambleton's frozen ponds, please take initiative and remind them of hazards and prohibited use of the pond.
• If the individual remains on the frozen pond, please report incidents to BCA during business hours (M-F, 9 AM to 5 PM) or to LCSO at all other times, including holidays, at 703-777-1021.
• If a person, a pet, or a personal item accidentally falls through the ice, do not try to recover them; you could become a victim too.
• If someone does fall through the ice and you are alone, instruct the victim to keep calm while you call 9-1-1 immediately. Hypothermia can start immediately and can cause exhaustion or unconsciousness in only a few minutes.
• It is important to let the rescue crew know the victim's age, circumstances of the incident, time it occurred, and where the victim was last seen.
• If you are with others, make sure that someone stays on the shore next to the victim while another person calls 9-1-1. Try to keep an ongoing conversation with the victim to keep them calm and aid in the rescue.
10
BCA Strategic Planning Committee Update
Ravi Balaram - Director, BCA Board of Directors
Neighbors, as we enter the hol iday season and wind down the year to spend quality time with family and friends, I'd like to take the opportunity to share insights into our community and discuss what your Brambleton Community Association Strategic Planning Ad Hoc Committee is planning as we head into the new year.
Earlier this year, our BCA Board of Directors formed the Strategic Planning Ad Hoc Committee and signed a con tract with Ms. Cate Fulkerson from Points North Strategies LLC. I have the honor of chairing the Committee and am humbled to serve with an exception ally talented group comprising of two other Board members, three staff mem bers, and three residents all committed to helping refocus and reprioritize the direction of our community.
Under the guidance and expertise of Ms. Fulkerson, we conducted a Stakeholder Assessment after forming a general plan and timeline. Out of the 73 individuals identified to participate, we received 44 responses providing insights into the greatest strengths of Brambleton, challenges they believe could impact Brambleton's future success, new ideas for Brambleton to implement, and pri orities they believe Brambleton should focus on over the next five years.
Our Committee also developed and launched a Community Survey distrib uted to over 6,200 households in BCA. While we needed at least 364 surveys to achieve a statistically relevant con fidence interval of 95%, we actually re ceived a totally of 1,075 responses, far surpassing that threshold. We learned from the survey results that we are a family community with over 75% of households having three or more resi dents, that over 75% of respondents are "Very Satisfied" or "Satisfied" with ame nities and lifestyle activities provided by BCA, and that over 80% of respon dents are "Very Likely" or "Likely" to recommend living in BCA to someone they know.
Beyond those positive sentiments, we of course cannot rest on our laurels,
and there is always room for improve ment. Those areas include but are not limited to communication, mainte nance, and safety. Ms. Fulkerson is cur rently facilitating a deep-dive analysis of our Governing Documents to ensure that we can develop our long-term BCA Strategic Plan while simultaneous ly seeking congruence and adjusting accordingly.
One of the most exciting highlights of our Community Survey was the re sponse of over 150 individuals who seek to volunteer in BCA to support special events, a technology committee, and safety and security enforcement among other areas. This reminds us that any plan we develop will need your input as volunteers and active members of our community to ensure robustness.
As we begin 2023, the Strategic Planning Ad Hoc Committee will be starting a working group to refocus our mission, values, priorities, and action implemen tation plan. As we take time off to re flect and focus, I challenge you to think about how our community can be better and to engage with us as we move for ward in developing and implementing our updated Strategic Plan. For more in formation, please visit the BCA website at www.brambletonhoa.com/spc.
11 Brambleton Community Association Magazine Winter 2022-2023
INSIDE BCA
Strategic Planning Ad Hoc Committee
A Resident & Staff Perspective on BCA Finances
Julianne Geyser - Finance Specialist
As a long-time Brambleton resident, I have been fortu nate to work with Brambleton Community Association as the Finance Specialist for the past six months. During this time, I have learned about the complexities of homeowner associa tions' finances and budgets. My respon sibilities include overseeing daily finan cial transactions; reviewing monthly financial reports; assisting with draft ing the annual budget; and providing support to the BCA Financial Advisory Committee, staff, and General Manager. My prior experience and knowledge have allowed me to transition smoothly into this role.
I have lived in Brambleton since 2006 and have witnessed the exponential growth of this community, so I thought it would be interesting to compare the 2007 BCA Budget to the 2023 Budget to
emphasize how much the community has flourished over the past 16 years. Some budget expenses have decreased over the years, like office supplies and postage, but as you can guess, most an nual expenses have increased as house holds have been added. Below is a snap shot of the significant ticket items and how much they have changed.
Of note, all these items have contracts attached to them. Some contracts are yearly, and some are multi-year, but all agreements go through a rigorous pro cess prior to approval by the BCA Board of Directors. As a resident, I knew that these contracts existed, but as a staff member, I learned how much time and energy is spent negotiating the best val ue while maintaining the quality of ex cellence Brambleton has come to expect.
The 2023 Proposed Budget was drafted
by staff and then reviewed and endorsed by the Financial Advisory Committee at their meeting on September 27. The bud get was then shared with the community for comments and questions. Feedback was addressed and requested informa tion was provided. Topics for discussion included the Verizon Fios contract and services, 2023 Assessment amounts, and staff payroll packages.
The Committee-recommended budget was then provided to the BCA Board for review and approval. Prior to approv ing the 2023 Budget at their meeting on October 18, resident feedback was dis cussed, and Board members had the op portunity to ask questions of staff and share their thoughts. The Board then unanimously approved the 2023 Budget, increasing the average assessment in Brambleton by 2.1%. This was an easy decision for the Board when comparing this figure to other homeowner associa tions experiencing 8-12% average assess ment increases and to the national 2023 Cost of Living Adjustment of 8.7%.
The 2023 Budget and Assessment infor mation can be found on the following two pages and on the BCA website at www.brambletonhoa.com/budget. Any questions you have can be directed to General Manager Rick Stone at rick.stone@brambleton.org or to me at julianne.geyser@brambleton.org.
12
BCA BUDGET Budget Item 2007 2023 Number of Households 1492 6290 Landscape Maintenance Contract $393,462 $1,425,000 Trash Service $338,994 $1,264,000 Verizon Fios Contract $1,883,990 $7,058,358 Pool Management Contract $69,008 $360,000 Staff Compensation $315,000 $1,660,000 Total Budget Expenses $3,726,428 $16,857,042
2023 Assessments & Budget Summary
Below are the approved assessments for 2023. The average increase of all the assessments is 2.1%, while COLA for 2023 is estimated at 8.7%. High inflation rates will continue to impact the Association's budget for 2023. BCA staff will implement the following assessments, with the Finance Advisory Committee's recommendation and the BCA Board of Director's adoption.
House Type 2023 Increase
Detached $201.43 2.0% (General) + (Tech/Comm) + (SFD) + (Recreation)
Detached w/ Common Driveway $214.22 1.7% (General) + (Tech/Comm) + (SFD) + (Recreation) + (Common Drive)
Townhouse $209.73 2.3% (General) + (Tech/Comm) + (SFA) + (Recreation)
Townhouse w/ Grounds Maintenance $228.73 2.1% (General) + (Tech/Comm) + (SFA) + (Recreation) + (SFA Grounds Maint)
The Woods at BTC $135.45 3.6% (General) + (SFA) + (Recreation) + (SFA Grounds Maint)
Summerfield Condominium $151.39 1.6% (General: Condo) + (Tech/Comm)
The Residences Condominiums $160.29 1.5% (General: Condo) + (Tech/Comm) + (Recreation)
Assessments Type 2023 Increase
General $77.46 $3.09
General: Condo $58.11 $2.33
Tech/Community Services $93.28 $0.00
Single-Family Detached (SFD) $21.79 $0.84
SFD Common Drive $12.79 $(0.49)
Single-Family Attached (SFA) $30.09 $1.50
SFA Grounds Maintenance $19.00 $0.00
Recreation (Pools Only) $ 8.90 $0.09
13
Magazine Winter
Brambleton Community Association
2022-2023 BCA BUDGET
4
2023 Budget by Category
Income
2023
Assessment Income-Various $16,257,674 Other Income $ 600,000
Total Income $16,857,674
Expenses
Administrative Expenses-General $ 764,000
Professional Services General $ 2,514,000
Reserve Contributions-General $ 835,000
Maintenance & Services General $ 2,614,000
Verizon Fios Tech/Comm Services $ 7,058,358
Single-Family Attached $ 1,147,000 Grounds Maintenance-SFA $ 574,684
Single-Family Detached $ 624,000
Common Driveway-SFD $ 93,000 Recreation-Pools $ 633,000
Total Expenses $16,857,042
Net Excess (Deficit) $ 632
BCA Replacement Reserve Statement
(As required by POAA Section 55.1 1826)
BCA is funding its reserve account at or above the levels recommended in the September 21, 2021 Replacement Reserve Study completed by Miller + Dodson Associates, Inc.
Reserve 2022 Study Recommendation/ 2023 Study End of Year Balance/ Account 2023 Annual Contribution Y.E. Projection (12/31/2022)
General Reserves $ 429,689 / $435,000 $ 2,110,893 / $3,100,000
Townhome Reserves $ 452,000 / $452,000 $ 1,668,681 / $2,100,000
Common Drive Reserves $ 71,353 / $85,000 $ 809,720 / $ 815,000
Pool (Recreation) Reserves $ 175,000 / $175,000 $ 535,438 / $ 700,000
14
5
15 Brambleton Community Association Magazine Winter 2022-2023 LIFESTYLES Bingo Wine Charcuterie Mixology Comedy Food Trucks Pool Parties Concerts Movies Night Swim Bus Trips Fireworks Crafts Egg Hunt Yard Sale Block Party BrewFest Campout Dog Swim Yard Sale Fall Fest Santa Pics 2023 BCA EVENTS
16 LIFESTYLES
17 Brambleton Community Association Magazine Winter 2022-2023 LIFESTYLES
O penAll Winter Seasons Change... But Our Markets are Here to Stay, Sundays @Brambleton 9-1
Rebel Taco
Gentine - Communications Coordinator
Have you had a chance yet to try Rebel Taco, Brambleton's newest restaurant? Located in the same building as the Brambleton Library, Rebel Taco is the newest lo cation of the brand created by owners Mike Bramson and Michael Juliano.
Rebel Taco started as a food truck in 2018, doling out reinvented versions of traditional Mexican street tacos at their beer garden spot in Arlington and at other locations around the DC metro area. They soon developed a cult
following that eventually led to the opening of brick-and-mortar locations in Philadephia and DC and now the Brambleton spot that opened in August.
So what drew Rebel Taco to Brambleton? Juliano explained how he wanted to open a location closer to home in Loudoun County and bring delicious food and good times to the local com munity. A chance encounter with a Brambleton Group representative when leaving the Regal Fox movie theater with his family opened his eyes to the libraryadjacent spot, and the rest is history!
When you walk into Rebel Taco, you're immediately met with a vibrant kaleido scope of dynamic graffiti, bright neon signs, and raw metal and concrete that whisk you from Northern Virginia to the streets of Mexico. Juliano drew from his childhood experiences visiting Mexico City when he helped build the Rebel Taco brand, and he turned to local art ists Rodridgo Pardel and Mike Pacheco
to design the Brambleton restaurant's bold and inviting artwork.
Juliano shares the same passion and in novative spirit when describing the cui sine at Rebel Taco. The Shrimp Gone Wild taco, one of their hottest selling tacos (and a BCA staff favorite), exem plifies their emphasis on unique flavors with the inclusion of chipotle-flavored "Rebel" sauce and cilantro slaw. Other unconventional offerings include the Quesataco, an El Jefe steak taco com bined with a Chihuahua cheese quesa dilla, and Taki Taki sticks, mozzarella cheese sticks rolled in crushed Takis and fried until they reach the right balance of tangy and gooey.
Last but not least, Rebel Taco's mar garitas are the perfect complement to any dish. Whether you order a spicy El Diablo, juicy guava, or tart blackber ry margarita, each one is crafted with freshly squeezed juice and house agave syrup. Mexican sodas and mocktails are also great drink options that everyone can enjoy.
Rebel Taco is an excellent addition to the Brambleton restaurant scene and provides a lively and welcoming experi ence, whether you're enjoying a family dinner or grabbing drinks – and tacos –with friends. For a full menu and more details, visit www.rebeltaco.com.
19 Brambleton Community Association Magazine Winter 2022-2023
#BRAMLIFE
Paul
Heather Heppe • Just Sold! Your Neighborhood Real Estate Specialist for Over 20 Years… 22986 Falcon Ridge Cour t Brambleton SOLD in 1 day *over list $1,426,000 43911 Eagle Harbor Terrace Ashburn V illage SOLD in 3 days *over list $571,961 42679 Hollyhock Terrace Brambleton SOLD in Less Than 2 Weeks! $480,000 20937 Ashburn Road, Suite 200 Ashburn, VA 20147 MOBILE 703.727.5941 OFFICE 703 858 9108 hheppe@remaxdistinctive com www heatherheppe com Contac t Heather Heppe 703.727.5941 hheppe@remaxdistinc tive.com EXPERIENCE YOU NEED. RESULTS YOU WANT. Want to See Your Ad in the Brambleton Magazine? We are currently accepting 2023 advertisements! Ad spaces are available in our Spring, Summer, Fall, and Winter issues. The Brambleton Magazine is mailed quarterly to all Brambleton homes (6,300 homes; 23,000 residents) and posted digitally on the BCA website. Visit www.brambletonhoa.com/communications or email communications@brambleton.org for advertising rates and more information.
Strengthening Practices & Processes
Jessup, CMCA, AMS - Community Standards & Resident Services Manager
In any industry, proactive and objec tive self-assessment is key to consis tent improvement. At Brambleton Community Association, we continu ously evaluate processes, systems, and standards to improve the level of service we provide to Brambleton residents.
The BCA Community Standards depart ment maintains a robust and dynamic workload helping residents obtain ap provals for home improvement projects and supporting covenants that help sus tain the standards and aesthetics that make Brambleton a beautiful place to live. After conducting a comprehensive department assessment this year, it was decided that adjusting the design review process and re-organizing personnel structure will streamline operations and allow for better focus on the two fun damental areas that comprise the bulk of the department's responsibilities: de sign review and residential inspections.
Design Review Update
With over 6,200 homes in Brambleton, homeowners are constantly initiating exterior home improvement projects, with most applications being submit ted from early spring through the fall. These projects require the submission of a Design Review Application and ap proval from the Covenants Committee.
The Community Standards department is responsible for working with home owners to ensure applications are com plete and preparing those applications for review and consideration by the Committee.
To improve the application process and better serve owners, the appli cation submission deadline has been moved to 9:00 a.m. on the Monday one week prior to the scheduled Covenants Committee meeting. This change will give Community Standards Advisors additional time to ensure applications are accurate and complete and to thor oughly prepare applications for the Committee's review and decision. The change is also expected to reduce the number of applications held for miss ing information and delayed for re view at the next Committee meeting. Additionally, advisors will have more time to perform any necessary site visits with owners to better understand more complex proposed projects. Ultimately, these actions have been put in place to achieve a higher application approv al rate and benefit owners, staff, and Committee members.
Department Refocus
Community Standards Advisors pre viously performed both design review
and inspection responsibilities con currently. Moving forward, the depart ment will be divided into two personnel teams specializing in either function. Establishing a team of advisors to focus primarily on design review will provide insightful knowledge to homeowners and help them navigate the complexities of the application, approval, and postapproval processes.
Additionally, fielding a team primarily dedicated to covenants inspections will allow BCA to perform scheduled and uniform inspections and follow up on matters impacting curb appeal and prop erty values. Advisors will be responsible for resale inspections, comprehensive inspections, complaint-based inspec tions, and required administrative work for these inspections. Furthermore, ad visors will have time to work direct ly with homeowners on any necessary property actions.
BCA takes pride in the services it pro vides its owners and residents. If there are ways to enhance our processes and practices, we will strive to find them. Updating the design review process and re-organizing the personnel structure of the Community Standards department are just a couple of examples of how we persistently look for improvement and commit to reflect, refocus, and renew.
21
Magazine Winter
Brambleton Community Association
2022-2023
COMMUNITY STANDARDS
Nikki
Love Where You Live!
Monthly Tips to Keep Brambleton Beautiful
December
Avoid a Burst Pipe: Water freezing in your home's pipes may cause serious problems. To help combat this, shut off the water to exterior faucets and drain the lines. You may also want to insulate any pipes near the exterior walls of your home or in unheated areas like a garage.
Outdoor Furniture: Furniture placed outside must be specifically designed for outdoor use and maintained in good condition. Outdoor furniture can be placed on a porch, stoop, or in the rear yard. The use of permanently-placed outdoor furniture is not permitted in front yards.
Outdoor Storage: Nothing shall be kept or stored outside the exterior of your home which would create an unsightly condition. This includes, but is not limited to, trash, refuse containers, machinery and equipment, building materials, etc. Portable equipment, including grills or fire pits, must be stored in the rear yard or out of view when not in use.
Protect Against Unwanted Invaders: Mice, squirrels, and other critters are looking to escape the cold and might decide that your place looks pretty great. Make sure to close any holes and block potential entrances to your home.
January
Exterior Decorations: Holiday decorations may be placed out 30 days in advance of the holiday and removed no later than 14 days after the holiday. Christmas or winter decorations and lighting may be placed out as early as the day after Thanksgiving and may remain on display until January 13, 2023.
Check Your Winter Supplies: Make sure you have snow shovels, scrapers, and everything else you need to get through winter before the weather changes.
Keep Paths Cleared of Snow and Ice: Regular shoveling (or snow blowing) is the best way to keep walkways, driveways, and sidewalks safe and ice-free all winter. Keep some pet/plant-safe ice melt or sand on hand to provide traction on stairs and other slippery areas. If you plan to be away during the season, hire a service in advance to clear the snow while you are away.
February
Get a Jump on the Spring Rush: Submit your Design Review Application for your exterior project prior to when you really need it. Remember you have six months to begin and one year to complete the project after approval. To submit a proposed exterior modification to the Covenants Committee for review, an owner must complete a Design Review Application. This form is available on the Association's website at www.brambletonhoa.com/designreview, in our office, or in response to requests submitted to designreview@brambleton.org. Still have questions? Please contact the BCA Management Office at 703-542-6263.
22
Assessment Payment Options
Assessment payments are due on the first day of each month. To avoid incurring late or other collection related fees, it is recommended to align payment with the due date. Late fees are assessed for payments not posted by the 10th day of the month. BCA offers a variety of payment options and encourages owners to select the method that best suits their needs. Details regarding the various payment options can be found on www.brambletonhoa.com/assessmentpaymentoptions.
Payment options include:
• Mail: Owners may make payment by check or money order mailed to the Association's lockbox service. Please reference your account number or property address, or include the payment coupon, to ensure the payment is properly recorded.
ƒ Mailing Address: Brambleton Community Association, C/O FirstService Residential, PO Box 30403, Tampa, FL 33630
• Online Bill Pay: Owners may pay assessments using an online bill paying service from their personal banking institution.
• Direct Debit: The owner authorizes withdrawal of the monthly recurring assessment amount from a designated checking or savings account. Owners can sign up for Direct Debit service online at www.clickpay.com/firstservice.
• ClickPay: This third-party payment service offers owners the ability to make one-time or recurring e-check or credit card payment at www.clickpay.com/firstservice. For help with your account or setting up payments online, please contact ClickPay at www.clickpay.com/gethelp, or call 1-888-354-0135 (option 1).
Monthly Assessments
2023 2022 House Type
$201.43 $197.41 Detached $214.22 $210.69 Detached w/Common Driveway $209.73 $205.05 Townhouse $228.73 $224.05 Townhouse w/Grounds Maint. $135.45 $130.77 The Woods at BTC $151.39 $149.06 Summerfield Condominiums $160.29 $157.87 The Residences Condominiums
It is important to note that assessment payments are NOT accepted at the BCA Management Office, as all payments are processed by the Association's bank via a lockbox. Payments delivered to the BCA office will be returned. Please also note that cash cannot be accepted at the BCA office or at FirstService Residential offices for payment of assessments. Please email hoa@brambleton.org for more information or to request online access to your account.
Connect Resident Portal
BCA and FirstService Residential encourage all Brambleton homeowners to use the Connect Resident Portal to access their assessment accounts and view important Association meeting minutes and financial reports. This resident portal makes it easy to access your account anytime and from any device! This resident portal features:
• Payment: A self-service platform empowering you to make payments, check balances, and more.
• Transparency: View BCA Board agendas & meeting minutes, financial reports, audits, and other important documents and reports.
• Simplicity: The ability to link multiple Brambleton properties using a single login for all your online needs.
• Security: Up-to-date security and strict privacy settings give you the highest level of protection.
Register or Login to the Connect Resident Portal at bca.connectresident.com.
Resales & PUD Questionnaires
BCA processes single-family home and townhome resale disclosure packets, PUD questionnaires, and payoff requests through HomeWiseDocs.
BCA Single-Family Homes & Townhomes: BCA has partnered with HomeWiseDocs to offer a streamlined process for the order and delivery of resale, refinance, and lender documents such as: resale disclosures, estoppels, demands*, lender questionnaires, and governing documents. Simply visit www.homewisedocs.com to get started.
BCA Condominiums (Residences, Residences II, Summerfield): Condominium properties require information from both BCA and the condominium sub-association for closing. Visit www.fsresidential.com/ corporate and select "Order Documents" to order a resale package, request payoff information, or obtain a condominium questionnaire for the sub-association. Visit www.homewisedocs.com to obtain a resale disclosure package and payoff information from BCA.
*BCA must receive written authorization from the seller/current owner in order to process all demand requests. Authorization forms can be uploaded directly to HomeWiseDocs when placing the order.
Visit www.brambletonhoa.com/resales for more information. Owners can contact hoa@brambleton.org for further assistance.
Brambleton Community Association Magazine Winter 2022-2023
23
RESIDENT
RESOURCES
#1 INVISALIGN ® PROVIDER | MOST PATIENTS SUCCESSFULLY TREATED RESERVE YOUR COMPLIMENTARY CONSULTATION TODAY! ASHBURN | RESTON ONE LOUDOUN | TYSONS NVORTHODONTICS.COM 703.327.1718 DISCOVER YOUR VERY BEST SMILE WITH THE NATION'S #1 INVISALIGN® PROVIDER With some of North America's leading orthodontists right here in Brambleton, we're ready to help kids, teens and adults discover their best smiles.
Important Contact Information
Community Management Contacts
Brambleton Community Management Office: 703-542-6263
Residences at Brambleton (FSR): 703-385-1133
Summerfield Condo (FSR): 703-327-4818
BCA Services
Republic Services Recycling & Trash Removal: Brambleton@republicservices.com
Verizon (Activation/Account Changes/Billing/Disconnect): 800-501-1172
Verizon (Repair): 888-553-1555
Utility Contacts
Dominion Electric (North of Ryan Rd): 888-667-3000; www.dominionenergy.com/outage-center
NOVEC (South of Ryan Rd): 888-335-0500; www.novec.com/customer_services
Miss Utility: 800-552-7001
Washington Gas: 703-750-1000
Loudoun Water (Water/Sewer): 571-291-7880; www.loudounwater.org
Builder Information
County Contacts
Emergency (Fire/Rescue/Police): 911 (call or text); www.sheriff.loudoun.gov
Sheriff (Non-Emergency): 703-777-1021
Alert Loudoun: www.loudoun.gov/alerts
Loudoun County Main Number: 703-777-0100
Animal Care & Control: 703-777-0406
Building Permits: 703-777-0220
Ashburn Post Office: 44715 Prentice Dr 703-406-6291
Brambleton Town Center
Brambleton Plz, Brambleton, VA 20148 703-542-2925
www.brambleton.com/towncenter
Builder
Warranty/Customer Care
Beazer Homes 888-623-2937; www.beazer.com (Request Service) Centex/Pulte Homes 888-686-0269; dcservice@pulte.com; www.pulte.com; (Customer Care/Warranty Request)
Gulick Group 703-674-0330 x 143; customerservice@gulickgroup.com; www.gulickgroup.com (Contact Us/Customer Care)
Knutson 703-996-4232; customerservice@knutsoncos.com; www.knutsoncos.com
Miller & Smith 703-821-2500 x 202; warrantyservice@millerandsmith.com; www.millerandsmith.com (Warranty)
Stanley Martin 703-636-9210; WarrantyGroup@StanleyMartin.com; www.StanleyMartin.com (Contact Us)
Toll Brothers 571-291-8000; www.tollbrothers.com; www.mytollhome.com (Warranty)
Tri Pointe Homes (formerly Winchester)
866-844-3235; customerservice@tripointeassurance.com; www.tripointehomes.com/warranty-portal-guide
Van Metre 703-348-5800; customercare@vanmetrehomes.com; www.vanmetrehomes.com
Brambleton Community Association Magazine Winter 2022-2023
Wiring Integrator
Chesapeake System Services: 301-317-0001
Vintage Security: 703-689-2731, 877-767-1800 (Toll-free)
Sight & Sound: 703-802-6443
Advanced Wiring Group: 703-488-9850, 571-237-7621
SmartCom: 540-286-0300
Vintage Security: 703-689-2731, 877-767-1800 (Toll-free)
Sight & Sound: 703-802-6443
25
RESIDENT RESOURCES
26 in Any Market! RECENTLY SOLD IN BRAMBLETON If You're Even Considering a Move in 2023, Let's Talk. Morning Walk Ashton Woods STAGINGworks 703-201-1891 | HWGosman@yahoo.com Virginia Licensed Broker Heather Gosman REALTOR ® LOUDOUN GATEWAY LOUDOUN GATEWAY AWARD -WINNING ASSOCIATE BROKER 20116 Ashbrook Place, Suite 200, Ashburn, VA 20147 | 703-430-9008 Over $115 Million in NOVA Real Estate Sold Living and Selling Real Estate in Brambleton for 19+ Years Free No Obligation Home Valuation Staging Services Included in Most Listing Agreements Hickox Boca Field Spice Bush 23710 SCHOOLER PLAZA #215, BRAMBLETON, VA BOBBIO FAMILY DENTAL IS OPEN! CALL NOW! 571-470-5946 | BOBBIOFAMILYDENTAL.COM AND WE HAVE SOMETHING SPECIAL FOR OUR FIRST 100 PATIENTS WHAT YOU CAN EXPECT FROM COMFORTABLE DENTAL CARE PRICE TRANSPARENCY RANGE OF SERVICES & TREATMENTS TRUST IN OUR TREATMENT PLANS FINANCING OPTIONS BOBBIO FAMILY DENTAL FREE SONICARE ELECTRIC TOOTHBRUSH AT YOUR FIRST VISIT *Offer valid for new patients who complete a new patient exam, necessary x-rays, and a cleaning. GET A Stop by and say hi to your NEW Brambleton dentist, Dr. Jenni Bobbio!
Resident Spotlight: The DuMonts
We spoke with Brambleton residents Diana and John DuMont about their experience running the Edlin School, their favorite parts of raising their family in our community, and more!
How long have you lived in Brambleton? What prompted you to choose Brambleton? We have lived in Brambleton since 2010. As a newlywed couple, we dreamed of an idyllic community to love and call our home where we could raise a family, be active, and enjoy growing into our later years. And we found it! 12 years later, we are still as happy as on the day we moved in.
How did you become involved with the Edlin School? In 2019, our oldest son started Kindergarten at Edlin School. We believed in the mission of the school and made the decision that it would be an engaging environment for our son. That decision was helped by the fact that a family member had been at the school since 2004.
How did the opportunity to own the Edlin School develop? Our dream was to become more intentional with our time and to spend as much time with our children as we could (because we all know they grow up so fast!) while looking to discover an opportunity to give back to the community. We were fortunate that at the same time we were dreaming of this, the prior owners of Edlin School were planning to retire. Fate was kind to us, and now here we are.
What are the most rewarding parts of running the Edlin School? It is difficult to name only one thing; truthfully, there are many rewarding elements to choose from. It is hard work, certainly. That goes without saying. But nothing is more rewarding than experiencing the curious minds of the students, with their thirst for learning how to understand the world around them coupled with that magical moment when it all connects.
What goals do you have for the Edlin School moving forward? The last year has seen some amazing accomplishments thanks to the tireless efforts of the faculty, teachers, students, and parents at Edlin School. We obtained two recognized certifications: NIPSA and COGNIA, with Middle States Association forthcoming. In terms of academics, the school has introduced new Language Arts and Foreign Language and Culture curriculums, along with a Social Emotional Learning pathway that focuses on building kids' emotional intelligence. We are not done though; collectively, we have big dreams and aspirations for Edlin School:
• PTO: To foster school spirit and to instill a responsibility to care for others, e.g., fun run, food drive, volunteering, etc.
• Athletics: To build a strong body along with a strong mind
• Student Government: To become good stewards of the world
• Big Brother/Big Sister, 8th-K5: To teach the importance of connection between generations
• Scholarship Foundation: To make the Edlin School experience available to all kids
What are your family's favorite Brambleton spots? The Brambleton Town Center for sure, it has so much to offer: the Brambleton Library, the EatLoco Farmer's Market, and a growing selection of cool spots to dine at. When not there, our family is outdoors cruising the trails on our bikes or playing sports at the tennis court, or more recently, at the amazing Hal & Berni Hanson Regional Park.
What are your family's favorite Brambleton activities? Bettas, Bettas, all the way! Next summer, all three of our kids will be on the swim team. Thanks to the kindness of the older swimmers, especially the example they set and how they interact with the younger swimmers, our kids want to be just like them when they grow up!
To learn more about the Edlin School, visit www.edlinschool.com.
Brambleton Community Association Magazine Winter 2022-2023
27
COMMUNICATIONS
K4 - 8th | www.edlinschool.com | 703-438-3990 10742 Sunset Hills Rd, Reston, VA 20190 Are you still trying to find the best learning environment for your child? Is school not challenging enough? Accelerated Curriculum Social Emotional Learning Program Low Student to Teacher Ratio Bus Service to/from Brambleton Hands-on Learning Projects Gifted and Talented Accepting Applications for the 2023 - 2024 School Year
Celebrity Spotlight: Beau Applegate
We spoke with Brambleton residents Brad and Heather Applegate about their family and their Golden Retriever Beau, who became a Brambleton celebrity when visiting Halloween displays this year throughout the community! They also shared how Beau became a part of the family, what their Christmas sightseeing plans are, and more!
How long have you lived in Brambleton? What prompted you to choose Brambleton? We've lived in Brambleton since 2003, in four different locations! We initially chose the neighborhood based on its overall beauty but stayed because of the friendships we created within the community and so that our son, Ethan, could grow up with childhood friends.
How did Beau become part of your family? What about his personality made him a great fit? Brad's mother adored Golden Retrievers, and Brad grew up having several of them, including two litters of puppies. When we decided to get a dog, we initially did not consider a Golden Retriever because of their size and furriness, which makes such a mess in the house. However, after investigating other dog breeds it became obvious that we should not avoid Golden Retrievers for these silly reasons. A Golden Retriever's sole purpose in life is to give and receive love!
Beau's personality reflects this, and he is so loving that he has cured Heather's mom of her long-standing phobia of dogs. He's also contributed to stronger connections in our community which is evident from the overwhelmingly positive response from our neighbors about the photos of Beau in front of their Halloween decorations.
What encouraged Beau (and you) to walk through Brambleton and view your neighbors' great Halloween displays? It was just luck. Brad and Beau take multiple daily walks through the neighborhood. We live right around the corner from a neighbor who began decorating their house in mid-September. The house had a 15-foot werewolf, and Brad decided to take a photo because it was just huge! It helped that Beau was not afraid of his size and sat still for the photo. A few friends saw the photo and encouraged us to take more photos. On a lark, Brad posted a few of the photos on the B_Informed Facebook site, and the response was overwhelming!
What are your family's plans for Christmas sightseeing? We do all of our Christmas sightseeing in Brambleton and always have. The community is fabulous when it comes to decorations! We are already getting Christmas requests, so Brad and Beau will be busy this holiday season visiting houses and taking more pictures! Beau is slowly learning to get himself in and out of a car so that he can visit different parts of the neighborhood. He is scared of heights, so jumping in and out of a car is a really big deal for him.
What are some of Beau's other favorite hobbies and activities? He loves anything that involves kids and balls. Those are his two favorite activities. He loves to play neighborhood football with the kids. He also enjoys stealing things from people, like hats, particularly in the winter when kids are sledding and low enough to the ground to steal a hat off someone's head. He thinks it's a game and that people love to have things stolen by him even when it's fairly obvious they want to keep their things. He'll also steal food. He swiped a Fig Newton from a three-year-old one time. We were lucky that the child's mother was amused rather than irritated!
What are your family's favorite Brambleton spots? Beau loves to go to the Brambleton Town Center for dinner. When the weather is good, you can frequently find us having dinner on the Blue Ridge Grill patio. This is one of Beau's favorite places to hang out and meet new friends.
29
COMMUNICATIONS
Brambleton Community Association Magazine Winter 2022-2023
30 LoudounDentalAssociates.com | 703-542-7600 24565 Dulles Landing Drive Suite 190, Dulles, VA 20166 | Next to the New Walmart Open 7am- 7pm & Saturdays CARING DENTISTRY Dr. eo Batistas, DDS • Dr. Andrew Pham, DDS • Dr. Megan Keyton, DMD 3D Imaging for Precise Implant Placement Implants Veneers TMJ Treatment Root Canals Crowns Amazing Oral Surgeon Digital X-Rays with Less Radiation NEW PATIENT SPECIAL EMERGENCY EXAM Cleaning, Exam & X-Rays Includes Necessary X-Rays and Screening for New Patients. Valued at $376 Expires in 30 days Expires in 30 days Valued at $118 Not to be combined with any other offer. New patients only. $79 FREE MOST INSURANCES ACCEPTED PATIENTS LOVE DENTAL TEAM Our Fun & Friendly CELL: 410 916 1357 OFFICE: 410 823 0033 • Professional • Experienced • Detail Oriented • Positive Attitude • Creative & Strategic • Patient • Expert Knowledge • Business-Minded • Communicative YOUR BRAMBLETON RESIDENT REALTOR Providing award winning residential Real Estate services since 2020 in Northern Virginia and for over 18 years in Maryland! OVER 725 HOMES SOLD! REALTOR & MBA SINCE 2004 LICENSED IN VA & MD stephbam4u@gmail.com www.mdvahomes.net
BCA Communications
Brambleton Community Association utilizes a variety of resources in order to communicate with Brambleton residents in a timely and engaging manner. Here are some of the ways that we connect with the Brambleton community.
Friday Flash and Stay Connected
The Friday Flash is a weekly bulletin sent via email to benefit the residents of Brambleton. The purpose of the Flash is to keep residents aware of upcoming community events and programs, future committee meetings, BCA rules, and community governance. Residents can sign up to receive the Flash via email or text by clicking on the "Stay Connected" button at www.brambletonhoa.com and following the instructions.
BCA's Stay Connected email subscription service also allows residents to receive updates on community news, events, fertilizer and weed applications, and more. Just click on the icons next to the relevant list items to subscribe.
Quarterly Magazine
The Brambleton Community Association self-publishes a visually rich and engaging quarterly magazine in March, June, September, and December, which is mailed to all Brambleton residents. In addition, the magazine is published digitally and archived on the BCA website, and printed copies are available at the BCA Management Office and in the Welcome Center.
If you would like to view digital versions of our past magazine issues, please visit www.brambletonhoa.com/communications. Advertising spaces are also available in the magazine. If you are interested in advertising with us, please send us a message at communications@brambleton.org.
Website and Social Media
Visit www.brambletonhoa.com for community news, event and meeting updates, and information on all BCA services and programs. News and updates are also posted on our Facebook page (www.facebook.com/brambletoncommunityassociation). Also, follow us on Instagram and Twitter @brambletonlife, and add #bramlife to your social media posts to share your content with the Brambleton community!
#Bramlife Videos
We launched this video series in May 2017 to inform residents about everything happening in Brambleton. These videos cover topics including community news, events, and programming. We post our #Bramlife videos on our website, our Facebook page, and our YouTube page, so there are multiple places for you to catch up on what's going on in our community. We have also created educational videos, such as administration and service videos, which provide residents with useful information in a unique and entertaining way.
Brambleton Community Association Magazine Winter 2022-2023
31
COMMUNICATIONS
32 Our office follows and exceeds infection control recommendations by the CDC, ADA & OSHA. Our caring, experienced dental team make sure your child is comfortable during their entire visit! Convenient Evening Hours Gentle, Caring Staff Fun, State of the Art Office Sedation Dentistry Convenient Financing Cash Price for Cleaning, Polishing, X-Ray, Dental Exam - $59 Valued at $230 Valued at $86 Expires in 30 days FREE Consultation/Second Opinion NEW PATIENT SPECIAL! Your Child's SAFETY Comes First! big smiles for little kids PediatricDentistLoudoun.com 24565 Dulles Landing Drive, Ste 150, Dulles, VA 20166 Next to the New Walmart CALL:703-542-7300 Dr. Lance Cheng , DDS a great dental experience for your child! Your new home's a call away. Let's get started! Lived in BRAM since 2011 Top 200 Loan Officer nationwide since 2001 Years of experience with purchase, refinance, construction, and bridge loans 11325 Random Hills Rd, Suite 600, Fairfax, VA 703 568 3749 therossgroup icmtg com Company NMLS ID # 56323 | (nmlsconsumeraccess.org) Rob Ross Executive Vice President & Production Manager NMLS ID # 189110 Whether a primary residence, investment property, or a 2nd home, I've got you covered! Intercoastal Mortgage, LLC is #1 in market share in Virginia A Local Loan Officer Serving and Living In the Community Here's a little about me:
How to Reach Us
We Love to Hear from You!
You can reach us anytime via email. Here is a short list of easy to remember email addresses. It is our goal to respond to all inquiries within one business day. If you have not received a reply, please contact us at 703-542-6263.
HOA@brambleton.org
Start here and we'll be glad to help!
BCA Drop Box
A drop box is available after hours and is located outside of the BCA office building at 42395 Ryan Road. Residents may drop off design review applications, committee applications, etc. Monthly assessments are not accepted.
Operations@brambleton.org
Reach our Operations team for questions or concerns regarding BCA's common areas, pools, or other facilities.
Communitystandards@ brambleton.org
Communications@ brambleton.org
Designreview@ brambleton.org
Events@brambleton.org
To request attention to a concern or to request information about BCA's Community Standards.
Contact us about all things communications, including social media, the Friday Flash, our videos, or our Magazine.
For information regarding the Design Review process and to request or follow up on an application.
The best place to reach our amazing events team!
Programs@brambleton.org
Need info about a BCA program, camp, or activity?
Official BCA Communications www.brambletonhoa.com
Check Us out on Social Media
Rentals@brambleton.org
Have questions about renting a community facility?
BCA Management Office
42395 Ryan Road, Suite 210, Brambleton, VA 20148 703-542-6263 (p); 703-542-6266 (f) hoa@brambleton.org
Office Hours: Monday - Friday, 9 AM - 5 PM
Brambleton
"Like" Brambleton Community Association on Facebook and follow us on Twitter and Instagram at brambletonlife. You can also find our mobile app in the Apple App Store and Google Play by searching for Brambleton.
Important Disclaimers
Please visit www.brambletonhoa. com/disclaimers for our publishing and media use disclaimers.
33
Community Association Magazine Winter 2022-2023
Ahso Cellars
Ahso Restaurant
Animal Medical Centers of Loudoun
Asian Spice Cafe
Associates for Counseling Services
B&T Dry Cleaners
Bella Ballerina
Best Brains Learning Center
Bloō Dental
Blue Ridge Grill
Brambleton Community Association
Brambleton Library
Broadlands Family Practice
BurgerIM
California Tortilla
Cold Stone Creamery
Commonhealth Chiropractic
Costa Family Dentistry
Dragon Yong-In
Eclips Salon & Day Spa
Edible Arrangements
Fairfax Pediatric Associates
Filling Co. Gas & Grub
G3 Technologies
Galaria Plastic Surgery & Dermatology
Go Bananas Toy Store
Good Dog Rocky
Great Clips
Harris Teeter
Himalayan Wild Yak
Illusions Hair Salon & Spa
InSight Eye Optique
Jackson Clinics Physical Therapy
Knutson Companies
Levo Nails & Spa
Located at the intersection of Northstar Blvd & Evergreen Mills Rd.
Little Smiles Pediatric Dentistry
My Thai Place
Nick's Taverna
Northern Virginia Orthodontics
NVO Center for Invisalign
Onelife Fitness
Peet's Coffee & Tea
Rebel Taco
Regal Fox Cinemas IMAX 4DX
Scotto's Rigatoni Grill
Shell Gas Station
Starbucks
Subway
Sweetfrog Frozen Yogurt
The UPS Store
Verizon Wireless Center
Virginia ABC Store
35 Brambleton Community Association Magazine Winter 2022-2023
A&A Music
NICK'S TAVERNA • Dance Floor & Band: Pebble to Pearl • Champagne Toast & Party Favors • Reserve Online: nickstaverna.com There's Even More Around the Corner... in Brambleton Corner! • C CVS Pharmacy • T Tropical Smoothie Cafe w • F Filling Co Gas & Grub | Exxon Gas
& Car Wash • C Chesterbrook
Preschool
RING IN THE NEW YEAR IN BTC STYLE! Shop Local AT BRAMBLETON TOWN CENTER Thank you for continuing to support our retailers and restaurants! AHSO RESTAURANT • 4- & 6-Course Seatings • Champagne Toast at Midnight • Reserve Online: ahsoresto.com
Station
Academy